I've got something joyously festive up my sleeve for you all today, with this incredible New Year's Eve wedding featuring two of our wonderful Little Book suppliers: dress designer Caroline Castigliano, and wedding planner Laura of Devine Bride.
This is the wedding of private banker Katie, and Sam, a carpenter. This lovely pair were married on the 31 December 2019 at Trinity Buoy Wharf – an arts, cultural and events space on the banks of the River Thames in London's Docklands, featuring beautifully converted warehouse spaces – and as if that wasn't enough – it's own lighthouse.
"We wanted something really different. The idea of a traditional wedding venue didn't appeal to us, and we absolutely loved the idea of being on the Thames on New Year's Eve, and catching a glimpse of the fireworks. It was probably based on the idea of our perfect day. Relaxed, with pie and mash, lots of beers and wine, and everybody laughing and enjoying themselves."
"We didn't want anything too regimented or orderly. We wanted a real relaxed atmosphere for all of our guests, and to enjoy every minute with us. I guess it was made simpler as we chose to get married on New Year's Eve, which gave it that real party feel, which was a huge bonus!"
Kirsty Mackenzie Photography

+ Follow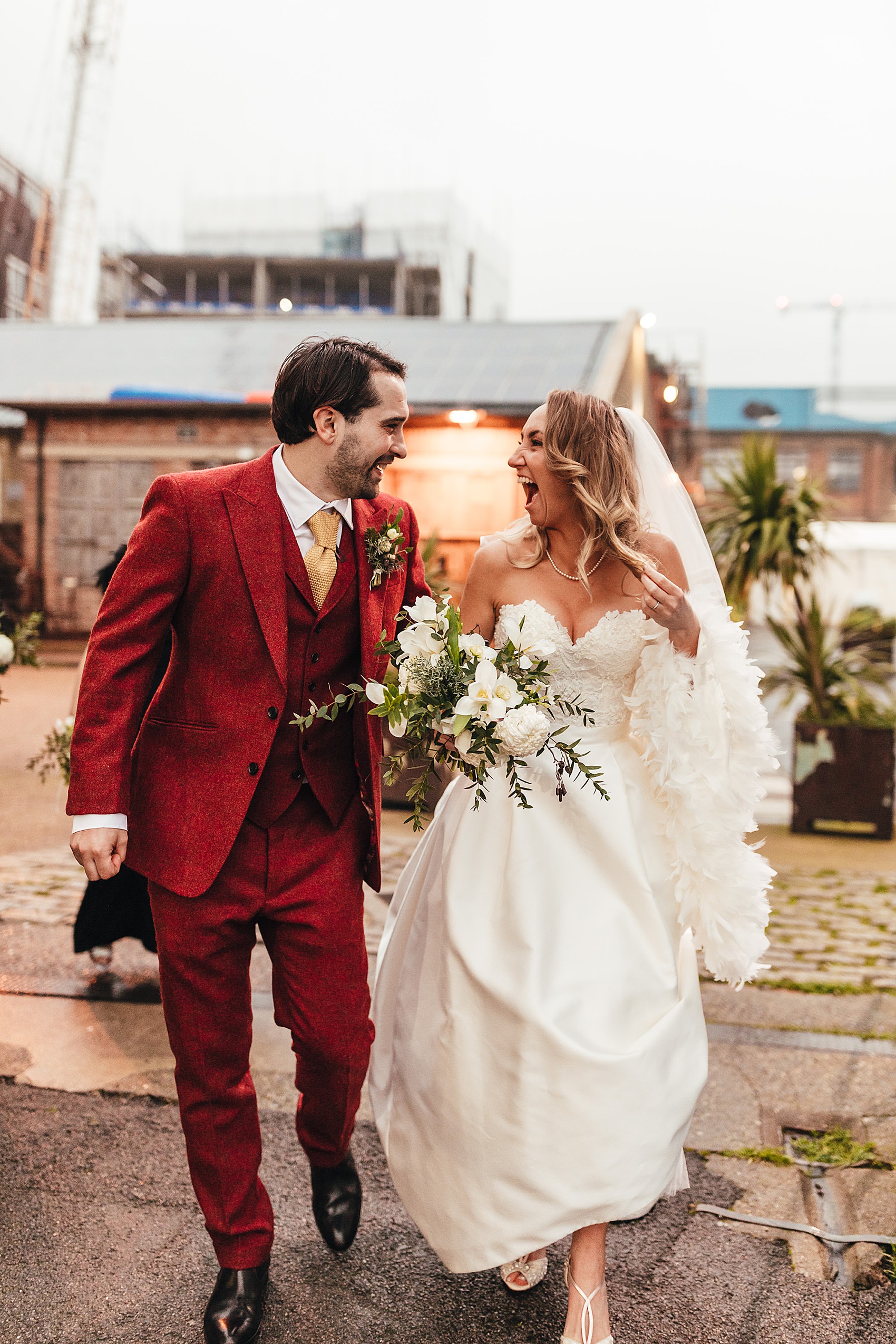 The bridesmaids looked so chic in long black dresses by Dessy, together with their own choice of shoes, and each wore an ostrich feather cape by Joan Lee Accessories – a vital New Year's Eve party accessory!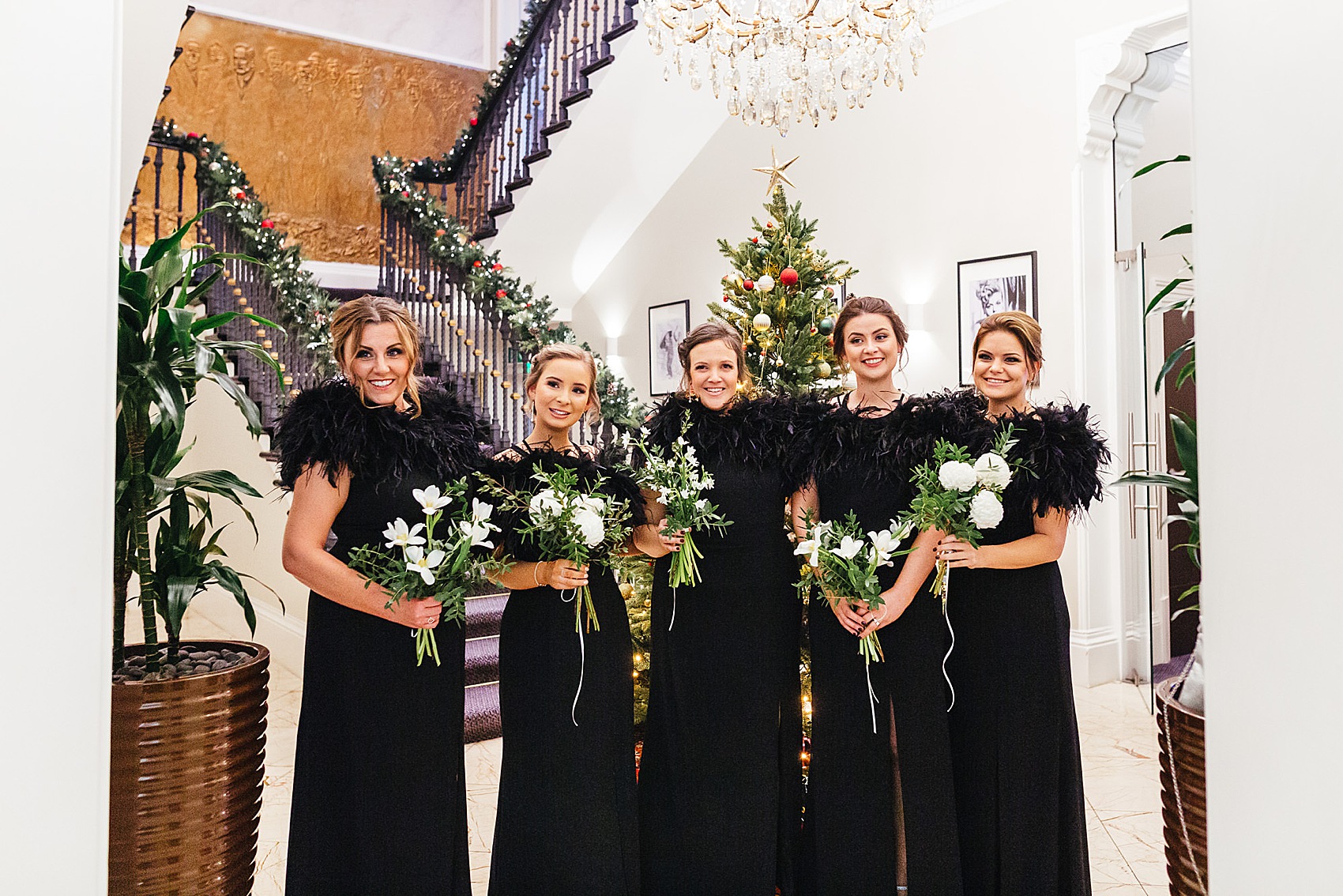 A white London cab from White London Taxi Wedding Cars was the transport of choice over to Trinity Buoy Wharf on a rather rainy afternoon.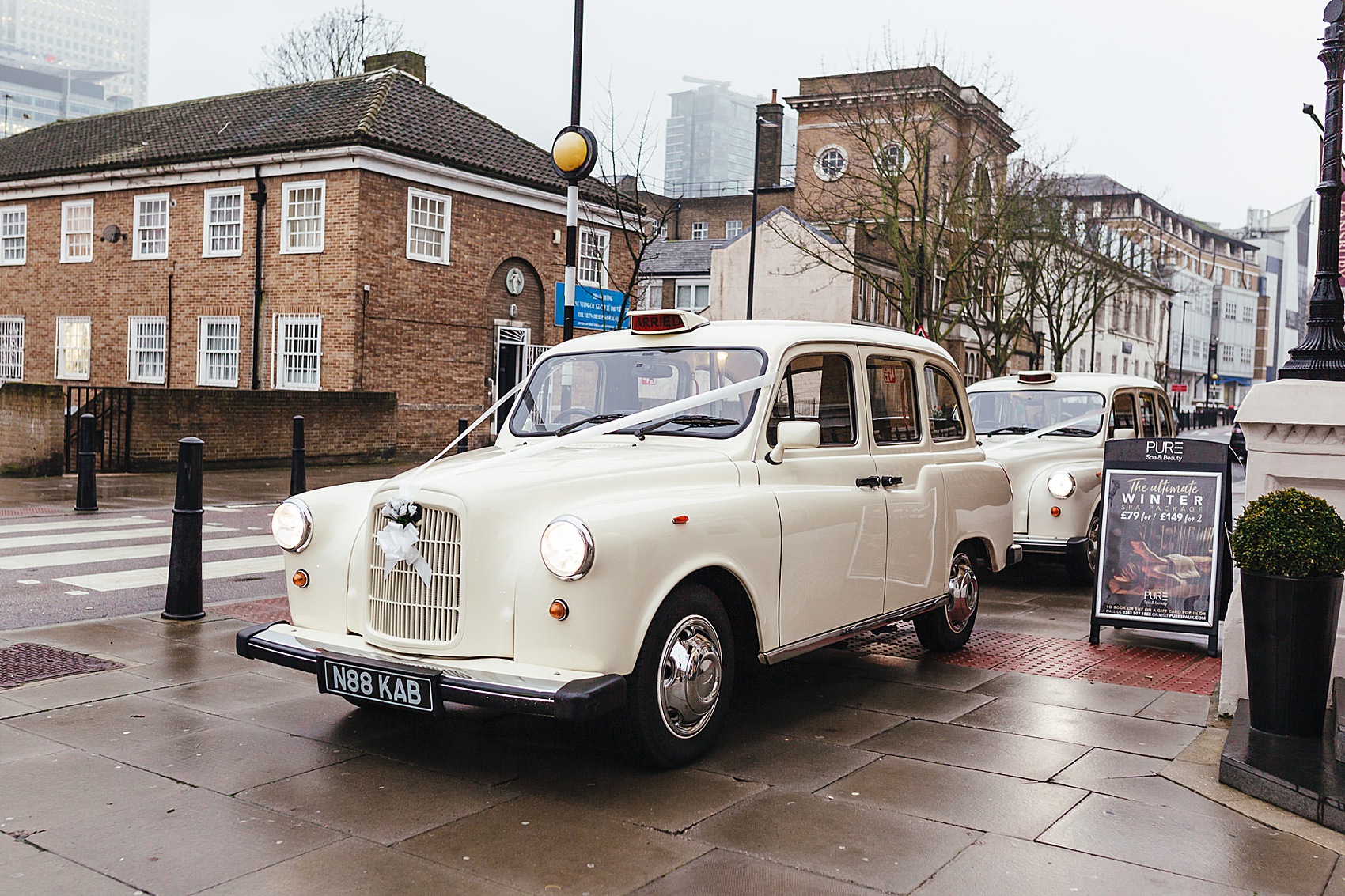 The couple held their ceremony in the venue's restored old Electrician's Shop, with exposed timber, brick and steel pillars providing the perfect foil to lots of candles and fairylights, including a cascading backdrop adorned with flowers and branches of mistletoe.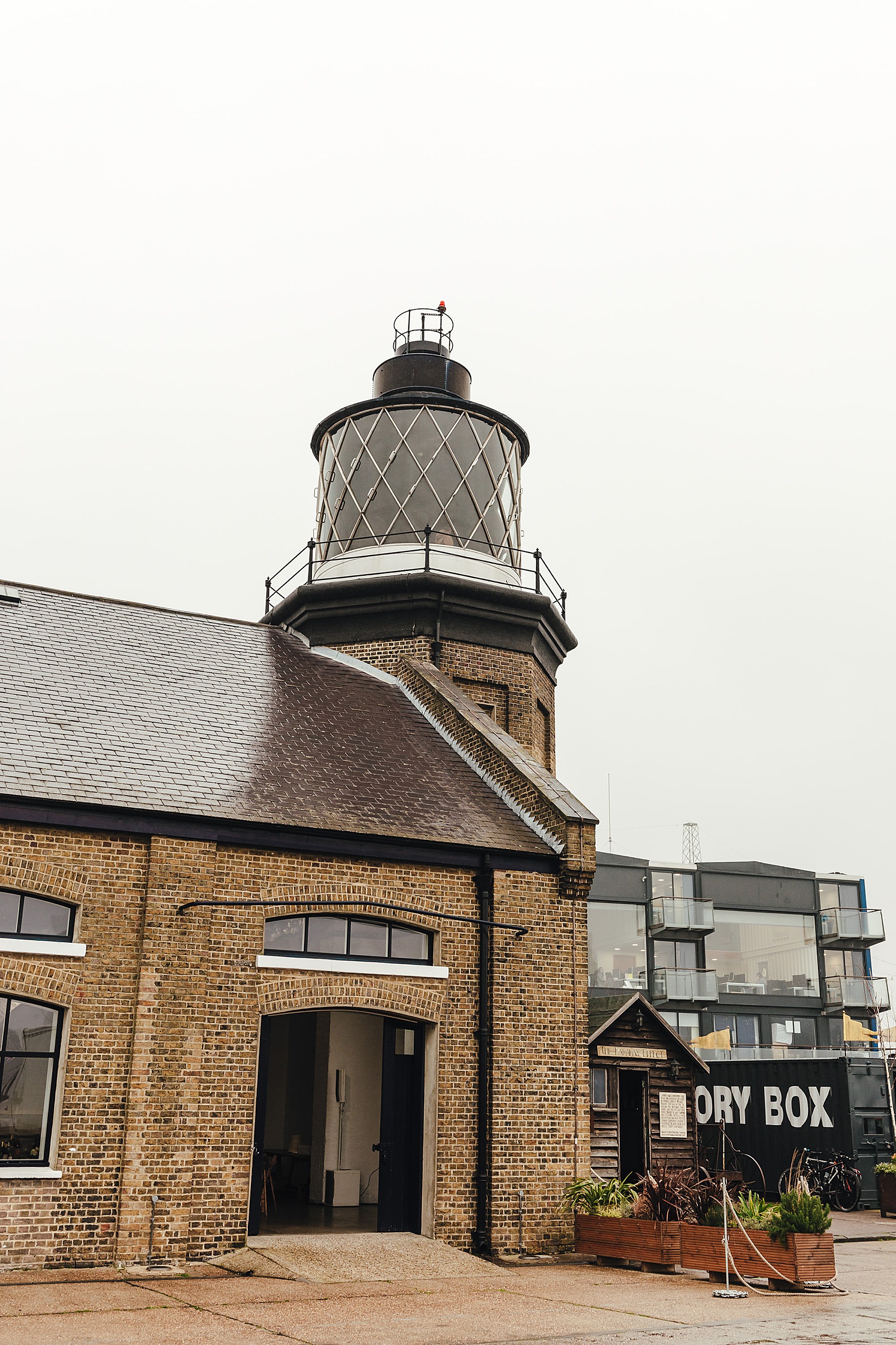 Sam awaited Katie's arrival, and let's talk about how amazing his suit was shall we?! Glorious red tweed with a contrasting yellow tie by Tweed Addict, which he wore with shoes by Philippe Zorzetto.
"Sam has used them for many years now, and this was the third custom-made suit he'd ordered. He used Tweed Addict as their suits are so well made, so different, and Nathan the tailor is incredible at what he does: a true professional. The suit was so different, and the red tweed was chosen as it offered a really fun twist on the day, adding to the relaxed vibe."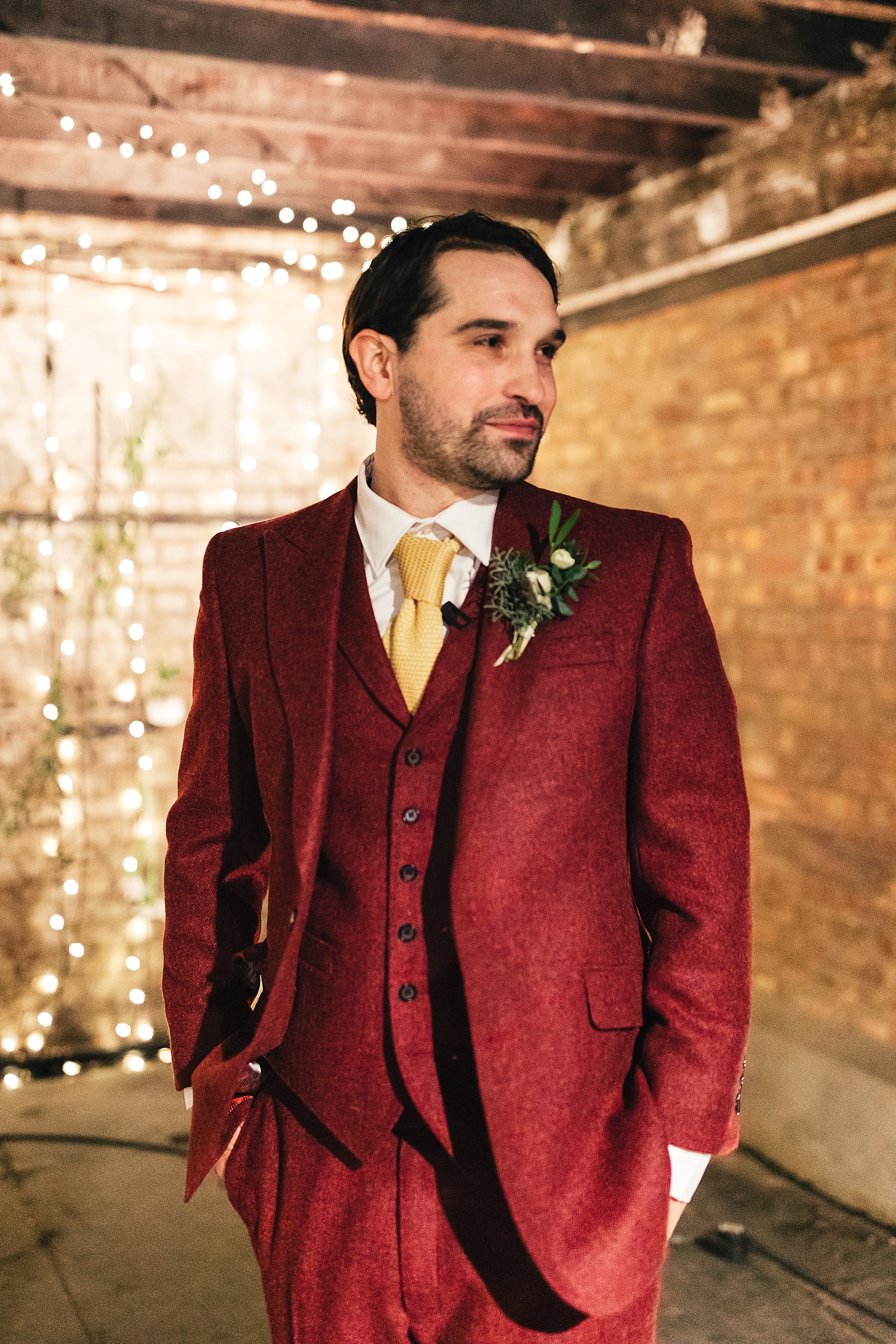 Glamorous hair and make-up came courtesy of Sophie Cooke from The Bridal Stylists, and in her hair, Katie wore a small hair comb from her Great Nan, and a simple and elegant elbow length veil from Pure Couture. Both Katie and Sam wore their favourite fragrance – Noir 29 by Le Labo.
"My shoes were by Emmy London. I was passing their shop when I was on my way to a meeting, and saw a pair of shoes in the window. As fate would have it, they were the last pair and also in my size. What sold it for me was the personalised stone on the bottom of my shoe. I chose a sapphire to match my engagement ring, and also as my 'something blue'."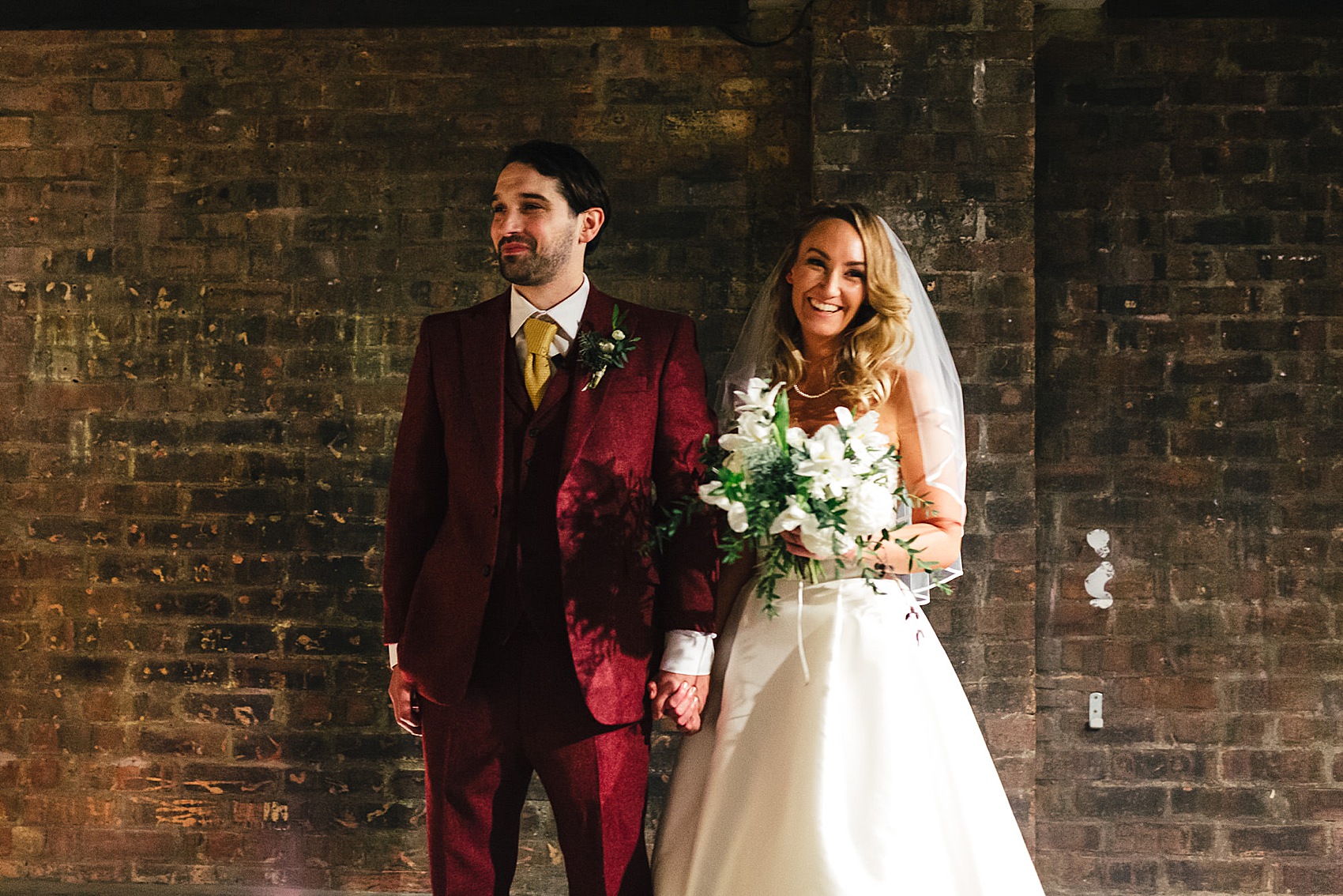 City String Ensemble played God Only Knows by The Beach Boys as Katie and her Father walked together down the aisle.
"We met in a local pub in Amersham in August 2013. I had just moved down to Amersham from Glasgow, and the plan was to stay with family for 6 months and then move to London. I then met Sam. Seven years later we are married, and this is very much home."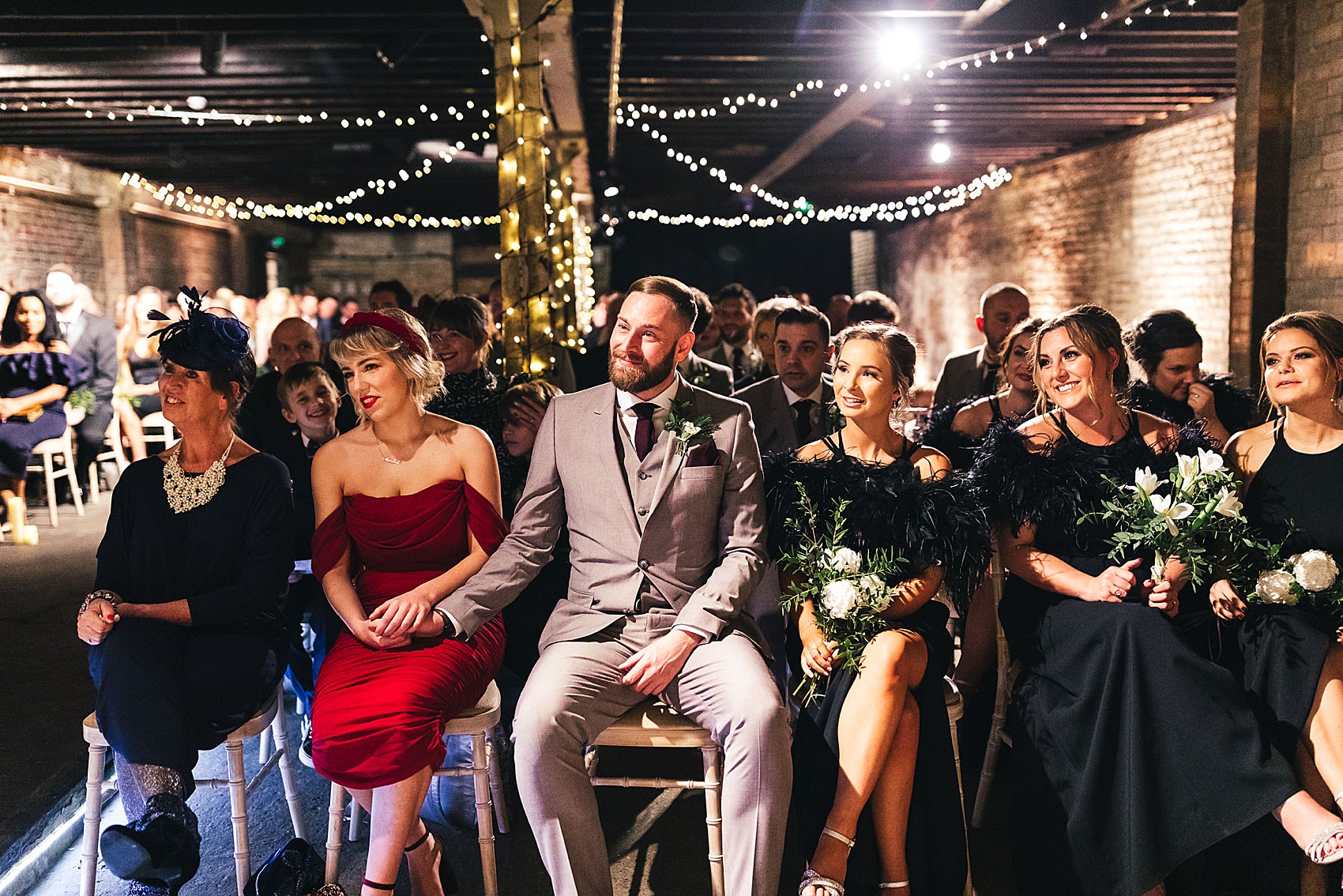 Katie and Sam chose to make traditional vows to each other, solidified with the exchanging of rings, which they had made (along with Katie's engagement ring) in Hatton Garden [apologies, no further details supplied]. There were also two readings during the ceremony, from Sam's nephew Dexter, and Katie's cousin Izzi.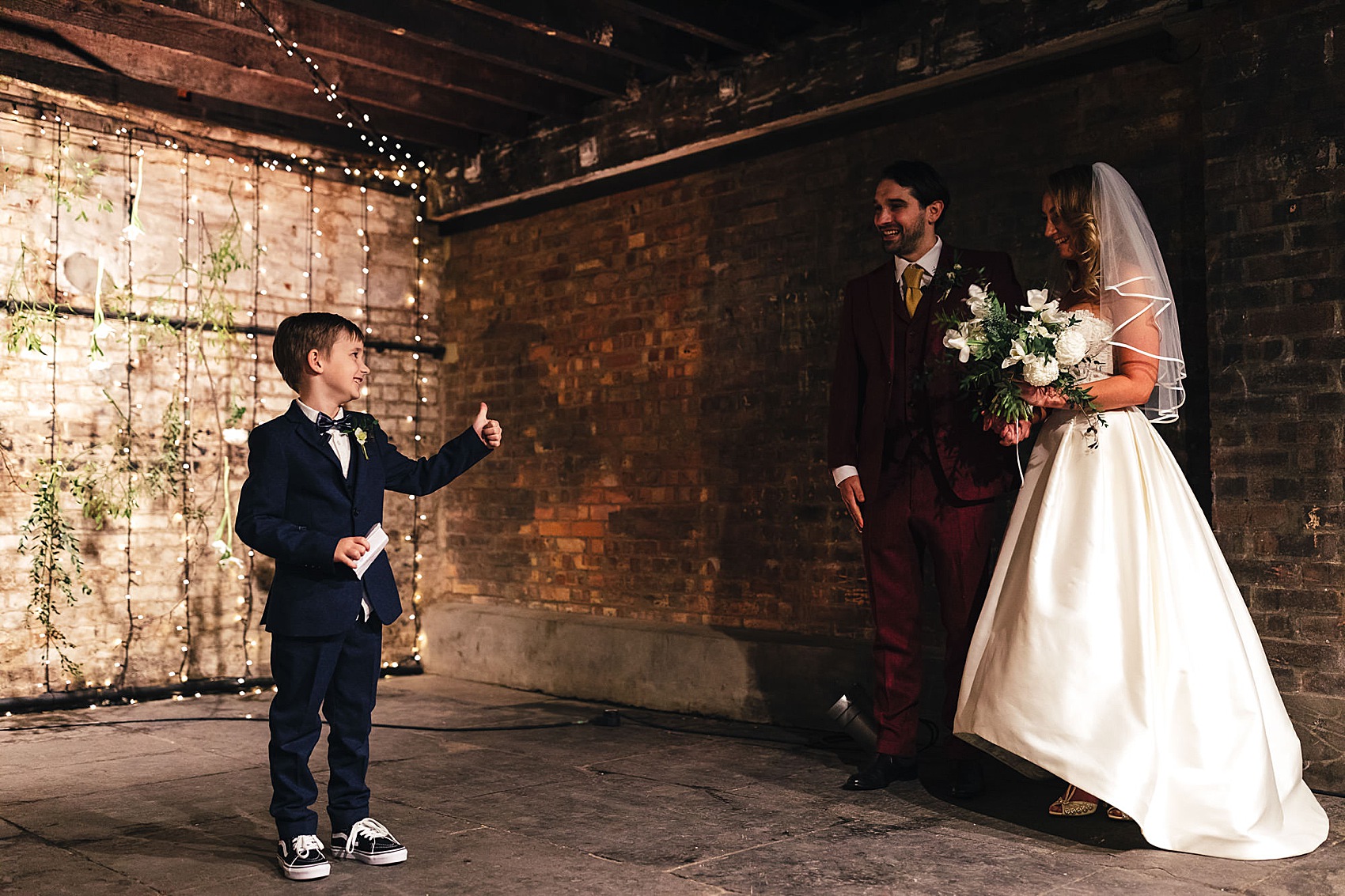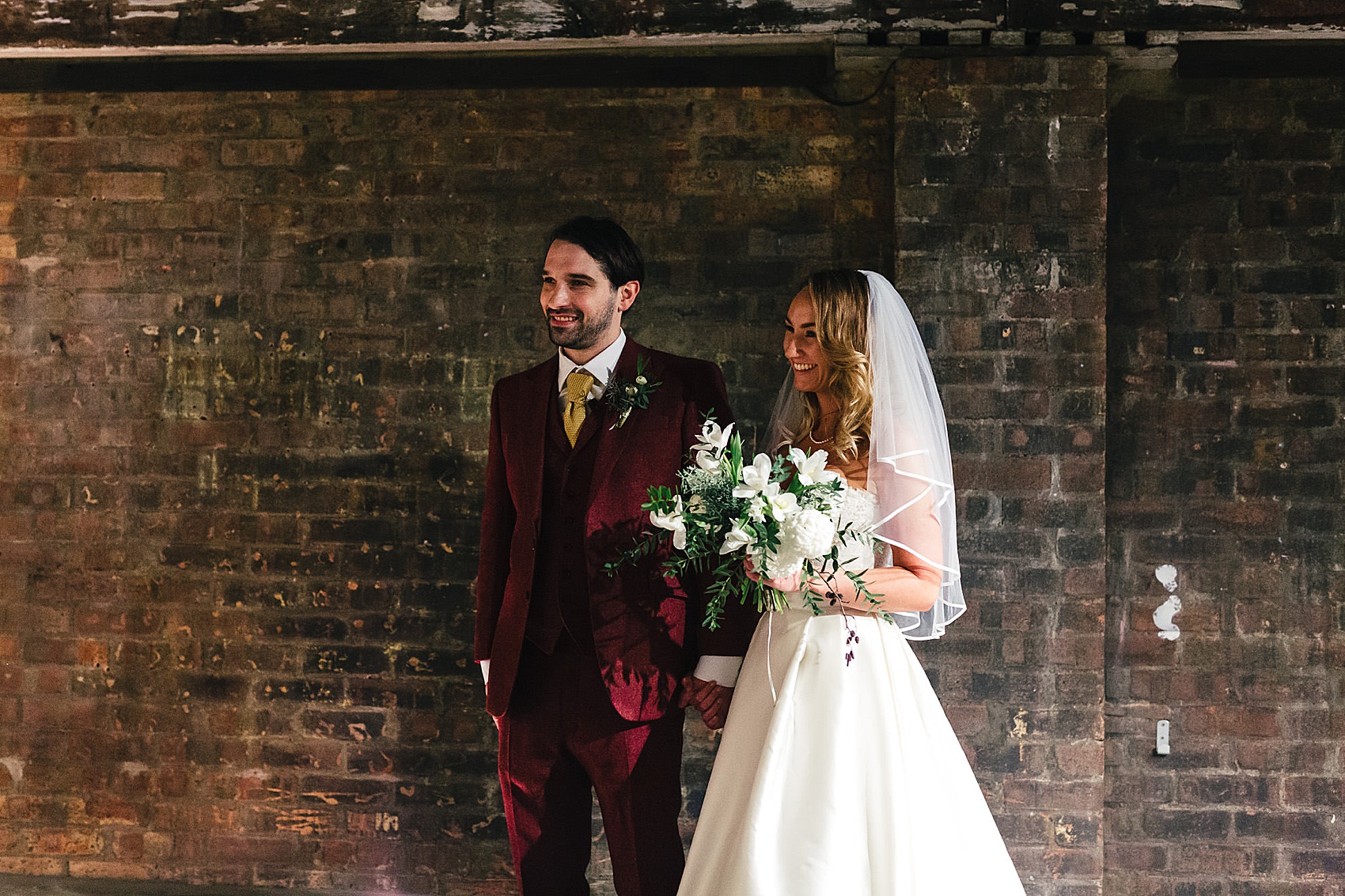 Just after the ceremony, Katie added her own fabulous ostrich feather cape by Joan Lee Accessories to keep off some of that winter chill outside. As well as that, she carried a dreamy bouquet of white blooms and greenery by florist Olivia Wetherly Wilson of Wetherly – a school friend of Sam's.
"Livvy's flowers are just stunning – so different, relaxed and wild."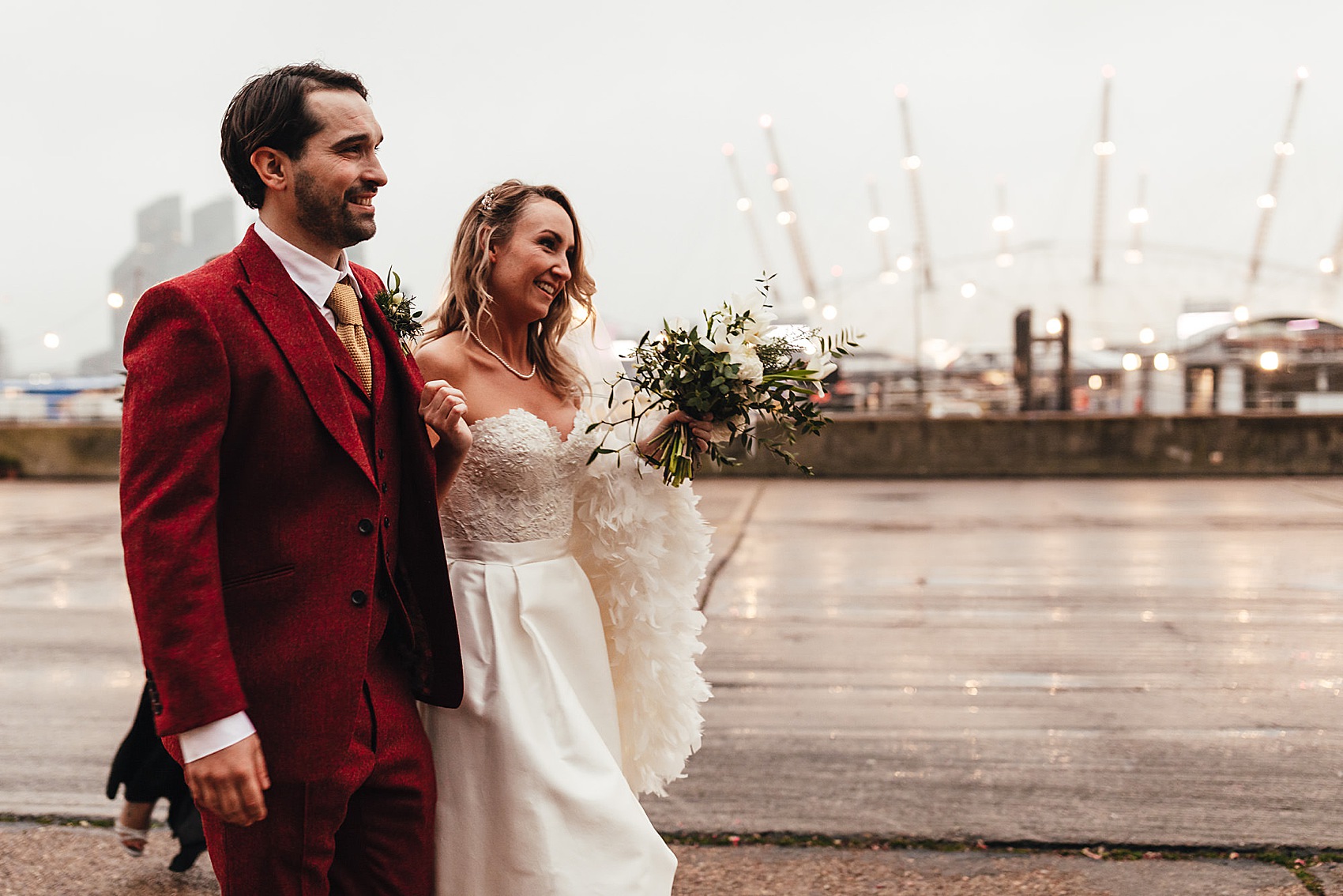 The couple climbed the steps to the top of Trinity Buoy Wharf's lighthouse for a breathtaking view out over the River Thames. What a lovely spot for a moment of quiet reflection together – not to mention a brilliant place for a photo or two! We have Kirsty Mackenzie to thank for these fun, festive and heartfelt images.
"We absolutely loved Kirsty's style. Relaxed, informal, and nothing too staged. Kirsty calls herself the photo ninja, and that she most certainly is!"
"Our videographers, I Will Video are married couple duo Jess and Will. They were incredible, and their wedding films captured our day beautifully."
Do make sure you take a look at Kirsty Mackenzie's other work in our real wedding features, as well as another sweet film from I Will Video, too!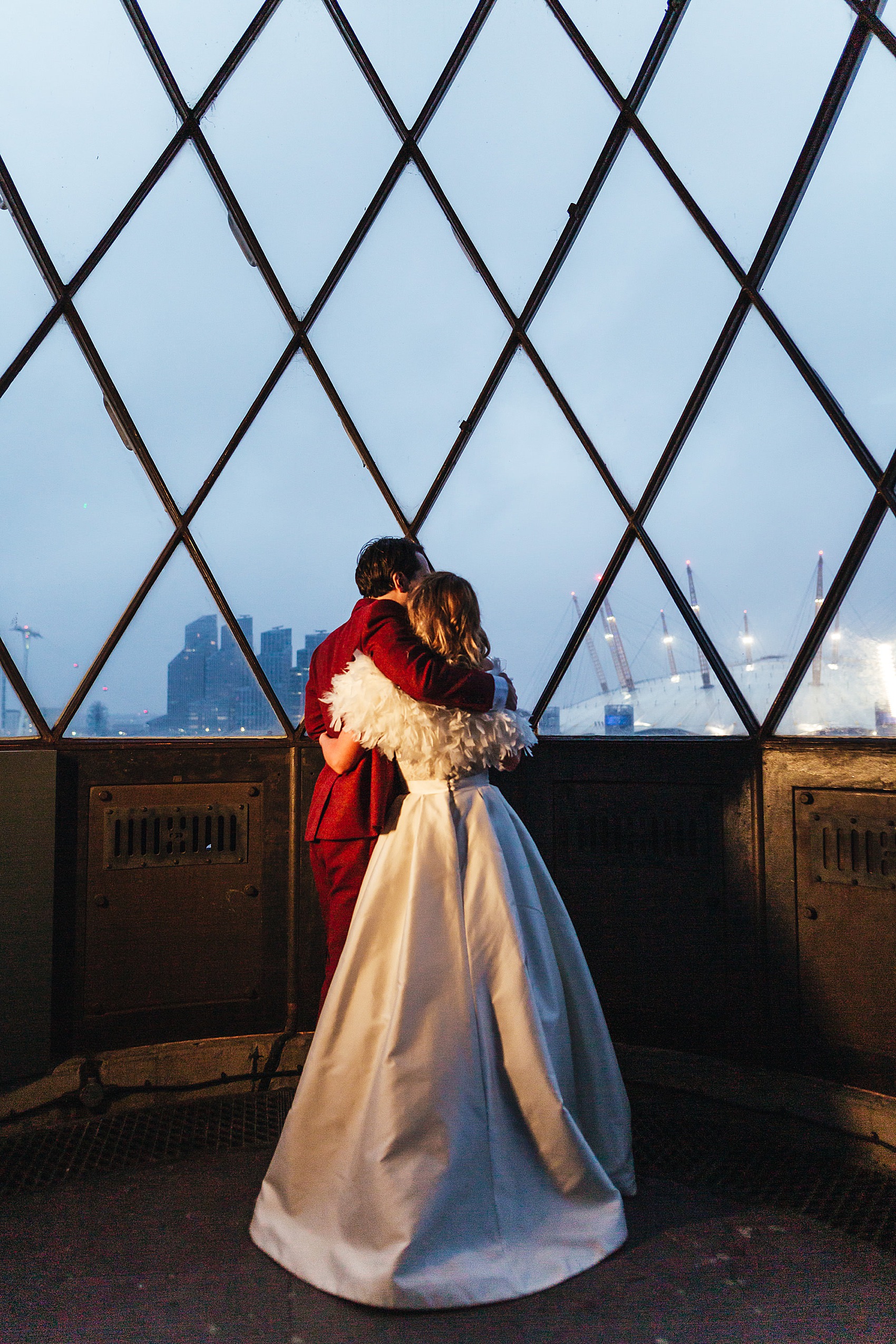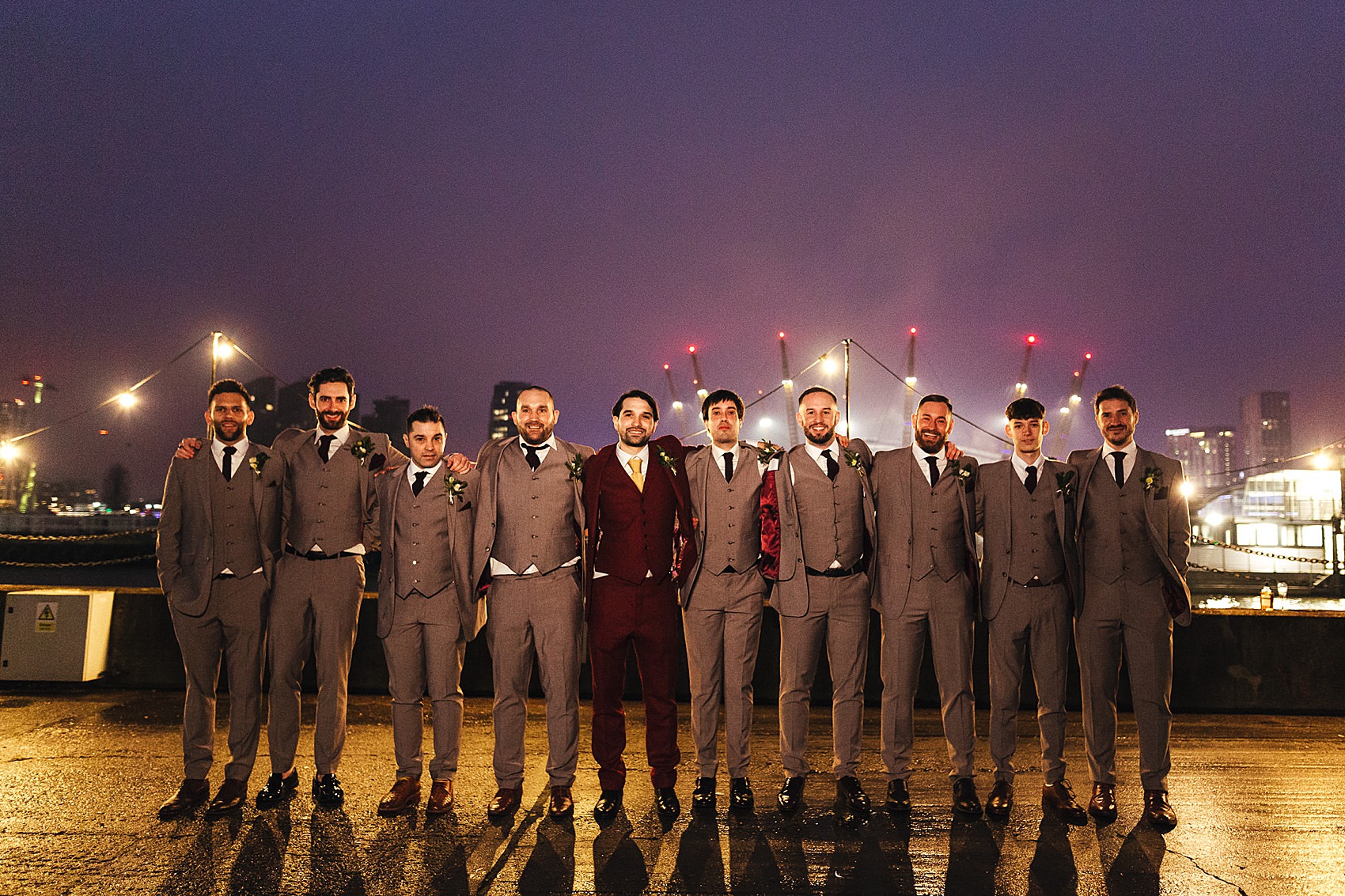 Katie looked spectacular in her Caroline Castigliano dress, chosen at Pure Couture Bridal Boutique, with its beautifully structured skirt with high-low hem and pockets, and strapless sweetheart bodice with delicate lace all over. All of Caroline's designs are exquisitely cut and crafted, and made with luxurious fabrics.
"I love Caroline Castigliano's dresses as they are so feminine but also have that structured edge to them. I was sold on that fact my dress had pockets! Pure Couture in Beaconsfield were absolutely fantastic. I made so many changes to my dress, hacking off a lot of material (sorry Caroline Castigliano!) and each time they were so helpful."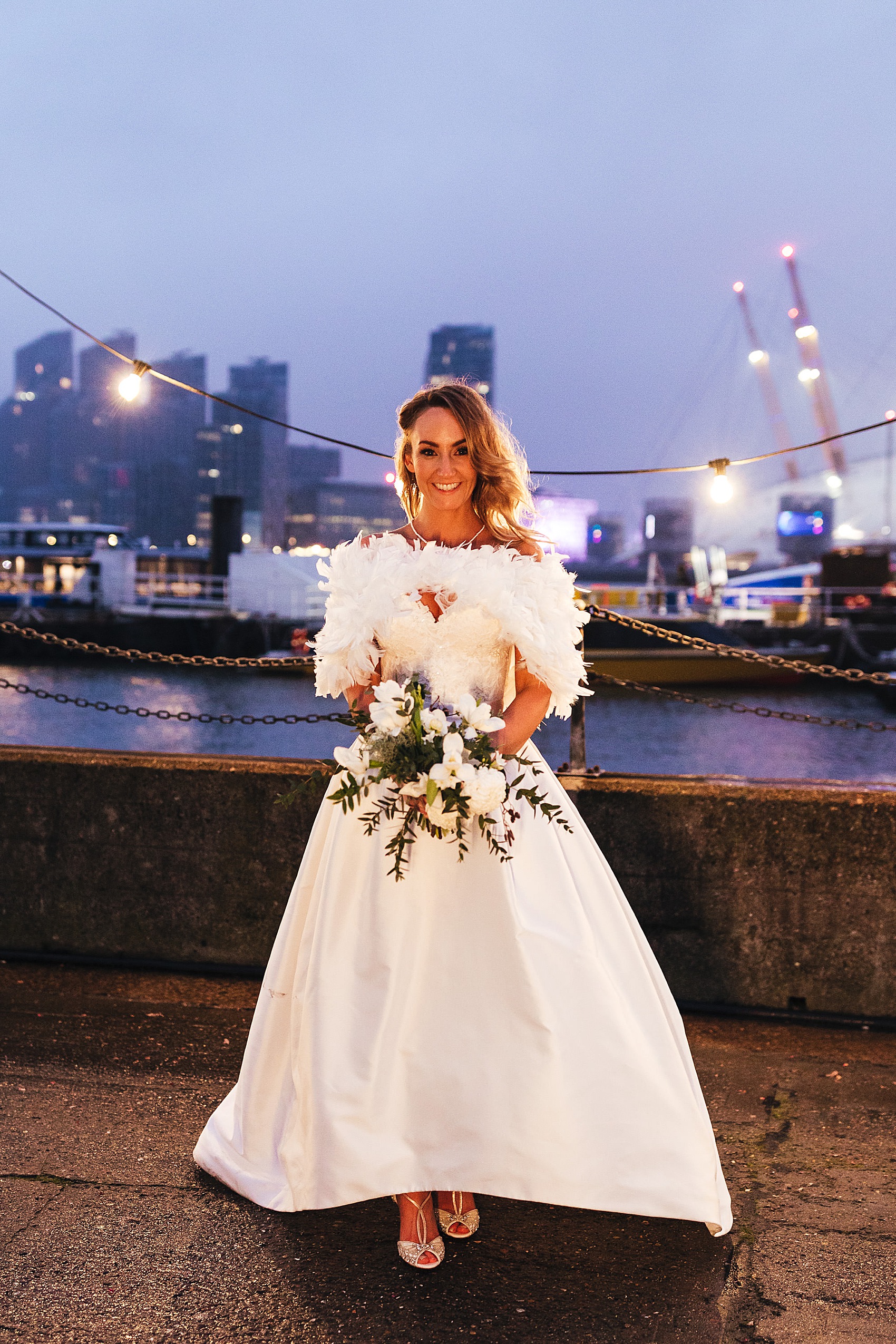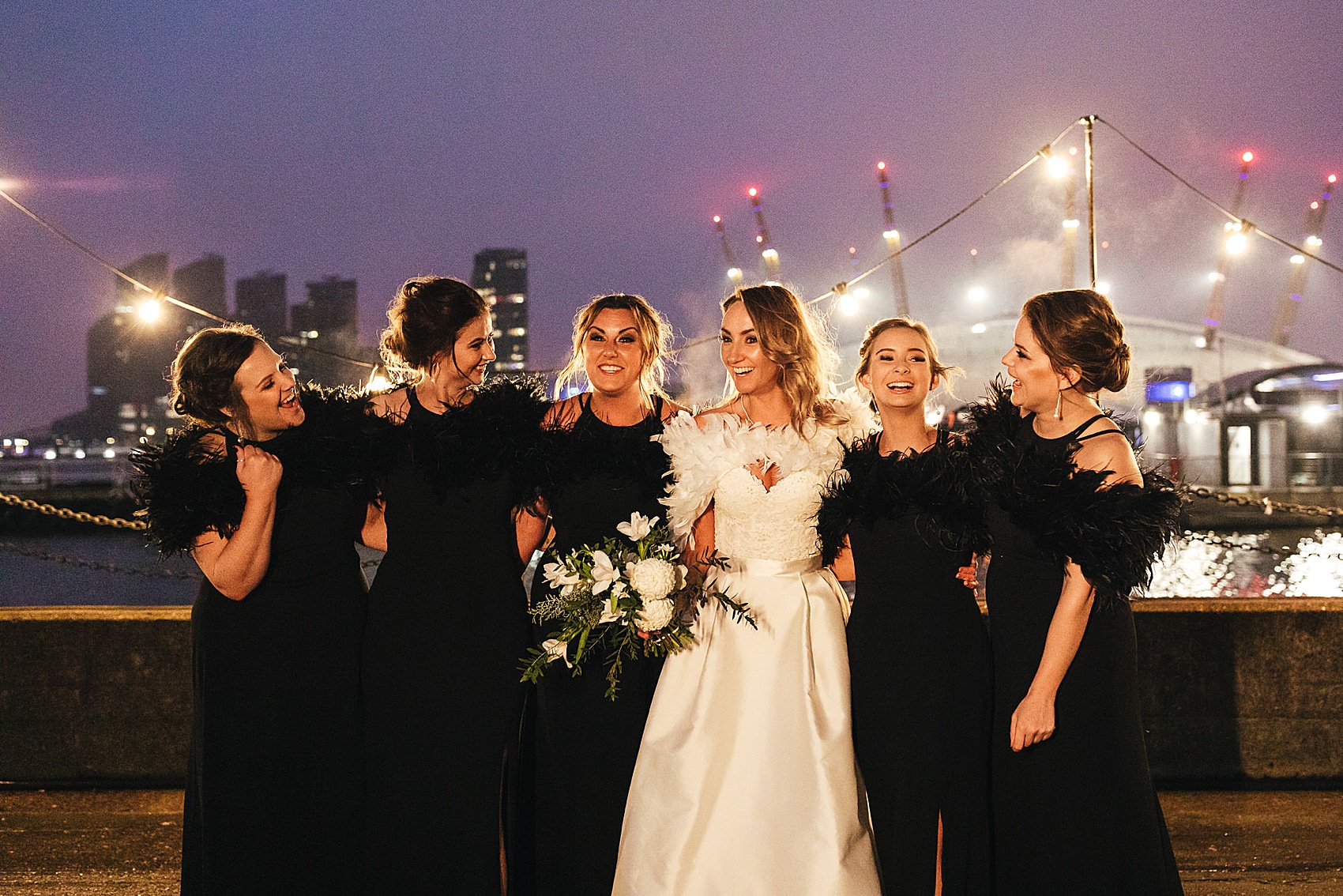 "Sam had planned to propose on the beach in Poole where I grew up. The first attempt was in March 2018. It was a really cold, snowy day so the plan was abandoned."
"The second attempt was May Bank Holiday. The weather was beautiful, and therefore the beach was packed, and Sam couldn't find a quiet spot. We drove home that day, and Sam was so fed up he got down on one knee when we got into the house – and it was just perfect."
Before dinner, Katie and Sam treated their guests to a boat ride along the river, courtesy of Thames Clippers, and this was a highlight of the day for them both.
"The shock on everyone's faces when we led them to the surprise boat trip – this for us made the day so special!"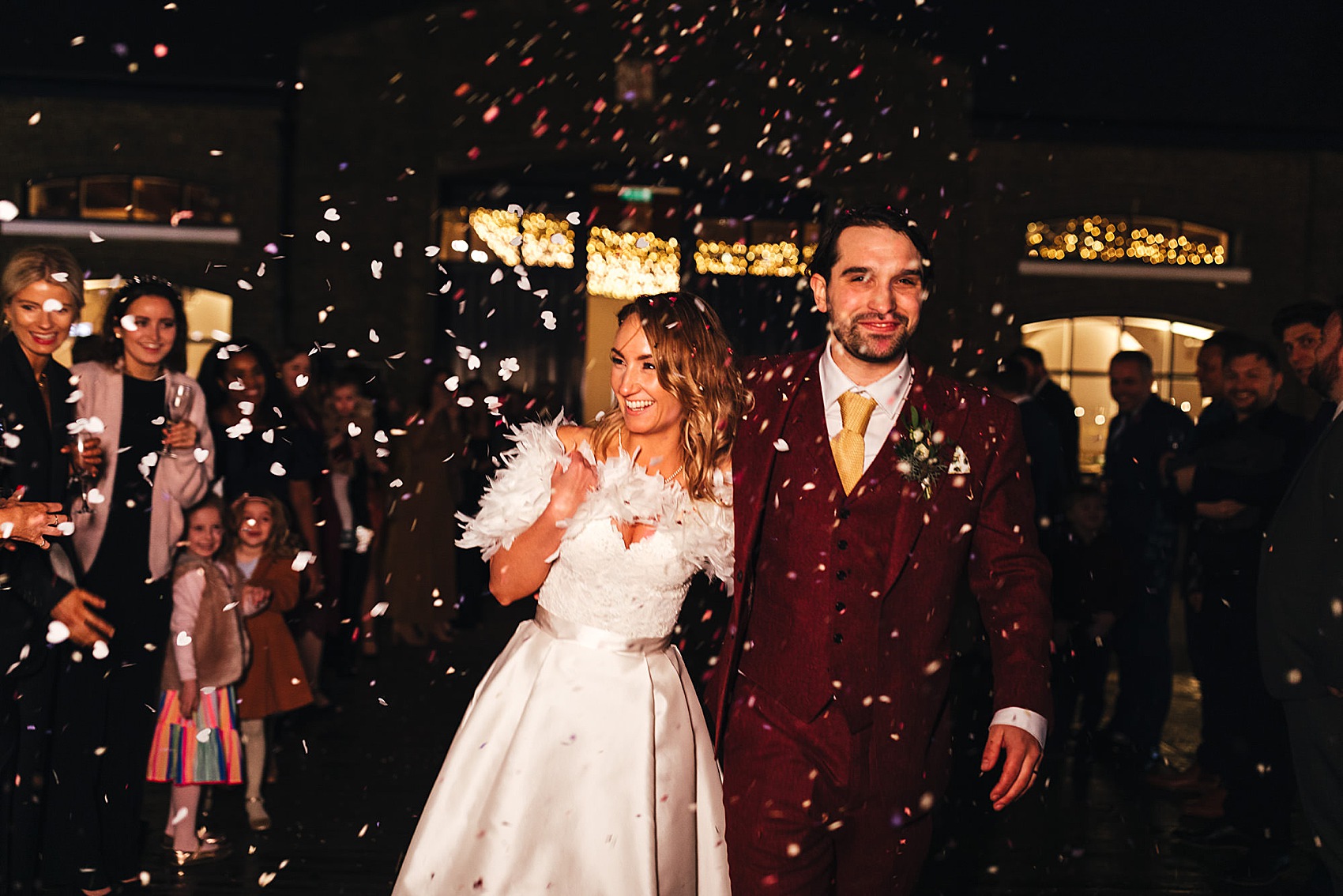 Trinity Buoy Wharf is a dry hire venue, something that wedding and events planner Laura at Devine Bride specialises in; bringing a fun and flexible approach to supporting couples both before and on their wedding day. Katie and Sam found Laura's vision and support invaluable.
"I cannot emphasise enough how wonderful this woman is. She brought our whole day together for us, and made the day seem so seamless. Laura is incredible at pulling out all of your ideas and fitting them so perfectly together."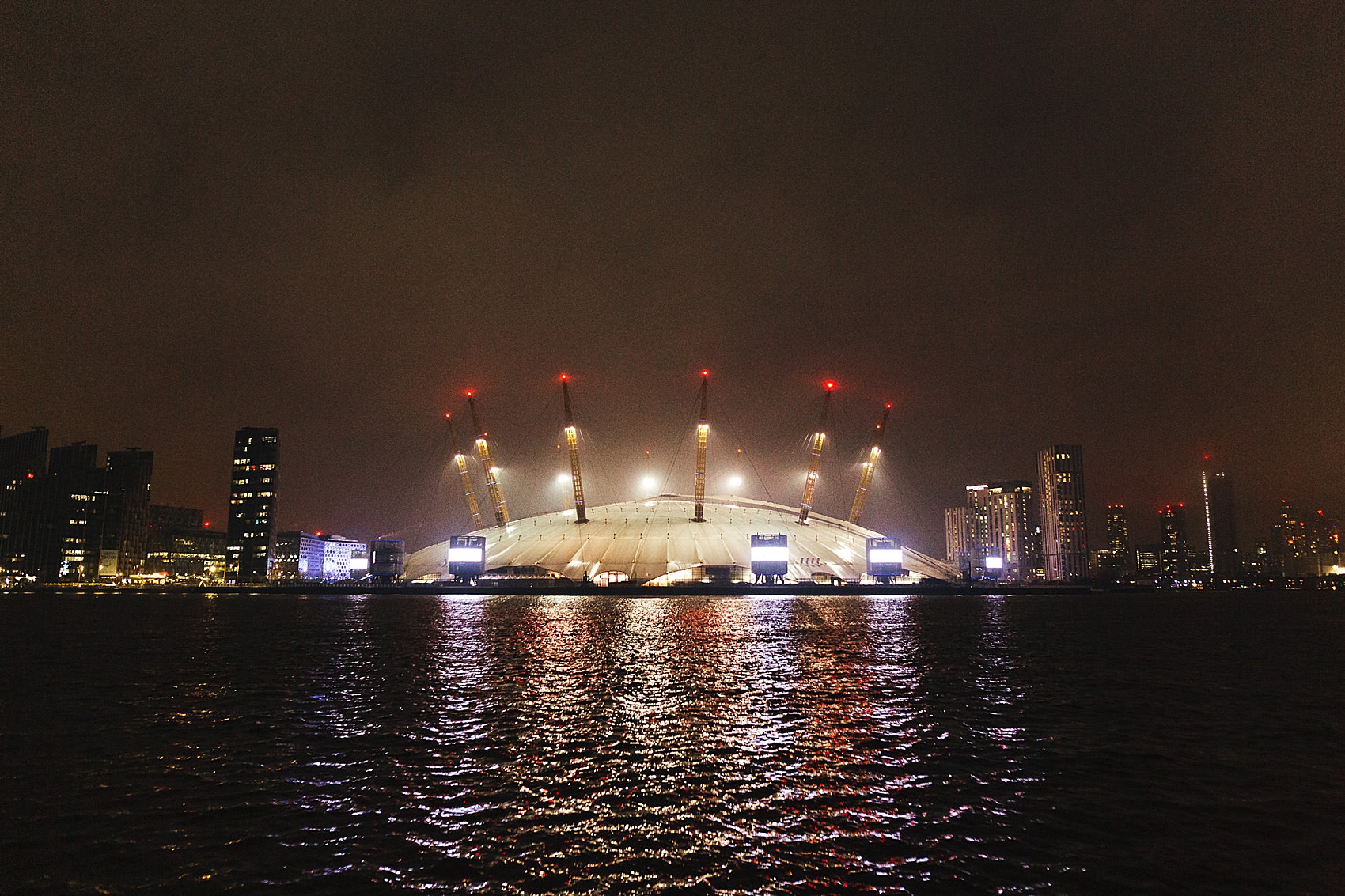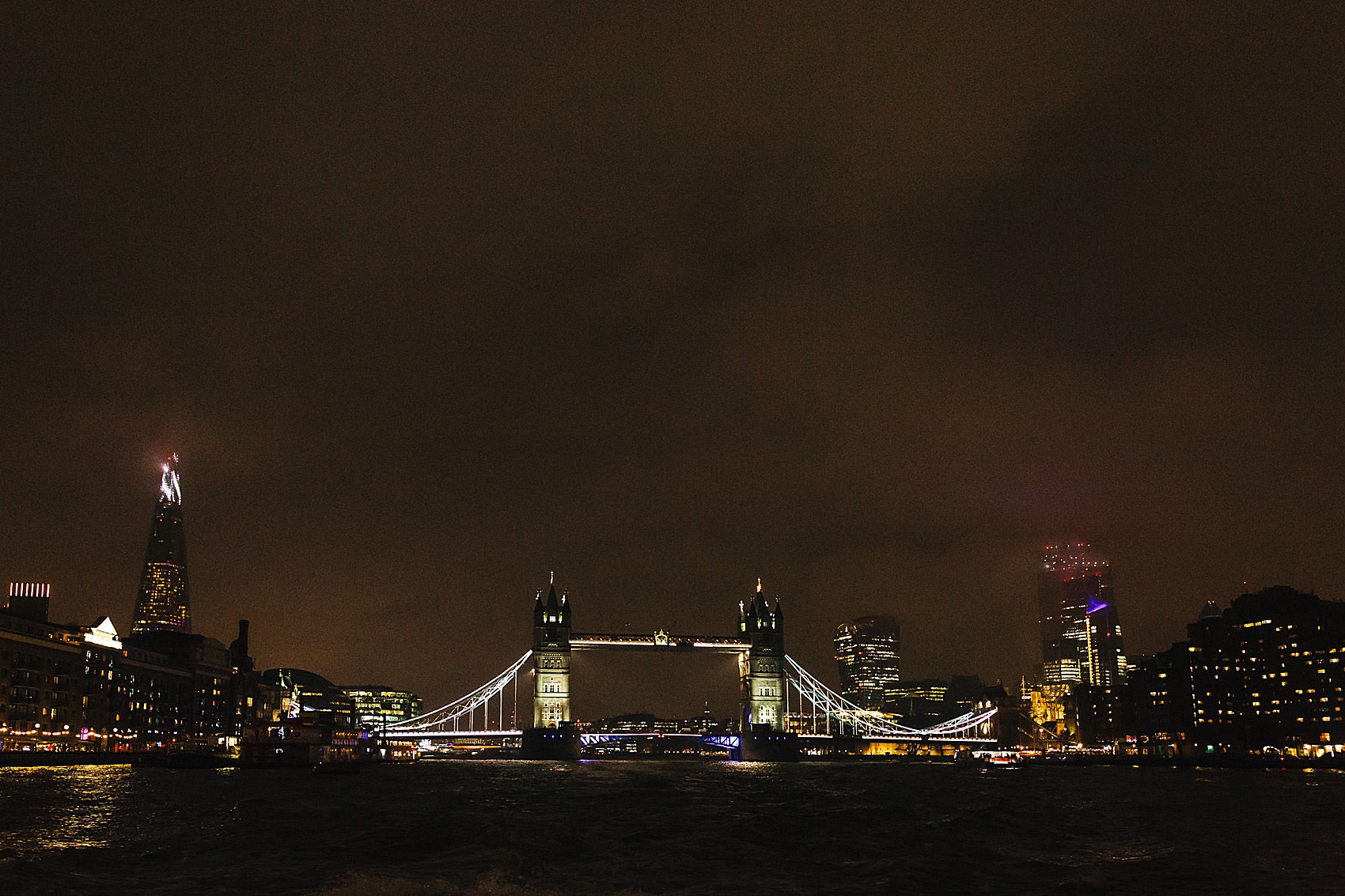 An array of beautiful furniture to decorate the reception space was rented from Anthology Vintage Hire, who provided wooden dining tables and chairs, leather Chesterfield sofas, and vintage suitcases and crates.
"Sam's friend Scott Grange is a graphic designer (Orange Circle Creative) so we got to personally design the invites/menus. Favours were a scratch card and a penny for each of our guests."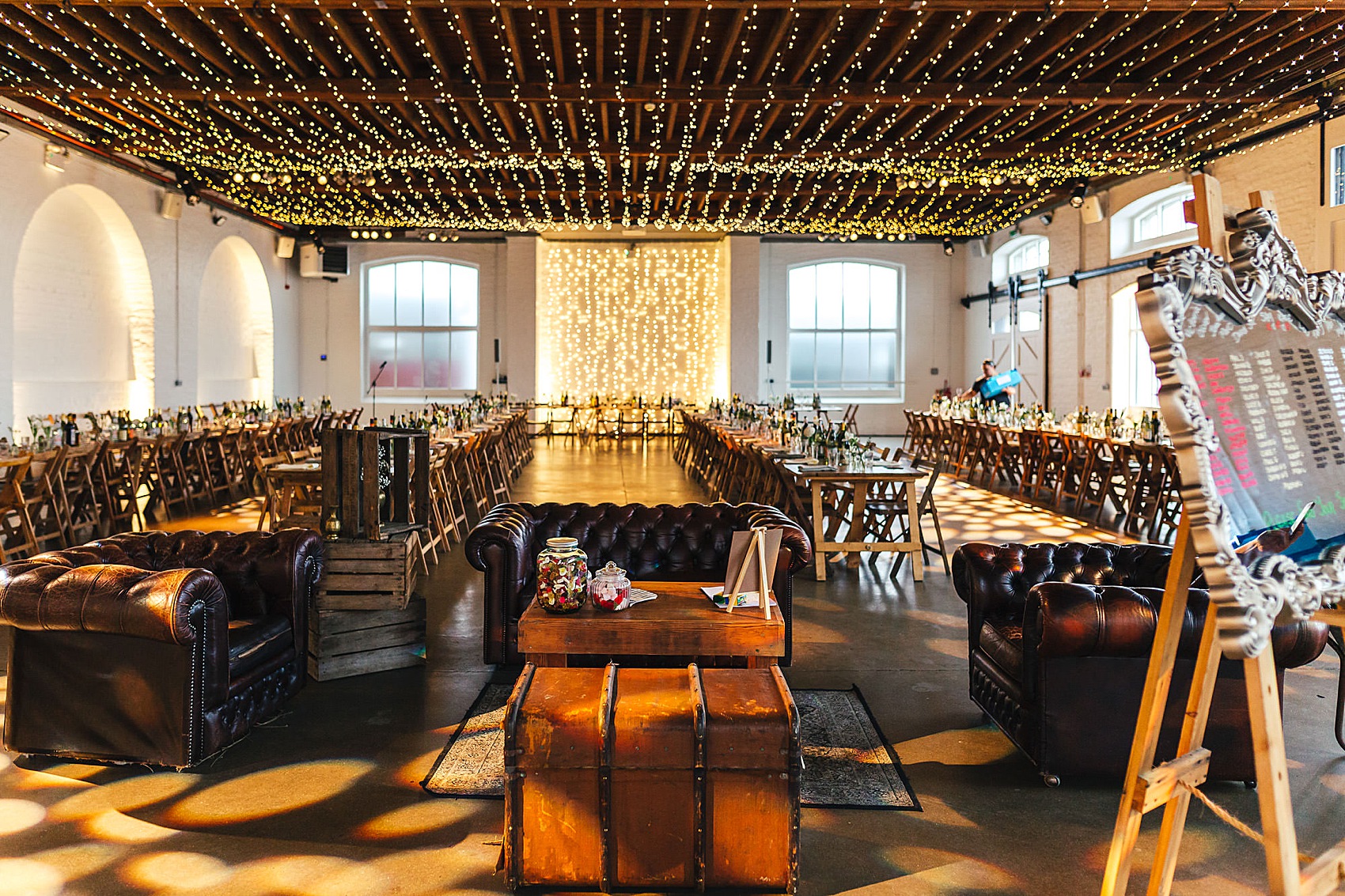 The whole ceiling, and wall behind the top table was filled with fairylights, and on the tables and vintage crates were pretty posies and single stems of flowers in vases, bottles and jars.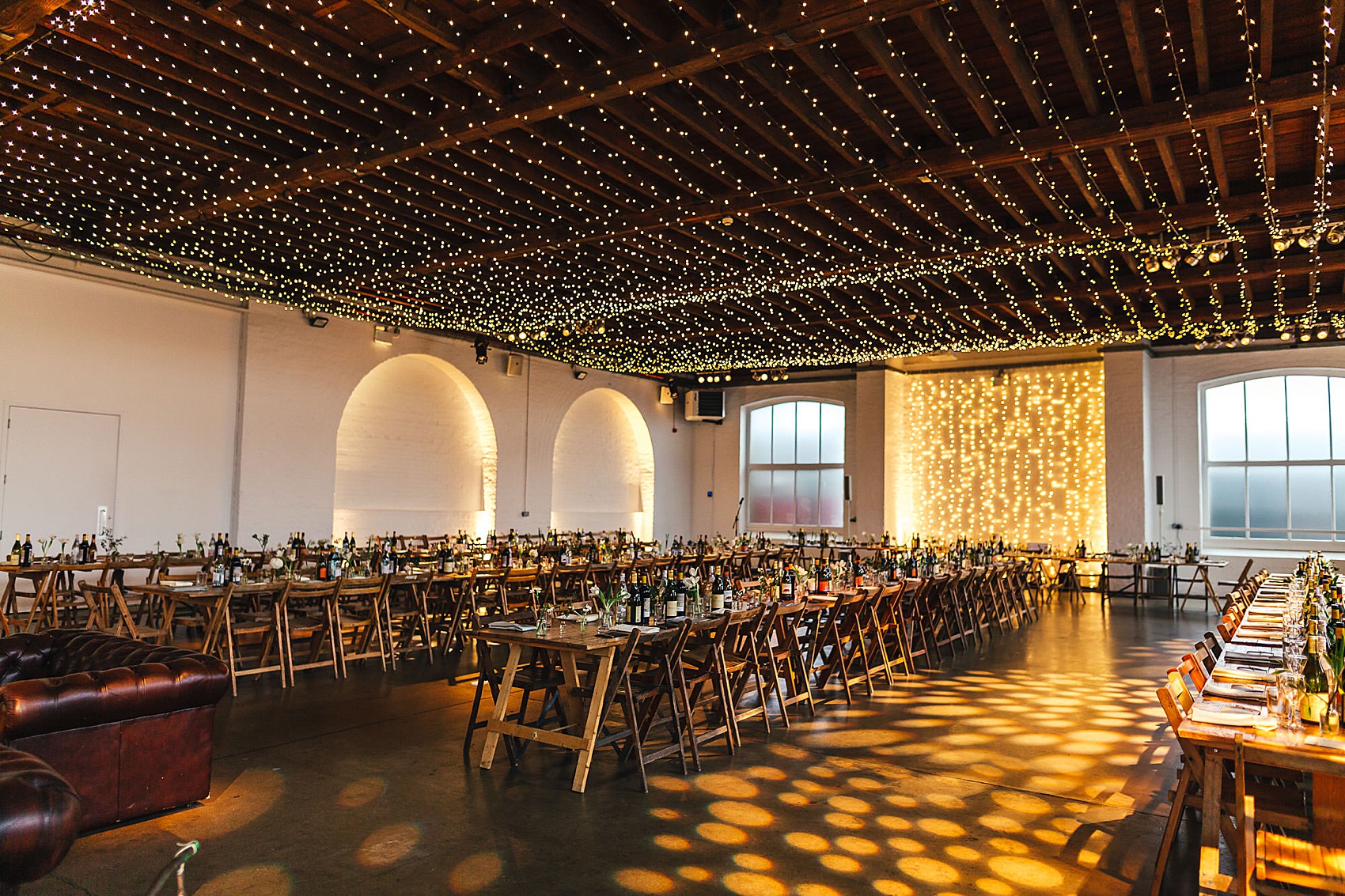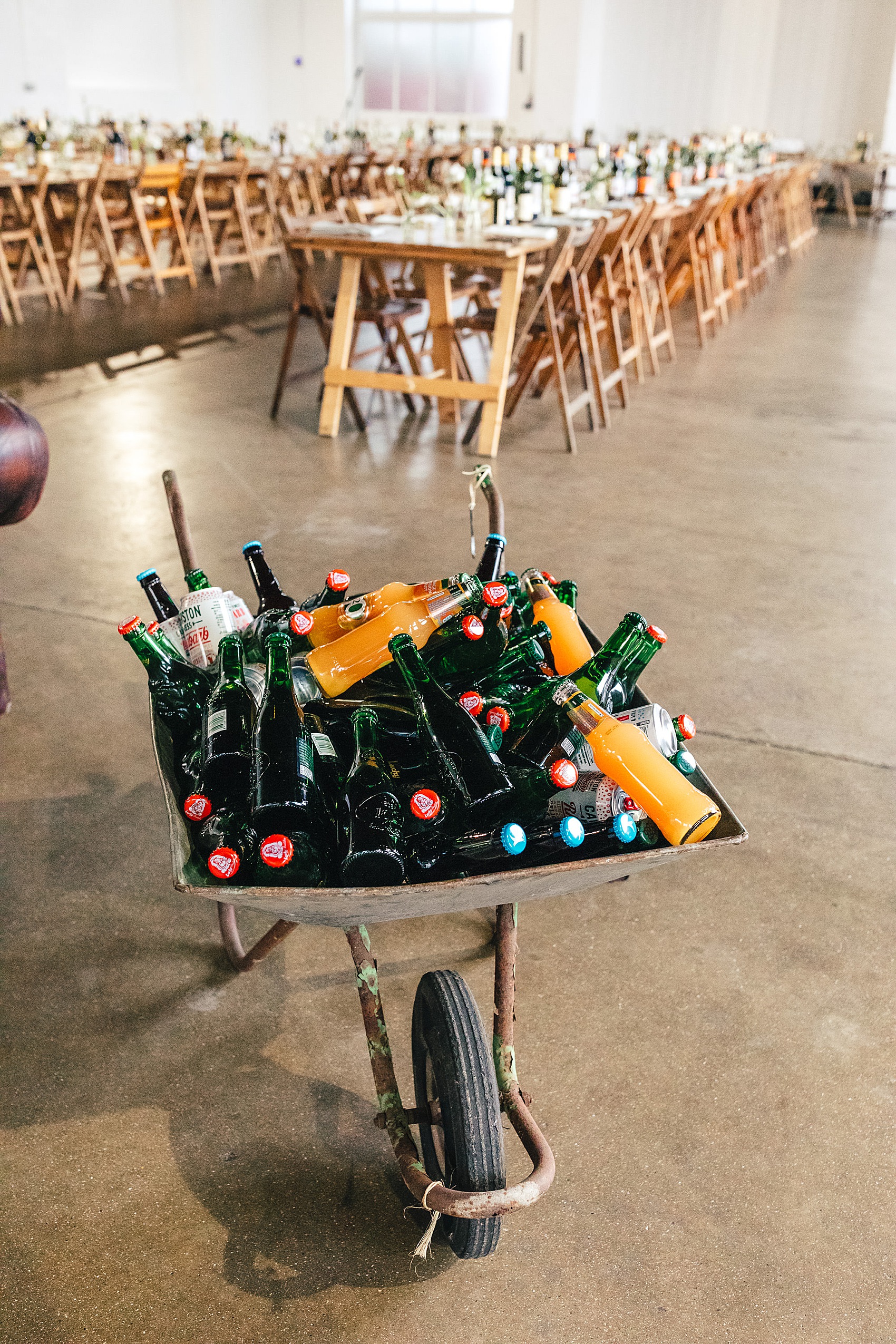 The wedding meal was a hearty pie and mash feast from MYPIE, who Katie and Sam were delighted with.
"We can't recommend MYPIE enough. They were short staffed on the day, and we'd never have known. Their pies are the best!"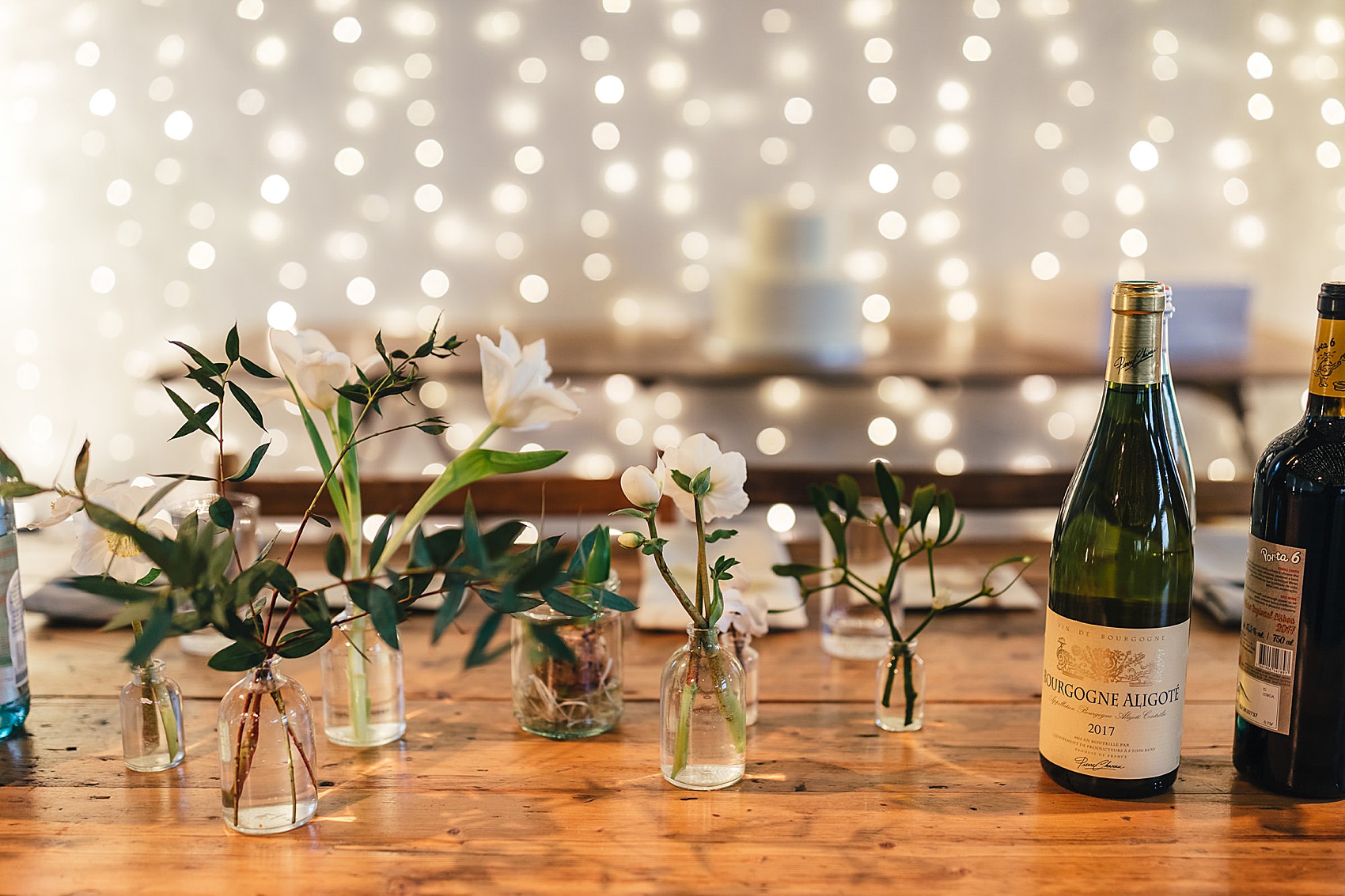 A gorgeous two-tier iced cake was lovingly made by Sam's own family bakery, Darvell & Sons.
"The Vintage Bar Co. – These guys were great. We even chose our own signature cocktails. I chose a French Martini, and Sam chose a Dark and Stormy."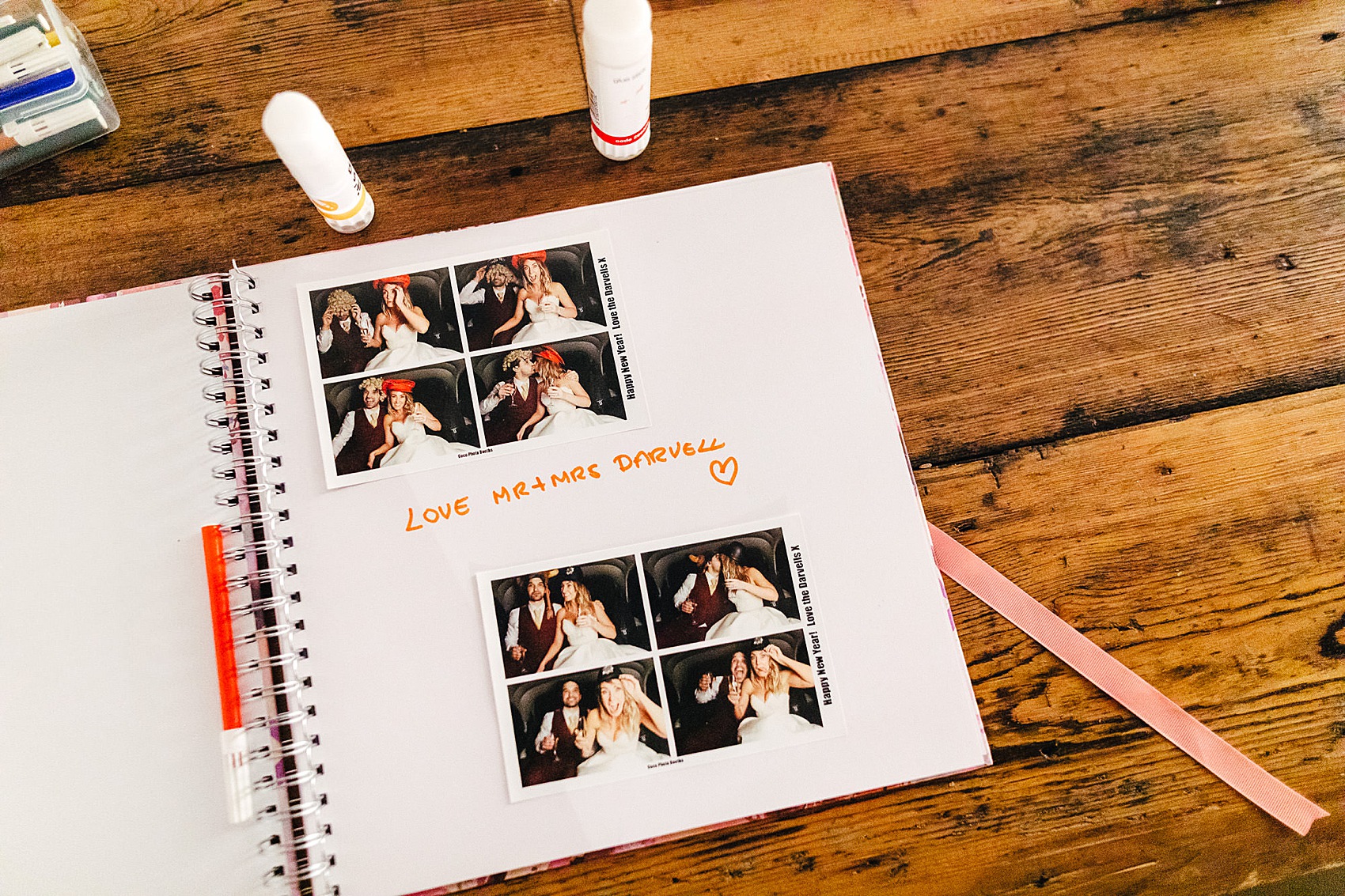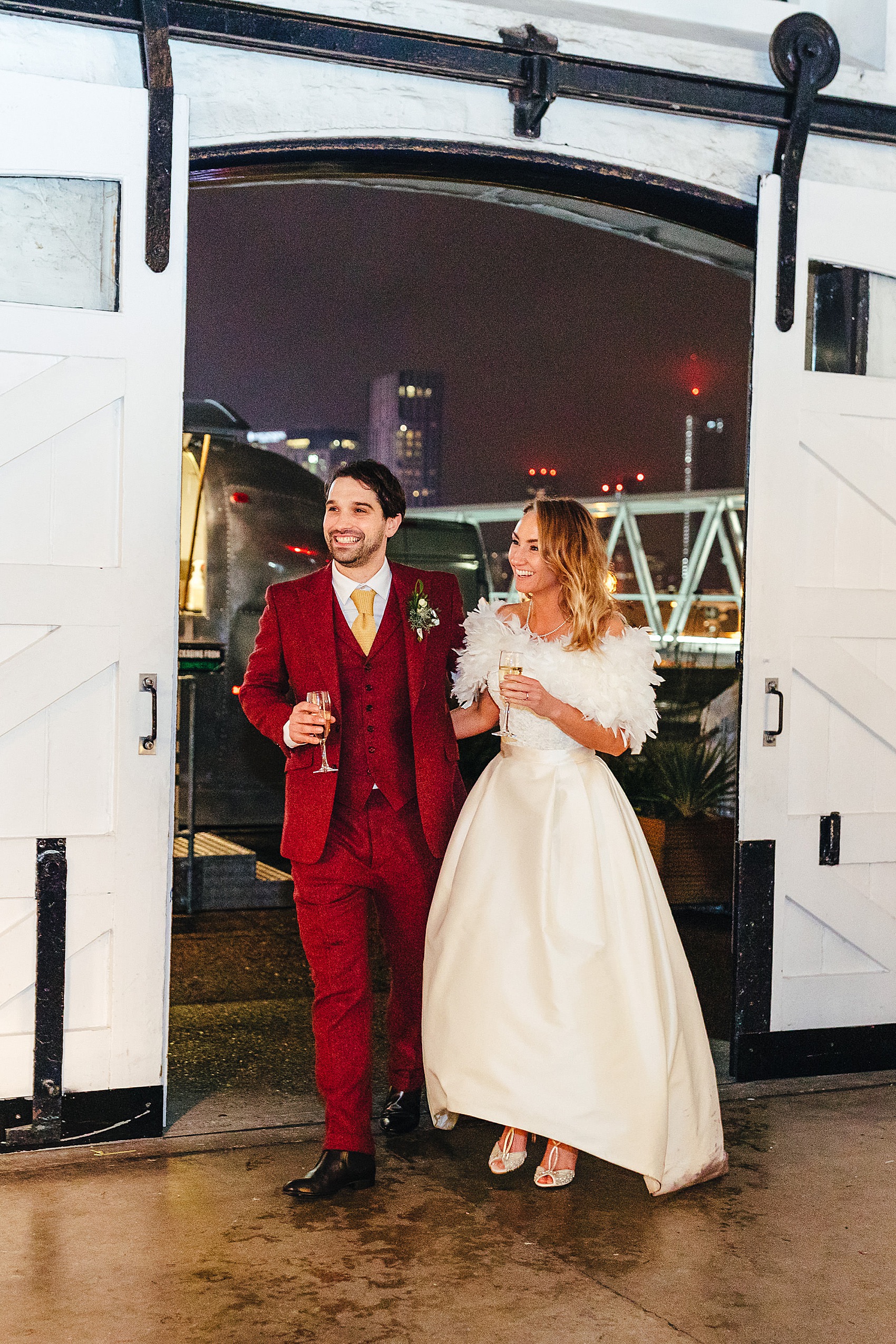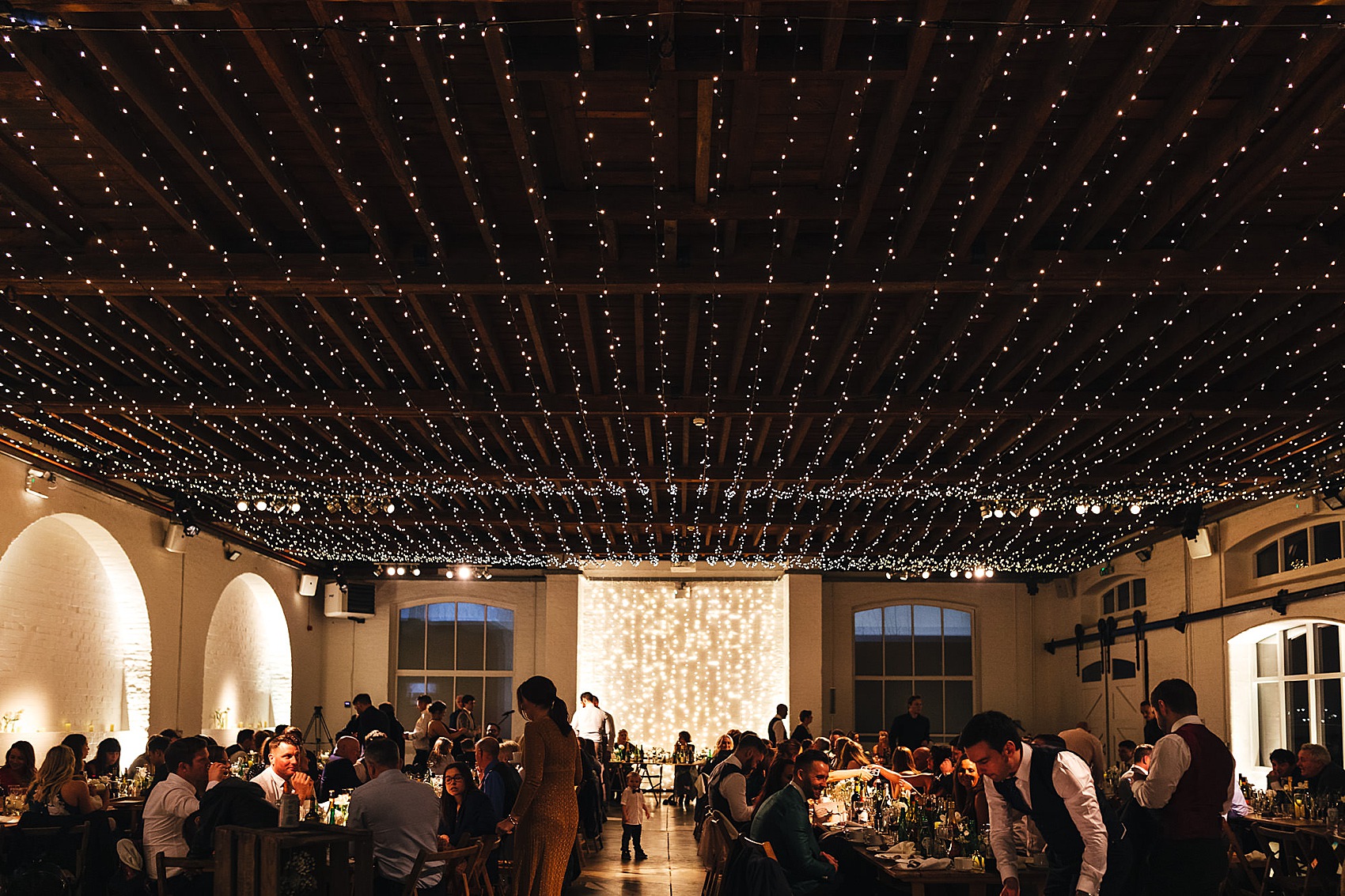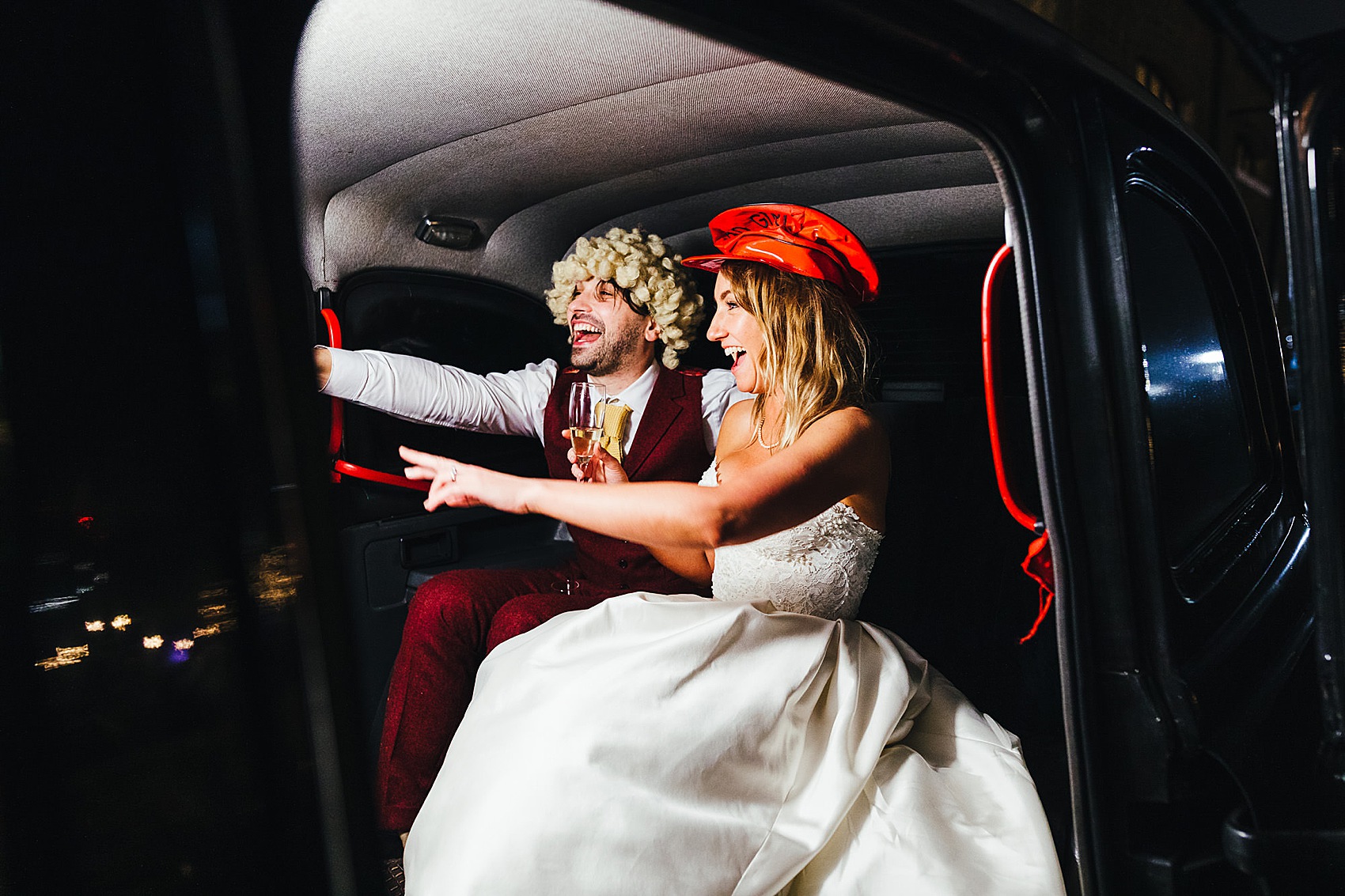 After that amazing dinner, speeches and cake cutting, the couple took to the dancefloor for their first dance, and they have some important words to share about it.
"Our song was Bob Dylan – Where Are You Tonight? We used to play it on repeat when we first started dating whilst driving around in Sam's 30 year old Jaguar. We wished we'd played our first dance right the way through. It's a long song, so we thought we'd cut it short but in hindsight we should have just enjoyed the moment."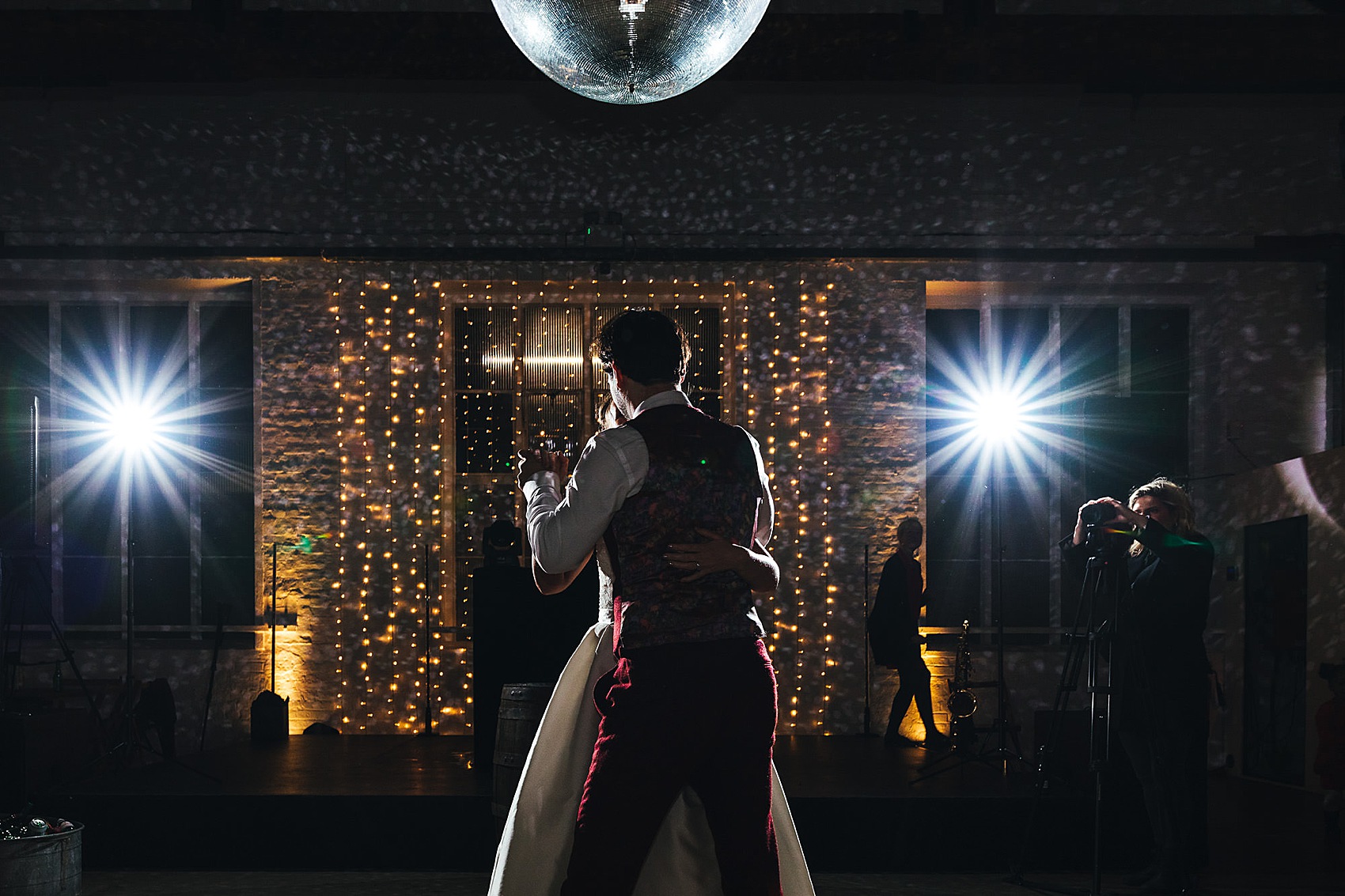 There was then brilliant live music from Wedding Smashers, and Katie and Sam were especially pleased they decided on the addition of a saxophonist to the line-up.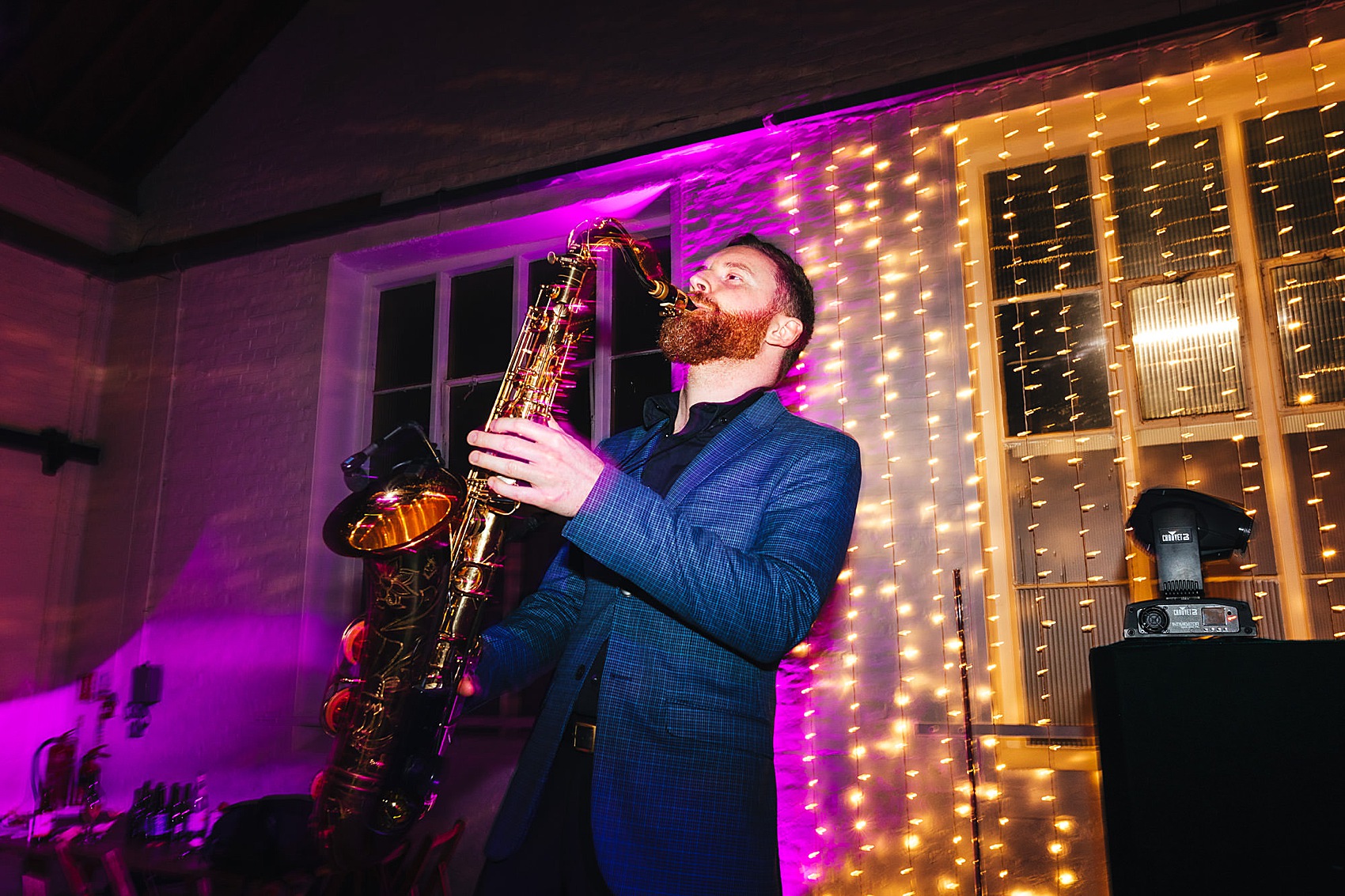 As the curtain fell on 2019, Katie, Sam, and their loved ones headed outside to light sparklers and to see in the new year with London's spectacular fireworks display over the river.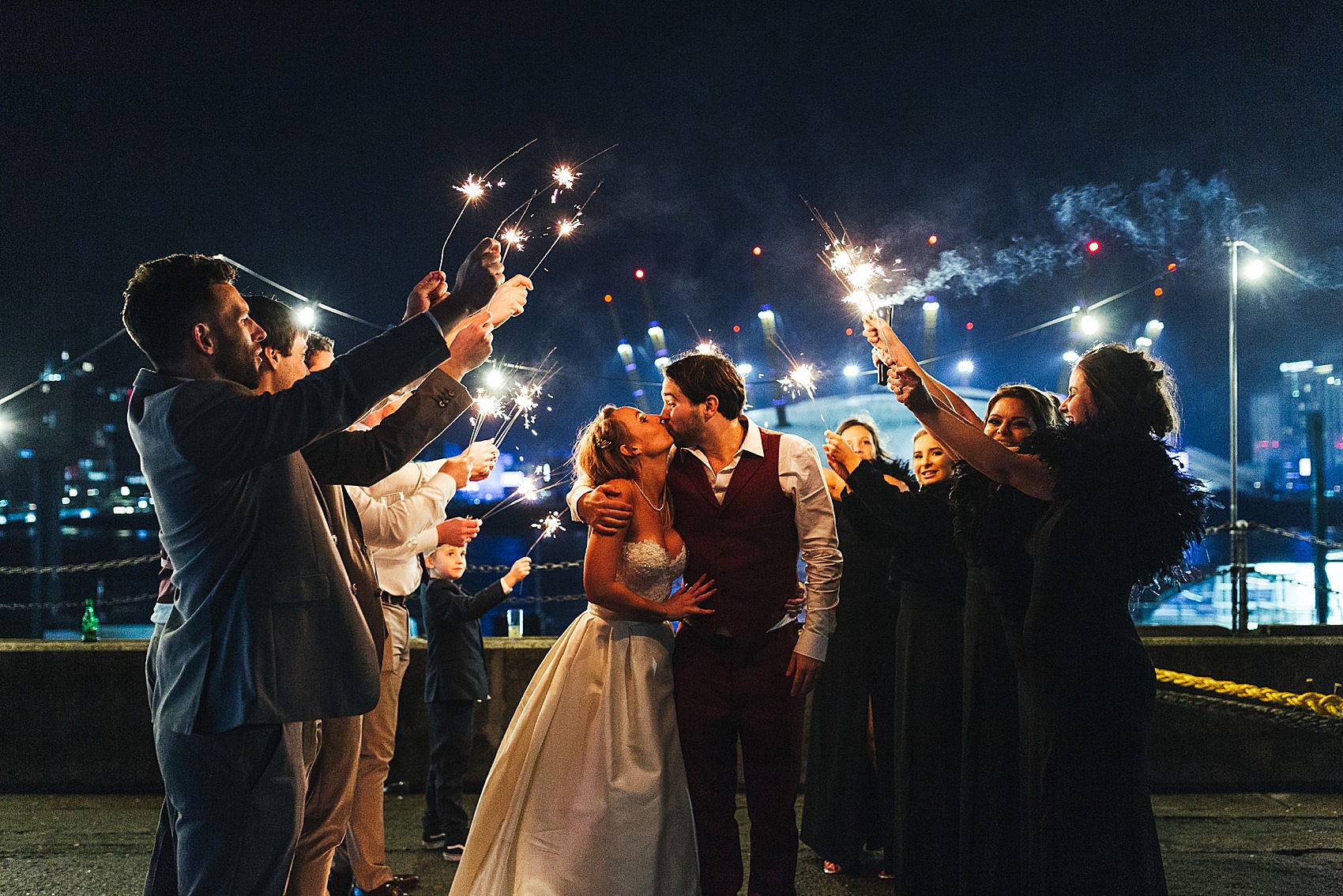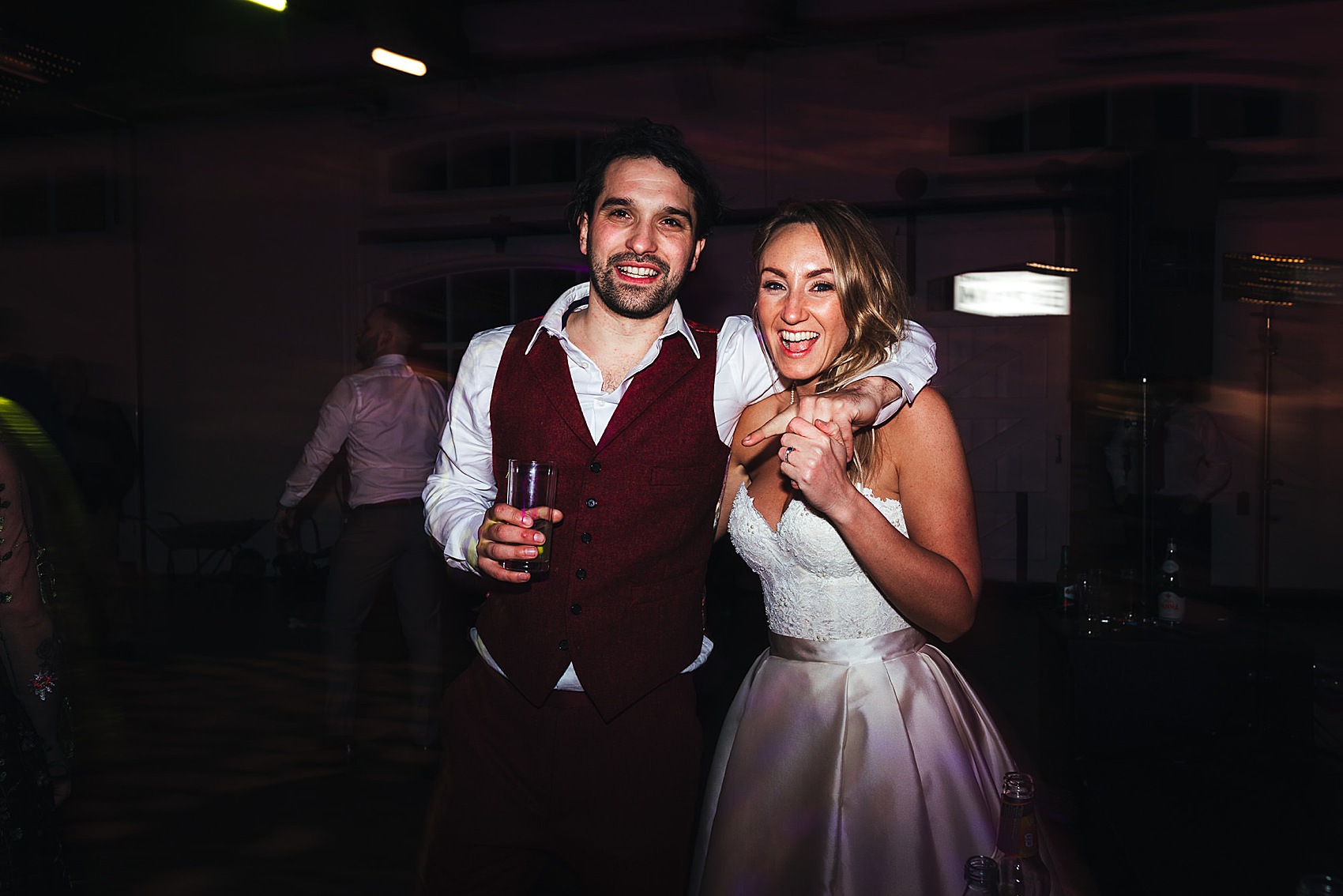 Words of Wedded Wisdom
"We were worried that because our wedding was so non traditional it wouldn't feel like a wedding, but in fact there was so much happiness on the day. All of our family and friends enjoyed every moment, and having them there with us to share in our happiness made the the very different, non traditional day feel really special indeed."
xxx
"Keep it relaxed, not regimented. Make it different and make it your own. Invite kids if you want to. We were so relaxed about this, and we had 16 there on the day, including babies, and we didn't notice them the whole day, except when they were running around with pure joy and keeping the dancefloor very, very busy!"
"We also decided to provide our guests with a free bar, and put buckets of beers and wines dotted around the venue. If this is within budget I'd recommend this so much. It keeps guests from queuing and waiting ages for drinks, and keeps the dancefloor full."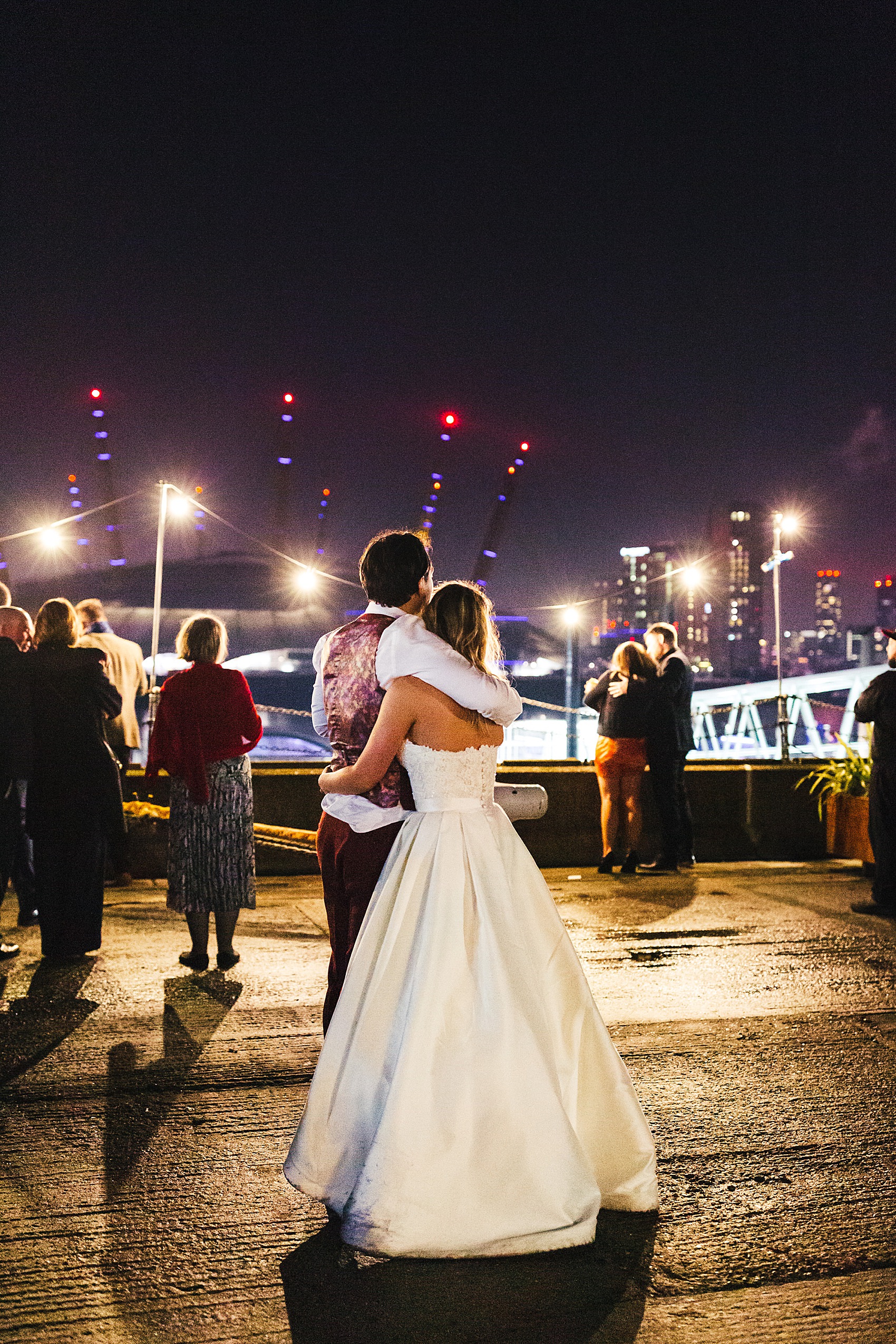 Katie and Sam, huge congratulations, and many thanks for letting us share in the sparkle, festivity and joy of your day. Huge thanks to Kirsty Mackenzie for these lovely images, and to I Will Video for their beautiful film, too.
With love,
Laura