Lovers of greenery, we are sharing something so utterly special with you today. With the purest green leaves and white flowers, this day brought a breath of English countryside into the heart of historic London, with a wild forest dinner inspired by the couple's lives in Namibia.
Olivia and John wed on 31 May 2019 at the opulent One Marylebone in London. The couple travelled from Namibia where English-born Liv is the general manager of Namibian restaurant Olivia's Kitchen and Namibian-born John is general manager of boutique hotel Am Weinberg Hotel. 
Matt Penberthy Photography

+ Follow
Inspired by the breathtaking scenery around their Namibian home and the garden of their London home, the venue was swathed in cascades of frothy greenery and flowers to create a transition between an English country garden-feel and a wild forest vibe later on in the day.
Liv and her bridesmaids got ready in an Airbnb close to the venue, and her delicate, flowing, silk gown was by Valentini, from London's The Wedding Gallery. I just love the sexy deep-V of the lacy bodice and figure-hugging silk band around the waist.
"I wanted something sexy and elegant and importantly, something I didn't have to wear a bra with and could dance in. I wanted a little sparkle but not a tacky amount, and something with silk, and this dress just answered all my dreams. I didn't realise until it was on."
Liv chose to purchase the gown's matching veil, which looks so lovely draped over her fab messy up-do.
"I bought the veil which went with the dress. It was very expensive and you don't wear it for long, but it was so worth it. Nothing feels quite like getting married to when you cover and uncover your face with a veil. I am not religious, but the feeling was magical."
The bride's comfortable, dancing-friendly shoes were by Moda shoes from House of Fraser and her hair was studded with fresh sprigs of gypsophila.
"I wore hair extensions to make a huge messy up do and then used delicate flowers to match my bouquet. The bridesmaids had the same."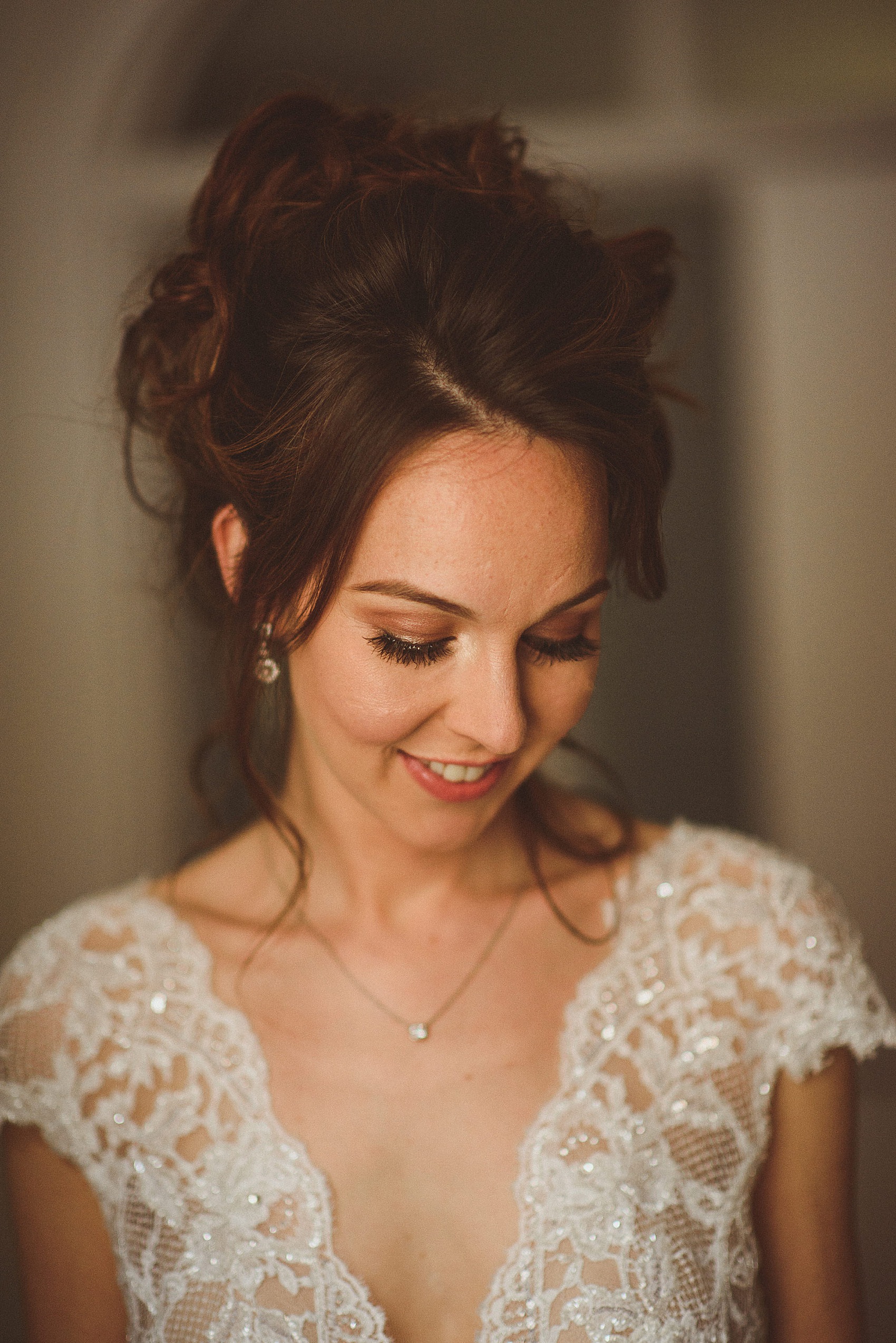 The bridesmaids were in gowns of the palest green from Motee Maids, and they wore Office wedges. The girls and the bride were styled to perfection by the incomparable Portraits Bridal, who we are so proud to feature on our Little Book Wedding Directory. As you can see from Liv's words below, they come very highly recommended.
"Nadia and Zara were fantastic, so professional and talented. On our trial run they got it right straight away and were fantastic at making my bridesmaids and mum look amazing on the day, having never met them before."
"Their make-up complemented them all so well. They were absolutely amazing and I would recommend them to anyone who wants to look perfect on their big day. They're so friendly, glamorous and trendy too. They put together a schedule for all the party to get their hair and make-up done and were perfectly on time, just so professional and such amazing ladies."
Meanwhile, John was getting ready in a traditional three-piece suit which the couple chose together on a trip to Savile Row.
"John chose a beautiful jacket with a slight pattern on from William Hunt. It fitted perfectly. He had his trousers made to fit by Martin Pryke Tailoring. His cufflinks were from Simon Carter. They do a great selection of funky cufflinks; loads of weird and wonderful but personable designs."
"We chose a very natural feel, having lived our lives together so far in the most beautiful scenery immersed in nature in Tanzania and Namibia."
"We have a beautiful garden where we live now and asked our florist to use a lot of our plants from our garden in the design of the venue, but also from our garden at our home in London too."
"The ceremony room was green and white and very pure, then the reception room was English garden-style. The dinner room had more of a wild forest feel with lots of colourful wild flowers and greenery overarching all the tables. The whole venue was engulfed in plants."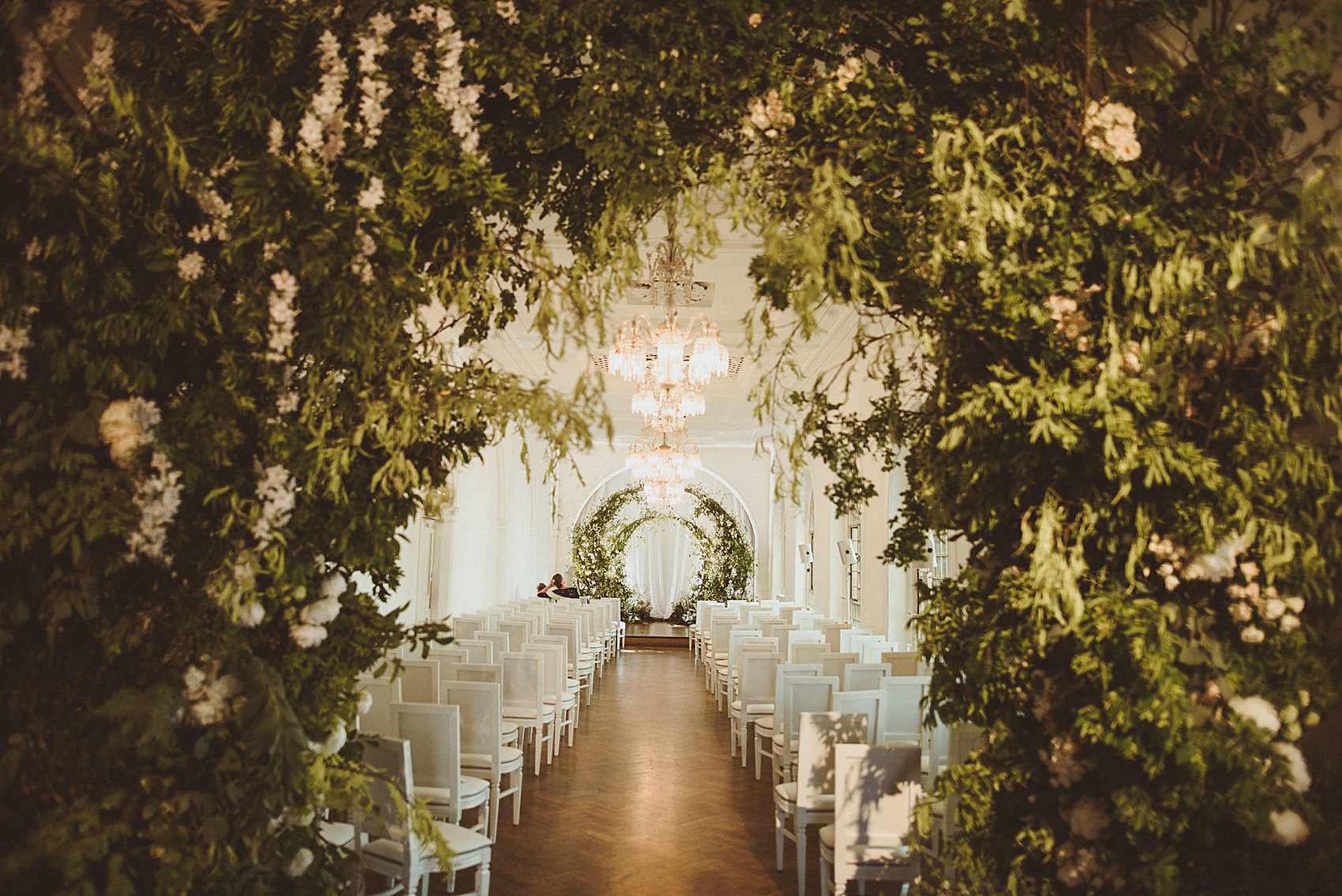 The bride and her father made the short journey to One Marylebone in a white London black cab dressed up with white ribbons from London Corporate Cabs.
"I had the most lovely, friendly driver. It was perfect, seeing as the venue was only ten minutes from the Airbnb where I was getting ready."
The couple met when Liv travelled to the Serengeti in Tanzania for work.
"We met in November 2015. John was the food and beverage manager for the group of lodges that I worked for. In a matter of a few months, working in the most beautiful environment together, we fell deeply in love, sneaking around in the middle of the night with wild elephants to get to each other's tent."
"The secret eventually came out and we lived and worked together in Tanzania for two years. We then moved to Namibia to live where we have now been for 2 and a half years. John proposed in July 2018 on the beach in Swakopmund, Namibia."
The bride chose Honne's 'Someone That Loves You' to play as she entered the venue, walked up the splendid staircase and entered the ceremony room. I just adore the elegant arches of foliage that frame Liv and John as they marry.
"We had a celebrant called Emma Richards from MyCelebrant. She was great, so friendly, so passionate and really made the whole ceremony so special."
"The service was about us and our story and she made it interesting and funny. She is a very good writer and sent us the service before the big day so we could make sure we were happy with it. She had perfect non-religious vows for us to use."
The couple's readings were 'Poetry of James Kavanagh' by James Kavanagh and 'He Is Not Perfect' by Bob Marley. John and Liv also exchanged which they had chosen and brought over from Namibia.
We are so delighted to see Matt Penberthy's work once again on Love My Dress and if you like his style please do take a look at other weddings of his that we've featured.
Matt Penberthy Photography was charged with capturing the day for Liv and John, and what a beautiful portfolio he's created. Suffused with a light and elegant style, these photographs capture the spring-like lightness of the ceremony and the drama and romance of the wedding dinner.
"I loved his style and his ability to capture the dreamy feel of weddings. I saw elegance, passion and love coming through his photos that I wanted to be captured in mine."
"It was so important to me that he could take the best photos of us and our guests without it interrupting the day too much, I wanted him to capture the laughter, the nerves, the dancing and enjoyment of everyone there, and he exceeded all those expectations."
After the ceremony, the guests gathered together in the reception room for a champagne reception and speeches for the newly-weds.
There was also time for Matt Penberthy to capture some romantic shots of the bride and groom framed by all of that gorgeous greenery. Then, it was time to move from the English country garden vibe to a dramatic and romantic wild forest theme in the dining room
"When he arrived he immediately made me feel at ease, such a cool guy! So professional, friendly and kind. He is truly an awesome person as well as an incredible photographer.  I am so happy with all our photos!"
The couple also chose to have a wedding film, created by Cordeaux Film.
"Danny produced a beautiful film of the day, capturing all the emotion and fun. He was so subtle I didn't notice him there, but he managed to capture all the best bits and great dancing shots!"
"I love watching the video and re-living the whole day. It also captures parts you might have missed and you see everything from a different angle. It really is so worth having a video to bring it all back to life again again."
As you can see, flowers and greenery were central to the day's look, and this visionary florist was Veevers Carter.
"They have the most incredible eye for detail. They think of the smallest details and made us the most enchanted wedding venue ever. Each room was different; even the staircases were a show on their own."
They went above and beyond all my expectations and knew exactly what I wanted without me even knowing how to explain it. They really made a dream come true."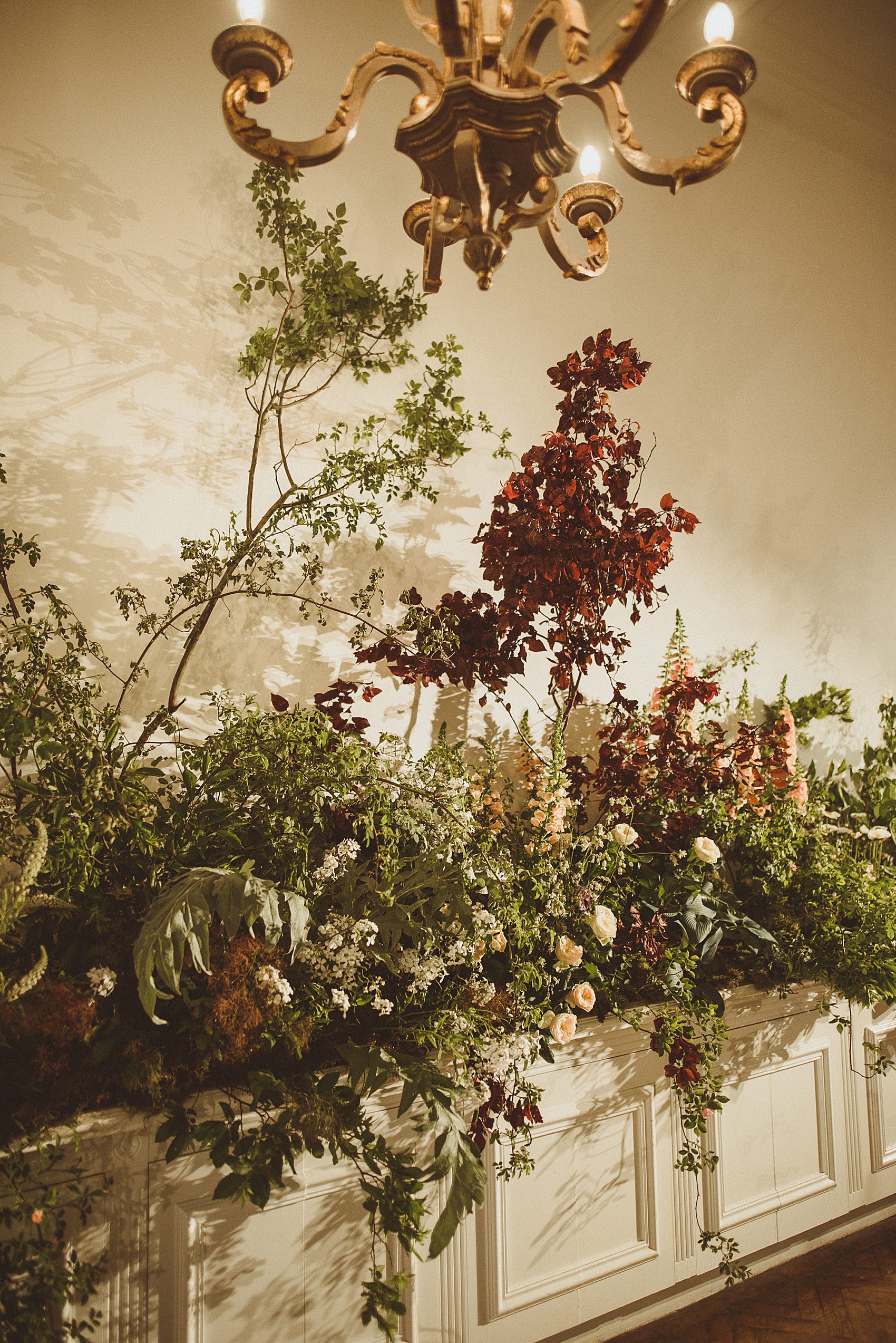 The greenery feel also influenced the stationery, created by Angie de Villiers.
"John's sister is a graphic designer and illustrator and designed it all for us."
To help organise the style and vibe of the day, the couple worked with Event Concept.
"They were absolutely amazing. They made incredible suggestions for entertainment, food, decoration, design, music/DJ and they seamlessly organised everything to perfection. It was more than I could have ever asked for."
"Event Concept provided all the lighting; they were astonishing and completely transformed the venue. They also organised confetti bombs for us during our first dance which was awesome!"
The room looks sensational and I love the intimate atmosphere created by the flowers and lighting.
"The arch for the ceremony was a beautiful touch and the arches made over the dinner table worked out stunningly."
The wedding breakfast was supplied by One Dining.
"One Dining were excellent, their food was perfect and my husband is a trained chef and very fussy, and he loved it. The wine was beautiful; everyone complimented how delicious the wine was."
"We had six canapés per person instead of a starter and then the main course which was just so delicious. Then, a yummy pudding and chocolates and coffee after dinner and snacks at 11pm. The tasting went extremely well; they are a super-friendly team and put together the most delicious meal. Getting one hundred people's food perfect is difficult but they made it seem seamless!"
The dinner and the dancing afterwards were Liv's favourite part of the day.
"All my nerves have gone and I could relax, drink wine, eat great food, enjoy wonderful company with friends all around me and then dance the night away with incredible musicians."
Talking of dancing, who fancies dancing the night away in this magical venue? The live music was from Entourage featuring André Saxman Brown.
"They were absolutely incredible and had the whole party dancing all night; so upbeat, interactive and entertaining."
The first dance was 'Good Together' by Honne. 
"It's been our song forever. We love every word and it makes us so happy to have found each other."
Liv has some beautiful words about being married which I am so pleased to share with you.
"Before I would not value being married, but there is something about being married that changes everything. I feel like we are unbreakable, we have infinite trust in each other, we are joined together forever and will love each other forever and ever. I loved John so much before but now it's like an infinite love that is stronger than ever."
Words of Wedded Wisdom
"Invest in a good photography, a videographer, a great band and ask Event Concept to organise your wedding for you!"
John and Liv, what a pleasure it's been to share your foliage-filled day on Love My Dress. I could look at these images for hours, and thank you for takin the time to share all the details behind your celebration. Thank you also, Matt Penberthy Photography. If this has whet your appetite for more nature-inspired weddings, then please head here to get inspiration for your own.
Eleanor x