It gives me the greatest of pleasures to share this article with you today – a conversation with my friend and deeply talented artist, Freya Rose, and a lovely January-pick-me-up opportunity to win yourself something lovely.
I don't want to do a a huge introduction as Freya has shared so much good stuff below, but I do want to quickly give credit to my LMD Collective partners, Zach & Grace, for their gorgeous images and films, and to tell you briefly that Freya Rose is a much loved member of our directory of highly recommended suppliers, renowned primarily for her gorgeous shoe designs, and soon to be renowned for her jewellery creations, after the launch of this exquisite debut jewellery collection.
Details of how to enter to win a choice of jewellery, £300 in value, can be found towards the end of this article. Enjoy!
Freya Rose Jewellery

+ Follow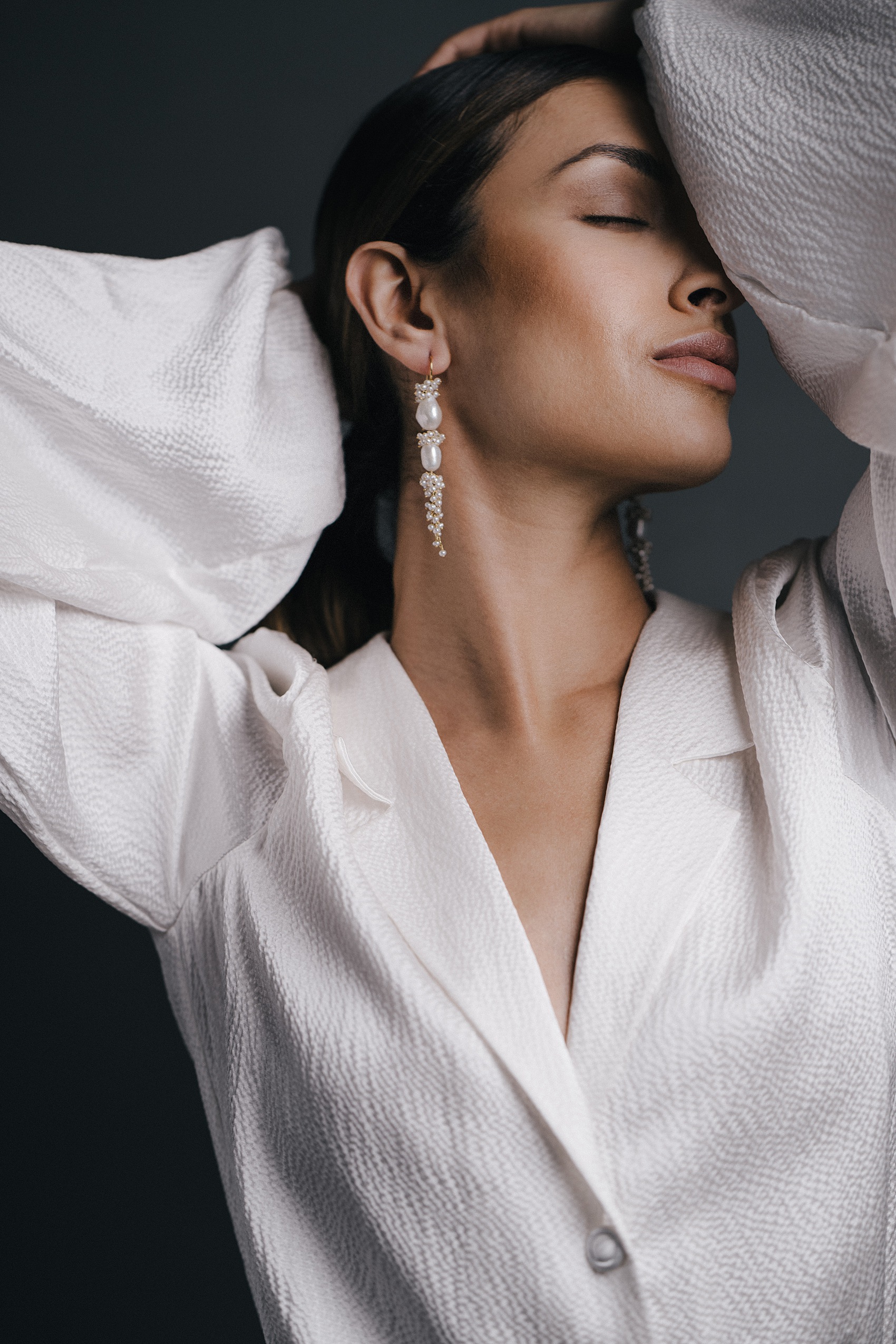 Freya, it's absolutely wonderful to have you on Love My Dress to introduce something beautiful with our community. But before we get into your jewellery, I'd like you to tell our readers a little more about yourself. Tell us first, who you are and what you do?
After living in London for 15 years I moved back to Southsea a few years ago to be close to the Sea. I live with my husband Mathew and children, Johnnie and Willow.
As a child, we lived above my mother's jewellery shop and workshop where everything was made (my mother is an established jewellery designer). I learned as a young child the importance and appreciation of true craftsmanship and quality.  I would spend hours observing my mum as she designed jewellery for some of the world's most glamorous women, a true artisan telling stories through her designs.
I have been designing shoes for nearly 20 years now. I founded my own label, Freya Rose London in 2010 with the philosophy to create unique luxurious, jewelled shoes that incorporated my knowledge of fine jewellery. My mother of pearl heel has become the signature of Freya Rose's iconic designs.
Tell us about your creative journey and how you ended up running your own creative business
I went to art college and here I discovered a love for sculpture and textiles. I wasn't interested in fashion trends but when I saw there was a BA honours at the London College of Fashion in shoe and accessory design – in that moment, my life-long love of shoes was born.
I graduated with a First-Class Honours degree and  went on to work for other designers.
In 2010, Freya Rose was established with a £3000 loan from the Prince's Trust and she has since organically grown an international business.
You are of course well known for your incomparable, glamorous shoe designs which have been huge success for a number of years now. What led you to delve into jewellery design?
As I come from a jewellery background I have a huge passion and love for jewellery and the craftsmanship of a gold smith mesmerises me. I especially love statement earrings because it is an effortless way to look dressed up and unique.
As my heels are made by jewellers it was an obvious lead to a new area of business. I also found there was a lack of unique yet feminine and classic designs in the demi-fine jewellery price range.
Your shoes are highly recognisable and you have a strong signature in your mother of pearl heels. Have you tried to also set your jewellery designs apart in the same way?
Absolutely – I want the collections to have their own unique identity yet have a classic timeless appeal.
Do you create all the pieces yourself?
I design everything and they are handmade by craftsmen and women in Bali. They make our heels and I have worked with them for over 10 years and see them as part of the Freya Rose family.
I believe that preserving and supporting these ancestral craft techniques is essential in a fast, modern world where globalisation degrades these ancient practices and often exploits those involved in the process.
Tell us about your design process?
It's all about the elements and proportions – I look at interesting techniques that will set the designs apart. I look at how they sit and move – how they can transform your look.
The collection is made from sterling silver, 18ct gold vermial and a variety of pearls from Tahitian and Southsea pearls to baroque and seed pearls.
Hand crafted techniques such as hand forging and the tiniest of pearls on feather-light gold vermeil curb chain. Its new area of design – I have lots to learn, but I'm really excited for the journey.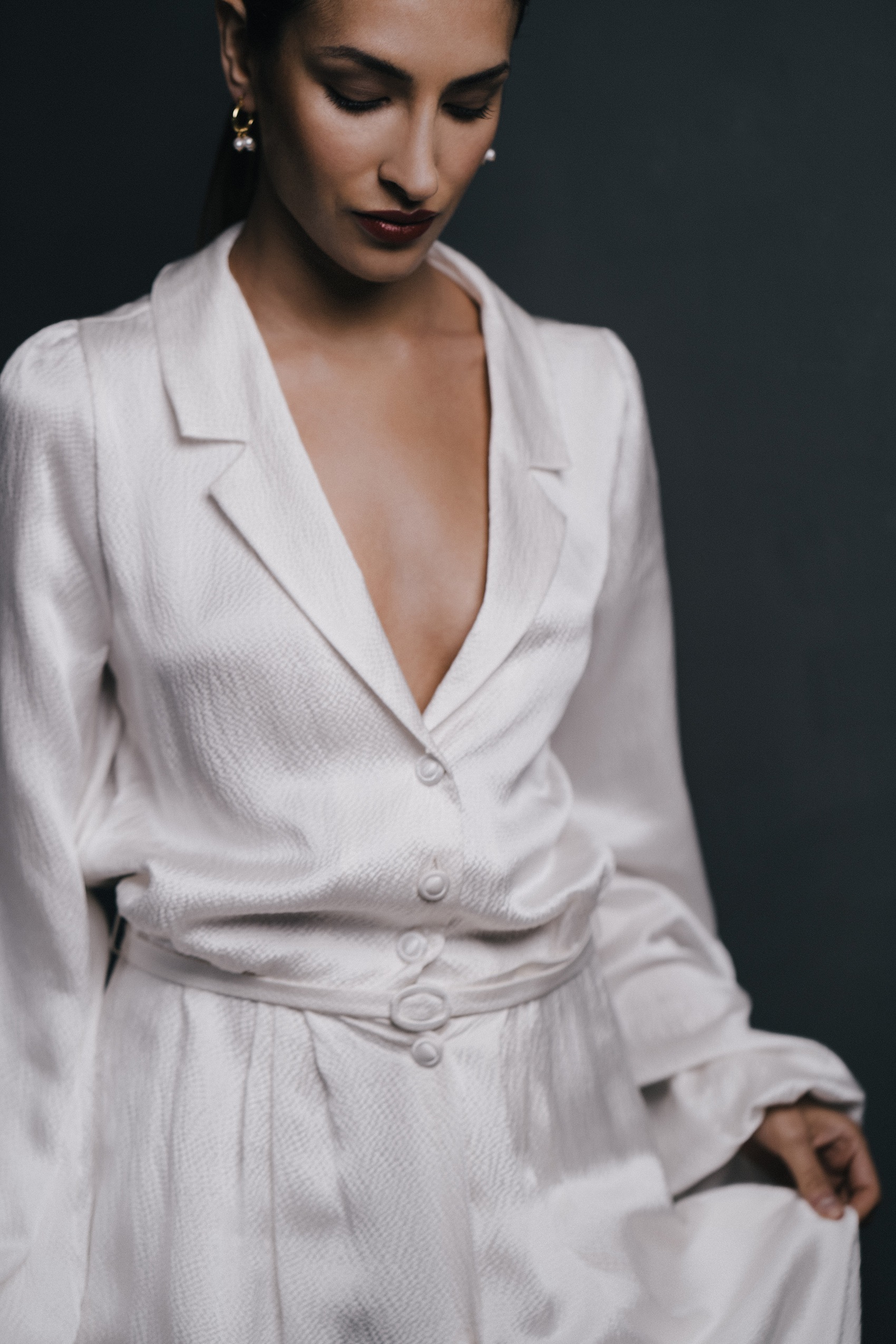 What were the key inspirations for your debut jewellery collection?
It started by looking  at the heels I developed over the years and  the varied materials and techniques we developed and wondered how we could apply this to a complementary range of earrings. I was inspired by a fusion of Japanese art and Classical British heritage pieces.
Tell us about some of the pieces, do you have any particular favourites, and why?
The Hakuro Mother of Pearl Drops – the half moon mother of pearl shape with the tiniest of pearls on feather-light gold vermeil curb chain.These hand-beaded tassel earrings are intricately textured and light to wear.  The chains give a wonderful movement. they really are striking and I get so many compliments when I wear these. They are also incredibly light.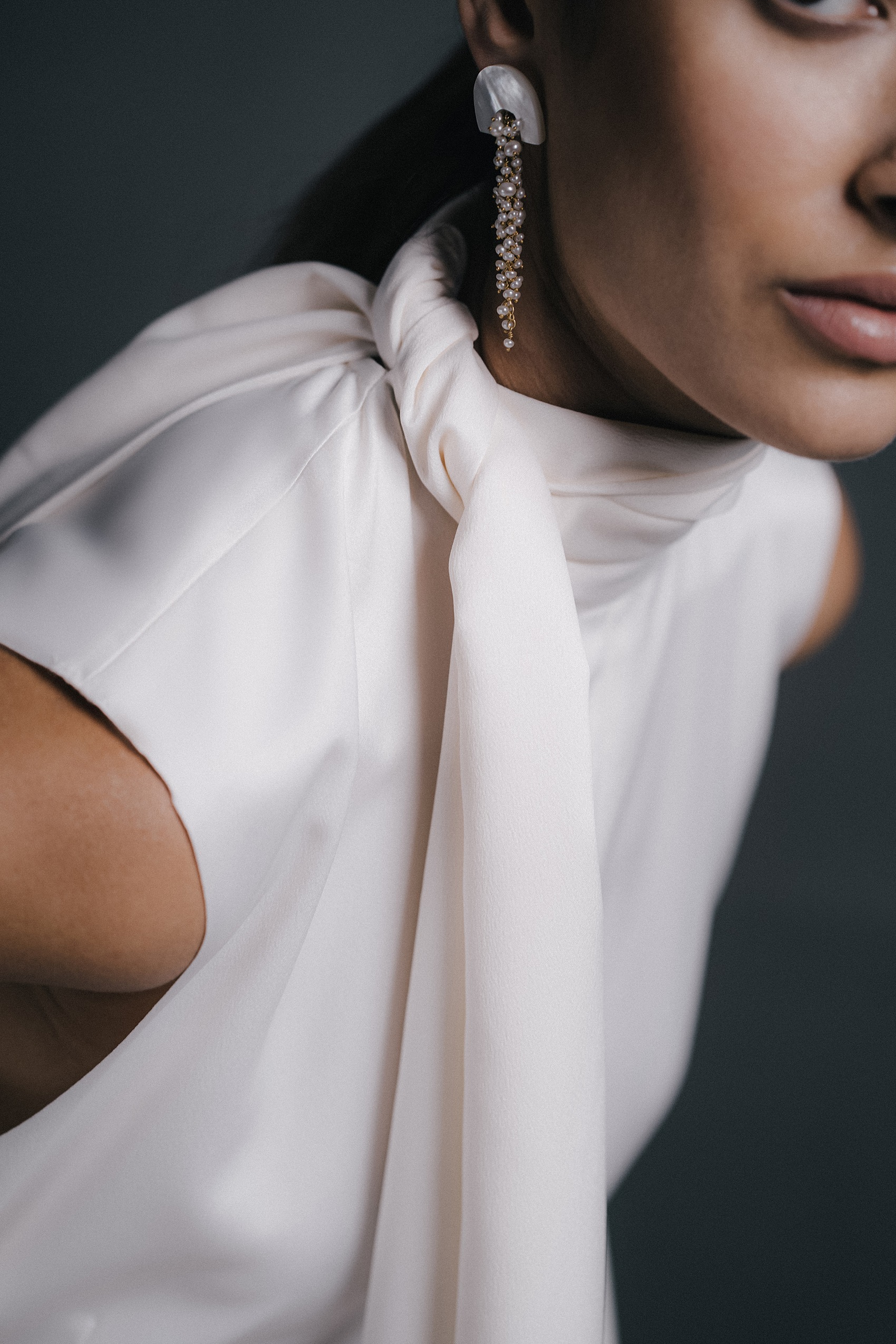 How would you describe the collection and what kind of client is it for, how would you describe them?
The collection of statement jewellery  that is modern, elegant, light to wear at the same time. We have a varied range- some very sophisticated  timeless pieces that are perfect for brides but also some more interesting statement pieces and designs that can be worn day to night.
I wanted to create a collection that is aspiring at affordable luxury prices and would appeal to different people, for a bride, the style conscious, the heirloom piece!
– Are you able to provide a little info on the price of your designs?
My designs range in price from £45 – £345.
COVID has had a profound impact on the way we live our live and conduct business. How are you running your business differently as a result of COVID?
We have had to evolve quickly in terms of creative marketing, designing , production every part of the business has had to adapt.
Although stressful at times we have learnt so much
Whilst sadly, non-essential retail is preventing it's opening right now, you have a beautiful new boutique – tell us about it?
Thank you. The store came up at auction at the end of the first lockdown and we completed in July- we spent many of the months when we would normally be busy , completely renovating it. We have space for stock, a showroom and an office and feels like home. I absolutely love it and feel blessed we had the opportunity.
And you have a popular online store too – tell us about this (easy to order from, good visuals, good policies, ie, returns etc etc)
We have focused our online efforts, and like a retail store it requires ongoing maintenance to ensure we are giving the best experience and visuals.
And now a little about you!
You're a mum of two, how do you juggle it all?
Haha badly – I guess like many working mums right now I am struggling to do everything. As I sit here now writing this my youngest (2 and half) is crying for more chocolate ( a constant chocolate drip needed ) and my son (10) is on his ipad somewhere in the house. I am lucky I have a wonderful husband and so between us we muddle through!
Tell us how you've personally coped through the more challenging times of COVID? Any coping mechanisms for our stress release outlets that you'd recommend?
Only try to only watch the news once a day and no more! I do try and stop looking at emails after 5pm otherwise my mind doesn't switch off and this affects my sleep. I exercise for 15 minutes every morning. It's not long but if idid any more I probably wouldn't do it. I look at positives and think of all the wonderful things we have as a family. My bath in the evening is sacred!
What is the last book you read? And any particular book recommendation for 2021?
Factfulness, by Hans Rosling – a fascinating read and one that could be given at school – I wish I had this knowledge to understand how to interpret media and the news many tears ago. Ive also re visited my all time favourite – The Prophet by Kahil Gibran – helps keep my soul sane.
What music are you enjoying right now?
The Division Bell – Pink Floyd – it helps take me to place outside the realms of Covid whilst having a bath!
Do you have a favourite city?
Hong Kong, I first visited when I was 10 years old – and immediately felt a connection – it felt like home – perhaps I lived there in a previous life! I also love London that's my second home. Beunos Aires also set my heart on fire!
City girl or country girl, and why?
Definitely both – I really battle with this one! I love the spirit of community in the city – but my soul is soothed by the fresh air and small of a log fire in the country!
Do you have any particular favourite bridal fashion designers (clothing/gown wise I mean)?
There are so many incredible designers and so proud of the british talent in this industry. Luna Bea – Lou is an old friend and I know how incredibly talented she is. We have had many deep conversations and completely aligned in our love and passion for craftsmanship.
The way her designs sit and move is breathtaking. I'm also a big fan of Naeem Khan, Alice Temperley and Sanyukta Shrestha – who created my wedding dress.
What advice might you have for those brides and couples grappling with trying to plan their wedding right now, whether that's a 2020 wedding that's had to be postponed or a newly engaged couple trying to work out what to do next?
It's so incredibly hard to give advice, but one thing I've learned is that you can't predict anything. I can't imagine how stressful it is right now – but your day will come, whether it be small and intimate or a large ceremony – it will be special and it will be magical.
Enter to win a
pair of earrings
of your choice
to the value of £300
Freya Rose is giving you the chance to win a beautiful pair of earrings of your choice, up to the value of £300. 
To be in with a chance of winning, please follow @freyaroselondon on Instagram, and then head on over to this image on the @lovemydress Instagram feed and tag yourself in the comments section.  You can also tag friends or anyone else who you think might like to win this prize.
Good luck to you all!
View this post on Instagram
The Freya Rose jewellery collection is now available to order online.
Terms & Conditions
This competition will open on Monday 25th January 2021 and close at midnight on Sunday 7th February 2021. The winner will be announced the w/c Monday 8th February 2021.
Multiple products may be selected by the winner, but must not exceed the value of £300.
Prizes are not transferable or eligible for exchange or refund.