Hello loves, it's been a bit of a tough old start to the week hasn't it? There are days where we have to dig deep too, and on those days, I am so ruddy thankful for the incredible archive of weddings and inspiration we have amassed over the past 11 years here on this beloved wedding blog.
I really hope this wedding brings some cheer to your day. Lovely bride Lucie tied the knot with her beau Lorenzo on 3rd September 2020 with an intimate wedding ceremony at Old Marylebone Town Hall followed by a lunch reception at Sally Clarke's in Notting Hill.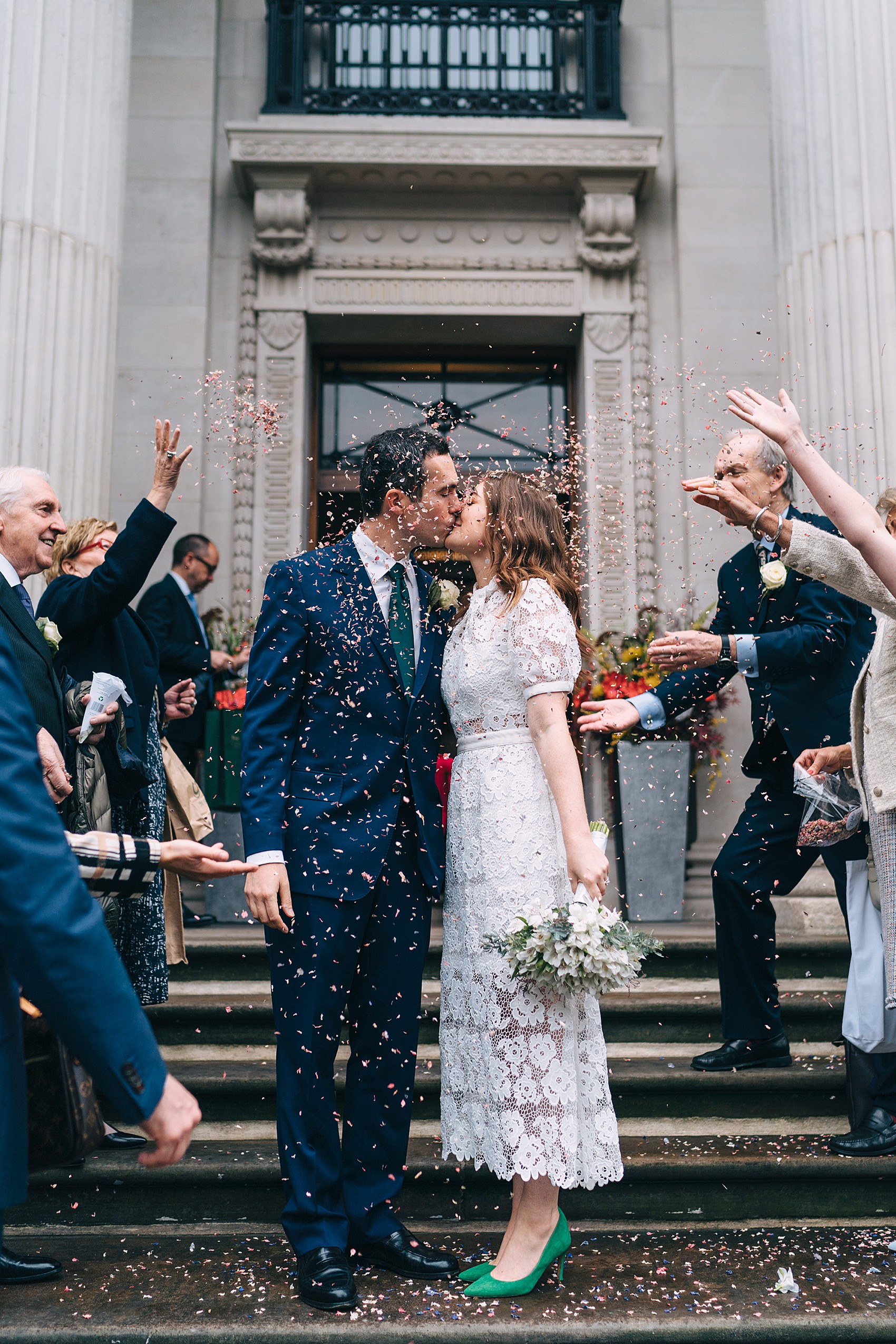 "We originally had a lavish Italian wedding planned in Verona and Valpolicella for July 2020, which we had to postpone due to Covid."
"While we wanted to do a big celebration with all our friends and family, we also didn't like the idea of putting off getting married for 1 or 2 years, so as soon as dates opened up again in August, we decided to elope in London."
"After working around the corner from each other for 5 years and probably being in the same pubs and bars after work, we actually met on Happn 5 ½ years ago."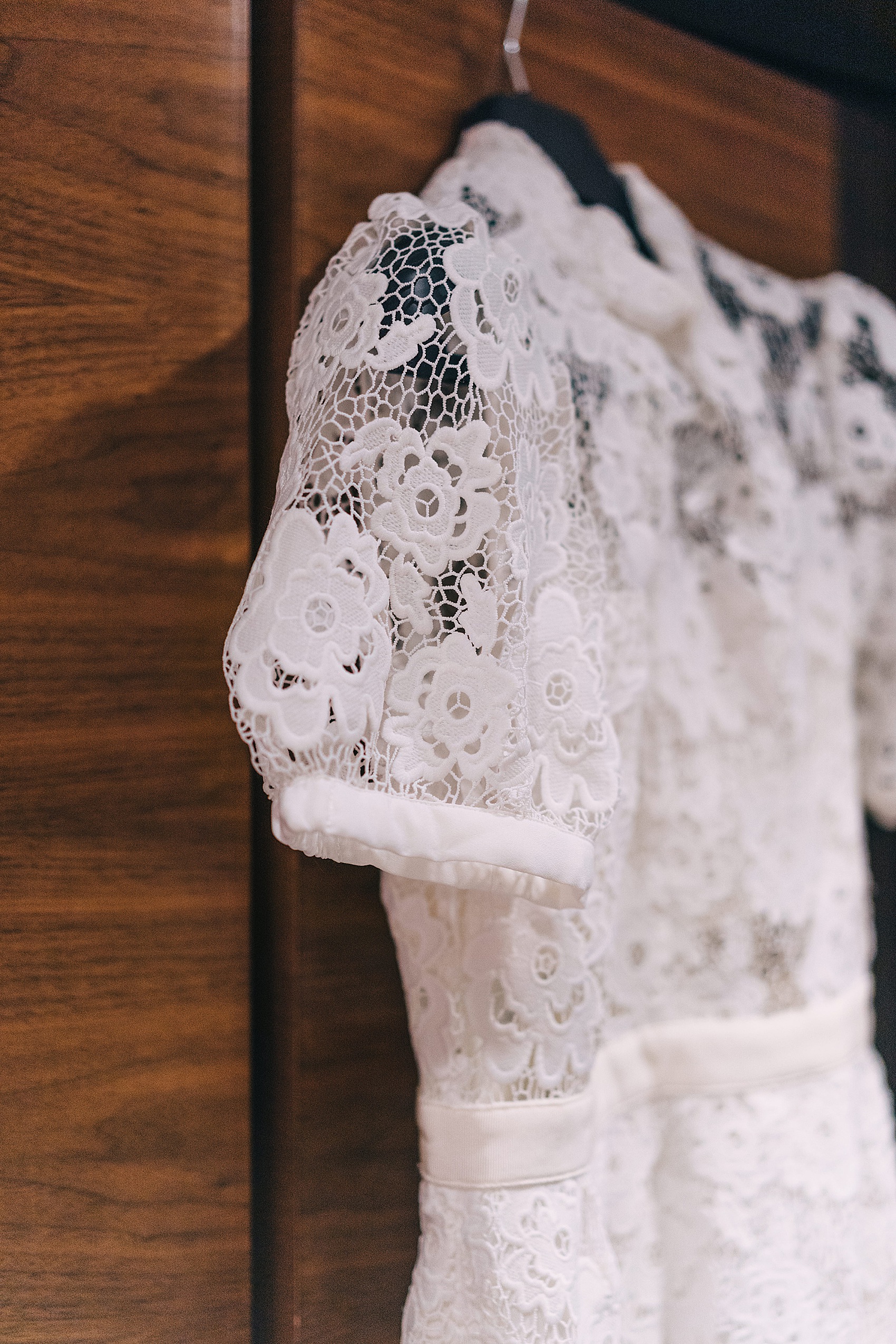 "In spring 2019, Lorenzo planned the most romantic and beautiful engagement in Champagne, France. I took him on a wine tasting trip for his birthday and he booked dinner for us at Domaine Les Crayeres in Reims."
"He proposed in the gardens of the chateau at sunset (or just after as we got a little lost in the gardens!) before we enjoyed champagne on the terrace and an incredible meal in their Michelin starred restaurant."
"We originally wanted a summer wedding in his home town of Verona so planned for a July 2020 wedding, which became September 2020 in London, so we had been engaged for 17 months when we finally tied the knot!"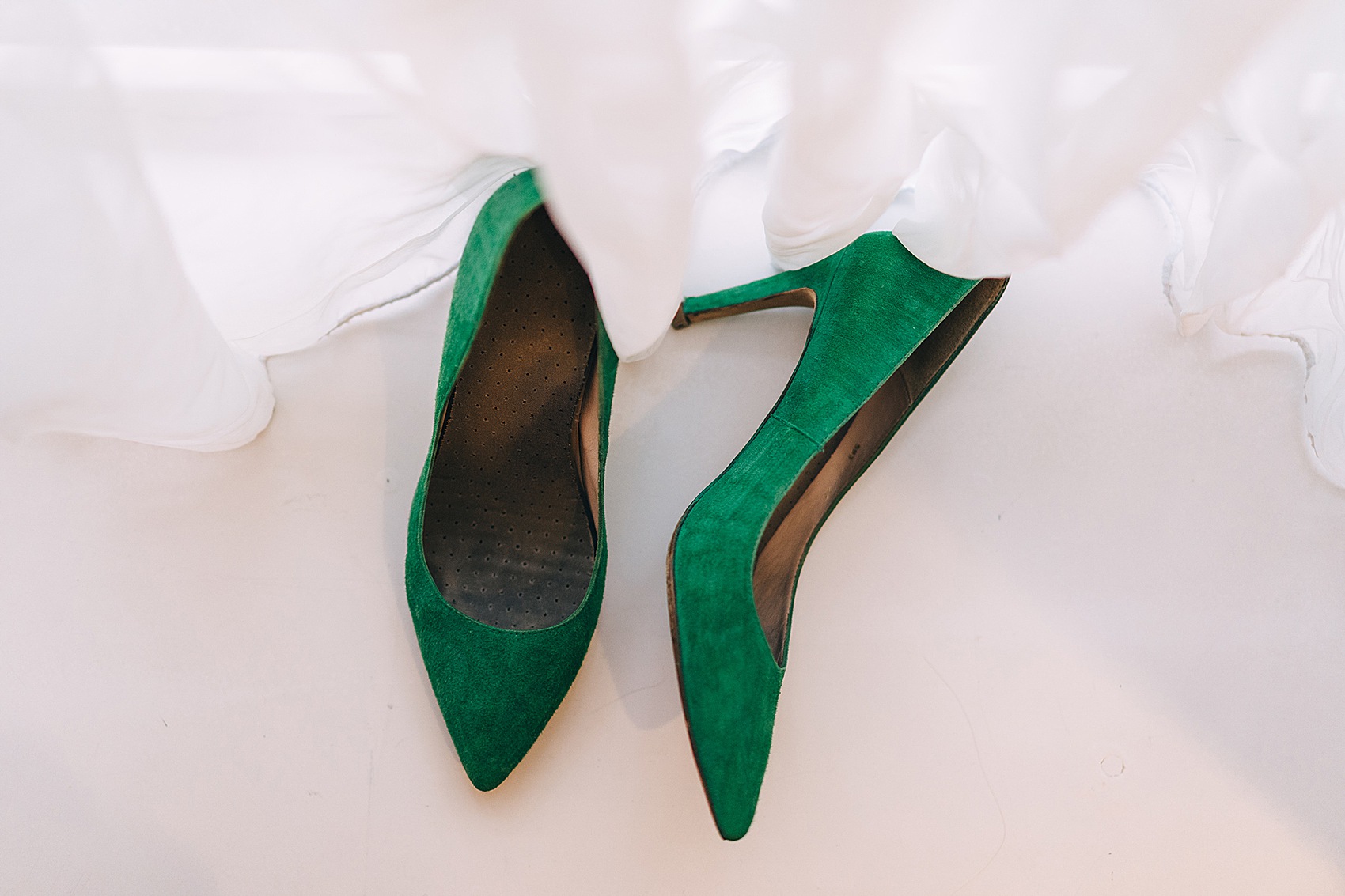 "We saw our London elopement as the chance to do something totally contrasting to what we had planned for our Italian celebration (which will be in a medieval cathedral and renaissance villa in Valpolicella!)."
"For us it needed to feel special, but relatively informal and fun. After what 2020 had brought, we wanted to just focus on being with our favourite people (or at least some of them) and in our favourite places together, like Clarke's. We loved the simplicity of a green and white colour scheme."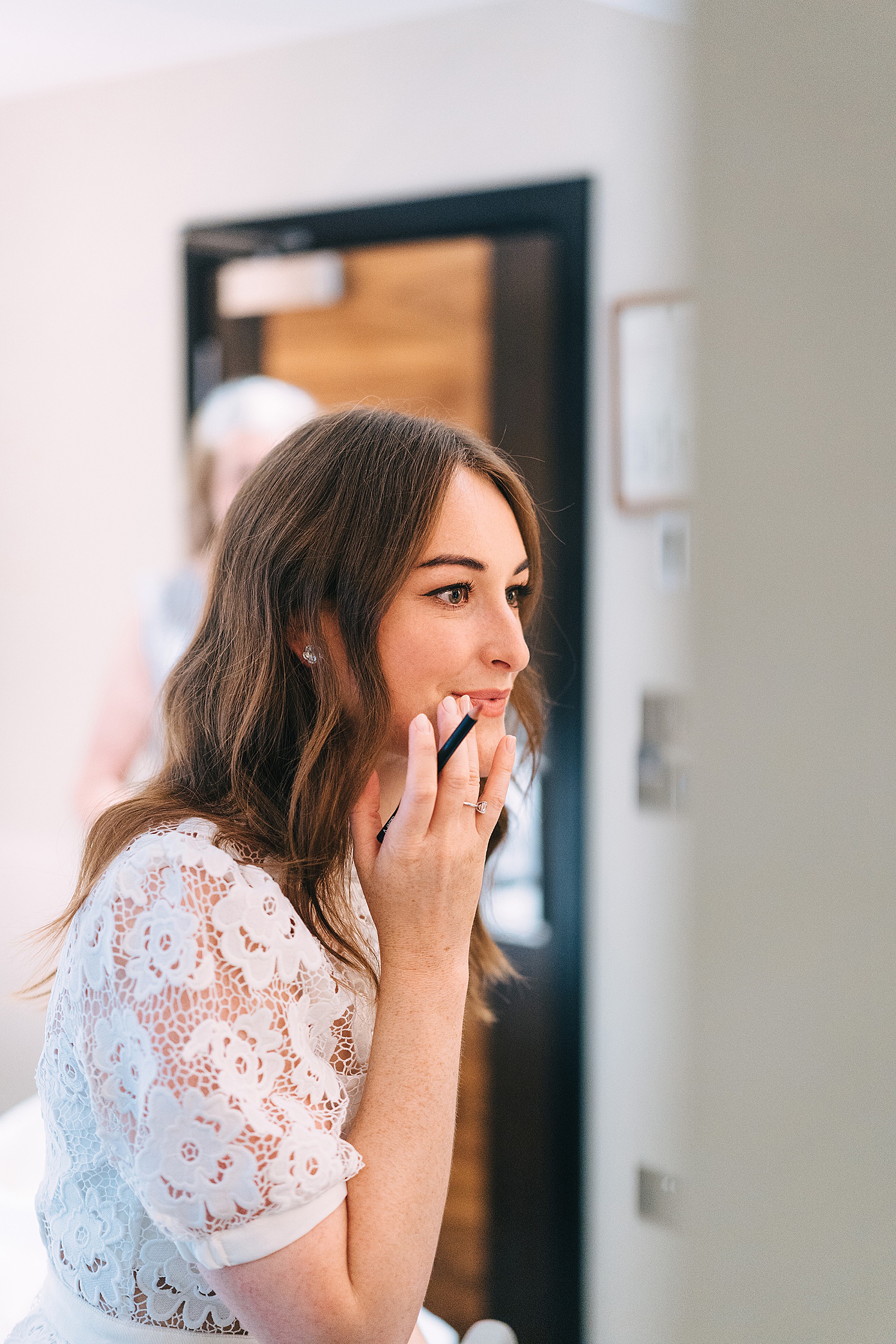 "We originally planned a big celebration in Lorenzo's hometown of Verona followed by a reception in a renaissance villa and vineyard in Valpolicella in July 2020."
"Once we realised we wouldn't be able to do this as we had originally planned, we postponed and decided rather last minute to elope in London as we didn't see any reason to delay making our vows to each other."
"Old Marylebone High Town Hall was incredible in making sure the entire ceremony ran smoothly and was covid-safe. We had a party of 7 guests, mostly immediate family with one very close friend, whom had to wear face masks and sit at a safe distance from one another during the ceremony."
"Despite this, the registrar and staff made it feel intimate and special!"
"We were incredibly lucky and honoured that our favourite restaurant, Clarke's, who were only open for dinner at the time with limited capacity, agreed to open just for us for a lunch reception."
"It couldn't have been better, the staff made us feel so special while remaining Covid-safe. With the government guidelines changing only a few weeks after our elopement, we feel incredibly lucky to have been able to plan something that felt so intimate, personal and memorable."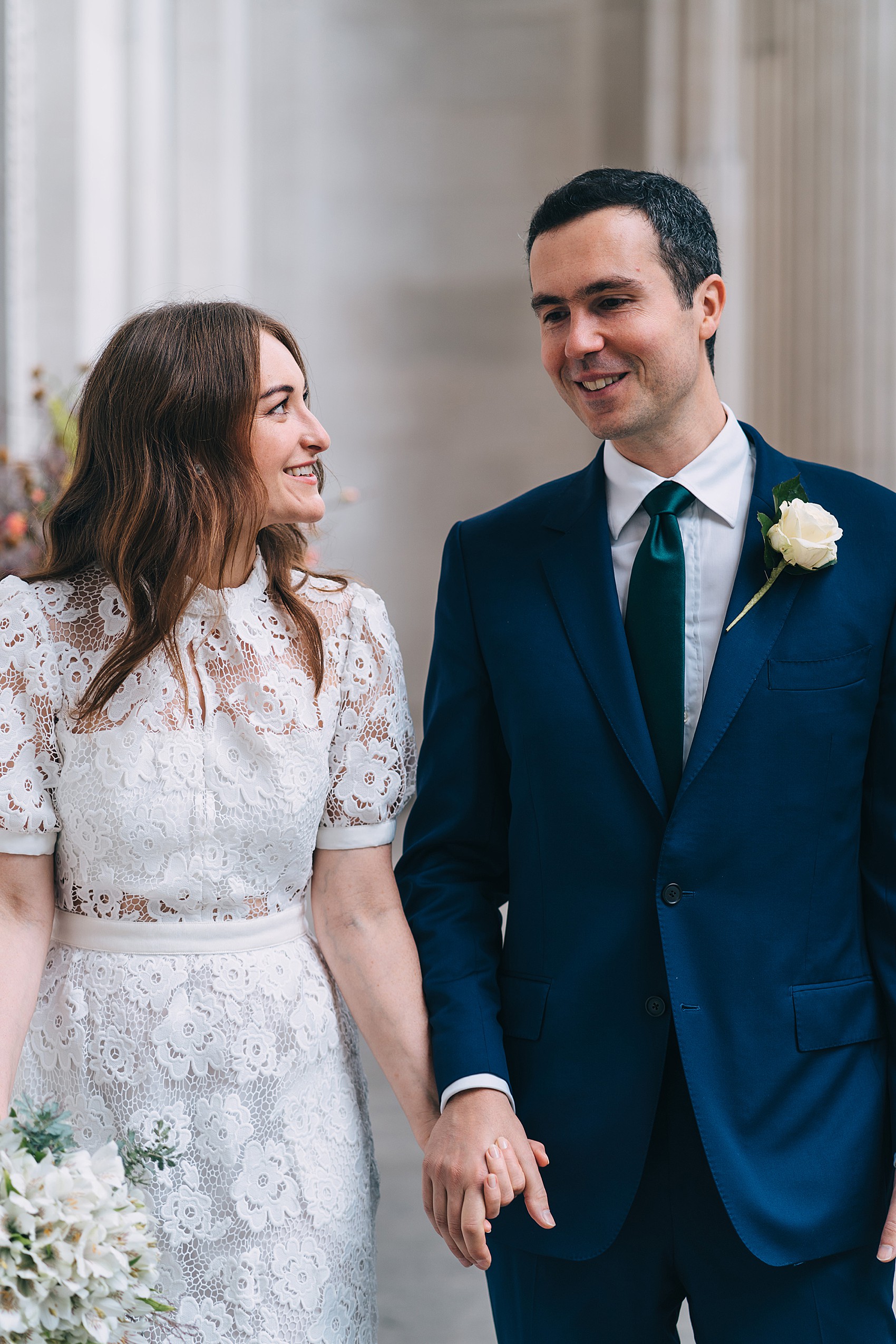 "I used a florist local to where we live in Pimlico called Flowers by Van Twisk. My brief was to use one type of flower and to have a green and white colour theme."
"While you can get pretty much any flower imported despite the season these days, he only sources the finest flowers that will last beyond just the day itself, and the pandemic was impacting supply at the time."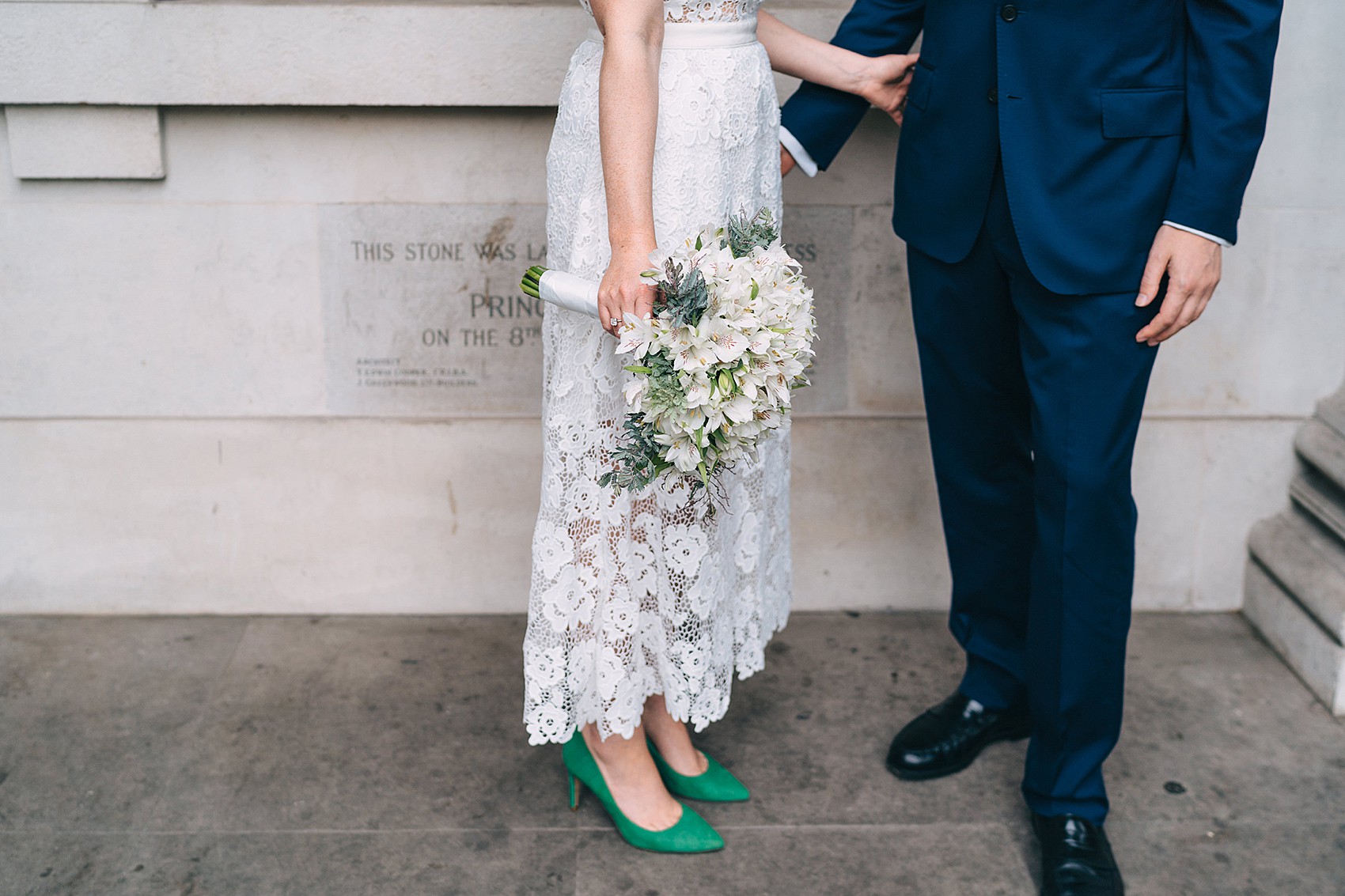 "We agreed on three options so he could choose the best possible blooms for me on the day. I thought that was a really special touch and great service."
"Luckily my first choice of white alstroemeria was available, and he added in some mimosa leaves to give some texture and interest. The flowers were still in prime condition a week later when we got back from our honeymoon."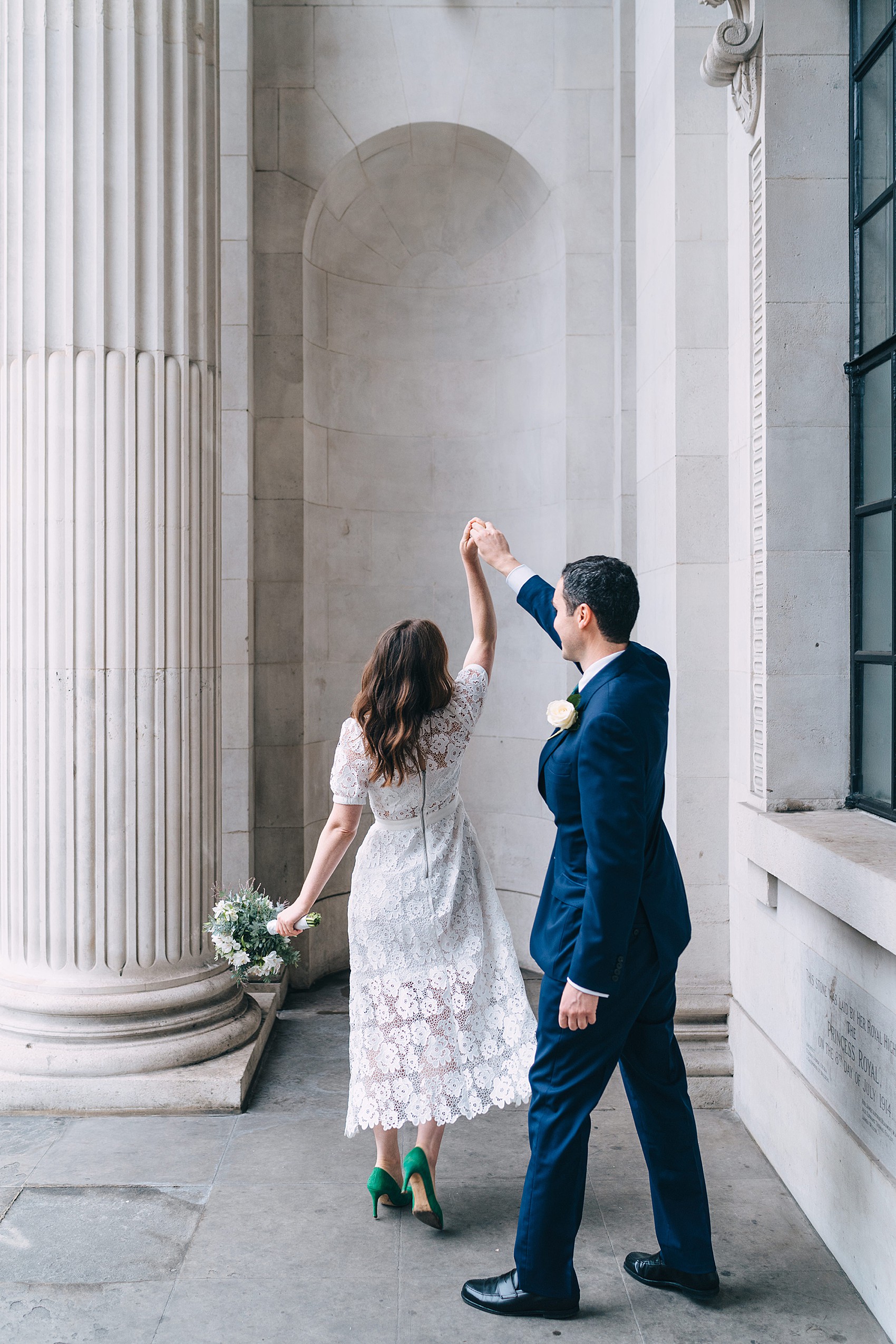 "I got my Self Portrait dress from Net-a-Porter, given all retail shops and wedding dress boutiques were closed at the time."
"It was a great experience but as I knew what I was looking for and it was ready-to-wear I didn't need any support in finding and ordering the dress."
"For my Italian wedding dress, I went to The Wedding Club in South Kensington and Knightsbridge for my very first appointment and found the gown of my dreams straight away. I would highly recommend them for their wonderful selection and incredible service."
"We live in Westminster and had been to a beautiful wedding ceremony in Old Marylebone Town Hall in December 2019, making it the obvious choice for us."
"It's rooms are elegant, the registrars make a huge effort to get to know you and make the celebration personal, and importantly, there was room for our immediate friends and family to attend."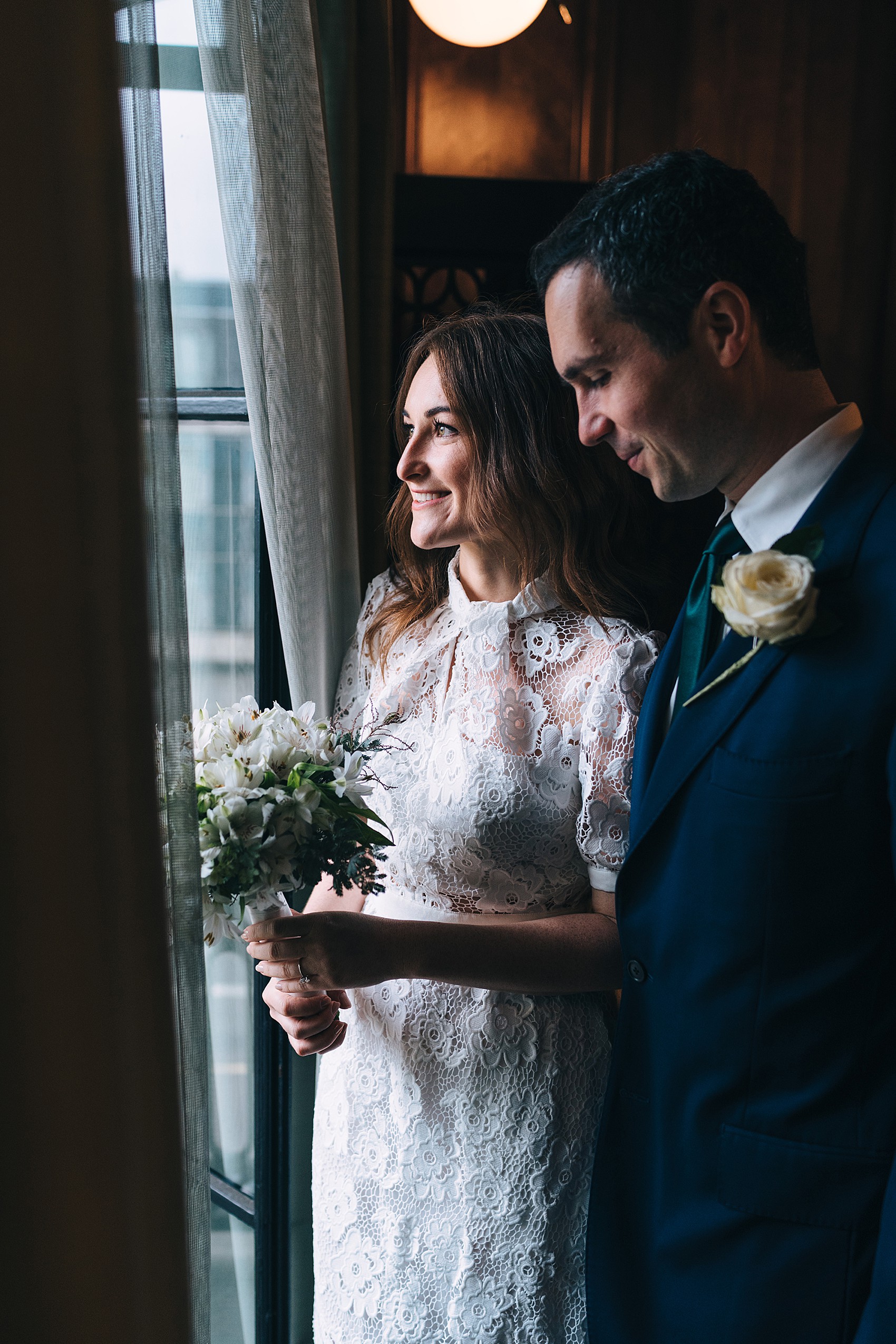 "My father walked me in to the ceremony (luckily we didn't have to wear masks for that part!). Marylebone Town Hall and Westminster have a team of registrars so we used the registrar available on the day."
"We will be having a Catholic church ceremony in Italy and kept our London elopement as a civil ceremony."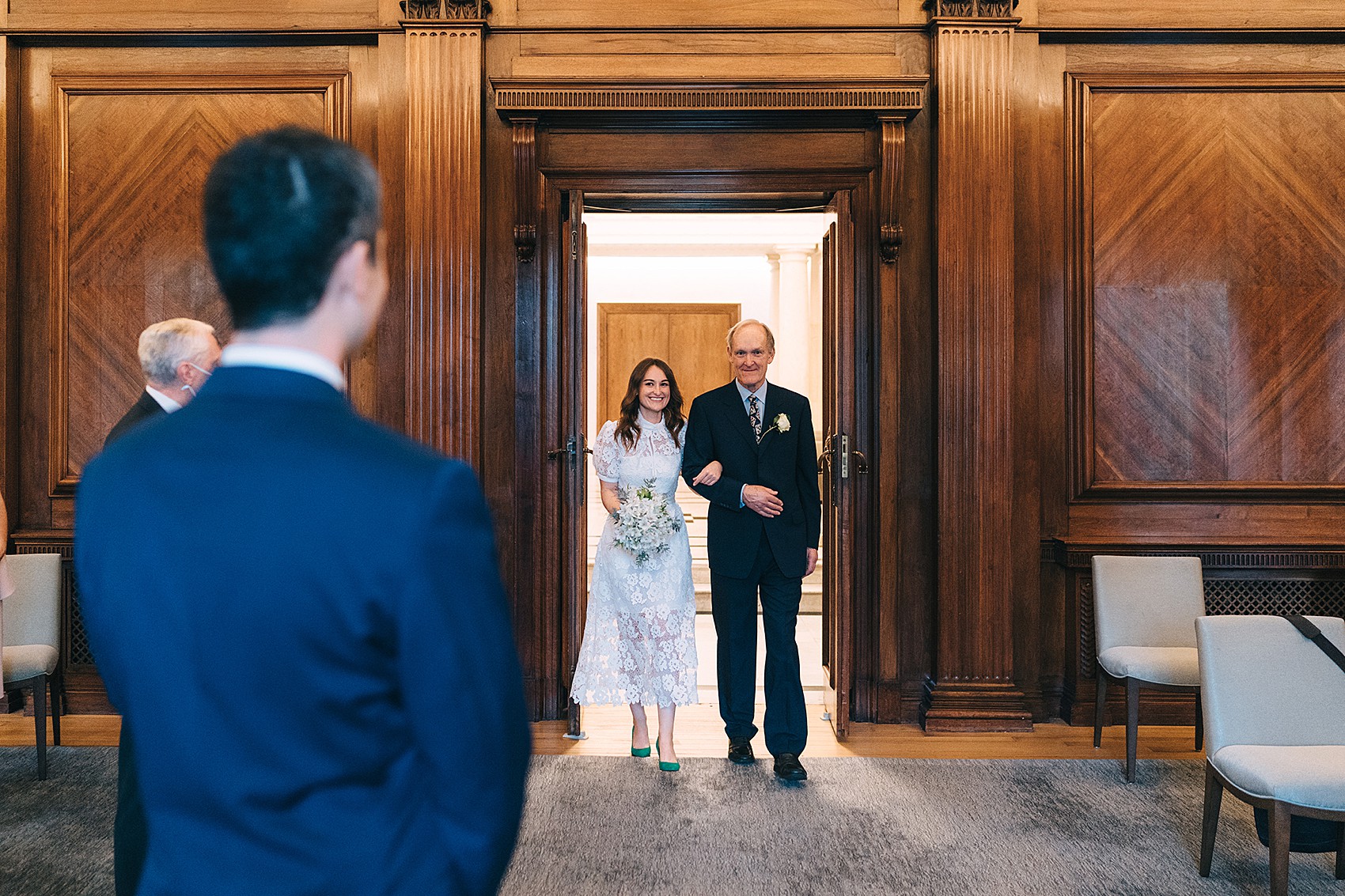 "When we first got engaged I needed to resize my ring, and a friend recommended a family run jeweller in Hatton Garden called Farringdons."
They are fantastic and did such a good job and offer a really wonderful service that they were a natural choice for our wedding bands. I chose a platinum slim band to go with my engagement ring and Lorenzo chose a classic slim yellow gold band."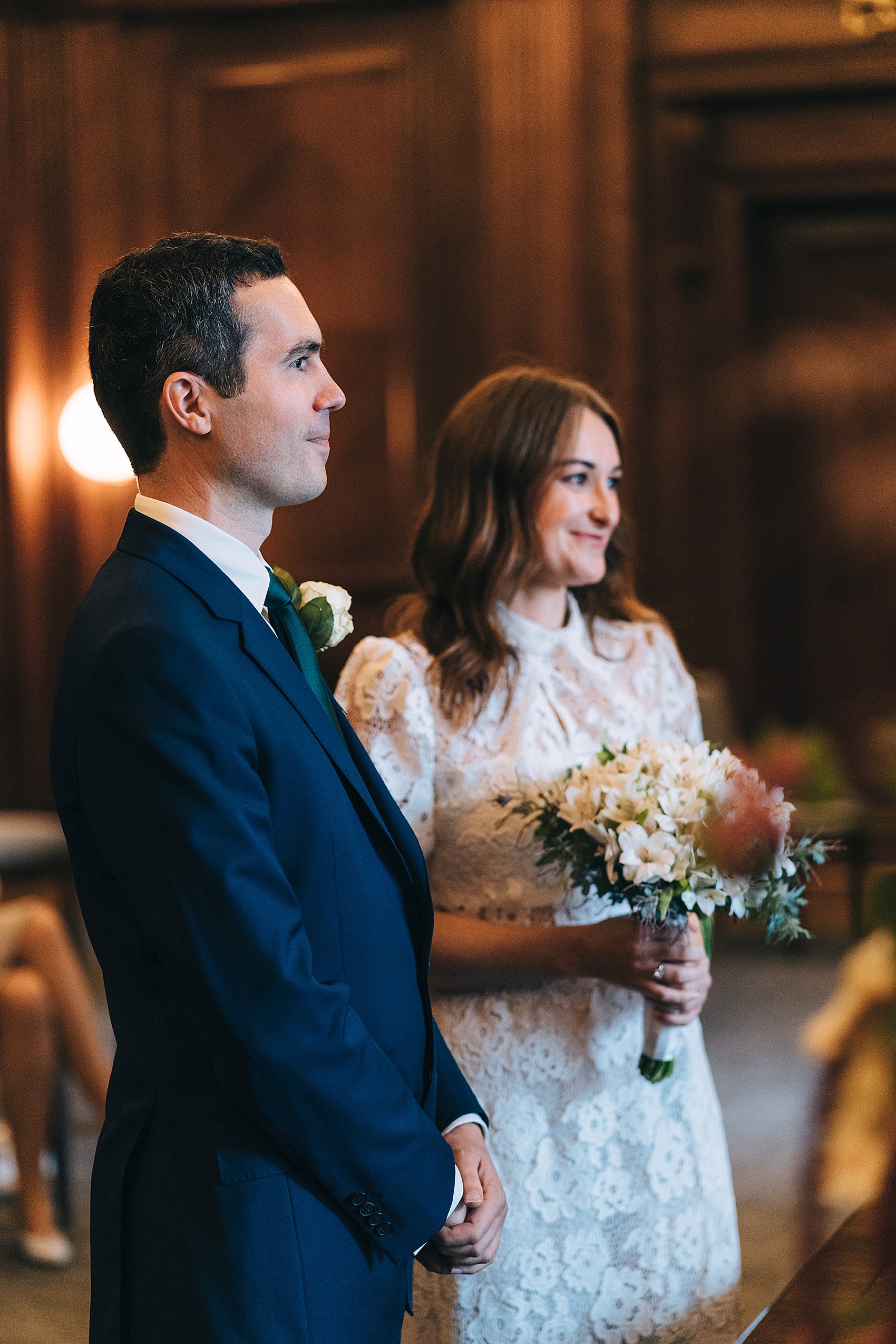 "The only jewellery I wore were a pair of beautiful blue topaz and diamond flower earrings by Kiki McDonough."
"They belong to my sister-in-law and she lent them to me as my something blue and borrowed. I don't think she still sells them but has similar styles on her website."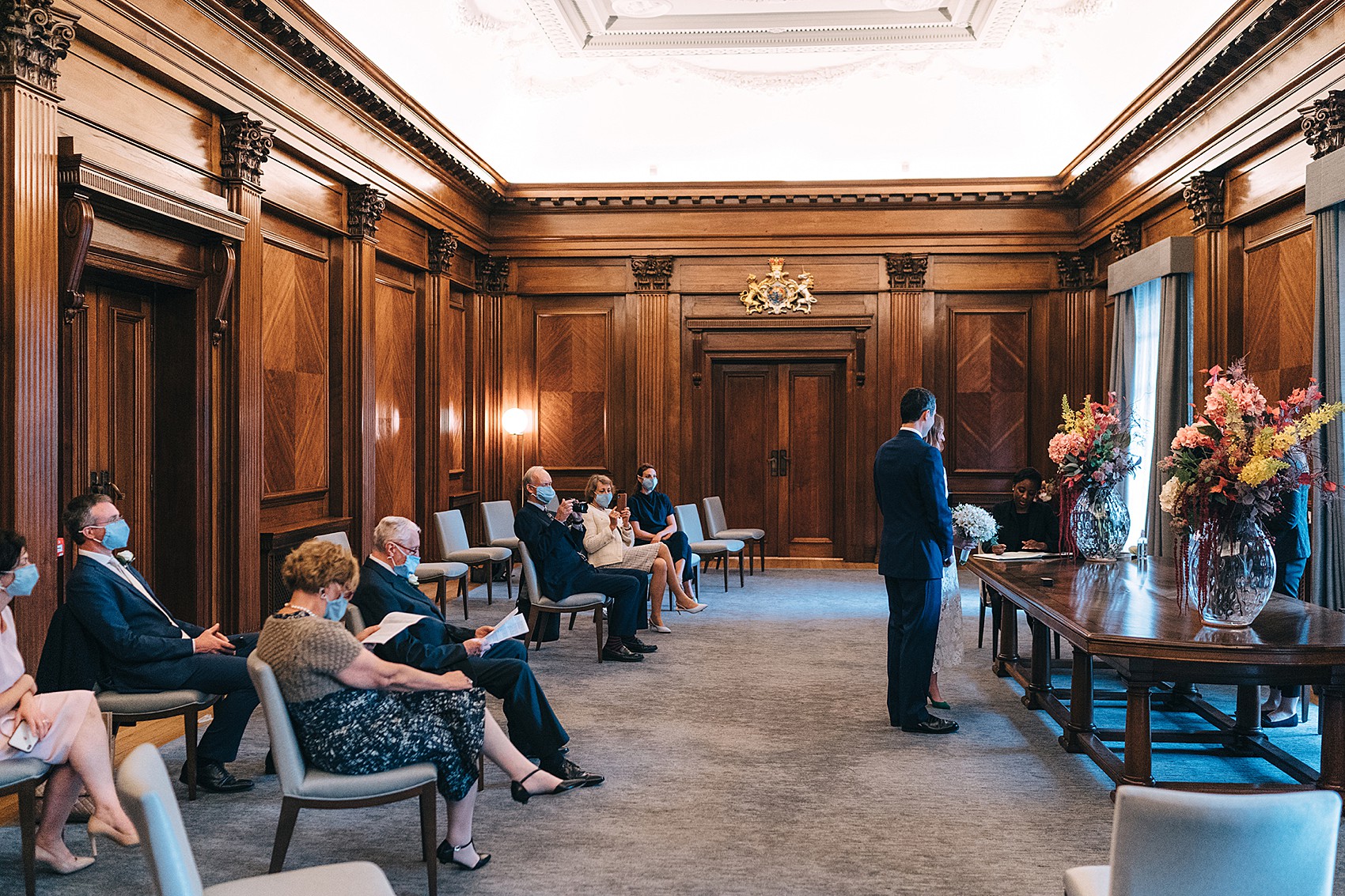 "We walked out of our London ceremony to The Beatles' All You Need is Love."
"I love that my dress is bridal without feeling too bridal. It was so different to everything else I saw and is somehow modern, chic and timeless at the same time."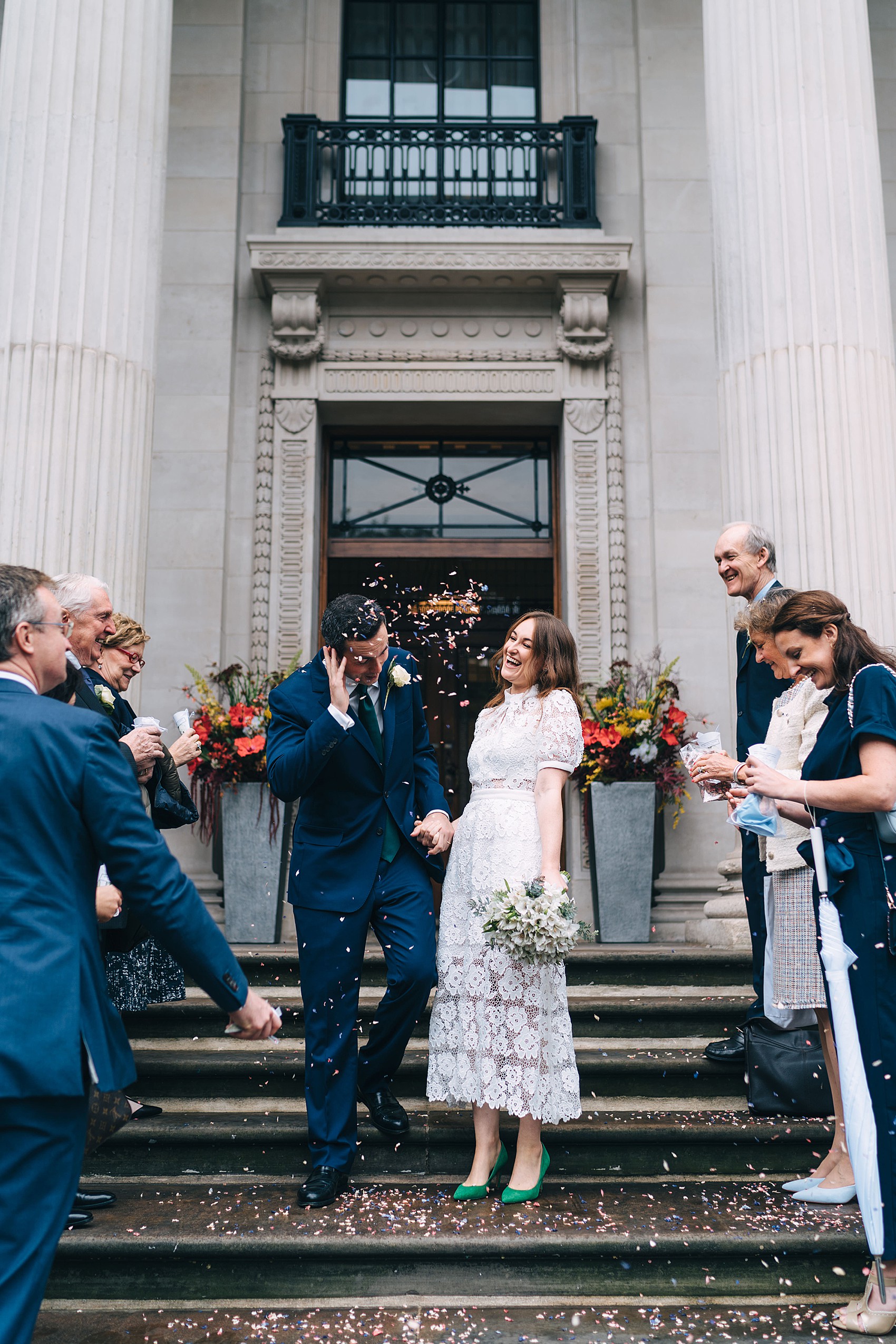 "The guipure lace and tea length hem feels almost vintage but the sheer skirt, puff sleeves and high neck feel so on trend."
"I'm really passionate about sustainability, so for me it was important to have a dress that I know I will wear again, which I definitely will."
Lucie chose Elie Saab – In White as her wedding day scent.
"This is my go-to perfume on any day, it's floral but has woody undertones making it a perfect balance. Plus, with a name like 'In White' it felt timely for a wedding!"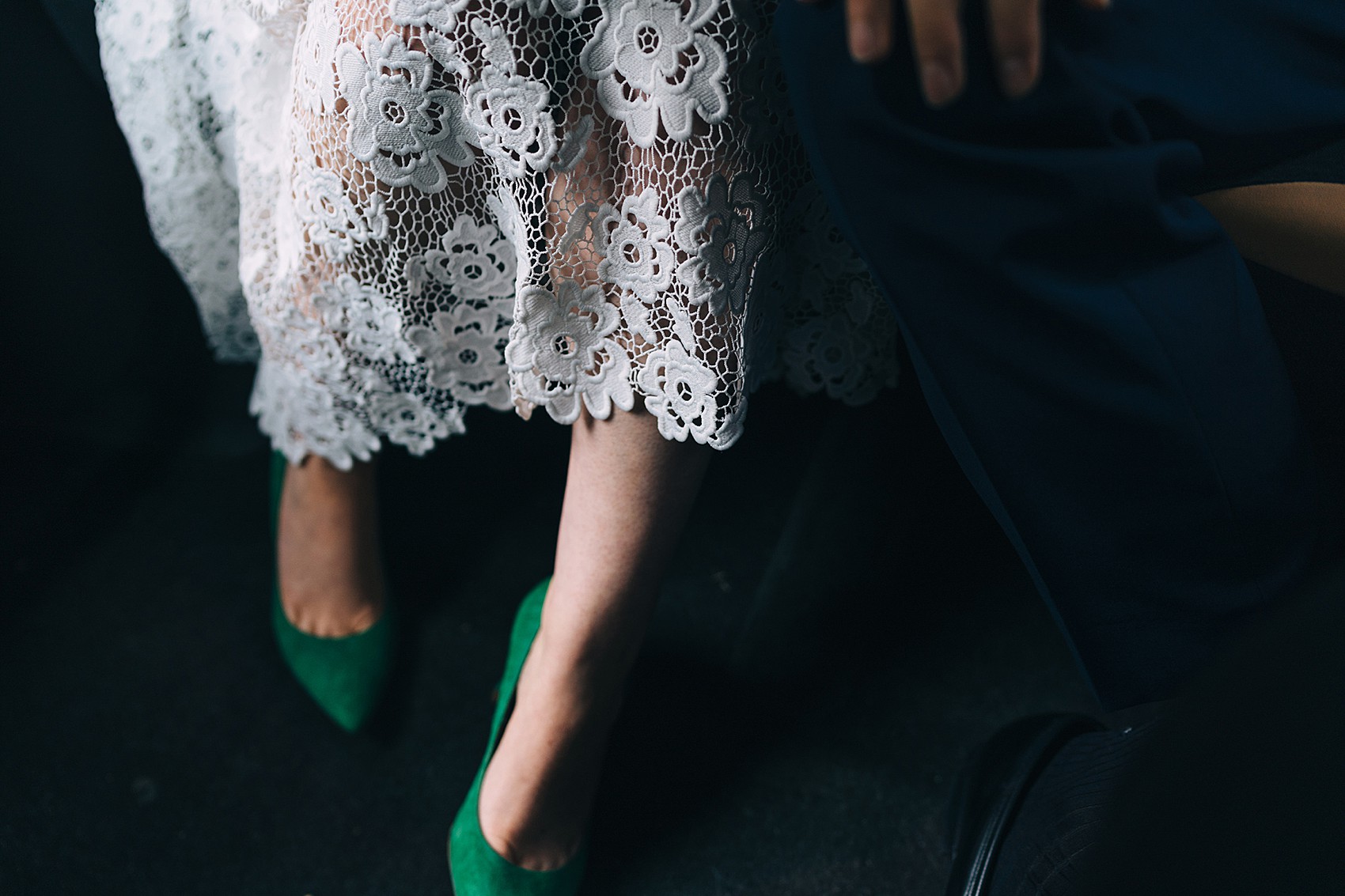 "Our photographer was Genevieve Chapman, or, 'Miss Gen'. We were looking for a photographer that would make us feel comfortable (as people who are not good in front of the camera normally), had a modern style, but also had experience with elopements and the venue we had chosen."
"Gen was absolutely fantastic and we highly recommend her to any couples looking for a wedding photographer. We also asked Gen to create our wedding album, which is stunning."
"It's so hard to pinpoint as all of it was brilliant. What I do cherish are little moments here and there. Finally saying our vows and exchanging rings, sneaking an espresso while walking the beautiful side streets of Notting Hill with Gen, our photographer, and the smiles on all of our faces as we got to sit down and eat a beautiful meal with delicious wine in an intimate setting together with our parents and siblings for the first time in 6 months and which we haven't been able to do again since!"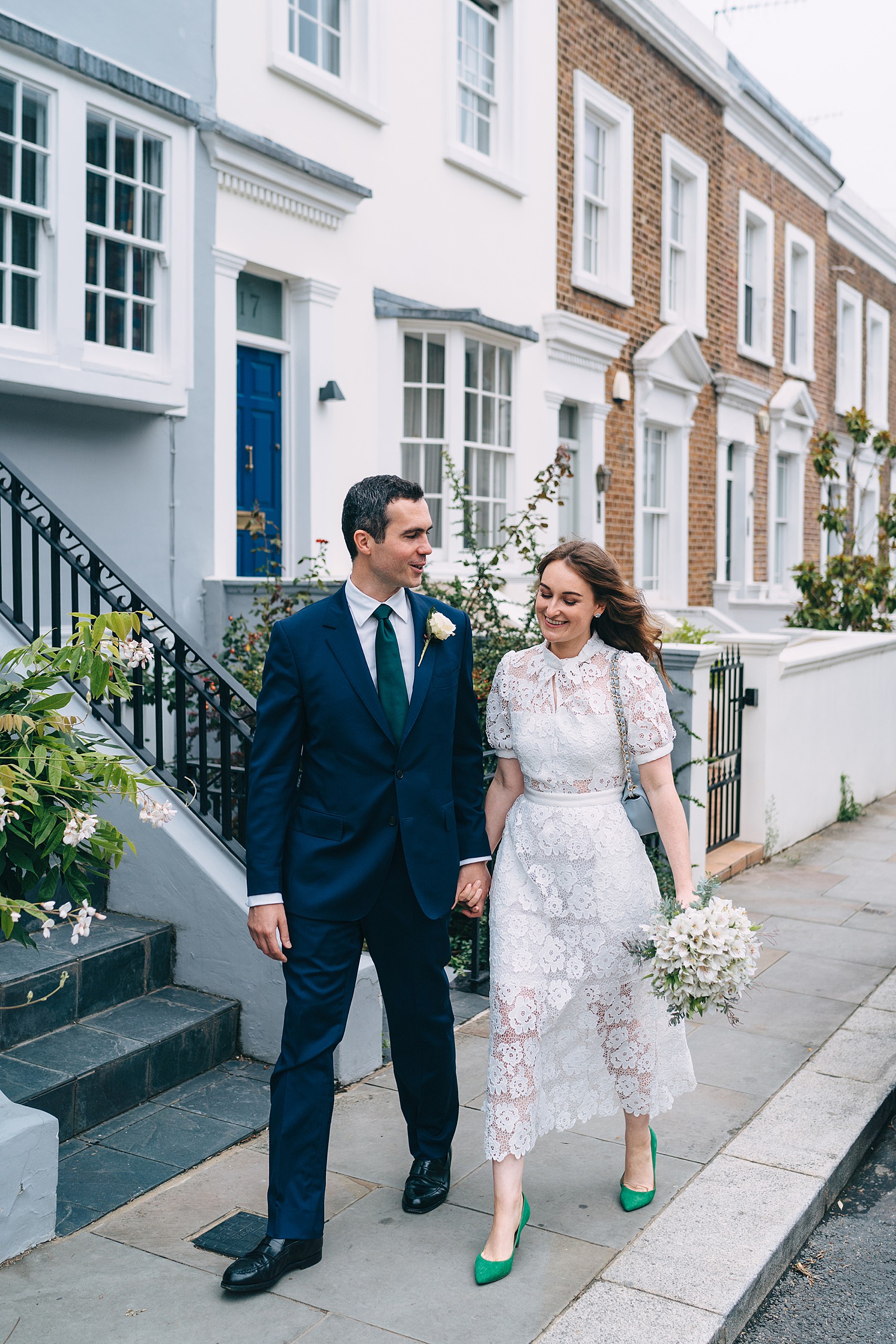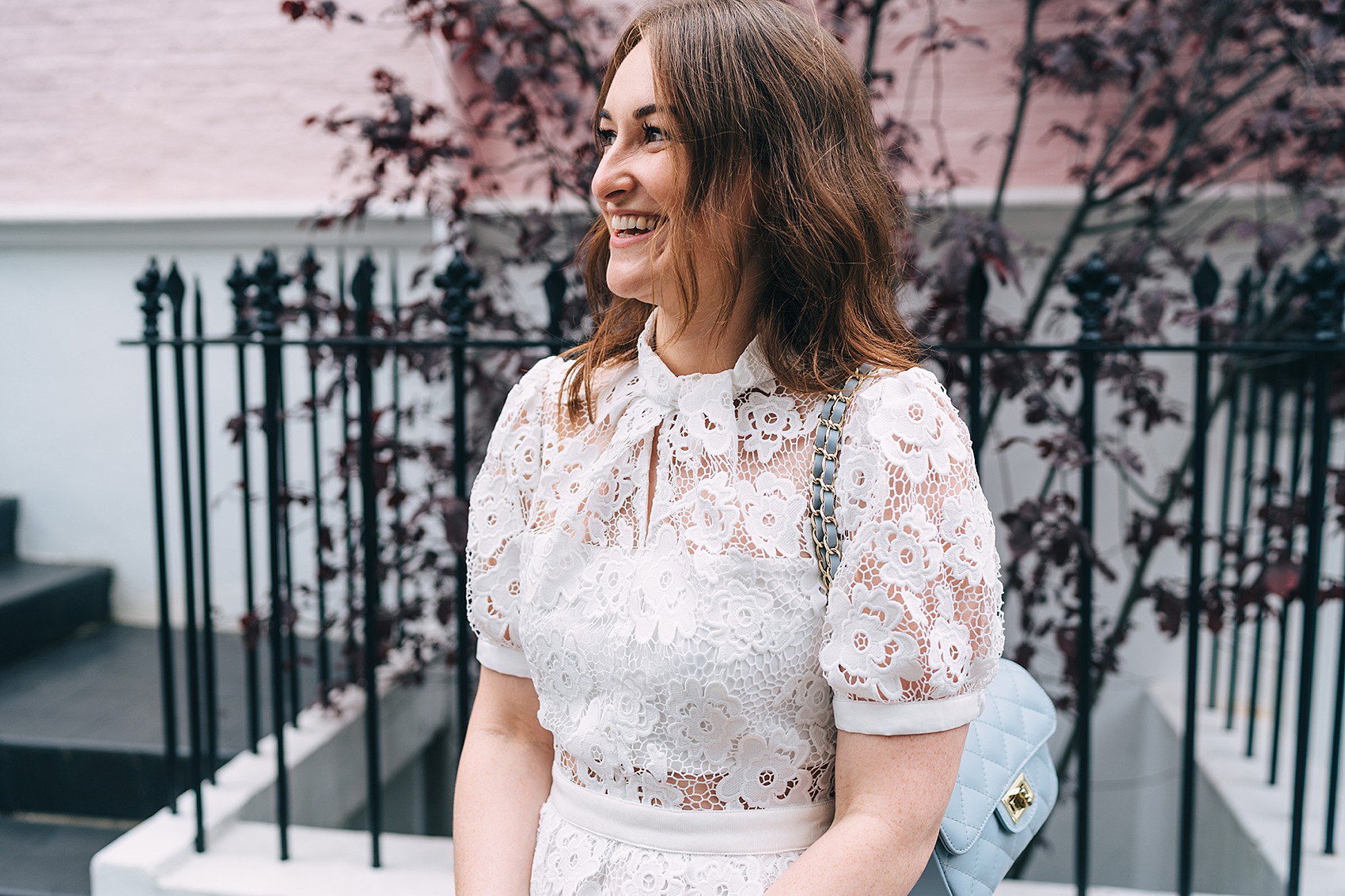 Words of Wedded Wisdom
"Whatever your reaction, just allow yourself to feel that. Don't excuse your sadness or anger and brush it aside because 'other people have been so much more affected by this pandemic'."
"Of course they have, but it everything is relative and it's a major upheaval to postpone an event you have ploughed effort, money and hopes into over a long period of time."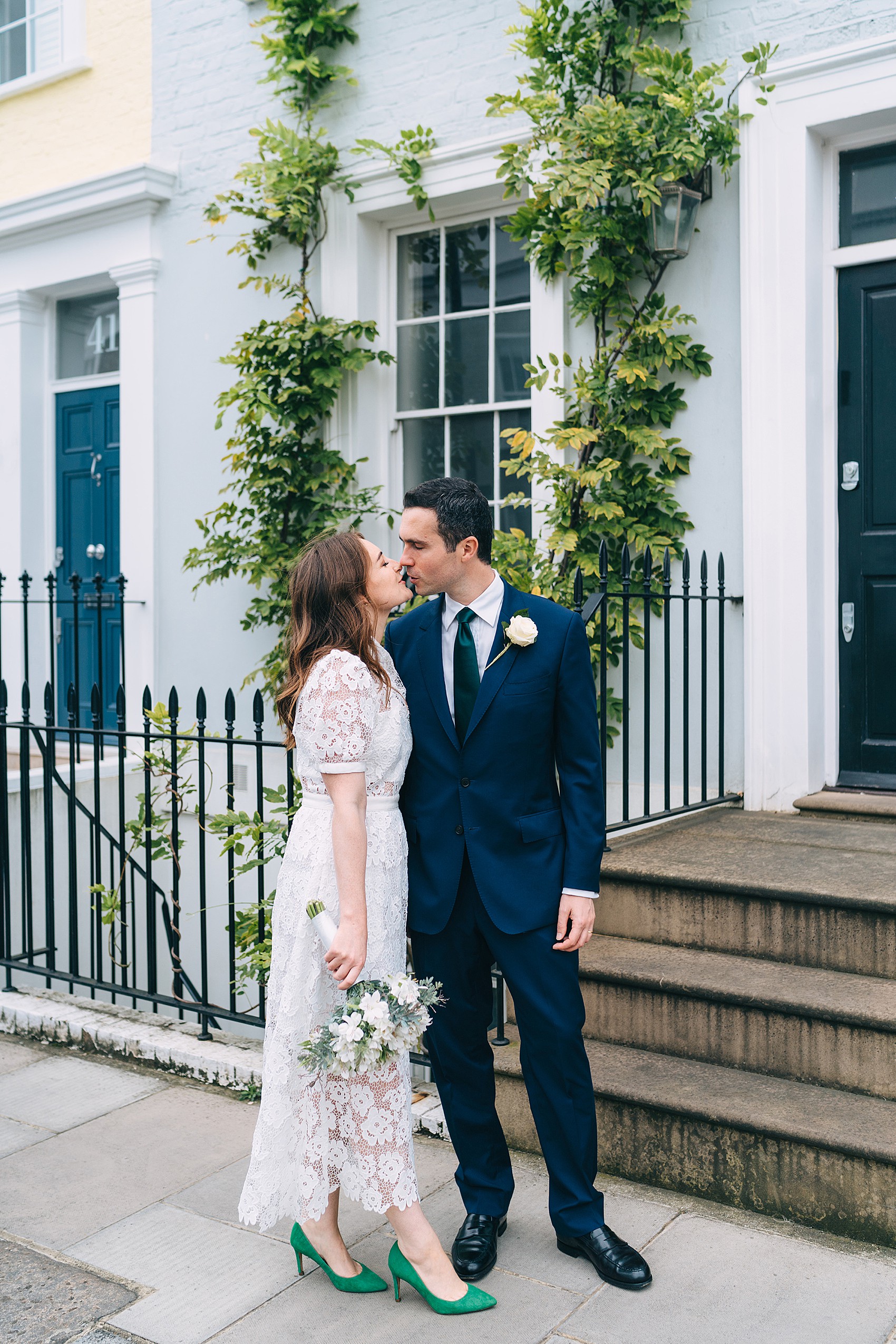 "Once the emotional rollercoaster subsides, sit down together and figure out what it is you want and what your dealbreakers are so you can make a choice you're happy with and stick to it."
"We are all learning to be flexible in these strange times but it doesn't mean you have to give up on something that really matters to you."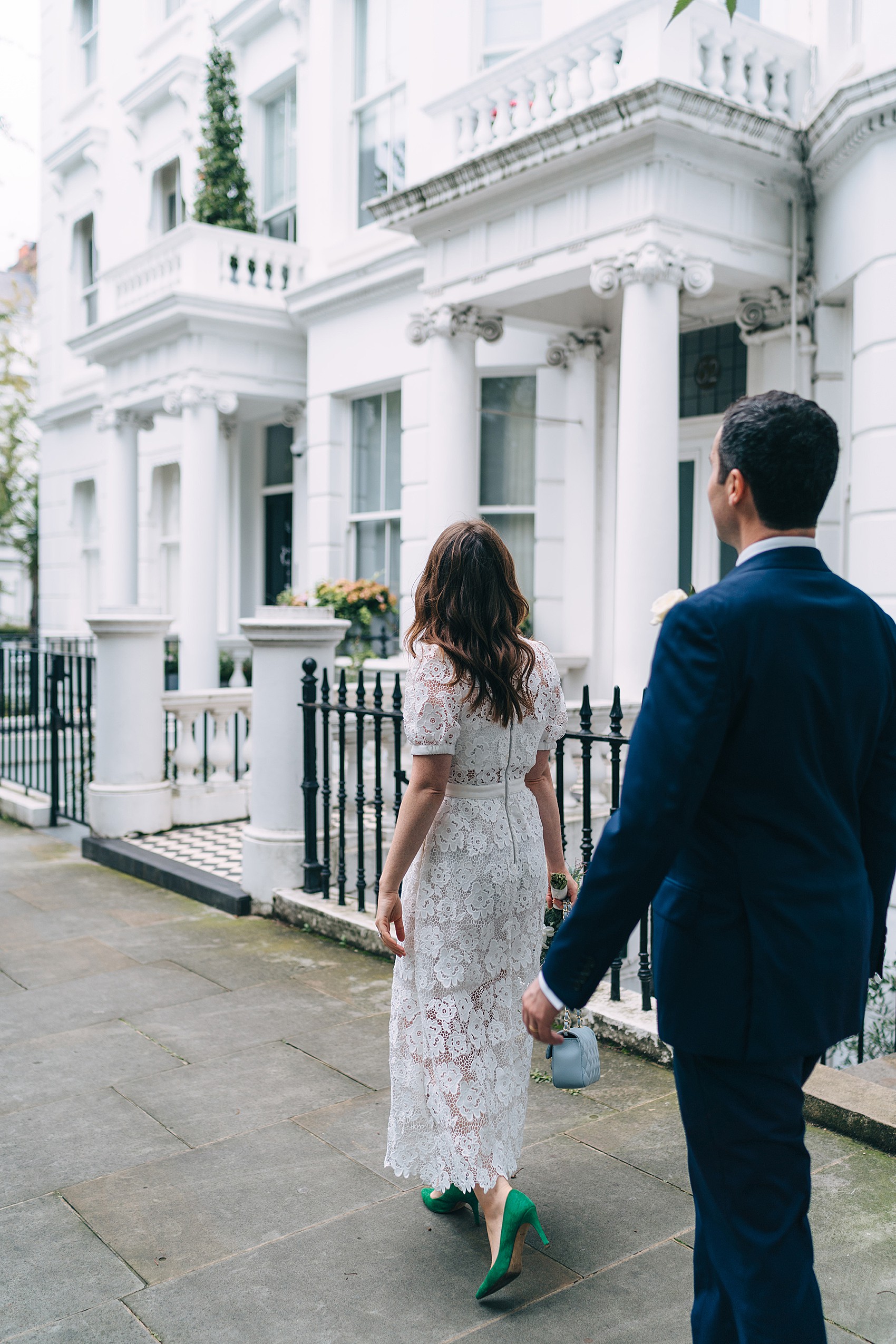 "Don't worry about what others with say, think or feel, just do what's right for you. We decided to get married anyway with just 9 guests and it turned out to be better than we could have imagined."
"We spent the full day with our nearest and dearest, a luxury we won't get when we do finally celebrate as we had intended in 2022."
"It's very easy to be caught up in what other people have done, are doing or suggest. While it's important (and really fun) to get inspiration from others, always make sure your choices are serving you as a couple. It's what will make your day so special and unique."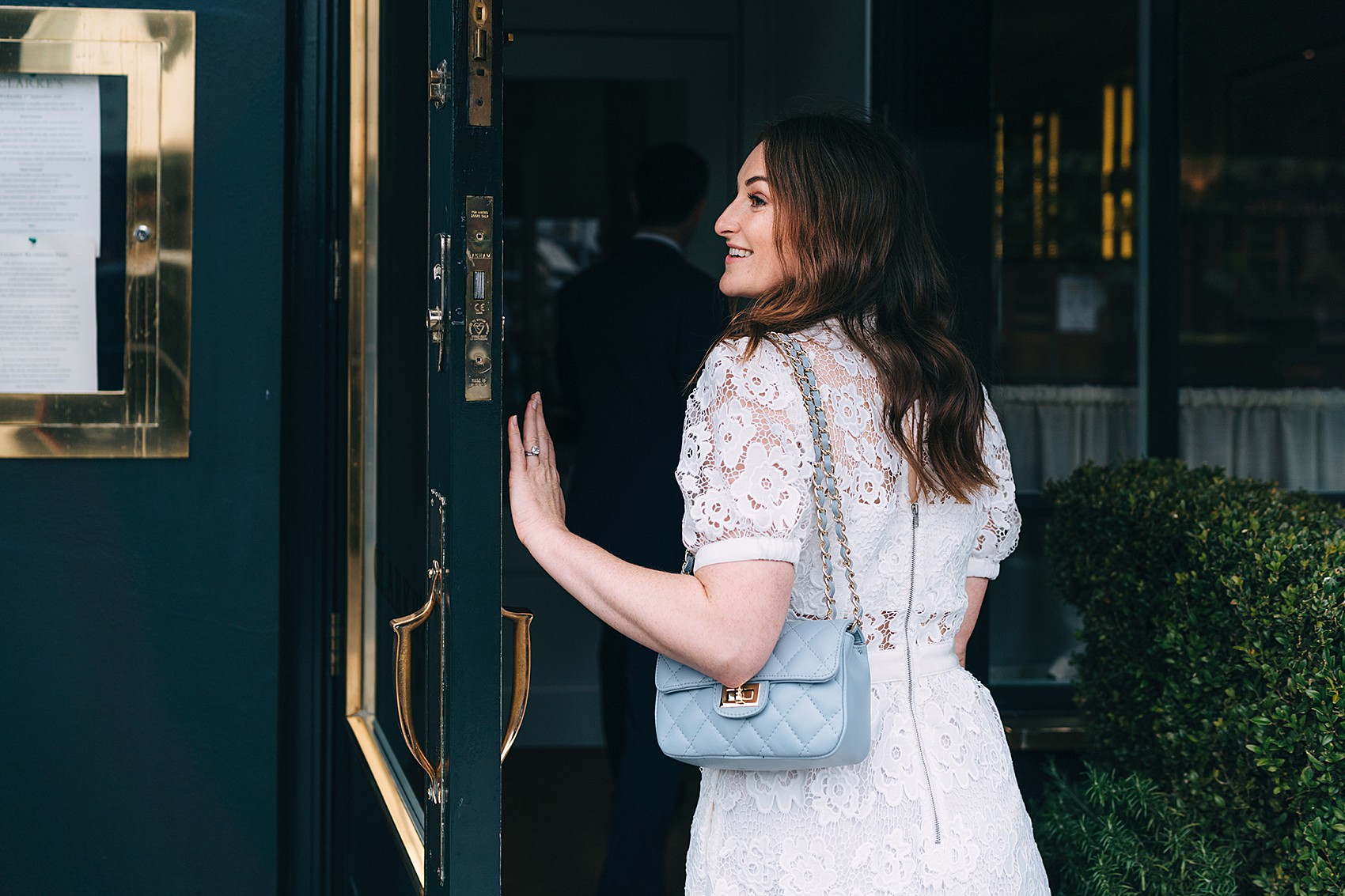 "I felt pressure to get a certain type of dress and accessories or have a theme for this wedding, and I almost conceded. I'm so glad I thought twice and did went with my instincts in the end!"
"The only thing I would change is would be to have my brother there. He lives in New York and wasn't able to travel given the pandemic. Other than that, we made the absolute most of the day within the limitations of a global pandemic."