After one of the busiest weeks ever, it's so good to have spent my day working through content submissions for Love My Dress; beautiful weddings, beautiful editorials, beauty and creativity all around.
I thrive off it. I miss being able to get involved  and immerse myself in it. The organised chaos and exhaustion involved in a photoshoot, the chance to whip my trust Olympus Pen camera out and capture some of the behind the scenes magic. Thankfully, I work within the UK Wedding industry, which not even a global pandemic can cease from creating.
These glorious images and film were sent our way by photographer Emma Lawson, who teamed up with our sensational directory members, GLOAM, to show you just how very beautiful small weddings in big spaces can be.
There is a positive message here for many of you who may have to, or choose to, down size your original guests list this year when weddings will (LET'S ALL PUT OUR MOST POSITIVE THOUGHTS OUT THERE) be reenabled. Though I fully acknowledge that for many of our readers, a smaller wedding simply isn't an option.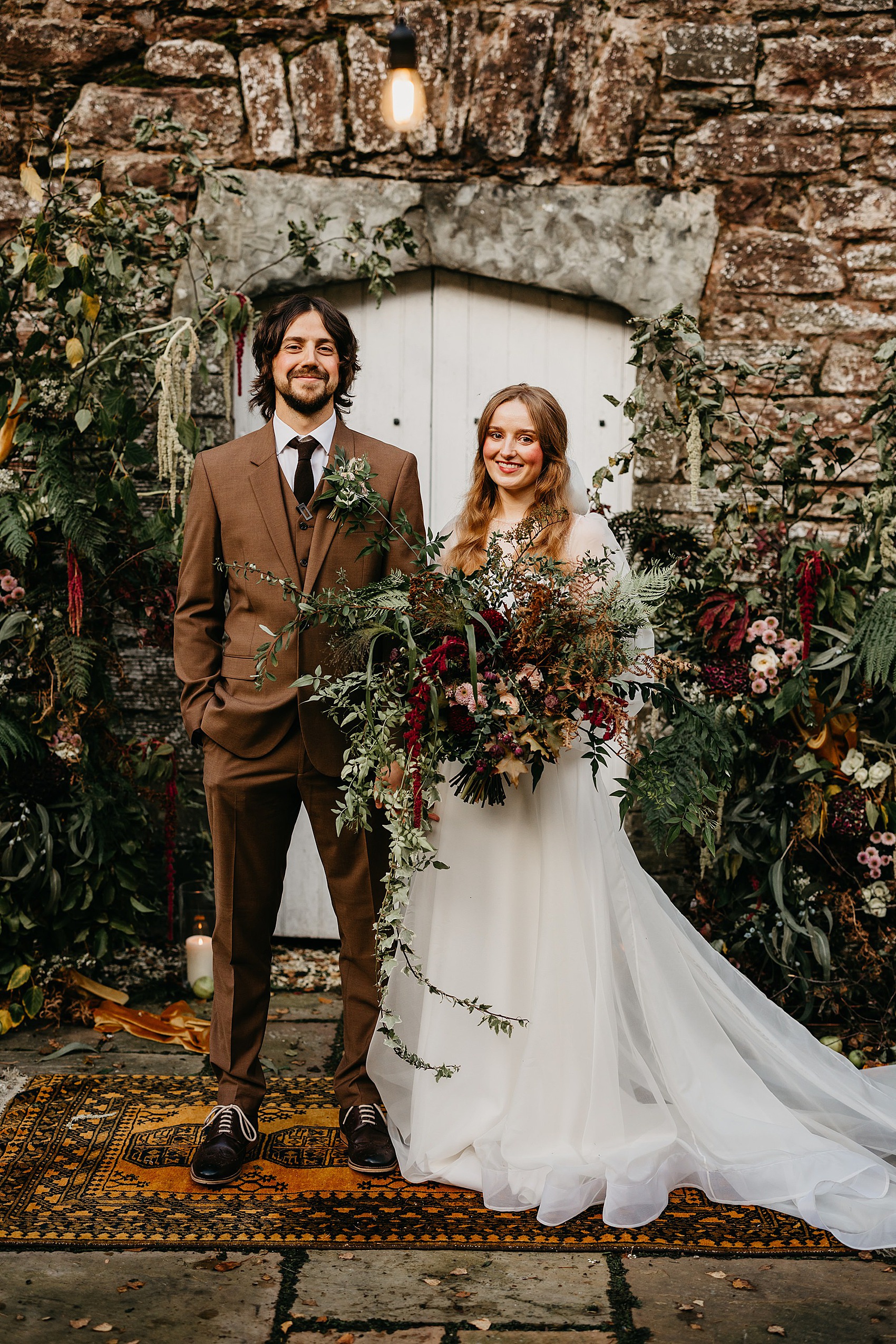 For those of you where it is though, I truly hope that these images will inspire you to not being put off from celebrating in that sensational wedding venue, or wearing the most beautiful gown.
Your guest list may require a 2021 edit, but the style, vibe, atmosphere and decor of your wedding day can still be full on and absolutely bloody incredible.
As this wonderful creative team proves.
Words by Gloam (Stylist & Florals)
"We were tasked with creating an editorial that showcased Drumtochty in a way they hadn't seen before. We decided to use palettes that made sense for the building and decor already in place but bring in a modern romantic bohemian edge."
"We went wilder and less traditional than might usually seen in the castle, bringing deep dark linens, trailing florals and textured stationery and signage."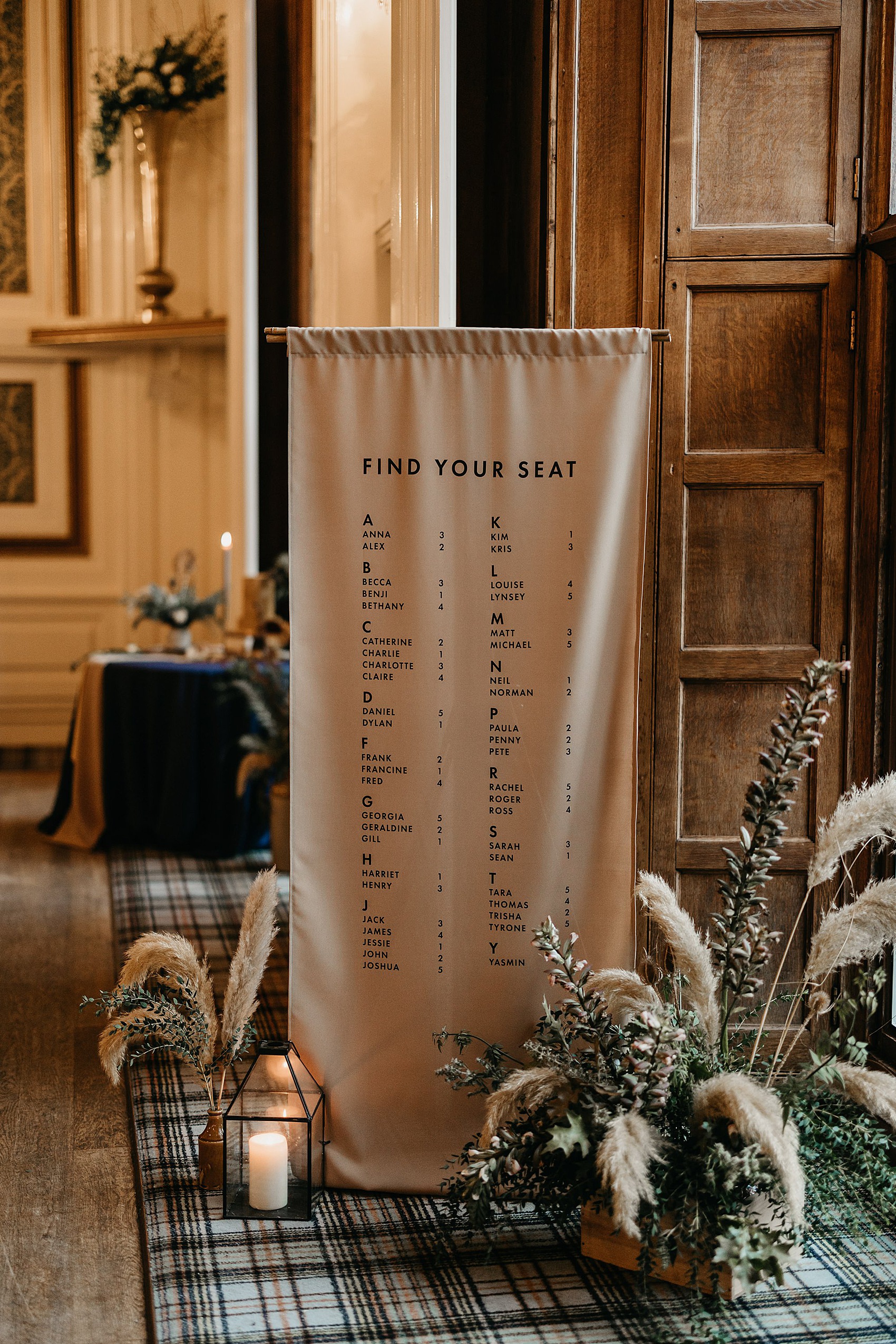 "The castle  wanted help showcasing the courtyard space so we decided to bring an almost secret garden vibe to that area but kept the rich colours and decadent features of the castle as part of the designs."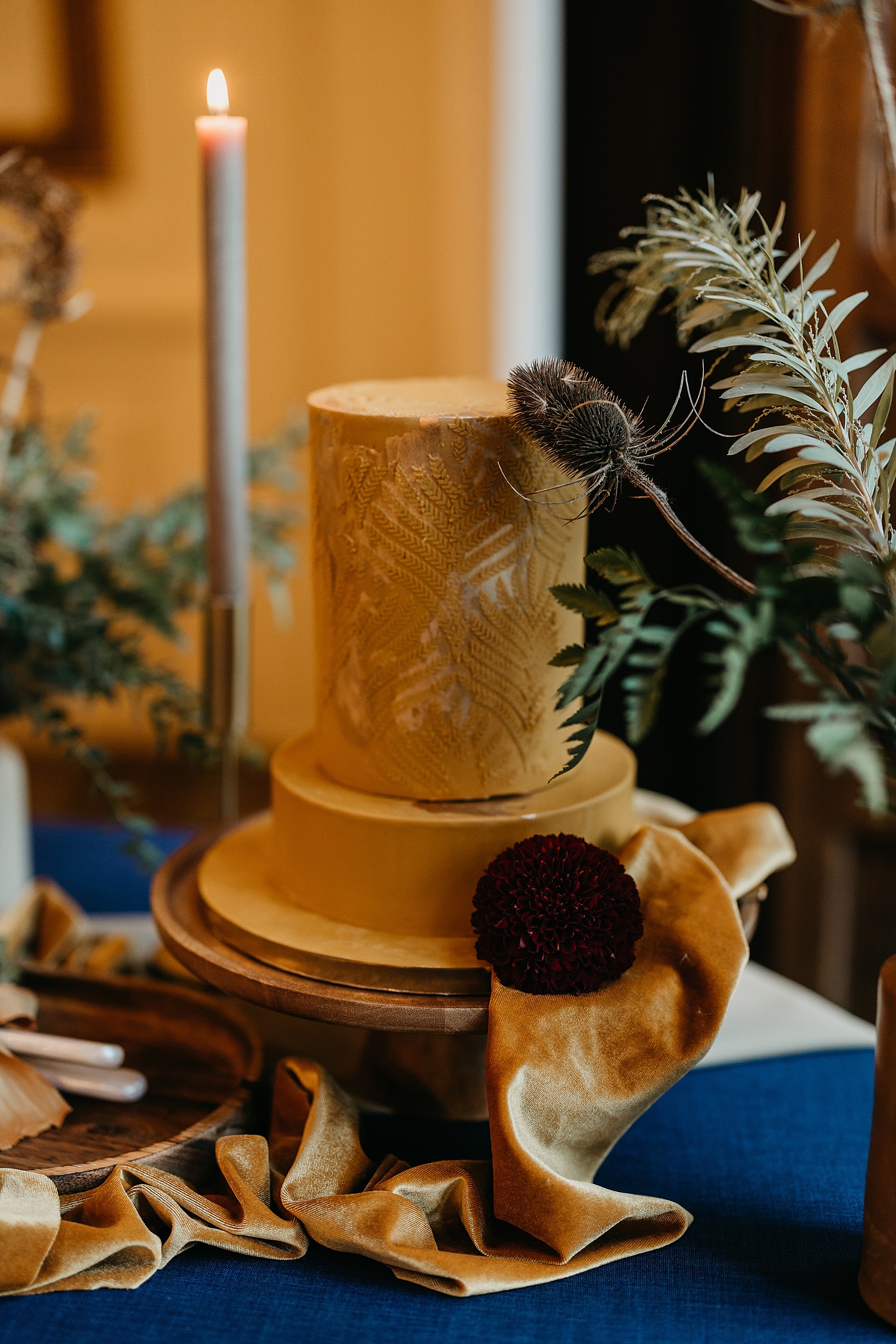 "We always like to create a story line behind the shoots we do and for Drumtochty we imagined the young girl who grew up in the castle, running through the halls and gardens has grown up and returned to be married."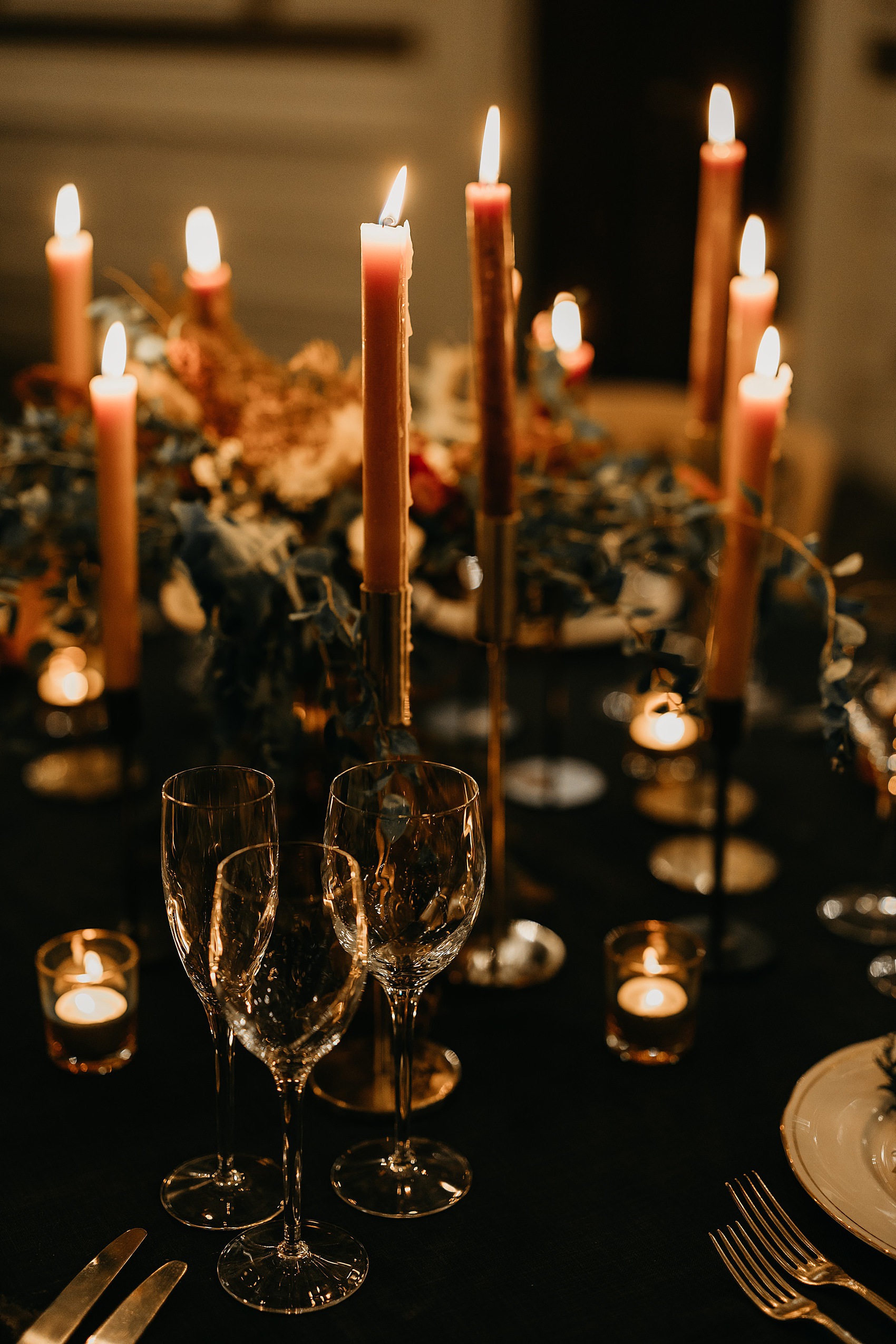 "We also wanted to help them show what a wedding for 50 would look like in the ballroom given the current situation."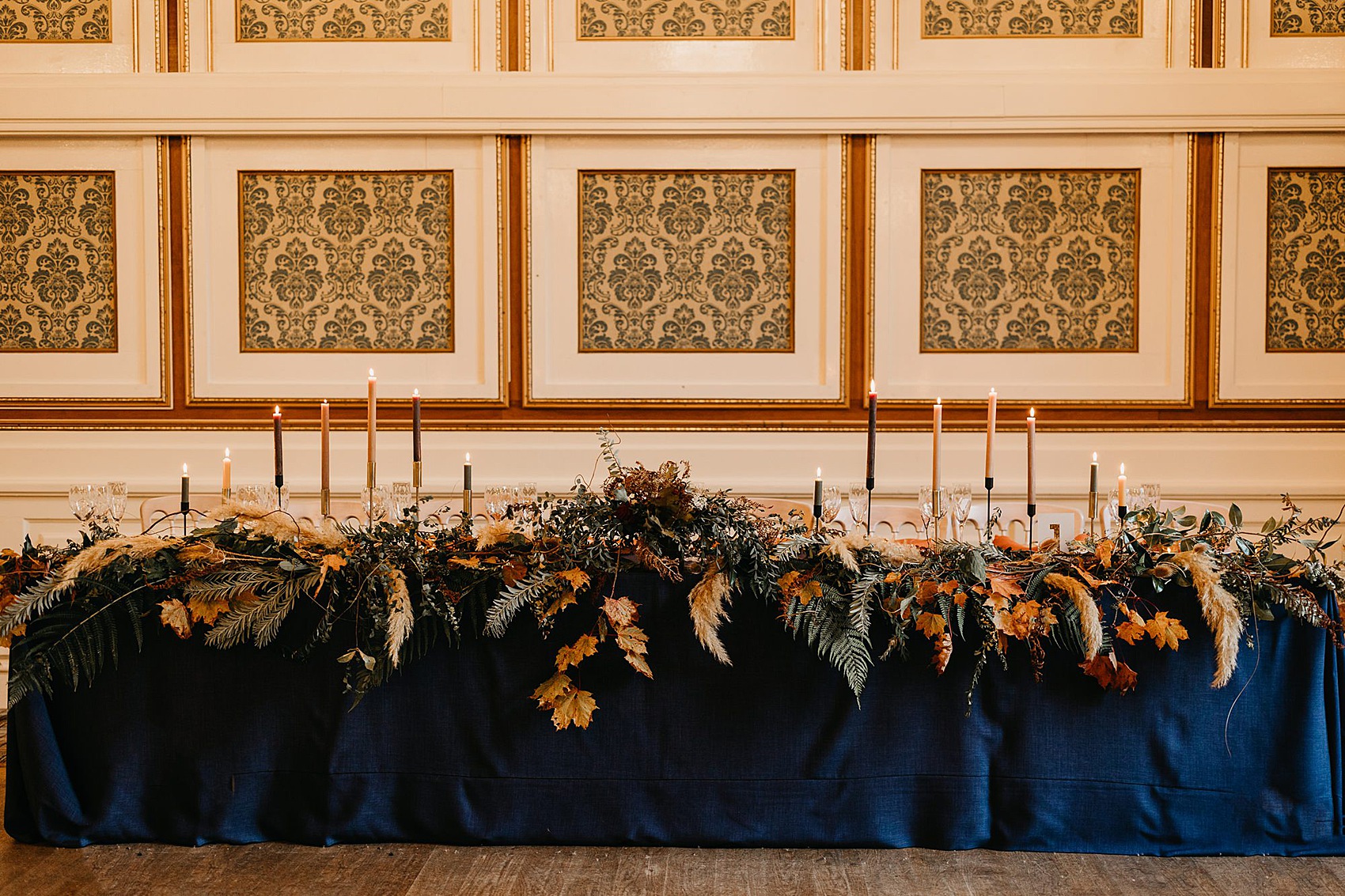 Words by Drumtochty Castle
@drumtochtycastle

+ Follow
"This editorial all started when myself and Nikki, our general manager, were speaking with photographer Emma Lawson about wanting to show Drumtochty in a different light."
"Even though Drumtochty castle is a large venue which can have weddings for up to 120 guests, it also really lends itself to smaller more intimate weddings – and we wanted to illustrate this to potential couples."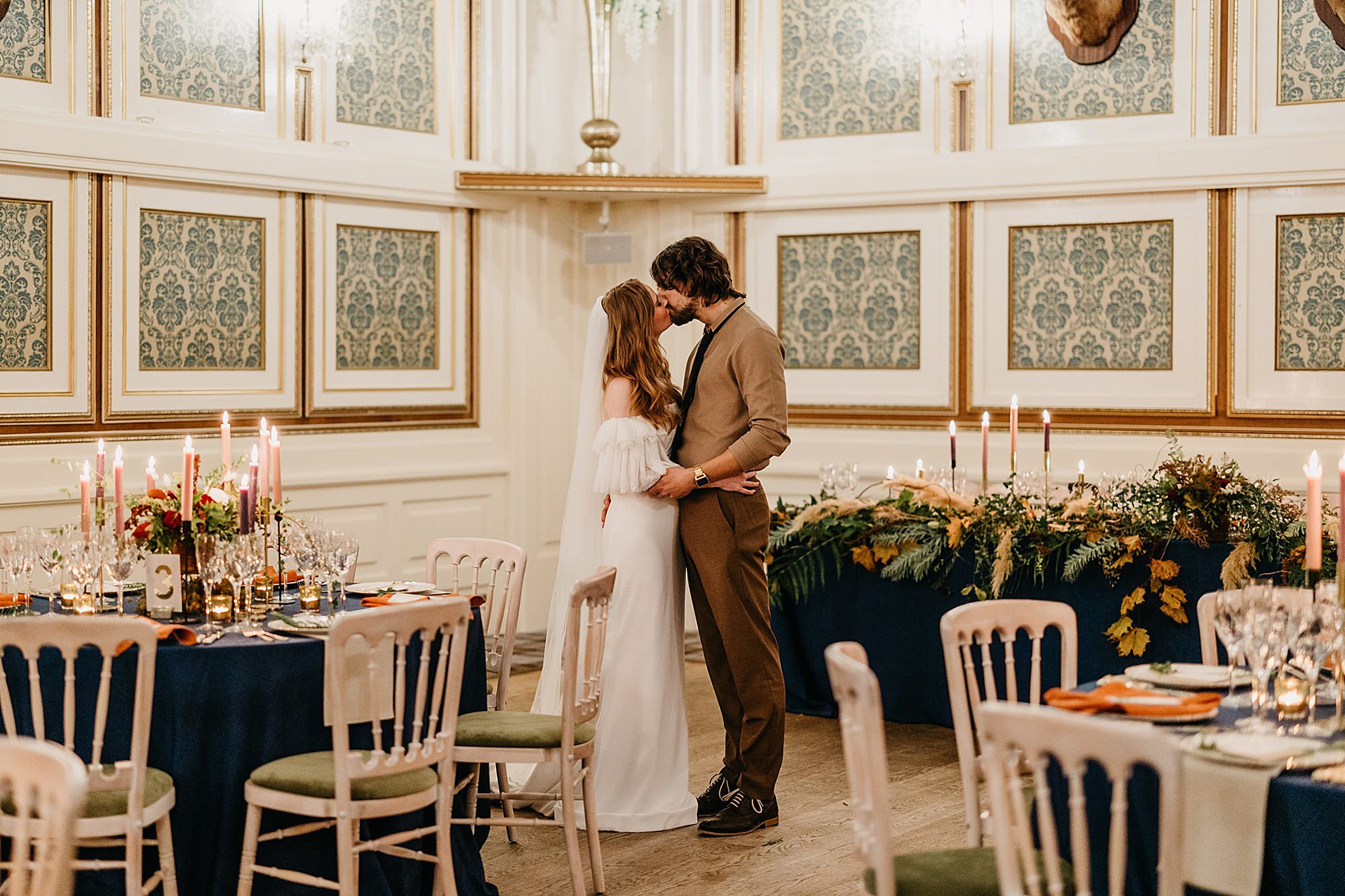 "As well as the many beautiful outdoor locations we have right on our doorstep for ceremonies and photos. The beautiful Cairn o' Mount is just a ten minute drive from the castle and as Emma said 'it is Aberdeenshire's version of the Cairngorms'"
"We asked GLOAM to take the lead on styling. Like most wedding venues, summer is our peak season for weddings, however this editorial also allowed us to show how stunning the castle and estate looks in in the Autumn".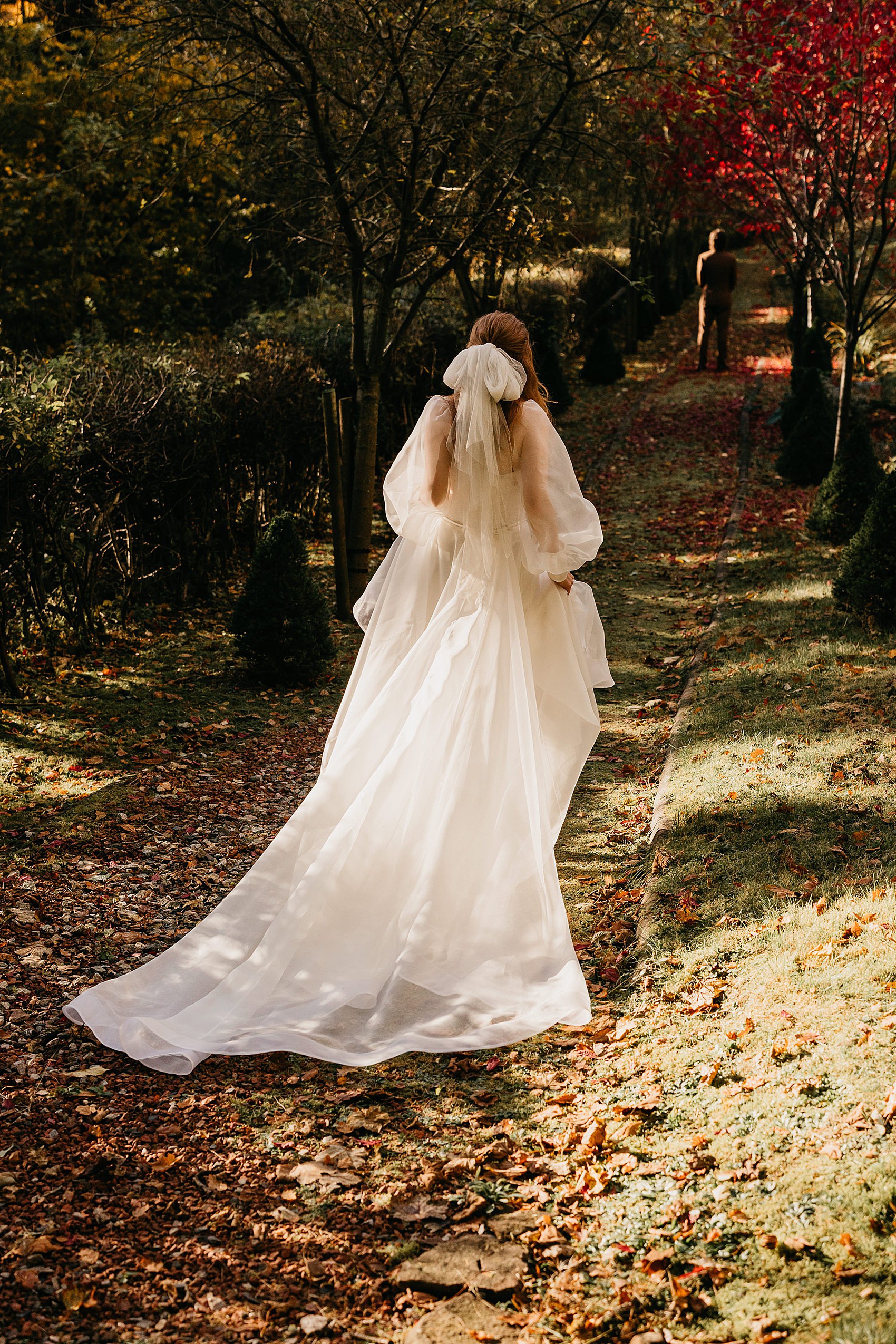 "Gloam recreated the wild, woodland landscape of the estate and reflected this in the styling of the flowers and the ballroom set up."
"We ask them to use darker, deep colours which you don't see as often at our weddings but felt as though this could inspire our future couples in how drastically different the castle can look depending on the styling."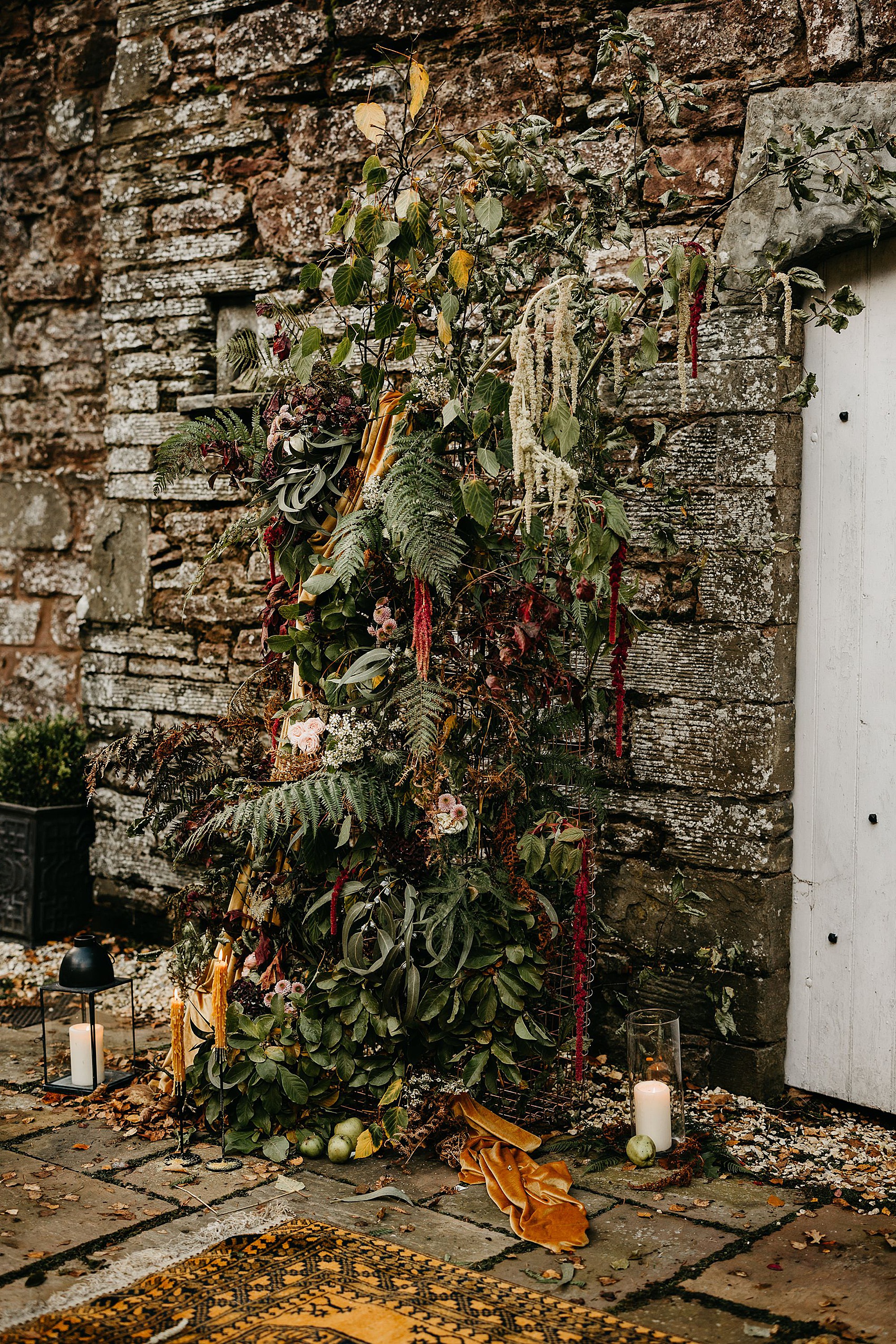 "Most styled shoots are just photographed but we thought having wedding film makers Cinemate in attendance to also film it added another level of personality and atmosphere, to really give couples an immersive experience – this would enable viewers to hear the beautiful sounds involved in the shoot, like Celebrant Claire's ceremony, and musician Brad's piping. This project involved a superb team of Scottish wedding suppliers, who are all very talented within their fields."
"We also wanted to use a real couple for the photos, rather than models, to bring the photos to life and show a genuine, real connection between the couple."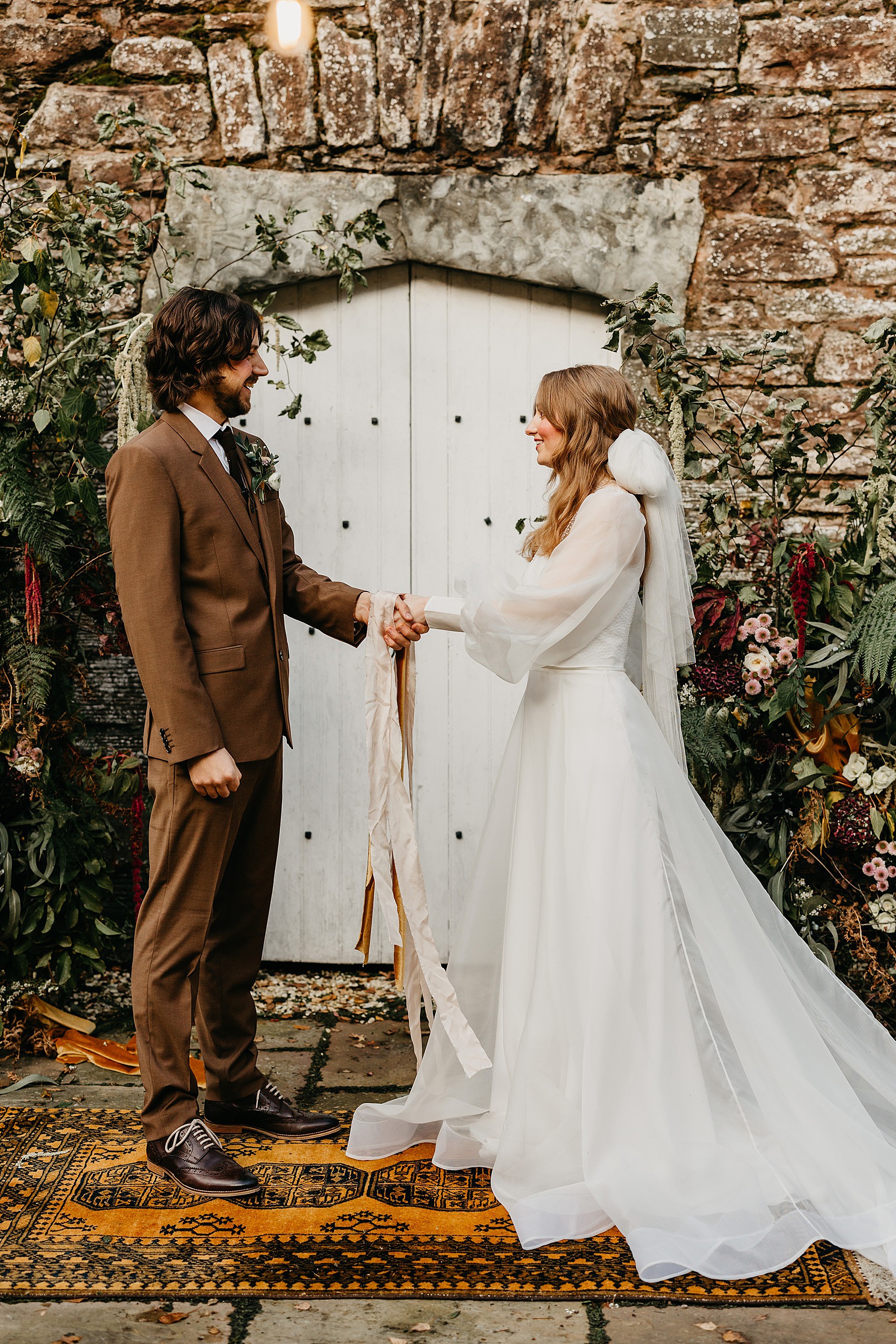 Words by Cinemate, Filmmakers
"With a passion for the outdoors and a strong emphasis on elopement films in our work, we knew we could create a really beautiful film for this editorial".
"We leaned into the dark earthy tones to create quite a dramatic vibe. We wanted to focus on Claire's reading to act as a voiceover to drive the narrative of the film and create a story for the bride and groom."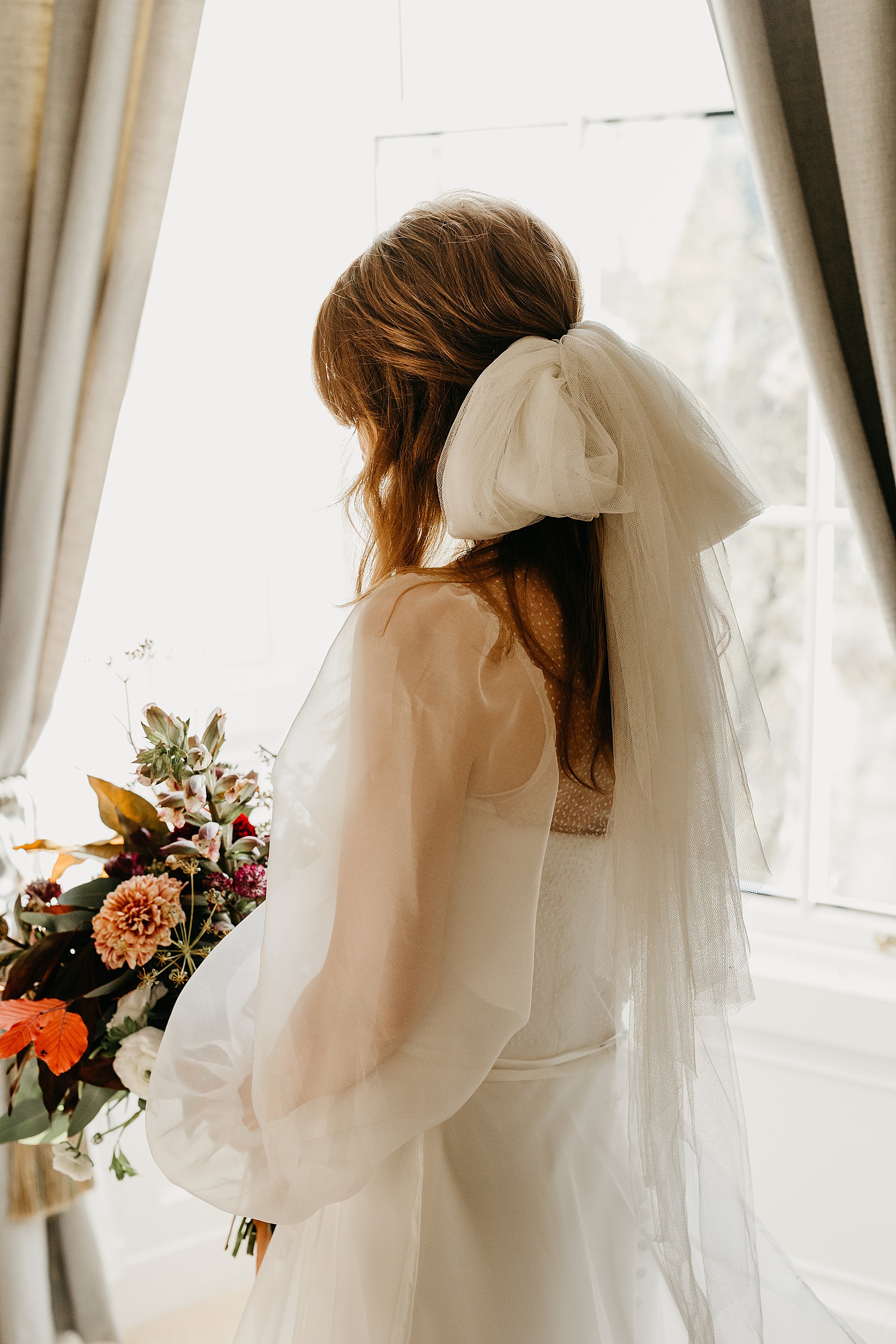 Words by Claire, The Humanist Celebrant
@clairethehumanist

+ Follow
"I was very excited to be asked to be part of this editorial, especially when I saw the other stellar suppliers involved. The styling for the shoot was glorious. I knew it would be because I'd fangirled GLOAM for ages."
"The castle was absolutely beautiful and Tamsin and her team were so welcoming and that in itself was a delight, especially after months of not being around other humans."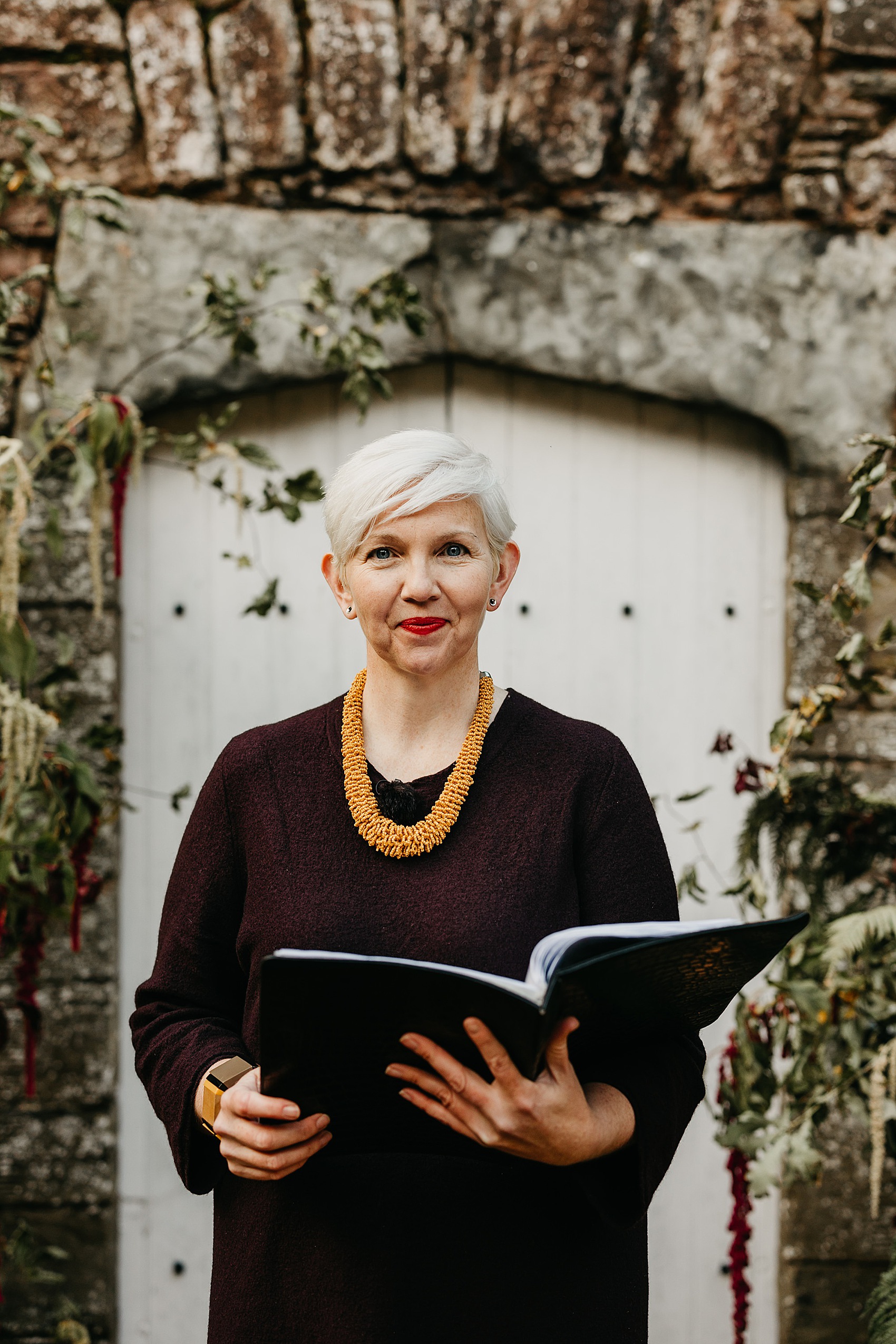 "Photographer Emma was, as always, beyond brilliant. Weddings we've done together have always stood out, lots of memorable moments to reminisce about afterwards. A compliment in every way."
"I'd written a ceremony for Erin and Nick and Cinemate suggested I selected some poems that were darkly romantic, maybe slightly edgier words to suit the autumnal setting. I narrowed it down to about ten including lyrics by Johnny Cash and words by Patti Smith but, after seeing the set up for the day and meeting the couple getting 'married', we chose 'A History of Love', by Nicole Krauss and 'From Still Life With Woodpecker', by Tom Robbins."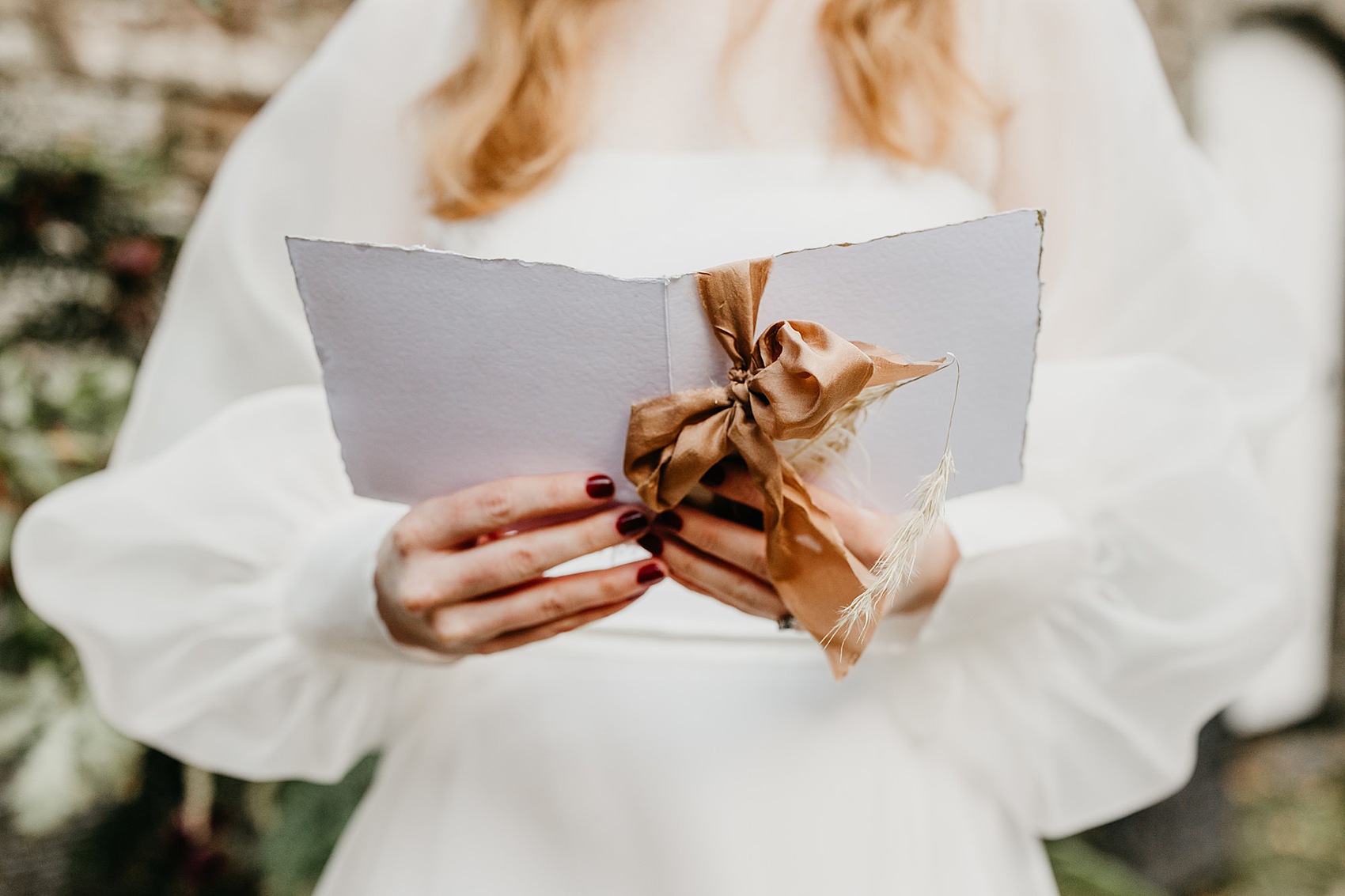 "I was quite overwhelmed when I saw the resulting film. The words and the visuals went together so perfectly, the mood of the images enhanced by the ceremony and poems and vice versa. It was the first time I'd seen the same importance given to the words as is usually reserved for the images in a shoot like this, and that was amazing."
"I freaking love working with Cinemate. They, like Humanist ceremonies, don't follow traditional rules and it's always incredibly exciting to see what they produce."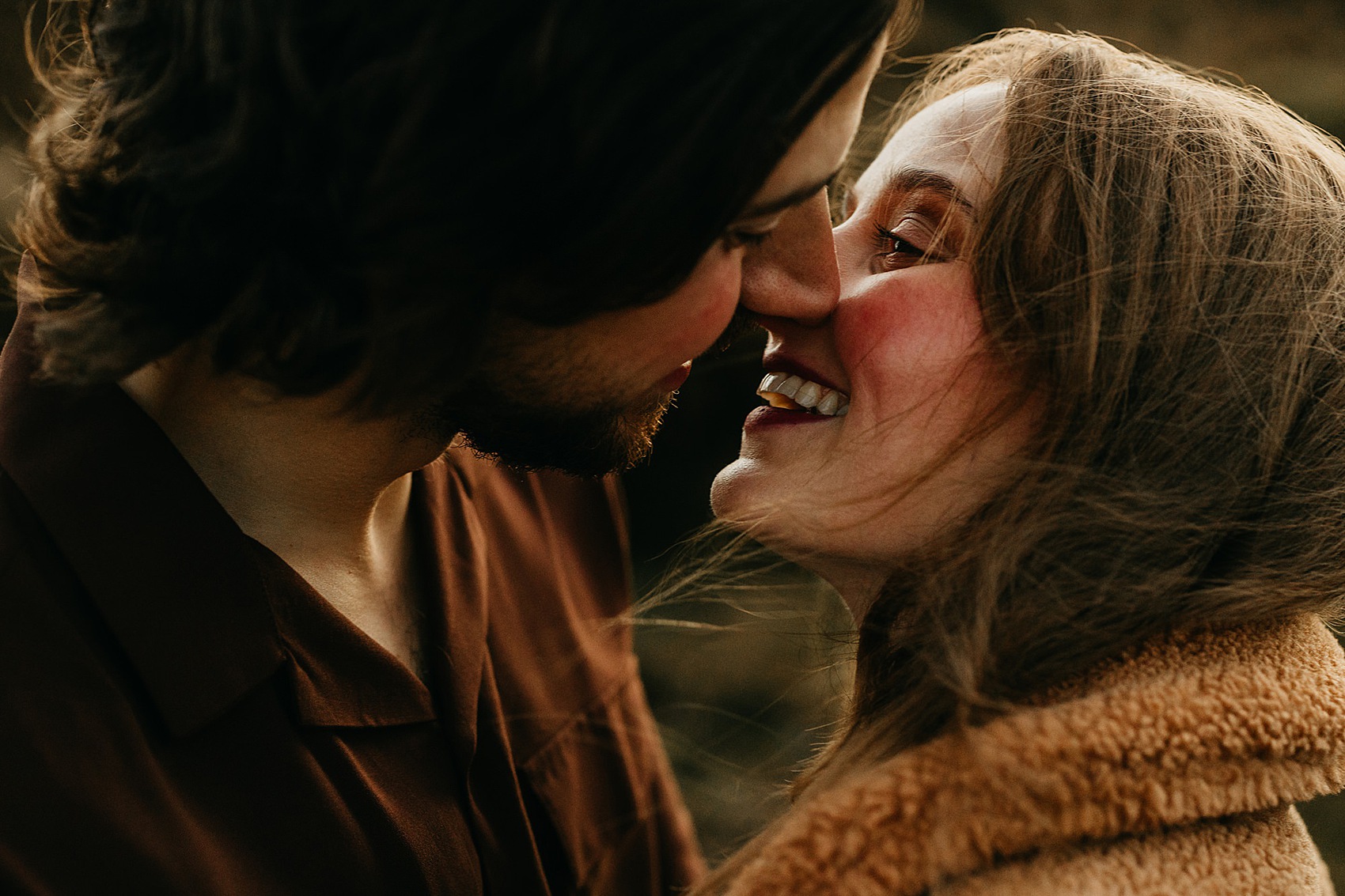 "It's really hard to explain why I was so taken with the film, but here goes; For a long time, ceremonies have been seen as the bit to get out the way, the boring part of an otherwise fun-filled day. Humanist weddings helped change that. We know that if you get the ceremony right, everything is just….better."
"A great ceremony makes for amazing reaction photos, the perfect words to accompany a film, the most extraordinary energy for a party and even over the time I've been a celebrant, I've seen the change in how ceremonies (and celebrants) are regarded. To have that recognised in a shoot like this is really special."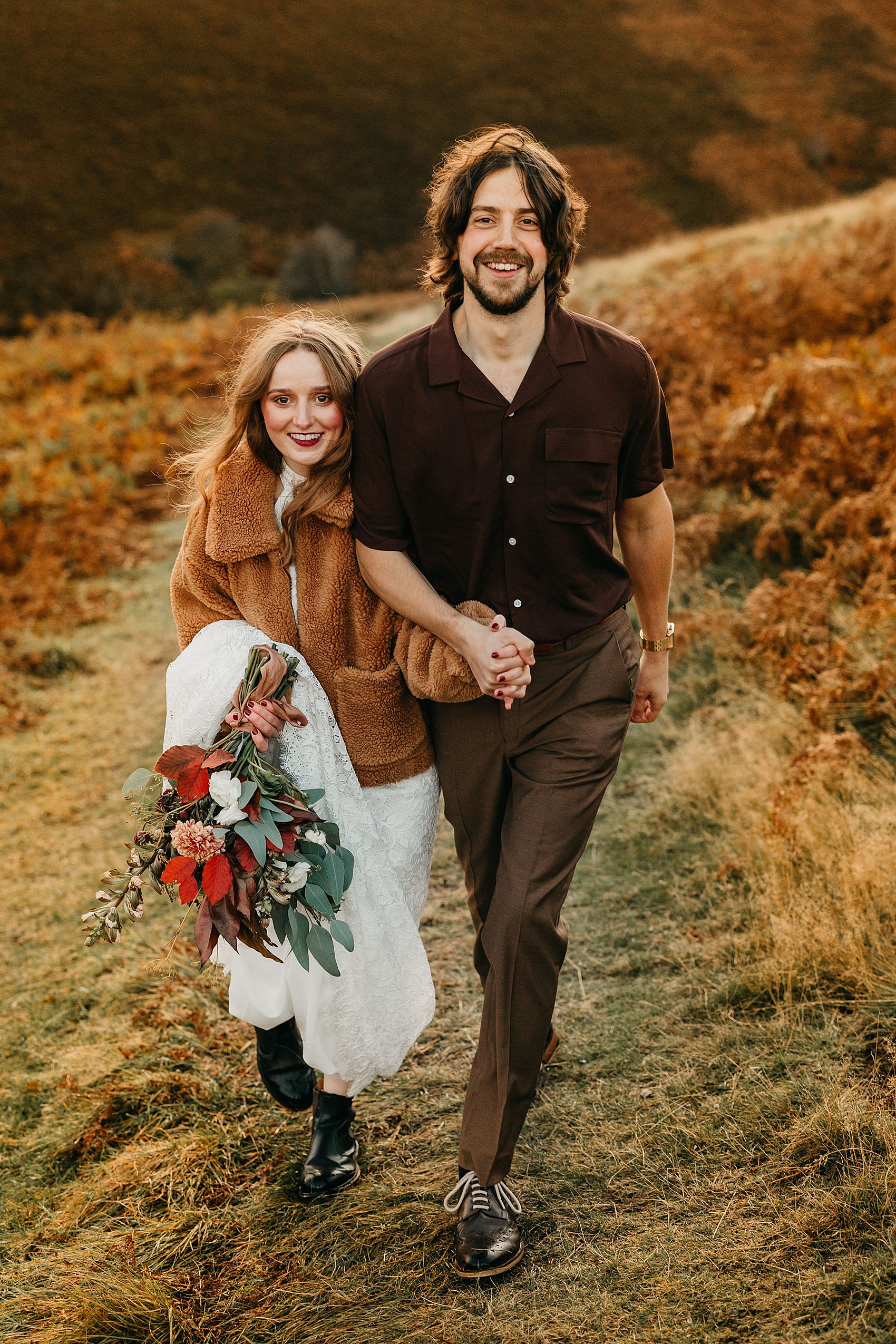 Linton & Mac, Beauty Stylists
@lintonandmac_weddings

+ Follow
"We were asked to produce a very cool, chilled vibe look for the bride, the 'done, but not done' look. This look was achieved by prepping the hair with L'Oreal TechniArt styling products and setting it in an unconventional way using the Babyliss wand to get a very undone vibe that we could manipulate throughout the day to get different looks for each location."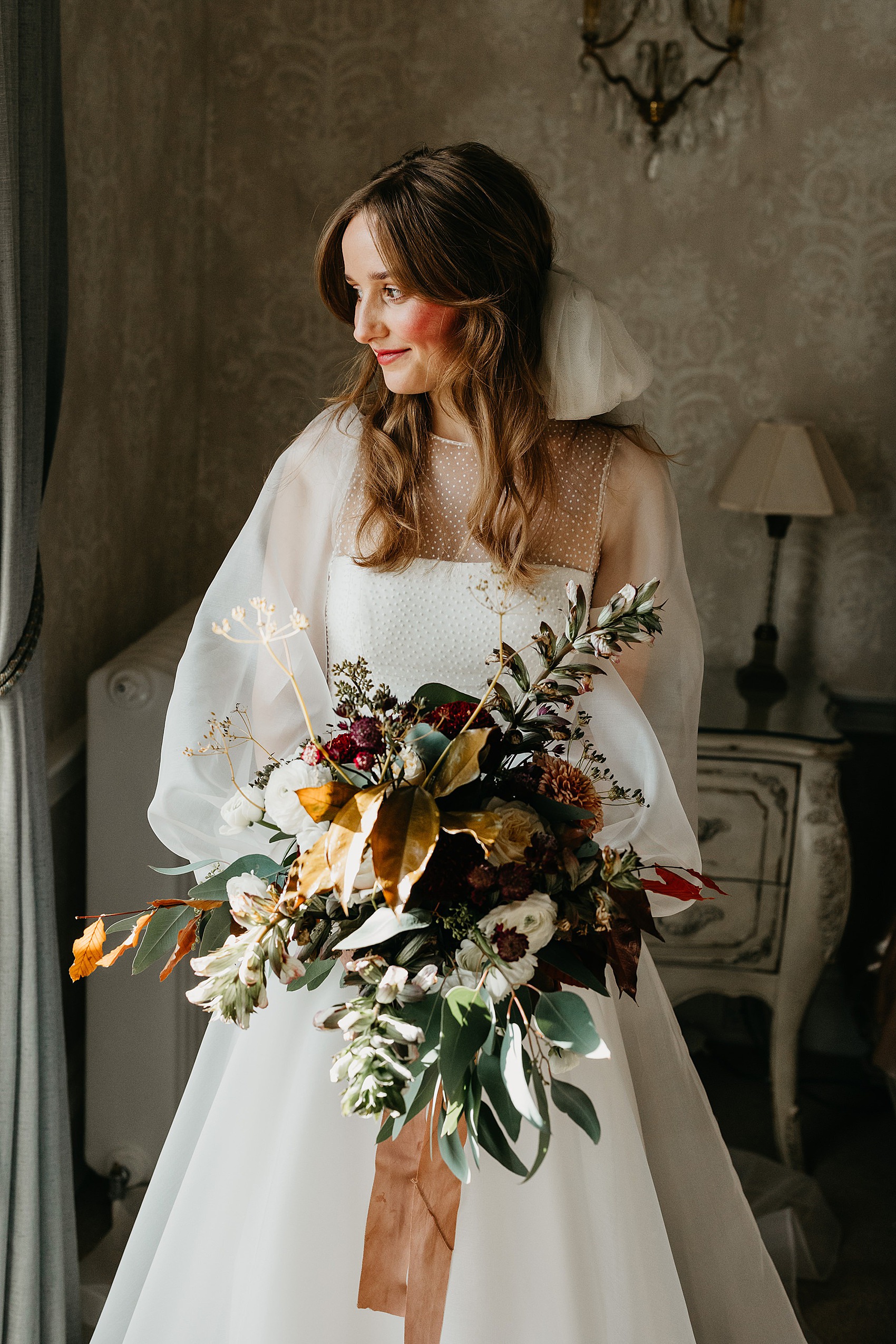 "The make up was more fashion than bridal. Starting minimal makeup on eyes and lips but maximum on the cheeks, then adding a bold lip for the second location then full on grunge bride (eyes and lips) for the final location – think Kate Moss vibes."
"The majority of make-up used was a mix of Charlotte Tilbury, Nars and Mac."