Spring is officially here and we can all look forward to lighter, warmer and more care-free days ahead. Already the leaves are budding on the trees, ready to become that deep and lush green so redolent of high summer.
Speaking of which, it's my pleasure to share with you this London summer wedding, back in the days where family and friends could gather – something which we will all welcome again before too long. This is the wedding of arts development manager Hannah and interactive producer Nick, who chose the historic Wilton's Music Hall in East London for their music and fun-filled day on 28 July 2019.
Kristian Leven Photography

+ Follow
Having created many special memories together there, it was an obvious choice for them to celebrate, enhancing its Victorian interiors with bunting, flowers and hand-written signage.
"Wilton's Music Hall has always been a really special place to us.  We first came across it during an open house weekend. We've been to see some great performances and comedy there and just fell in love with the feel and style of the place. It was the first place we thought of when thinking of where to get married."The couple, who first met back at university, enjoyed planning and DIY-ing their day together, including some nods to their interest in swimming.
"We met through friends at university and got talking on Facebook when we were both taking part in an outdoor charity swimming event in 2011. We started dating long distance as I was based up in Leeds and Nick in London."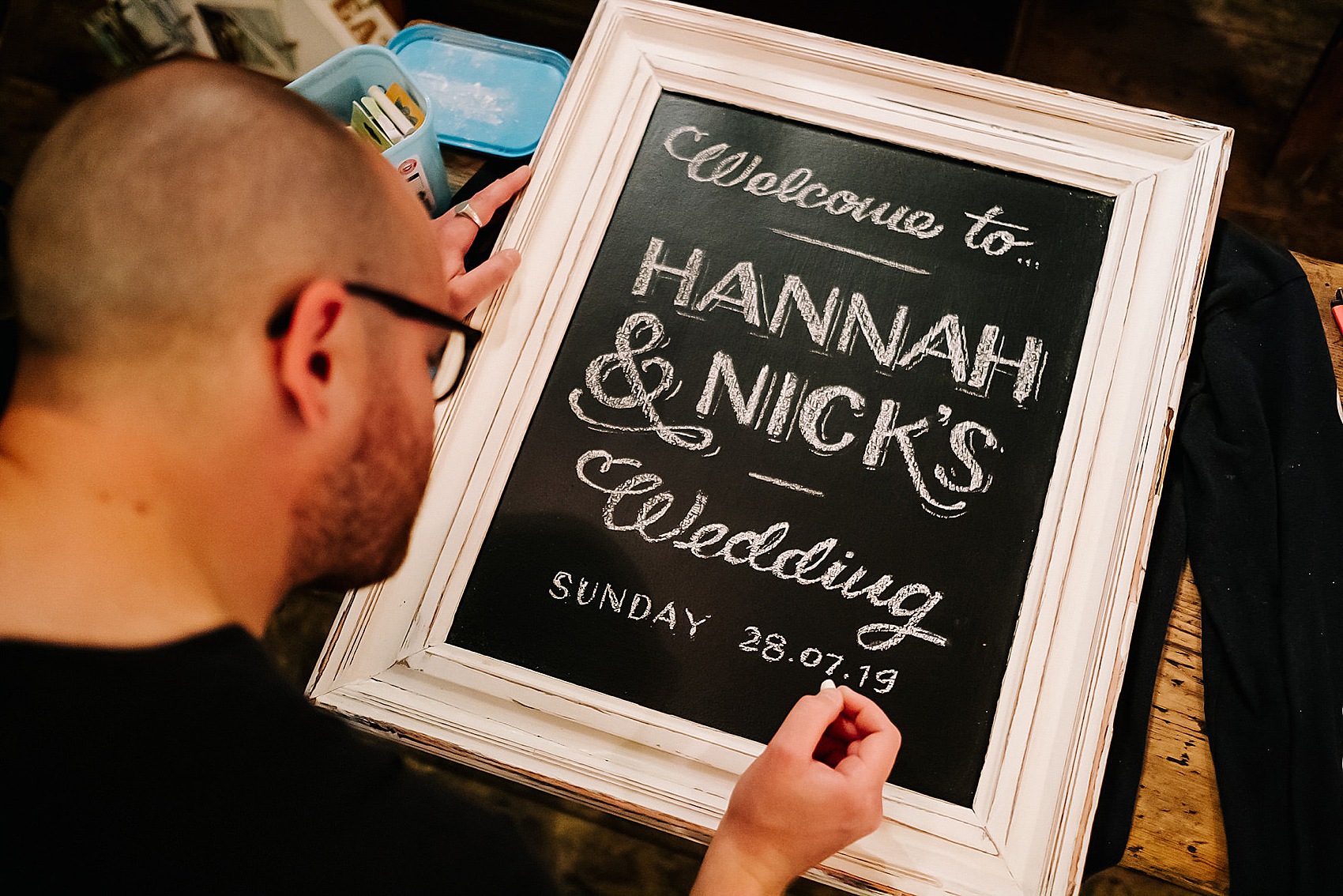 "I then moved to London in the summer of 2012. We got engaged in March 2018 during a long weekend away staying in a gypsy hut in a farm in Kent. We wanted to make sure it was a day that reflected us, our personalities and things we love and enjoy."
"Music is a big part of both of our lives and to have live music was incredibly important both because Wilton's is a music hall and I am a musician and professional arts fundraiser."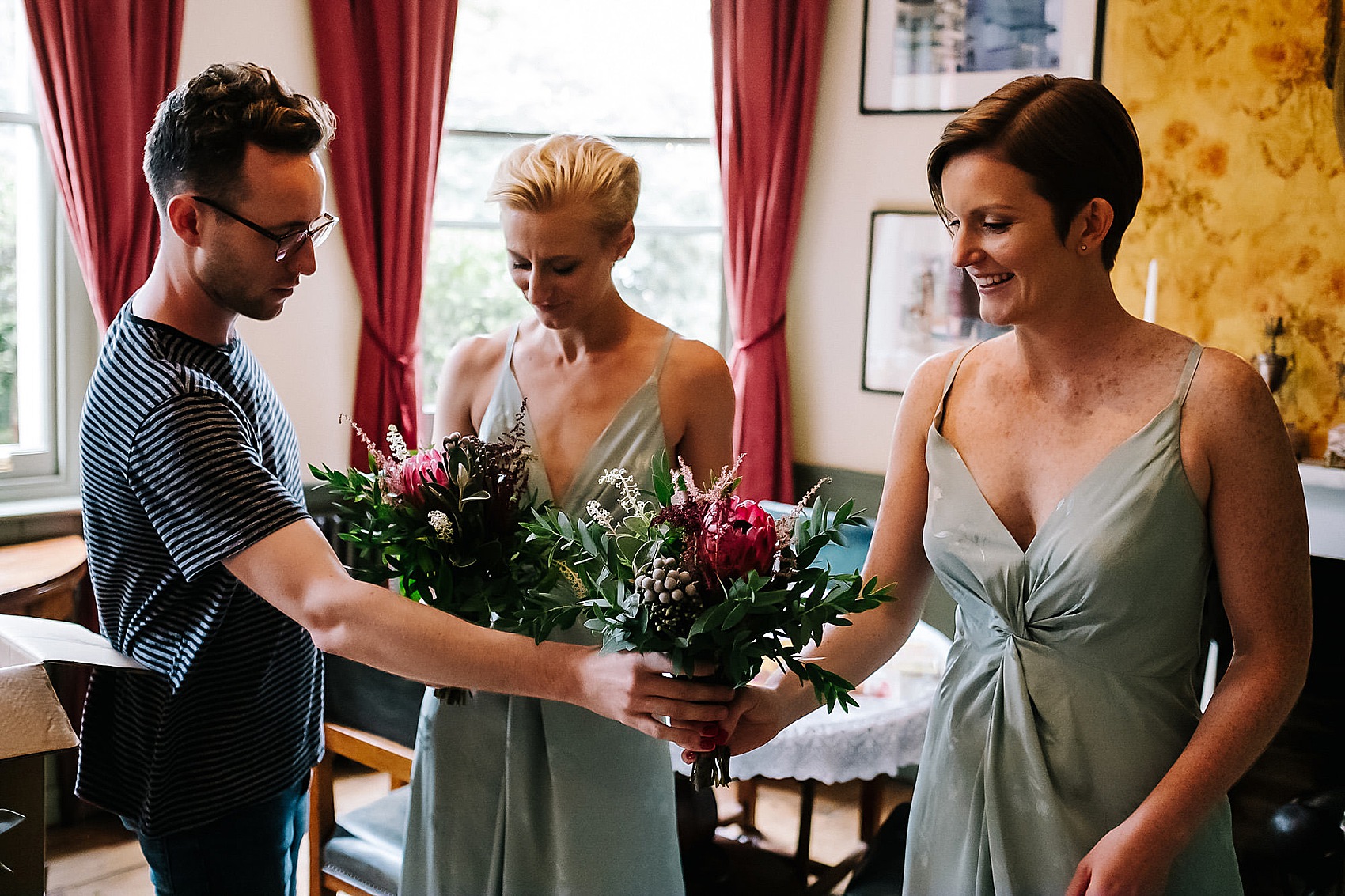 The bride is so feminine and modern in her beautifully-fitted 'Ruby' gown by Anna Campbell. I'm a sucker for beading and the all-over embellishment of the fitted, champagne-hued bodice is divine, as is the softly-trailing skirt. Check out the gorgeous embroidery bow on the back too, an addition by Nick's talented mum. In fact, the whole back is just gorgeous.
"I purchased my dress from Gillian Million in Teddington, London. A friend had recommended her boutique as she had bought her wedding dress from there. I didn't really know what style of dress to go for and Gillian's boutique is incredible because every dress is completely unique and different and covers all host of styles and sizes."
"Gillian was wonderful at putting me at ease, teasing out what was important to me and not being pushy in any way to try certain things. She is a natural at seeing how you react to something and then whisking off to find another dress that just might be the one – and it was!"
"I wanted to be wearing something that would be in keeping with the style of Wilton's – not too flashy but beautiful and understated. I wanted to feel feminine but also feel I could dance all night and not be restricted in any way. I felt all these things in this dress – and you can tell from how much my arms are up in the air like I just don't care!"
"I'd like to mention the beautiful embroidery that featured on the bow of my dress that was custom done by Nick's mum. She is a fantastic sewer and altered the length of my dress and added these beautiful touches of our initials and the date of our wedding day to make it completely unique. I cried when I saw it! It was so lovely."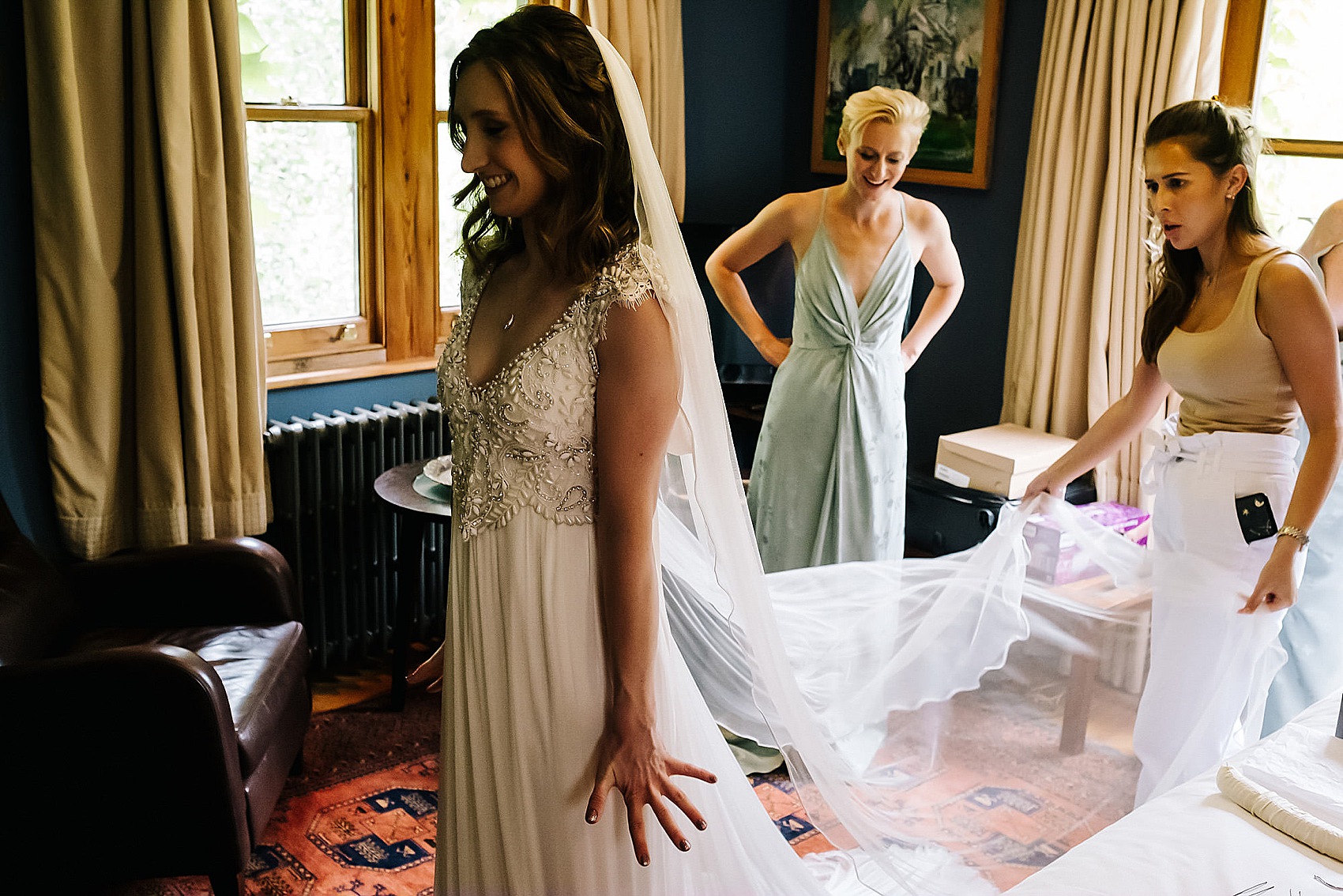 "I wore a custom-made veil by Gillion Million as it completed the dress. My necklace was a wedding day gift from Nick. It was a vintage Frank Gehry-designed Tiffany pendant that he had tracked down. Frank Gehry is an architect we both admire so it was an incredibly thoughtful and romantic gift."
love the bride's choice of ribbon-tied shoes from ASOS, which she switched up later in the day ready for the dance-floor.
"I had white leather trainers with sparkly soles from George by Asda. They were perfect for dancing in!"
Olivia Mills Hair & Makeup styled Hannah's locks into romantic, soft curls which were crowned with a bespoke Gillian Million hair-vine for a perfect, Music Hall-appropriate, vibe.
"Olivia was recommended to me by a friend who had been a bridesmaid and had her make-up done by her. What stood out immediately when looking at her website was 'less is more' and how all her brides looked very 'natural'."
"Olivia is absolutely brilliant. She did such an amazing job and I felt so wonderful all day – I felt I look the best version of me! She also was incredibly accommodating and did my niece's hair and a little lip-gloss who was absolutely fascinated by her job. It's now what she wants to do when she's grown up!"
The two bridesmaids looked pretty but edgy in their fresh green knot-front jacquard dresses by Monsoon.
"They each wore initial necklaces by Rachel Jackson London. I loved the Art Deco font and it was very similar to all our stationery typography designed by Nick."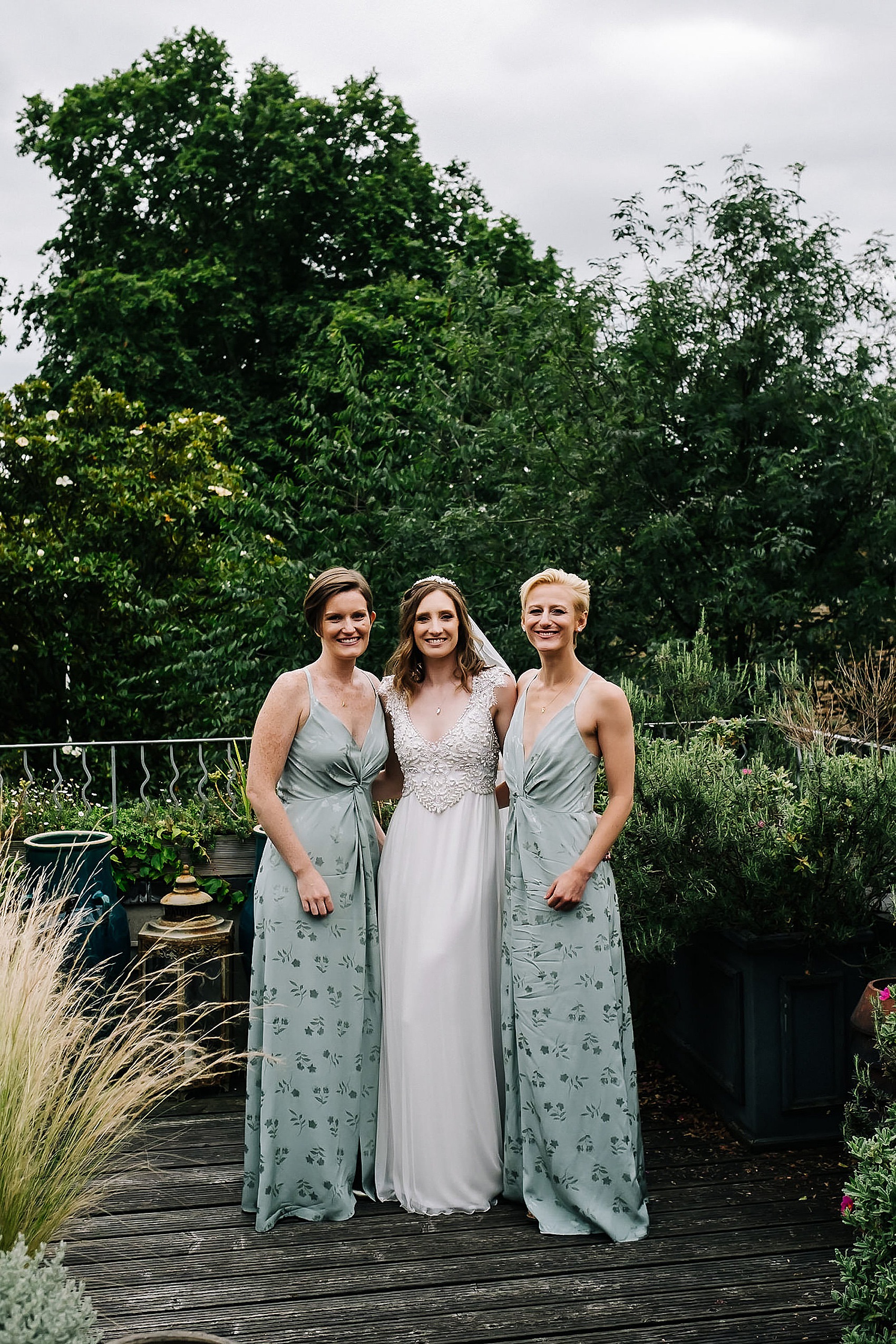 Talking of stationery, each piece was created by Nick for the day.
"Within the order of the day were quotes from particular people who have inspired us throughout our relationship. One particular quote stuck out – it was by John Betjeman who has saved many our favourite places, including Wilton's: "It's strange that those we miss the most are those we take for granted.""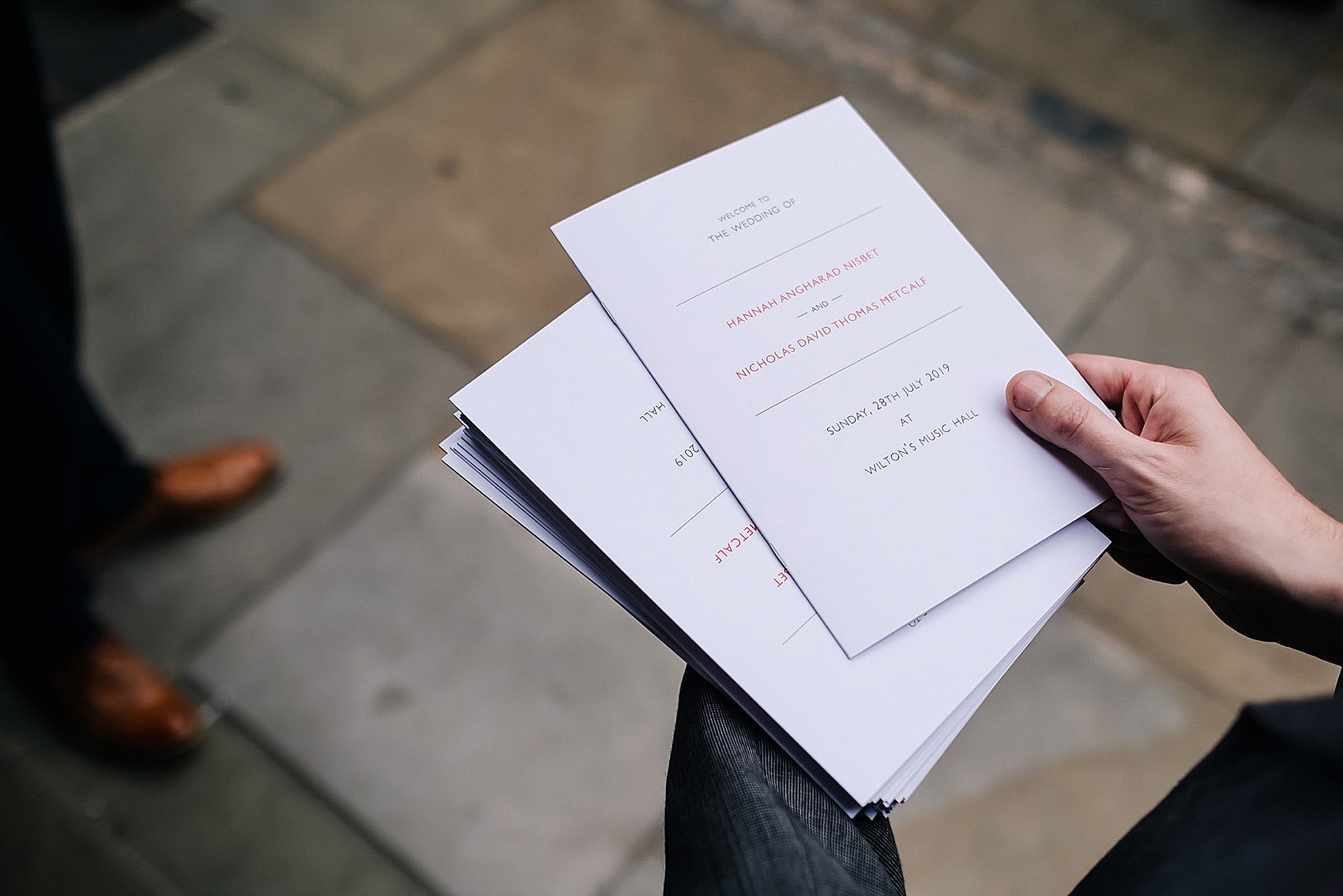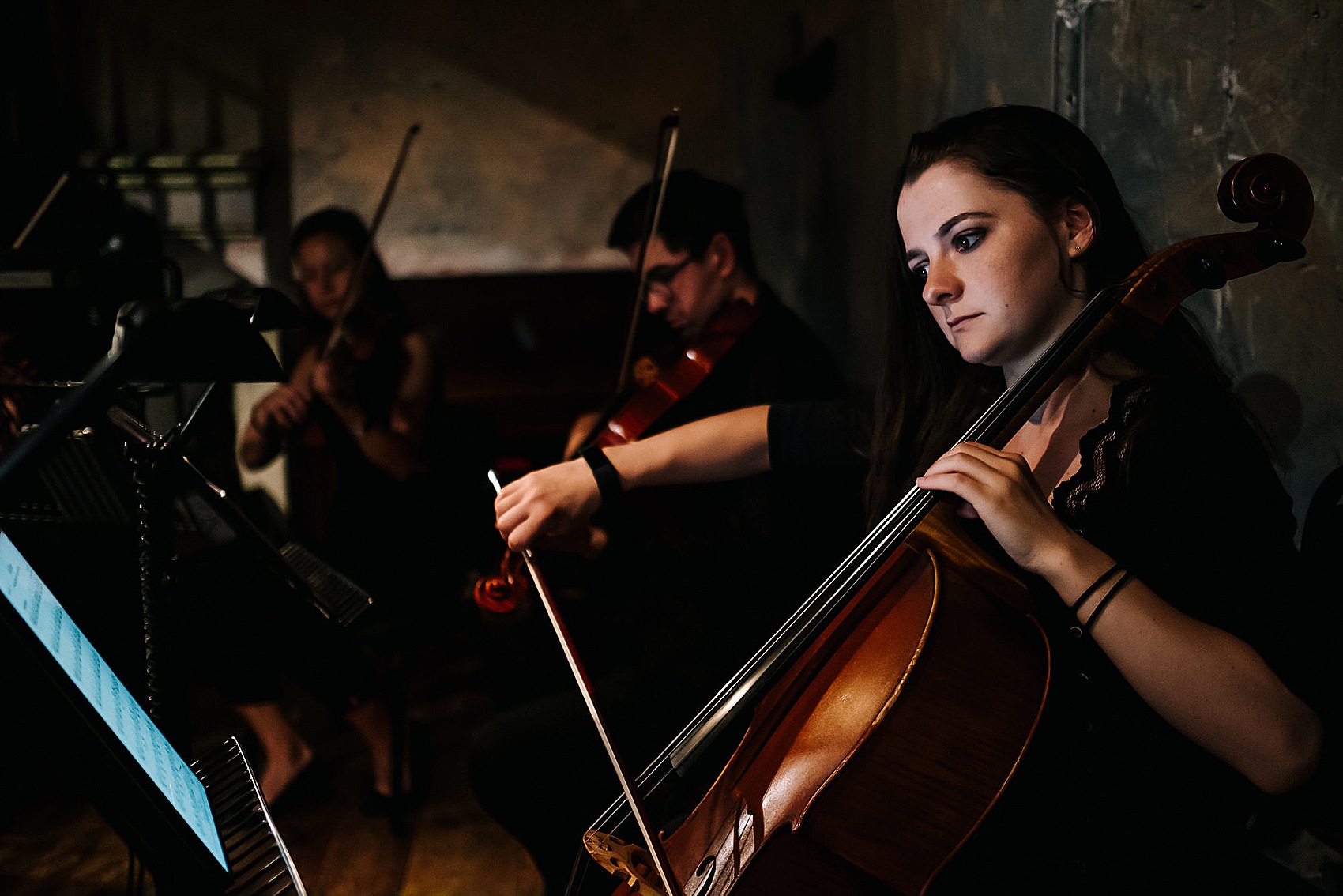 With such a beautiful interior, Wilton's needed little embellishment, but outside hung bunting and plants and inside were some lush foliage and flowers.
"Wilton's is stunning in itself so we didn't want to do too much to change that. The 'bunting' we used in Grace's Alley was actually backstroke flags – a nod to Nick's competitive swimming days! All the confetti we used was lovingly-grown, rose petals from my mum's garden."
"We also purchased some chalkboards and a friend of ours came on the morning of the wedding to design and write them for us. It was nice to have them custom made for the day; he has a real talent for free-hand writing."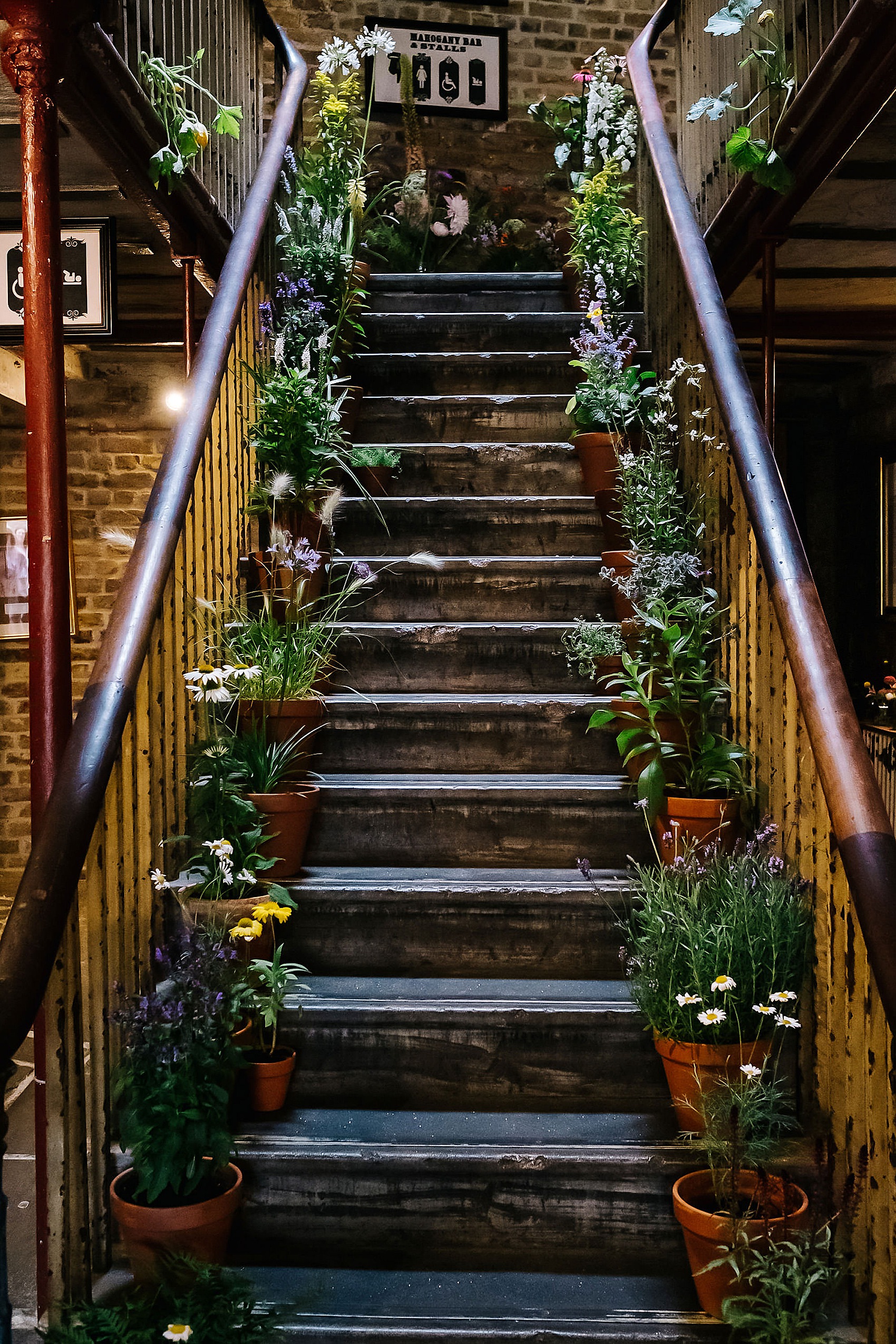 The final touches for the bride, the bridesmaids and the groom were flowers from their friend, founder and creative director of Ohh Deer, Jamie.
"All our flowers, plants bouquets and button holes were arranged by our friend, Jamie. Jamie had always wanted to have a go at doing flower arranging and incredibly kindly offered. He went above and beyond and created the most stunning arrangements. We shared a lot of Pinterest boards and he had a lot of fun at Covent Garden Flower Market."
"Around the venue, we had a mixture of 'cottage garden' style flowers, herbs and even vegetable plants that Jamie had grown or picked up in garden centres. I was keen on having protea in my bouquet and Jamie created the most beautiful arrangement. I was blown away and still to this day can't thank him enough."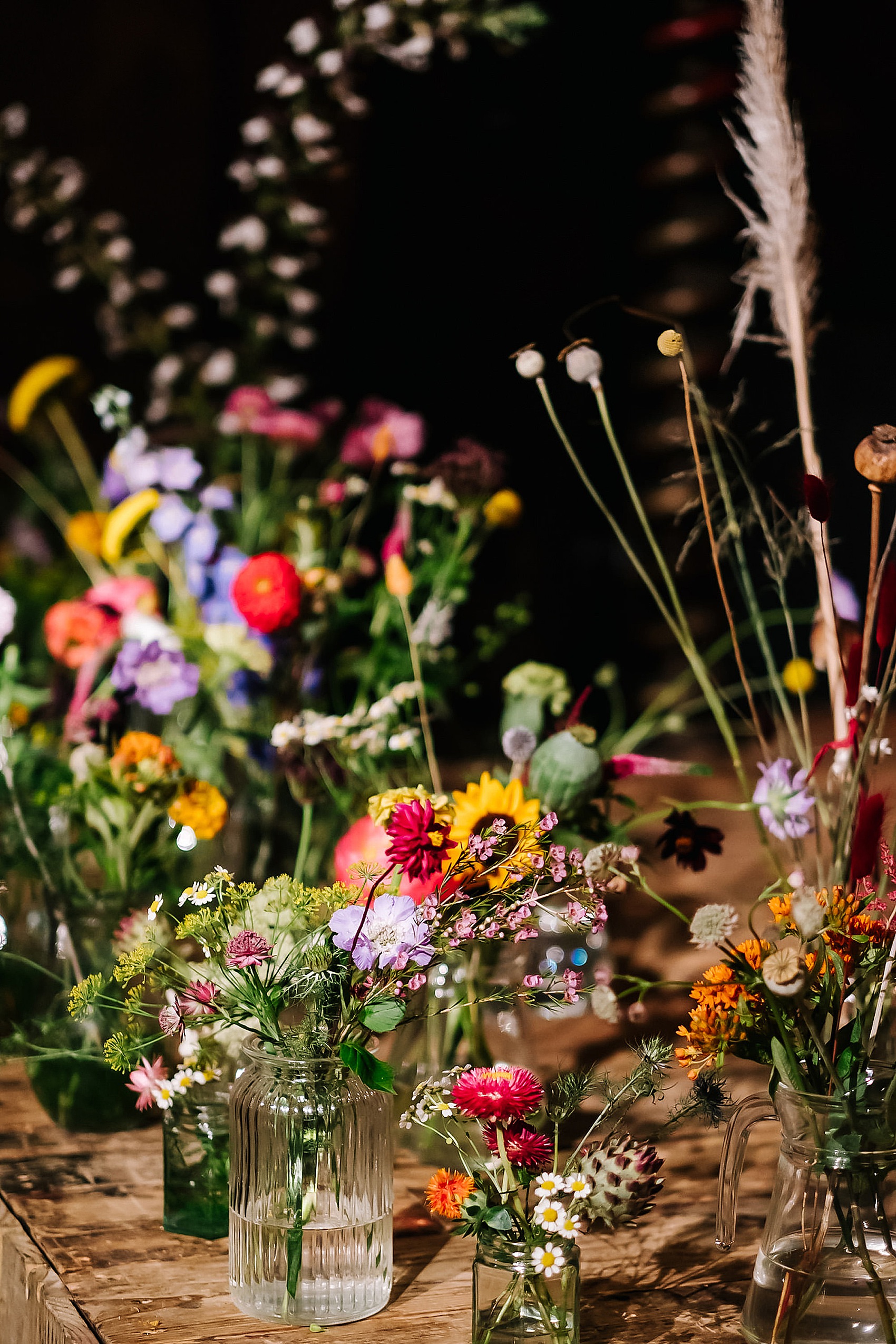 "The lighting was provided by the lovely staff at Wilton's Music Hall. They were incredibly accommodating of our requests to have Wilton's name sign on stage during the wedding ceremony and a lit mirrorball for the first dance (which was 'Mirrorball' by Elbow)."
Hannah and her dad walked down the beautiful central aisle to Nick together as 'Arrival of the Birds' by Cinematic Orchestra played, arranged and performed by the City String Ensemble.
"We used Tower Hamlets Registrar and wrote our own vows. We wrote them separately and shared them with each other when we felt they were right."
"We had two readings at the wedding, one read by Nick's mum and one by Hannah's brother. They read 'He's Not Perfect' by Bob Marley and 'I Wanna Be Yours' by John Cooper Clarke. We chose them because the words resonated with us both and felt right for the tone and theme of the day."
"It must be said that Kristian captured pictures of these moments in the ceremony perfectly. The Bob Marley reading starts on quite an abrupt note and from the POV of a parent, and really suited coming from my mum whilst the John Cooper Clarke reading starts with a funny opener and is also one our favourite songs (Arctic Monkeys)."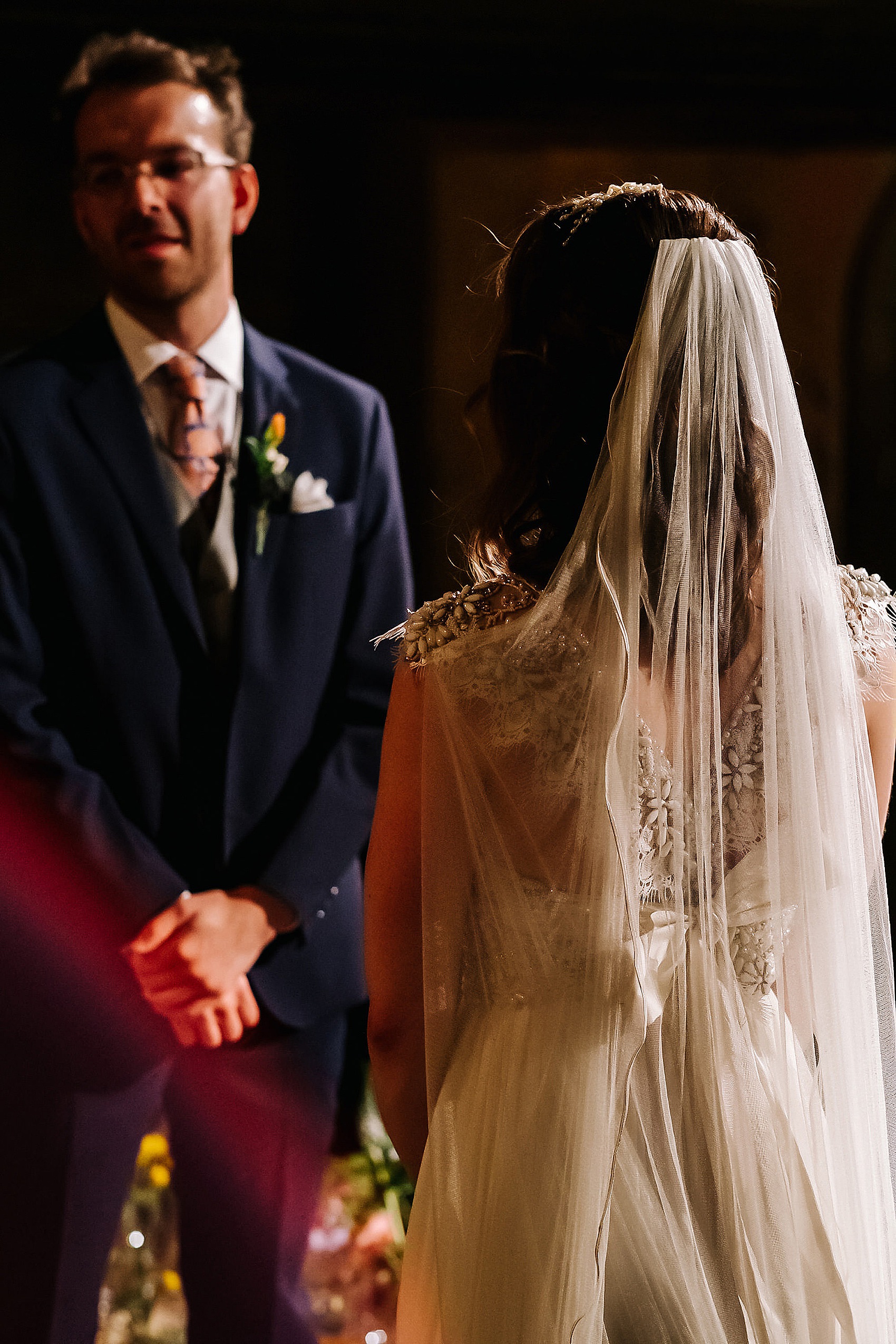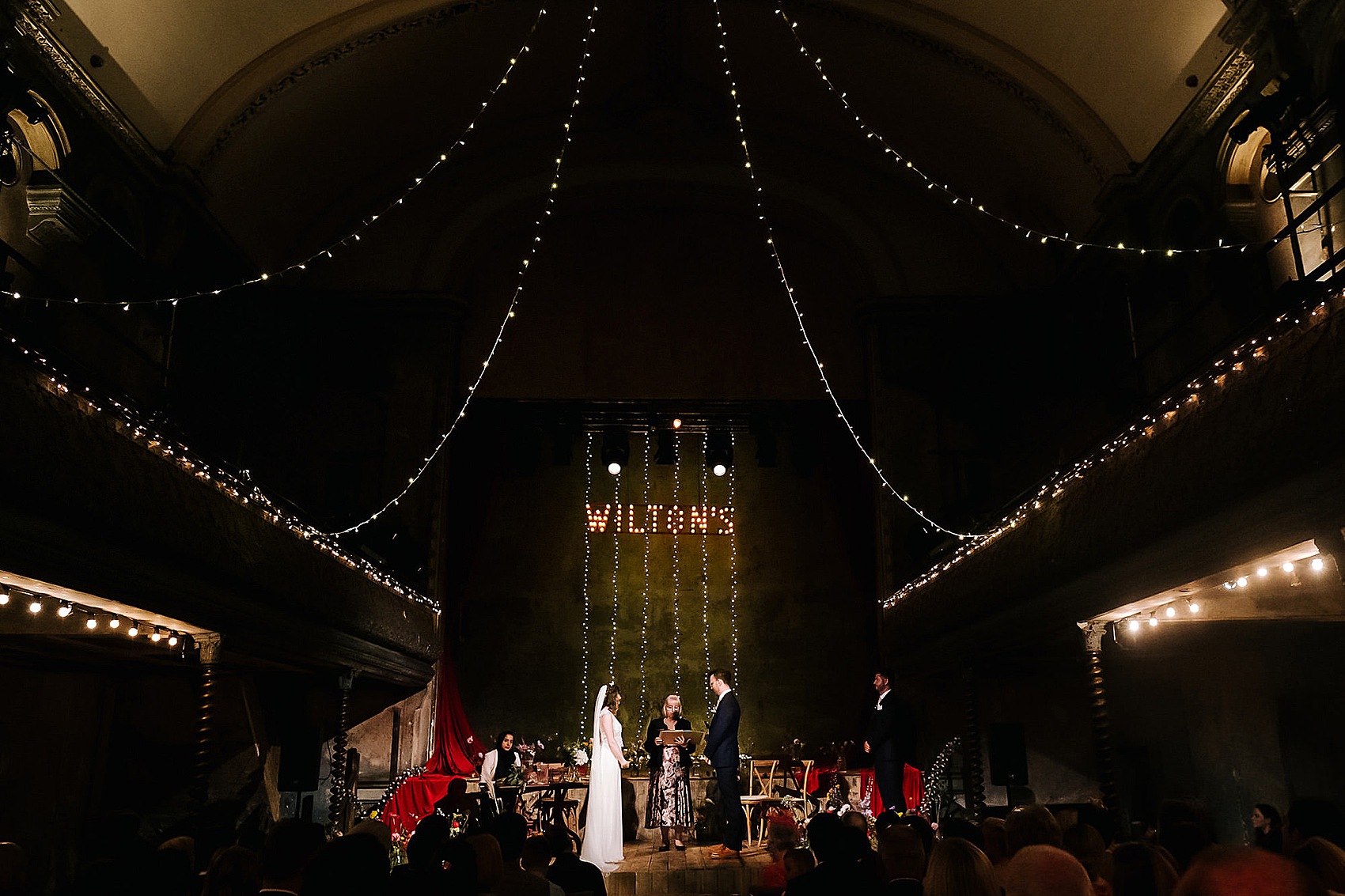 Hannah chose to use her great-grandmother's band for her wedding ring.
"My engagement and wedding rings belonged to my late grandmother and great-grandmother which had been passed on a couple of years before we got engaged."
"They both fitted perfectly and didn't even need adjusting! Nick's ring was a custom-made wedding band made by Crystal Palace Jewellers – local to where we lived at the time."
During the signing of the register, the couple's friend Simon of Silent Cities beautifully sang and played 'Everything I Am Is Yours' by Villagers.
I love this atmospheric, evocative photography style from Kristian Leven Photography, the perfect blend of natural and emotional moments.
"We'd met Kristian at a friend's wedding and got on well. We loved the way he captured their day without being imposing in any way."
"He was the first person we booked after the venue. Kristian was superb on the day and when we received our wedding photos a couple of weeks after we were just blown away with how stunning, romantic and candid they were. We still can't get enough of them."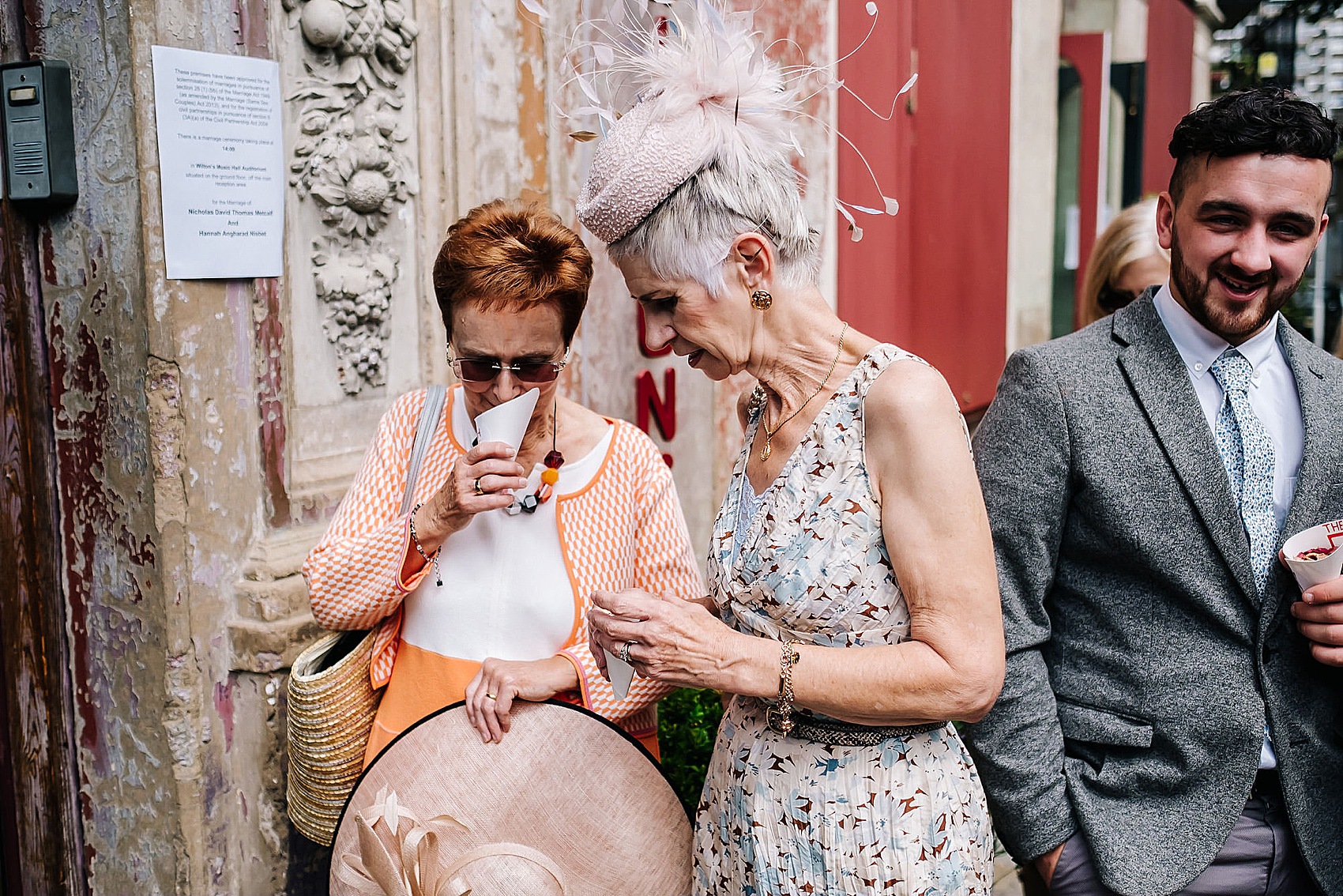 Nick wore a deep blue Hackett suit with a vintage-y paisley tie, shoes by Barker and a custom shirt made by Cad & the Dandy. Come evening time, he swopped out the shirt for an M&S 'grandad' shirt.
Nick: "I wore cufflinks that Hannah gave me as a gift on the day with our initials engraved on them."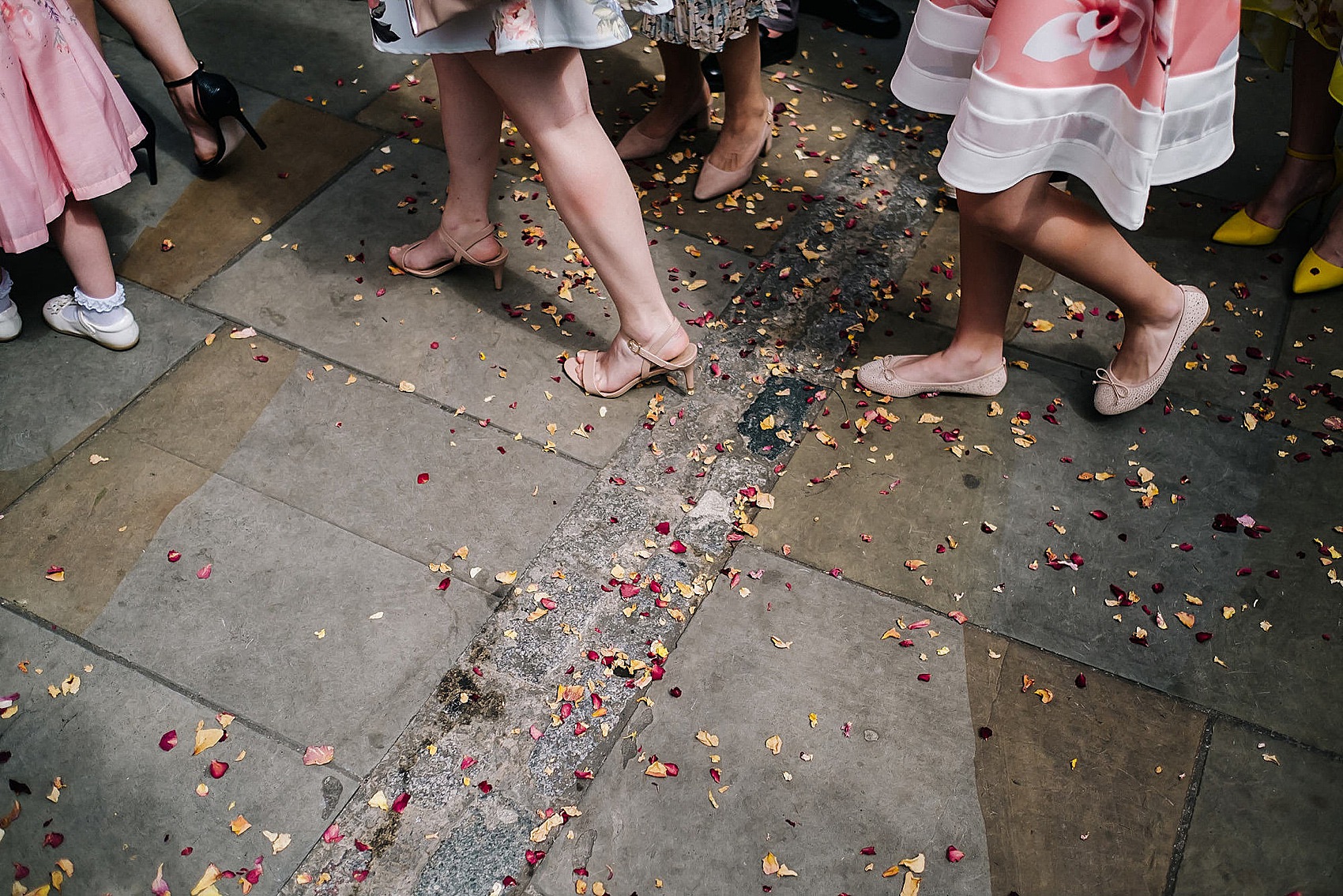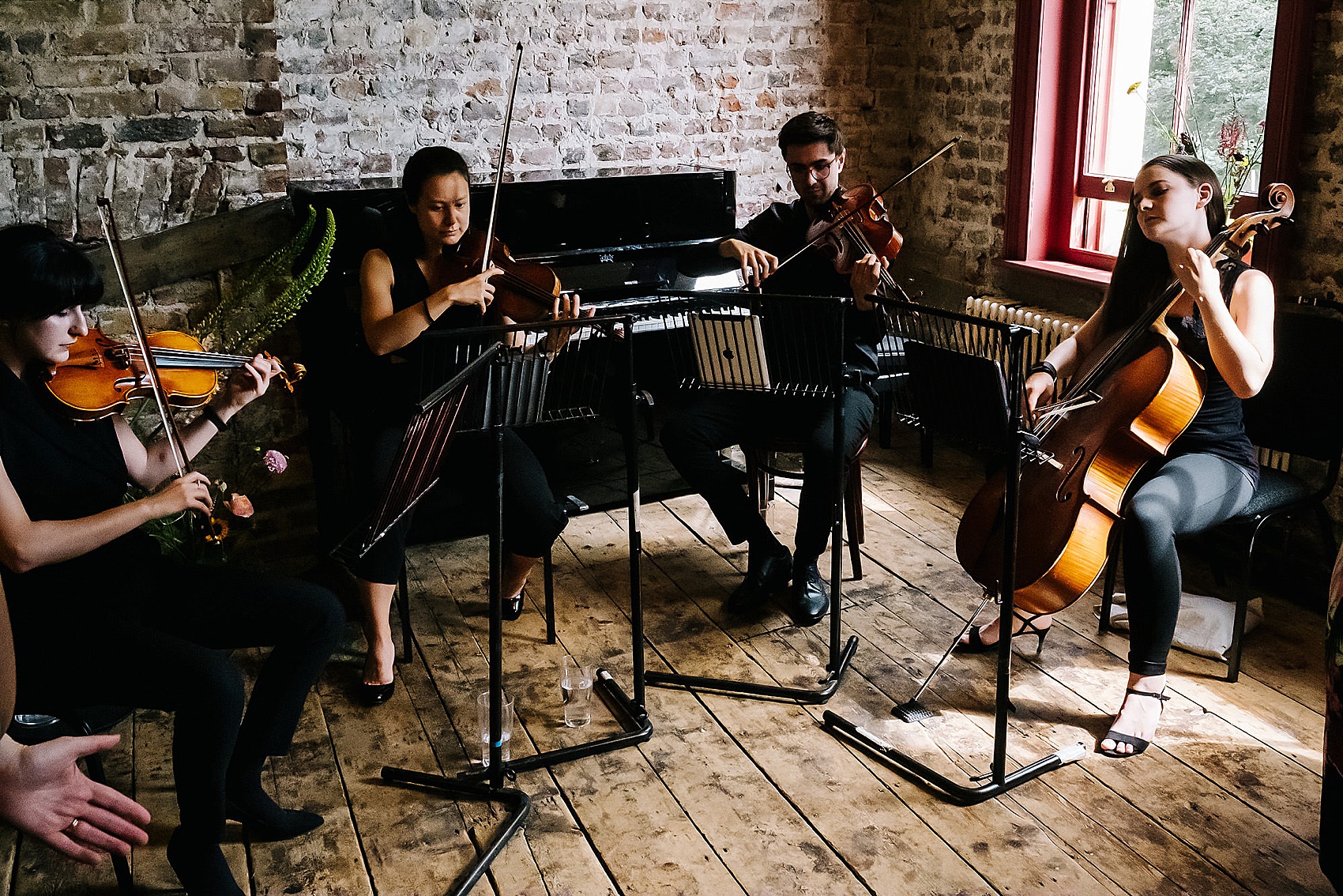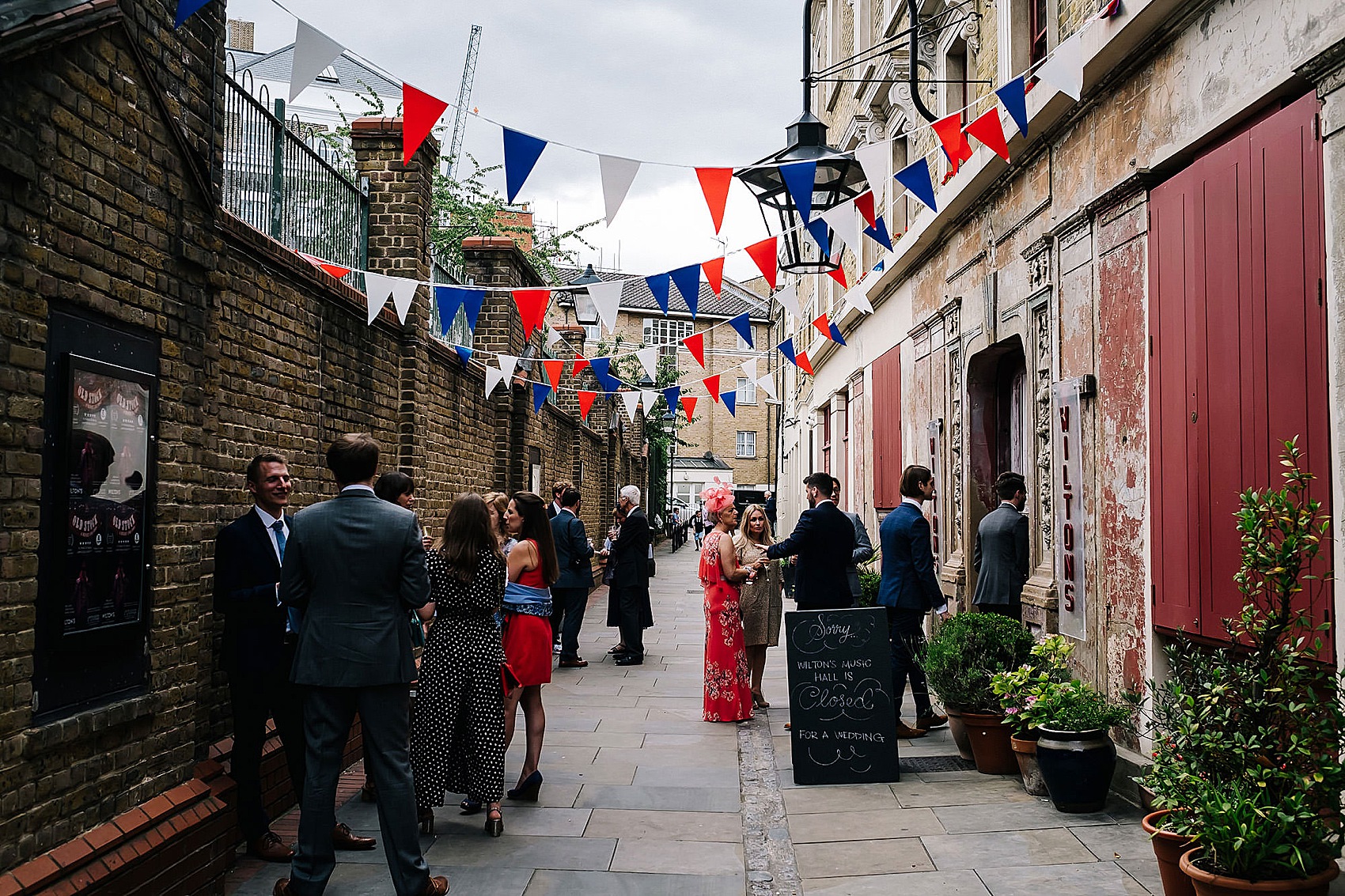 The sight of long trestle tables, set out beautiful for an exuberant dinner, brings me such joy. The menu was selected from Boulevard Events and the couple chose drinks from their favourite breweries.
"From our very first tasting to post-wedding pick up arrangements, Lizzie at Boulevard Events was professional, on it and incredibly helpful."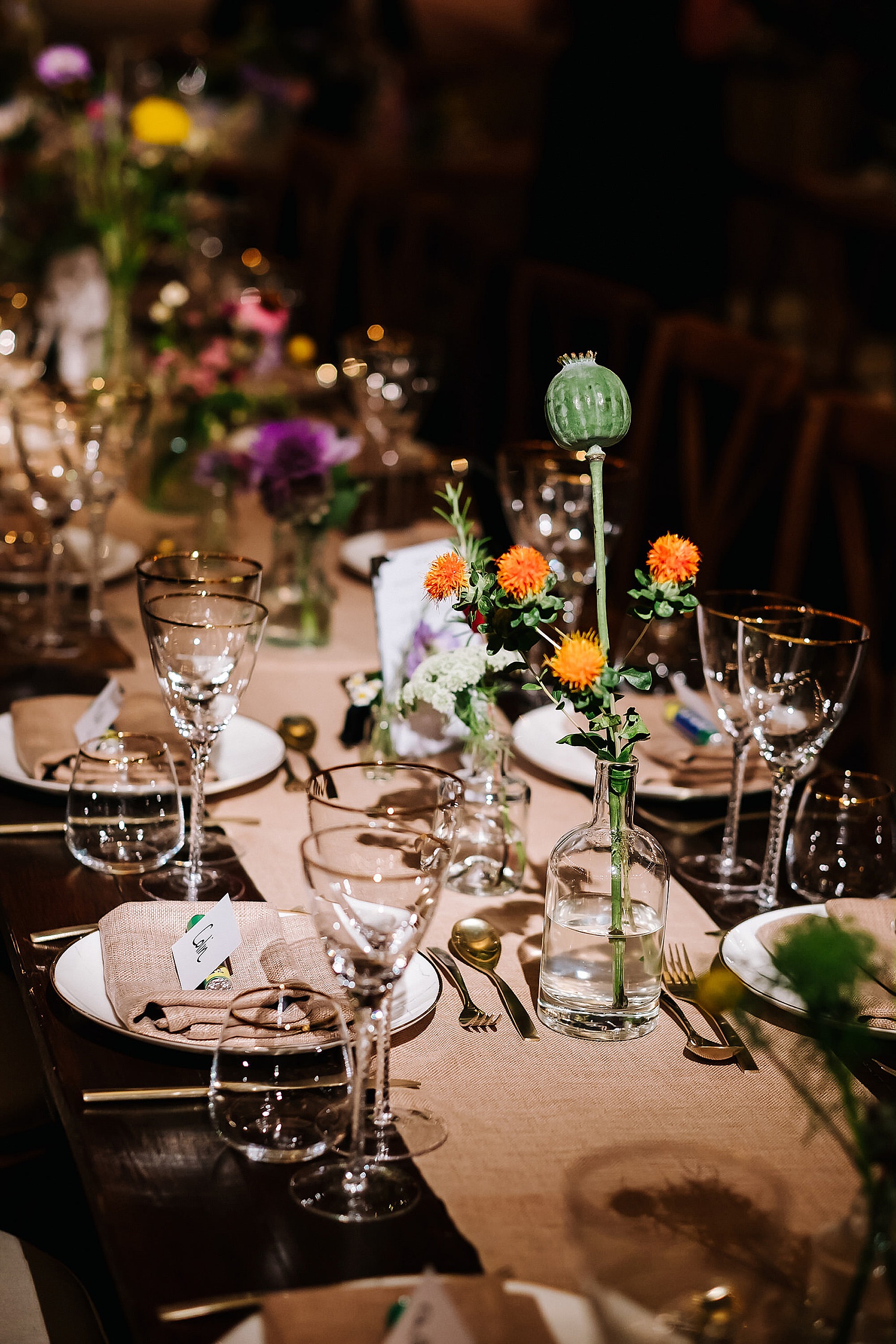 "The food was high quality and they accommodated little changes we wanted to make with ease. All the planning for the food, drink, furniture and all those details was really simple with Boulevard and they made it really easy. We were really impressed."
Nick: "I'm a coffee snob and worked with the lovely people at Origin Coffee to provide fresh filter coffee on the day. They were great and very accommodating for what was the first wedding they'd provided coffee for."
"We chose to have beers by breweries that are favourites of ours and also local to where we lived or grew up: Gipsy Hill Brew and Charnwood Brewery."

"Whilst we followed a couple of traditions we wanted to ensure that we did a joint speech during our wedding breakfast. This gave us chance to both jointly thank friends and family and each say some nice things to each other too. We didn't let each other know beforehand what we were going to say so it was a nice little surprise for both of us."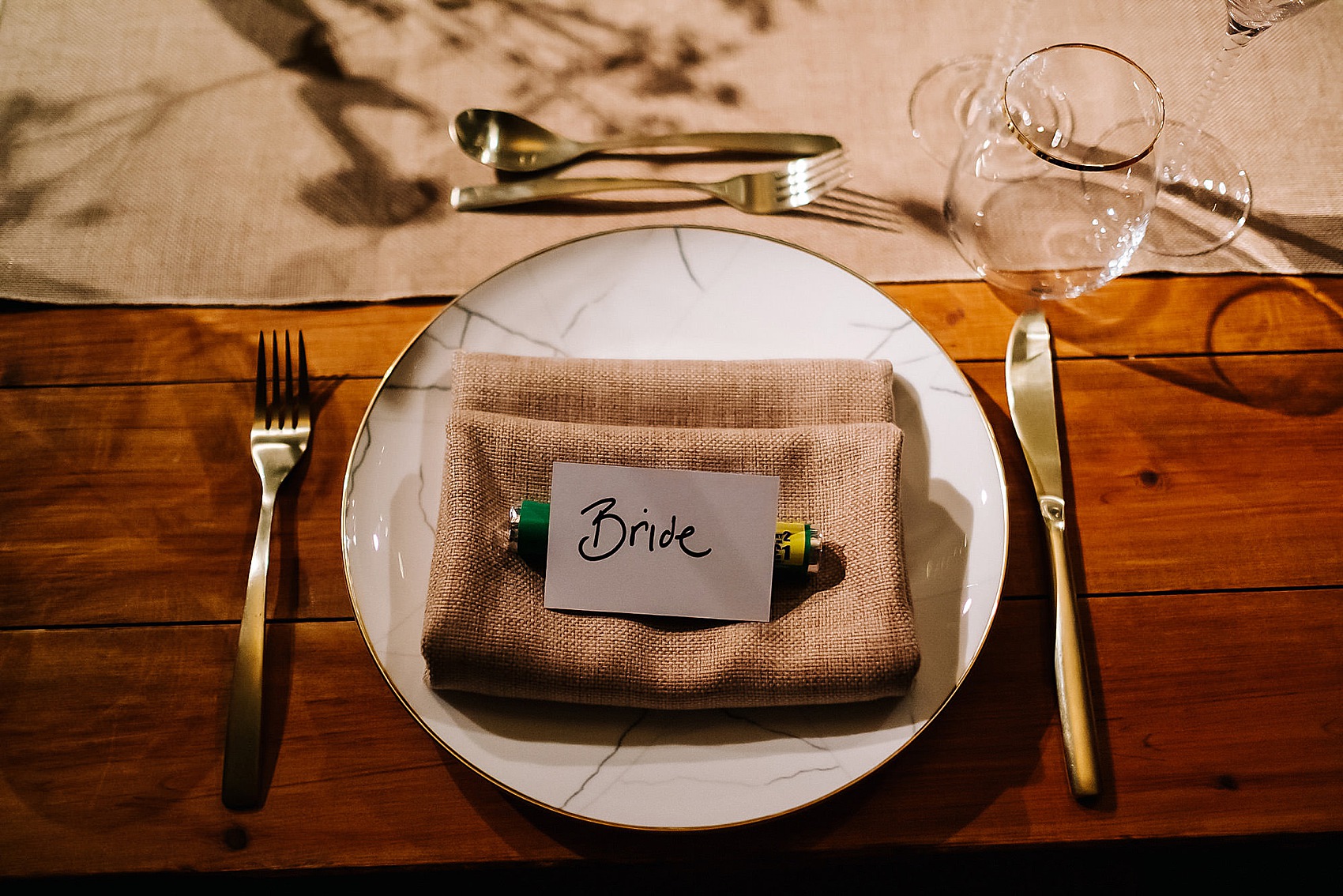 I love how the bride provided some of her own musical entertainment on her day, accompanied by Russell Pusey on the jazz piano as she sang Nina Simone's 'My Baby Just Cares For Me'. After her performance, the evening party got well under way with live music from No Limit Street Band. There was also a first dance to Elbow's 'Mirrorball'.
"This was one of the easiest things to choose. We both have a love for Elbow and 'Mirrorball' has always been 'our song'. We chose a live recording for it which just sounded so good in the hall at Wilton's. We asked a friend to help us with a couple of steps for the first dance and we still have a little dance whenever that song comes on."
"We were absolutely blown away by how incredibly fun, entertaining and energetic No Limit Street Band were. They absolutely brought the house down and all of our friends and family were up dancing all night long. So many people have told us just how much they enjoyed them. They were perfect for Wilton's."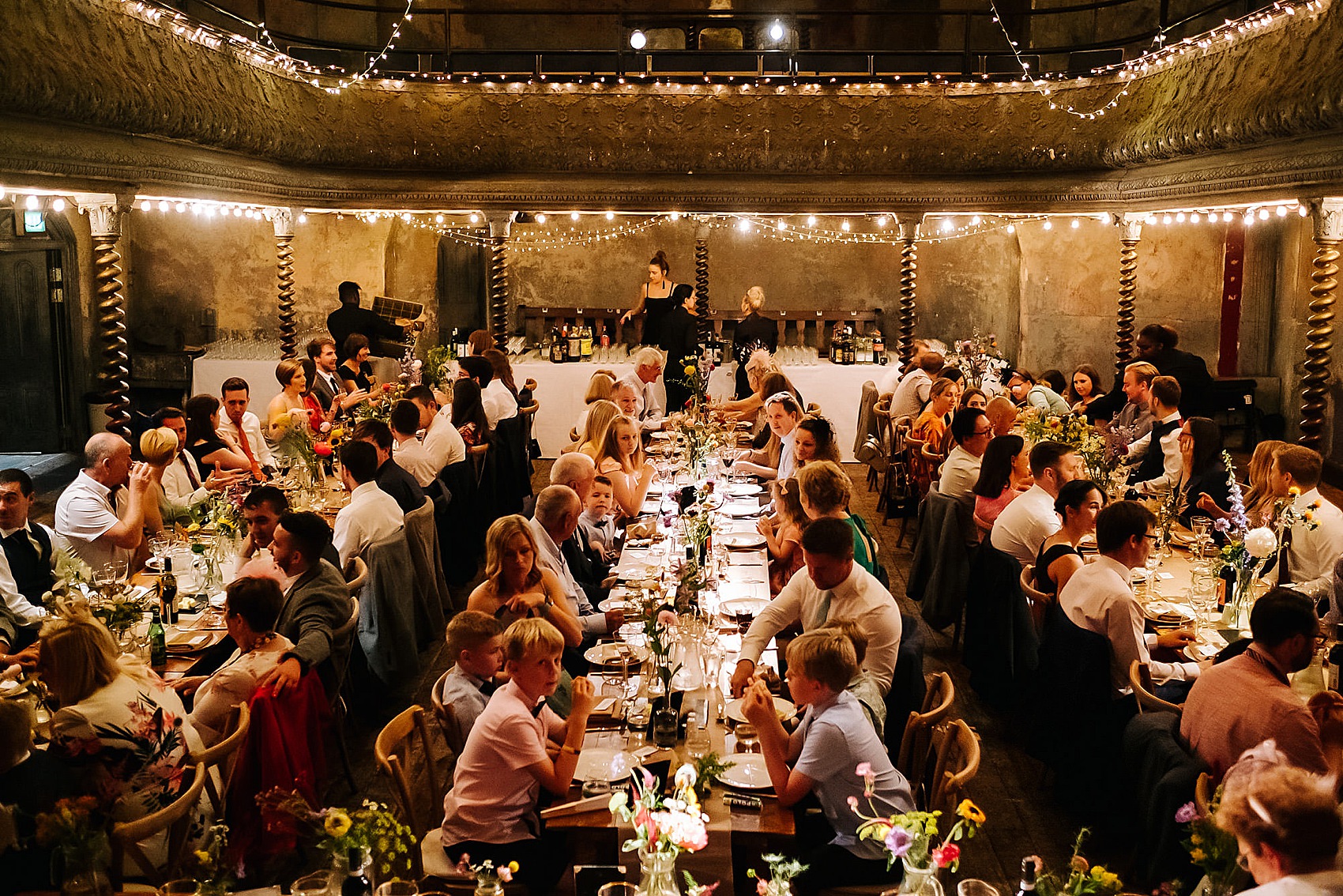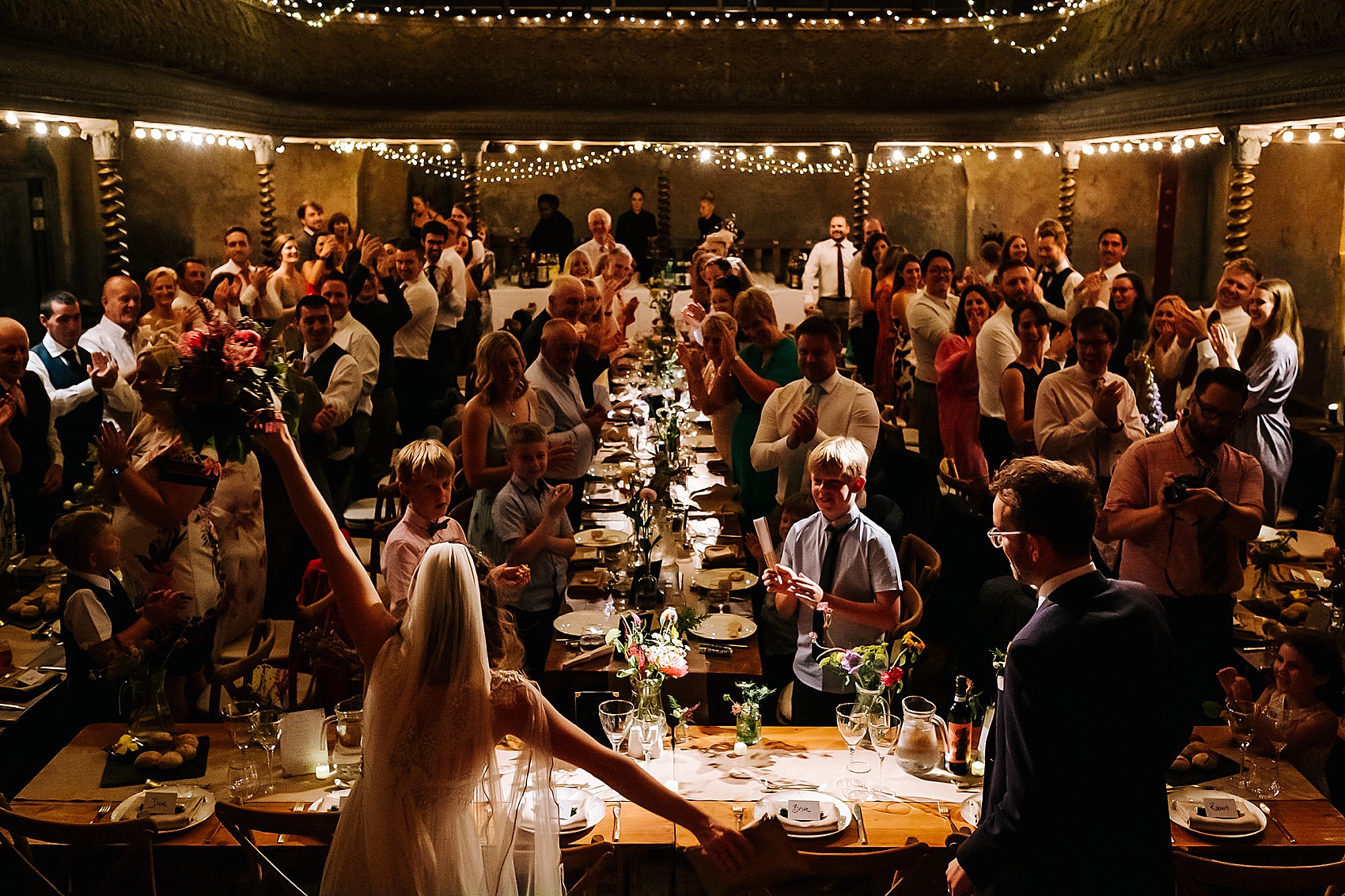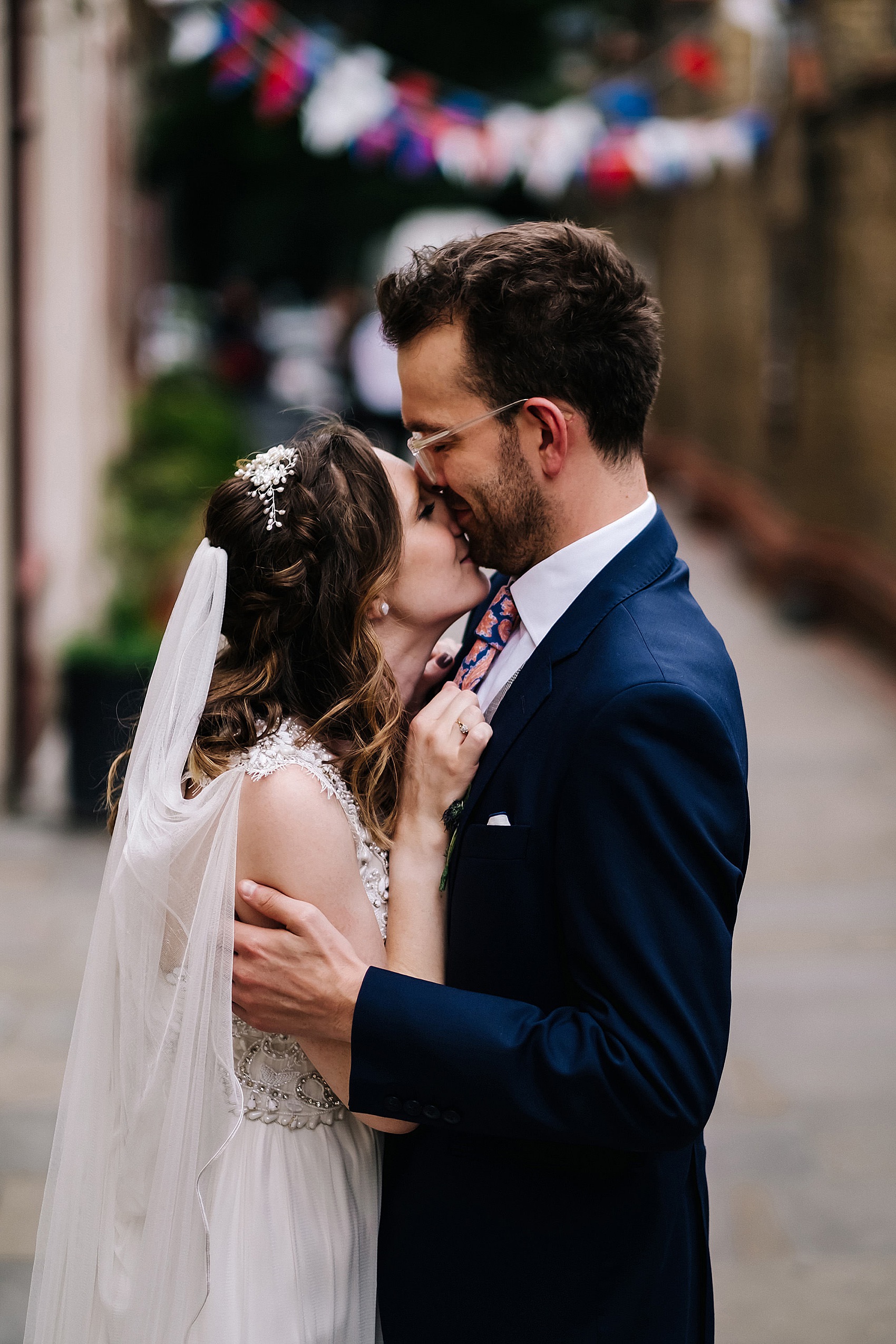 In addition to the traditional tiered wedding cake, given a super-fun, super-modern vibe by Nick's sister Katie Cupcakey, the newly-weds and their guests also feasted on fresh Welsh cakes and Bara Brith from Boulevard Events, a nod to the bride's Welsh roots.
"Our cake was made by Nick's sister Katie – three tiers of chocolate, lemon drizzle and Victoria sponge, our favourite cakes. She has a real talent for making cakes and she didn't disappoint on the day."
"Our wedding favours were a white fan (it was incredibly hot on our wedding day) and a pack of mint Polos. Polos are something that I always have on me and is renowned for with all my friends."
"It is also a nod to my late grandmother who always did the same and introduced me to them. All our guests were also able to take home the flower arrangements and plants at the end of the night. We love getting updates from family and friends about how they are doing!"
Words of Wedded Wisdom
"For us, it was so important for the day to reflect us and who we are and what we love so make sure to not lose sight of that. It's your day and of course you want all your friends and family to have fun, but it's about celebrating the love you have for each other first and foremost."
"Also, if you're like us and really like a plan make sure you plan for time in the day to steal away just the two of you. We had a lovely few moments where we snook up to the balcony to watch everyone dancing below and had a little side room we went to after the ceremony for ten mins before the confetti just to take it all in and have that special moment. The day really does go by quickly when you're the centre of attention, so make sure to take stock of it all and bottle it up."
Hannah and Nick, I love how you gifted your beautiful plans to your guests as lasting favours; what a gorgeous idea. Thanks and congratulations to you both on your beautiful wedding day. And, as ever, it's been a real joy to share Kristian Leven's photographs here on Love My Dress so thank you to you, too. For more London weddings, I invite you to take a look here.
Ele xx