The last year has given us a whole new range of words in our vocabulary, many of which we suspect we'll be happy to never hear again once all this is over.
However, the phrase 'pivot' has definitely been at the forefront of the minds of many businesses and whether your local restaurant has started offering takeaways or your gym has taken classes online, there have been positive adaptations to our lives. Today, we are beyond thrilled to be joined by the fantastic team from British bridal label Andrea Hawkes, who, ahead of re-opening their beautiful showroom in April, have taken time to tell us all about their brilliant new services.
We are huge and heartfelt fans of Andrea Hawkes here at Love My Dress. We've referred to their collections as 'the epitome of natural simplicity, gentle femininity and true timeless design', mentioning Andrea as 'one of the UK's most talented wedding dress designers' and you'll note every design features elegant lines, perfectly chosen fabrics and a quality that's beyond compare. 
Sustainability is also at the heart of the Andrea Hawkes brand. There's a real focus on the use of natural silk fabrics alongside new developments with vegan plant based fabrics.
Everything is made in-house in London to ensure a sustainable production and give brides full flexibility on lead times'.
Our main fabrics are natural silks and fibres, both outer layers and lining. Our silks are all produced by suppliers we have visited in person, have met the owners and workers and have long term ongoing relationships with. They are working in good conditions and paid responsibly and fairly for their work. Daniel, Production and Studio Manager, Andrea Hawkes
We also love the Tree Project where a tree is planted for every bride who chooses an Andrea Hawkes dress for their wedding day. This really is everything that you could want from bridal design.
However, whilst the immaculate, exquisite nature of the dresses won't change, the services that Andrea Hawkes are offering are changing and this is a fantastic step forward.
"As one door closes, another opens," says Andrea. "It is simply the best thing that we continue to meet brides-to-be in new ways but with the personal relationships, just as we always have done."
View this post on Instagram
The first new addition to the Andrea Hawkes service offering is AH From Home and if you can't make it to their showroom, this is utterly perfect.
You'll start with a one-to-one video consultation with Andrea or Siobhan and this is a really personal approach to choosing the perfect style for you – you'll discuss shapes, necklines and fabrics and decide on the best way to move forward, based on your own situation.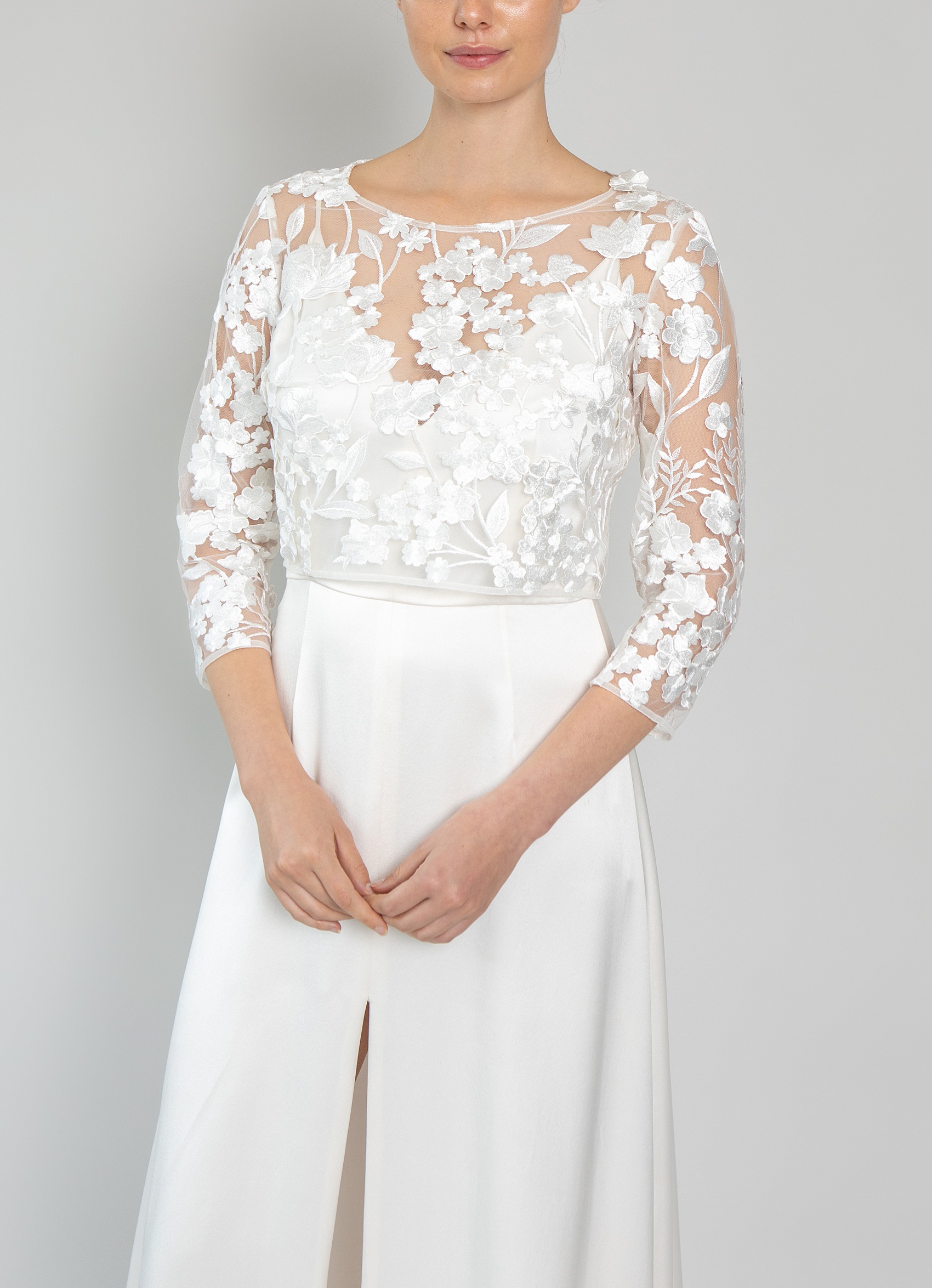 From there, you'll also receive personal shared Pinterest boards that are curated just for you and these will bring together all the suggestions and guidance for you in one place. After that, it gets really exciting as dresses are sent to you to try on at home.
This is just fabulous as you're able to spend a little longer with the dresses and, importantly, share the dresses with you friends and family with video calls at times that everyone can make!
View this post on Instagram
The next step is another video call with Andrea or Siobhan where you can talk through your favourite designers and receive more advice regarding customisation options, fabrics and fittings.
Then, there's a remote ordering process before the delivery of your finished gown.
Another superb innovation from Andrea Hawkes is the virtual opening of the door to their online shop. Again, you're able to access guidance from the team on fabrics and sizing with instant responses via the ace online chat facility, which is brilliantly reassuring if you have any questions at all.
Bridal and the way we have been connecting with brides has changed. The reopening of our showroom and studio is going to feel really special to physically meet with brides again, but our new services have proven that the connection can happen in many different ways, and that we have the experience and skill to communicate, design and make the perfect dress for a bride from anywhere without any compromise. Andrea Hawkes
You can order fabric samples and receive guidance on how to measure yourself plus the try on service is available to you AND Andrea Hawkes accepts returns on new and sample dresses. Phew! So much good stuff in there!
View this post on Instagram
As we all start to look forward to a brighter future, it's great to know that the brighter future starts right here.
To find out more about Andrea Hawkes, their collections and all the services they offer, do visit the website for all the details.
You can also enjoy all previous Andrea Hawkes features, including real brides and weddings, here on Love My Dress.
Love Annabel
x
Real Bride Images
The following real weddings featuring brides wearing Andrea Hawkes have all been published on Love My Dress. You will find them all here.
Photography credits: Olivia and Dan, Joanna Bongard, Caro Weiss and Joanna Brown.
Campaign & Studio Shots