Everyone is talking about micro weddings and for those of you who have chosen to downsize your wedding, please allow us to reassure you just how wonderful it will be, through these images.
Emily and Allan, both Account Managers, tied the knot in between lockdowns last year on Friday 18th September 2020. Emily discovered her photographer, Miss Gen, and hair accessory designer, Debbie Carlisle, through Love My Dress – and was a big fan of our platform and Facebook group.
"I visited Love My Dress primarily – particularly during those awful first few months of the pandemic when none of us knew what would happen. I found it such a source of inspiration and comfort, and also joined the brides' Facebook group where I was a frequent lurker! It really helped me to know that everyone else was struggling like we were, and it felt like such a safe space."
Miss Gen Photography

+ Follow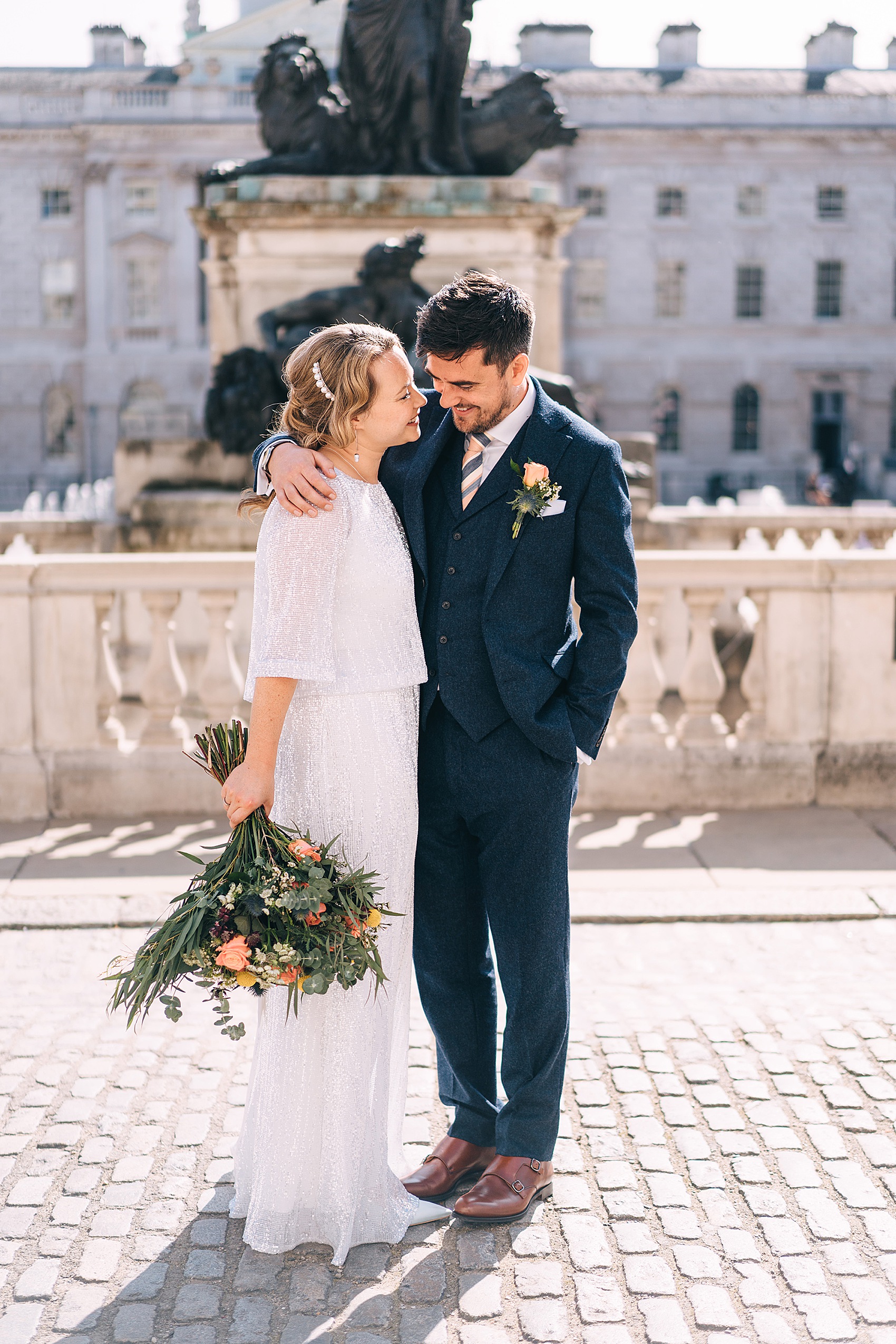 "We got married at Chelsea Old Town Hall, then went for lunch at the Spring Restaurant in Somerset House, followed by bowling at Bloomsbury Lanes. All in London – it's where we met, where we live, and we couldn't imagine getting married anywhere else."
"We'd originally planned our wedding over two days: a legal ceremony followed by lunch on Friday for 35 guests, and then a big dinner party on the Saturday for about 150 people."
"Our big dinner party would have been at LSO St Luke's, who were extraordinarily kind and returned our full deposit, once it became clear that large-scale in-person events wouldn't be possible."
"We were really lucky with our date – 18th September – as things had opened up enough by then to allow us a ceremony and reception of 30 people. So we only had to cut a handful of guests from our original 35, and they were all wonderful and understanding, which made the guilt slightly lessen."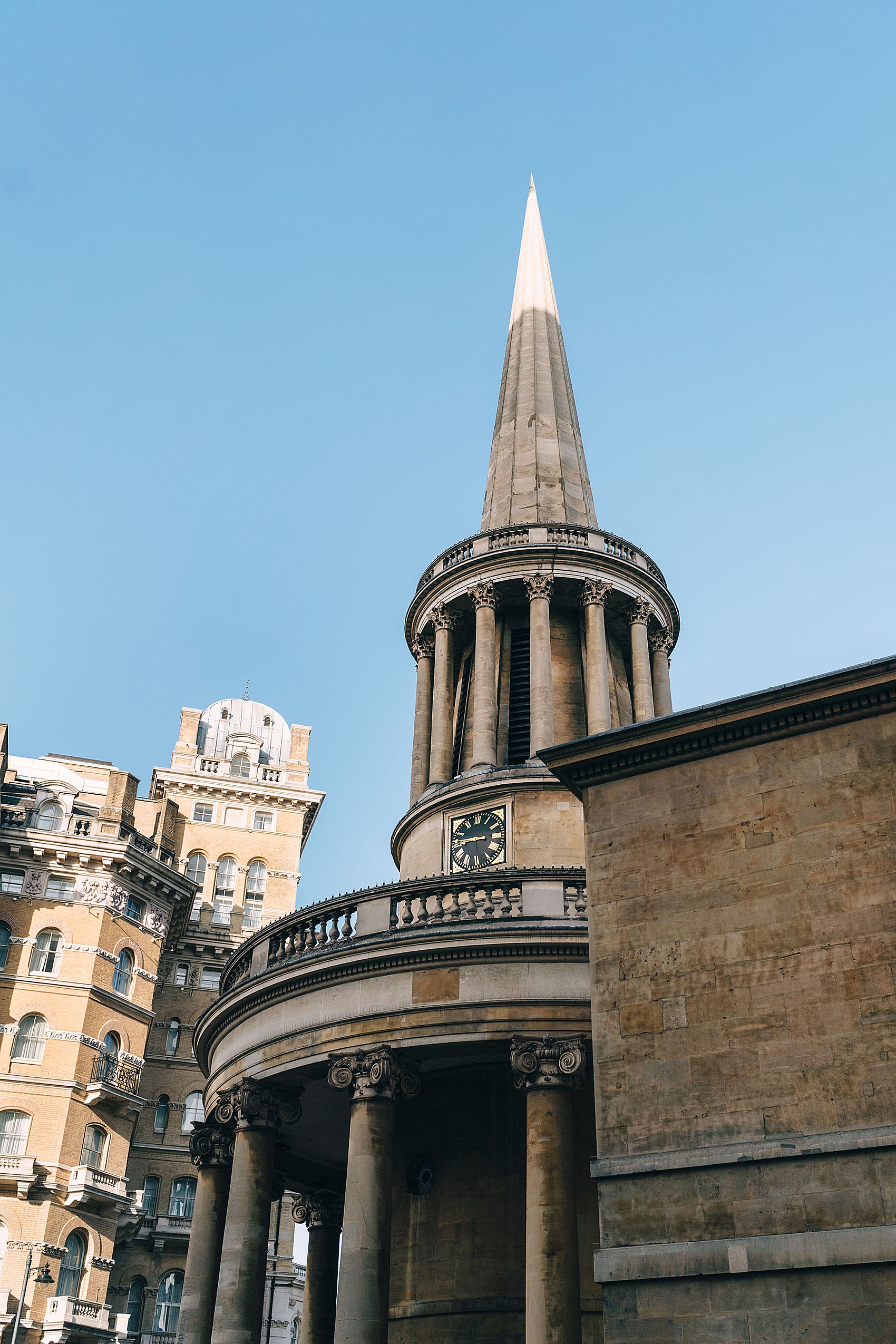 "All guests had to sit separately – even those who were from the same household – so the chairs were all very spaced out. Our original room at the Town Hall would only have fit 4 guests under these rules, so we were very lucky that Chelsea Old Town Hall decided to make their larger event spaces hireable by the hour, rather than for a full day, so we were able to move our booking to the Small Hall (which in normal times can fit 150 people, but per the new spacing restrictions, just about fitted 30 people)."
"Chelsea Old Town. Hall allowed my bridesmaids, myself and my dad to walk down the aisle without masks, but then they all had to put masks on. It was just myself, Allan and the registrars without masks for the ceremony.""
"We bought a temperature gun which one of the ushers used to check everyone's temperatures on arrival, and we had goody bags for everyone which included a little bottle of hand sanitiser (as well as Haribo and paracetamol for the morning after!)."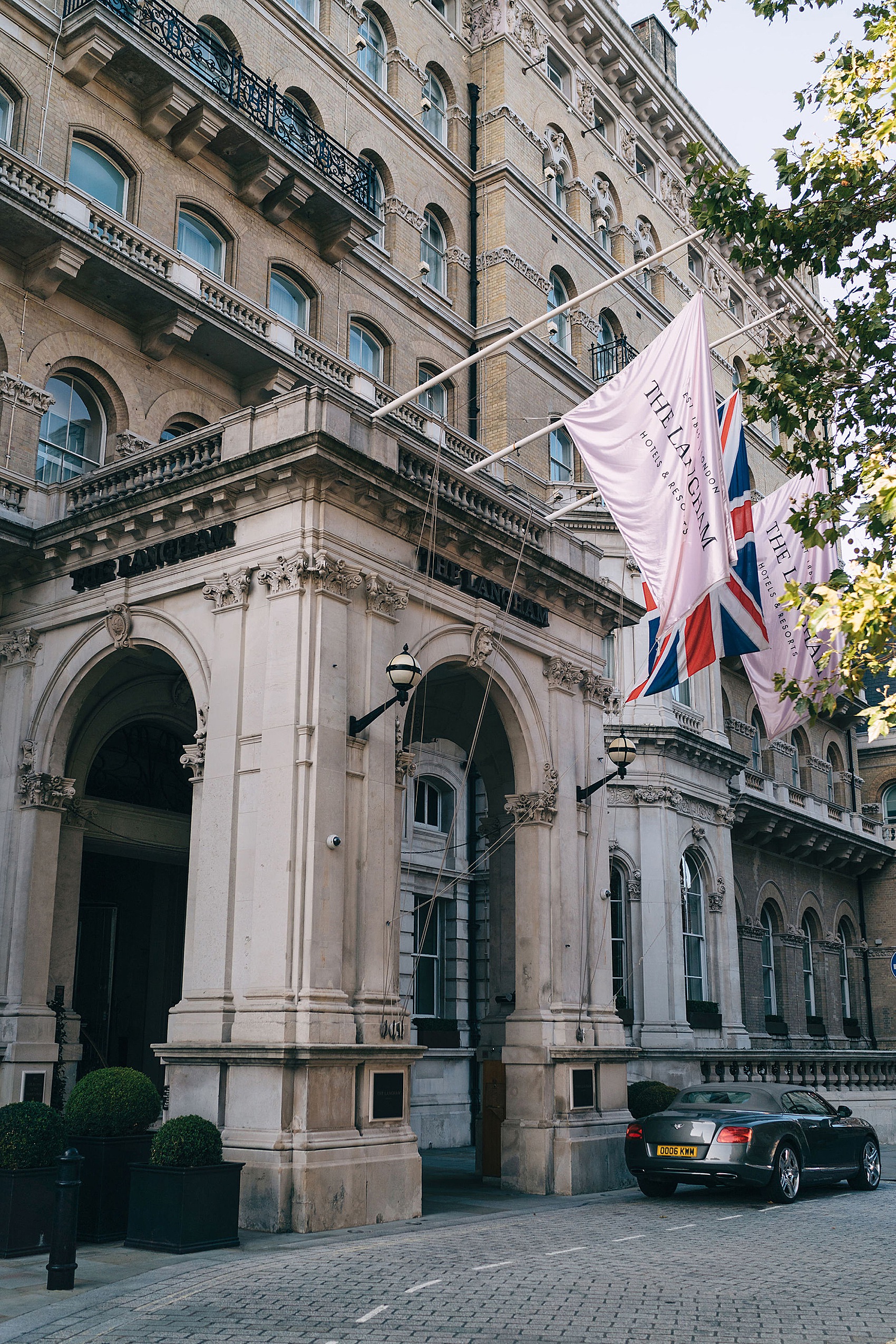 "We made wristbands for everyone as well, so that if anyone was feeling particularly anxious, they could wear the wristband as a subtle sign to other guests. For lunch guests were seated at small tables in groups of two households. By the time we'd finished lunch, I should come clean – social distancing was forgotten and there were a few hugs."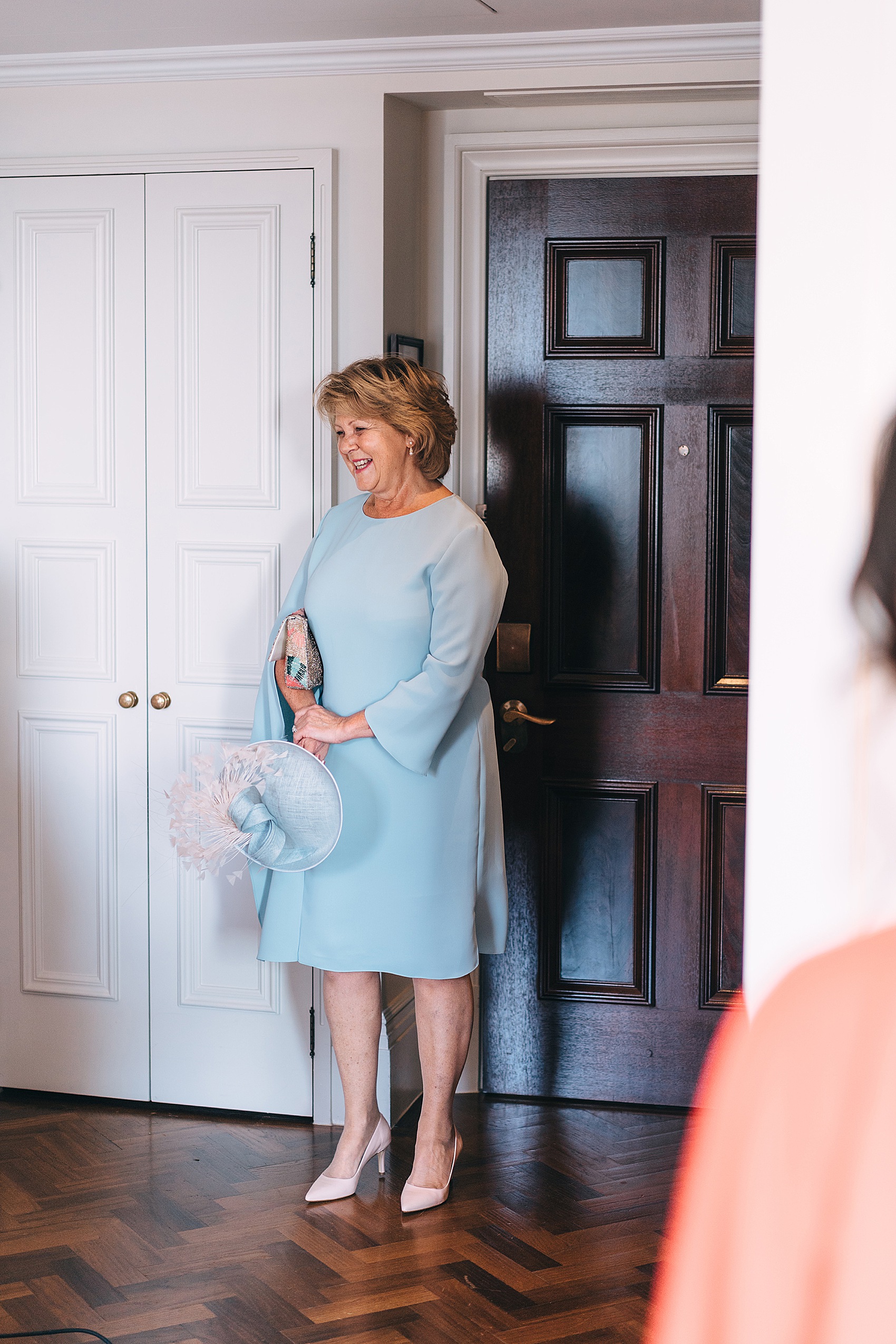 "I got ready at the Langham Hotel, which is also where we stayed for the wedding weekend."
"I hired hair stylist Catherine Bailey, who was a superstar doing mine and my bridesmaid's hair in full-on visor and face-mask."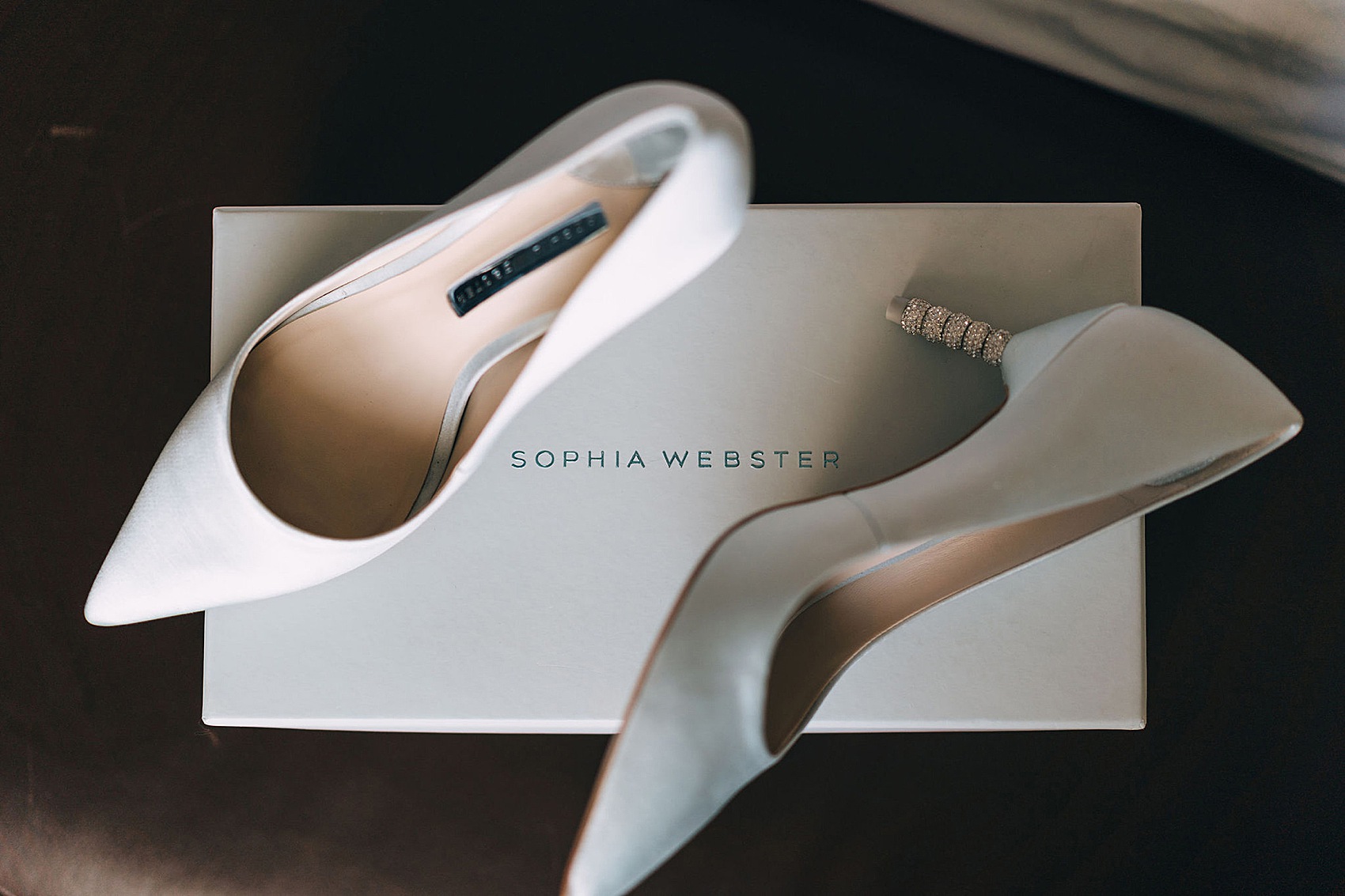 "As we were going to be moving around London quite a bit throughout the day I knew I needed a bag. After endless browsing through the Matches and Net-A-Porter sales I found an amazing white feathery bag by Marques'Almeida which was surprisingly roomy, and fitted my phone, prompt cards for my speech, sunglasses, tissues and lipstick!"
"In the rush to get ready I totally forgot to put on perfume! If I had remembered, it would have been my usual perfume, Le Labo's Thé Noir."
Emily's fabulous sequin separates were from Charlie Brear.
"I bought from Charlie Brear's showroom in North London. I did SO much research online, and already knew that I wanted something modern, sleek, suitable for a London city wedding (ie no massive skirt or train!). I was initially really keen on a jumpsuit, thinking that I'd be able to wear it again."
"Charlie Brear was the first place I went, and they made me and my Mum feel so comfortable and at home, it was a really fantastic experience. I spotted a sparkly skirt & top combo almost straightaway – I'm such a magpie, everyone I know laughs at how distracted I get by anything glittery."
"Although I went to 3 other bridal showrooms over the next few months, I couldn't get the skirt and top out of my mind, so I knew it was the right option."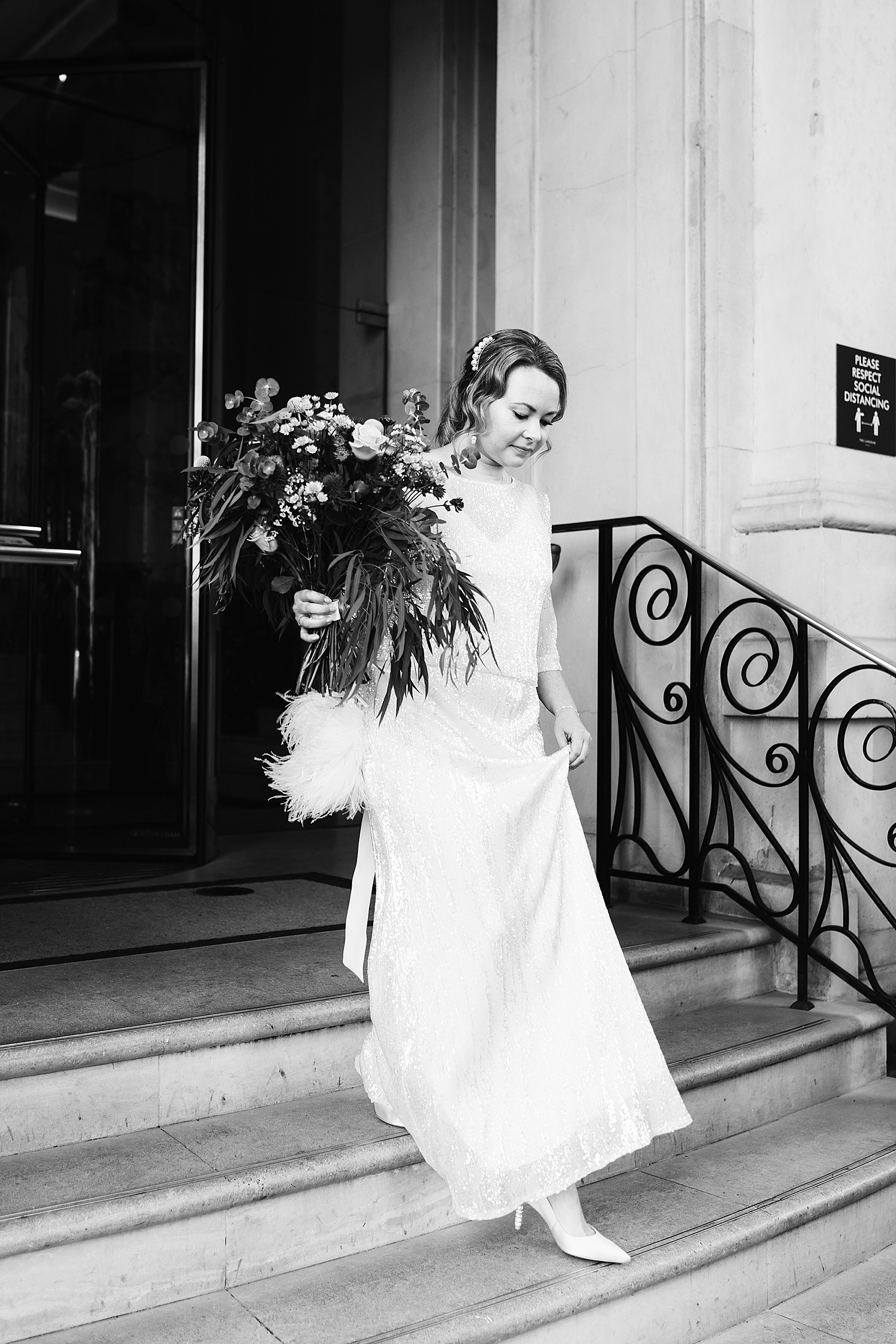 "The team at CB were super helpful in suggesting alterations and different styling options. They were also great throughout lockdown at keeping in touch, and scheduling me in for an appointment to pick up the dress as soon as possible when they reopened, so that I had time to get my alterations done."
"I had been trying on quite a few different dresses and looks at the first appointment, and the sparkly combo was the final thing I tried on – my mum, who usually plays her cards pretty close to her chest, said 'oh wow', as I came out of the dressing room, which really helped."
I felt absolutely amazing, I ended up with a totally unique look and also one which breaks down into separate pieces that I can wear again."
"I adored how special it made me feel – and how bloody sparkly it was! It was like I was a human disco ball when the sunlight hit."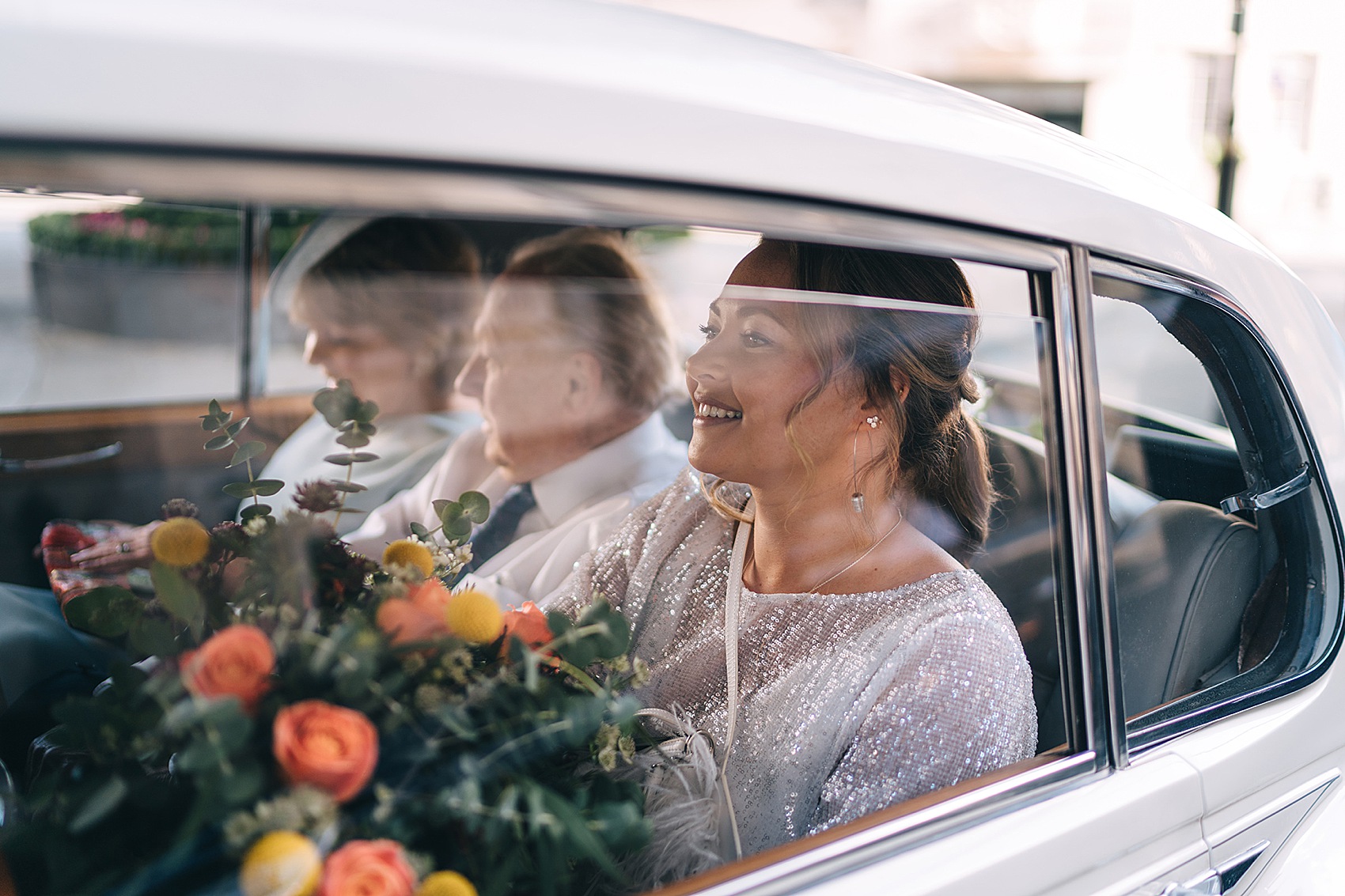 The groom wore a 3-piece Scottish tweed suit from Walker Slater.
"We met at work 10 years ago, and got together after 6 years. It was like things weren't quite aligned for ages, and then all of a sudden they were, and being together was just the easiest, most natural thing in the world."
"Allan proposed after 3.5 years, getting down on one knee at the bus stop where we'd ended our first date (just round the corner from St Paul's Cathedral!). We were engaged for just over a year before we got married."
"We went on holiday to Devon the weekend after Allan proposed, and used all of the long car journeys to work out what we wanted to do! One of Allan's friends had said 'the best piece of advice I'd give is to spread your wedding over as many days as possible'"
"So we decided on a small ceremony & lunch with just our nearest & dearest on a Friday, followed by a big party the next day. The big party would have been disco-themed – lots of tropical flowers and foliage, mirror balls etc. However just as we were getting stuck into the details, COVID hit!"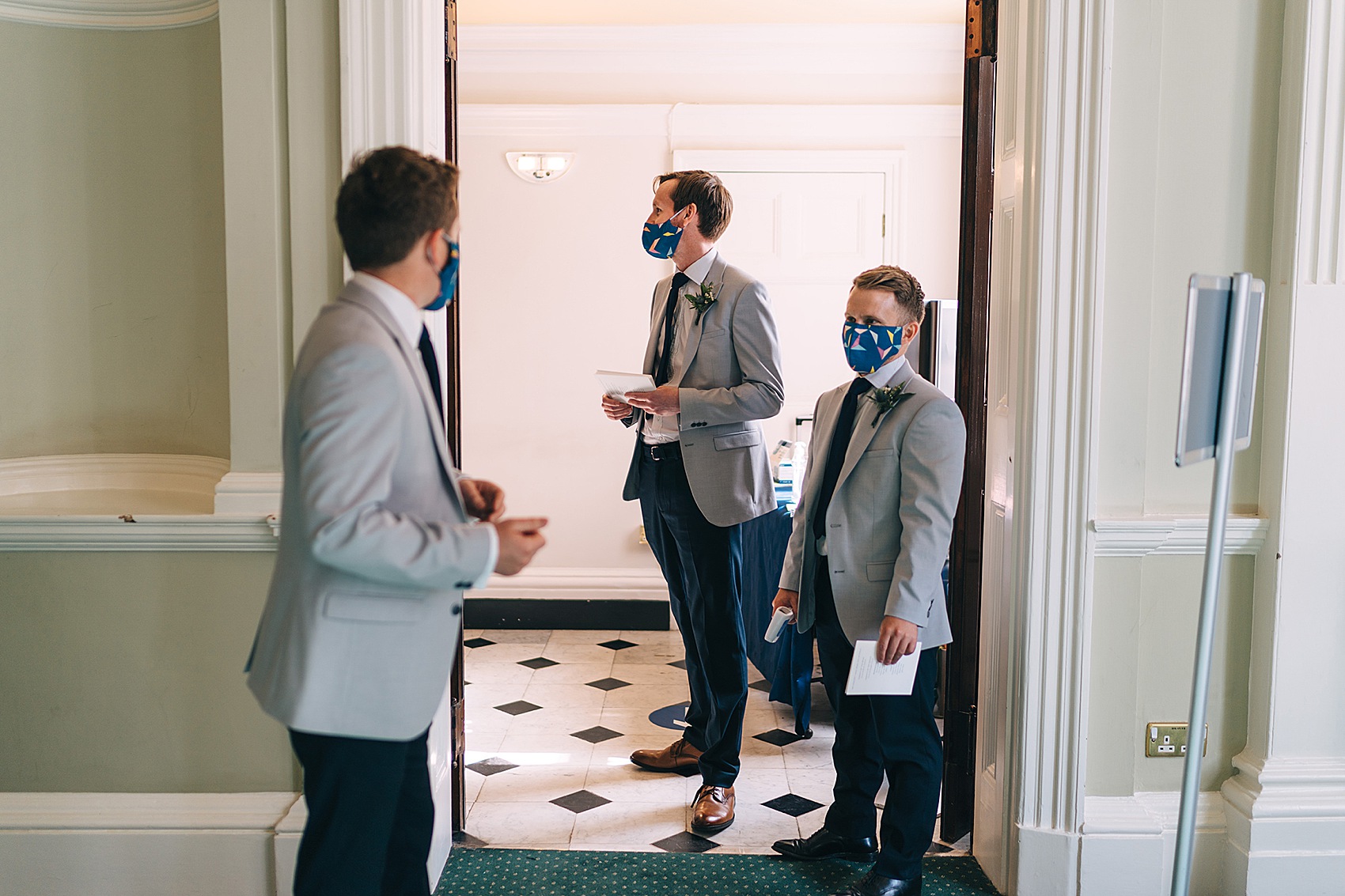 "We'd had beautiful invites printed by Grania of Ink & Paper, but when the pandemic struck and we had to revise our plans, we had to shelve those invites – we're hoping we can repurpose them somehow when we get around to organising our post-COVID party."
"We ended up getting our new invites and on-the-day stationery from Papier. I painted a picture of a rose, in the colours of the wedding, and uploaded it to Papier to include in invites / menus etc."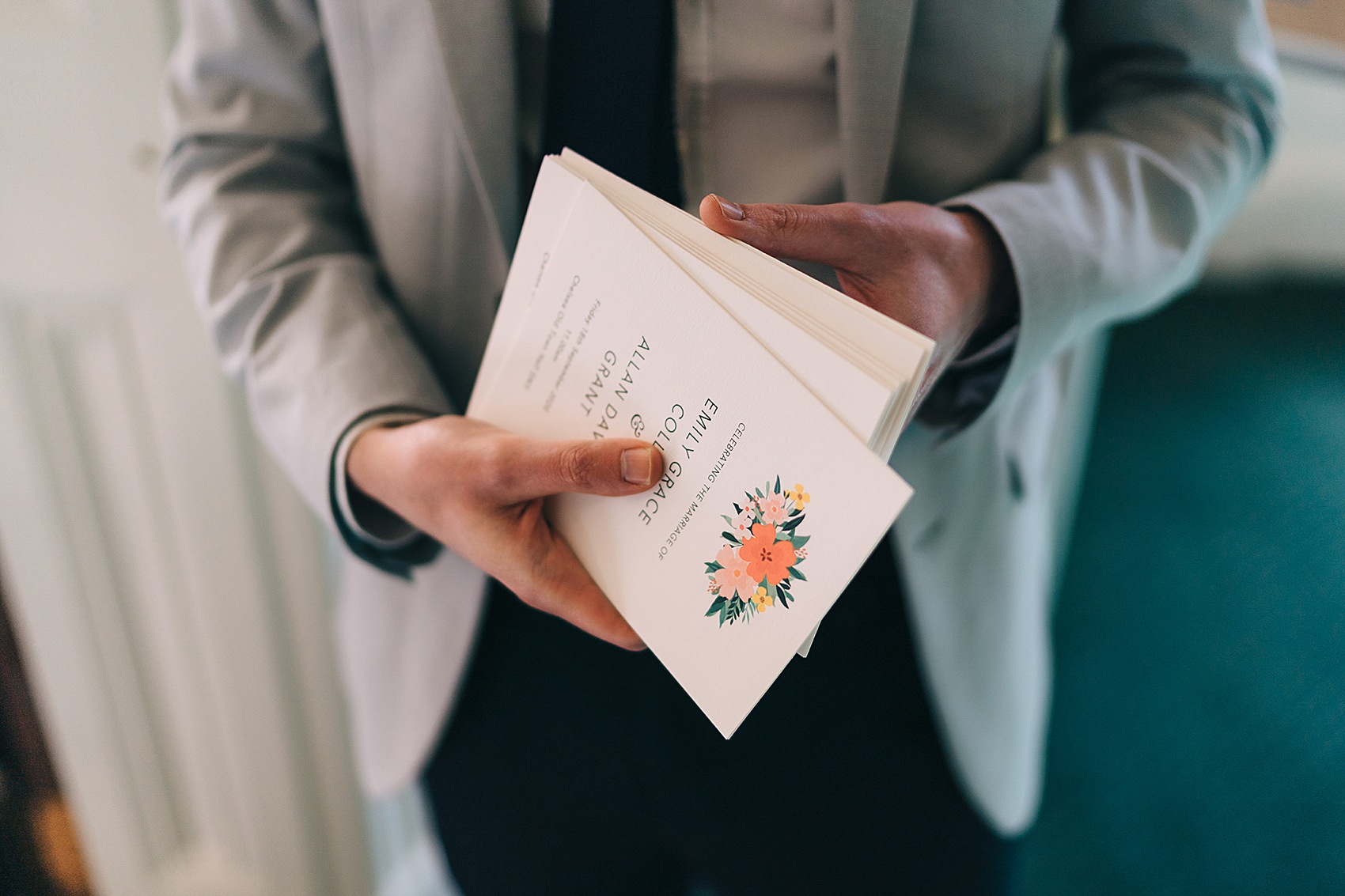 Emily was accompanied into the ceremony by her dad, to the sound of Le Fleurs by Minnie Riperton.
"Originally I was going to have both my parents walk with me down the aisle, but at the last minute the registrars told me I could only have one person, for COVID reasons. So – both of my parents came with me in the car, and my dad walked me down the aisle."
"For COVID reasons we had to have the simplest version of the vows – although this would have been our choice anyway."
"Thankfully we were allowed to have a couple of readings (I know lots of other registrars were not permitting anything to extend the ceremony, so we were very lucky!). Allan asked one of his music college friends – who is now a Professional Violist – to perform the Courante from Bach's G Major Cello Suite."
"One of my bridesmaids was stuck in LA and couldn't make it over for the wedding, so I asked her to record a reading which was played out during the ceremony – 'Everything I Know About Love' by Dolly Alderton."
"Rennie & Co in Hatton Garden is where Allan bought my engagement ring, and as he'd had such brilliant service from them we decided to go back for our wedding rings. We went for simple bands – mine is platinum to match my engagement ring, and Allan went for a red-gold band."
"We signed the register to 'Stay High' by Brittany Howard, and then walked out as a married couple to 'Sound & Vision' by David Bowie."
"I wore a mix of old / borrowed / new jewellery, to go along with the tradition. I wore some diamanté studs and a ring which had belonged to my late grandmother, and pearl drop earrings & a silver moon necklace from Topshop."
"We loved the style of her photography, and how brilliant she made London look in all her city weddings (as well as all her couples looking wonderful and relaxed and like they were having a good time!)."
"Gen was super understanding and flexible in the run-up to the day; our plans ended up changing quite significantly, and she just rolled with it and did whatever she could to help."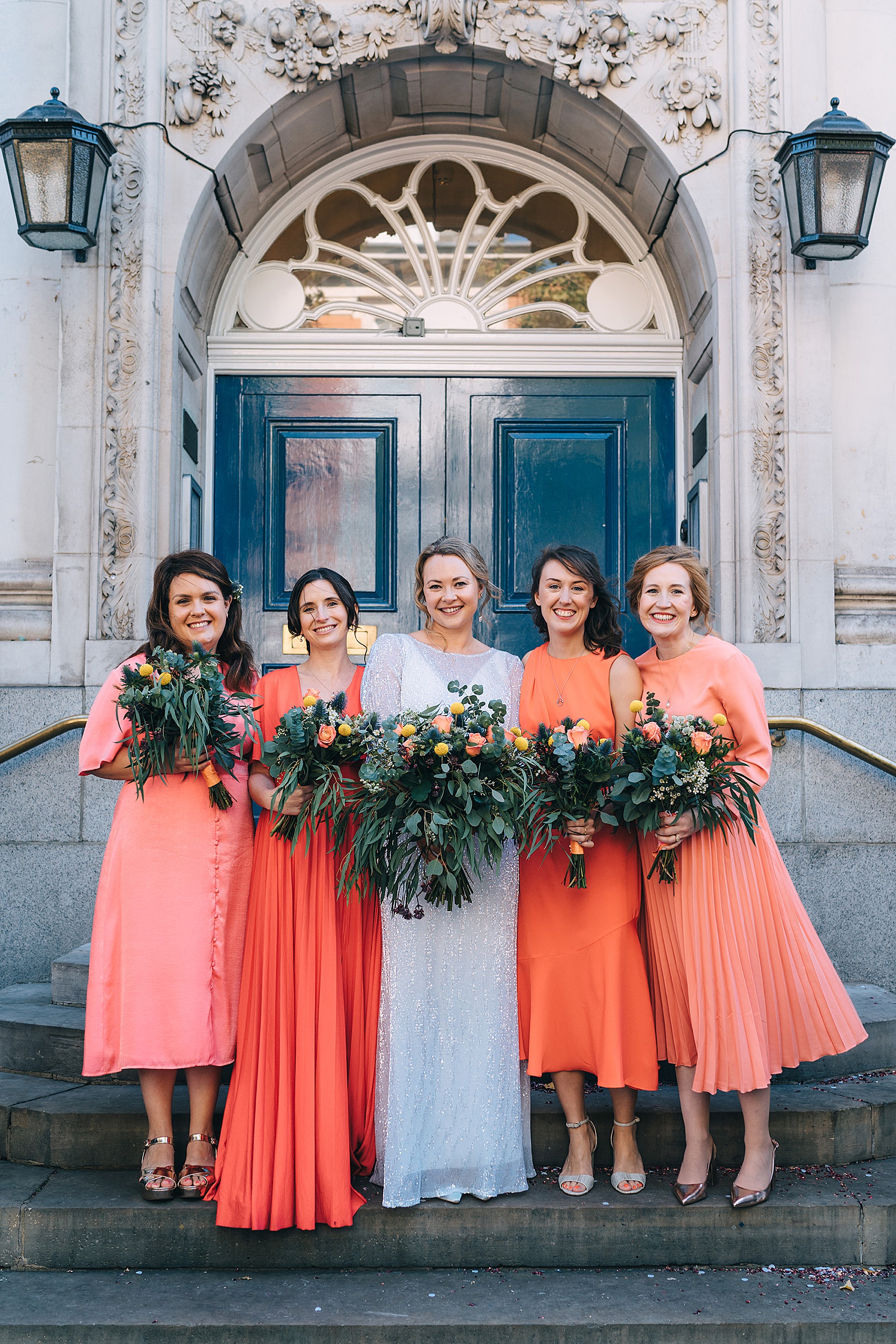 "On the day she was totally unobtrusive but still managed to capture all the important moments (both big and small). Our guests afterwards all remarked on what a good job she'd done, how subtle she was, and how easy it was to do all the group shots (she even stepped into the path of a double decker on the Kings Road to get a few shots, which is true dedication)."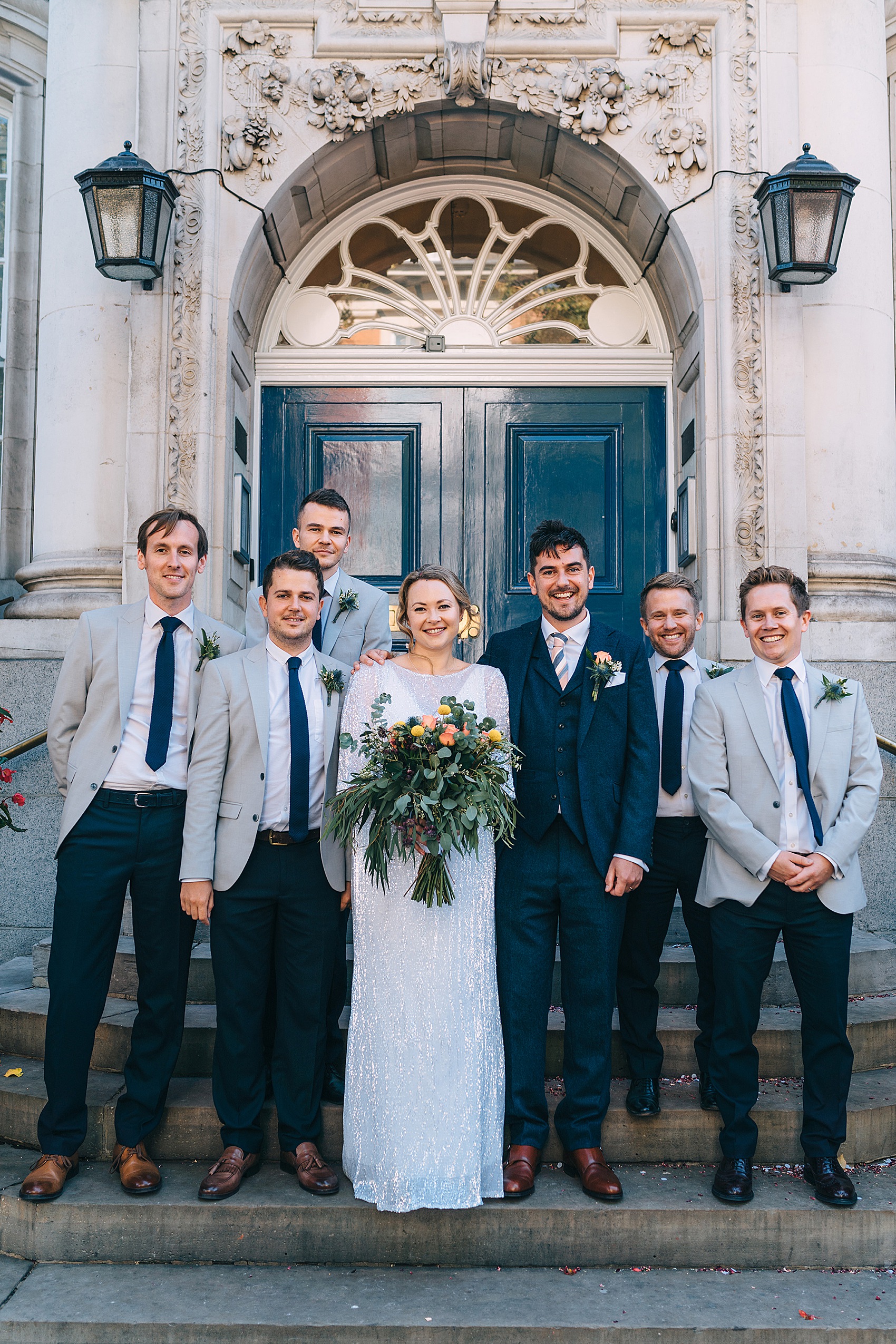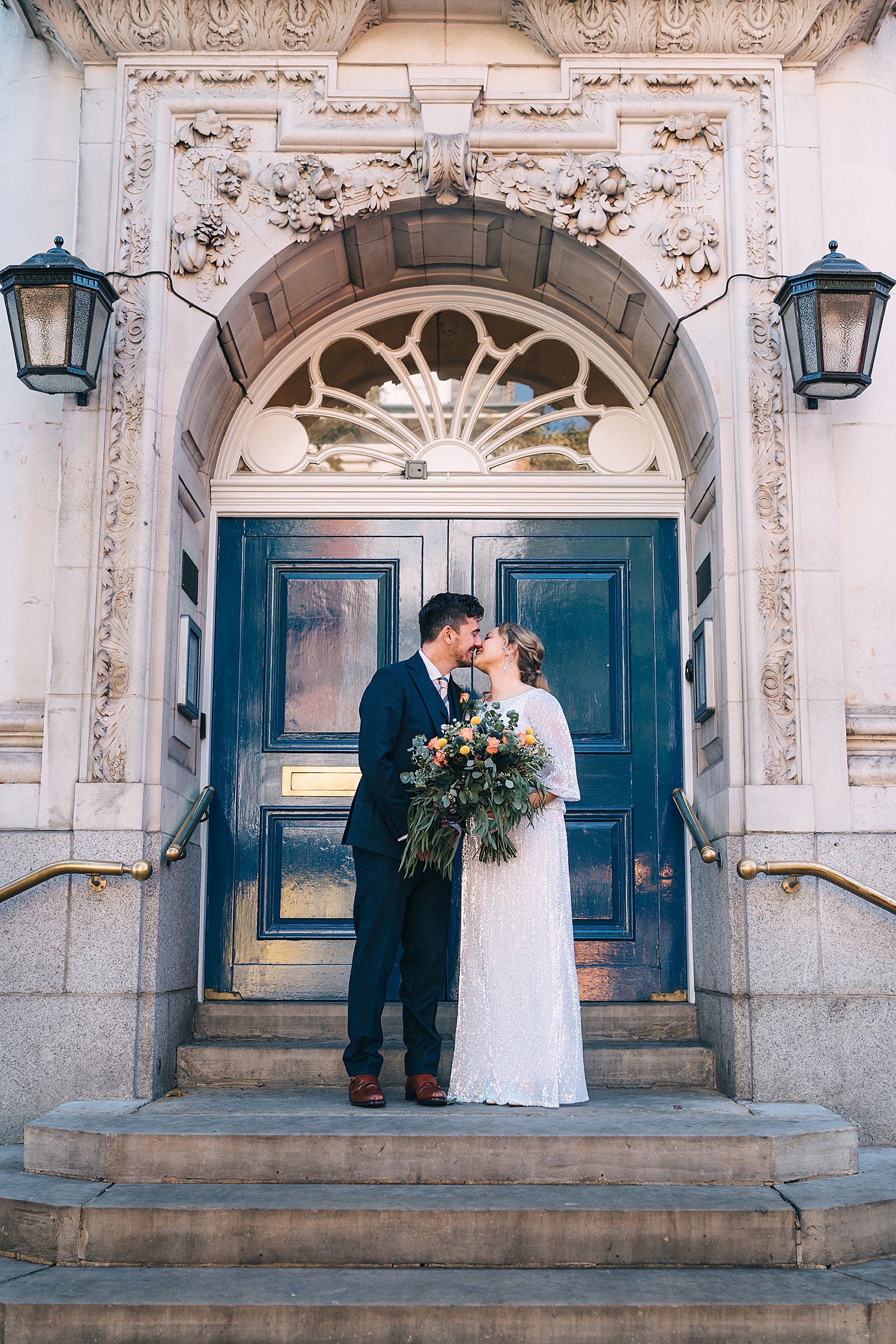 For flowers, the couple turned to The Flower Stand Battersea…
"Our local florist! We didn't have any flowers at Chelsea Town Hall as the ceremony there was so short, and Spring had their own beautiful flower arrangements already in place. So we only needed bouquets and buttonholes."
"I went for a big beautiful messy-looking bouquet with pops of bright colour and lots of trailing foliage."
"Smaller bouquets for my bridesmaids, and the groom & ushers all had thistle buttonholes. Allan and I both had roses and thistles in our bouquet / buttonhole as a nod to our English & Scottish heritage. David at The Flower Stand was fantastic and understood exactly what I wanted even though I don't know the names of any flowers and was a bit useless at describing them."
"Our guests went on a Routemaster – they were great, and allowed us to provide our own music playlist, and serve prosecco to everyone on board. We hired a Rolls Royce through Elegance Wedding Cars, who were fantastic."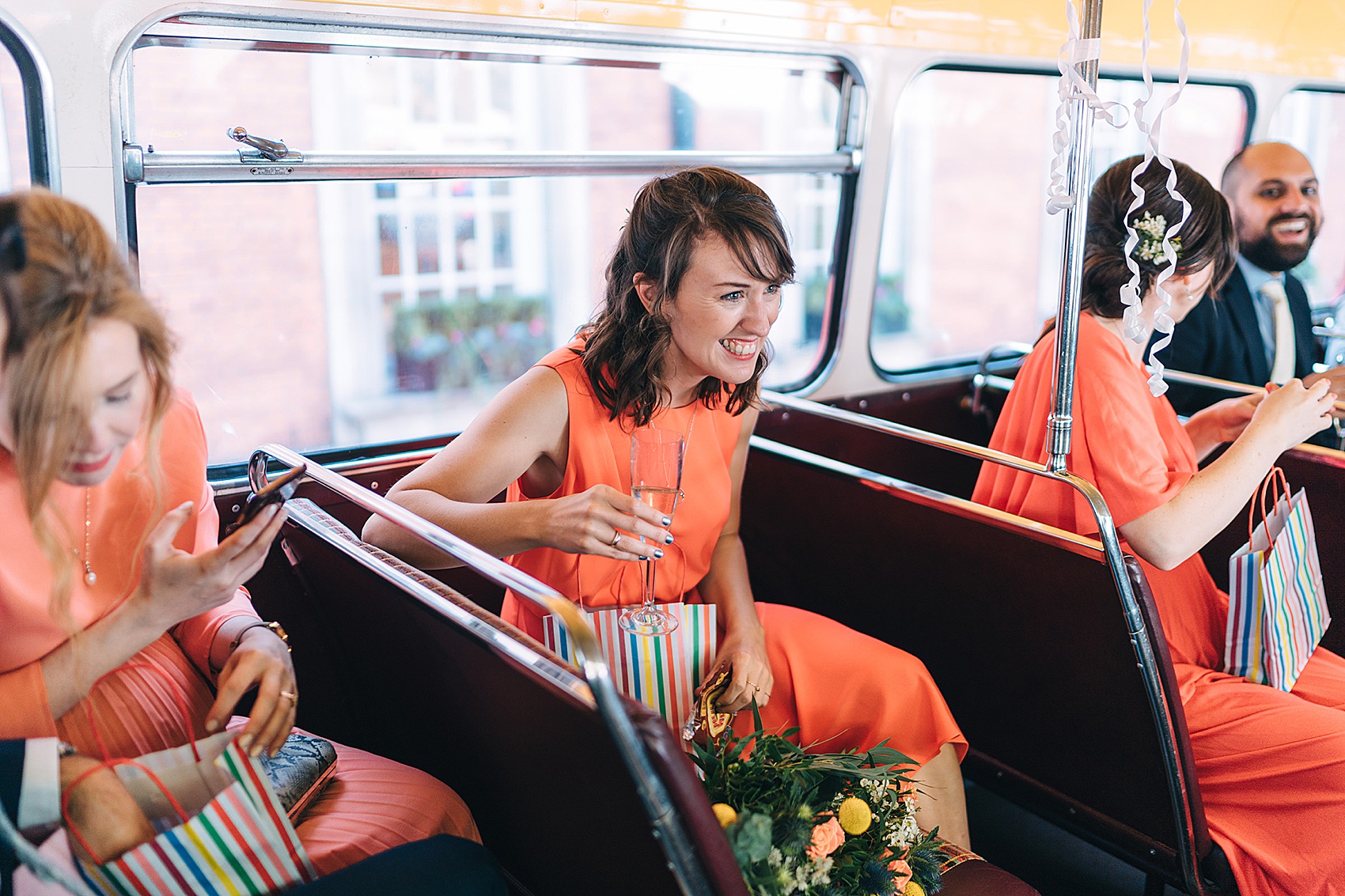 "My bridesmaids all picked out different dresses in varying shades of pink / coral / orange – it was pretty tough trying to coordinate fittings as they're spread all over the UK, one was stuck in LA, two were pregnant, AND there was a lockdown on!"
"But thanks to ASOS's excellent postage & returns options, we got there in the end. All bridesmaids dresses were via ASOS, a variety of brands. They all wore their own shoes in a metallic colour, and had their own bags. I gifted all of them with a floral fan made by Victoria at Khu Khu, an East London fan designer."
"I wore the Mona pearl hair clip from Debbie Carlisle, who I discovered on Love My Dress."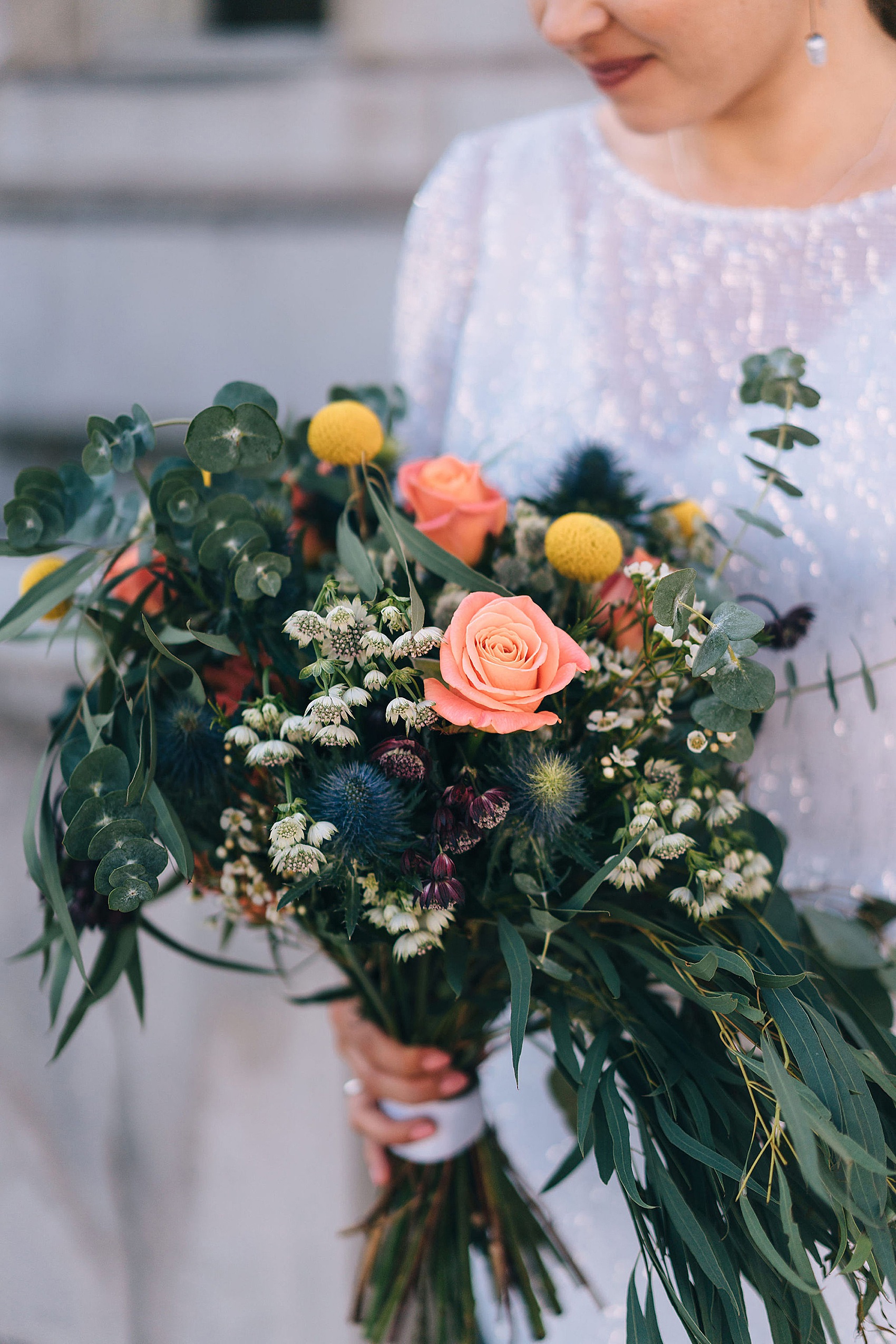 "I wore the Coco Crystal heels in icy blue, from Sophia Webster's Bridal collection. They were my 'something blue'. I LOVED the 'Wifey For Lifey' on the soles as well, a great little joke."
"Photography was something that I spent ages researching – I went through the LMD 'real weddings' section obsessively, searched Instagram for all recent weddings at Chelsea Town Hall, and went down loads of rabbit holes to bookmark my favourite photographers."
"Allan and I then spent a while looking at each of their portfolios, and we both agreed that Miss Gen Photography was by far and away our favourite, so we were overjoyed when she was available for our date."
"I would like to say how exceptional the team at Spring Restaurant  were, in looking after us. We'd originally booked the small private room, but in light of the social distancing rules, Spring upgraded us to the whole restaurant which was incredibly special."
Nothing was too much trouble for them, and the food was indescribably good! We also had ice-creams outside on Somerset House's courtyard to round off the afternoon, before getting taxis to Bloomsbury Lanes."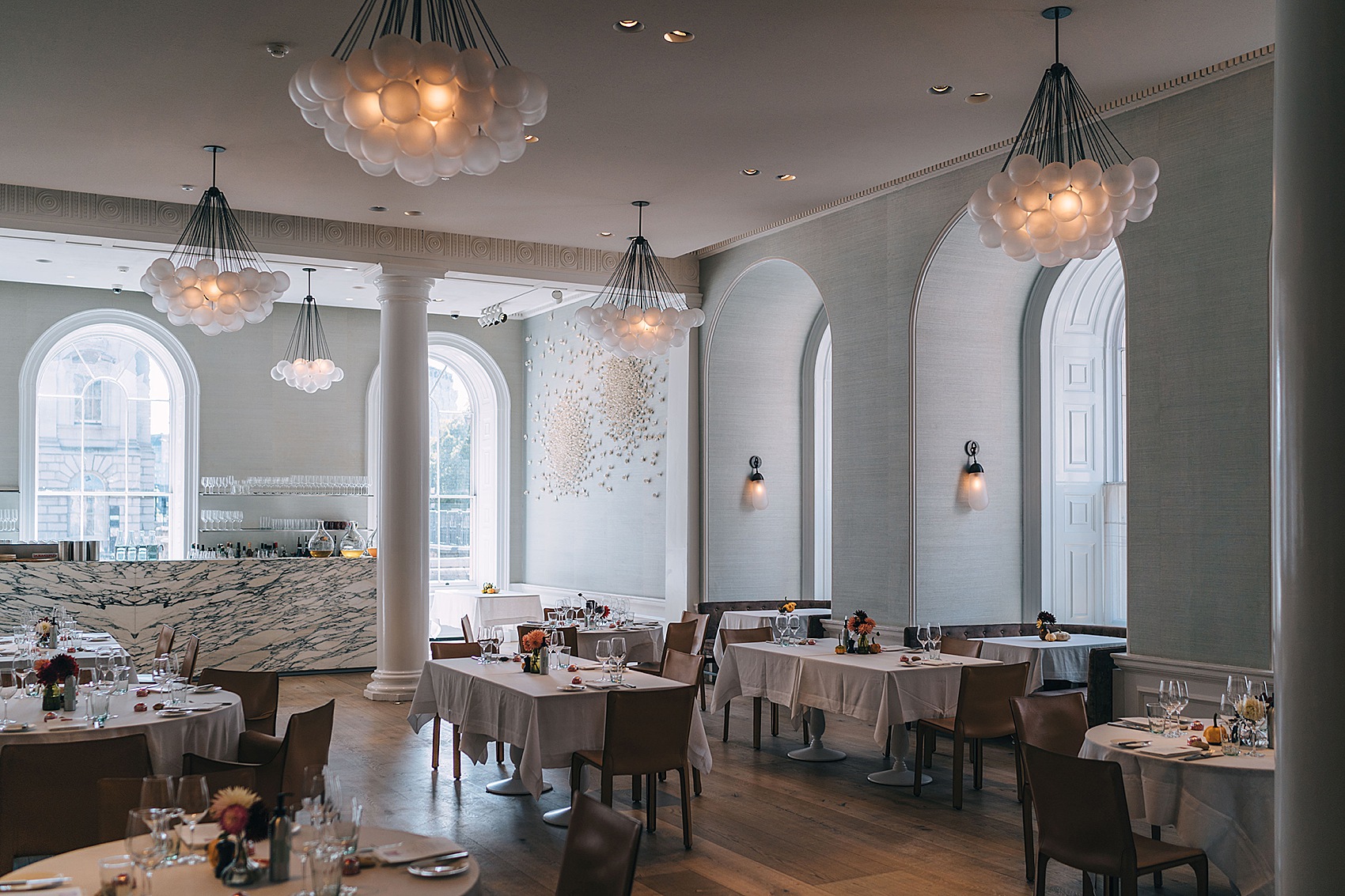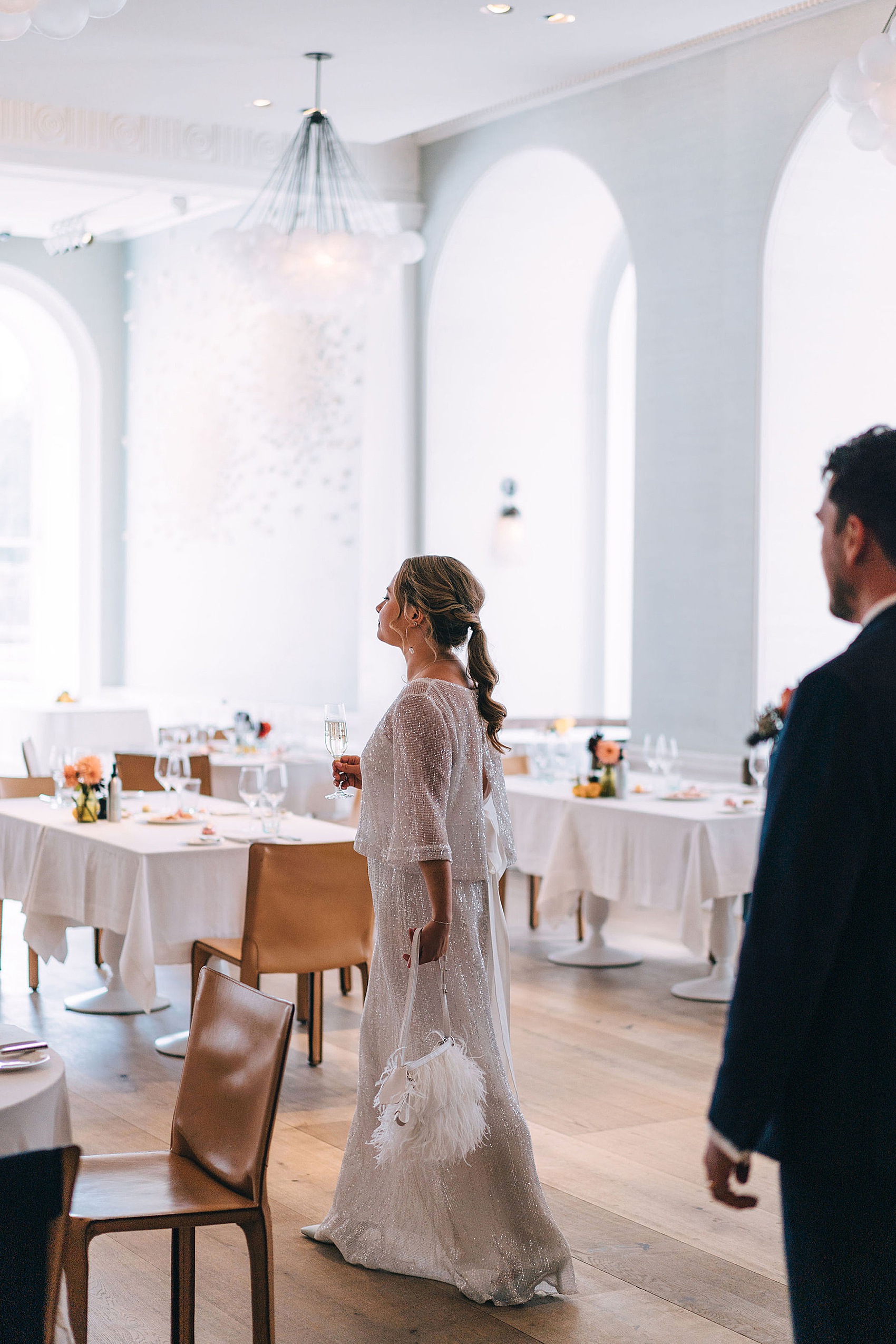 "I come from the south coast, so Allan and I picked pebbles from the beach at Mudeford where I'd grown up, and I painted our guests' names on to make them into place settings.""We also created a couple of photo boards – one had photos of our parents' and grandparents' wedding days."
"We also created a seating plan by printing Polaroid photos of all of our guests, pinned to a board, and guests had to pick off their photo to find their table number written on the back. The restaurant at Spring was so beautiful that we didn't need to add anything else to the room."
As a wedding favour, the couple provided some sweet treats; "Scotland's favourite, Tunnock's tea cakes!"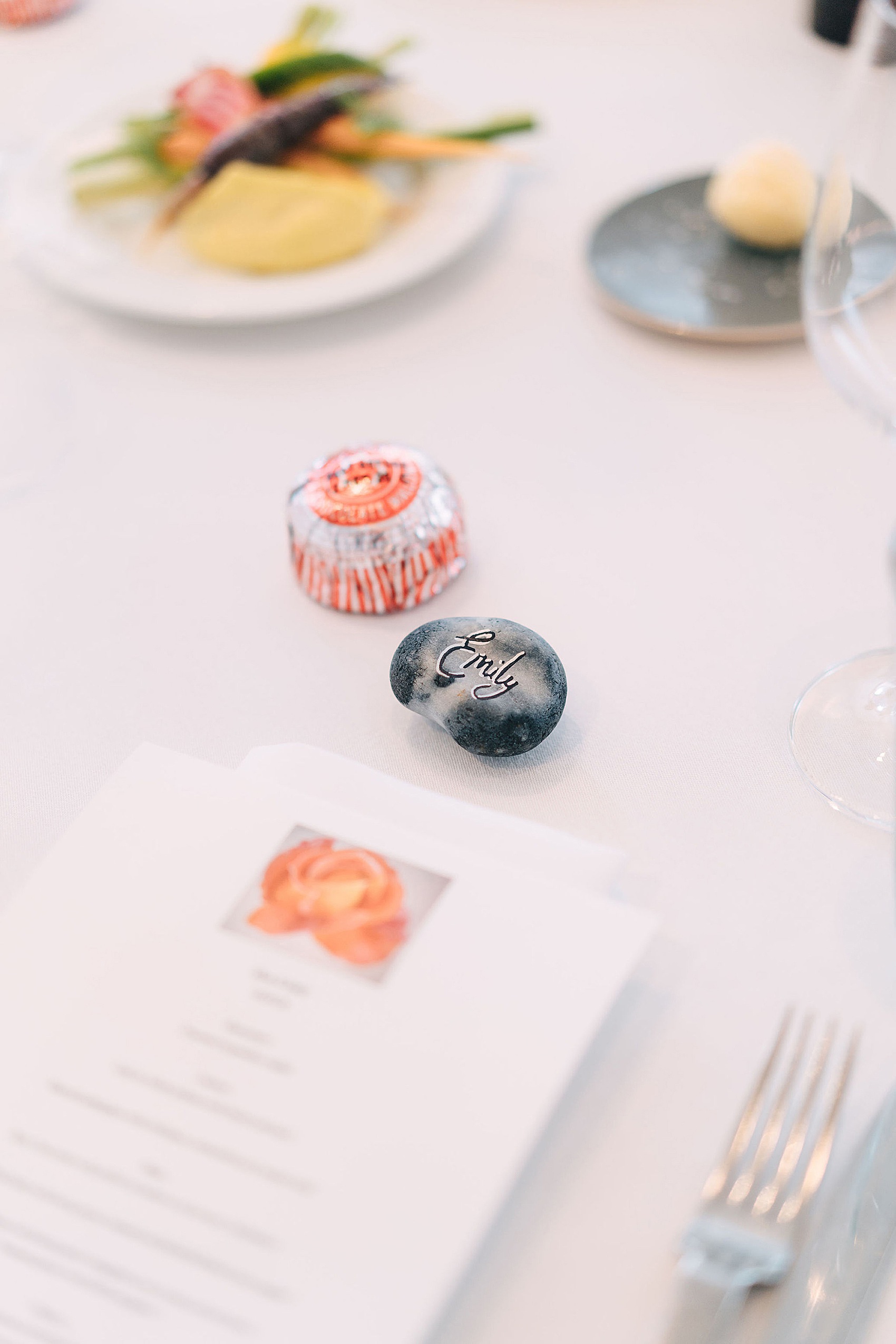 "Music was very important to us, so we really agonised over every aspect! We weren't even sure if we'd be allowed a first dance, but Bloomsbury Lanes were extraordinarily kind and let us do it – we danced to The Ramones, Baby I Love You."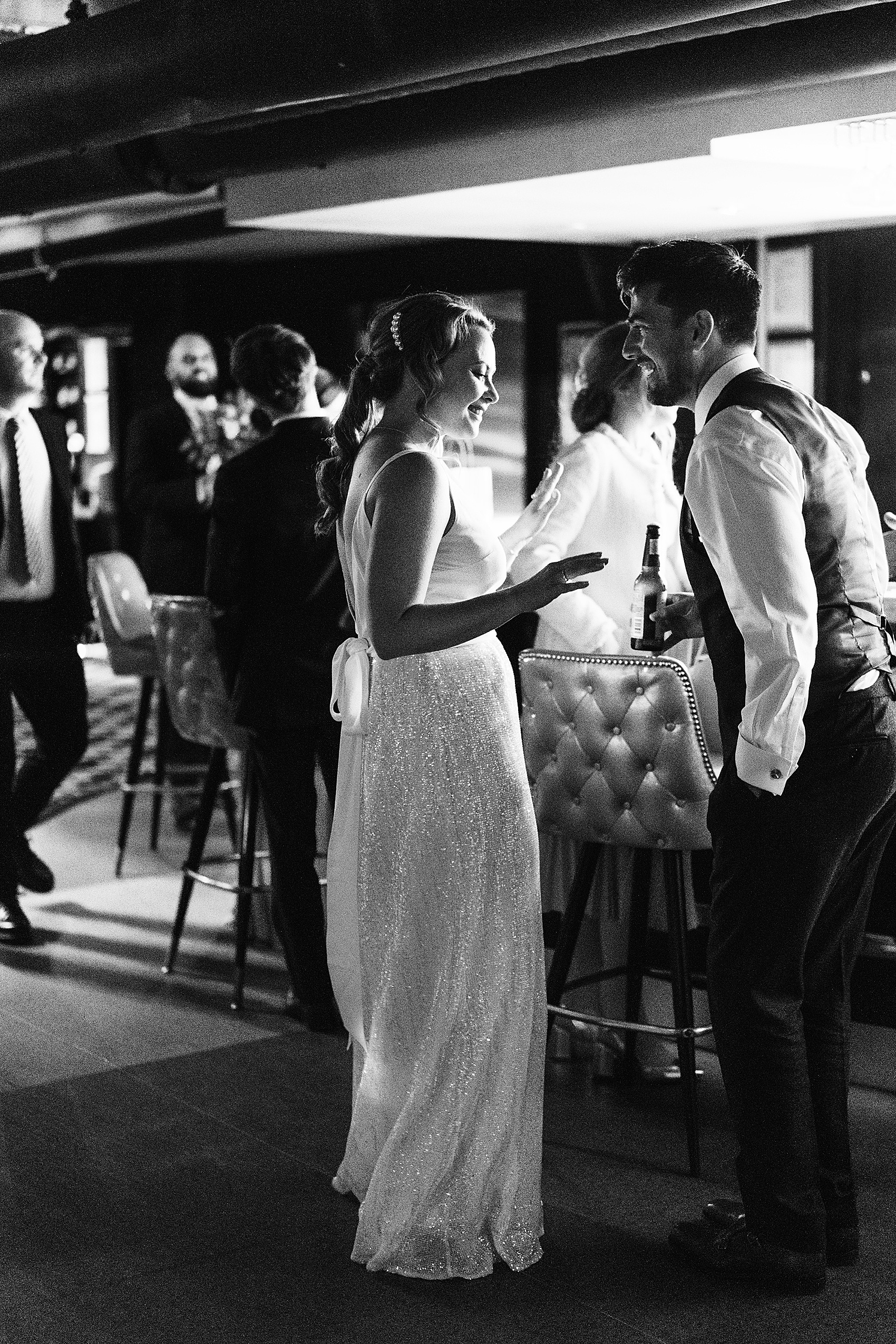 "Bloomsbury Lanes were really brilliant – we booked them very last-minute once we realised that no pubs would take our booking for a 30-person gathering without us paying a huge deposit / minimum spend."
"And actually it was one of the best decisions we made – everyone had so much fun bowling, I did a karaoke duet with my mum, there was ping pong, we were able to have our first dance, and my brother spent a significant portion of the evening playing racing games."
The couple share their favourite moments of the day; for Allan, this was "…when we'd just come out of the ceremony to have photos with everyone, and it started to sink in that we'd done it! Also at the end of the evening realising what a fun day we'd all had."\
Emily's favourite moment of the day was "when we'd finished lunch and came outside to Somerset House's courtyard for sundowner ice creams – everyone had let off a bit of steam and was in a great chatty mood."
Words of Wedded Wisdom
"If you want to stick to your original date, hold your nerve for as long as possible, and be open to anything / everything else changing! Decide what your 'non-negotiables' are: for us, it was having at least 12 guests (our immediate families) and being able to have a reception lunch afterwards. We had to change our plans SO many times, and there were countless setbacks – each week it felt like there were new problems that we had to find solutions for, or new restrictions that we had to deal with. You've got to roll with the punches, talk through decisions and scenarios together, and do what feels right for you."
"On the day itself though, everything just melts away – you're marrying the love of your life, and everything else becomes unimportant! It was such a lovely joyful day, and being able to make some wonderful memories during such a difficult time was really fantastic."
"Pinpoint which are the most important aspects of the day (for us, it was getting married in front of a small crowd of our very nearest & dearest, celebrating London, and amazing food). Use that to inform your decision-making, spending, and what you prioritise on the day itself. Do spend money on a photographer / videographer, as photos / videos will stay with you for the rest of your lives. Don't worry about ditching traditions if you don't like them – it's your day, so you get to pick what to include! I hope that after the chaos of the pandemic, couples will feel even more freedom to create a day that best reflects them, rather than what society or tradition expects."
"I do wish I had been slightly quicker to get ready in the morning – the ceremony was at 11 so although I got up witEh nerves at 6am, it still didn't quite feel like enough time and I was rushing and slightly sweaty getting into the car."
"Our original budget was to cover two days, so when COVID hit and we had to revise & shrink our plans, we were able to save a lot – and we were very lucky that our suppliers for the cancelled party kindly refunded any deposits."
What a gorgeous day! Such wonderful celebration captured by the ever talented Miss Gen, more from whom you can see here on Love My Dress.
Emily, thank you so very much for your lovely kind words on Love My Dress – we are more grateful thank you know, and I'm so touched to learn you found our community such great supporting whilst you were wedding planning.
Wishing all you couples still planning your wedding so much love and excitement.