These utterly delicious images were sent in by one of our recommended suppliers, the talented Catherina, of My Eden Bridal and I could not adore them more.
They were captured at one of our highly recommended wedding venues, the utterly incomparable Elmore Court, and were photographed in between lockdowns last year. I will allow the wonderful Catherina to introduce these images but so hope that you enjoy them. It is a deep pleasure to be supporting our directory members with this article today..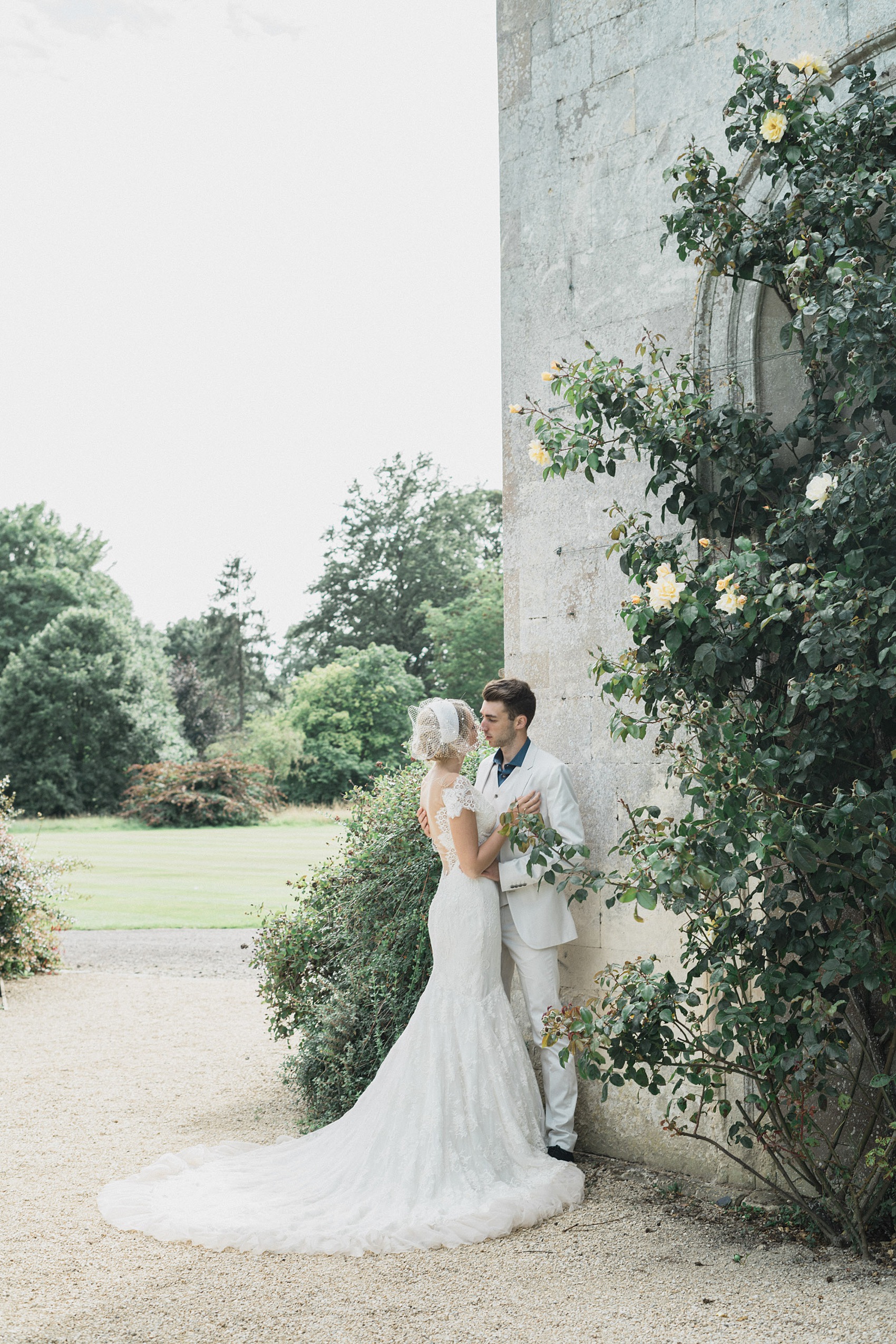 "Our styled photoshoot 'Pearlescent Lavender' took place on the 29th of July 2020 at Elmore Court in Gloucestershire. It was inspired by my local lavender fields and the beautiful glow of pearls, both playing their part in the subtle and romantic colour scheme.""I really wanted to wrap my couple together in organza and create a very romantic and soft wedding reception but sprinkled with glimpses into their real passion for one another."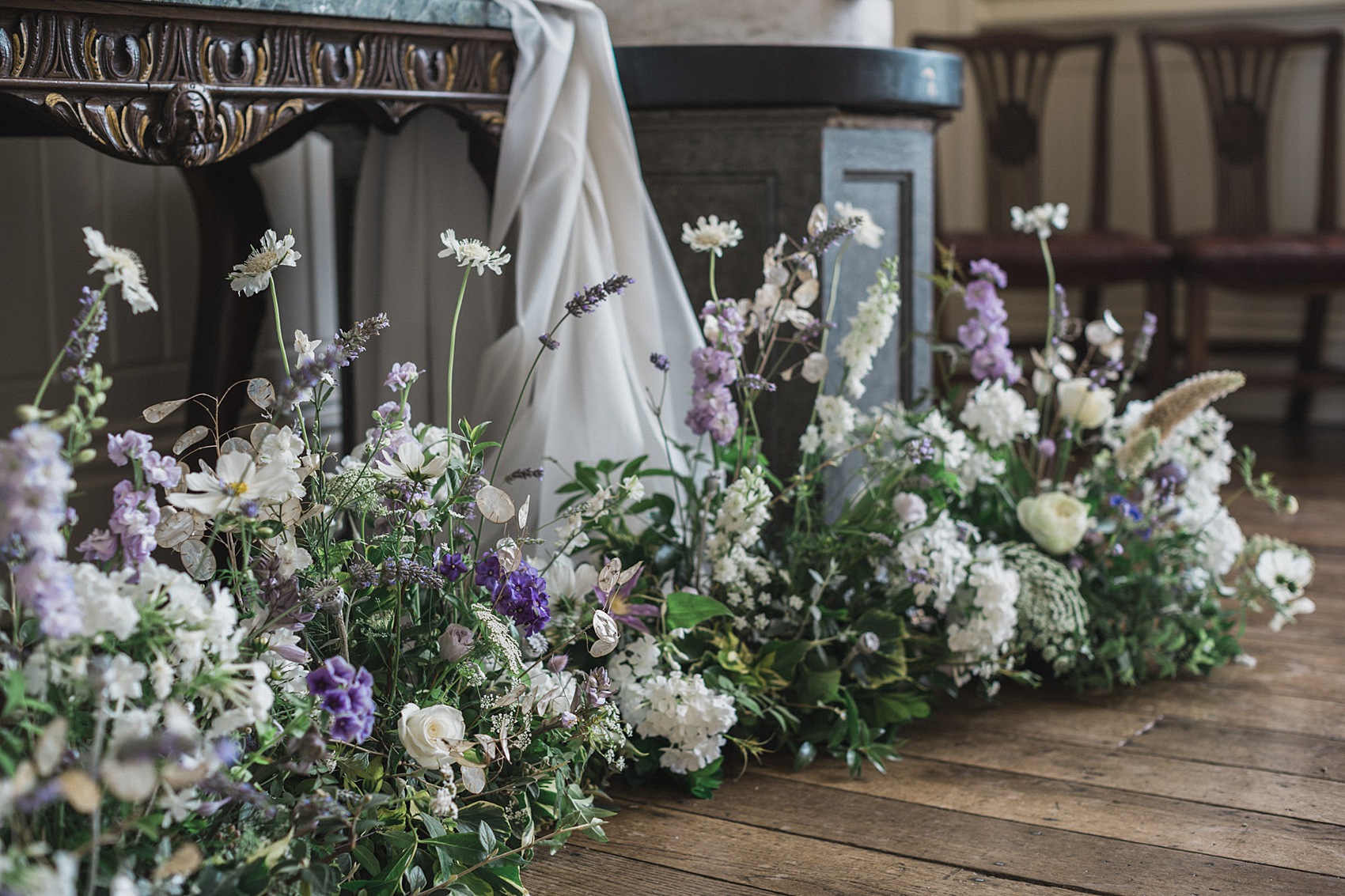 "For this shoot I decided to go for a very beautifully soft and minimal colour palette of white, pearl ivory and different shades of lavender."
"To add a new dimension to this palette I also wanted to play with pearlescent shimmer and a bit of translucent. The table scape is possibly the best example of the palette as it features crisp white table linen with an opulent pure silk organza runner in ivory."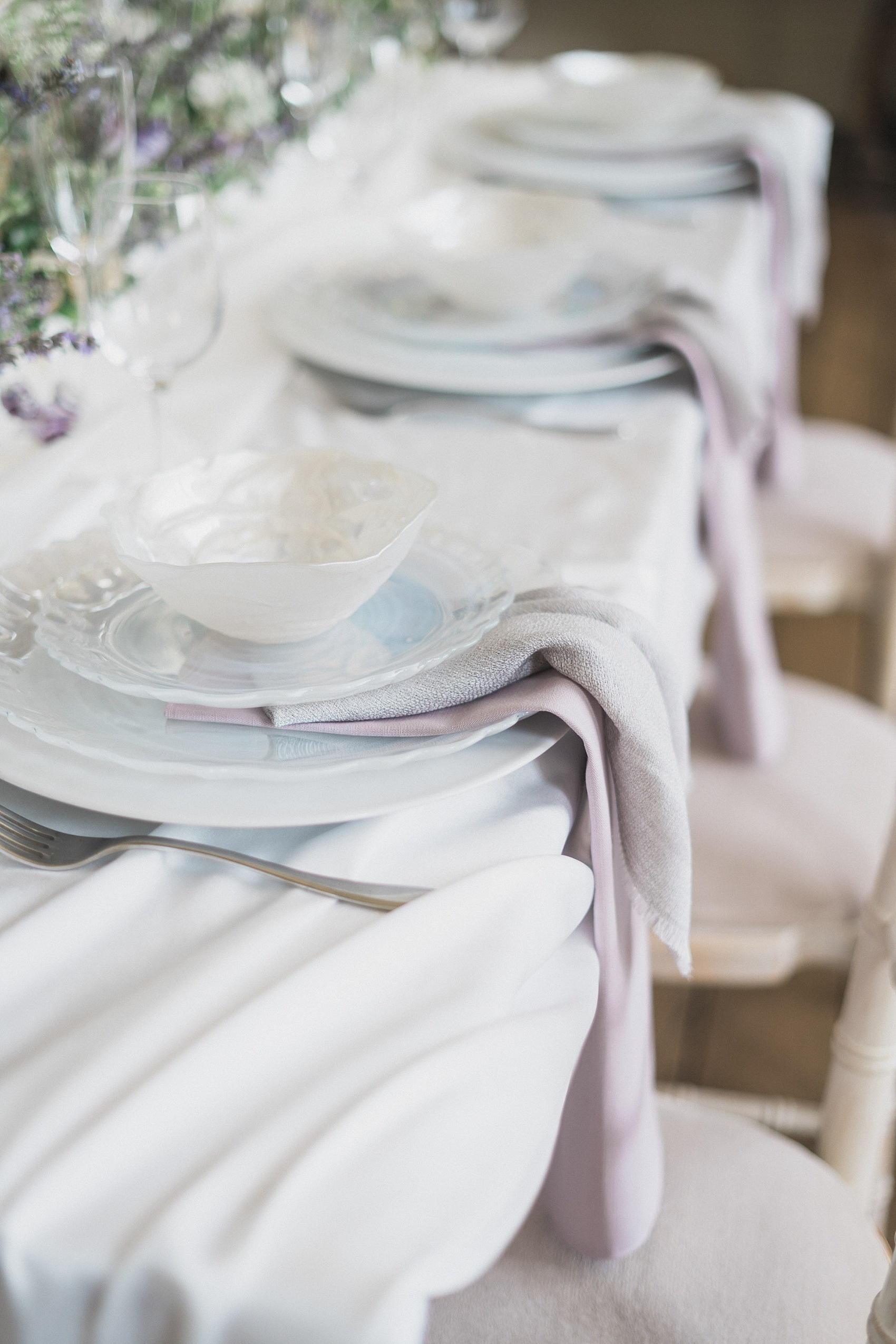 "In the middle of the table we have the flowers in one long, and importantly, continuous row of lavender and purple poppies."
"This to me represented the long rows of lavender in the fields that first inspired me. The physical construction of the centrepiece proved to be a little challenging, but nothing that our clever florist couldn't solve!"
"Our venue Elmore Court is a quintessentially British countryside house full of charm and history. It provided us with the perfect backdrop to showcase every suppliers magnificent work and bring the entire concept together."
"The jewellery used on this shoot is from a local family run business in Burford called The Stone Gallery, and they are made in house by the family members themselves."
"The bride wore pearl earrings and the stone on her ring is a Blue Chalcedony, which is a Quartz used for its healing properties."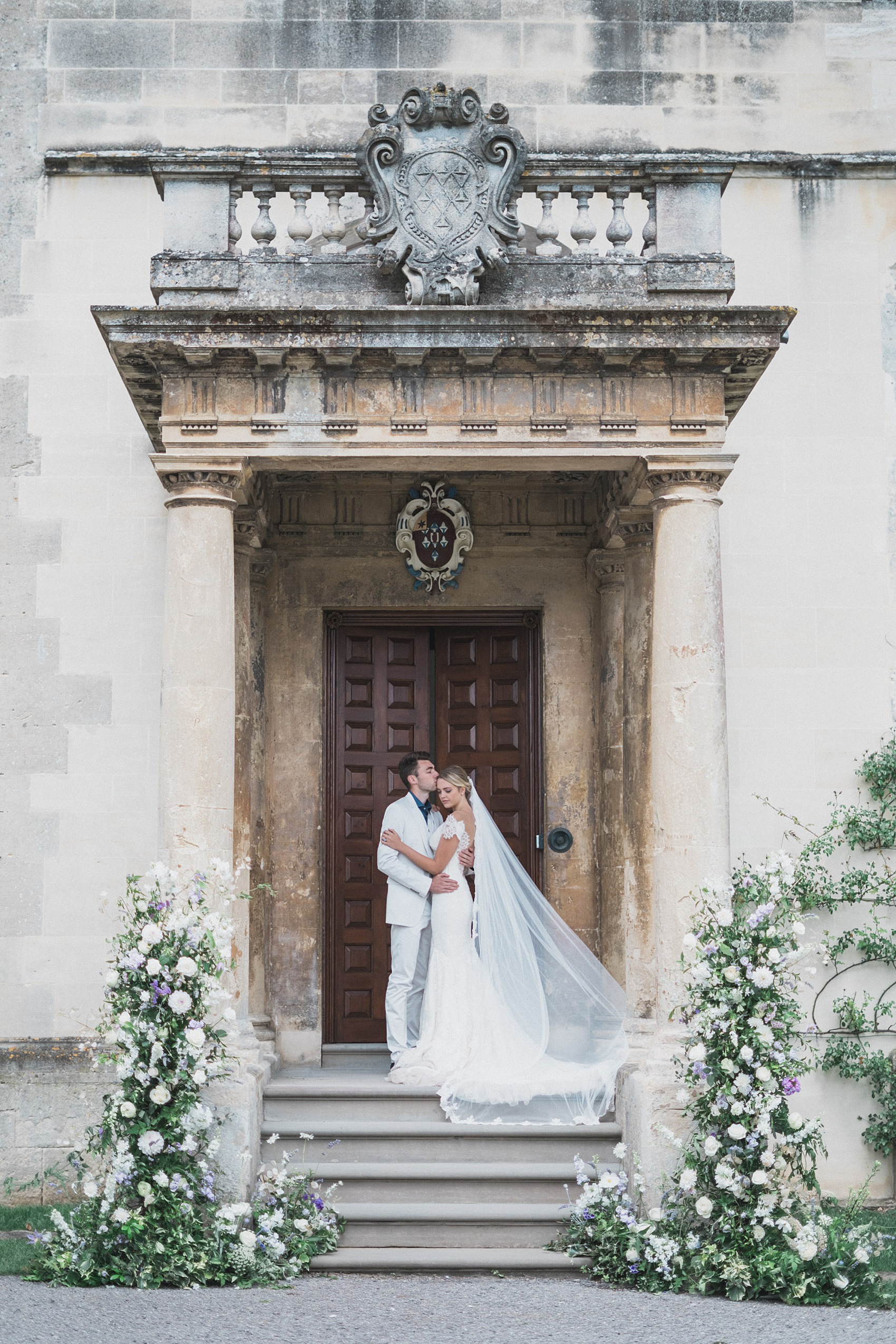 Our wonderful photographer Alicia is an absolute blast to work with and has the magic ability to make every shoot completely stress free and a whole lot of fun. The proof of this you will see in the happy laughter on our real model couples faces!
The Dress by Catharina at My Eden
"The wedding dress used in this shoot is actually a real bride's dress that I had on loan from her. I feel a very special connection to all the dresses that I have made and indeed to my customers too."
"I invest all my love and craft into my customers dresses, and so I rarely have time to do sample gowns. Which means pretty much all of my work goes out of my atelier to live their own lives, leaving me with only a few dresses to use in photoshoots."
"So from time to time I ask my brides if they wouldn't mind lending me theirs!"
"It really is so heart warming and I am very humbled that they agree. This particular showstopper dress has a very long and dramatic train with ruffled tulle in pale blush pink. The bodice is very flatteringly fitted and has beautiful corded lace and hand sewn lace applique to add even more detail."
"For the bridesmaids I made two pale lavender bias cut satin dresses and the Maid of Honour wore a silk chiffon dress with chiffon sash in a cooler shade of lavender The lace gloves are vintage from my Granny."
Anne Gliddon, Pretty Amazing Cakes – My inspiration for the Cake Design
"I was delighted to be contacted by Catharina of My Eden Bridal, inviting me to design the cake for her Pearlescent Lavender Styled Wedding Shoot at Elmore Court, Gloucestershire, following recommendation by Alicia at Red Maple Photography."
"As soon as I read the brief it immediately appealed to my aesthetic of romantic, feminine and ethereal fine art style with lots of flowers."
"I decided to take inspiration for the cake design from Catharina's exquisite lace designer dresses, creating a classic 4-tiered ivory-iced cake overlaid with intricate floral lace stenciling to which I added sugar pearls to replicate beading and a touch of pearlescent lustre, softening the look with a loosely tied, ivory silk ribbon."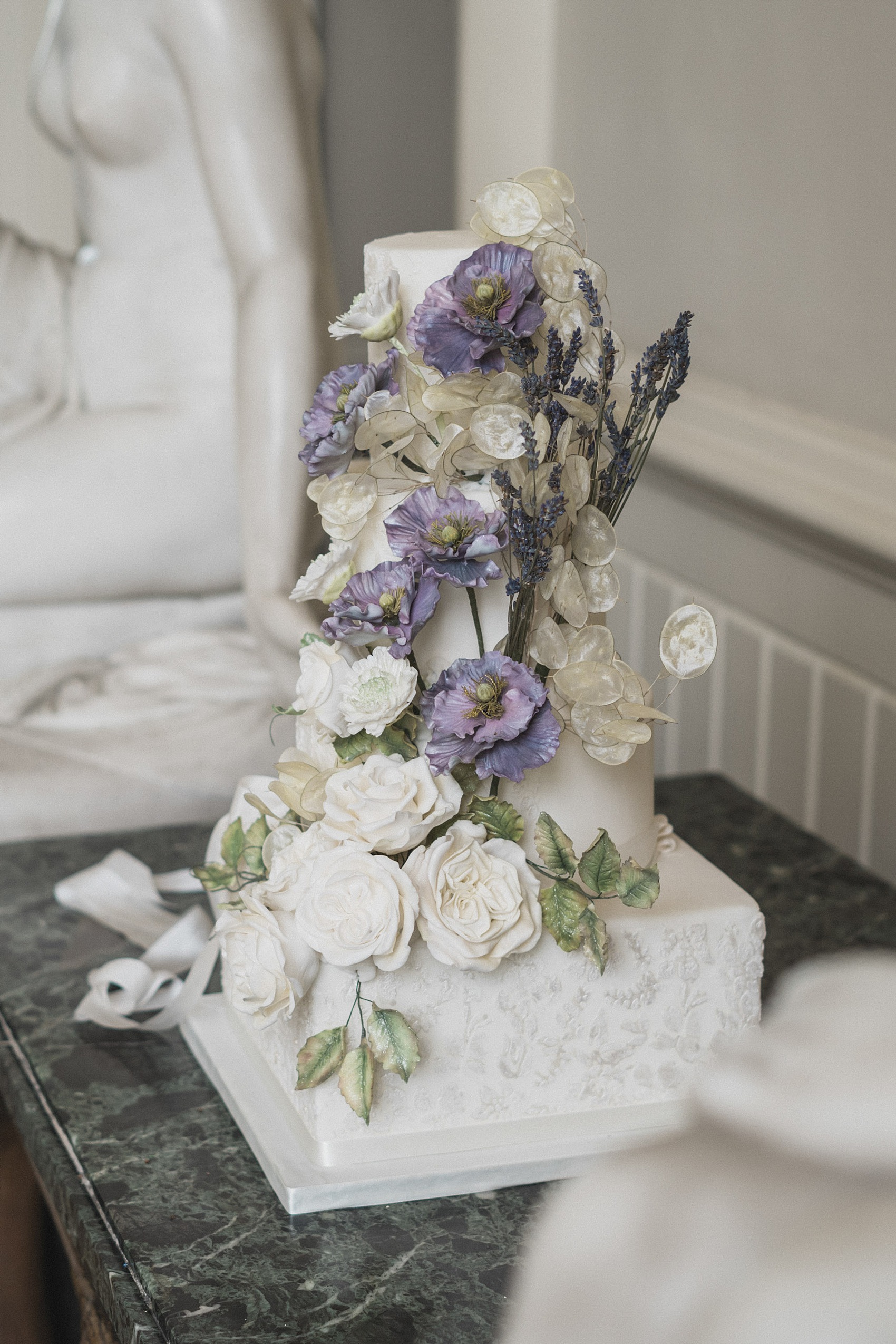 "As a botanical sugar flower artist I was instantly drawn to the stunning floral moodboard created by Fi of Corky & Prince, by liaising with Fi on the types of flowers she planned to use I was able to hand-craft sugar flowers to compliment her fresh floral arrangements and bridal bouquet."
"One flower in particular, the Amazing Grey Poppy, was new to me and required a little research in order to replicate as closely as possible their unusual colour tones."
"In addition to the poppies I made white sugar Roses and Scabiosa with trailing greenery adding pearlescent seed heads of dried Honesty and aromatic Lavender stems to create an informal arrangement trailing up and over one side of the cake."
The Stationery by Laura Elizabeth Patrick
The stationery suite generously made by Laura includes wonderfully hand painted florals onto a vellum sleeve that wraps around the invitation, which fits perfectly to our theme of translucency. Her calligraphy is exquisite and I just love how she uses art to bring something as simple as an envelope to another level.
"Taking inspiration from the glorious lavender fields and fine art paintings, the stationery suite featured wisps of beautiful calligraphy and hand painted watercolour florals."
Flowers by Fi from Corky and Prince
Working with Fi on flowers was super easy as she always understands what I am after in a shoot and perfectly brings them to life. Even when what I have in mind hasn't been done before! As case in point with the vessel to house the centrepiece flowers.
"Pearl and lavender formed the signature colour palette and we teamed classic white garden-style roses and summer flowers from the cutting garden with on-trend dried seed heads of 'Honesty'. Textured, layered, full of interest and movement."