Right now, it feels as if good news is all the more wonderful. So, we couldn't be happier to be sharing this feature celebrating the 10th anniversary of one of our favourite bridalwear brands Katya Katya London.
We're proud to have supported Katya Katya for many years now so we're definitely raising a glass and toasting ten successful years that have seen their beautiful wedding dresses become firm favourites with our readers.
Katya Katya London

+ Follow
We just adore Katya Katya and their instantly recognisable and utterly covetable designs so please enjoy this interview with Brand Manager Dorz Francz. We also know that you'll be tempted by the Katya Katya sample sale and you'll find details of that below too. In short, this is quite the anniversary treat and it's so well deserved for a brand that we love.
For our readers who are new to the Katya Katya brand, would you like to introduce yourself?
"Katya Katya has been established in 2011 by my best friend, Marina, and myself when we opened our first store in the heart of Soho. It was the most exciting time starting our own brand together, but it has been the best decision, knowing how much the brand has grown."
"Working together with Marina is the perfect partnership, as I look after the designing and she is responsible the business side. We work so well together, this balance and our amazing relationship helped Katya Katya becoming the successful brand that it is today."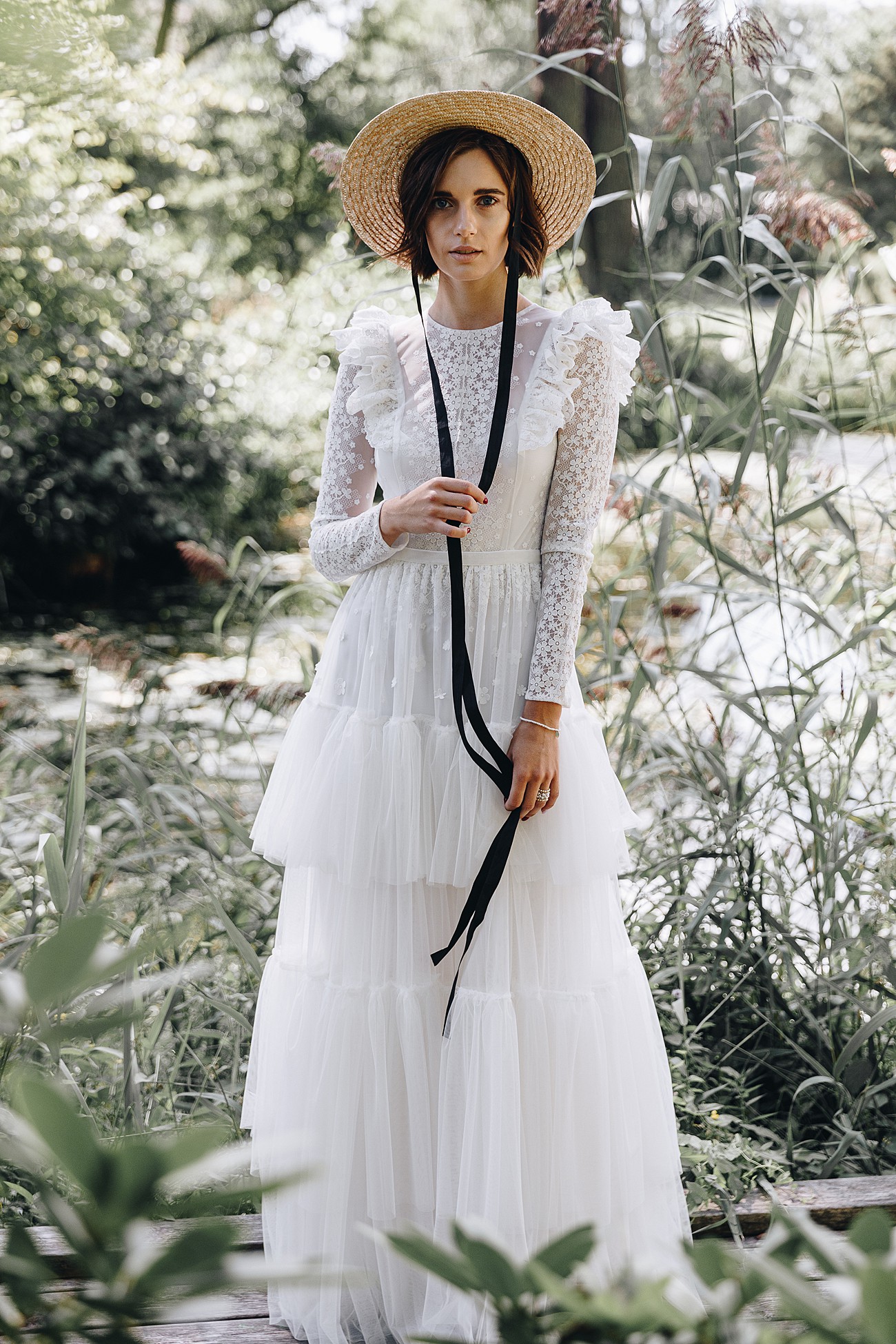 "We had a vision to create unique ready to wear pieces that quickly grew into only focusing on wedding dresses, as we saw such a huge gap on the market for unique and comfortable wedding dresses."
"We specialise in boho, timeless dresses, using luxurious French lace and light tulle materials. I have always wanted to design for a modern woman, so a unique style with vintage inspiration and a flattering silhouette has been what inspired the brand since the start."
What are your fondest memories and biggest achievements of the last 10 years?
"Starting Katya Katya from scratch and growing it into the well-known and recognised brand that it is today is such a wonderful achievement, especially keeping it such a successful brand for 10 years now."
"Also, opening our Chelsea flagship store that represents the brand so well and so beautifully is something we are so proud of."
"Since the start we have grown the number of stockists we have and it keeps growing, which is what we have set out to do since our first bride, Kristina picked a Katya Katya dress."
"It is hard to pick the fondest memory, but being able to work alongside my best friend, Marina and travelling the world building Katya Katya is something I am so grateful for and worked so hard to be able to do."
"Also, receiving the kindest feedback from our brides over the years has been such an amazing feeling, knowing that brides feel beautiful in their dress and we are part of creating great memories with them is just the best feedback you can have."
How has your design style and business evolved over this time?
"Katya Katya has always been about creating fashion forward yet timeless dresses since the beginning. We have undeniably polished the Katya Katya look over the years and it evolves each year to something even better."
"Having said this, we love the fact that you can always tell a Katya Katya dress apart from other brands, this is one of the things we take pride in for sure."
Can you select any of your favourite designs from the last 10 years? What makes them so special
"It is so hard to pick one dress. As soon as you see a dress on a bride they come to life and you see them as the most beautiful dresses.  There is such a magical bond between a wedding dress and the right person, you just couldn't pick a style out of so many."
"Every time I see one of our dresses on a real bride, I fall in love with it over again so I couldn't pick one."
Have you seen a change in what brides are looking for or what they are prioritising over the last decade?
"Yes, without doubt. I do think comfort is becoming more and more important for brides. They see their wedding day as a celebration and they want to enjoy every moment of the day, whilst looking beautiful. We also think they are more conscious of showing their personal style and incorporating that in their wedding look, rather than picking something that is a considered traditionally bridal."
"Also, sustainability and choosing a gown that was ethically made has been becoming so much more important for our brides. We have always had a sustainable production; it is a cause so close to our hearts so seeing this is just incredible."
Designer Katya & Business Partner Marina
What's next for Katya Katya?
"We are just so excited to be back open again and planning for this summer where we can go ahead with weddings and finally see our stunning brides where their dresses that we have been holding onto for a year now."
"We have also started working on a new collection that will have all the boho elements you can love from Katya Katya but also include some exciting new silhouettes and styles. I just can't wait to show them to everyone, hopefully at a show very soon!"
The Katya Katya London boutique
To celebrate reaching their landmark 10th anniversary, Katya Katya is hosting an incredible sample sale with up to 80% off at their Chelsea boutique on the 7th and 8th May.
This is an amazing opportunity to find your dream Katya Katya gown and dresses will be available in a range of sizes and from many collections for you to try on so that you can find your perfect fit and style.
To give you plenty of time to choose, and to keep everyone safe, the sample sale is by appointment only so book yours now via [email protected] or call 020 7351 4359.
The appointment fee of £15 is fully redeemable against your dream gown so what are you waiting for?