Every day, the beauty of the British countryside blows me away. I have to admit, when I first saw the photos of today's countryside wedding, I had no clue where it could be – the countryside evoking memories of rural France.
I was so happy to see that this beautiful wedding was held right here in Staffordshire, at home, in the most elegant of marquees decorated with soft, pretty blooms and pampas grass. For those of you looking for inspiration of your own summer wedding at home, look no further.
This is the wedding of senior social media Carly and her fiancé Matt, a police sergeant. They wed on 31 August 2019 at St Peter's Church, Pedmore, Stourbridge before travelling to Carly's family home in Kinver, South Staffordshire for a reception inspired by 'effortless whimsical glamour' in a divine sailcloth marquee from Boutique Marquees.
Rachel Takes Pictures

+ Follow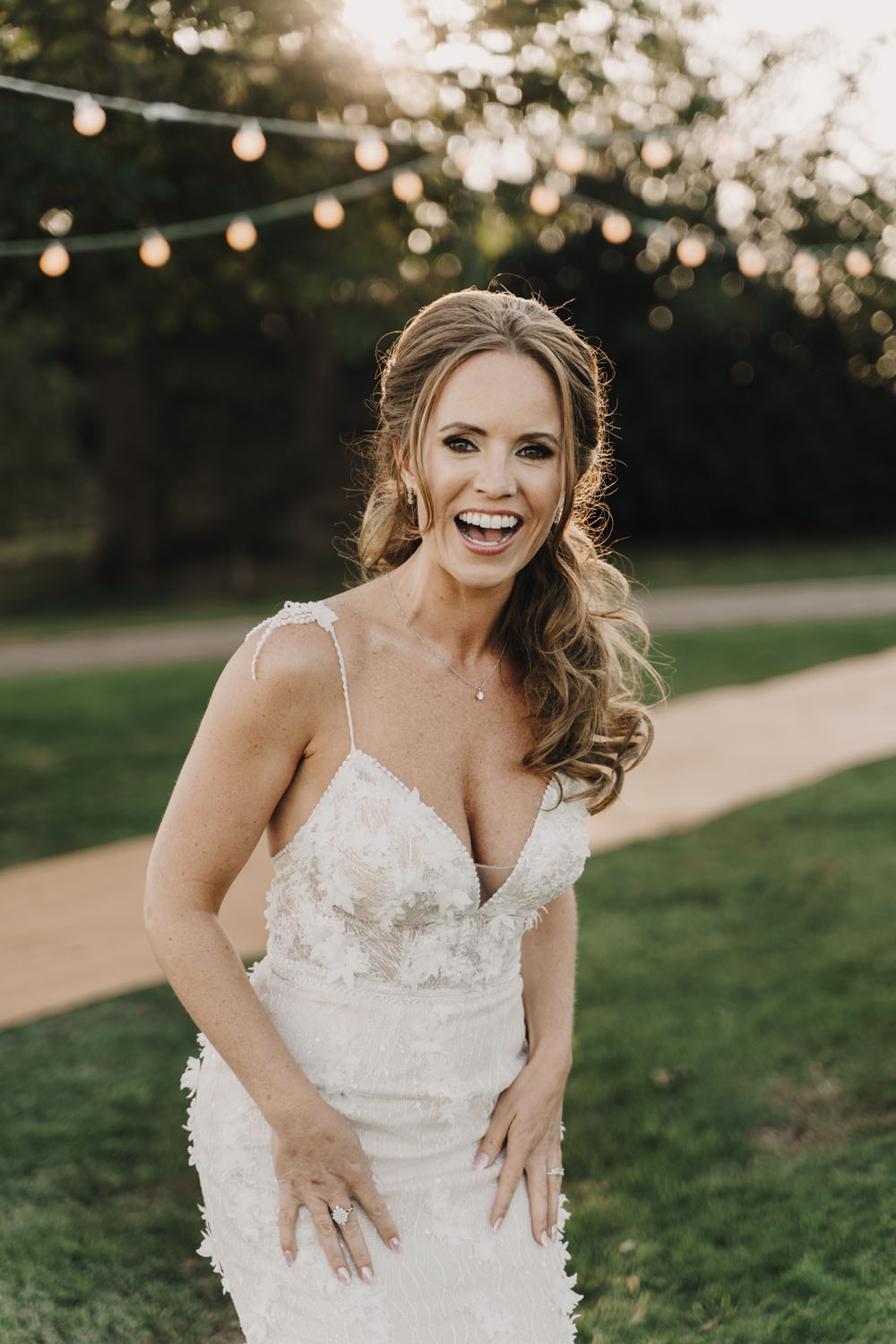 For Carly, getting married at home was so important as she sadly lost her mum back in 2017.
"Getting married at my family home was very important to me. Not only is it the perfect location for a wedding but it is also the place where I am closest to my mom. At the end of July 2017, I unexpectedly lost my mom. As you can imagine, it totally pulled the rug from under my family's feet so being able to have our wedding there was so perfect and I could feel my mom with us. The theme I went for was effortless whimsical glamour with an abundance of flowers designed by the very talented Jenny Fleur Event Florist."
The 'whimsical' element of the inspiration is clear to see in the couple's choice of stationery, including their fun and quirky table plan.
"My wedding invites were designed by Margo & Bees and they were so stunning. Louise from LouPaper Wedding Stationery did our order of service and menus. For our table names, we did something very different and named each table after a Greek island we have visited. The names were written in gold leaf calligraphy by Louise and transferred on to grey hexagon tiles."
Carly selected a pair of super-pretty, feminine shoes from Bella Belle Shoes – a Love My Dress highly recommended supplier.
"They were pink satin sandals with a big pink satin bow at the clasp. The straps over the toes and around the ankle were gold flowers with diamantés in the centre."
Bella Belle Shoes

+ Follow
"I wore some very special jewellery which belonged to my mom: a lovely and very unique diamond ring in the shape of a diamond and a diamond necklace; the diamond was from a pair of earrings."
"As a wedding gift my dad had one of the earrings made in to a necklace for me and the other diamond will go to my sister. My diamond earrings belonged to my aunty, my mom's sister."
"I had two hairdressers; one who was focused on me and another for my bridesmaids. Patrick James Hair is based in Stourbridge and he was great and very efficient."
"I was a little worried about my hair staying in place as it can get a little windy at my parents' house but Patrick ensured every strand was in its rightful place. Natalie Morgan Hair worked her magic and did some lovey up-dos on my bridesmaids with real flowers."
"I had individual white ceramic hair flowers scattered and my bridesmaids had fresh flowers to compliment the bouquet. I wore a veil for the church ceremony and then took it off when we got back to my family home for the reception."
"The veil was very special to me as it was my 'something borrowed'. The veil had been worn previously by my two cousins, who I am very close to."
I love Carly's choice of gown; figure-hugging and intricate, it is absolutely beautiful with the 3D embellishments and the spaghetti straps.
It was a bespoke Riki Dalal design, inspired by the Cordelia range.
"I really wanted a dress that was a little bit different and fitted – I'm only just 5'2" so a big dress would have drowned me."
"The individual 3D flowers and gorgeous sparkle on the dress definitely won me over."
Complementing the flowers, the bridesmaids were in a soft blush pink. Mia, Matt's daughter wore a Roco dress.
"Mia is twelve, so not really a flower girl but a mini bridesmaid. She wore a pretty, blush pink dress with a lace embroidered top with a bow at the back."
"My step-son Alex is also twelve (they are twins) and was one of the best men. He wore a Marc Darcy suit which matched the waistcoat of the groom, best man and usher."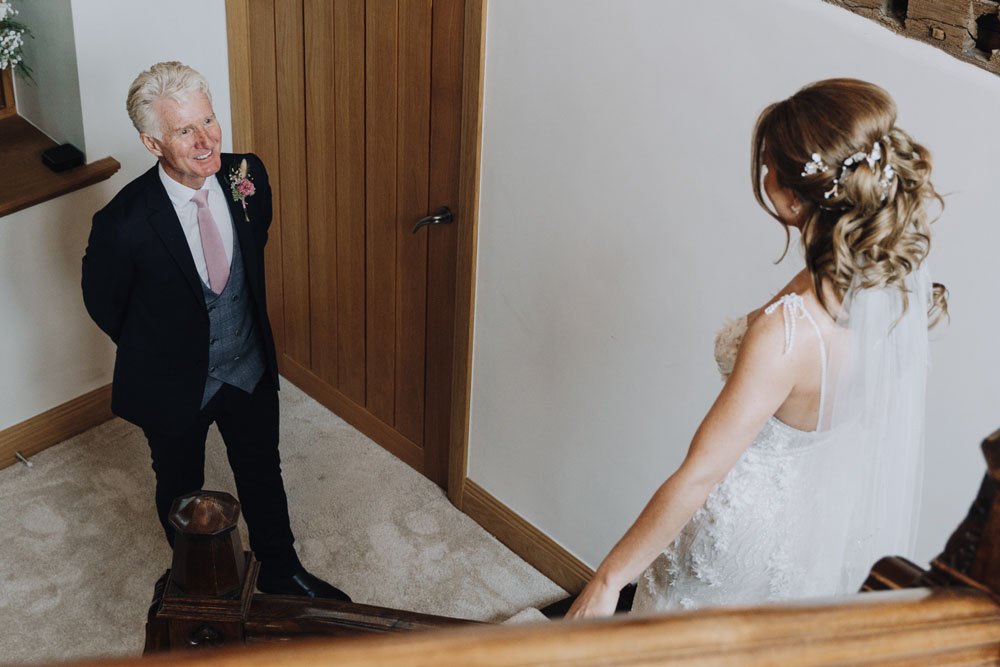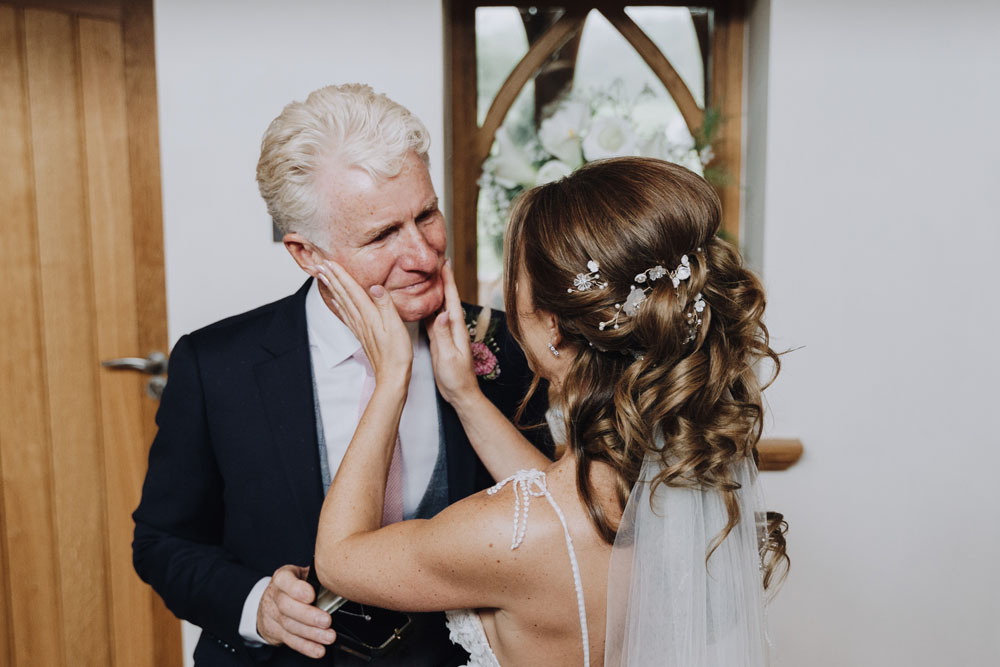 Once ready, the whole bridal party travelled to the church in family cars.
"The bridal was my dad's E-Type Jaguar (1973) and the bridesmaids were transported in my dad's Bentley Continental."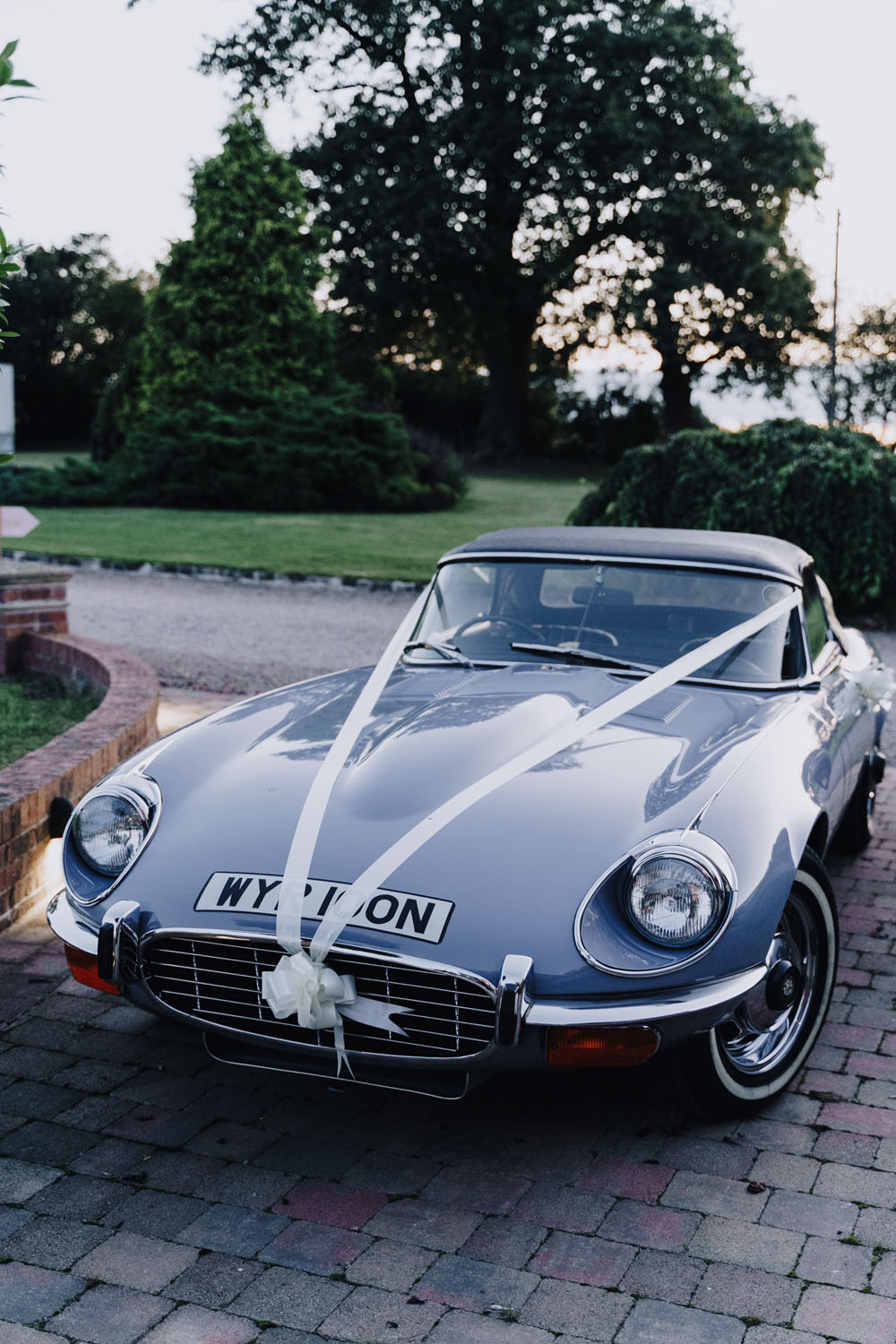 Matt chose a summer-weight tweed suit from Hugo Boss paired with a Marc Darcy waistcoat and a soft blush tie. He also wore his late grandad's watch.
The couple met through work nearly nine years ago.
"I also used to work for the police but in the communications department. We hit it off straight away and after a little persuading by Matt, I agreed to go out on a date with him. We didn't look back after that and three years later he proposed to me on 23 December 2011 at a Christmas Rat Pack concert. After five years of being engaged, in January 2019, we made the decision to plan for the wedding and gave ourselves six months to do this so we could marry at the end of August that same year. Hence, we employed Holly of Wonderlust Events."
To help her pull together the elements and the florals needed for their vision, the couple worked with Holly from Wonderlust Events.
"Holly was our wedding planner and I can't rate her enough. She is so lovely and professional. She made the whole process so enjoyable and seamless for me."
The colour palette for the wedding was largely riven by their flowers, an exquisite selection put together by Jenny Fleur. I love the soft, breezy addition of pampas grass.
"Flowers were so important to me. I absolutely love them, and I really think they can give you the real wow factor."
"Jenny was amazing. She took time out of her busy schedule to come and meet me at my parents' house so she could get a true idea of space and the amazing views."
"I had lots of ideas but didn't really know how to put them all together. After going through a colour palette which would complement golds and pinks, Jenny went away and worked on some designs. I really wanted pampas grass in the big arrangements as well as a big hanging installation brimming with country garden inspired flowers to give that wow statement as people walked in to the marquee."
"The flowers included: pampas grass, roses, dahlia, hydrangea, delphiniums, lisianthus, astrantia, grasses, birch, olive, eucalyptus, to name just a few."
"My dad walked me down the aisle and I was also joined by my bridesmaids who walked down first. We walked down the aisle to a lovely piece of music which we also played at my mom's funeral; Percy Faith's 'Summer Place'."
"Our vows were traditional church vows but with modern wording (basically exactly the same, apart from the vicar would sometimes lead with my name and I don't think we said 'honour and obey'. To be honest it was a whirlwind and don't remember what we said word for word)."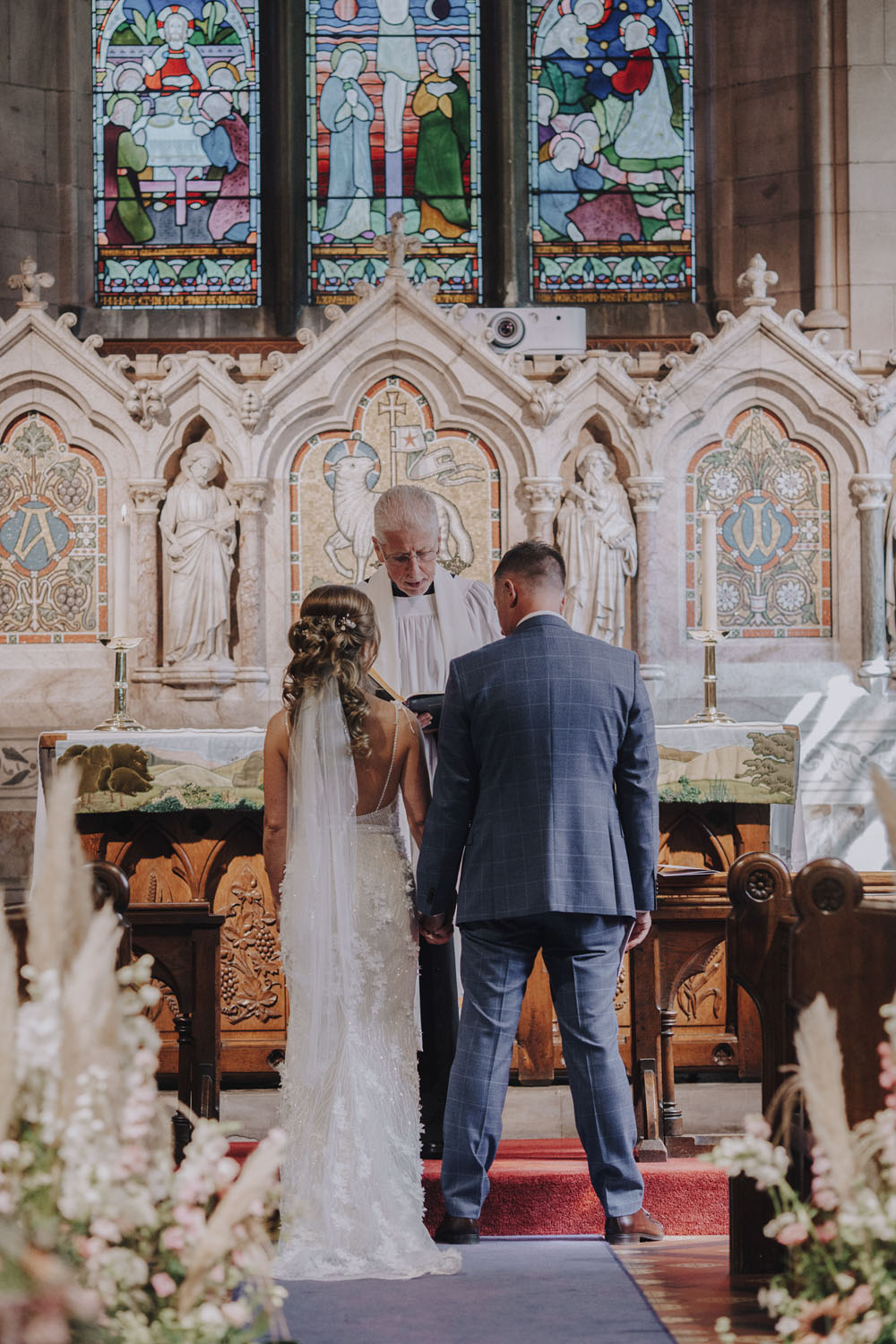 "We had two readings. and one was read by my godmother, Lynda."
The couple's rings came from Munroe's, a jewellery shop in Birmingham's Jewellery Quarter.
"We decided to buy our wedding rings from there as it's the same jewellers where Matt had my engagement ring made, so the rings complement each other nicely."
After the service, the newly-wed bride and groom hopped in to the Jaguar for the trip back to the reception venue.
"All aspects of the day were magical but I loved walking down the aisle to meet Matt with my dad by my side to my mom's song playing in the background. It was a very powerful and emotional moment."
"I loved having time with Matt in the car as we drove from the church to the reception. Matt was driving the E-Type which my dad hadn't filled up with petrol so on the way back we had to stop off at the local petrol station, which was really comical."
The couple hired the super talented Rachel Smuin of Rachel Takes Pictures to capture their wedding in photography…

"Rachel is amazing. I found her on Instagram and was instantly blown away by her talent."
"We hardly noticed she was there during our wedding day, even though she was everywhere taking lots of natural photos to really captured the mood of the day."
"Stephanie was our videographer from Moon & Back. She worked seamlessly with Rachel and again captured some really magical moments."
"Moon & Back was recommended to me by Holly our wedding planner. I'm so pleased we had a videographer."
"Even though we don't watch the video and still haven't watched the individual speeches again, I know that we have those memories and can revisit the day whenever we want to."
The grown-up bridesmaids wore Chi Chi London gowns which I have fallen head over heels for.
"My gorgeous bridesmaids' dresses fitted the theme perfectly. They were a blush pink with little flowers embroidered on to them."
The marquee was bedecked with banks of foliage and sprays of flowers, making the reception venue elegant, summery and it must have had a divine smell too.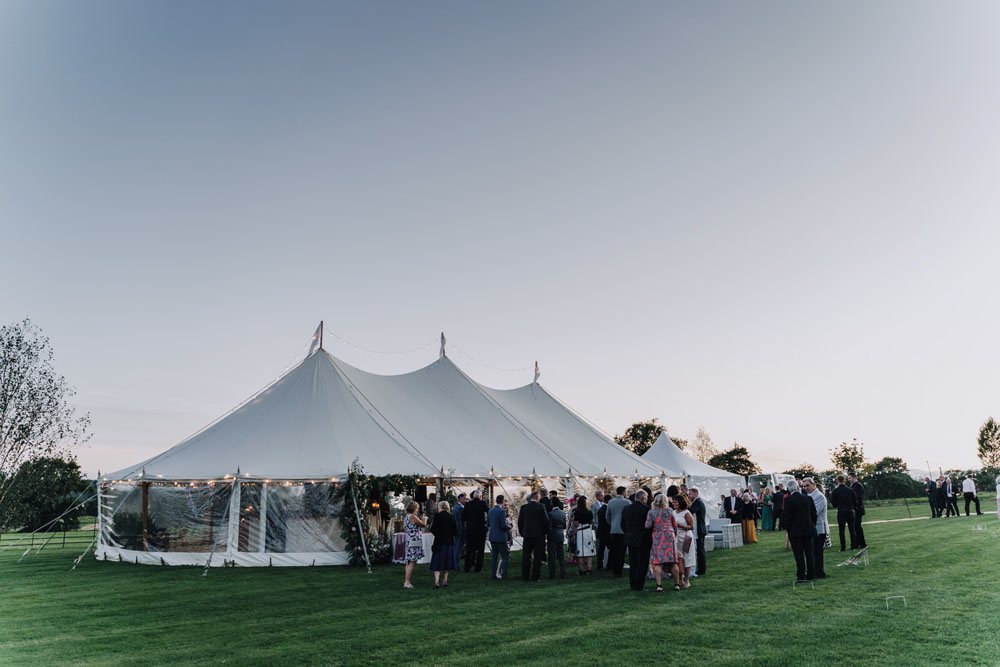 Whilst the couple enjoyed having photos against the backdrop of the wonderful Staffordshire countryside, their guests were kept entertained with a drinks reception and live music.
"Our entertainment was so good. Singing at the church and during the reception drinks was the very talented Alex Lleo. His voice is as smooth as butter and people were asking for his contact details, he impressed them so much."
From canapés to dessert, the newly-weds' wedding breakfast was fresh and seasonal.
"We used a company called The Red Olive Catering Co. I can't rate them enough; they were brilliant and nothing was too much of a task for them."
"We had a selection of amazing canapés; whipped beetroot and cream cheese cones, homemade mini Scotch quails eggs, chipolatas in honey and wholegrain mustard and Thai fishcakes. The presentation was second to none."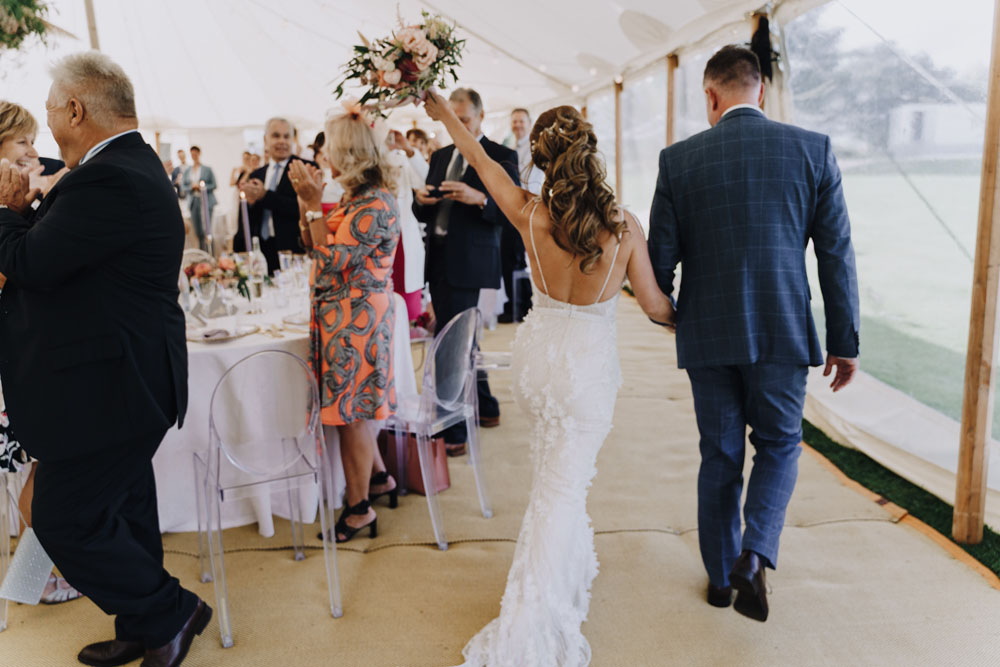 "Our starter was gin-cured sea trout with lime crème fraîche, pickled cucumber, mint and lime, caviar, crushed pink peppercorns and juniper berries and pretty edible flowers."
"The main was rump of lamb or chicken with slow-cooked red and yellow peppers, burrata and potato croquets with purple basil. We had a duo of dessert; lemon posset with Italian meringue and warm gooey chocolate brownie with fresh summer berries, sorbet and biscuit crumb."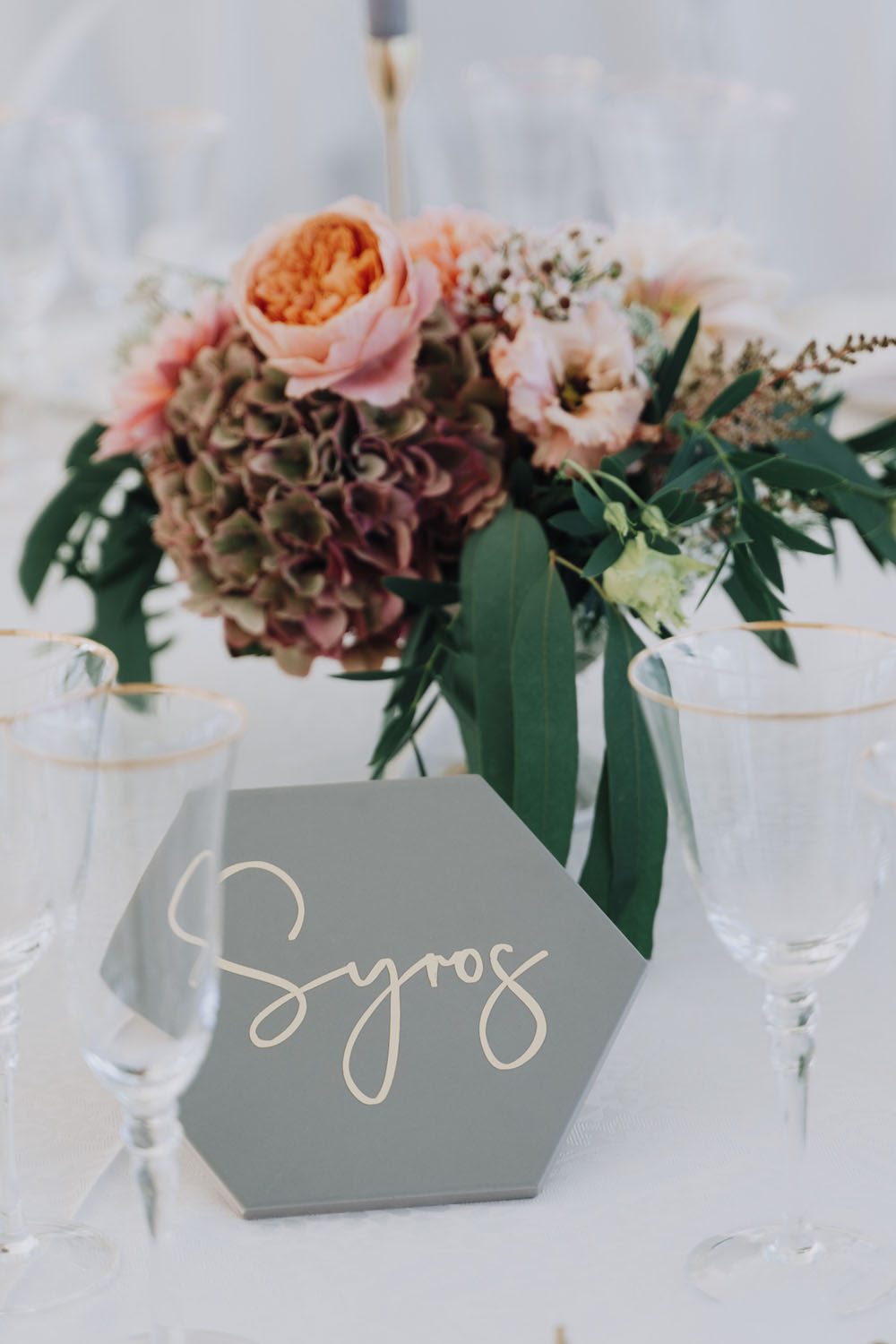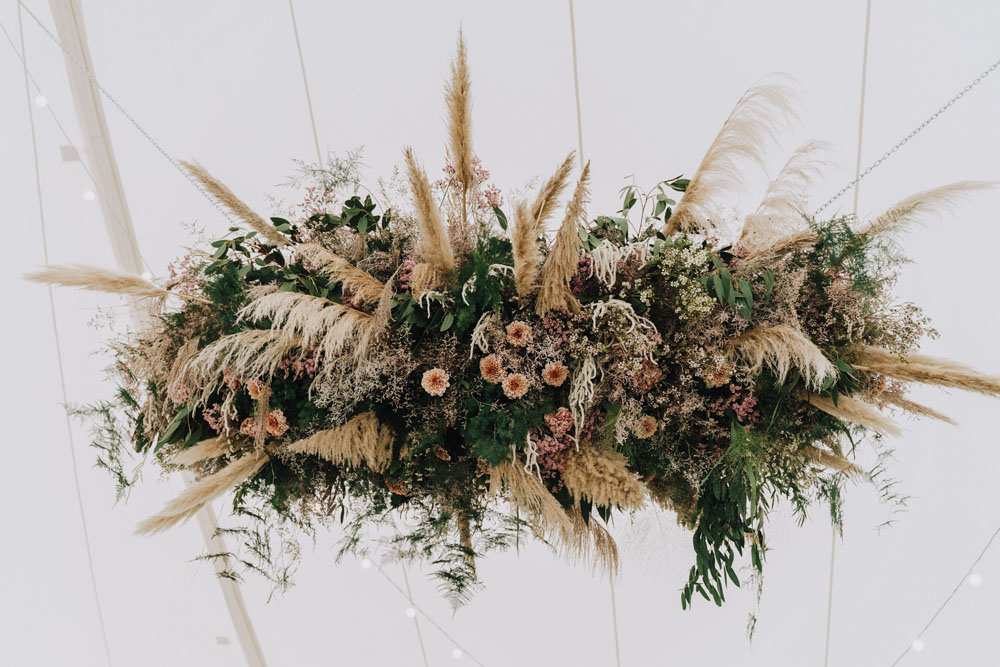 "As well as the catering company, we hired a separate company for serving drinks. The Estate Boys were faultless and they worked so well with The Red Olive team."
"My guests didn't realise that they were two separate companies because they we both so professional. The Estate Boys provided our eye-catching bar which was whitewashed wood with a copper top."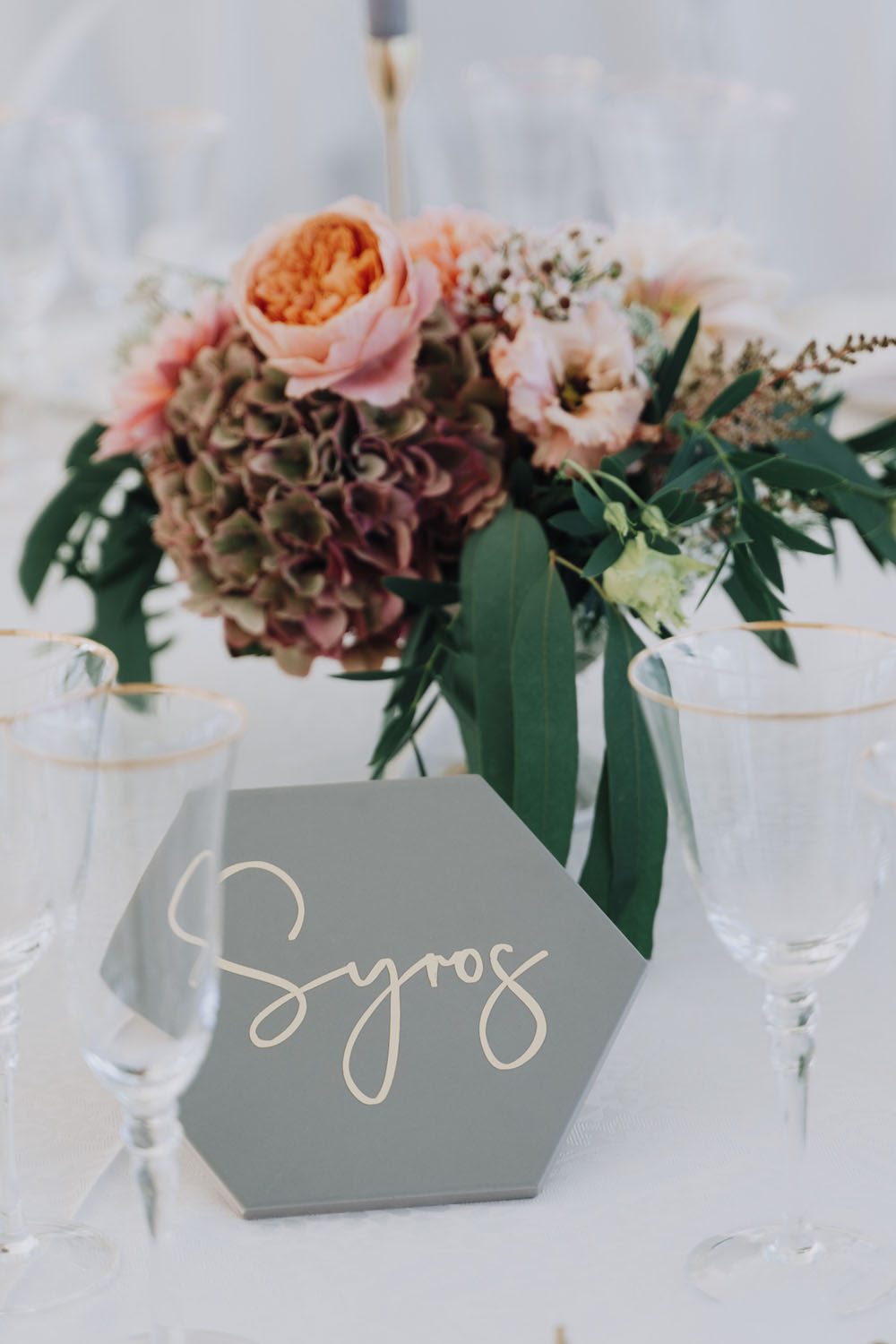 "It added a bit more wow factor to our marquee décor. We had reception drinks, beer for the men, Prosecco and a Pink Lady gin cocktail with a white feather clipped to each glass. This was another little touch for my mom."
"Instead of have a boring table plan I found a company called The Lollipop Company and fell in love with their lollipops with edible gold and flowers inside them; the lollipop can be any flavour you want and we went for rhubarb."
"Our wedding planner Holly came up with the great idea of using them for our table plan. Each lollipop had a little tag on with the guest name and the Greek Island. The lollipops were then set in a meadow and they looked like little flowers."
"Our flowers were the main attraction, but we did have a white neon sign from The Word Is Love. All the lighting inside and around the marquee (festoon lights and fairy lights) were supplied by Boutique Marquees."
Instead of favours, Matt and Carly donated to British Heart Foundation.
"We put a little heart badge on everyone's place setting. This was another tribute to my mom."
Carly opted for a low-key design of cake with little embellishment, but each tier sounded delicious.
"The cake was three tiers – lemon drizzle, chocolate orange and Victoria sponge. It was made by a friend of my sisters-in-law."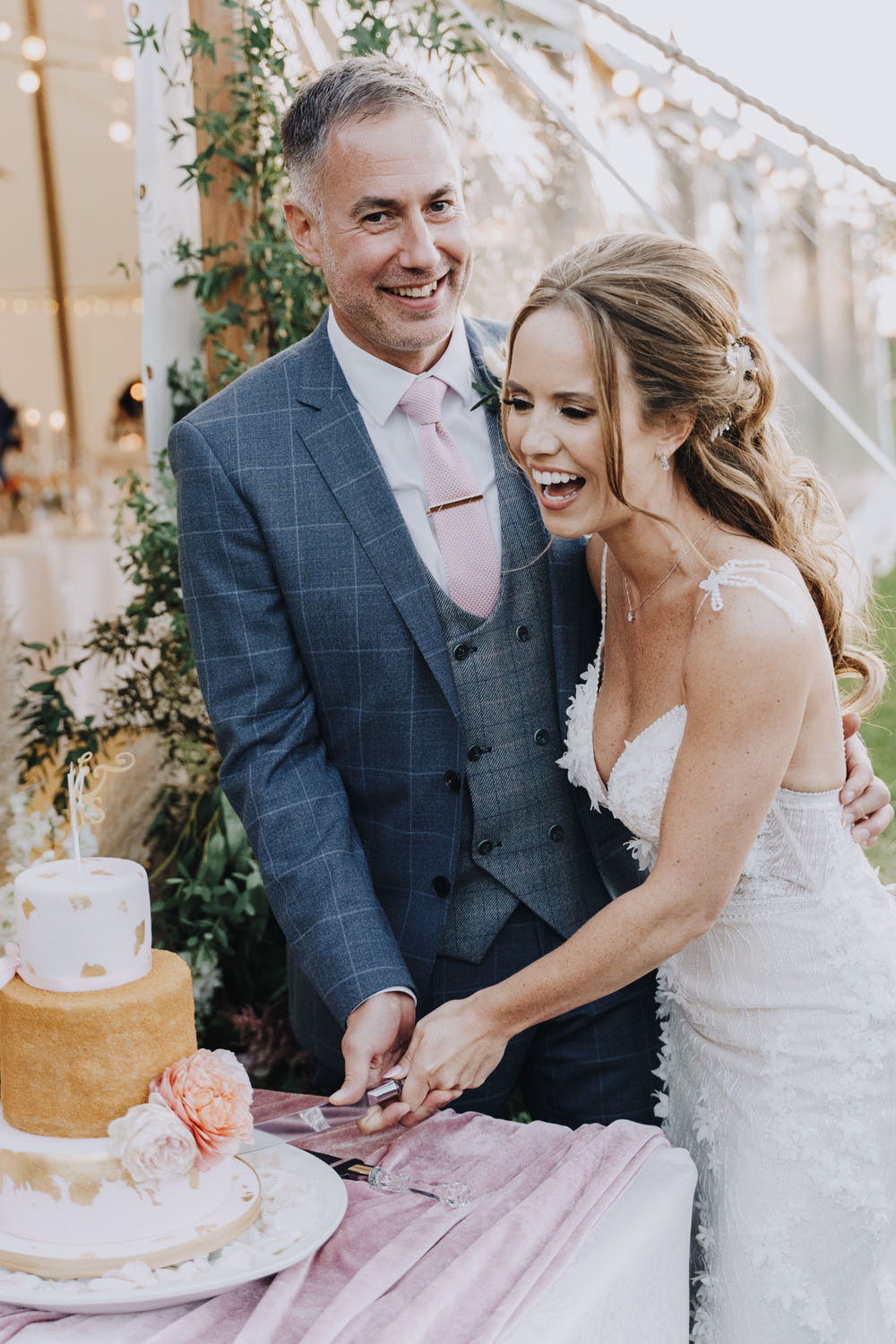 After the dinner, speeches and cake-cutting, the marquee was transformed into a party venue for the evening dance.
"Our first dance song was to Paolo Nutini's 'Loving You'."
"In the evening, we had the very energetic and lively Killerstream raising the roof, singing all of the well-known anthems to get people on their feet dancing into the early hours. To keep the momentum going when Killerstream were having a break, we had a DJ – Funky Navigation – who played soul and Motown classics using his vinyl decks."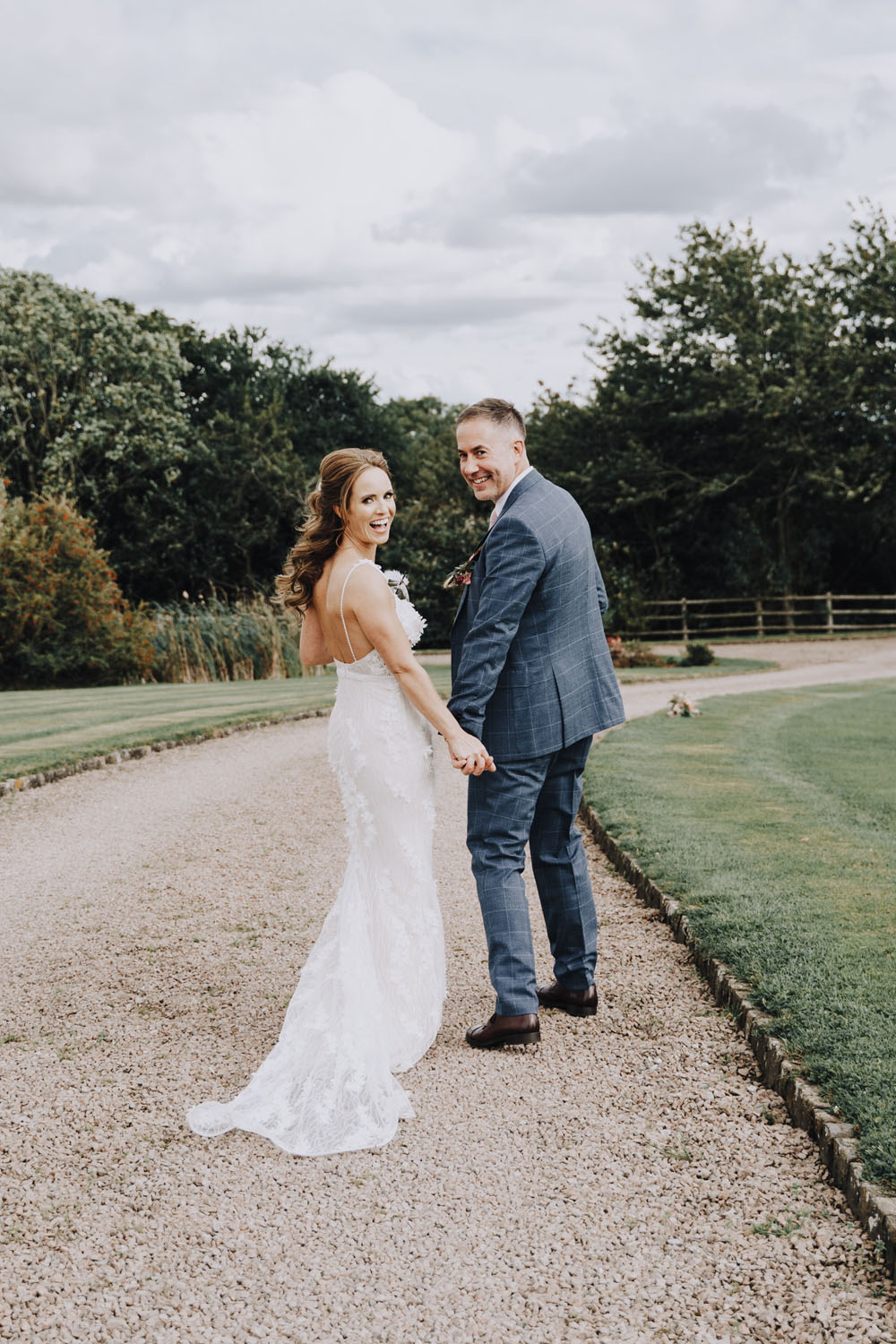 Words of Wedded Wisdom
"Don't stress about the little things. People really don't notice them and definitely wouldn't notice if it wasn't there."
"Also, don't worry about spending time with everyone. If you only get to say hello some evening guests, that's ok. This is your day!"
"Our original budget was £28,000 and we went well over that. I think it was my love of flowers that tipped the budget."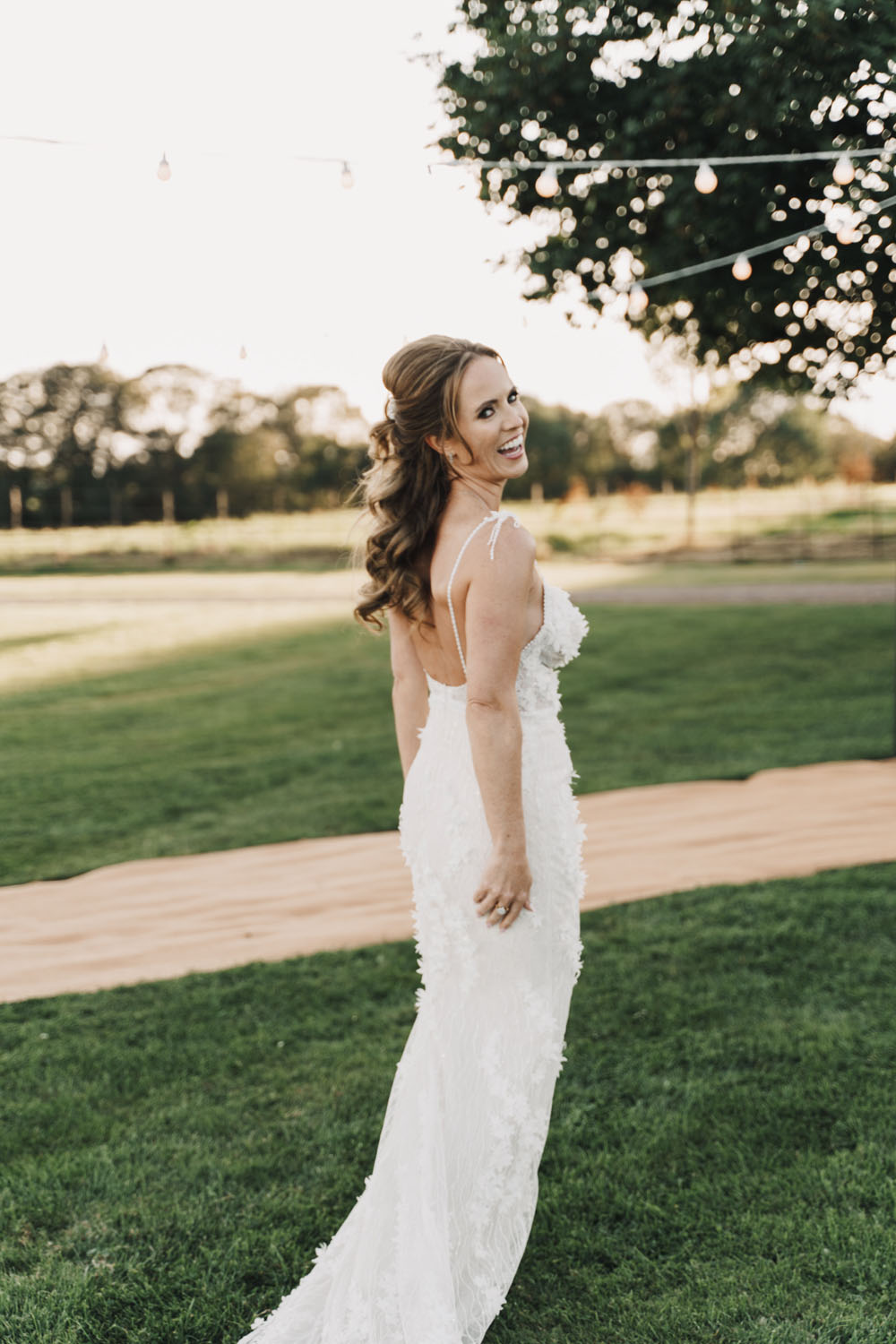 Well, Rachel Takes Pictures, you have absolutely blown me away with your epic photography style. Thank you for letting us publish these photos here today. And Carly and Matt, so many congratulations and thanks to your both. I've so enjoyed seeing how you built your day, and incorporated all those lovely, personal touches too.
Lovelies, for more whimsical wedding inspiration, why not take a look at these other Love My Dress weddings?
With love,
Ele xx