Hello lovelies! I have some very cool and contemporary micro wedding inspo to share today, that features a bride wearing one of my absolute fave up and coming, contemporary British bridal designers, Bon Bride.
This is the wedding of producer Rachel and Art Director Dennis, who tired the knot on 17th October last year. As with so many thousands of other couples since Covid restrictions began, the couple's original wedding plans were disrupted and then majorly adjusted to enable to finally go ahead in between lockdowns – with a plan o have a big party eventually with all their friends and family.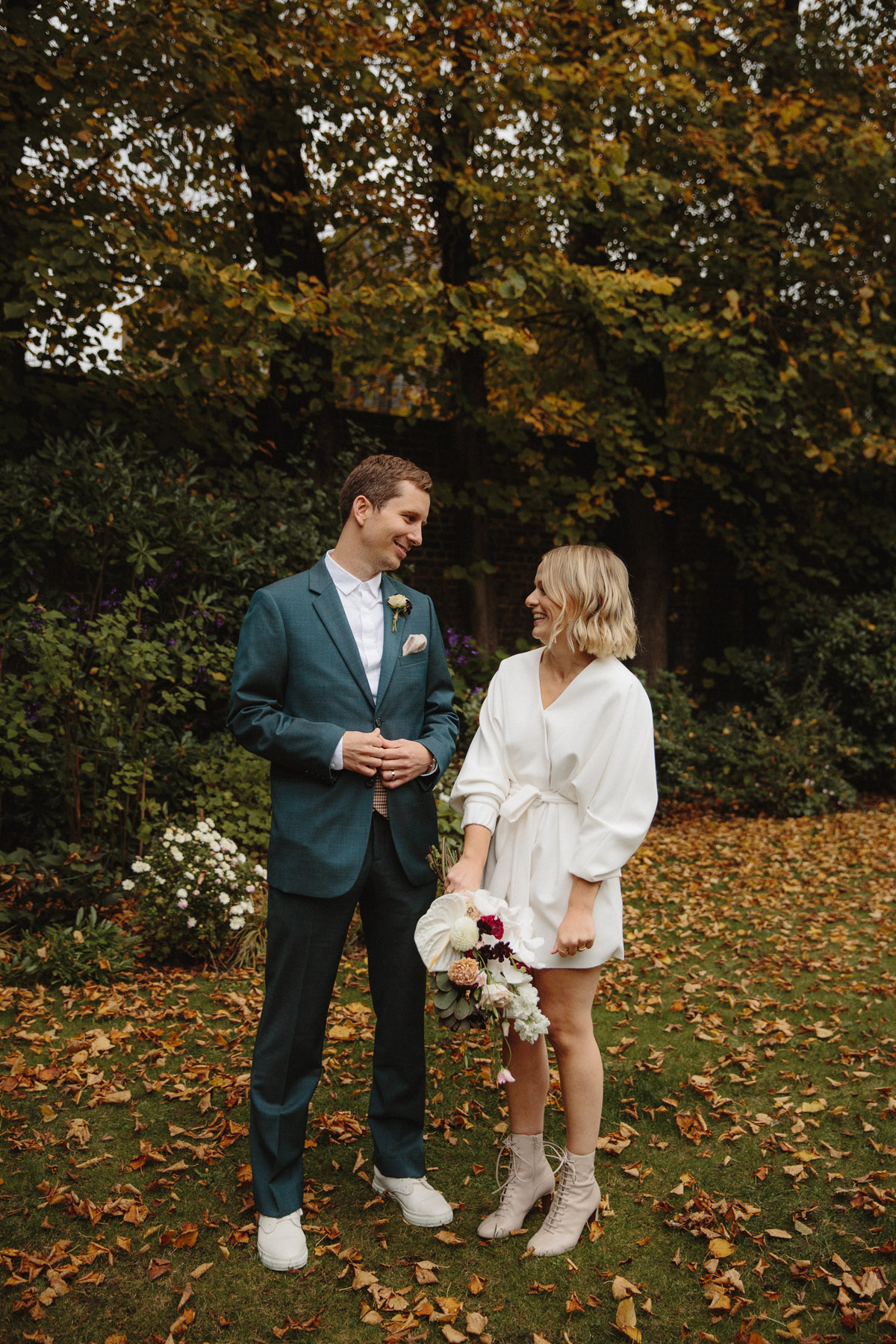 Rachel and Dennis exchanged vows at in a ceremony at Southwark Registry Office, then headed to Holborn's The Hoxton Hotel to party the rest of the day away with their closest friends and family.
"Love My Dress was one of my regular stops during my initial research stages. Though tagged suppliers and photographers mostly I quite often found myself down an Instagram rabbit hole, looking at other people's weddings. Instagram is an amazing community for that. I found my hair and makeup artist Sophie, through a photographer that was tagged on your page.""Overall we chose to get married in London because that's where we met. I'm actually a Londoner but Dennis is from a town just outside Cologne in Germany."
Lincoln Pictures

+ Follow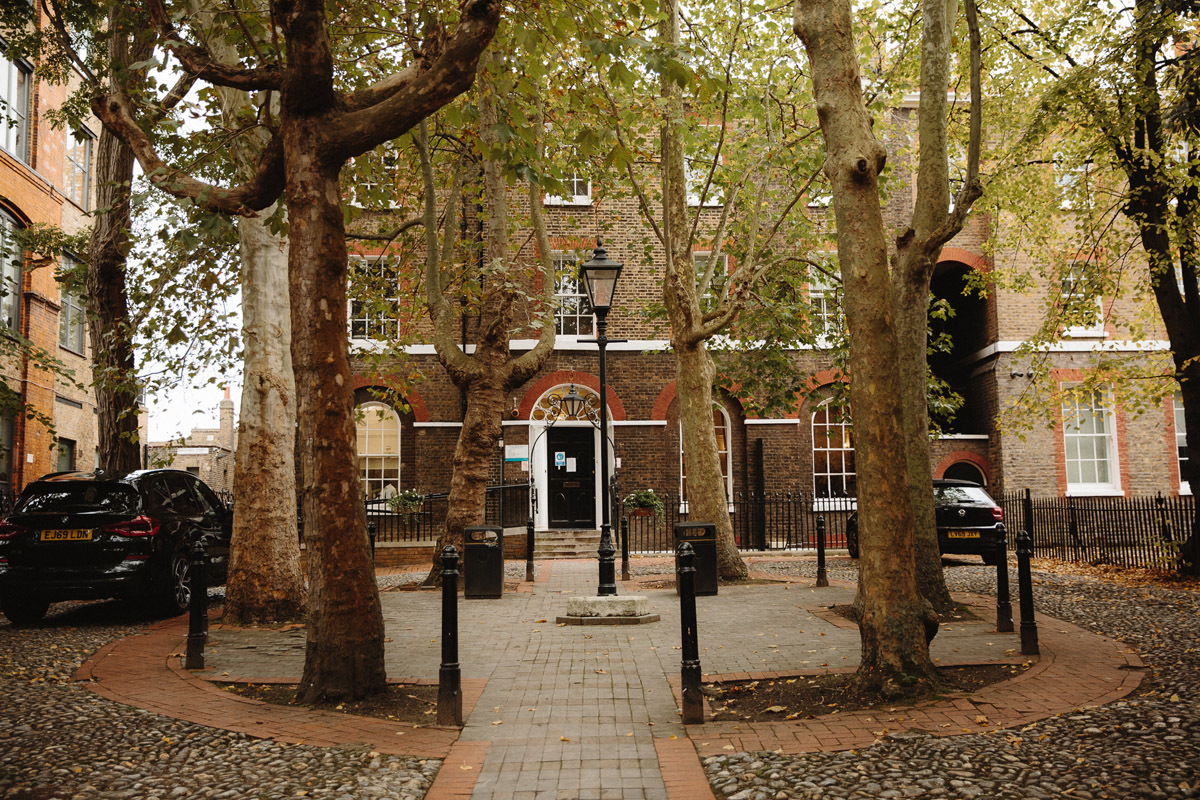 "I'm a producer by trade, so am a crazy organiser. I did 90% of the planning and research myself. In the end we also had an amazing planner called Piret, directly through the Hoxton Hotel's events team."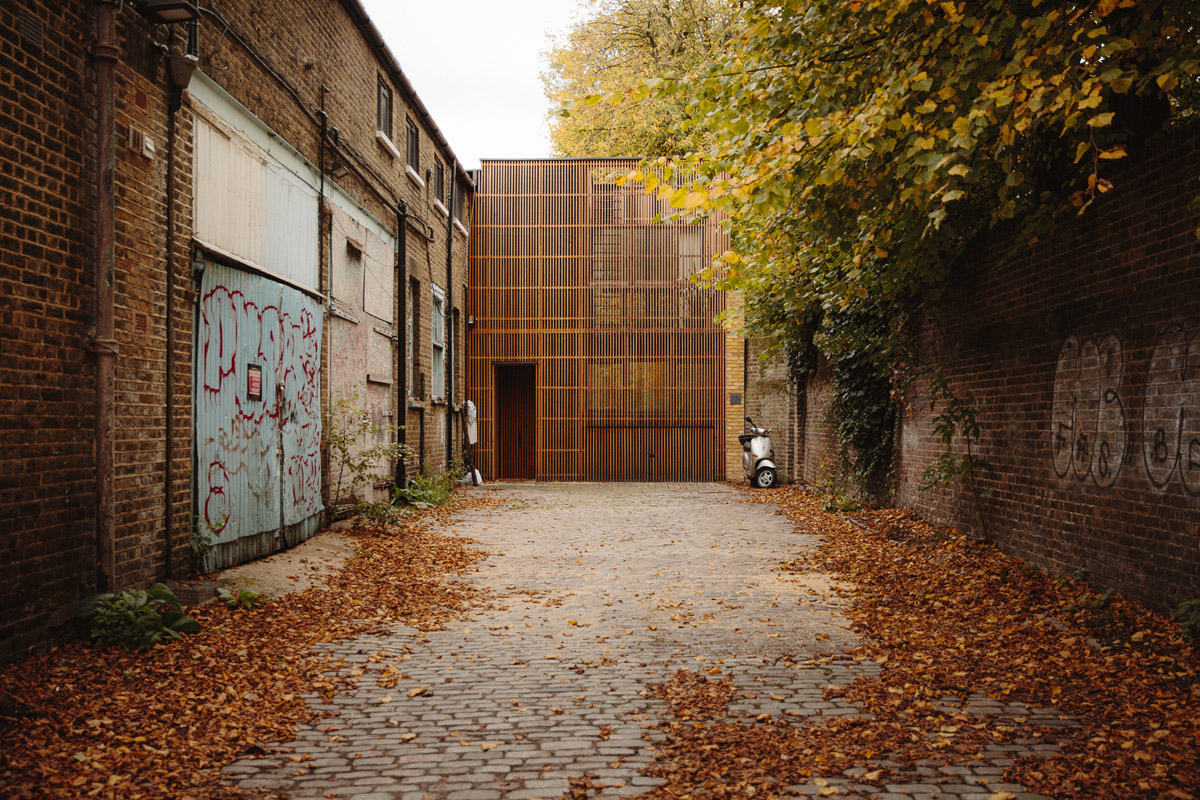 "She and the rest of the Hoxton team were an absolute godsend. Big shout out to Mike who was our event coordinator on the day. We ended up having tequila shots with him at the end of the night."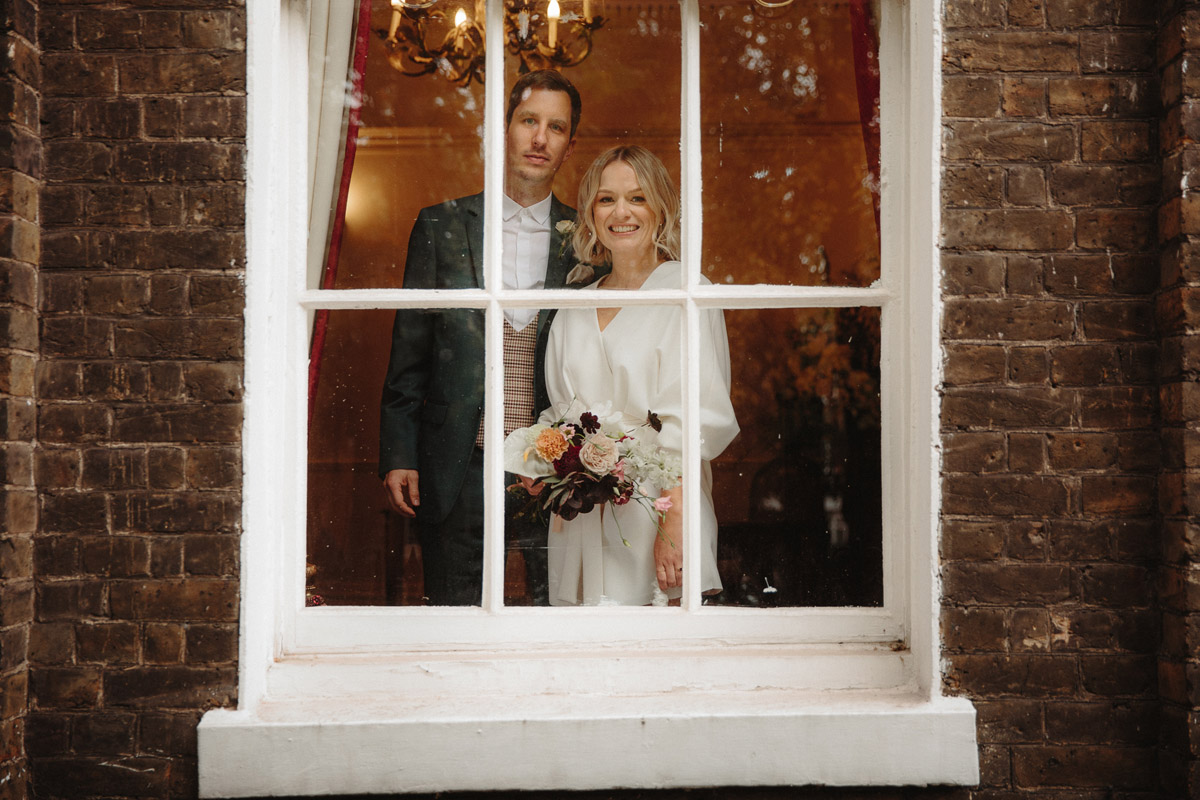 Rachel kept her accessories modern and minimal, wearing "various small gold stacking rings (own collection, family inherited, collected on travels).  I wanted to wear the jewellery I normally wear. It was important that the whole outfit felt like me."
"I stumbled across this amazing new designer through searching for something a bit different for the day. She makes the sustainable bags made from fabric offcuts."
"The design is based on a traditional Japanese bag made of one piece of fabric and held together by knots."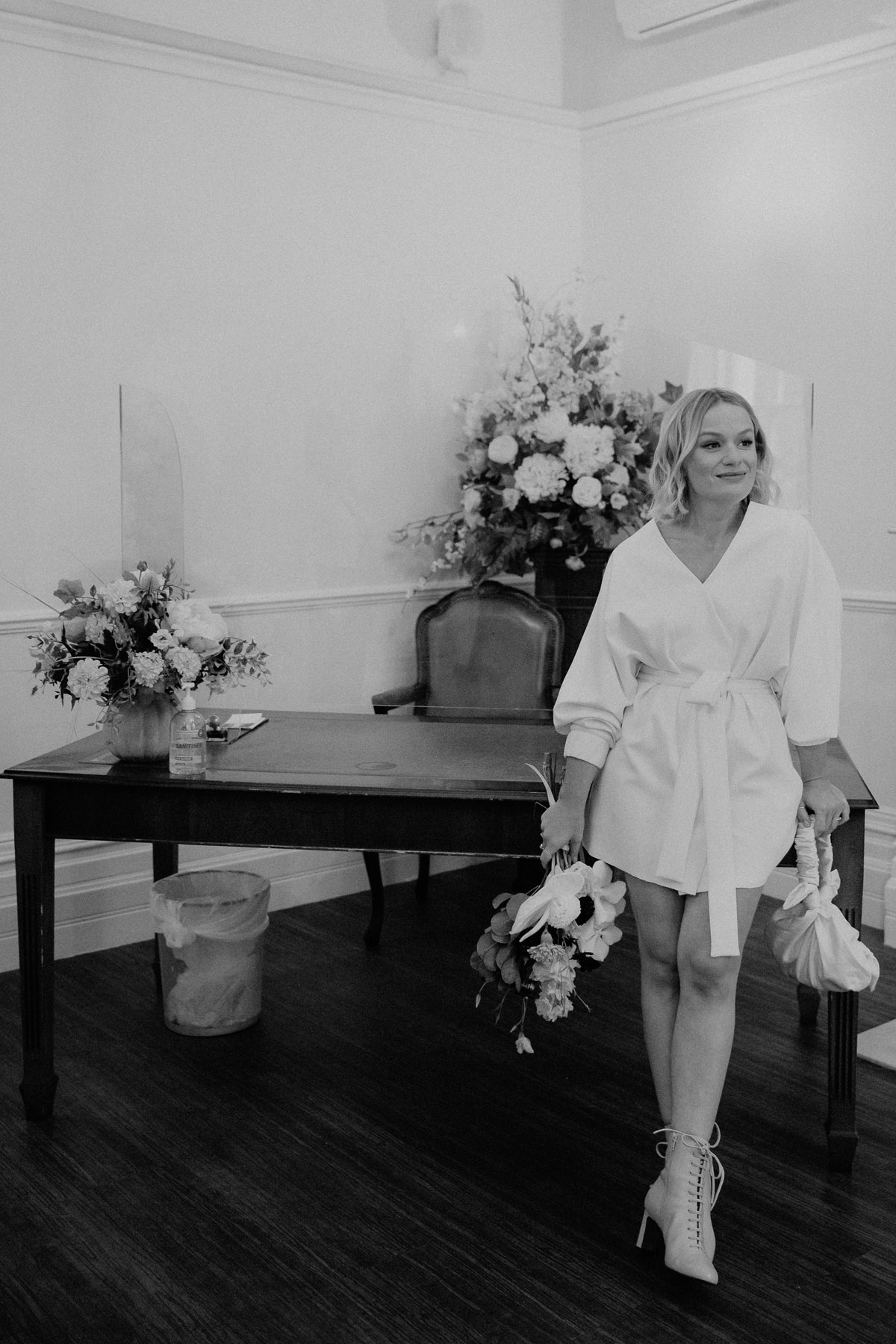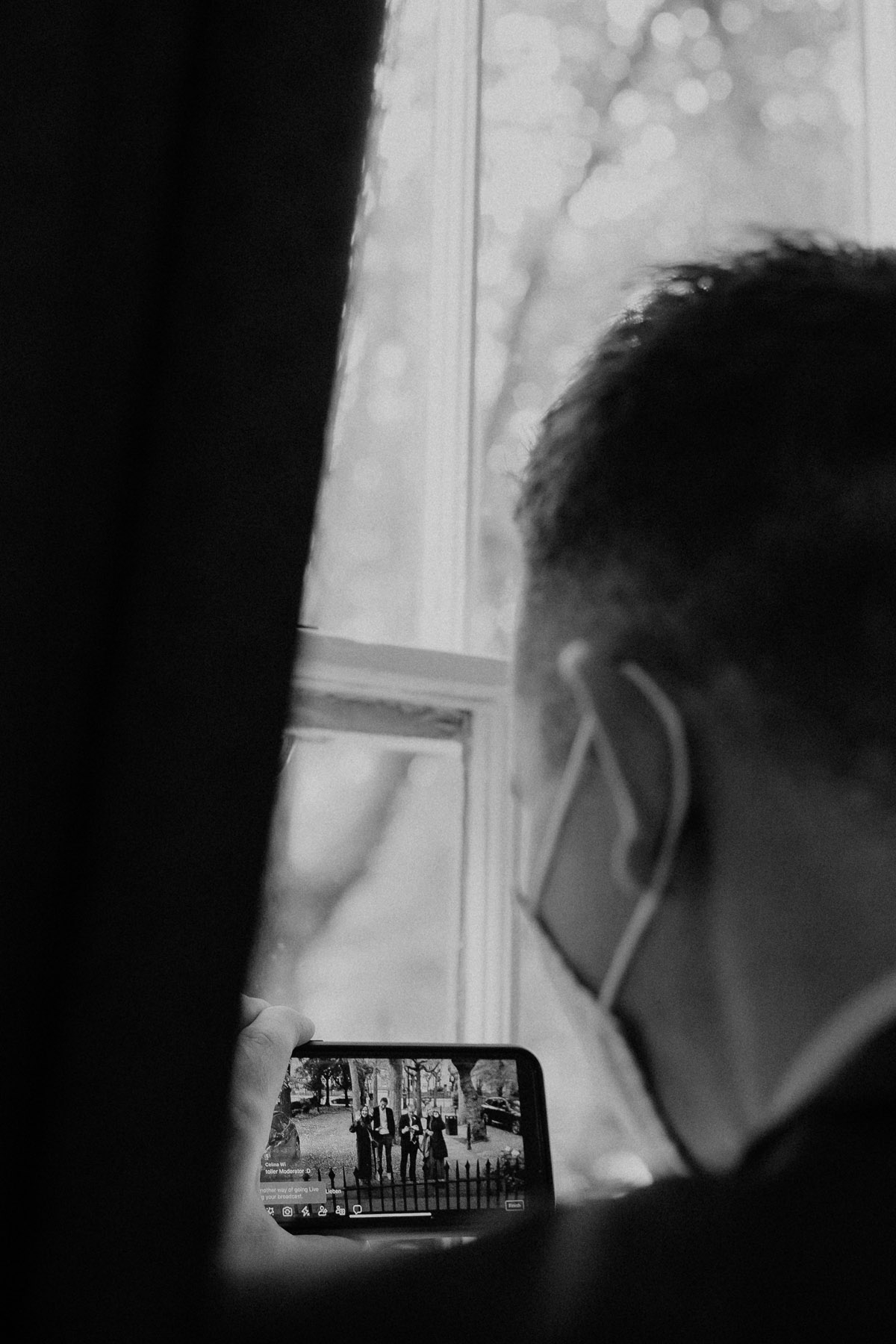 "My mum had originally planned to do a reading during the ceremony. Due to covid we weren't allowed so she did her reading alongside the speeches over dinner. She read the following, which is a traditional Native American blessing."
"She said she chose it because it was short. It talks about respect, which is so important. And mutual responsibility. And there's a lot about hope and faith (not necessarily religious faith) concerning the good things and the future. She finds Native American spirituality is so interesting. Respect for nature and all living things."
Native American Blessing
"Treat yourselves and each other with respect, and remind yourselves often of what brought you together. Give the highest priority to the tenderness, gentleness and kindness that your connection deserves. When frustration, difficulties and fear assail your relationship, as they threaten all relationships at one time or another, remember to focus on what is right between you, not only the part which seems wrong. In this way, you can ride out the storms when clouds hide the face of the sun in your lives — remembering that even if you lose sight of it for a moment, the sun is still there. And if each of you takes responsibility for the quality of your life together, it will be marked by abundance and delight."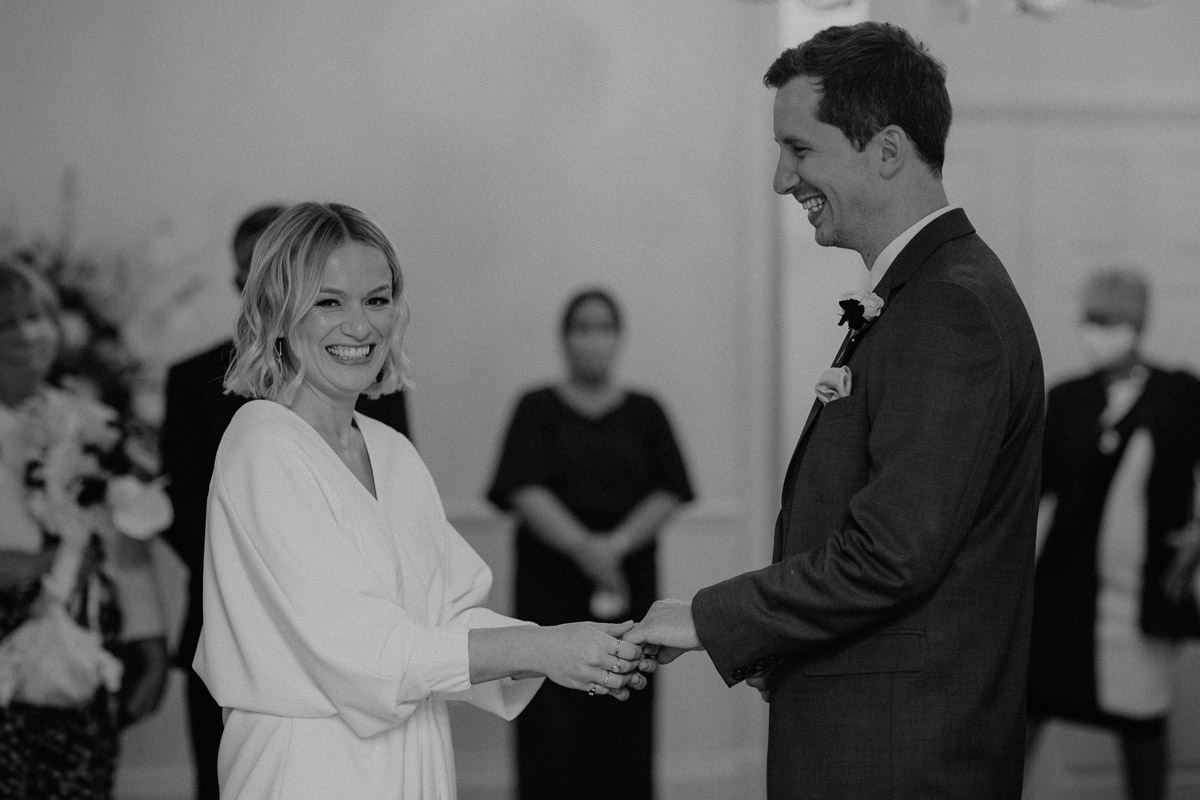 "Charlotte of Ivy Nixon made my engagement ring from a couple of inherited family rings. It's an asymmetrical trilogy ring with two inherited stones, one from my mums family and one from my dads."
"We then added a new stone to represent Dennis' family."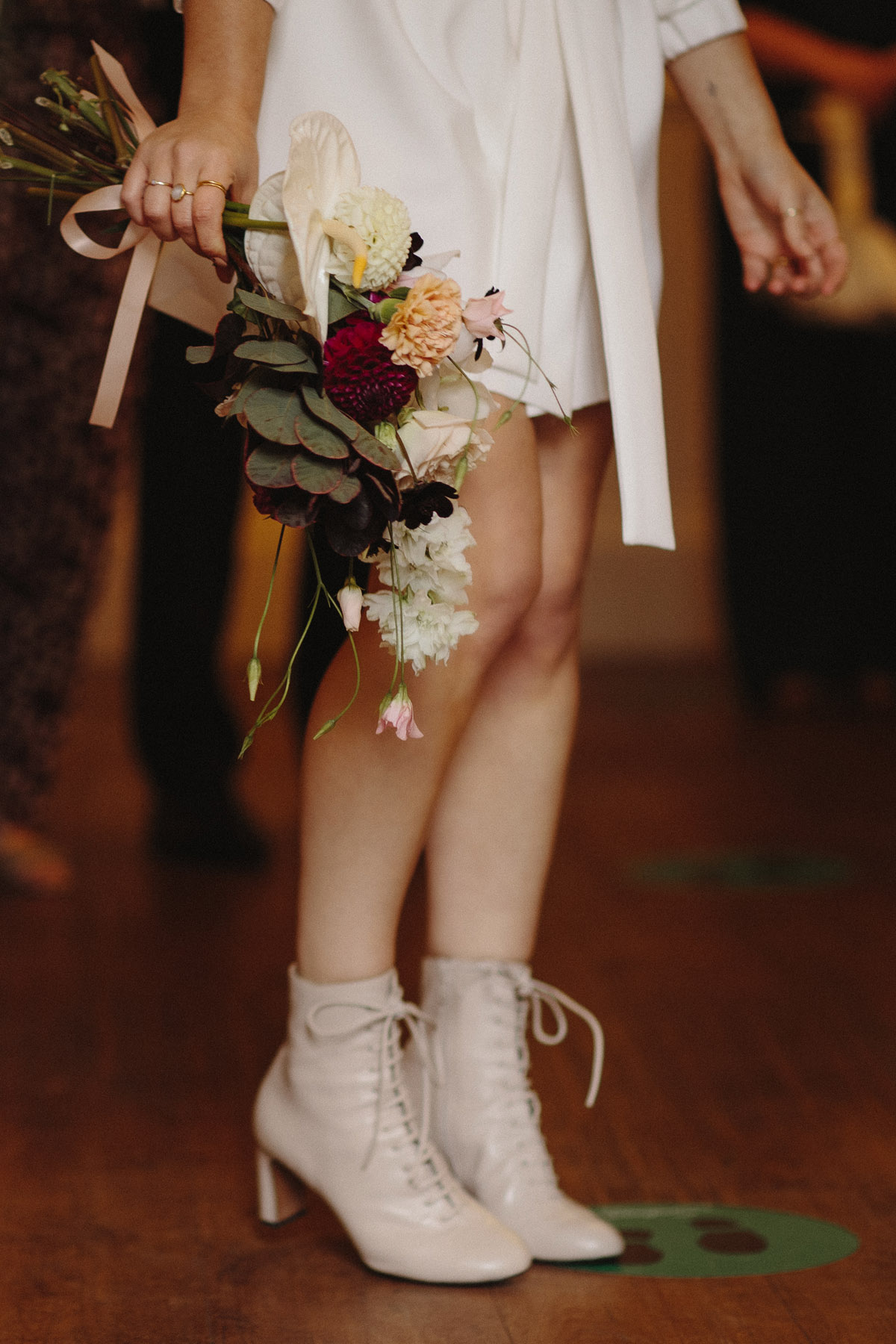 "Jessie Harris made both of our wedding rings. Dennis opted for a simple modern platinum band. Jessie sculpted my ring to work perfectly underneath my engagement ring."
"It's a fluid curved design and quite chunky. A bit like THIS one."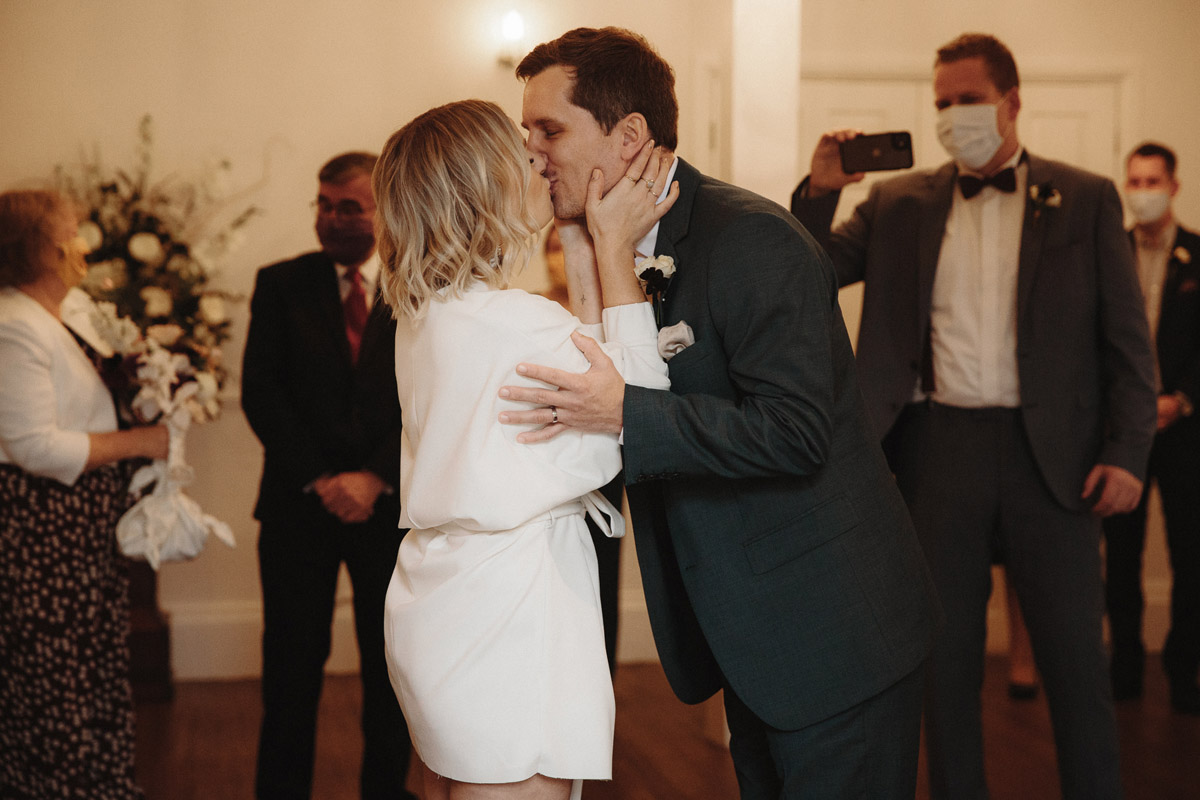 "Both Dennis and I work in the creative industry and wanted to choose a photographer that had an amazing style in their own right. We both spend a lot of time working with photographers so knew exactly what we were looking for."
"We liked that our photographer Sara of Lincoln Pictures didn't just shoot weddings, but that her main focus was capturing moments and feelings that take you right back to that exact time, through a reportage / documentary style. The use of light and warmth in her photographs is also stunning."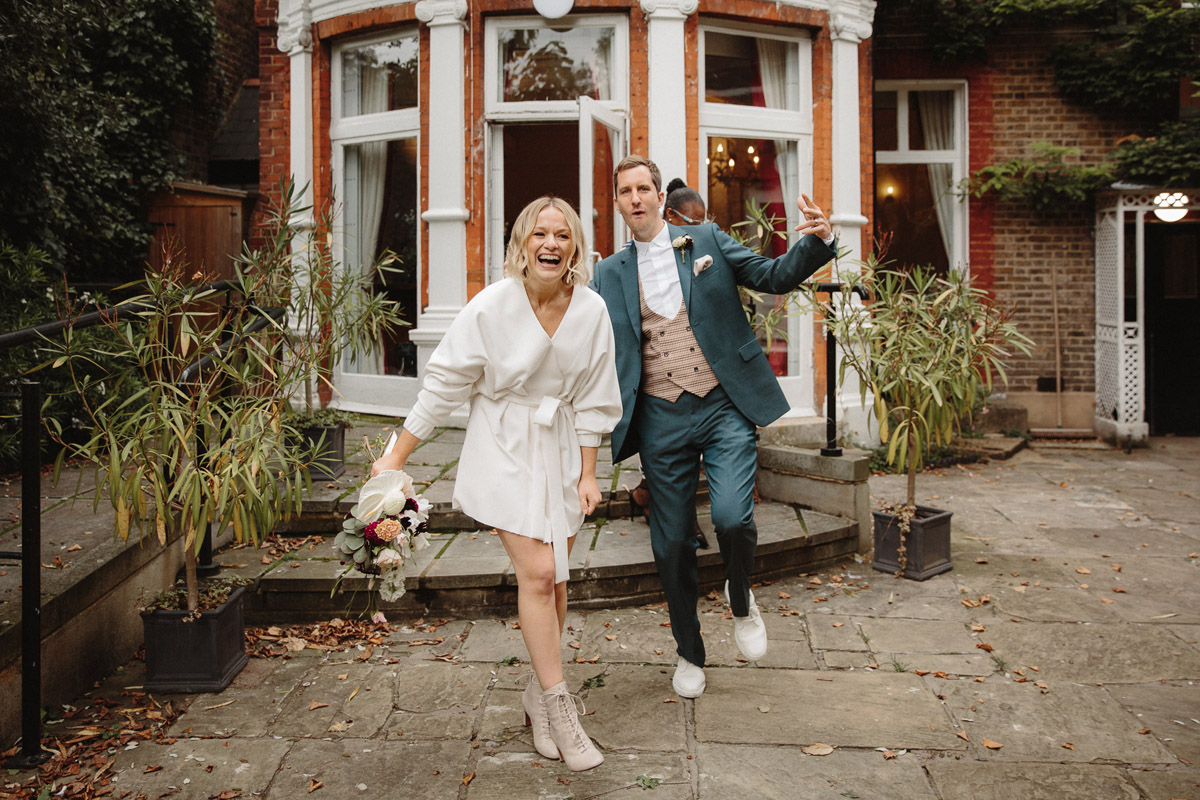 "The main thing that sold it in in the end though, was our initial zoom call with her. We immediately knew she was the right personality to have around on the day and would blend in perfectly with the rest of our guests."
"The photos speak for themselves. Every one of them is perfect."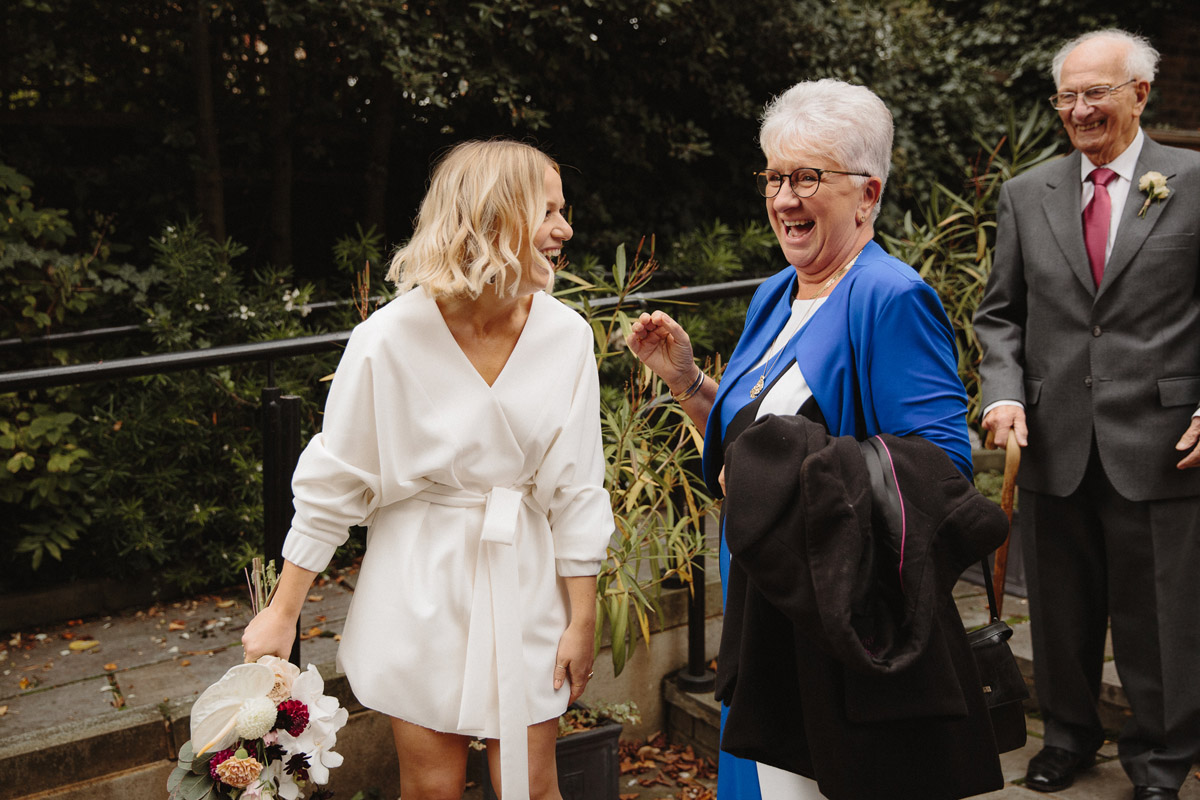 "Dennis' older brother live streamed our ceremony via Facebook through his iphone (Phone quality now for the latest iphone's really is incredible)."
We had people watching from 9 different countries across Europe in three different time zones."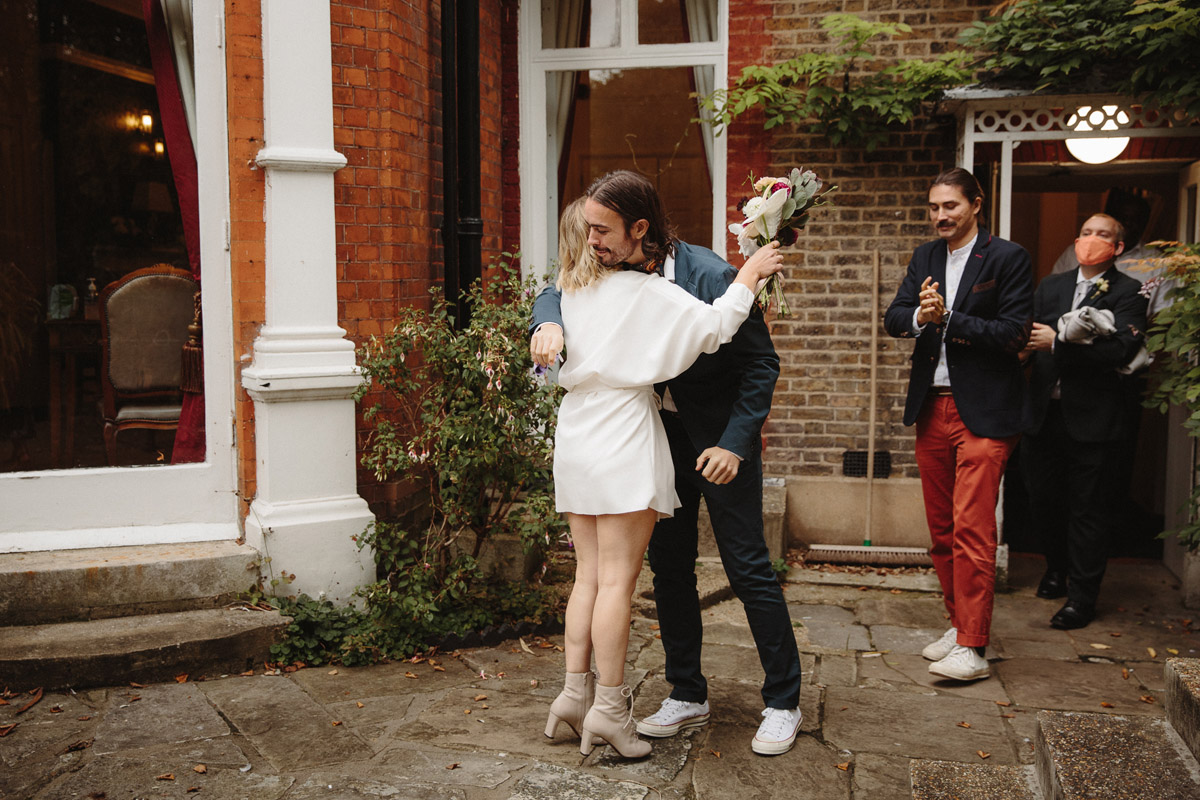 "I also borrowed a 360 camera from work which we used during the ceremony and also when filming the speeches at the reception to capture everything as an immersive experience."
"We saved down all of these videos and shared with friends and family afterwards who couldn't be there."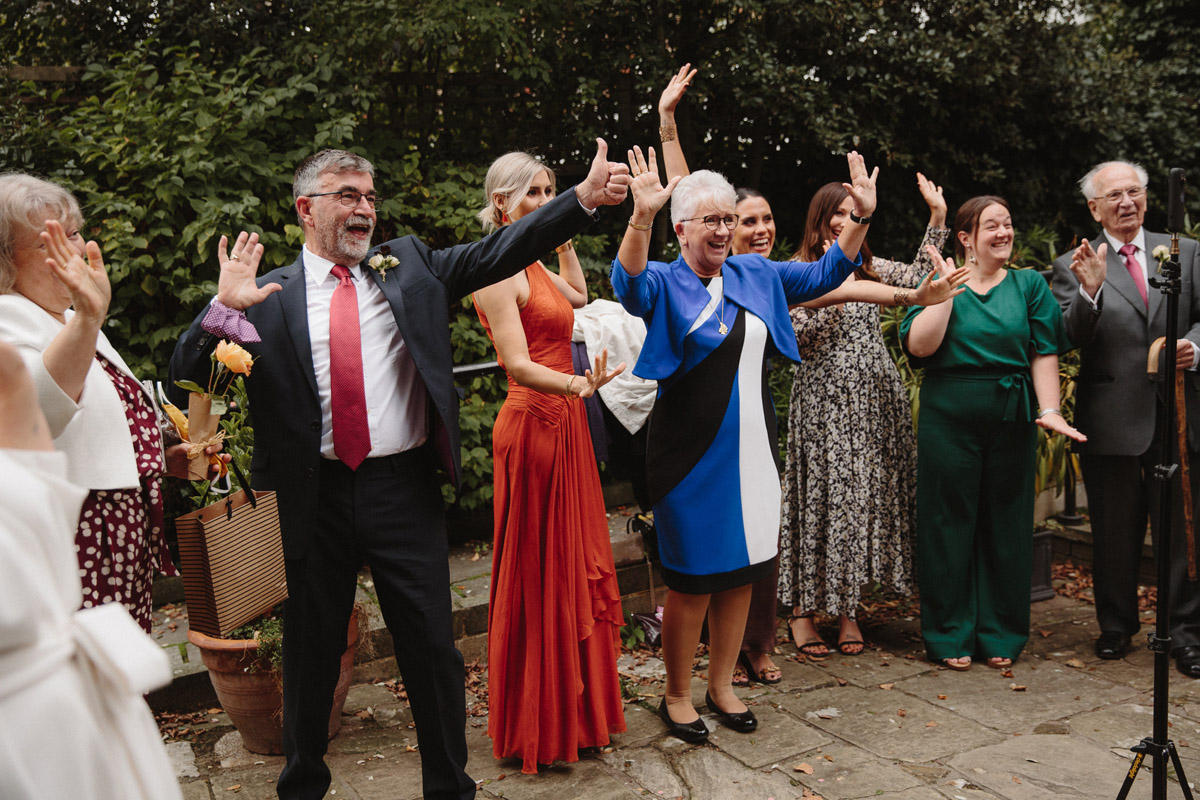 Rachel's dress, so perfectly fitting for the vibe of the whole occasion, is by London based British bridal fashion brand, Bon Bride.
"Ah where to start about Pippa of Bon Bride – wuch an amazing woman! I also found her through Instagram, and her studio happened to be just a 10 minute drive away from my parent's house in South London."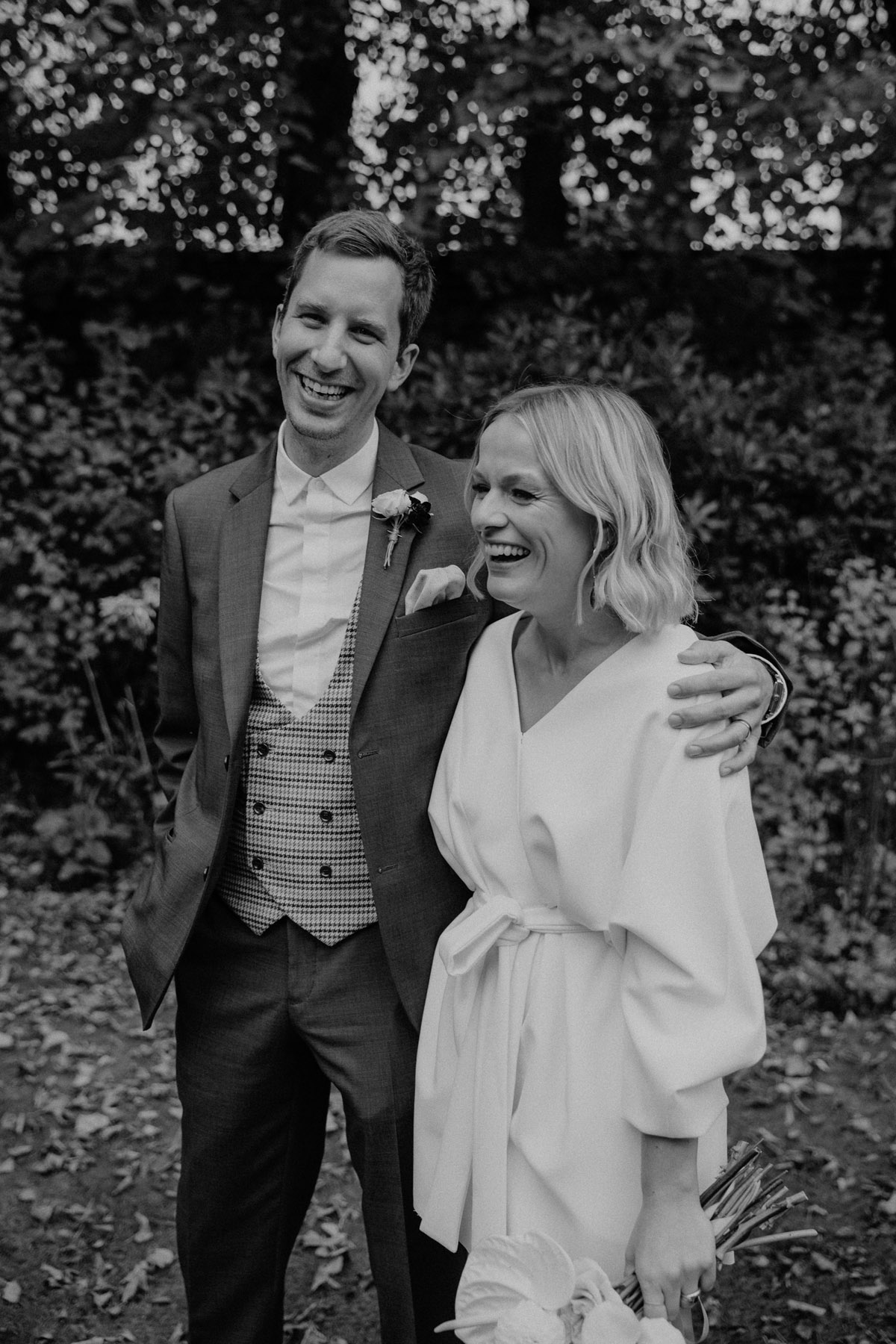 "She epitomies modern bridalwear and designing something that can we worn again or adapted into something different."
"In the end I actually purchased two dresses from her. For my first wedding plan we'd gone for bb:06 (which is actually still boxed up under my mum's bed), but when everything changed I felt the need for something a bit different."
"At this point she'd just launched bb:14 which was gorgeous, but swamped my tiny 5'2" frame. We played around with a couple of things and decided to take it really short instead."
"Everything I wore was super comfortable. I felt like me the entire time. Everything can also be worn again."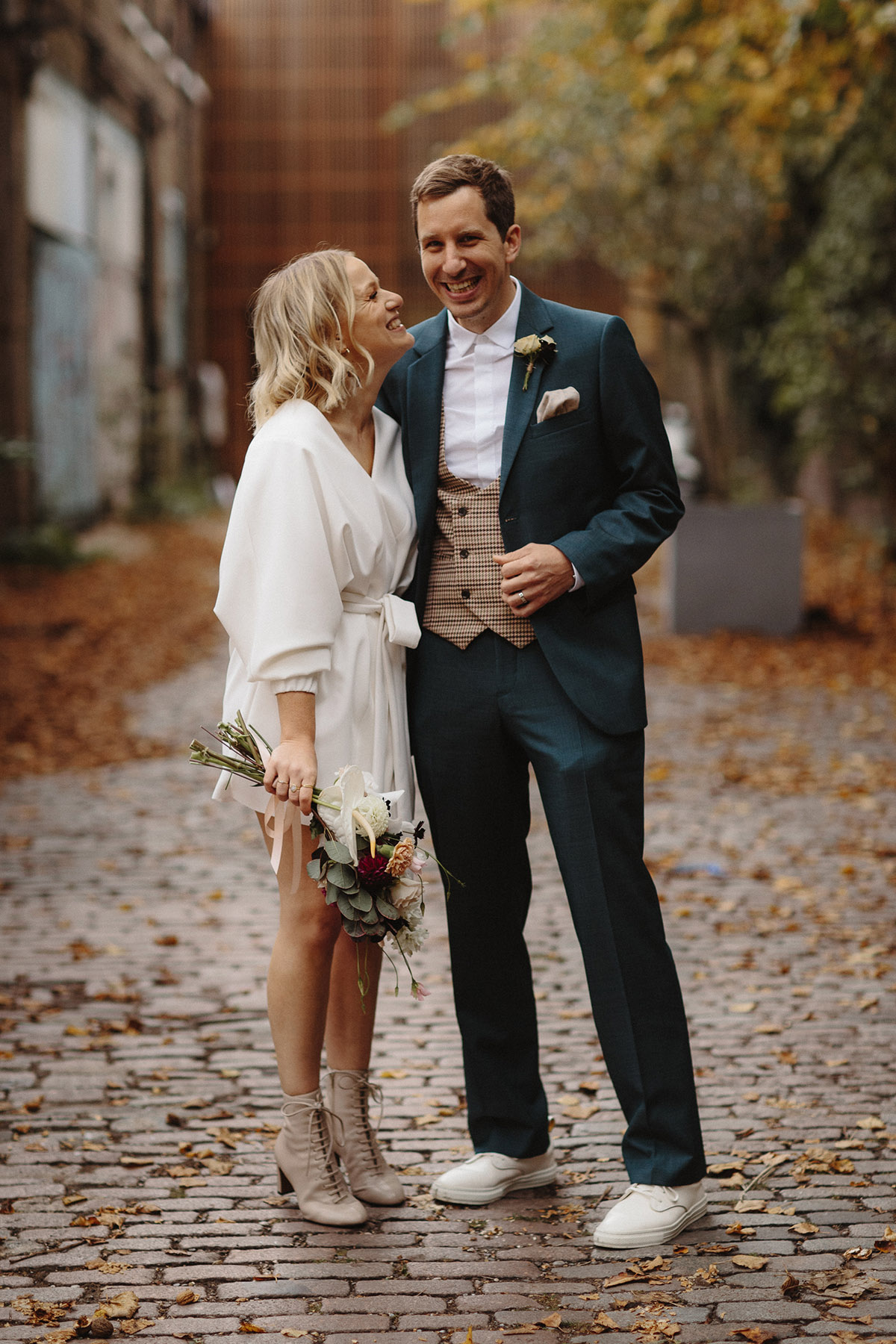 "Dennis and I met through my best friend. I was living with her at the time and she introduced us. We got together after one of our somewhat infamous house parties and the rest is history I guess."
"We got engaged after drinks at our favourite bar in Peckham and then took a bit of time together to find the right ring."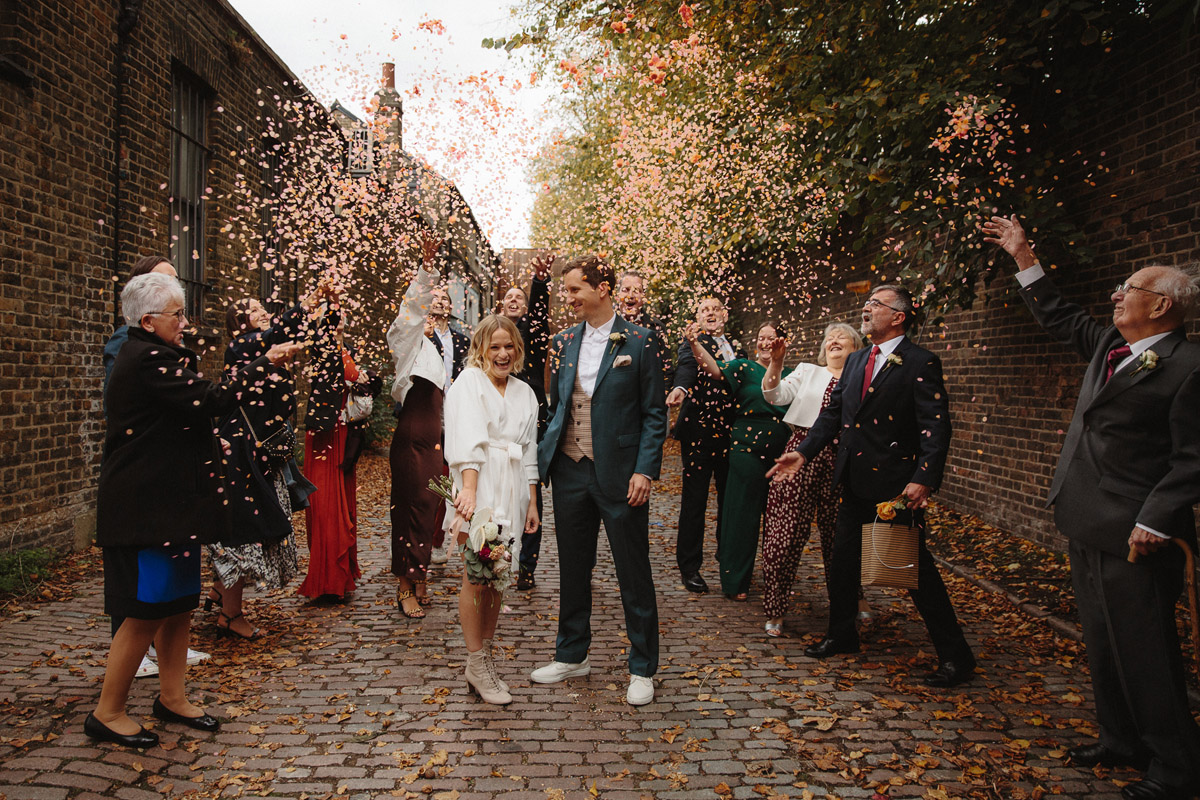 "Dennis surprised me with it at home a couple of months later and then we celebrated with friends at a drag brunch in Dalston. Both of us find big romantic gestures a little overwhelming so it was lovely being able to go through this important stage in our life together."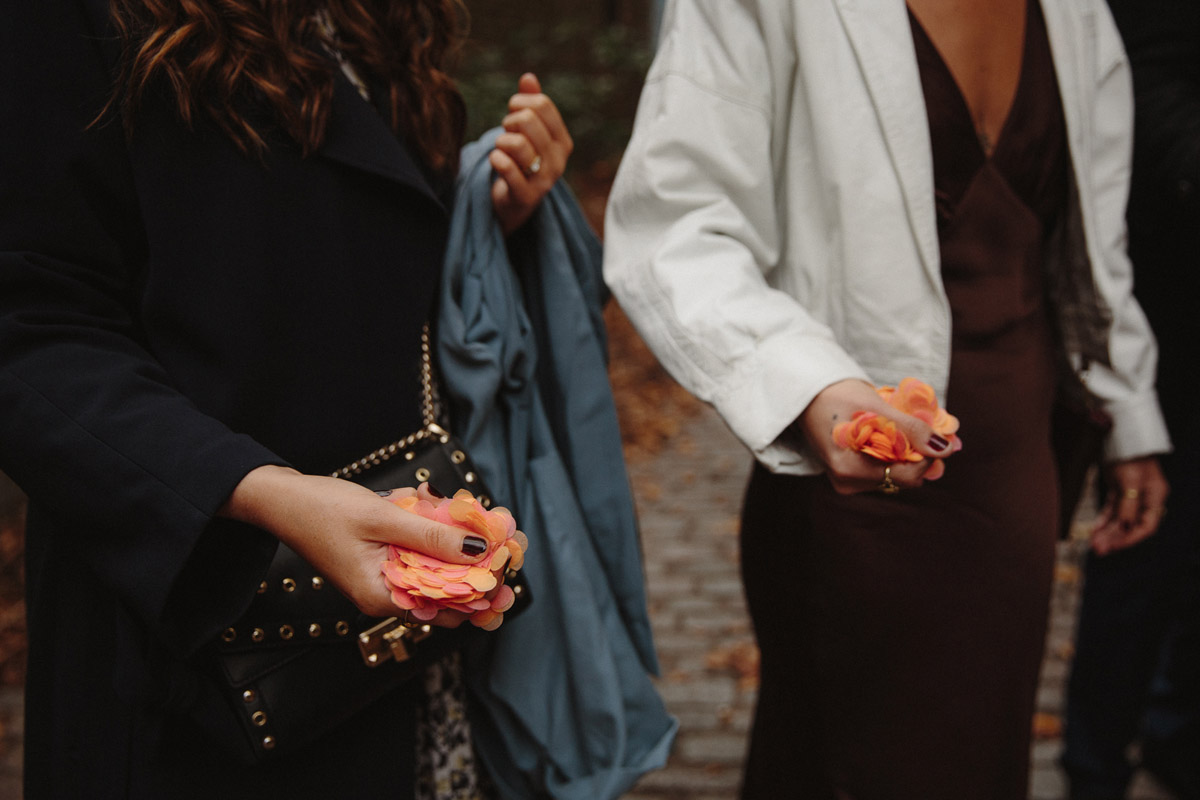 "We had originally planned to get married 6 months later, however with covid postponements it ended up being about a year later."
"Neither of us felt the more traditional approach to weddings suited us. It took us quite a bit of thought to navigate the whole 'wedding world' and find the traditions that we wanted to have part of our day."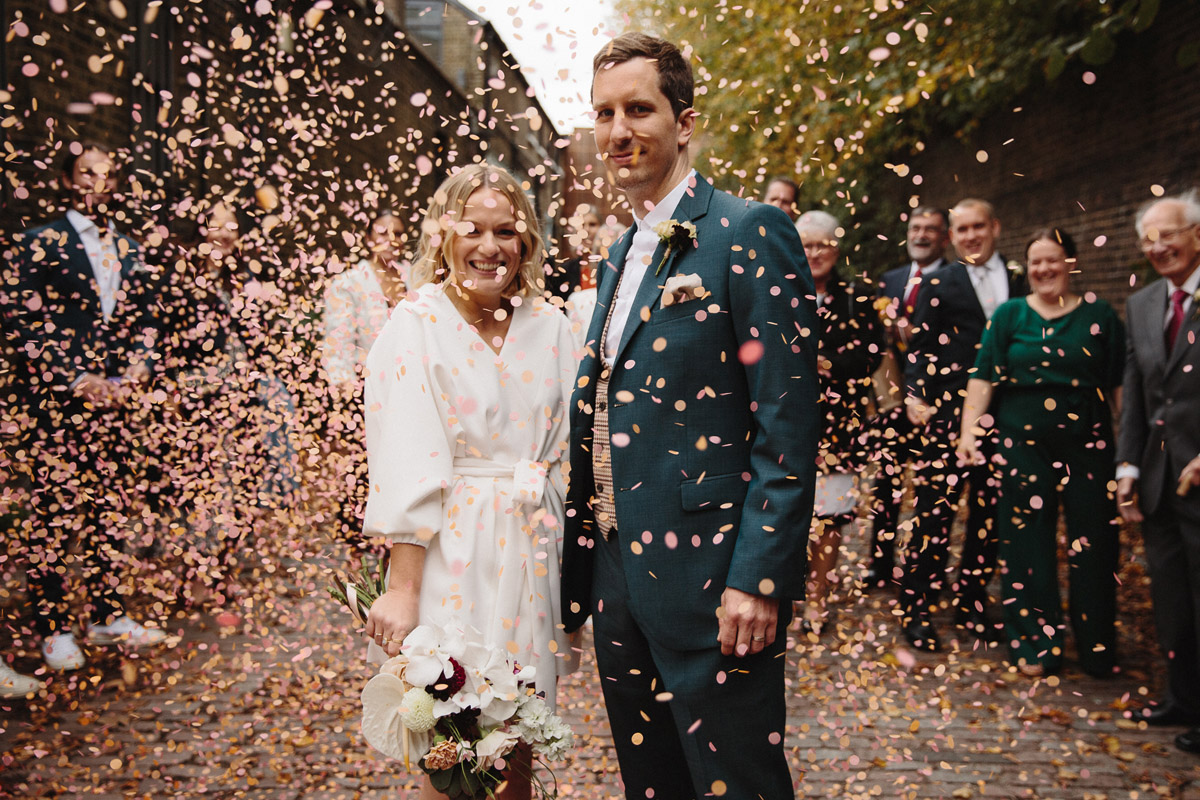 "As we're both creatives it was super important for us to have complete control and commission people that had an amazing aesthetic in their particular field. We wanted something a bit more modern that reflected us as a couple and our life in London."
"In terms of style, I did a lot of research, mainly through Instagram which helped me find what I was looking for."
"We were first due to get married in April 2020 but like many others, had to cancel our original plans due to Covid."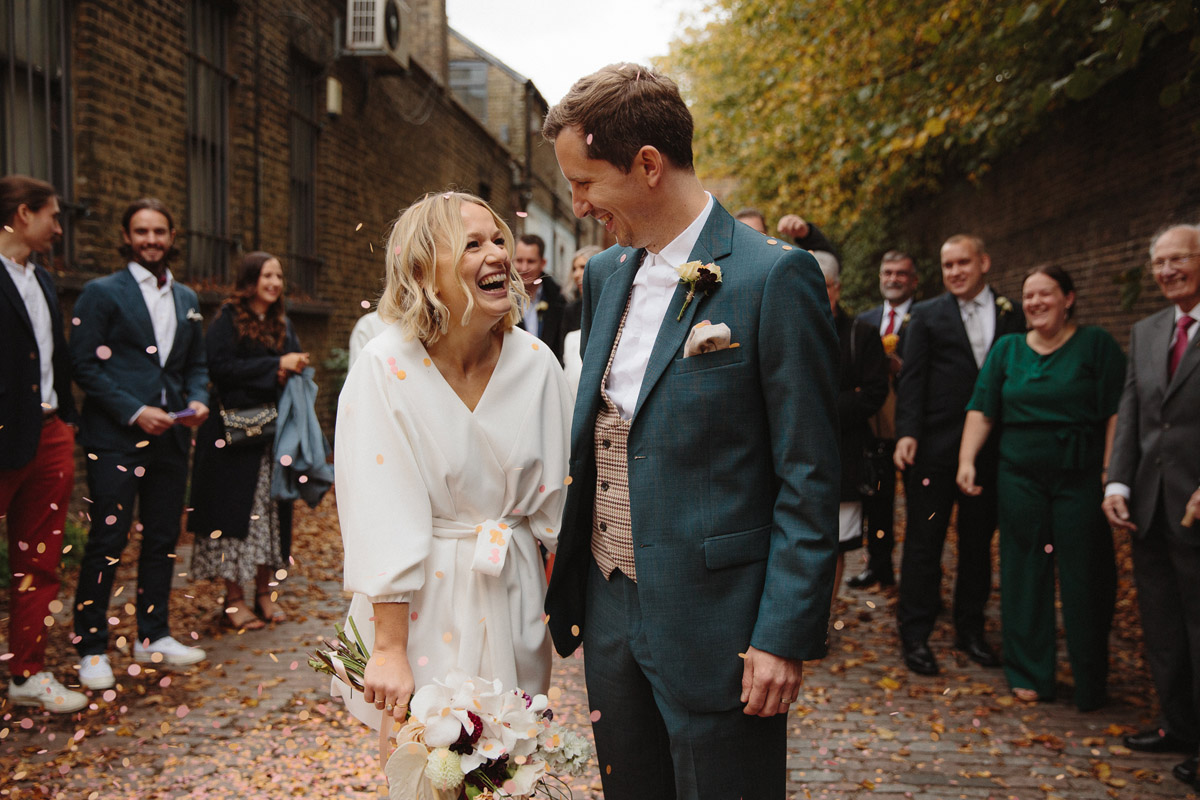 "Our first plan had involved having our ceremony and drinks reception at the South London Gallery and then moving on to the Camberwell Arms for our reception. Both are in Camberwell, South London and both are superb venues. Guest list at this point was around 60 people."
"When we realised we had to cancel (which ended up being the day after my hen do – not great cancelling a wedding on the mother of all hangovers), we made the decision to take some time and not set a new date just yet."
"It didn't make sense to tie ourselves to a new date when we had no idea how the pandemic was going to pan out. All our suppliers were amazingly understanding and flexible."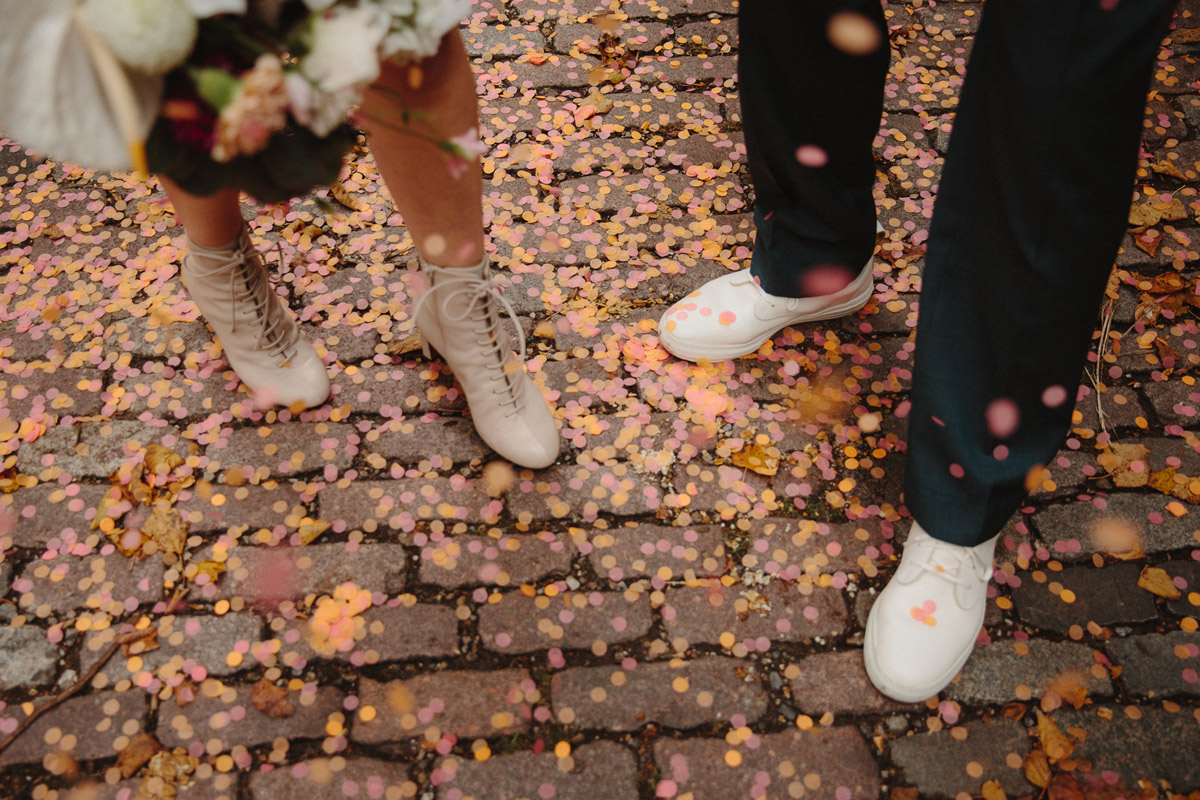 "After an extended period of working remotely from Dennis's hometown in Germany over the summer we took a bit of time to start to rethinking what the wedding would look like to us now."
"Both of us felt that it didn't feel right to have exactly the same plan as before as that date had passed, and we needed something new to look forward to."
"We then planned to have a small legal ceremony in London in the autumn and then plan a big party in an amazing venue on the beach in the Netherlands the following May (May 2021). We'd stumbled across this venue that summer."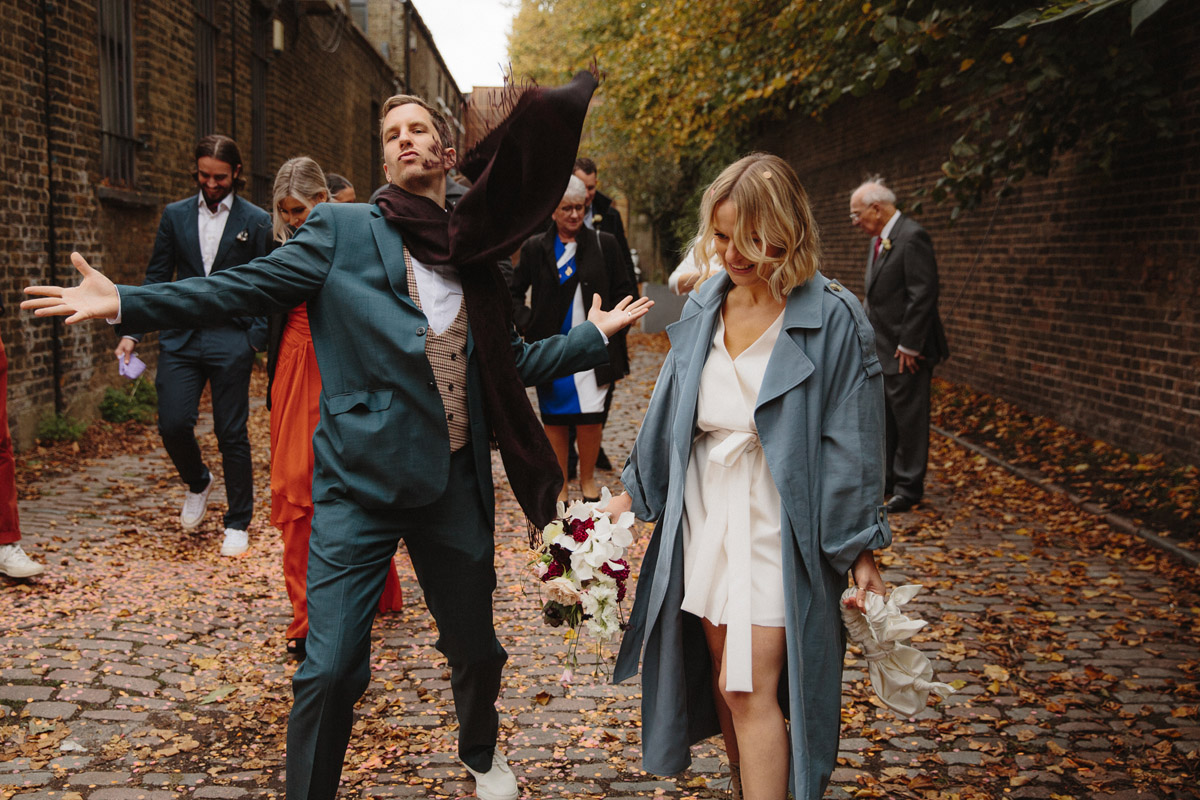 "Then as the second wave took hold and more restrictions became evident, especially in terms of international travel we put a bit more thought towards our autumn legal ceremony. As Dennis is German, and I'm British, and we both have a lot of international friends, planning something abroad became really difficult and stressful. Then more restrictions were announced in London, taking numbers from 30 down to 15."
We had to trim our already small guest list down and rethink our venue. We didn't want to be somewhere that was too big as we wanted to fill the space properly. About 2/3 weeks before our October date I started reaching out to restaurants and cool bars that had a whole space you could hire and were covid safe."
"Around this time The Hoxton launched their micro wedding package. This included venue, flowers, food, drinks, a cake, and hotel rooms for guests. It was exactly the right style for us both, a 70s disco / LA / Palm Springs kind of vibe. We confirmed this about 12 days prior to getting married."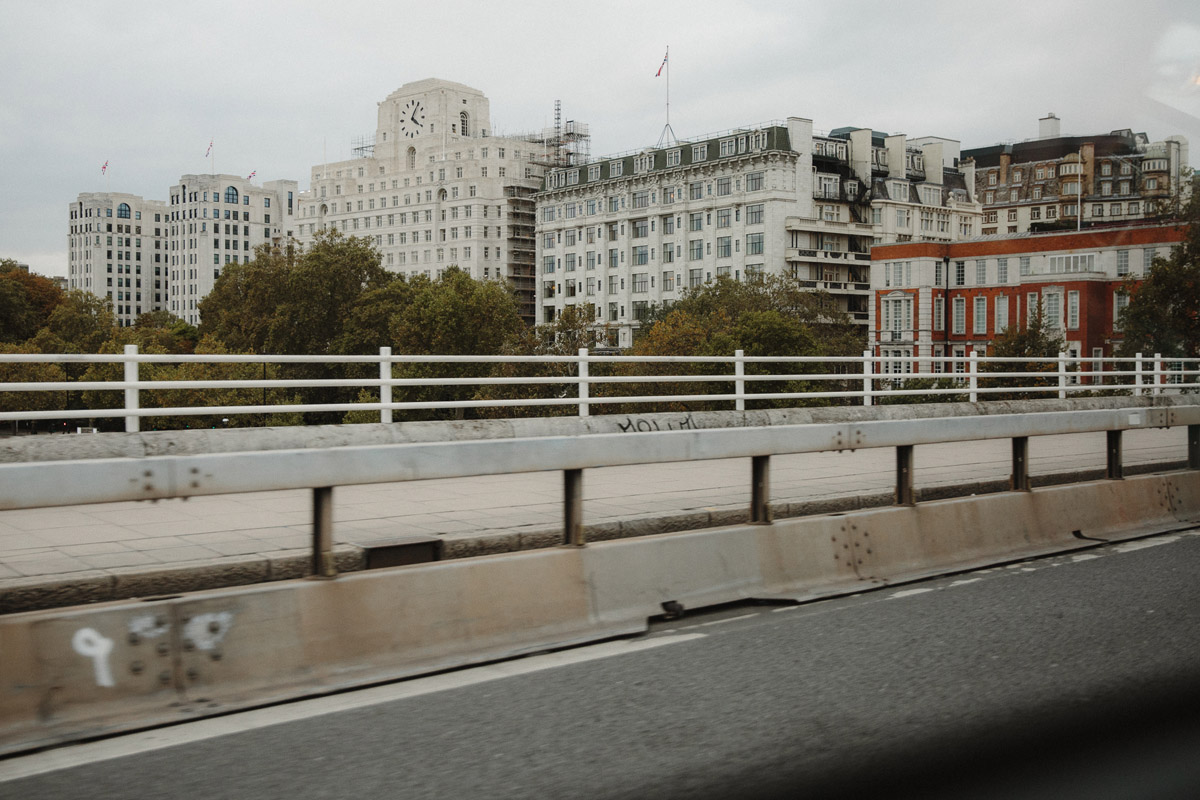 "Another big hurdle for us was the fact that we didn't actually confirm our final guest list until the day before. There was a lot of uncertainty about whether Dennis's family would be able to travel over from Germany because of covid, so we had a 'Plan B' list with friends on standby. We also had to swap out of Dennis's oldest friends the day before due to him needing to get a covid test and the results unfortunately didn't come back in time."
"This was 100% the most stressful part. We were so fortunate that all our friends and family were so understanding and supportive during this time."
"The Hoxton setting was gorgeous so we didn't need to do too much. They brought in plants from other rooms and made the space look warm and cosy."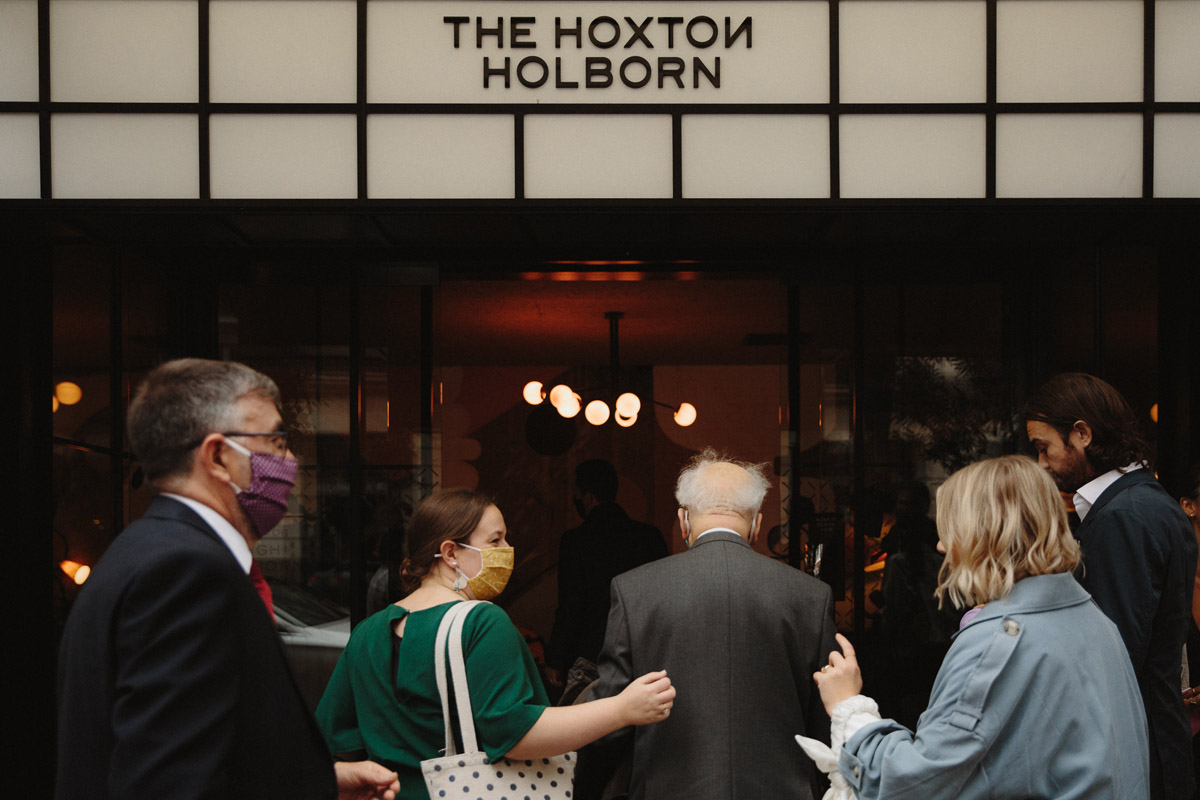 "I'd collected some vintage candlesticks which we used on the table. I also bought a box full of candles from Earl of East. So the whole space smelt like their fragrance, Jardin de la Lune."
"We wanted the space to feel like an intimate dinner party, then cocktail bar vibe."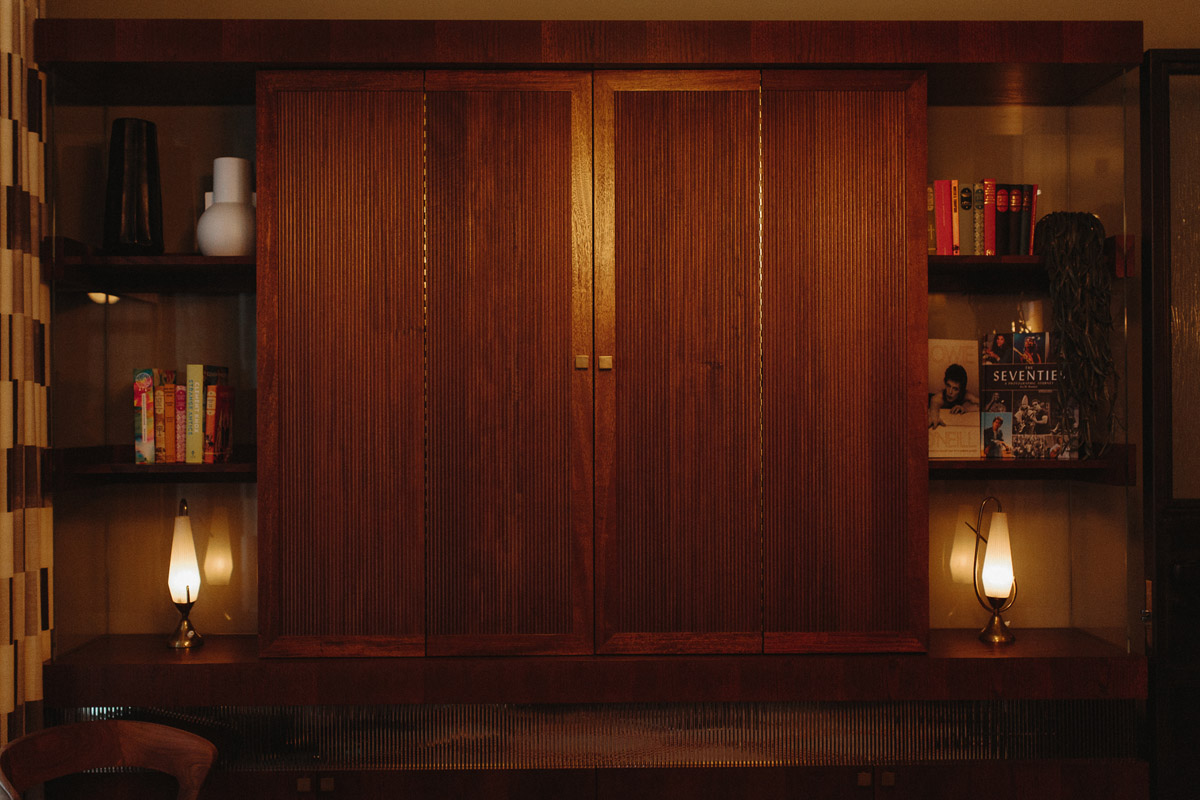 "Romy and Iona of Sage Flowers were an absolute dream to work with. Our plans for flowers changed a lot over the year due to covid."
"I picked them originally as they were my favourite local florist in Peckham and I'd wanted to work with local suppliers. They have a beautiful aesthetic and also a more modern approach to floristry."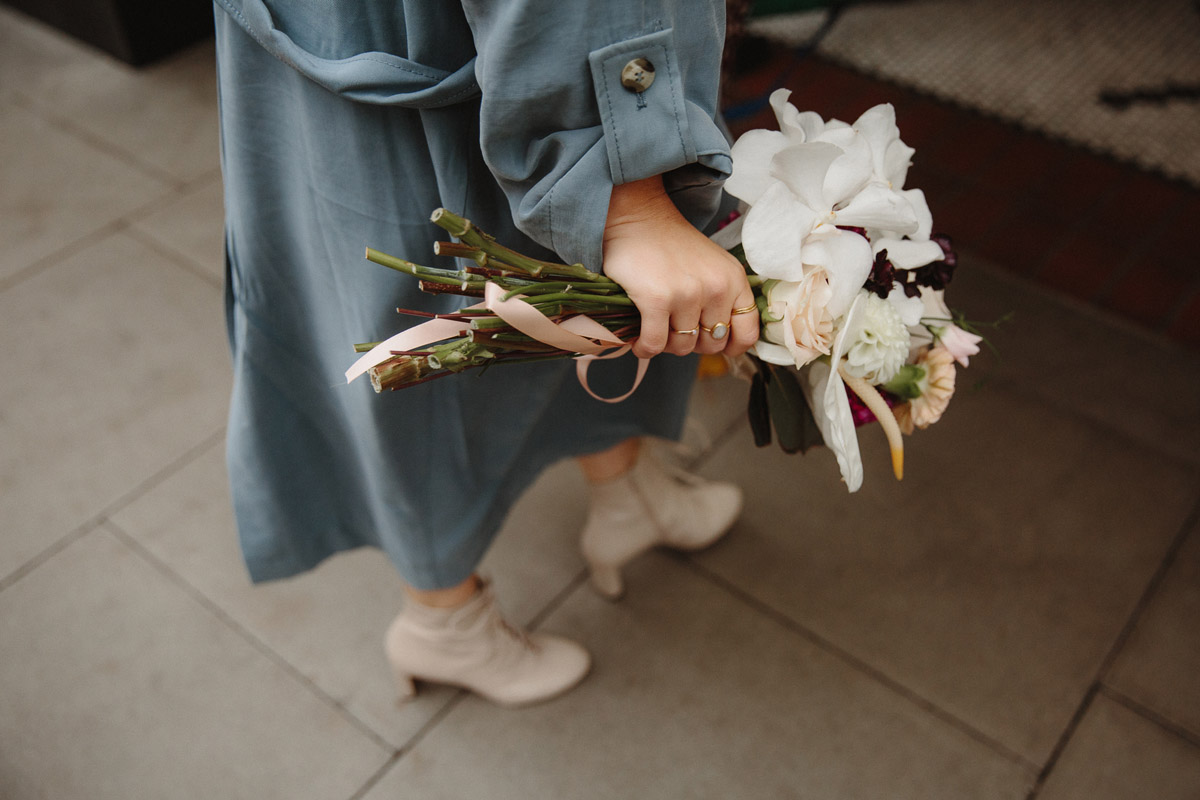 "In the end as our plans had changed so many times, I sent them details of what Dennis and I were wearing and asked them to create me a bouquet and buttonholes in their style."
"The end result was a complete surprise and they surpassed themselves. Still the most beautiful flowers I've ever received."
"They also remembered and included chocolate cosmos, which I'd talked about in one of our first conversations but wasn't in season for our first wedding date."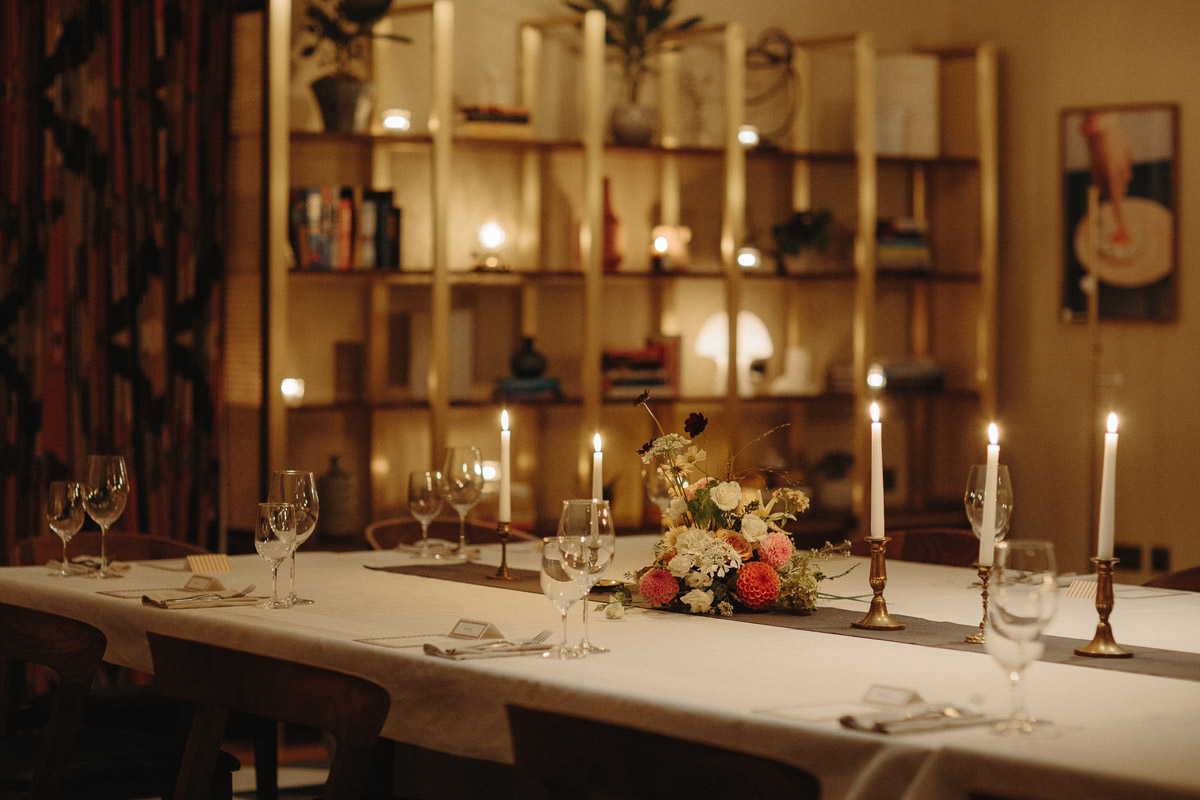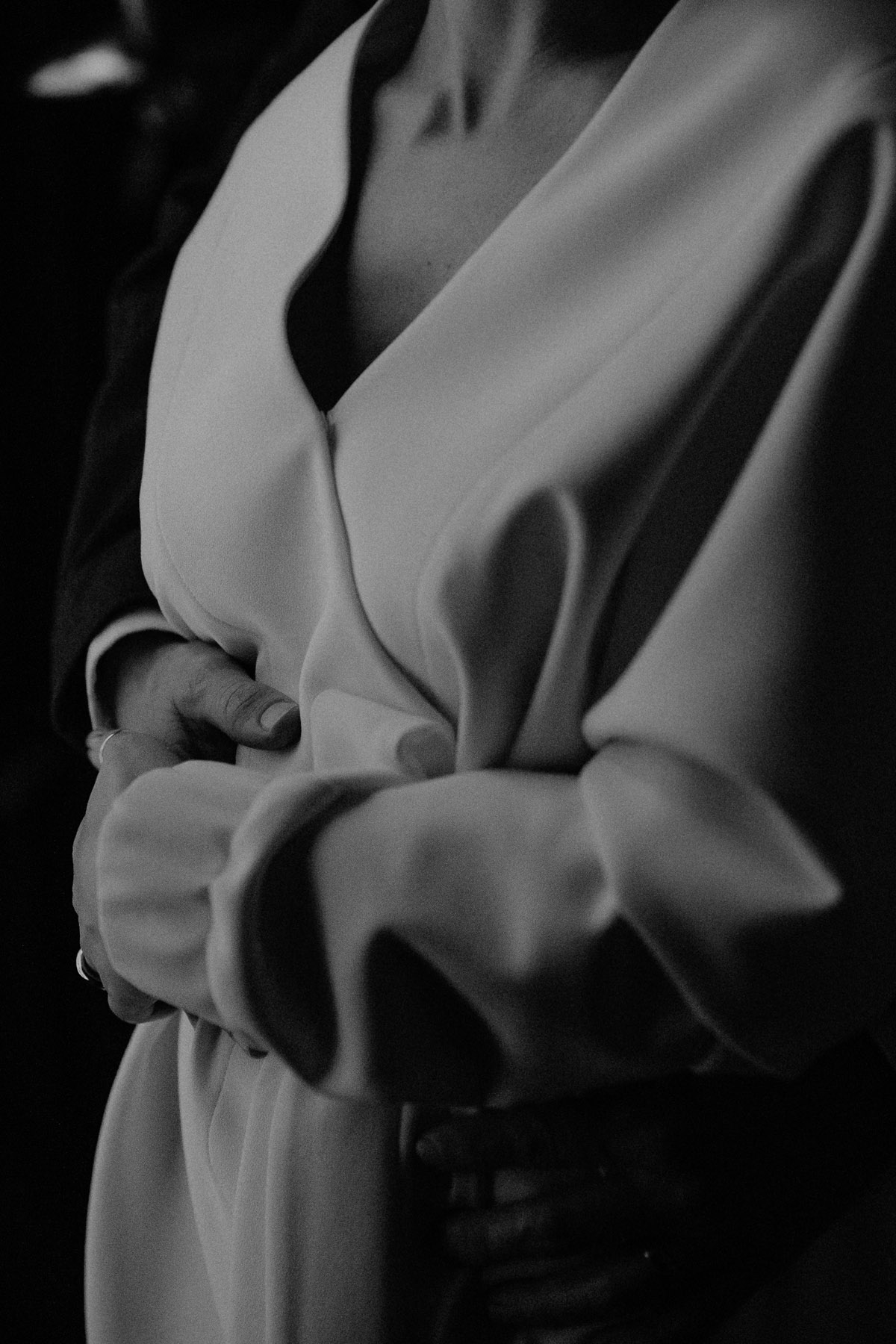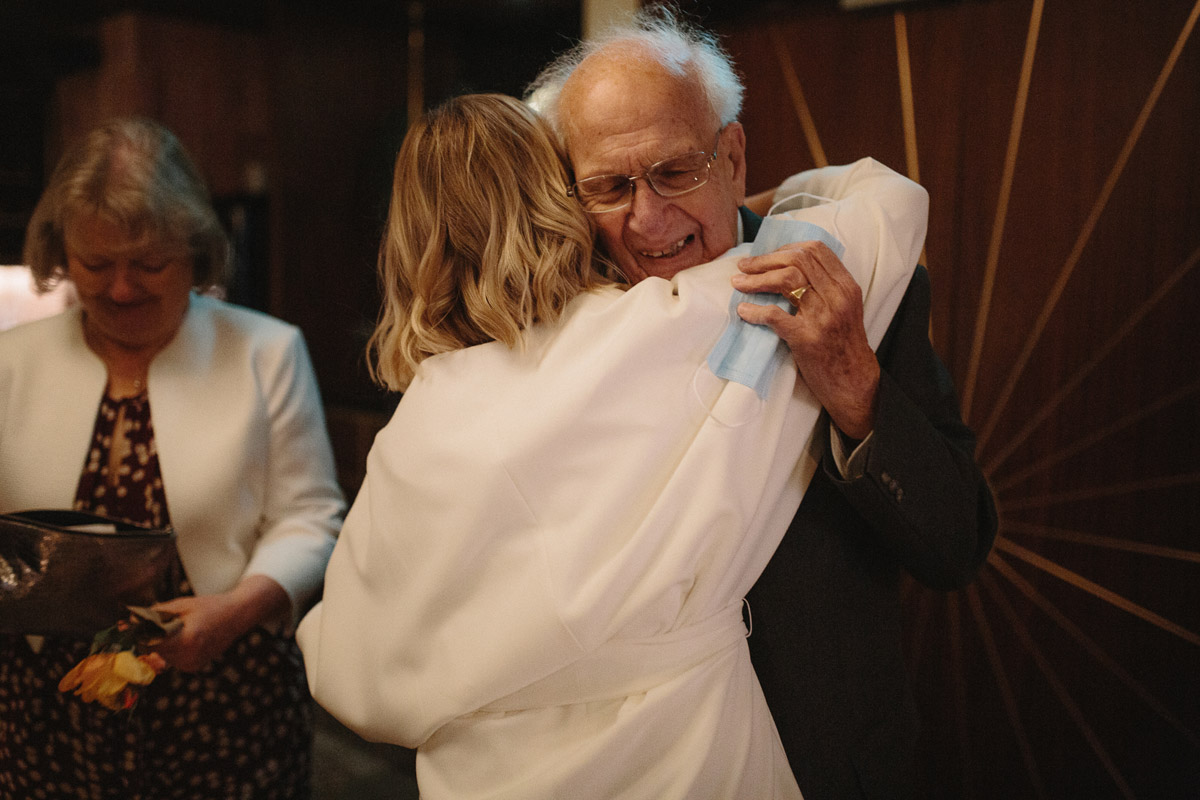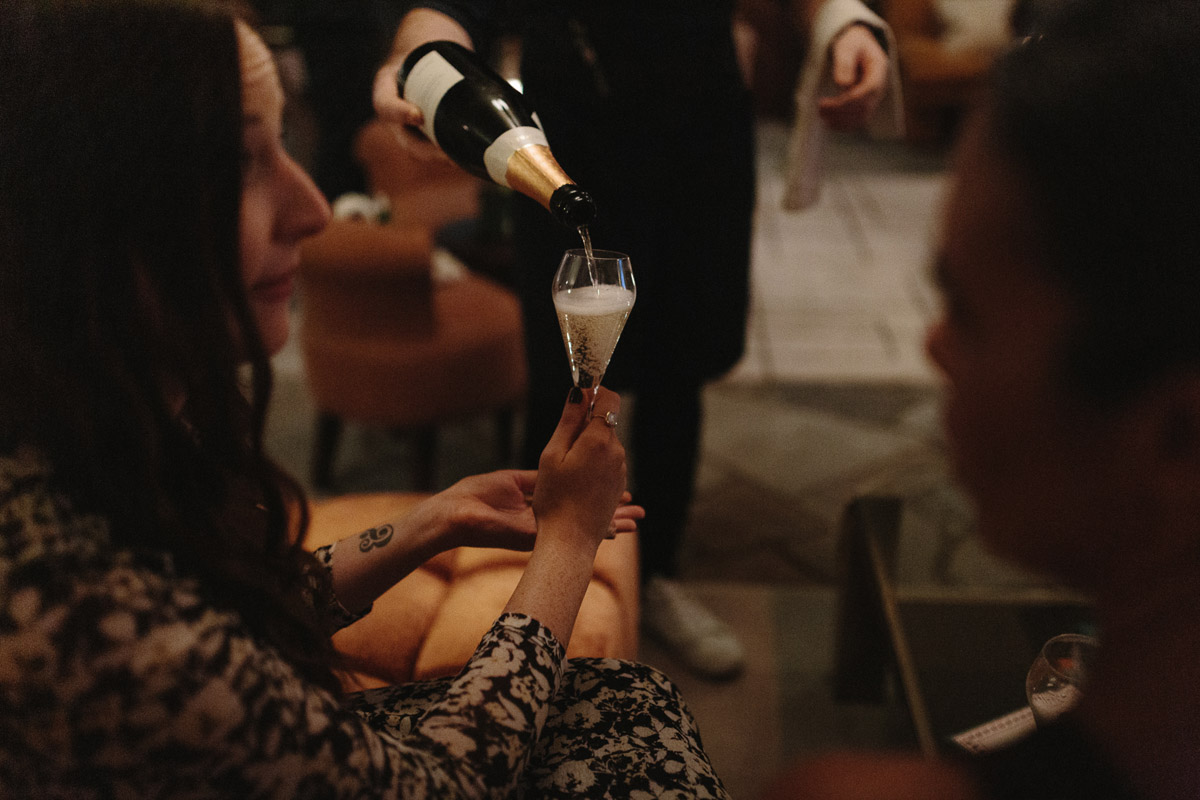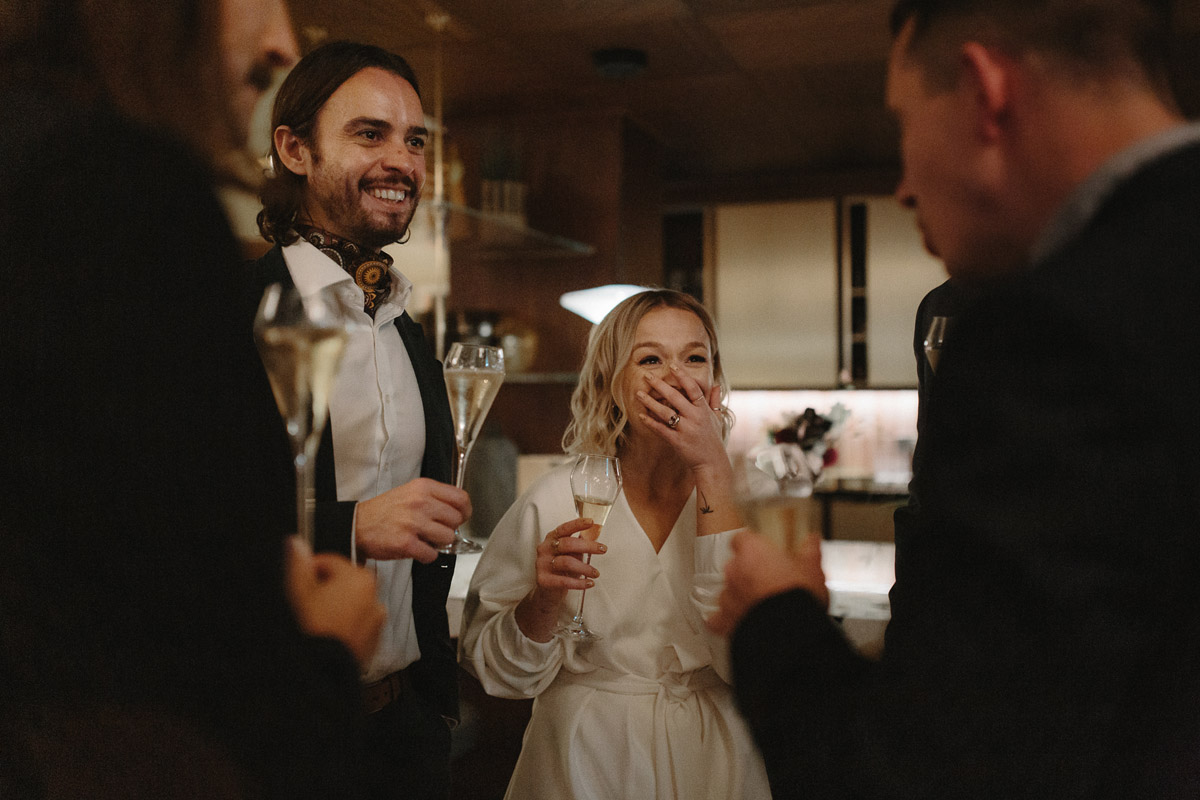 The couple bought a cake from London based baker Lily Vanilli.
"It was chocolate inside with a fresh raspberry cream frosting. Sadly I missed out on having a piece as it appeared quite a few cocktails into the evening. I heard good things from the people that did eat it though!"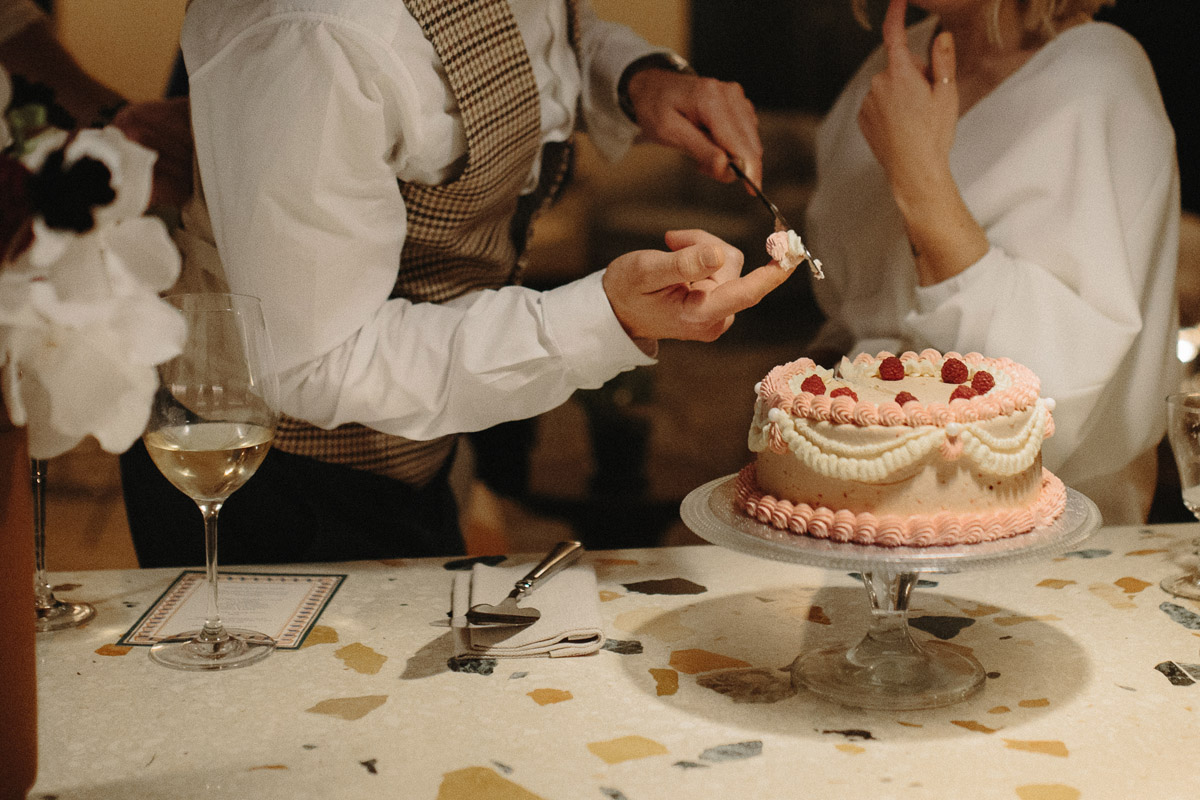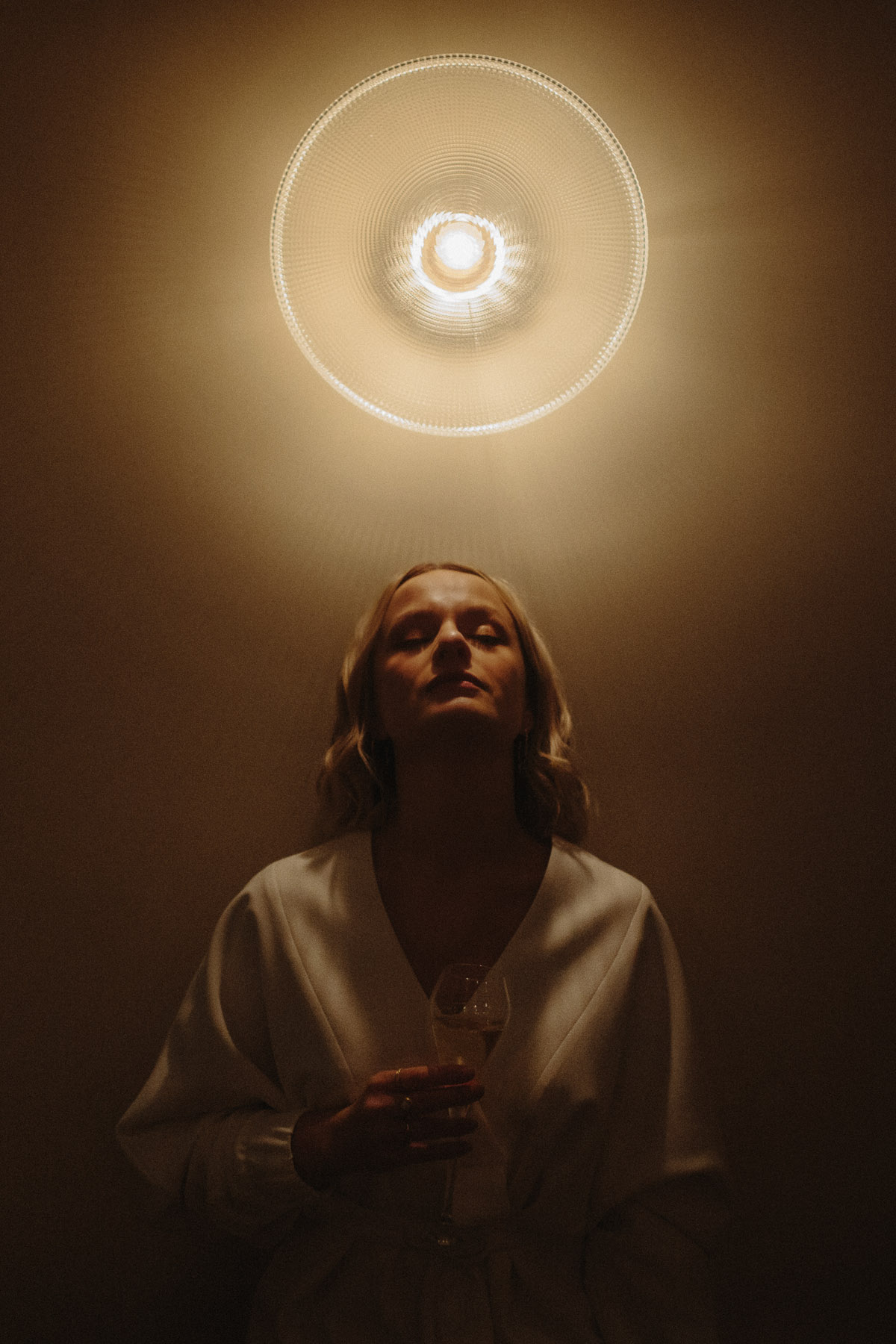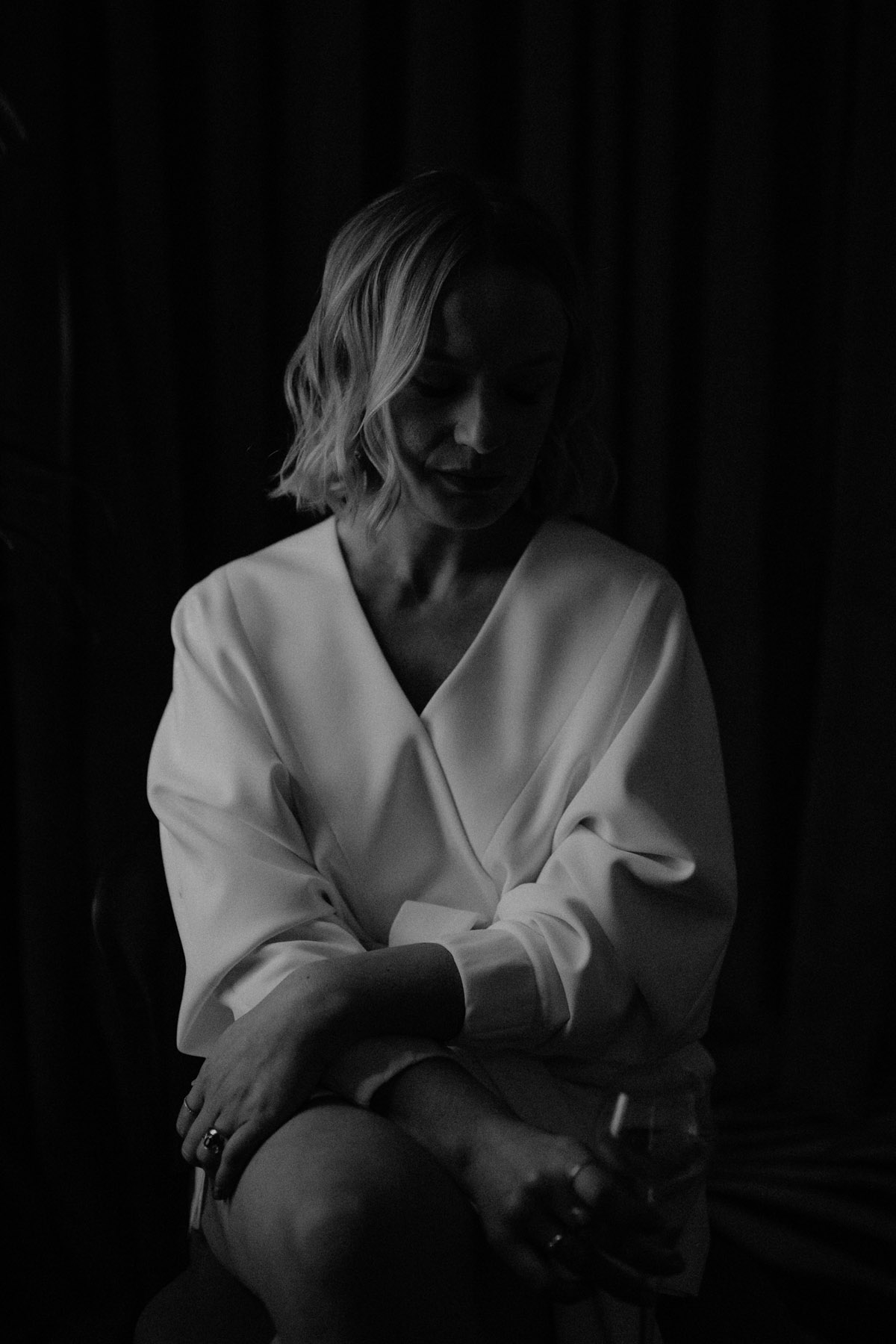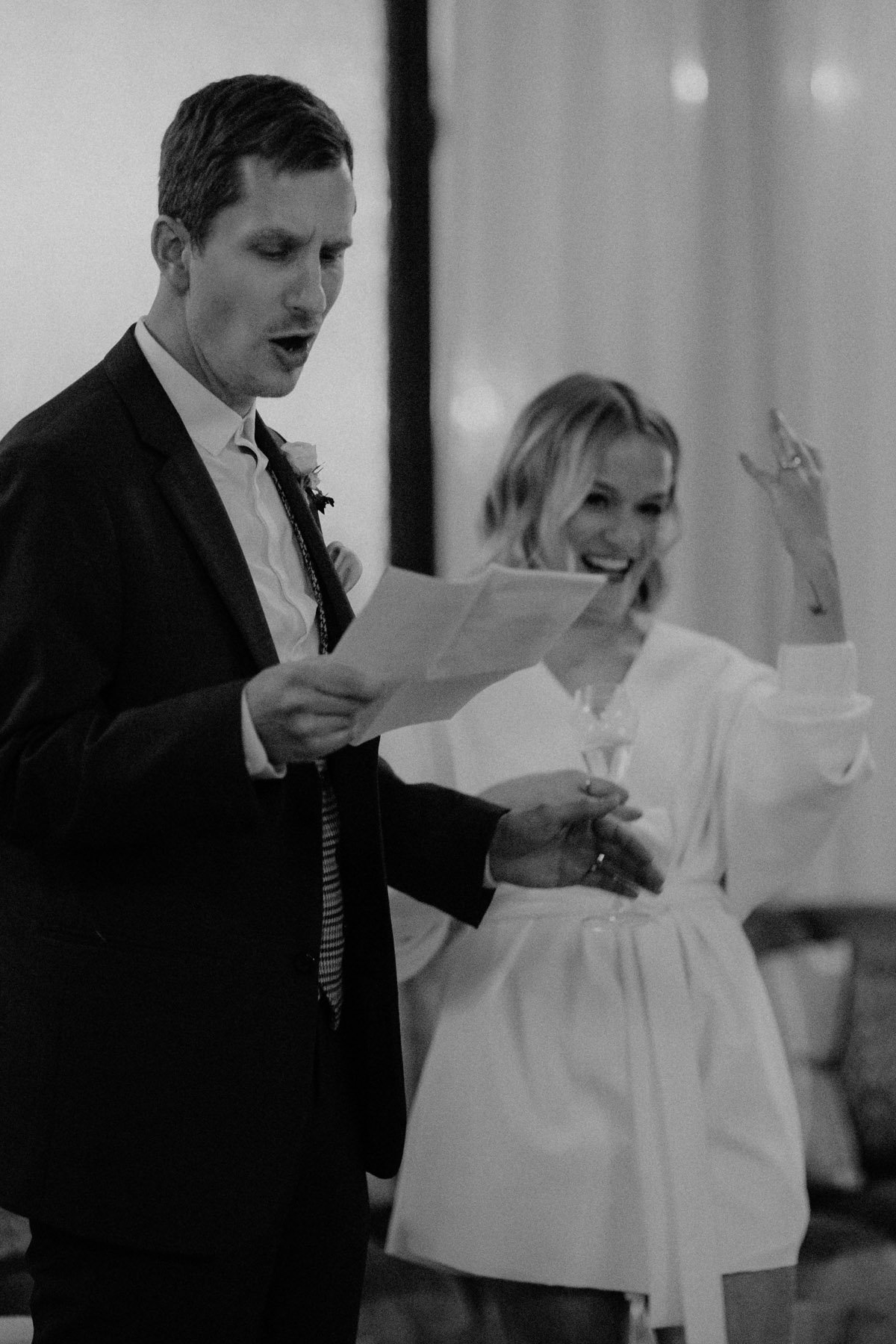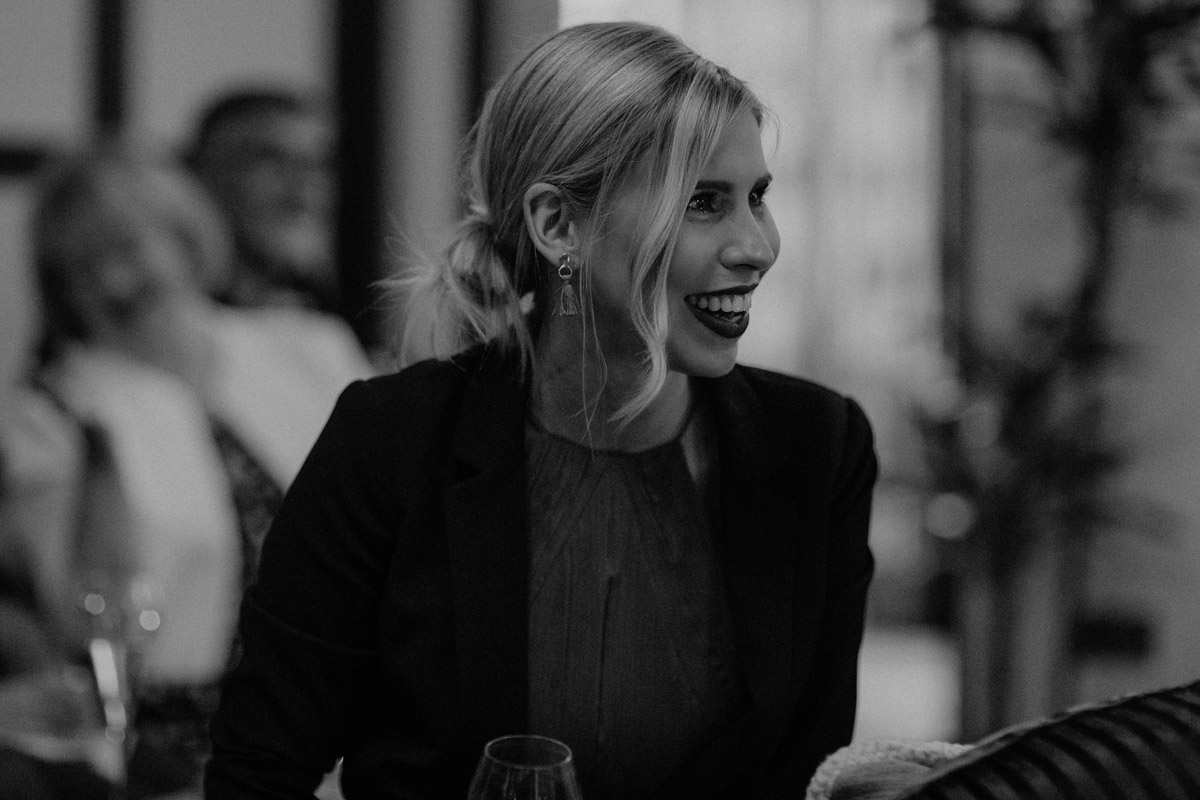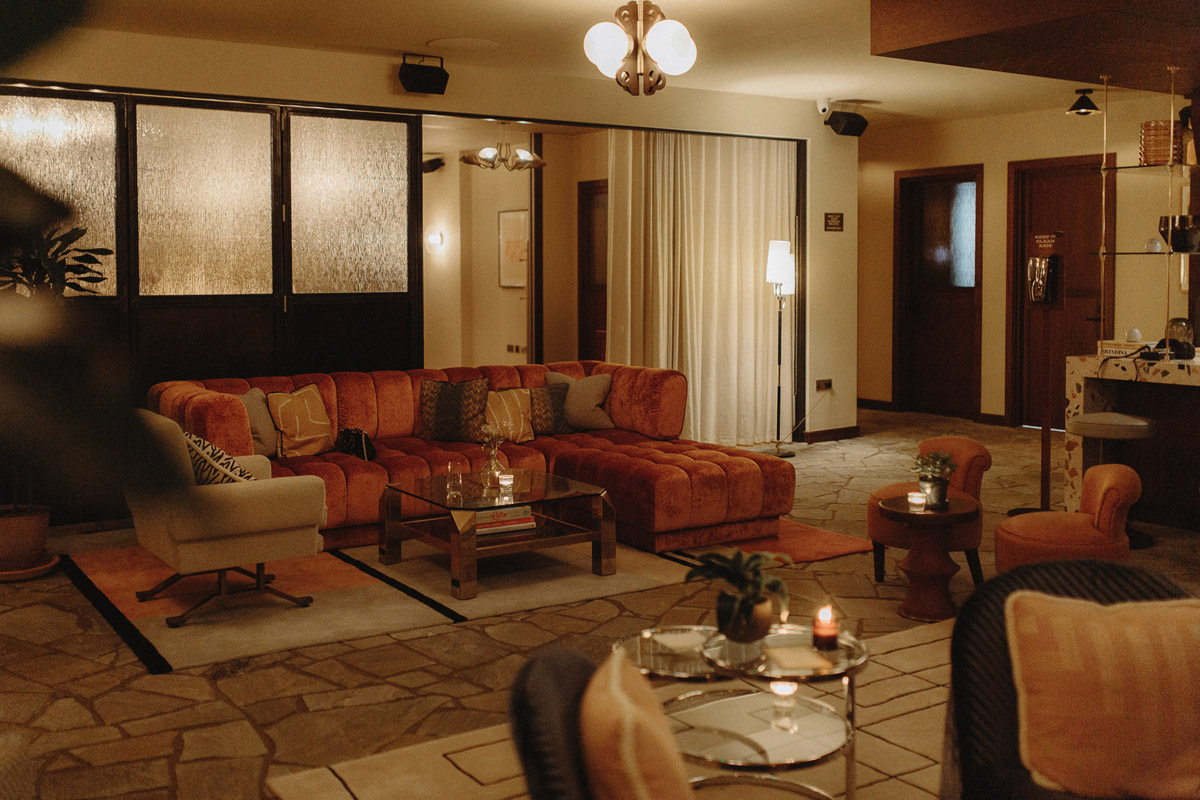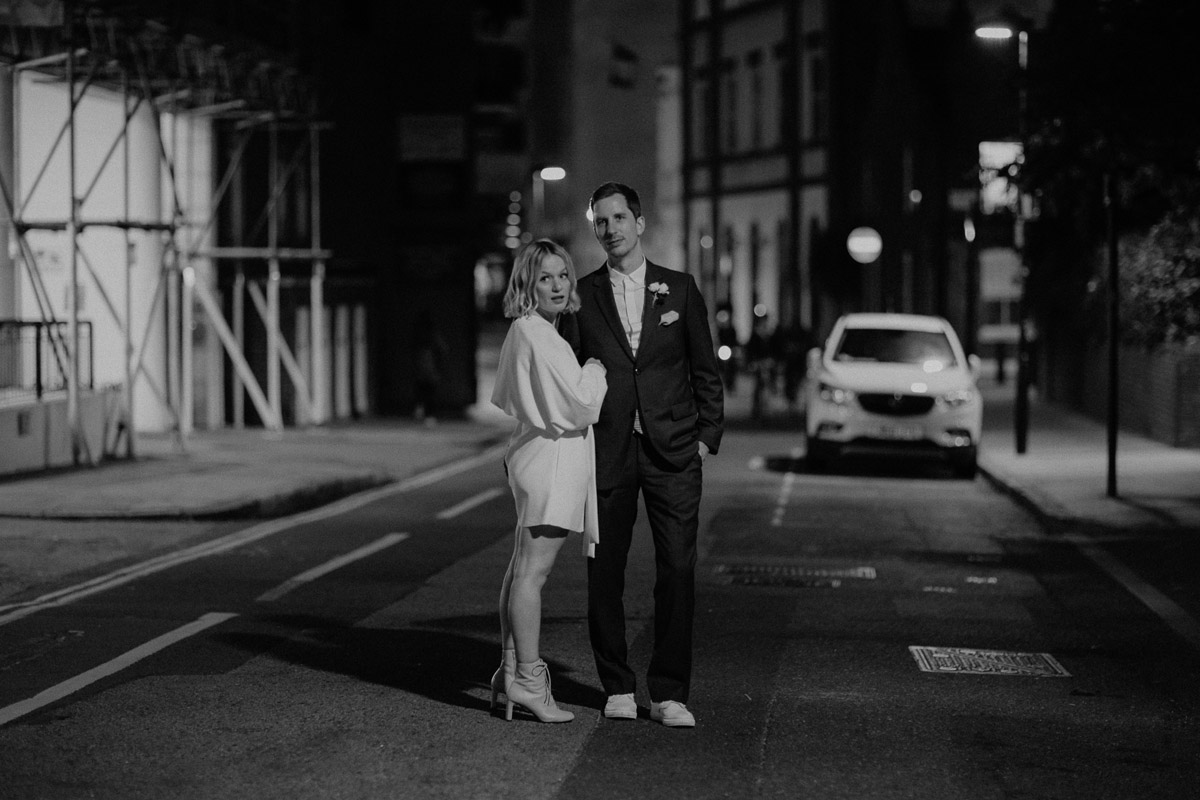 "We had originally designed the playlist for the day ourselves. It was mostly 70s disco and Motown and various remixes / electronic tracks that we love."
"In the end The Hoxton played their music throughout the evening as in all the excitement I completely forgot to give them a devise to connect to. Their music choices mirrored ours to a T though, so all good!"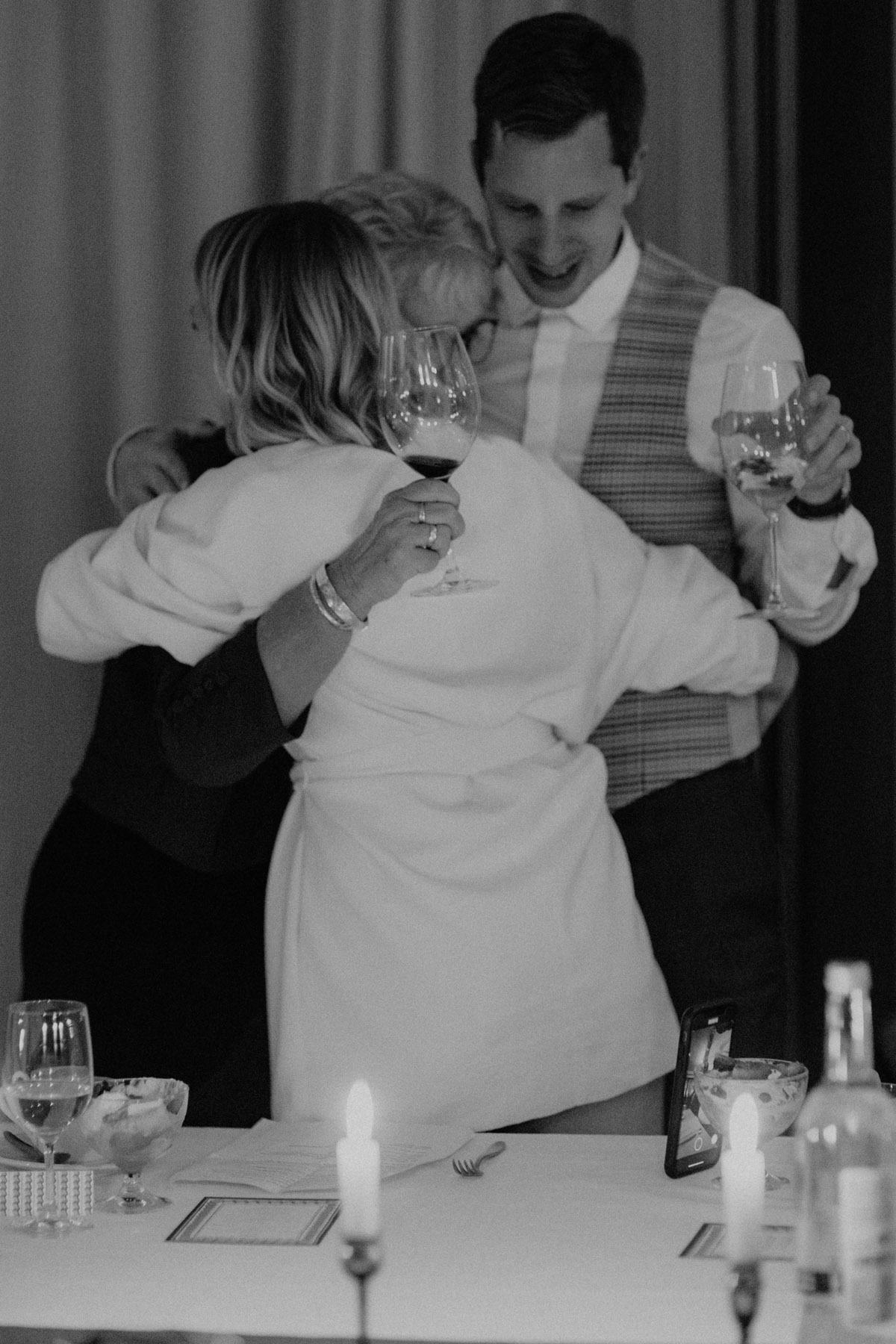 "The whole day was amazing. Literally the best ever. We couldn't have asked for a better wedding in the end. Even though we were only 15 people, it didn't feel small and we didn't think about covid once."
"There was so much love on that day, it was overwhelming. We were also able to spend a good amount of time with everyone."
"The day was filled with so much love, laughter, tears and joy. And the after party in our hotel room wasn't too bad either!"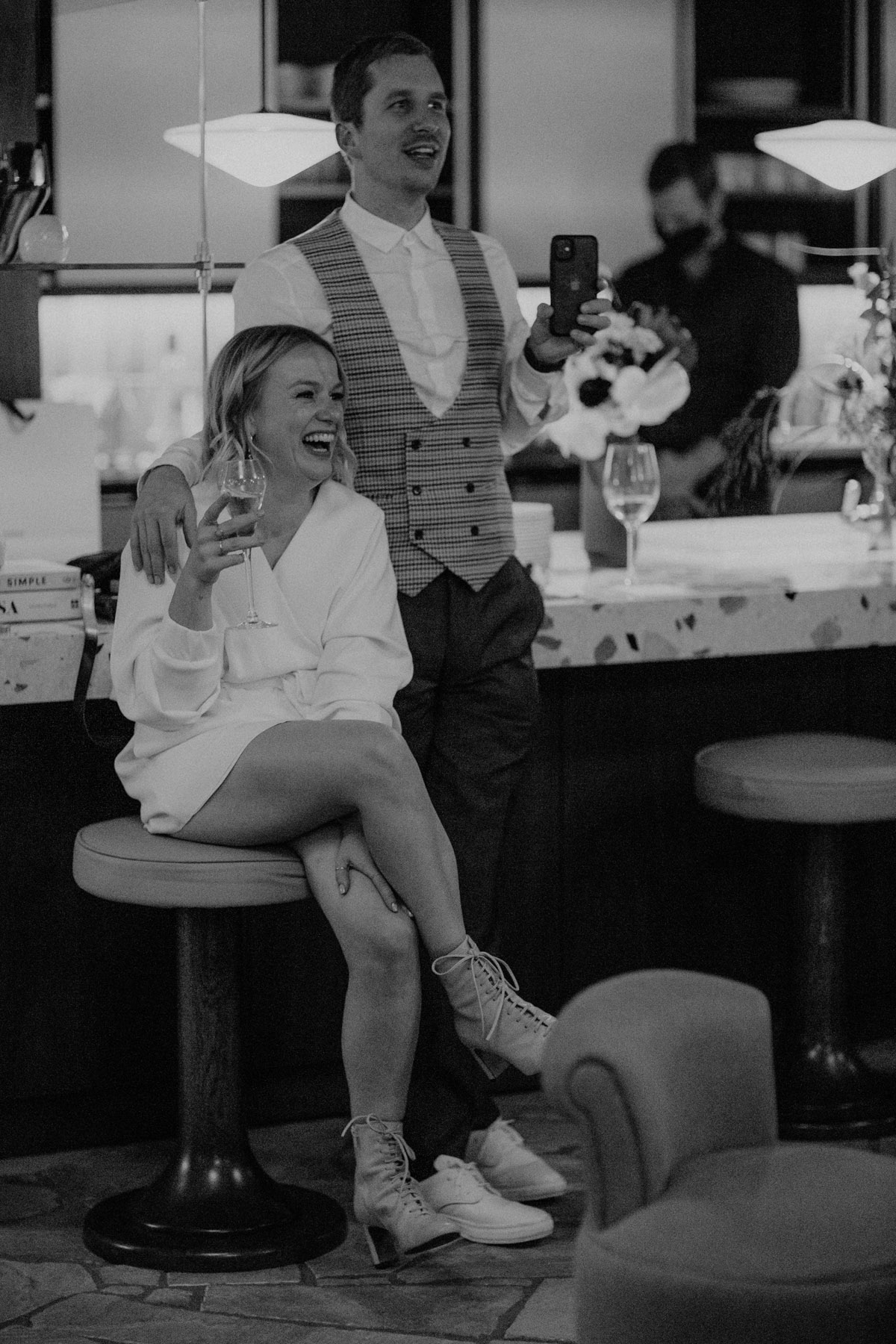 Words of Wedded Wisdom
"Use postponement as an opportunity to revisit and fine tune what you want from the day. Ultimately it's never fun postponing, but actually getting married in a pandemic made everything feel all the more special. The fact that we managed it finally, it was even more of a reason to celebrate."
"Try to ignore any feeling that you have in terms of disappointing people for not being able to invite them. They'll all understand. These aren't normal times."
"Keep reminding yourself why you're doing it. I found that planning a wedding during covid times put people into two categories. For some the most important thing was having a big celebration with lots of people. For others it was just making the vows themselves. Both are equally as valid as the other. Working out where we sat, helped us in terms of navigating postponement."
"We discovered the joy of having a small wedding. Enough time to spend with everyone. Less pressure on the day. You can always have multiple celebrations. It's actually quite common in Germany, where Dennis is from, to have the legal ceremony and then the bigger party a bit later. Often on separate days."
"Try not to get caught up too much in trends and go for things that feel right for you. Surround yourself with suppliers you'd want to go to the pub with. This way you're much more likely to end up with a wedding that you feel 100% comfortable with."
"Our budget changed quite a bit as our plans changed and the numbers of people reduced. Because we were managing / sourcing suppliers ourselves we were able to keep costs down a little. I think in total we probably spent £5-6k although there may have been some additional costs with postponement. In the end it was nice being able to pay for everything ourselves."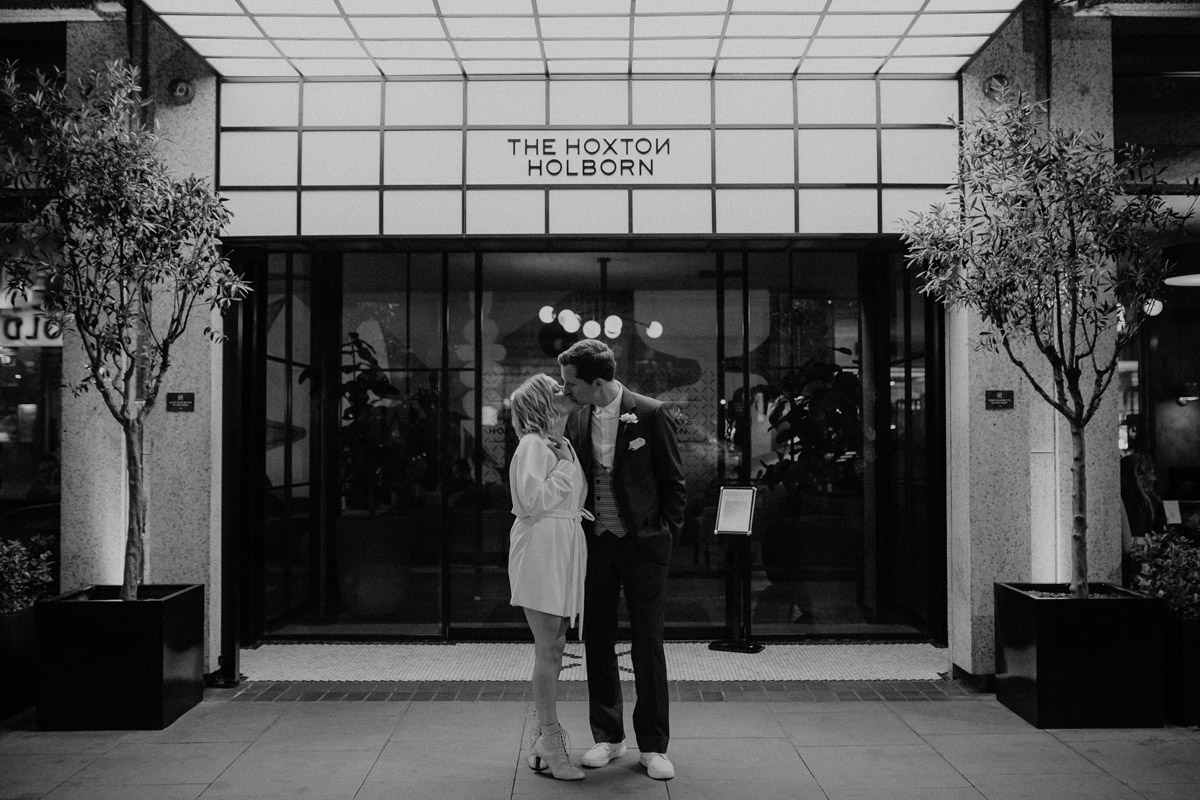 So so super cool and gorgeous – our love, thanks and huge congrats to you both, Rachel and Dennis.
Readers, you can find more micro wedding inspiration here – if you're planning your own small and intimate wedding, we send you all our love and cannot wait to see the photographs.