Hello lovelies! Welcome to our first beautiful wedding of the week, featuring beautiful bride Jade and her love Iwan, who tied the knot in March, pre covid, at Bachwen – near Caernarfon in North Wales, hosting a beautiful candlelit reception inside a Baya Dome.
The couple both like minimal and modern styling, but the most important thing for them both was to make their family more official; "The day was as much for our daughters as it was for us, if not more."
"Bachwen has a private beach with beautiful views over Caernarfon, Penllyn and Anglesey. It also had enough accommodation on site for a large proportion of guests and we wanted to make a weekend of it."
"I'm lucky enough to work in the wedding industry so I knew quite early on which suppliers I would want for our wedding."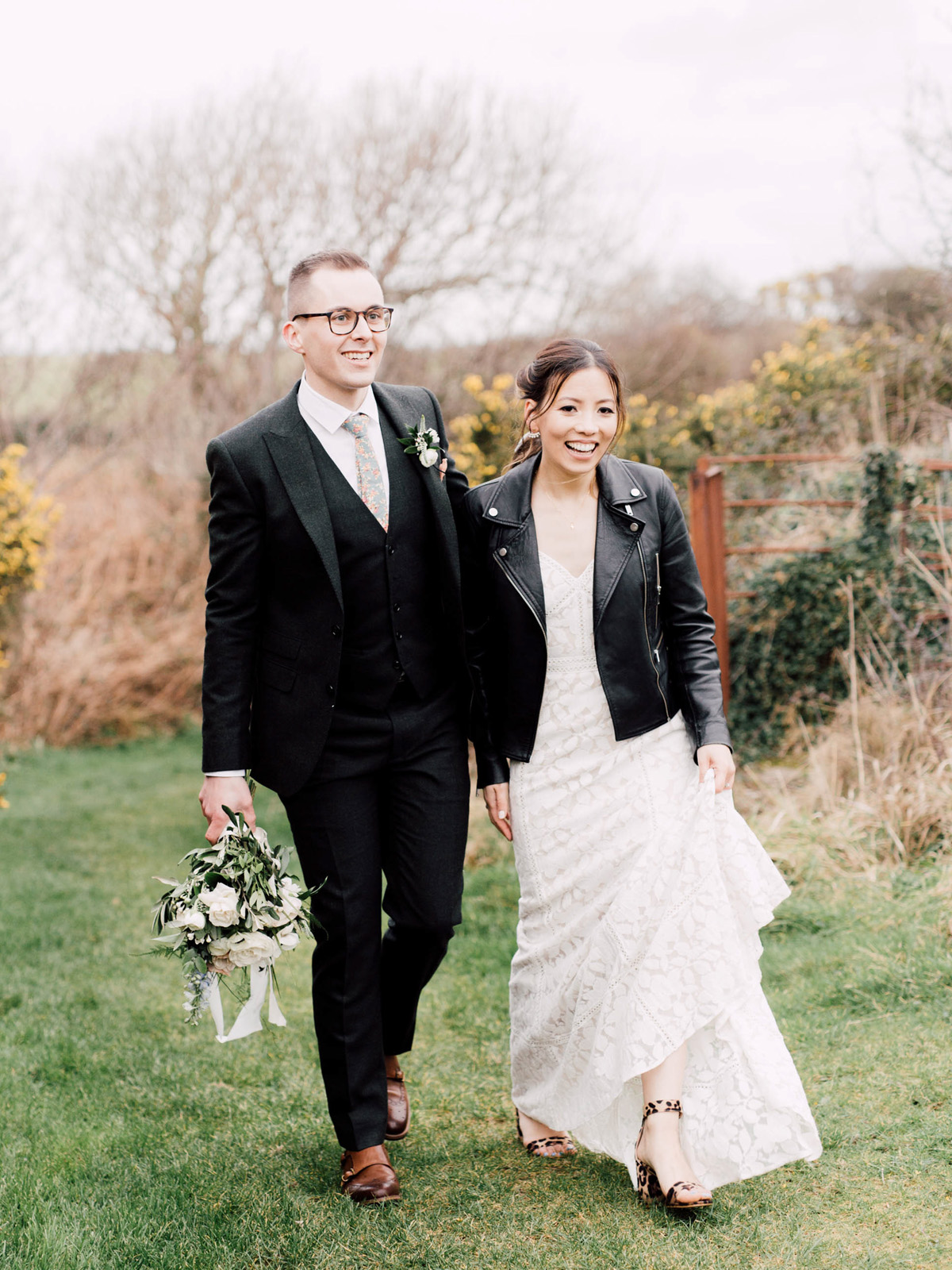 "Our photographer, Heledd Roberts who has become a good friend was an obvious choice and I can remember seeing her work featured on Love My Dress before we had worked together – it sealed the deal long before the wedding planning even started!"
"I wore Daisy Love by Marc Jacobs – a gift from Iwan on the morning of the wedding. I don't often wear perfumes as I have super sensitive skin, but I loved that he had chose a soft scent for me."
"I wore some lovely ear jackets and a lightning bolt necklace, from Claire Hill."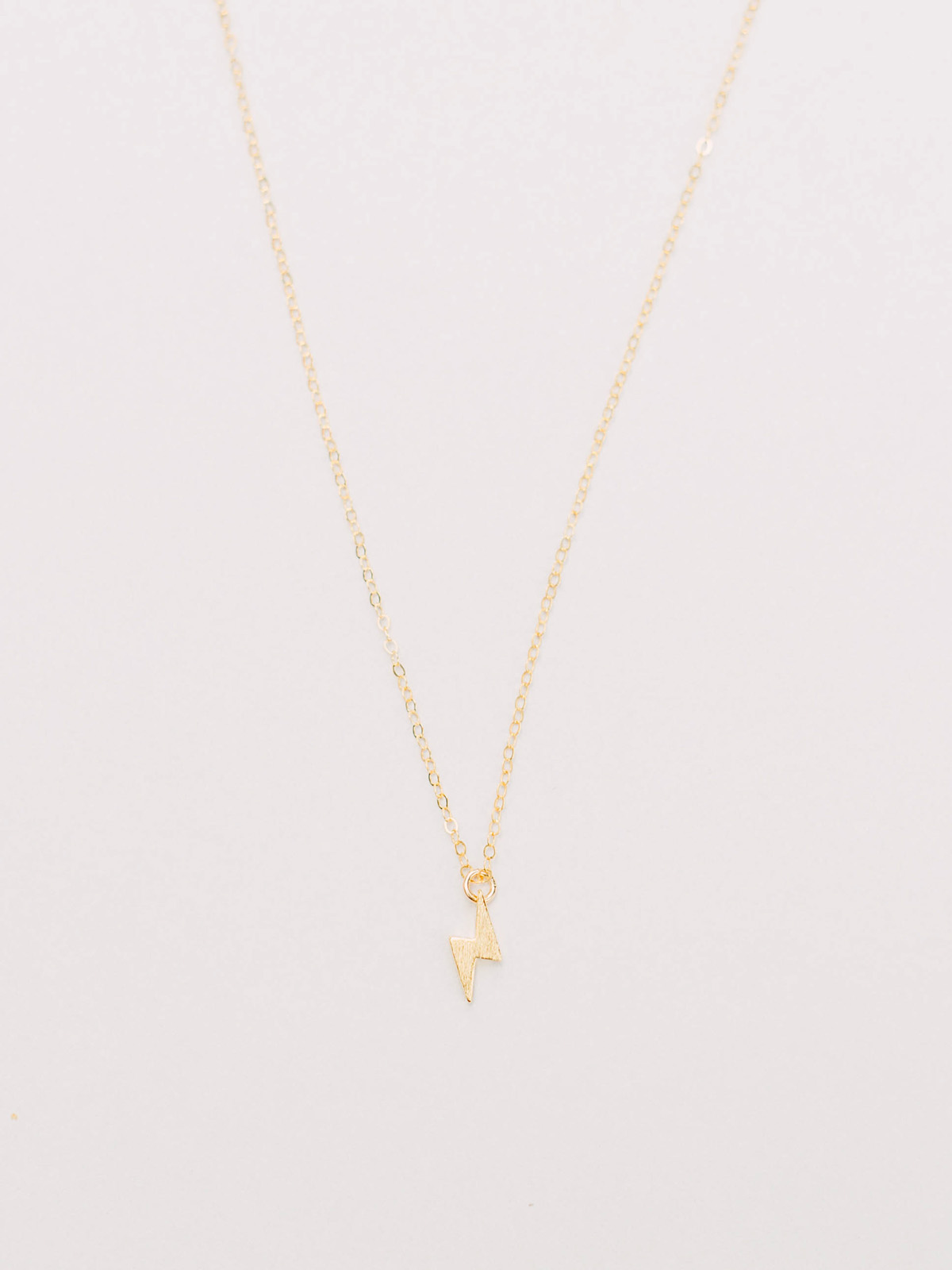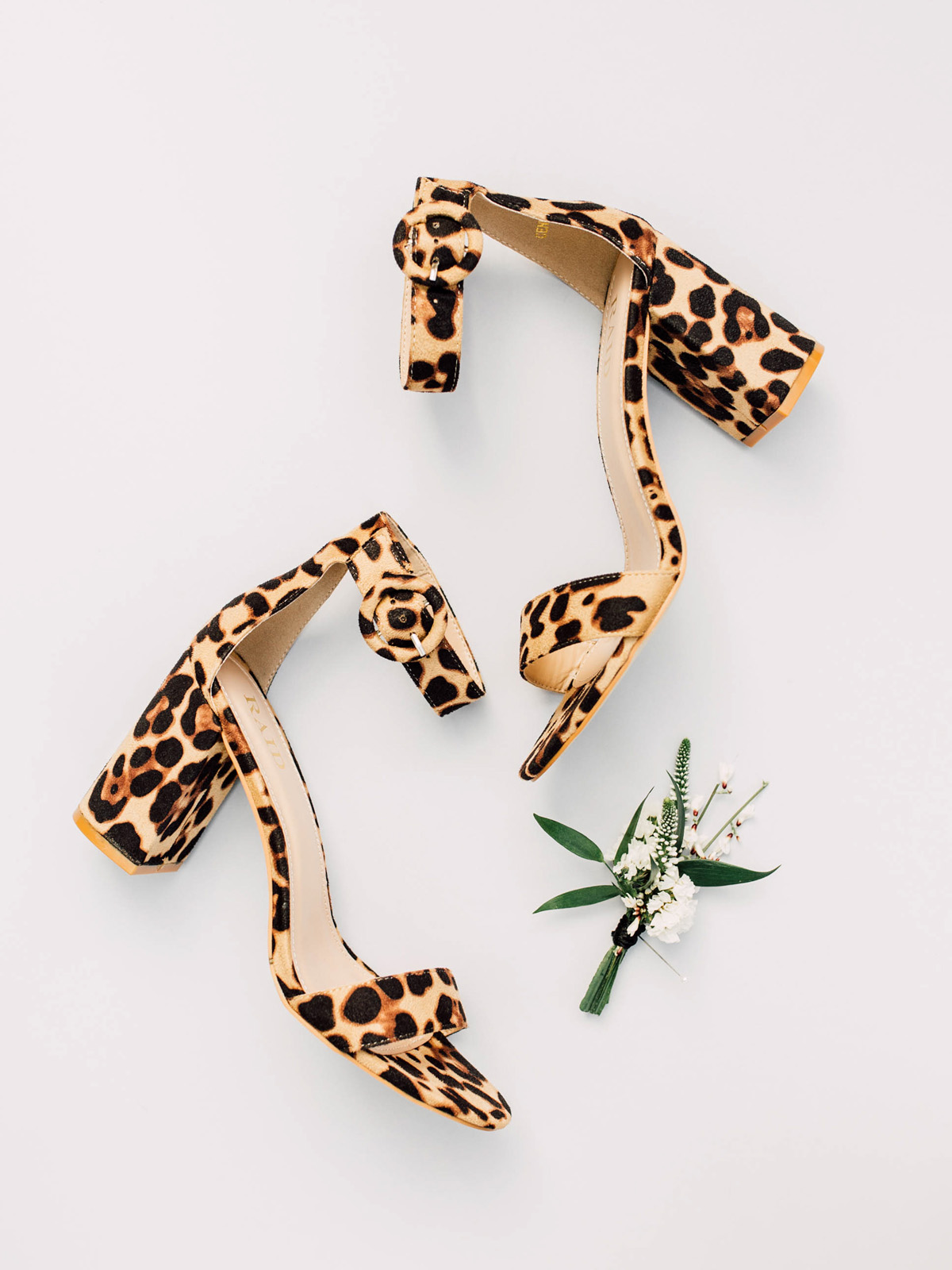 "I wore a loose twisted ponytail, with a simple hair ribbon."
Jade's dress was the 'Vivienne' gown, by Willowby by Watters – a discovery she made at The Silk Loft bridal boutique in North Wales.
"Katie at The Silk Loft is amazing! She really understands how to make a bride to be feel comfortable in their own skin. I'm not a great 'shopper' – I do everything online usually, but to have that experience in her boutique and to really spend time trying different styles was lovely. Katie pushed me with the styles, and I ended up going for the 'wild card' dress."
"I felt so confident. I'd imagined a high-neck, long sleeve, plain gown – if I was daring enough I was going to go for backless."
"The Vivienne is v-neck, has spaghetti straps, quite a bold lace print AND is backless! But it still felt subtle and bridal, and made me feel amazing."
"As I was getting married in March, I knew it might be a little chilly, so I also wore a jumper from Topshop during the wedding breakfast, and my faithful French Connection leather jacket for some of the bridal portraits. I loved adding both these items, I felt like 'me'."
"Our florists were Ivy, Pip and Rose. My favourite flower is the panda anemone, I love how bold it is! So I knew I wanted to have them feature as much as possible. For the bouquets, we included roses, ranunculus, veronica, fern and sky blue delphiniums."
"This colour scheme was carried throughout the styling. Mostly whites, but with hints of blue."
"We met whilst working at the local leisure centre 14 years ago. We were together for a few years before going our separate ways. We reconnected whilst I was living in London and started a long-distance relationship soon afterwards."
"I moved back home to Wales in 2013 and we had our first daughter in 2014."
"We got engaged during a weekend break in the Lake District in November 2017, a year after the birth of our second daughter. Iwan used a video to propose – as he knew he wouldn't be able to get the words out properly."
"The video was our highlights from the previous 10 years and ended with the question. We got married 16 months after getting engaged."
"We created a focal point at the ceremony using greenery and I loved it – it was super modern and fresh."
"My Dad accompanied me into the ceremony – we love music so we actually chose 3 songs to play before my entrance; 'Dreams', by the Cranberries, 'Take over the World', by The Courteeners and 'One Day Like This', by Elbow."
"I then walked down the aisle to Ellie Goulding's, 'How long will I love you?'".
"We said our vows in welsh, which was important to us. However, the ceremony was bilingual."
"We included two readings, read by our friends. One was a Bob Marley quote we found on the internet; 'He's Not Perfect'."
"The other was a welsh poem, which our good friend Lisa Eurgain Taylor (a local artist) wrote for us about our family. This was so special to us and is something we will treasure forever."
"My wedding ring was my late grandmothers. A local jeweller, Angela Evans reshaped it to fit perfectly around my engagement ring."
"Our photographer was Heledd Roberts – she is amazing! I am a super fan and we have worked together a lot. She is so calm and unassuming but absolutely gets what she needs to and nails it."
"Her style is light and airy, and non-fussy. Just what we wanted! We also felt completely at ease with her during our couple session, not an easy feat!"
The bridesmaids wore pale pink dresses from ASOS, and were gifted blue heart necklaces from the bride, by Lora Wyn.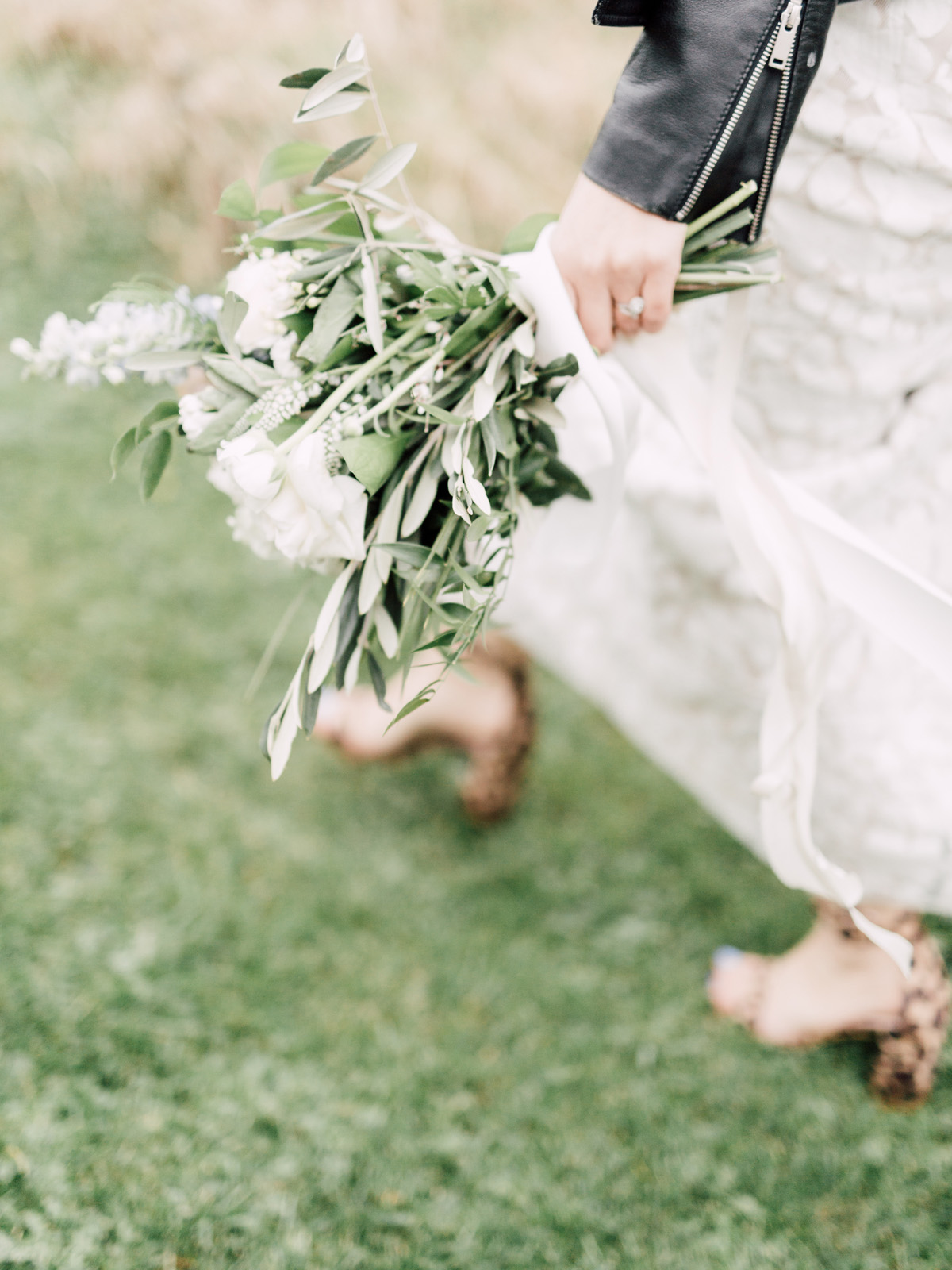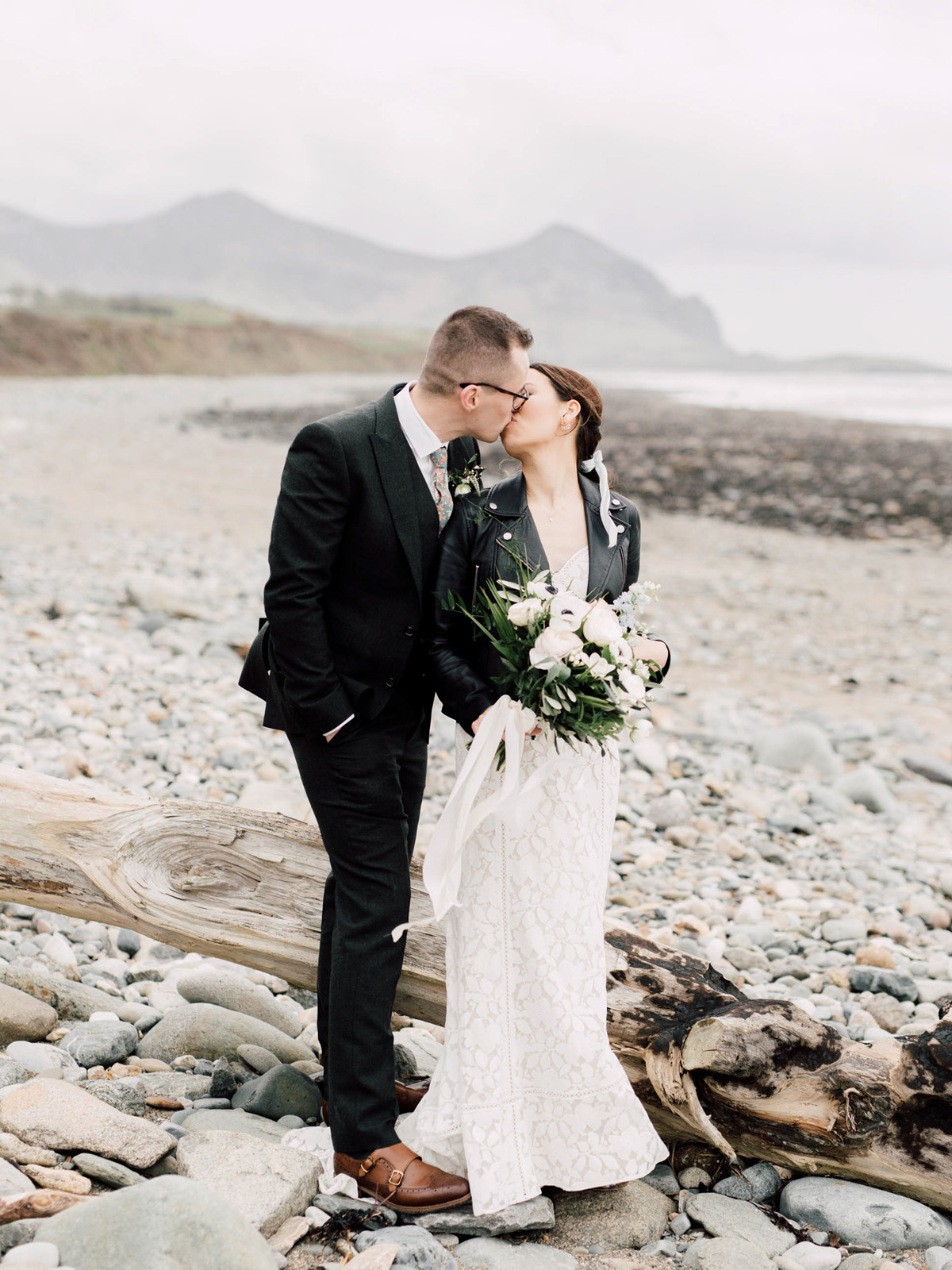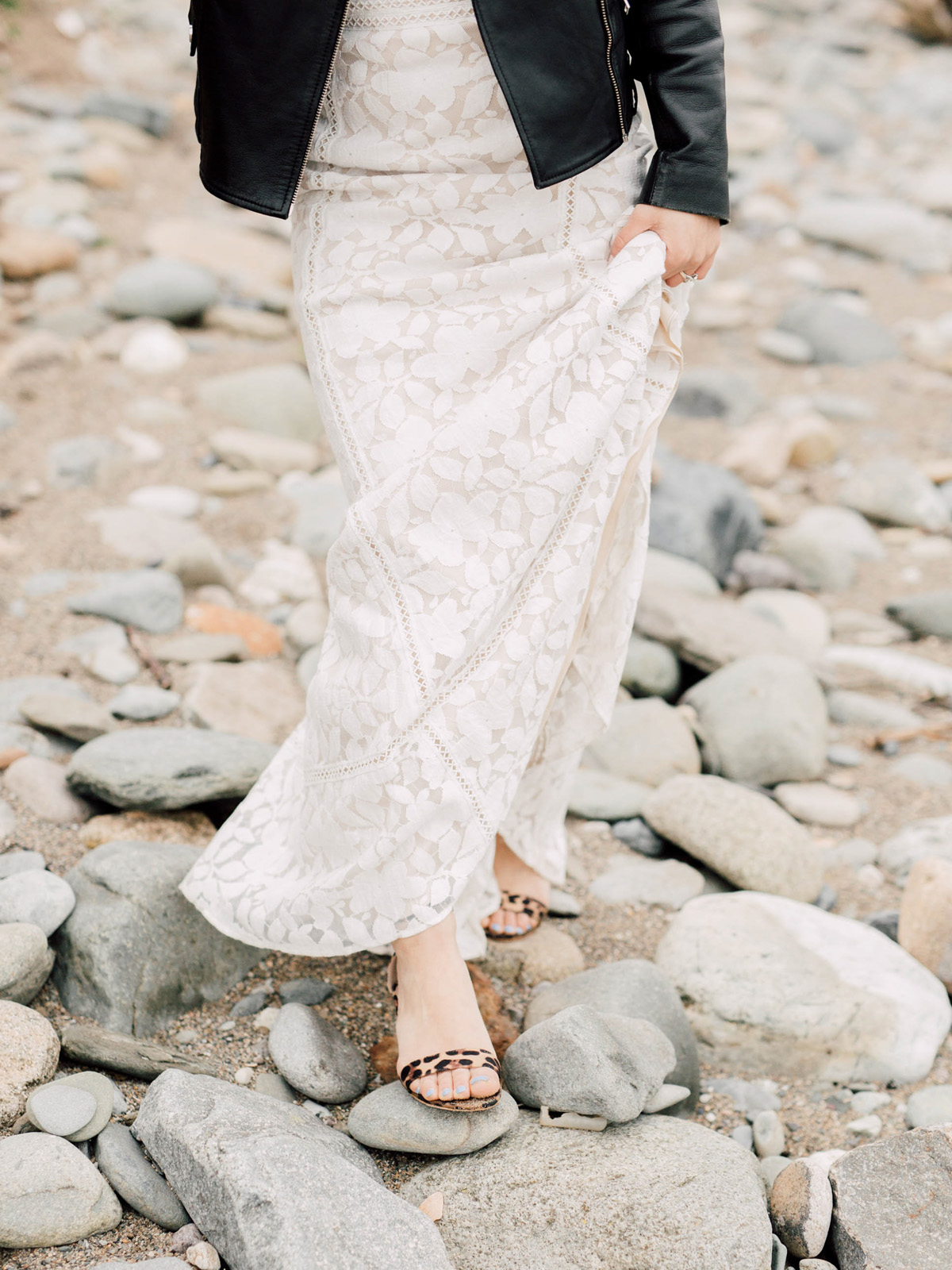 "The cake was Iwan's area – he knew exactly what he wanted! We went for a 4 tier cake, with a blue lower tier, and then two putty coloured tiers and a feature tier with detailed applique."
"The cake was finished with sugar flowers – anemones, roses and fern to match our flowers. It was divine! Hayley also made some personalised marble cookies, macarons and mini cake treats to match."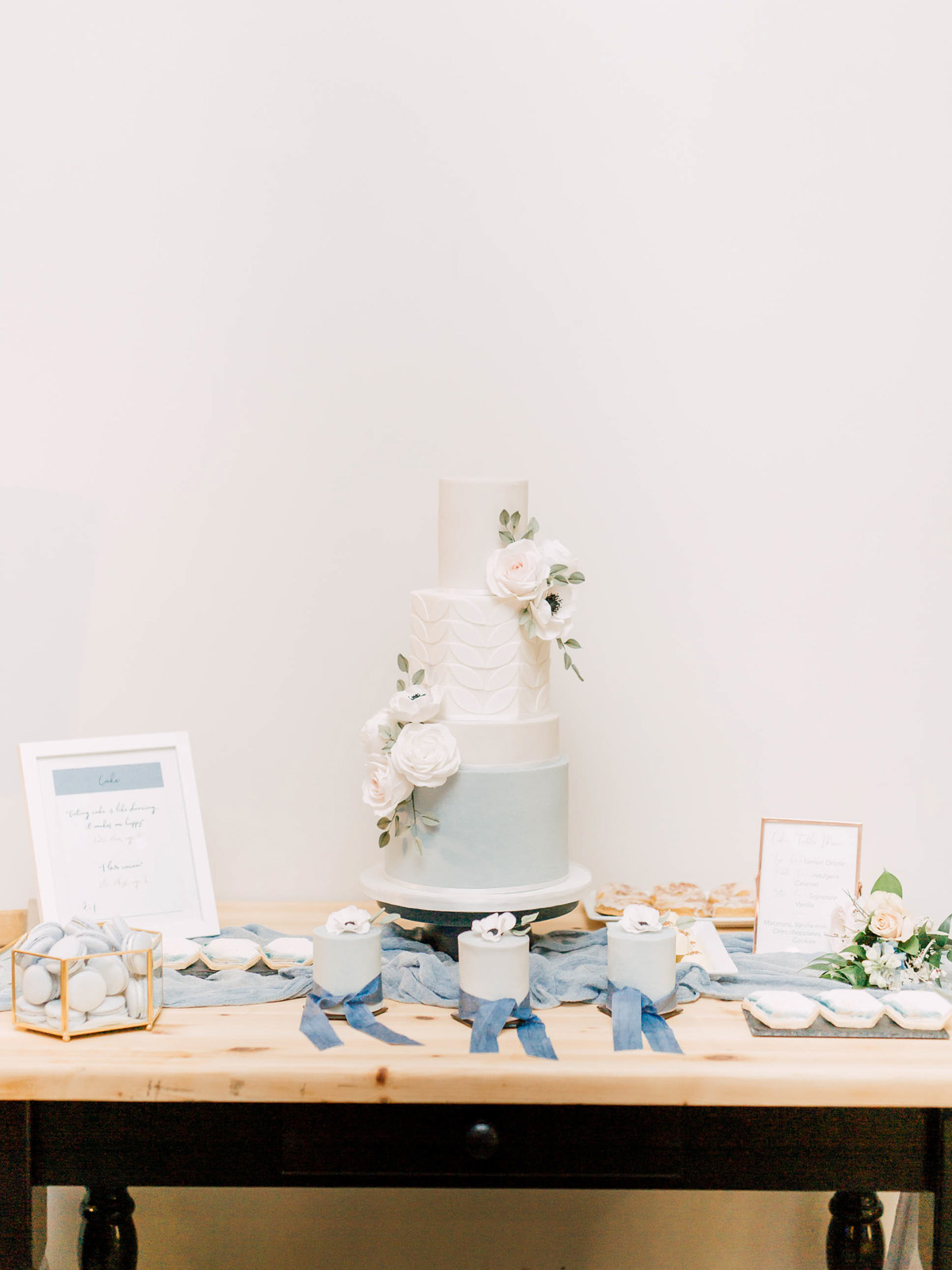 The couple's first dance track was to 'Use Somebody' by Kings of Leon.
"We wanted an upbeat sing along song. Iwan and I used to love going to festivals and concerts (before kids!). This was a lovely reminder of that, an anthem if you like."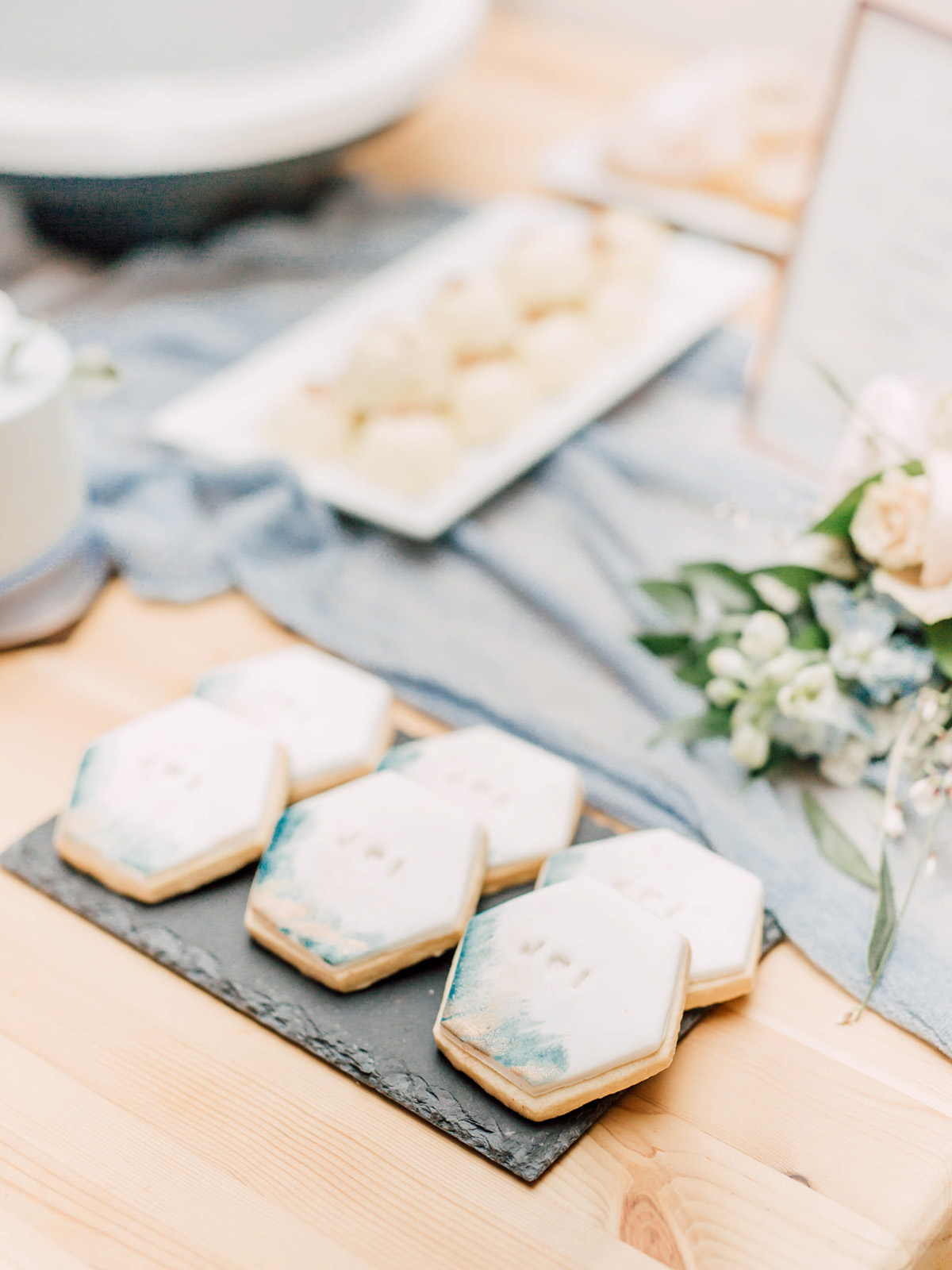 "We didn't slow dance, instead we sang loudly and jumped up and down with our girls, surrounded by our friends and family."
"The first dance was our favourite part of the day. It was the culmination of a great day and the start of the party!"
Words of Wedded Wisdom
"Enjoy it all as the whole process is over so quickly, and include your other half in as much of the planning as you can. That way the day will truly be a reflection of you both."
"The original budget was 14k, we spent 17k. We went over in order to include a videographer – which we definitely don't regret! And to have the menu that we really wanted – and we definitely don't regret that either!"