What an absolute delight to be able to share this editorial shoot with you, featuring the beautiful designs of one of our much loved recommended suppliers, the talented Felisiti Greis.
Felisiti Greis is a couture house based in Leeds and before we go any further, can we please high a five for bridal fashion businesses in the North who are absolutely killing it right now with the most gorgeous creations.
Film by Matthew Laraway Weddings 
Founder Felicity designs and creates luxury, bespoke wedding dresses and occasion wear for modern women around the world and today, I'm really happy to be sharing an interview with Felicity. I'm passionate about getting under the skin of a brand,
Go grab a cuppa then come back and enjoy getting to know Felisiti Greis…
Felicity, please introduce yourself…
My name is Felicity, I am the founder and creative director of Felisiti Greis. I am a fine artist and couture bridal and occasion wear designer.  I was born and raised in beautiful and vibrant Ghana, where my love for art was cultivated. I like to think of myself as an introvert with extroverted energy.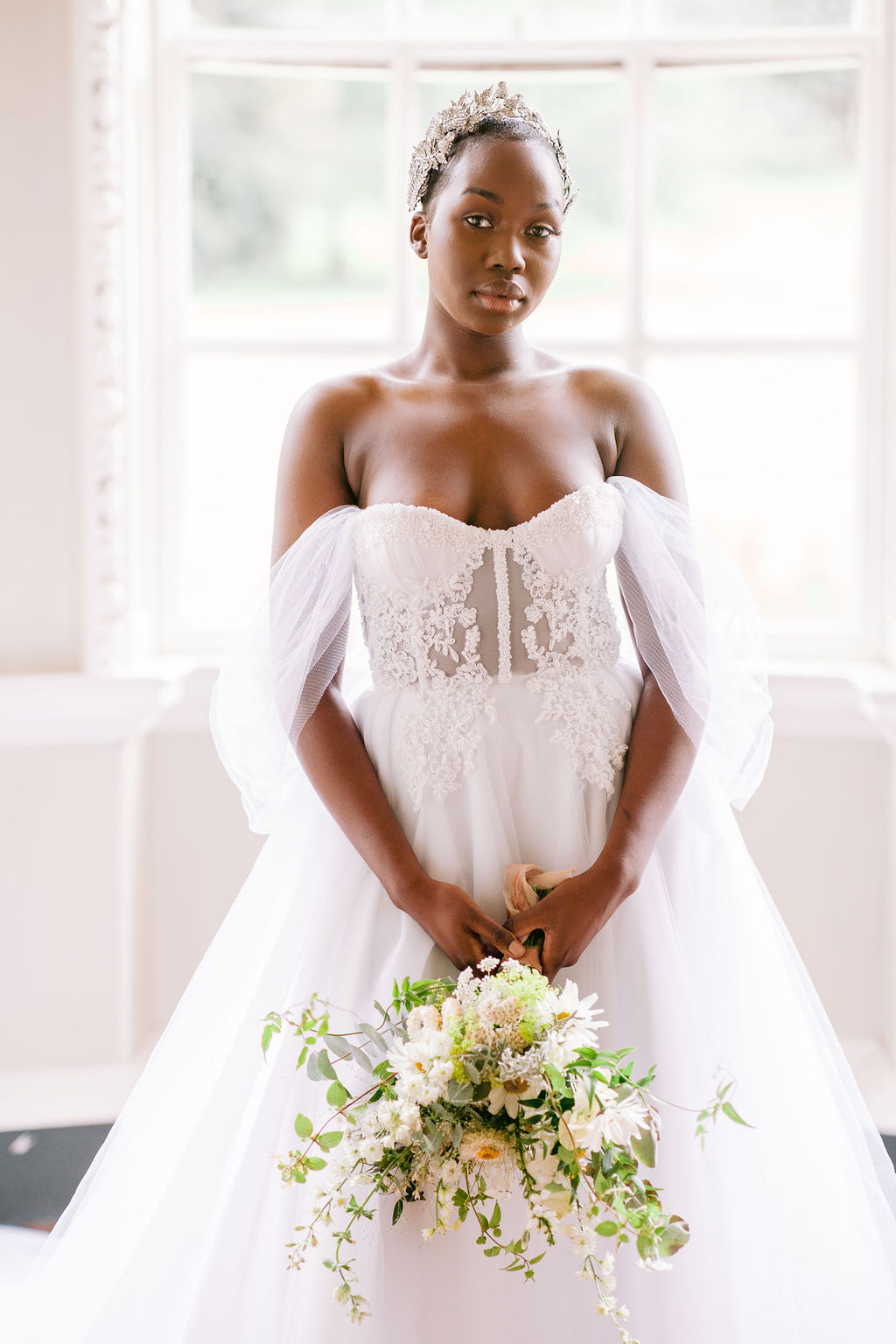 I am an aesthete (always have been; from a very young age and always will be). There is nothing I love more than being an artist, both by nature & nuture; nature because it's God given, part of my DNA and it's a big part of my purpose; nuture because I appreciate, honour and hone my craft by mastering every aspect of it.
Aside from transforming bridal dreams into couture reality for brides to be, I also live out my other purpose of; being a mom, wife, wonderful friend, daughter, auntie, kind stranger and uplifting and inspiring others. There's one more thing you should know about me, I absolutely love being a woman.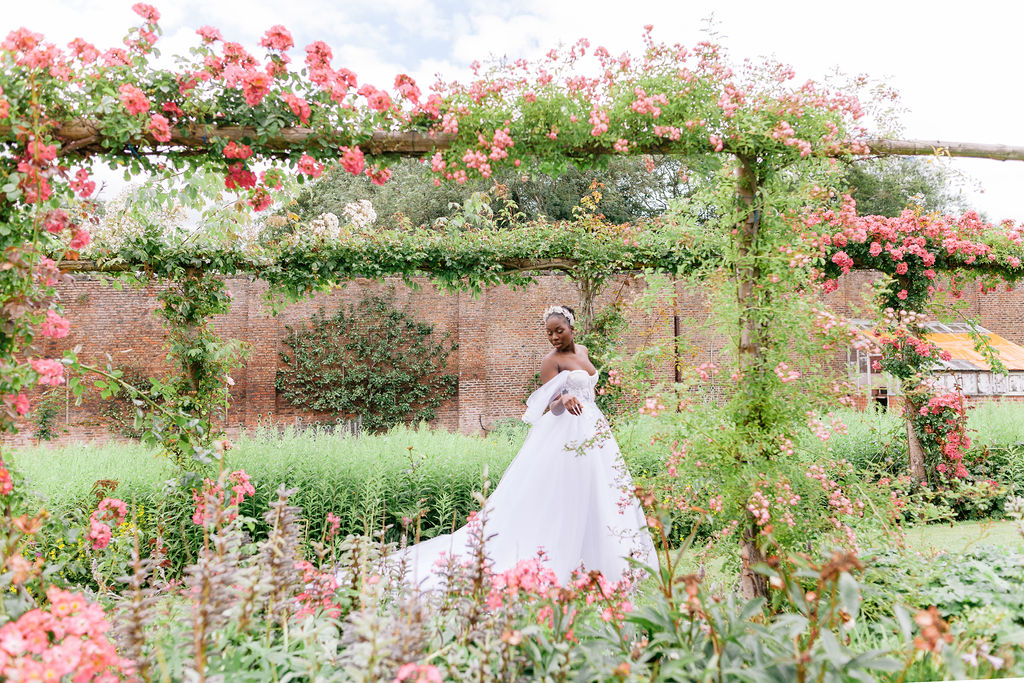 How did you end up working within the wedding industry?
I can easily say it's by chance, but I also believe everything happens for a reason. After college, a close friend of mine asked me to make her a dress for a wedding she was attending. It was my first time ever making a dress for someone, that wasn't a college project. The dress I made was absolutely stunning and she wore it beautifully.
Word of mouth traveled and the next thing I know I got commissioned to design dresses for a bridal party. I even ended up altering the bride's wedding dress to enhance the overall look. This was my first direct encounter with the wedding industry and I have loved it ever since.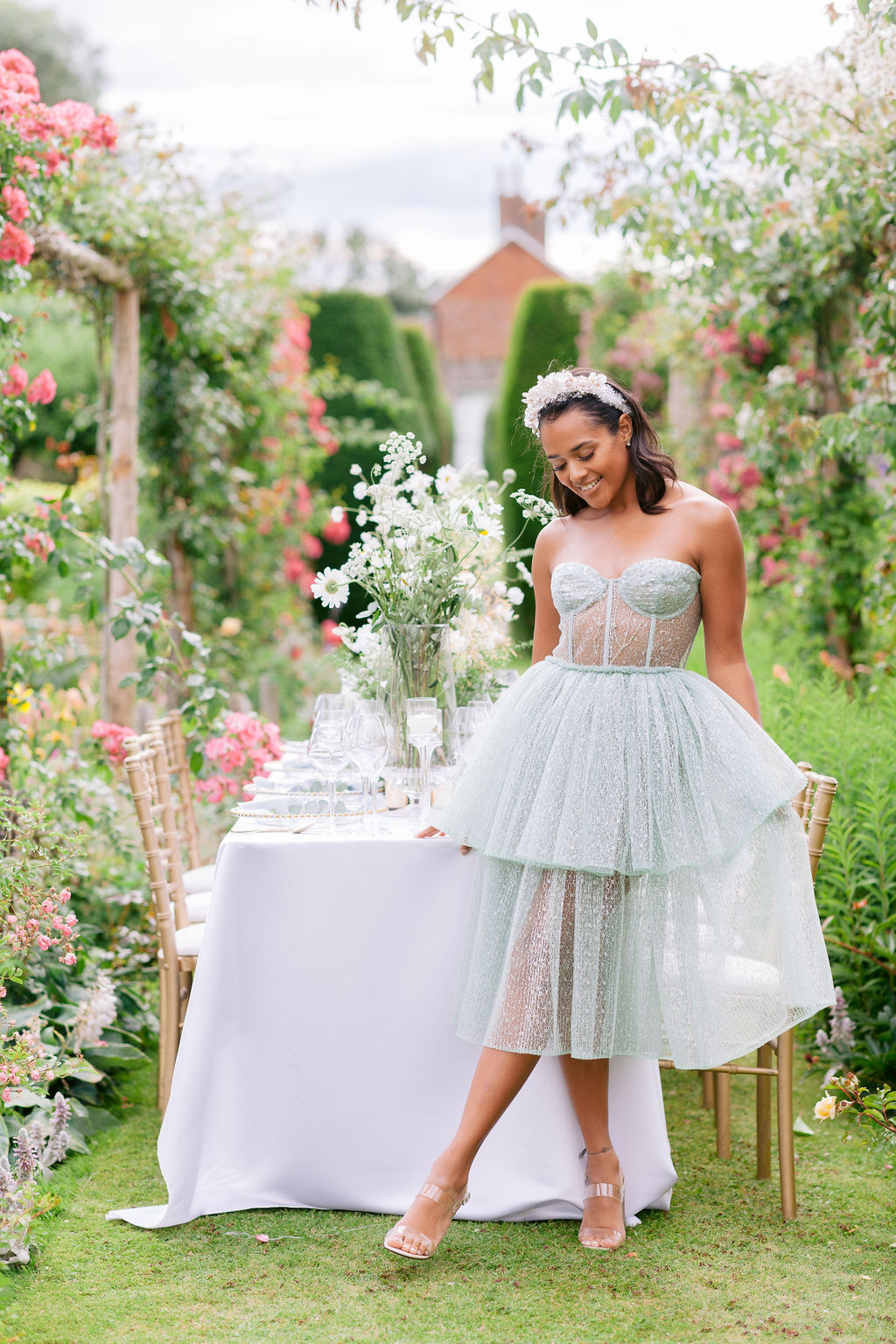 It has been an extraordinary past 15 months for the industry, how did you cope through it as a business? What things have you done to reassure your clients throughout this time?
It really has been a whirlwind the past 15 months. I'm so proud of our industry for still standing, I'm not even sure how we've done it. Long before COVID, I was already offering virtual appointments to my out of town and international clients.
This was an essential part of my process. So, when COVID happened, I didn't necessarily pivot; I just continued doing what I did best, only this time around I was offering brides who would have visited the studio in person the opportunity to have a chat with me virtually to either start or continue their wedding dress journey.
My clients know that both my in person and virtual process are seamless and they don't miss out on anything (except for the physical hugs and shedding happy tears in person…Ha!).
I am with them every step of the way, guiding them through my meticulous process and ensuring they enjoy every bit of it.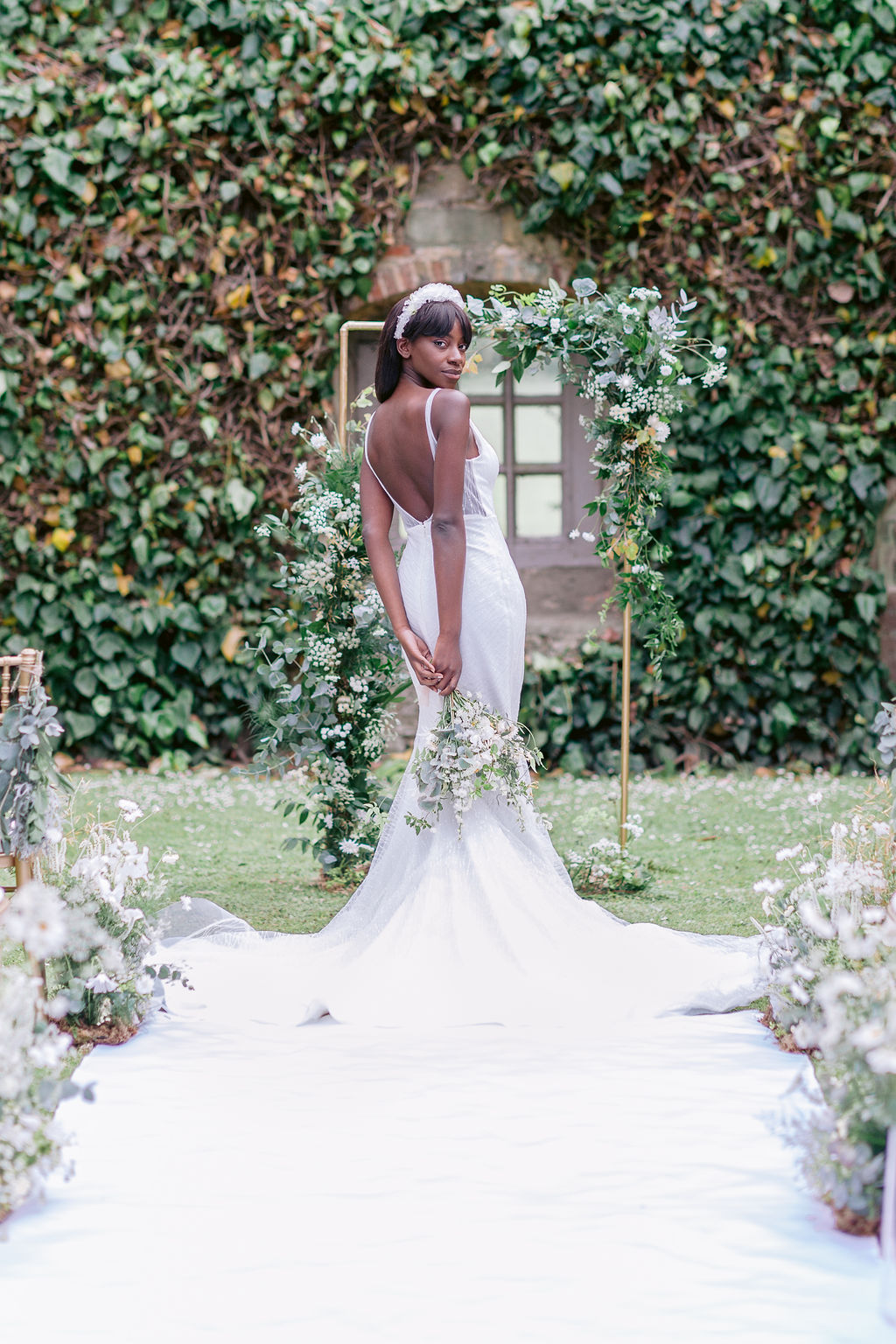 COVID has had a profound impact on the way we live our lives and conduct business. How will (if they will) things look different in light of this moving forward for your business and Felisiti Greis brand?
There has not been a massive change in terms of how I run my business. I will keep doing what I do best, continue exploring, staying abreast with technology and elevating my brand and providing the best customer experience to my clients.
Tell us how you've personally coped through the more challenging times of COVID?
Covid and lockdown has had both a positive and negative impact on my business, but there are a lot more positives than negatives. So, I cannot complain. There were times I felt helpless and exhausted by it all, but majority of the days during COVID/lockdown, I was hopeful. I knew better days would come and that's what I focused on.
I tried my best to take each day as it came, plan ahead where I could and continue to do my best. I personally fell I have bloomed during this season of my life and business, regardless of all the chaos.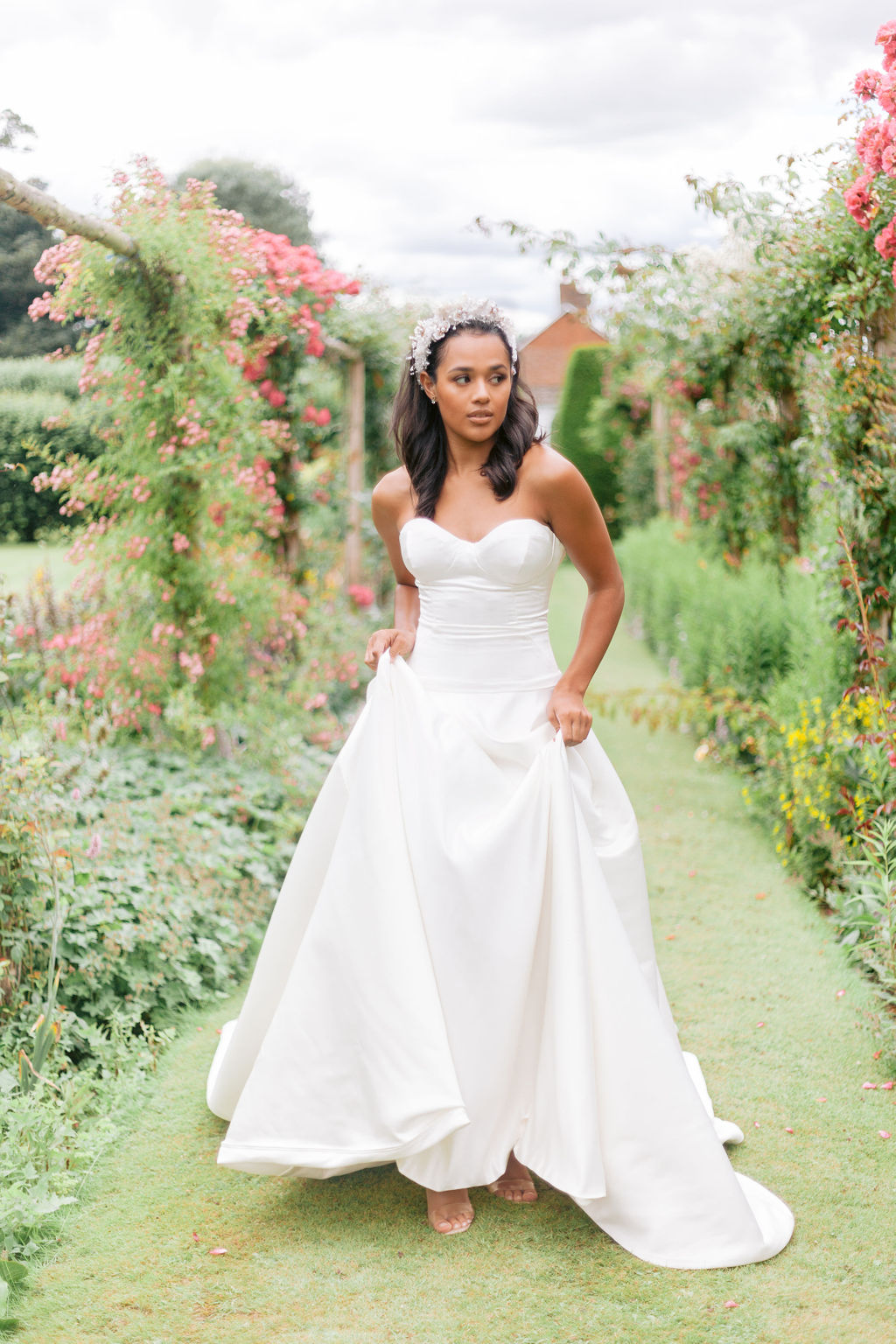 Covid has had a huge impact on the entire fashion landscape. How do you think it's going to impact bridal fashion moving forward and are you already seeing any signs of its impact on bridal fashion choices?
Yes absolutely! I know very well that COVID has had a massive impact, but I also know that sometimes humans can be habitual and like returning to what they know and are familiar with. I see the change being gradual and not necessarily happening overnight.
I've seen brides becoming more style conscious with their choice of wedding dresses. They want something that speaks to who they are as a person. There will always be brides who prefer a more grand and spectacular wedding dress, while some brides prefer something more minimal.

Sustainability and ethical production have always been important to you and your brand. Can you tell us more about this, and how you are feeling now about these important environmental factors, as we emerge out of the pandemic?
I see sustainability as a lifestyle and not necessarily a 'final destination'. In my business, I always try my best to find more sustainable ways of doing things. I choose to be a couture designer because more than anything, couture techniques are sustainable and long lasting. This means the garments I create can stand the test of time and even passed down to generations.
I also aim to use fabrics that are eco-friendly and more sustainable example; silks, fabrics made from natural fibres, fabrics made from other recycled materials and so on.
Another way I want to contribute to sustainability is to share my knowledge with young designers, so they can be educated on the benefits of sustainability in the fashion industry.

Your 'Adiepena' collection is beautiful – please tell us about it. What inspired you?
Adiepena is of Akan origin and means: "something so rare and valuable, that is difficult to find anywhere else."A couture bridal collection inspired by the resourcefulness of the everyday woman and my desire to preserve quality craftsmanship.
This collection is for the modern bride who seeks quality and uniqueness to escape the norm. It embodies comfort, luxury and elegance.
Is the collection available now?
Brides-to-be can order a bespoke design directly from our collection. If you are a bride and are interested in ordering a bespoke wedding dress or occasion wear directly from my collection, then please get in touch and I will assist you with your request.

Do you have a favourite design or designs in the collection?
I love all the designs in my collection. However, Callista has won my heart. I love Callista because of the painstaking process I went through to create it. Callista is a beautiful tulle ballgown with a corded lace bustier bodice, which features a voluminous detachable tulle sleeve. The bodice is beautifully embellished with seed beads over the corded lace.
Do you have any muses? And please describe the typical Felisiti Greis bride
My muses are old Hollywood icons, my clients and Jasmine Tookes, to name a few. The Felisiti Greis woman cherishes individuality, collaboration and embraces quality craft(wo)manship.
She desires beautiful things and respects quality fabrics and creations. My brides have complete trust in my creative process. They know what they want and are able to communicate their vision to me. I love working with my brides. The common phrase they all tend to use is "Felicity are you reading my mind?". From the moment I meet a client, I instantly channel them into my muse.
I listen to them and learn more about their vision. Once we start the design process it feels like we are speaking the 'same language'. My mission has and will always be to create pieces that celebrates the beauty of my clients.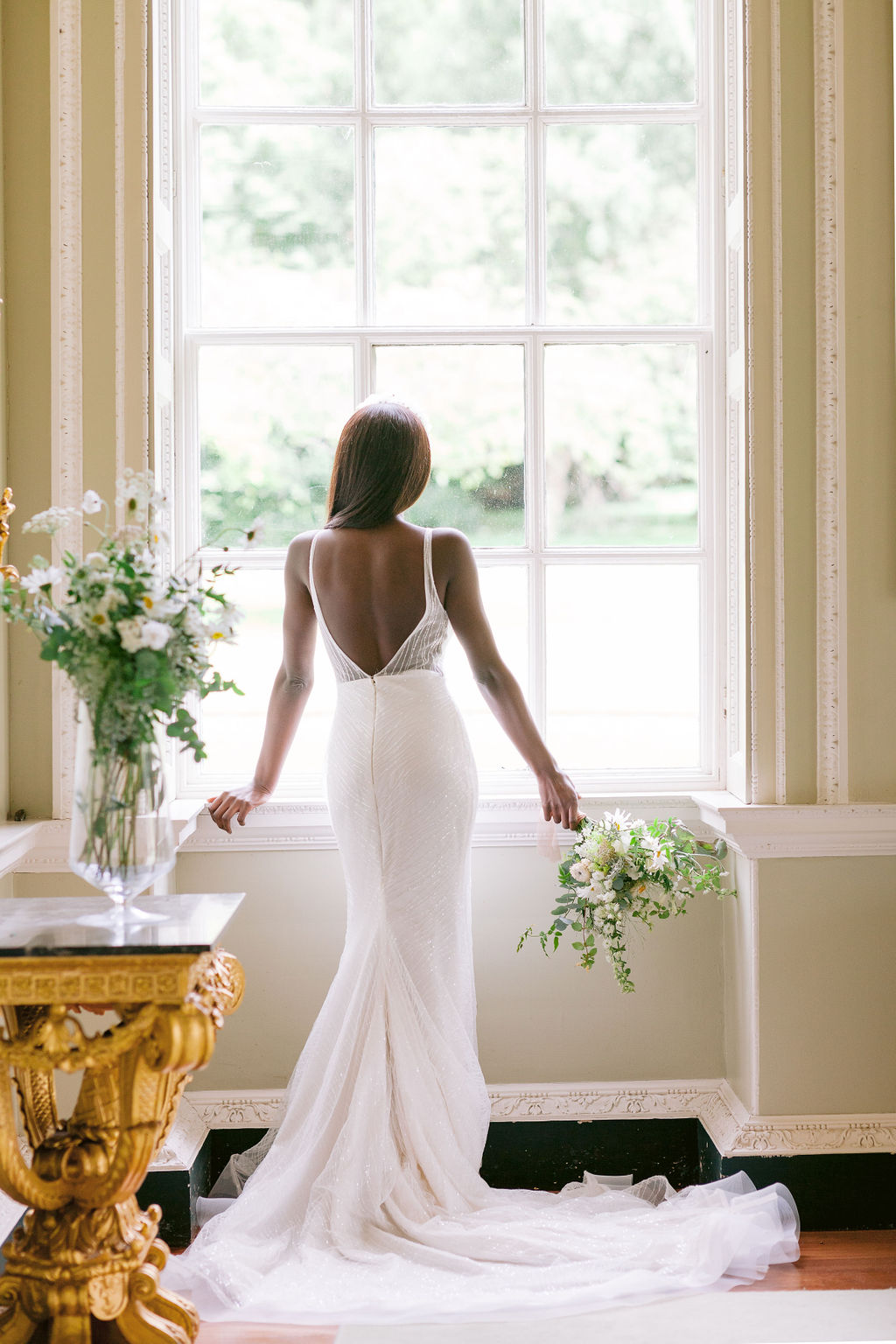 Sizing in bridalwear has long been a bit of a bone of contention amongst the bridal community – what are you able to say to the more curvy brides who are looking for a super beautiful, ethically produced wedding dress, but worried that standard sizes won't fit them?
My answer may sound slightly biased, because I am a bespoke designer, but please hear me out. To any bride who is worried that standard size wedding dresses will not fit you, going bespoke is the best decision you will make in your wedding planning journey.
Bespoke focuses on you. A one of a kind design is created from scratch specially for you, with your specified measurements. Rest assured your dress will be exactly as you envisioned. You can never go wrong with bespoke.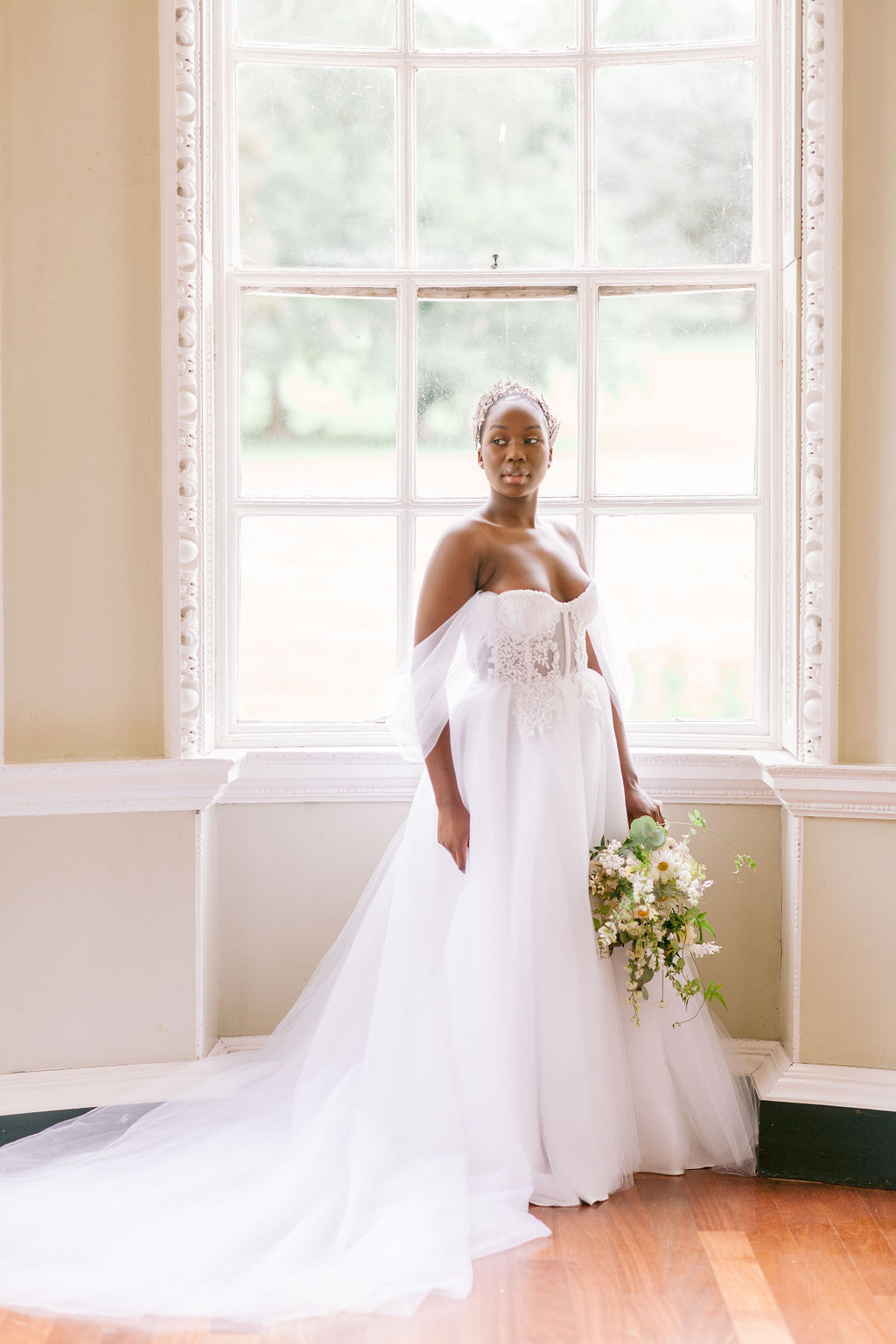 Over the past year, the wedding industry, through all the campaigning and lobbying, undertaken, the wedding industry has almost been rebranded, with newfound levels of respect present. What are your thoughts on the industry as a whole, and what would you say to any aspiring designer hoping to enter and create a bridal fashion brand?
When I was younger, I always knew I would end up creating beautiful couture dresses. So for me to be working in this industry, alongside some incredible minds, is a dream come true. Bridal wear is the epitome of what dreams are made of. It is the ultimate craftsmanship. There is so much love and painstaking techniques that goes into the creation of a couture wedding dress. There is nothing quite like it. Wedding dresses are one of the most incredible garments women feel their very best in.
To any aspiring designers who want to start a bridal fashion brand; know that you are more than capable, you've got this. Have quality at the heart of everything you do and go against the grain sometimes. Do not fall into the trap of copying or trying to be like everyone else. Couture wedding dress making is an art and you need to master it. What defines an artist is his or her unique perspective. Let your point of view shine through your designs. Define your niche and trust your instincts to direct your creative process. No matter what you do or how you do it, always aim to take a more sustainable approach.
What has been your career highlight to date?
I've got so many higlights and I am grateful for all of them. My Adiepena collection making the cover of County wedding magazine (Your Yorkshire Wedding May/June 2021, issue 48), has to be one of my favourite higlights of my career so far.
What is the last book you read? And any book recommendations for our readers?
The last book I read was, the magic of thinking big by David Schwartz. I'd recommend, the Alchemist by Paulo Coelho. Such a good read.
What music are you enjoying right now?
Wizkid's latest album; Made in Lagos. I love almost every track on that album, but my two favourite tracks has to be Essence and True Love.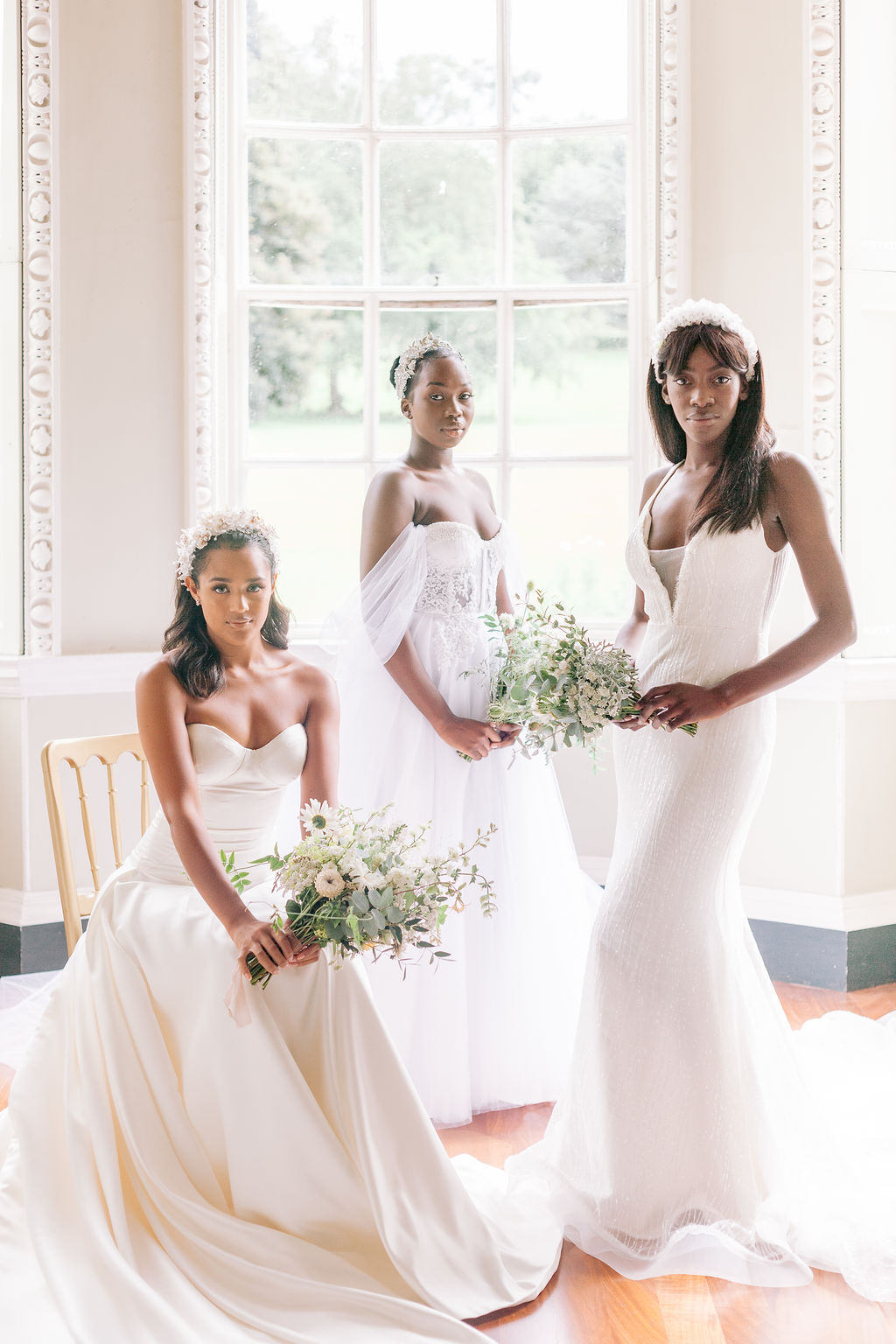 What or who inspires you in your day to day life?
My Younger self, Family/Friends, Black Excellence and the Holy Spirit.
As a female business owner, who I personally find very inspiring, are you able to share with us up to 5 other female business owners who you are inspired by yourself, and explain why?
Mwai Yeboah of Love Mwai Experience, Vania Leles of Vanleles Diamonds, Nicole Crentsil of Black girl fest, Andrea Iyamah.
These beautiful female business owners all inspire black excellence to me and I love to see it.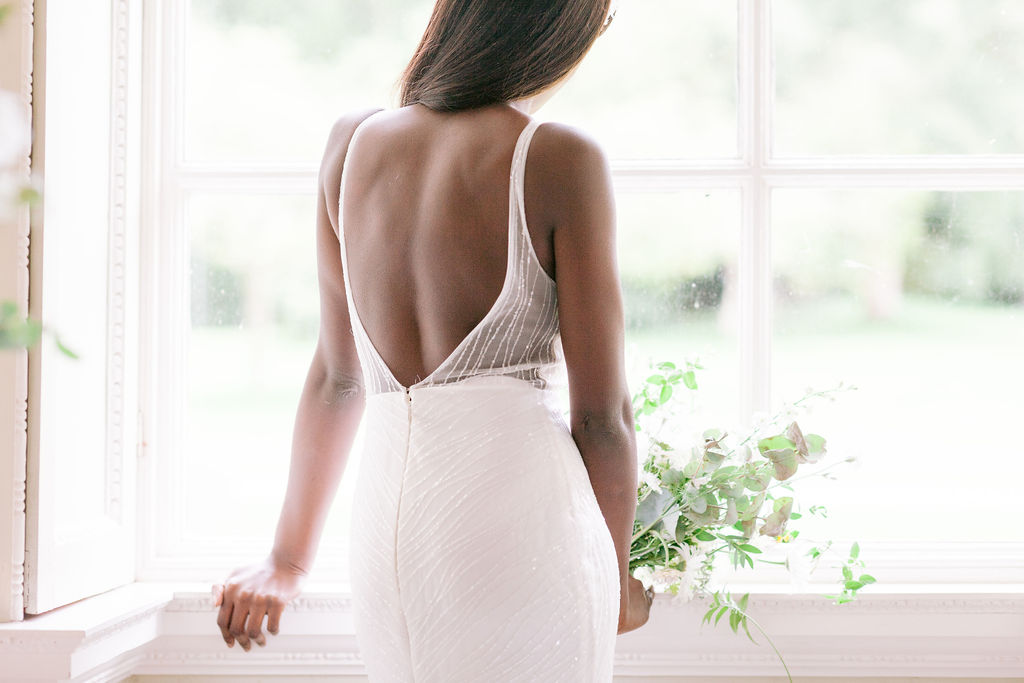 Your top 5 Instagram obsessions right now (just link to accounts)
Latest film you watched?
Black Widow
In one single sentence, how would you sum up your outlook and approach as we navigate through 2021 and seek to exit this lockdown?
There is nothing new under the sun, so I'm going to stay hopeful, stay praying and keep working on my dreams and myself.
What main message would you like us to pass on to all the brides in our community?
Celebrate your individuality, know how to draw inspiration from others and things without letting their uniqueness take over you own wedding plans.
_________
Or, request a copy of our media pack.