Flower lovers, I think you're going to be swept away by the floral arrangements featured in today's wedding and the beautiful Laure de Sagazan gown.
Please meet womenswear designer Joanna and python developer Matthew, who wed on 7 June 2021 in the beautiful Tuddenham Mill in Suffolk with an outdoor party afterwards in a magical stretch tent from Events Under Canvas. For the couple, making the day intimate and memorable was key, with countryside, jazz and fine dining at its heart.
Photography by Lisa and Neil.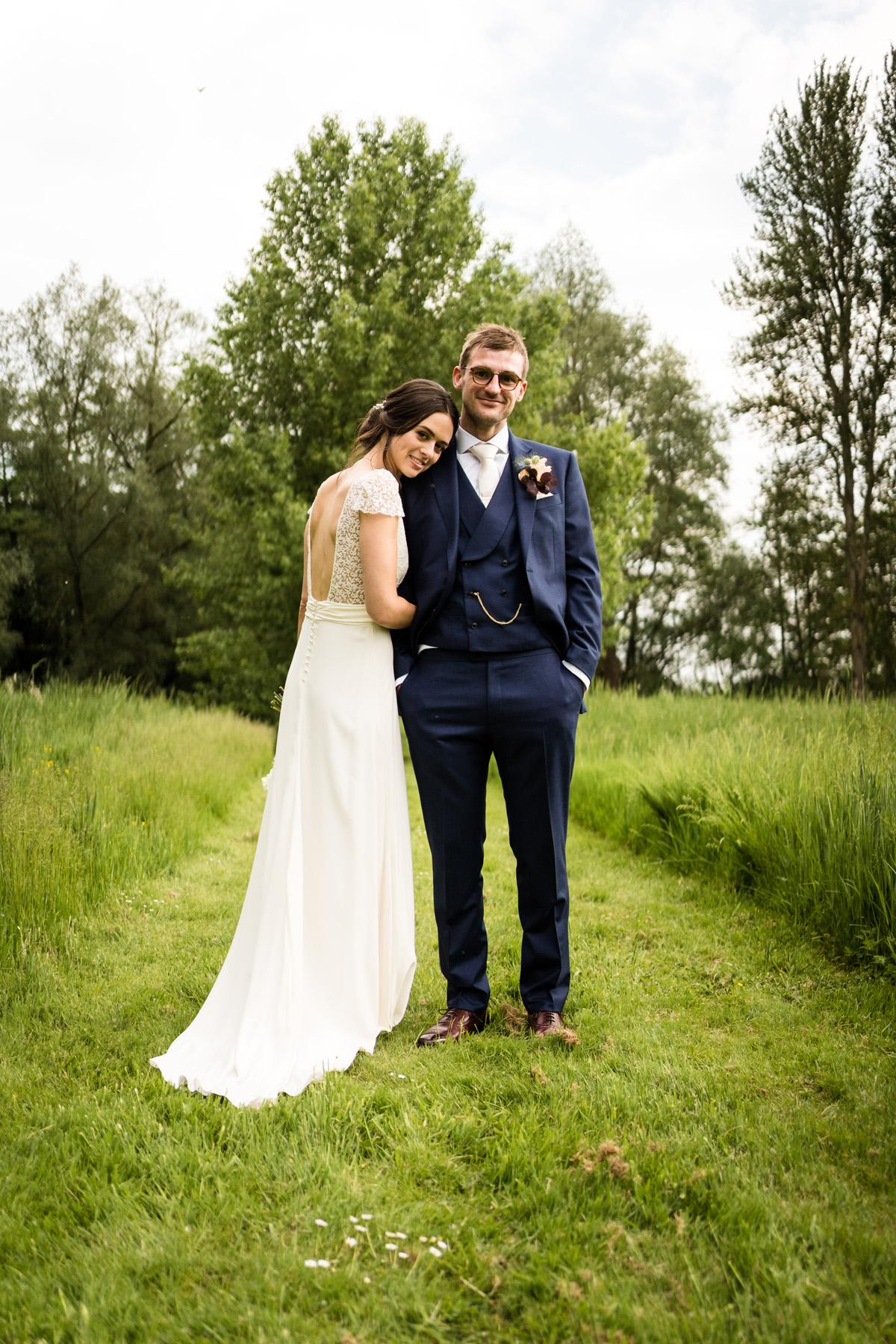 "We both love being in the countryside so knew what we would want to get married somewhere like Tuddenham Mill. We really enjoy the luxury of fine dining and we have some amazing memories of this on holidays or for special occasions so we knew we wanted a three-course sit down meal."
"We both love jazz so the jazz band was a must. We basically just thought of all the things we love and created the day around that!"
Unlike many 2020/2021 couples, Joanna and Matthew knew all along that they would be having a smaller wedding as they became engaged mid-pandemic.
"We met through a loose connection of friends at Notting Hill Carnival in 2014. Matt lived in Leamington and I in London and we were long distance for over five years. We're moving to Copenhagen this year and on a snowy walk in January this year we decided it would be amazing to get married before we go, so we were only engaged for five months. Neither of us were expecting it, so the ring was homemade until a few days later when a more conventional proposal happened in our flat (lockdown life!)."
"We were forced into a smaller wedding through Covid restrictions but actually we realised that it meant we could have the exact day we wanted with our closest friends and family."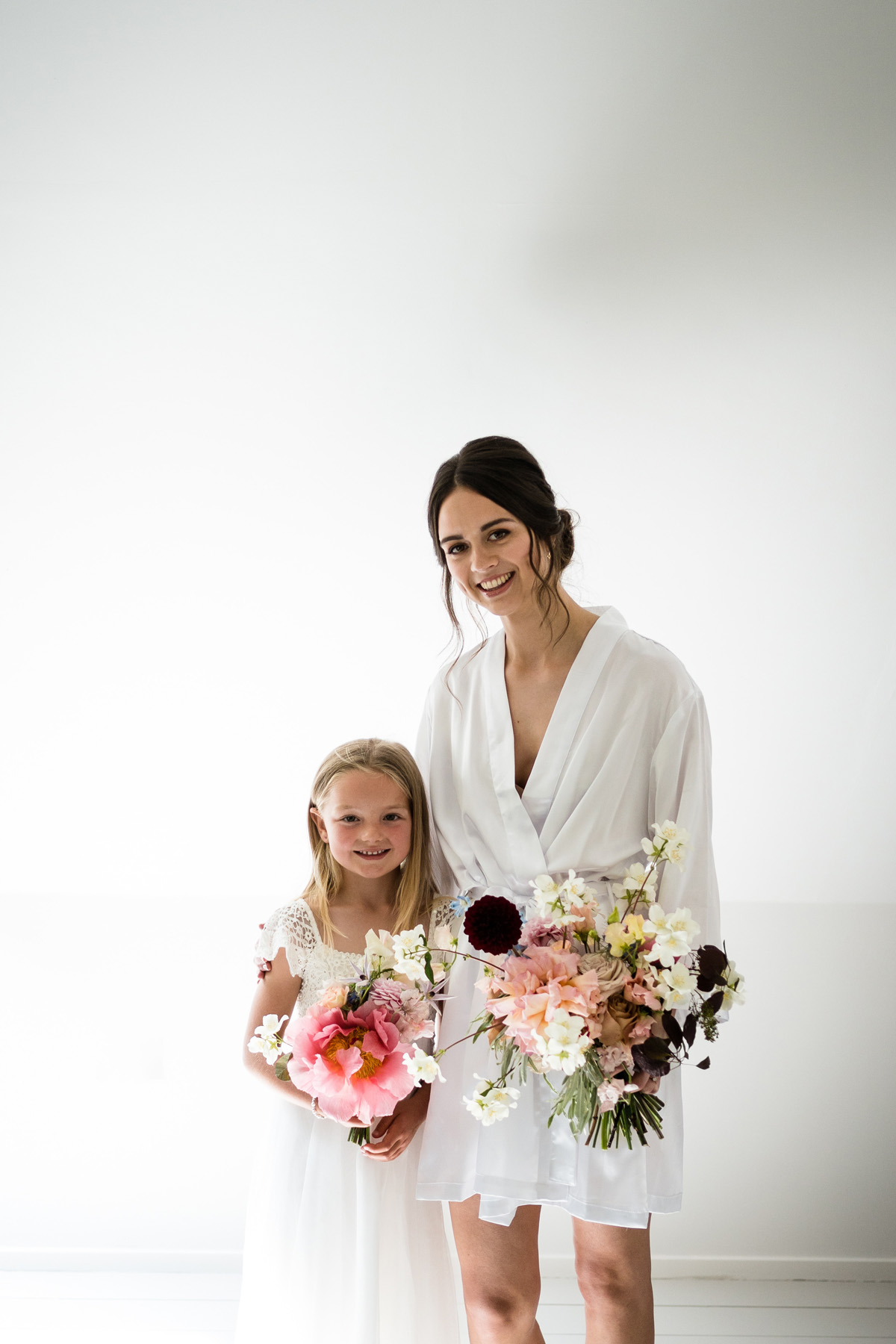 Joanna looks elegant, timeless and impossibly chic in her backless gown by French designer Laure de Sagazan. The demureness of the cap sleeves and pretty V-neck bodice is offset by the sexy open back and that beautiful trailing skirt. She chose this design at The Mews Bridal, although she was unable to go into the store due to lockdown. Thanks to her design skills, she remade the silk skirt to her own specification.
"I had no idea what kind of dress I wanted. I had never given it much thought and the wedding all happened quite quickly. I spent a long time looking online and thinking about what I might want."
"Working as a womenswear designer, I was lucky that I had a good idea of what I did and didn't like. I felt quite sure when I found this dress online that it would be the one. In full lockdown and with only eight weeks to go until my wedding, I ordered an 'at home try on' of a sample dress. I absolutely loved it so decided to take on the challenge of repairing a tear that had occurred across the back of the skirt, in just six weeks."
"I sourced a beautiful silk fabric to replace the whole skirt of the dress, only keeping the lace bodice section. I decided that since I would be remaking the whole skirt, I might as well make the fit exactly as I wanted."
I had the pattern altered so that the dress had a longer train with more volume and a stunning drape from the back. It was a lot of extra stress (particularly when I received the fabric I ordered for the skirt was not the right colour just four weeks before the wedding!) but it was well worth it. It would not have been possible without the help of my friend Justyna who is an incredible seamstress."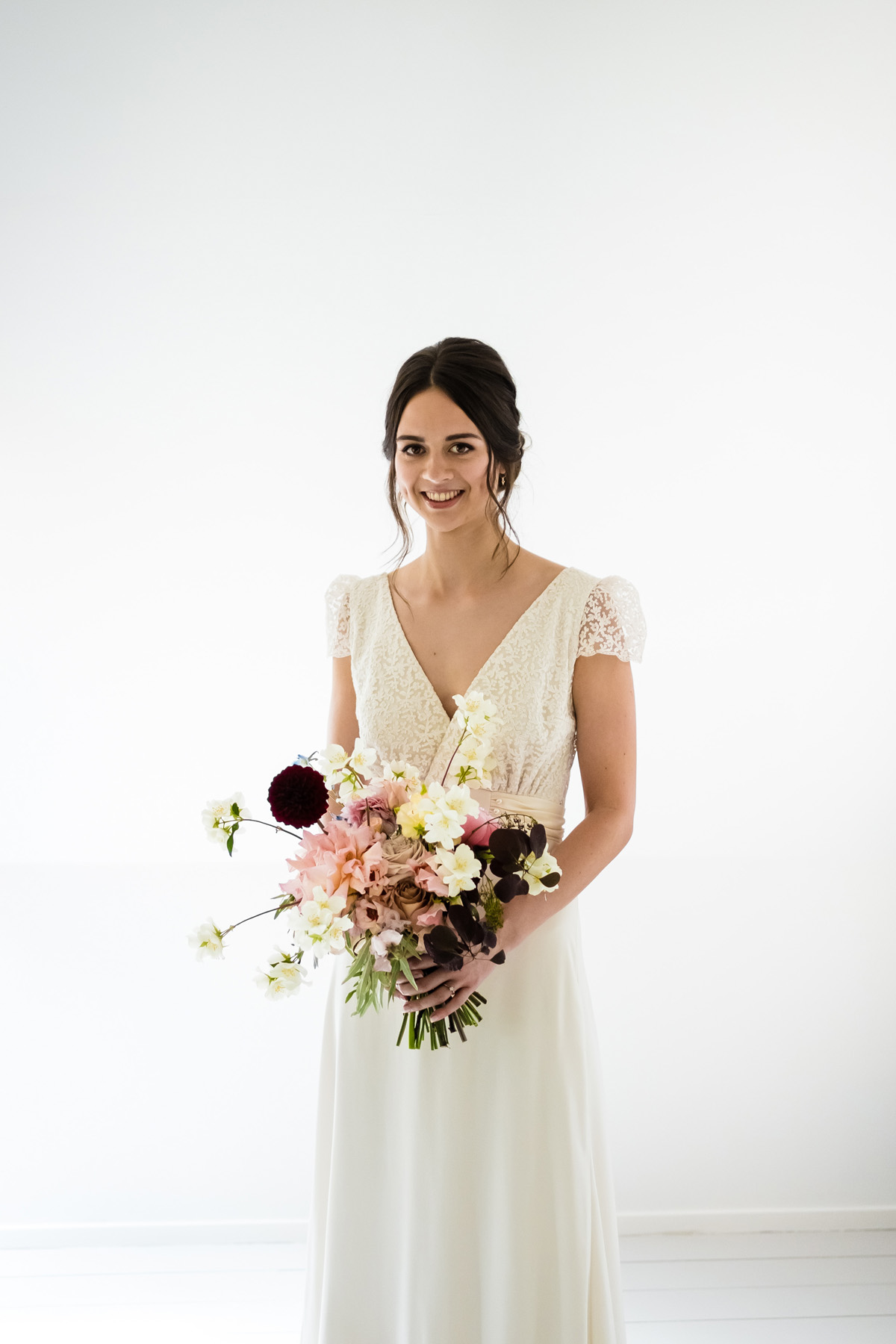 Joanna slipped on a pair of shoes from & Other Stories and wore a beautiful pendant necklace. Her dark hair was pulled up into a pretty roll bun by Hair by Lucy, with added gypsophila for a bridal touch, whilst her fresh make-up was applied by Niki Makeup.
"My necklace was from my nanna who passed away. Earrings were from a very close friend who couldn't be there because of Covid restrictions and my bracelet was from my husband."
The entire day provided the most divine canvas for the exquisite florals from Zahra Suzanne at Pink Peach Gold. I love their wildness and how they epitomise the English countryside in early summer.
"Zahra is a self-employed florist and she was recommended to us by a friend. Her flowers are incredible! They are so beautiful and really suited the look we were going for. With Tuddenham Mill surrounded by countryside and our stretch tent looking out to meadows as far as you can see, we wanted the flowers to look wild and unstructured, as if they had been hand-picked. Zahra does this style amazingly and sources the perfect flowers, taking our colour palette ideas and making it look better than we could have imagined."
The bridal party got ready on site, so it was just a short walk down to the light and airy, beamed ceremony room. The Suffolk countryside had been brought inside by the yards of leafy garlands, decorated by Sally's Floral Studio.
The bridesmaids looked elegant in their soft, moss green ASOS gowns, worn with engraved necklaces, a gift from the bride.
"I gave them as a gift on the day with their initial and the date of our wedding from Engravers Guild."
The ceremony was small and intimate, with just thirty guests.
"Our day was planned during lockdown so we never had any other plans that were cancelled or moved around."
"We were restricted to thirty which allowed us to have most of our family plus a few close friends. Matt had two best men, his older brother who could attend and his best mate who now lives in western Australia so couldn't attend."
"He recorded a video for his speech which was hilarious. Matt's dad lives in France so it was touch and go until the last minute whether he would be able to come but happily he made it after a ten day quarantine."
"There were obviously a few very close friends who weren't able to come so we live streamed the ceremony on Zoom. Matt was sorting out the Zoom call five minutes before the ceremony with emotions everywhere which he would not recommend."
"It was well received but definitely a task that should be delegated."
"Regarding Covid safety, we were very lucky with the weather (we had the only week of sun in June!) and the majority of the day was outdoors so there was very few restrictions in place."
"Everyone about from us had to wear a facemask during the ceremony but that was about it."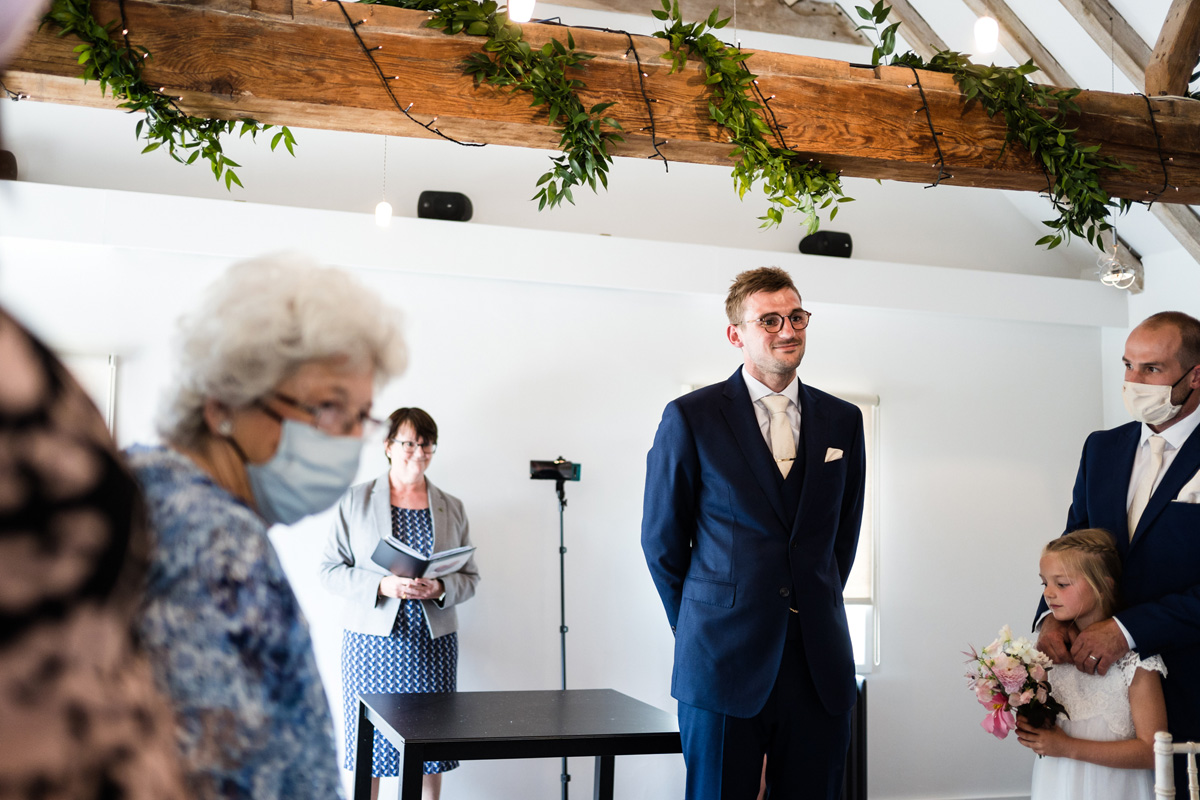 The couple had chosen Herb Albert's 'This Guy's in Love' to play whilst Joanna walked down the aisle with her father.
"Matt used to put this on when controlling Spotify when I was working late nights at university. It would come on to my headphones as a surprise – very romantic!"
The couple chose to go with the registrar's usual vows, but due to Covid there were no readings.
"We decided that we really liked the vow option they chose and there was nothing we wanted to do to change it. If it ain't broke don't fix it! The ceremony was perfect. The moment where we said our vows to each other was a something we will never forget."
The couple chose their rings at Rennie & Co, a jeweller in Hatton Garden.
"They were very nice, the rings were amazing quality and they were in no way pushy. We went back for multiple appointments and they remained patient as we changed our minds many times until we finally settled on our original preferences."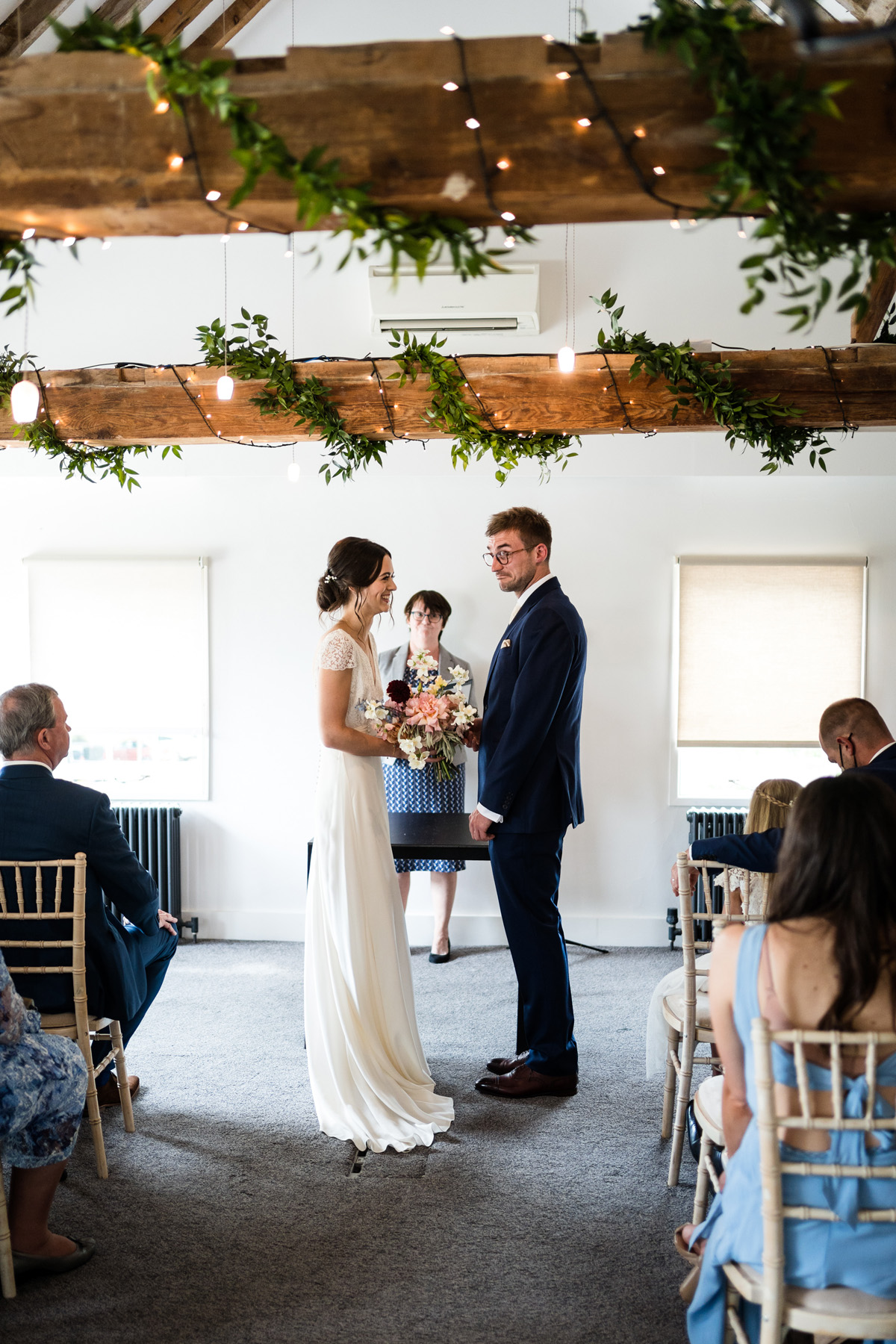 The Mill's beautiful outdoor areas and the rustic stretch tent provided a gorgeous setting for the wedding guests to relax and chat after the ceremony, whilst the newly-weds explored the countryside with their photographers, Lisa and Neil.
"Lisa and Neil were recommended to us by the hotel as they had worked there before and we loved their documentary style of photography. Their photos are amazing; artistic but also really fun and capture the emotion of the day perfectly. After one Zoom call, we really got on with them so we looked no further. They were awesome."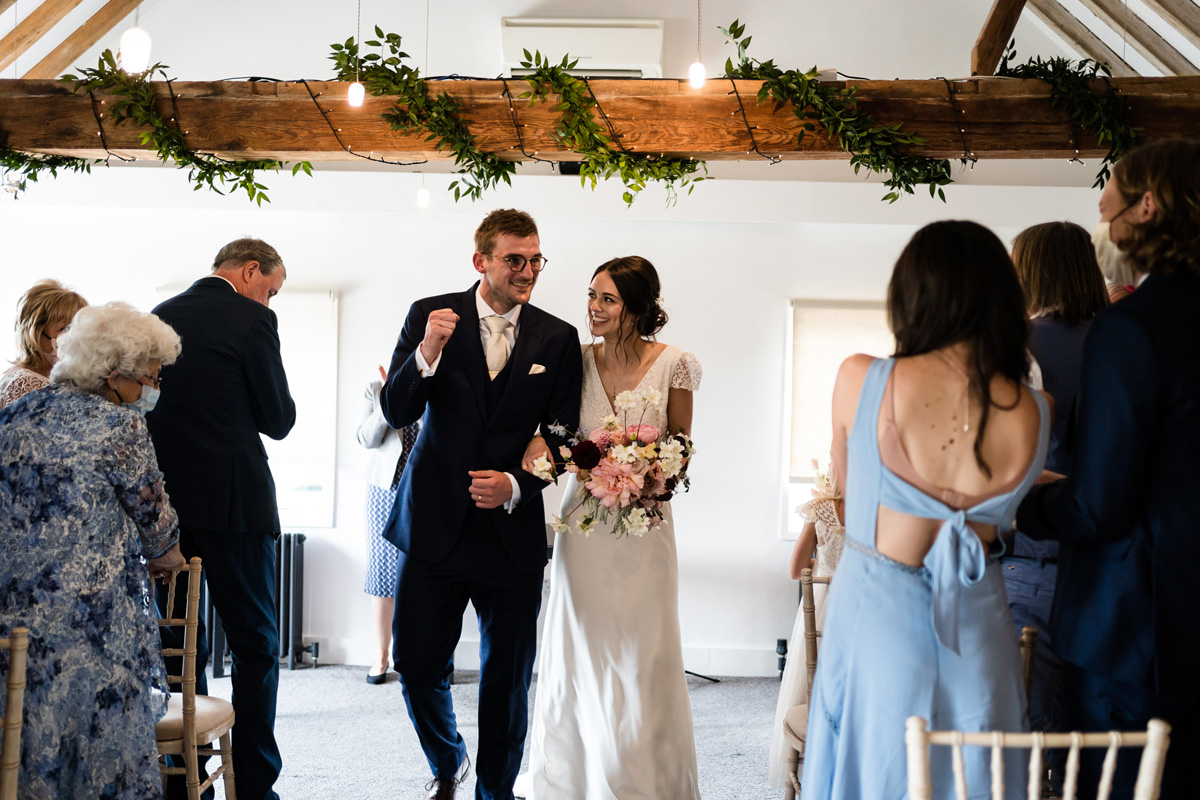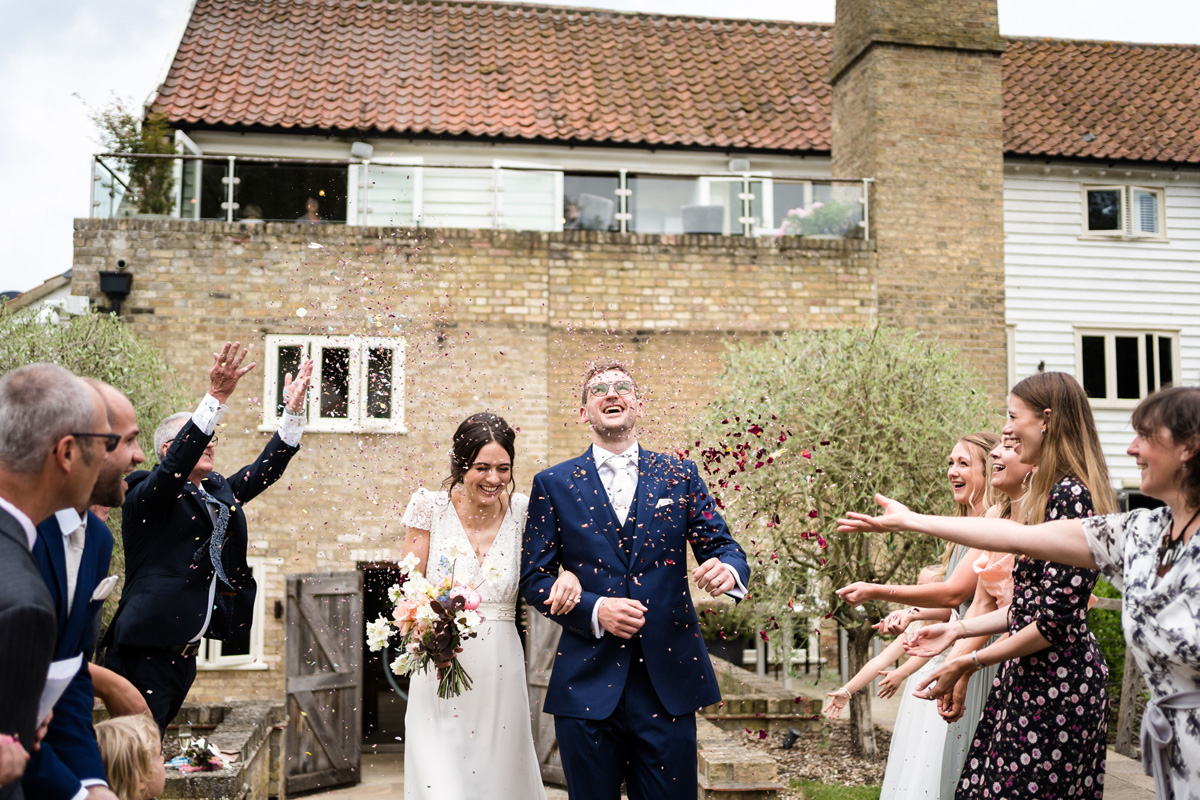 Tuddenham Mill made a wonderful, countryside setting for this couple's relaxed and rustic day. They worked with the Mill's in-house planner, Rachel, to put together the celebration.
"We chose it because it was absolutely perfect for what we wanted; an old water mill, now a hotel, with all the character and original mill features."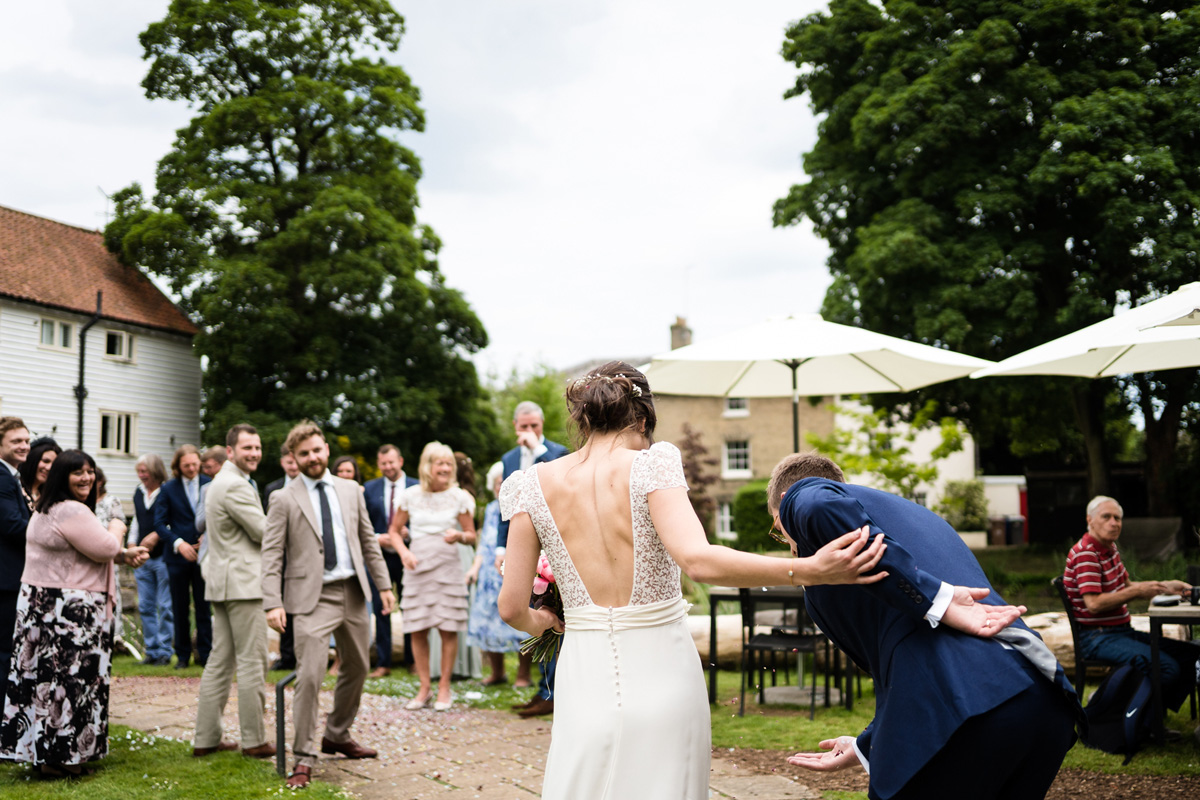 "Nice rooms, great food, great outdoor space and very much in the countryside away from the city. Matt grew up on a farm in the countryside and likes to return."
"Also, it was the perfect size for our number of guests, with very friendly staff. An added bonus, although not part of the decision, is that Matt's dad is renovating a water mill in France so we felt a particular connection to it."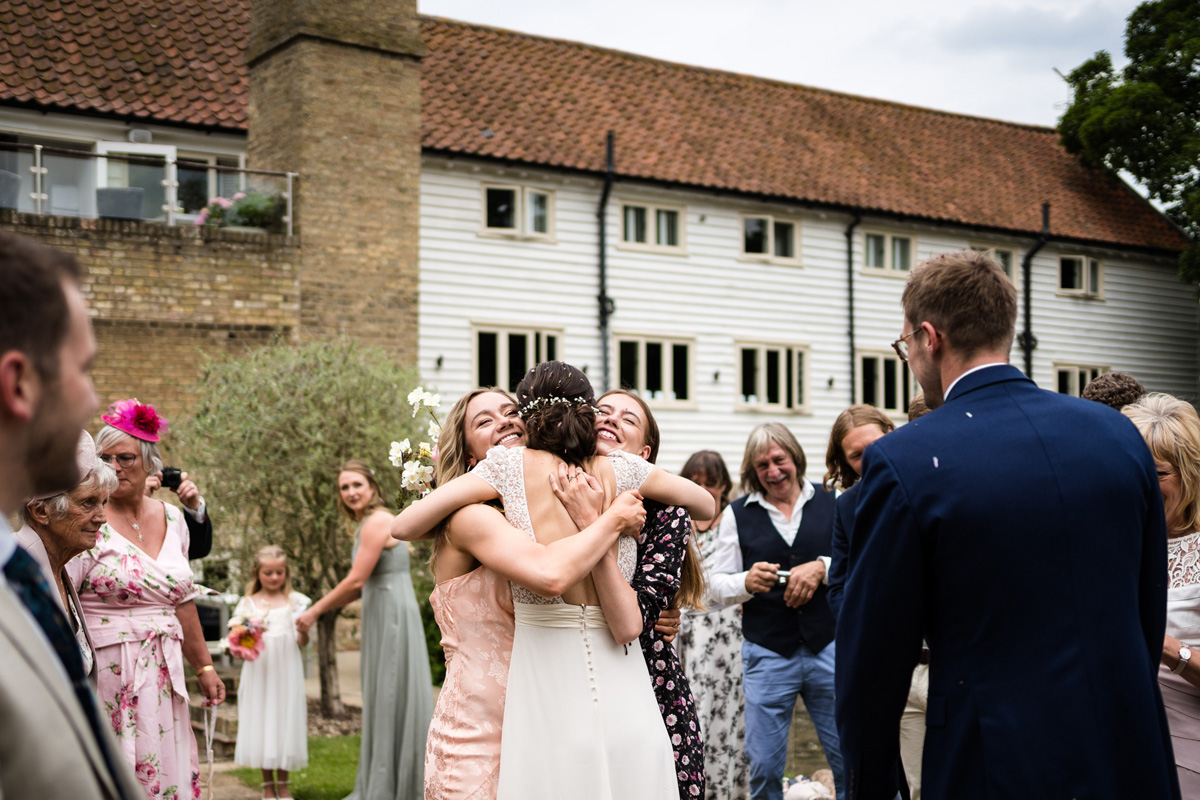 The party headed back into the mill for the wedding breakfast, catered by the in-house chefs. I adore the calligraphy by Bewilderly – so elegant yet contemporary.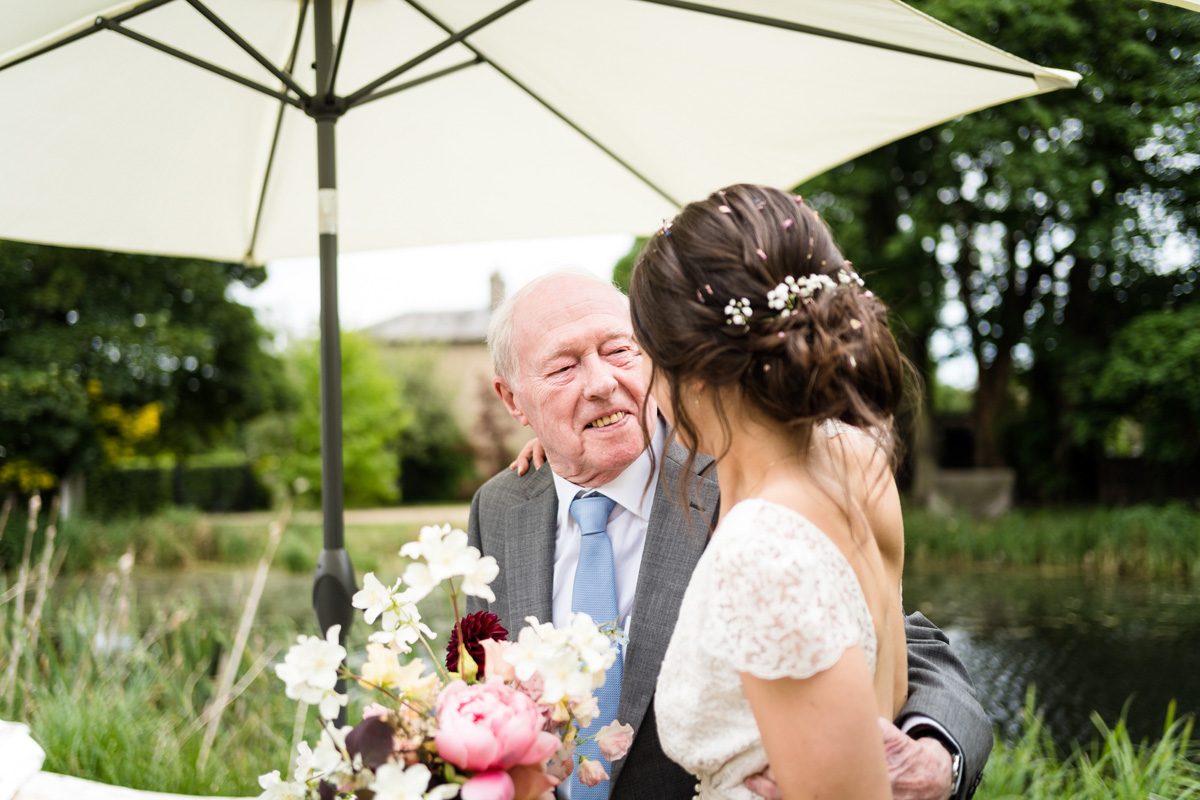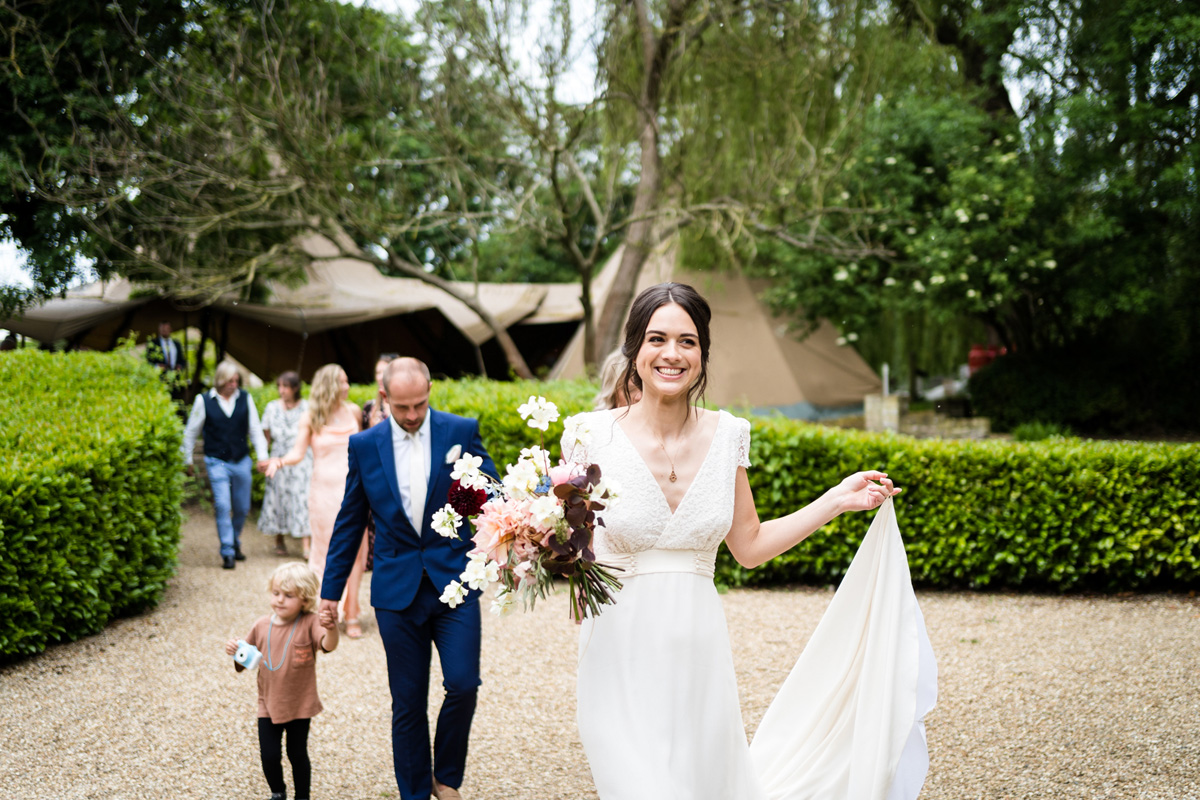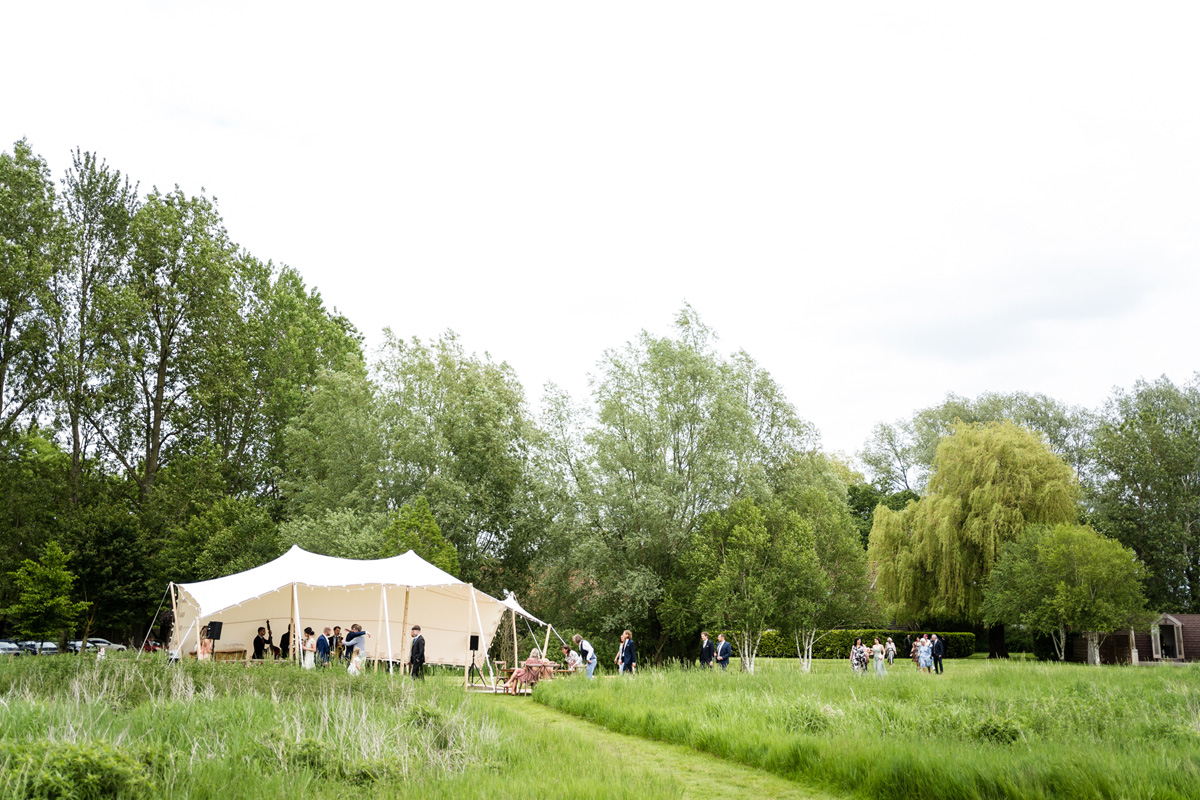 "A calligraphy artist painted our guest list/seating plan board and created the table names which were equally gorgeous. A Place Setting provided the gold cutlery (which was something we really wanted and probably wouldn't have opted for if we had a large guest list!), chairs and gold beaded charger plates."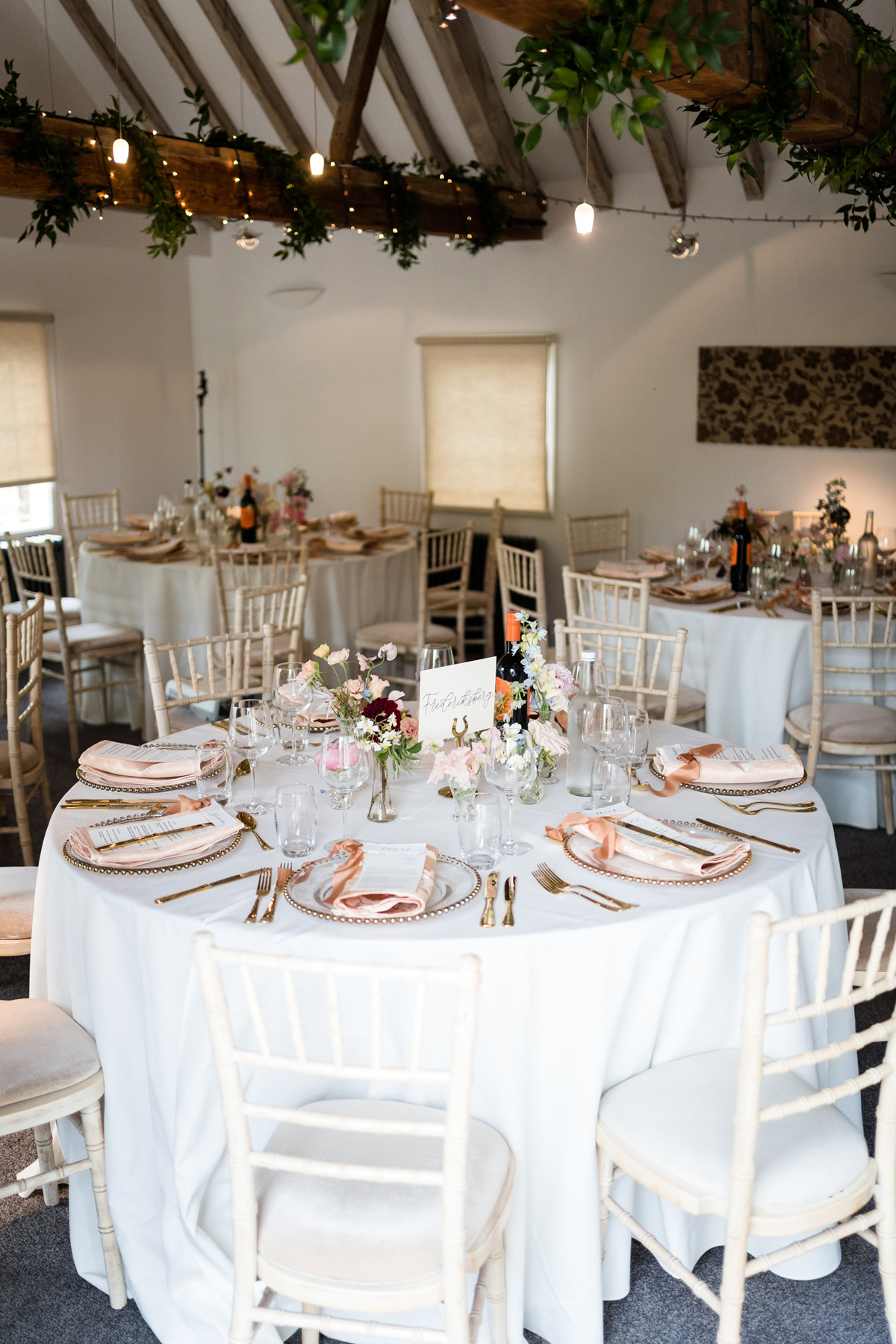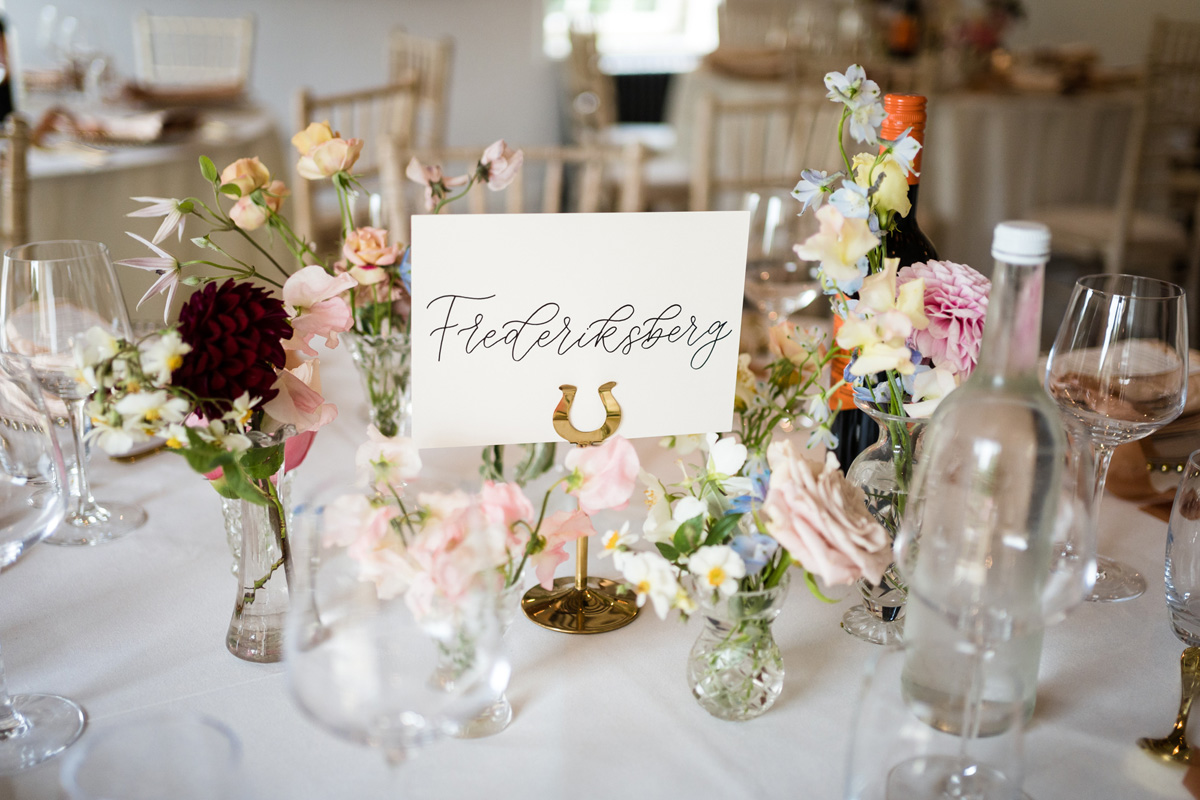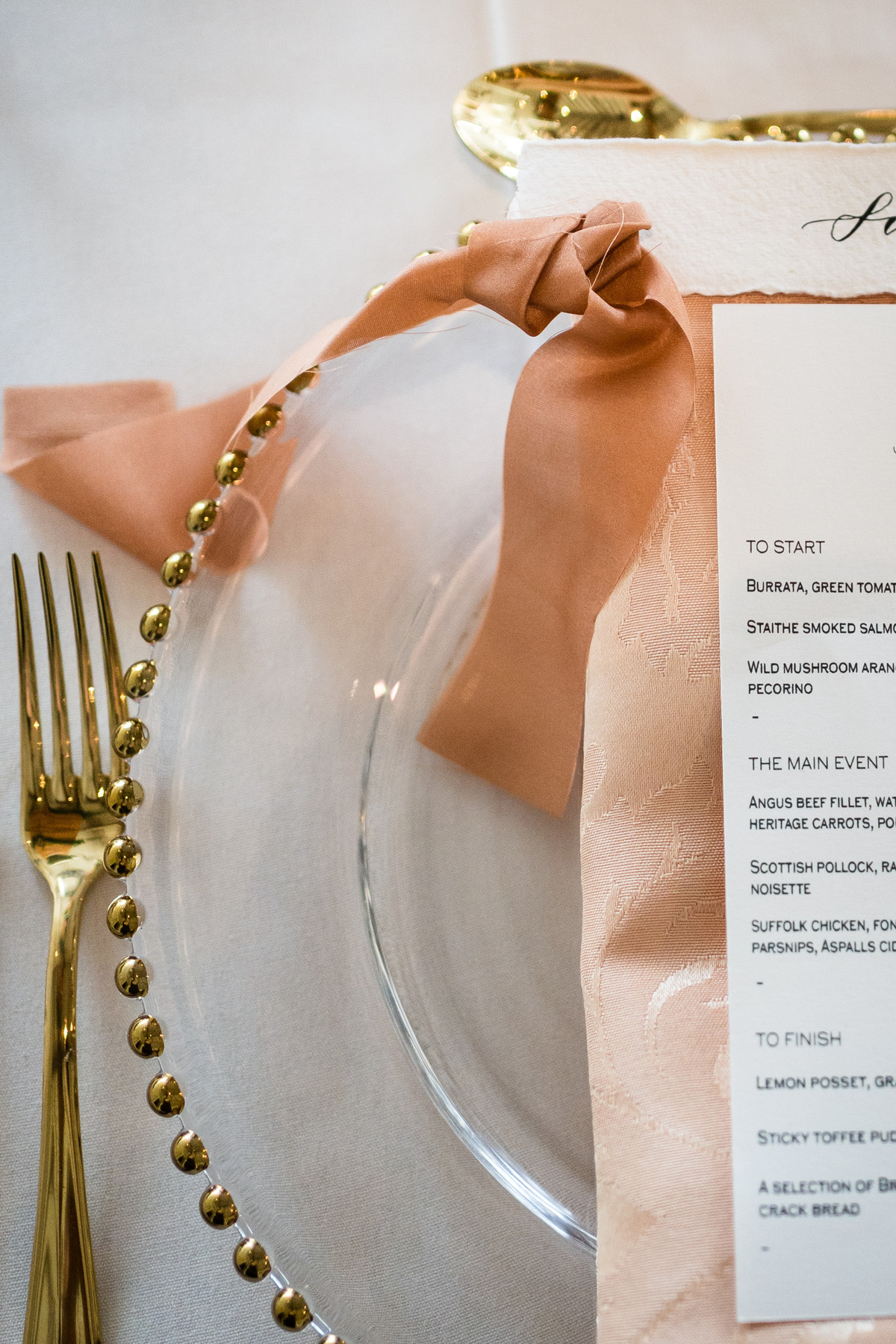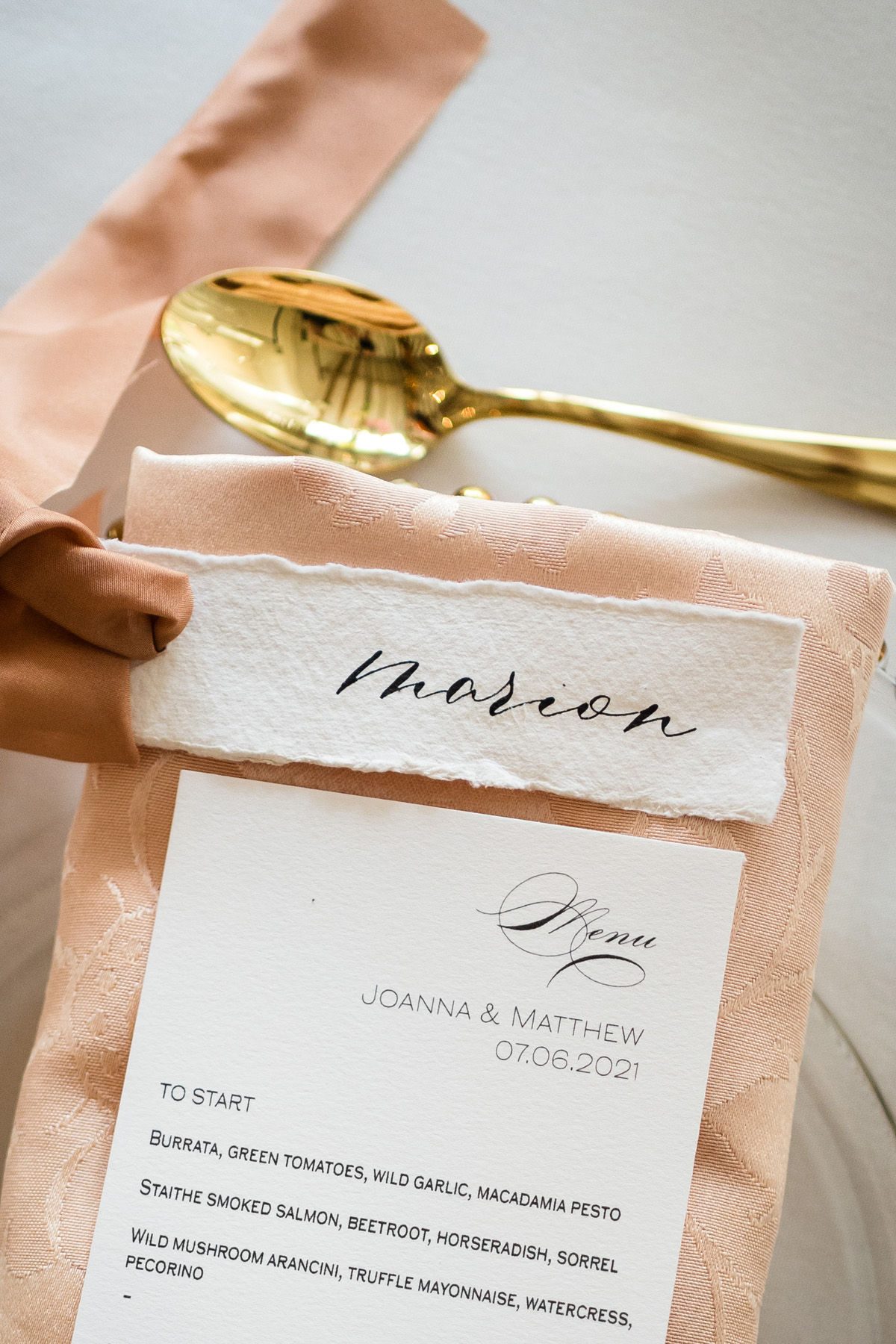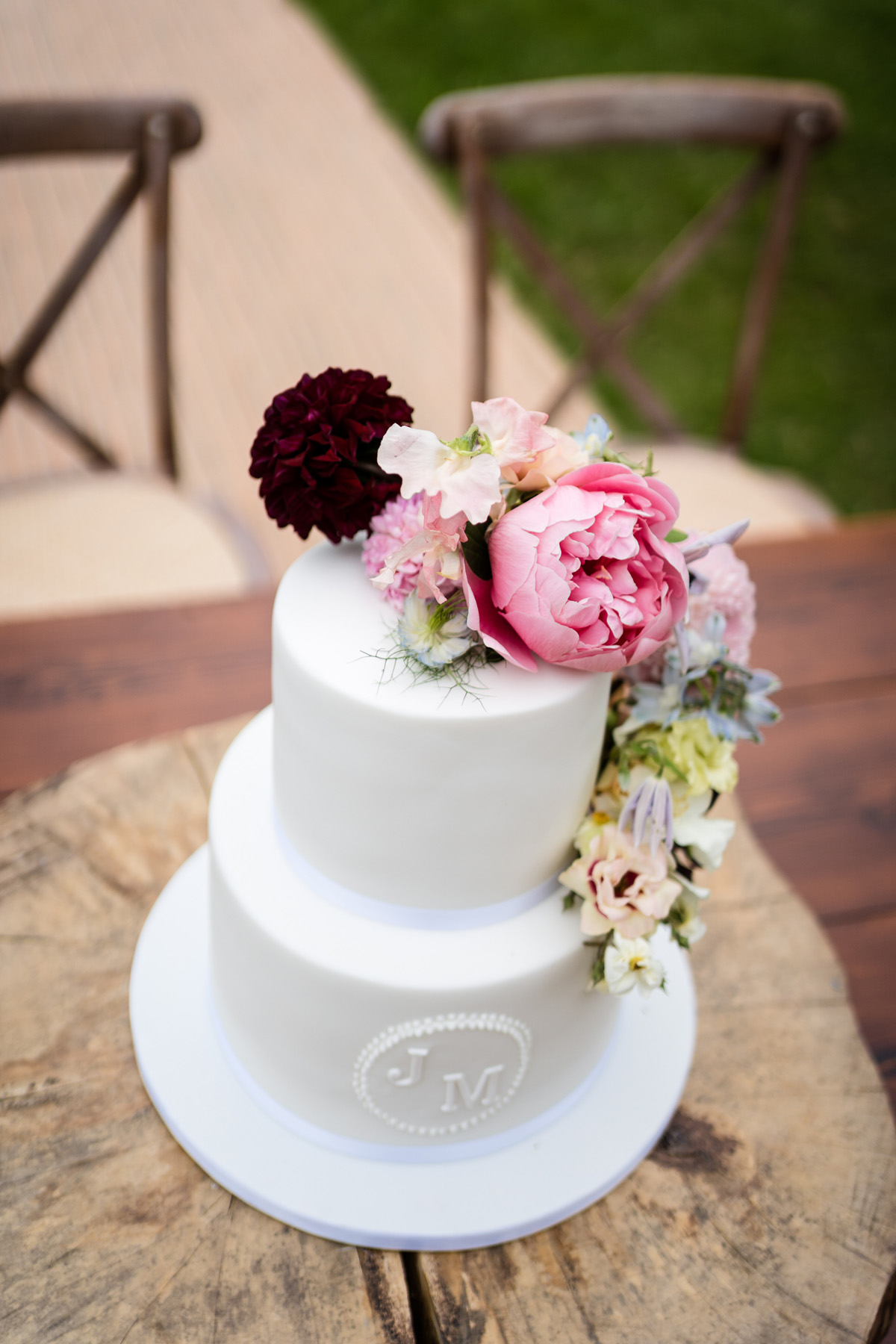 During the drinks reception, there was live music from jazz saxophonist Harry Brunt.
"The jazz band were absolutely incredible and were booked by the hotel for future events."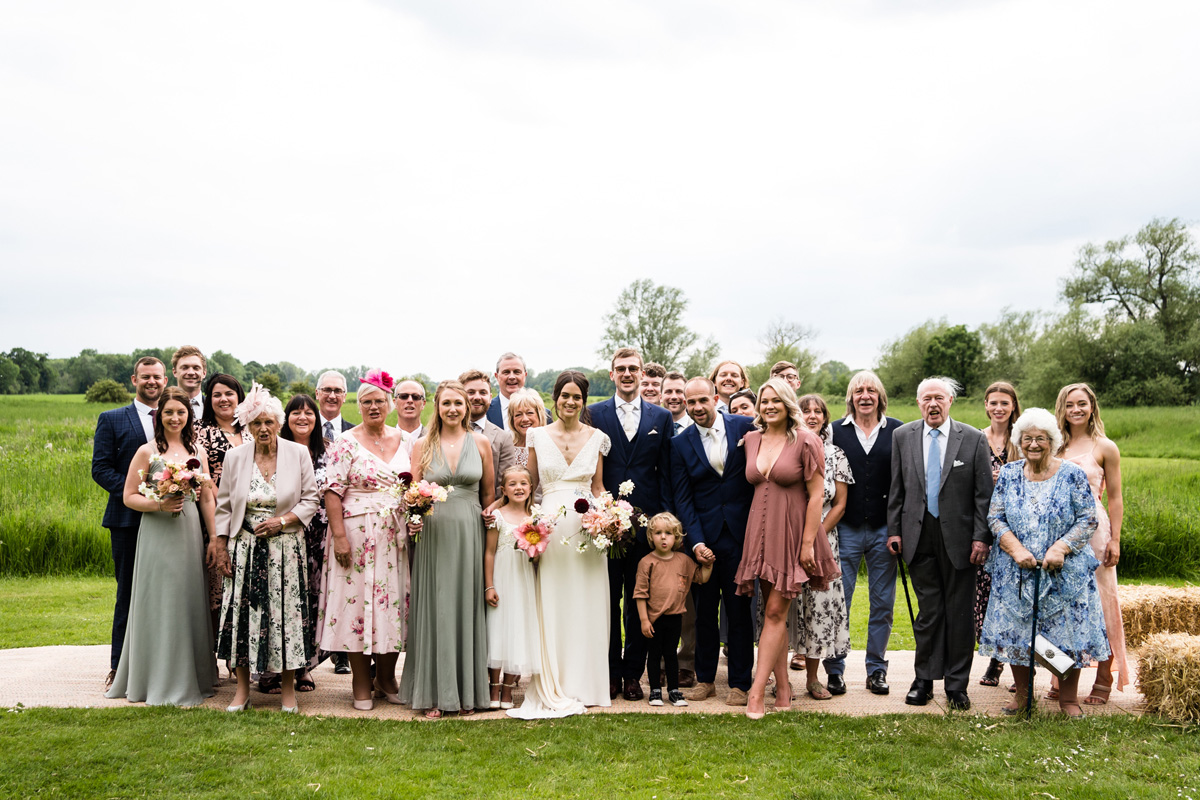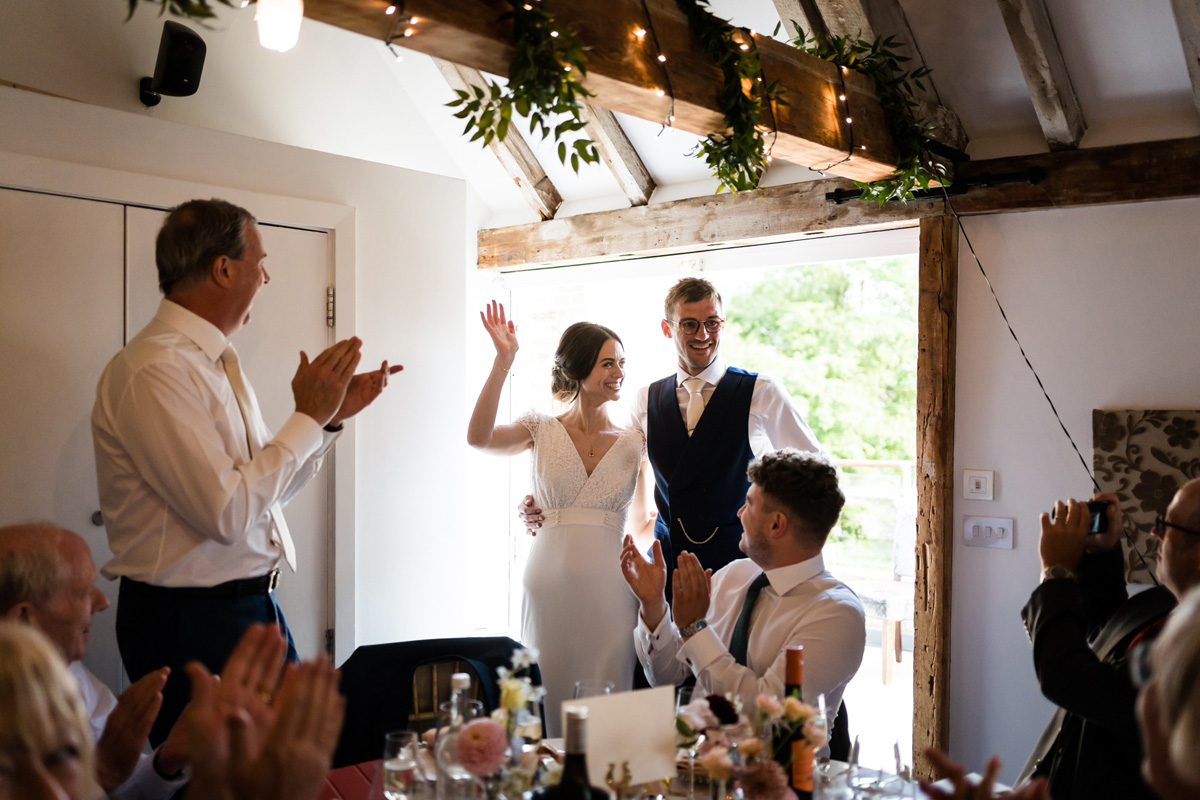 After the speeches, the long summer night was passed outside under the stretch tent, with drinks, dancing and fun.
"The feeling after the speeches, breathing a sigh of relief that we had done it and all the emotion and love that was in the room was a feeling I've never experienced before… knowing that all that was left to do was to dance and enjoy the evening!"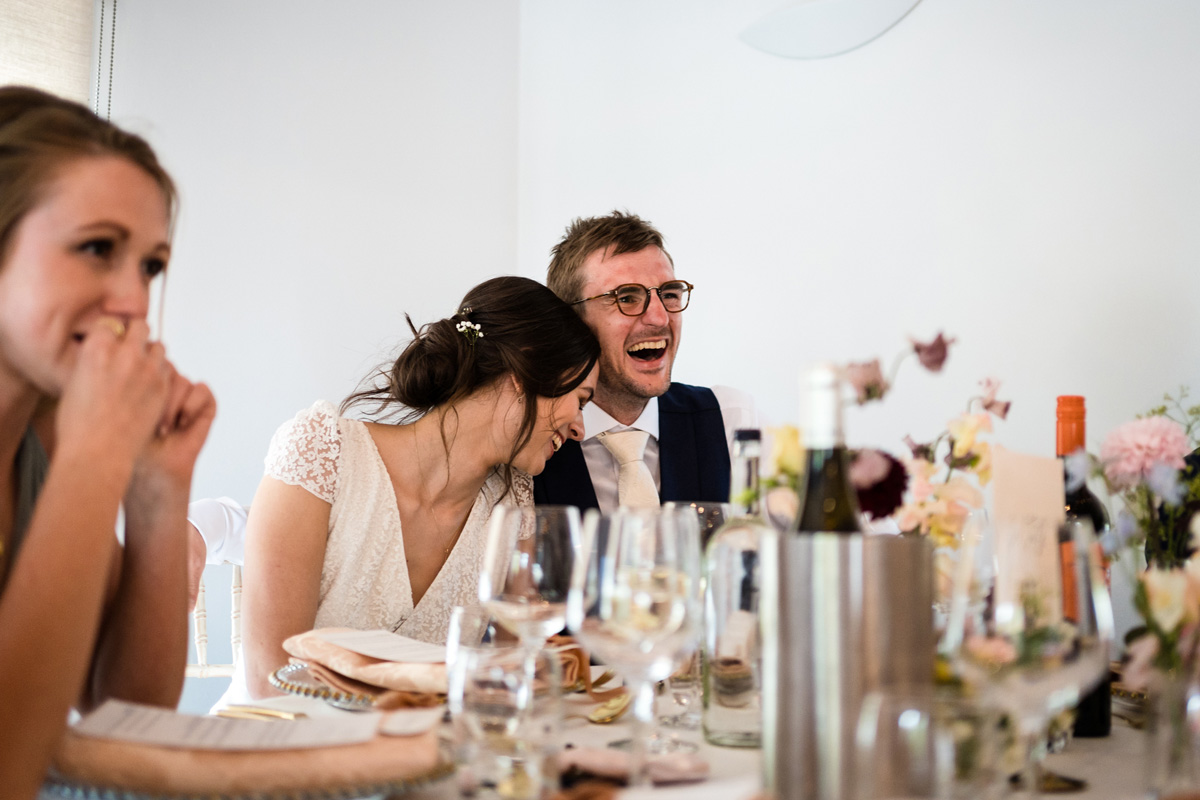 Matt wore a deep blue, custom-made, three piece suit from Charles Tyrwhitt with shoes from Jones & Curtis and an engraved pocket watch that Joanna gave Matthew as a gift on their wedding day.
"It was a very enjoyable experience to choose everything from the fabric and lining down to the buttons. The red leather brogues have to be the highlight though. Special mention to the sustainable and extremely comfortable underpants from Allbirds!"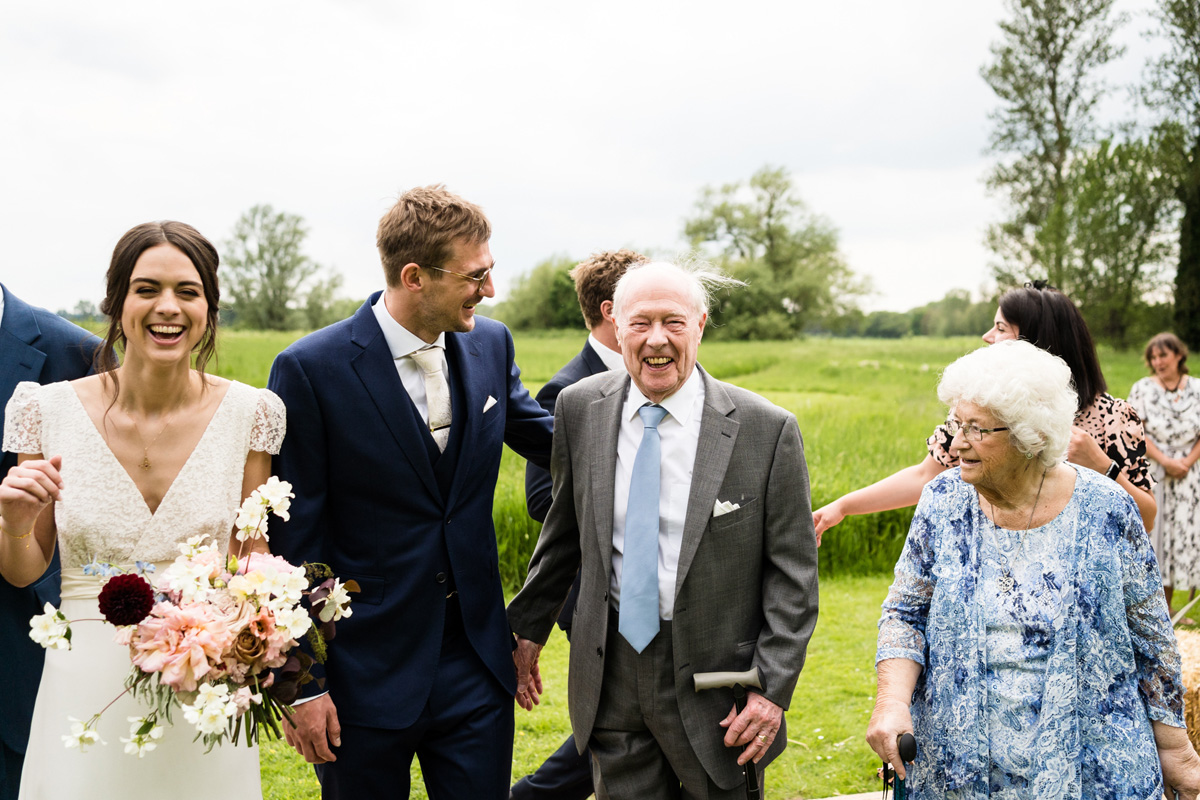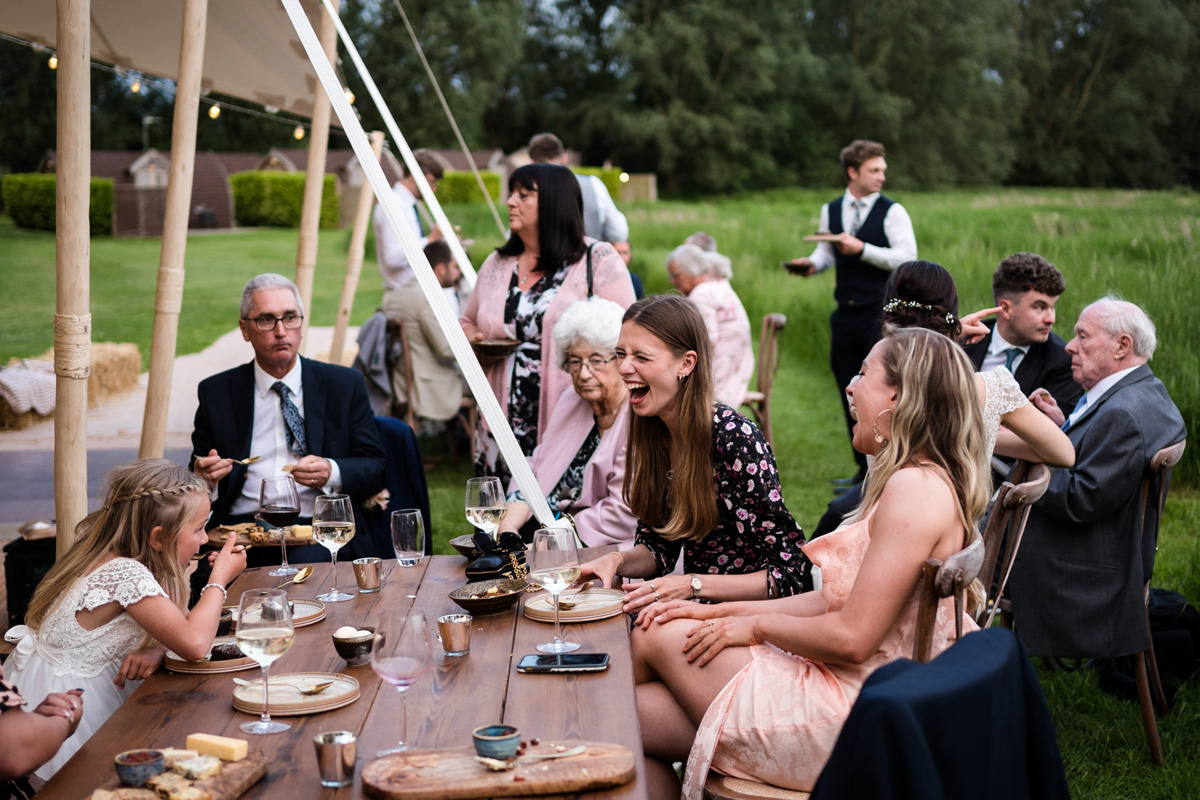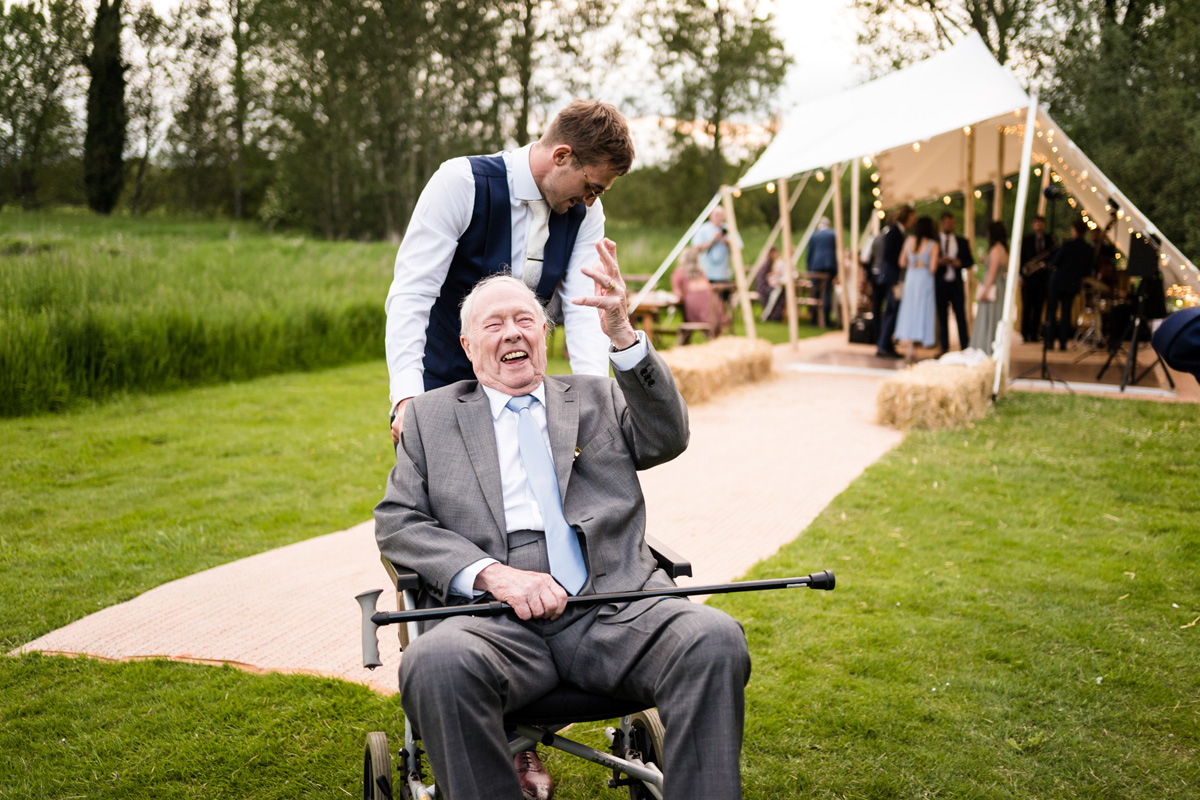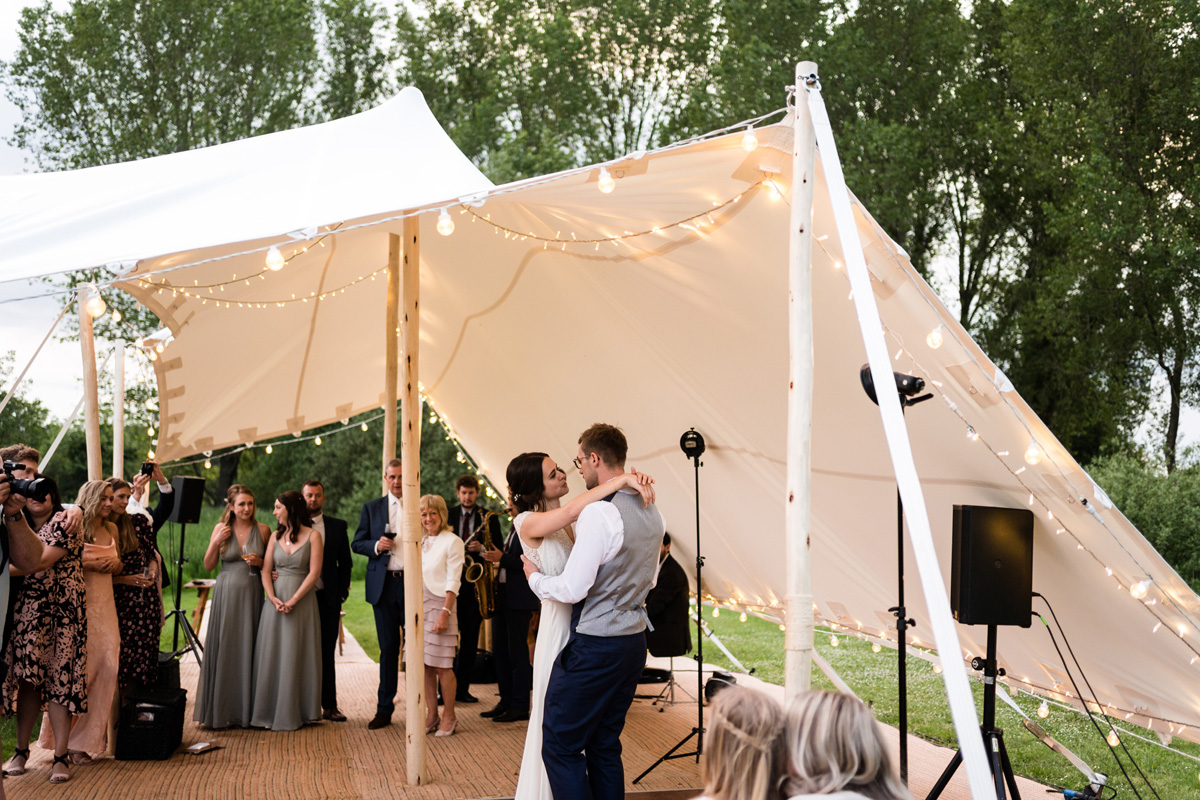 Words of Wedded Wisdom
"It's very hard but be ruthless on the guest list. We absolutely loved our small intimate wedding and it would never have been what it was if it were a large guest list."
"Don't feel like you have to do anything or in any particular way. Think what represents you as a couple and what you enjoy and then make your day focused around that. That way you can't go wrong and will just be filled with happiness and happy memories!"
"Don't skimp on the photographer! The day goes by but the photos are forever and you want all the small moments captured perfectly."
Well Joanna and Matthew, what a beautiful day. I love everything about it; from the countryside setting to your divine gown, the magical tent and not to mention the incredible flowers. Thank you and congratulations to you both.
Lovelies, for more countryside weddings please do head here or for more intimate weddings, follow this link.
Ele xx