This beautiful wedding, hosted at Wonwood Barton in Tavistock, Devon, is full of the most lush, green floral decor.
The couple, Gemma, a Surface Pattern & Textile Designer and Matt, an Aution House Owner, tied the knot on 5th June this year with a wedding party of just 30, after Covid derailed their original plans to have over 100 guests over the day.
Louise Eleanor Photography

+ Follow
"We had always had the same date booked, but we had booked it prior to Covid, so it did mean having to change a lot of what we had planned. Had to cut our full day guest list from 85 (was 120 including evening) to 30."
"No longer had the marquee, as the numbers were not high enough to have it. Had to cancel our music, as without the space of the marquee, and without being allowed an official dance floor we couldn't justify the expense."
"We hired sound equipment and made playlists which worked out great."
"We moved our ceremony outside to avoid mask wearing (although I did purchase masks for everyone in advance just incase anyone wanted one/needed to be indoors)."
"Unfortunately it was a day of rain in-between 2 glorious days of sun, but by the time the ceremony came round, we just didn't care!"
"Covid meant a lot of last minute decisions as we weren't able to finalise plans on so much until we knew what the roadmap was. And we didn't want to waste money on things we wouldn't need."
"We were obviously extremely sad to have so many loved ones not able to celebrate our special day with us. But it was still the most perfect day."
A lovely note from the bride to everyone who may have to alter their wedding plans because of Covid;
"Stay positive. I spent a lot of time worrying about things that I didn't need to. Your friends and family will still have fun regardless of the restrictions."
"We love greenery, and interesting textures and architectural shapes within foliage. We didn't want mountains of flowers, just hints of white and subtle blue, but mainly lots of interesting shapes of leaves."
"We hired Amanda of Flowers Et Al as our florist. We wanted lots of greenery/foliage with bold strong shapes and textures. This included Proteas, because of the bold shapes and not too much colour."
"Amanda got our vision from the get-go. We trusted her skill and expertise to source things that would work for our style and budget – and oh my did she deliver more than we could have ever imagined."
"Our florist sourced us the most incredible mix of different ferns. We also love hints of brass and gold. Our florist Amanda was absolutely amazing at adding hints of this throughout our flowers."
"We wanted to complement our surroundings but also wanted to have a modern slant, so as not to be too rustic."
"We also foraged a lot from friends/families gardens for the table decorations and evening space."
Stationery was designed by the bride herself, Gemma Lofthouse Designs;
"I designed and created the signs/information decor that matched the invites, including bar menus on the evening tables to help with the table service."
"We handmade concrete and brass holders for all of these."
"I used some of the Woodland Glade tiles I designed for the Sarsen Stone Group x National Trust collaboration to decorate the evening tables."
"Rose of Rose Savage Bridal Atelier is amazing, I had an online consultation as it was lockdown. I talked through my vision and ideas as Rose sketched a dress design, which was an amazing thing to see my vision on paper."
"She had answers to all my questions, had beautiful fabrics to chose from and directed me to where I could look at other fabrics to chose for the top half. She kept me calm throughout the whole process as we kept having to cancel fittings due to restrictions.
These delicious deep green and gold Rachel Simpson beauties were swapped for gold trainers by Woden.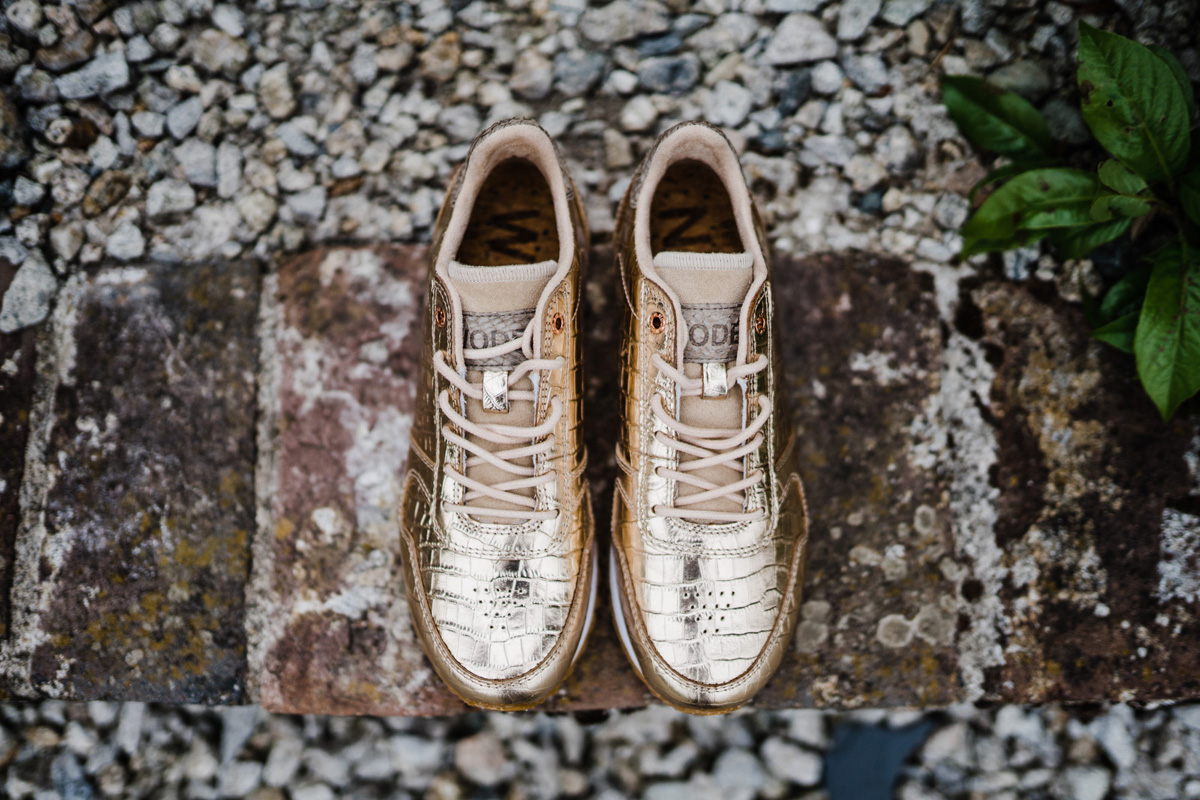 "Dress designer Rose is so talented. I always had a vision of a more simple, classic dress which she created so beautifully. But she can really do it all… She creates some incredible alternative dresses too which are stunning."
"My dress was so perfectly me; classic and comfortable, with my dream green and gold shoes by Rachel Simpson."
"I wanted a striking pair of earrings that complemented my dress but also spoke to the foliage around us. My earrings are from Yuka."
"Matt and I met on a night out through friends in 2009. It took a few years, but eventually he got his act together in 2012! After 7yrs together Matt proposed at our favourite spot in Cornwall."
"We were having a BBQ and toasted marshmallows on the beach below our campsite in the evening. He wanted to take a photo, but was secretly filming as he got down on one knee! We got engaged August 2019, so nearly 2 years."
Matt wore a beautiful combination of brands which included these gorgeous Edelweiss cufflinks.
The bride's 'Gramps' accompanied her down the aisle, to the sound of Wallace Courts Murron – James Horner (from Braveheart!).
"When we got together in 2012 I had already booked a trip to Australia. Matt sent the song to me when I was living in Australia and it's always stuck with us. I also went and lived/worked in America 2016-2018 and the lyrics always felt very connected to us being apart but always 'waiting for each other."
"We had Kim and Sue of Devon Registrars, who were absolutely amazing! We were nervous about this as we didn't know/hadn't met them before and had read horror stories of registrars implementing their own Covid rules and restrictions on the day. But they were perfect. They chose an Apache blessing for our ceremony."
"My ring was from Lloyds Family Jewellery. I wanted something petite that would complement my vintage engagement ring. Due to covid had to rely with online shopping which wouldn't have been my first choice but their help and customer service was amazing."
"Matt wanted something bold, and very strong so that would last with his work and lifestyle! His ring was from Vincent Faith."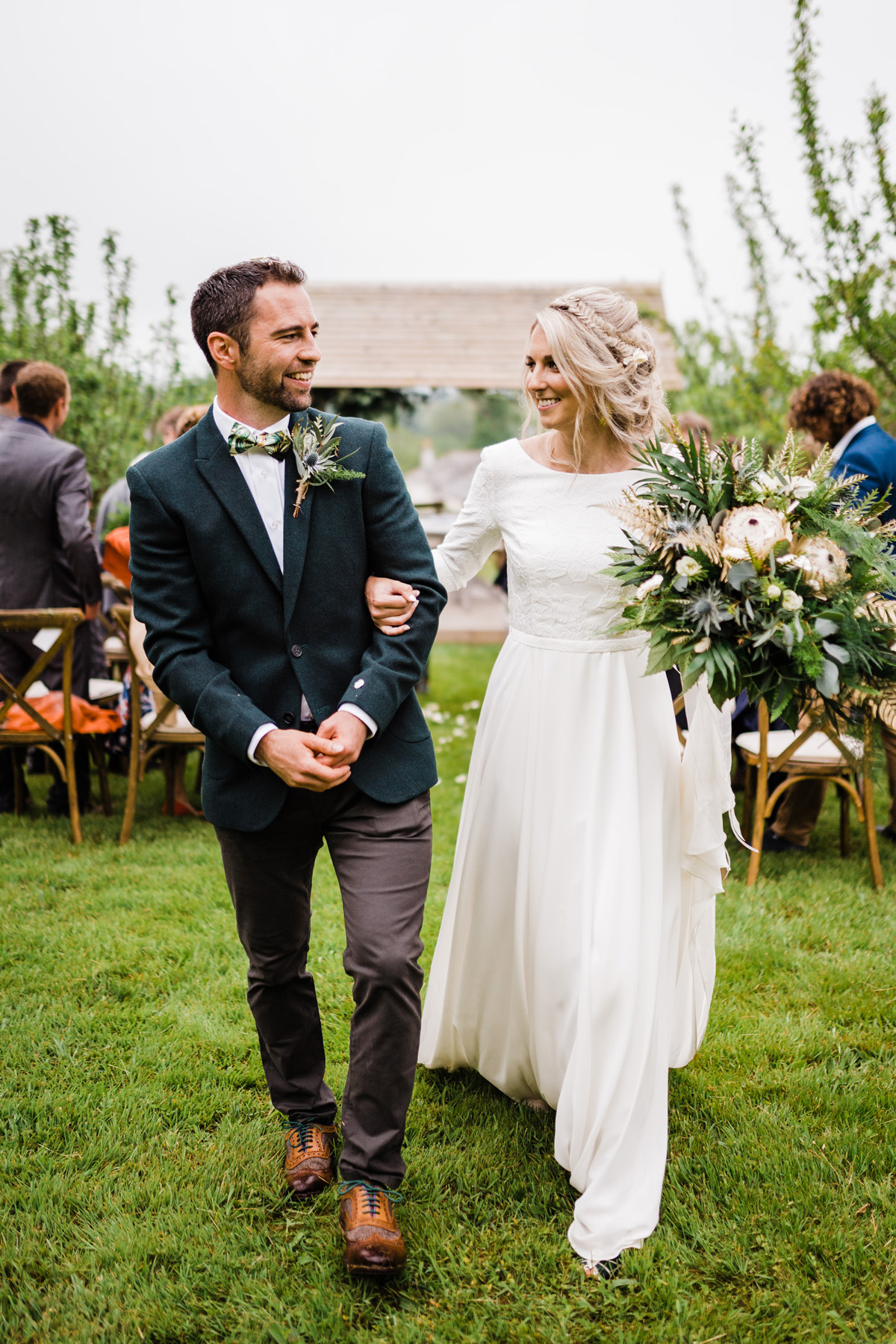 Gemma's bridesmaids looked absolutely gorgeous in their floral print Hope & Ivy gowns.
The couple hired Devonshire Events, including their Cocktails & Dreams Bar (a horsebox).
"They were absolutely amazing! They took care of everything which took the stress out of having to worry or think about it on the day."
"We loved the location and aesthetic of Wonwood Barton. The surroundings and blank canvas aspect to the venue were a big selling point for us."
"It was beautiful and perfect for us to be able to decorate in our own way and put our own style on it."
"We used vintage bottles and brass candle sticks, fairy lights, lanterns and candles and had super large sparklers."
"The main table had different coloured tapered candles from Nordic House."
"I had mood boards for different areas and the most epic colour coded budget spreadsheet which included absolutely everything!"
"Our favours were part of our sweet treats table – Krispy Kreme Donuts!"
The wedding cake was supplied by Harrie at Boo To A Goose.
"We can't recommend our photographer,  Louise Eleanor, enough – she is so sweet, and talented. We loved Louise's style of photography, and being people that are uncomfortable in front of a camera it was important for us to feel at ease."
"She was perfect on the day. she reminded us to take the photos we had previously said we wanted. She wasn't in our face, just blended in taking photos."
"We also highly recommend a pre-wedding/engagement photoshoot. Helps put you at ease and also another opportunity for some great couple photos."
Words of Wedded Wisdom
"Don't overthink all the little things too much. On the day everything will just work out. If you have great suppliers, they will take care of everything on the day. If you are on a budget – a beautiful wedding can still be done, it's about being creative with where you spend your money. If you are doing a lot of the wedding yourself, digital lists are your best friend."
"Our original budget was £16,000, but this was for the large wedding with everyone there which we couldn't have. We ended up doing our smaller wedding for £10,000. This didn't include Bride & Groom outfits as these were bought as a gift – Dress/Shoes/Jewellery from my Mum & Gran. Matts outfit – from his Mum) – Including these it would have been around £12,200. Budget was very important to us as we are also saving up for a house, but we don't feel that we missed out on having anything we had wanted. We are big DIY-ers so did as much as we could ourselves."