Flower lovers, I have something you're going to adore. Today's wedding is a true celebration of summer and, believe it or not, the bride grew all of the flowers herself. We'll also be seeing the couple's adorable pets make starring appearances. So, let's take a look.
This is the relaxed, garden wedding of Claire, a pet portrait artist and dog groomer and Chris, who owns a web company in Bath. They wed at Belcombe Court, Bradford on Avon, on 26 June 2021.
Kernwell Photography

+ Follow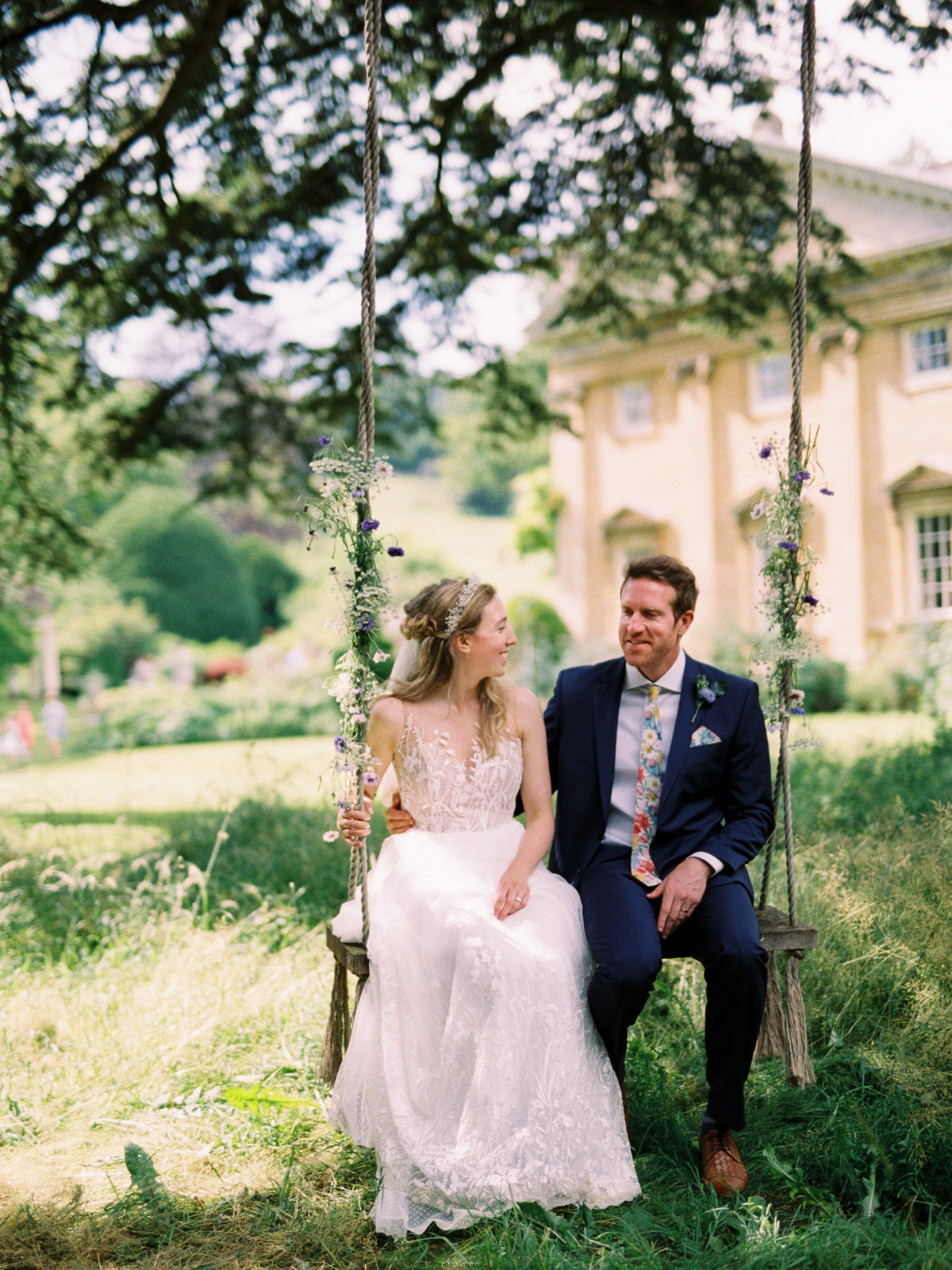 The vibe for the flower-filled wedding was set by the stationery suite, which also featured the couple's cat and dog.
"I did the wedding stationery myself. We wanted our pets, Gravy the cat and Pablo the dog, to feature throughout."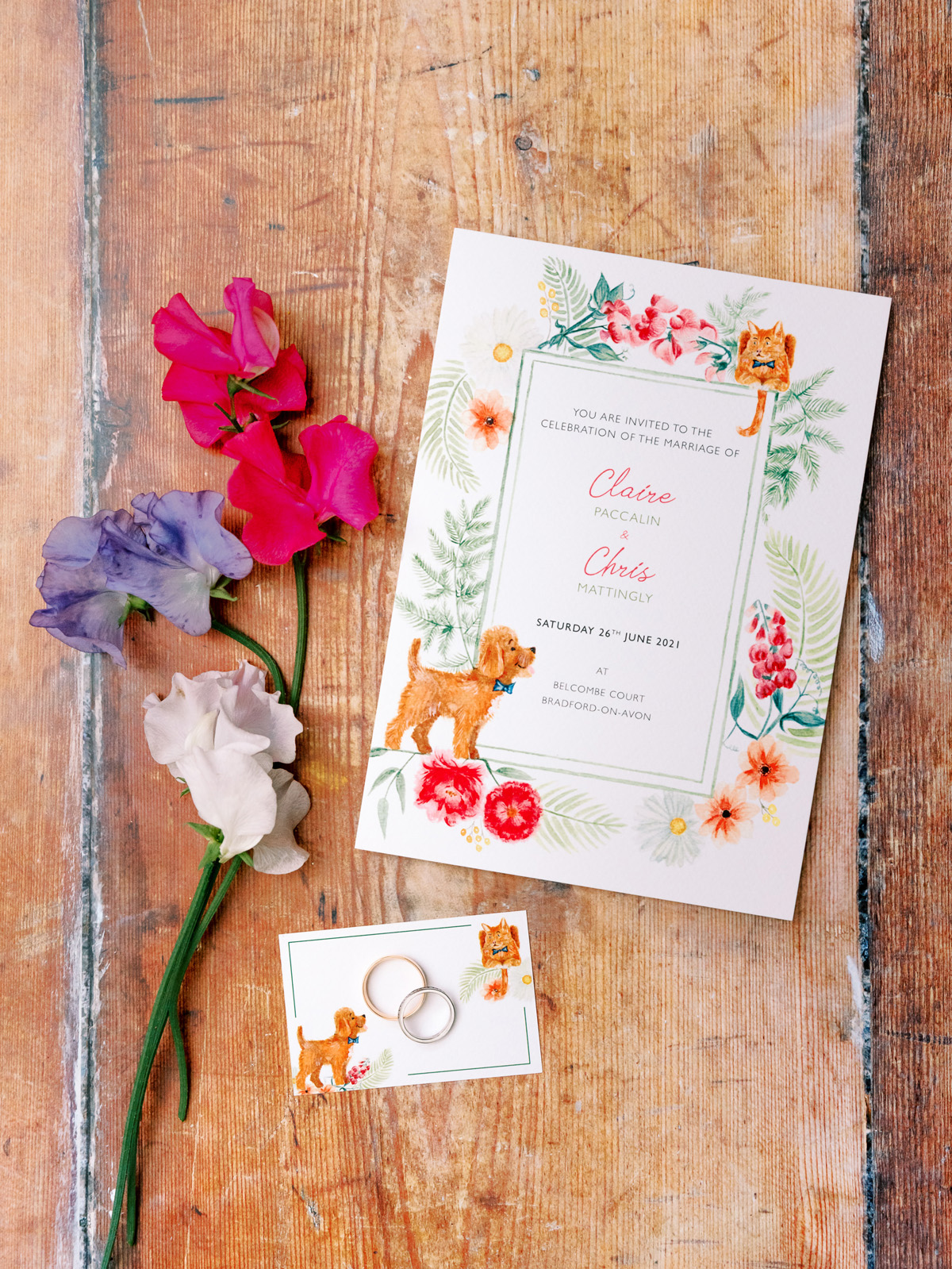 "Because of Covid and possible last-minute changes we did a digital save the date. For the invites, we ended up simplifying the final design and linking everyone to the website as we thought there were high chances of there being some last-minute changes to the event."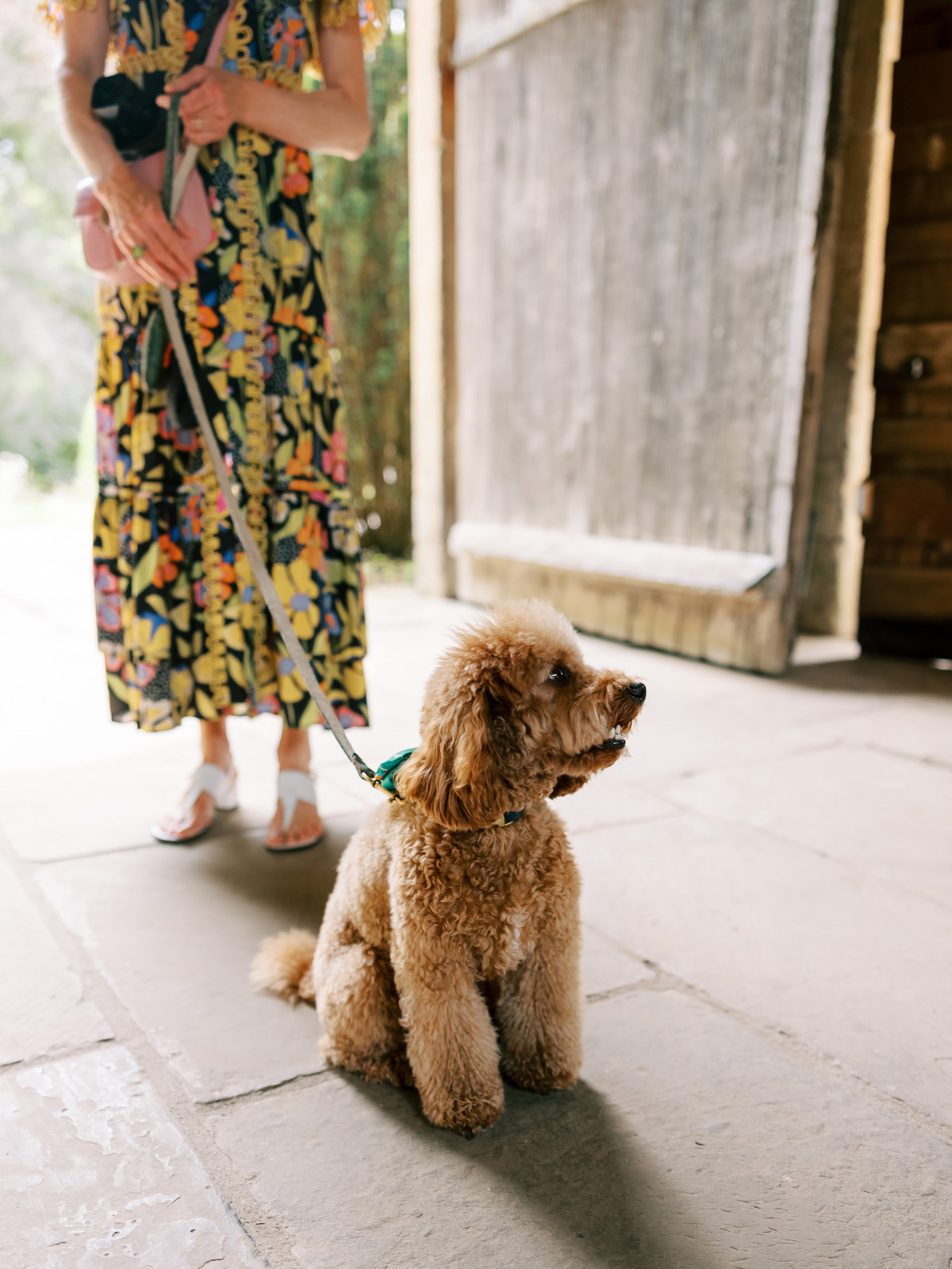 "I still managed to get some pretty illustrations on it with the order of day which didn't end up needing to change too much."
"I'd originally planned a complex table plan with a detailed illustration for each of the thirteen tables but because of not being sure if there might only be three or thirteen we ended up simply numbering each one."
"I was pretty happy we did once everything was set up, as it was all busy enough with all the flowers on the tables, they didn't need an extra theme added."
"We had hand written place cards and a printed menu at each table setting."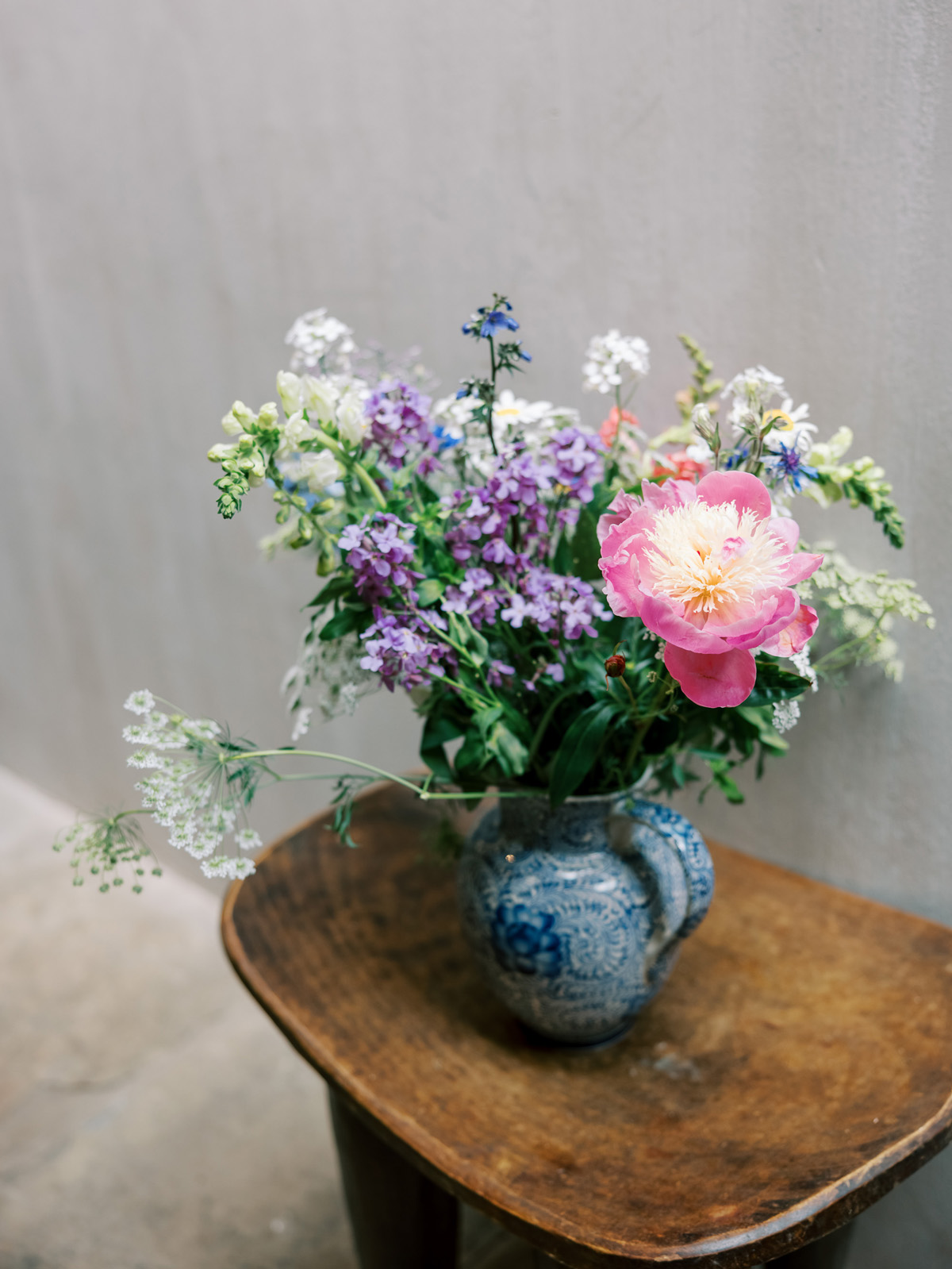 Claire wore the 'Mayflower' gown by Anna Kara from Perfect Day Bridal in Bath. Her veil was an embroidered, floor length, polka dot design from Britten Weddings.
"Perfect Day Bridal were amazing and all their dresses were beautiful. I knew I'd find the dress there so put off visiting them as I wanted to try other dresses on for fun before finding 'THE ONE' with them. I thought their service was wonderful."
"Having visited them each time during Covid I was over the moon with how comfortable they made me feel. I was able to try on everything I'd hoped to and was able to go with a couple of friends. We had five-star treatment and I have already recommended them to anyone who asks for bridal shop recommendations."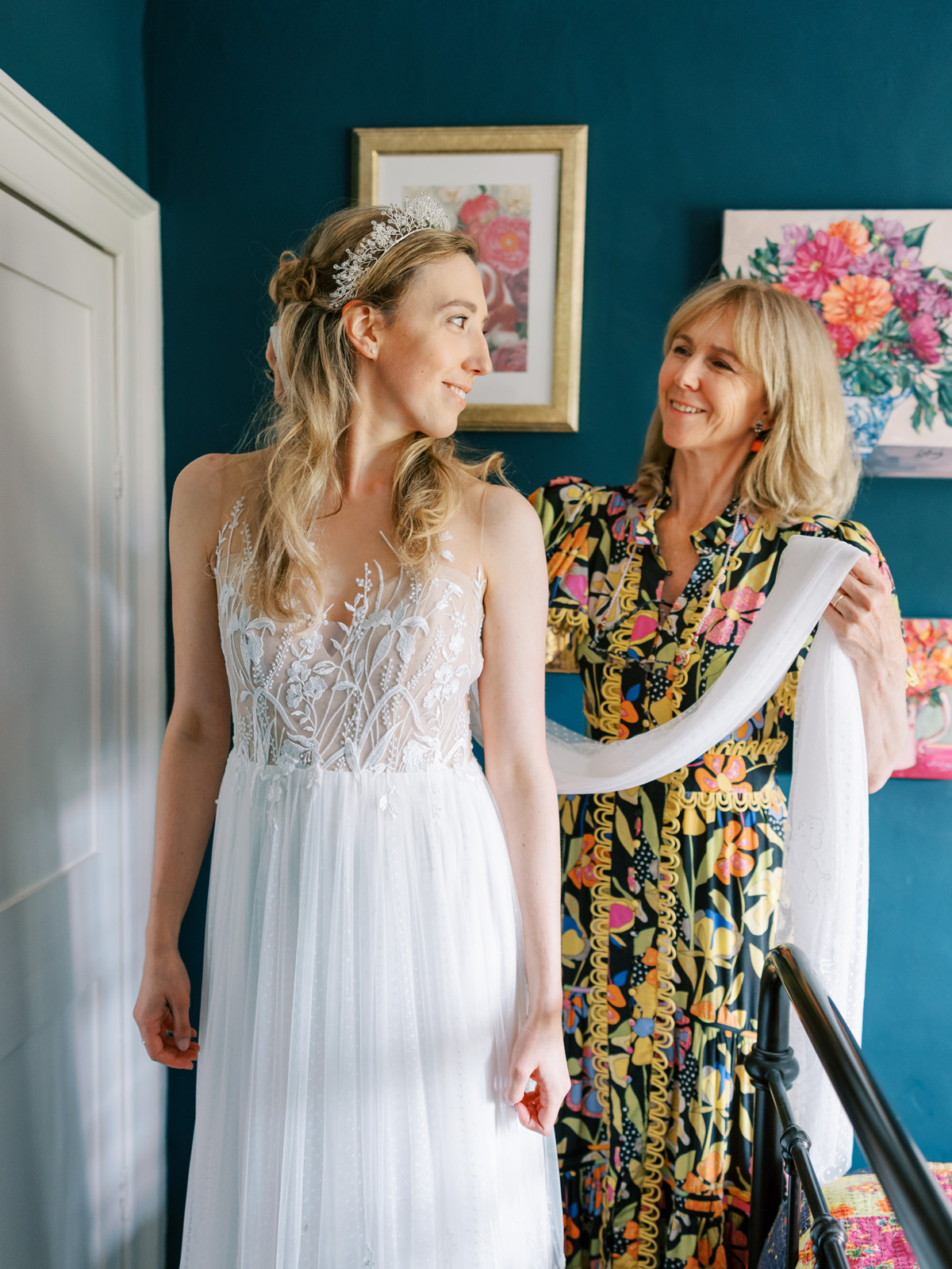 "I wanted a dress I'd be comfy in, could dance in, and for it to be pretty and floral. I also wanted to show cleavage without worrying about anything spilling out. The mesh made me feel really safe."
"The skirt was quite light, so easy to walk and dance in. It really is beautiful, you can see how much work went into making it."
"I had some extra flowers embroidered on the back as wanted that area to be more of a feature than what the original dress had. It really was the perfect dress for the perfect day I'd always dreamed of."
Claire's shoes came from ASOS and she wore a striking tiara-style headpiece from Ever Thine Co on Etsy. Her hair was left down in soft waves, styled by a hair and make-up artist, Cally.
"As my dress had a lot going on and the tiara was very blingy I decided to only wear my engagement ring and diamond stud earrings which were both from Samara James. Chris had gifted me the earrings for my Birthday."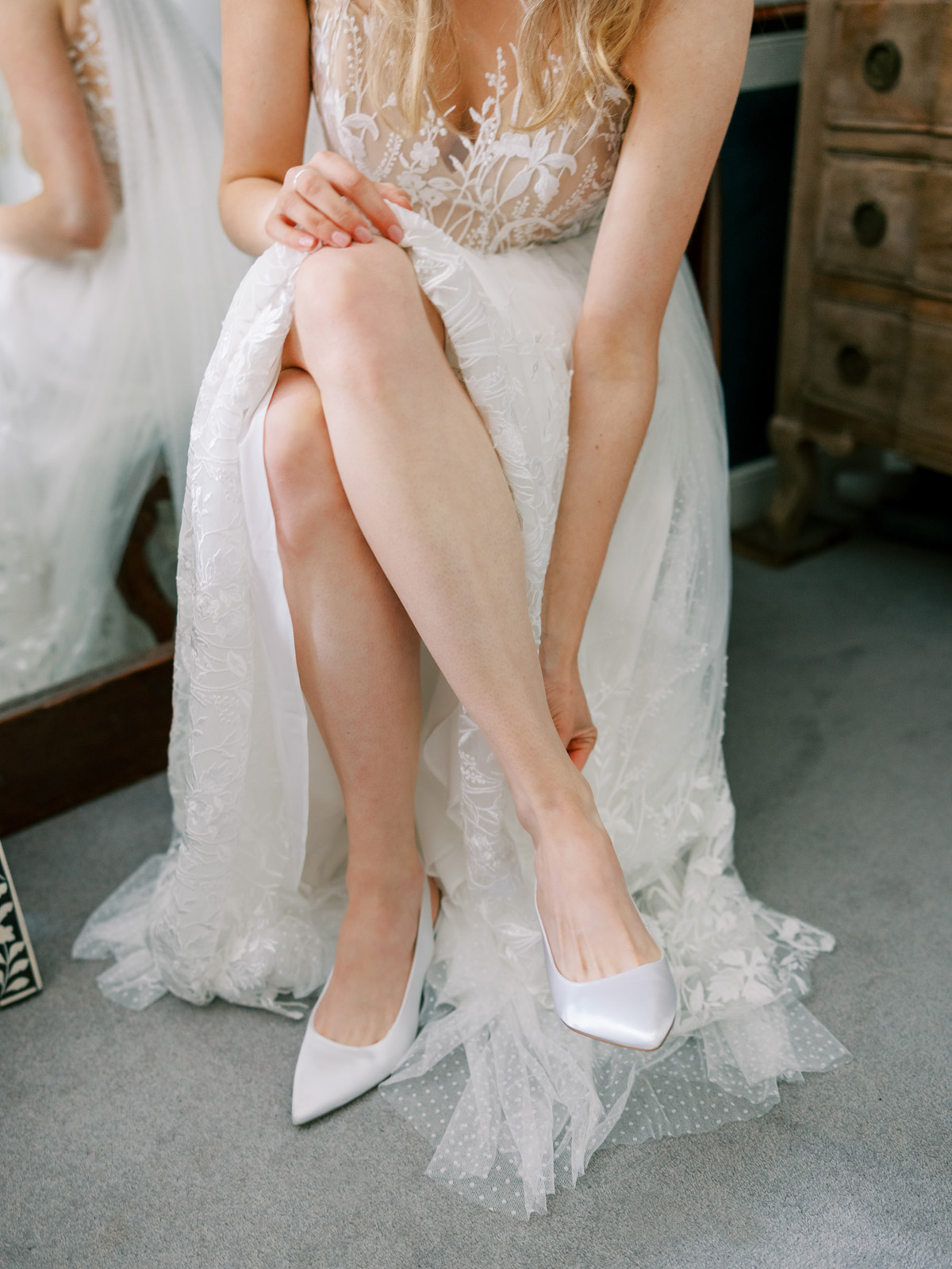 "I'd describe myself as someone who like traditional things but hates to be conventional. This dress was me down to a T. It's not a typical corseted wedding dress but still traditional in its colour and demure in shape but striking and un-conventional with the nude mesh bodice and embroidered flowers."
"Britten Weddings' service was fab. They were able to do the custom embroidery I requested as a surprise to Chris, which is a lovely illustration of our cat Gravy and dog Pablo chasing each other along the edge of the veil."
"It worked so perfectly with the dress which has a bit of polka dot running through one layer of the skirt. When we have our first baby, we plan to have the veil made into a canopy to drape over the baby's cot."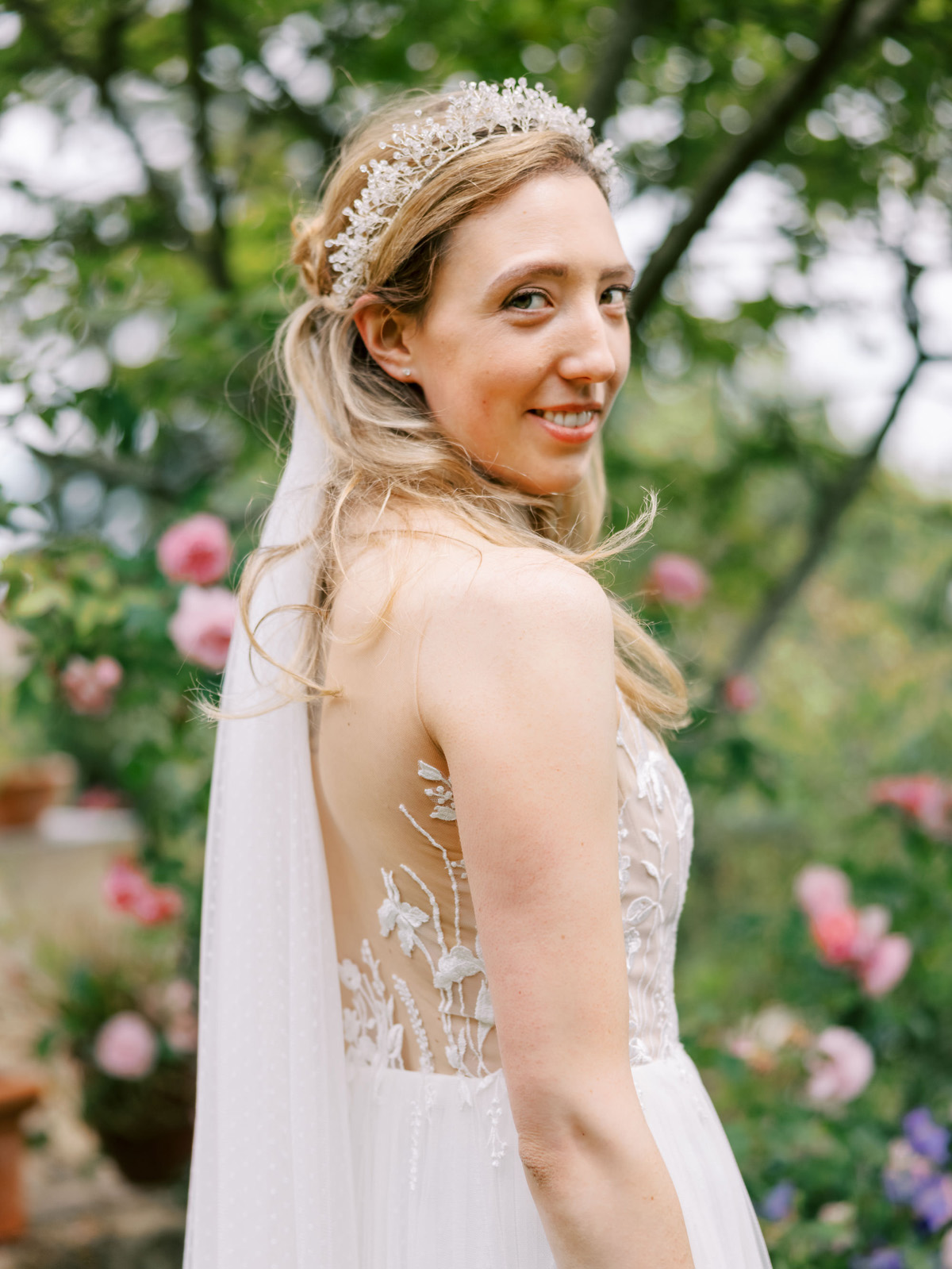 Claire and Chris met through a mutual friend and were engaged for 16 months before their wedding day. They rearranged their wedding just a few weeks before their original date.
"We were introduced by some friends when we each joined them to start indoor bouldering. We then spent six months getting to know one another while discreetly checking each other out. Chris decided to ask me whether I would consider painting a portrait of his cat Gravy and to do this I needed to meet my subject."
"I popped over to meet and photograph the cat. We spent a lovely evening chatting over a couple of drinks and opened up about our past and what we both wanted from life. A day later Chris asked me out on a date. Two weeks later I had moved in. Ten months after the first date, he flew me out to St Lucia as a surprise trip and proposed to me on a beautiful beach while drinking Pina Coladas. We got married sixteen months later."
"We had originally booked everything for 5 June (three weeks earlier) and as soon as we heard the announcement saying that things would be relaxed on 21 June we contacted all our suppliers who were so helpful. Within 24 hours we had managed to move the whole wedding with all 125 guests and all but one supplier to 26 June. One might say we had the first big wedding since Covid hit!"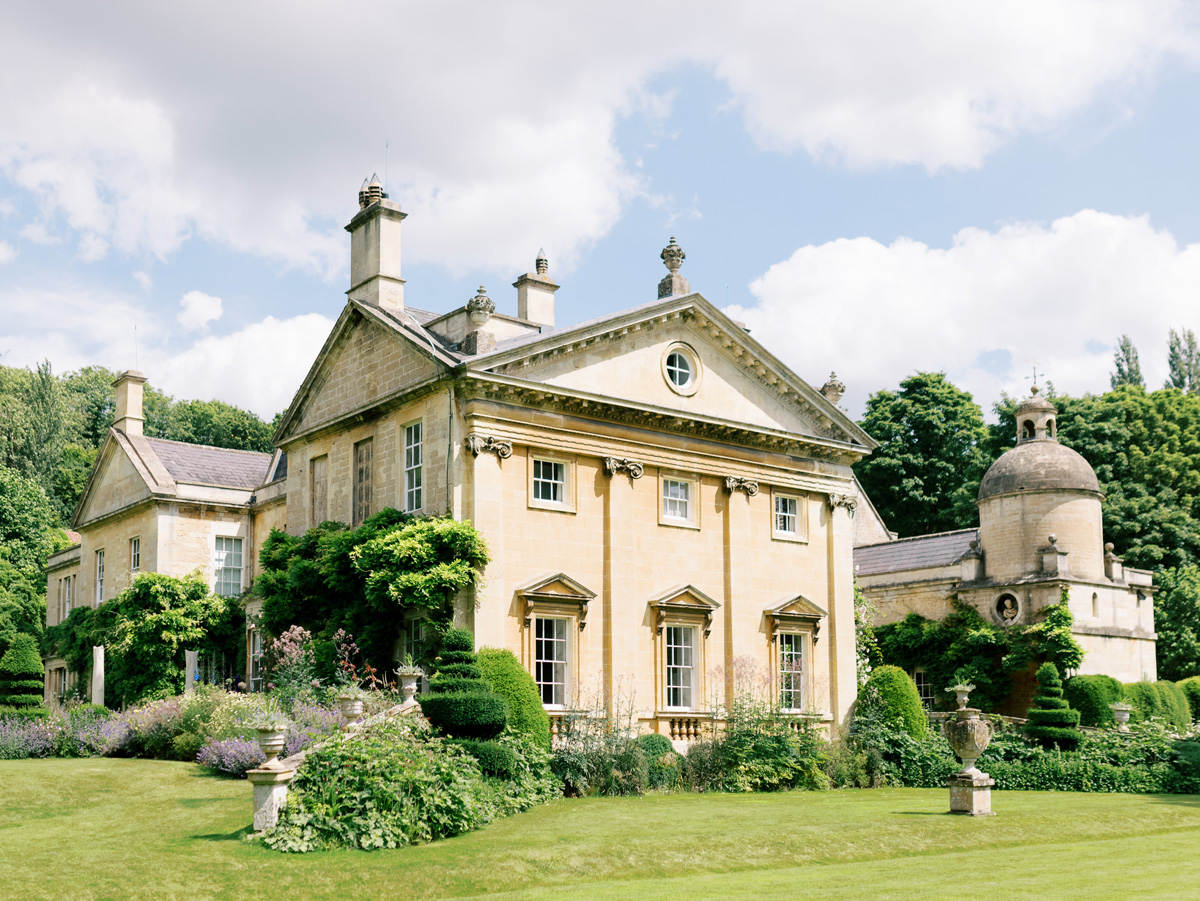 The bridesmaids wore bright turquoise, kimono-style dresses from ASOS.
"I really wanted the girls to be comfortable and not look 'bridesmaid-y', and it to be something they might actually wear again."
"To avoid a typical bridesmaid look, I wanted something with a large print. These dresses were the first thing we bought after booking the venue and we actually got them before I'd even started shopping for my dress."
We were really lucky because I'd been toying with choosing this dress for the girls and the day they received their invites to be my bridesmaids, ASOS did a flash sale and this dress dropped down from £90 to £20. So, it was a no brainer."
The bridesmaids, Chris's nieces, wore little white dresses along with sashes made from a spare bridesmaid dress by Claire's mum.
"Pablo the ring bearer (our dog) wore a bowtie made by my mum from the same material as the flower girls' sashes."
The Court is just five minutes from their house and its gorgeous, flower-filled grounds made the most perfect setting for a relaxed outdoor ceremony and Covid-safe marquee reception.
"It is the most beautiful place we have ever been to and once we saw it, there was no other option! I groom the owner's dogs and so had the opportunity to ask whether they would consider hosting a wedding for a local couple. They said yes!"
The bride lives just five minutes from Belcombe Court so was able to walk through the quiet lanes to the wedding ceremony.
"Chris stayed at the venue the night before with Ed, and I and the bridal party walked to the venue from our house. It was really lovely as it settled my nerves! We wore flats, white boat shoes in my case, and switched back to heels when we got to Belcombe."
"My mum, the flower girls' mum and Pablo who was carrying the rings around his collar walked ahead to let everyone (and the band) know we'd arrived."
The flower-theme continued with Chris's vibrant choice of tie.
"Chris's suit, shirt and shoes were from Gabucci in Bath. His tie and pocket square were from Liberty – with the same for the best man and celebrant."
"I had always dreamed of having an outdoor wedding and as much of it being homemade as possible. We wanted the ceremony to be in a garden, surrounded with flowers."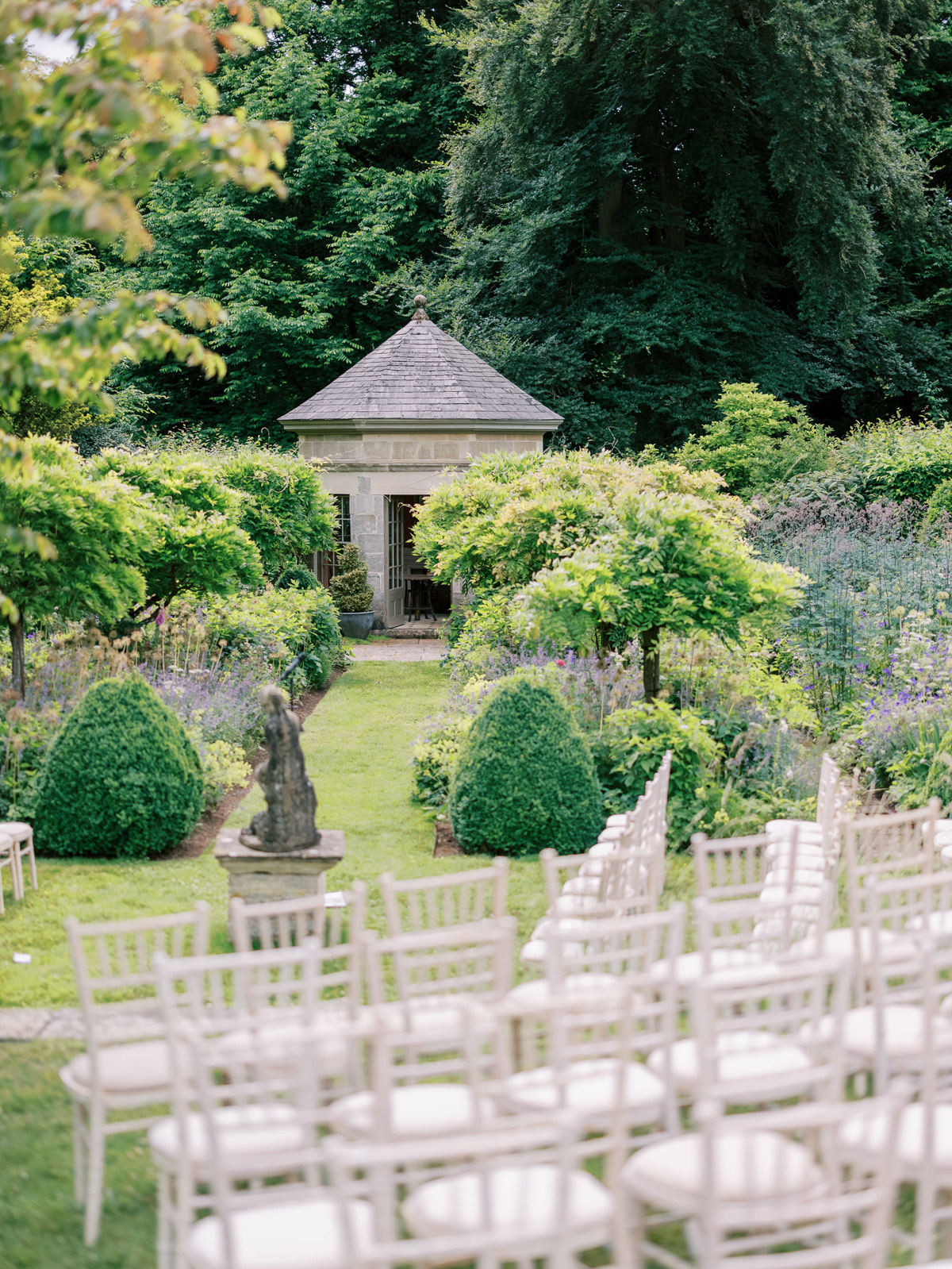 "As we aren't religious we wanted the ceremony to be as personal and casual as possible."
"One of Chris's best and oldest friends conducted the ceremony. As I'd also decided to grow the flowers myself we didn't have a colour theme as we were going to be using whatever seasonal flowers decided to grow."
The bride created her own lush bouquet of sweet peas and foxgloves using home-grown flowers.
"I'd always dreamed of having a bouquet spilling out with foxgloves and it was incredible to make that dream a reality. I'm a keen gardener so decided to take over half of my grandparents' vegetable plot and turn it into a small flower farm."
"I ordered seeds from Zoe of Swan Cottage Flowers, who also posts tutorials on how to grow wedding flowers and I did everything she said to. The weather this year wasn't ideal for flower growing timings. Not everything I tried to grow flowered on time but we had plenty between my plot and a friend's who offered to grow some too."
"The main flowers I wanted to have on the day were sweet peas. My grandpa, who sadly was too ill to attend, showed me when I was a toddler how to sow, plant and tie in sweet peas."
"I've helped him with these tasks every year since, which is why these flowers ended up being such a big part of the day. I also ordered a few buckets of roses and peonies from a local flower farm to bulk out my selection."
"The two flower girls walked down the aisle with little baskets scattering home-dried petals followed by five of my best friends, my bridesmaids. My father walked me down the aisle. I asked the acoustic duo (a guitarist and female vocalist) to perform Enya's 'Only Time' when I walked down the aisle as a surprise for Chris, having really wanted there to be a nod to his late mother on the day -this was one of her favourite songs."
"He said later that he really appreciated that I'd thought of incorporating her and it was a sweet and discreet personal gesture."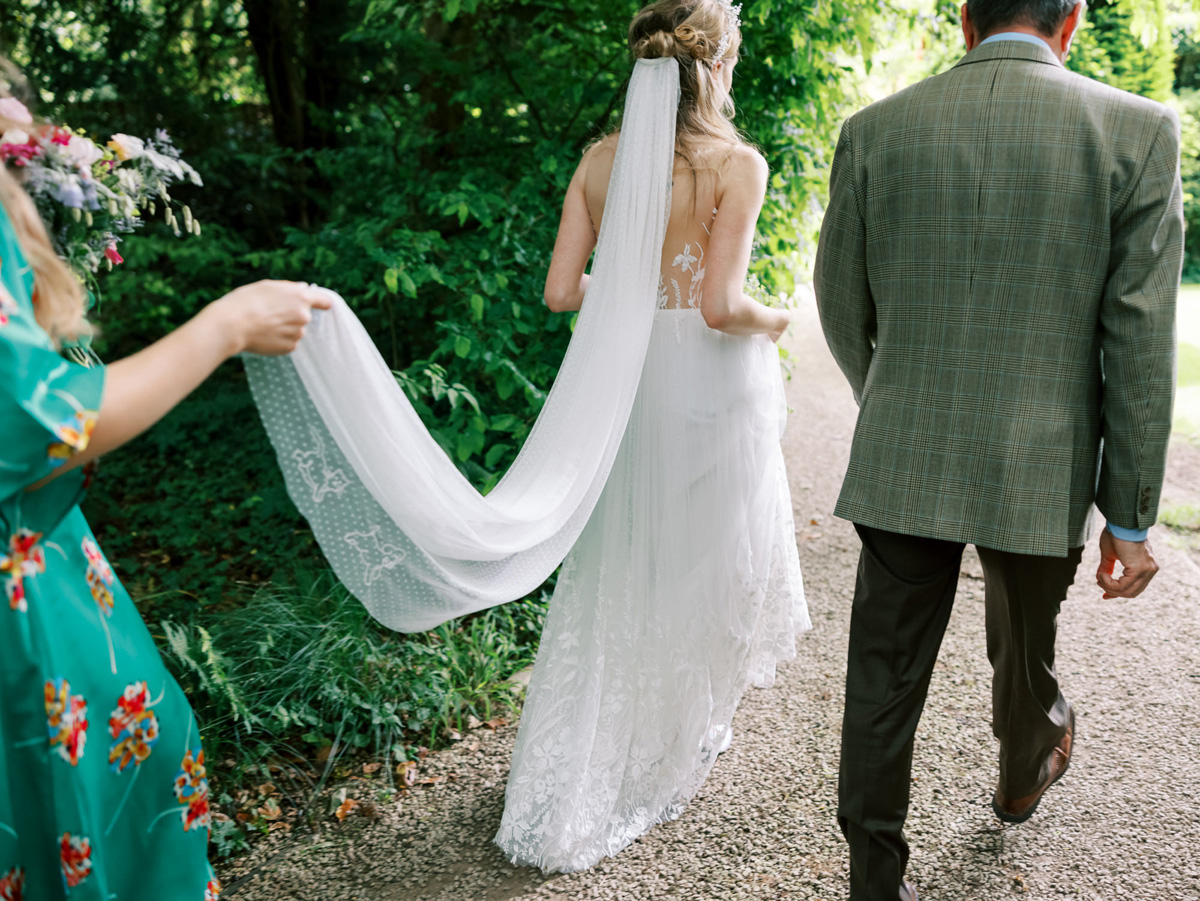 "I was blessed with my five bridesmaids helping with the flower arranging. They all chipped in with the sweet pea posies, the table arrangements and our bouquets."
"We picked pampas grass from my grandparents' garden the year before to do displays in milk churns with foxgloves, and ivy and willow branches to decorate hoops for the marquee."
"My original plan was to create pampas clouds on the marquee hoops, but realised that the pampas was shedding a little too much to have it hanging over everyone's dinner."
"It looked beautiful outside in the milk churns, and the green foliage looked much better against the white ceiling, so it all worked out perfectly in the end."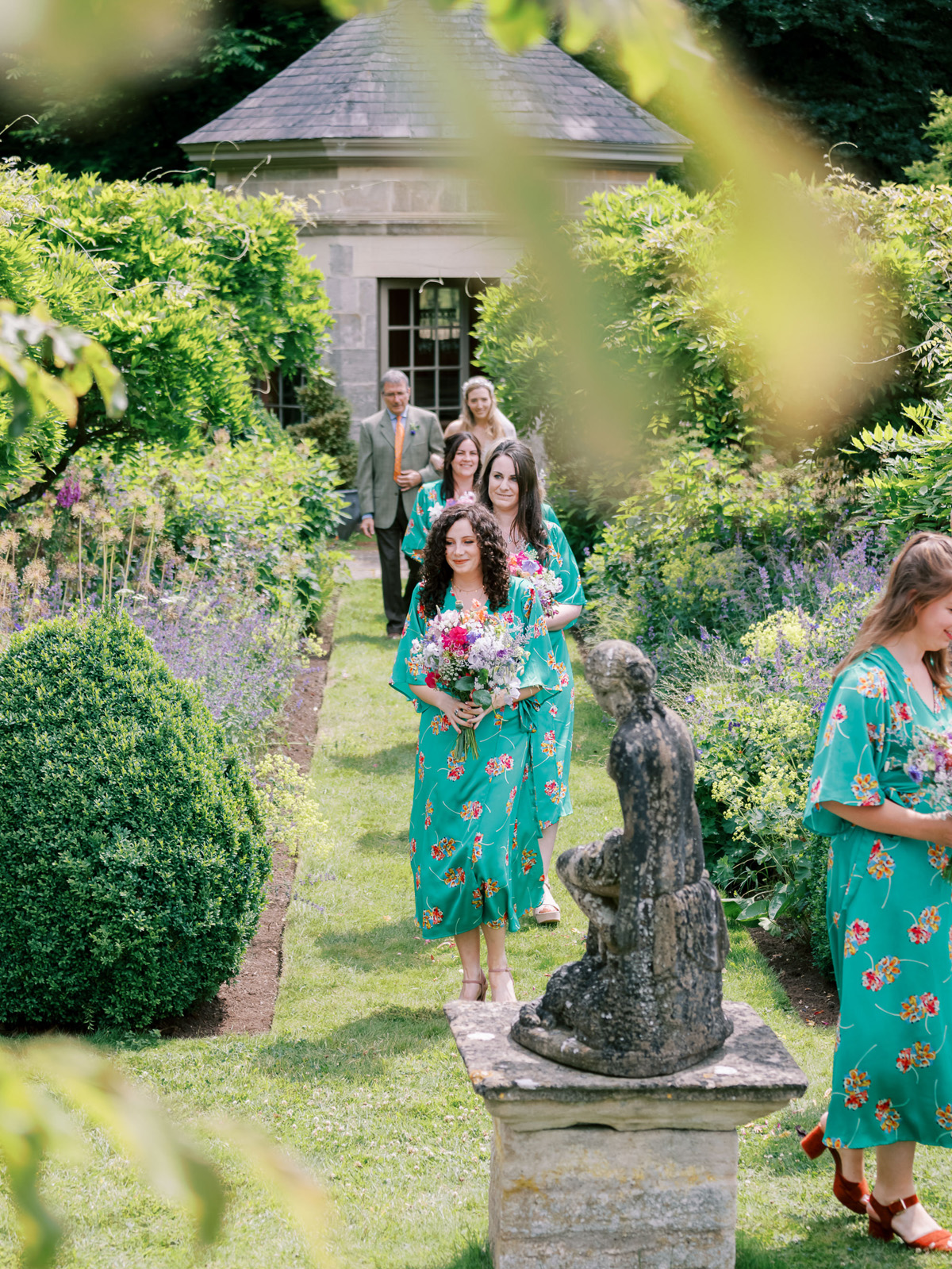 The couple were officially married three days before so one of the groom's best friend's, Ed, acted as celebrant.
"Ed has known Chris the longest of all his friends and met me the day after Chris and I started dating which means he has seen our relationship grow from the very beginning."
"Ed created a wonderfully personal speech, and we added all the bits we resonated best with to make the ceremony run in a semi-traditional fashion."
"We each wrote our own vows and read them to the other for the first time on the day. They were absolutely lovely and really made the ceremony even more special, emotional and humorous too."
"I don't think there were many dry eyes in the crowd, including our own!"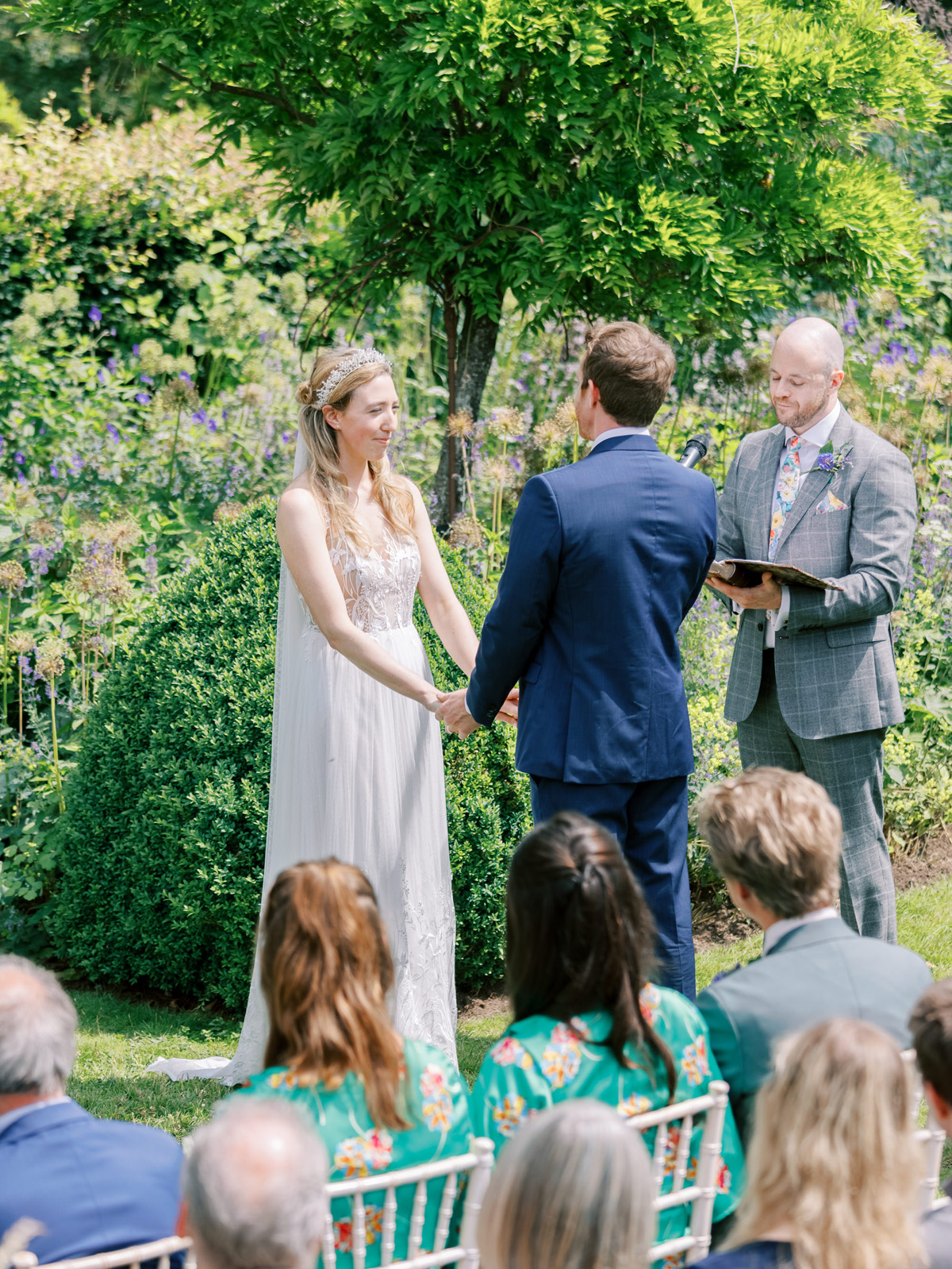 The couple exchanged rings from Orton Jewellery and had two readings.
"My brother Louis read an extract from 'The Secret Garden' by Francis Hodgson Burnett and one of my best friends, Ruth, read, 'How Falling in Love is like Owning a Dog' by Taylor Mali."
"We panic chose these about a week before the wedding. I came across 'The Secret Garden' one and found it really beautiful. Chris came across the second; we both found it very funny and knew Ruth would perform it beautifully."
The day was captured by Michelle and Phil at Kernwell Photography. I love their relaxed images filled with natural summer light.
"They were incredible! They were recommended by another local photographer and we loved the look of their website and portfolio."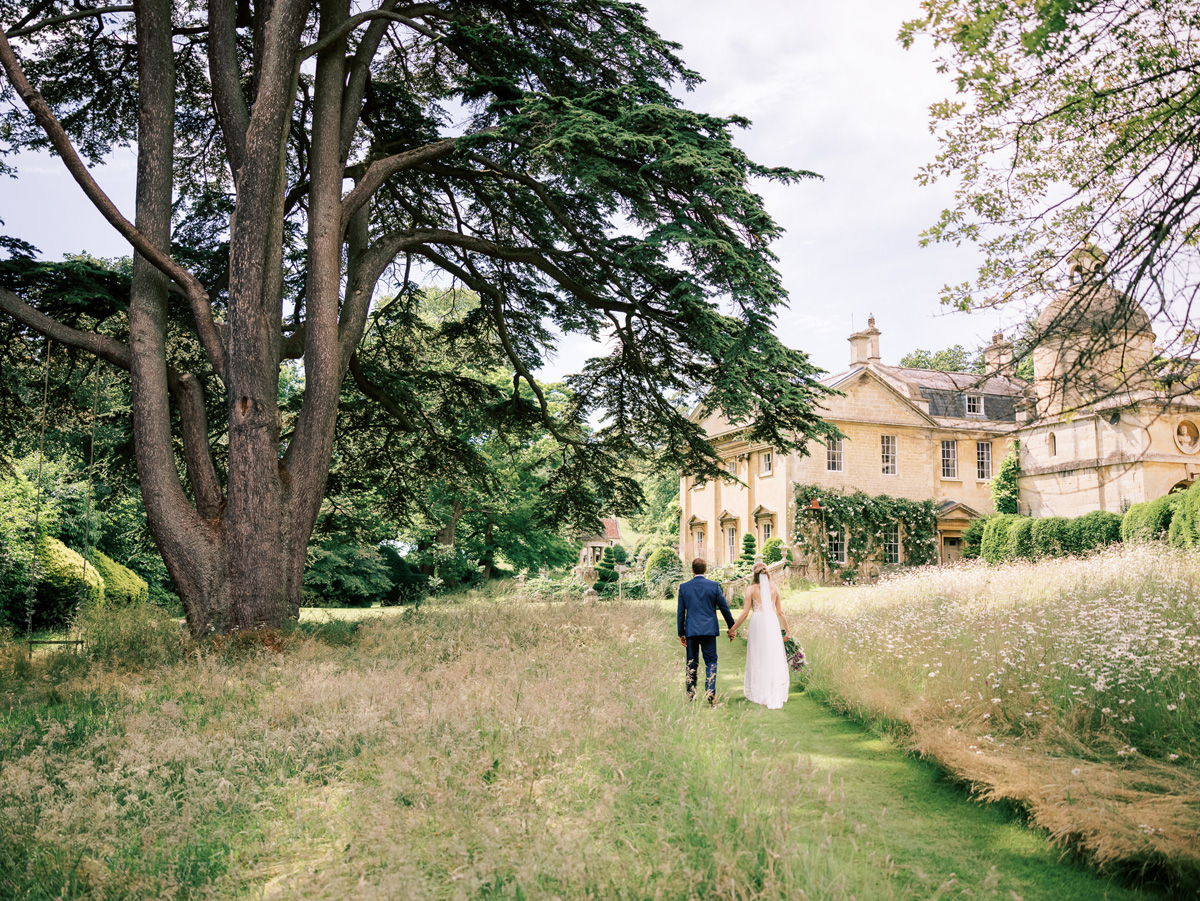 "Chris was really excited that Phil says in his bio that he idealises Arnold Schwarzenegger as this meant they had something big in common. We met Michelle and Phil on Zoom and loved them immediately. We then met up in London to do an engagement shoot which helped us get comfortable in front of the camera as neither of us are used to this sort of thing. I'm especially not into PDA and anything I deem as cringy…."
"They were great on the day and very discreet throughout the ceremony and day. They took charge during the group shots and were fun and encouraging during the couple's shots."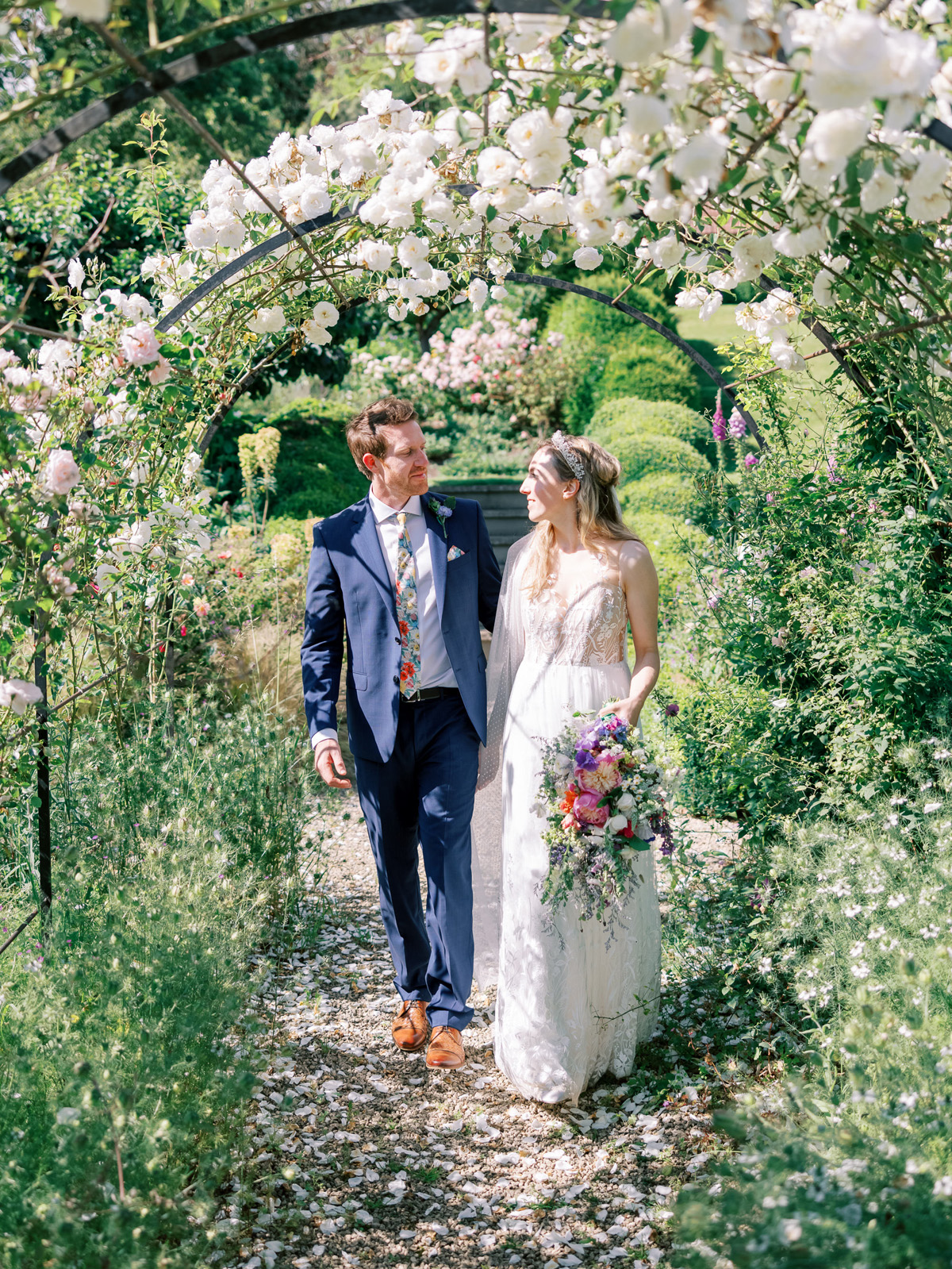 "They make a great team and complement each other perfectly. We feel very lucky to have had them with us on our big day."
"We didn't have an official videographer but a friend of ours who is a videographer did capture a few scenes on the day and made up a little film which was such a lovely surprise. We've absolutely loved having it and sharing it with anyone who wasn't able to attend."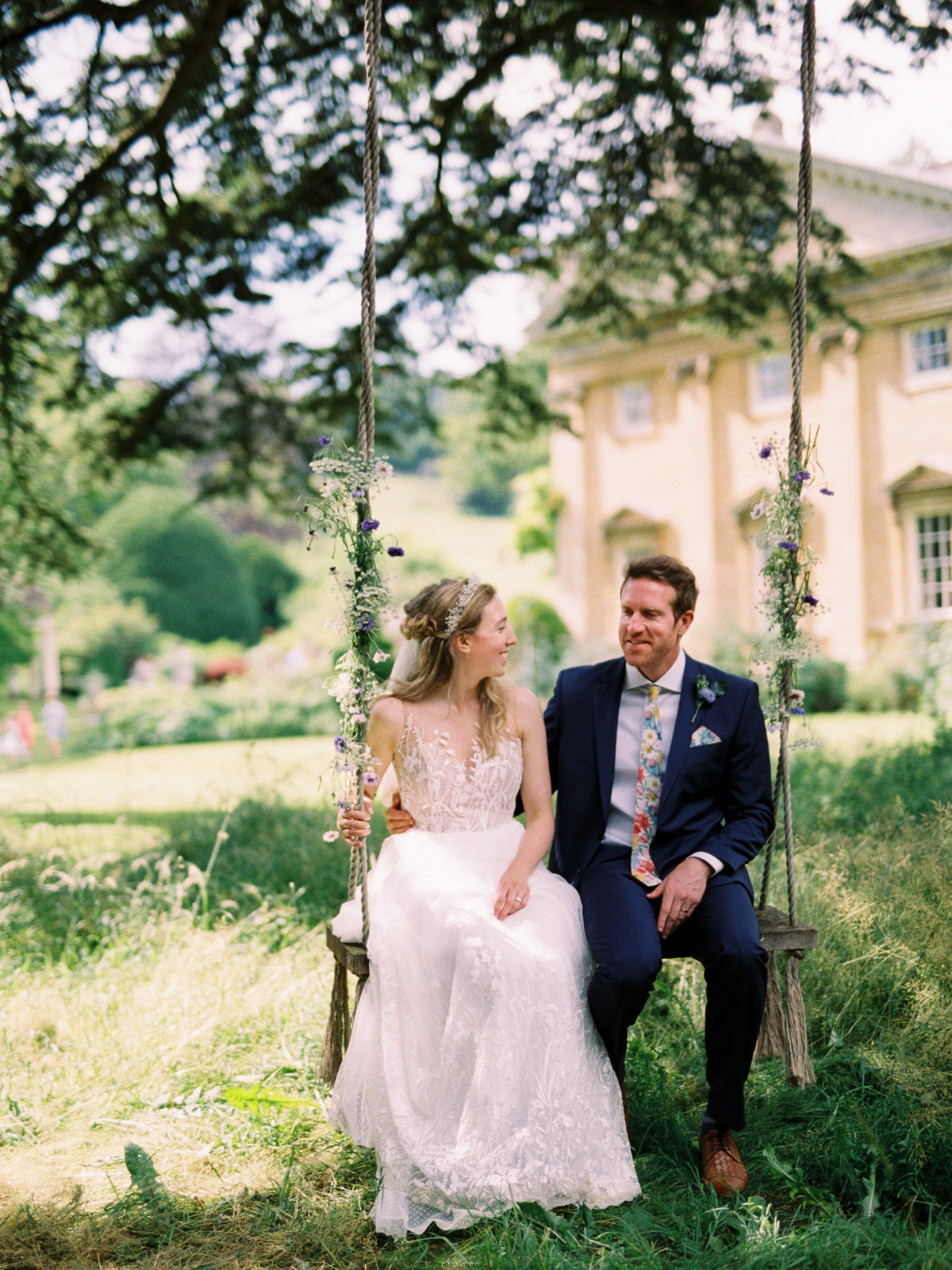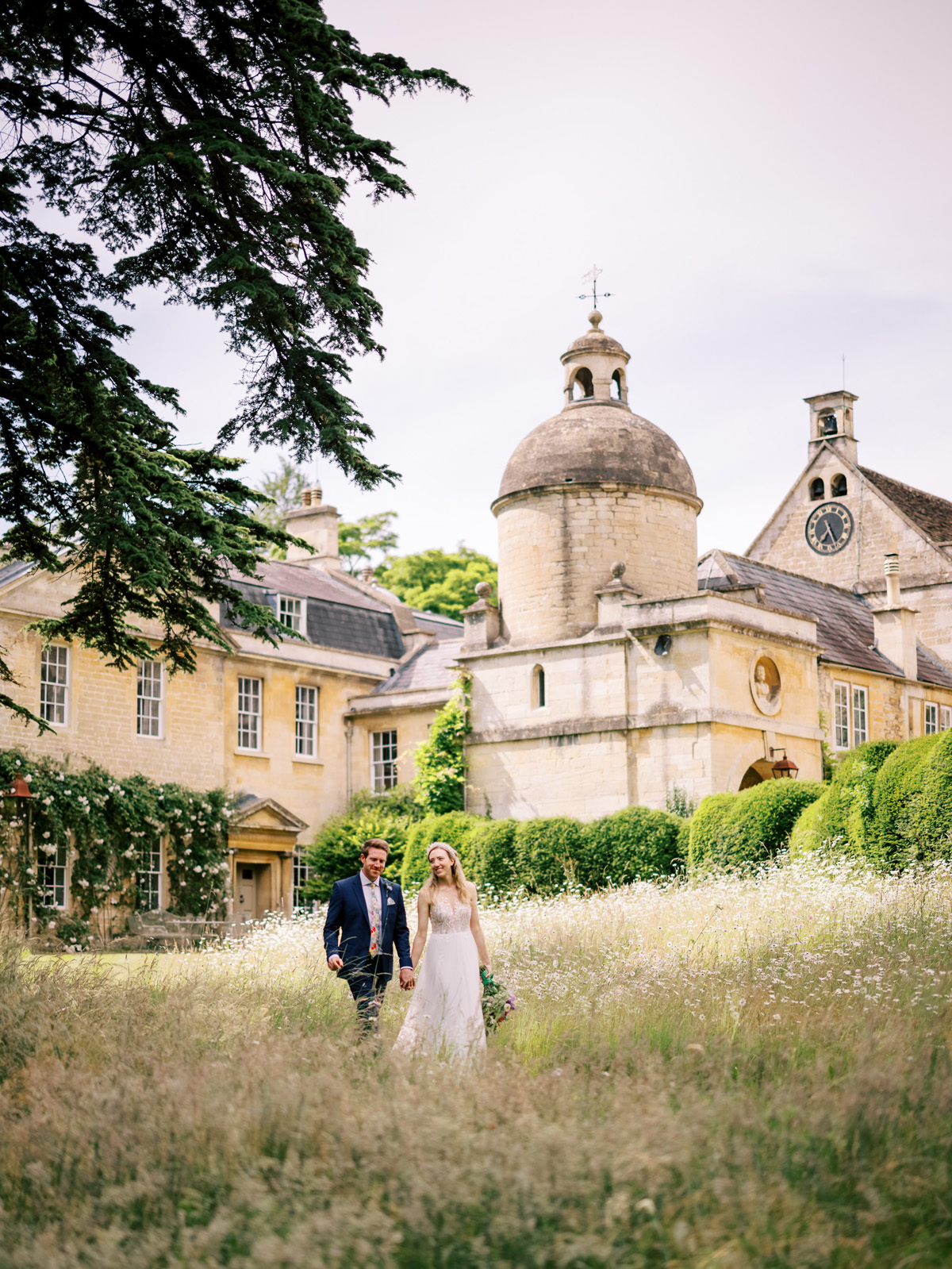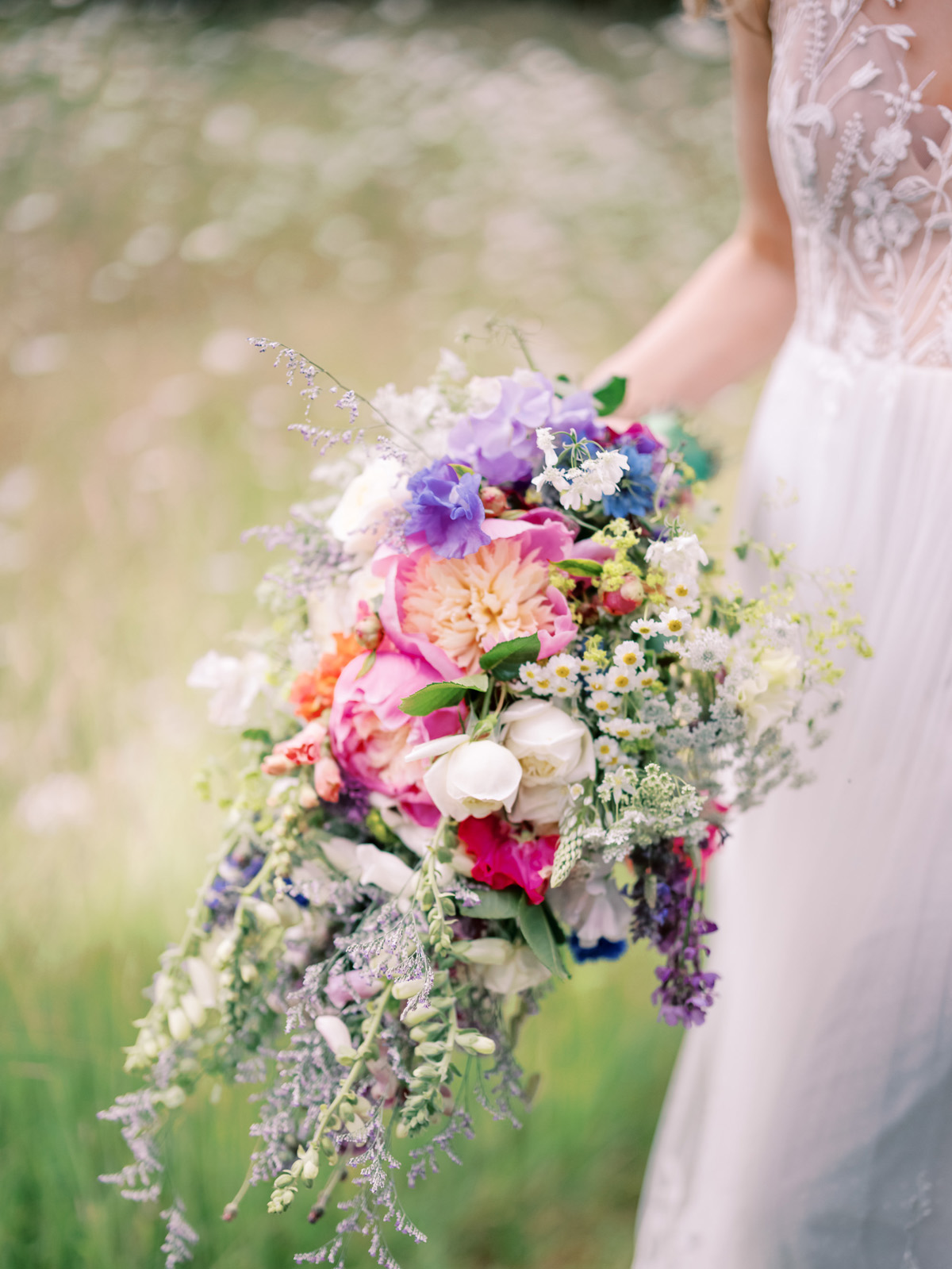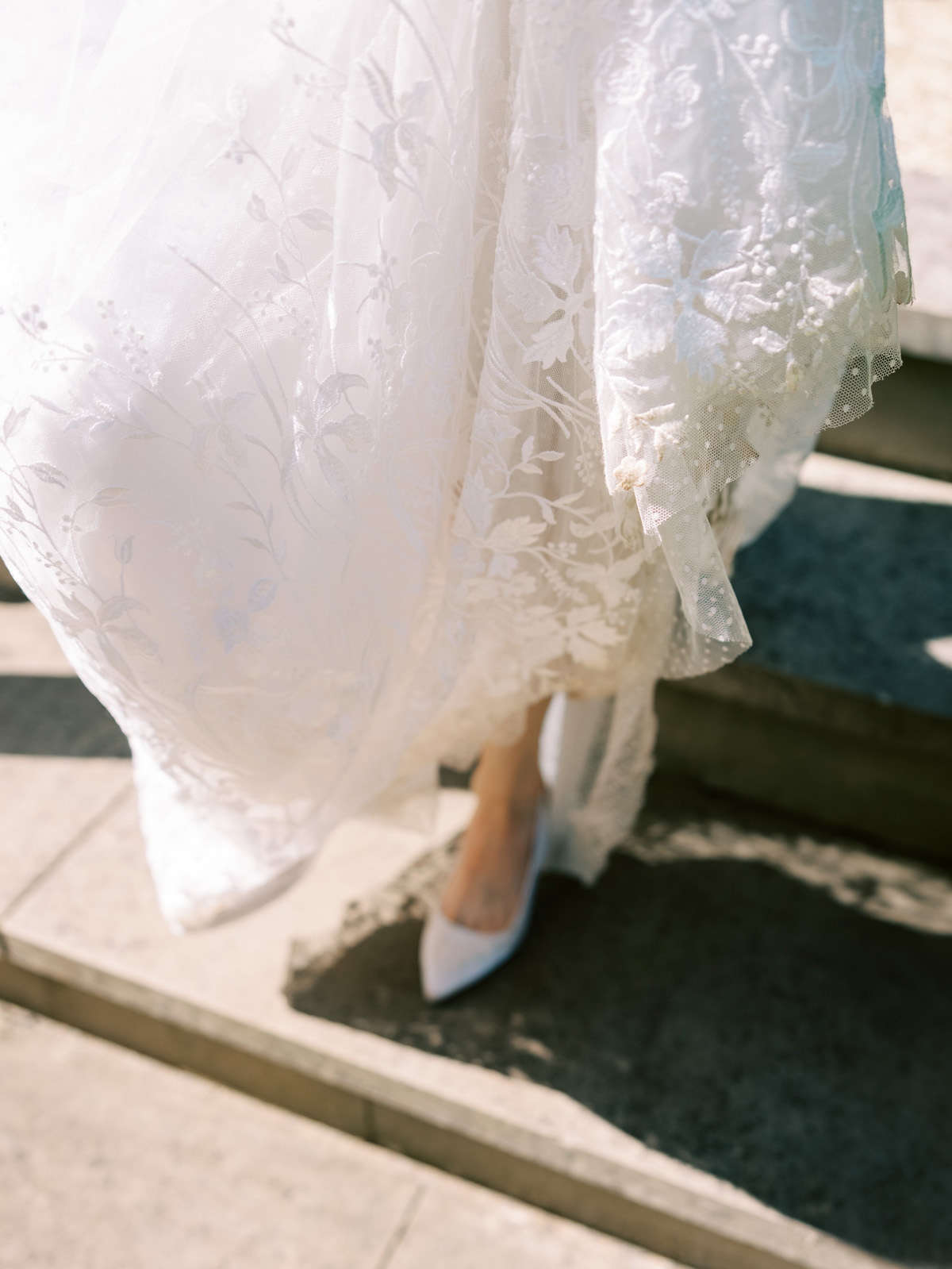 With such beautiful weather, the ceremony was held outside whilst the reception was held in an elegant, open-sided marquee from Symposia Marquees.
"We had a beautiful two pole tent from Symposia Marquees. They also supplied an amazing boho snug which seats 20+ people. We were very lucky that we'd always planned an outdoor wedding, meaning numbers were never an issue (once the thirty guest limit was lifted, of course). We had two sides up on the marquee all day and night and sanitising stations throughout the venue. We also asked guests to please not crowd the open-air dance-floor."
"They all brought face masks to wear in the barn where the loos were (and where the ceremony would have been had it rained)."
With such beautiful weather, the ceremony was held outside whilst the reception was held in an elegant, open-sided marquee from Symposia Marquees.
"We had a beautiful two pole tent from Symposia Marquees. They also supplied an amazing boho snug which seats 20+ people."
We were very lucky that we'd always planned an outdoor wedding, meaning numbers were never an issue (once the thirty guest limit was lifted, of course)."
We had two sides up on the marquee all day and night and sanitising stations throughout the venue. We also asked guests to please not crowd the open-air dance-floor."
"They all brought face masks to wear in the barn where the loos were (and where the ceremony would have been had it rained)."
The bride chose to DIY the wedding herself, and found much inspiration from visits to Love My Dress over the years.
"I've been visiting @lovemydress on Instagram for as long as I've had the app! It's pretty much the only blog I visited regarding wedding planning, other than targeted wedding ads which I was swamped by."
"I used to scroll through your account at Uni with my friends, dreaming about our big days. Who'd have known that nearly a decade later I'd be sharing my big day with you now?"
The wedding breakfast was provided by Sam's Kitchen Events, who also managed the running of the marquee and the bride made the cake, decorated with pressed wildflowers, herself.
"After 16 months of trials I'm pleased to say it turned out perfectly and everyone was very complementary about it (I've had lots of requests for the recipes; thank you Nigella Lawson!). We decided to serve it with strawberries and cream for dessert, after the main meal and speeches."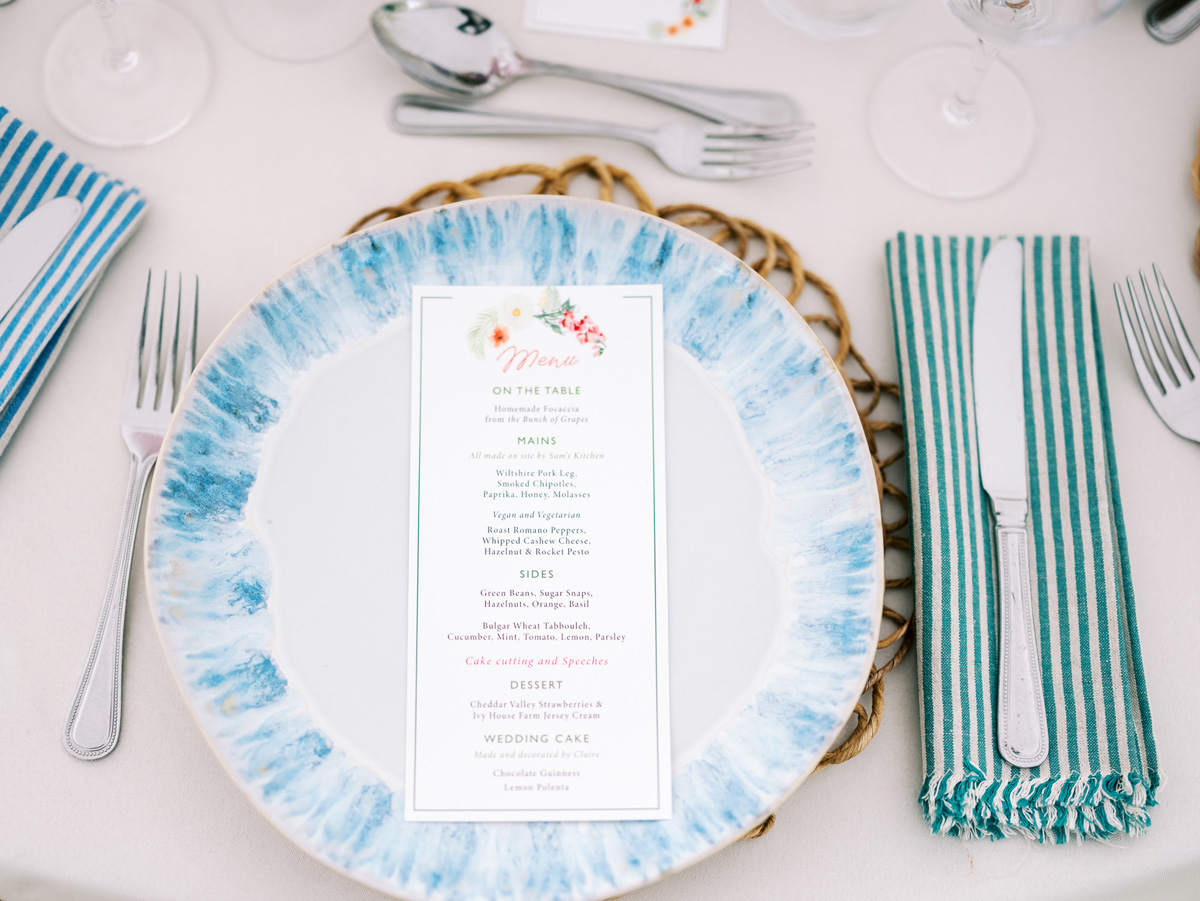 "It was a huge cake! I made two tiers of Lemon Polenta Drizzle and two of Chocolate Guinness. All were iced with buttercream (I had help from a couple of friends for the icing) and I decorated them with edible flowers I'd pressed from our garden over the past year."
"It was pretty stressful to do alongside everything else in the run-up to the wedding as it isn't something that can be rushed but, because it was such a success, it was worth it. I also ordered a vegan lemon polenta cake which I then decorated with edible flowers."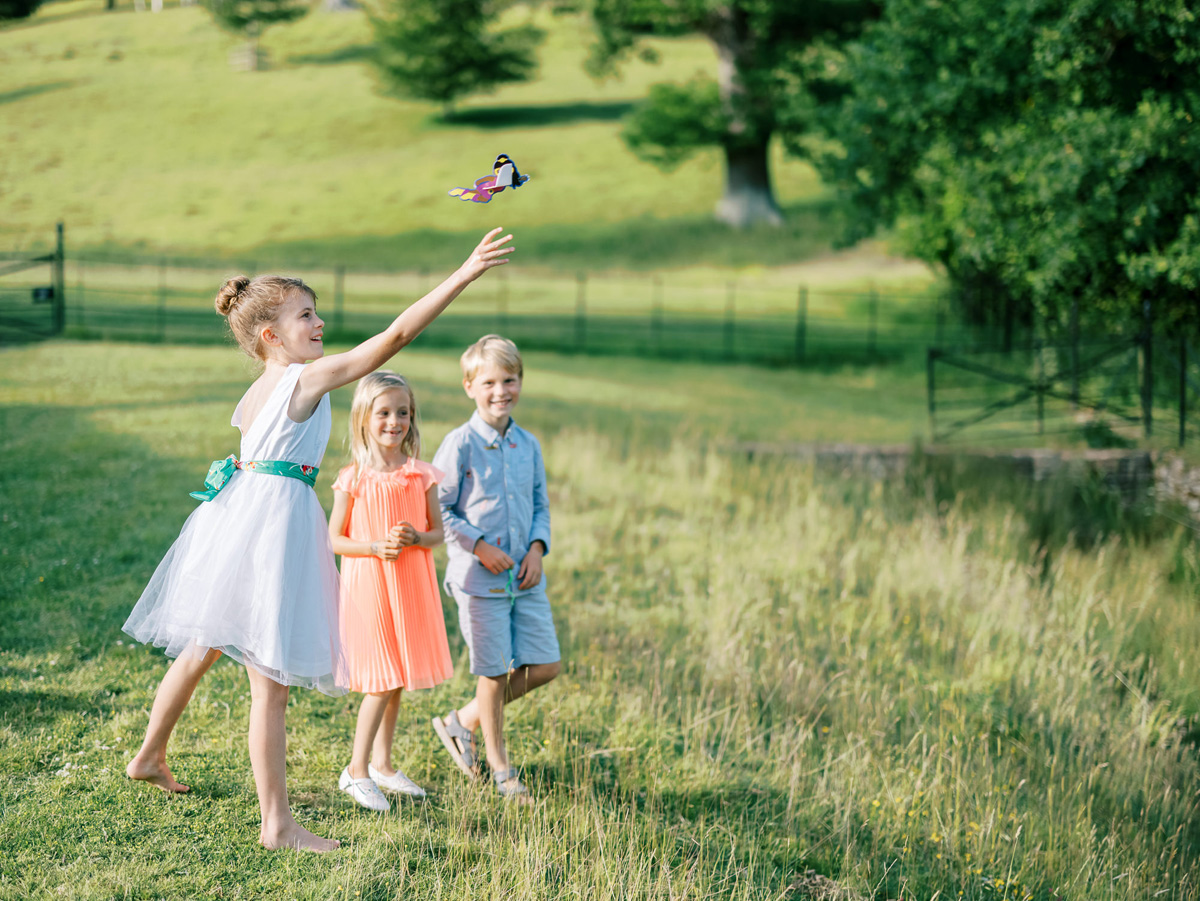 The bride and groom have two very special memories from the day.
"For me it was walking down the aisle, realising how beautiful and perfect everything looked and knowing that I could now just relax and enjoy the day as there was no longer anything I could do."
"This was also the magical moment I got to see Chris who I hadn't seen since the afternoon before, and we're never apart very long!"
"For Chris, it was the evening walk we took with the photographers, right before the first dance once all the pressure he had had all day with his speech were gone."
"We also got to have a quiet moment together to reflect on the day and just be the two of us (with our lovely discreet photographers)."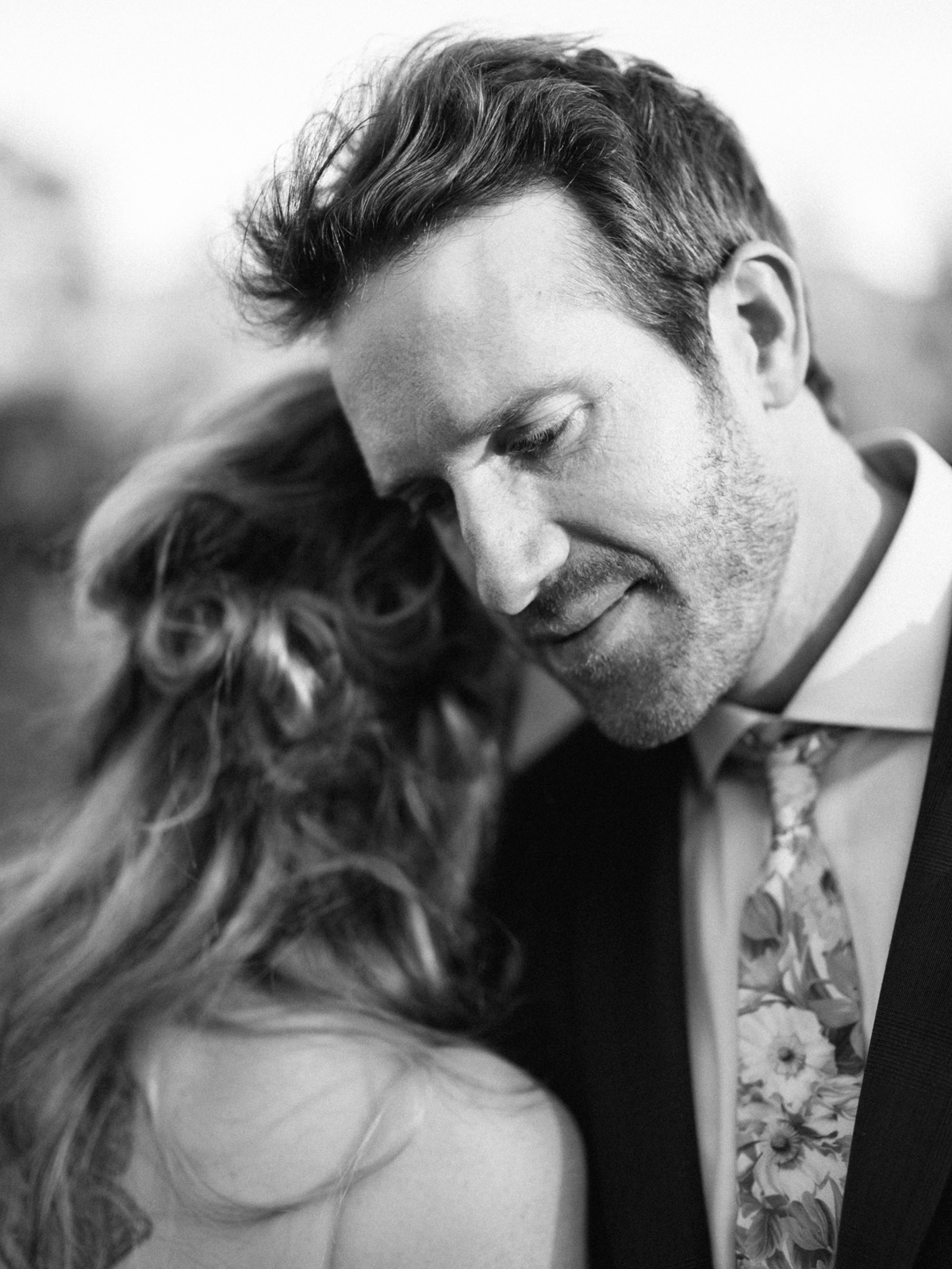 The grounds were a quintessentially English setting for some portrait shots before the reception got underway in the marquee.
"The venue is just so beautiful we didn't decorate anything other than the swings. In the marquee we filled some milk churns with pampas and foxgloves and put ivy and willow onto some hoops from the ceiling. There were vases of flowers on the tables – I'd collected the vases over the past year from Ebay and charity shops."
"The barn in which the loos were was decorated with many more vases from my growing collection. Belcombe provided lanterns and the marquee company did all the marquee lighting."
Later on, the newly-weds and their guests moved to the outdoor dance-floor for the first dance.
"The Shuffles Band had an acoustic duo for the ceremony and reception drinks and canapés. They then had three other musicians join the acoustic duo to form an incredible band for the evening. They were a huge hit and really got everyone up and dancing (even Chris, a whole three times, which was two more times than I'd expected)."
"Our first dance was to 'Escape – The Pina Colada song', which was a nod to the drink I was drinking right before Chris proposed. We had the flower girls and everyone join in very quickly!"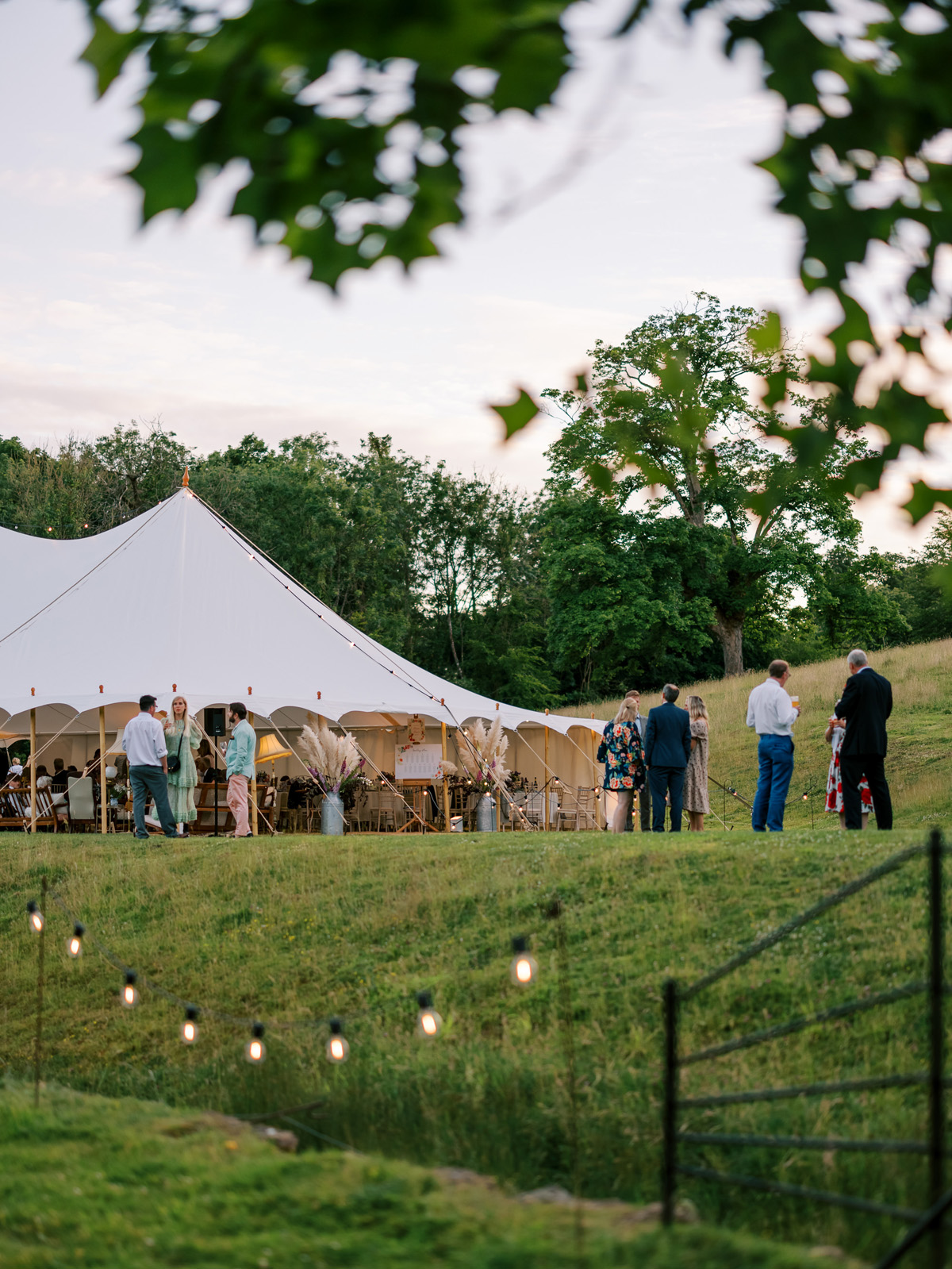 Words of Wedded Wisdom
"Delegate, delegate, delegate!"
"Enjoy the day once it starts because all the hard work you've put into it isn't just for your amazing guests to enjoy, but for you to love and treasure forever."
"Trust your partner! Chris set up lots of things on the morning of the wedding and sent me pictures and videos of what he was doing while I was having my hair and makeup done, which made me feel so reassured as it was all just perfect and exactly what I'd planned for. I was over the moon to realise I could just relax and let him take charge."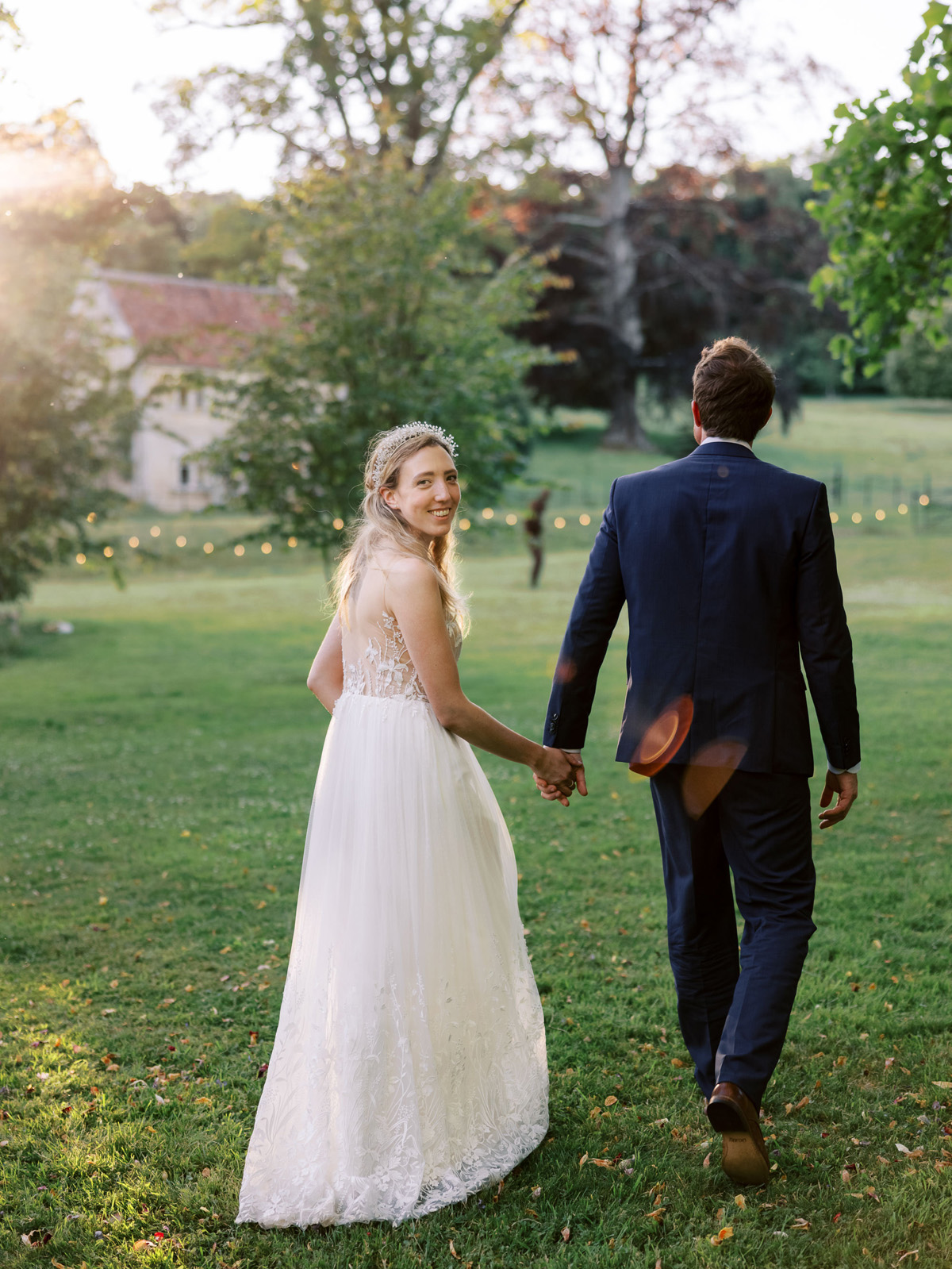 What a beautiful celebration of summer! Claire, I adore your wildflower cake design and you look so beautiful in your Anna Kara gown. Congratulations to you and Chris on your marriage and thank you for sharing it with us.
Kernwell Photography, I've so enjoyed drinking in your beautiful work today; thank you.
For more summer garden wedding inspiration, enjoy these other celebrations on Love My Dress.
Ele xx