Hello lovelies, how are you? I'm transporting you to a winter wonderland today, as we go to the rural idyll of Norfolk for the January micro-wedding of Pretty and Mark.
On 9 January 2021 sales director Mark wed lawyer Pretty at Hunters Hall in Swanton Morley, Dereham, Norfolk.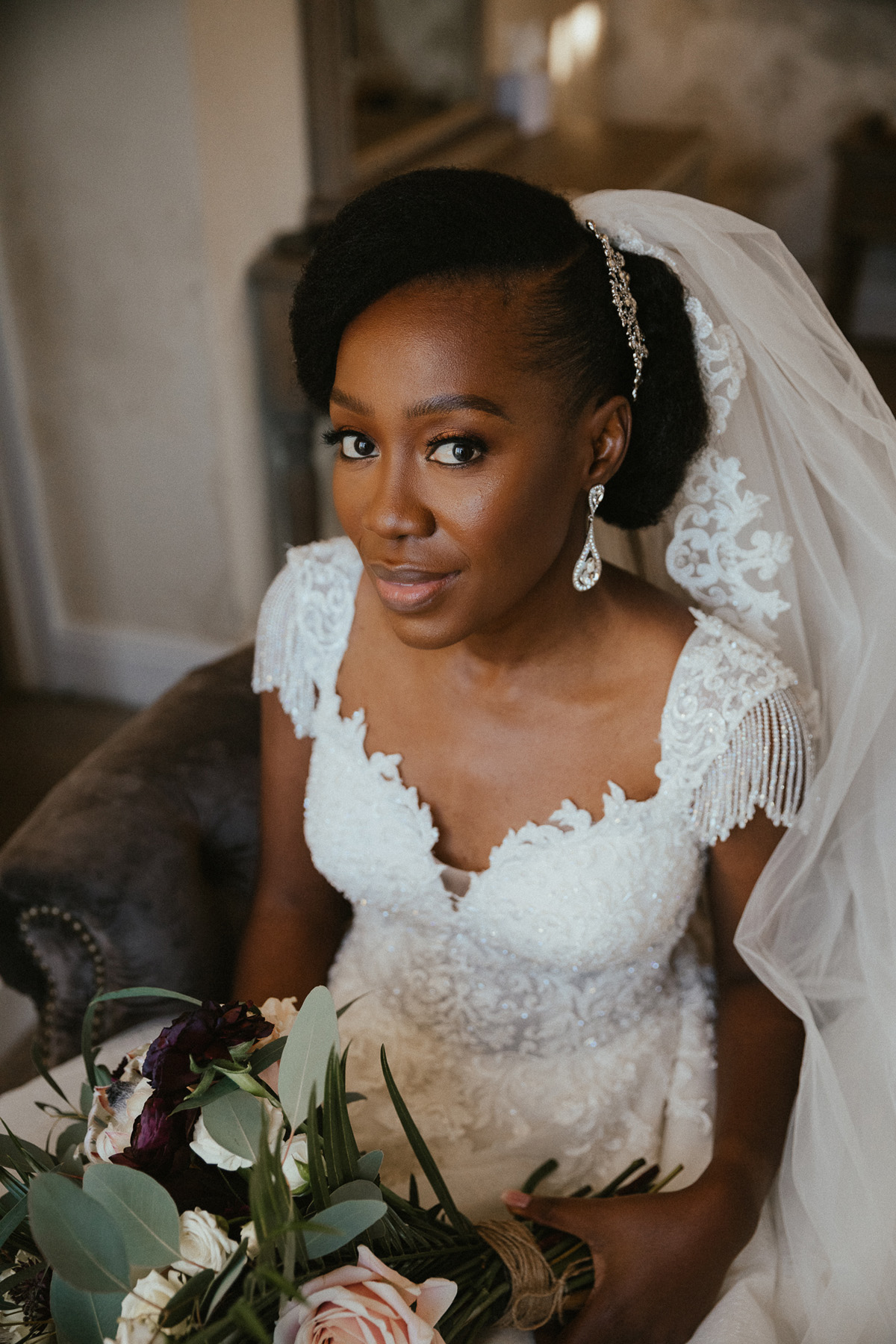 Their day was a simple and natural affair, inspired by the rustic feel of the barn as well as Pretty's love of lavender and purple hues.
Today's words come from the groom rather than the bride, so over to Mark to explain the couple's choice of venue and style.
"We chose the venue because we were looking for a beautiful, barn-style venue in Norfolk."
Combined with the aforementioned factors, we also took into consideration the positive reviews, owners' eye to detail and excellent service; and its proximity to my family."
"Our preference was a rustic style of wedding; Pretty likes lavender (for its scent and colour) and, as I am from Norfolk, I grew up visiting lavender farms."
"So, we both wanted lavender as a theme colour for our summer wedding. Unfortunately, we had to change our theme colour to plum to suit our winter wedding."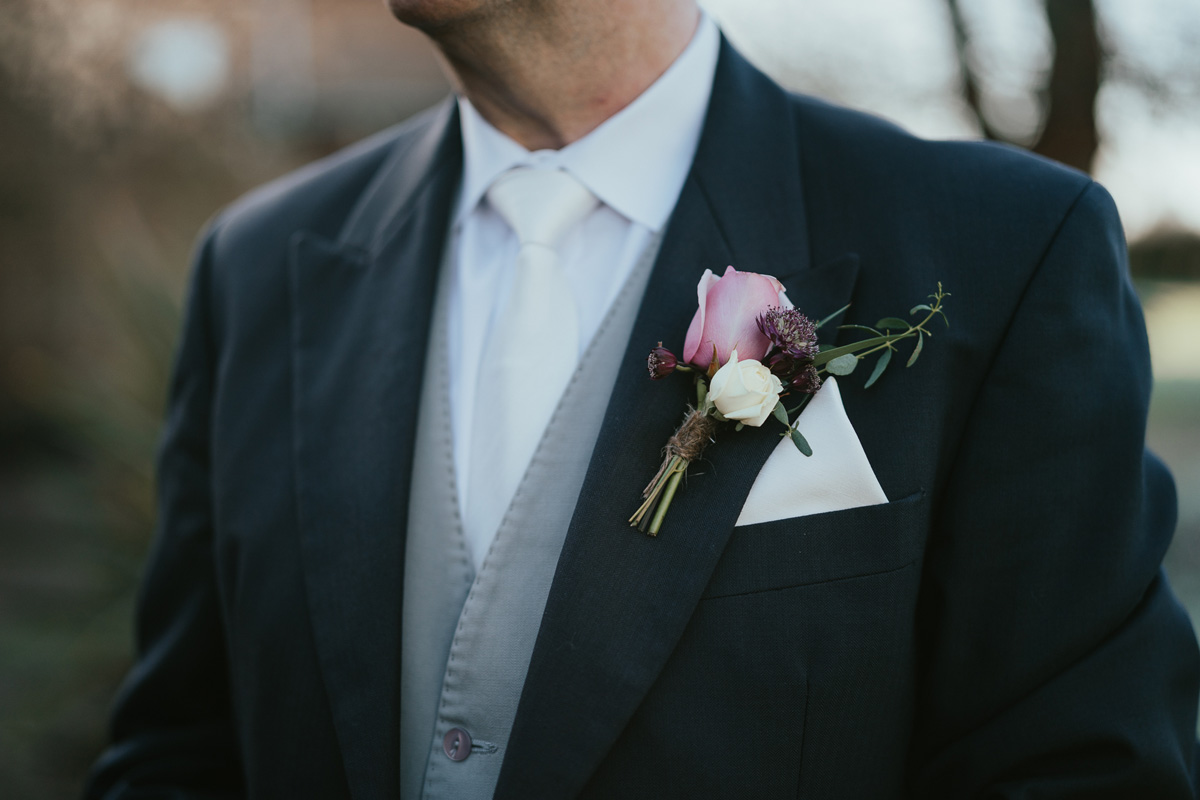 The bride added a long, cathedral veil with handmade details on the edges, also from Aysira, and a silver and rhinestone barrette, supplied by her hair stylist Rachel Arike.
Her warm, pretty make-up was applied by Adeola of Mis Dee Makeup.
Pretty looks simply beautiful in her full-skirted ball gown with its fitted bodice and those pretty beaded cap sleeves.
"Pretty bought the dress from Aysira in Istanbul, Turkey."
"She went to the store looking for a form-fitting dress, more of a mermaid-type of dress."
"She tried over ten mermaid dresses and did not feel like it was a style that suited her. A very helpful and experienced stylist asked her if she would consider trying a ball gown."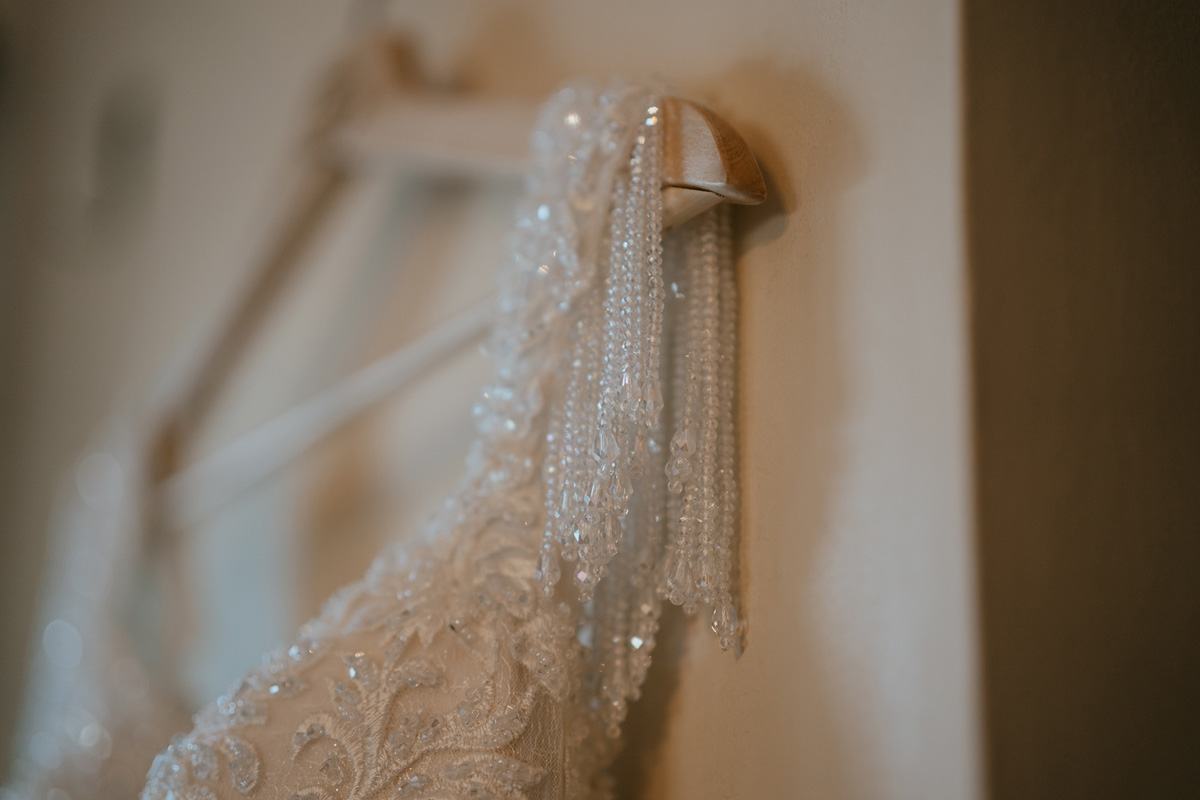 "She brought out a handful of dresses but nothing that Pretty liked. Stressed and feeling out of depth, Pretty went home and the following day, she went back to Aysira."
As she walked in, she saw the dress, tried it on and loved it. She walked down the aisle wearing a beautiful ball gown."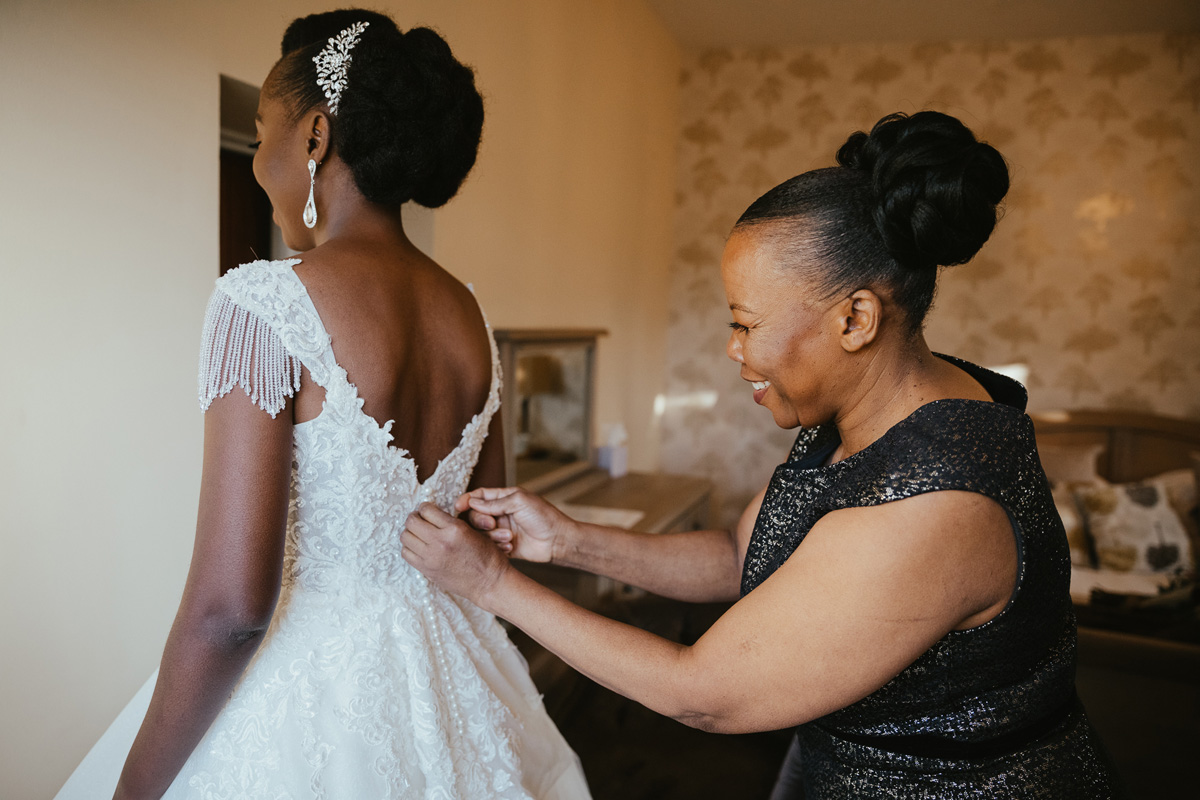 My advice would be 'be open to try different style of dresses, you might be surprised what you will end up liking'."
Pretty: "I have always wanted a long white dress. I loved the bead details on the sleeves and the bodice."
She also wore a Pandora bracelet, gifted by her best friend's mother, and some statement drop earrings. Her perfume was Paco Rabanne Olympea.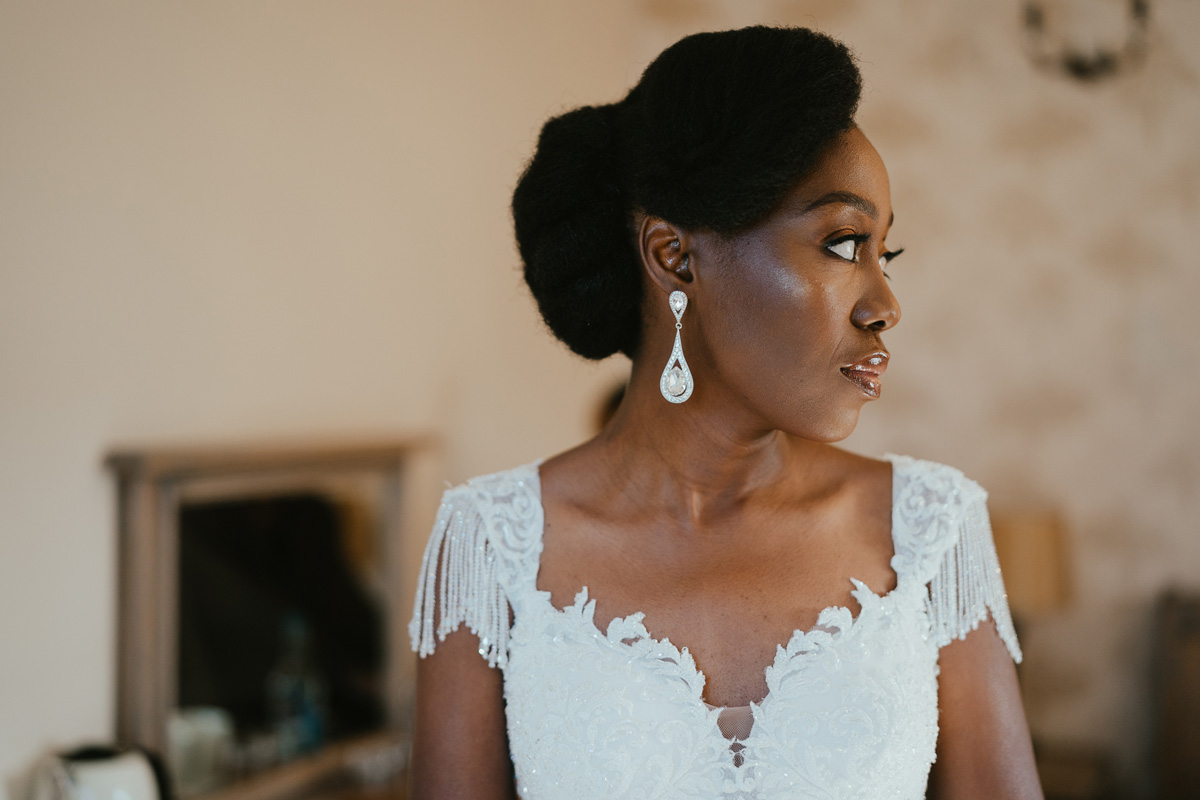 Pretty: "It is bold and has a subtle sweetness which I adore. I wanted a nice, sweet scent for our wedding and Olympea was the best fit."
The bride entered the ceremony room by herself and walked down the aisle to Mark, who wore a Moss Bros suit, with her veil pulled forward over her face. As she approached, 'I Choose You' by Ryann Darling was played.
The ceremony was officiated by a registrar and the pair exchanged the vows provided, due to the short notice with which they planned their day.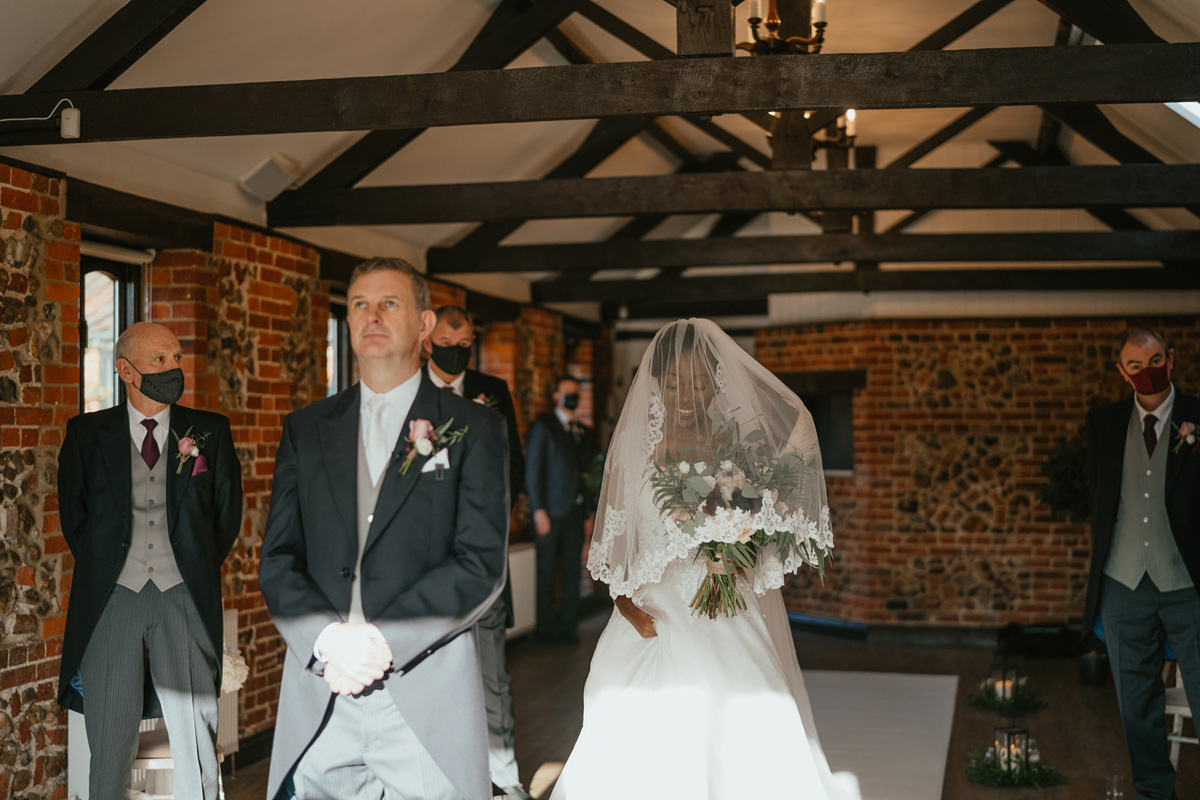 "We bought Pretty's engagement ring at the Diamond Center in Antwerp, Belgium and her wedding band at Ernest Jones. We bought mine at H. Samuel. We both loved white gold and that is what we chose."
The ceremony was the favourite part of the day for both the bride and groom.
Mark: "My favourite part was saying I do to the love of my life."
Pretty's favourite moment of the day was "…when the registrar said, 'I am delighted to declare that you are now husband and wife'."
It was a sigh of relief and a joyful moment that we were finally married after a painful year of living apart and unable to get married in July 2020."
The couple met in December 2016 in Botswana, where Pretty is from and had originally planned to marry in July 2020.
"We met over a business dinner at a beautiful Italian restaurant in Botswana called Basilico. During the meeting, there was an immediate attraction."
"Pretty relocated to Scotland to undertake her postgraduate studies in 2019 and during her university vacation we travelled to Berlin, Germany for what she thought was a short holiday."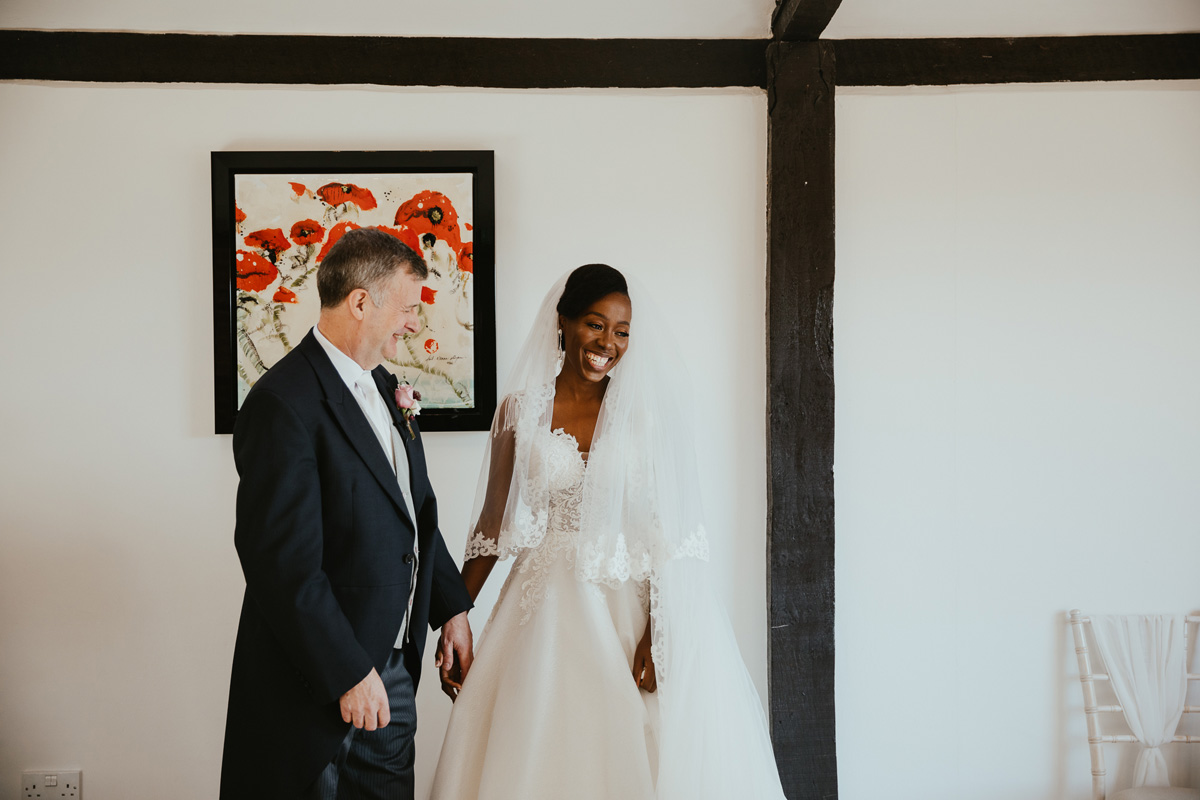 "I asked her to marry me at a Mexican restaurant in Berlin on 12 August 2019. We are both foodies and tend to gravitate to trying new cuisines, so it was only fitting to ask her to marry me after a delightful Mexican meal of tacos, burritos and quesadillas."
"Our wedding was supposed to be on 11 July 2020 but Coronavirus hit and we eventually got married on 9 January 2021."
The couple had just four guests at their wedding – Pretty's family could not travel over from Botswana due to the travel ban – but it was no less special for this.
"We landed at Heathrow airport in December 2020 after being apart for ten months (the perks of a long-distance relationship complicated by Coronavirus travel bans)."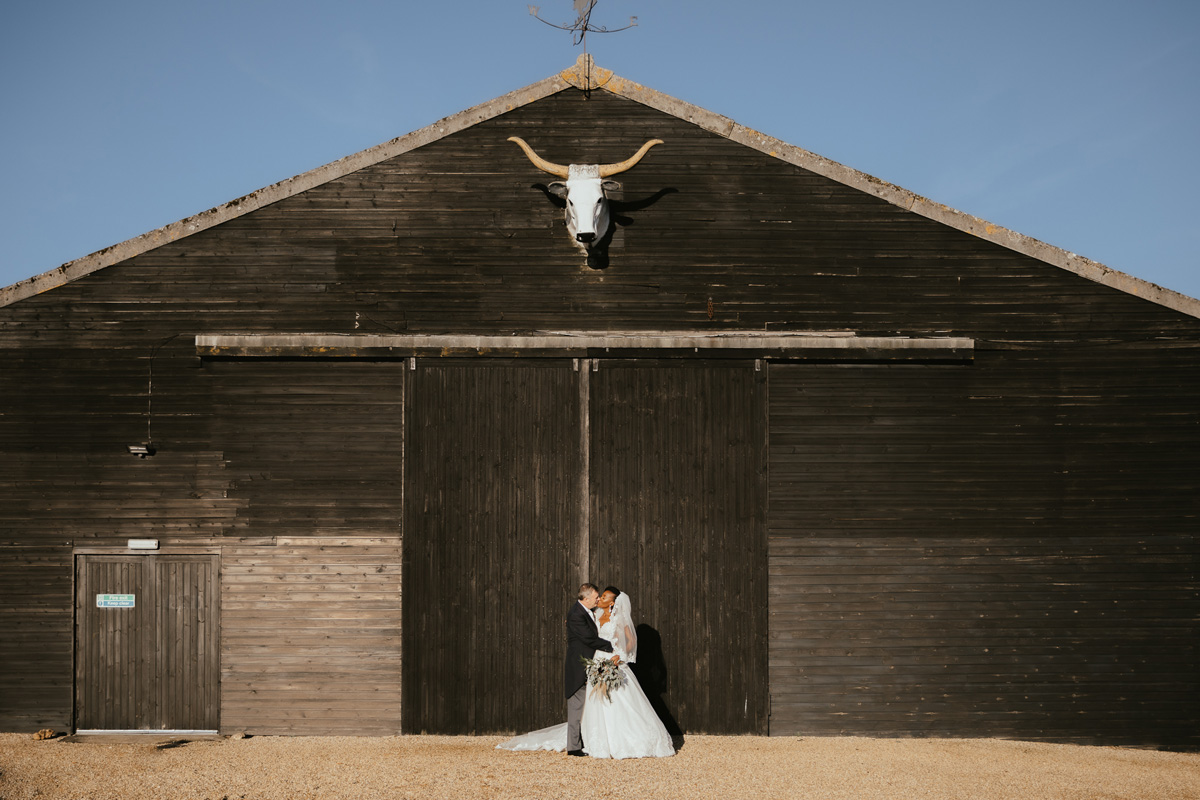 "We were ready to quarantine for two weeks and then get married but upon landing we received a message from Cara (our photographer) advising that the lockdown level had increased and weddings were cancelled."
We were both devastated. We then had a frantic three weeks with calls and emails to the Registrar's office, wedding venue and suppliers."
"On 7 January 2021, we finally managed to obtain special approval to get married with four guests. We only had two days to finalise our wedding plans, albeit going through a mixed of emotions from being excited, panicky, relieved to being overwhelmed with emotions."
"We were both excited that we were able to get married but sad that some close family members could not join us, especially Pretty's family who could not travel from Botswana."
"It was a small but very special occasion. Hunters Hall ensured that we followed the coronavirus rules and regulations whilst having a joyful wedding ceremony."
It was very different from what we had planned but very special. Our four guests socially distanced during the ceremony, sanitisers were provided and guests had to wear their masks."
As receptions were not allowed, the couple celebrated by having time outside with their photographer for these beautiful portrait shots in the frosty air.
"Our day was perfect. Pretty had wanted sunshine or snow; and we didn't have either!"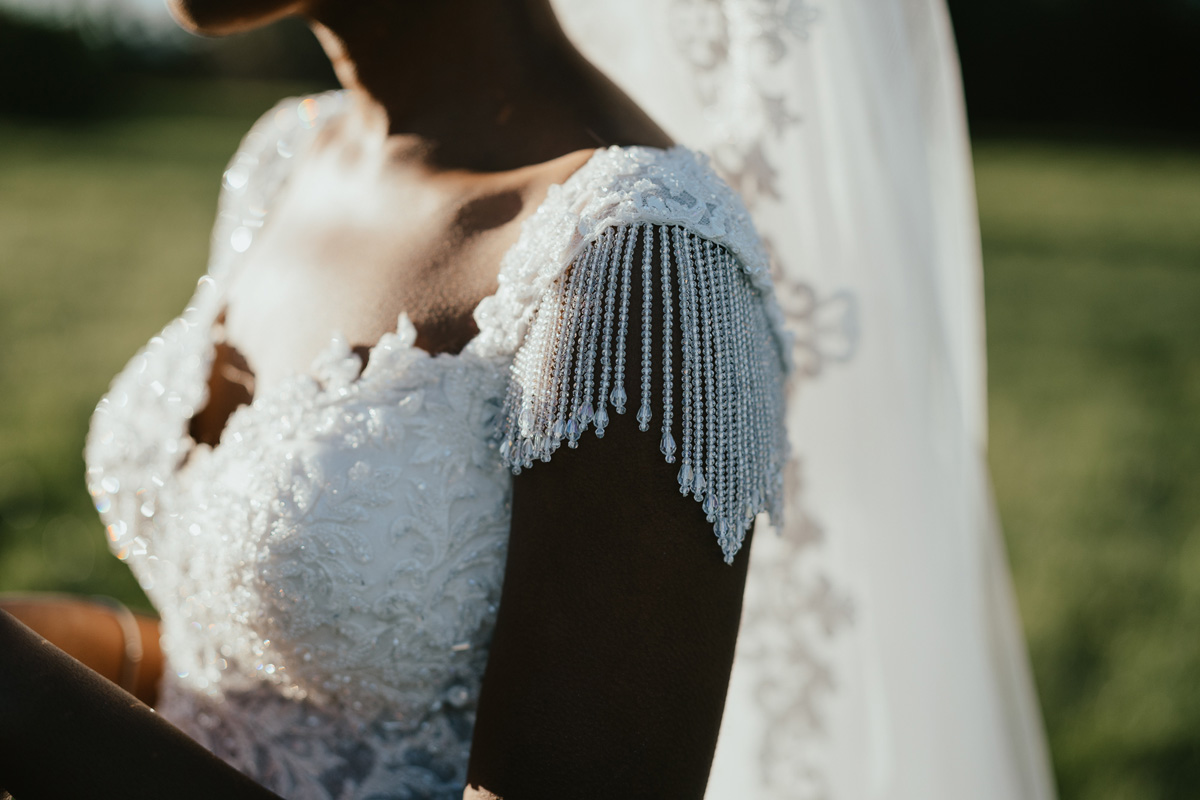 Pretty's bouquet of fresh blooms, grasses and pampas, styled by Caroline of La Belle Flowers.
"Because we had a winter wedding, we chose plum and berry colours and a splash of pale pink rose with blue thistle. We opted for what was available at short notice and during winter. The flowers also matched with our theme colour."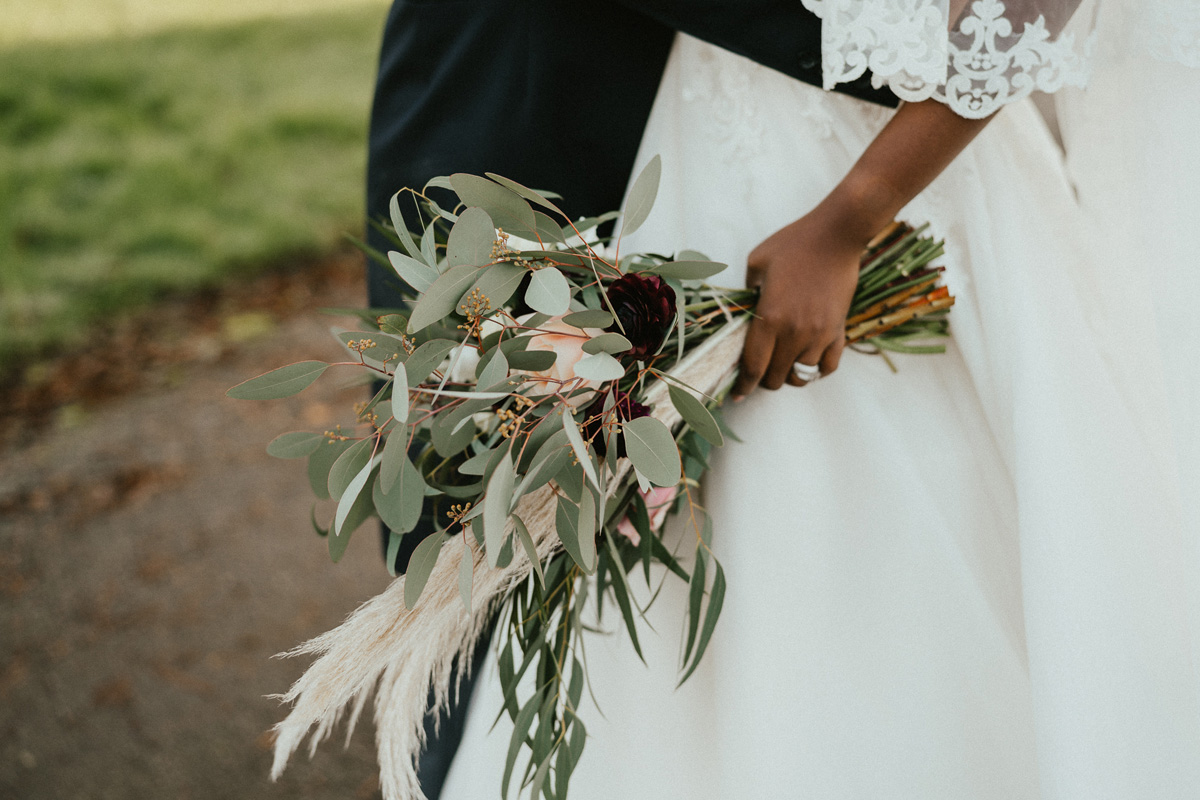 The couple chose Norfolk-based Cara Zagni to be their photographer. My favourite images of those of the newly-weds enjoying the crisp, January afternoon.
"We looked through several portfolios and websites before deciding on Cara. We just loved her photos, style and warmth."
"She is such a talented photographer, and it was easy to relax and enjoy our day."
"We rarely noticed her during the day. Pretty and I did not want cliché, posed pictures and Cara offered us what we wanted – natural and relaxed pictures. On the day, Cara was simply superb."
Words of Wedded Wisdom
"Please do not fret over who can attend your wedding, or what you can have on your special day. Just concentrate your energy on marrying your soulmate and being very happy to marry the one you love, care for and want to spend the rest of your life with. If you want a big party, you can always do that in future."
"No matter how long and detailed you plan, some things are going to be out of your control during the wedding ceremony. Do not obsess with what is going wrong; look at the brighter side – that you are marrying the love of your life – and enjoy your day."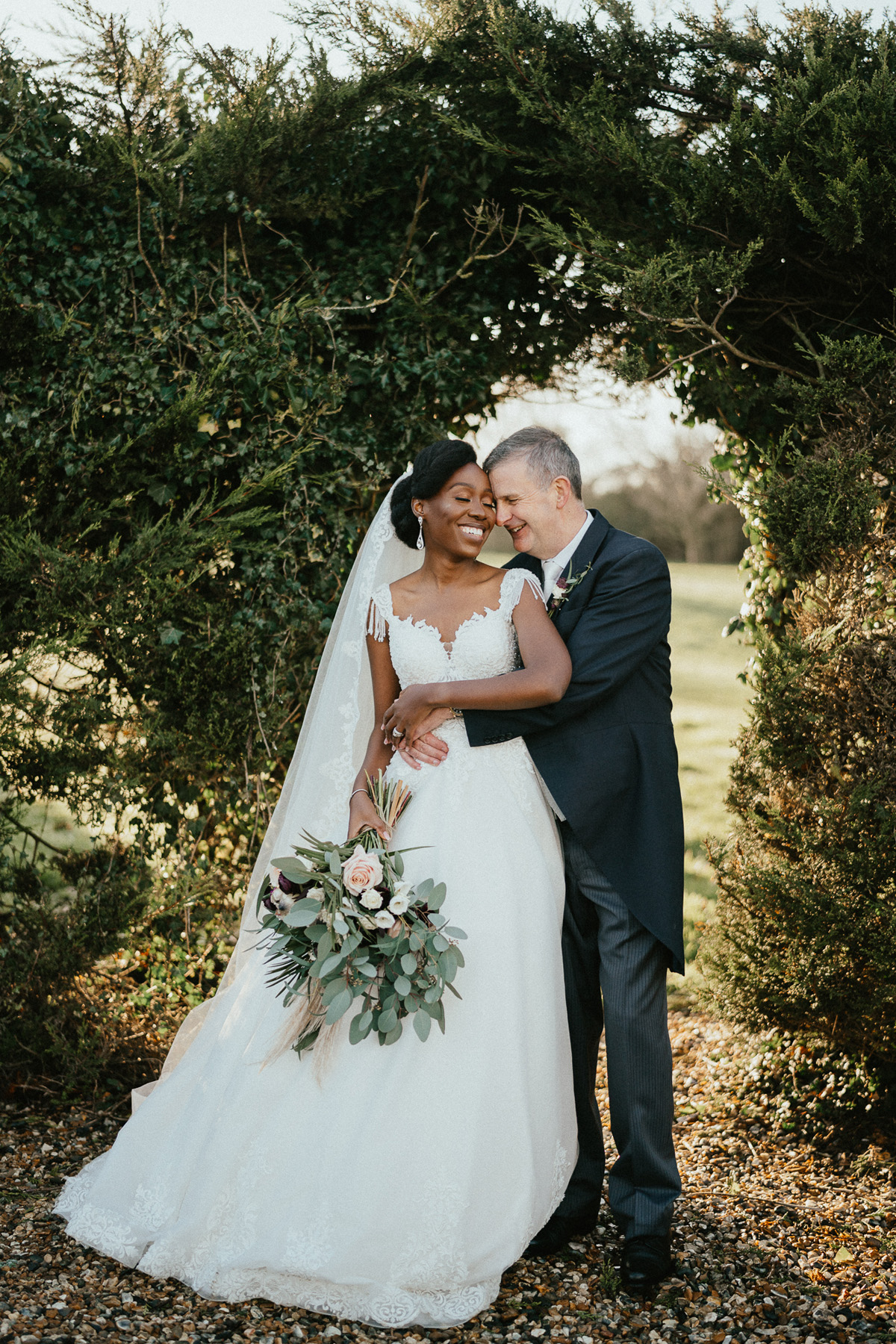 Congratulations Pretty and Mark, and thank you to you both.  I'm so glad you were able to reunite after so long apart. Thank you Cara Zagni, too, for your beautiful work.
If you've loved the winter vibes of this micro-wedding, please enjoy these other cold weather weddings.
Ele xx