I want you to stop right now, sit down and pay full attention to the absolutely divine Fig House at Middleton Lodge in North Yorkshire wedding that follows.
Captured by the talent that is Georgina Harrison Photography, one of our talented Love My Dress recommended wedding suppliers, this couple's classic yet modern day bought a touch of Italy to Yorkshire. On 1 July 2021 Danielle wed Ben, after postponing their planned destination wedding on the Amalfi Coast in Italy three times.
Georgina Harrison

+ Follow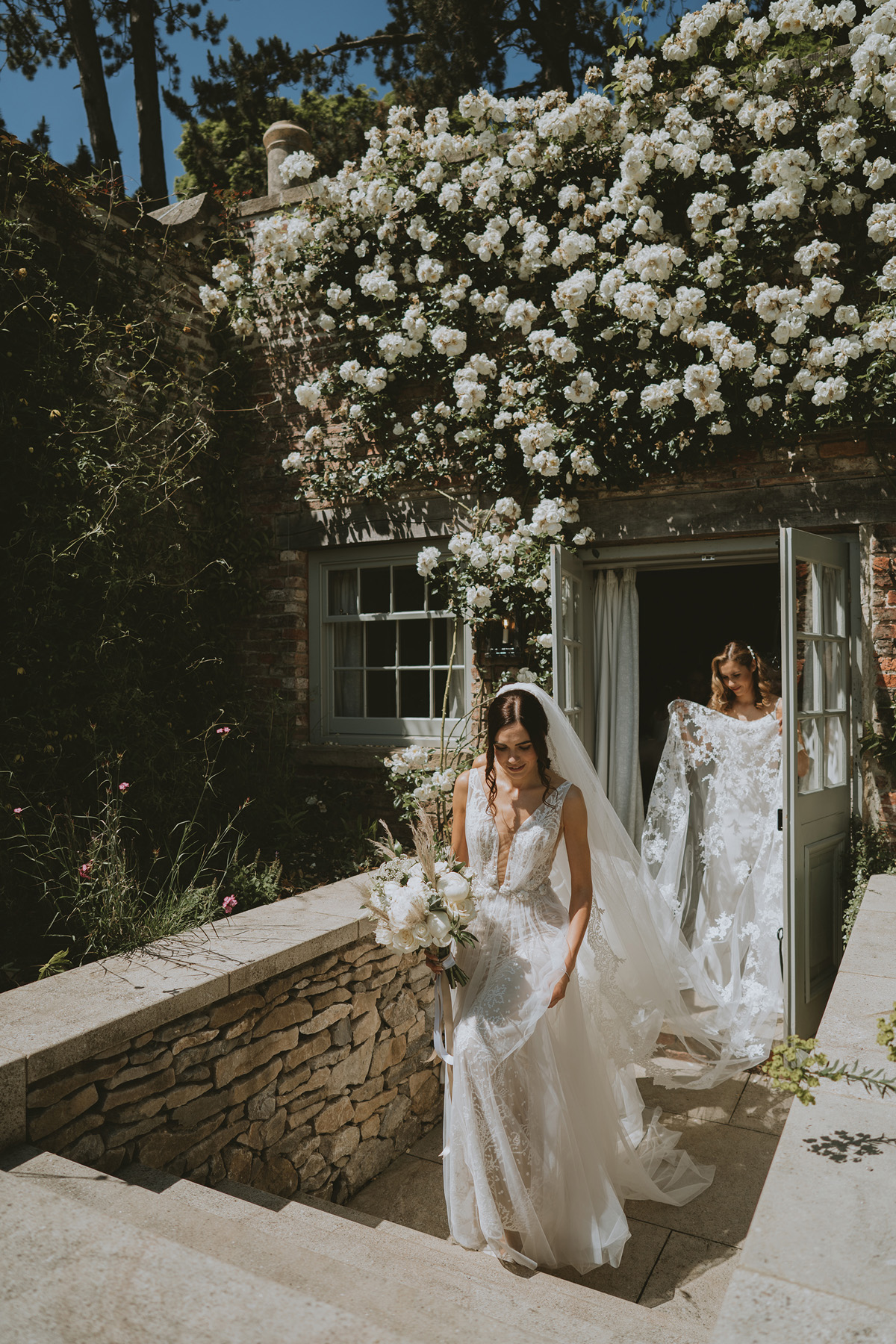 Fitting in with the pared-back, modern style was the couple's stationery suit, from Tabitha Kate.
"Katie designed our invitations (three times), all of our on the day stationery and thank you cards. We have been on a journey together and would now class her as a friend."
"Her stationery is unbelievable – so romantic, classic and timeless."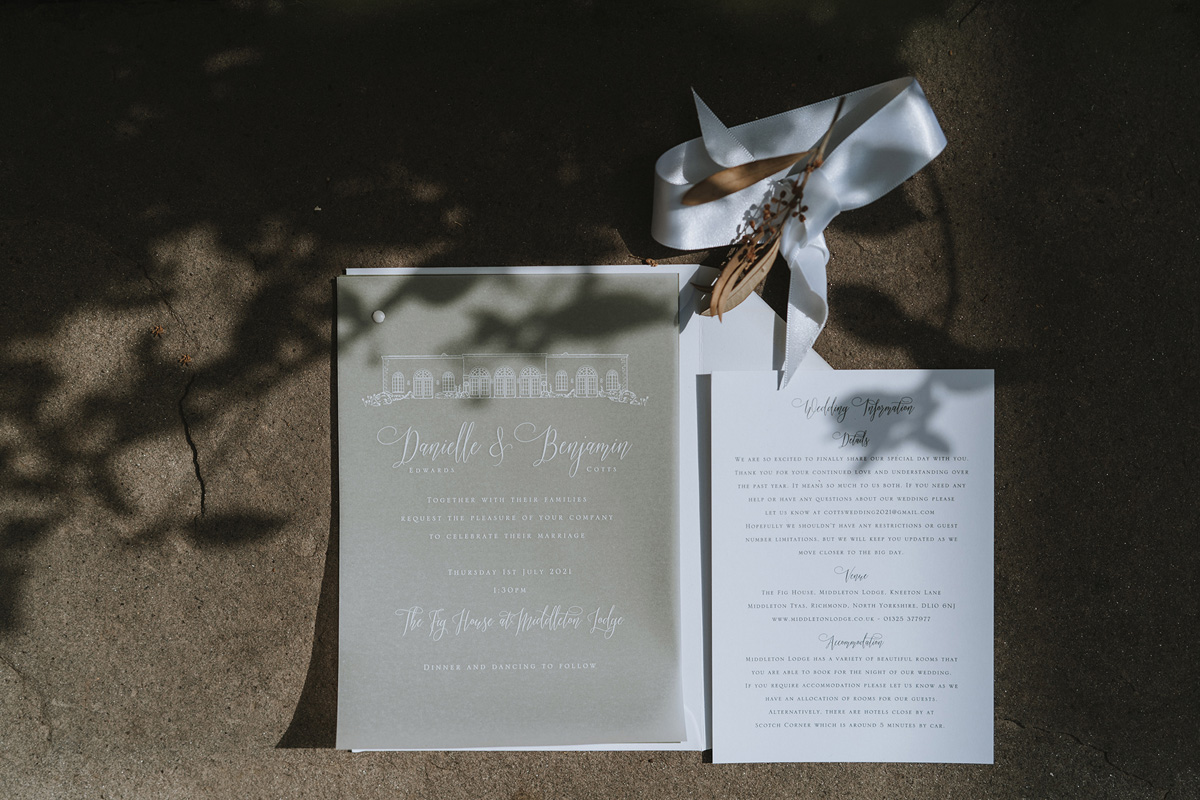 "She creates the most beautiful designs and understood our vision completely. We wanted white vinyl on acrylic stationery for our on the day stationery to fit in with our modern style."
Already loving the beautiful, whimsical walled grounds of Middleton Lodge, the couple secured the only date available there this summer, transferring the charm of their planned Italian day to the lush, outdoor setting of the Fig House and walled garden.
"We both work in sales as account managers. Ben works for a wine company and I have just started a job with a confectionary company."
"We met through work in 2013 over a cup of coffee. Ben proposed in 2018 on the infinity terrace in Ravello, Italy. When you look out from the terrace over the sea it's impossible to tell where the sky ends and the sea begins. It's breathtaking."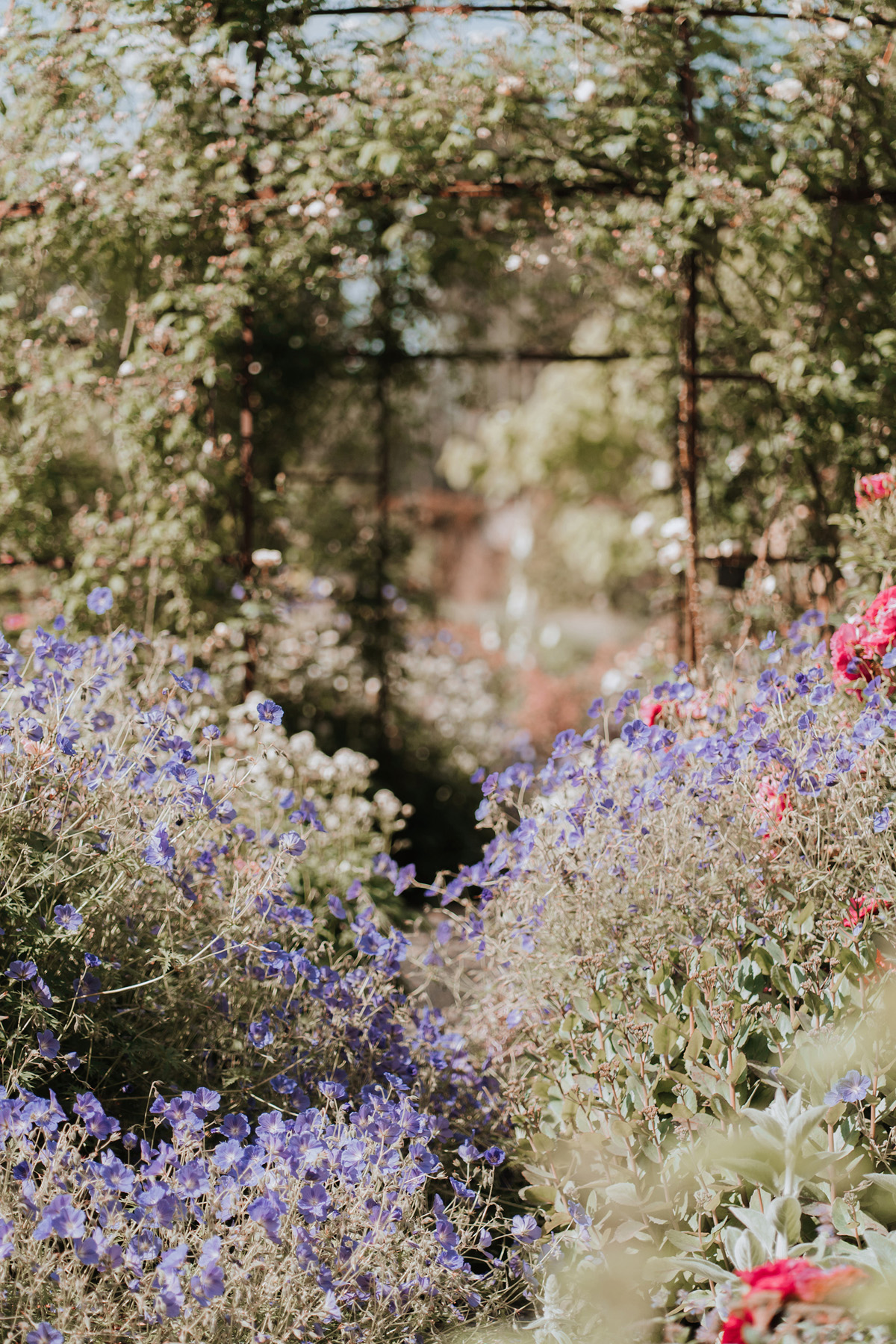 "We originally planned to get married in Ravello in May 2020. We postponed to May 2021 and then August 2021 but in April this year decided we really wanted to be married with all of our loved ones so cancelled our Italy plans and booked our wedding here in the UK for July."
"Therefore, we were engaged nearly three years before we got married."
"After postponing our original plans to get married in the Amalfi Coast in Italy three times, we decided to cancel our destination wedding."
"The only place we ever said we would get married was Middleton Lodge because of its beautiful setting, and we called in April to see if they had any dates for this summer."
"1 July was the only date available so we booked it straight away."
"Middleton Lodge set up a stretch tent over the outside terrace due to Covid restrictions to allow more of the wedding to be outside and for guests to have less restrictions on wearing masks and social distancing."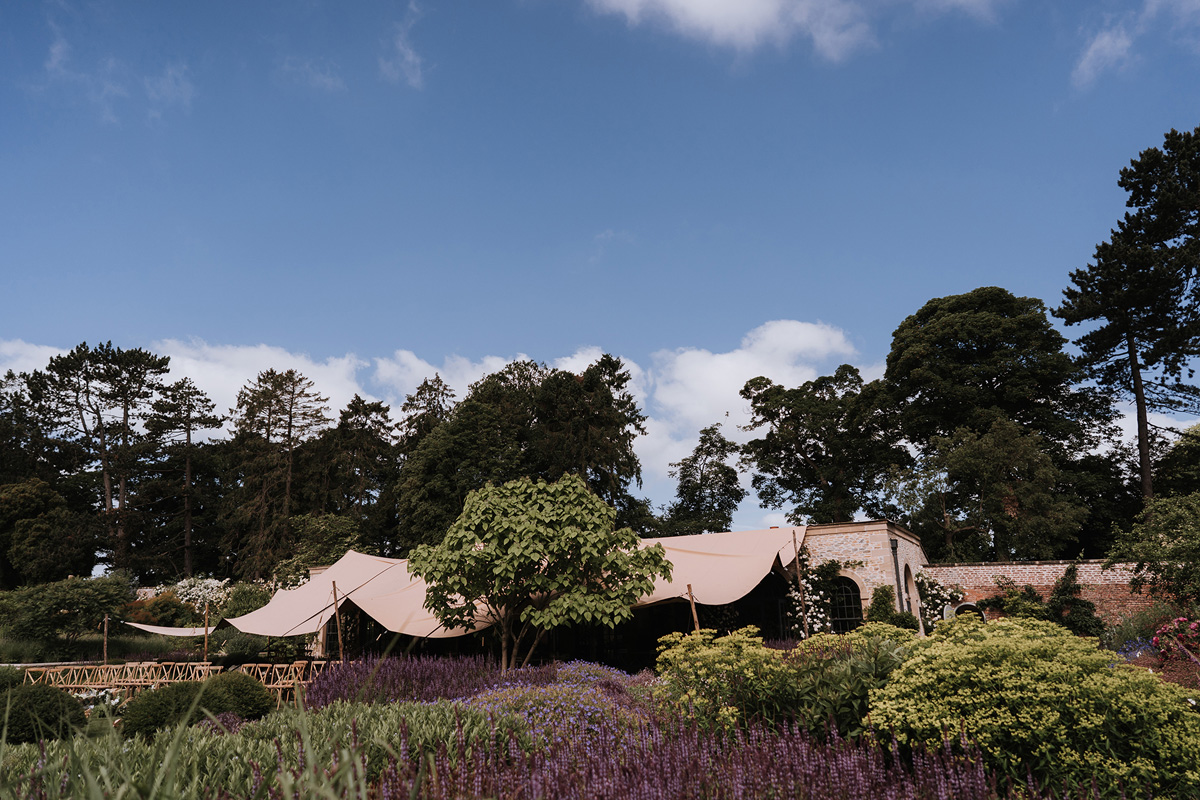 Danielle wore a plunging, open-backed gown, with an illusion bodice and modern embroidery, from Calla Blanche at Si Bridal & Co in Newcastle.
"I loved their dresses as there was something unique and different about them. I wanted something a bit unusual but something that suited my style."
"The girls were so helpful and friendly in helping me say, 'Yes to the dress' and made me feel like they were my friends."
"They got as excited as I, my mum, sister, gran and best friend when I said yes."
"I always loved lace dresses. However, after trying some all-over lace dresses in other boutiques I realised this style swamped me."
"I loved that my dress had a modern embroidery pattern that resembled lace but was delicate enough to not overpower me."
"I always wanted a 'colour' on my dress so I was drawn to the nude underlay."
"I also loved the fit of this dress; it has a fitted underlay which feels sleek and classy but has a tulle overskirt to give a princess feel too."
"It is the complete opposite of the dress I thought I would say yes to but it is completely my style and suited me so well."
"I loved the detail on the dress, it was just beautiful. I felt powerful in the dress as soon as I tried it on."
Her shoes were Dahlia Bow Low Heel from Loeffler Randall, a gift from her mum for the wedding day.
Like Ben, she alluded to Italy with her choice of perfume, Neroli Portofino by Tom Ford.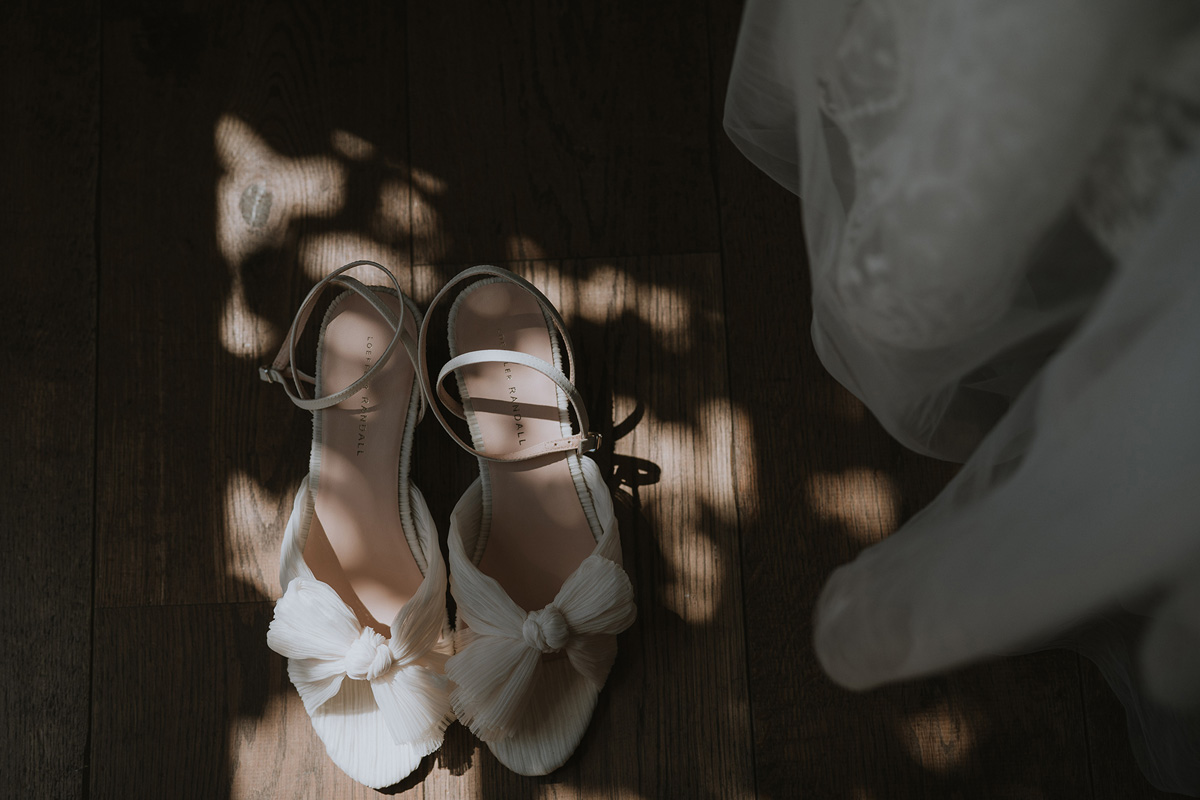 She added a Cathedral-length veil with lace edging for a class feel.
"I got the veil from Si Bridal & Co. I actually said yes to the veil before the dress! I fell in love with it as soon as I tried it on."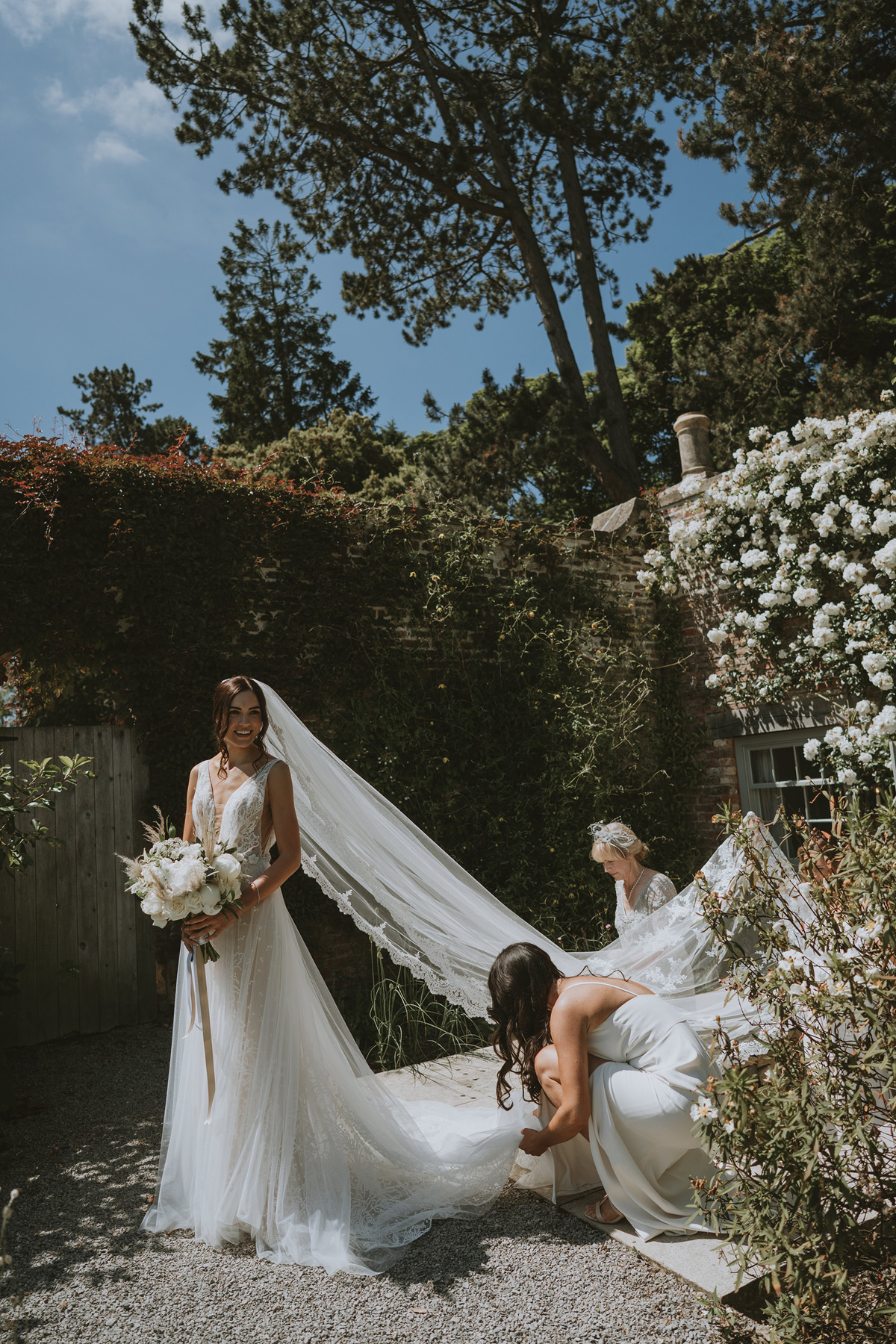 "I found Kim of Dream Boats and Carousels on Instagram and we had a phone call to discuss our ideas."
"She completely understood what we wanted on the day – our vision was white florals (particularly peonies and roses) with greenery and pampas grass. Classic but modern."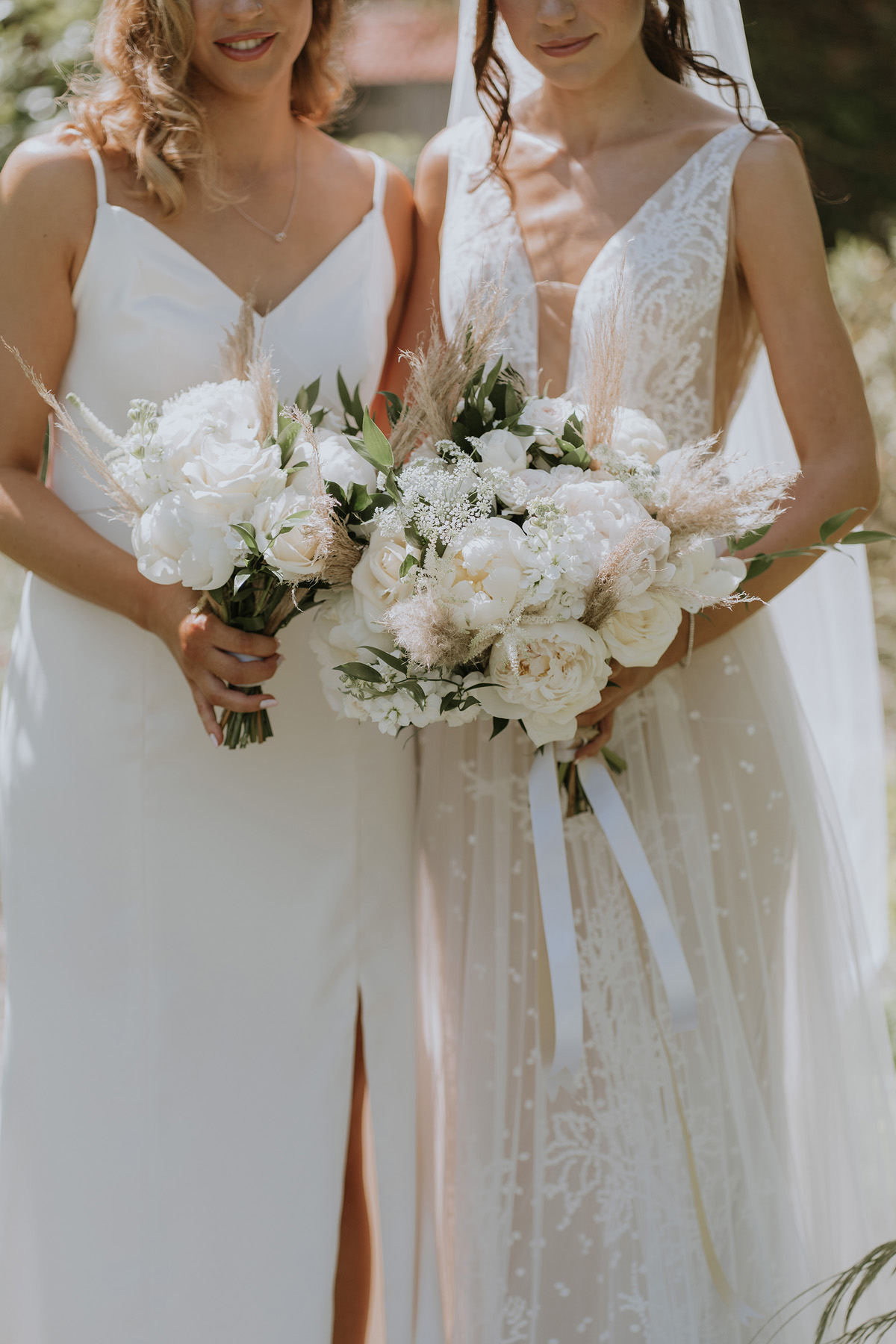 "We told our floral designer, Kim, we knew the floristry would be the most important thing to give a wow factor to the venue. It was one of the most important things to us."
"Kim even came and did a venue visit with us to talk the designs through then the week before the wedding sent through digital illustrations so we could see our vision come to life before the big day."
"Her floral designs went above and beyond our imagination. They were absolutely stunning."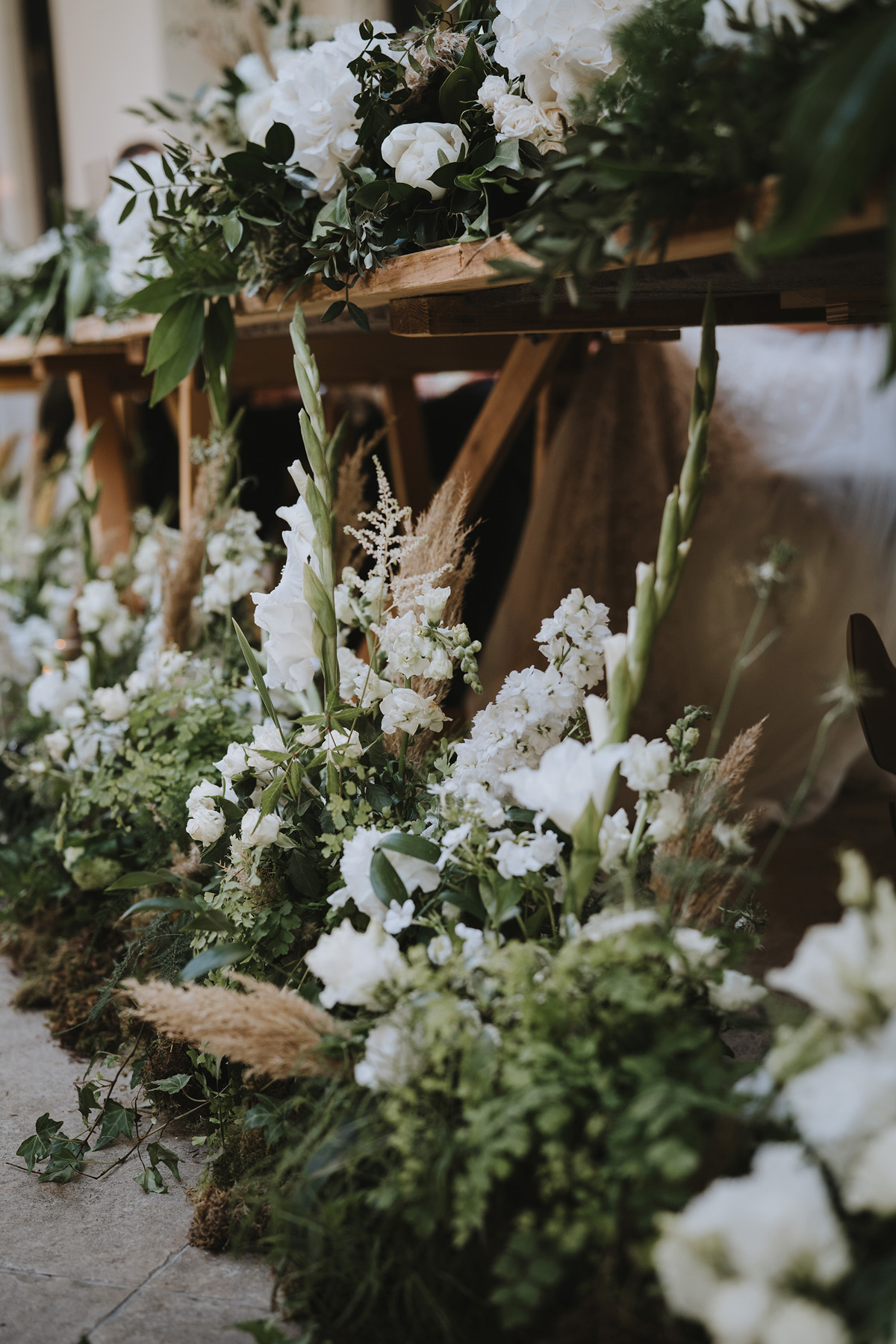 "The floral arch gave such a wow factor to the ceremony, not to mention the stunning bouquets and button holes."
"To top it off she had created aisle 'meadows' which she moved in front of the top table to create a wow factor during the wedding breakfast."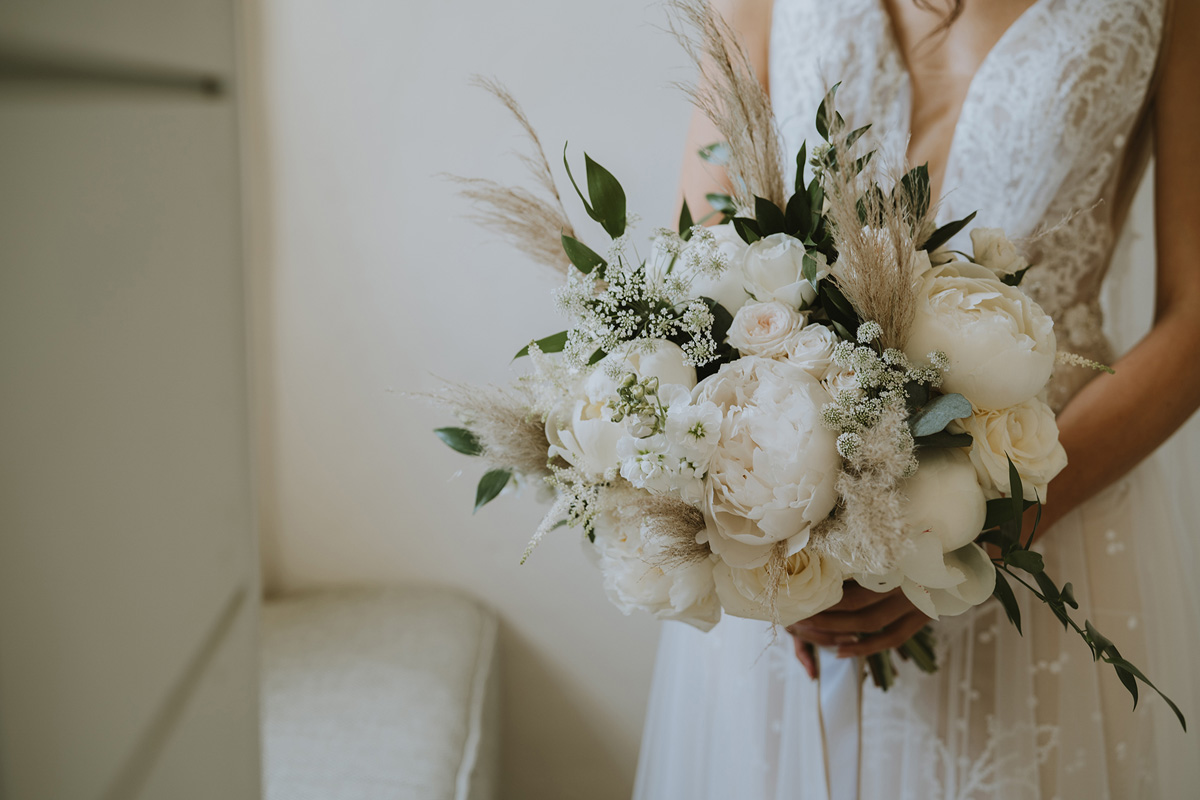 "Kim is such a lovely person to work and creates the most beautiful flower installation."
"She decorated the tables with so many candles and vases of flowers to create the ambience we were looking for. It was amazing."
I love the bridesmaids' elegant, V-neck, maxi-gowns, by The Dessy Group from Elizabeth George Bridal.
They wore them with Office shoes. The little flower girl looks super-cute in a tulle tutu and leotard from Six Stories whilst the page boys were in Next outfits.
The bride wore her hair in a modern yet romantic ponytail, styled by Lesley Ann Hair, accessorised with a custom What Katy Did Next hairvine, worn to the back of her head.
Her fresh, radiant makeup was applied by Makeup By Jo.
Ben wore a stylish, three piece tux with a patterned waistcoat from William Hunt Savile Row and wore Colonia Essenza by Acqua di Parma, for a hint of Italy.
The beautiful July weather let the couple wed outside with the pampas and flower arch as their backdrop.
The ceremony music came from Unity String Quartet and, as Danielle walked down the outdoor aisle with her father, they played Pachelbel's 'Canon in D'.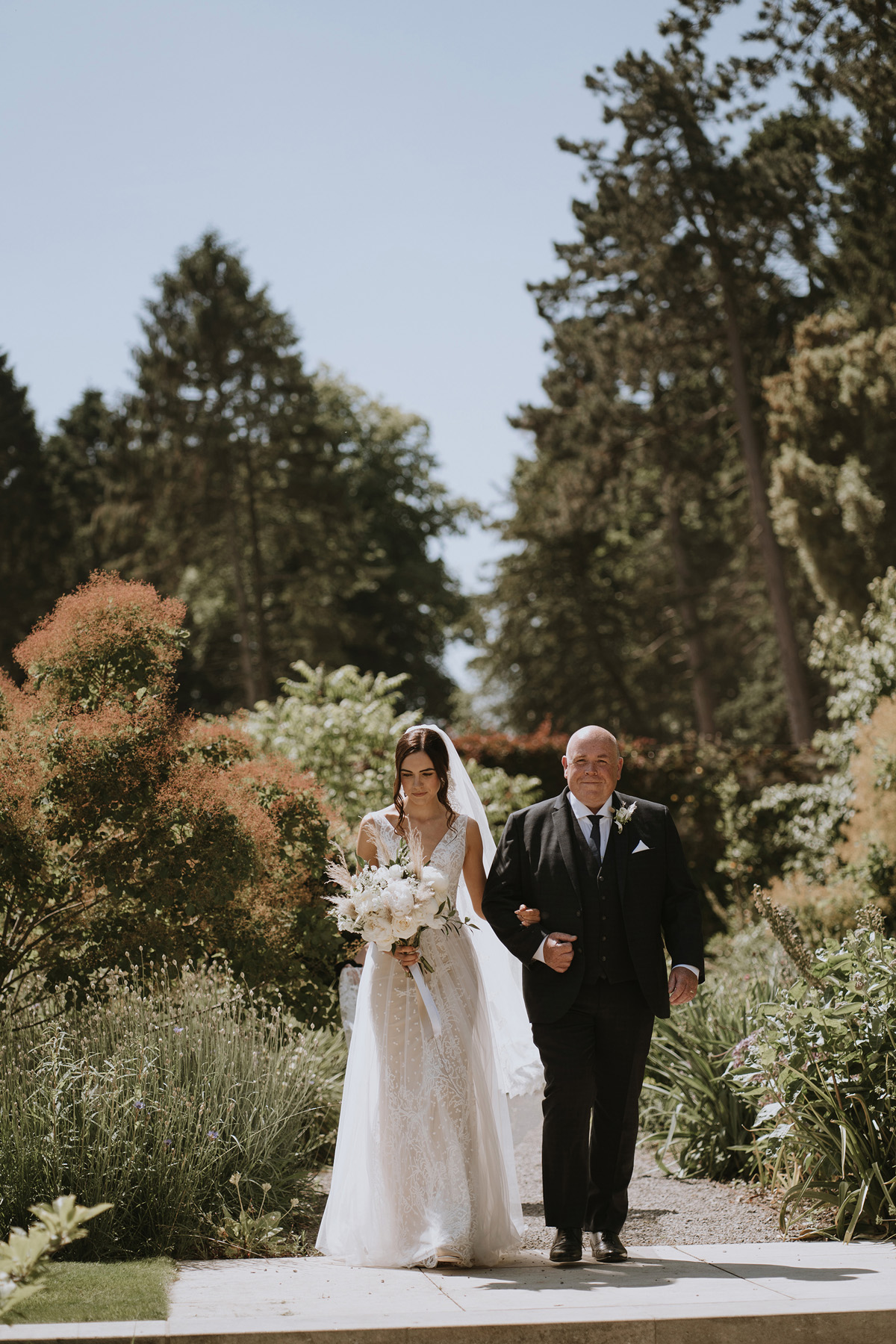 "My absolute favourite part of the day was walking down the aisle, hearing the string quartet and seeing Ben smiling at me. It gives me goosebumps thinking about it."
"Time felt like it was in slow motion. I felt so much love from all our guests – it was incredible. I've never felt anything like it and will never forget that perfect moment."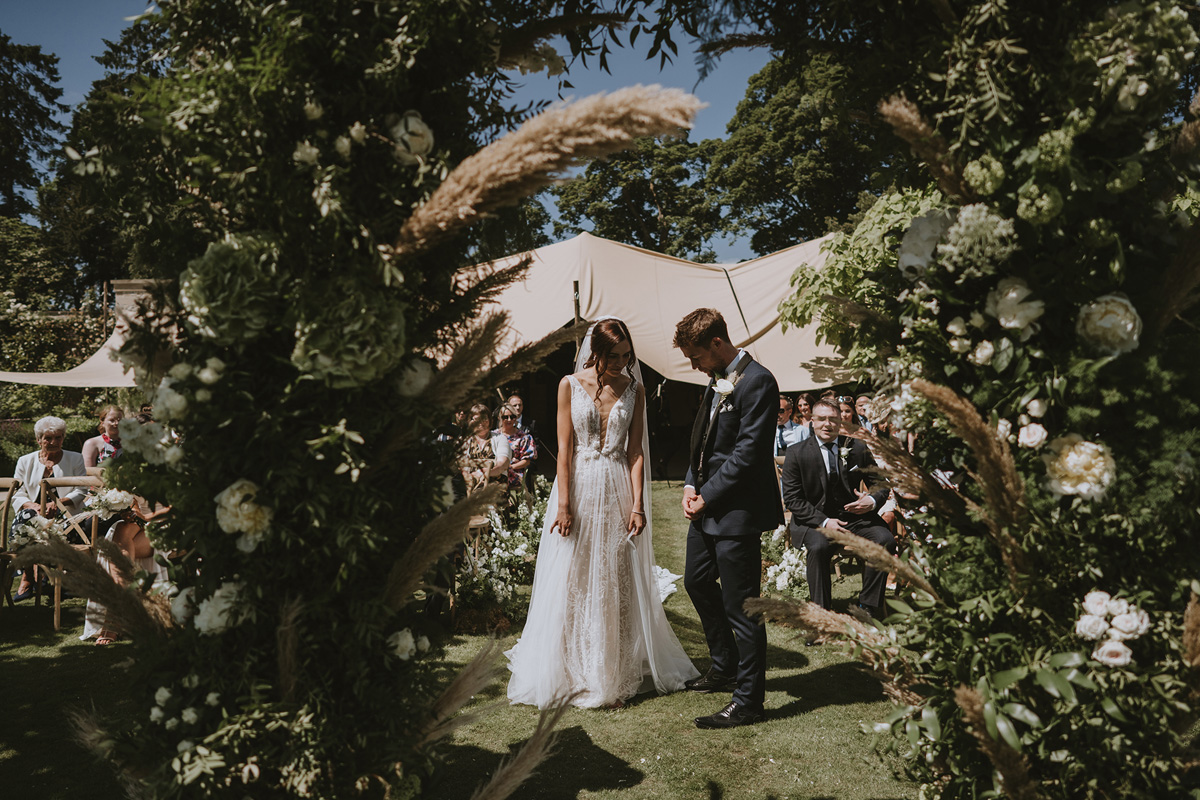 "We didn't write personal vows but wrote ones that were a combination of different vows we read through."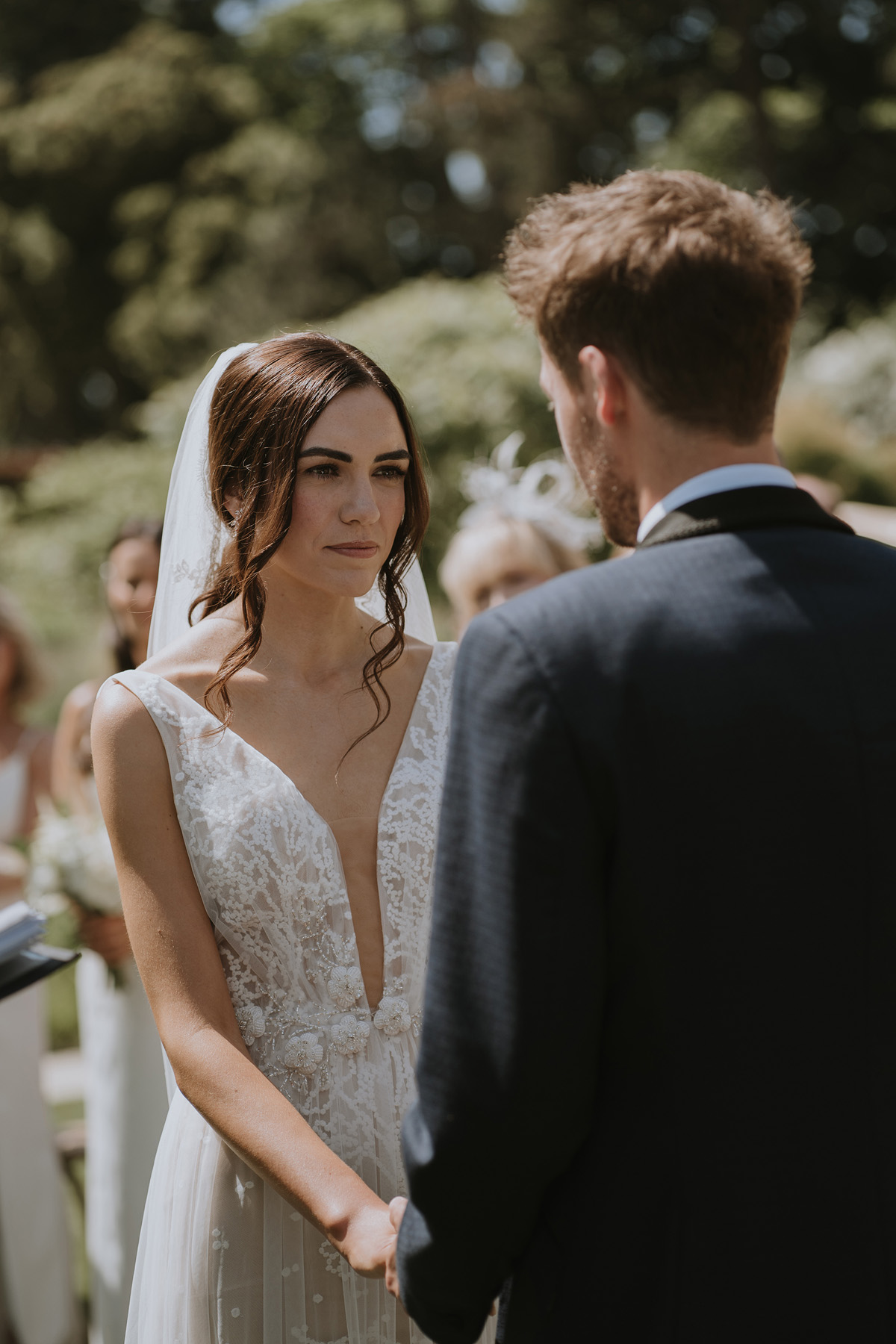 The couple exchanged rings from Ernest Jones.
"This was where my engagement ring was from. Their service was fantastic."
Middleton Lodge's beautiful gardens made a perfect setting for their newly-weds and guests to relax and enjoy the summer sunshine, before moving inside for the wedding breakfast.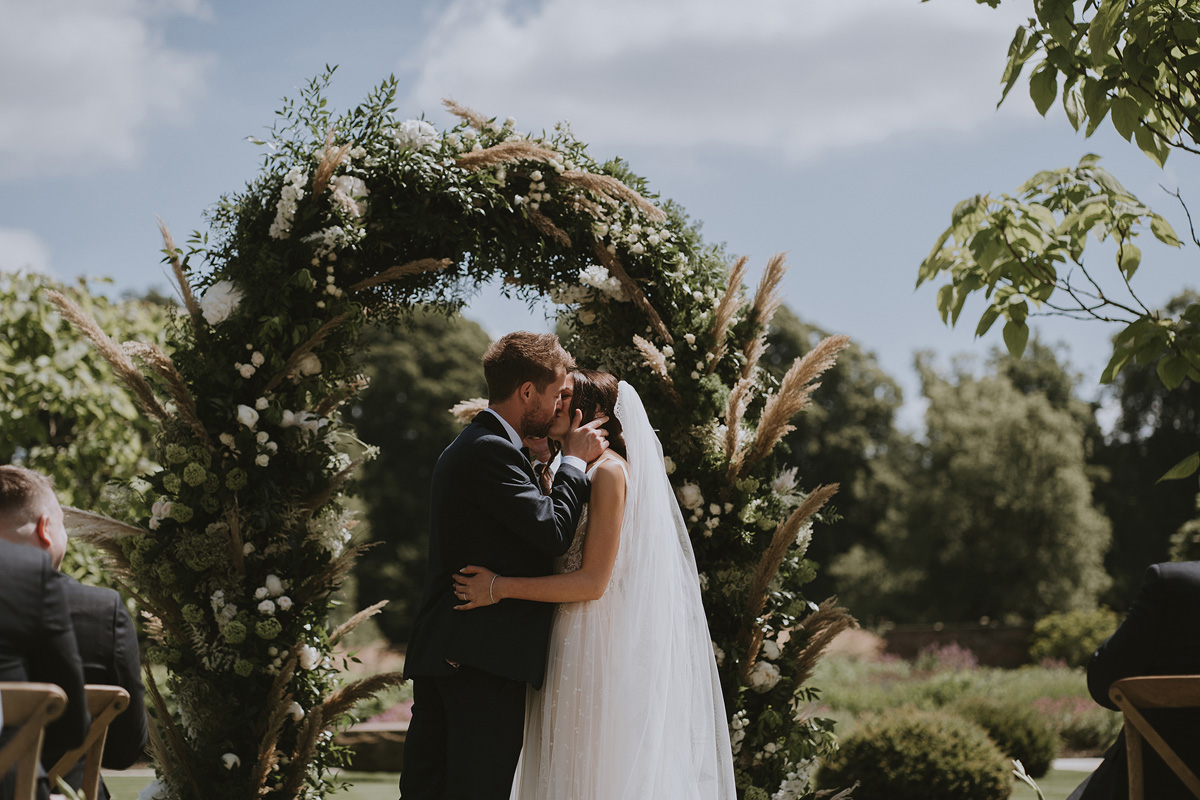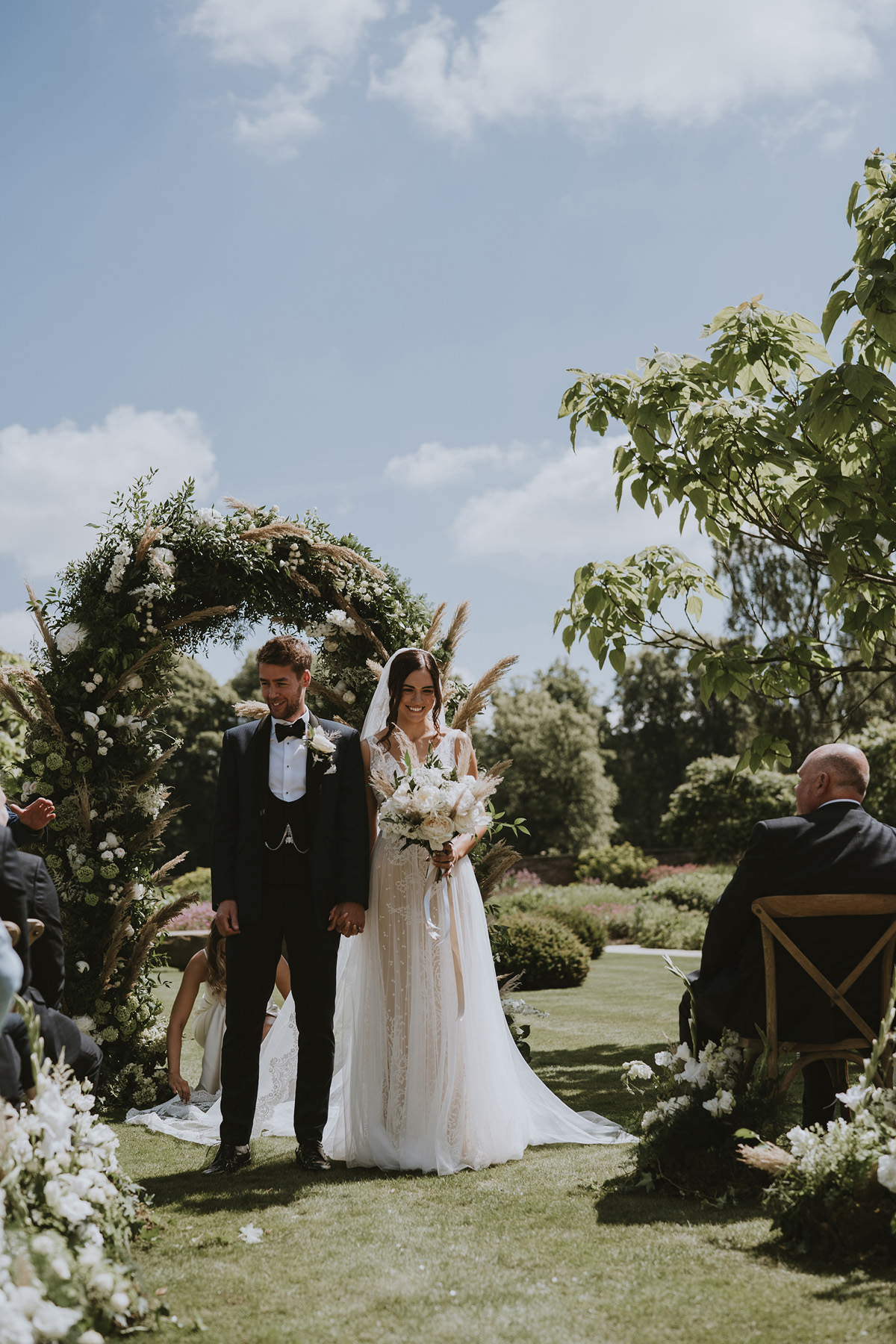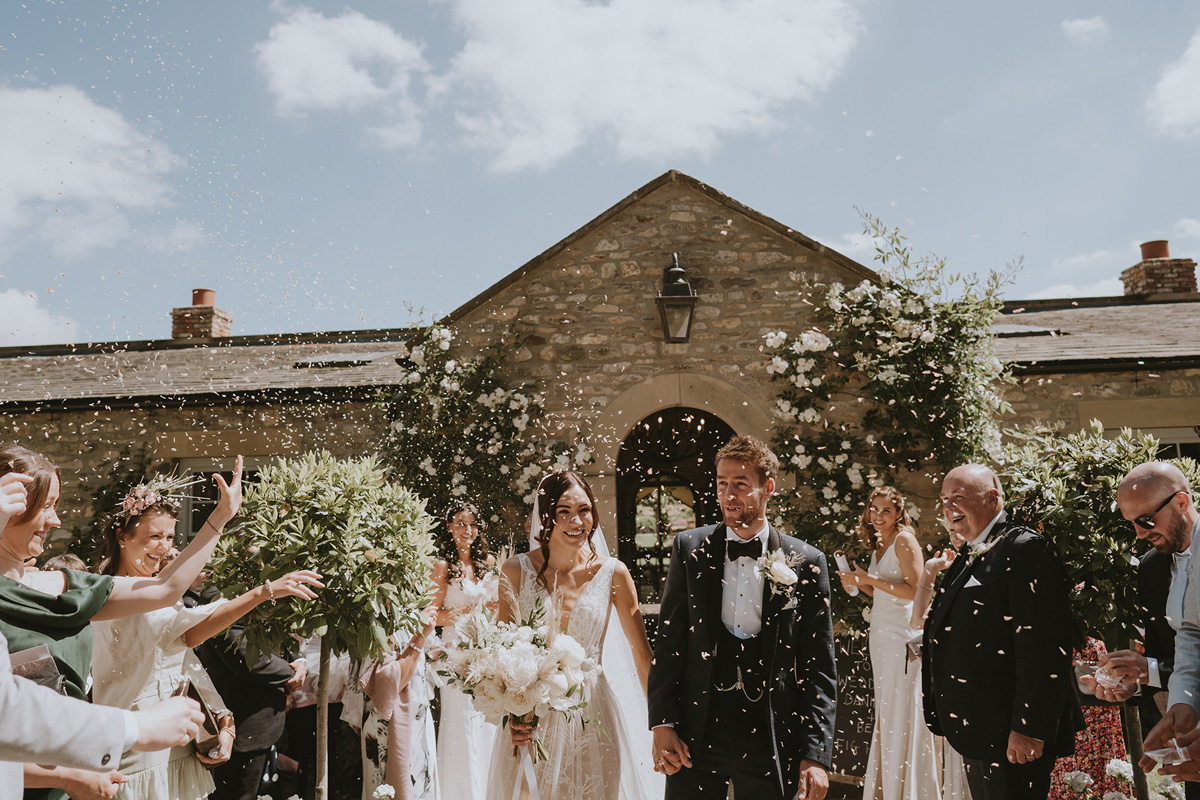 The beautiful fine art-style photographs, full of romance and natural light, are the work of Georgina Harrison Photography, who we are so proud to support via our Love My Dress Wedding Directory.
"Once we had booked Middleton Lodge we wanted to secure suppliers for our date ASAP. In two weeks, I had booked everything."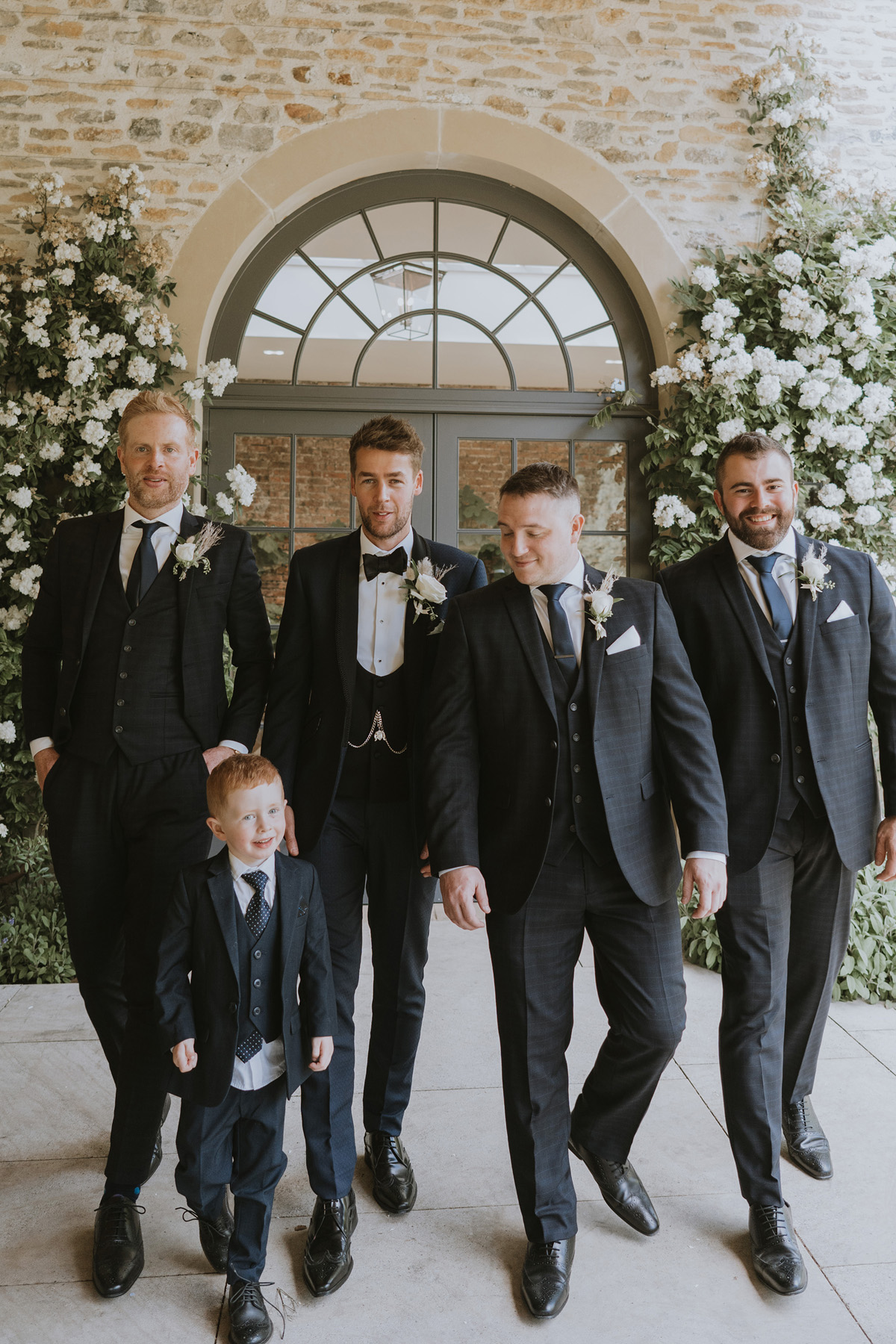 I came across Georgina after searching Instagram for hours, looking at countless photographers' pages but as soon as I saw Georgina's page and her photography style I knew she was exactly what we wanted."
"When we had a Zoom call and she mentioned she had a little sausage dog too we were completely sold!"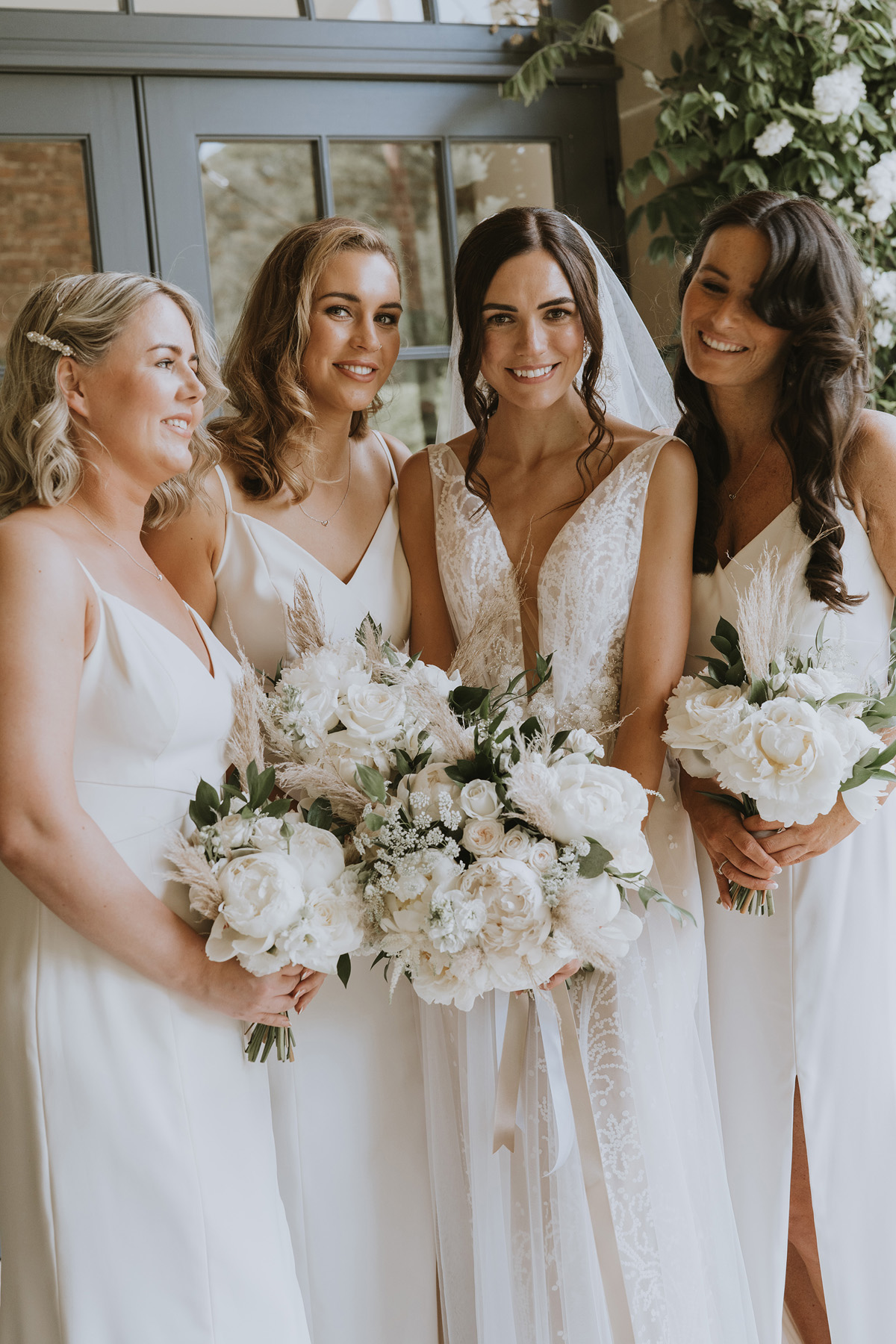 "We knew we wanted photos with our little sausage Luna on the day and it takes a fellow sausage mummy to know how to handle their sassy little attitudes."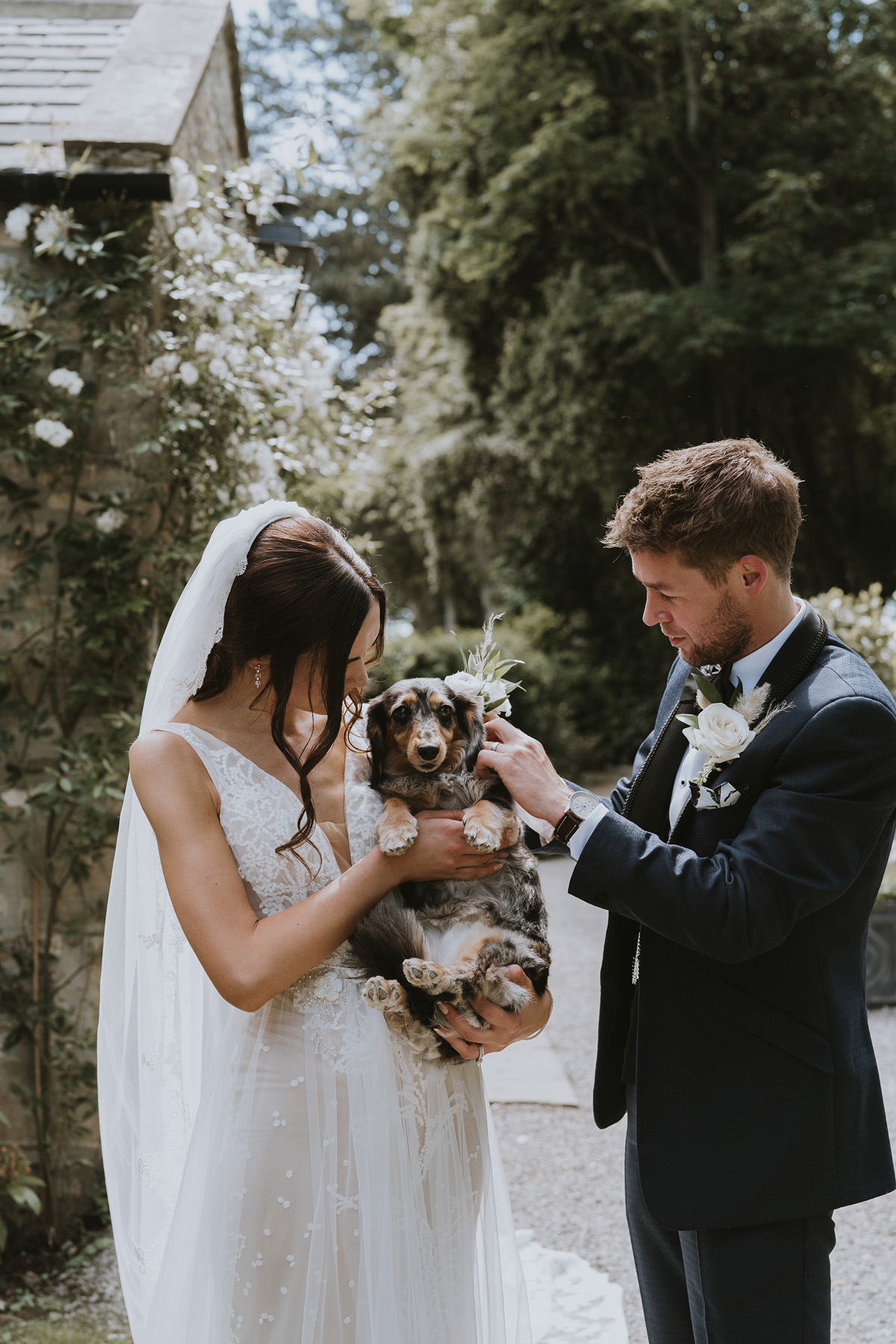 "On the day, Georgina just blended in – I didn't even notice she was there most of the day."
We really wanted natural photos to capture our special moments and that's exactly what she has given us. We are in love with every photo."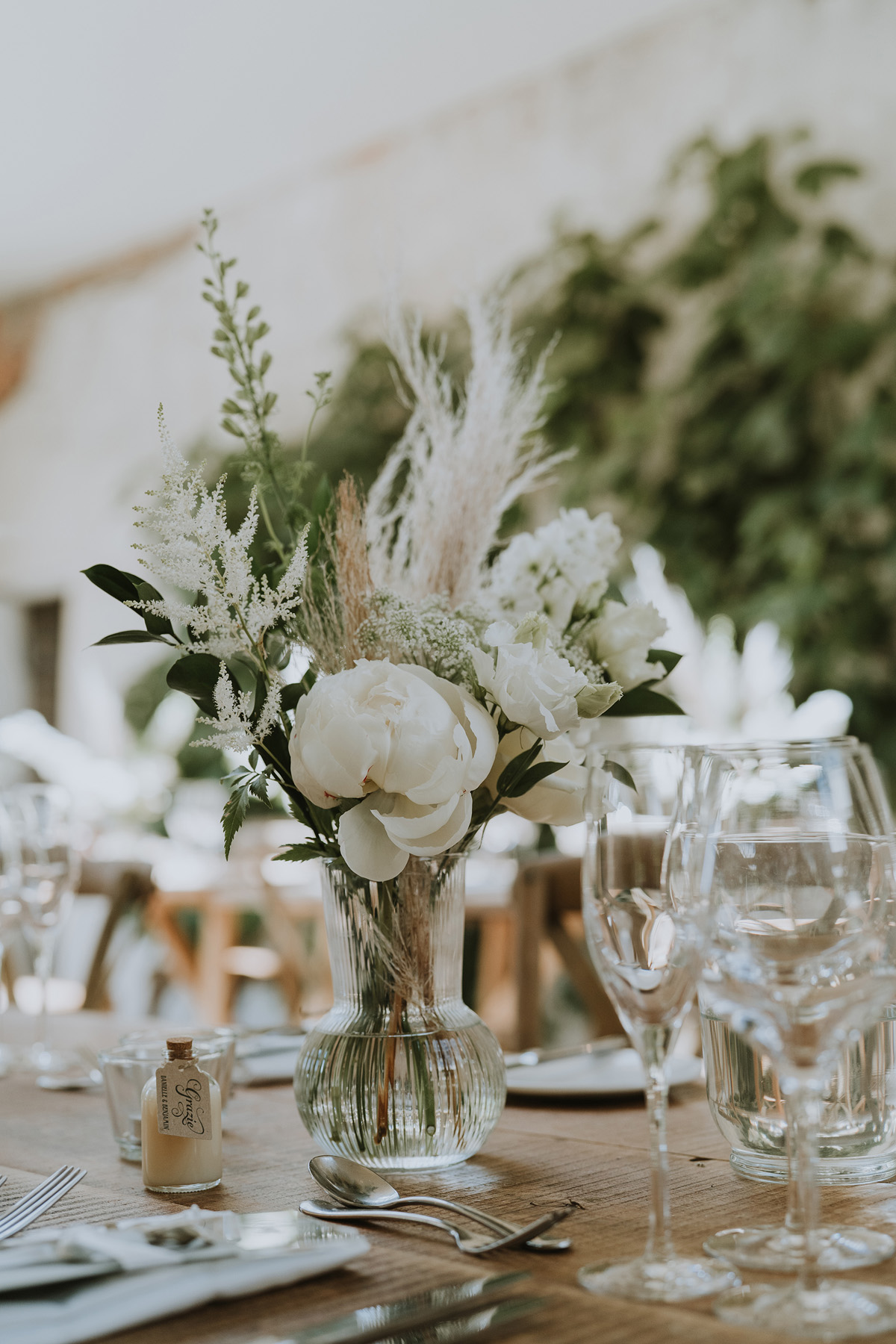 We chose the same food for our wedding breakfast – mozzarella and tomato salad to start, seabass for main and lemon tart for dessert."
"We also had wood-fired pizzas for our evening food which was the same as we would have had in Italy."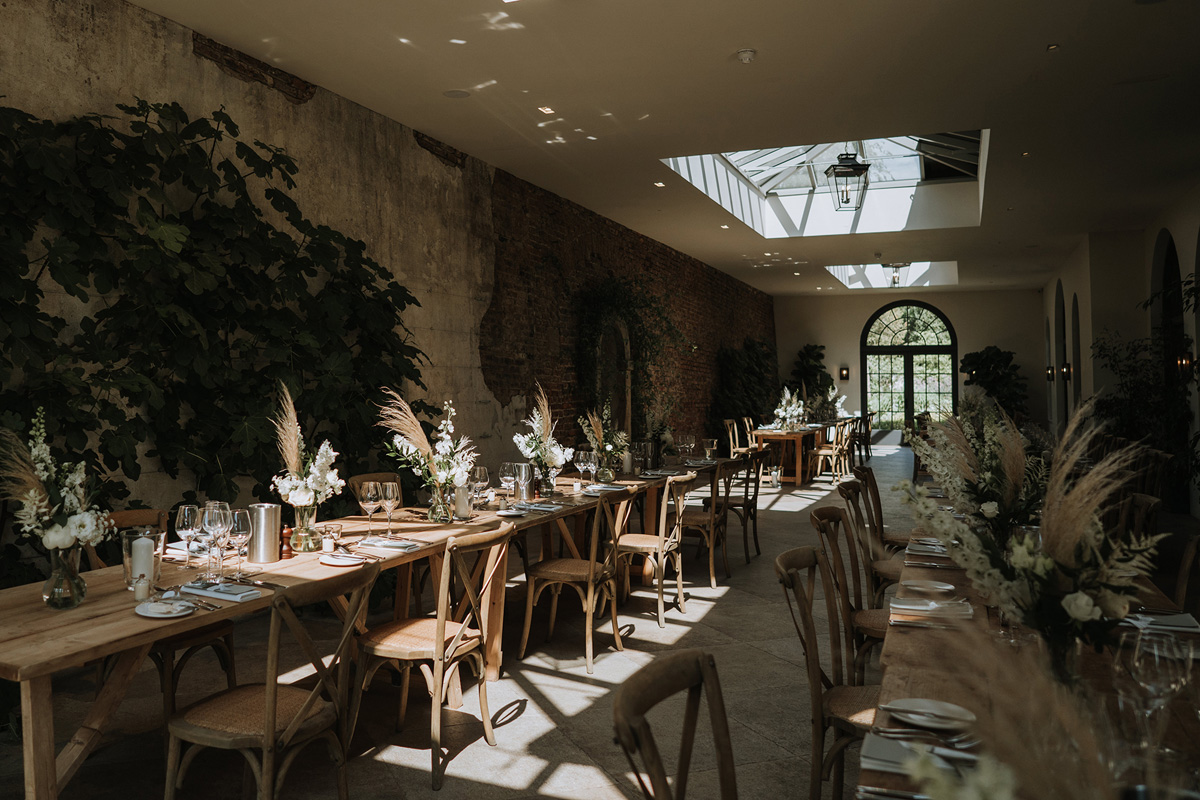 Danielle and Ben wanted to have everything they planned for their Italian day at their wedding in the walled garden at Middleton Lodge.
"We had seen a table plan which was made up of acrylic hanging boxes with floral designs inside."
"We knew we wouldn't be able to hang them so Katie found boxes that would be big enough for the names and flowers inside but that also would be able to be stacked on top of each other to create the vision we had."
The staff at Middleton Lodge commented how amazing the table plan looked and everyone said it was so beautiful. It was one of my favourite things out of all the stationery."
"Katie created our invitations too – white ink on vellum and green card tied with a silk ribbon and an olive leaf."
"They suited our venue perfectly so our menus were in a similar style but finished with a white tassel."
"The name places and table numbers were acrylic tiles with white writing. I couldn't recommend Katie enough….our stationery and invitations were just perfect."
"We kept the same dress, suit, groomsmen attire, bridesmaid dresses, etc. We wanted a classic but modern style wedding."
"We also kept the same wedding favours – mini bottles of limoncello with 'Grazie' tags."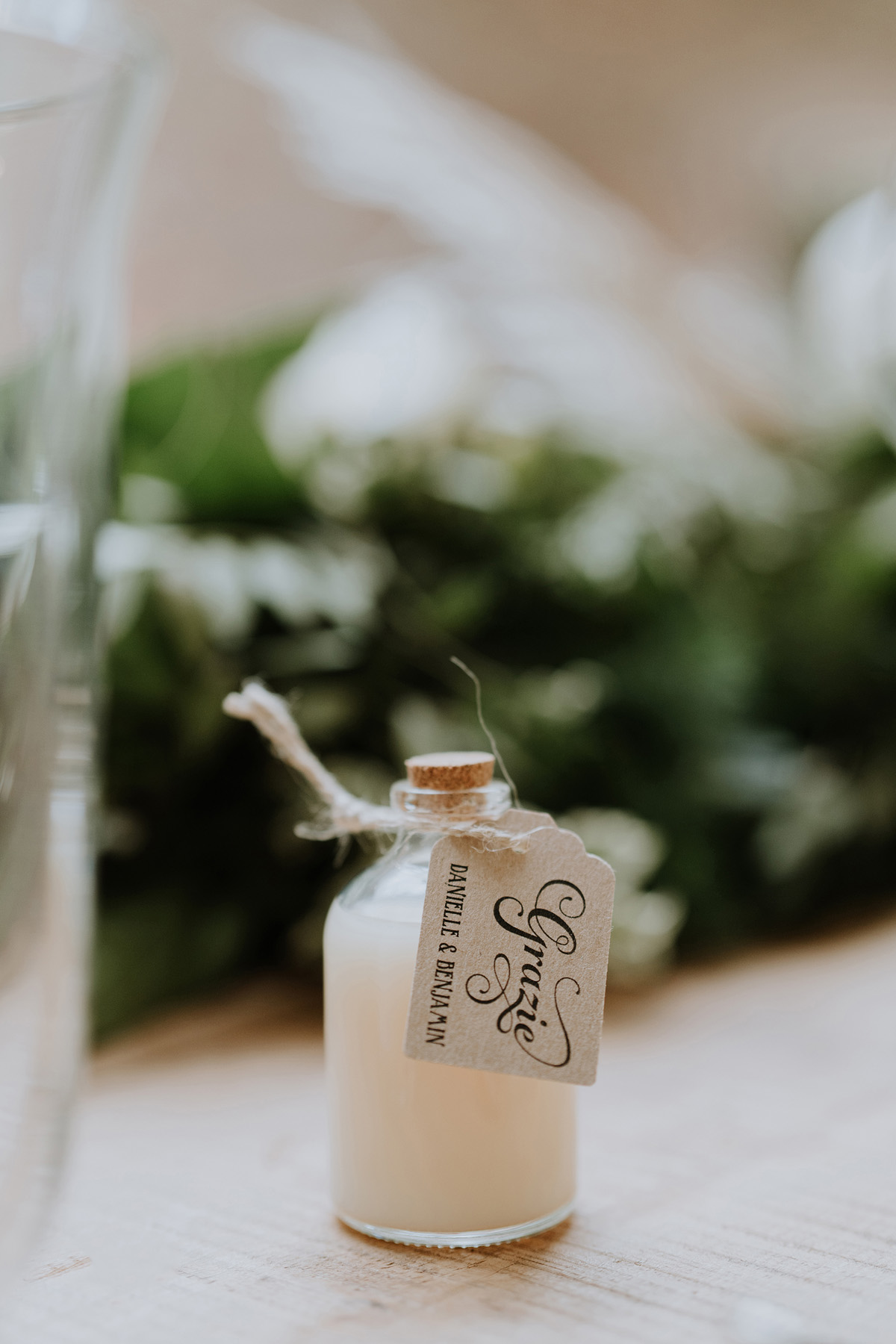 "We wanted to replicate the cake we were having in Italy – lemon and blueberry. When we received some cake samples from Adele at Sweet Charlotte Cakes, we knew we had to incorporate the delicious salted caramel flavour."
"We chose a three tier, semi-naked cake decorated with white macarons and blueberries. The bottom and top tier were lemon and blueberry flavour and the middle tier salted caramel. We topped off our cake with a white cake topper that included a replica of our sausage dog, Luna. This was a very last minute decision but gave such a personal touch."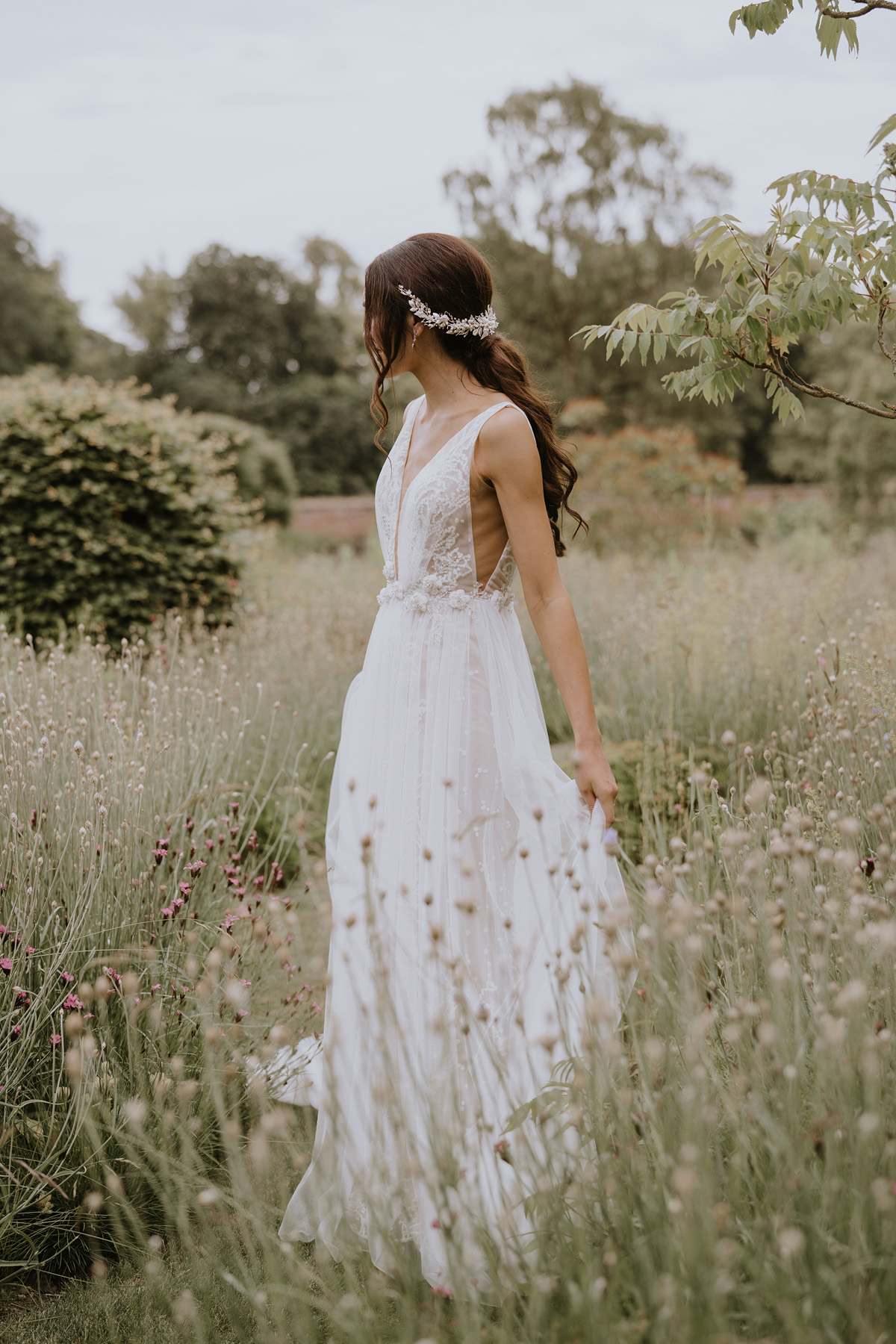 The evening reception had such a magical atmosphere, thanks to the stretch marquee and the twinkling lights.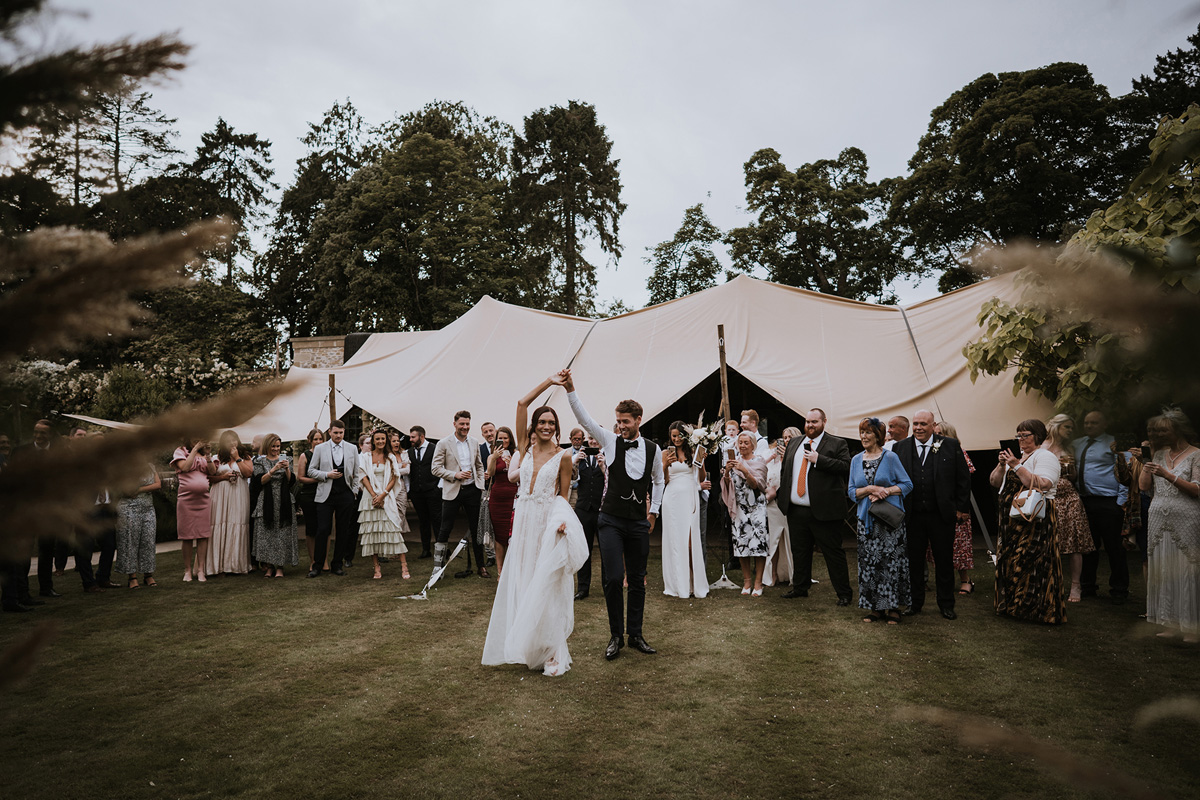 Music came from DJ and saxophonist Club Class UK and the couple also hired a photobooth from Booth Revolution to entertain their guests. Danielle and Ben's first dance was to 'At Last' by Etta James.
"We wanted a classic song and we learnt a dance with Love At First Dance as we didn't want to just rock and sway."
"It felt amazing being able to dance properly to the song and at the end when Ben picked me up and swung me around it felt incredible. Tt also gave us one of my favourite photos."
"We had fireworks at the end of the party from Matthews Bros Pyro. We kept it a secret from our guests and everyone absolutely loved it."
"They were incredible. It's one of the things everyone mentions about our day."
Words of Wedded Wisdom
"Do what you want to do and don't worry what others think. Everyone at your wedding day wants to see you happy and is there to support you, so choose the things that make you both happy."
"That's exactly what we did and we don't regret a thing. It's your day after all."
"I used my page @lovedontcottsathing to speak with my fellow Covid brides over the past year and a half. Their support meant so much to me."
"It was nice speaking to people who knew exactly what you were going through and how you felt."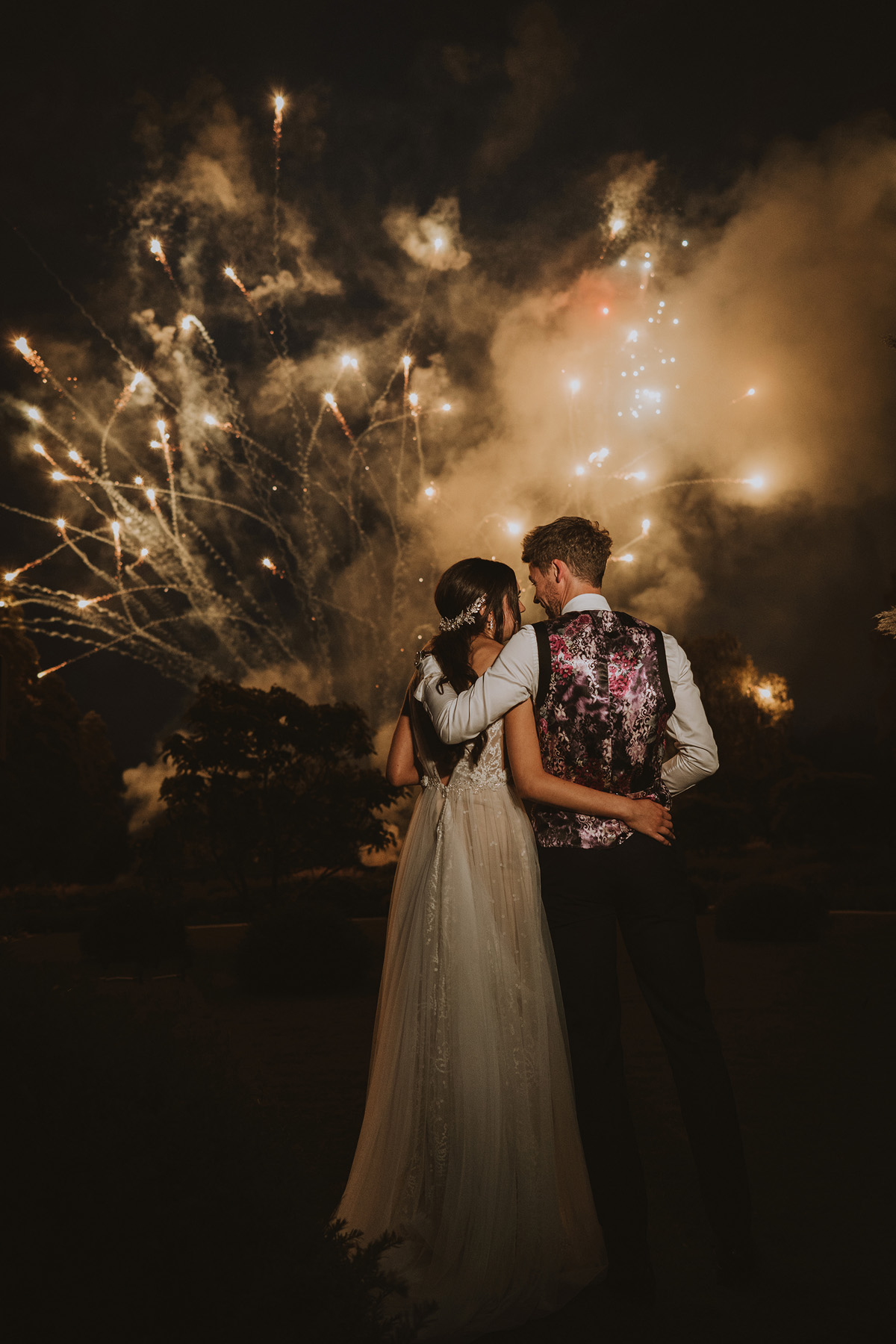 Danielle and Ben, congratulations on finally getting married. Thank you so much for sharing your romantic day here, and thank you Georgina Harrison Photography too for these divine images.
For more work by Georgina, please do enjoy these other Love My Dress weddings and, if you've loved the outdoorsy, botanical style, you can find more inspiration here.
Ele xx