It is such an incredible pleasure to talk to Love My Dress recommended dress designer, Kate Beaumont, about her passion for ethical and sustainable wedding dress production.
I've been a fangirl of this genuinely lovely, Sheffield based wedding dress designer since sharing Kate's own wedding back in 2012. Having watched her career grow over the past decade, it feels magical to see this designer now dressing so many beautiful, happy brides with her gorgeous handmade gowns, each of them produced sustainably and with love.
See Kate's latest collection in full here
This interview comes at a really important time for not just our industry, but our planet too. So many of us are trying to just get on with life after the disruption of the pandemic, but it is critically important to all of our lives that we do so with extra effort made to support our planet and the environment.
Supporting small, responsible businesses like Kate Beaumont are a rewarding way of doing this.
Let's find out more from Kate….
Kate, please introduce yourself to our readers and outline your business history?
I'm Kate Beaumont and I design and make wedding dresses that are understated and beautiful. I started the business after my own wedding nine years ago – for which I'd made my own bias-cut silk gown – and figuring out that wedding dresses could be whatever I wanted them to be, and didn't have to follow the corseted top + poofy skirt combo that I'd only ever seen until then.
I worked from my home studio for four years after my little boy Rex was born, and when the business grew I moved it out of my attic and into a studio space in a converted cutlery factory in central Sheffield. I can walk to work every day after walking Rex to school, which makes me very lucky I realise!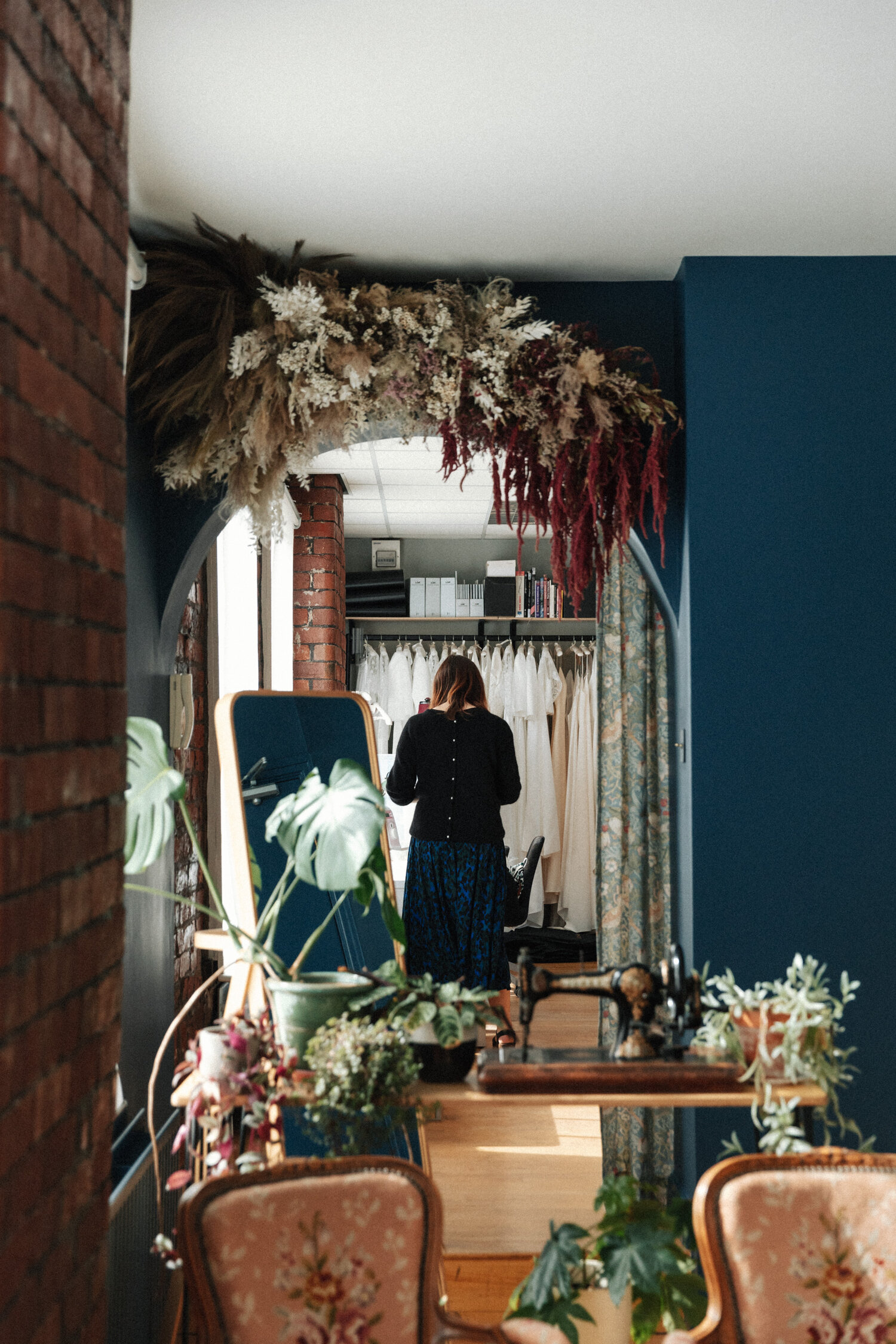 Moving out meant I could expand my team and was no longer the sole designer / cutter / seamstress / fitter / salesperson / tea-maker. The studio is split into two halves – a workroom for my tiny team and I, and a showroom for the frocks and to run appointments in.
I have two other makers in the workroom with me, all three of us are called Kate or Katie, randomly (it's not a requirement to work here), and another freelancer – Sarah – who helps us out as required.
The other Kate does pattern work and cuts out the fabric with aplomb, and Katie does a beautiful job of sewing and finishing the dresses, as does Sarah, though she collects dresses to work on at home rather than working in the studio. I design, run the appointments, do the admin, make the toiles, tack everything, and do whatever else needs doing.
Why are ethical/sustainable practices so important to you and your business?
As a small team who makes everything in house, it's unthinkable to me that we wouldn't run the business in an ethical way. I pay my staff fairly, treat them well, and we work flexibly as needed, meaning they can fit in other aspects of their lives around their work as required.
They're very talented – and very lovely – people and I can't imagine running things without their help now. We're all hugely committed to what we do, and I know I can rely on them to go the extra mile.
The nature of the way we works means we are far removed from fast fashion – thank goodness! Everything here is made to order, meaning there's no over production. We can order materials in small batches to minimise waste, and can often create designs to utilise any excess fabrics.
Hand making accessories and even silk face masks (in this new era we find ourselves in) uses up more leftovers, and the remainder we give away to a local underwear designer / maker.
I tend to design a small collection of new gown biannually, and always with an eye on what's come before, so that the new pieces dovetail in nicely on the rails with the older styles. If a design still works, still sells and we can still source the materials, we tend to keep it around, only retiring styles when we need to. Running all appointments with brides personally means I can try to spot any gaps in the collection, and design to fill those gaps accordingly.
Coupled with the fact that my designs can be adapted and reworked almost endlessly – by changing necklines, sleeves, fabric combos etc – this allows us to make a hugely versatile body of work without creating newness for newness's sake.
And why should brides really look for a designer who includes ethical and sustainable practices? Why is it good for them too?
Ethics and sustainability are hugely important to consumers now, and it can sometimes be hard to navigate an increasingly complex marketplace. I think it's very easy to become overwhelmed by the possibilities, but remember it's better for us all to be consciously trying to make good decisions but acting imperfectly, than for just a few of us to be getting it absolutely right all the time. I'm sure there's a much better way of saying that, but hopefully you know what I mean!
If you can chose a designer / maker who's principles and practices align with your own then do – whether that's someone who produces in the UK, is local to where you live, makes sustainable fabric choices, offers vegan alternatives to silk or appeals in another ethical way. Your wedding can be a wonderful opportunity to do things just as you want to, and making good choices about your suppliers is a huge part of that.
See more Kate Beaumont brides on Love My Dress here.
Talk us through the production of a dress and all the areas where you've ensured ethical and sustainable practices.
Is it challenging to include these practices in bridal production? Have you had to alter how you work to make sure you work to incorporate these practices into your business?
Everything is made to order here in our Sheffield studio. A bride's measurements are taken, and a toile is created for her to try on – we've recently altered how we work to make these to the nearest standard dress size as much as possible in order that they can be reused for fittings indefinitely. Once the toile fits well, we tweak the bride's pattern as required and cut out her dress in the final fabric. This is then tacked together by hand for her to try on, and adjusted on the body to get the fit just right.
We use a range of luxurious fabrics to create our dresses – silks, laces and tulles. Silk is a natural fibre and we use suppliers who are audited to high environmental standards, and can also offer alternatives to silk for those seeking a vegan alternative.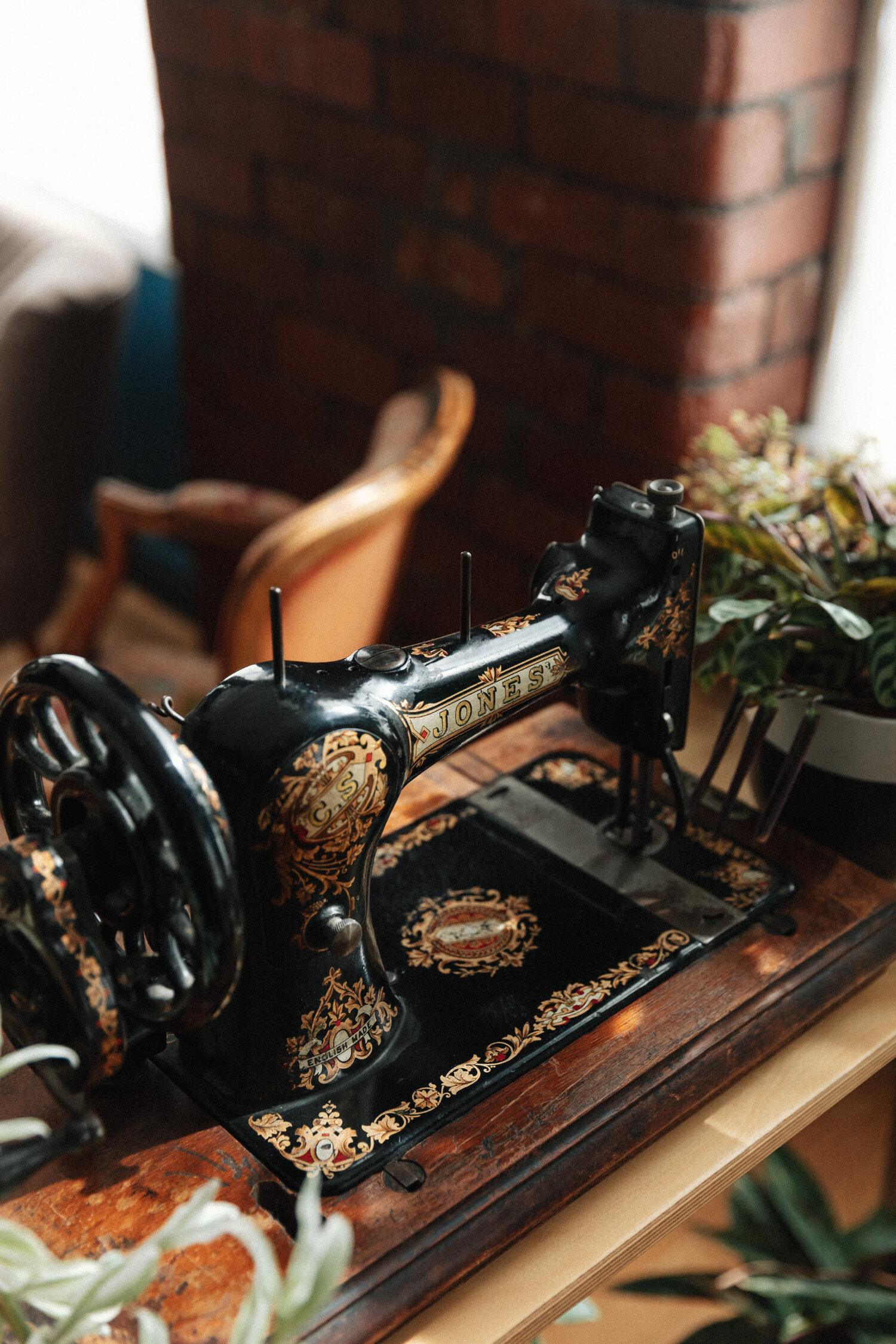 Some of our silks are GOTS organic certified, and some are peace silks – a process where the silk worm larvae are not harmed during the silk-making process. Unfortunately but unsurprisingly, options for both organic and peace silks are more limited in finish and colour than standard silks, so we tend to use a combination of all production methods to get the variety we require.
This is definitely an area we are continually looking to improve options in, while maintaining our very high quality standards.
Laces are sourced from English and French suppliers. The English company is run by the eighth & ninth generation of the same family – which is pretty special – and the French company has been certified as a Living Heritage Company.
In our packaging, we use recycled cardboard veil and accessory boxes, as well as recycled acid-free tissue paper. Postcards, thank you cards and envelopes are printed on recycled stock too.
We offset our workforce's carbon by paying monthly to plant trees through Ecologi, use an ethical bank – Starling, recycle as much of our waste as we can, and try our best to be good people!
What has been the feedback from brides about your E&S work? Do you think/hope E&S production will become mainstream in bridal design?
I really hope sustainable and organic fabric production becomes the norm across the whole industry, it can be confusing for consumers to understand what the best options are so it would be great if all the options were good ones.
As for bridal, I certainly hope so and I think it's already happening within some sections of the market. Some designers like Sanyukta Shrestha, Rolling in Roses and Indiebride are already doing great things sustainably, while US labels like Reformation continue to impress.