Hello again lovely readers and I hope that today is bringing you good things after a week that I know has been very challenging for many.
One of the good things that I'm noticing every time I step outside is that every day brings more signs of spring. It really does feel as if there's a change in the air and it feels good to be looking forward. In that spirit, it seems that sharing a glorious new collection from one of our favourite designers is just perfect for today.
Kate Beaumont designs and makes exquisite unstructured gowns and separates from her studio in Sheffield. Described as 'understatedly beautiful', this new collection continues this tradition with soft and elegant lines that combine 1930s shapes with more modern cuts and styles. It's an absolute joy to welcome Kate Beaumont to Love My Dress today as we look forward together.
Kate studied fashion at university and, after a year travelling, she was persuaded to make a wedding dress for her best friend and this is where her bridal journey started. Now, Kate works with a small team of extremely talented cutters and makers in her Sheffield studio where they create Kate's signature gowns from the highest quality silks and English and French laces.
Kate works with every bride herself and, as the gowns are made to order, each can be adapted as needed to make the finished garment truly perfect.
"I'm not a huge fan of dresses that shout too loudly so I try to create styles that are softer, for brides looking for something extra special that isn't run of the mill."
"When I first started designing, I was heavily influenced by vintage styles and they were so different to the strapless-corset-top-and-voluminous-skirt wedding dresses that I'd only ever seen up to that point."
"When I design, I just try to be true to what I like and dislike, and hope that brides find something they love in my work."
"I really believe that a bride should be the best possible version of herself on her wedding day, and not feel like she's trying to dress up as someone else, so hopefully that vision clicks with people when they look at my designs."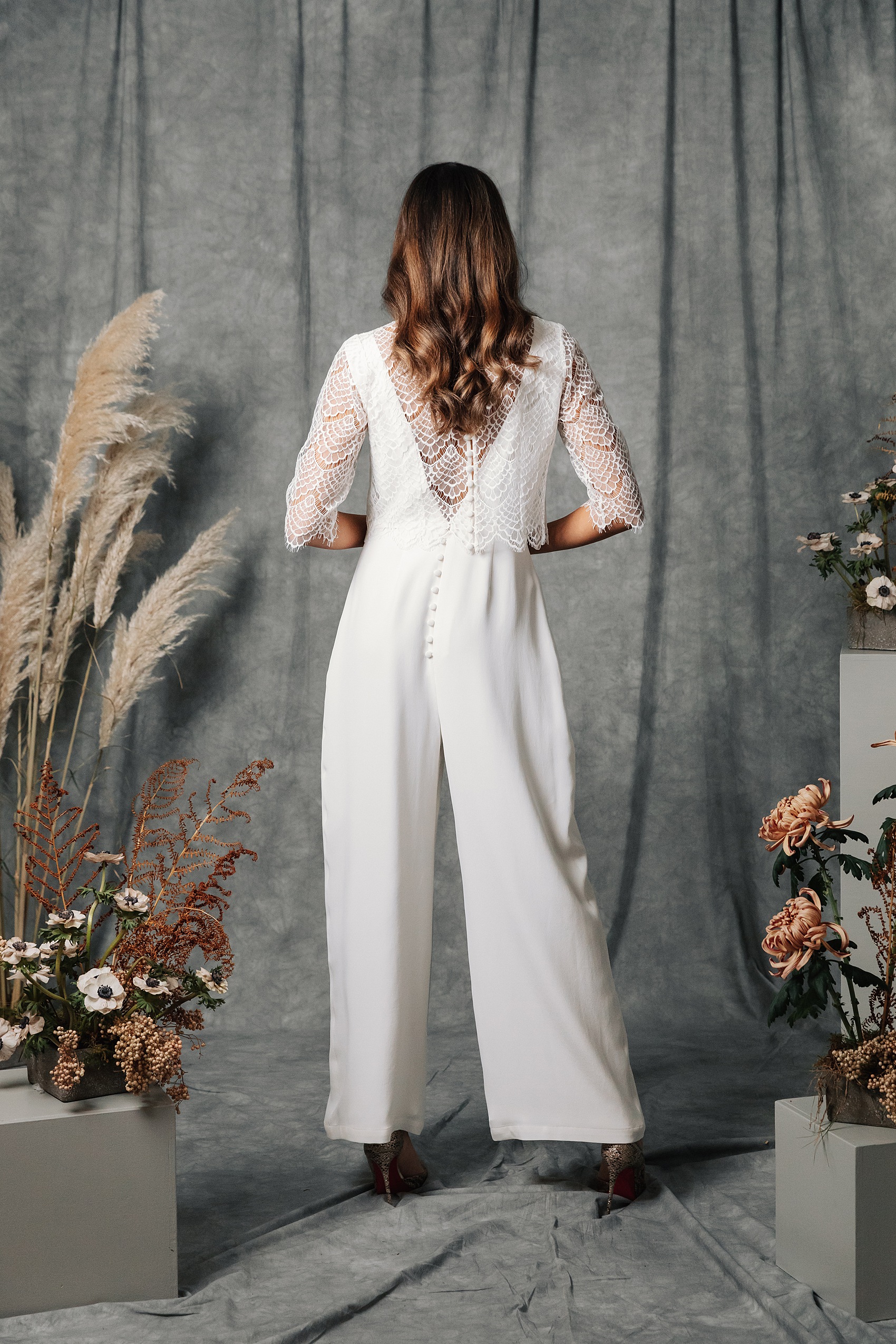 Kate introduces a new collection every other year and, unlike a lot of brands, she doesn't 'retire' older designs when introducing new ones so there's a real sense of harmony and balance across her work, with each new range being an extension of what's come before.
Being so involved with all appointments herself, Kate's able to get a really clear idea of what's working well, spot patterns and notice if there's anything missing from her offering.
"Brides are always such a huge source of inspiration for me – sometimes there'll just be a certain little something that's said, and that's the start of an idea for a new piece or the realisation that I could just tweak an existing design to take it in another direction and end up with something completely new."
So, let's look in more detail at the new collection and it's just a joy to view. I adore the open back and button detail of Angelica and the shaped hem on the sleeves of Hydrangea and Sweetpea are another treat. Phlox is another delight – this long-sleeved top with its bow-and-button back is just divine.
"These dresses haven't been tried on in the studio yet so I can't wait for the real-life feedback that April will bring! I really love Corncockle's laid-back, gentle style – the softness of the silk georgette combined with the appliqued lace and covered buttons down the front really makes my heart sing."
"Chrysanthemum is another favourite – the water-washed silk georgette we've used here is dreamy, and the fullness of the skirt underneath that fitted lace-edged crossover neckline is just gorgeous. It's also a joy to add a jumpsuit to the collection – Forget-me-Not is a really lovely simple shape that will look immense on, and can be added to as desired with various separates or accessories."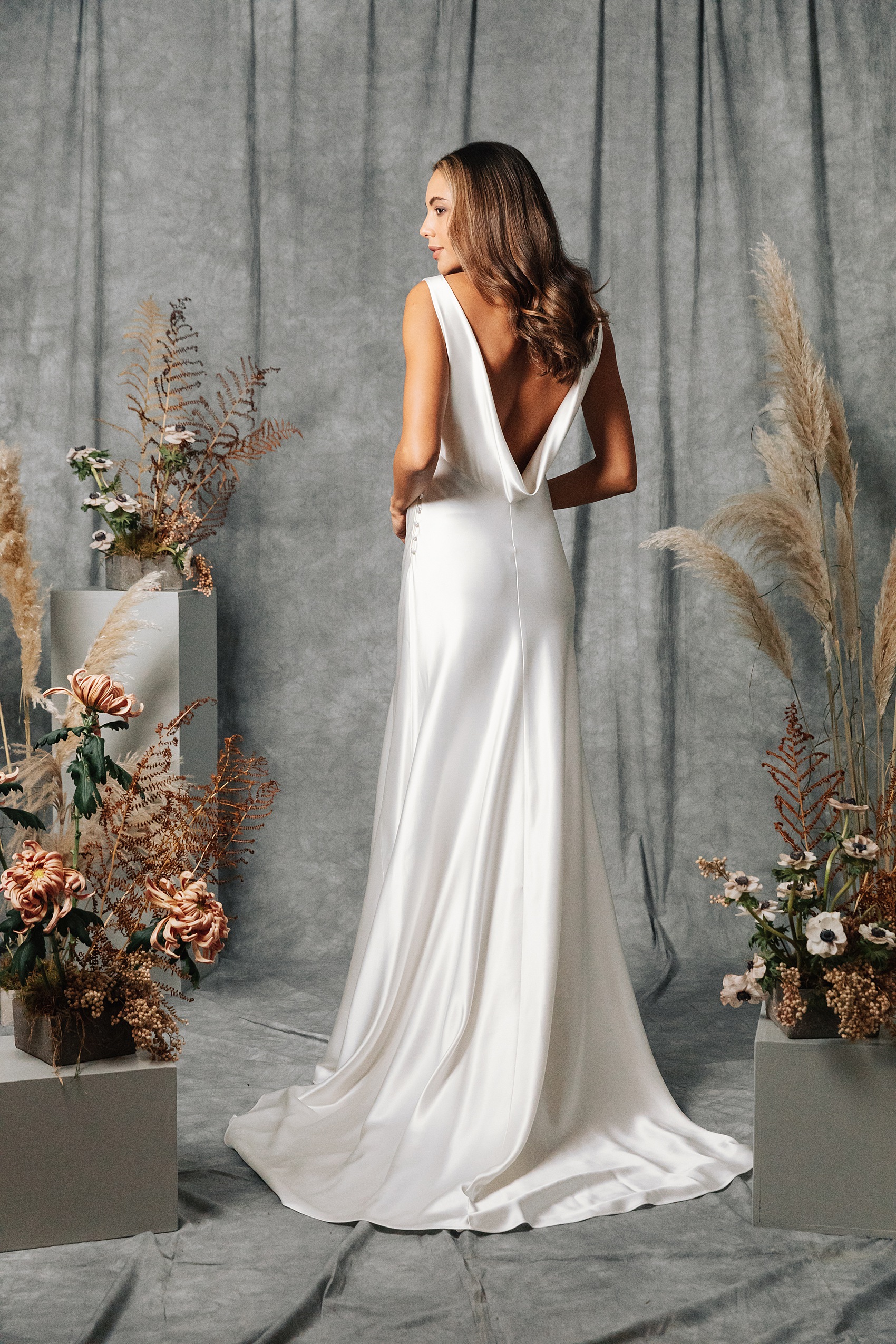 And that, as always, is what stands out with Kate's designs – the level of detail and the opportunity to make each piece work for the wearer. These aren't designs that 'take over', instead they complement.
There are usually a minimum of three fittings in Kate's studio or overseas brides can work with Kate online, with toiles being posted, online consultations and local adjustments. This virtual appointment service is a wonderful option right now and gives you all you need from home.
"For UK brides in a hurry, or for those unable to get to the studio, we can arrange to have three outfits of the bride's choice shipped out for her to try on at home, then run an online consultation before, during or after the try-on session to talk through options. This costs £110, which covers insured shipping and returns, and the cost will then be discounted from a new dress order placed within two weeks."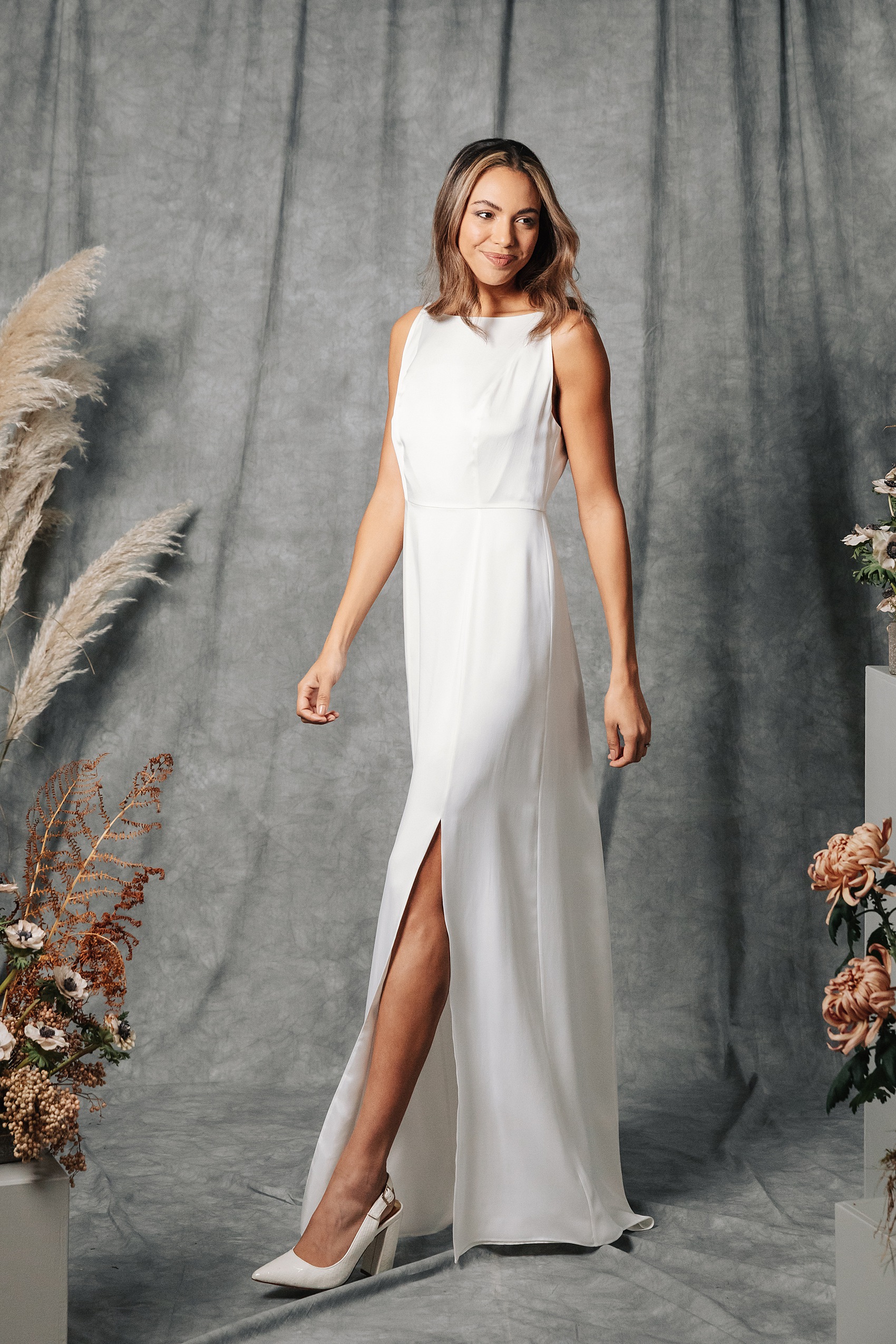 "We can't wait to welcome brides back to our studio and we know that lots of brides-to-be can't wait to get out to enjoy the process of choosing their dress. I'm sure all of this has been said before but here are my top tips for selecting the perfect gown – firstly, don't start looking too soon, tempting though it is!"
"About a year is perfect although don't let that panic you if you're marrying sooner. This year is all weird and there'll usually be a way to make it work."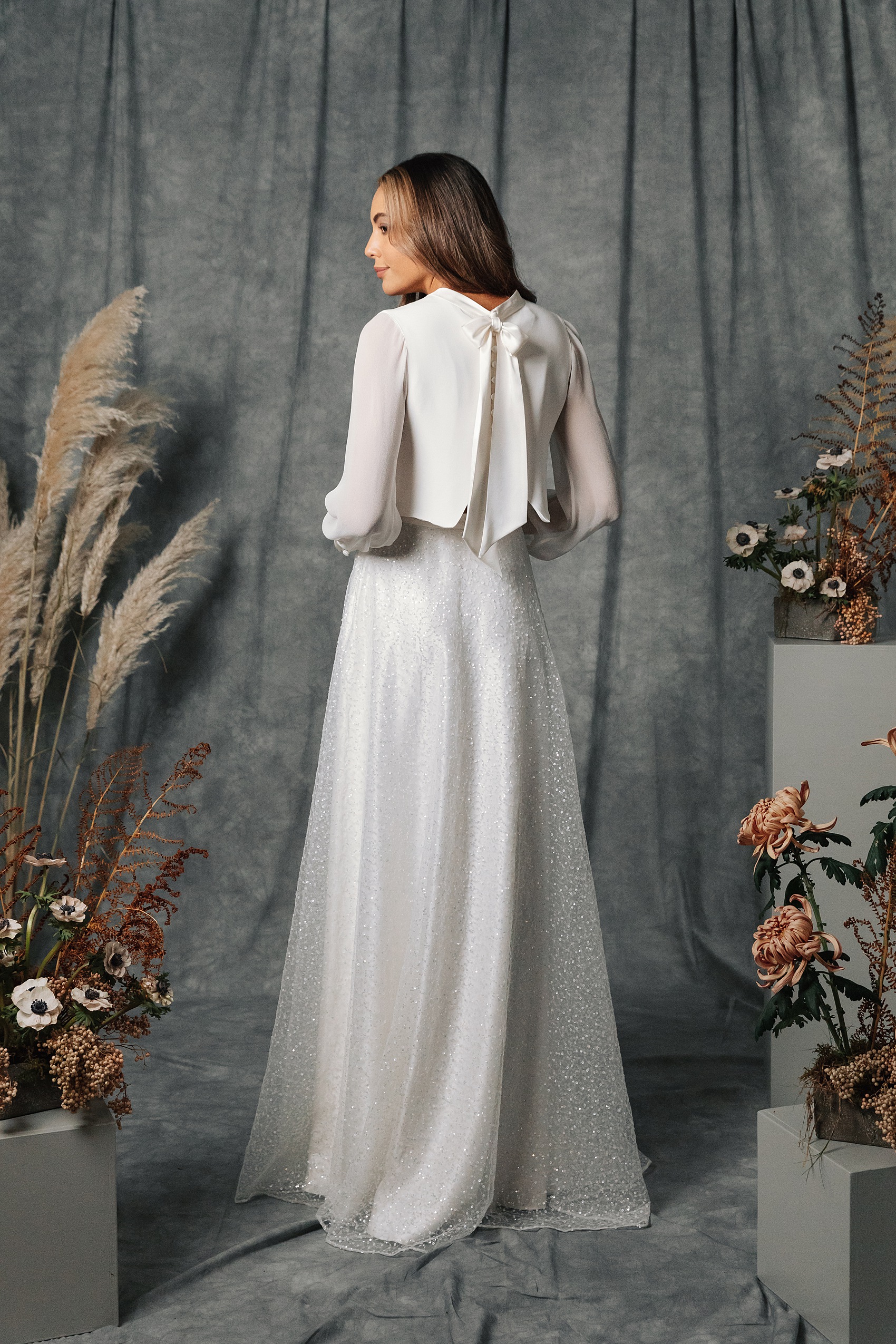 "Think carefully about who you'd like to take with you to your appointments. Make sure it's someone who'll be truthful when asked but ultimately supportive of your decision. It's great when guests get involved and have helpful advice to offer, but it's never good if they start to unintentionally take over."
"Finally, figure out what kind of underwear you're comfortable wearing – there are lots of great backless bra options out there, but they're not for everyone so it's great to have tried on some underwear to see what works for you because the right underwear can make ALL the different to how a dress looks on."
Wow! There's just so much brilliance in Kate's words and we can't thank her enough for sharing her new collection with us today. If you'd like to find out more about the dresses themselves, the virtual appointment service or look forward to visiting the studio in person, just visit the website or get in touch here.
You can also explore more Kate Beaumont content and real brides here on Love My Dress.