Here at Love My Dress we are so proud to support some fabulous wedding suppliers through our Wedding Directory and I really adore hearing brides sing their praises on our pages.
In today's wedding we are delighted to feature a whole host of these including Made With Love Bridal, whose relaxed gowns with a touch of glamour are sure to steal your heart, and Portraits Bridal, whose modern looks are perfect for city weddings. Watch out too for the bride's glam shoes, created by designer Emmy London. Please meet finance manager Laura and cyber insurance broker James, whose wedding on 21 July 2020 was held at Old Marylebone Town Hall with a laidback, socially distanced picnic afterwards in London's Hyde Park.
Annie Bradney Photography

+ Follow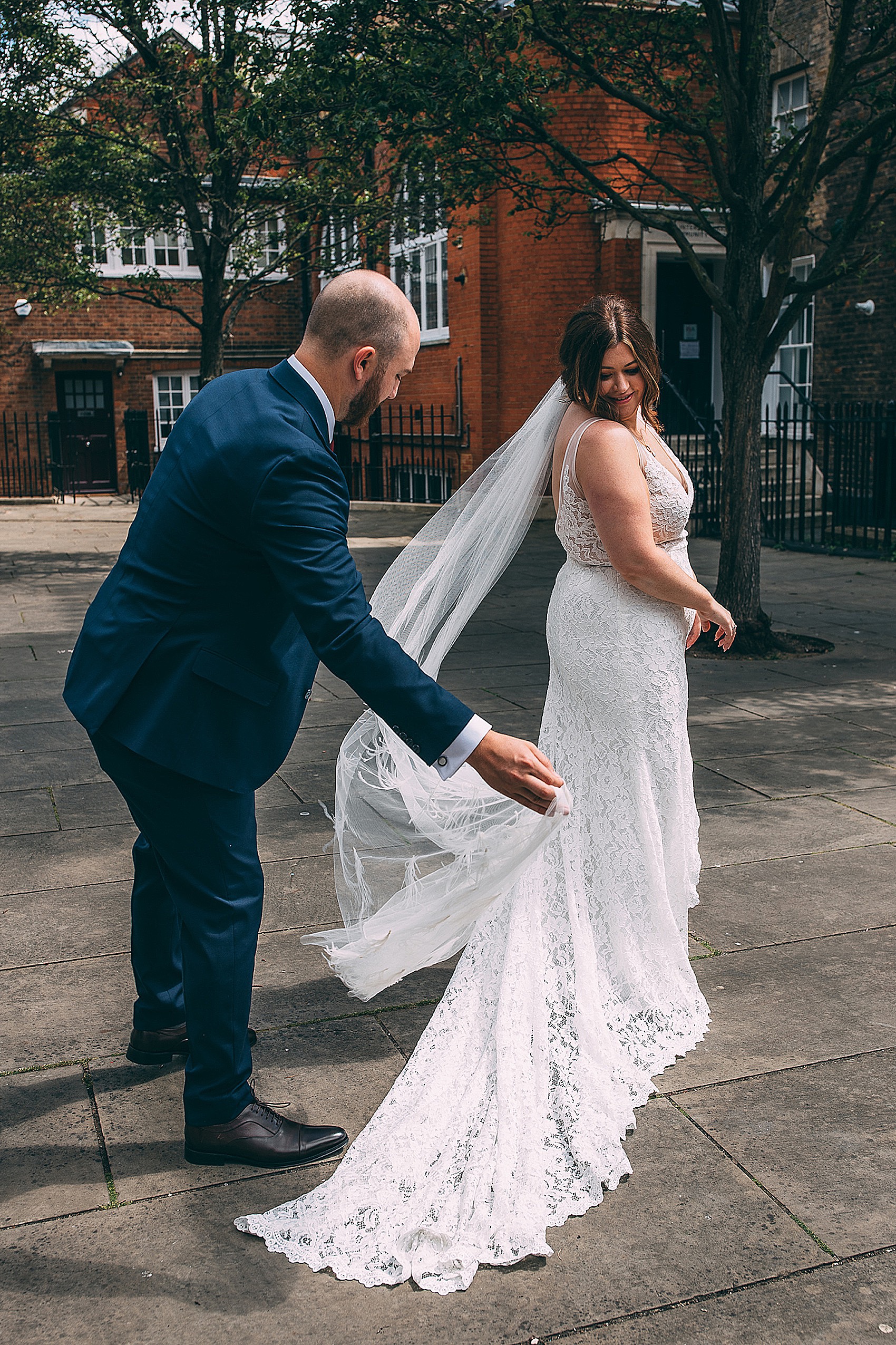 The inspiration for the day was a remit of 'fun' and for everyone to have a good time. The couple pulled together a pretty, colourful vibe which suited both the lofty spaces of the Town Hall and the relaxed park picnic, too.
I've fallen head over heels for Laura's choice of shoes by the inimitable Emmy London, featuring their signature embellishment. As the bride says, her gown allows her to show them off to perfection. We've got more designs for you to drink in on the Emmy London Little Book page.
"I wore the Emmy London Cinderella block heels. They kept coming up in my Instagram and got talked into getting them by my maid of honour when we went to try them on in their shop."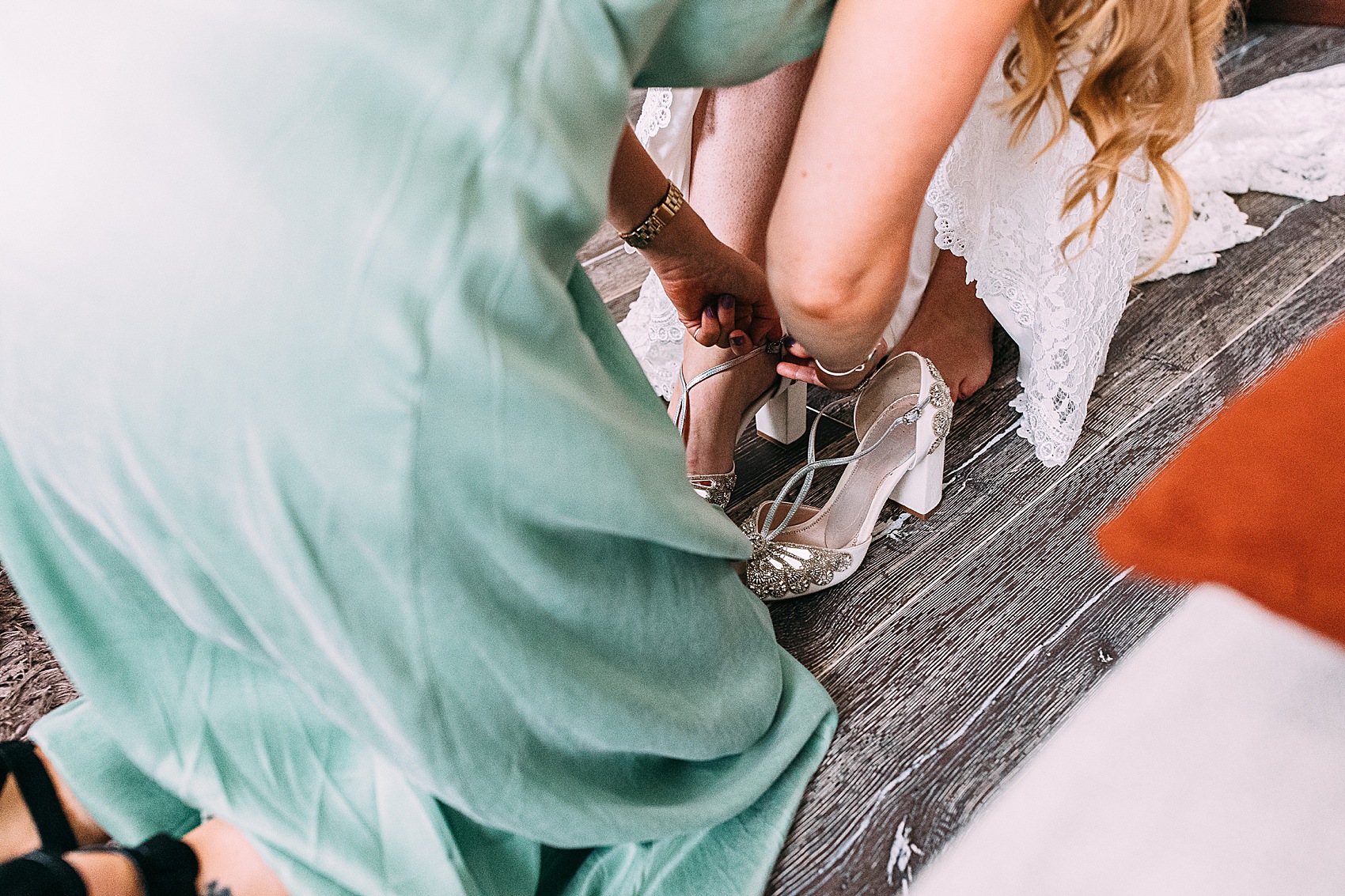 For a modern look, Laura chose a simple ponytail, expertly styled by Portraits Bridal.
"I really wanted my hair up, particularly if it was going to be warm and I found this amazing ponytail on another bride that Zara had done. I was initially expecting to have to do my own hair but with the change in regulations I was able to get it done and reached out to Zara and Nadia who were free. Nadia also helped with my make-up on the day too." 
"I was going to wear Jo Malone Peony Blush but during lockdown I bought the Jo Malone scent for Zara in Fleur de Patchouli."
"My something borrowed and something old was a watch that my dad had bought my mum years ago. It meant so much that my mum had surprised me with it and even set the time on it to our ceremony time."
Like many couples, Laura and James' plans were derailed in March. They re-scheduled their day not once, but twice.
"Everything was thrown up in the air in March. Initially we had the stress of potentially holding a wedding under the 'avoid' advice as, while the Town Hall was super-flexible, the pub wasn't."
But, within a week the whole thing was cancelled. We had a spare room filled with everything ready to go. Initially, our wedding was postponed from 16 April to 2 July where we fell short by two days of the new relaxed rules. So, we were moved to 21 July. This was a blessing in disguise because… weather!"
"As we were completely cancelled, our celebration element is on hold until we have more clarity: we can't take the risk of booking and being held liable if we did have to cancel."
"We decided to still go ahead with the wedding as we were so done with all the uncertainty and stress. We just wanted to be married and not have to worry about potential second waves or local lockdowns."
"We knew we wanted to get married in a registry office but most we'd seen were very dated and plain. One of my colleagues suggested Old Marylebone Town Hall and we fell in love with it; beautiful high ceilings, grand décor and an amazing back drop for pictures."
"We followed this with a reception in Hyde Park which obviously was not our original plan and very risky with English weather! We knew we wanted something relaxed and casual."
"We'd originally thought about having a garden party but when Boris announced we could have up to 30 guests the logistics of getting everyone into and out of London again was too much so we opted for a picnic."
"We found a company that actually set everything up for you and provide all of the food and drink."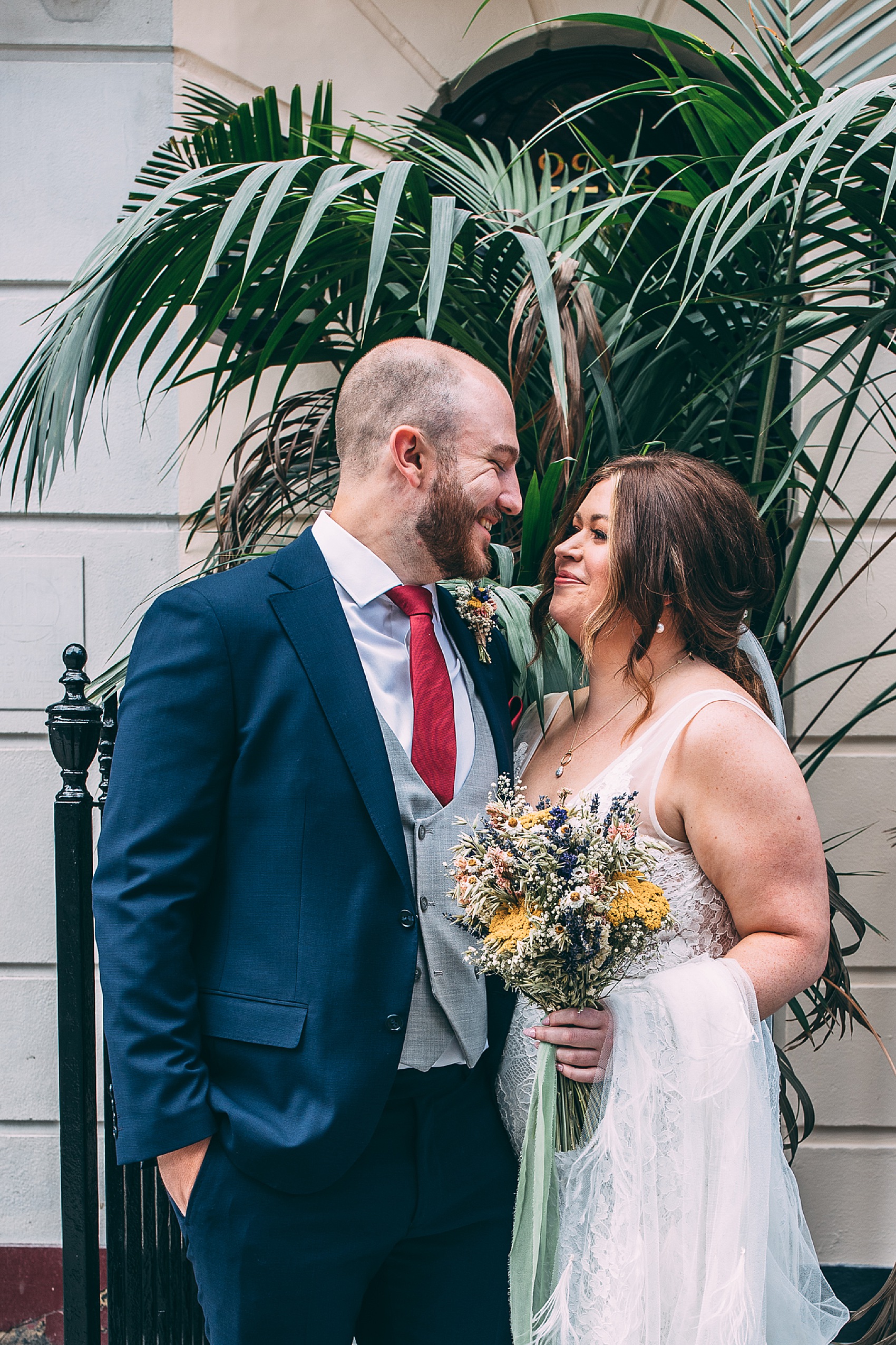 James and Laura opted for a first look and this was one of their favourite moments of the day, getting rid of any nerves and giving them some quality, quiet time together.
"I was initially going to walk down the aisle with my mum but with everything turned upside down with Coronavirus we decided to see each other and do a first look where we were staying and walk down the aisle together. I'm so glad we did. I'd have been so much more nervous and worried if we hadn't."
"Our favourite time was having time before the ceremony to see each other and get out some of those nerves. Walking together around London was so much fun. We got cars hooting at you and people taking pictures."
These photos of the bride and groom are my absolute favourites; they must have given everyone who saw them something to smile about – they look so happy and relaxed.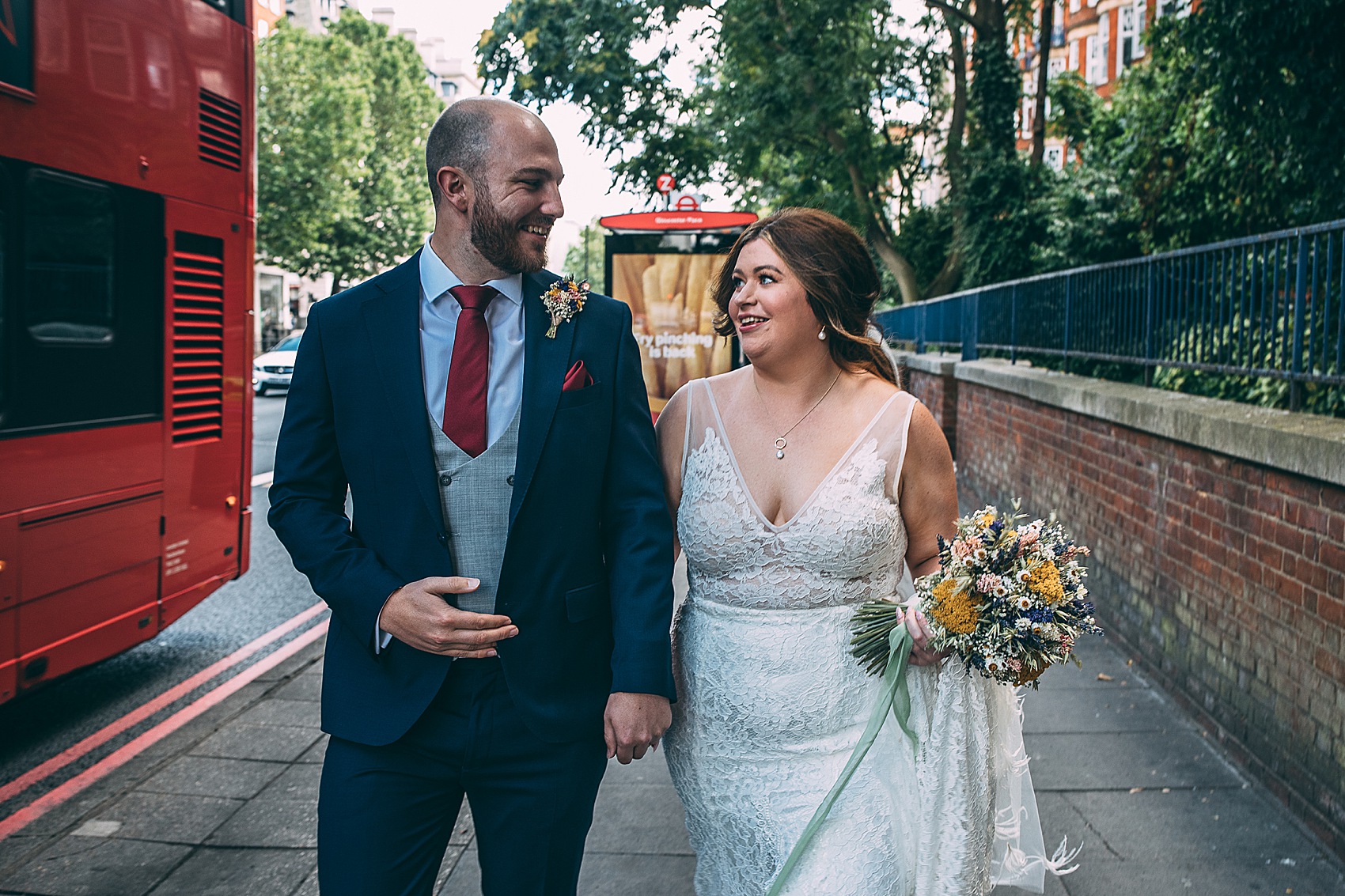 Laura came across her wedding gown after rescheduling her wedding, and found Made With Love Bridal right here on Love My Dress.
"One of the down sides of postponing was I had time to rethink every decision, in particular my dress. I fell in love with Made With Love who I found on the blog, followed by Portraits Bridal."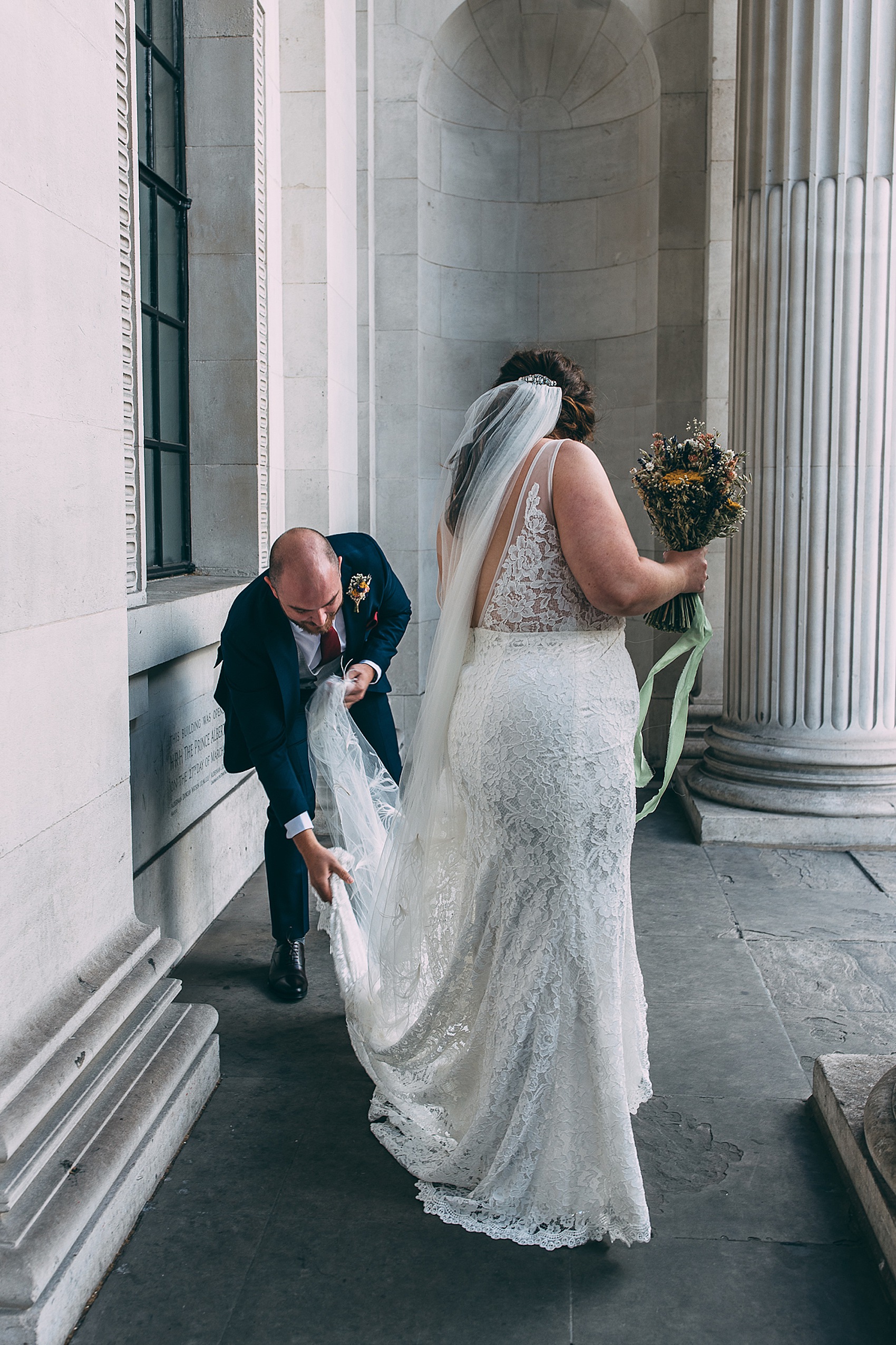 "I wore the Frankie dress. It was so comfy and worked perfectly to show off my shoes. I wanted something less traditional and more relaxed but still bridal. Made With Love is perfect for this as their dresses come with super-dramatic trains but with a laidback look. I loved being able to scoop the dress and veil up under my arm for walking around."
I love this look on Laura; the gown's fit and deep slit is so sexy and her whole look is feminine and relaxed. If you'd like to find out more about Made With Love Bridal, please check out their Little Book listing here. I love their approach to dress fittings during the pandemic.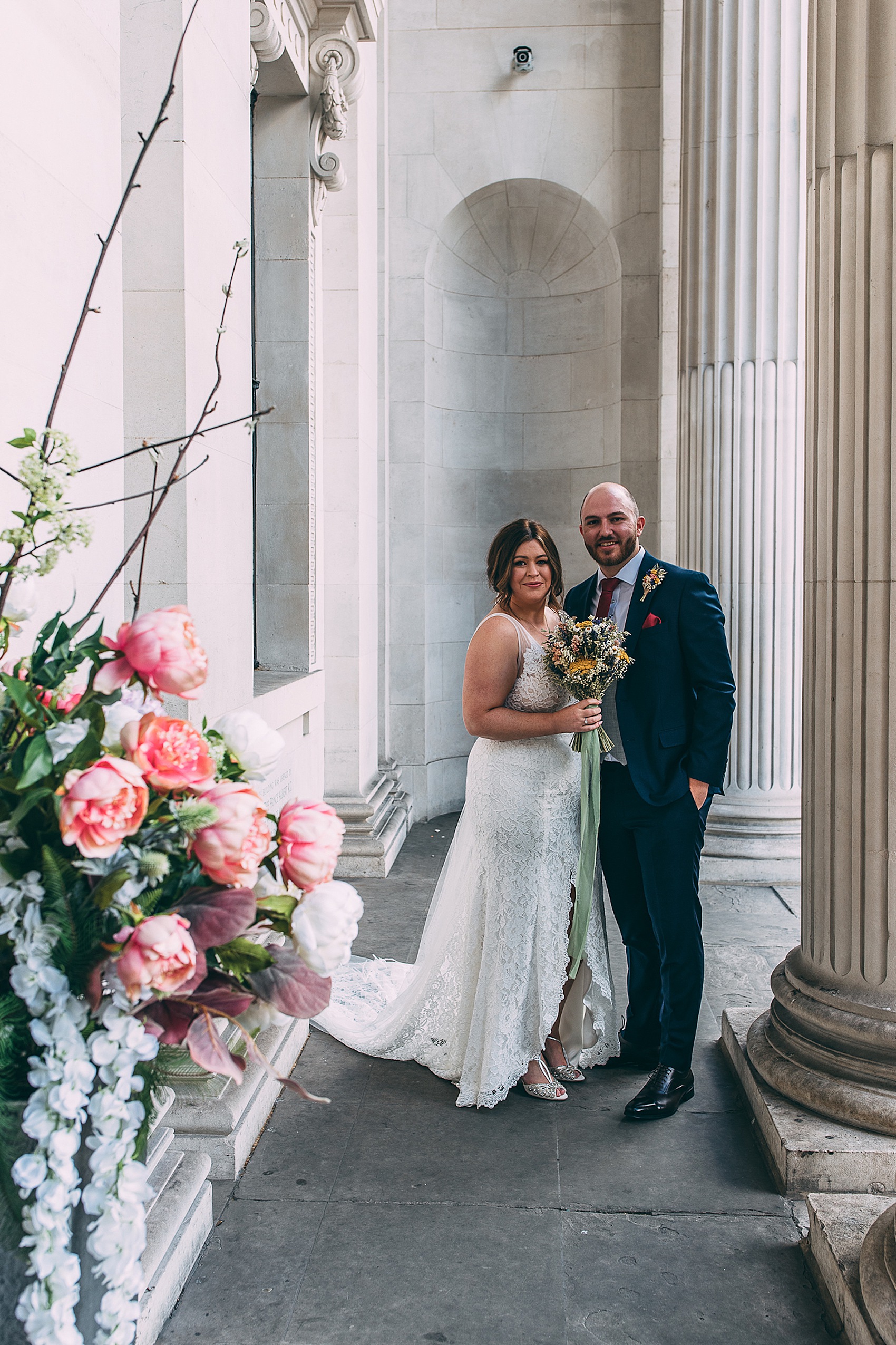 "When I changed my mind about my dress I messaged Made With Love Bridal to see if I could do a rush order. Shortly after, I was contacted and they let me know they were doing a virtual sample sale. I had a call with one of their stylists who checked the system for dresses they had available in my size, I'm not a standard sample size so was so surprised when they had such a huge selection that fit me."
"She arranged for five sample dresses to be sent over and I tried them on with Kristina from Made With Love on Zoom. She was able to talk me through all the dresses and any alterations that would be needed. I was torn between the Frankie and Stevie but loved that Frankie fitted perfectly and the slit not only showed off my shoes but meant I didn't need any alterations on length."
Made With Love Bridal

+ Follow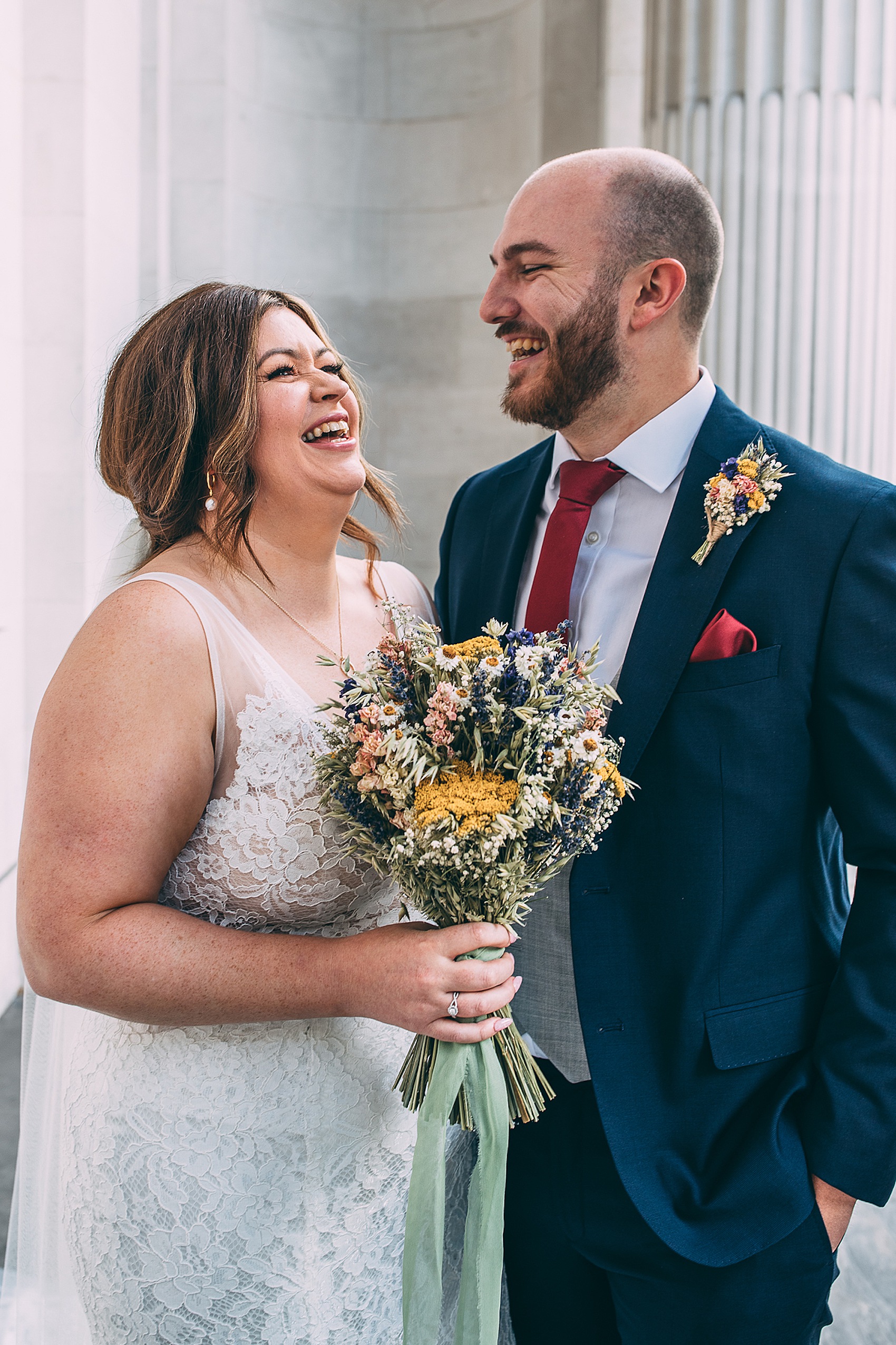 "The Town Hall was amazing. They had plenty of signage and measures onsite to help with social distancing and keeping guests safe. They were also very clear with room capacity and allowing couples to make changes as needed."
"Our room had a normal capacity of 100 which was reduced to 26. We had 15 guests in total."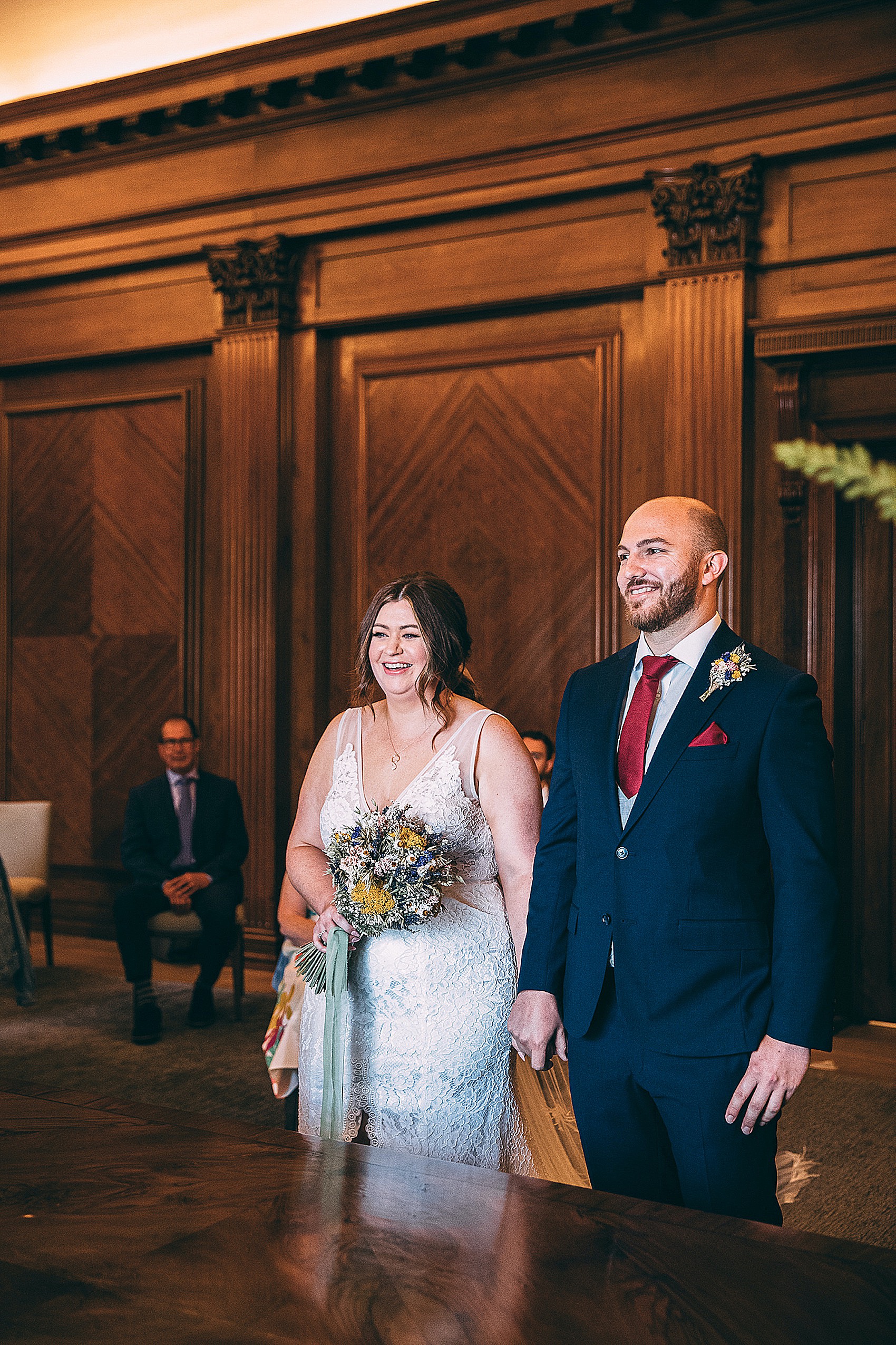 "We walked down the aisle to a piano cover of 'Can't Help Falling in Love'. As we had to get married with the legal minimum we couldn't add any additional vows or readings. The registrars had script options though and we opted for the modern script."
During the ceremony, James and Laura exchanged rings from Fraser Hart.
"We found our rings by complete chance looking at engagement rings in Croydon. We were not expecting to find anything and we came out with an engagement ring and our wedding rings!"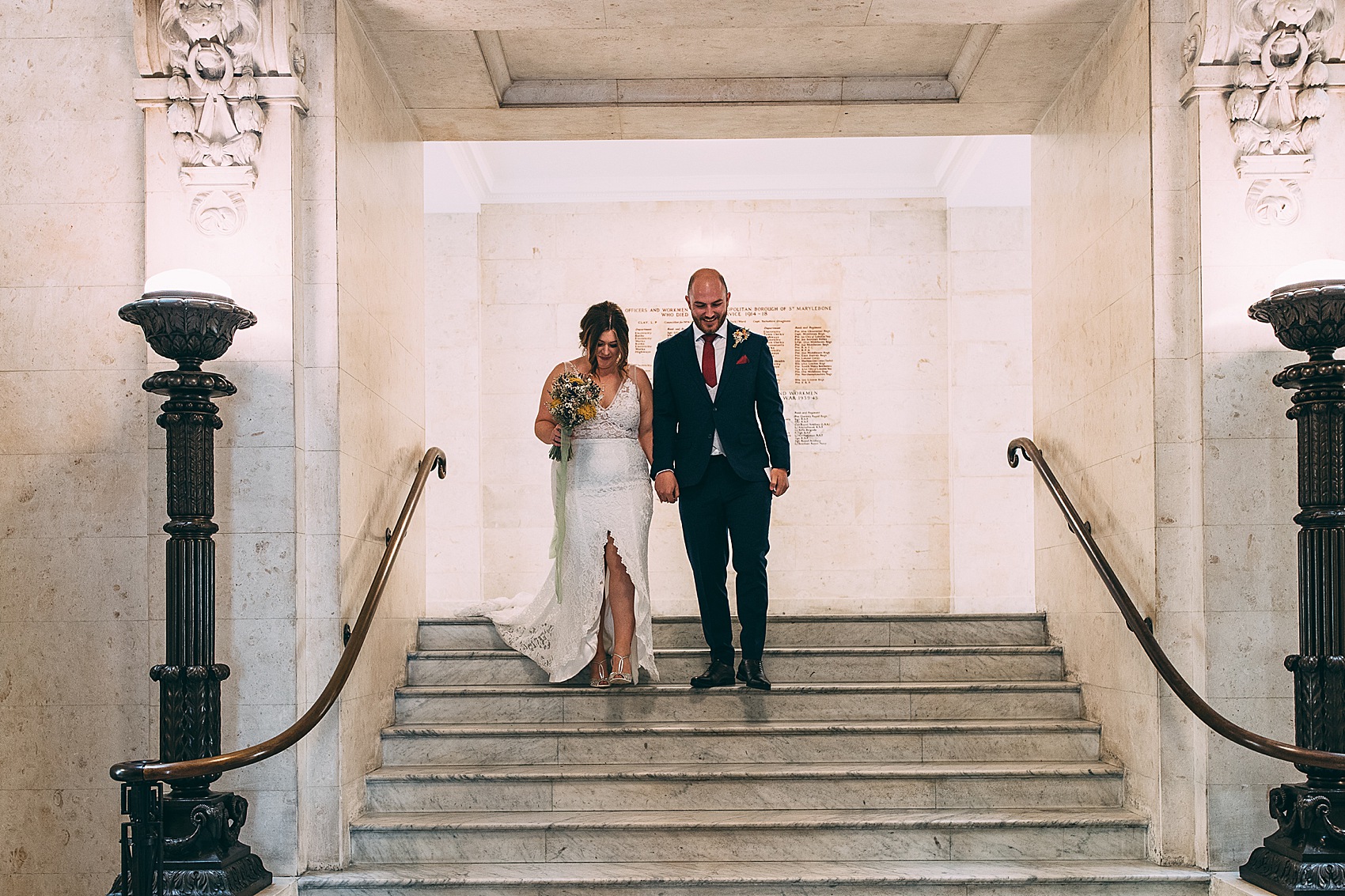 In a beautifully colourful touch for summer, Laura selected fresh green gowns for her bridesmaids. I love the touch of sass that comes from their sweet, personalised jackets.
"When I was first trying on wedding dress options with my sister she tried on a wrap dress in & Other Stories and loved it. I ordered it for everyone to try on together along with lots of other options and she definitely pushed it as the favourite. It worked so well though for how our day ended up."
"I bought my bridesmaids beaded bridesmaid bags from Accessorize as part of their gifts when I asked them to be bridesmaid. They all wore their own shoes. I really wanted Beespoke denim jackets but didn't have a long enough lead time so made my own with iron on letters."
I know so many couples have drawn support and strength from our Love My Dress Private Facebook Group and Laura was one of our crowd. Thank you so much, too, for your kind words about Love My Dress.
"I definitely found Love My Dress the most relatable with helpful content. In particular, I loved the piece on not losing weight before the day. I am so grateful for the Facebook community you have created; I'm not sure how most of us brides and couples would have got through this without each other and your support."
"I found Love My Dress completely authentic as it's more from the couple's perspective. I loved any alternative and relaxed wedding inspiration. Not being slim I wanted relatable content to my body shape so spent a lot of time trying to find other brides of a similar size." 
"For us the most important thing was having fun. I knew I didn't want a traditional wedding look – from bridesmaid dresses to our flowers to the style of photography we wanted."
"I had lots of ideas from Pinterest and other people's weddings but it definitely was hard sticking to one cohesive theme and not having a crazy mismatch of ideas."
The couple hired photographer Annie Bradney Photography to document their day in images.
"As we were having a smaller wedding we didn't want a full day of photography and, after doing some research, I came across Annie who does shorter packages for weddings at Old Marylebone Town Hall."
"I absolutely loved her style. It was very unobtrusive with none of the typical cringey wedding pictures that aren't us. She was such a calm presence on the day and made us feel completely at ease. We were absolutely blown away when we received our pictures. She captured the pure joy of the day."
The couple matched on Tinder after Laura had bought her first flat in Croydon.
"We went on our first date at a local restaurant and were pretty much inseparable from then on. Within a year, I sold my flat and we bought our first house together, closely followed by our dog."
"We'd always talked about getting married and eloping as neither of us really felt like we could justify the big expense that comes with a wedding but, we weren't in any rush."
"Then, I was offered a job with my work earlier this year to set up the finance function for our new office in New York so it felt like the right time. We planned everything within about three months and were due to marry in April ahead of our move in June. Then, Coronavirus happened."
Echoing that beautiful gown was her exquisite sheer train from yet another of our Little Book directory members, Ashley Wild Bridal. If you like these designs, why not take a look at her page on our Little Book here?
"I had the most amazing veil from Ashley Wild Bridal. With changes in dress came a change in veil. I really struggled choosing a veil as she had the most amazing designs but I was really drawn to the feathers so went with Mae in the cathedral length."
"Ashley was so patient when I kept chopping and changing my mind and was so un-phased by it. Ashley also designed and made me a custom barrette clip to match my shoes. It was absolutely stunning and something I'm going to wear over and over."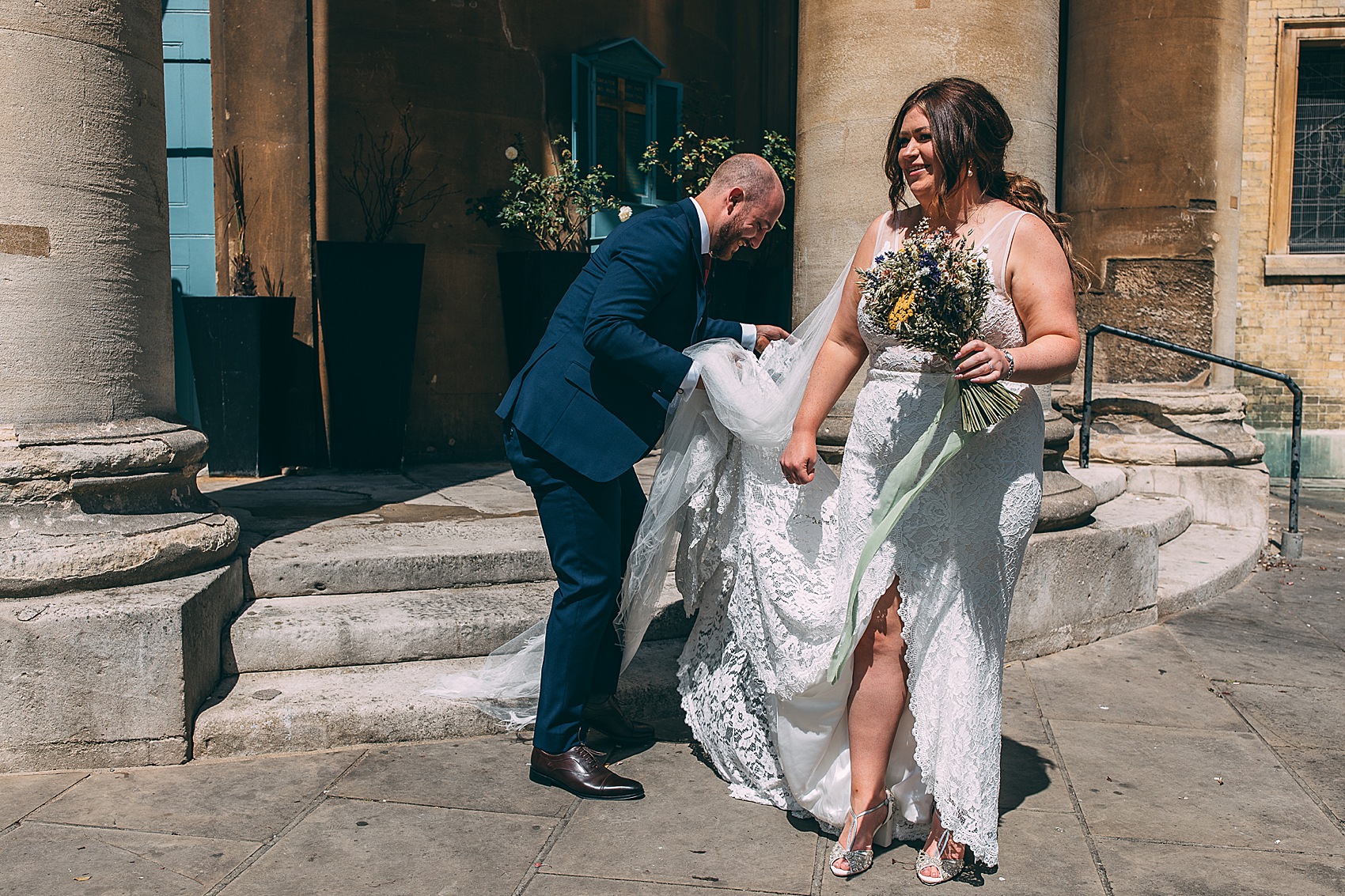 James look super-dapper in his deep blue suit and soft grey waistcoat combination.
"I sent James and his groomsmen into town to go and pick something. My only request was a waistcoat. His brother took charge and found them lovely suits in Moss Bros. The groomsmen had matching waistcoats and James had a light grey one."
Choosing dried flowers means that Laura can enjoy them as a lovely keepsake of her and James' wedding day. She asked The Artisan Dried Flower Co to put together her dainty bouquets.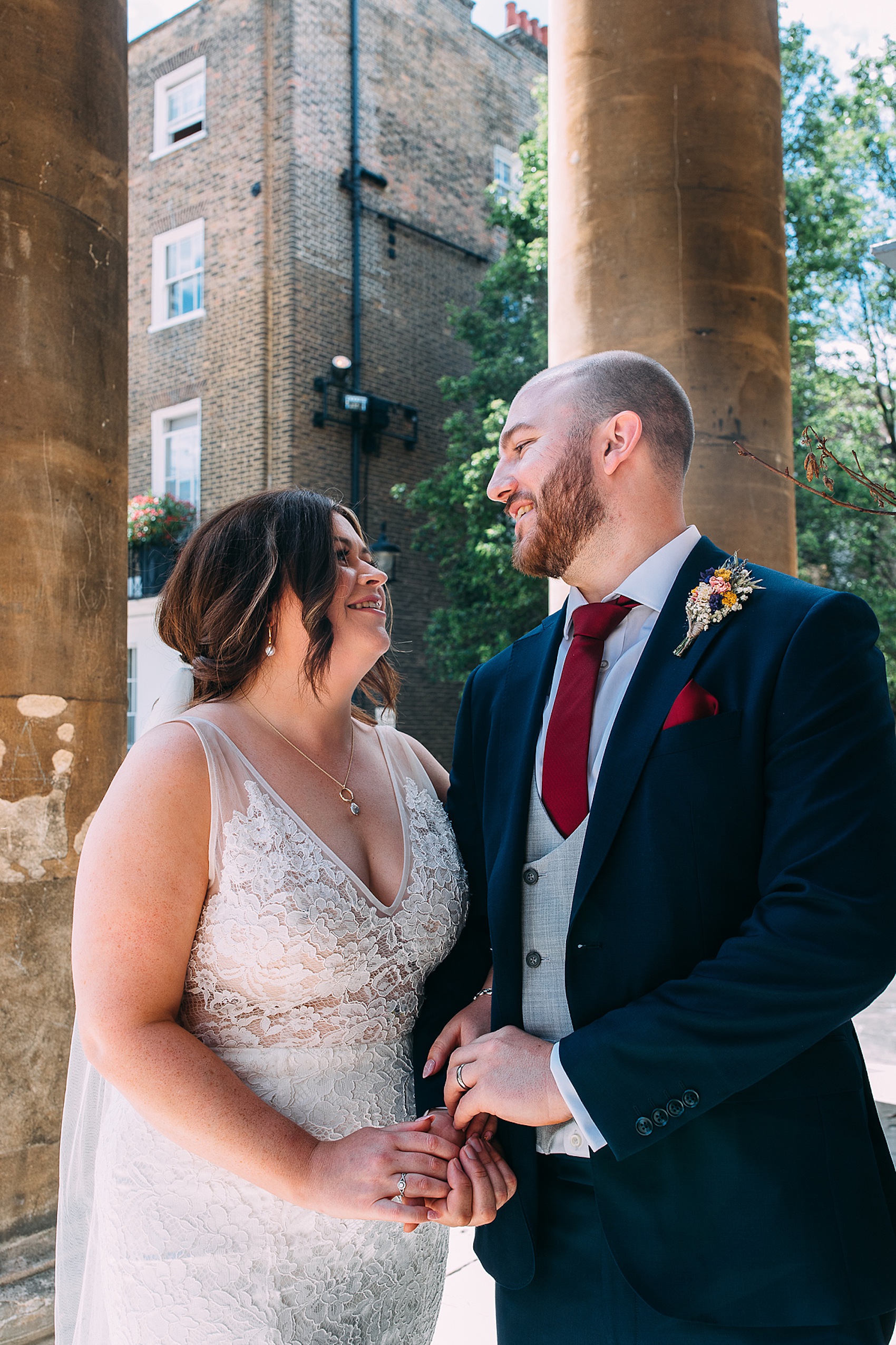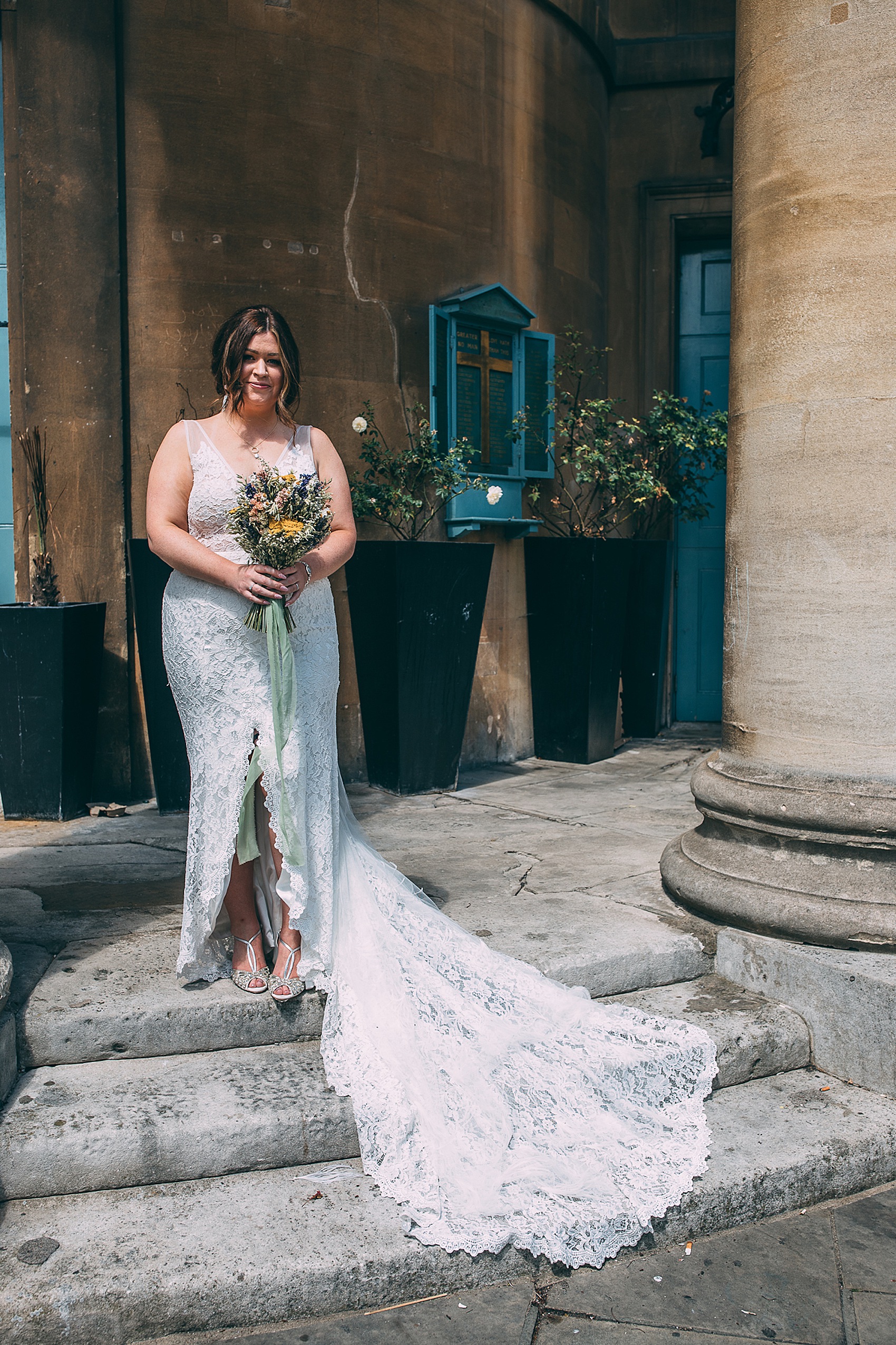 "I opted for dried flowers as it felt like an easier and more cost-effective option. I'm glad I did as they arrived in March ready for our April wedding. I love that they're long lasting and are now in a vase in our living room."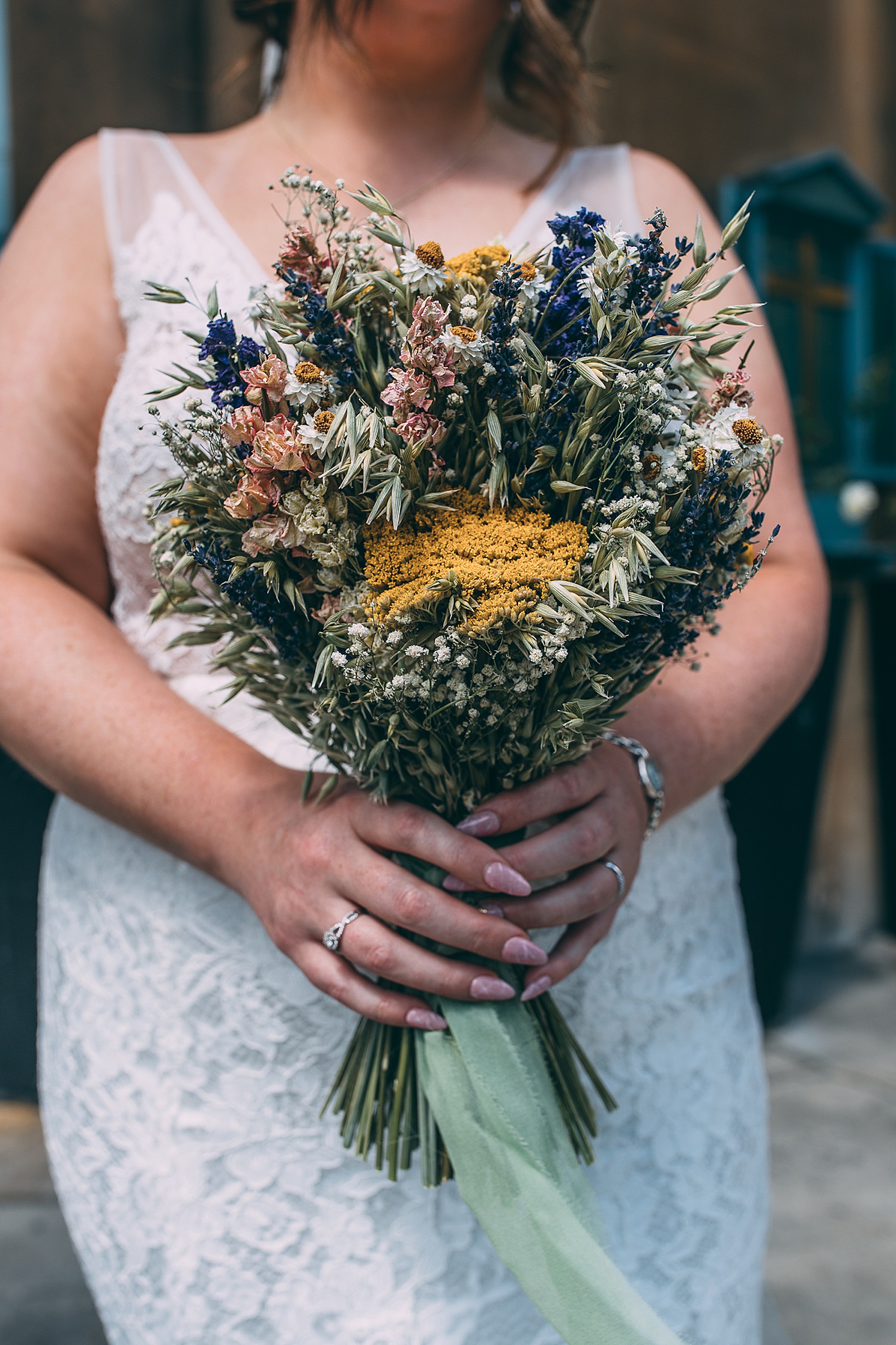 Instead of a formal reception, the newly-weds invited their guests to enjoy them for a socially-distanced picnic in Hyde Park – what a way to relax and enjoy the beautiful summer day.
"We had a picnic with blankets all spaced out into groups of six, each two meters apart from each other, to help keep social distancing. We also went with being outdoors which was safer again."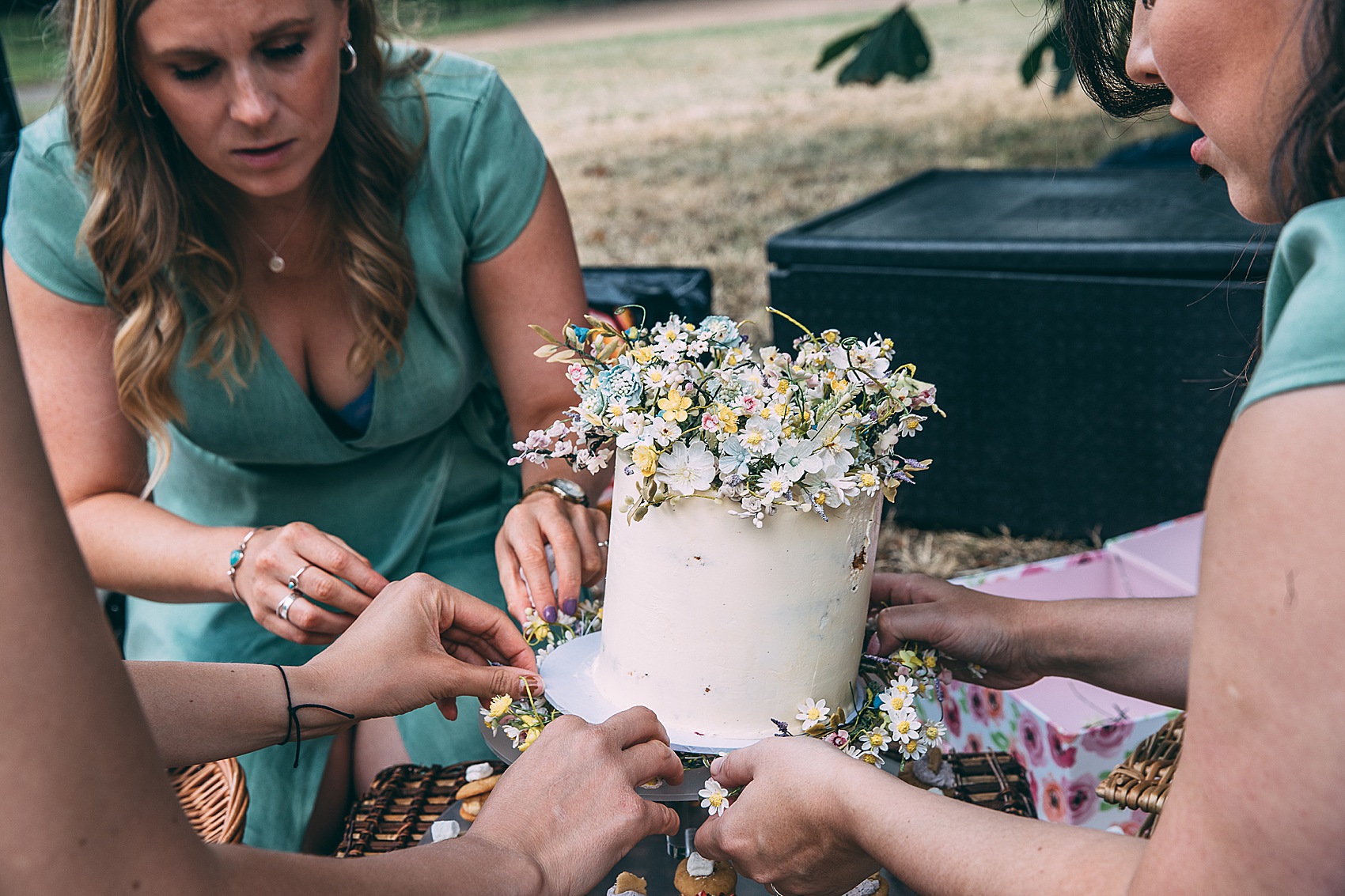 "We used a company called Pique. They set up picnics in London parks and also do wedding catering. We opted for the picnic as it was easier to sit people in separate groups."
"Pique set up four individual spots each with a picnic hamper filled with food. We decided to bring our own drinks but they provided us with cool boxes to keep them chilled. The food was amazing and everyone loved it."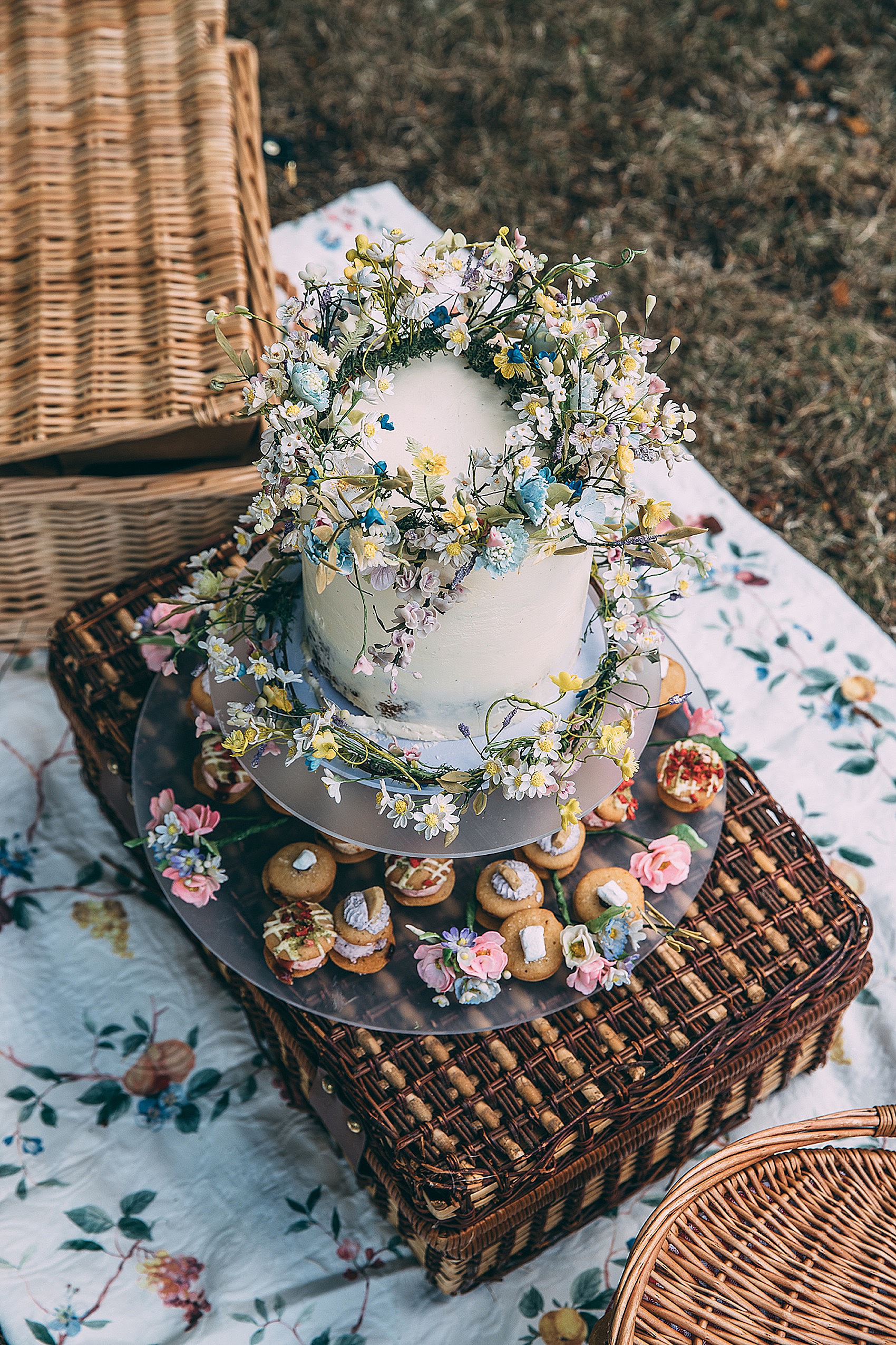 The wedding cake looks absolutely charming displayed alongside traditional wicker baskets.
"James can't eat gluten so I wanted a gluten-free cake. Cutter & Squidge has a great selection. I've had their biskies before too and replaced my original donut tier idea with these."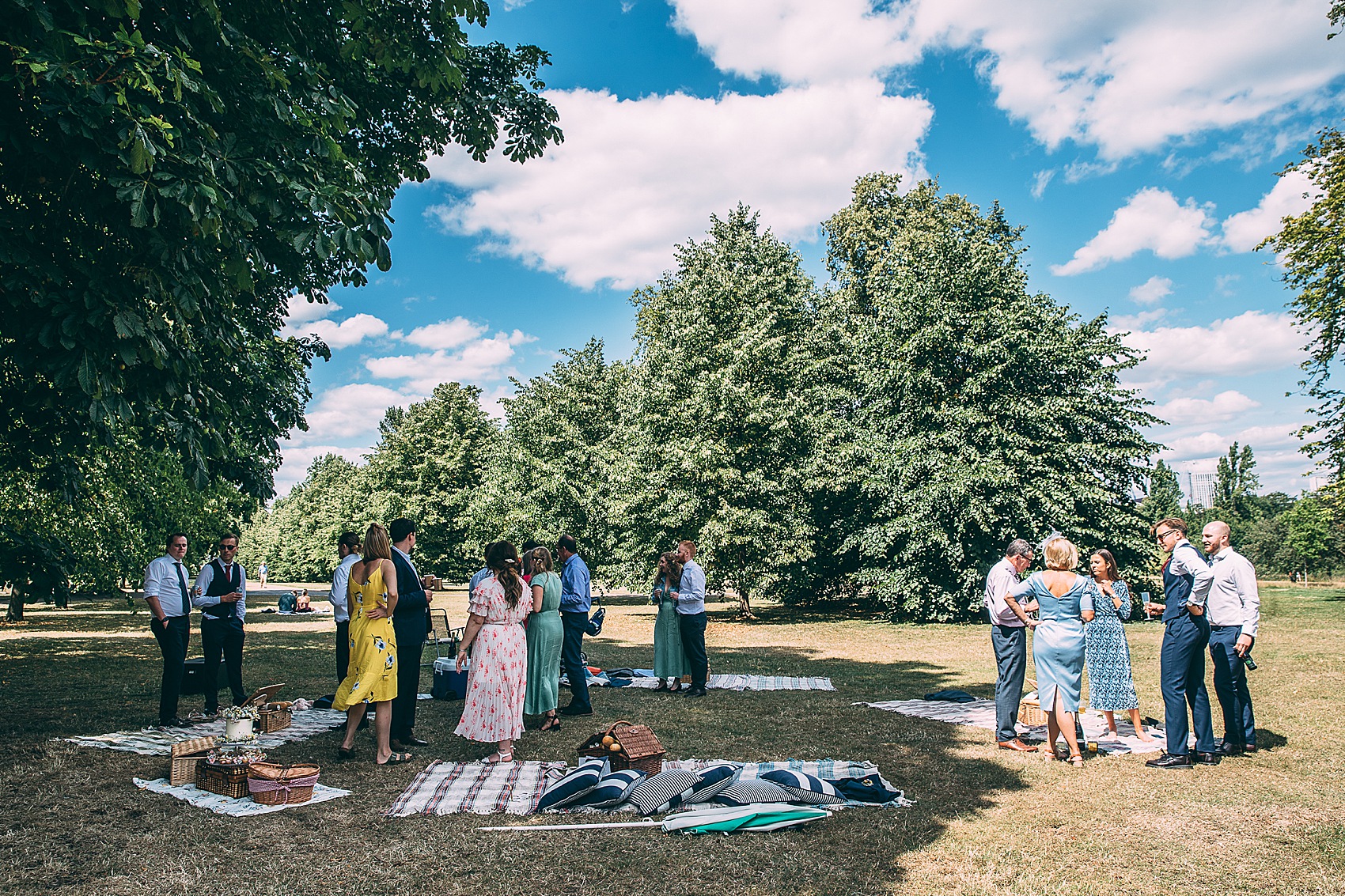 "My maid of honour lent me her cake decorations from Amy Swann, who I reached out to for some additional individual flowers to decorate the tiers. The cake was delicious. James' mum took a huge slice home for his nan who normally doesn't eat a huge amount but apparently ate the whole piece."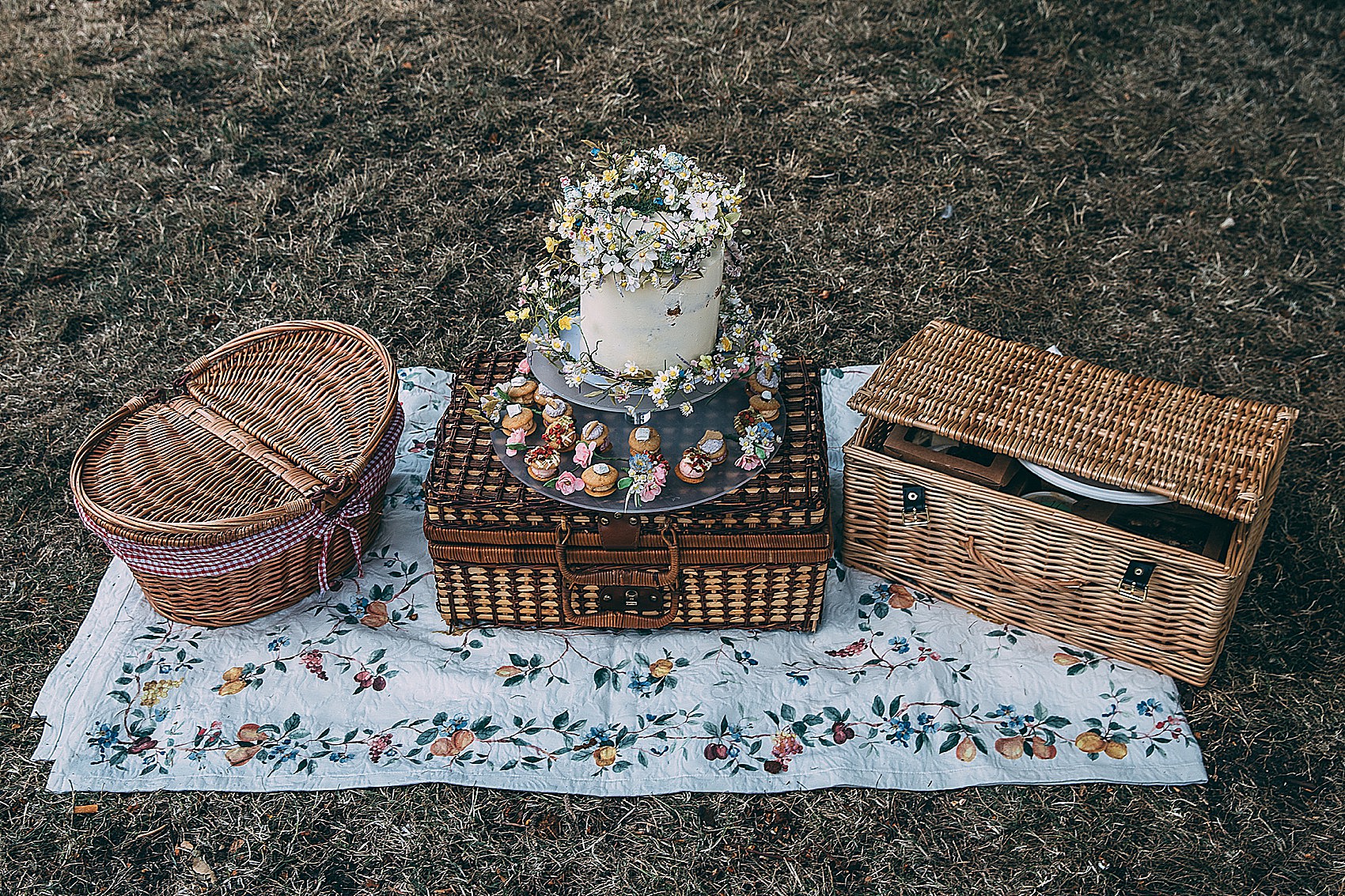 "Everyone tried to bully us into doing our first dance in Hyde Park but we refused and want to save it for our bigger celebration."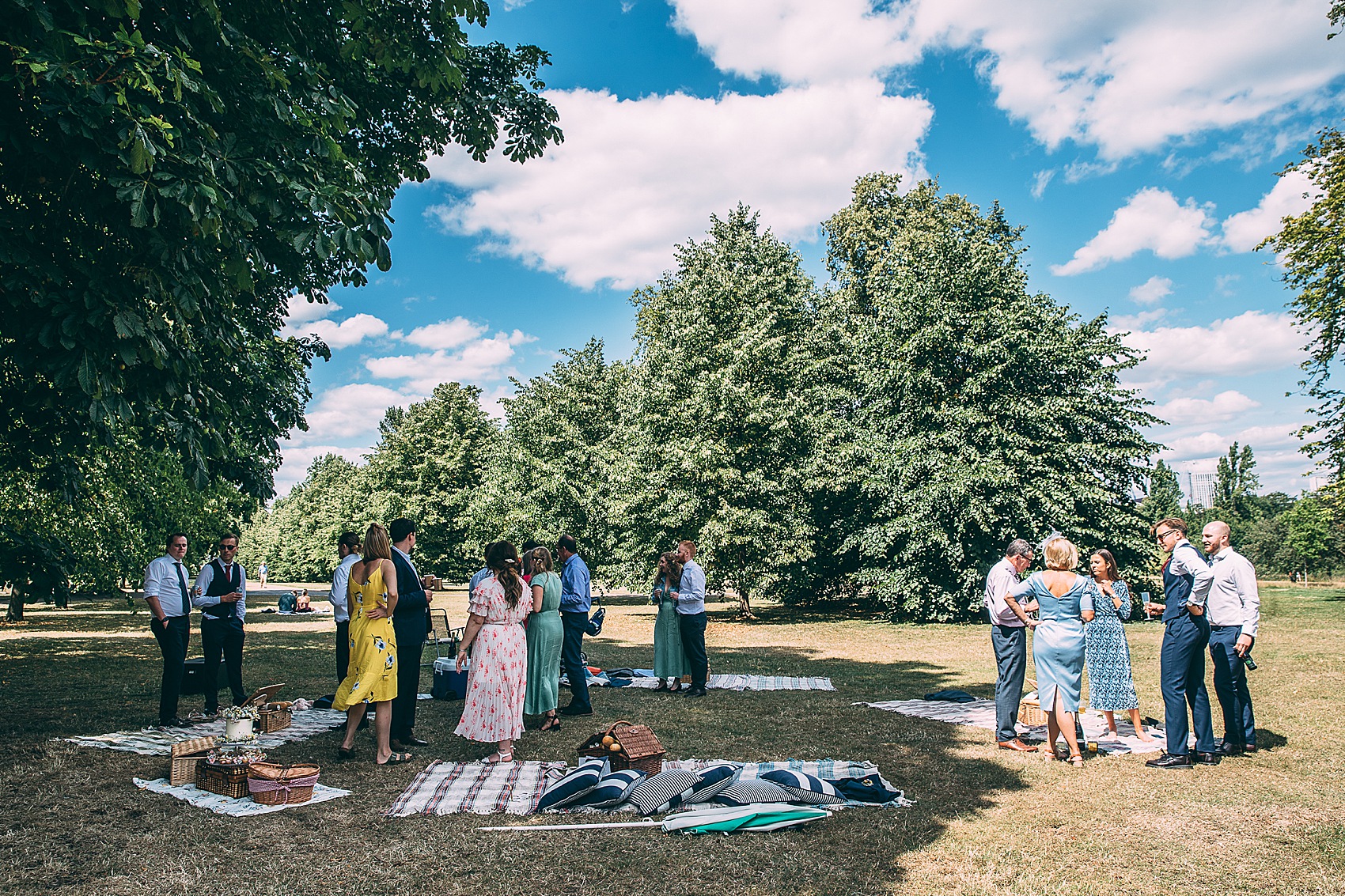 Words of Wedded Wisdom
"Go with your gut. If something doesn't feel right or it's not what you want, don't do it. It's your day and it's so easy to worry about what everyone else thinks or wants that you lose sight of your own vision for the day."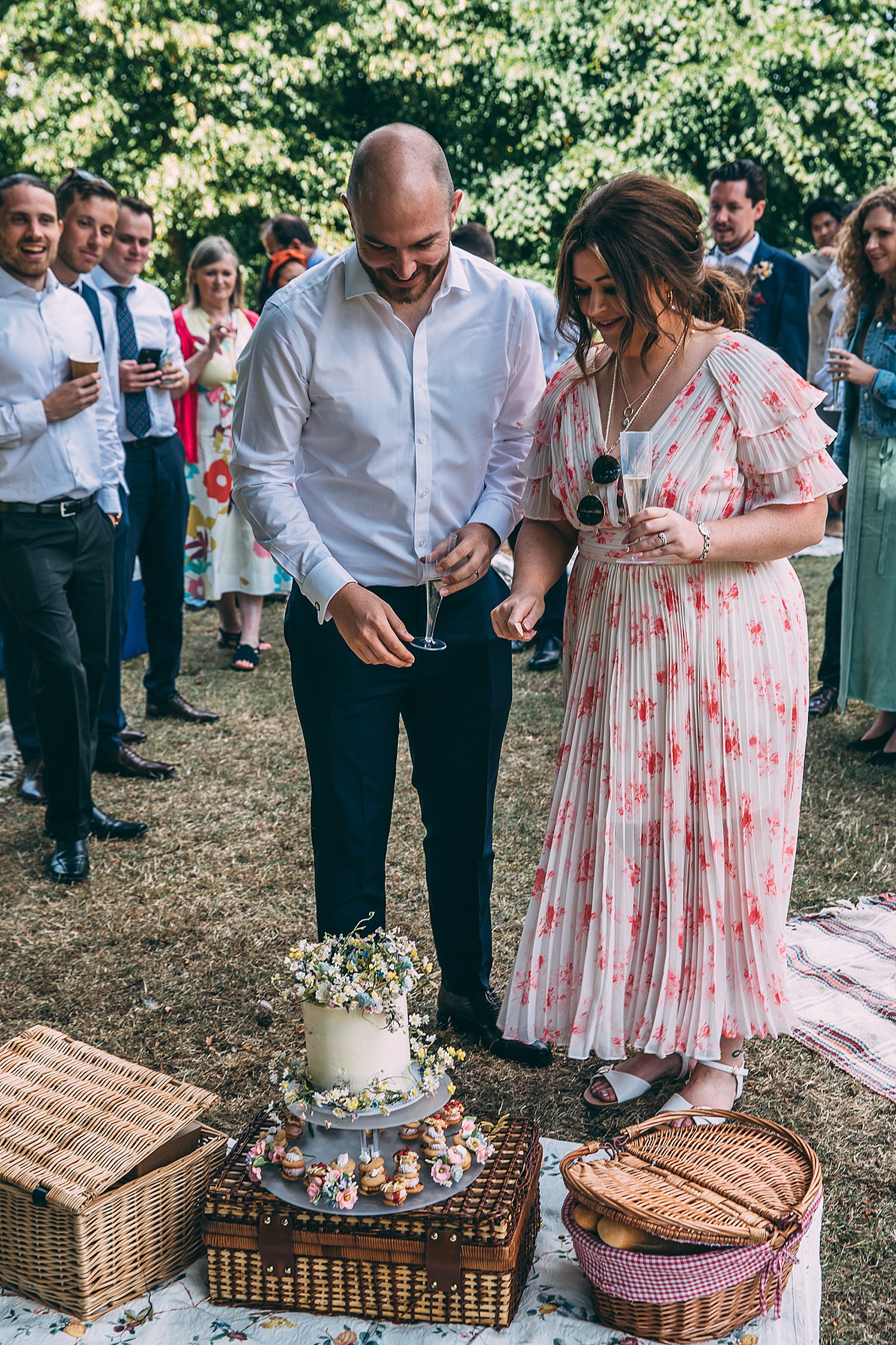 What a breath of fresh air your celebration has been for us today, Laura and James. I love the whole relaxed vibe and the picnic is such a laidback way to spend time with your guests.
Thank you so much for sharing your wedding planning experiences, and these beautiful photographs too; thank you Annie Bradney Photography.
For more gowns by Made With Love Bridal, check out this selection on Love My Dress, and don't forget you can get ideas for your own non-traditional celebration here.
Love, Ele xx