I have the utmost pleasure of whisking you away up to the sweeping Scottish countryside today for an effortlessly elegant barn wedding which I think you're going to love.
Please meet today's happy couple; Kirsten, a senior marketing executive and Colin, an accountant, who wed on 21 September 2019 in the gorgeous setting of Pratis Barns near Leven in Fife, Scotland.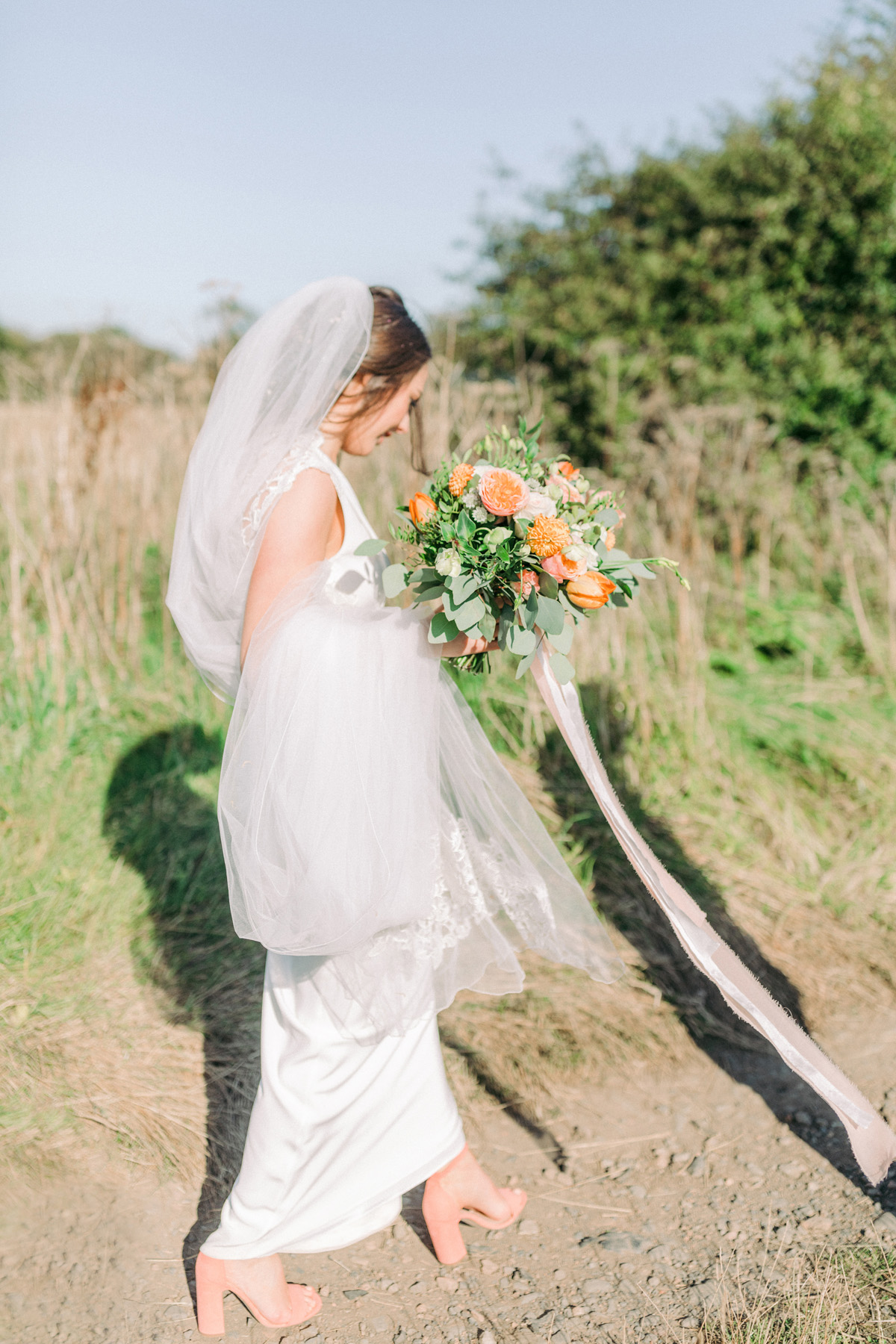 The couple hired the very wonderful The Gibsons to capture their day in images. We are thrilled to be able to recommend The Gibsons through our wedding directory and adore their light, romantic and luminous photography style.
"I knew straight away that I wanted to book The Gibsons. They have a gorgeous style that's really natural and relaxed. All their photos are full of light and aren't 'posed'."
"Throughout the day they were amazing to have around. They didn't feel intrusive and were there at just the right moments."
"It seems a shame to say, but you hardly noticed them all day – which meant we got some amazing images of relaxed, laughing and smiling guests."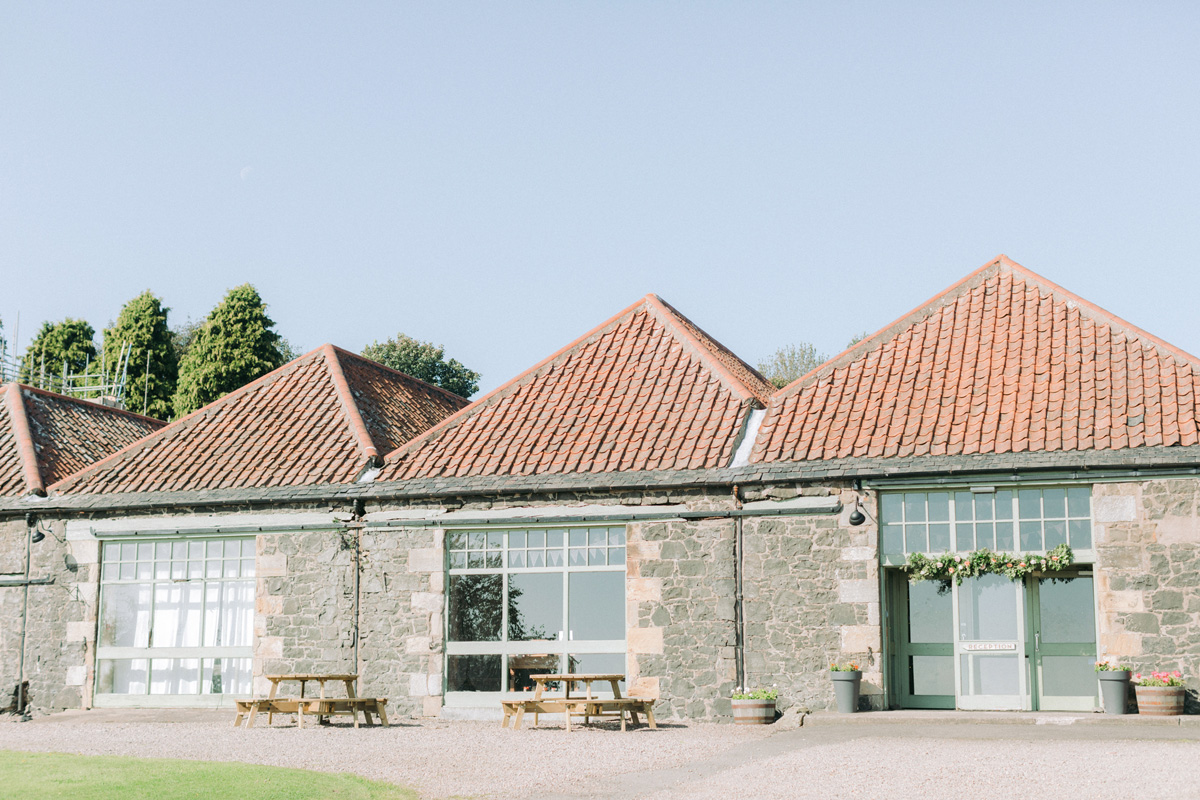 "They also really put us at ease when we did our shots together and I was nowhere near as nervous as I thought I would be. 
"We were laughing and smiling and some of my favourites are when I didn't even know the photos were being taken and we're just caught in a completely natural way."
"They were amazing through the whole process. As soon as we booked them we received a thoughtful 'thank you' package."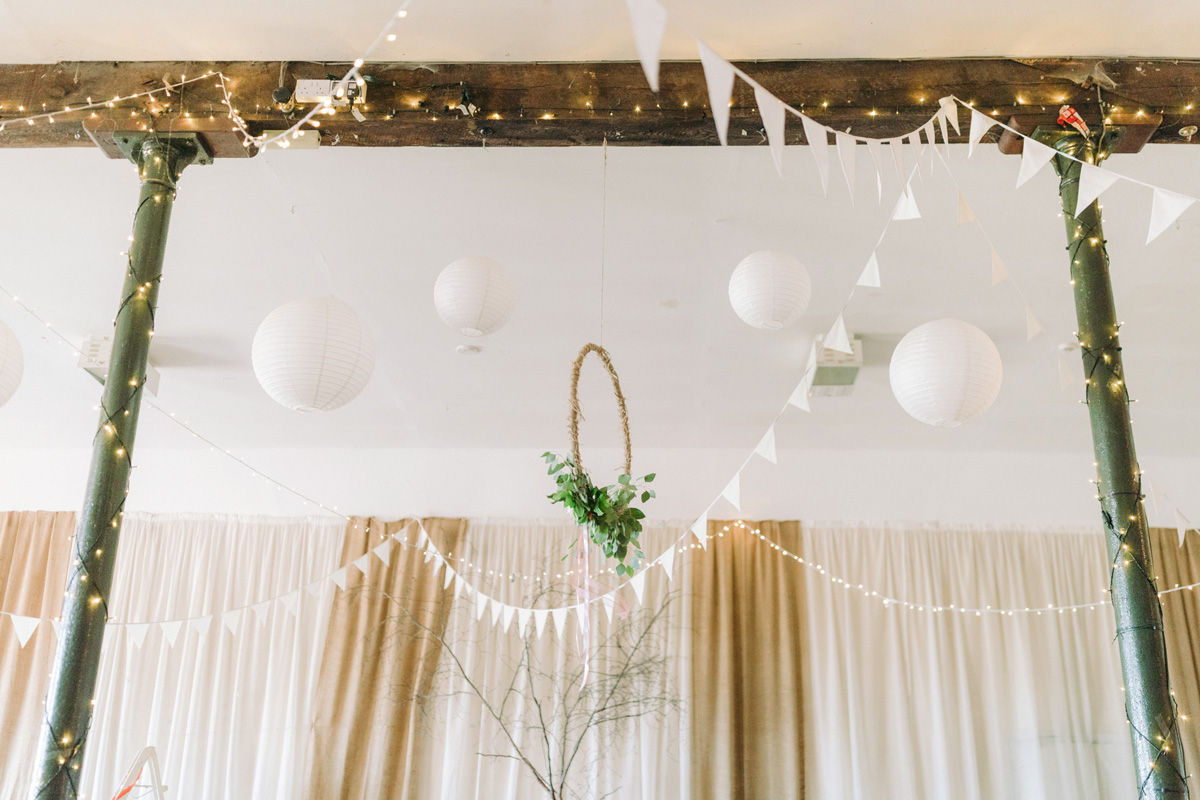 "I adore the colour coral, so this was definitely the driving force behind the look of the day. Everything from the invites, to the flowers and my shoes had a touch of coral in them."
"I really wanted coral shoes and after searching high and low, I found the perfect shade at New Look".
"It's easy to fall into the trap of expecting to spend a lot on your wedding shoes but if it's the perfect pair then it shouldn't matter where they're from!"
Kirsten carefully chose sentimental jewellery which was special to her.
"My rose gold Laings pendant was a gift from Colin on the wedding morning. It matched perfectly with my engagement ring and it was such a beautiful gift to receive."
"It also went with my dress perfectly. It's like a little time capsule and will always remind me of our wedding day whenever I wear it. My earrings were my 'something old'."
"My parents gave me a pair of diamond stud earrings as a 21st birthday present and they were ideal as finishing touches."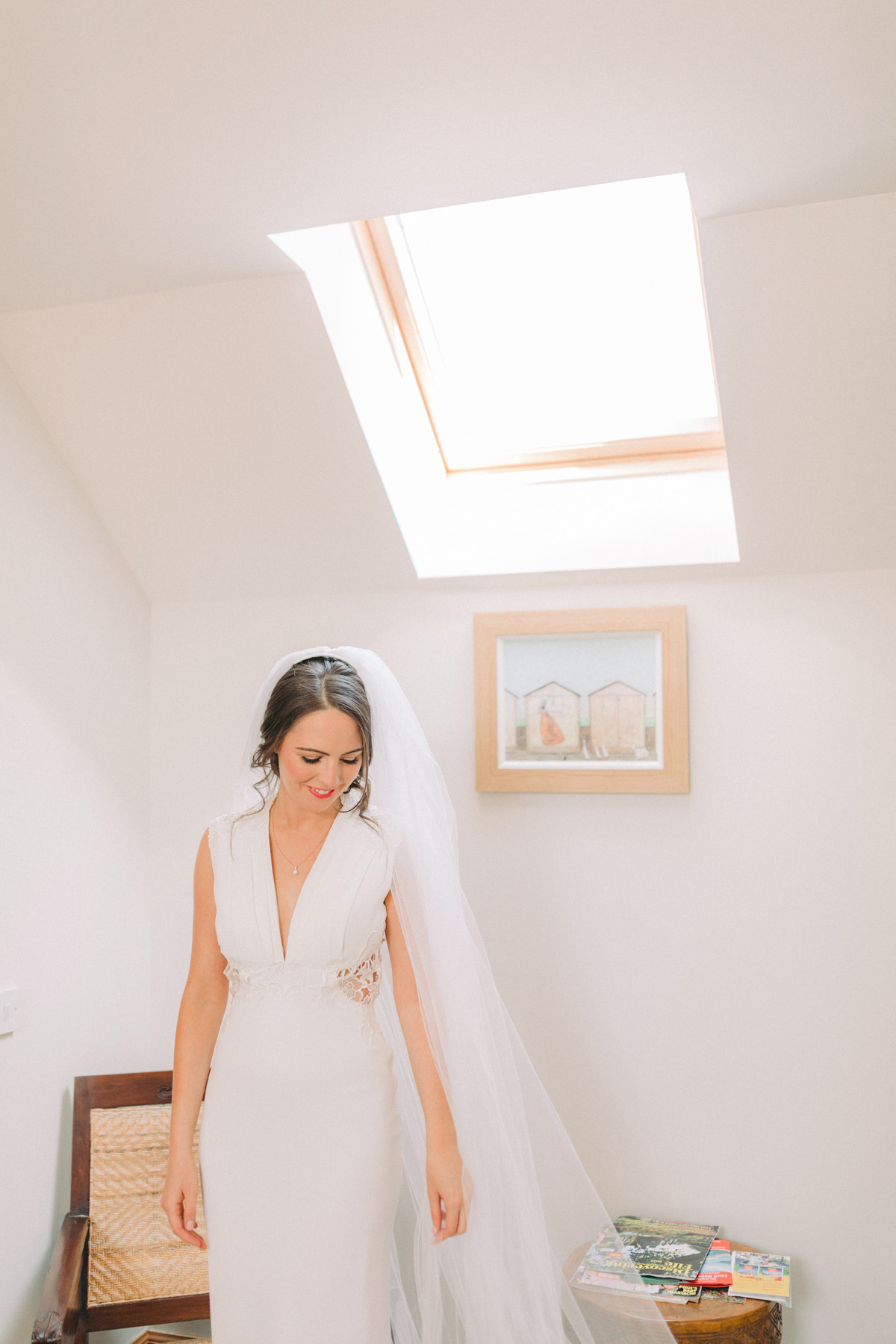 The bride's pure white gown, designed by David Fielden, was found at London boutique Anne Priscilla Bridal and I adore everything about it; from the crisp purity of the colour to the romantic trailing skirt.
"My oldest sister lives in London so I'd set aside a weekend for her to visit and booked the two days full of appointments."
"I kind of knew from the beginning that I would find my dress in Anne Priscilla, but I wanted to make sure I'd seen all of the options."
"I went to the appointment with a picture of the exact dress I wanted and I was almost convinced that that would be the one I walked away with."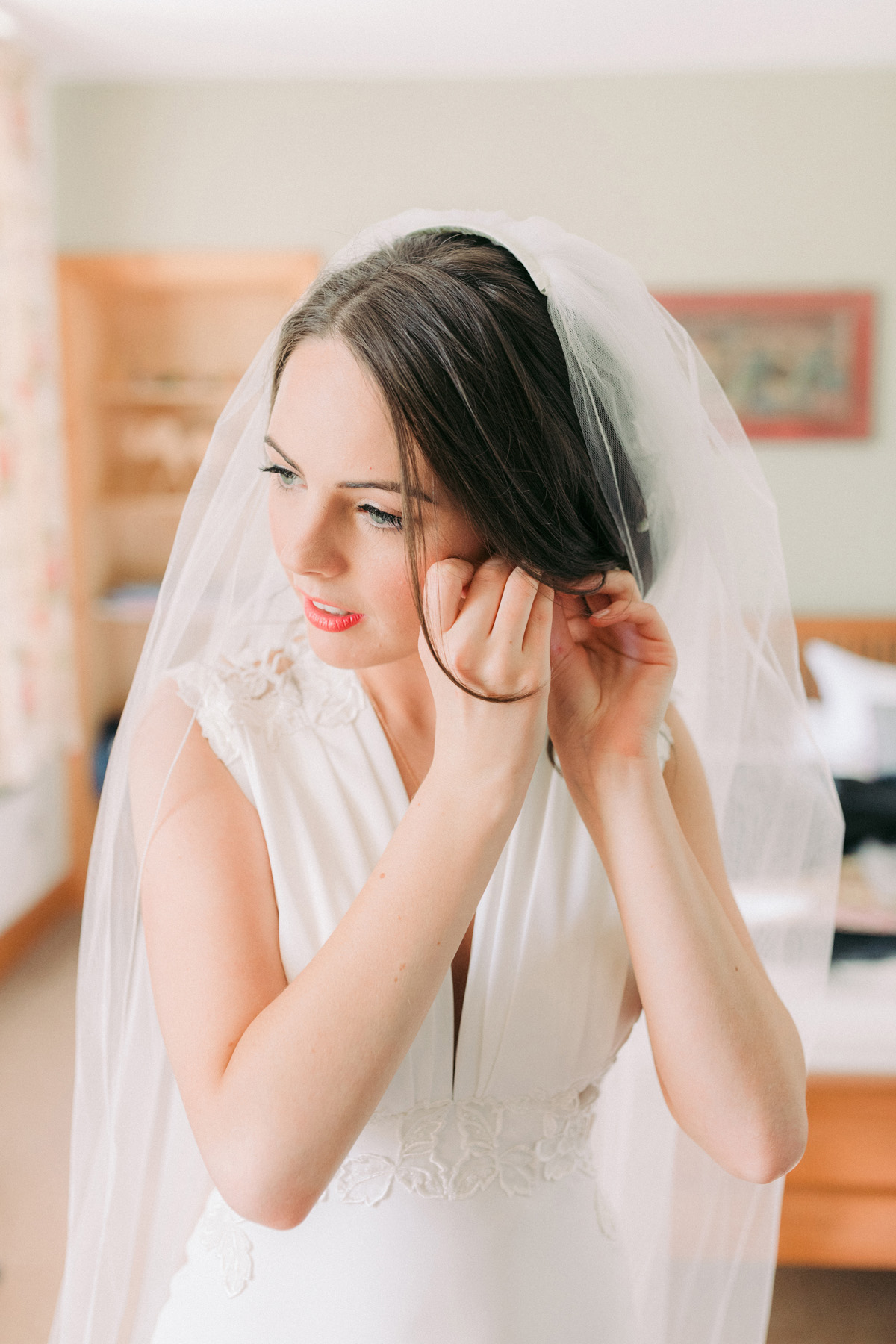 "At the appointment the stylist, Kirsty, was fantastic. She got exactly what I wanted straight away but also guided me through other choices that I perhaps hadn't considered."
"I tried on the dress I had in mind and absolutely loved it! However, there was one more dress to go and as soon as I tried it on everything was up in the air."
"I hadn't wanted a veil but when Kirsty brought out a matching one I knew the whole look was perfect."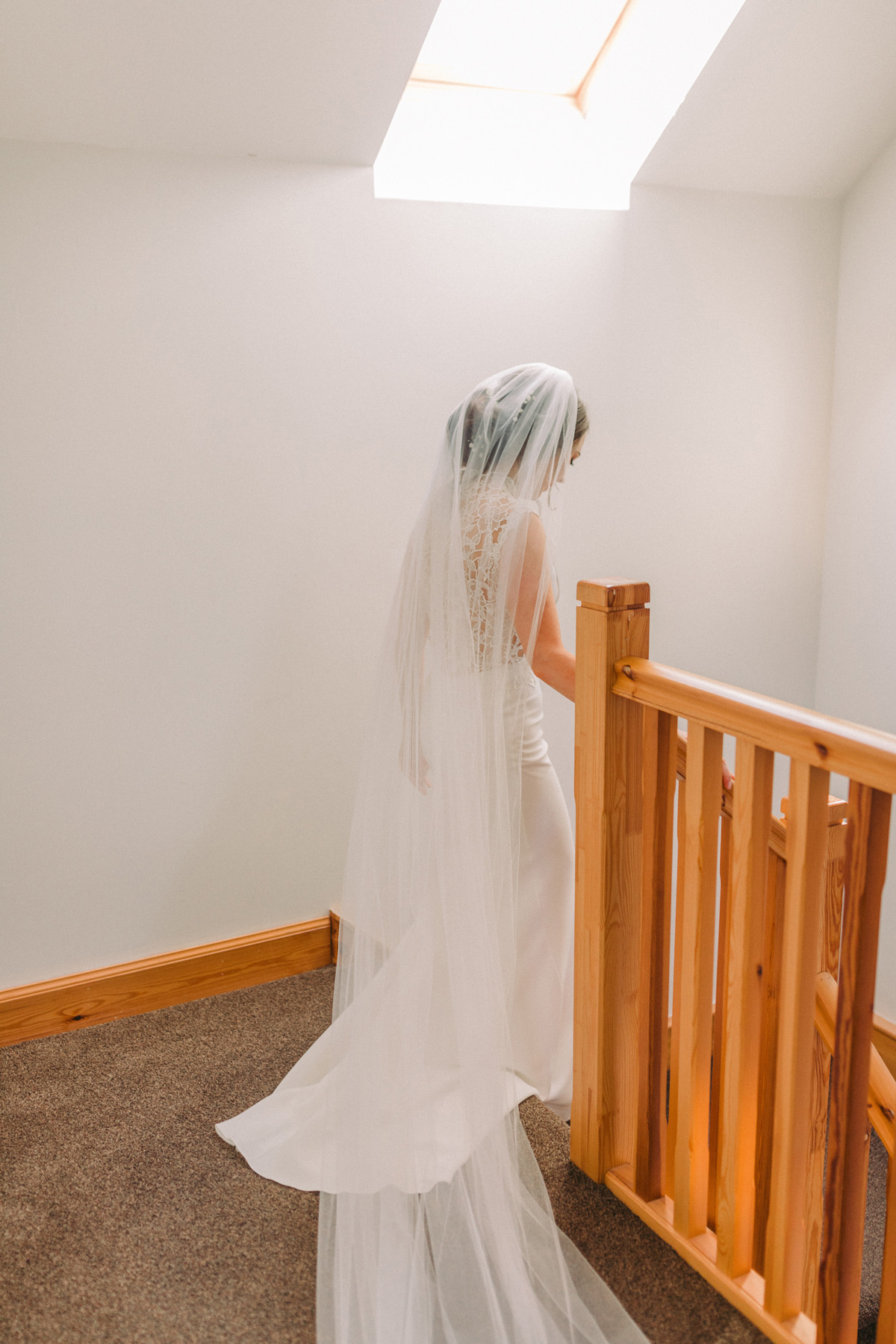 "I would 100% recommend Anne Priscilla to other brides – they were fantastic. The only tip I would give would be to go early in the day."
"That way it feels like you have the shop to yourself and then you also have the whole day to bask in wedding dress excitement!"
"When I first booked my appointment the only guideline I gave was that I wanted something that I could dance in."
"I think it was slightly more formal than I'd first imagined, but Kirsty really helped guide me and picked up on the different things I was looking for."
"I think I loved the lace back the most – it added a bit of 'wow' and on the whole, I felt amazing in it."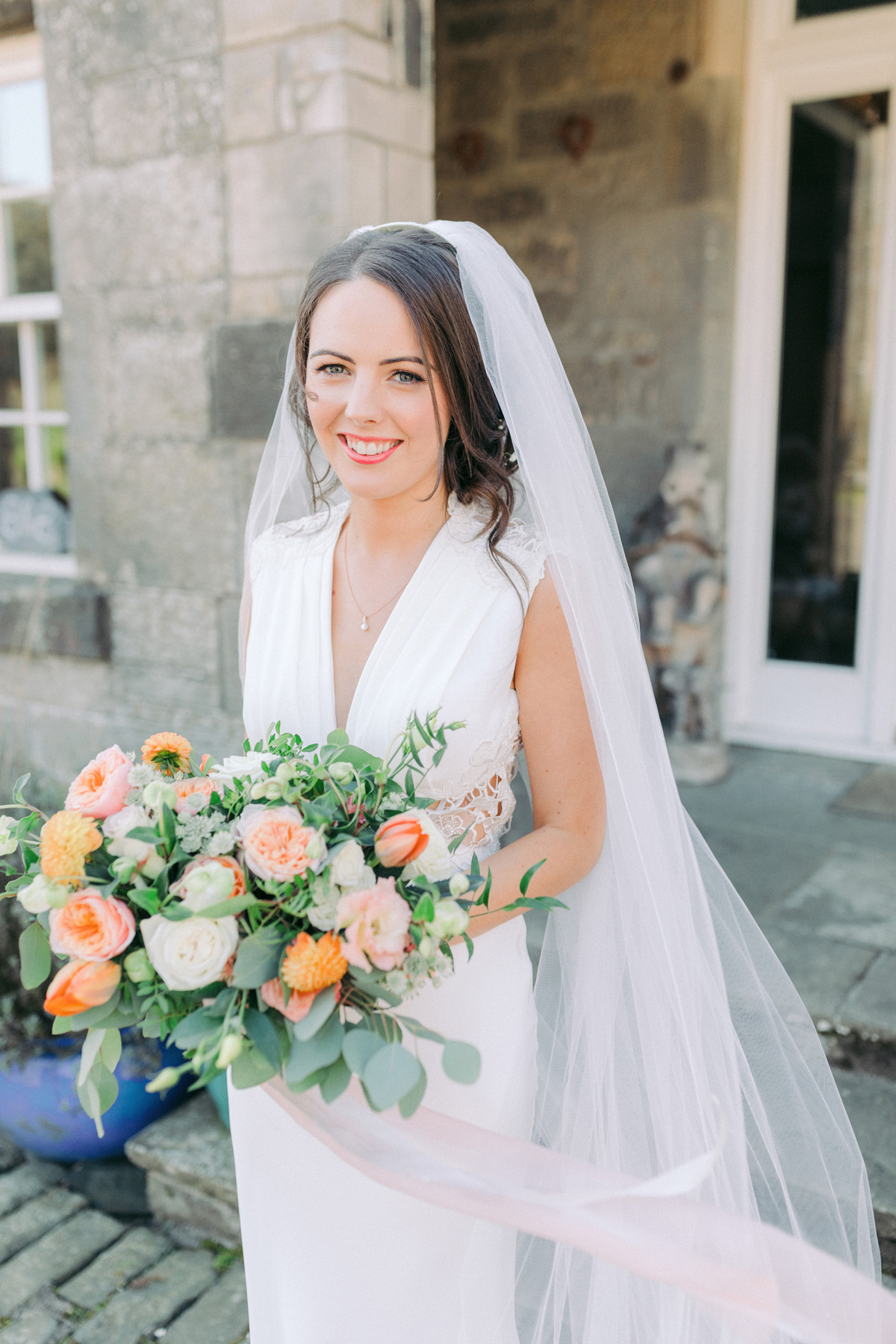 "I didn't originally think I would wear a veil. I was worried that they can look old fashioned and, as we weren't having a church wedding, it could look out of place."
"We made 'promises' to each other – such as always having Nutella in the cupboard and to curb the singing on long car journeys. So many of our guests commented on how lovely the ceremony was as it was so personal."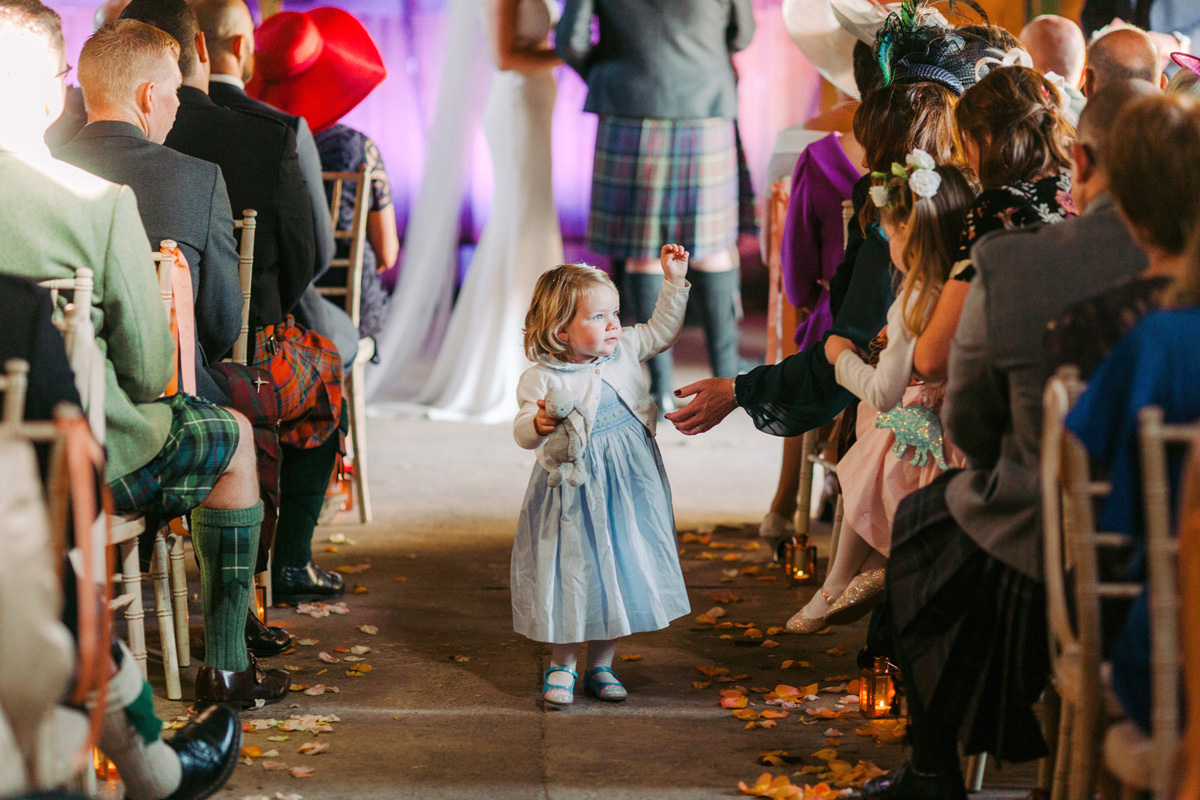 The couple exchanged rings from Laings, making a day of ring shopping at their Edinburgh store.
"I was so excited to go and experience the ring shopping myself, as brides-to-be often miss out on this with the engagement ring. I already knew what I wanted but Colin hadn't even decided if he wanted to wear one at all. Marcus, who helped us, guided him through all the options and was so helpful when it came to choosing."
"I chose a really slim, rose gold band. I always knew I wanted a plain, more traditional style and it sits perfectly with my engagement ring. Colin went for a platinum band with a brushed finish. The brushed finish takes away the more obvious shine and he liked the subtlety of it. He loves his ring and wears it all the time!
Colin opted to wear a Scottish kilt from Kinloch Anderson with all the traditional accessories.
"Colin really wanted to wear his own kilt in his granny's family tartan. My gift to Colin was a new watch from Laings. It has a really classic feel."
"It was so lovely knowing that the watch can be passed down now and will always remind him of our wedding day."
The couple have a long history together, going to school together before eventually getting together at university.
"Colin was a few years older than me and was friends with my sister. At school, there really wasn't anything more than that! We both ended up going to Glasgow University and moved in the same circle of friends."
"One night, Colin asked if he could take me out and I said as long as it was ok with my sister as they were friends first and I didn't want to cause any upset. Little did I know he'd already asked her permission!"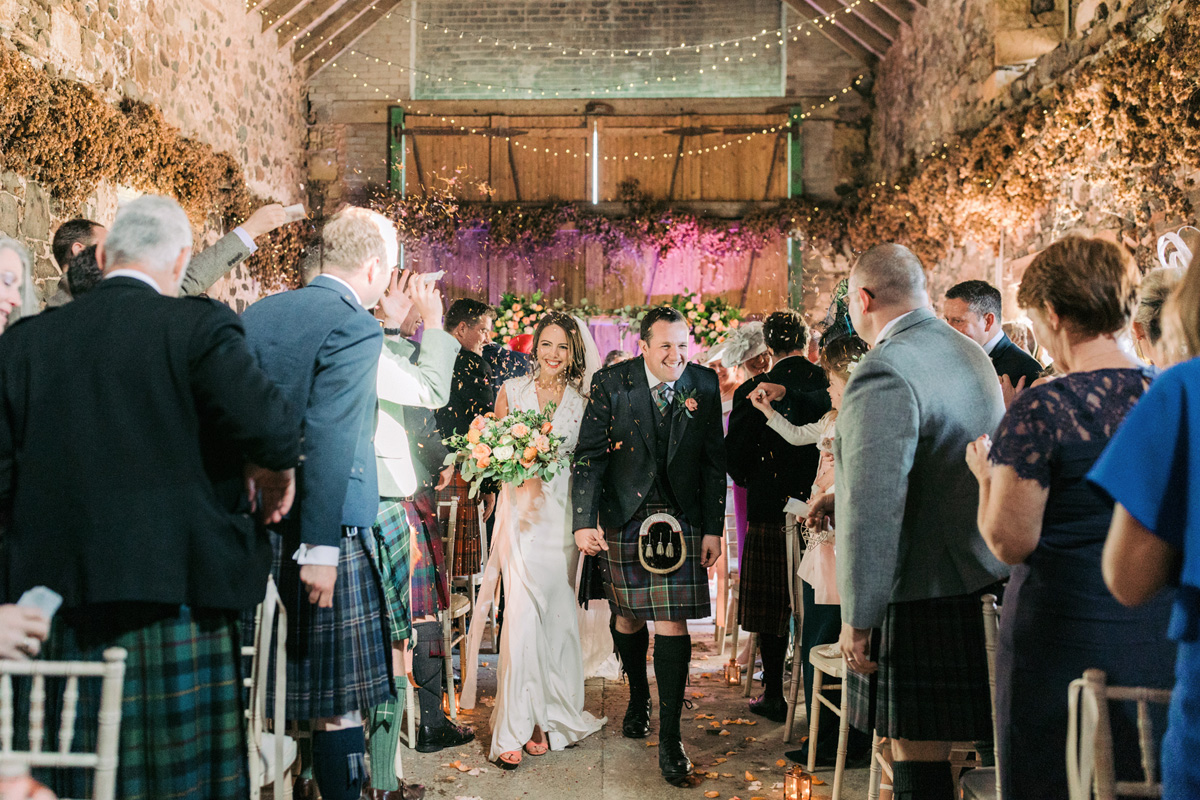 "Pre-engagement we'd been together for seven years. We got together when we were fairly young so there was absolutely no rush."
"There was no pressure and, for both of us, the timing felt right although it was still a huge surprise for me! We got engaged in August in 2017 on holiday on Hvar in Croatia."
Colin rented a private pontoon for the day set over the water. I had no suspicions and relaxed all day. When the sun starting to go down, a bottle of Champagne arrived and then all of a sudden, a diamond ring appeared. We were engaged for two years before the wedding."
After being declared husband and wife, the couple emerged into the sunny September day for photos, a drinks reception, garden games and time to greet their guests.
There was more music from Skara Ceilidh Band as the party tucked into canapés and drinks. 
I love that the bride wore her hair in a loose and relaxed, yet still bridal, style, simply adorned with a sprig of gypsophila. The look was created by Mandy's Hair Ups.
"Mandy is a hair genius! What she can do with hair really is a work of art. I wanted a fairly relaxed style and she made it look gorgeous."
"She was such a pleasure to have there in the morning and helped us to feel really relaxed."
"I kept changing my mind about getting my make-up done for my wedding and was going to do it myself. I was worried about looking too 'done' and my mum wasn't sure and didn't think I needed a make-up artist."
"However, after asking around I decided to book a trail. Sarah Jane Macinnes Makeup got it straight away and created a really natural look that I loved."
"She was so fantastic that my mum ended up getting her make-up done as well. She was a joy to have on the morning and we all had such a relaxed time getting pampered."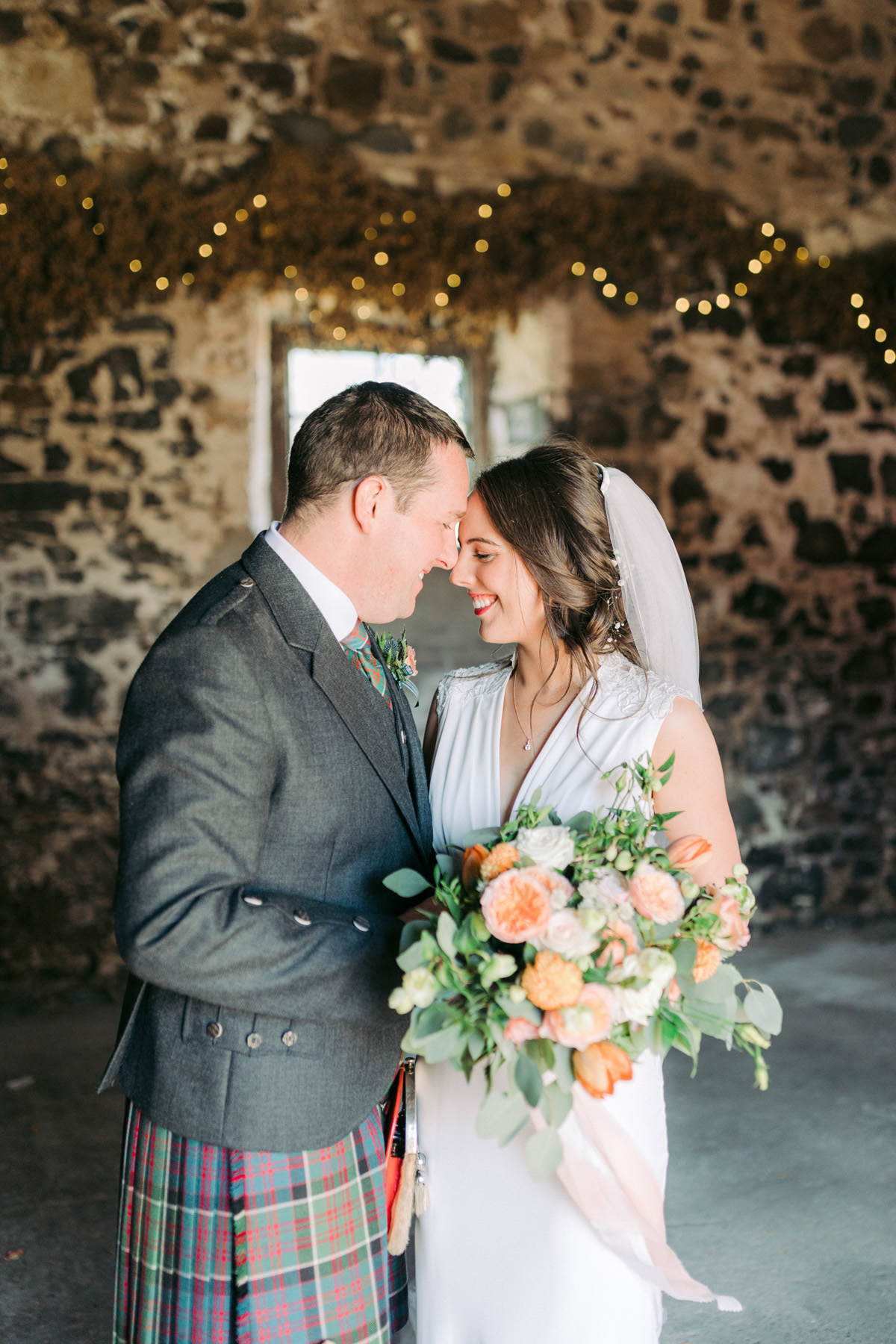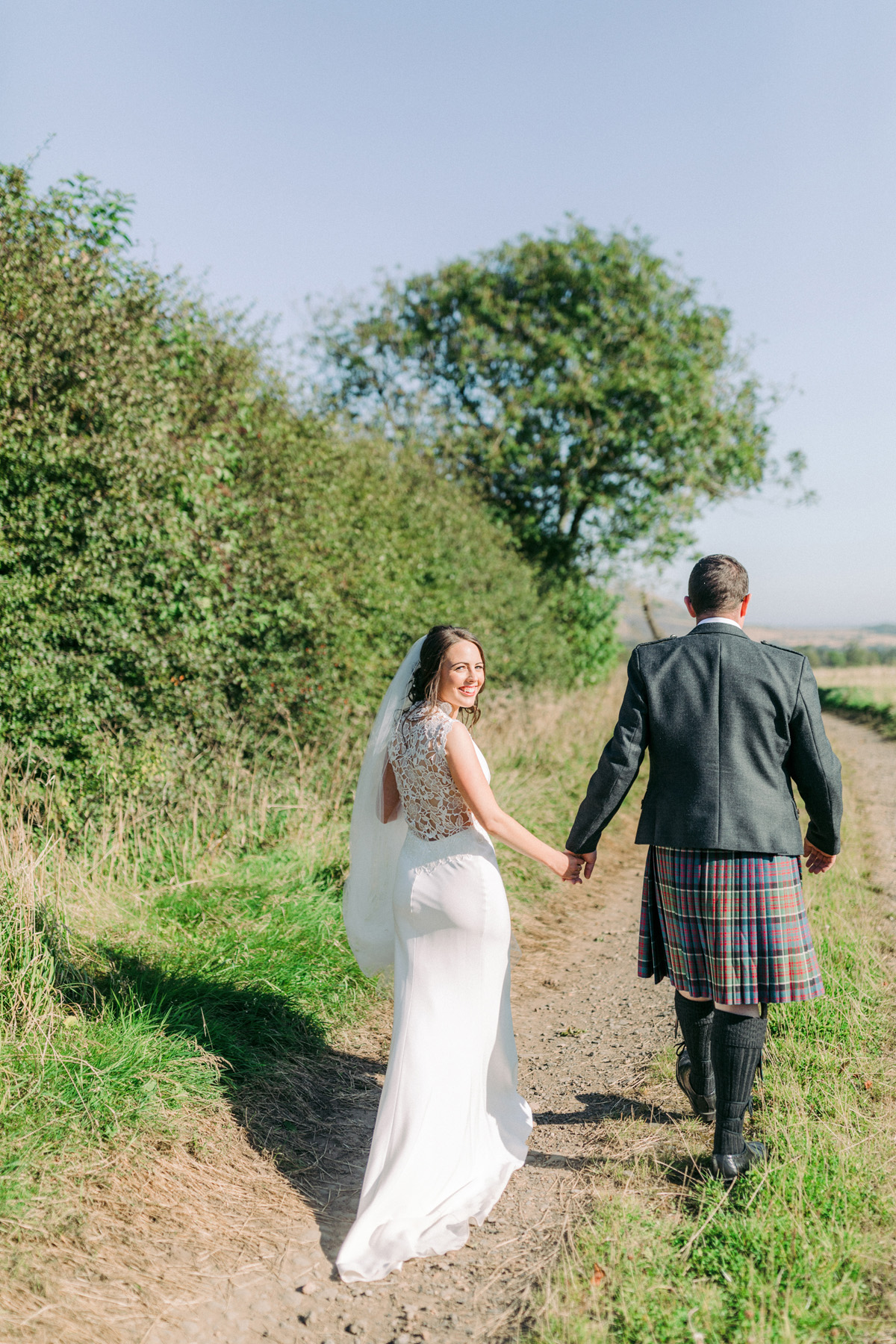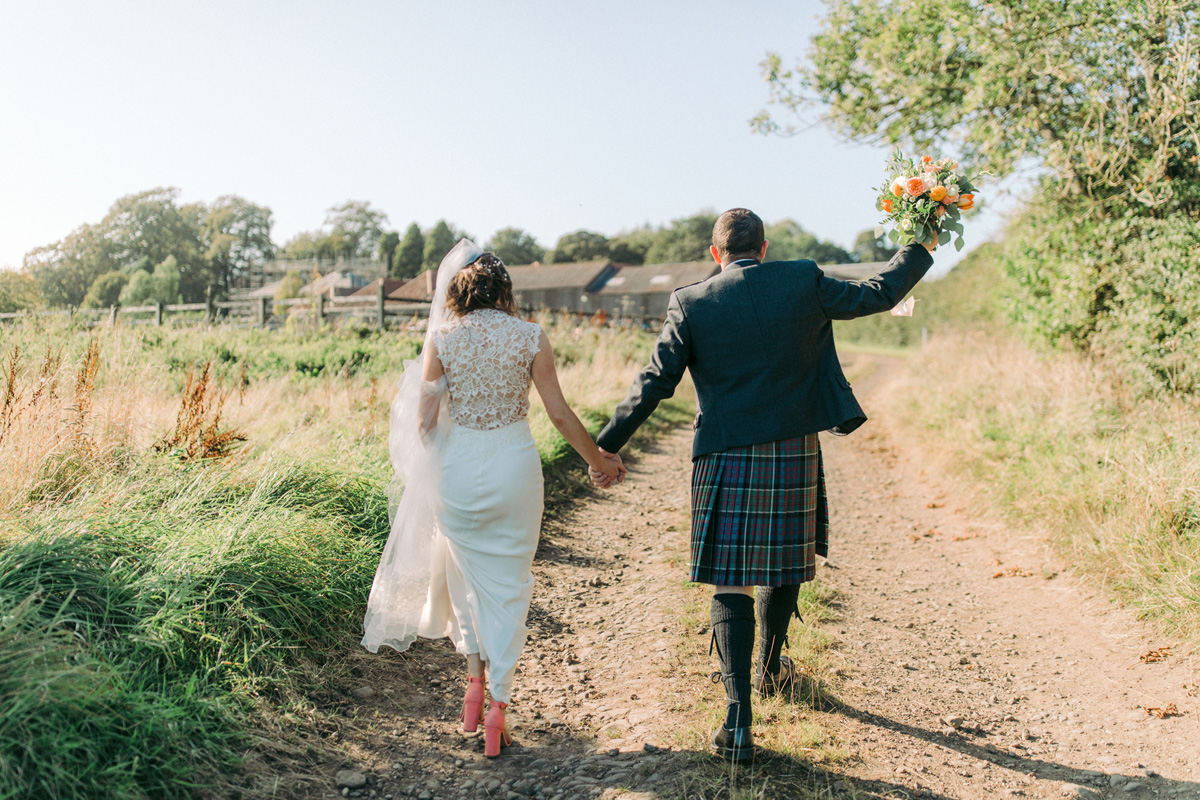 "They're such a kind and thoughtful couple and kept in touch, answering any questions we had (even if they weren't anything to do with the photos!) and after the wedding they sent the most beautiful print and Christmas card."
"The Gibsons would be my first recommendation; I can't express how pleased I am with all the photos. They were even more perfect than I'd dreamed."
"We got a highlight one week after the wedding, which I thought was super quick and fabulous. It was a really special moment looking over them whilst we were on honeymoon in Italy."
I love how this couple put so much love and attention into the details of the day, with a lot of the elements being DIY.
"I designed all the wedding stationery myself and used a local company, Nettl, to print the designs. I have very basic photo-shop skills so I decided as a bit of a money saver to design all of the invites, table plan and table names."
"It was a lot more work than I'd originally thought but it was really nice to create these myself and get them exactly as I wanted them to look. Nettl was great at guiding me through the paper types and sizes."
"I was really pleased with how they looked and it's nice to have a sense of personal achievement with something like that."
"My mother-in-law is a bit of a baker extraordinaire and she made little bags of tablet for every table place. It was a really nice way to add a personal touch and get our family involved in different aspects of the wedding."
"We organised our catering with Regis Banqueting fairly early on. One thing that we wanted to do was a 'sharing main'."
"Big joints of beef arrived at each table and we appointed some to carve, giving them an apron and chefs hat to wear. It was nice to make a part of the meal more interactive, giving people the chance to chat around the table."
The decor was also DIY and wine-related.
"My dad is a wine merchant so wine was a big part of the day. He shipped in all of the wine and we added tasting notes to the back of the menus. We also decorated the venue with thousands and thousands of corks and the reception fizz was coral in colour, just to make sure it went perfectly with everything!"
"We used thousands and thousands of corks to decorate, filling huge vases with corks and fairy-lights. This tied in with the special wine that we were serving, as well as something we enjoy! We also added reams and reams of coral, cream and gold ribbon to tie all the colours together."
"The best bit about Pratis is its 'props room' – filled with all kinds of decorations from previous weddings. We used lots of bits and pieces to add the finishing touches to the venue and they made all the difference."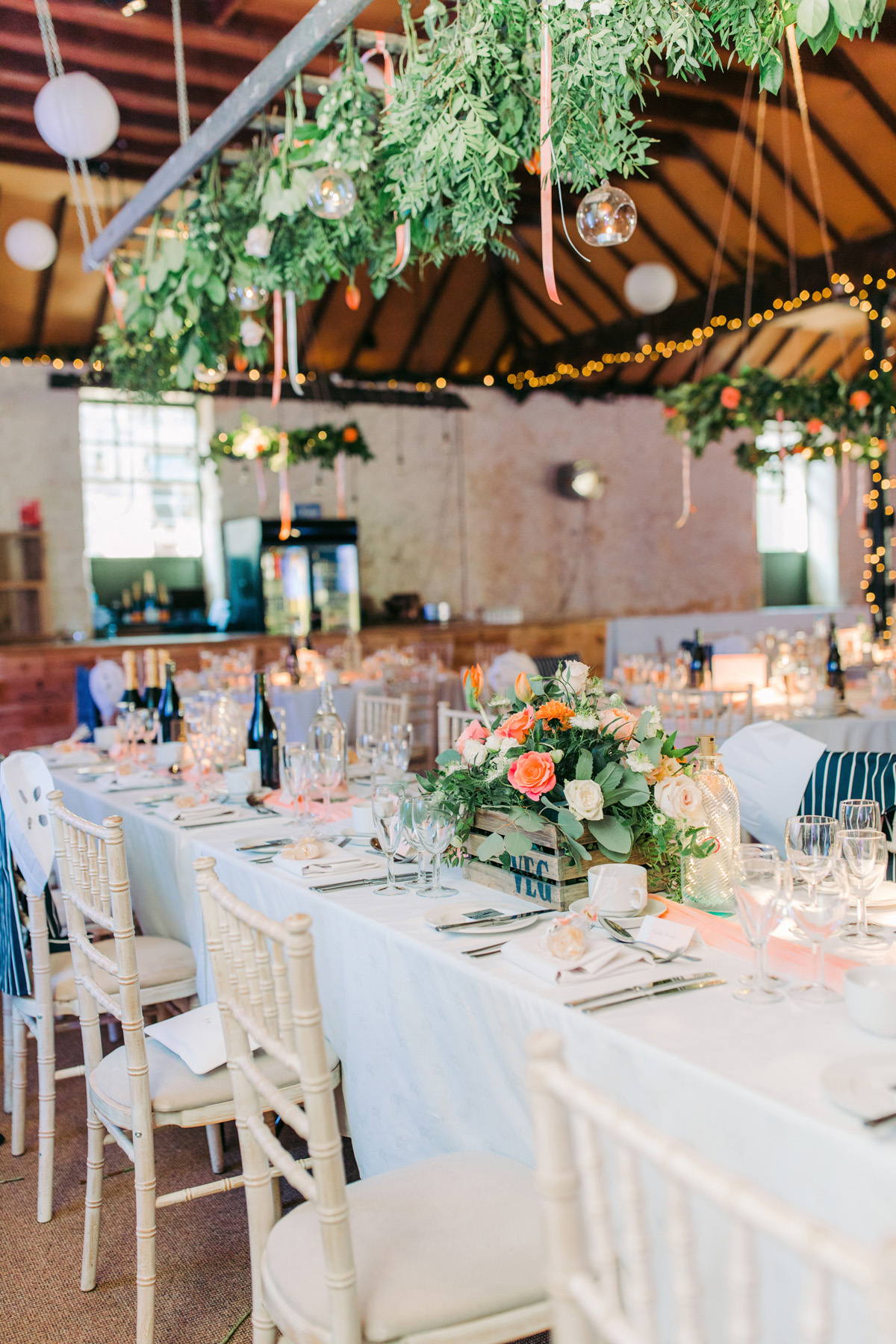 In keeping with the family-vibe, each guest was invited to bring a bake as part of the dessert.
"Instead of doing desserts we had a 'Cake Table' and family and close friends pitched in with the baking. We had childhood favourites, from chocolate 'Top Hats' to lemon tarts."
There was still a divinely elegant wedding cake, created by Liggy's Cake Co.
"The cake was the first thing we booked! I was so pleased with our wedding cake and Liggy's was really relaxed with us too. The tasting was so much fun and the flavours were amazing. I was also really pleased with how the cake looked, matching amazingly with the venue and décor. We went for three tiers of different flavours: vanilla buttercream and blackcurrant jam, sloe gin and lemon curd buttercream and kirsch and chocolate buttercream. It had a semi-naked design with touches of gold leaf, as well as a floral hoop decorating it."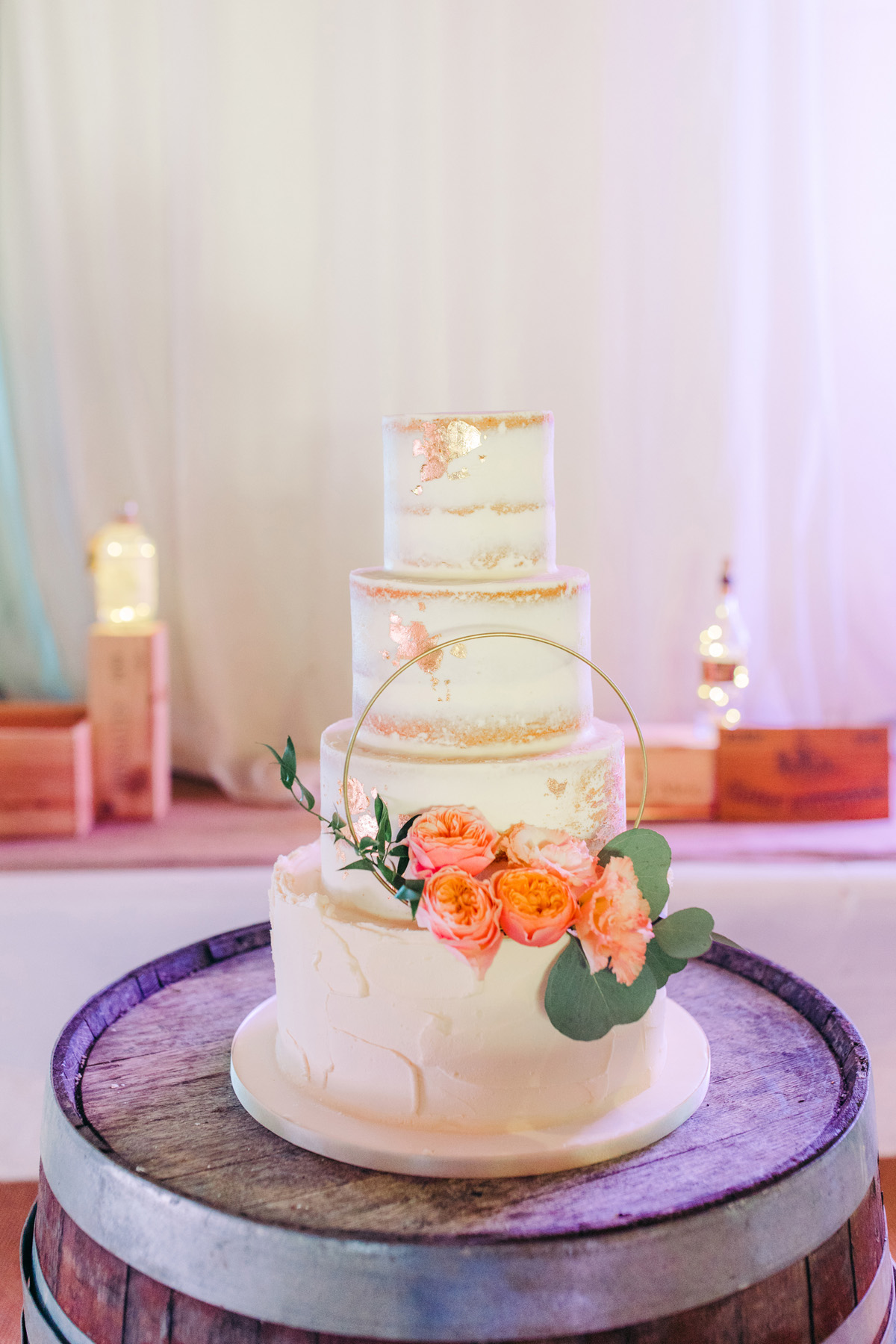 Between the wedding breakfast and evening reception, the newly-weds stole away for some quiet moment together and some intimate portrait shots.
"One moment that really stands out for me was when we went out after dinner for the evening photo session."
"The sun was just starting to go down and it was the most gorgeous view. Our photographers were amazing at getting really natural shots and it felt like it was just the two of us."
"It gave us the chance to chat about everything and have a moment to soak it all in together."
Kirsten wore a bespoke perfume from Jo Malone.
"We booked in for the 'Wedding Scent Experience' and it was amazing. We talked through where the wedding was, the feel of the day, smells that I liked and honed down the difference scents."
"One thing Jo Malone do really well is layer the scents to create something really unique. I went for an 'English Pear and Freesia Cologne' layered with 'Mimosa and Cardamom Body Crème'."
"It's really nice that they'll now always take me back to the day."
Back in the barn, Tide Lines were gearing up for the evening party.
"The band was a big thing for Colin! We really enjoy traditional music and spent quite a lot of time going to gigs and different things. I was working away one weekend and got a phone call at 3am from Colin saying, 'I've booked the band'."
"Tide Lines were amazing. A lot of friends knew them already and when they played their own songs the place went wild. They were also great with the ceilidh and the dance floor was never empty."
"We steered away from the traditional first dance and got everyone involved with our favourite ceilidh dance, the Orcadian Strip the Willow. It was so much fun and really kicked-off the night."
"We spent ages wondering what to do for our first dance, as we weren't too keen on taking up the whole dance floor ourselves, so we thought why not do our favourite dance and get the ceilidh started? The dance floor stayed busy for the whole night after that!"
"I can honestly say I wouldn't have changed a thing – I just wish I'd eaten more cake!"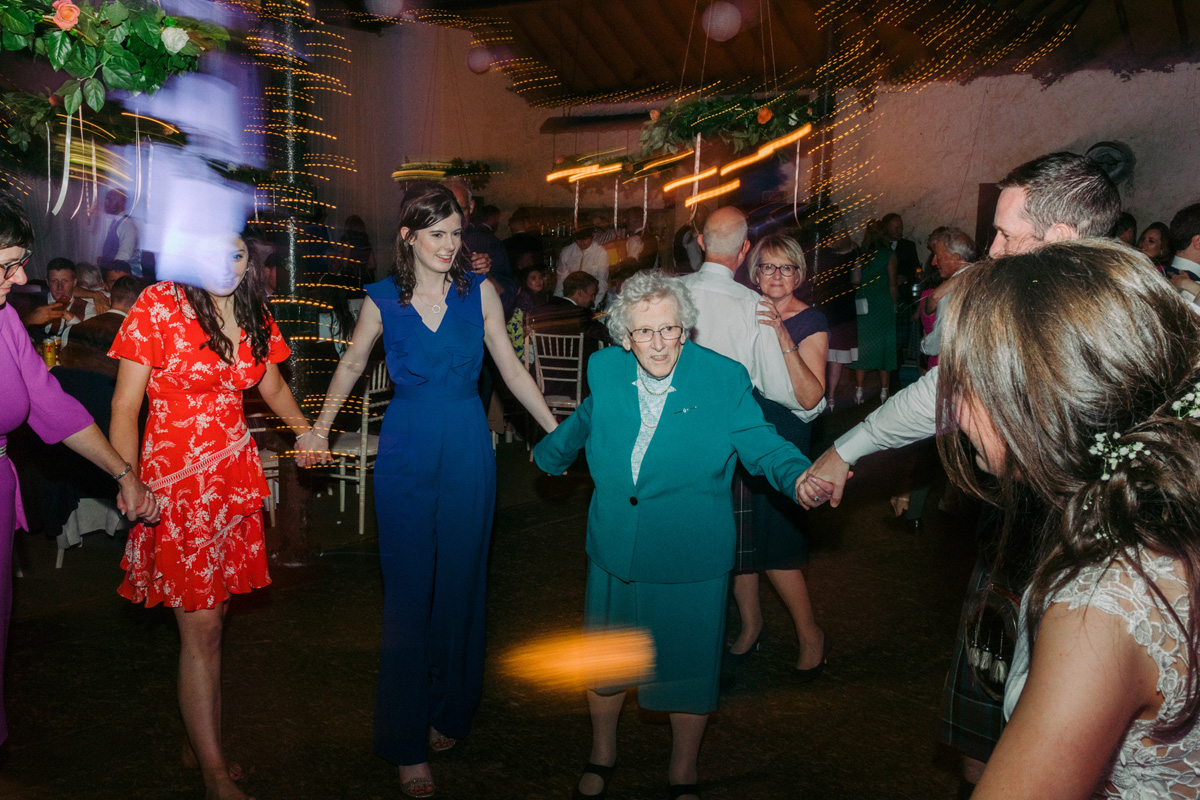 Words of Wedded Wisdom
Kirsten has some wonderful tips for bride to be, which I'm sharing below.
"It's easy to think, 'Oh, it's ages away and I've got plenty of time'. However, time often creeps up on you so it's important to stay on top of what you need to do."
"There's always going to be something that will stress you out; remember that when the day comes it's more than likely all going to work itself out."
"Do exactly what you want! Don't worry too much about others' opinions and make sure you're concentrating on what's most important to you. How you make your day personal to you as a couple is what will stand out to people – so incorporate your relationship and personalities."