Town Hall Hotel & Apartments, Bethnal Green, London was the setting for former fashion buyer Phoebe and her Beau Ben, a tech designer's wedding, on 30 May this year.
The couple wanted to wed in the city, where they had created their first home, and chose to host a black tie wedding filled with romantic flowers and creative influences from fashion and floristry.
These beautiful images are by photographer Jessica Williams and we are thrilled that multiple Love My Dress recommended suppliers and directory members helped make this wedding so special, including celebrant Sarah Powell, beauty experts Portraits Bridal and The Wedding Veil Shop.
Jessica Williams Photography

+ Follow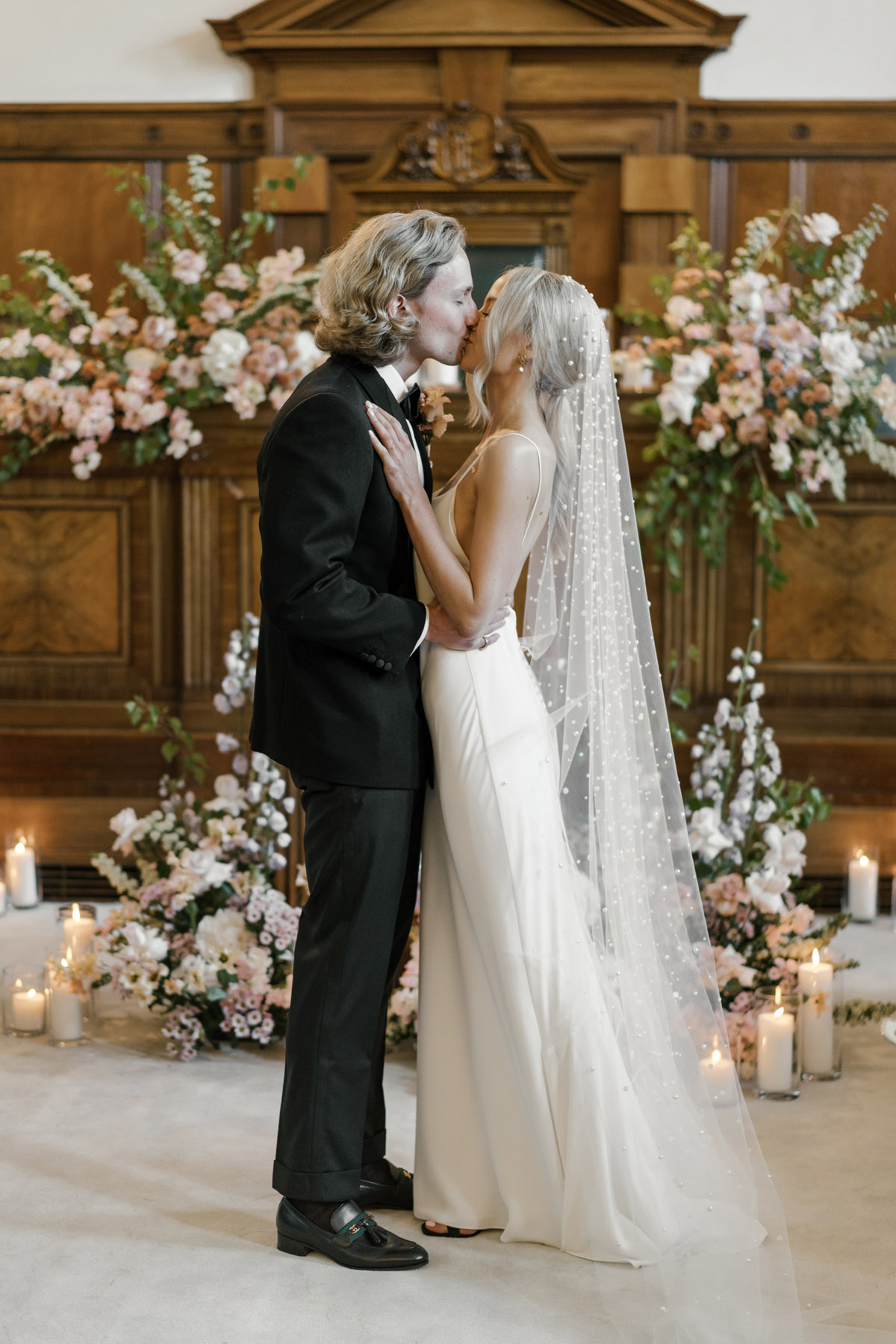 "I always wanted a city wedding and loved the architecture of Town Hall Hotel and the surrounding streets. It meant all our guests could stay at the venue, and also allowed us to have a celebrant, which actual town halls wouldn't allow."
"I love the style of Australian weddings as they are incredibly chic and have an evening, dinner party feel to them."

"We decided to have a black-tie wedding as we love the look of all the men in dinner jackets and we felt it went with the city feel of the day."
"I re-used my Shrimps 'Antonia' pearl bag Ben bought me as a birthday present to keep my make-up and mirror in for the day. It was perfect as it stands up by itself and looked lovely on the table."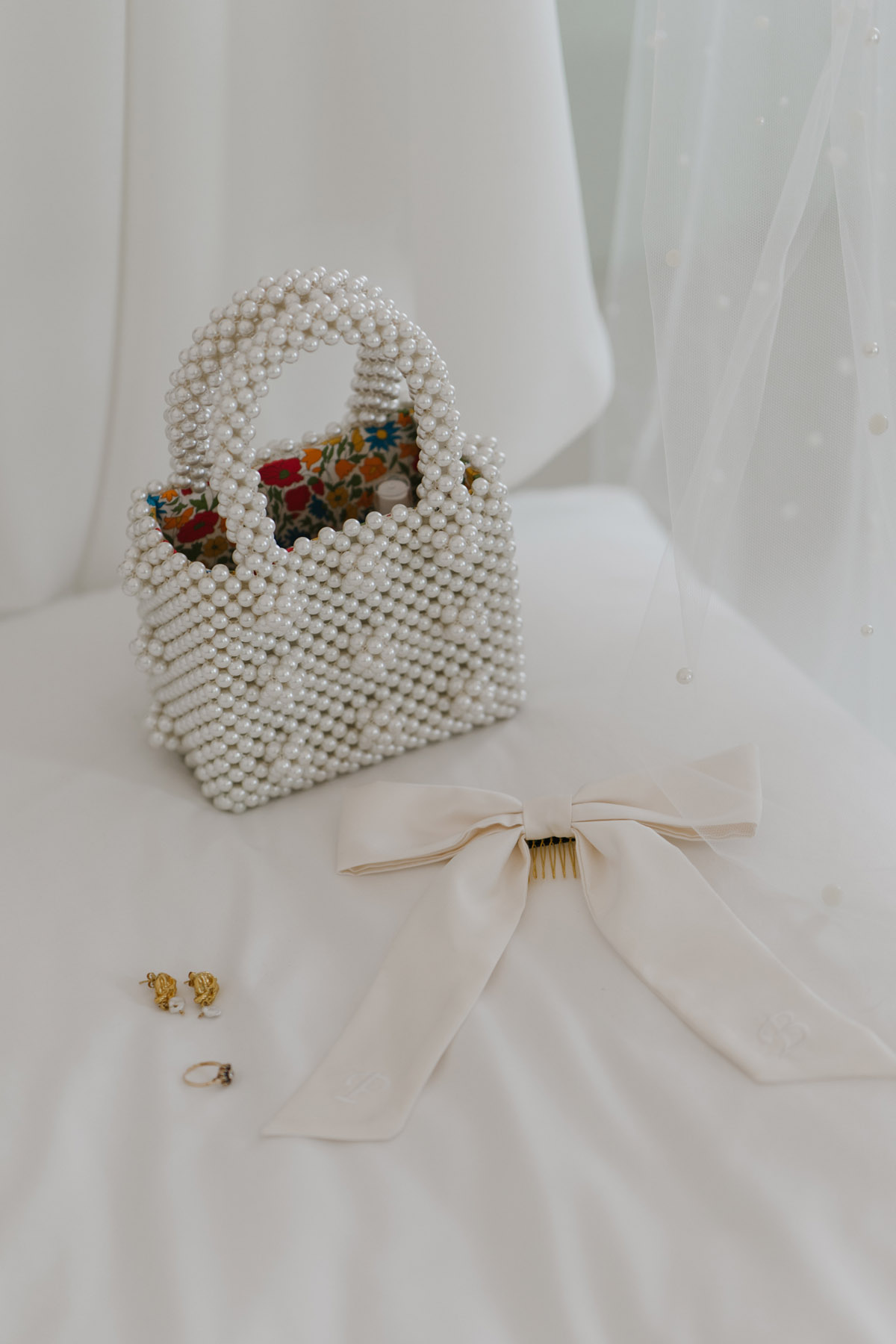 Her shoes were black Yves Saint Laurent 'Amber' heels.
"I knew I wanted black shoes to contrast against my ivory dress and they worked well with the black tie theme. I can wear them again as they are very classic."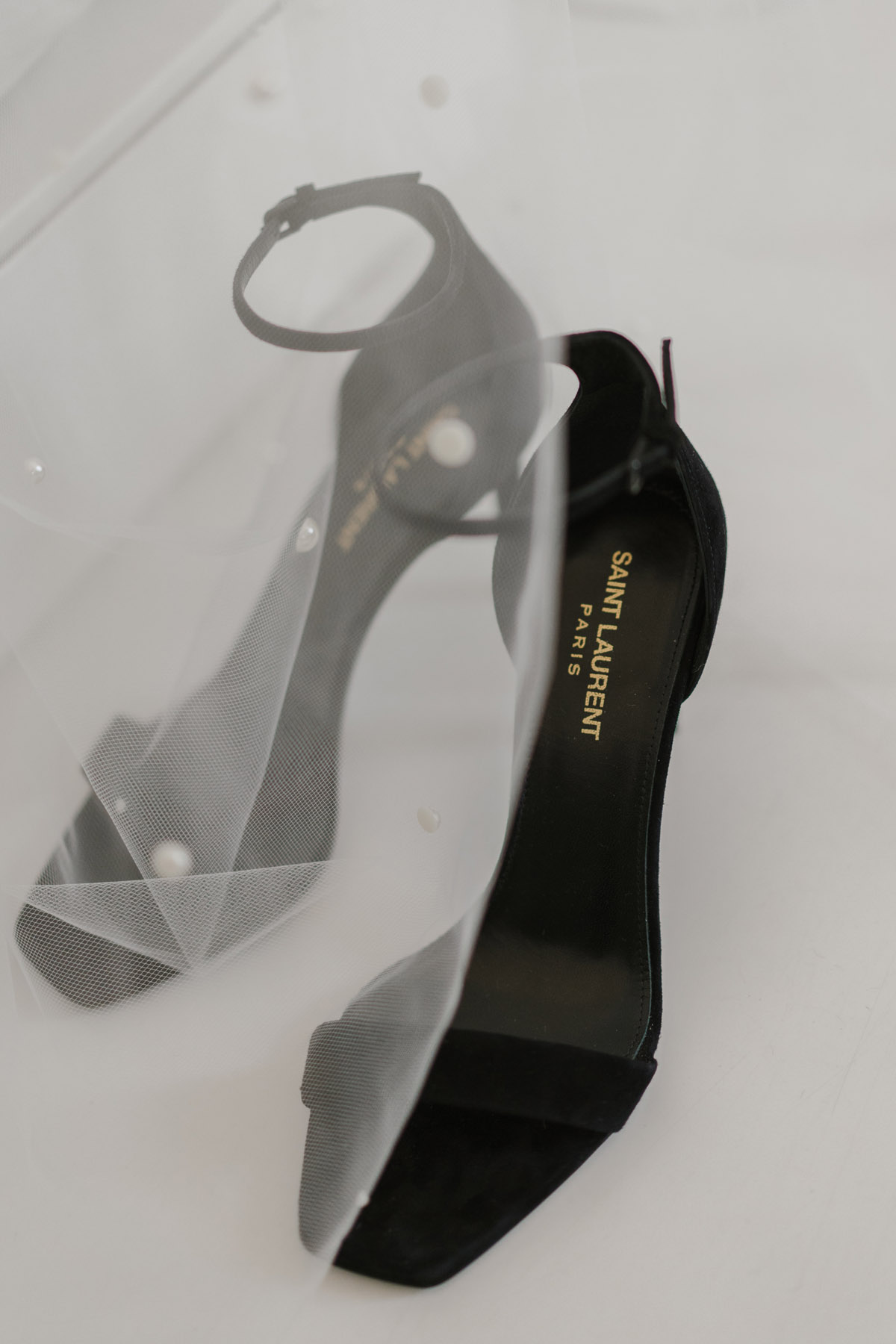 Zara from Portraits Bridal styled Phoebe's hair into a modern ponytail whilst Nadia, also of Portraits Bridal, created a flawless, glowing make-up look.
Portraits Bridal are featured on our Wedding Directory, so find out more about them on their listing here.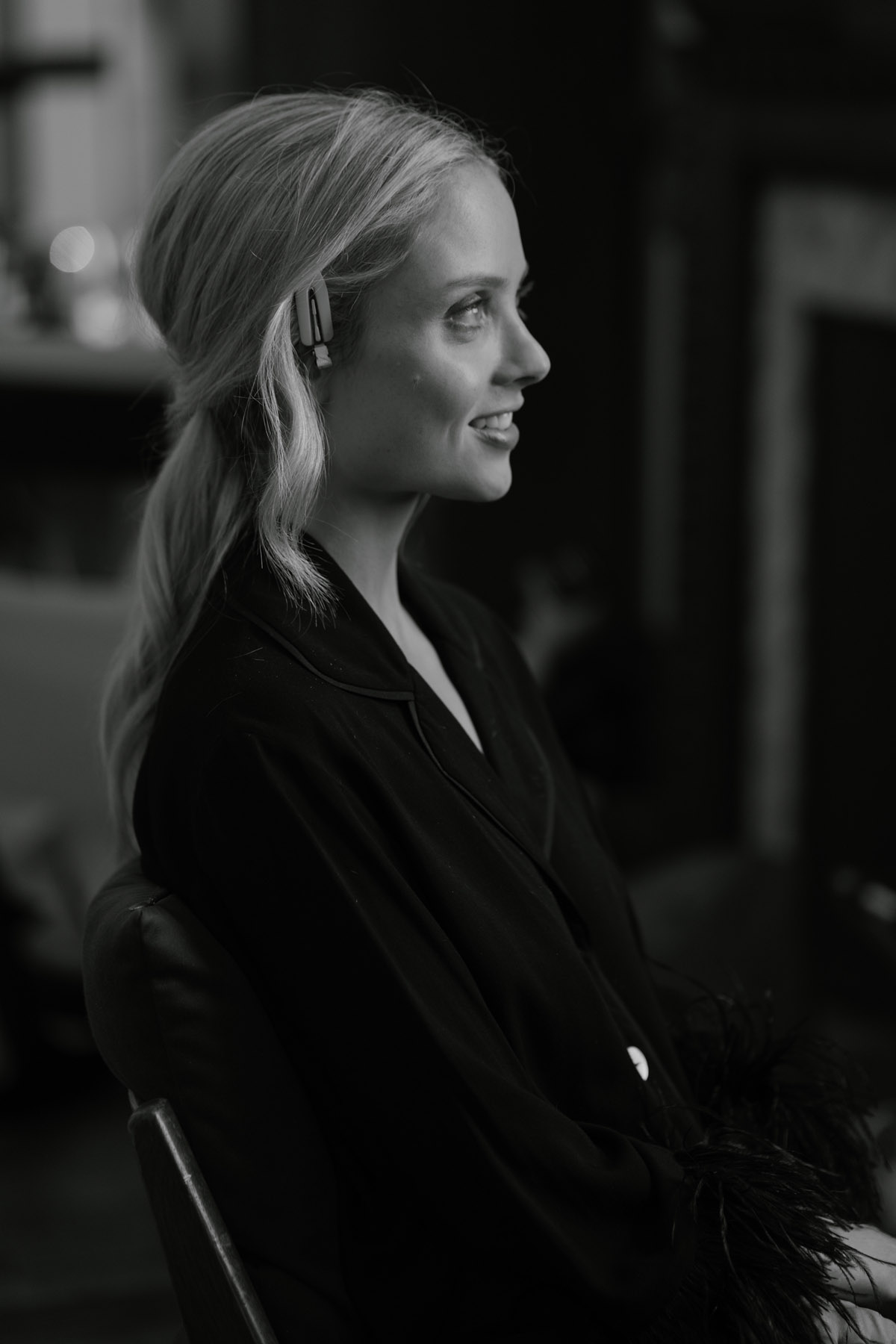 The bride's scent was Jo Malone Poppy and Barley.
"I wanted a new scent to remind me of the wedding. Poppy and Barley is light and fresh and makes me think of spring."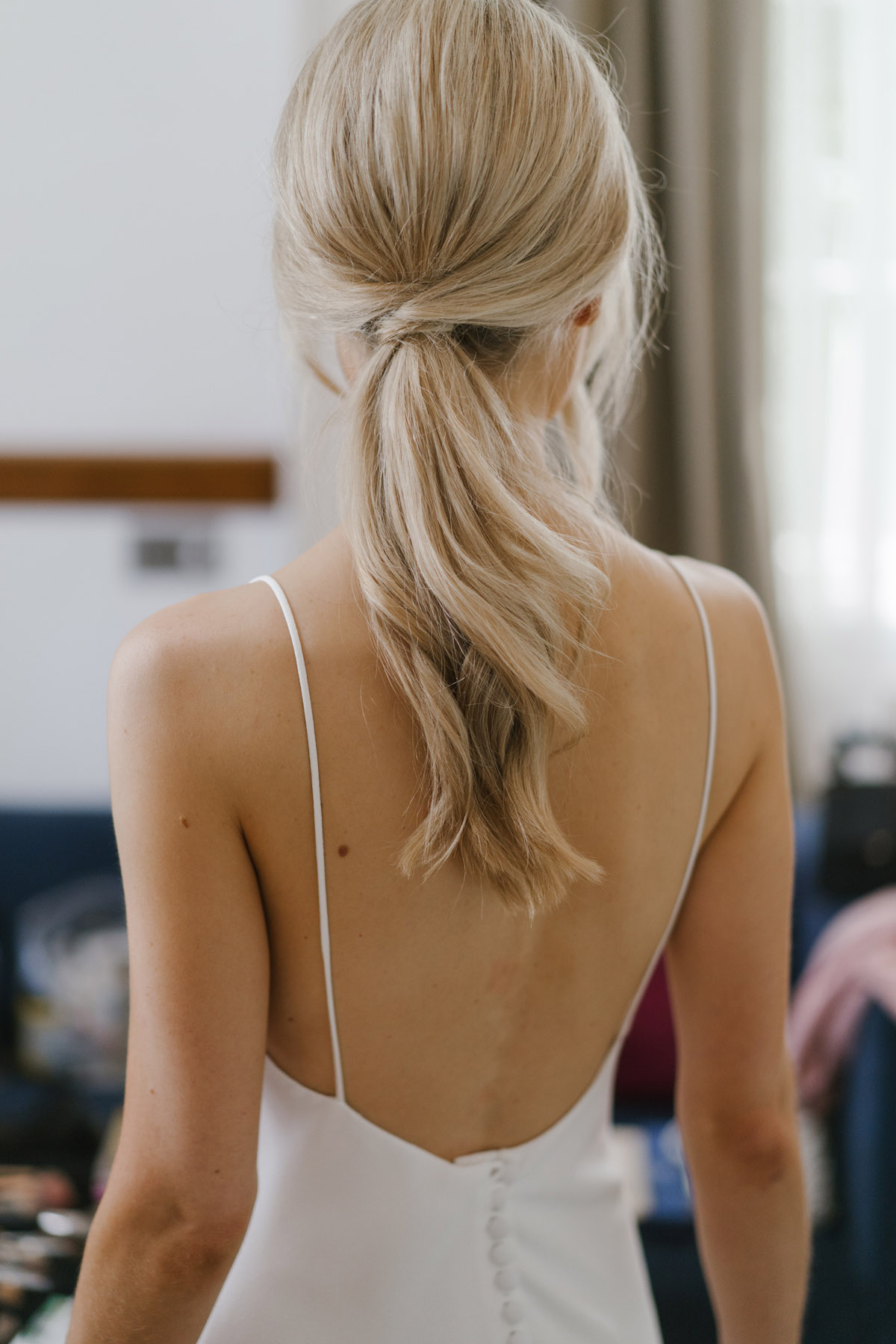 The designer of her chic, slip gown, which skims her figure so well, is The Own Studio.
"I bought my dress in lockdown from The Own Studio. I had tried on a few dresses at other studios but nothing was quite right."
"I knew I wanted a slip dress and I couldn't get the one from The Own Studio out of my head – I love their styling."
"Unfortunately I wouldn't have had time to wait and try it on in their studio, so they couriered the dress to me to try on."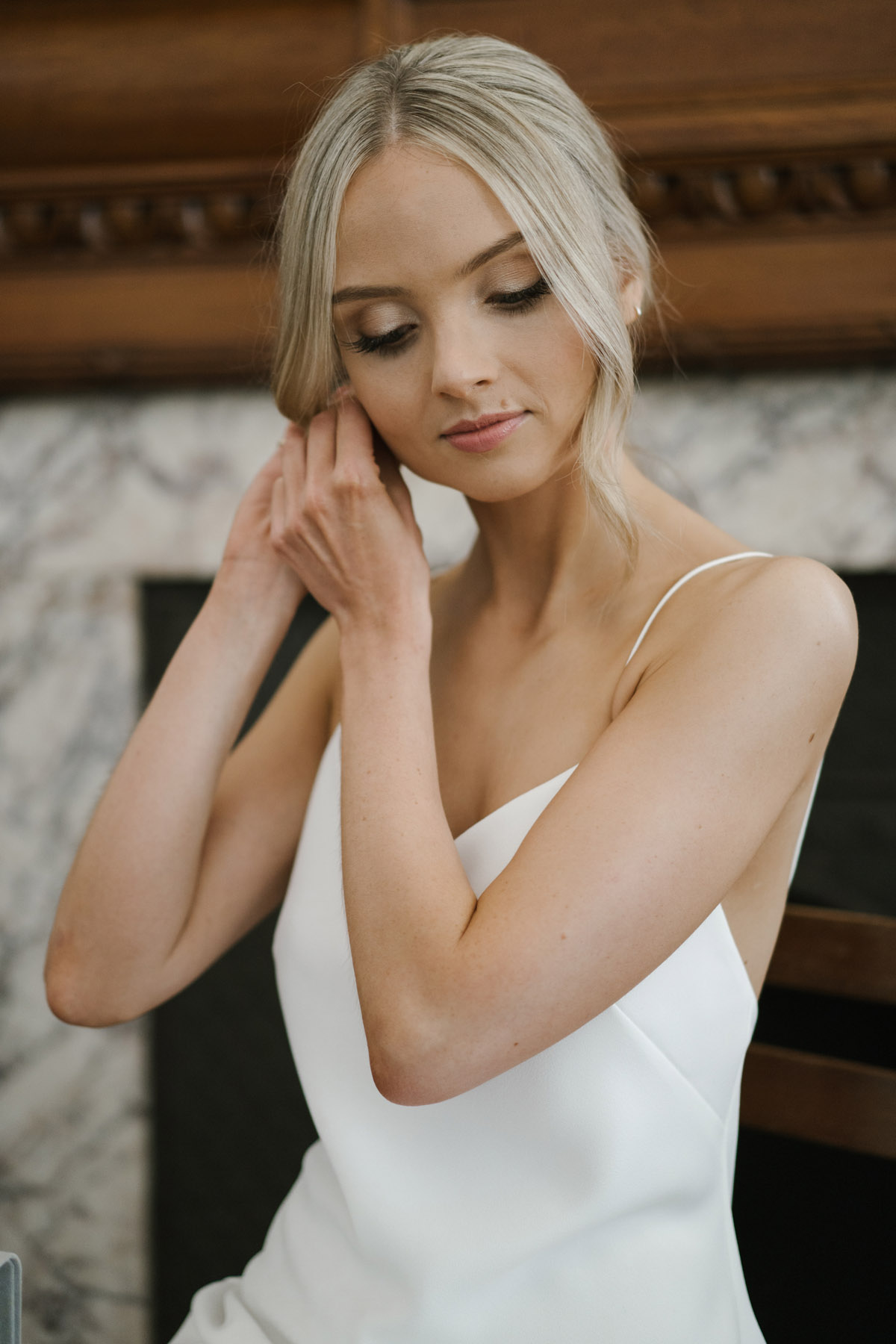 "I sent it back and then later they sent it to their seamstress to fit onto me. Considering we were in lockdown and shops couldn't open, I had a fantastic experience."
"Jess talked me through the process on the phone and then FaceTimed me whilst I tried it on. She was then always at the other end of an email to assist me if I had any questions."
The quality of the dress was far superior than other slip dresses I tried on. The material has a gorgeous drape and barely needed ironing."
"They really encourage giving your dress a second life and I'm planning on having it made shorter so I can wear it again on my honeymoon to Greece when that comes around."
"I knew I wanted a minimal contemporary look that would work with a black tie, city wedding."
I also knew I wanted to have photos walking round the streets of London so the dress needed to be fairly practical."
Working in fashion, I think many people thought I would wear something super on-trend and statement, but I really wanted to look like myself, rather than having the dress wear me."
I love how the pearl veil elevated the look and took it to another level."
"Phoebe and Ben met almost ten years ago at the bride's older brother's 21st birthday.
"A group of his uni friends came to my home town for a party and the rest is history."
"We both ended up at different universities, in different cities and even countries at times but we stayed together in a long-distance relationship."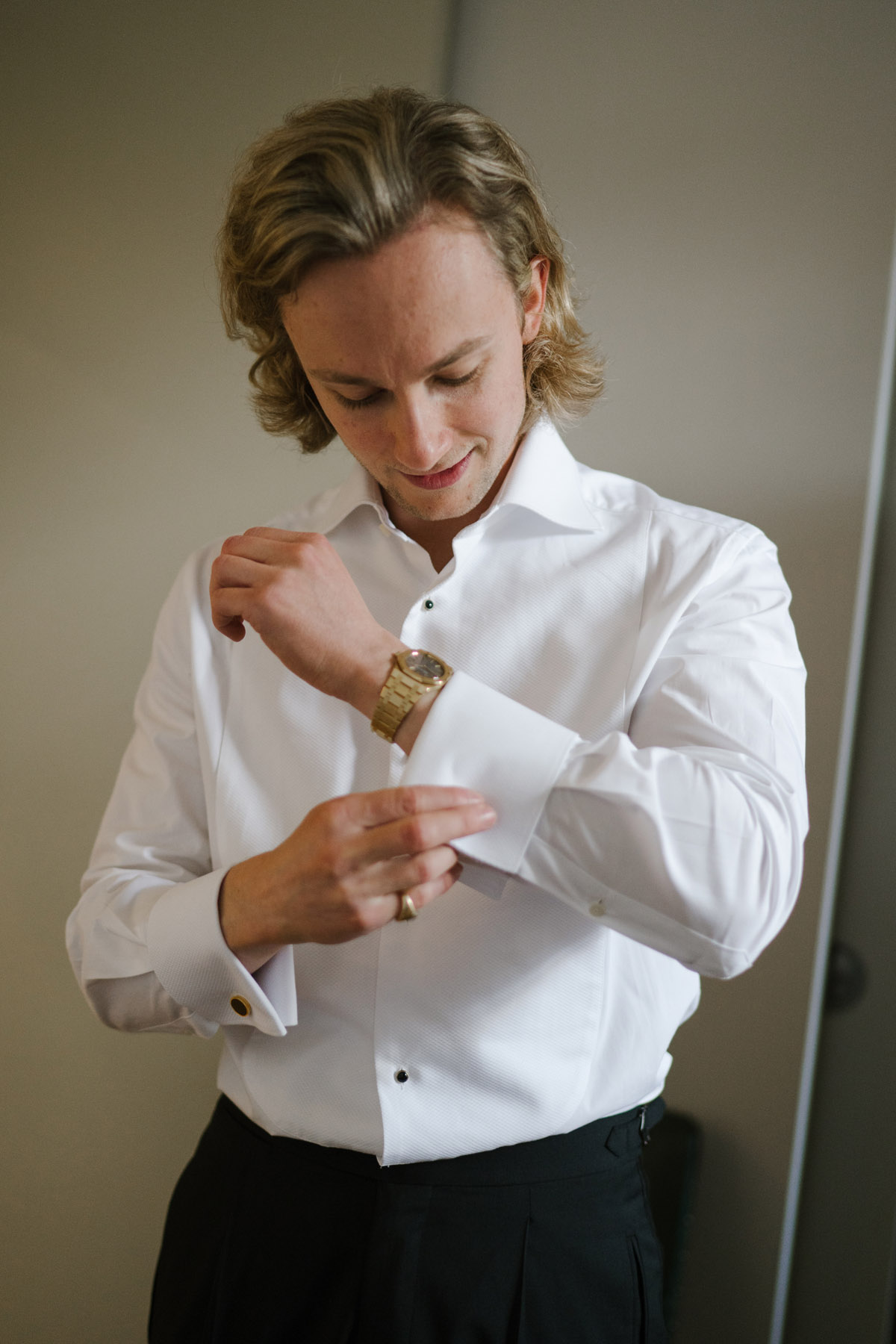 I moved to London about five years ago, and we moved in together four years ago. Ben proposed in Paris on a little vintage boat on the river Seine."
It was in August 2018 and it was pouring with rain the whole weekend but it was incredibly romantic."
"We were engaged around 18 months before the wedding."
"We ended up getting married on our original date but that was not without its difficulties. I felt so invested in each and every one of the suppliers I had booked, I didn't want to lose any, so we decided to hold our nerve and hope the restrictions were lifted."
"In the end we were allowed thirty guests (including ourselves). Guests had to wear masks in the ceremony and the reception was seated."
"My friend is a seamstress (@rebelbride) so she made everyone champagne-coloured silky face masks."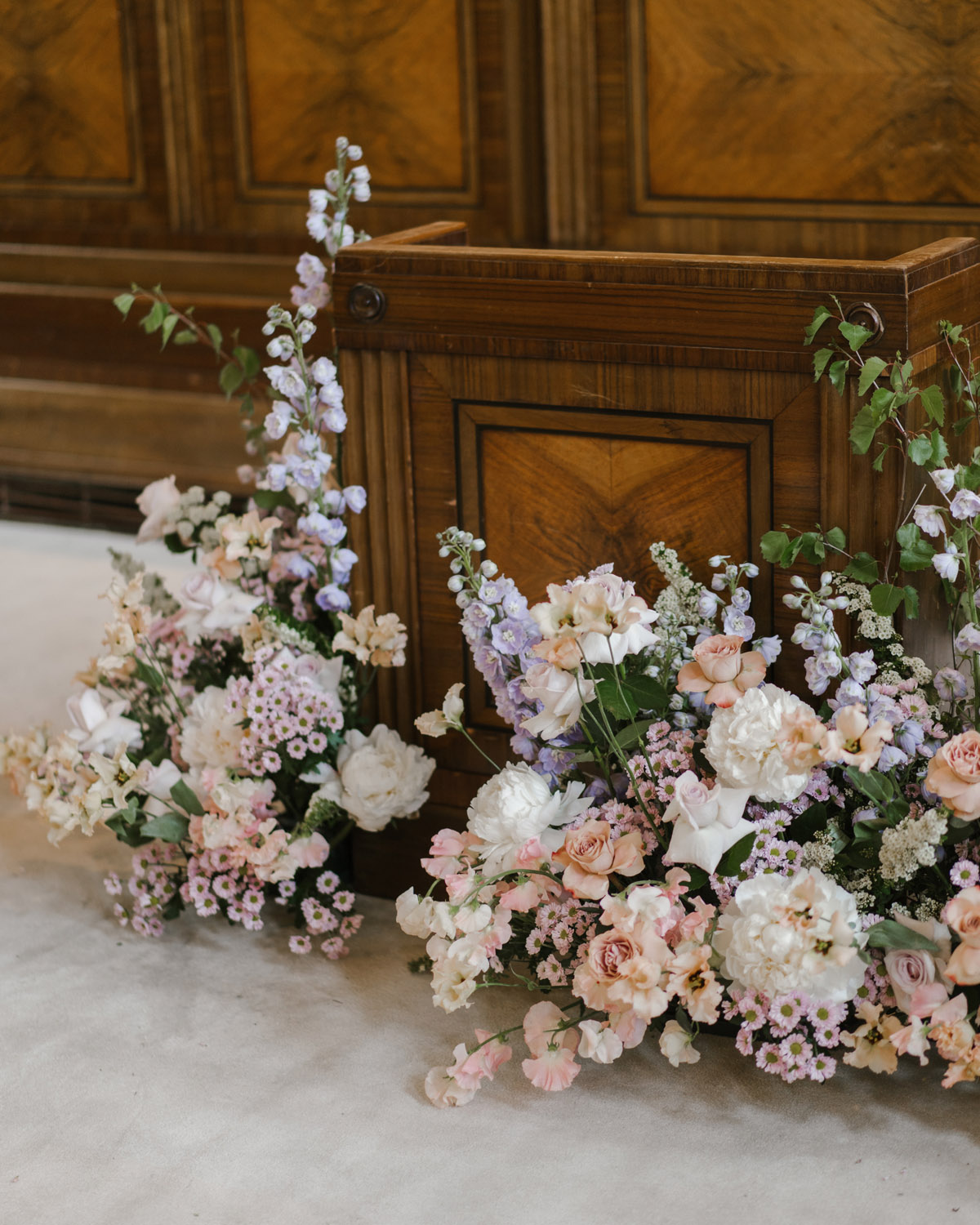 "This uniformity meant we hardly noticed them and our guests got to keep them as a Covid wedding reminder."
We were so relieved we could get married that honestly, none of the restrictions mattered. We aren't huge party people so we toned down the vibe to be more of an intimate dinner party which suited the restrictions."
We had some time outside after the confetti to speak to guests and mingle and then everyone sat at their places for the evening."
It was lovely and intimate and we had so much time to talk to everyone."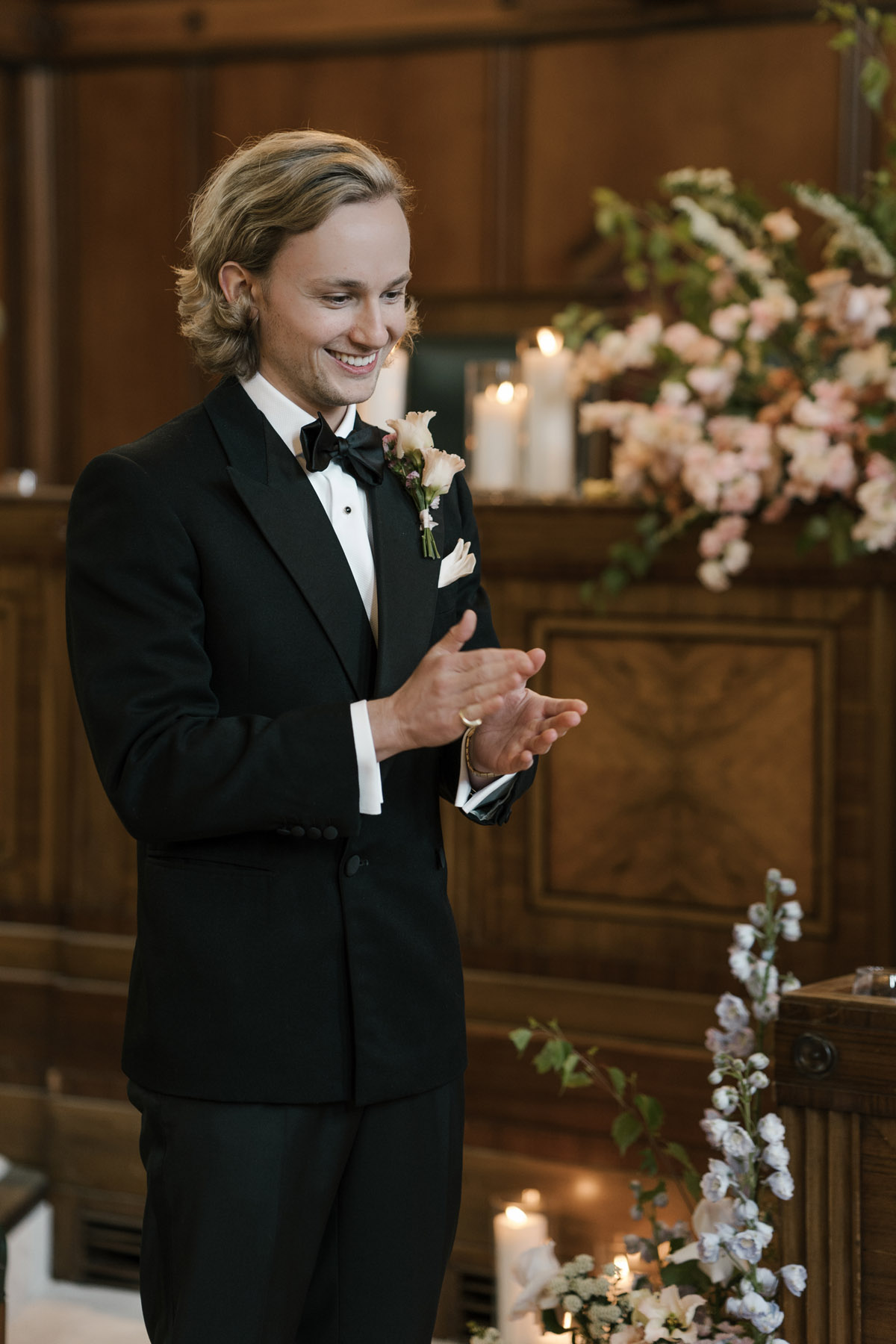 The bride asked her niece to be flower girl and she wore an ivory dress from Monsoon.
"It had a tulle skirt and taffeta bow (which complemented the hair bow I wore in the evening). Her shoes were from Next and her pearl bracelet and hair bow was from Etsy."
"Our florist Blume Studio provided a matching wand for her to carry down the aisle, as at twenty months she was a bit too little for flowers or a basket."
"In the end my mum carried it down the aisle for her but she loved waving it around after the ceremony and she got to take it home for her toy box."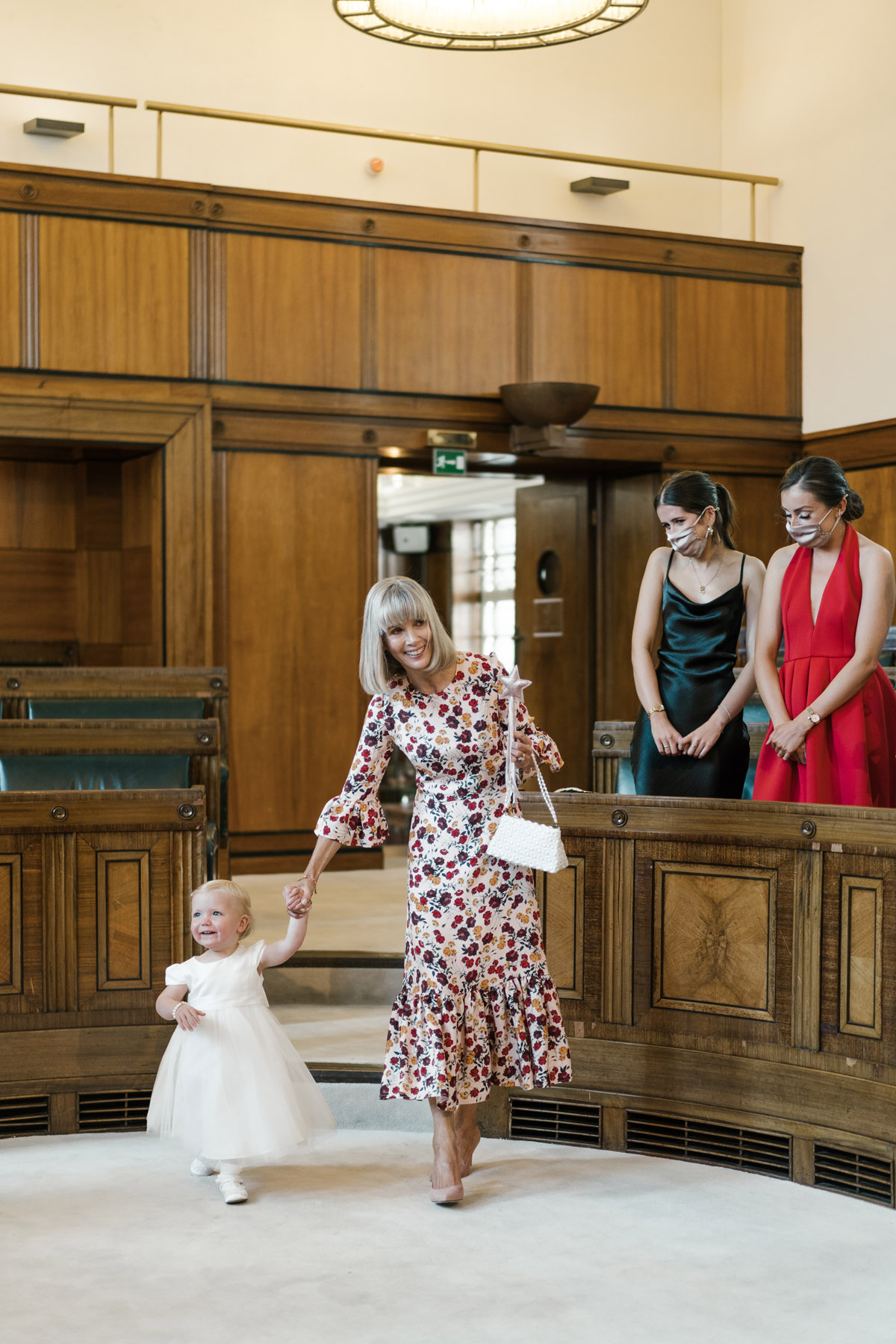 Phoebe chose Adele's 'Make You Feel My Love' to play as she entered the ceremony room at the Town Hall.
"My dad gave me away and walked me down the aisle. Before I walked in, my mum walked my twenty-month-old niece down the aisle as she was too little to walk alone so, in a way, both my parents walked me down."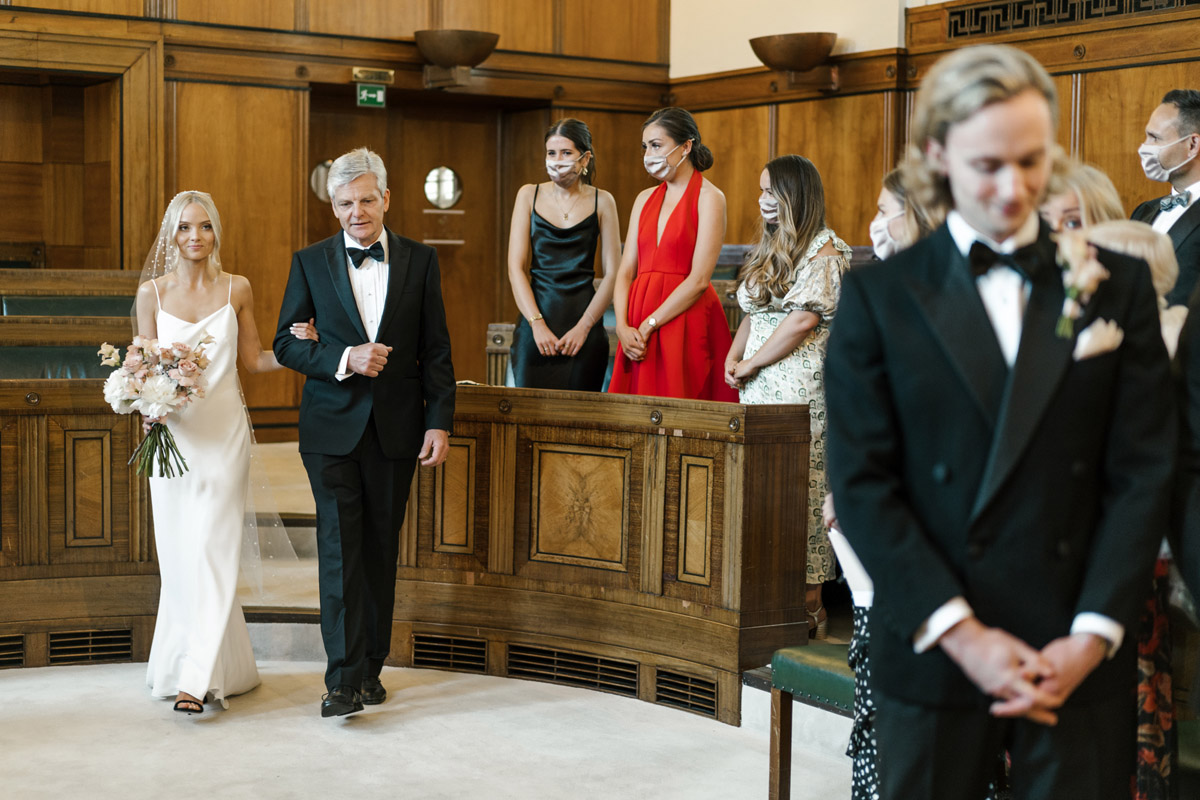 "Our celebrant was Sarah Powell. I follow Sarah on Instagram and I knew we wanted a humanist ceremony as we could really personalise it to our story and our day."
"We had 'the big chat' with Sarah a few weeks beforehand and she retold our story on the day."
"She also guided us on how to write our promises and vows and matched them up to each other for tone and length. She made our ceremony so special."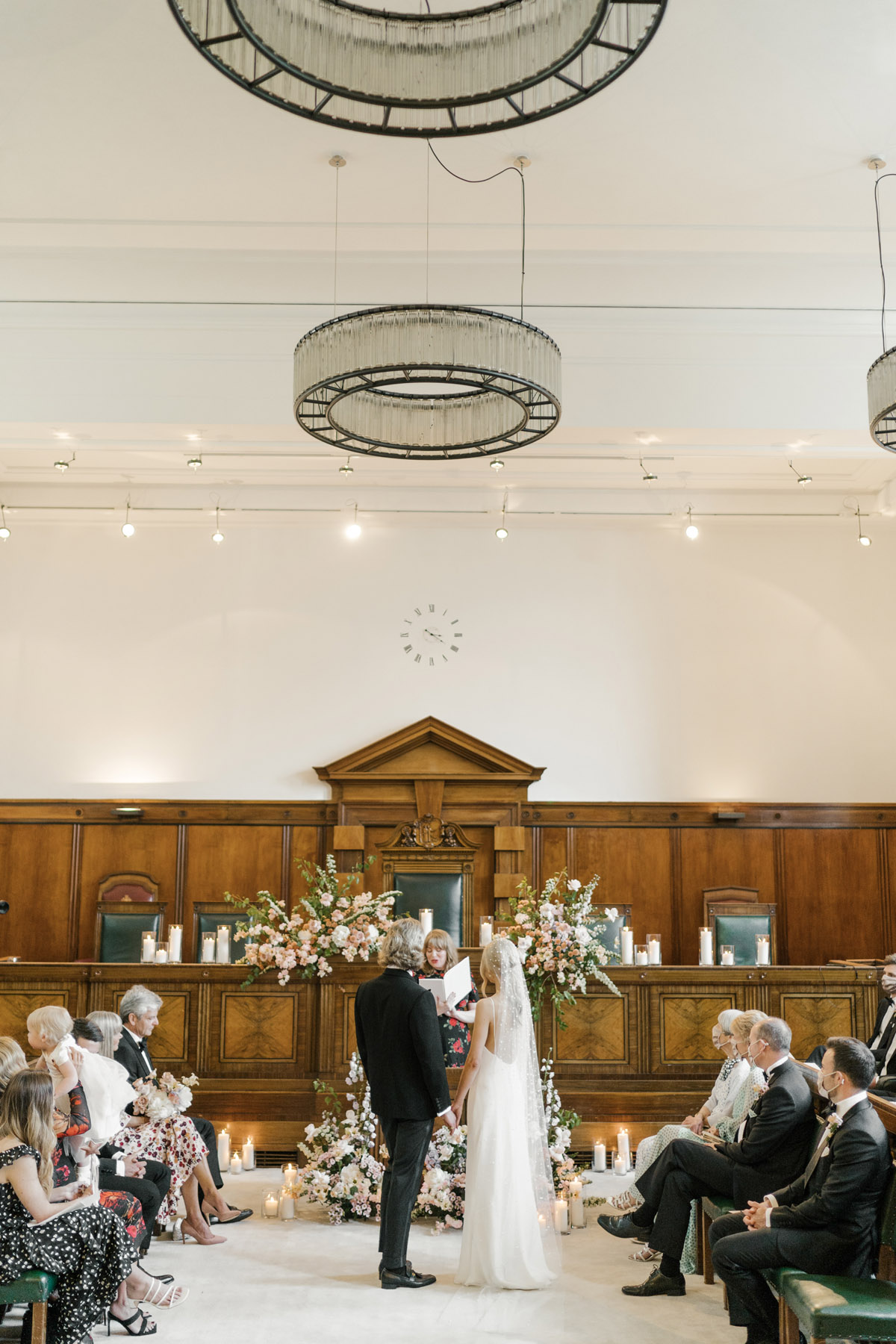 "I love flowers and I started my vows with a quote from Alfred Lord Tennyson – 'If I had a flower for every time I thought of you, I could walk through my garden forever'."
"I loved the process of writing my own vows as it enabled me to write down all the reasons I love Ben and let him know in front of everyone there. Although the vows were the emotional part, we also had separate promises, little jokey things."
"One of Ben's promises was that he would always listen to my stories, even though I tell the same ones over and over again, and I promised I would continue to tell him the same stories over and over again. It was lovely because neither of us knew what the other was promising, so it made us all laugh in the ceremony."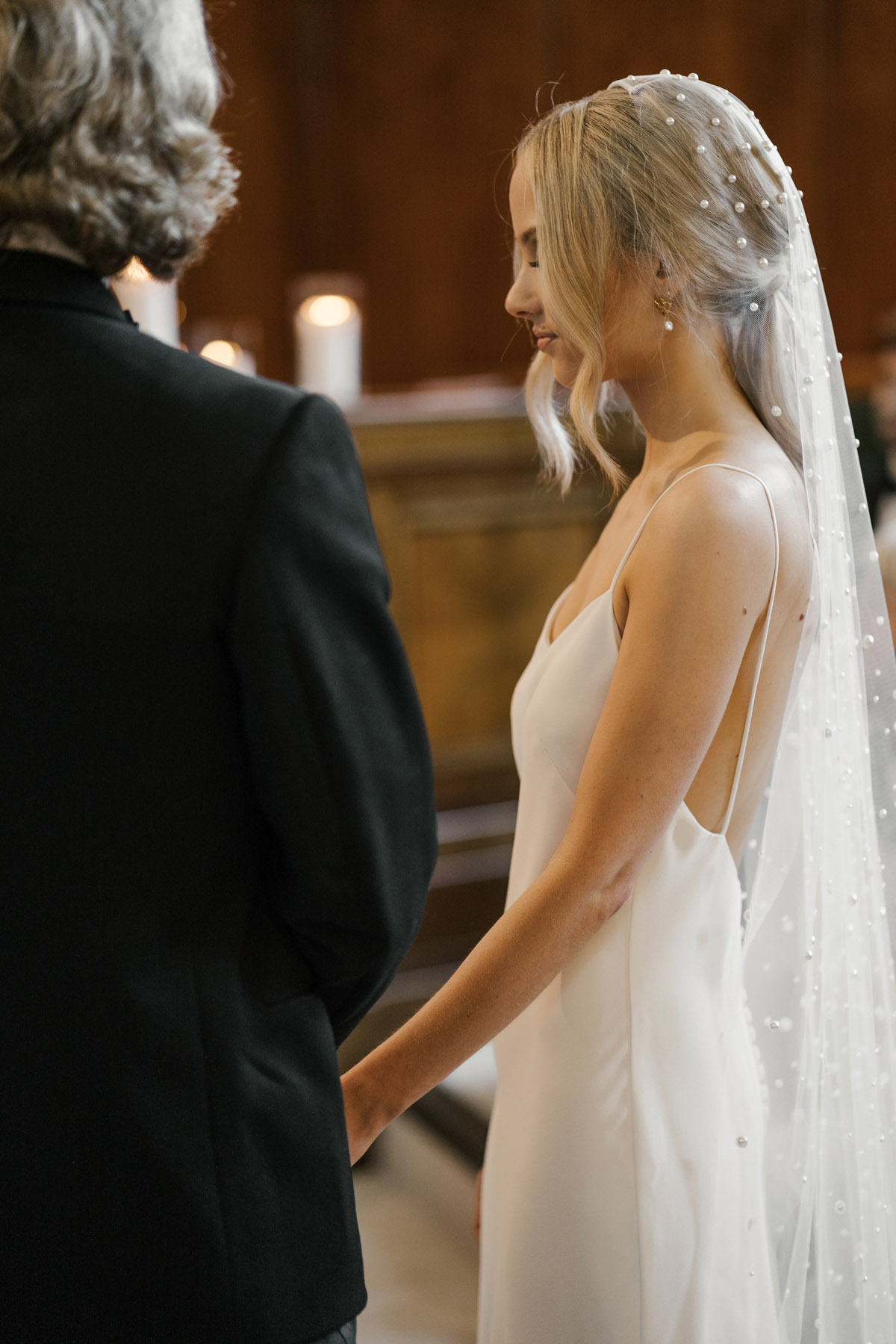 The ceremony included two readings and Ben and Phoebe exchanged rings made by Bobby White.
"Ben's brother Rob read 'Invisible Kisses' by Lemn Sissay. It's my favourite poem and we kept it a secret from Ben until the ceremony. My best friend Georgia read an extract from Dolly Alderton's book 'Everything I Know About Love'. I love the extract because it talks about love being loud and jubilant but also quiet and normal. I gave Georgia a copy of the book afterward."
"I saw Bobby White making a ring on Instagram before we were engaged. Ben tracked him down and asked him to create the engagement ring. He made a custom wedding band that matches my engagement ring in size and dimensions and a ring for Ben. We both love gold jewellery so we went for gold."
"I loved every part of the day but I think the ceremony was really special. It was lovely to have a celebrant who had spent time getting to know us and our story, and could tell it so eloquently on the day. All of our guests commented that the ceremony was so personal and really felt like 'us'."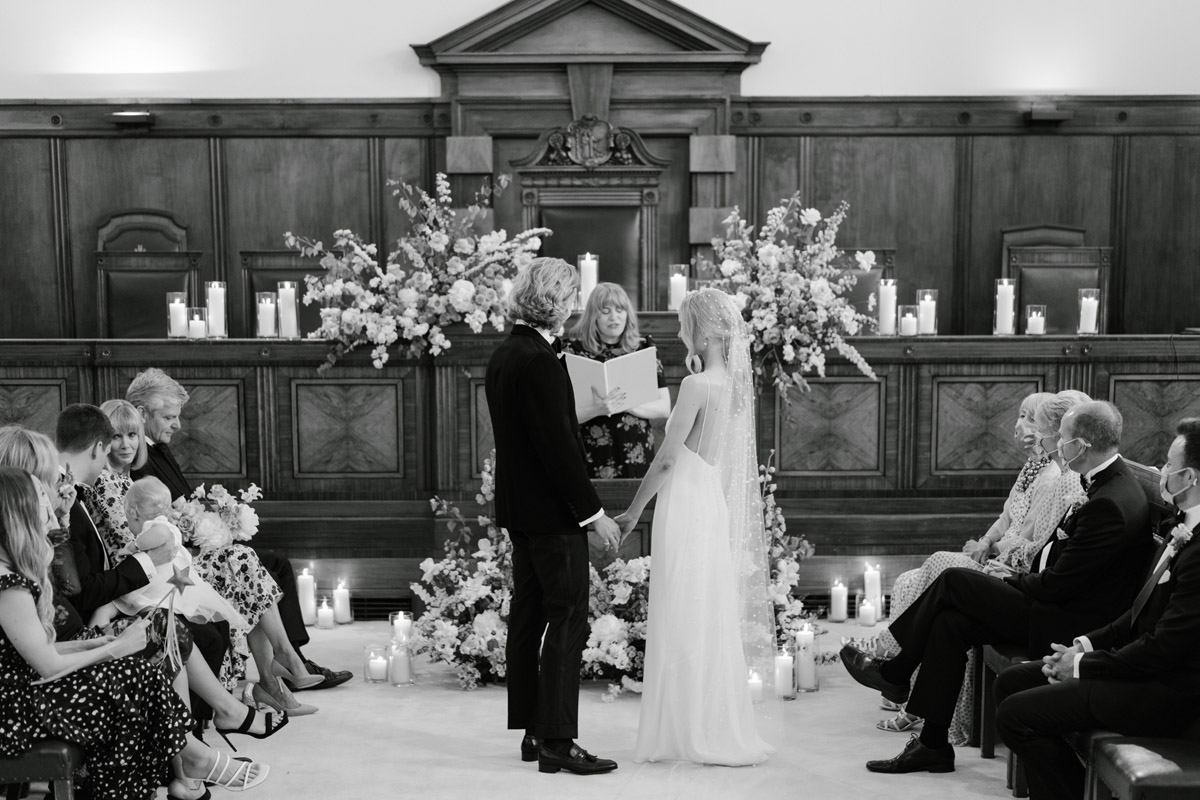 The bride's veil was a sheer, pearl-adorned design which floats over her shoulders.
"My veil was a custom, chapel length version of the Violet Veil from The Wedding Veil Shop."
"It featured pearls in a falling star formation (clustered at the top and scattering at the bottom)."
"It was on a minimal comb with no gathering so it gave the illusion of floating on my hair."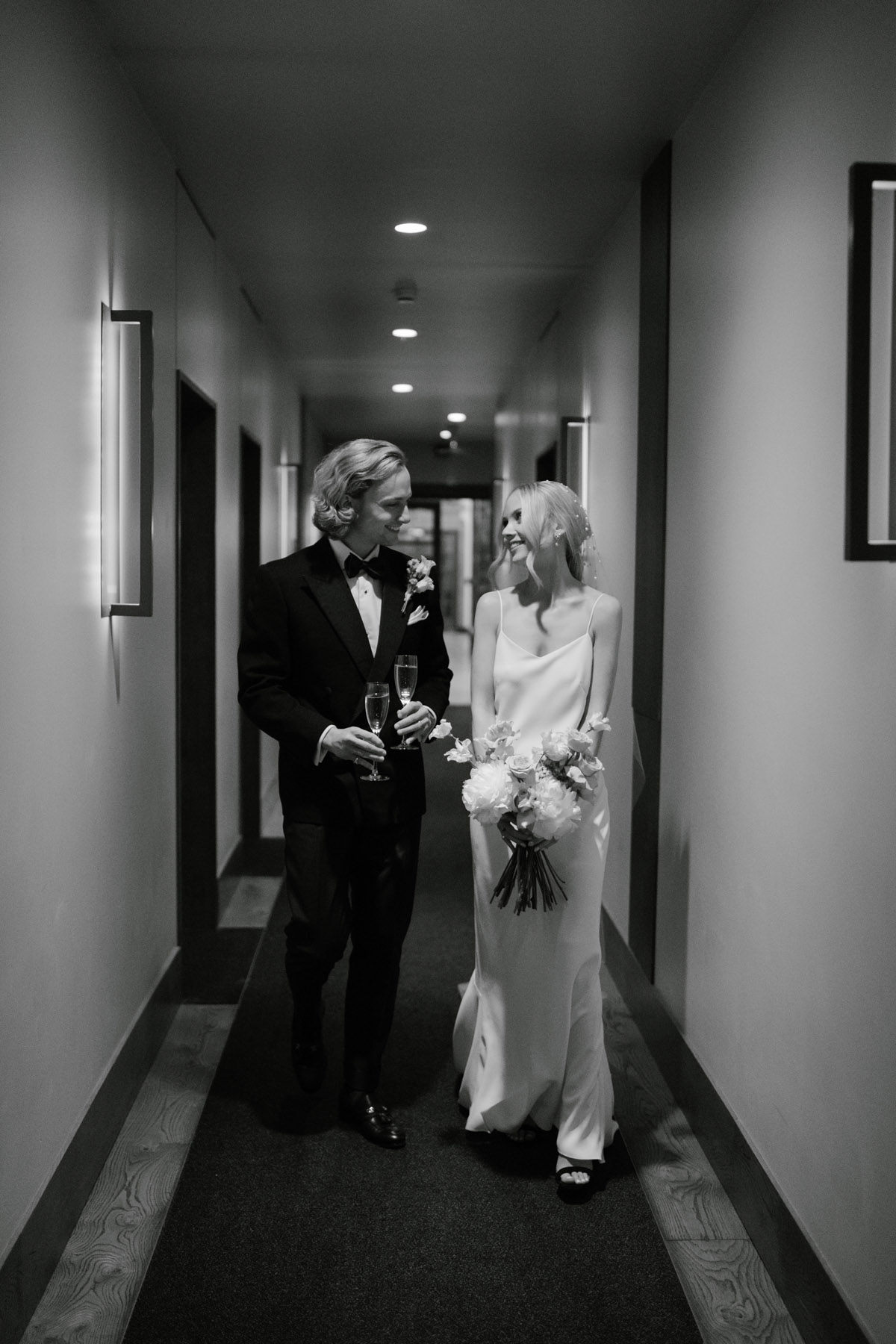 "The fabric was their illusion fabric so the pearls looked suspended."
"I saw one I loved on Pinterest a month before the wedding and with three weeks to go The Wedding Veil Shop made it for me as a rush order, for which I am extremely grateful."
"It was stunning and received so many compliments! They were so helpful when it came to making my rush order and their customer service was incredible."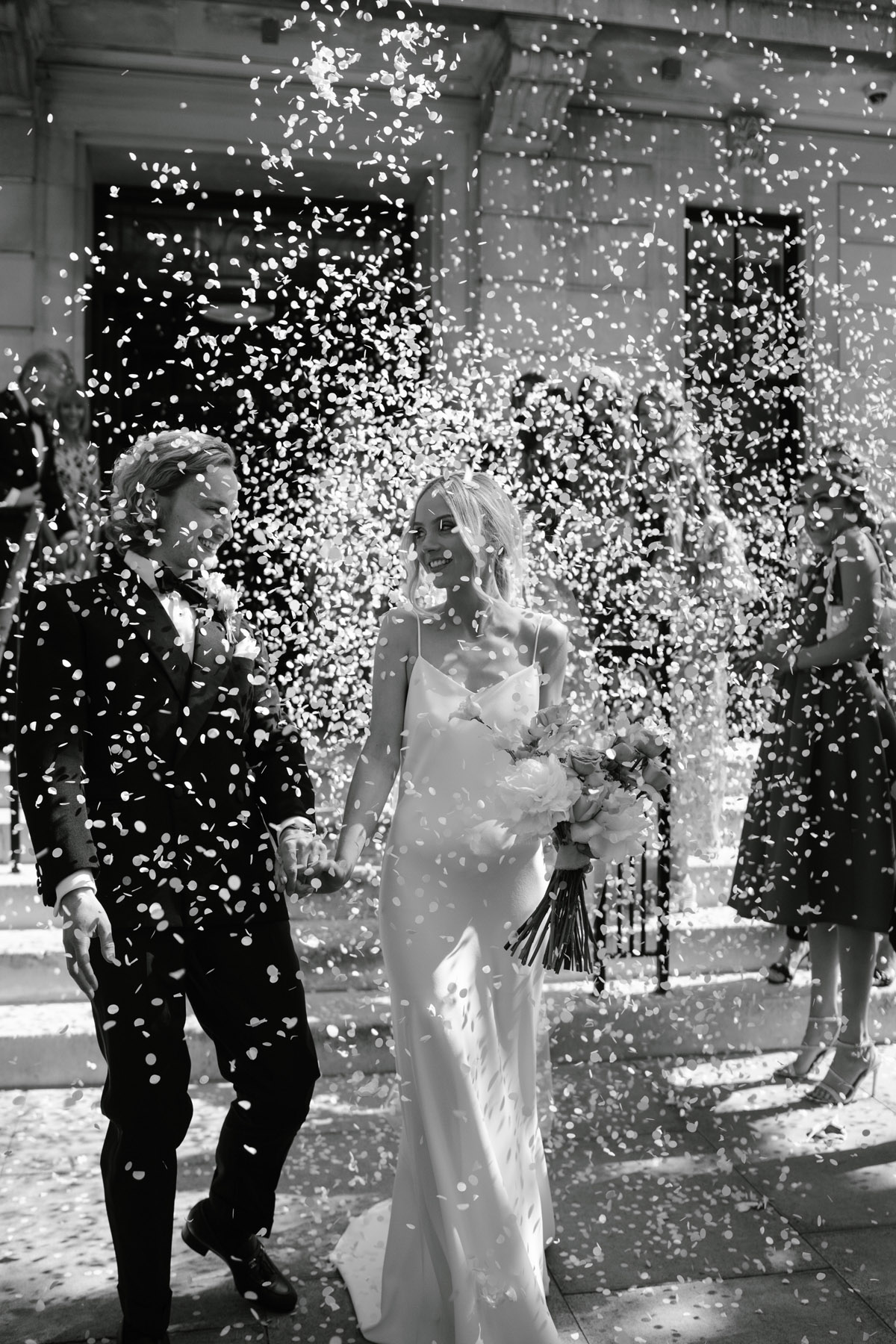 "My gold earrings were from a gorgeous London based brand called Alighieri."
"I went to a talk with the founder a couple of years ago and knew I wanted to wear something from her brand."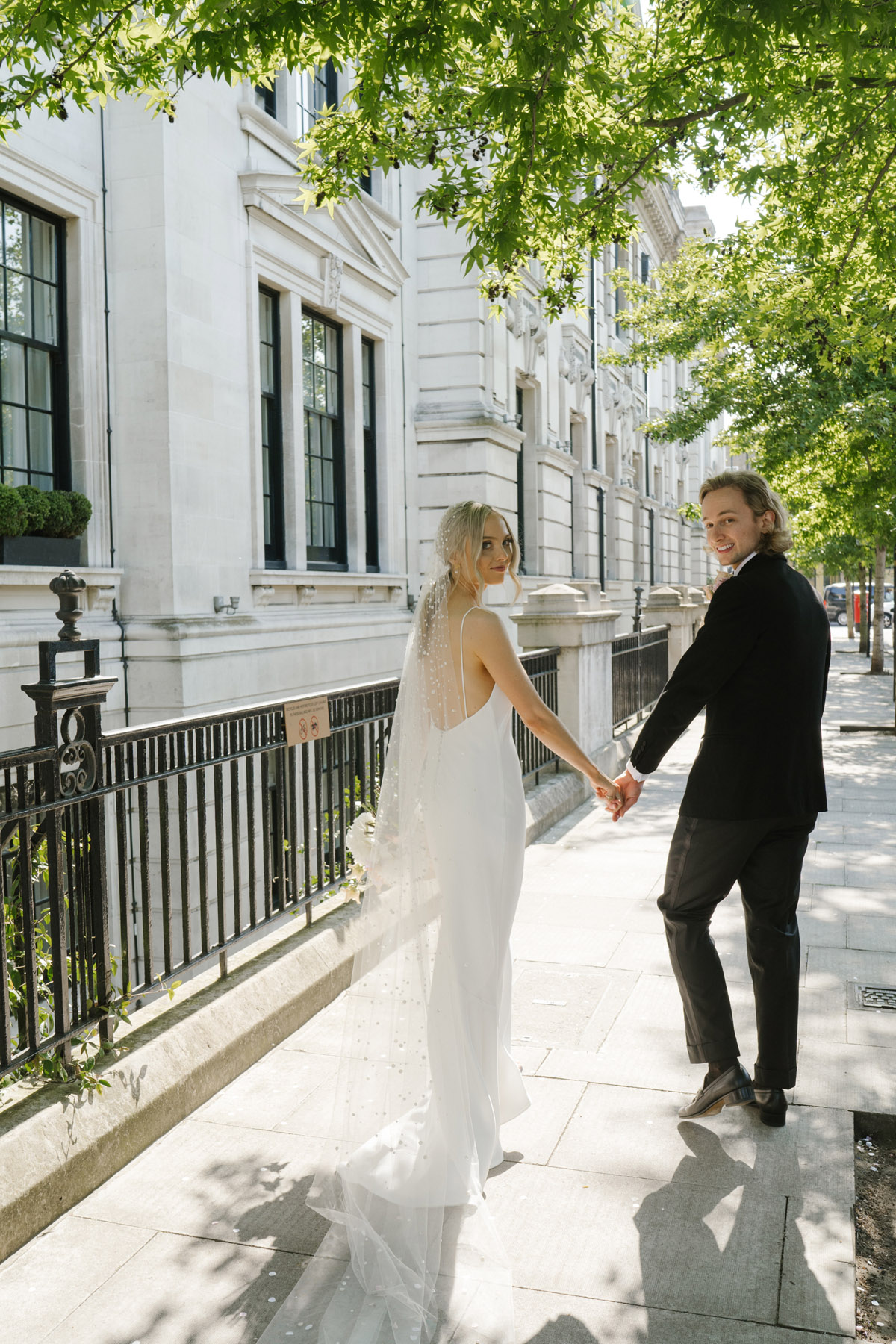 "The pearls complimented the veil. I also wore my great-grandmother's sapphire ring."

"My granny couldn't make the journey to the wedding so wearing her mother's ring was really special to me."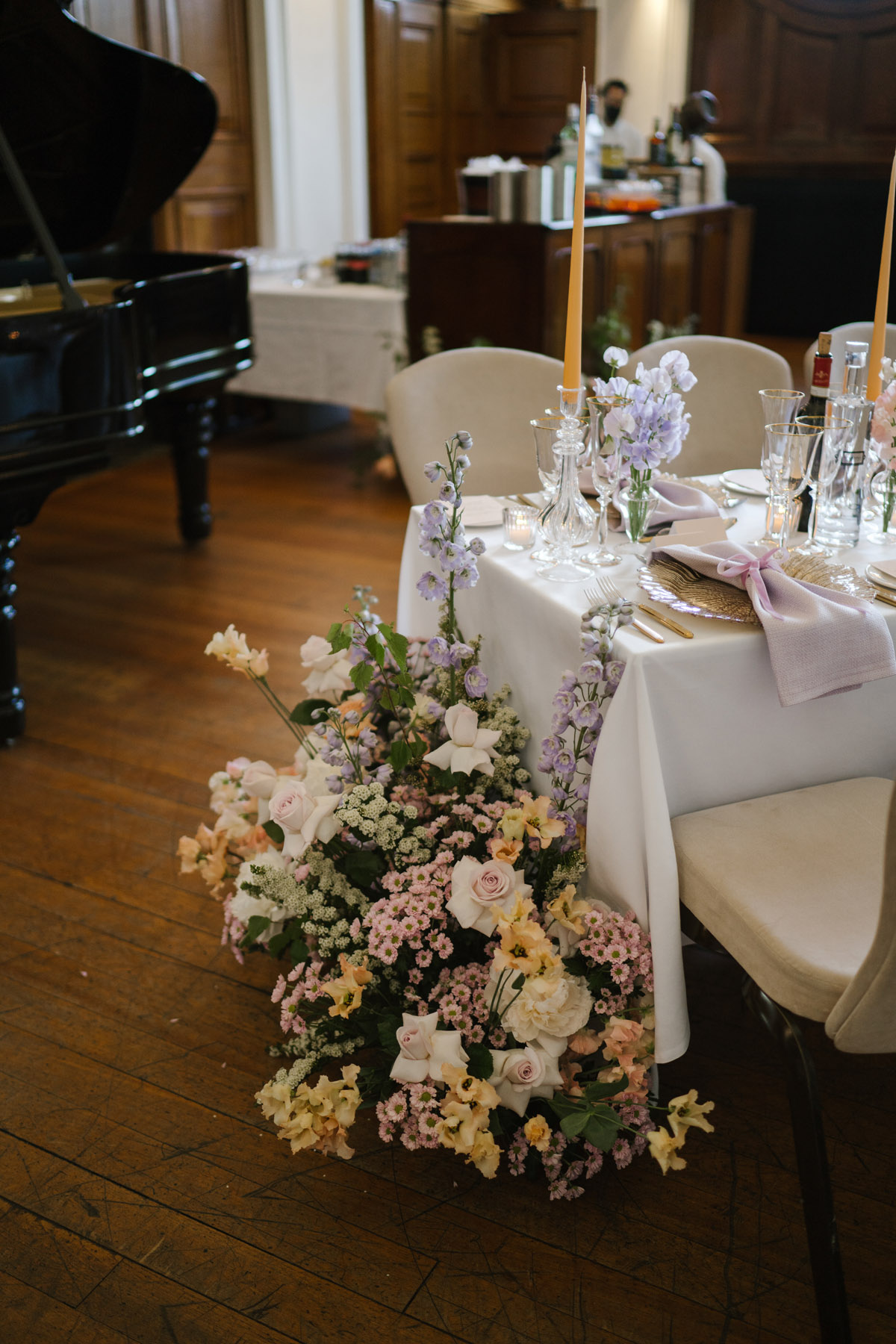 The clean lines of the Town Hall were softened with masses of seasonal flowers, put together by Blume Studio.
"We chose Blume as we love Elspeth's floral-heavy designs. I met her at A Most Curious Wedding fair and I love her attention to detail."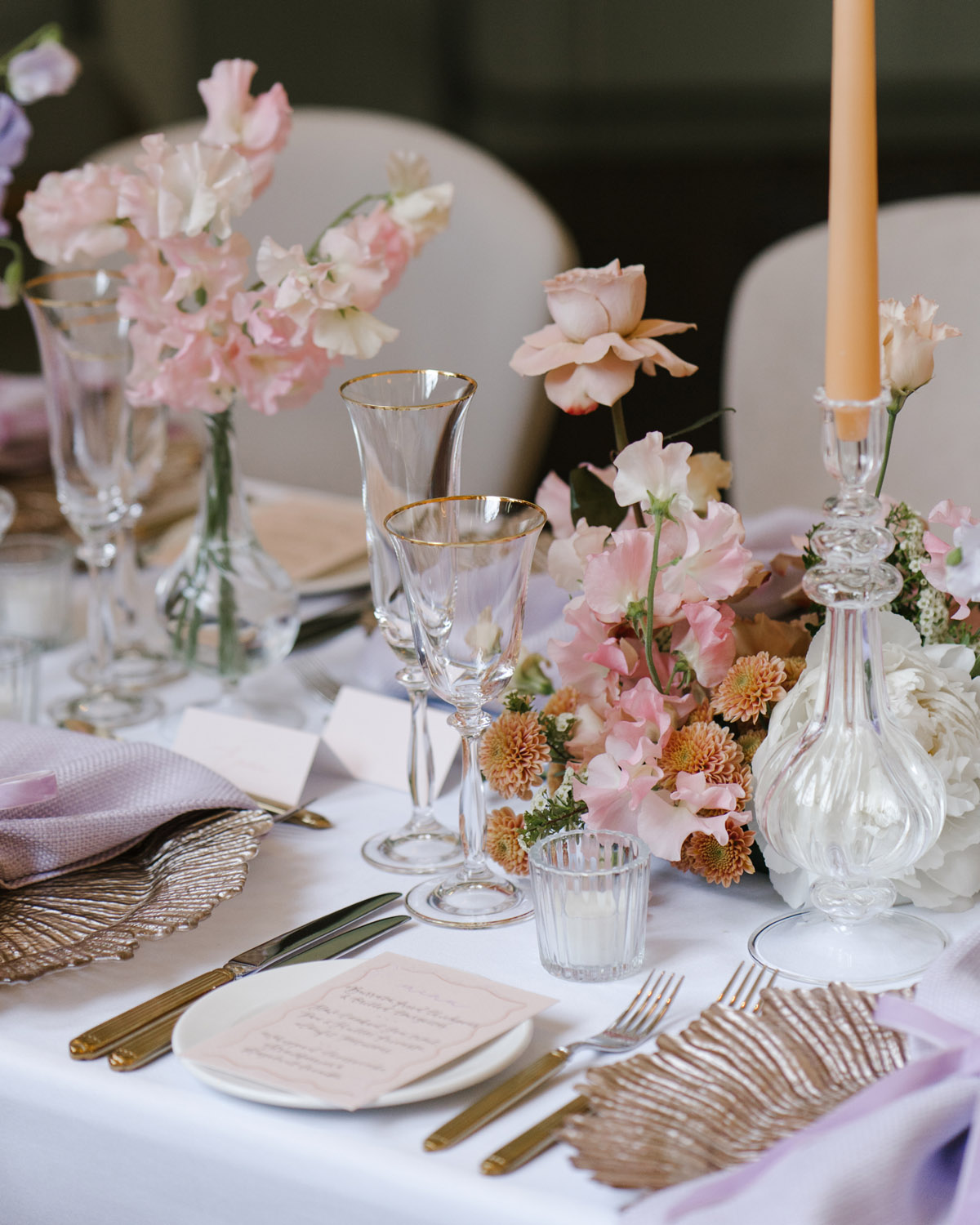 "Her proposal was so detailed and creative. Elspeth worked on the colour palette for us and created an entire tablescape to match the florals."
"I knew I wanted seasonal flowers so Elspeth sourced many spring blooms, like peonies and sweet peas. I loved the injection of lilac and pastel peach."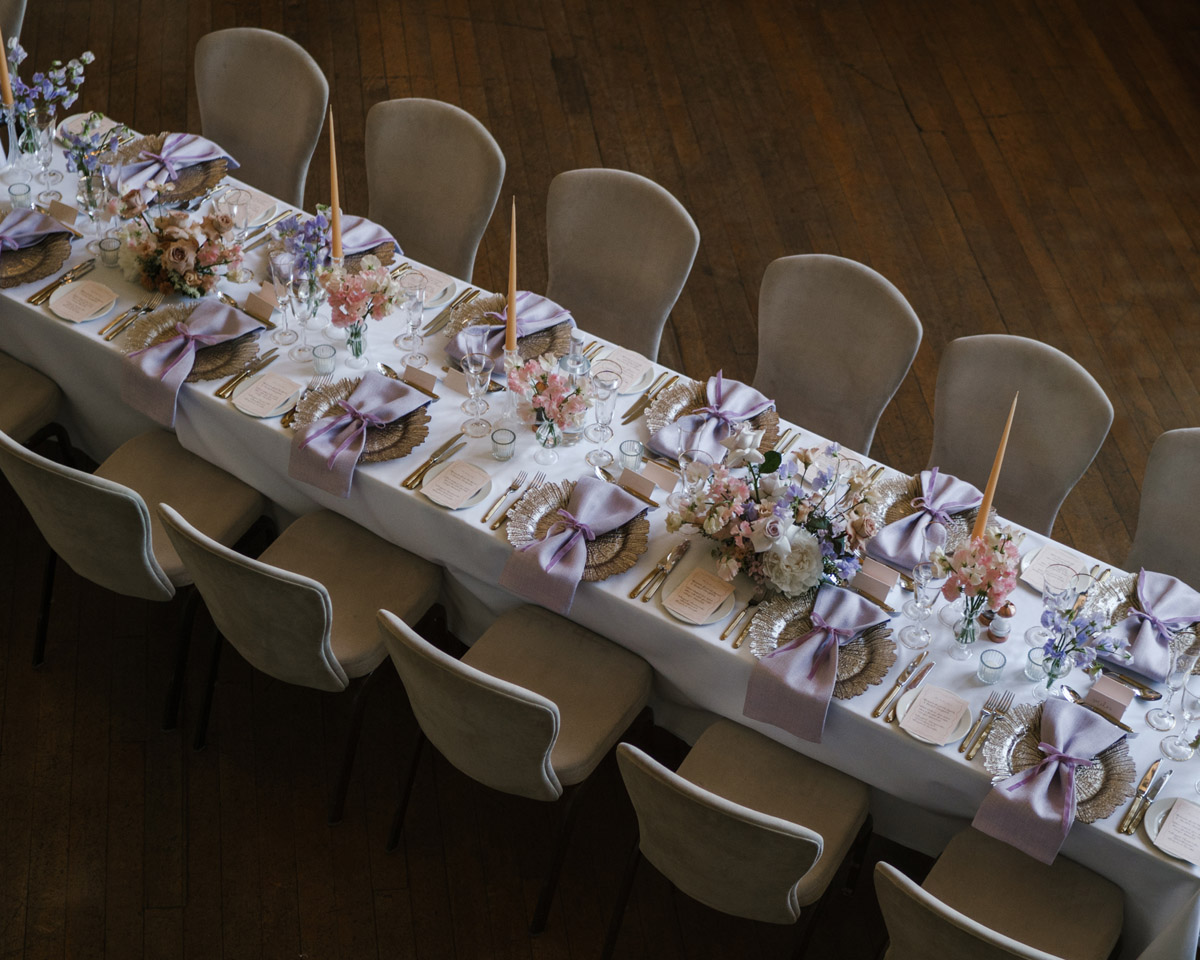 The guests and the newly-weds sat down at one long table for the dinner party.
"We were planning on styling ourselves but when Covid hit and the numbers of guests reduced, we asked our florist Blume Studio to style the tables as we love her style."
"The brief was 'Fashion Press Dinner' and she got it spot on."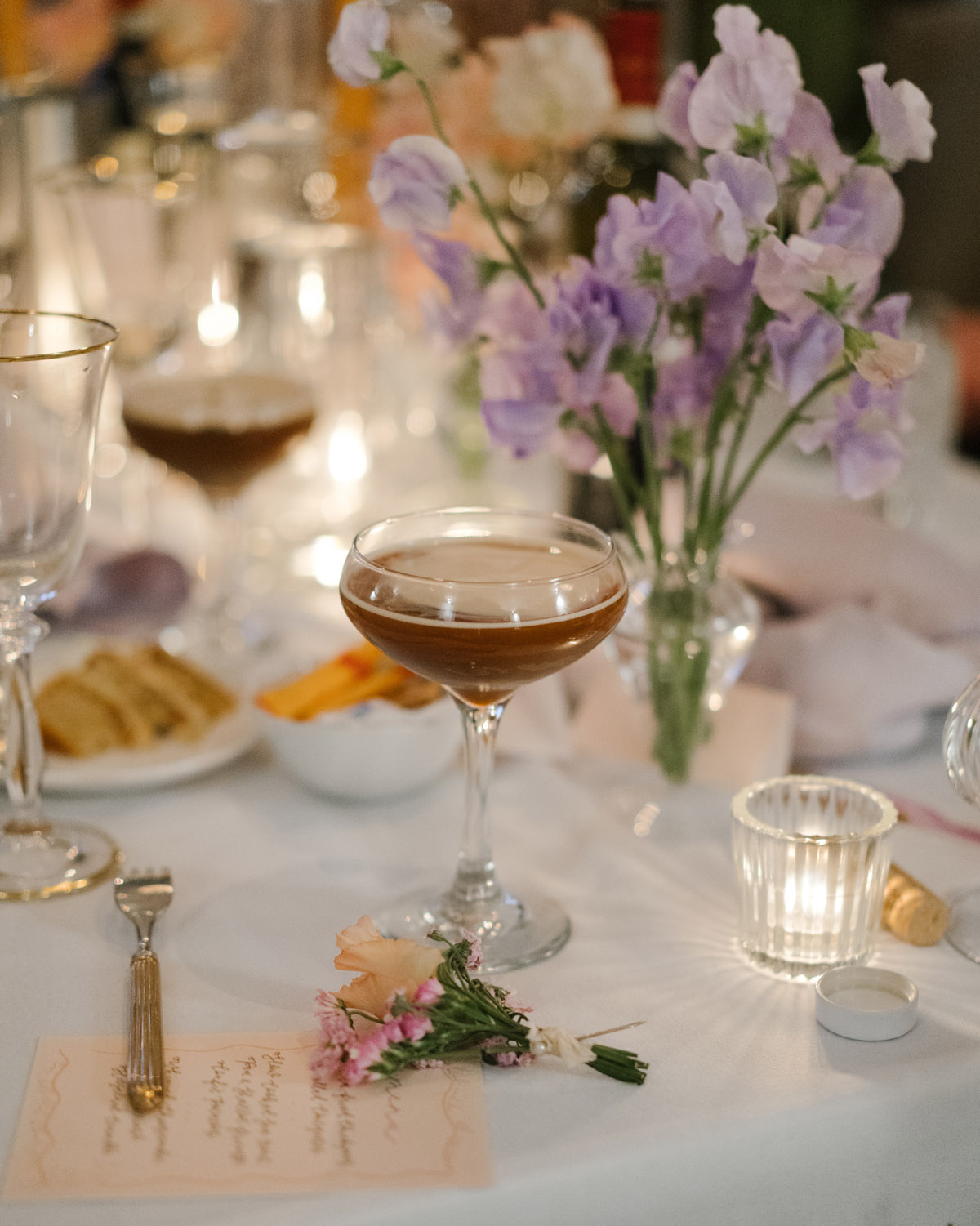 "Blume provided napkins, plates, cutlery, glassware and vases. In the ceremony, Blume Studio provided hurricane candle votives with pillar candles to give an ethereal look amongst the flowers."
"Elspeth at Blume designed our invites, menus and order of services."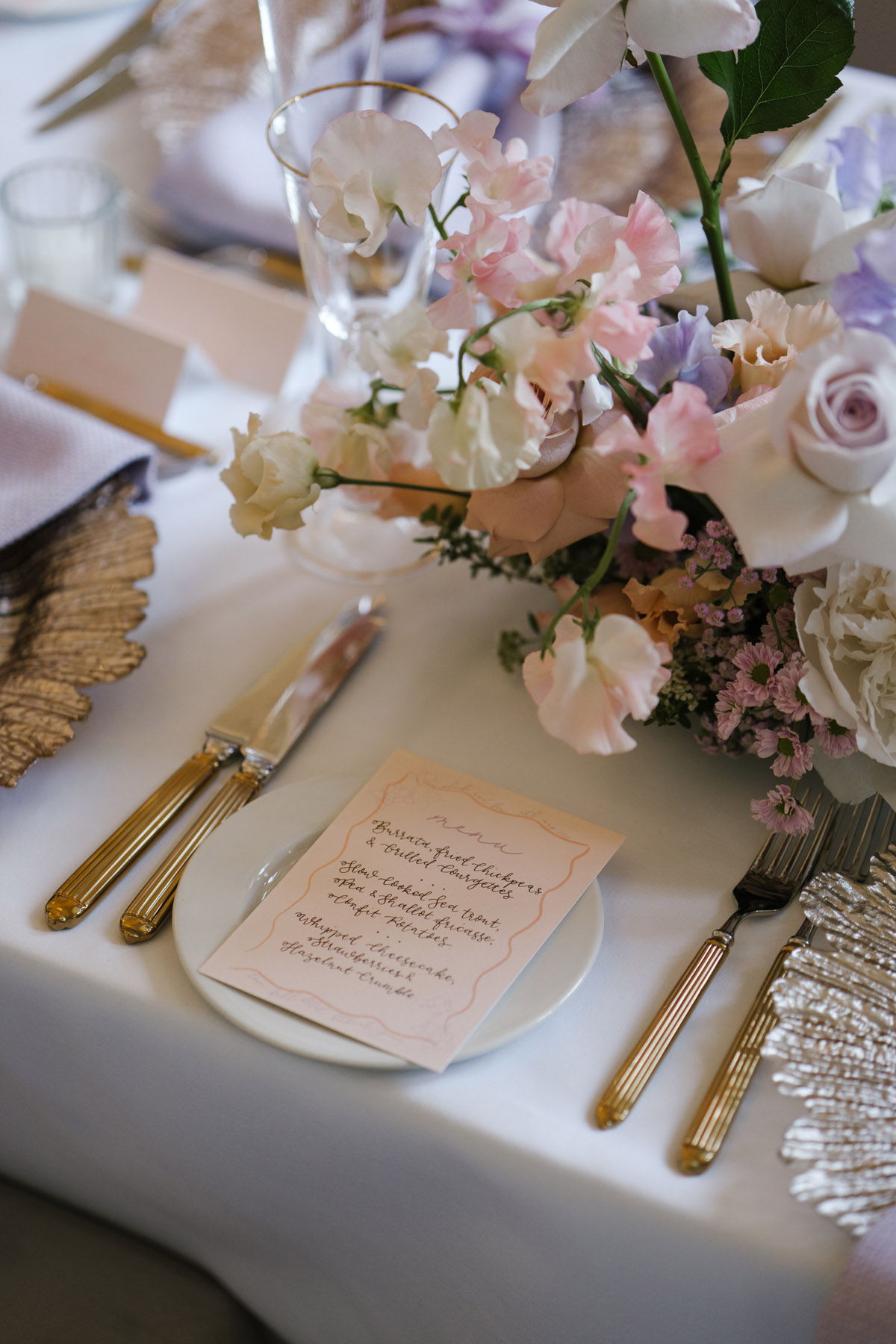 "Our menu tasting was a week before the wedding (due to Covid restrictions) so she found a local calligrapher, Hanndrawn, to handwrite our menu choices which added a really special touch."
Town Hall Hotel provided the catering and, as they ate, the guests enjoyed live piano music from Michael Raggart.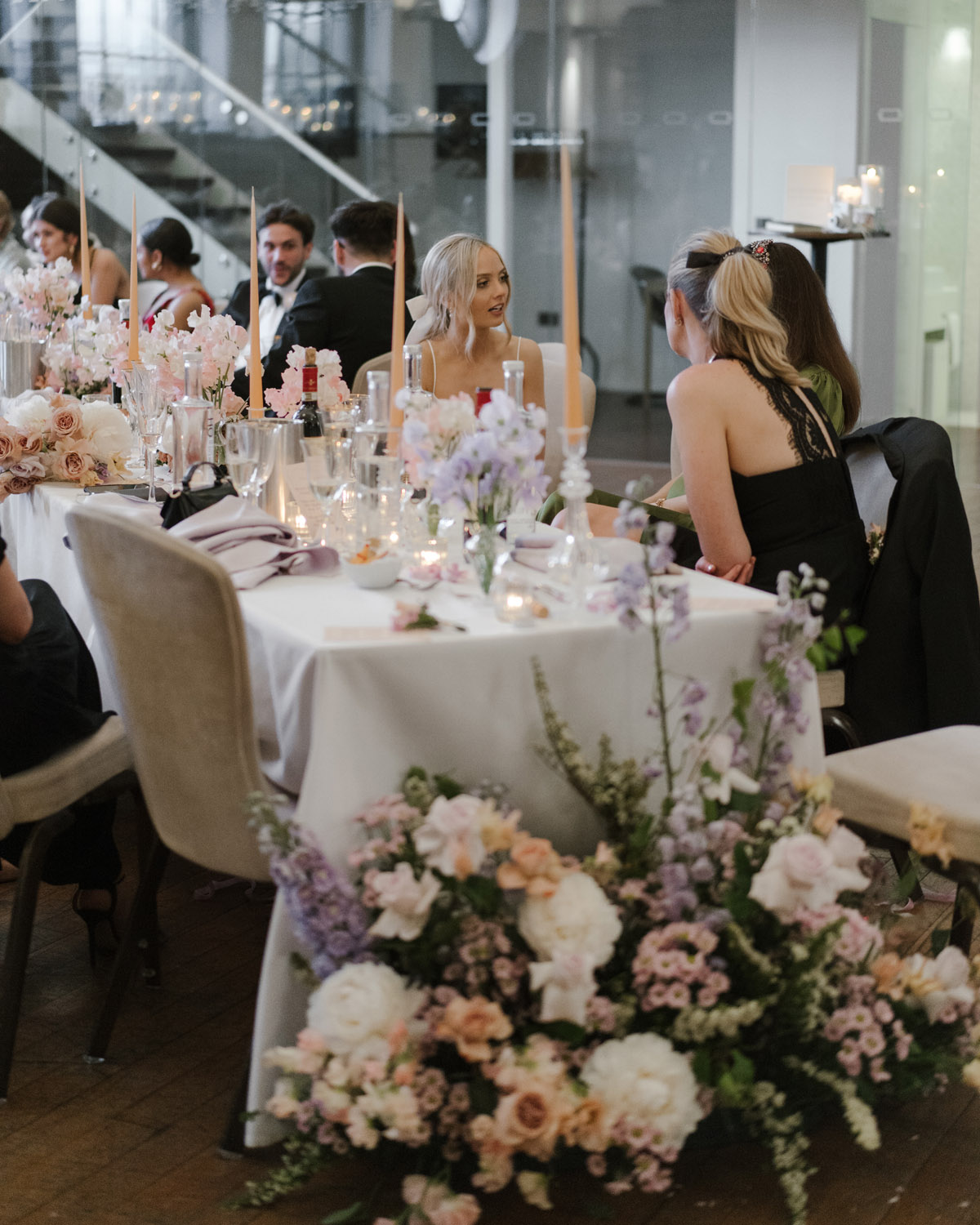 Ben looked dapper in his vintage tux jacket, which he got tailored to fit.
"The rest of his suit was from Suit Supply and his bow tie and pocket square was from New & Lingwood. His shoes were Gucci."
The two-tiered, white cake from Lucy Burton Cakes.
"I chose Lucy Burton Cakes as I tried her cakes at A Most Curious Wedding Fair and they were delicious."
The cake was really important to me as I am coeliac so I can never eat the cake at other people's weddings."
"I also wanted to make sure the cake didn't taste or look gluten-free, and honestly, none of our guests noticed."
"We had a postal tasting in lockdown and went for a hazelnut sponge with white chocolate buttercream.""We wanted something to compliment the espresso martinis we were serving alongside and it was perfect."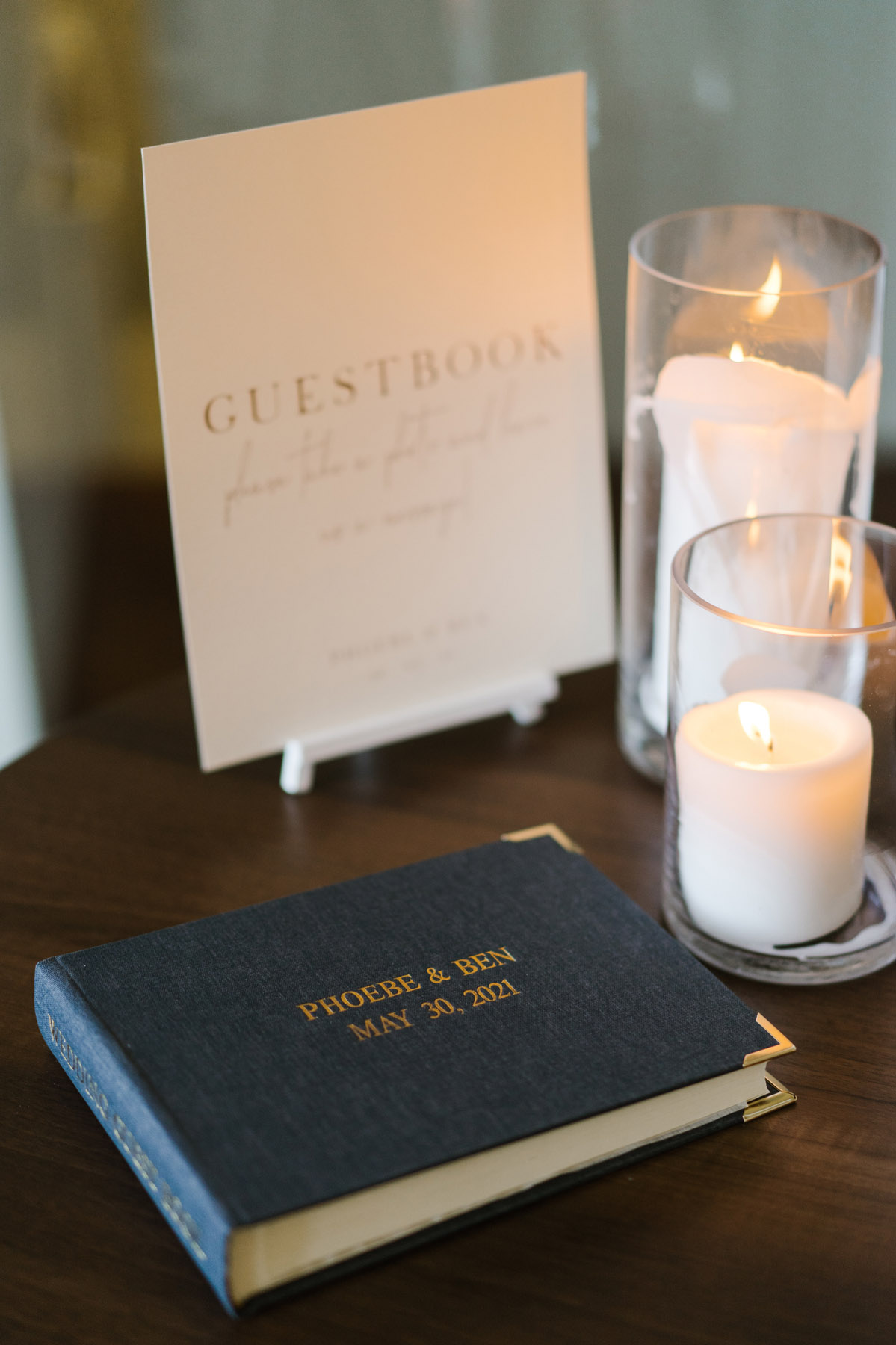 These beautiful images are by Jessica Williams Photography, whose work you can see more of here on Love My Dress.
"We chose Jessica Williams because we love her relaxed, contemporary, documentary style photos."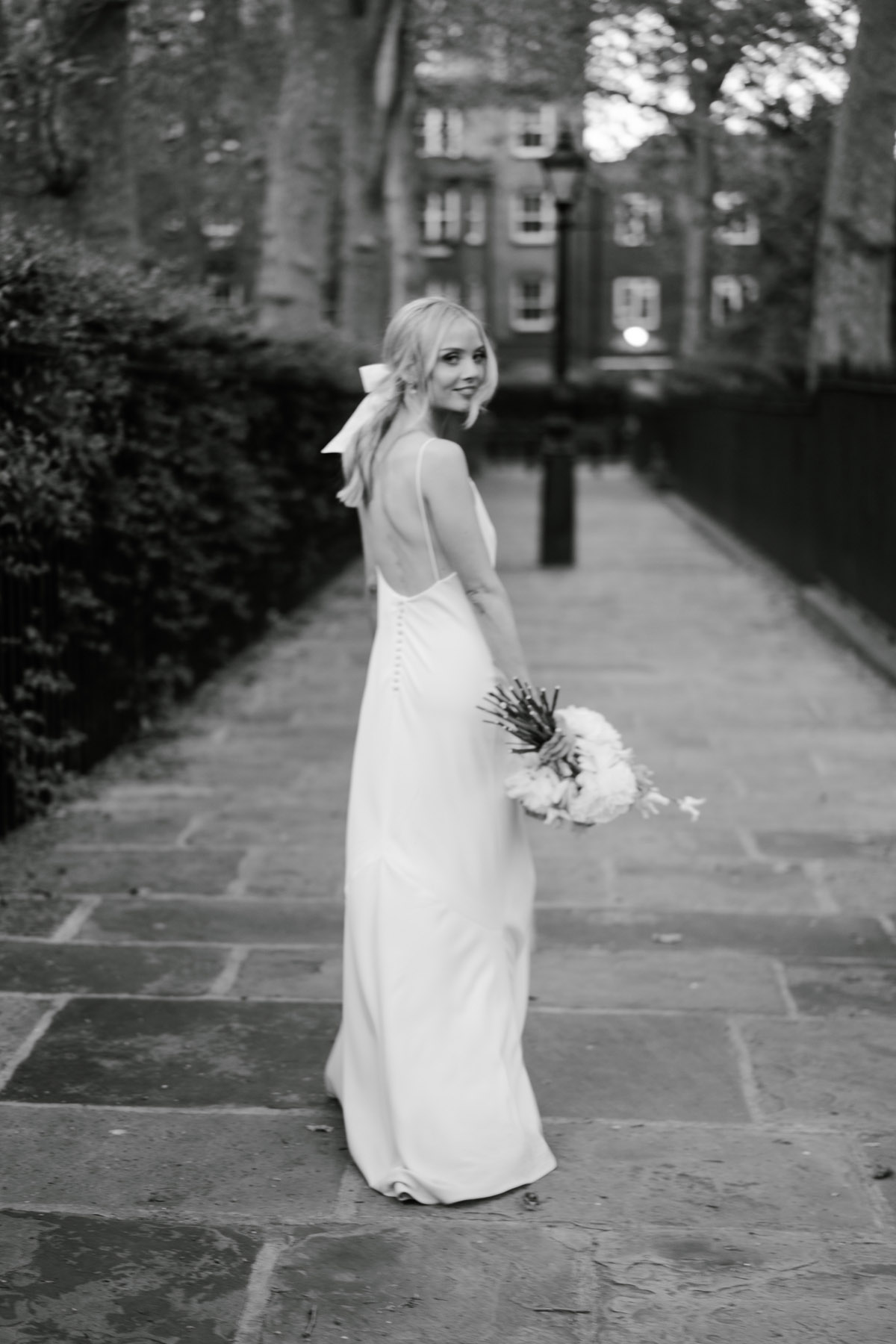 "She was amazing and I can't recommend her enough. She knew the venue well and was able to take charge of the timings of the day to ensure we got all the images we wanted."
"She made us feel so relaxed, we loved having her there."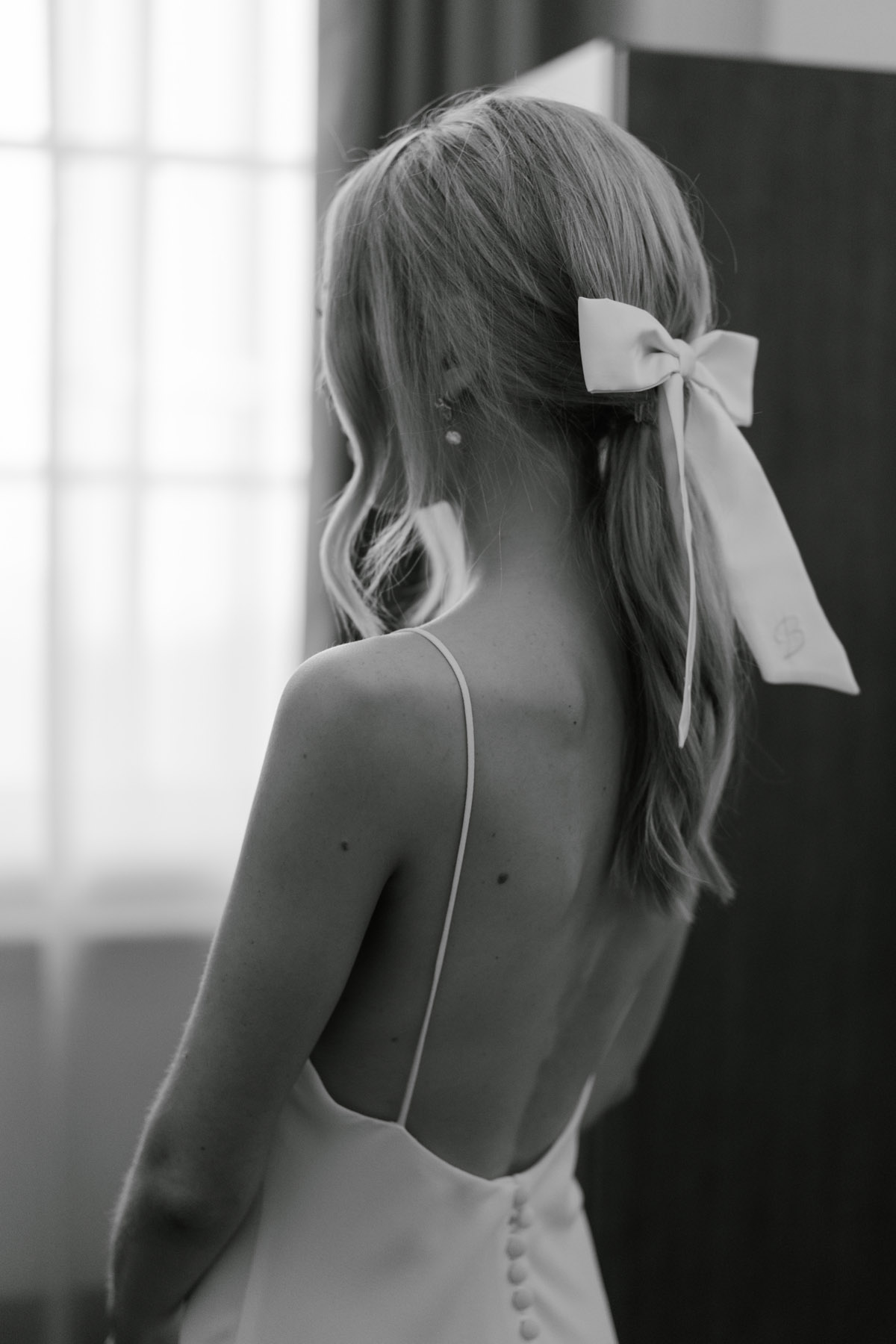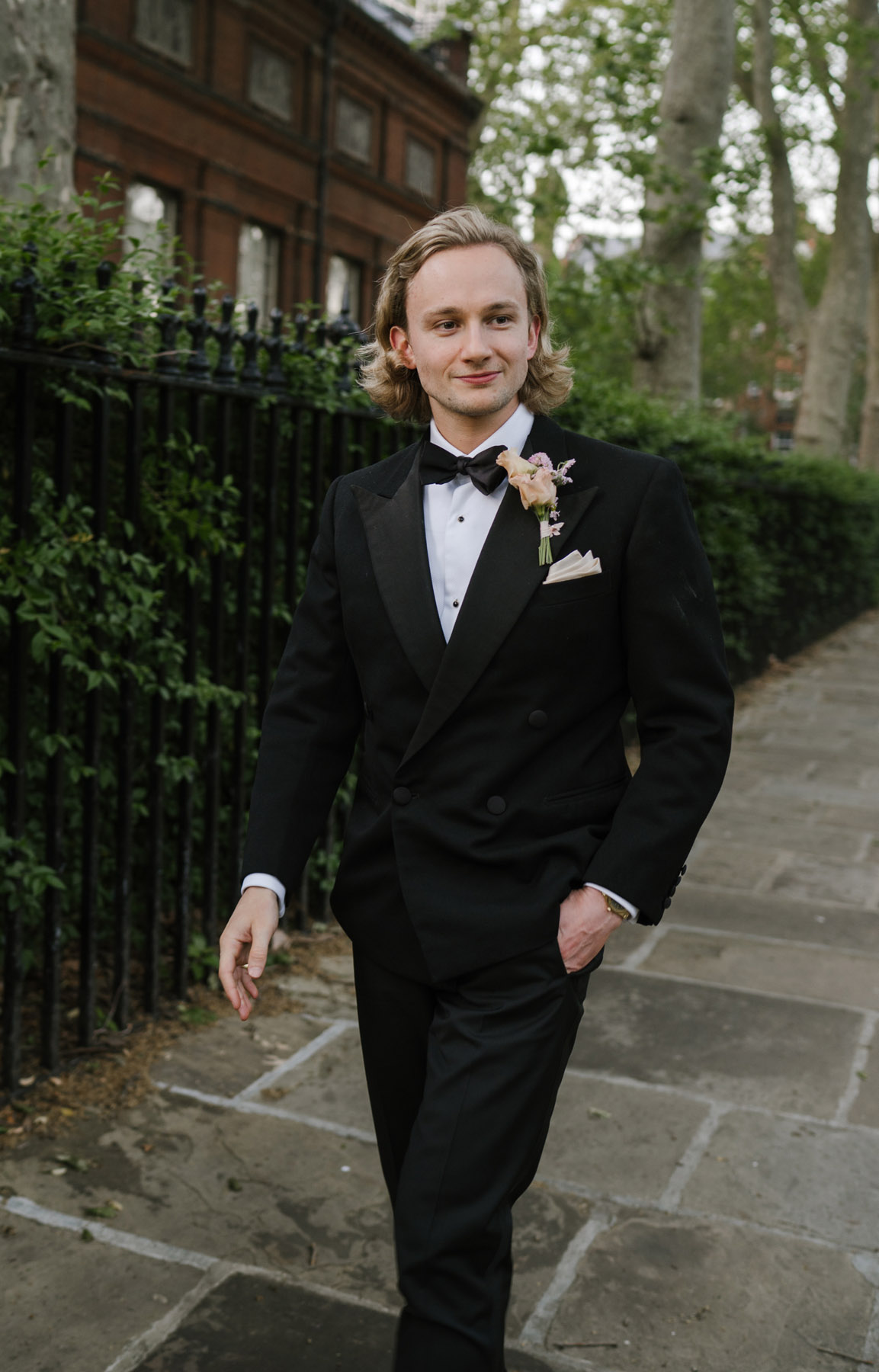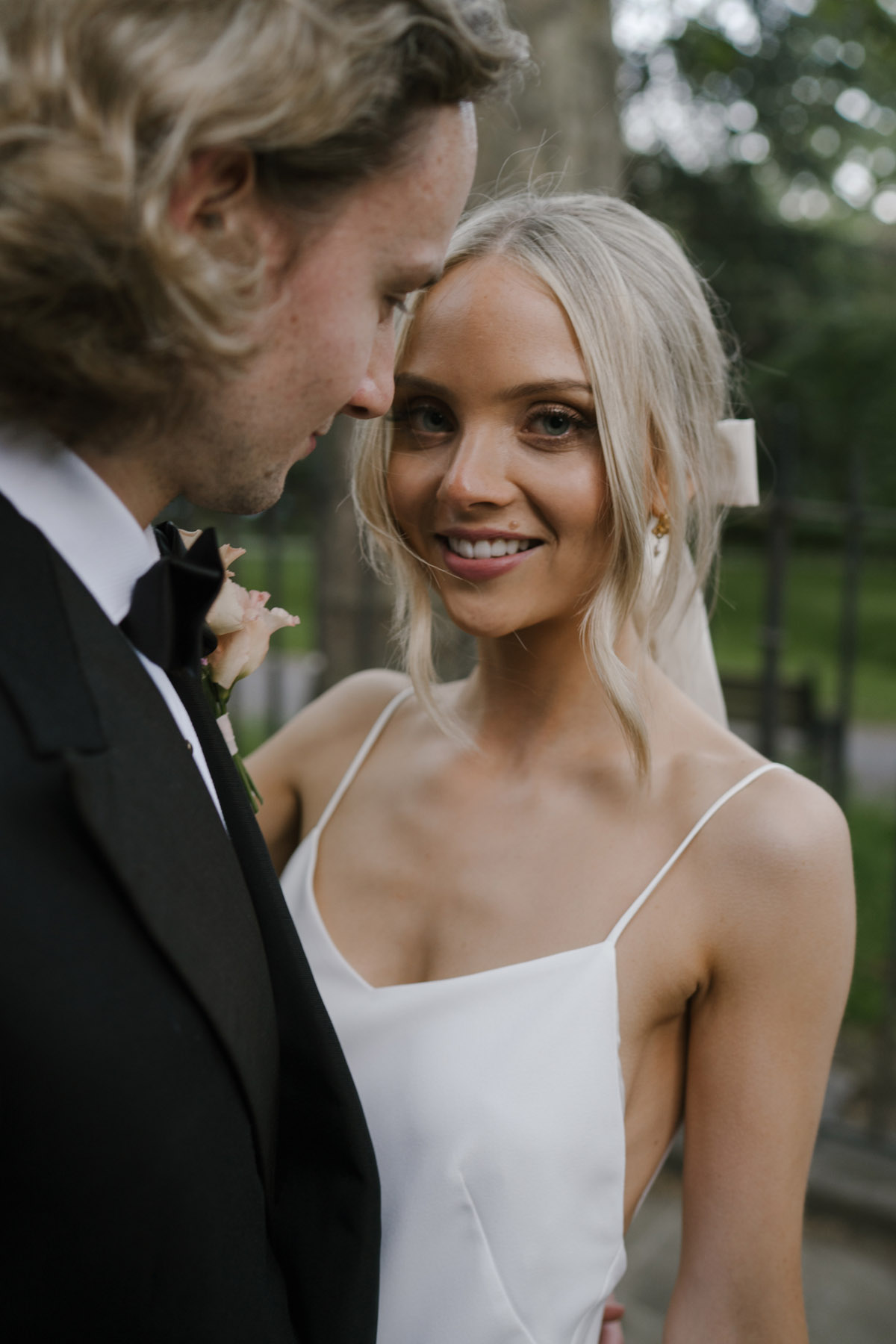 Ready for the evening party, Phoebe removed her veil and clipped in an over-sized, ivory bow from Gigi & Olive.
"It was personalised with mine and Ben's initials. I loved the idea of a wedding bow and it changed up my outfit in a subtle, yet stylish way."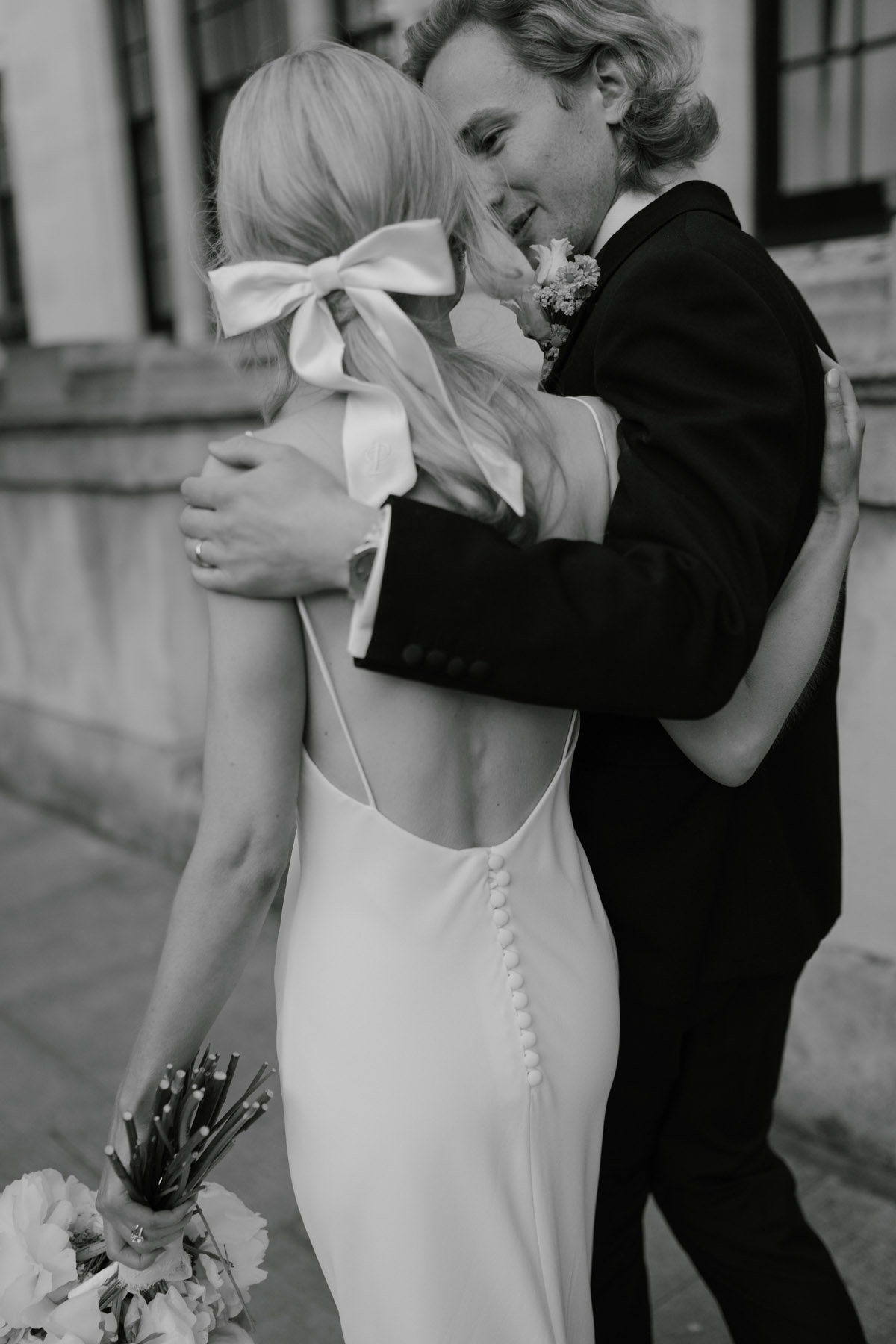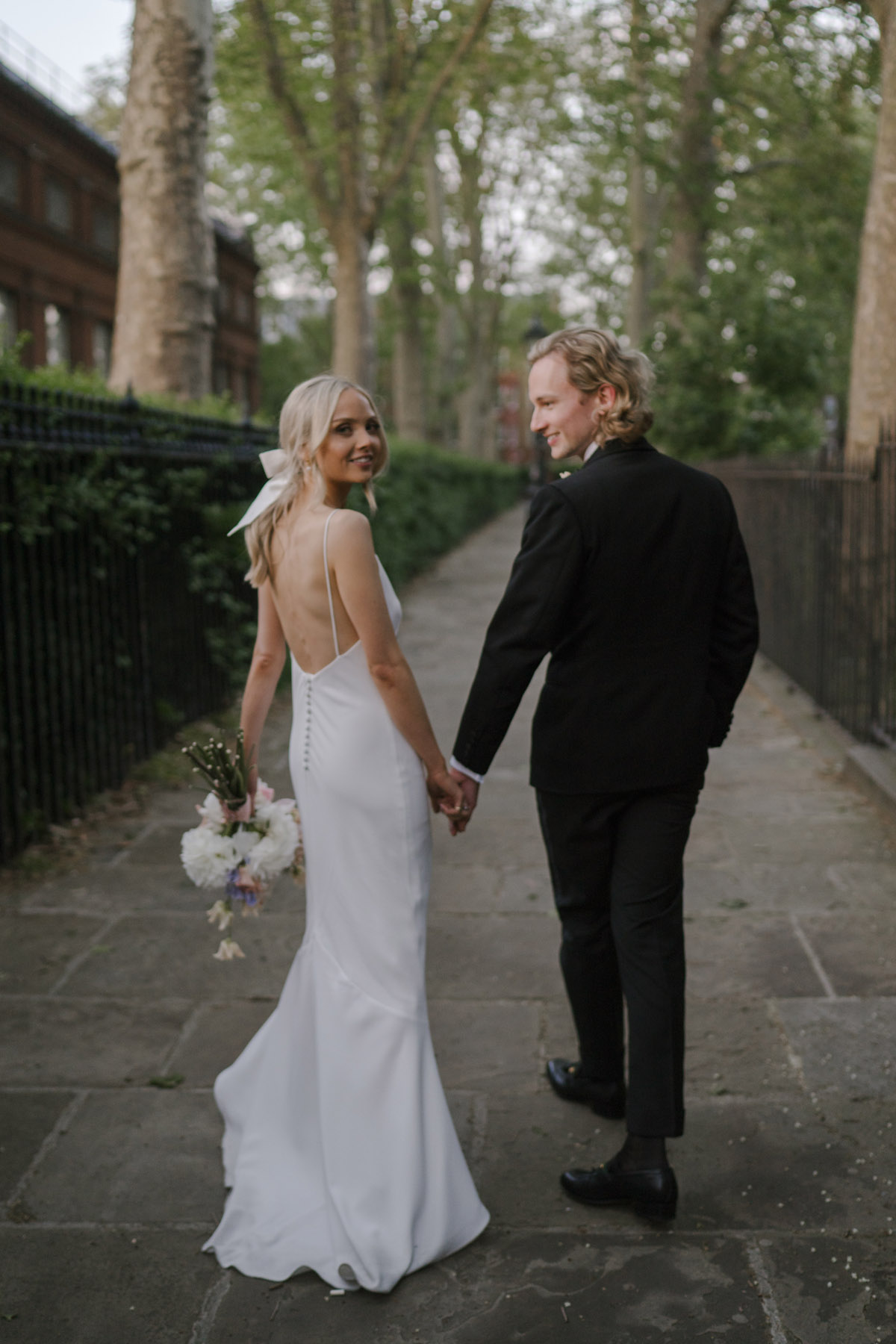 For the evening and first dance, the couple hired acoustic duo the The Octavas.
"Our first dance was to an acoustic version of 'Ain't Nobody (Loves Me Better)'.
"Our budget was £30k. We might have gone over this had we had our full 65 guests. However, reducing the numbers to 30 (in line with government restrictions) meant that we could save money on food and drink, and we ended up having more money for flowers, styling and entertainment."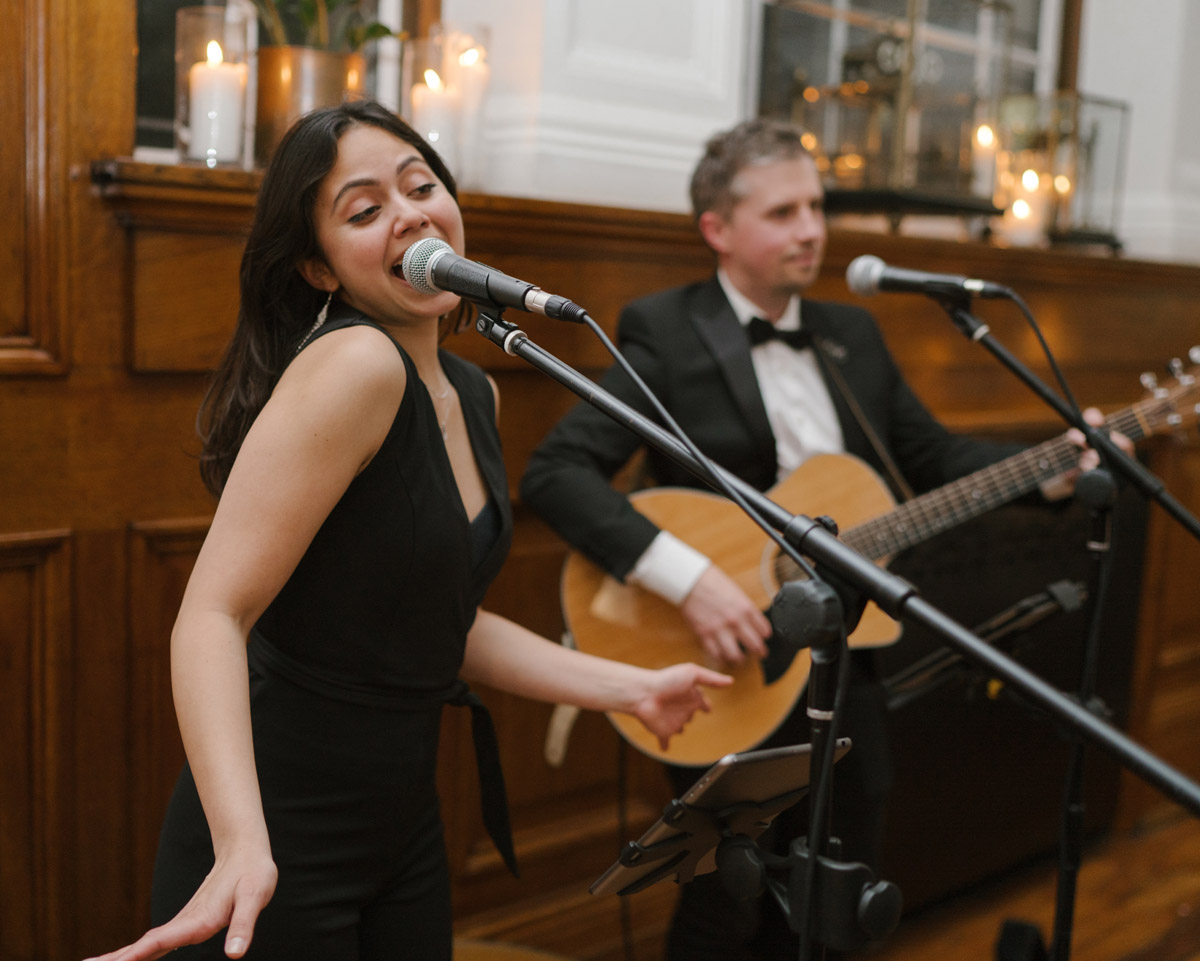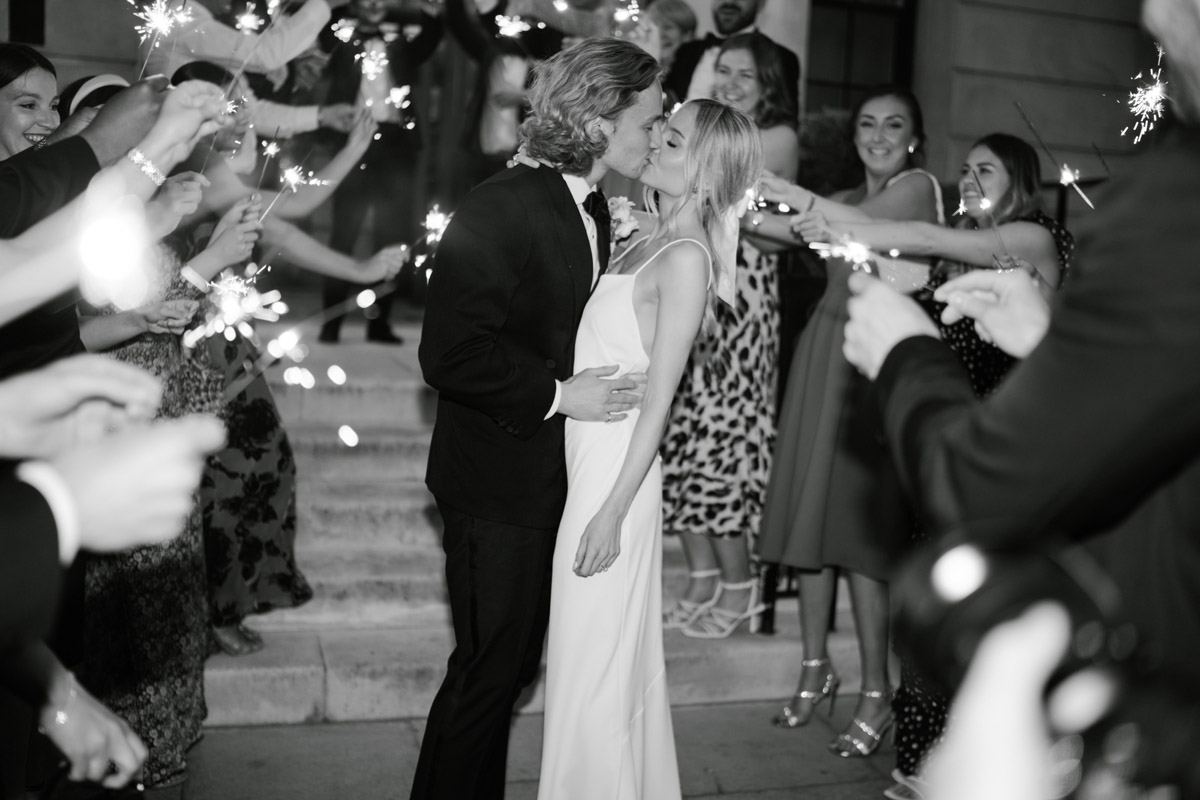 Words of Wedded Wisdom
"Be organised and remember to enjoy the process! Keep a list of all of everything you need to do and delegate jobs to close friends or family so you don't get overwhelmed. Having lists means you won't forget the small details like having a bucket for the confetti and you also won't need to hold everything in your head!"
"On the day, remember to relax and enjoy yourself. Everyone is there because they want to celebrate your love so you don't need to be nervous. Also make sure you leave enough time before the ceremony for photos once you are ready. That part of the day goes so quickly and it's nice to stop for a few minutes and have a few photos before you walk down the aisle."
See more minimalist weddings here.