Beautiful London is the venue for today's modern, fun, urban wedding for two expats, Bri and Timo. Come with me to Marylebone for this simple, classic city celebration.
Meet Bri, originally from the US and Timo, from Germany, who wed on 30 March 2019 at Old Marylebone Town Hall with a dinner reception after at restaurant Bourne & Hollingsworth Buildings, Clerkenwell, London.
Corina Photography

+ Follow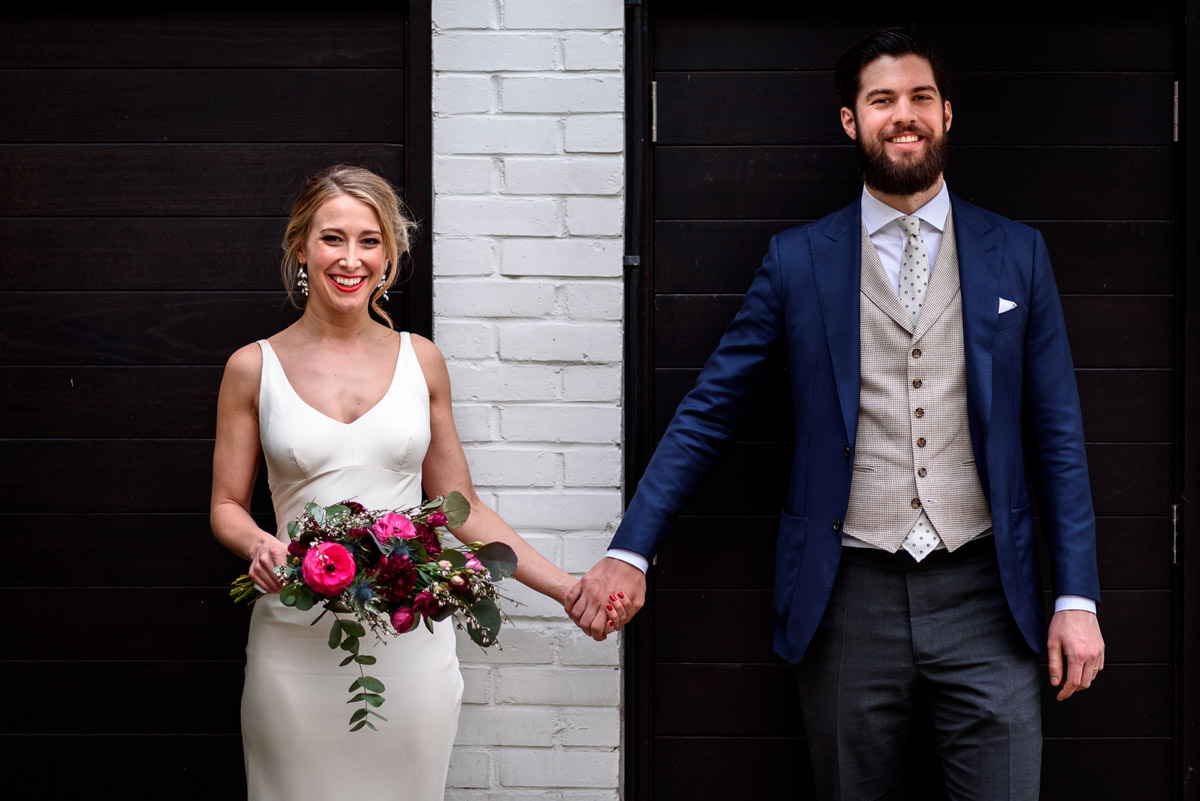 Their day was a true celebration of London, the city in which they met, with a London bus tour of the sights for their guests and a modern, contemporary vibe. 
Her chandelier drop earrings were custom-made by Dolecka, who also made her hair vine. She wore her hair in a chic up-do and her make-up was flawless with a fresh red lip colour, styled by Andrea Elsby.
She carried a striking bouquet of pink and red, put together by The Real Flower Company.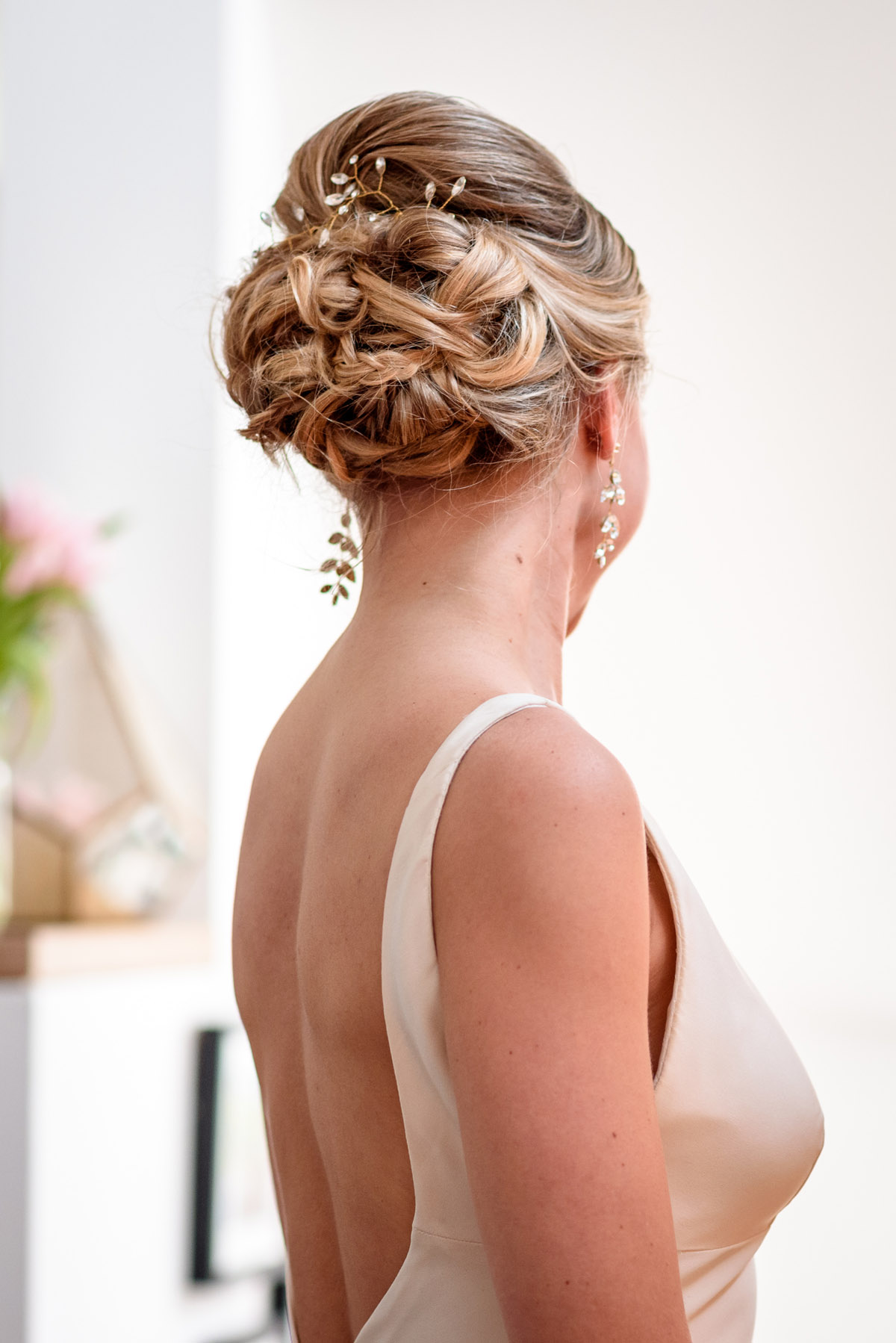 Bri visited London bridal boutique Mirror Mirror Bridal Couture for her classic, fitted gown.
We are so happy to recommend Mirror Mirror as one of the best British bridal boutiques – you'll find their listing in our directory here.
The bride let her gown's minimalist, figure-hugging style sing with minimal accessories and a killer pair of Valentino Garavani Rockstud pumps.
"I got my dress, accessories and tailoring done through Mirror Mirror Couture in London. Would highly recommend."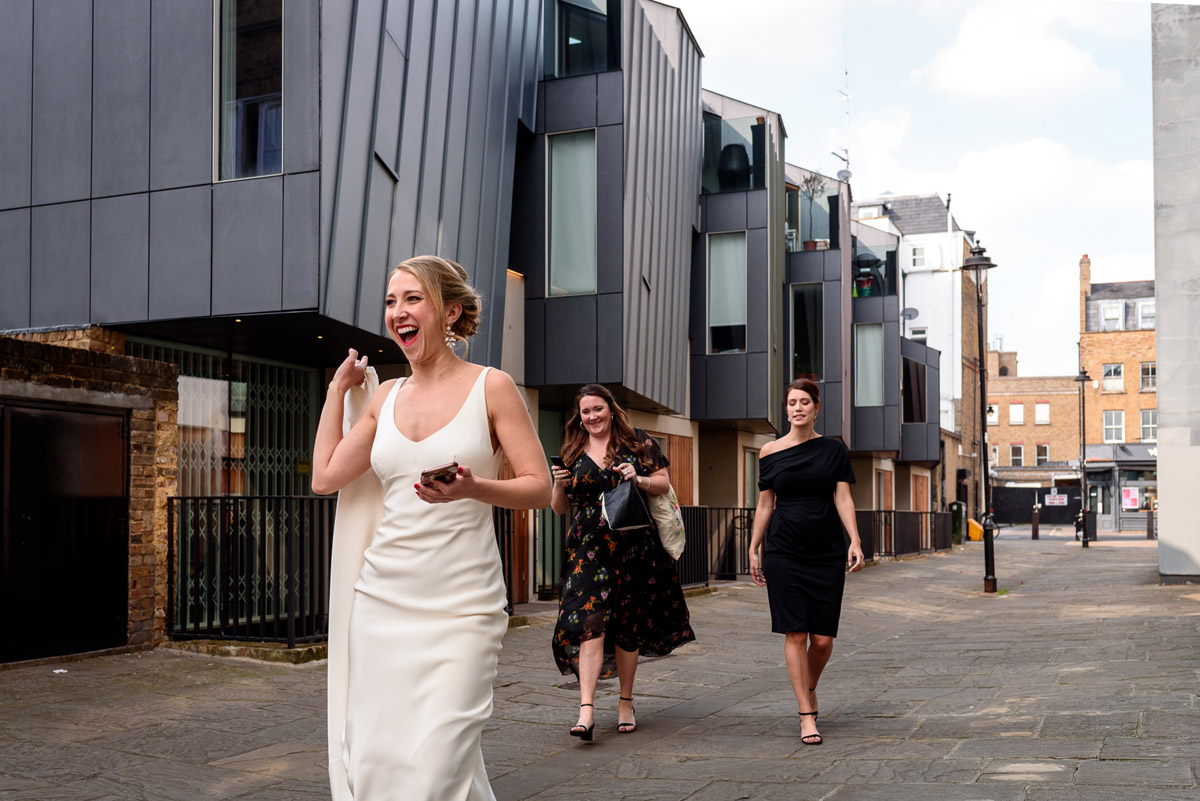 "Since I only had a few months to find a dress, I ended up getting a sample dress at Mirror Mirror that was exactly what I wanted but way too big."
"The seamstress there was a miracle worker and truly made the dress fit like a glove. I also got some custom earrings and head pieces made which turned out exactly as I envisaged."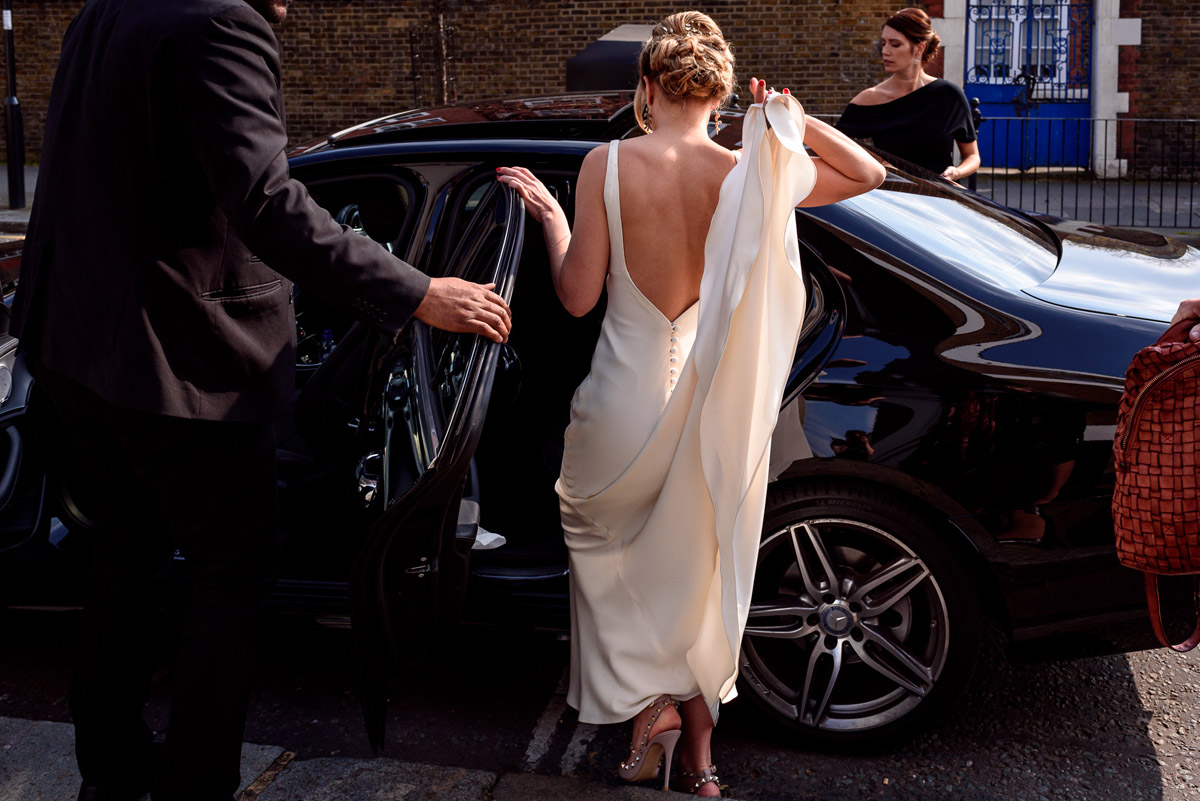 Timo chose a Paul Smith suit with a contrast waistcoat and patterned tie.
"We met in London and had family and friends traveling from abroad, so we wanted to have an urban wedding in the city we met in."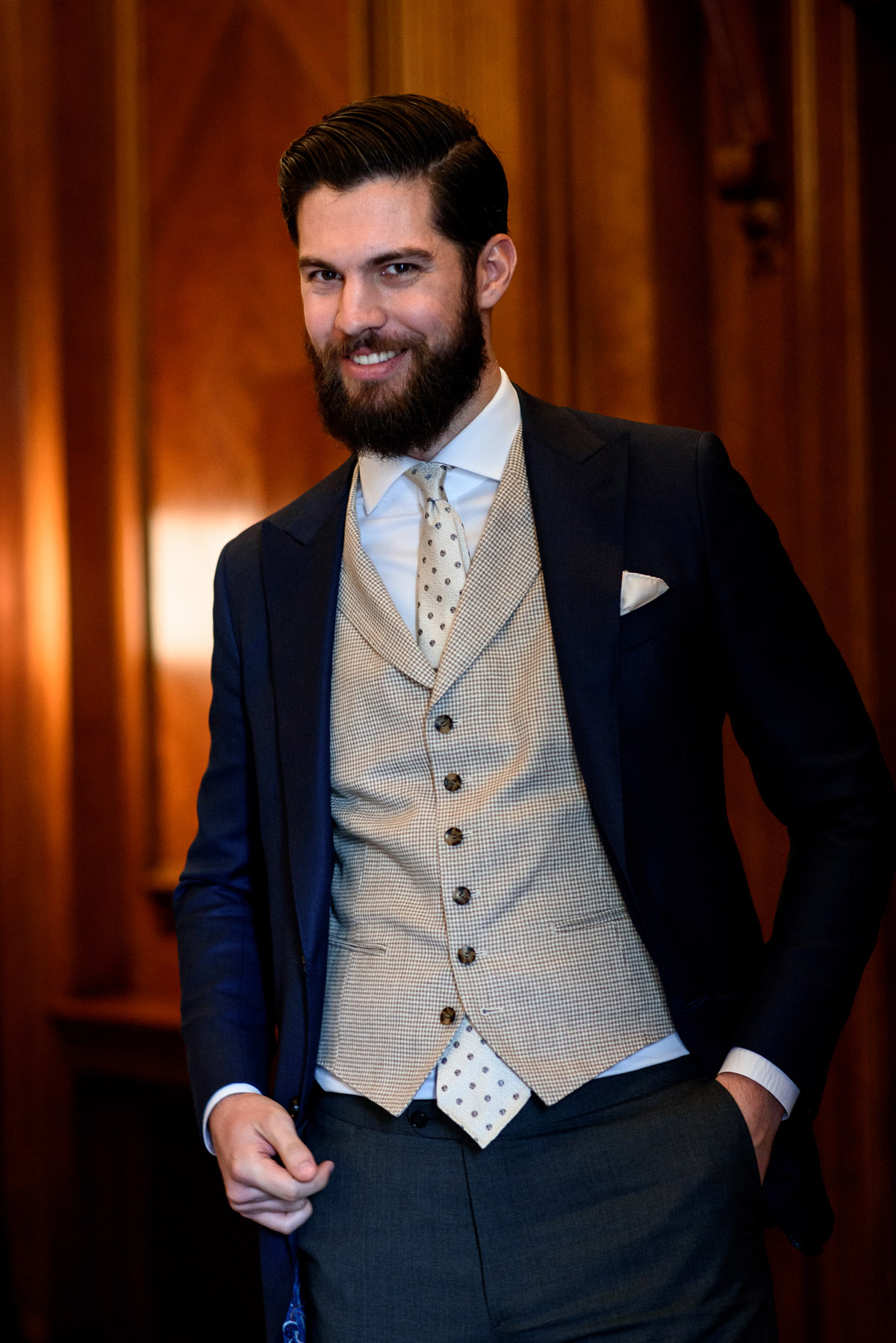 "It was in March so we needed something classic but also inside as the weather was unpredictable."
"We got married at Old Marylebone Town Hall because it was beautiful, affordable and able to accommodate our schedule (we had less than six months to plan)."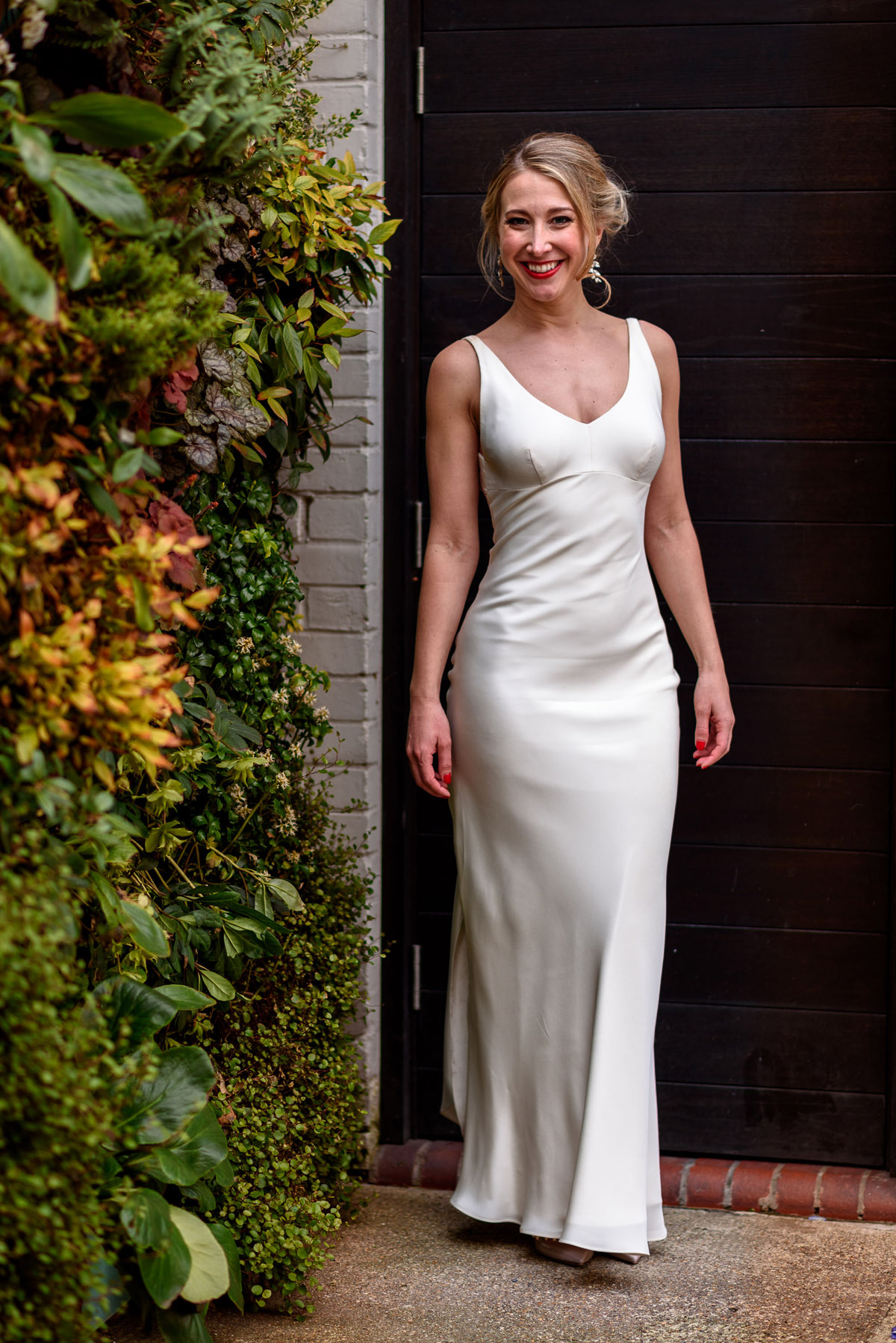 "We were both expats living in London when we met through mutual friends at a house party. We got engaged on a trip to California. It was a wonderful September evening in Laguna Beach at sunset."
"As Timo was proposing, a photographer happened to be walking by and took pictures of the event."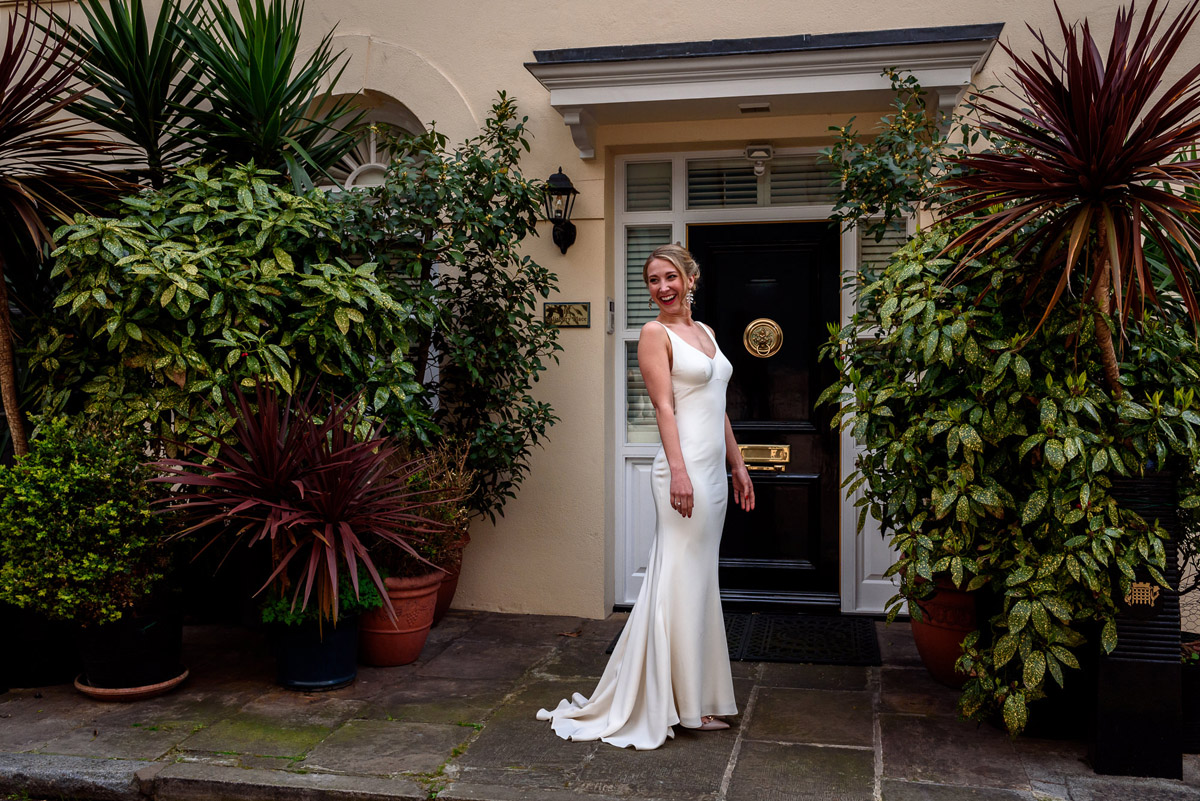 "He was so kind and shared all the photos with us free of charge so we have amazing photos of our special moment."
"We celebrated with tacos and margaritas (and of course champagne!)."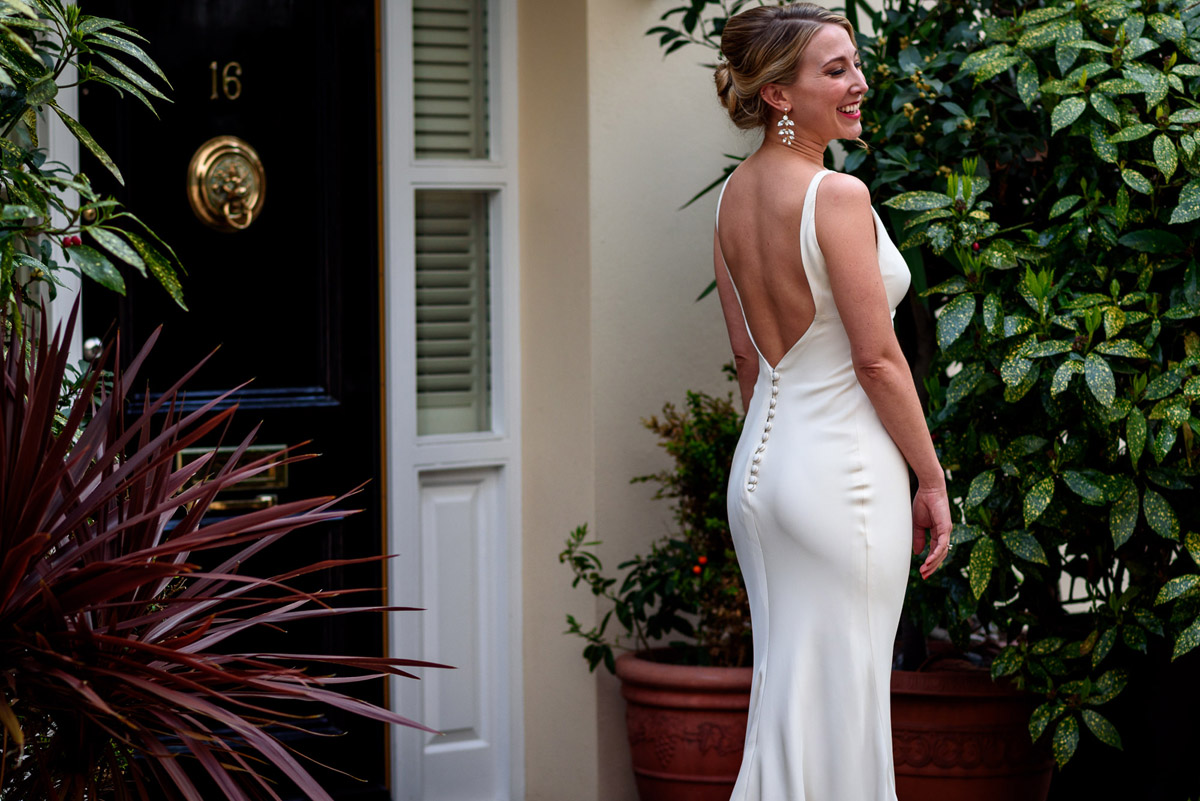 The ceremony was held in the historic setting of Old Marylebone Town Hall and Bri walked down the aisle with her dad.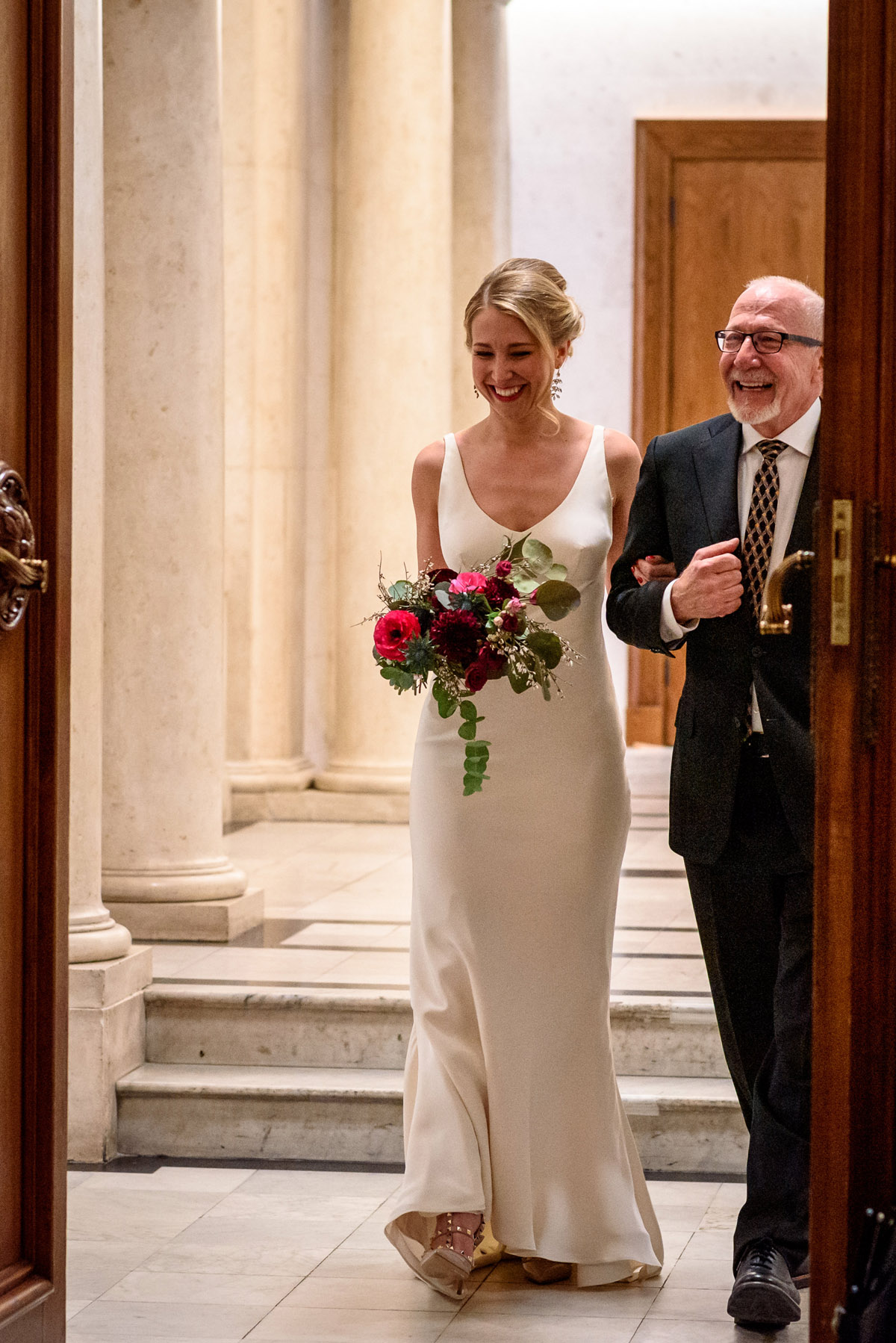 "I was definitely very nervous and probably could have benefited from practicing them a bit more before the ceremony."
"It was a very emotional experience – both reading our own vows and listening to the other read their vows."
"Writing personal vows isn't for everyone but it worked out really well for us. We hand-wrote them and saved them in our memory box."
"I re-read his vows on our first wedding anniversary and they were even more special than I remembered the first time around."
The couple exchanged rings by Rachel Boston Jewellery before heading out in to the London streets for their newly-wed shots.
Whilst they enjoyed time together, the guests piled into traditional red buses from London Bus Group.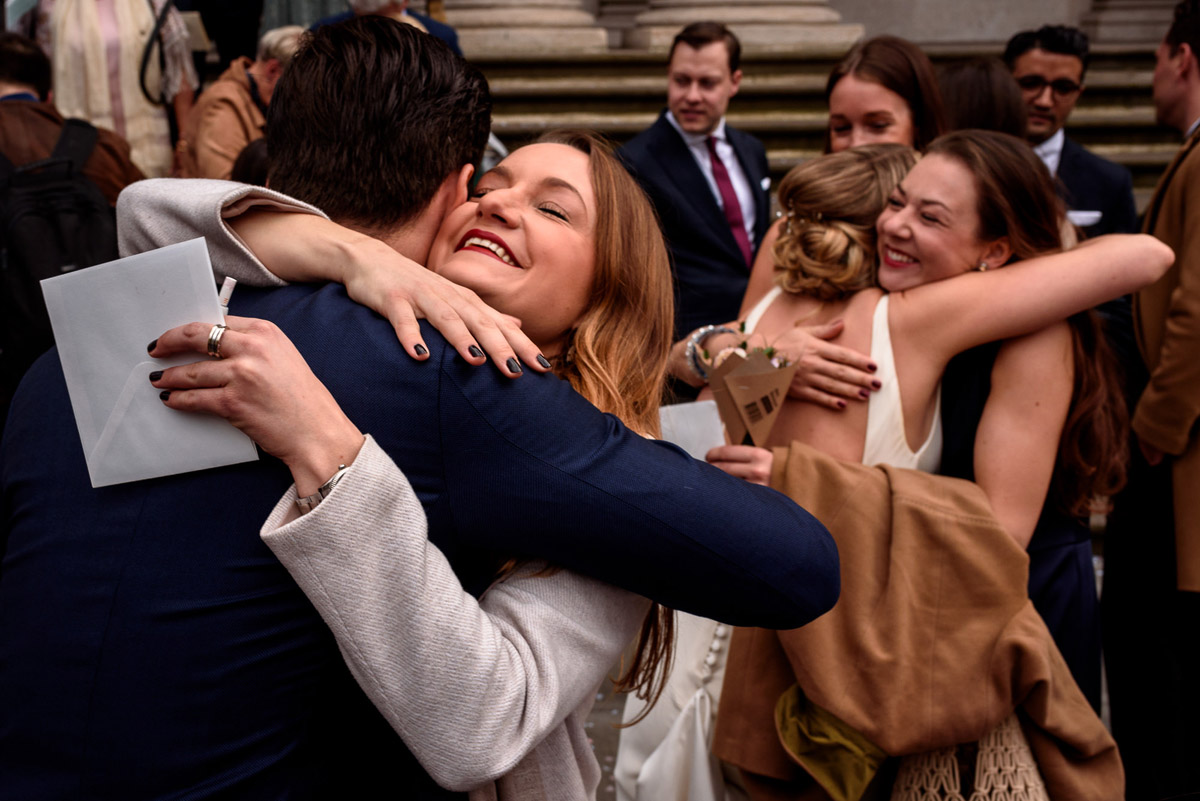 "We rented two red double-decker buses which took our guests on a surprise tour around the classic London sights after the ceremony but before getting to our reception venue."
"We had a little mishap at the start when we went around the corner to take pictures. Since there were two buses, each bus thought we were on the other bus so they left without us. When we came back around the corner, we realised what had happened. Neither one of us had our phones (or had any numbers memorised), so we had to send out Facebook messages on Corina's phone to everyone in our party."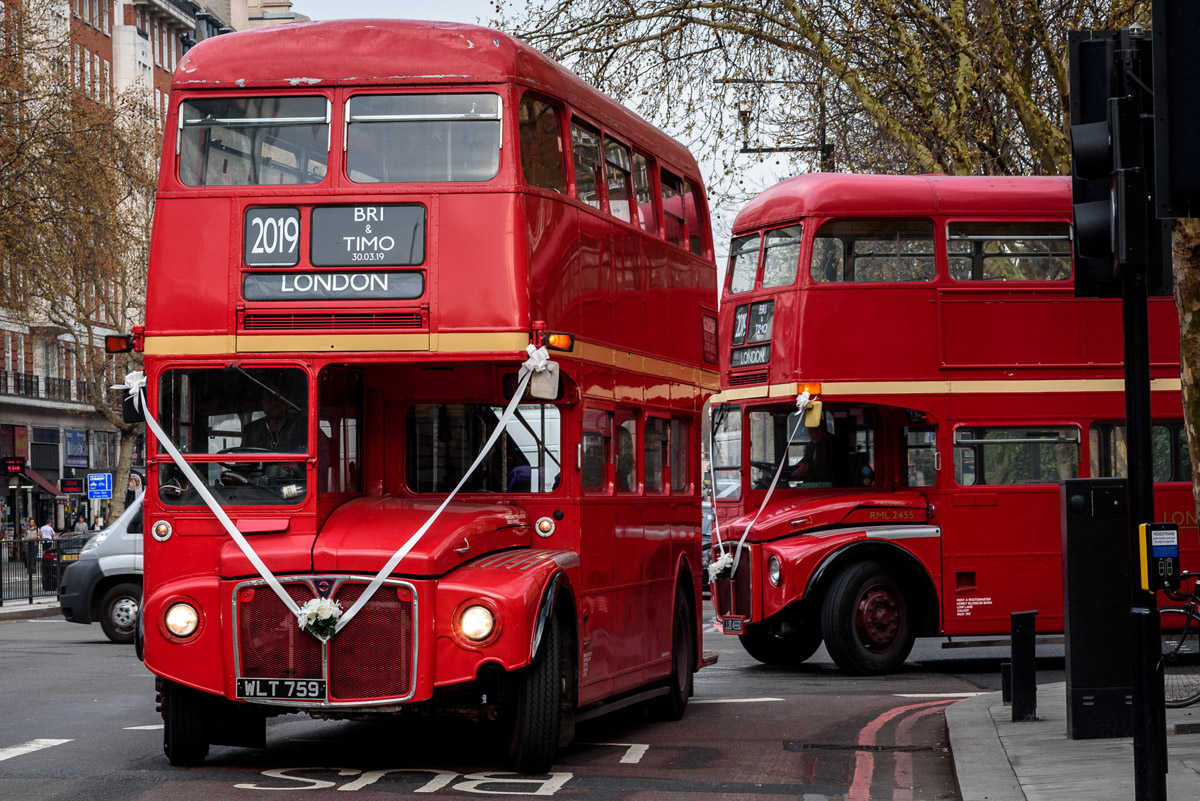 "Once we had their location we hailed a black cab and chased down the bus. How funny that they forgot the stars of the day!"
"The silver lining was that we had a little time together as husband and wife before the reception and we got some beautiful photos in the cab ride over (one of my favourites). Corina was calm and such a blessing to have with us."
"She turned what could have been a very stressful situation into something great. It took a bit for people to realise that it wasn't a joke – they actually left us behind!"
"Once we go on the bus the music was blasting and champagne was flowing – it was so much fun."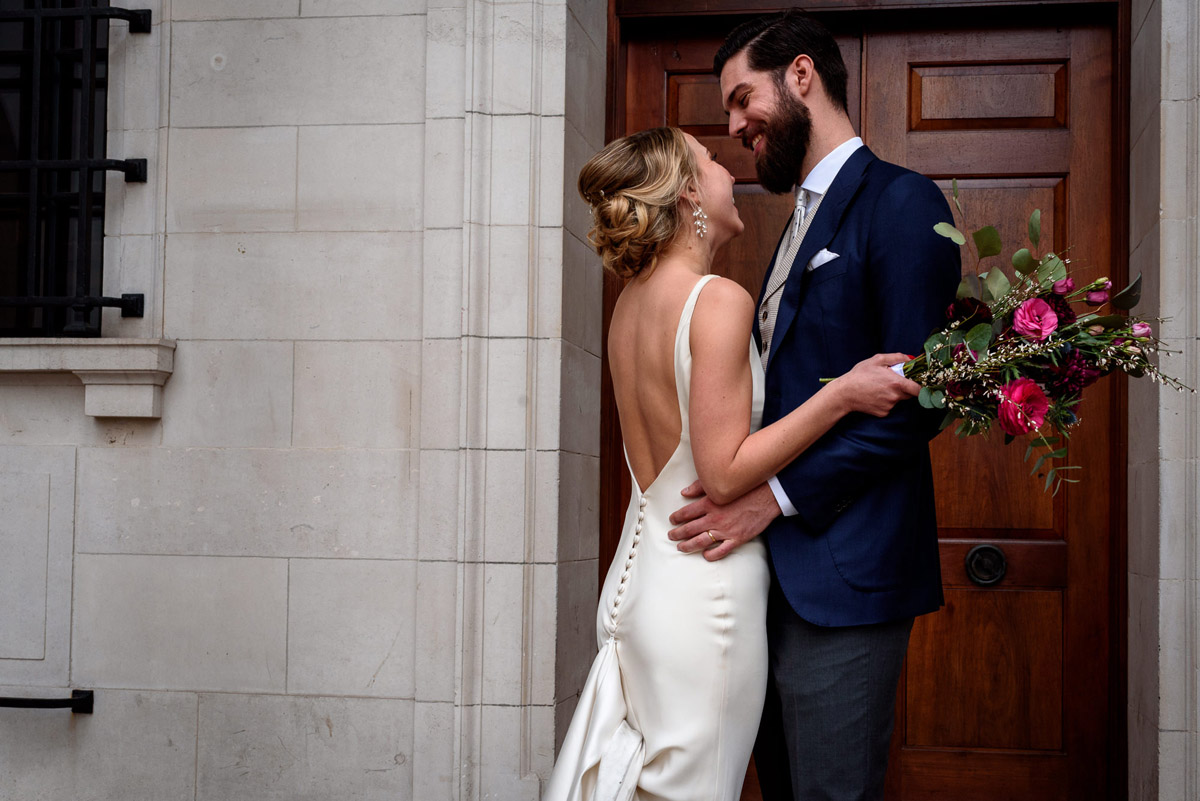 "Our guests absolutely loved it and it was one of our most memorable parts about the wedding."
The dinner reception was catered for by Bourne & Hollingsworth, accompanied by speeches from the couple's family and friends.
"My favourite parts were the vows we wrote for each other and the speeches given by our family and friends."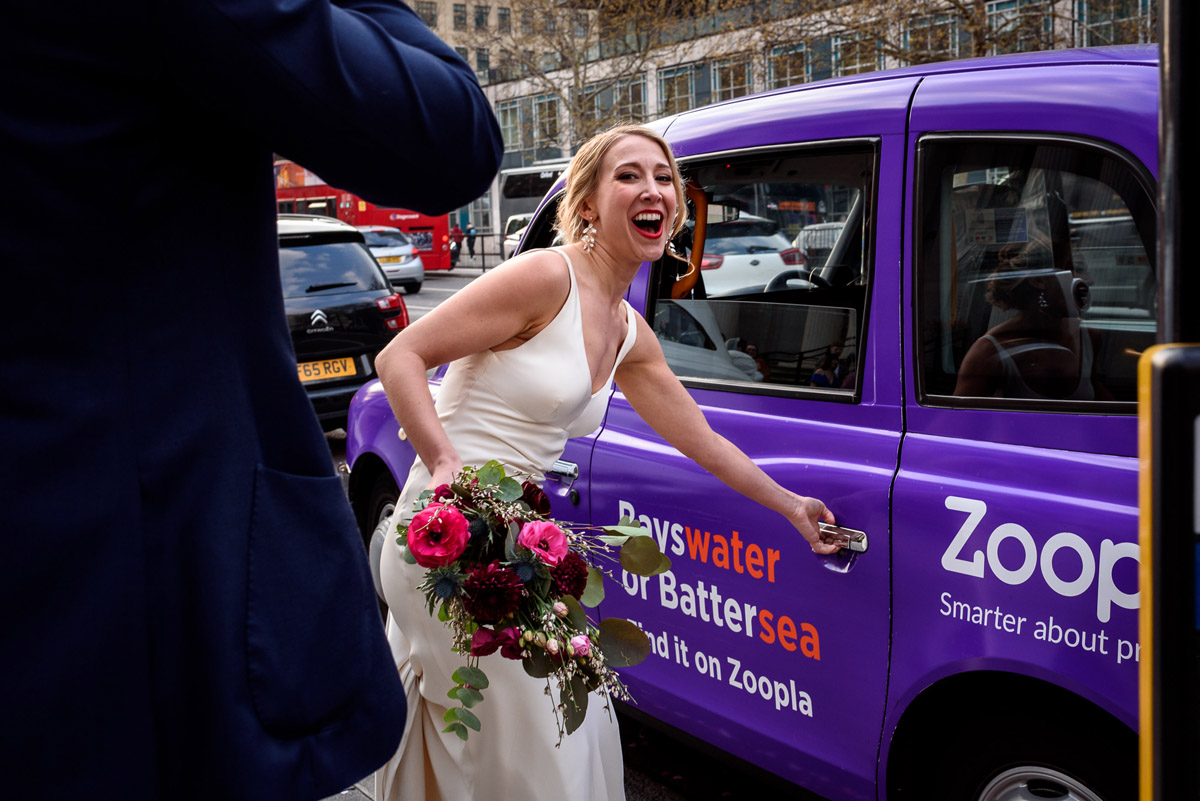 The couple planned an intimate, fun day which photographer Corina Photography captured to perfection. I particularly love the shots of the newly-weds in the empty back streets of London.
"Corina was the most wonderful wedding photographer we could have asked for."
"She took amazing photos of the day that really captured our friends and family in the moment, which was exactly what we wanted. She was a lovely and calming presence and her photographs were stunning."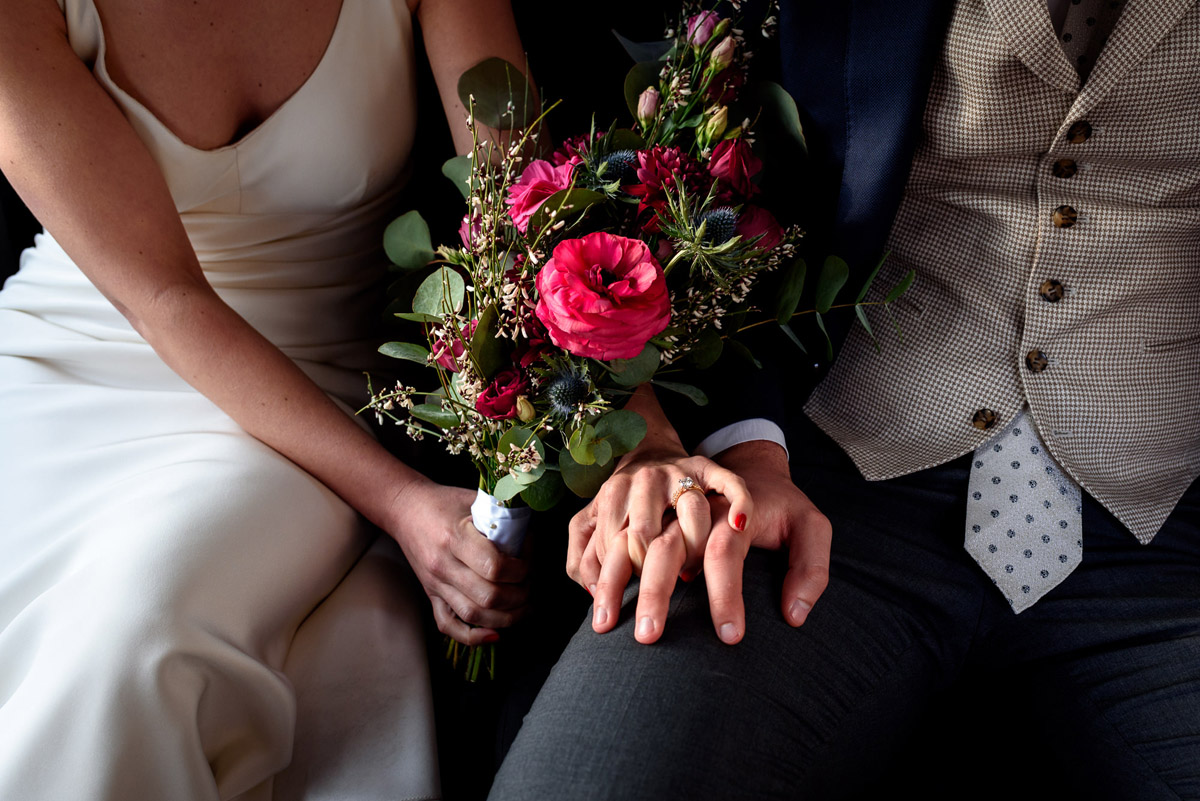 "She has a very special talent of capturing these incredible moments – she's in and around mingling and capturing people in their element for beautiful, natural photos."
"The quality of our photos was beyond what I could have ever imagined and we are so grateful that she was our photographer."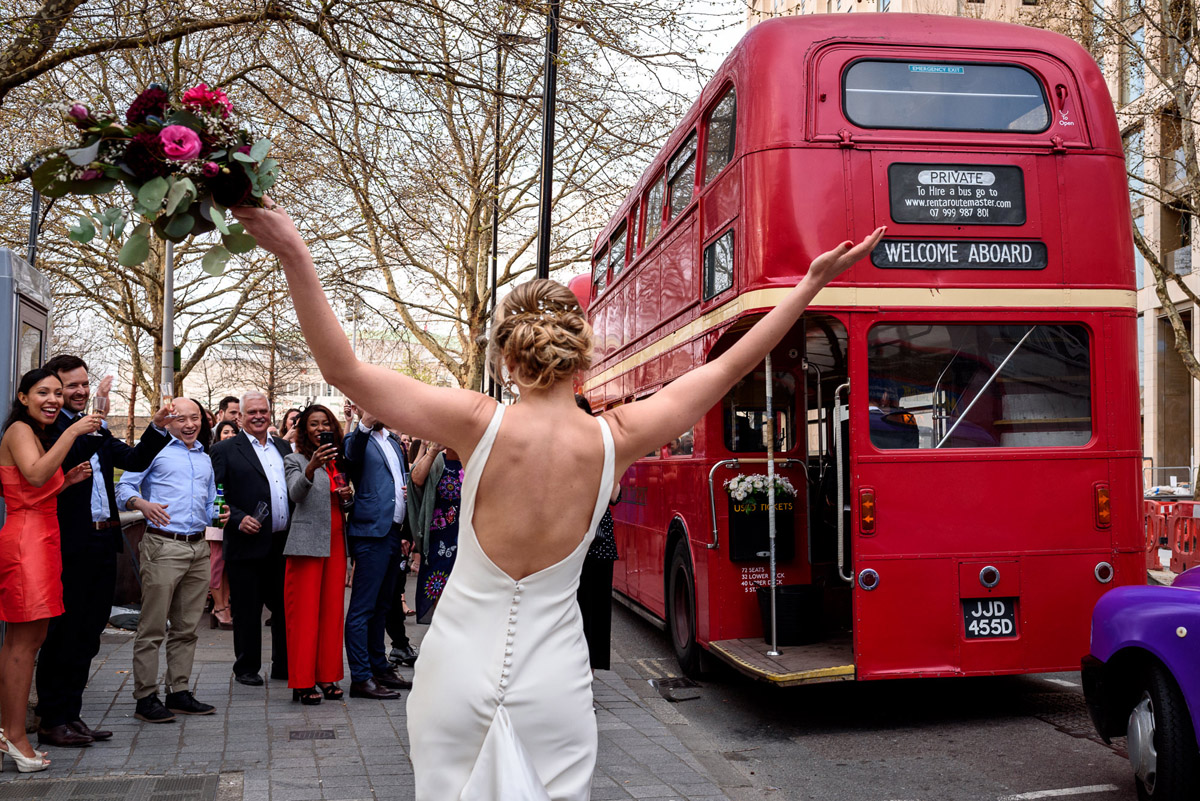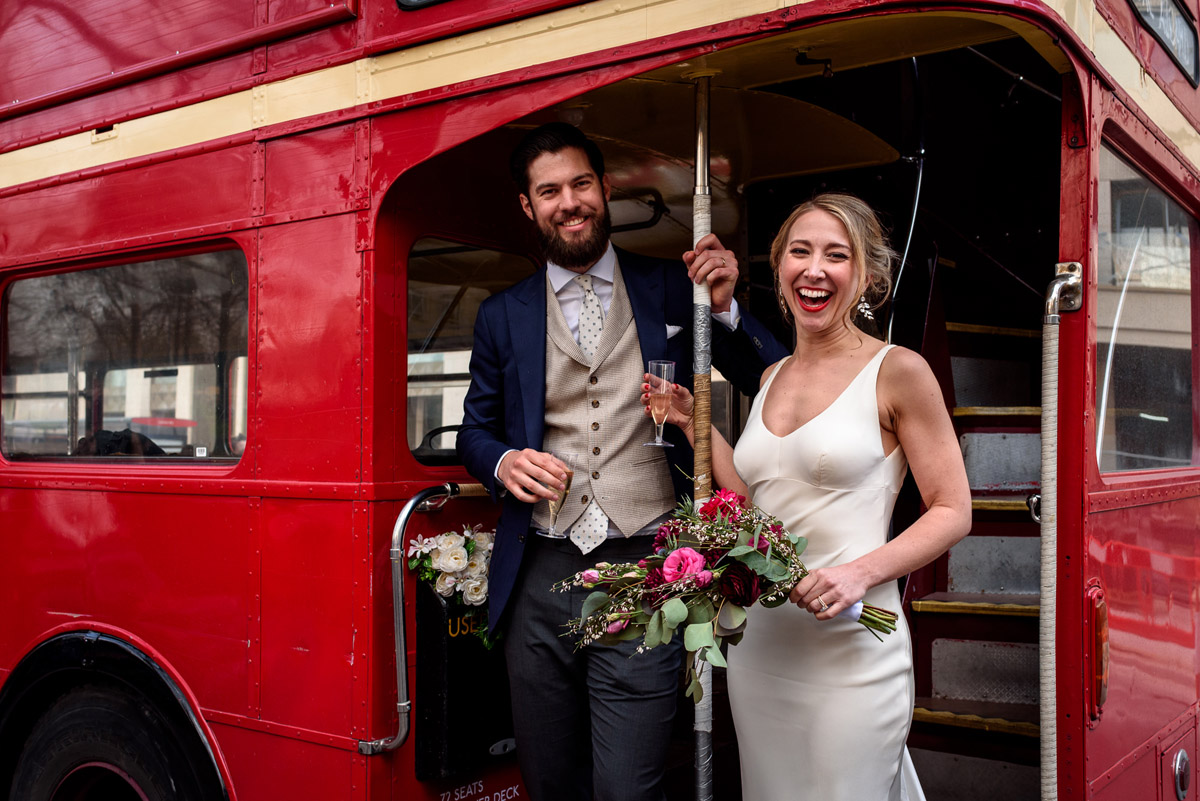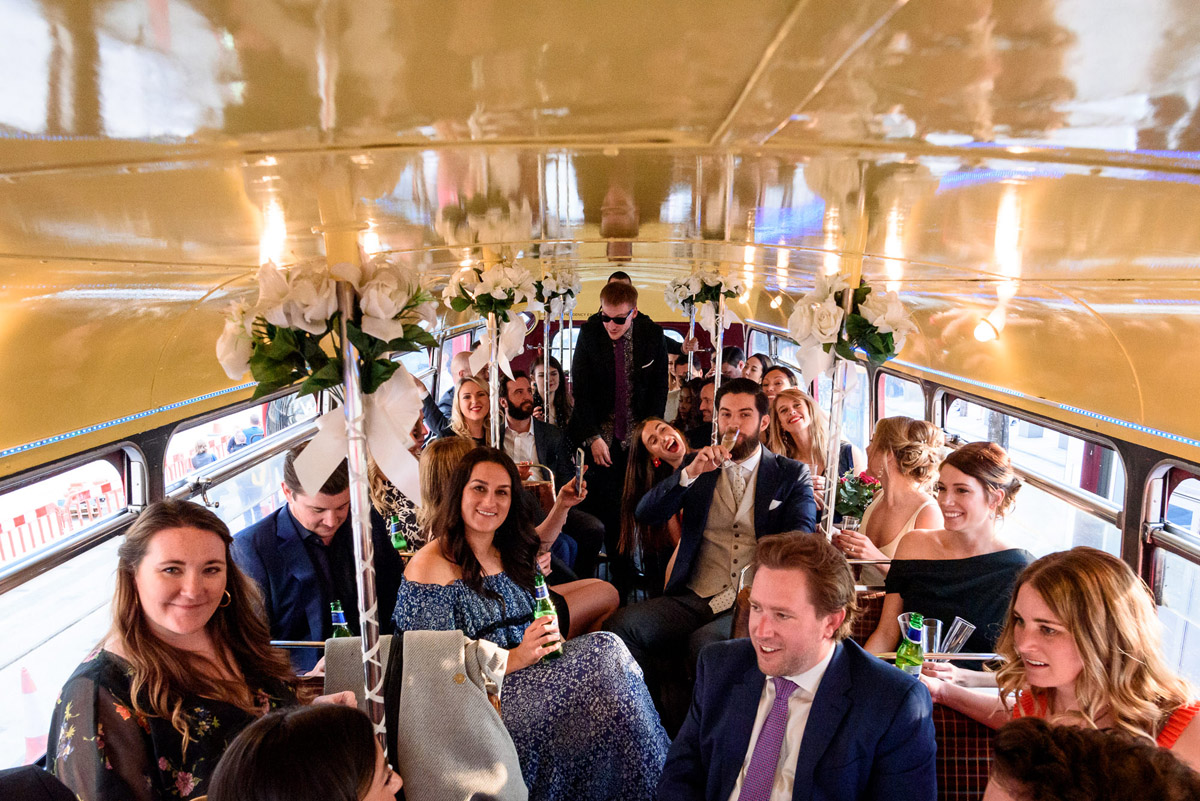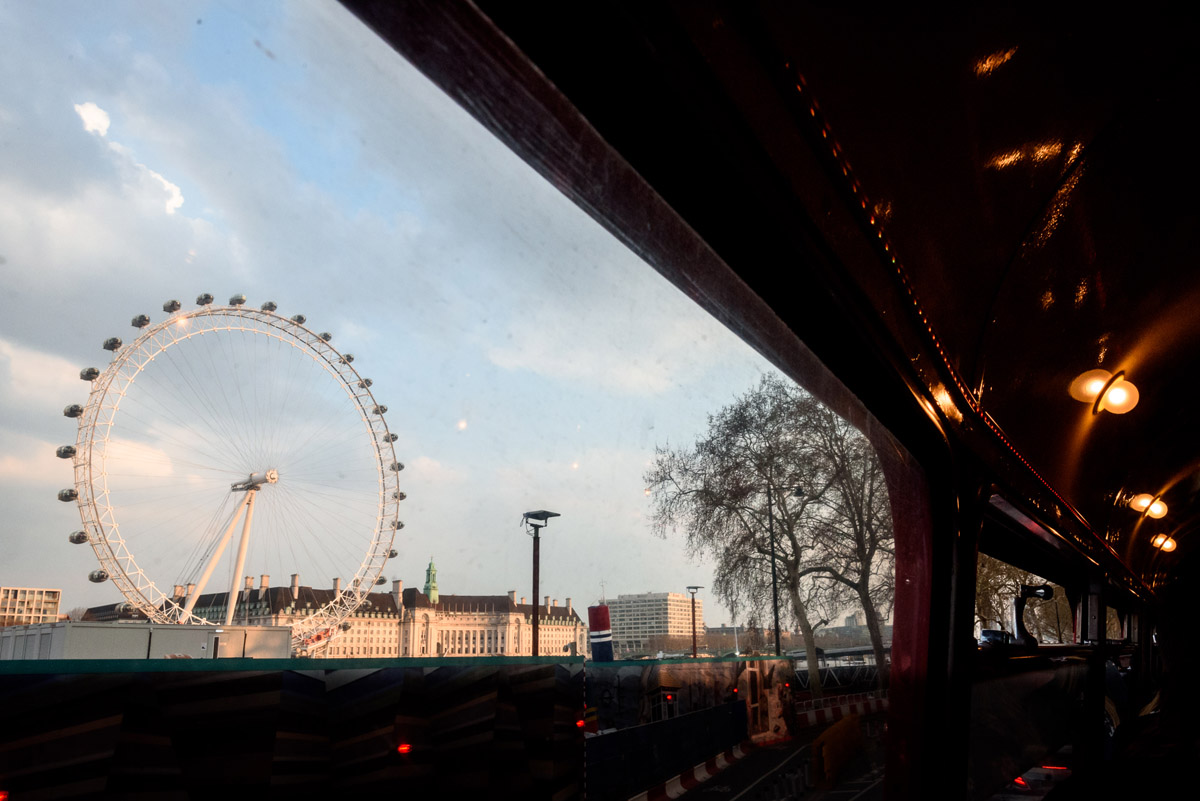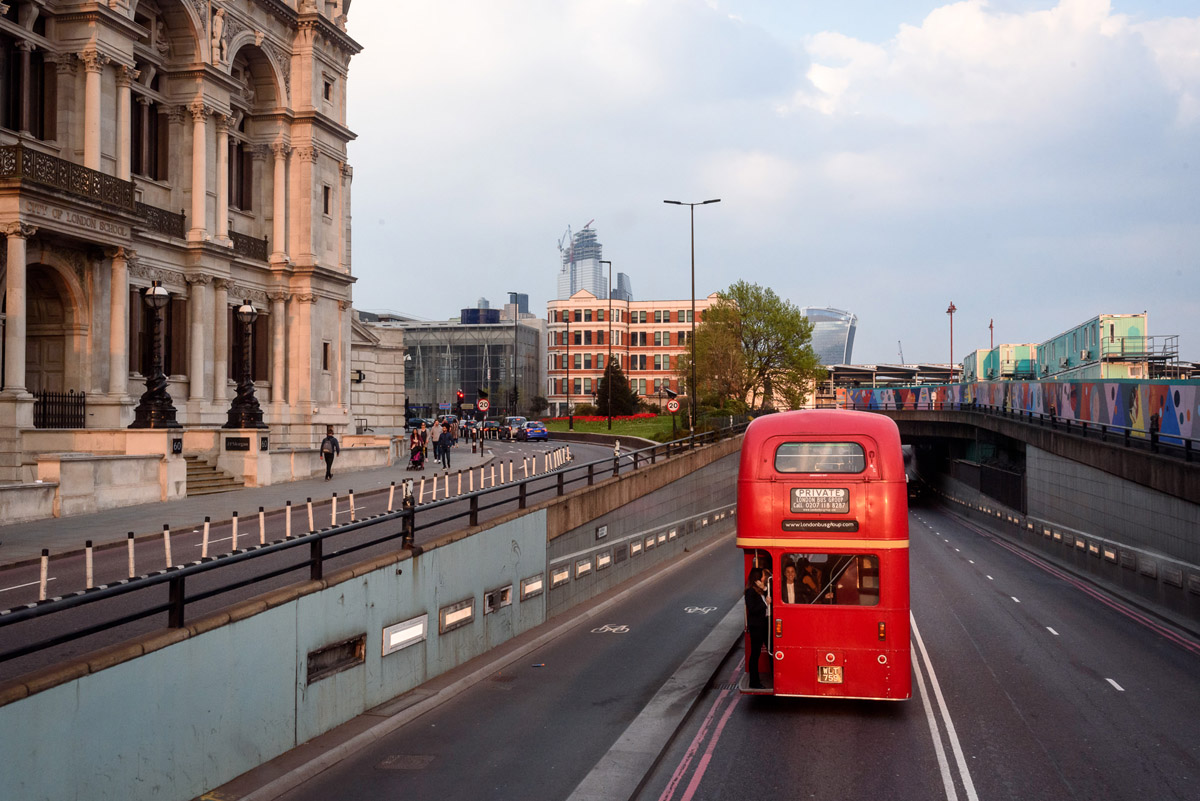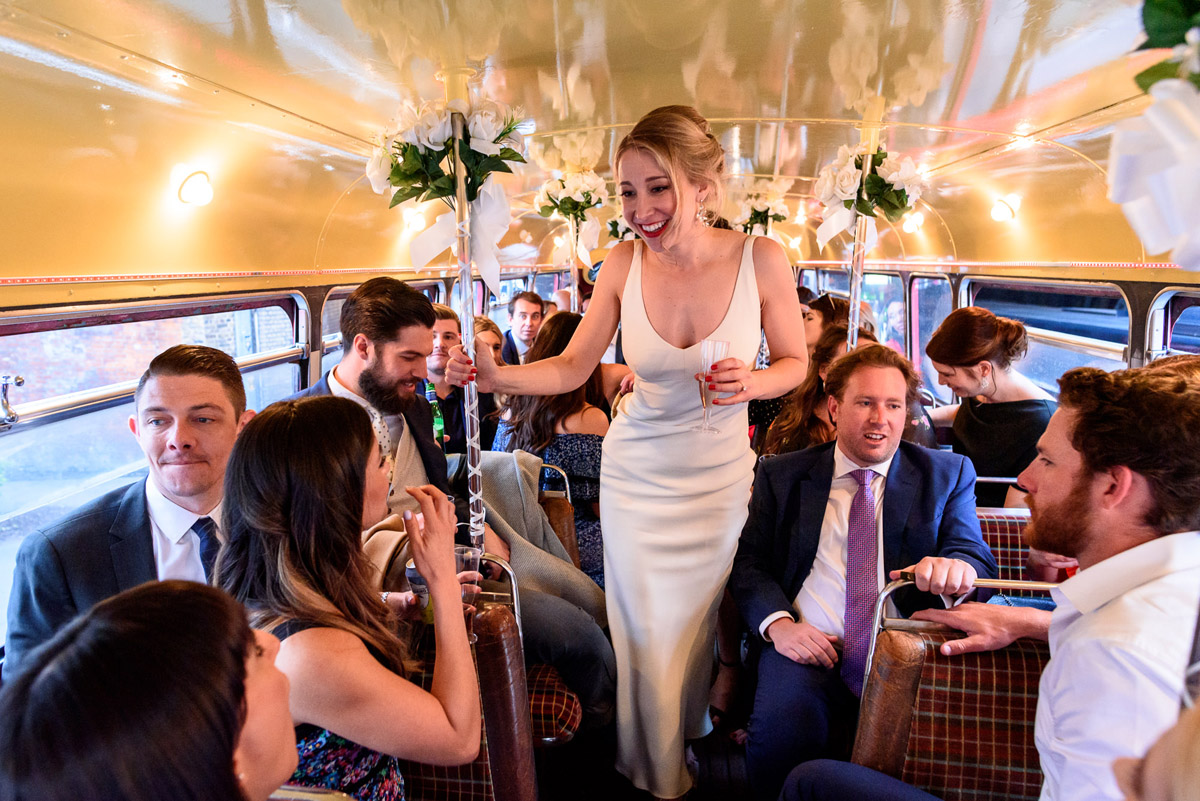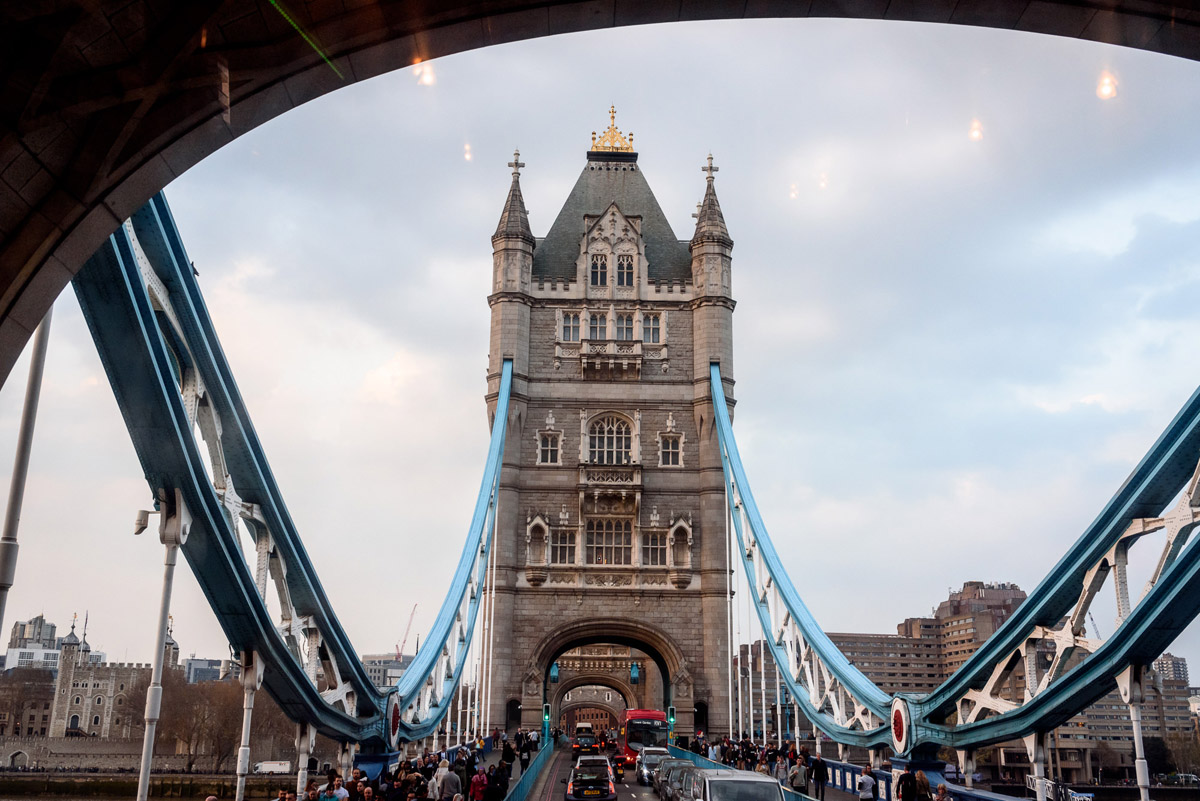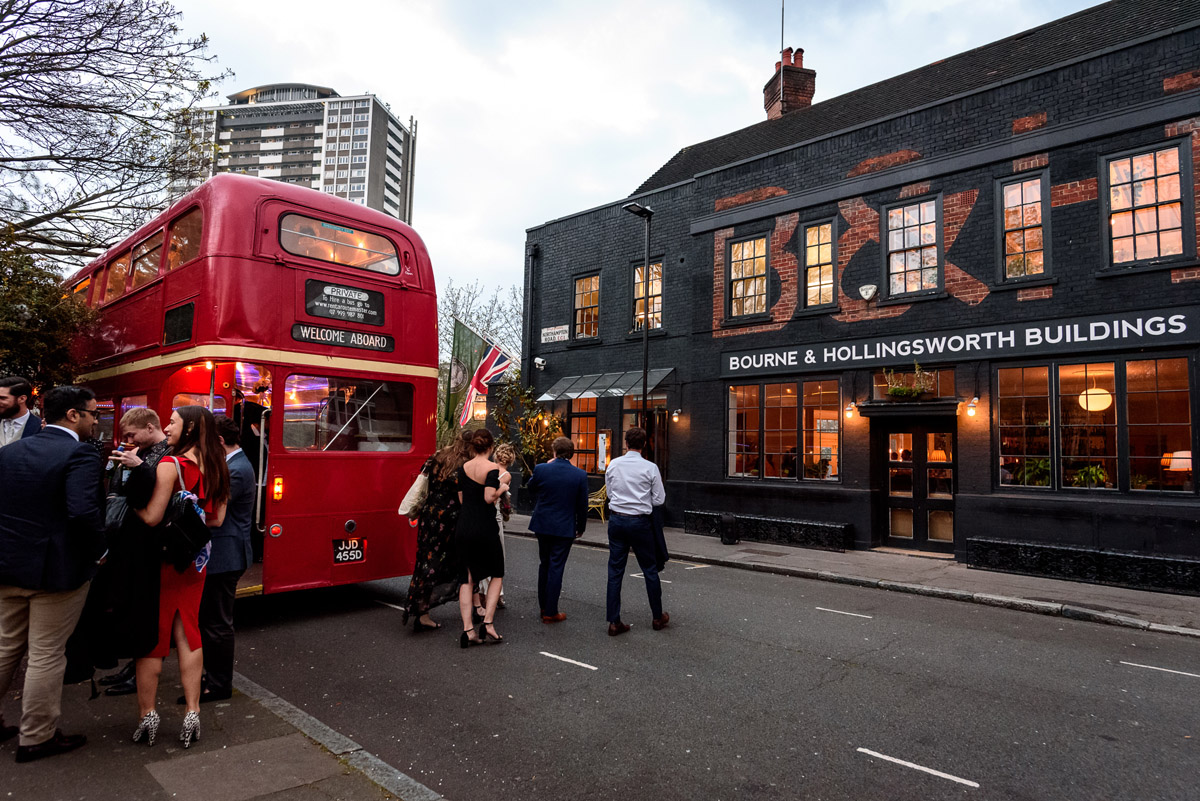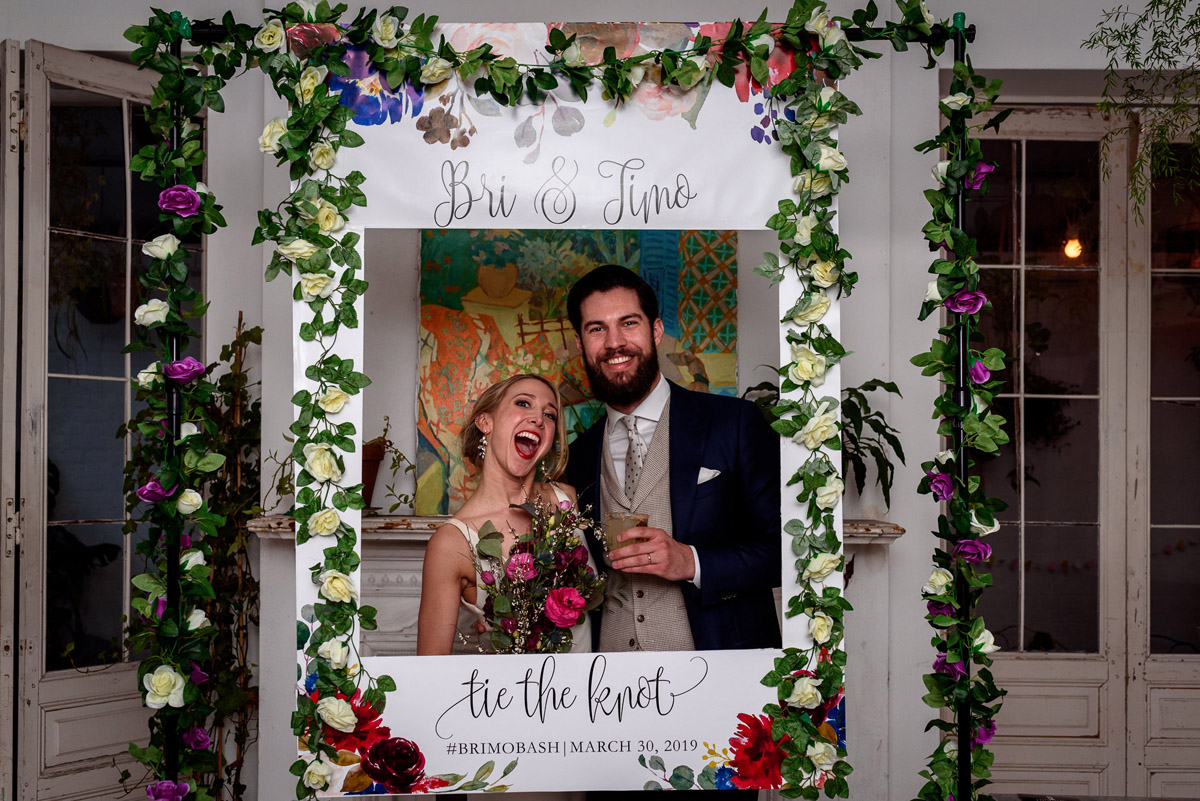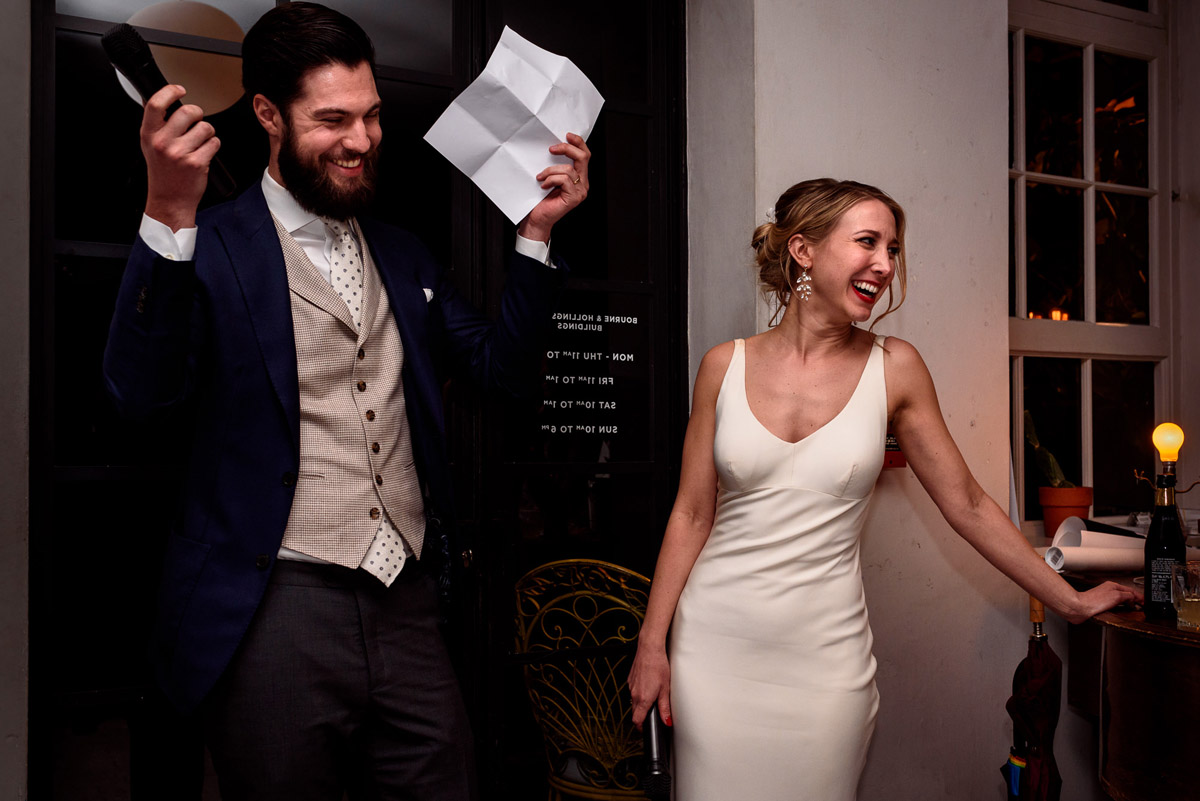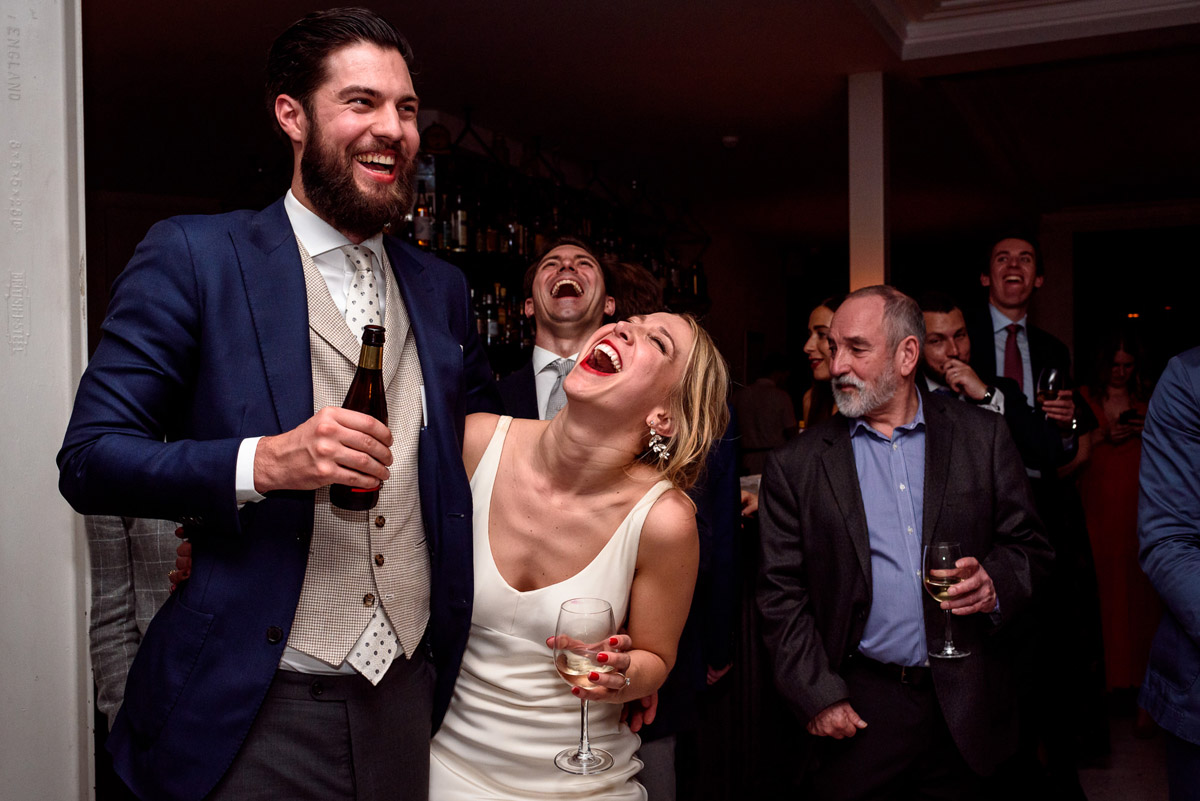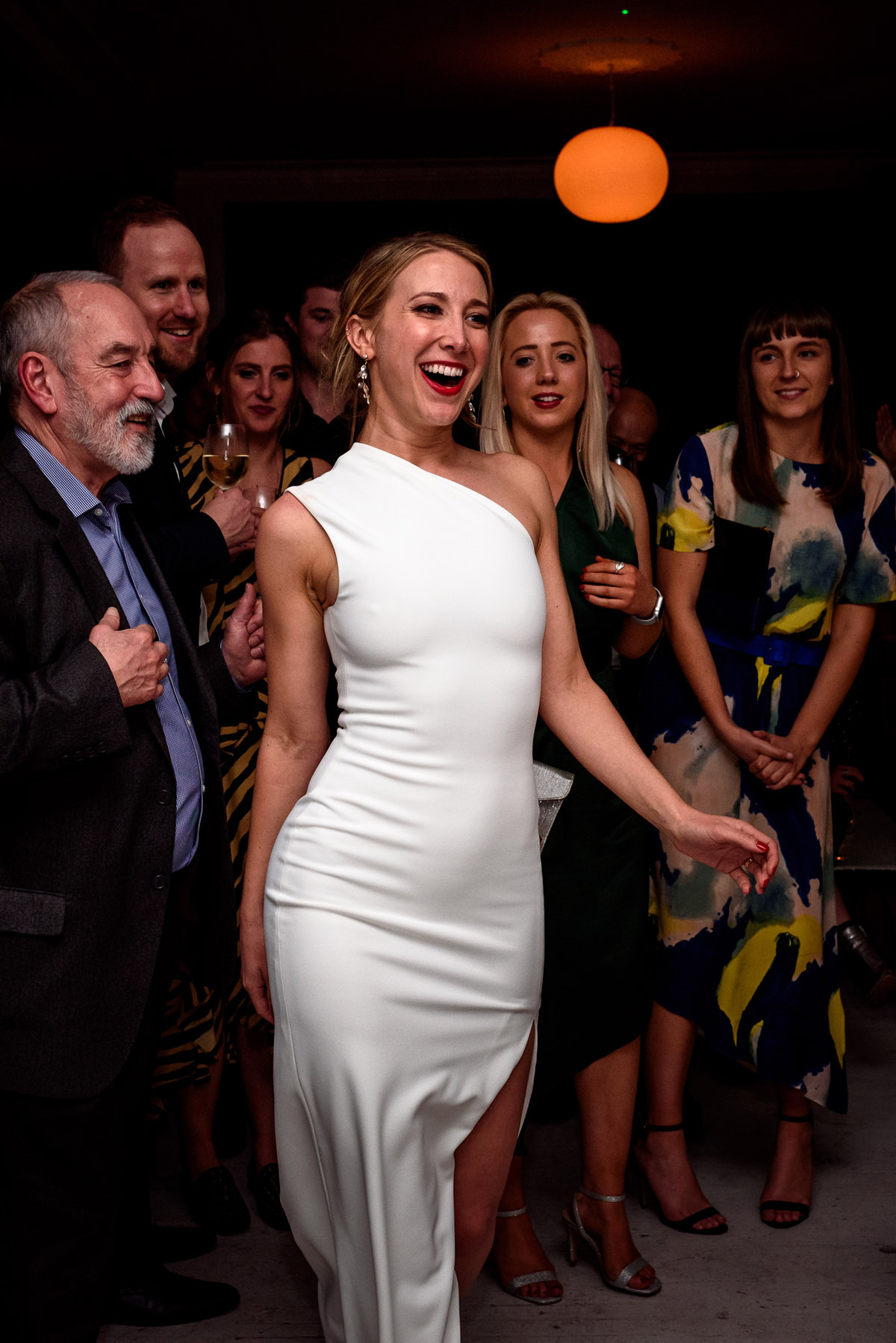 Words of Wedded Wisdom
"Every couple is different but we found that a lot of the little details we agonised over didn't really matter that much on the day."
"My advice would be to practice your vows, have someone that's always by you have your lipstick on hand (I wore red which needed to be reapplied a lot), and just remember that this is a day for you and your husband so just have fun."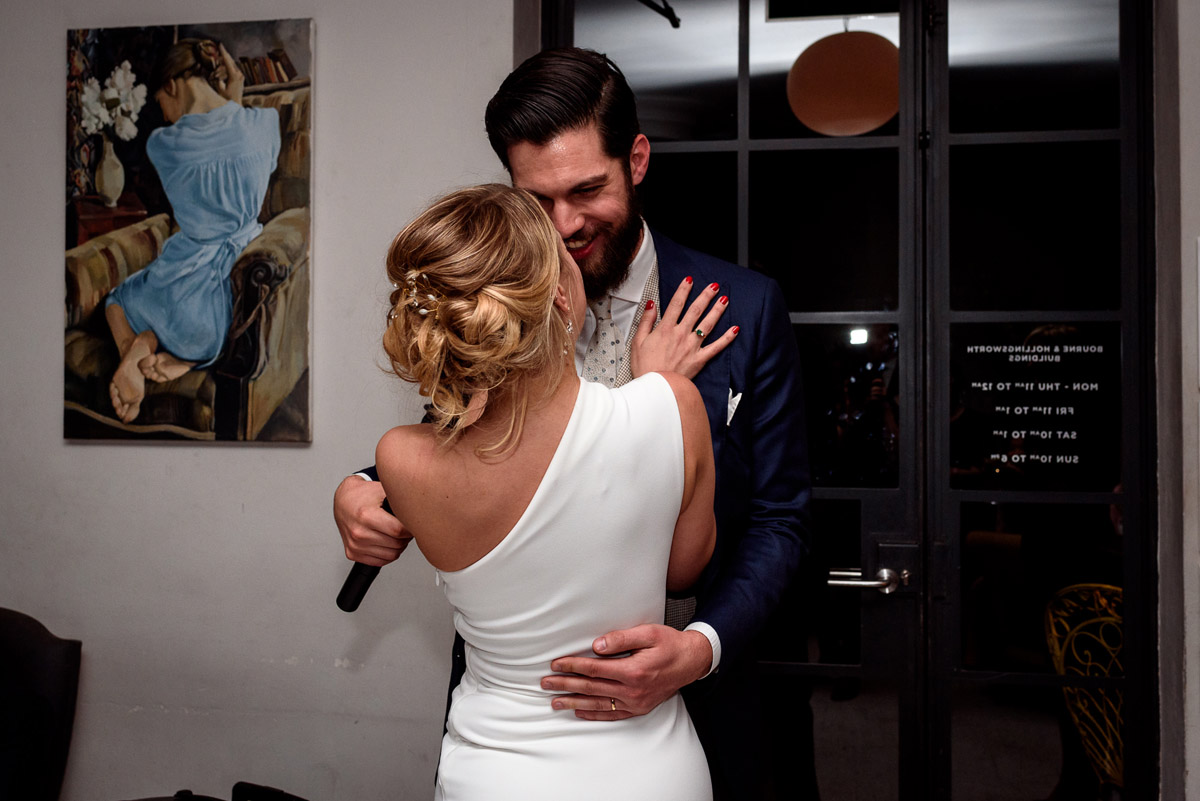 Timo and Bri, thank you so much for sharing your day, and congratulations too. It's been so lovely to explore London with you.
Corina Photography, thank you to you too for your beautiful work.
Lovelies, for more city wedding style take inspiration from this Love My Dress selection.
Ele xx