As far as intimate micro weddings go, this is one of the most lovely, stylish affairs we have seen.
Liddy and Marco tied the knot on 8th July 2021 with a ceremony at Chelsea Old Town Hall, followed by a reception in Liddy's parents garden, inside a tiny marquee supplied by Raj Tent Club, that provided the most beautiful and intimate reception dinner setting. Photographer Maja Tsolo captured these beautiful images.
"I had always loved the iconic photo from Bianca and Mick Jagger's wedding where they are in the car and Bianca is wearing a beautiful two piece and a special hat."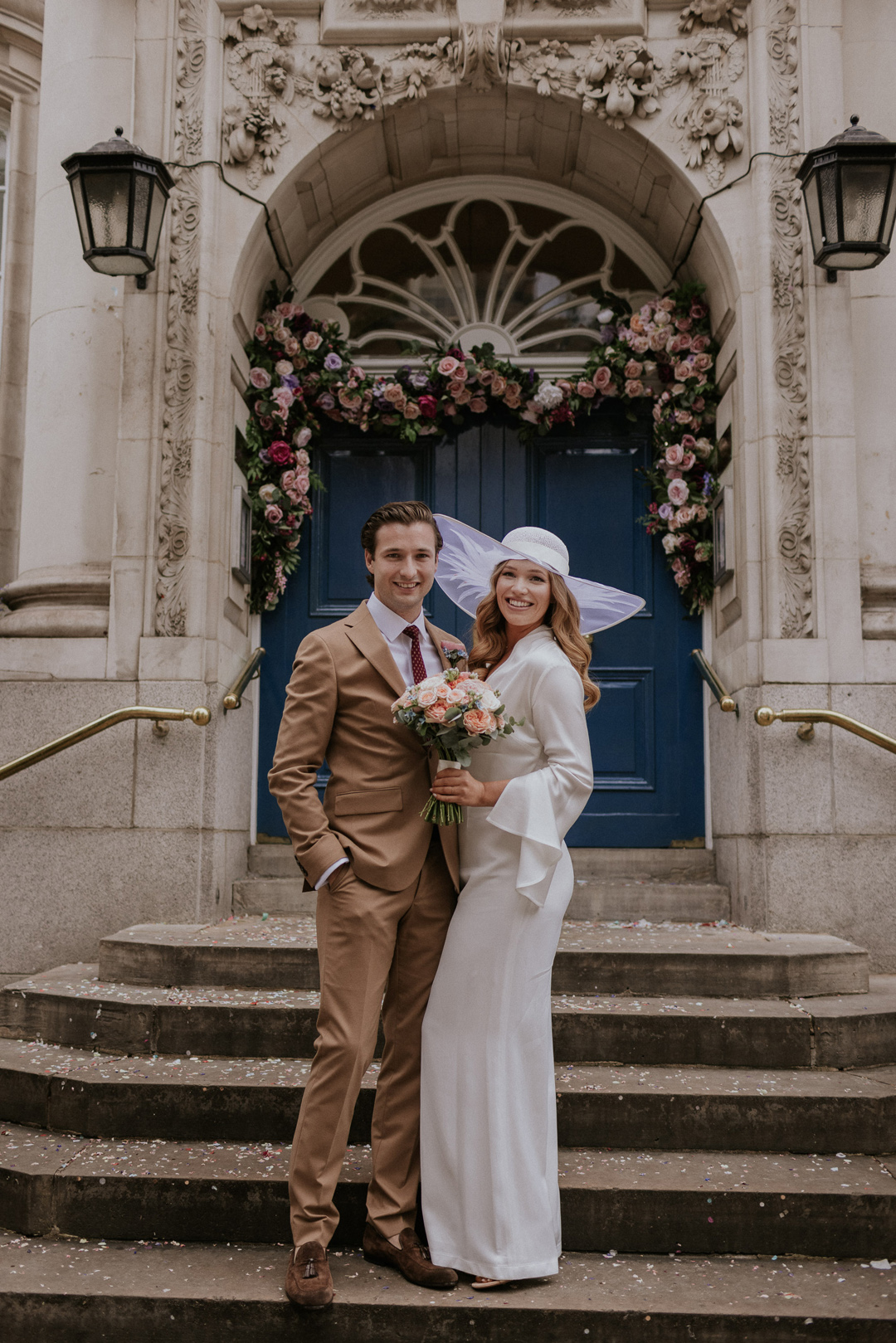 "I knew if I was to get married in a Town Hall, I would want to wear a much more understated outfit, so my choice of outfit was definitely inspired by that."
"Marco's father is also a London Black Taxi driver, so we knew however we travelled that day it had to be in a taxi, we were so delighted."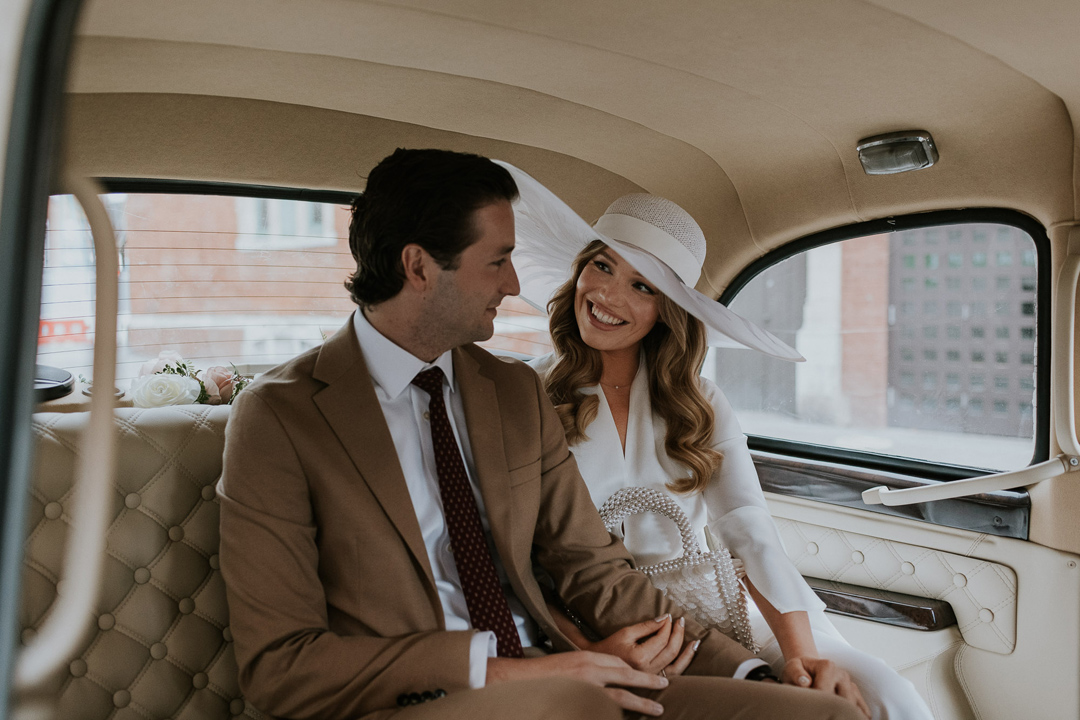 "Marco and I met at school, aged 16, during study leave for our GCSE's. Our first date was on the 8th July 2009."
"We got engaged exactly 10 years later at the beautiful Hacienda De San Rafael in Spain."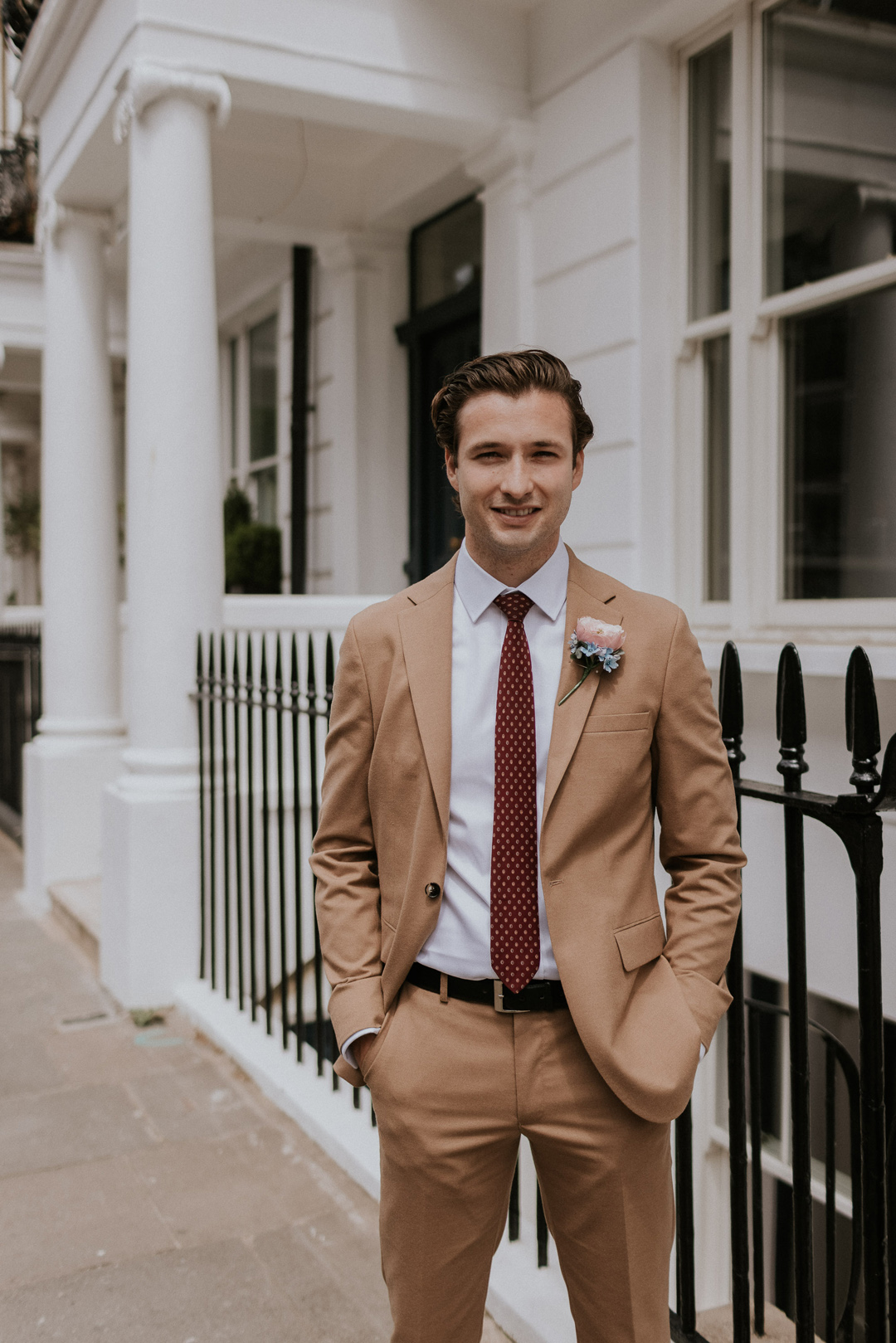 "This part of Spain is very special to us as Marco is half Spanish, so we have spent most of our summers in Jerez de la Frontera."
"Marco had booked the Hacienda and arranged for a beautiful surprise lunch and he proposed then."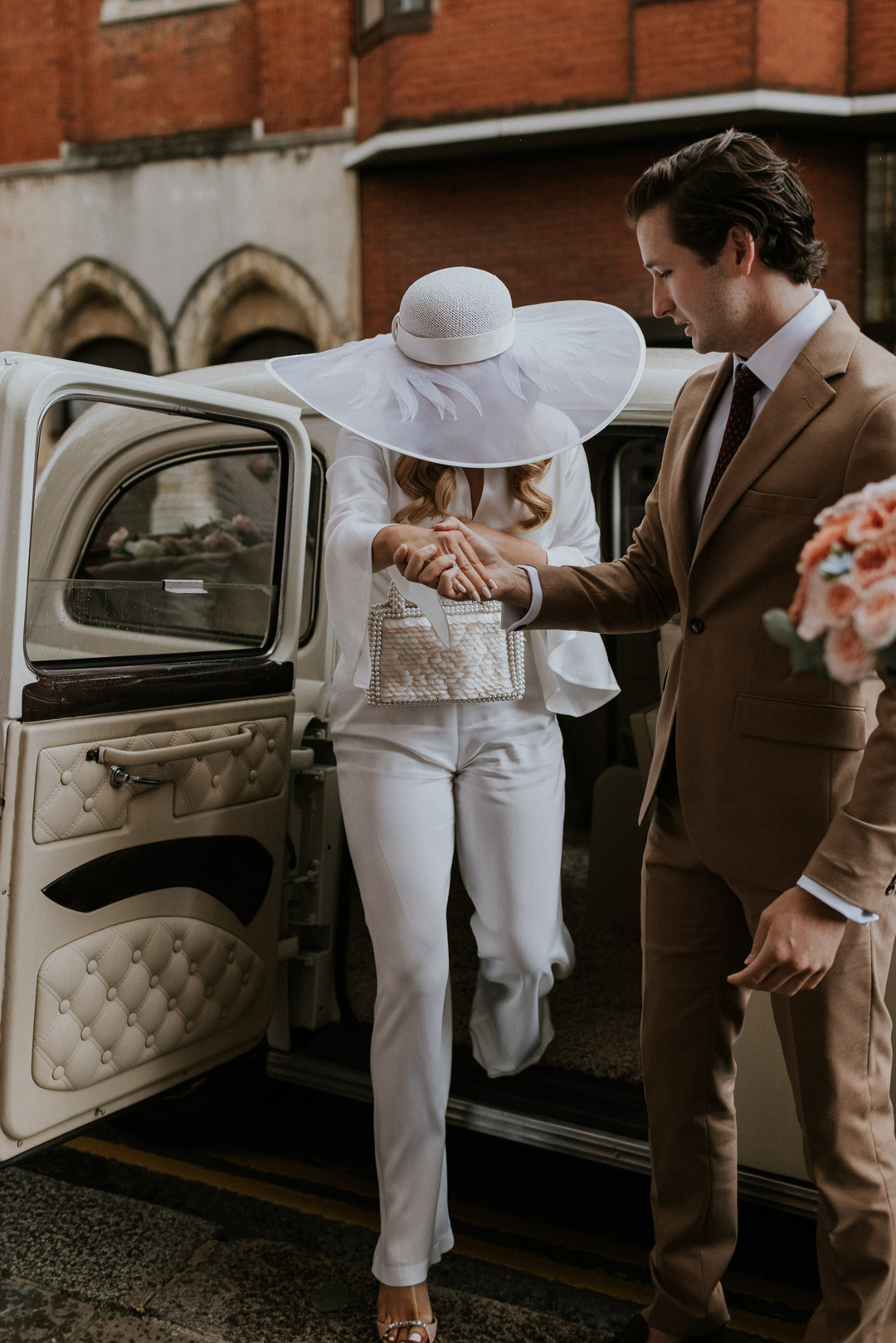 "We were due to get married in Jerez in October 2020 but due to the pandemic we had to postpone by a year, so we decided to have a small intimate civil wedding in London before in case we had to postpone again, and of course it had to be on 8th July 2021, after exactly 12 years together."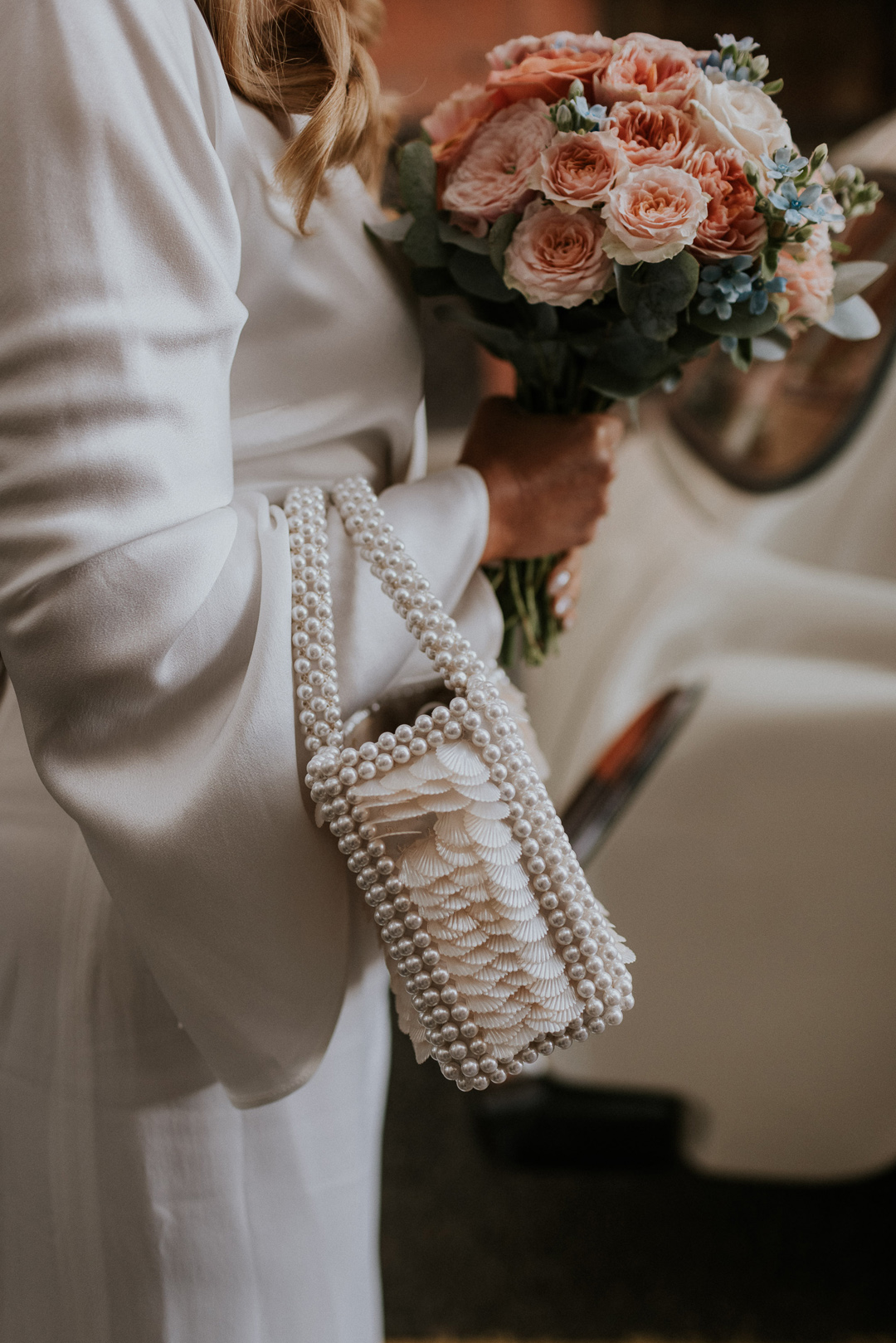 "We were due to get married in Spain in October 2020 and had to postpone, so we decided in January 2021 when things were not looking hopeful in peak lockdown that we would just book a secret civil ceremony at Chelsea Old Town Hall and only tell parents, siblings and best man and maid of honour."
"It worked well as we could only have maximum 10 people in the ceremony plus photographer and two registrars."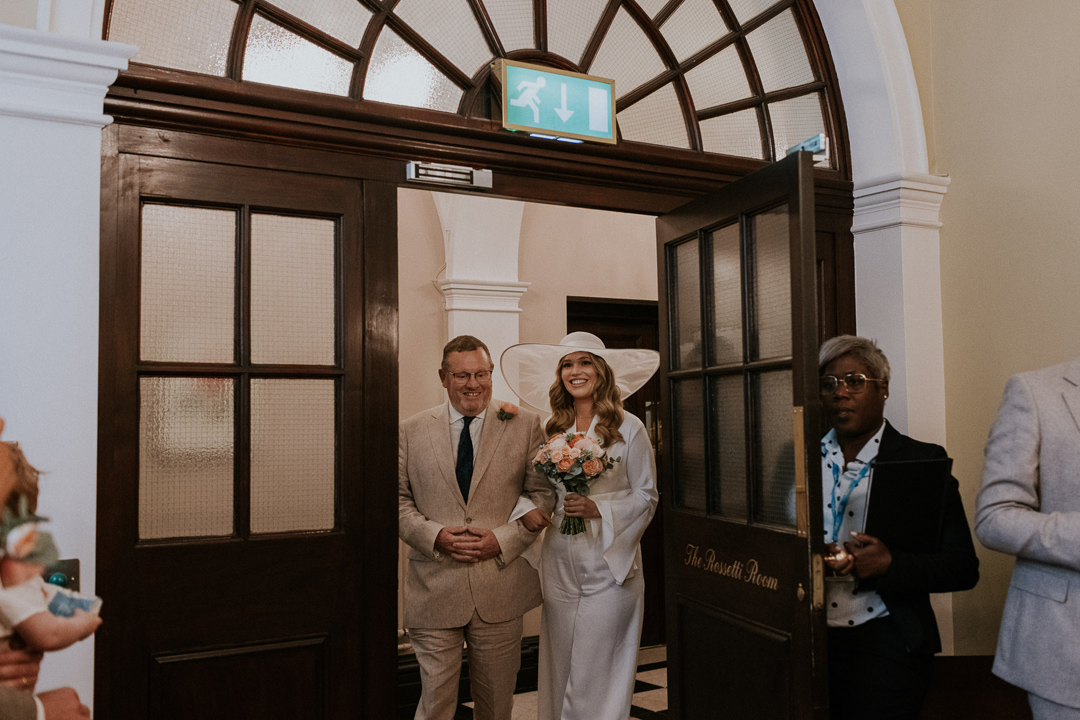 "My father escorted me down the aisle, to the sound of Balcony Scene, by Craig Armstrong, from the 1996 Romeo & Juliet movie."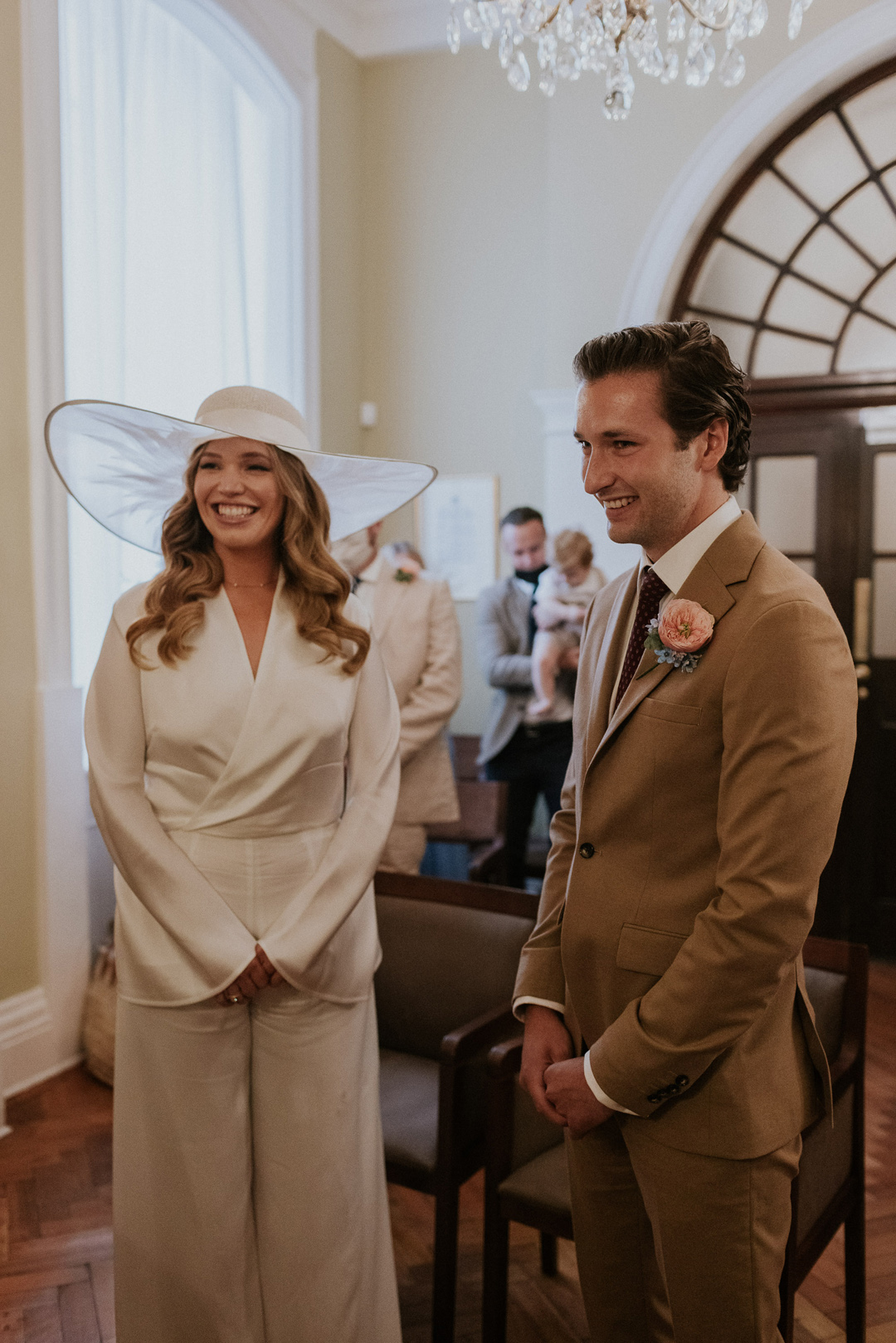 "My maid of honour did a short reading called 'Once In A Lifetime' – there was not a dry eye in the room."
"Our favourite part was the ceremony, it was so emotional and then having our photos taken together, such a fun and special moment."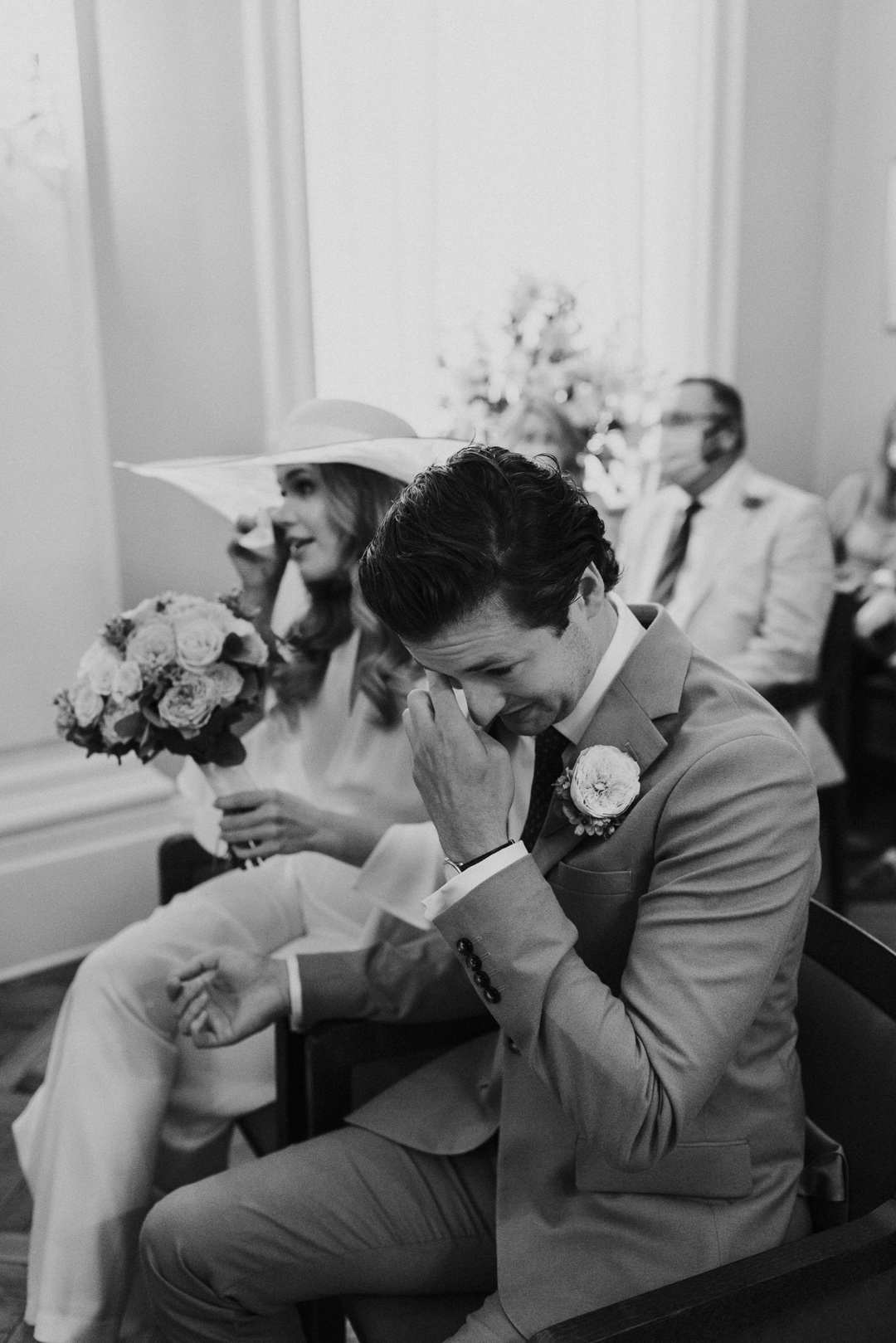 "Marco had designed my engagement ring himself with James at London Diamonds, and so we had always agreed we would have bespoke wedding bands made here too."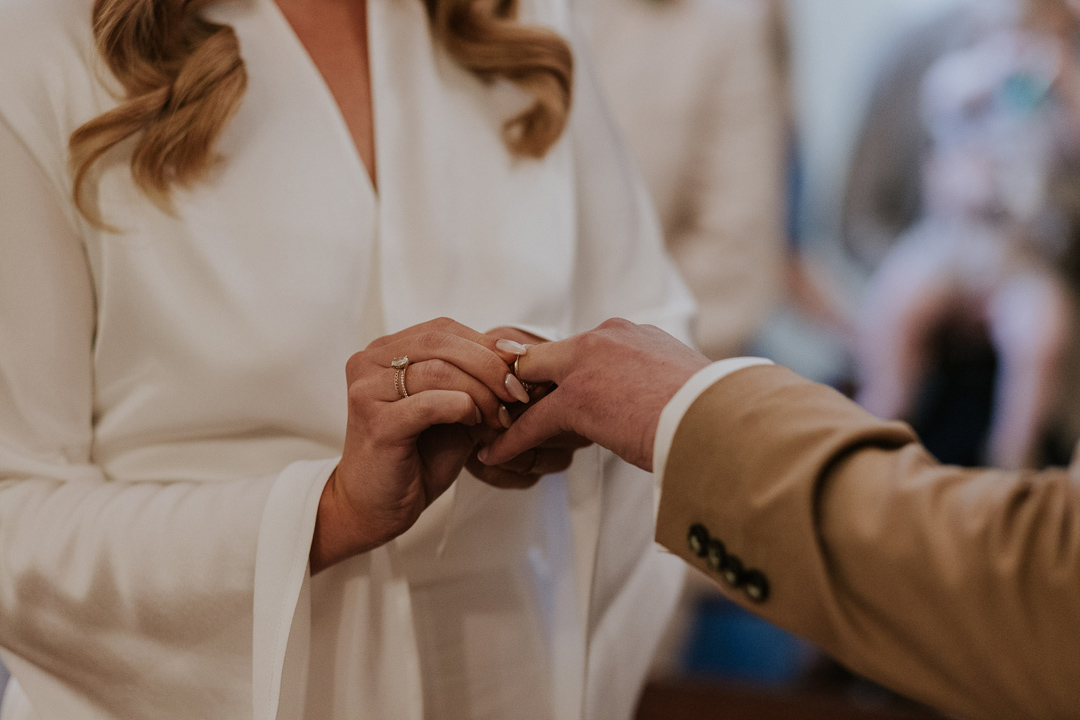 "I was saving my wedding band for our Spanish wedding but wanted a tiny ring to celebrate and remember the big day so I opted for the Petite Diamond Distance band from Melanie Casey."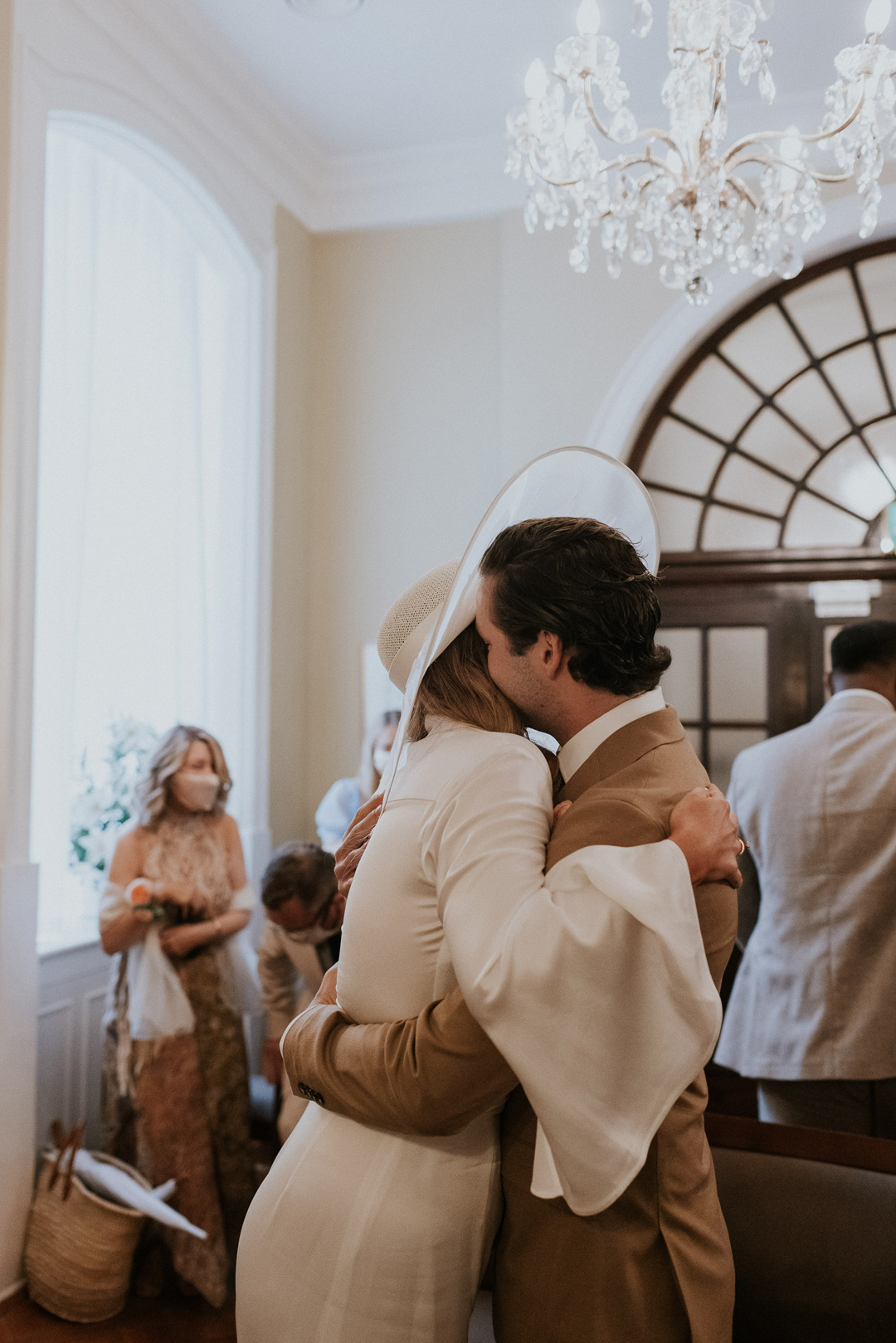 "They are based in America but the delivery process was smooth and easy."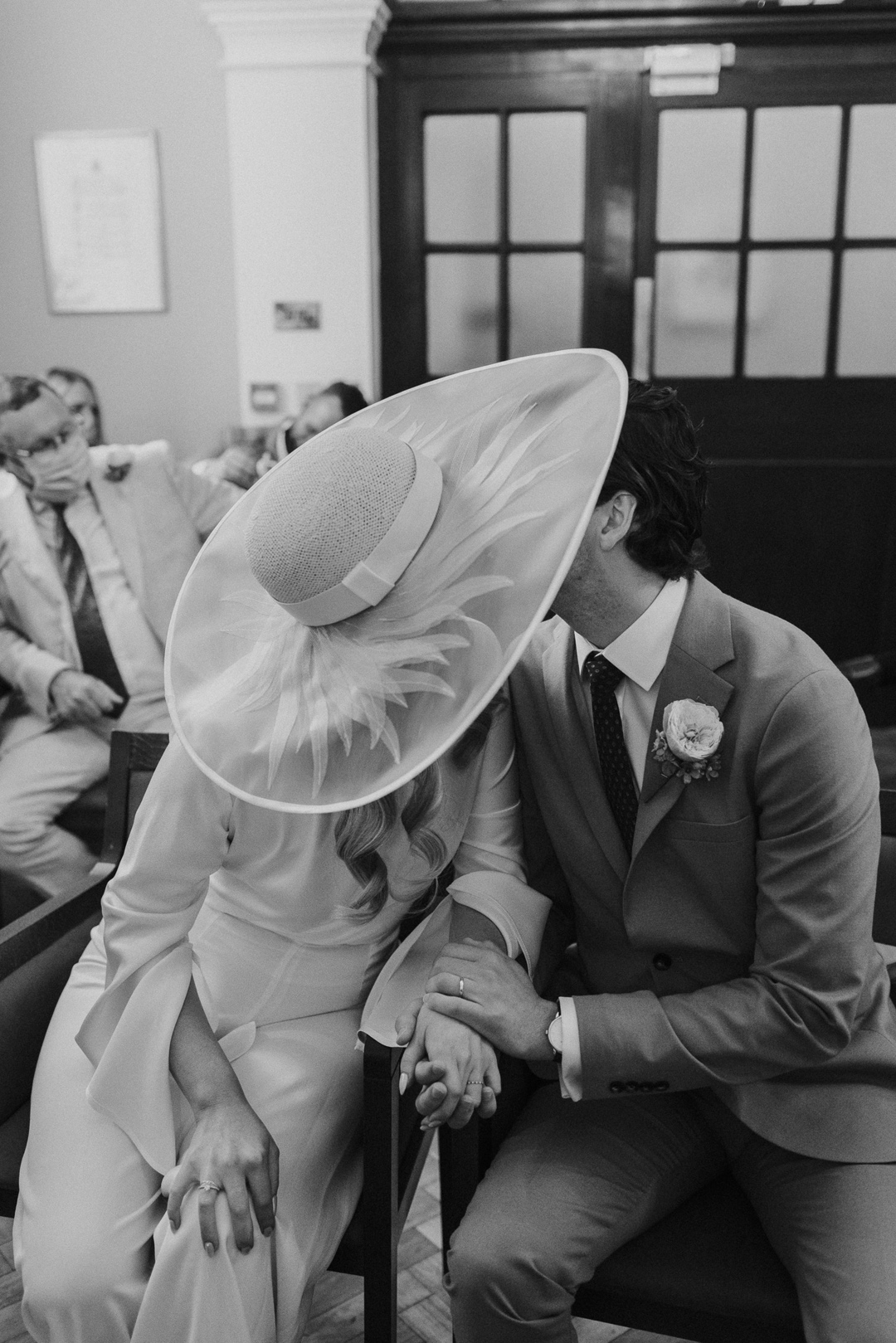 "For us, there was initially so much upset around not being able to have our perfect wedding that we had planned so much of but we loved then having a smaller more intimate civil ceremony."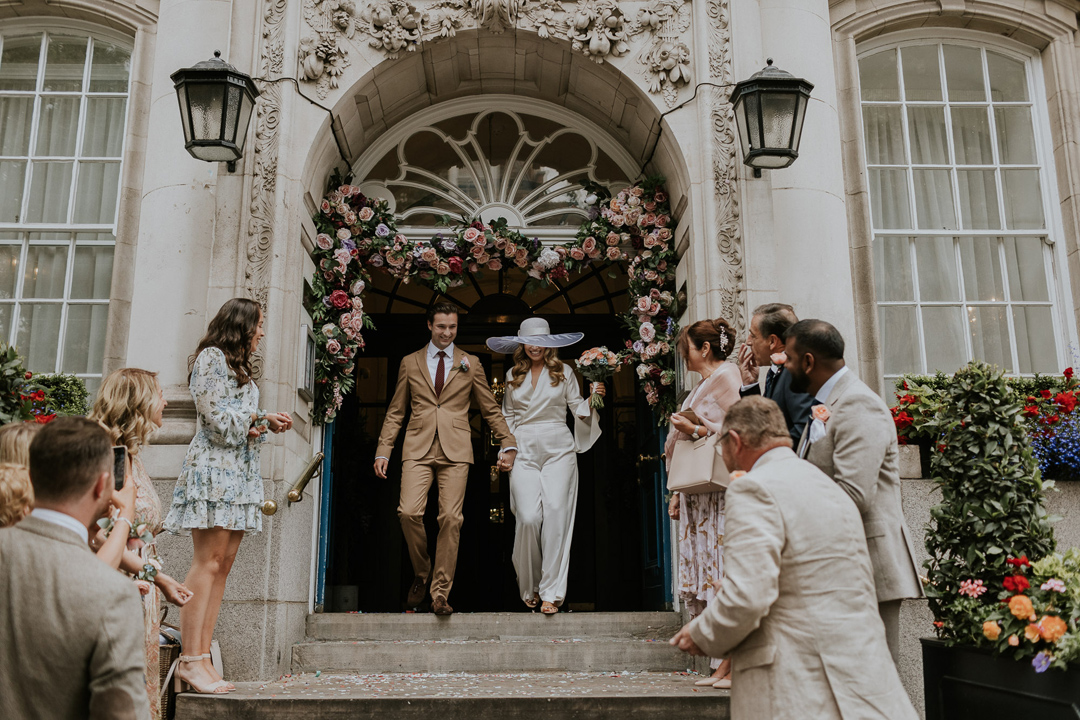 "There was far less stress involved, it took the pressure off our Spanish celebration as ultimately we knew we would be legally married even if we had to postpone again and it also really got us excited for the original celebration we had been planning."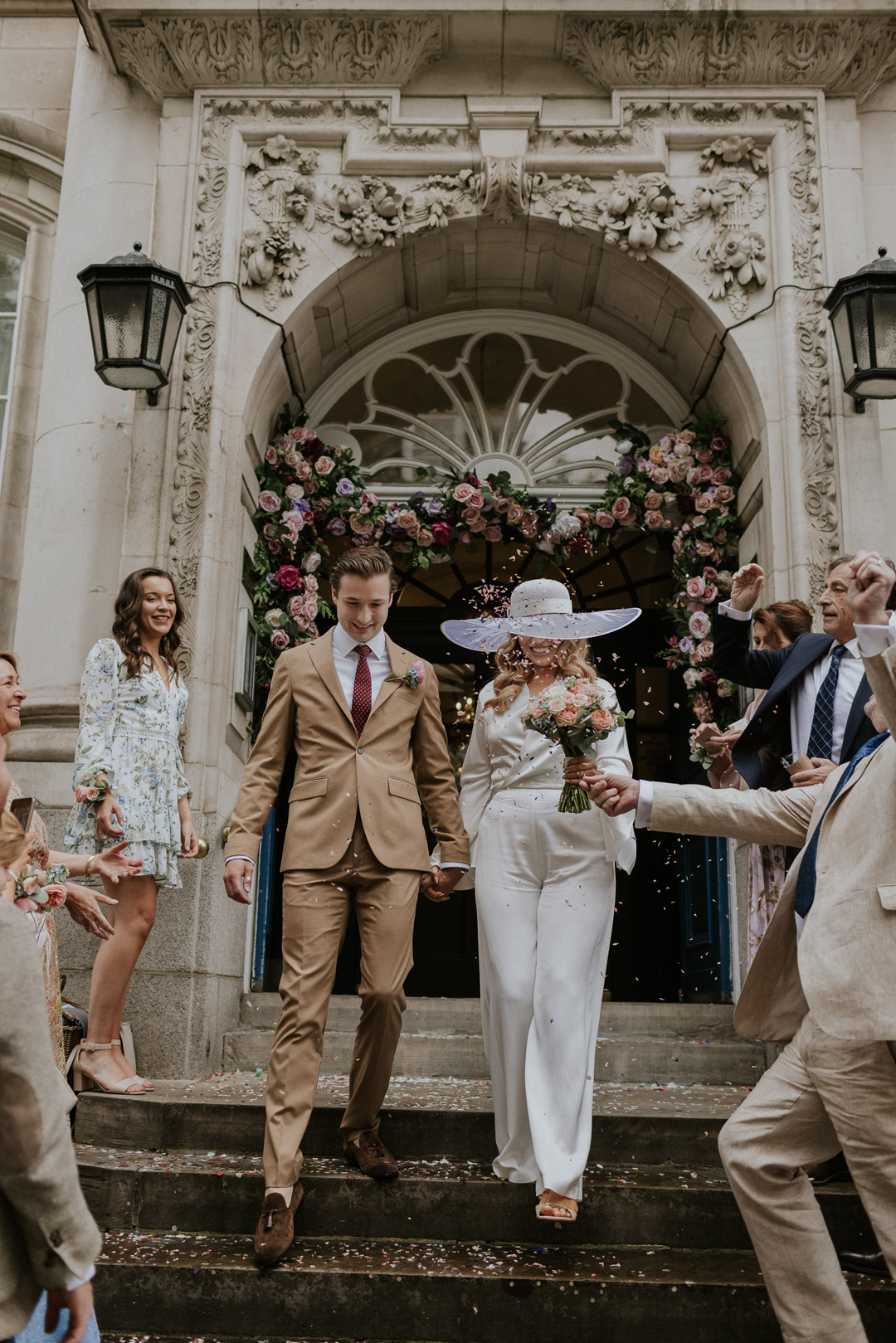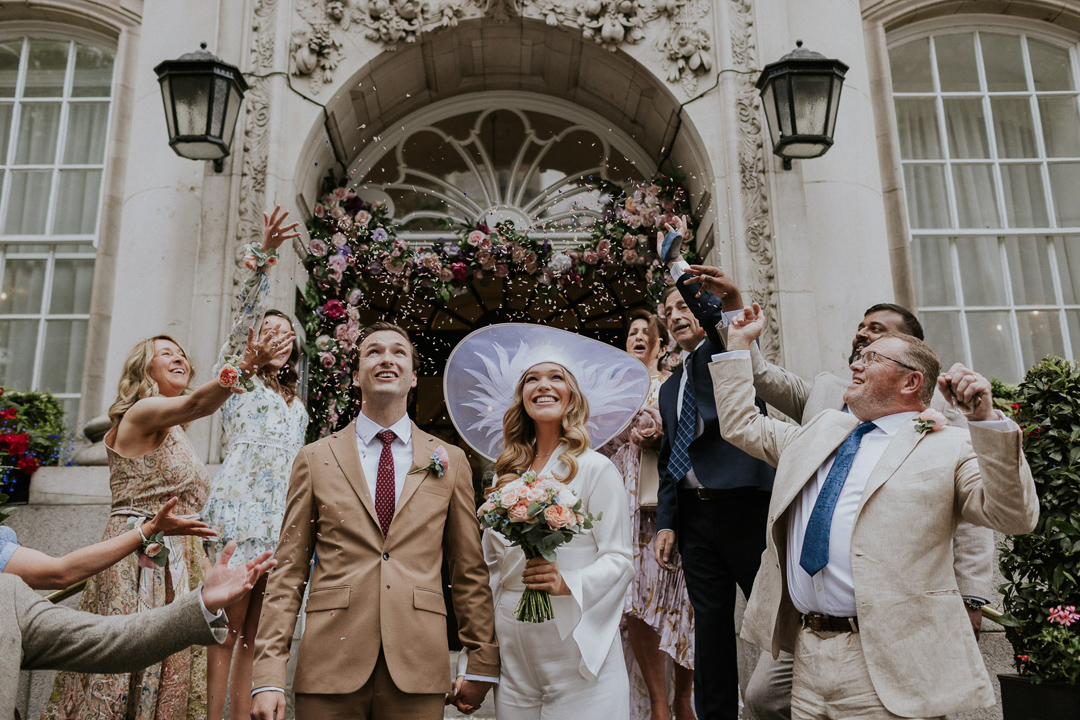 "We are now just 2 weeks away from our Spanish celebration and we are so pleased we never gave up hope on this one."
"Some things that made us stress before, we completely forgot about."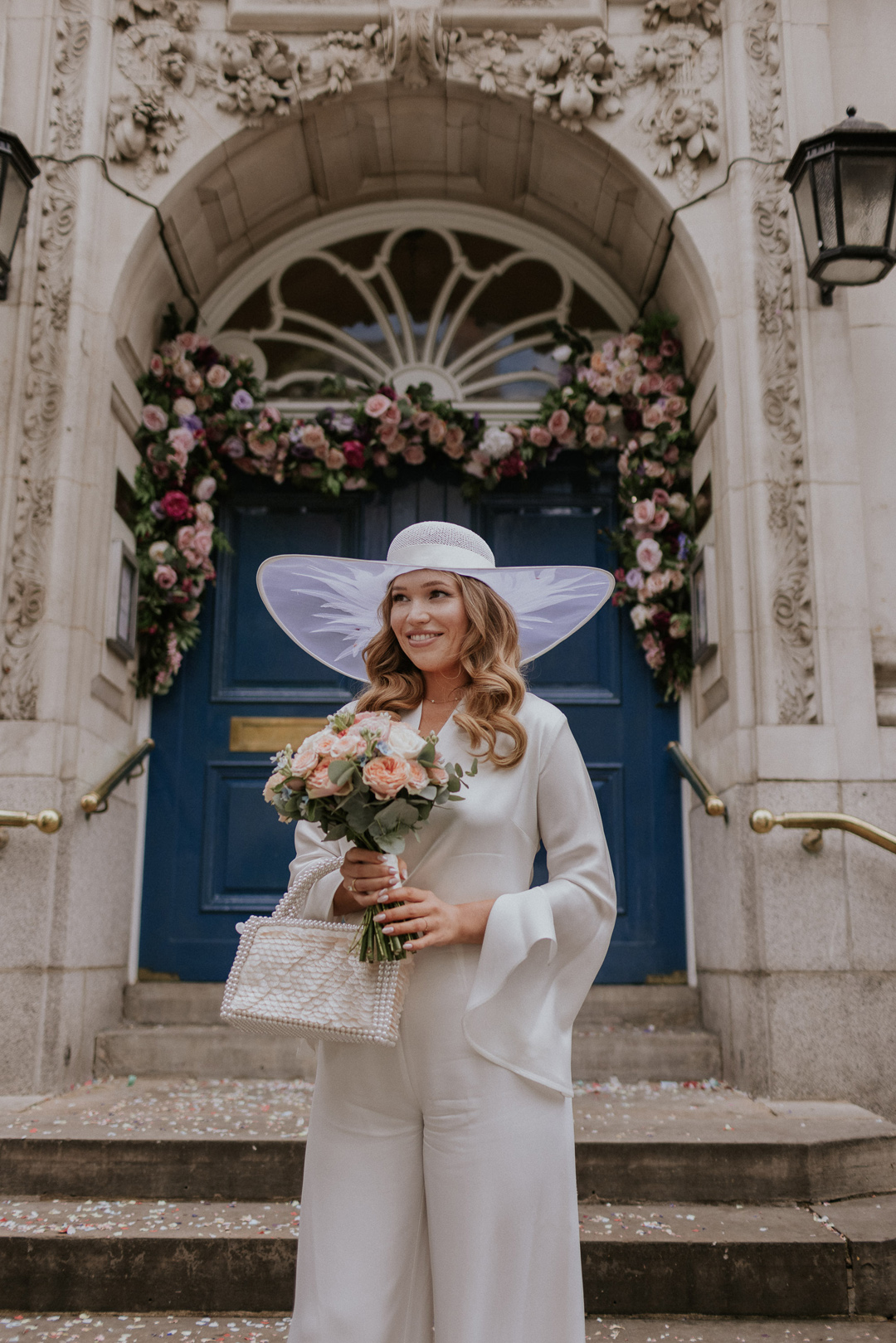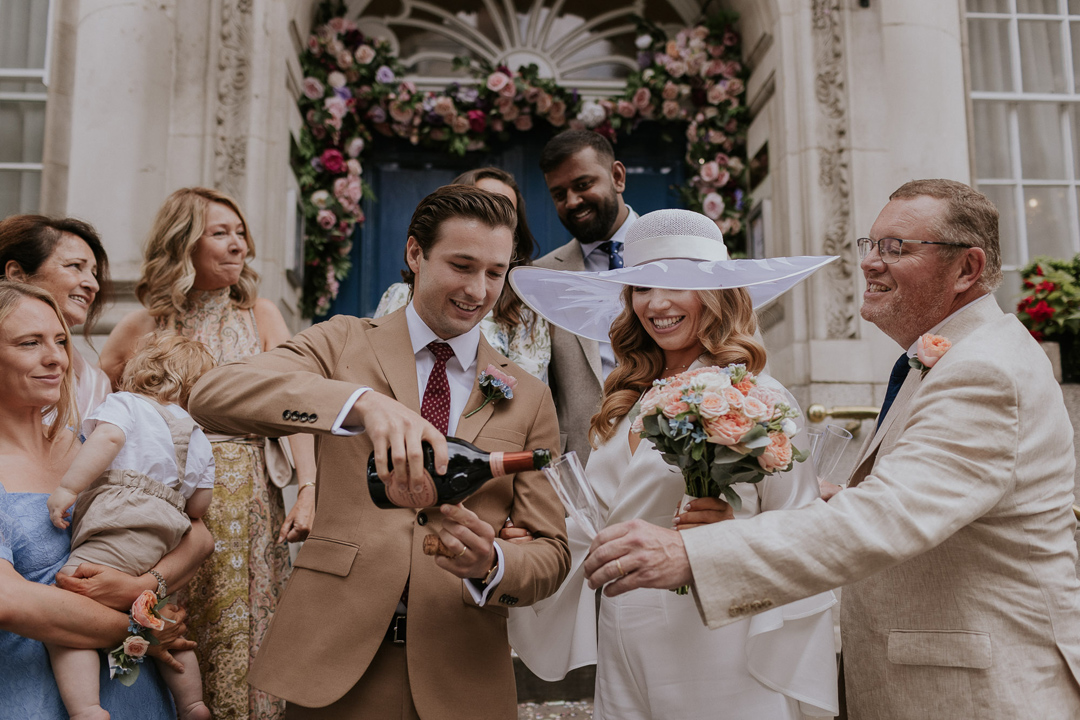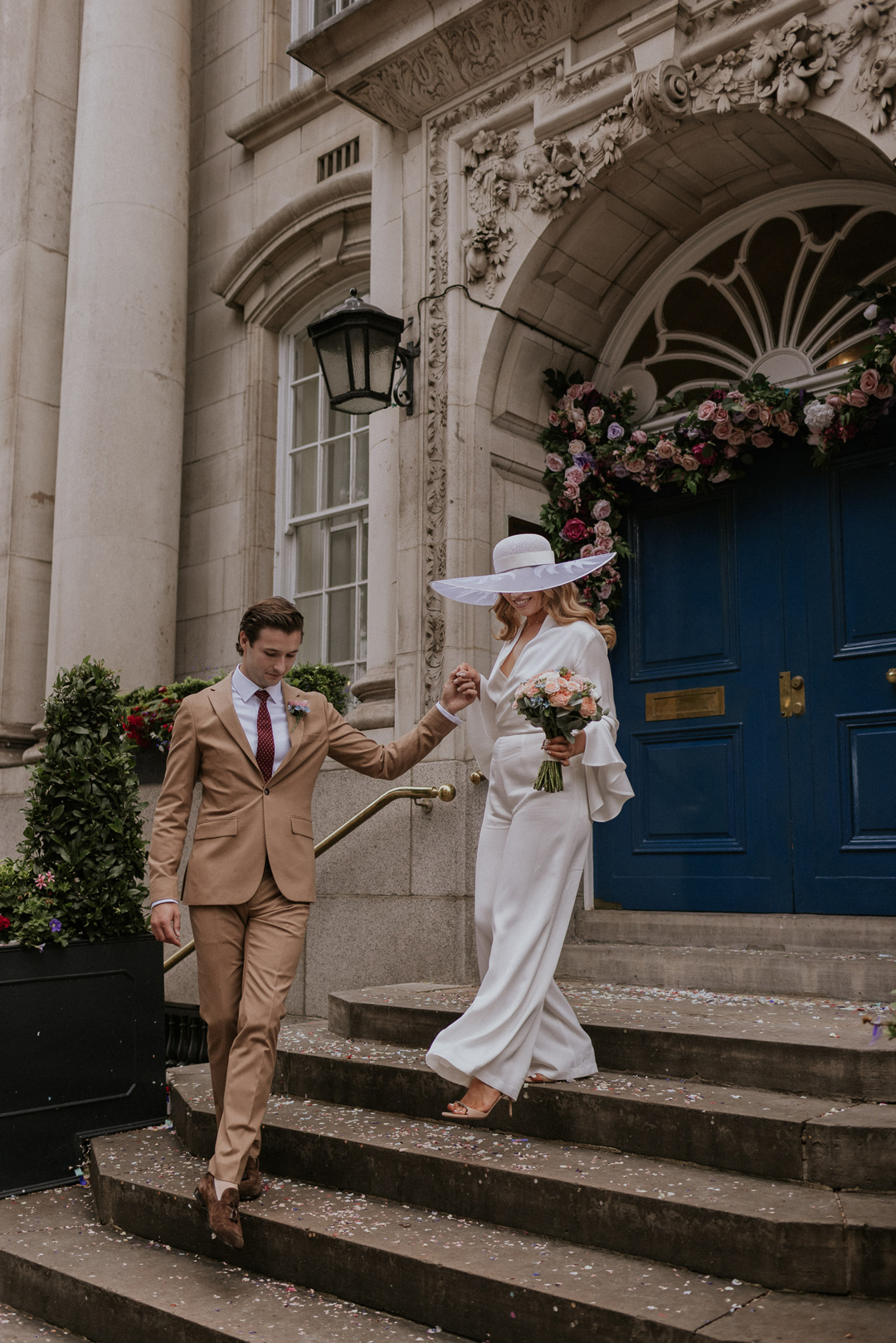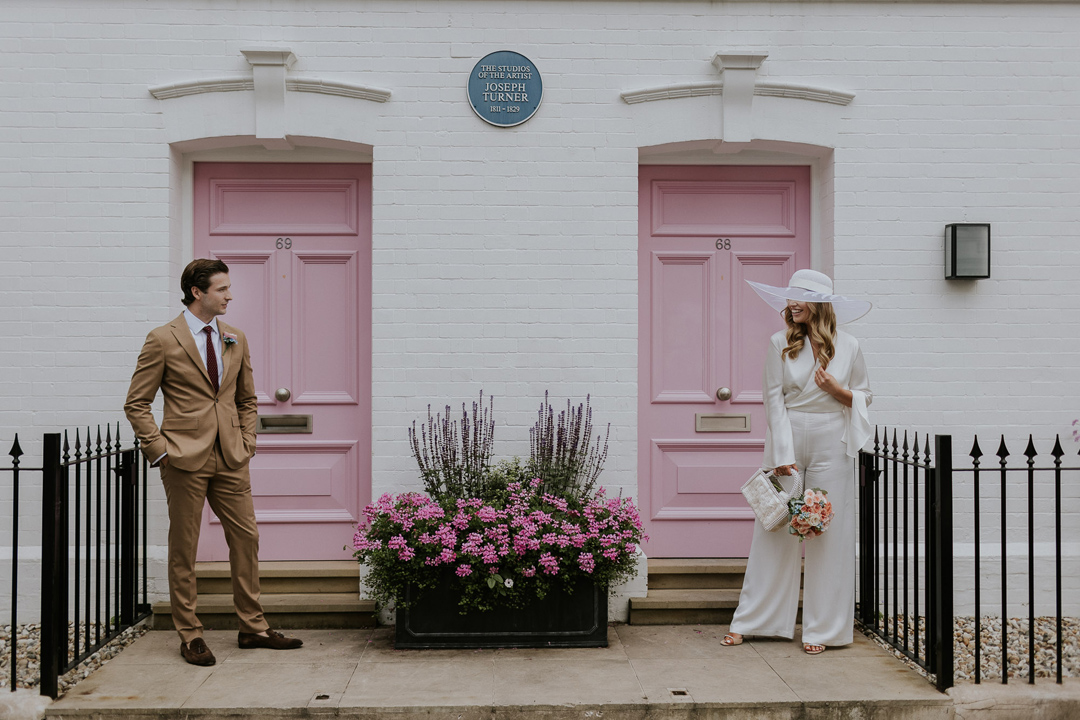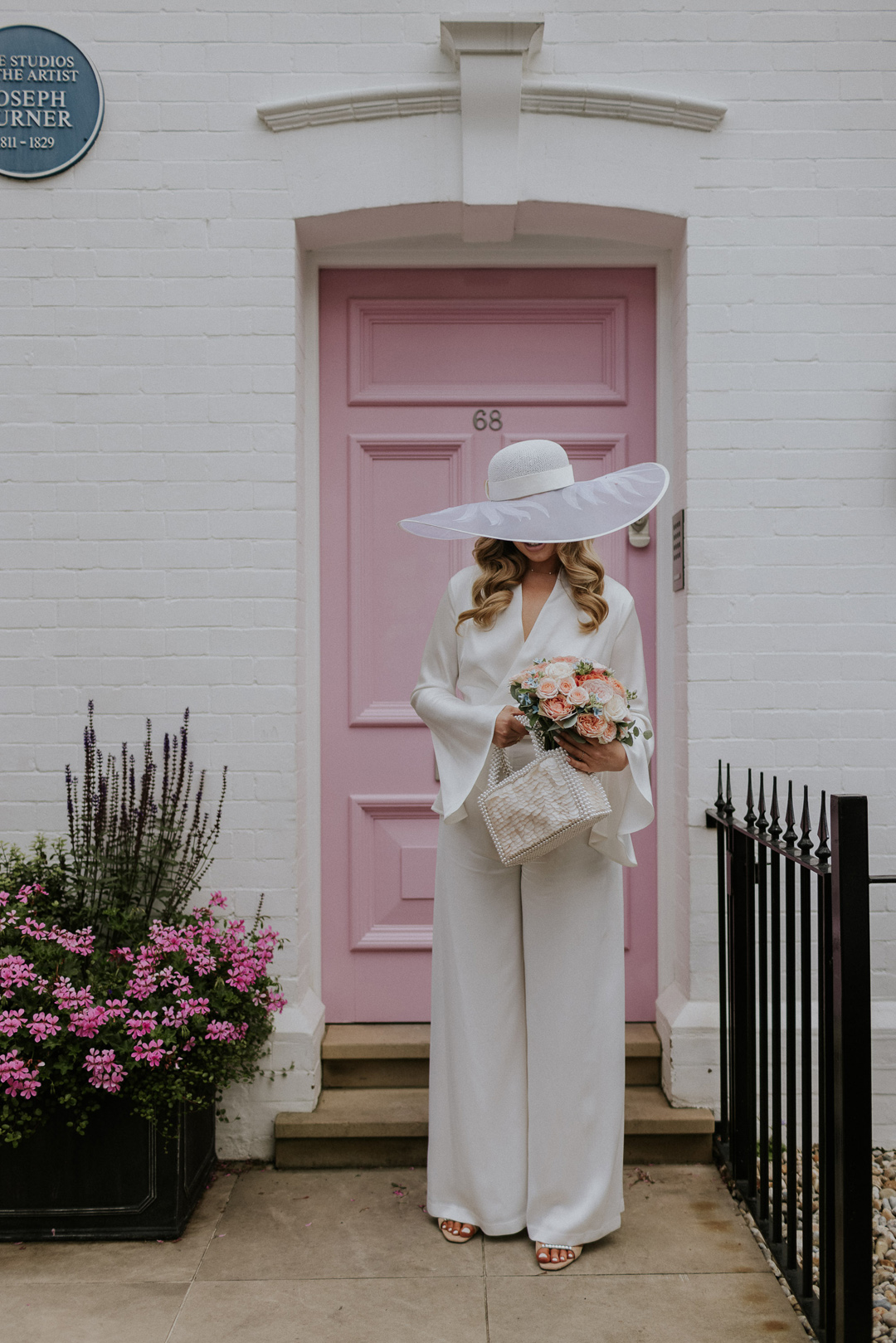 "Floral Explosion are based in Kent we have been buying flowers from them ever since they opened, we know the owner Becky so knew we could trust her to produce really beautiful bouquets and she did not disappoint."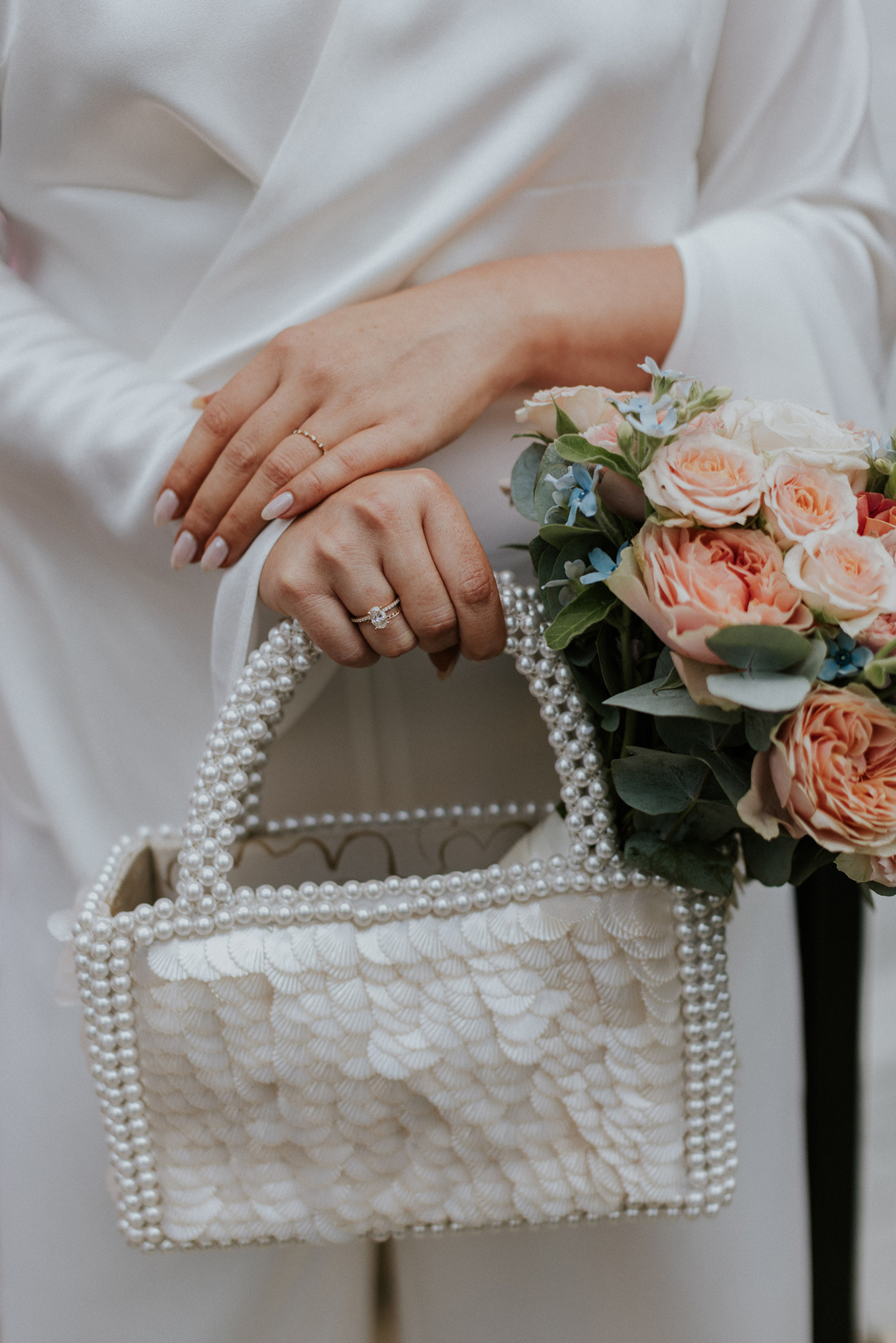 "She also managed to fit us in at quite short notice during a ridiculously busy time for florists."
"We couldn't recommend her enough and all the flowers lasted nearly two weeks so brightened up our house which was great!"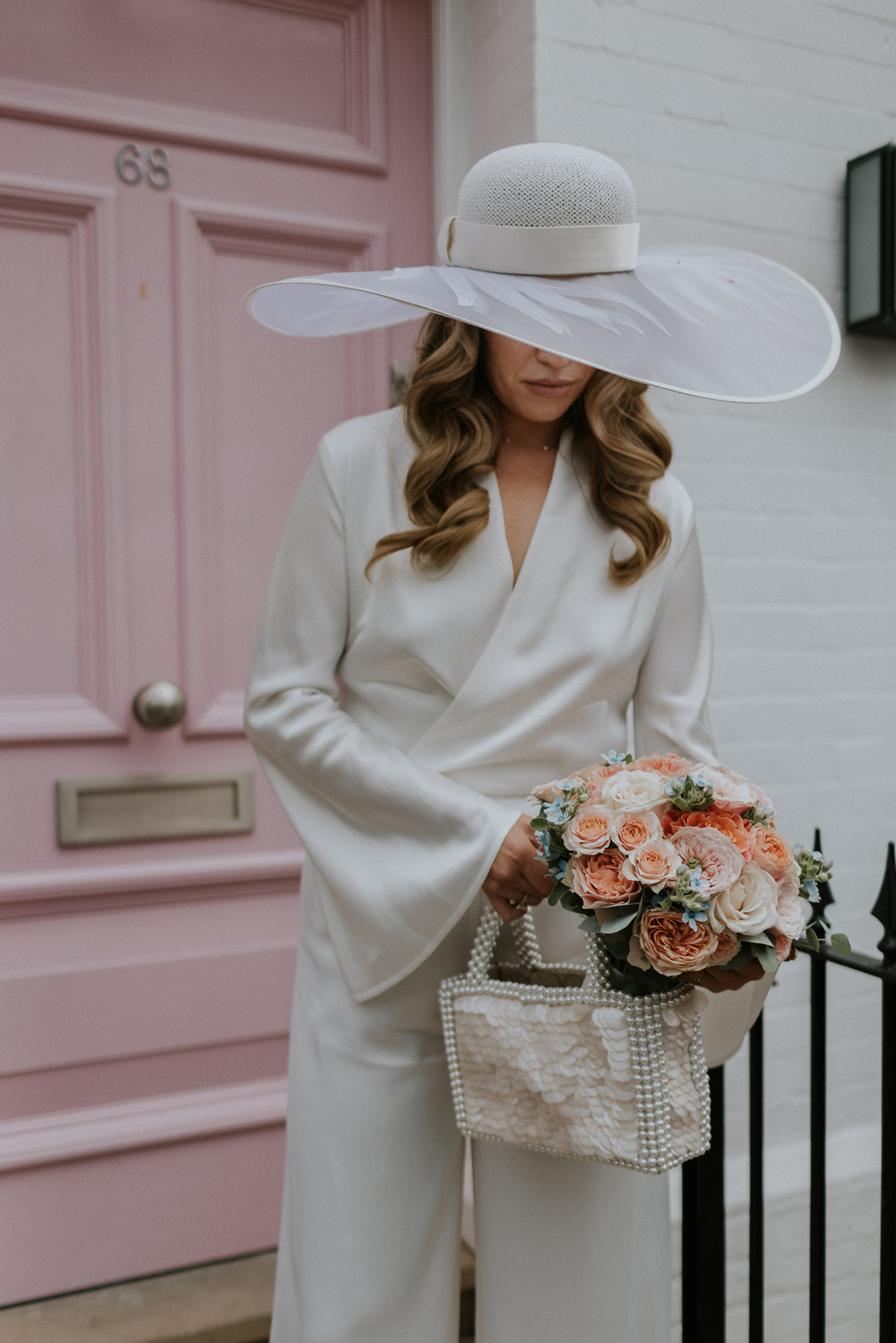 "I found our photographer Maja on Instagram and was instantly drawn to her photos."
"I just loved how she captured the wedding day, all the small details, the beautiful natural couple shots and just really lovely editing."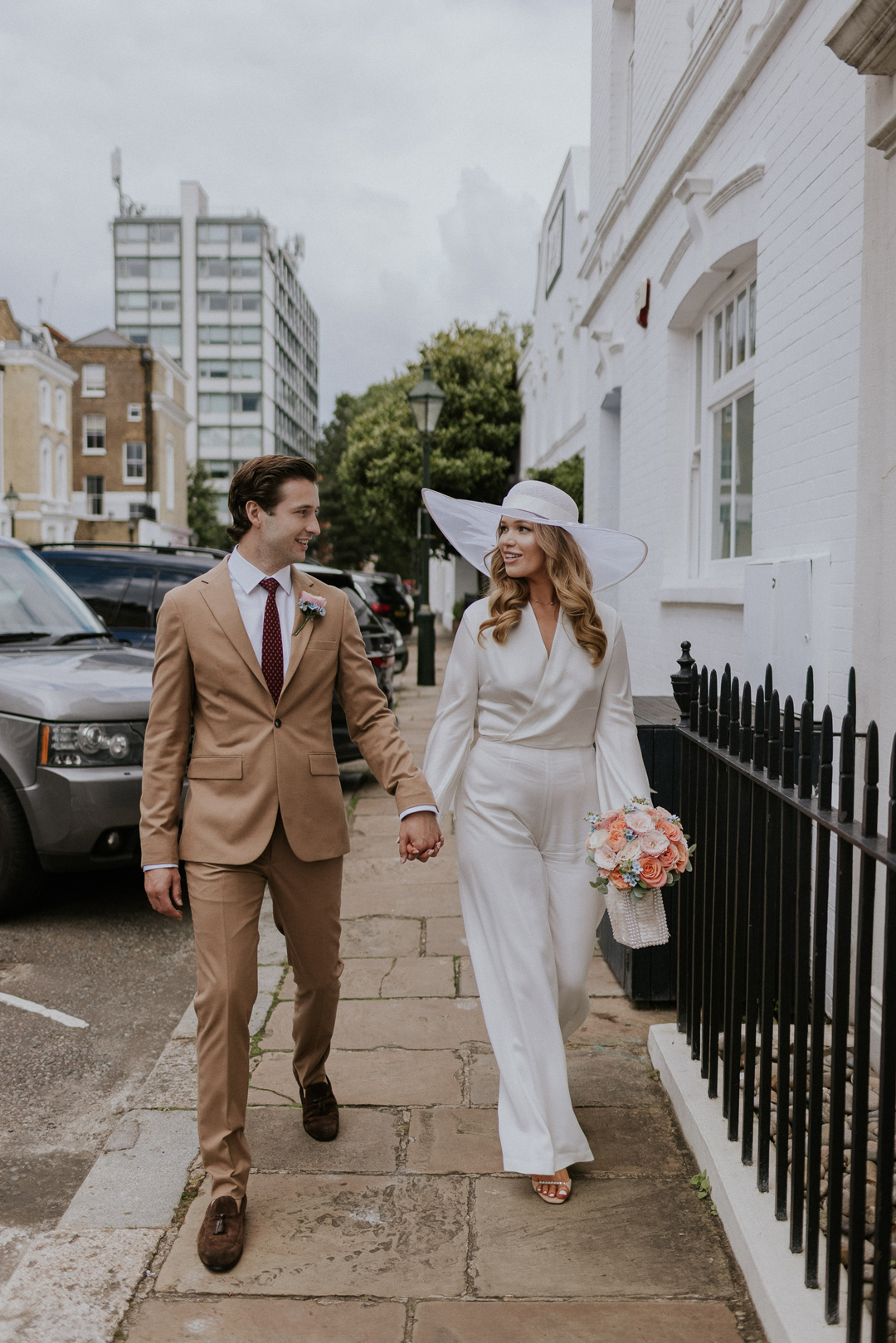 "Maja was always so fast at responding and so friendly and willing to help and answer questions."
"She made us feel so comfortable on the day and the photo's really reflect this, all just so stunning."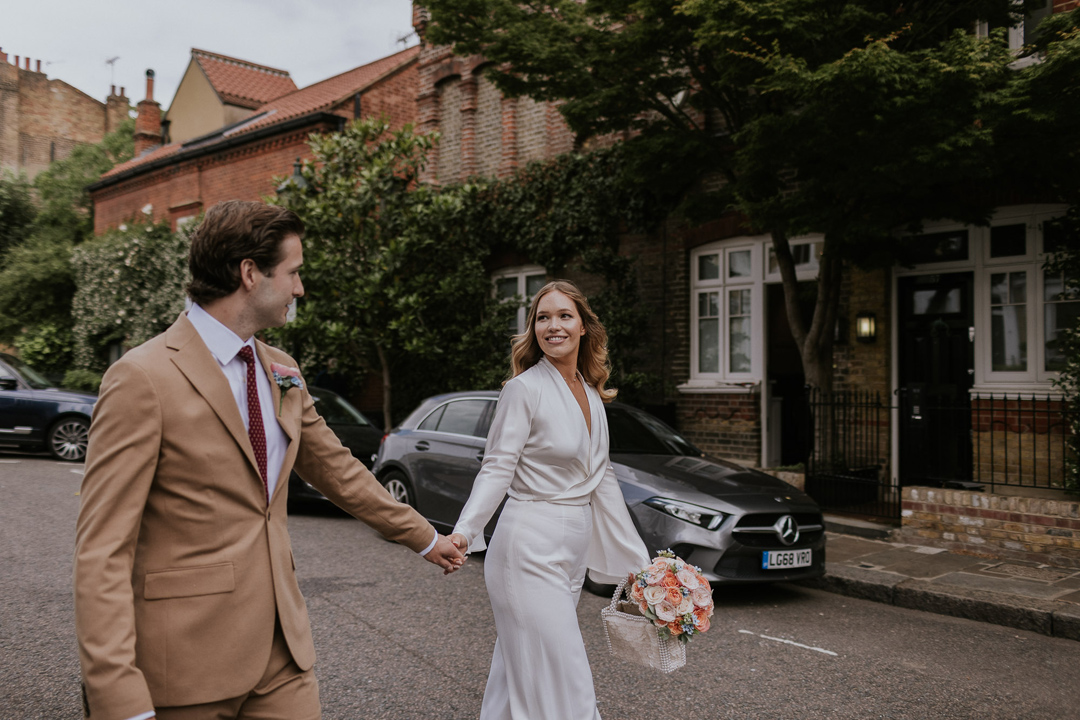 "My Vanessa Cocchiaro outfit purchased online but the hat was a special experience as it was made especially for me, Awon was so great at communicating with me and she is just so talented, it really made the outfit stand out and was such a beautiful hat."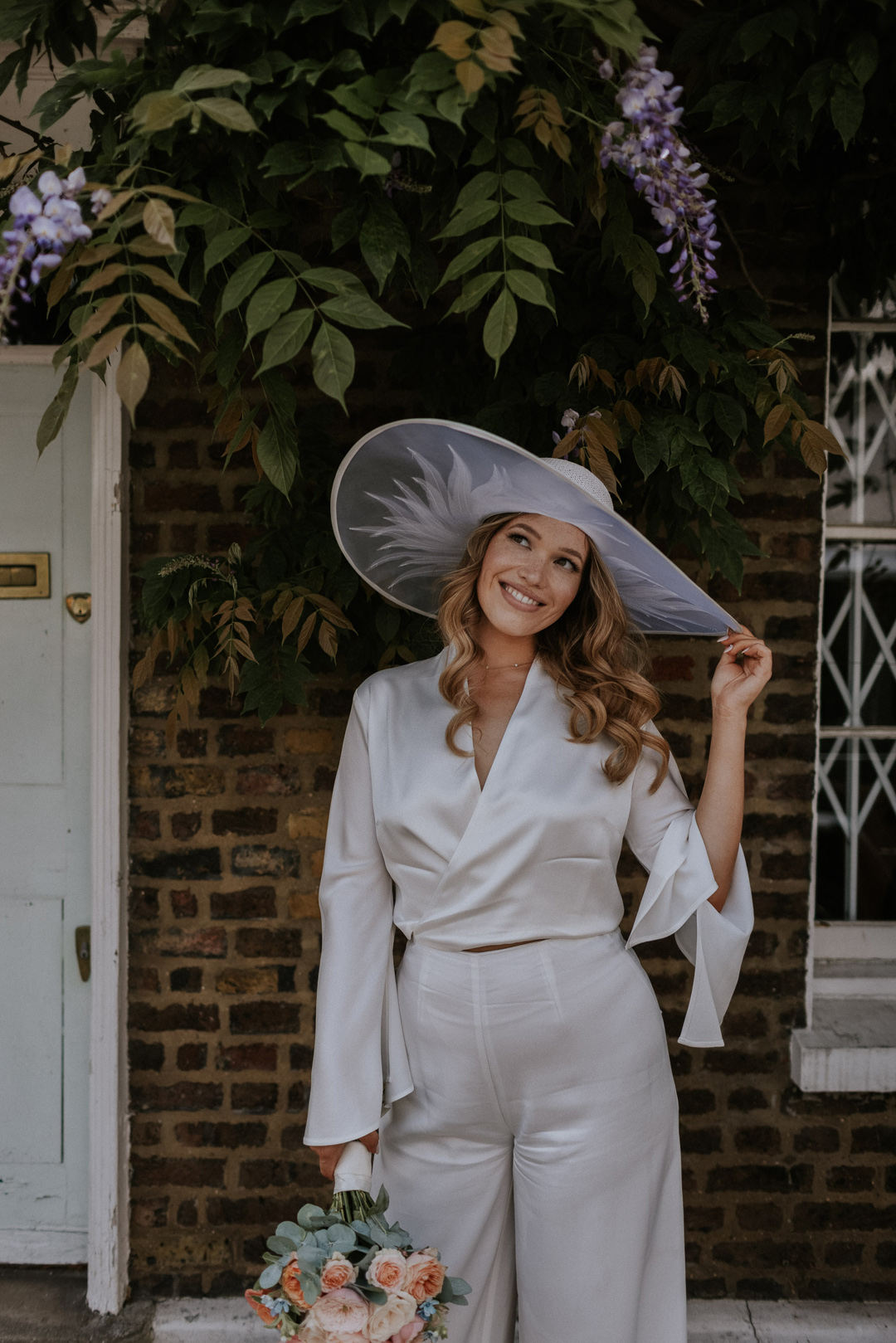 "I wanted a more understated outfit I didn't want to wear a dress so a satin two piece was perfect."
"It was incredibly flattering and I loved the elegant fluted sleeve. I was inspired by Bianca Jagger's wedding look so knew I wanted a hat instead of a veil.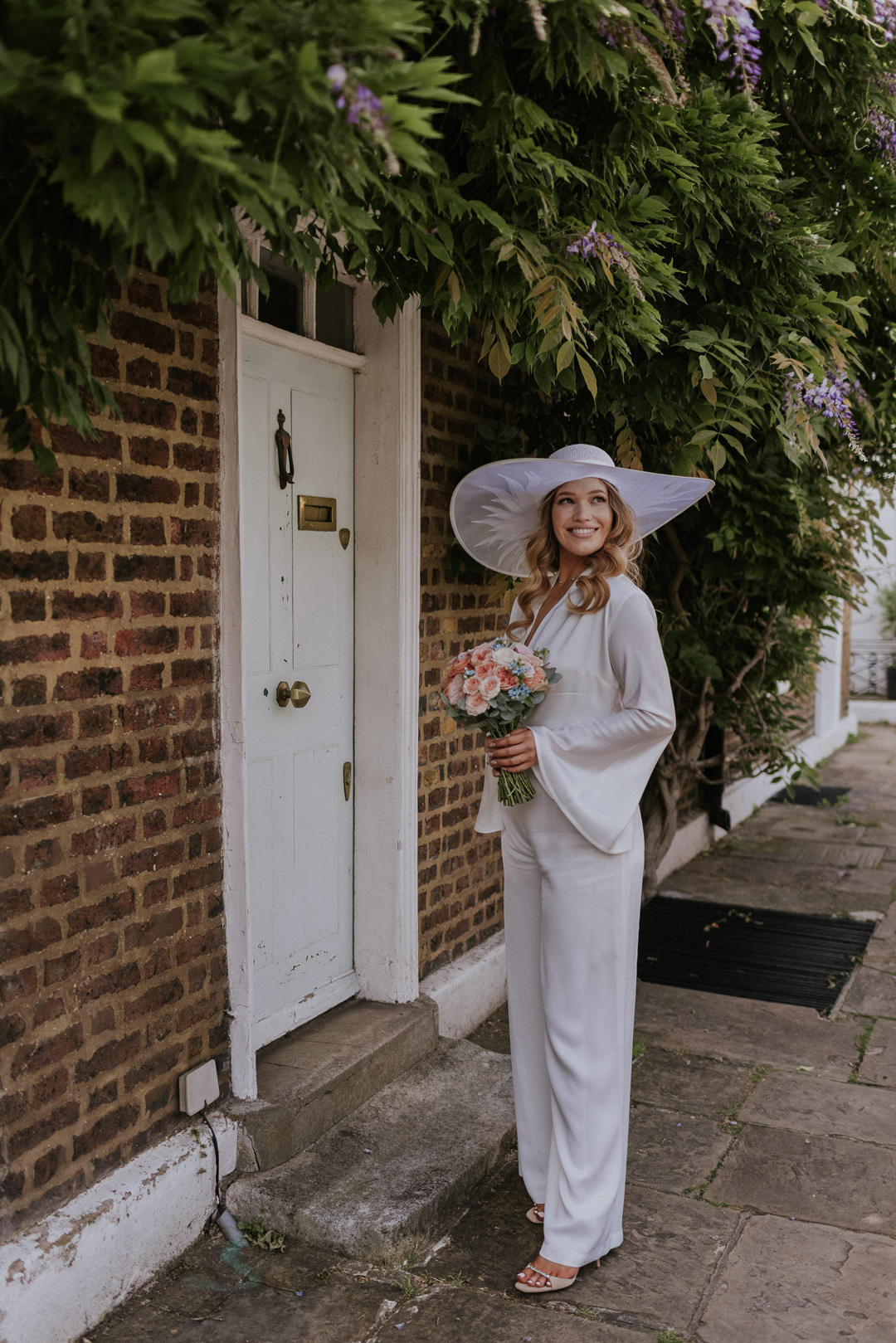 "My mum very kindly lent me her beautiful diamond studs that were made especially for her for her birthday."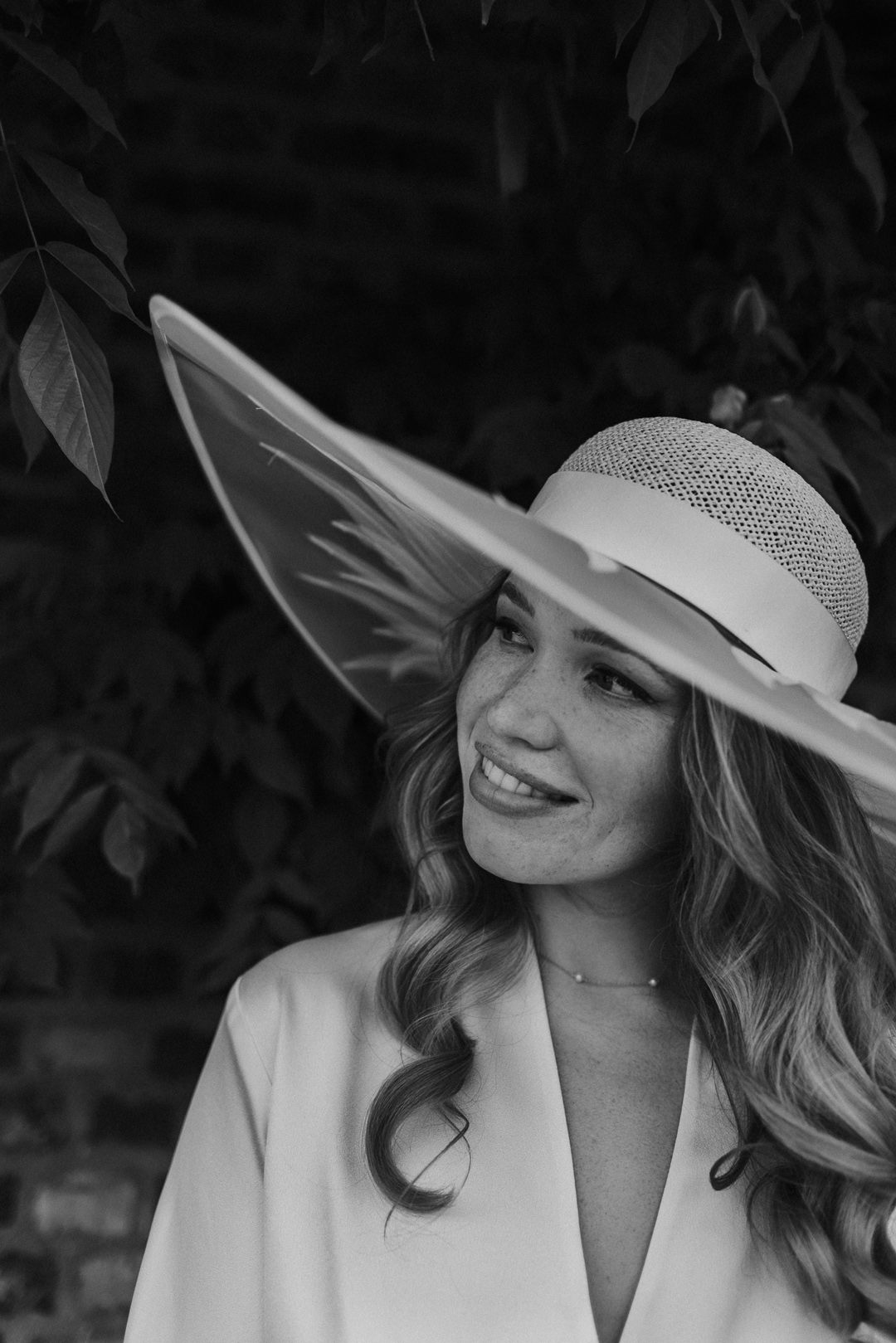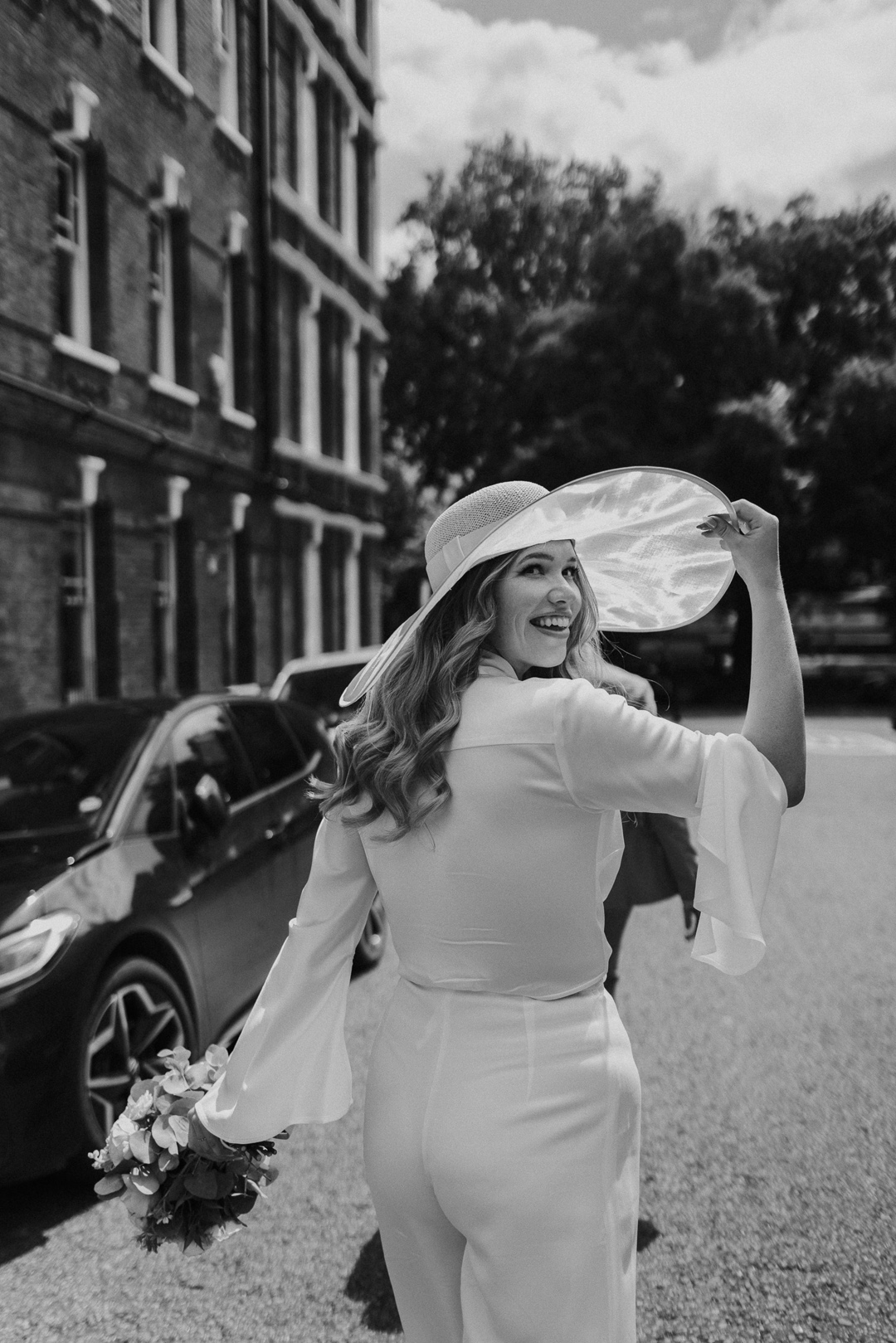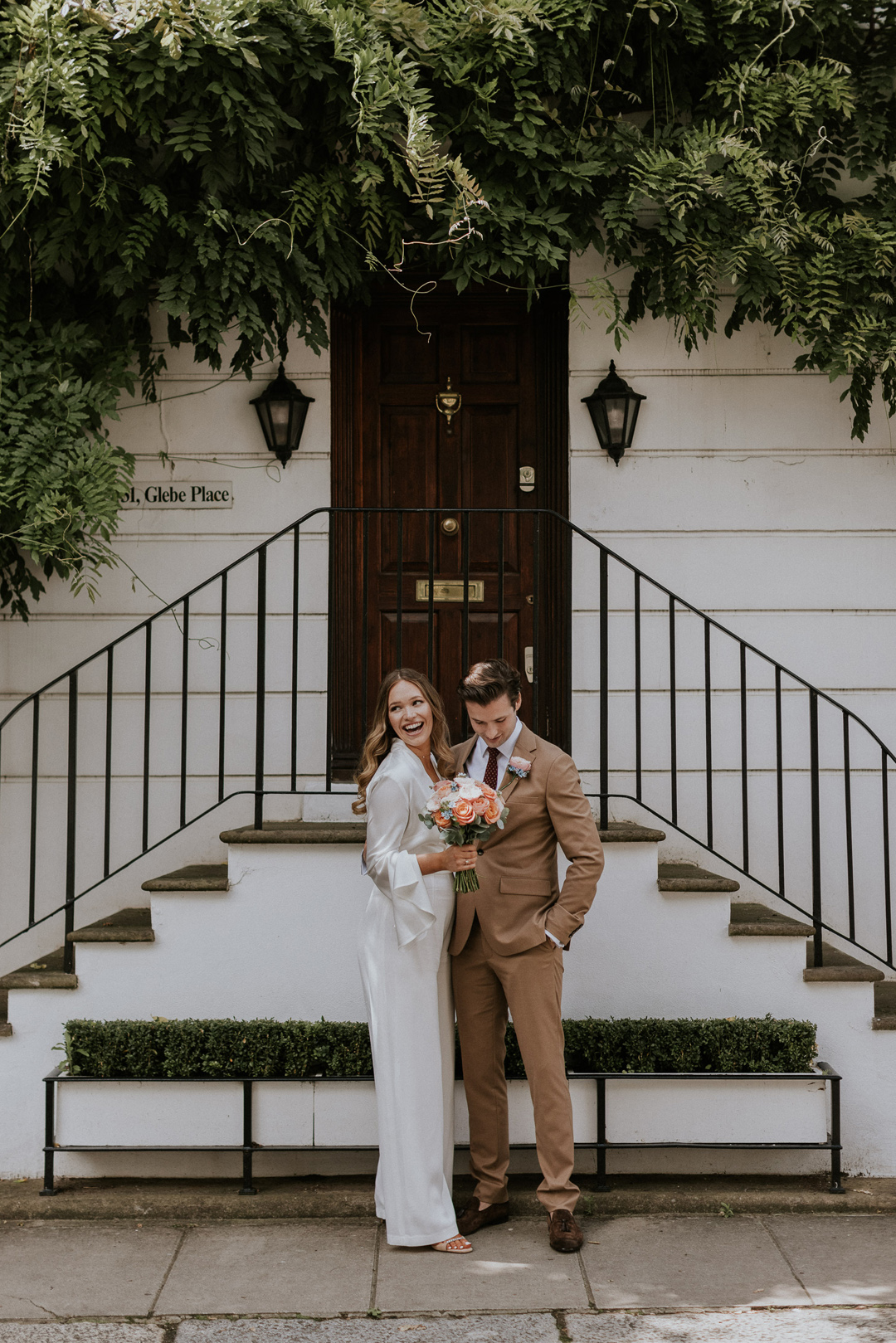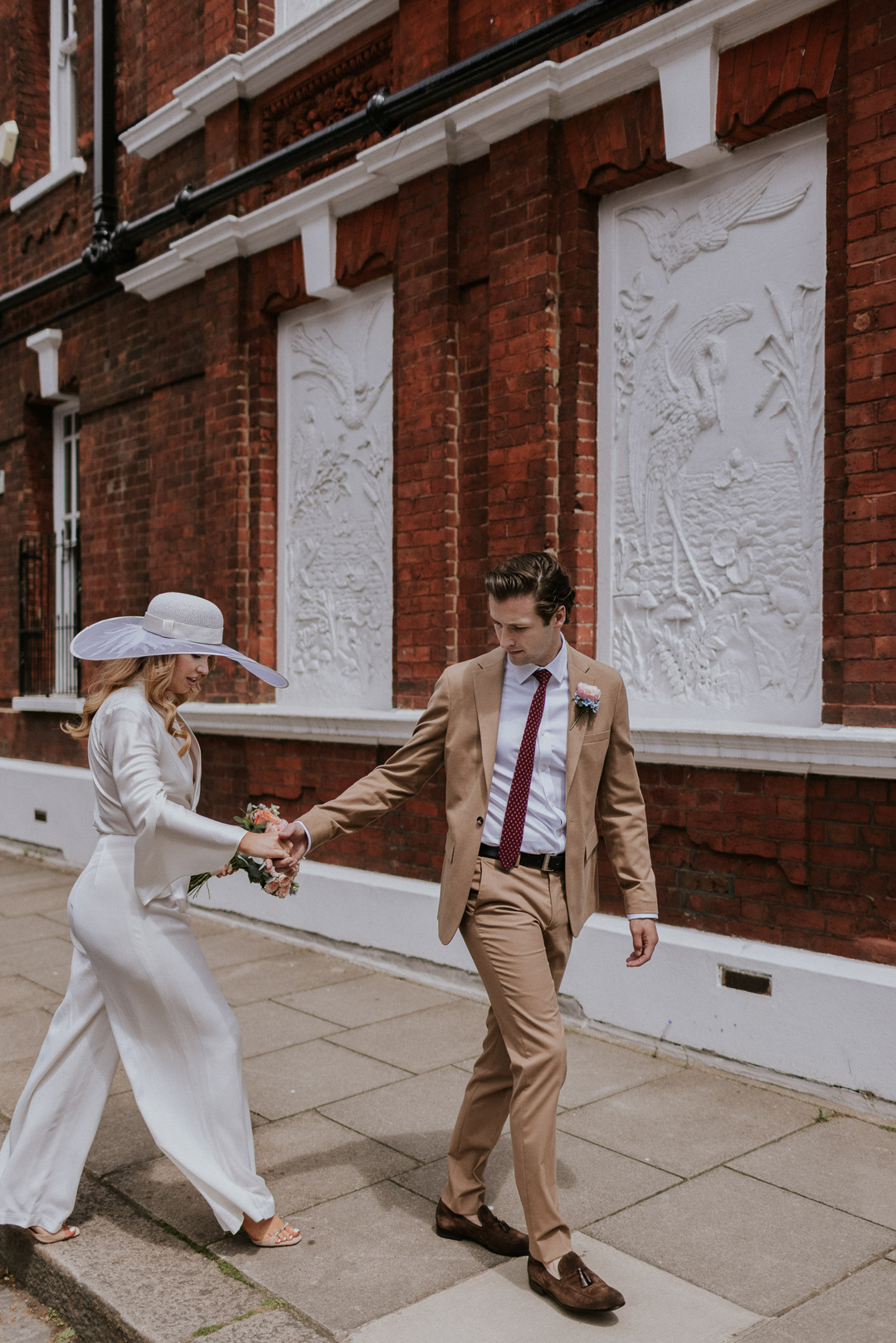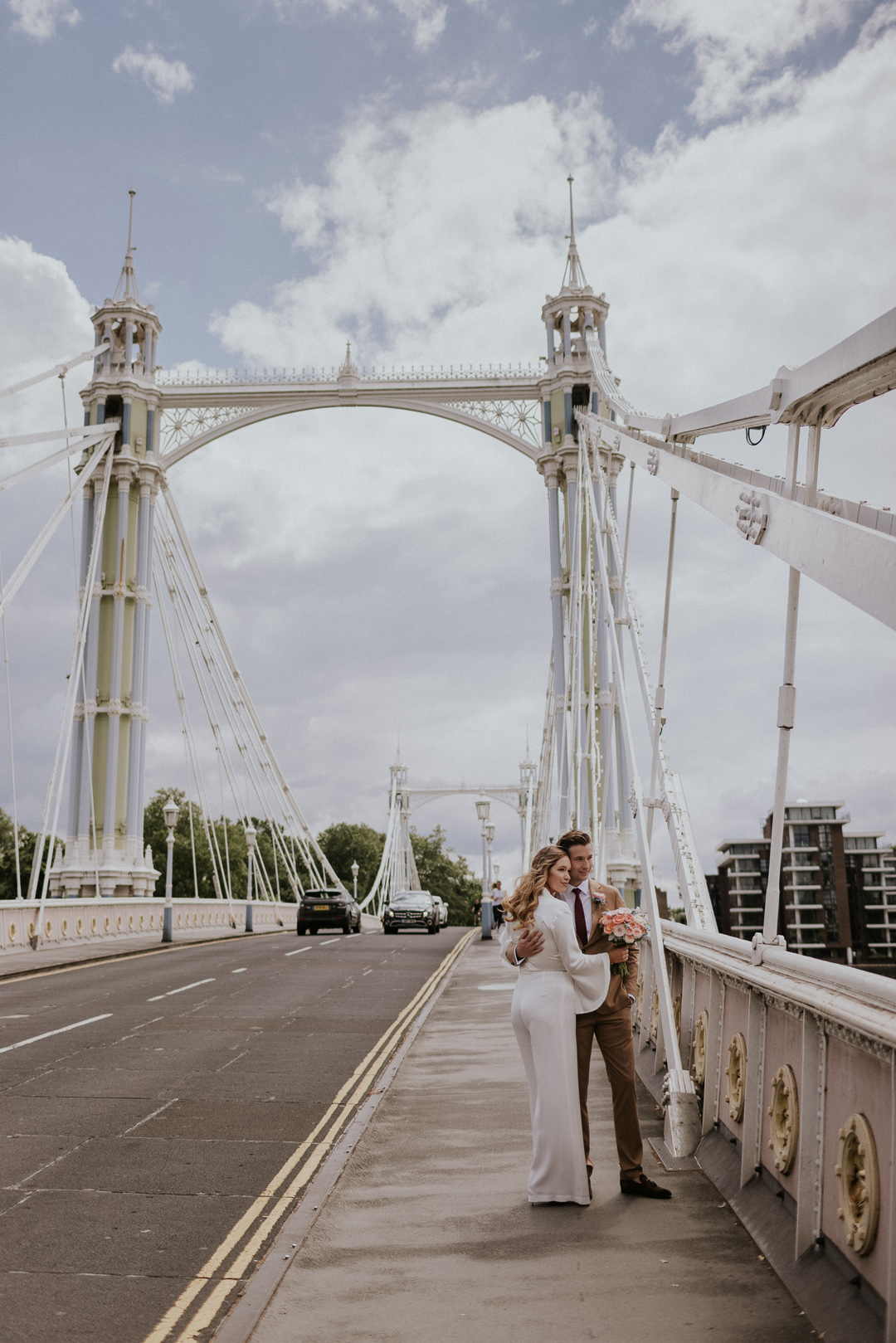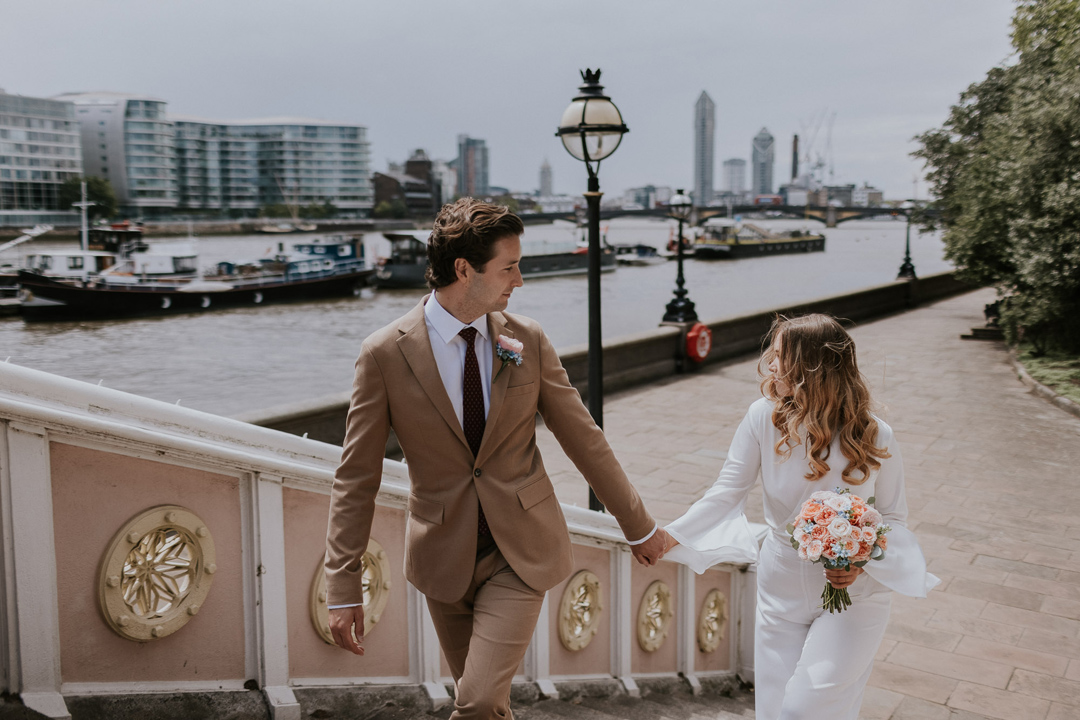 "We were due to have our reception meal at Harry's Dolce Vita in the private dining room but as restrictions were extended in July we were no longer able to dine there and so with only about one week and a half before the ceremony we quickly rallied to pull another idea together."
"We booked a private chef, Chris Wheeler, via the Take A Chef service, and my mother sourced and booked the Raj Tent Club. The food was incredible and the service was amazing, such a special experience!"
"This actually worked out well in the end as we all felt very safe in my parents back garden, the weather was nice so we could sit outside until late."
View this post on Instagram
Words of Wedded Wisdom
"Book the big things first to take away stress and then plan the finer details, and try to have fun whilst doing it."
"Wedding planning can be stressful, so try and enjoy parts too, and don't feel bad to delegate tasks if you can!"
"We would say don't give up on the idea of your dream wedding even if it can't happen when you originally wanted it to as you won't regret waiting longer but equally it has taught us not to dwell and stress over every detail."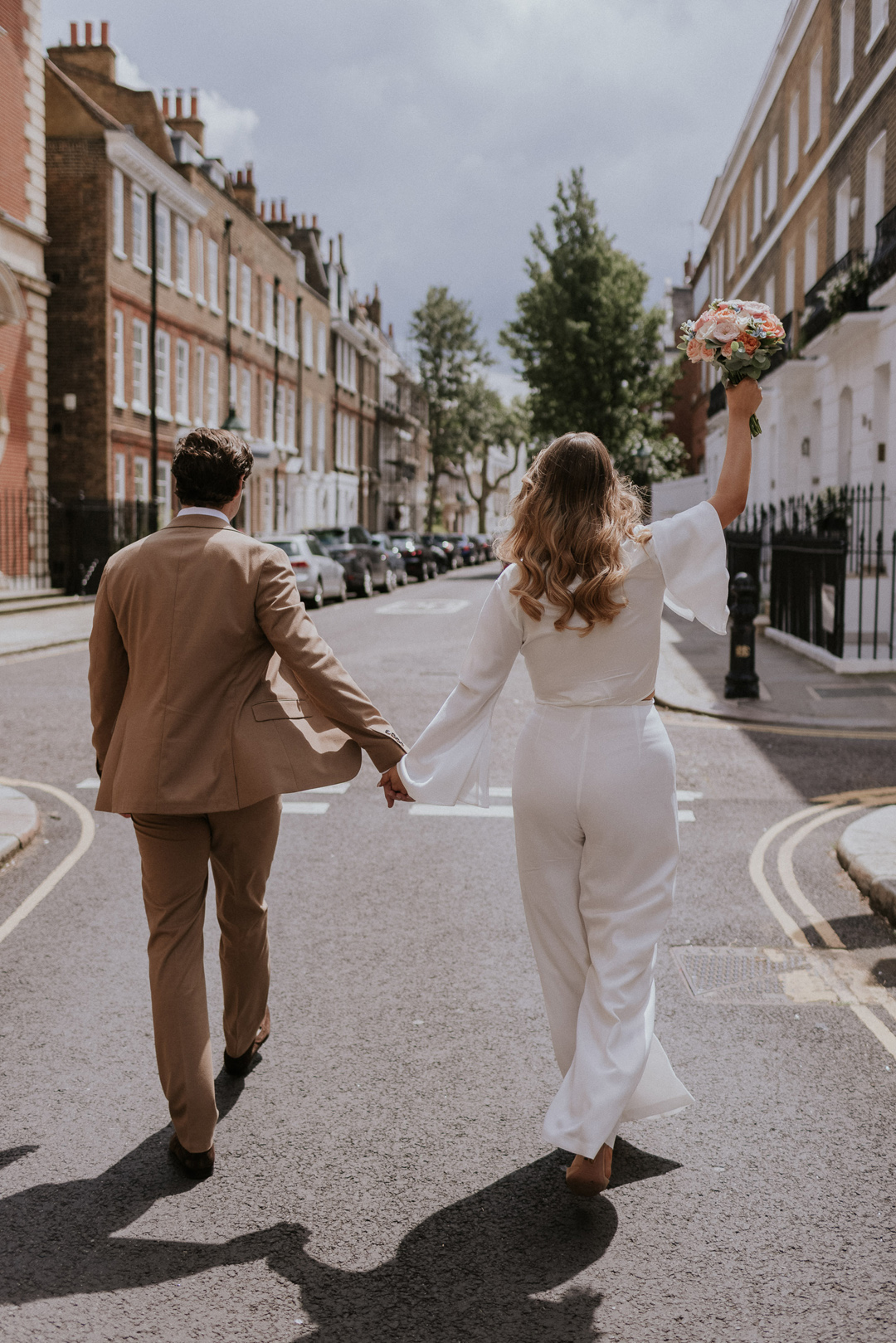 You can see more from photographer Maja Tsolo here on Love My Dress.