If you're thinking about wearing a dress that is just a little bit different, I think you're going to love the exquisite gown worn at this summertime wedding.
Hand-painted and appliquéd, the bride designed it with Felicity Westmacott to suit her relaxed, organic, nature-themed wedding in Surrey. Please meet Katrina and Marcus, whose relaxed, DIY wedding on 31 August 2019, was held outdoors at blank canvas venue Hookhouse Farm near Redhill in Surrey.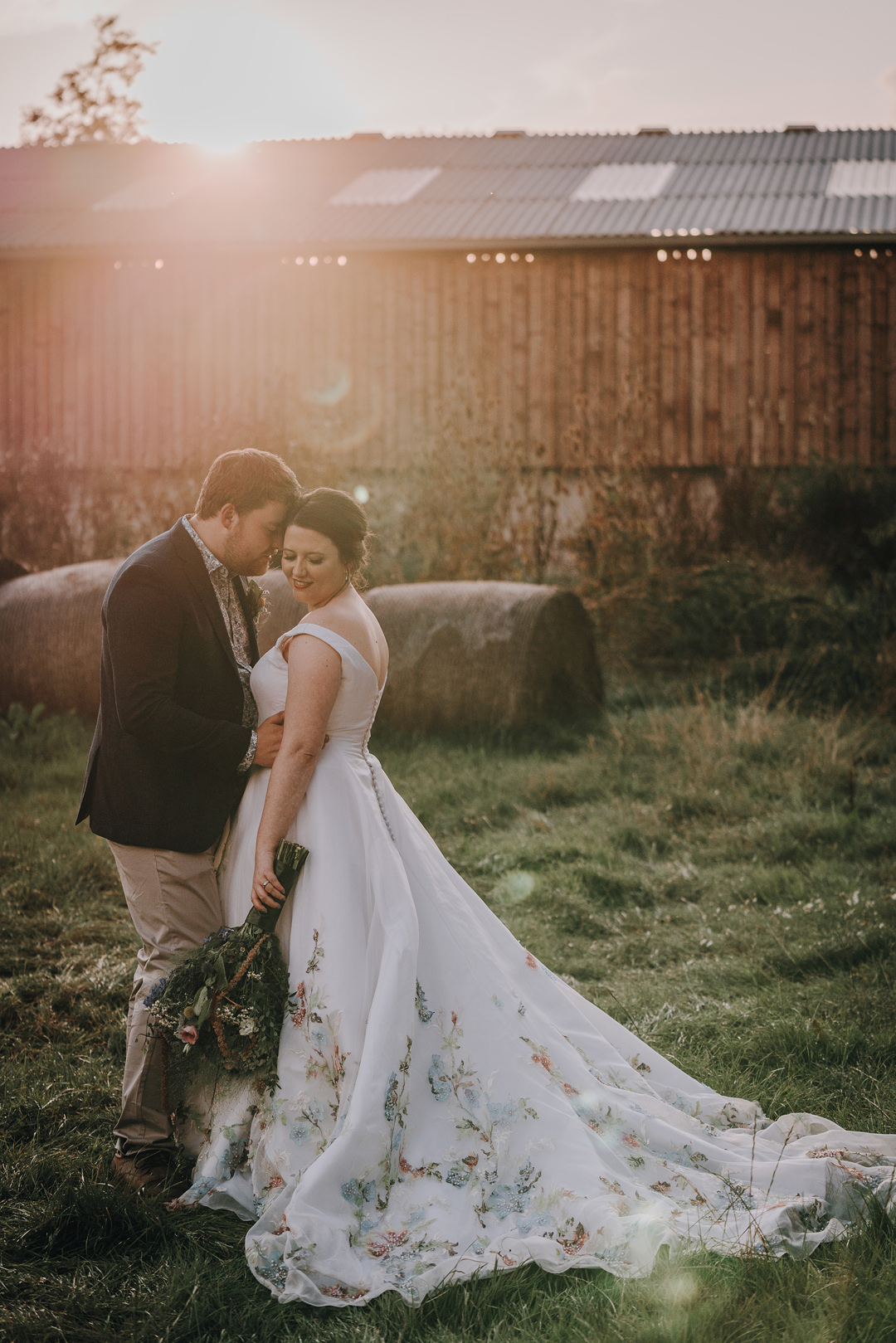 The couple were inspired by the countryside beauty of their farm venue, their love of British nature and some of their favourite films, to pull together this whimsical and utterly charming wedding styling.
"We always knew we wanted the day to feel relaxed, informal and fun and I had always wanted to get married outside."
"We took inspiration from our love of nature and from some of our favourite films, Wes Anderson's 'Moonrise Kingdom' and 'Fantastic Mr Fox', in particular. There were also a few Disney touches."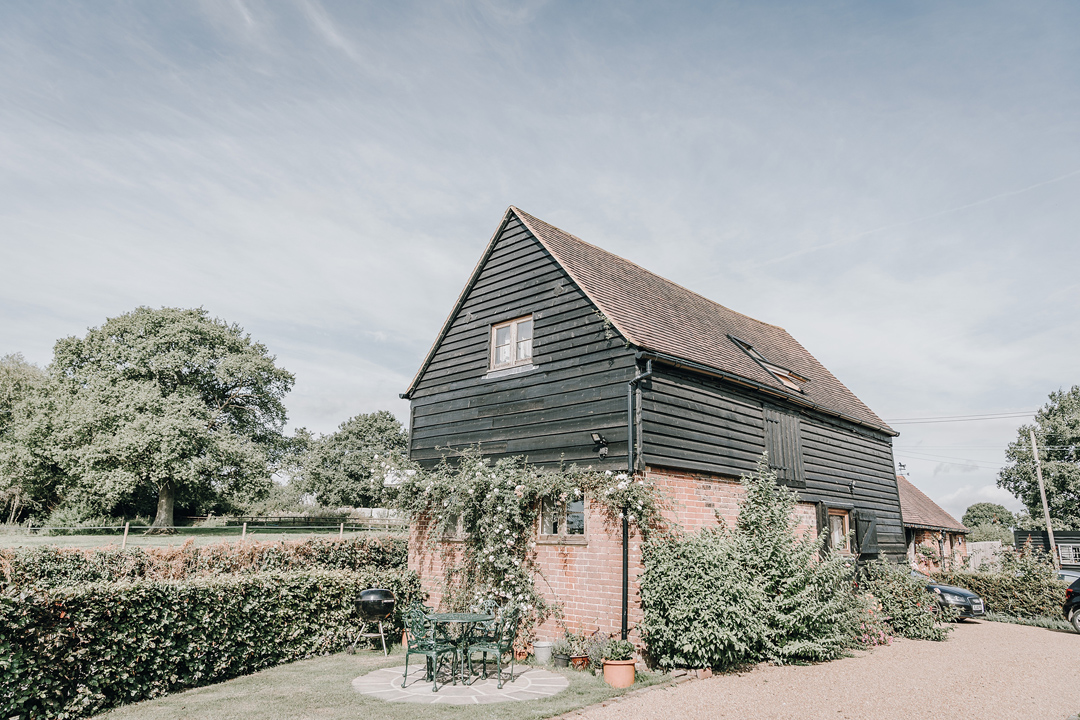 The couple met at university where we they both studying film.
"Marcus proposed on 29 September 2017 while we were in Disneyland Paris celebrating my thirtieth birthday."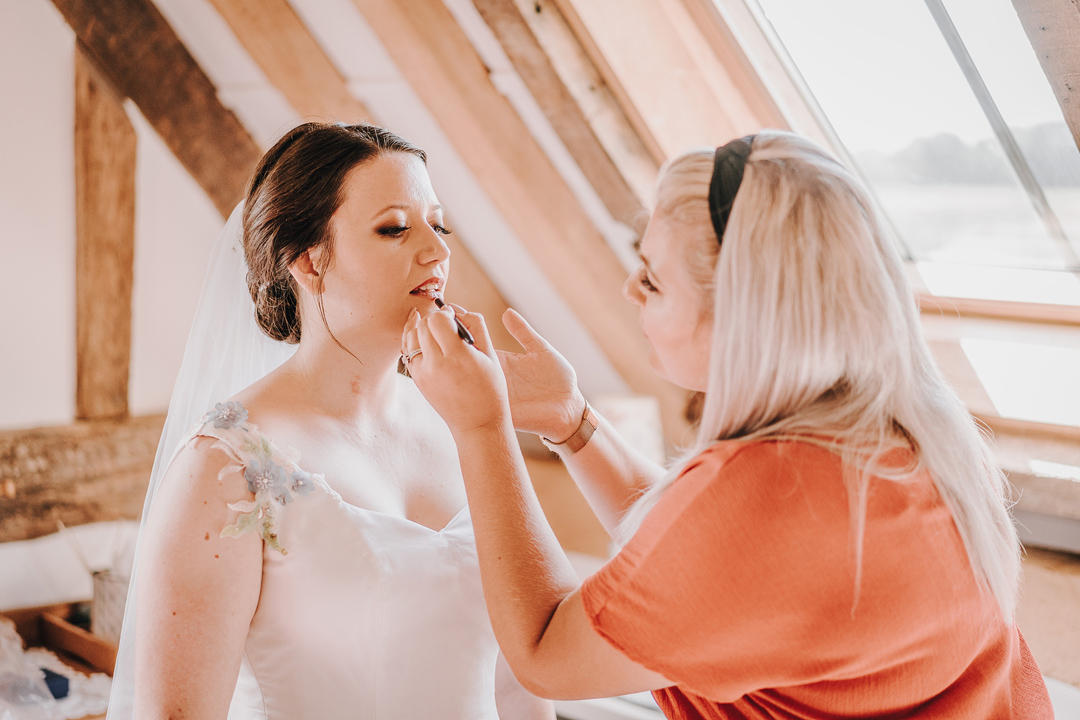 "He hadn't planned to propose but we'd had such good time that on the last day he decided it was the perfect opportunity."
"Marcus knew I didn't want a public proposal so he managed to find a quiet spot somewhere so it was just the two of us."
"As soon as he got down on one knee I burst into tears. Neither us can remember what we said to each other now although, obviously, I said yes!"
"We'd always agreed that we would only get engaged once we were ready to get married so we started planning almost immediately."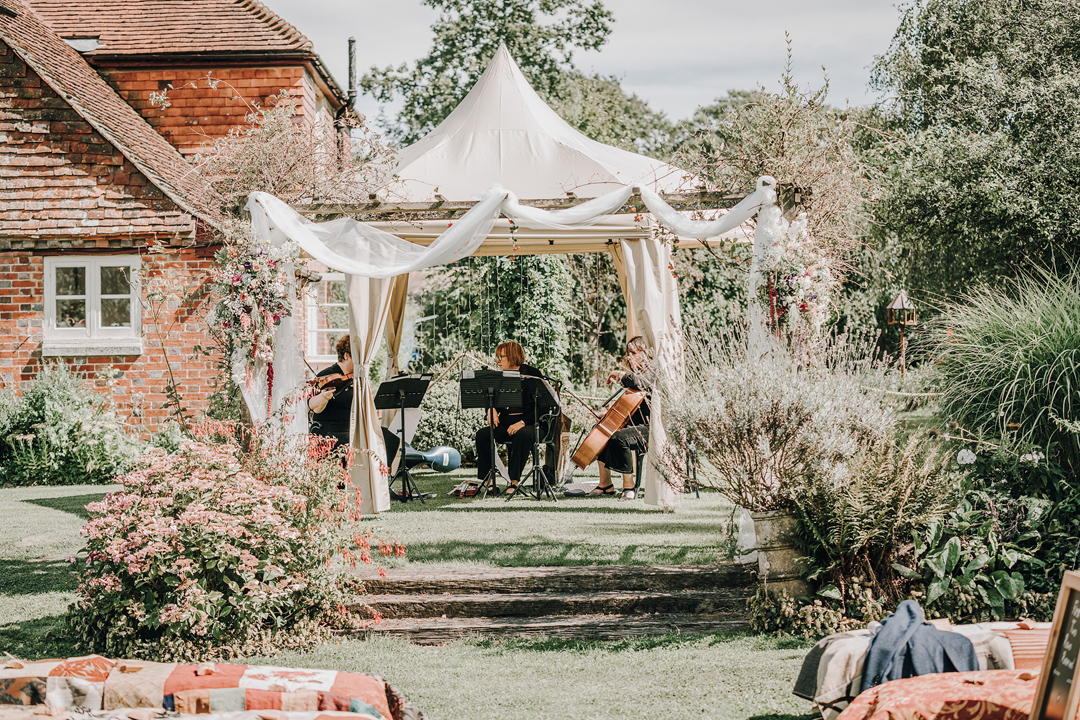 The bride's charming, hand-painted wedding gown, spattered with beautiful meadow flowers, is a bespoke piece by the talented designer Felicity Westmacott.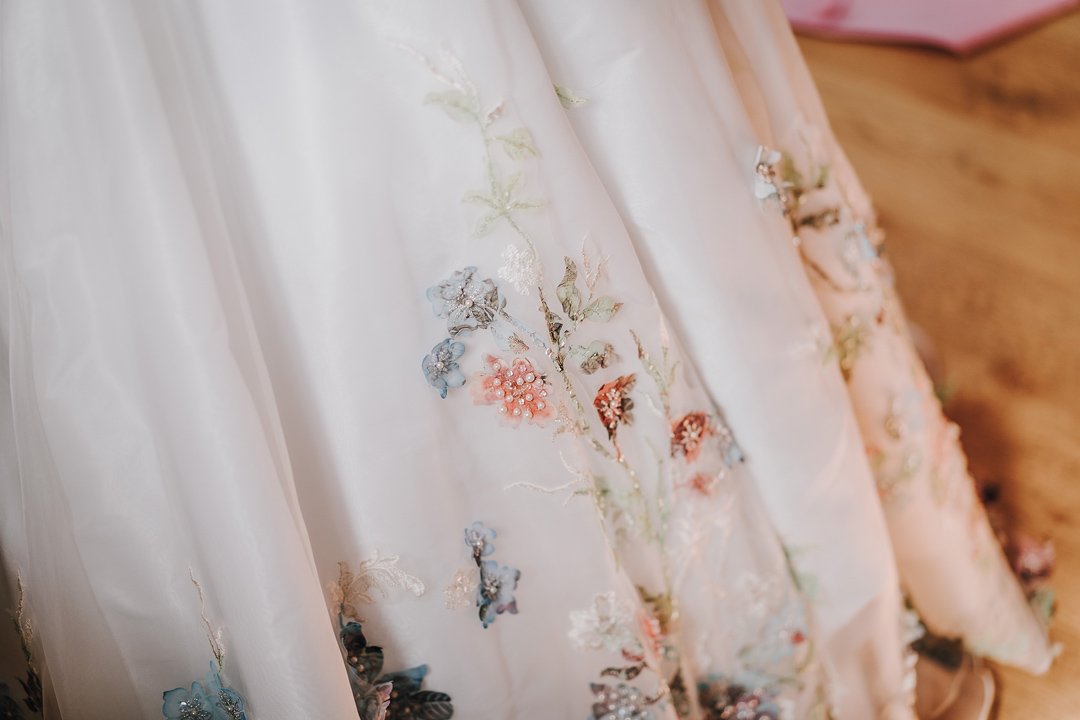 "I met Felicity at a wedding fair in Kingston and instantly fell in love with her bespoke dresses."
"I had always loved the idea of designing my own wedding dress and having something really unique."
"Felicity was incredible and I loved working with her. She put so much thought and hard work into designing and making my dress."
"When we first discussed my ideas for the dress, I feel like I had a really varied mix of styles and influences."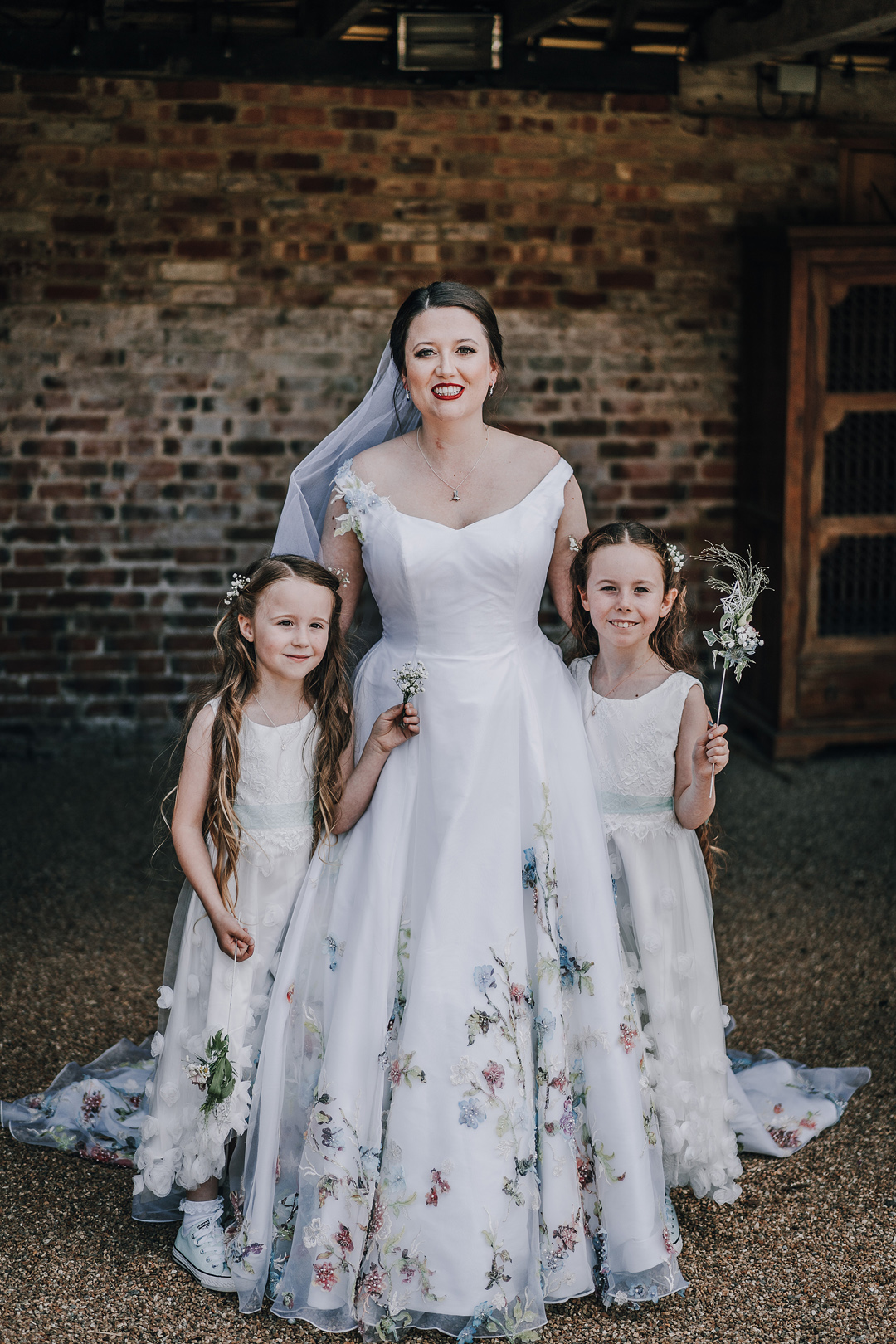 "My Pinterest board was a mess of whimsical, fairytale-style dresses, more clean-cut contemporary dresses and brightly coloured floral dresses."
"It was amazing how she was able to pick out all the elements that were most important to me and weave them into such a beautiful design."
"I would absolutely recommend Felicity to other brides. Felicity was so helpful and patient throughout the entire process. "
"She consulted me about every element of the dress and was so good at explaining all of the options and how they would impact the final design."
"Felicity was also very open about costs throughout the process. I always knew what I was committing to and there were no scary surprises which was something I really appreciated as every penny counts when you're planning a wedding."
"I wanted a dress that felt like 'me'. I loved having something unique and I loved being part of the design process for the dress."
"Sadly, my granny Rose passed away shortly after we got engaged. She left me a little money and she was so excited when we told her we would be getting married that it felt right to put the money she left me towards the dress."
"My grandad Derek decided to put some money towards the dress as well. It also meant a lot to me that my dress was a gift from my grandparents."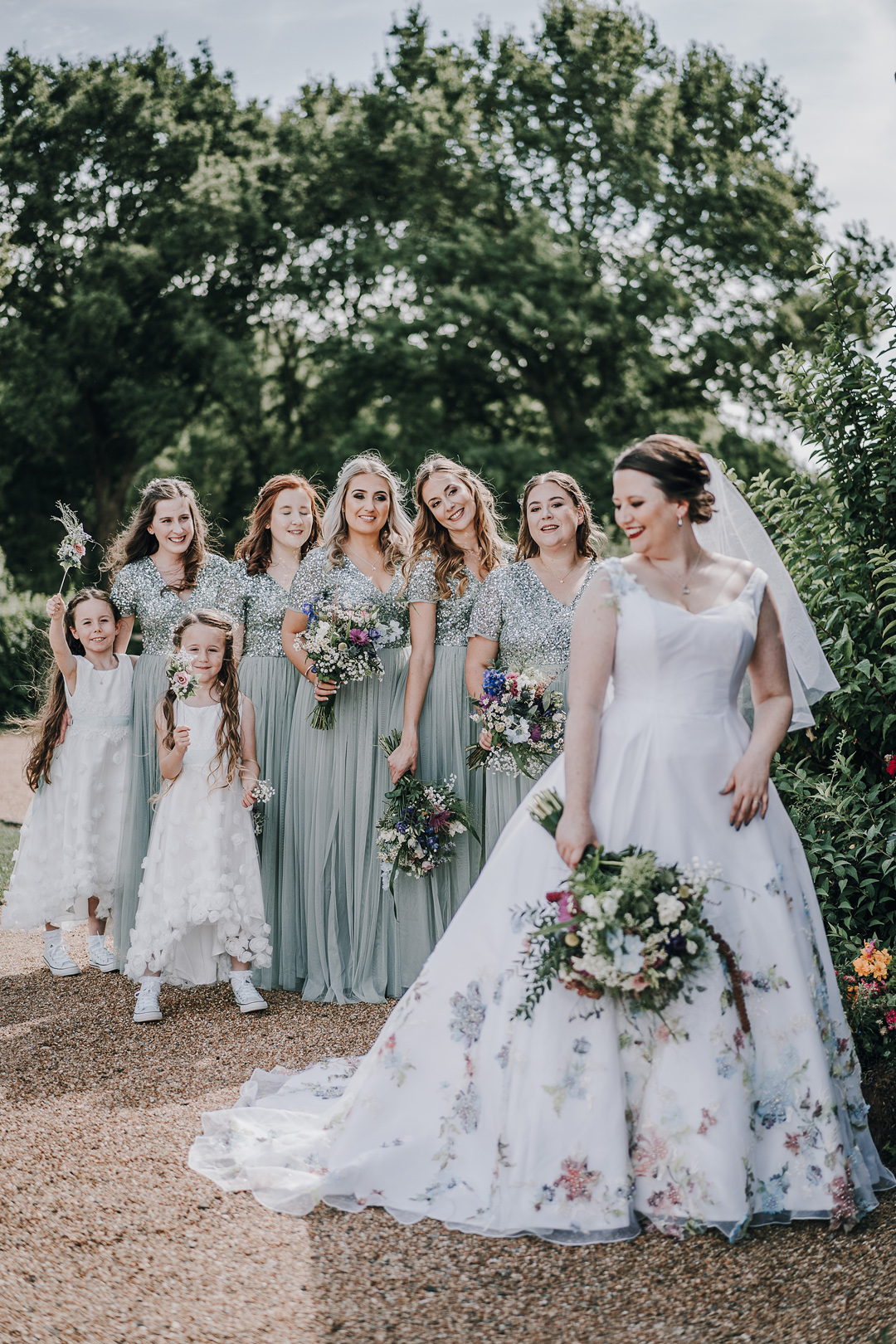 Inspired by the bride's nickname for Marcus, goose, Katrina wore a silver goose necklace, a birthday present from the groom a few years before their wedding.
"It felt appropriate to wear it for my 'something old' on the day. We also made small references to geese throughout the day. We had two geese for our cake toppers which my mum found on Etsy."
"We named our tables after wildlife so the top table was the Goose table. There were also two geese living on the farm who we happily managed to include in some of our photos."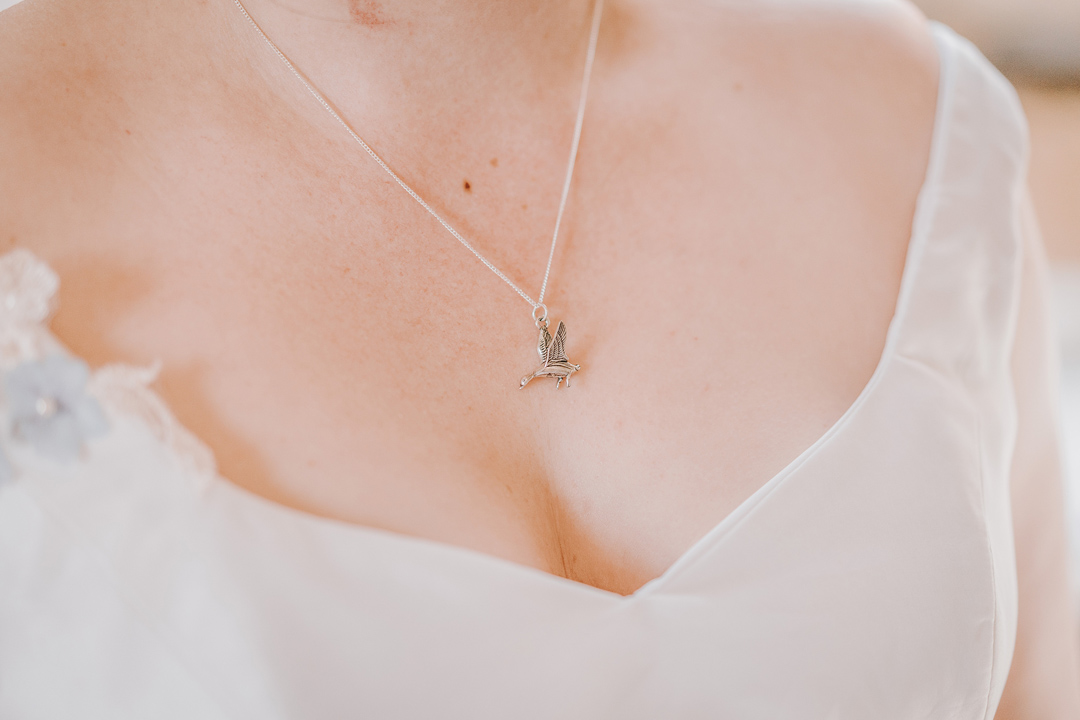 The grown-up bridesmaids wore 'Maya', V-neck, maxi tulle dress in sage green from ASOS.
"I was especially pleased with the bridesmaids' dresses. I remember worrying a lot about them because I wanted everyone to feel comfortable on the day."
"I really wanted to find a style that would suit everyone and that would be comfortable to wear all day.  I also wanted a colour that would complement the colours in my dress."
"I felt the sage green fit with the floral theme of my dress and fit well with the weddings theme."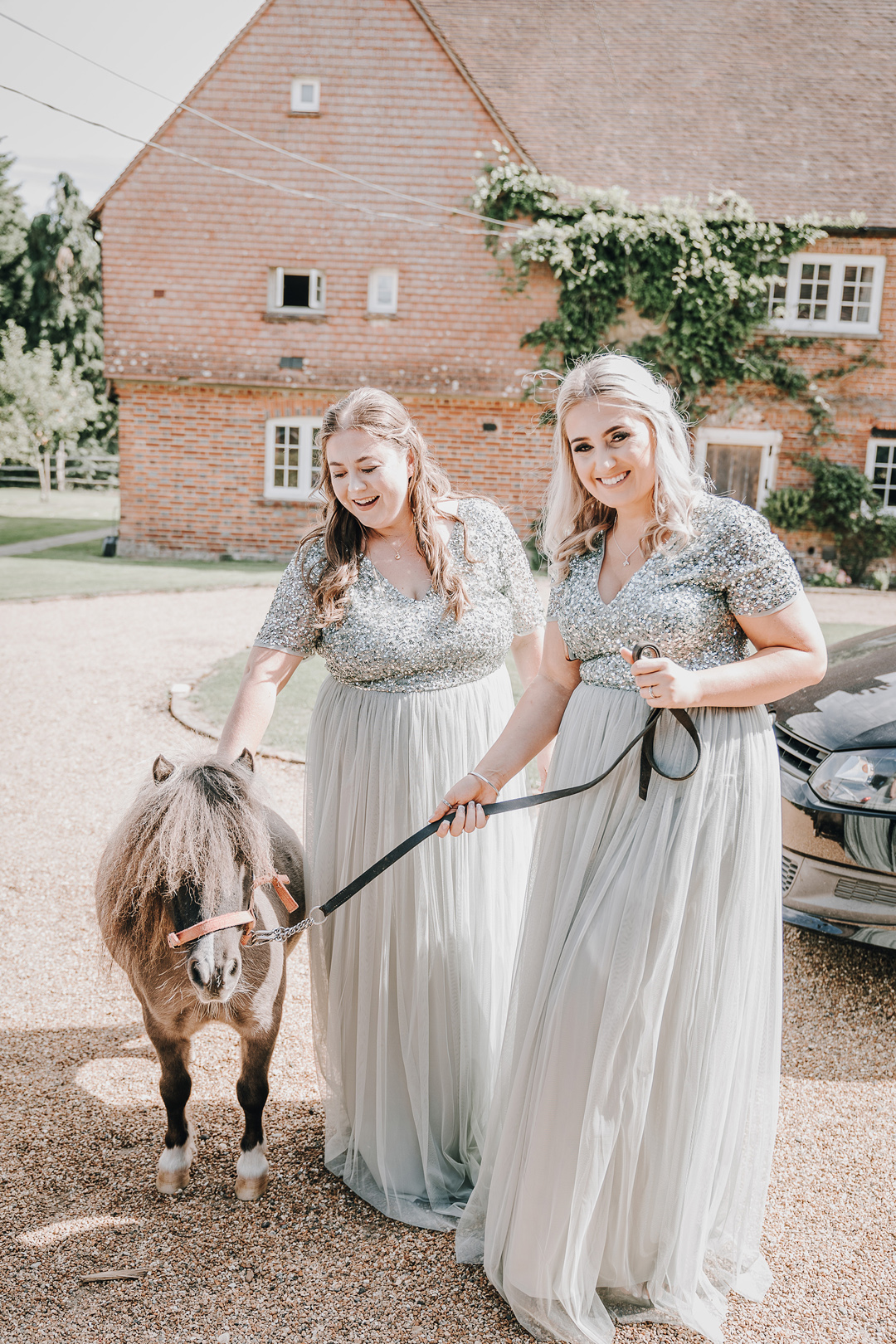 "Once I found the dress it was difficult to buy the correct size for everyone as they started selling out! We managed to buy some from Next and then managed to pick up the last few we needed by checking for Next and ASOS to list sizes once dresses had been returned or restocked. My mum was an enormous help with this and gets full credit for managing to get the last few sizes we needed."
"I bought my bridesmaids and flower girls necklaces from Etsy to wear on the day as a thank you present. I wanted them to be unique so I bought each bridesmaid a flower that corresponded with their birthday. Luckily no-one was born in the same month, so everyone received something different."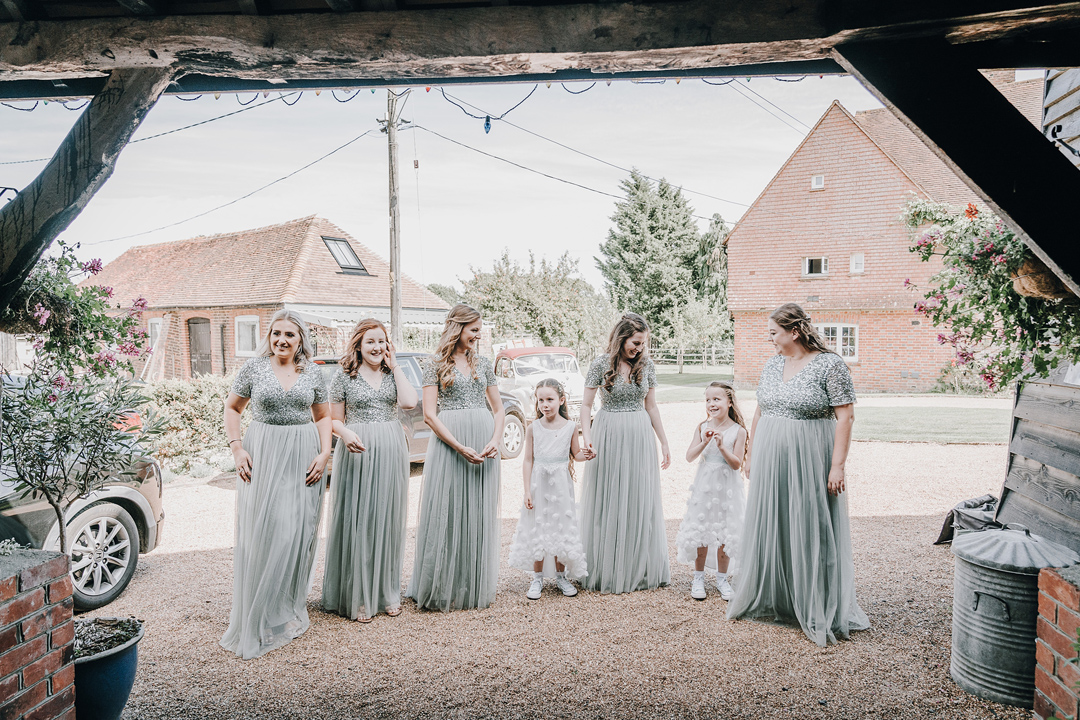 The little flowergirls wore pretty, white floral dresses from Monsoon.
"We bought some coloured ribbon to replace the white ribbon they came with and bought them both matching Converse trainers because I wanted them to have a pop of colour."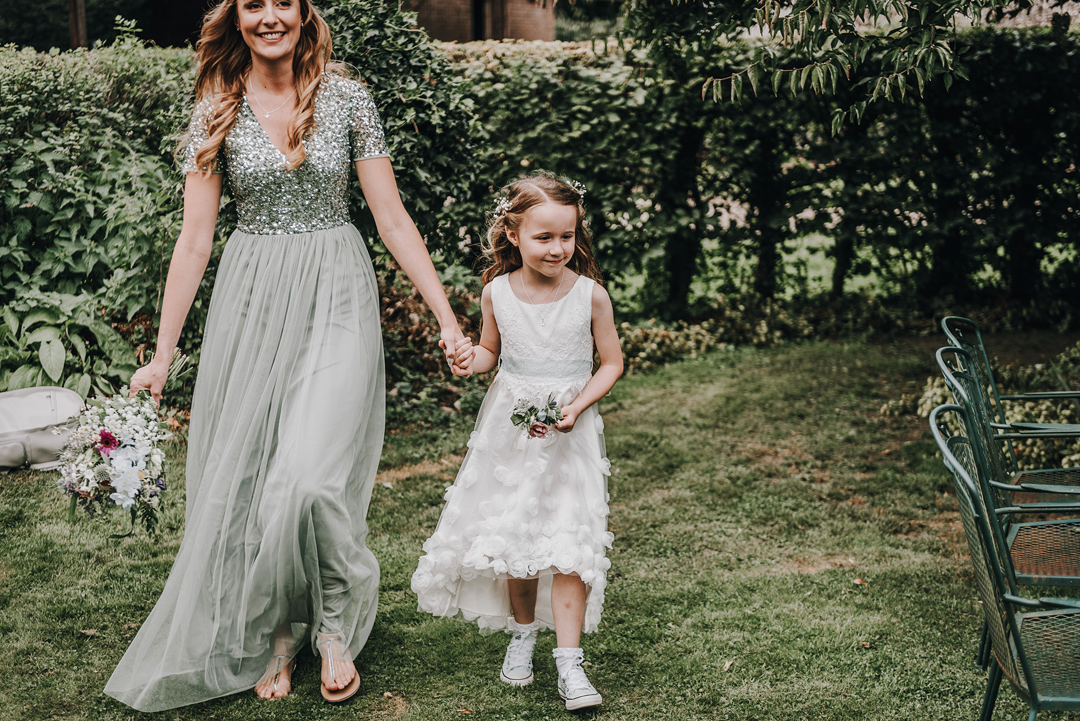 The bride added a waist-length veil, also by Felicity Westmacott.
"We both agreed that it would be best to have a very simple veil. I didn't want it to overwhelm or cover up the dress."
"I chose some silver Irregular Choice shoes which I fell in love with because I felt they had a bit of a fairytale vibe. However, I generally never wear heels and didn't have time to wear them in properly at home."
"On the day, I gave up on wearing them quite quickly and ended up changing into some white Converse trainers."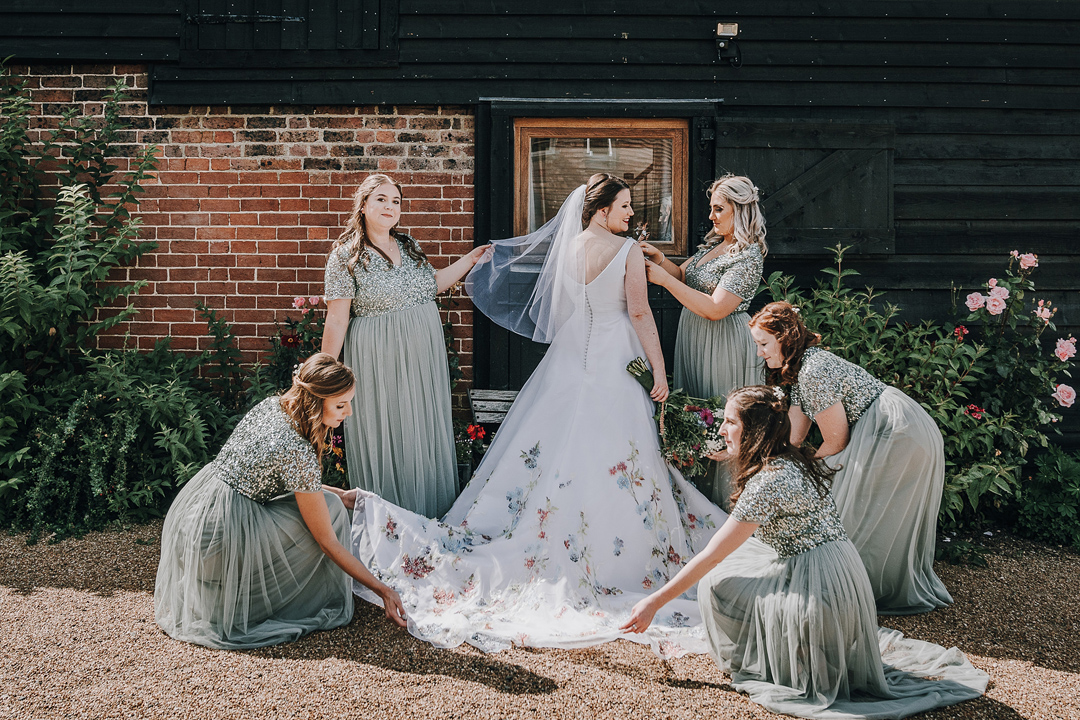 With such a gorgeous venue, extra styling was minimal, just lots and lots of fresh flowers, some pretty bunting and Kentish hops.
"Laura at Helgaz Flowers was wonderful. I knew I wanted the flowers to be colourful to complement my dress and have a natural feel to tie in with the overall feel of the day and compliment the venue."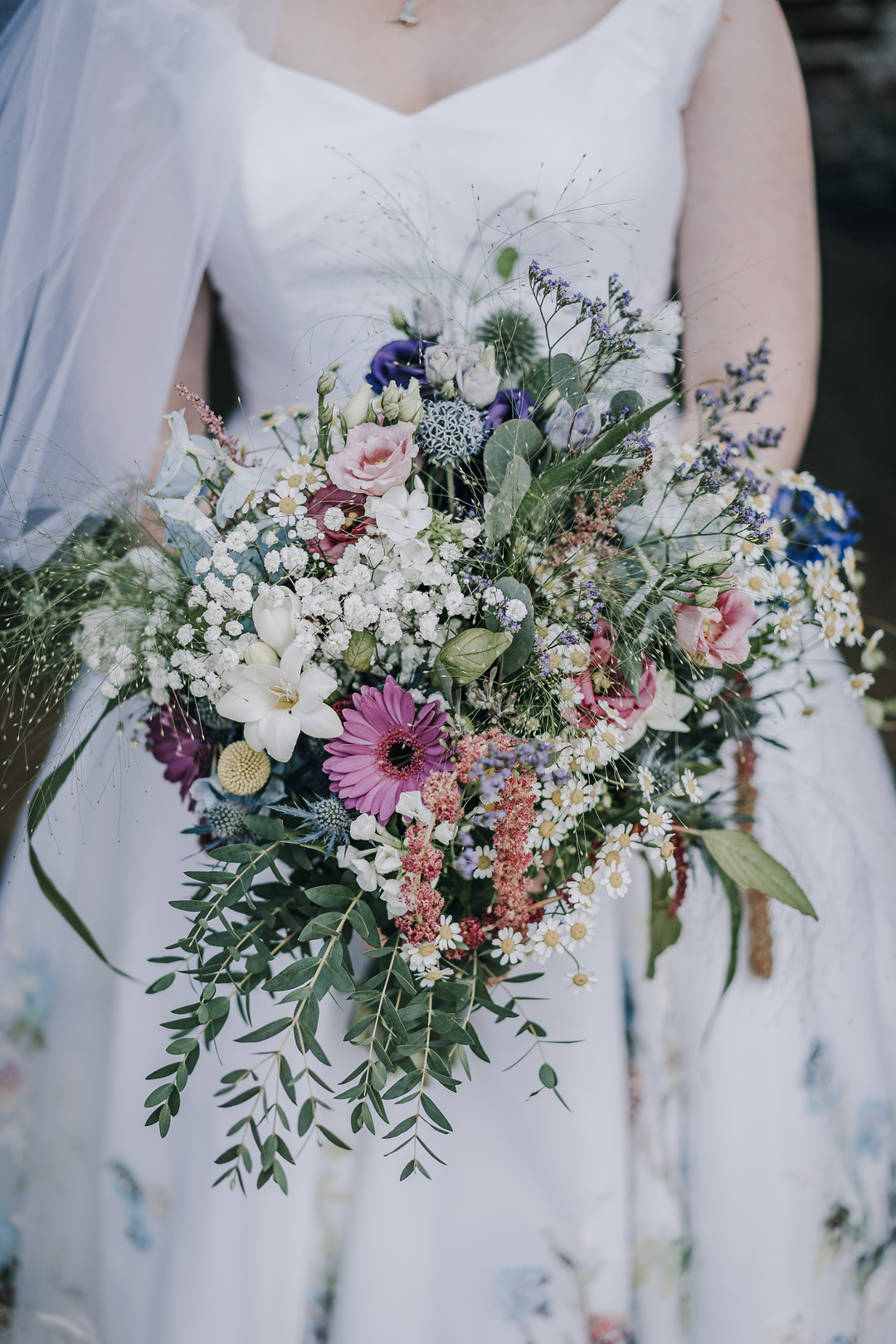 "Laura helped me to choose the flowers based on what would be in season and that would fit in with the style we were going for."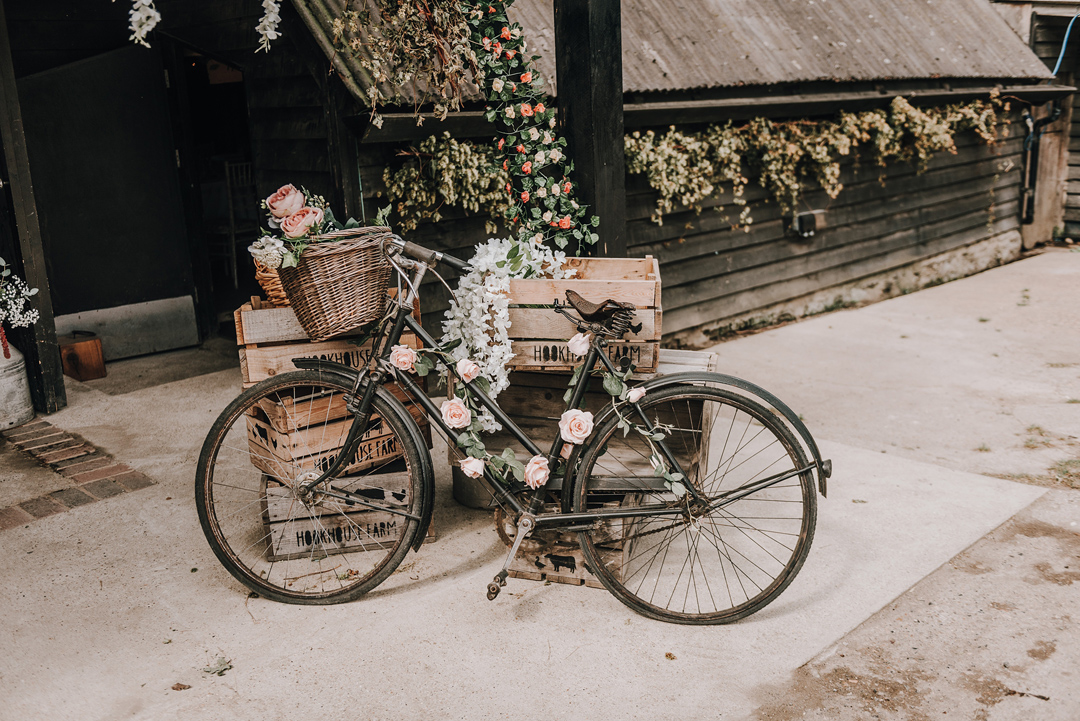 "She provided my bouquet, smaller bouquets for the bridesmaids, wands for the flower girls and button holes for Marcus, his groomsmen and our dads."
"She did corsages for our mums too. Laura also provided flowers to help us decorate the barn and a wonderful archway for the ceremony."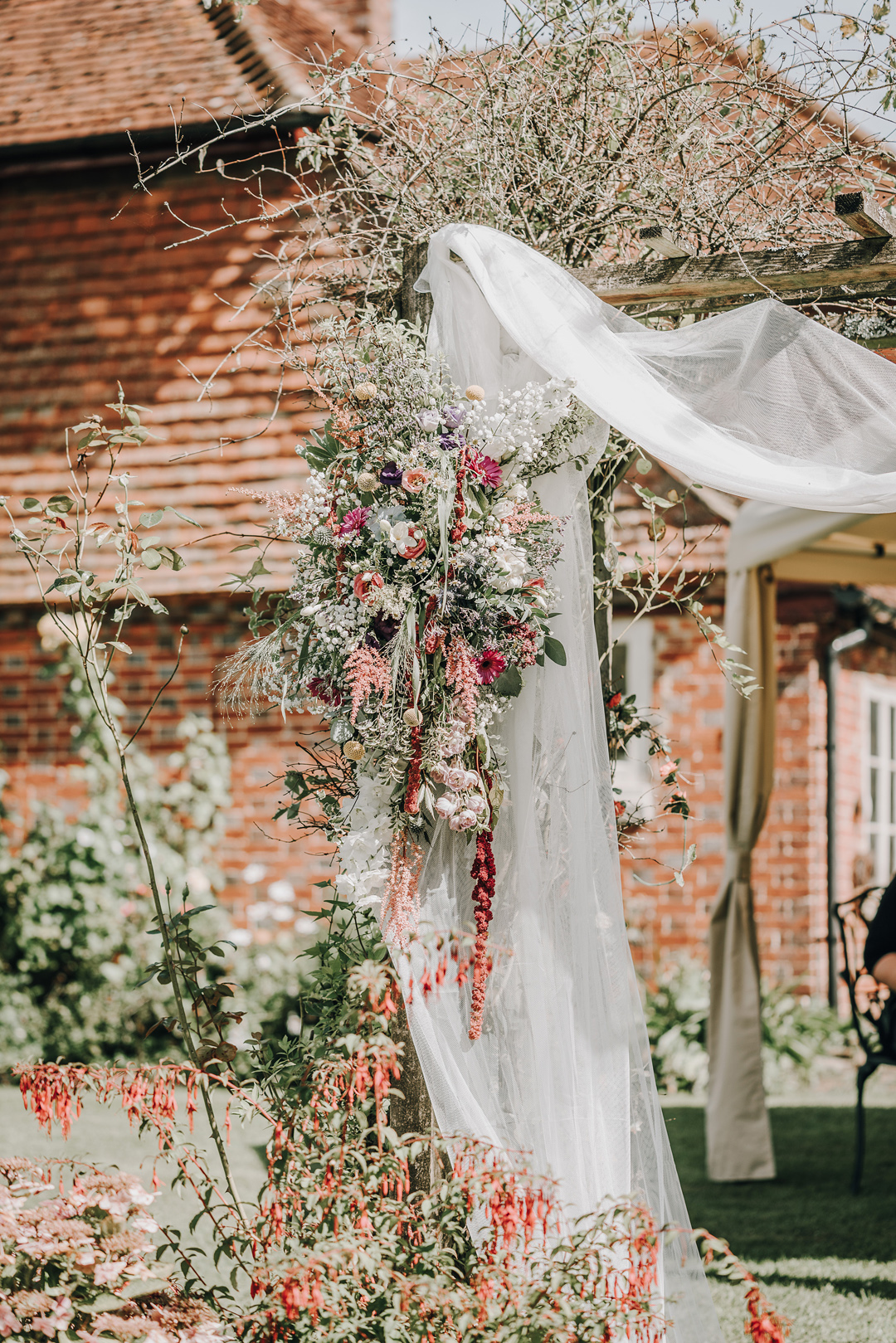 "Marcus' mum Alison worked with her friend to make us some incredible bunting to decorate the barn!"
"As Marcus is from Kent and loves his beers, his mum brought along loads of hops that we used to decorate the barn and the surrounding yard. It all looked lovely on the day."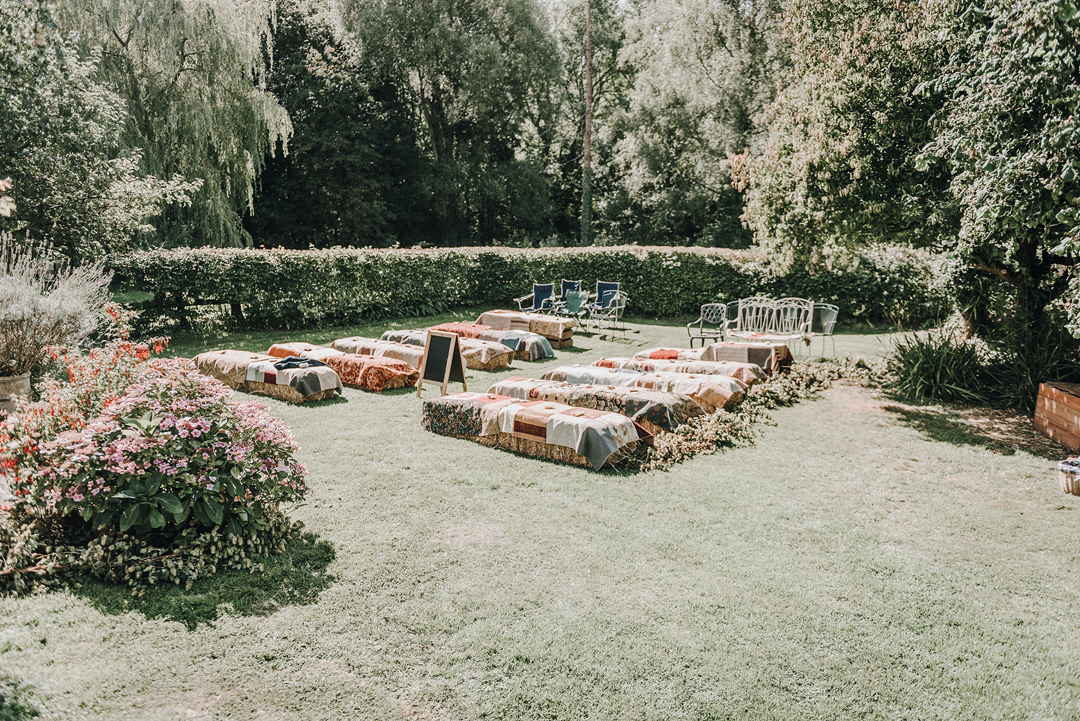 The bride and her father travelled to the Farm in a classic Morris Minor from Deluxe Wedding Cars.
"Noel drove Dad and I to the ceremony. I didn't originally plan to have a wedding car because we were getting ready in an Airbnb that was really close to the venue but my mum convinced me."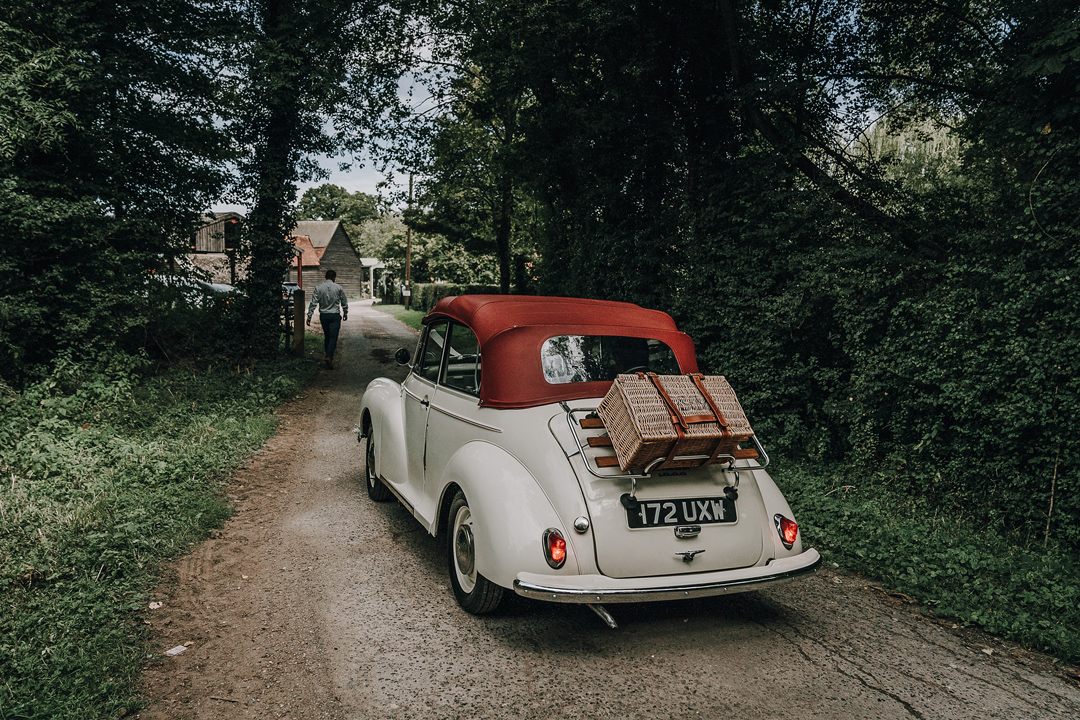 "I'm so glad I did because I really loved travelling to the wedding with my dad. It was one of my favourite moments from the day."
"Noel was wonderful and so friendly. He put us both at ease and provided us both with a glass of bubbly for the journey which definitely helped calm my nerves!"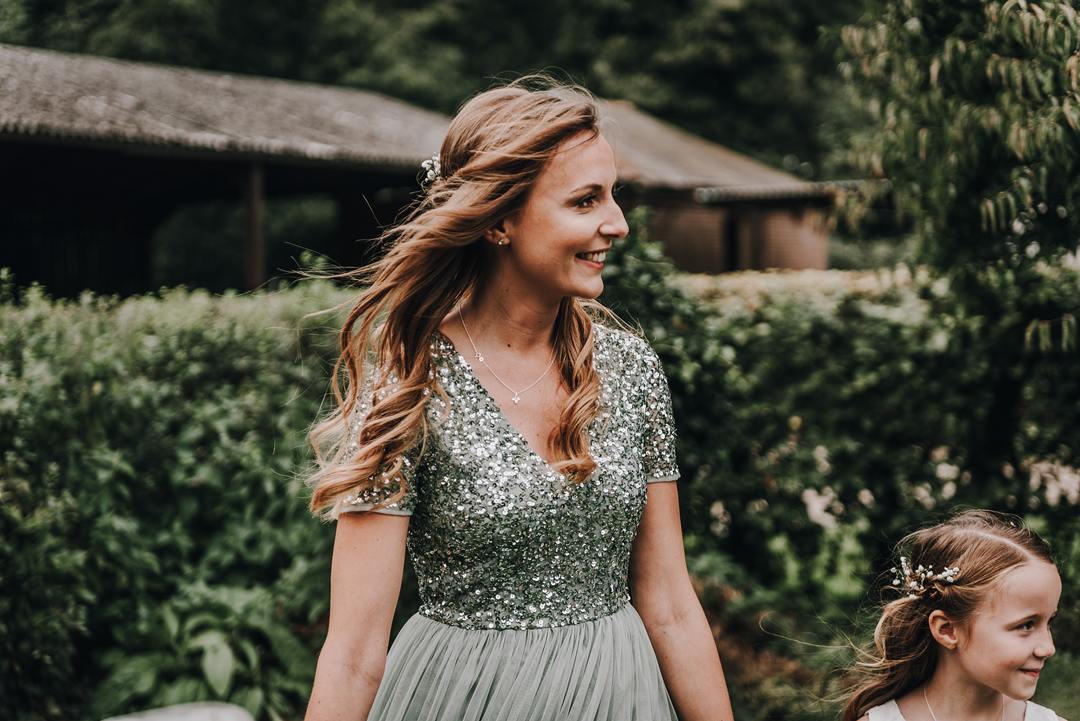 "It was also fun getting photos in the car with Marcus, as this gave us a nice quiet moment together right after the ceremony."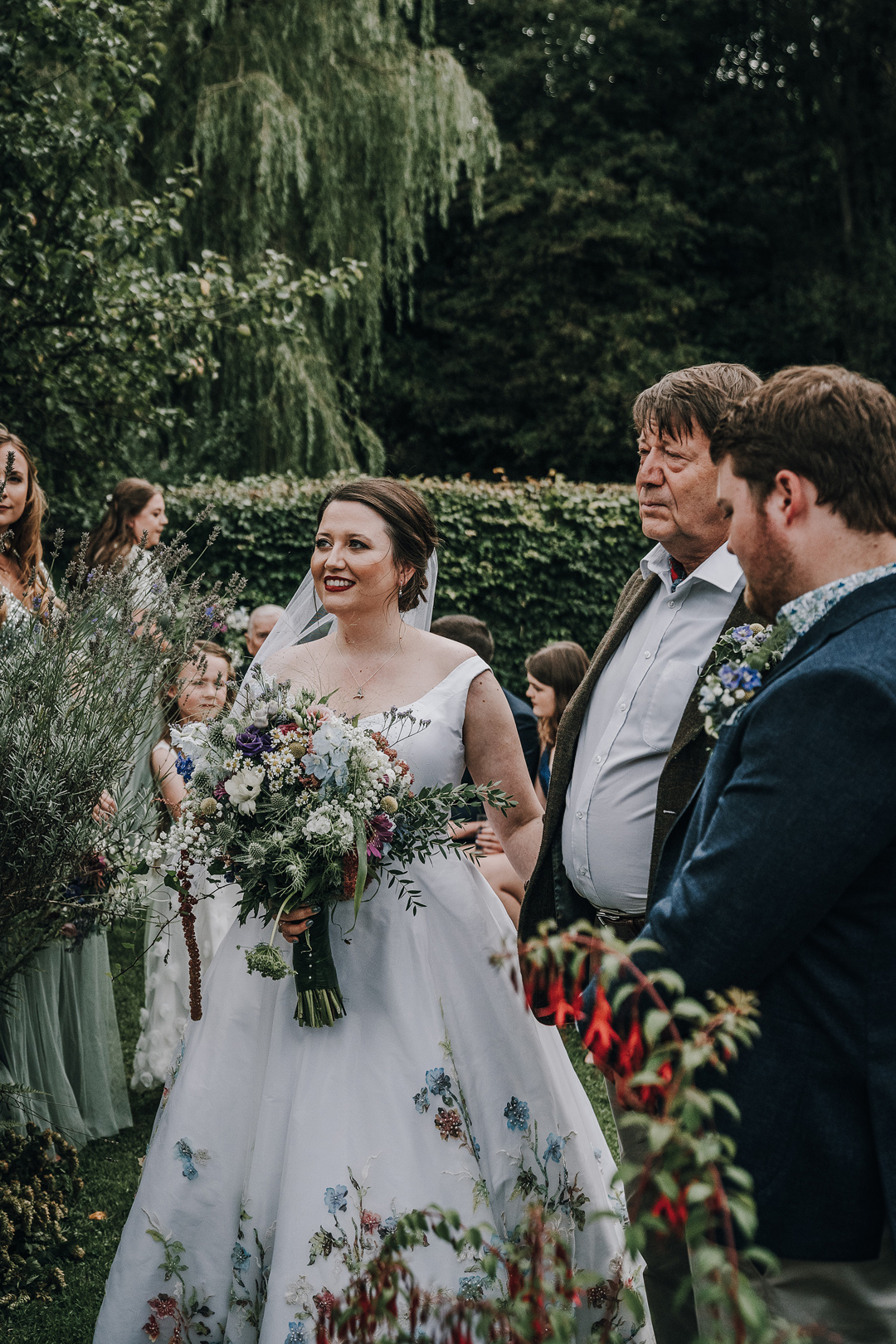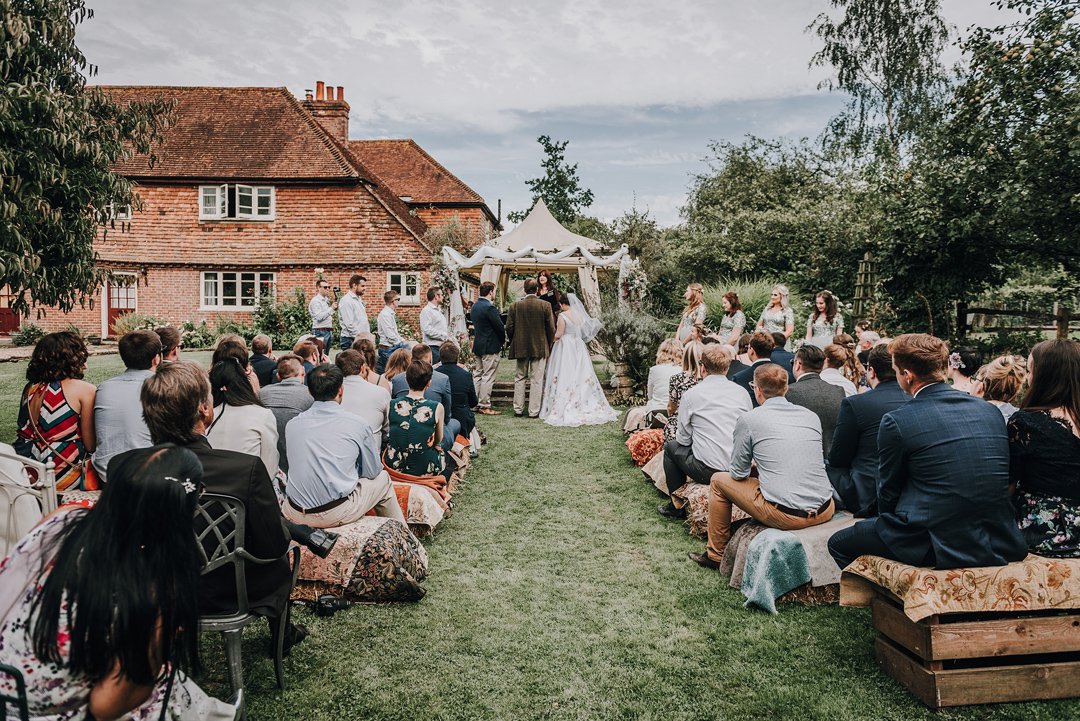 The wedding ceremony was officiated by Soozi Celebrant and Katrina walked down the aisle with her dad, Bob.
"Our string trio played 'Moon River' from 'Breakfast at Tiffany's', which I chose because it's one of my favourite movies."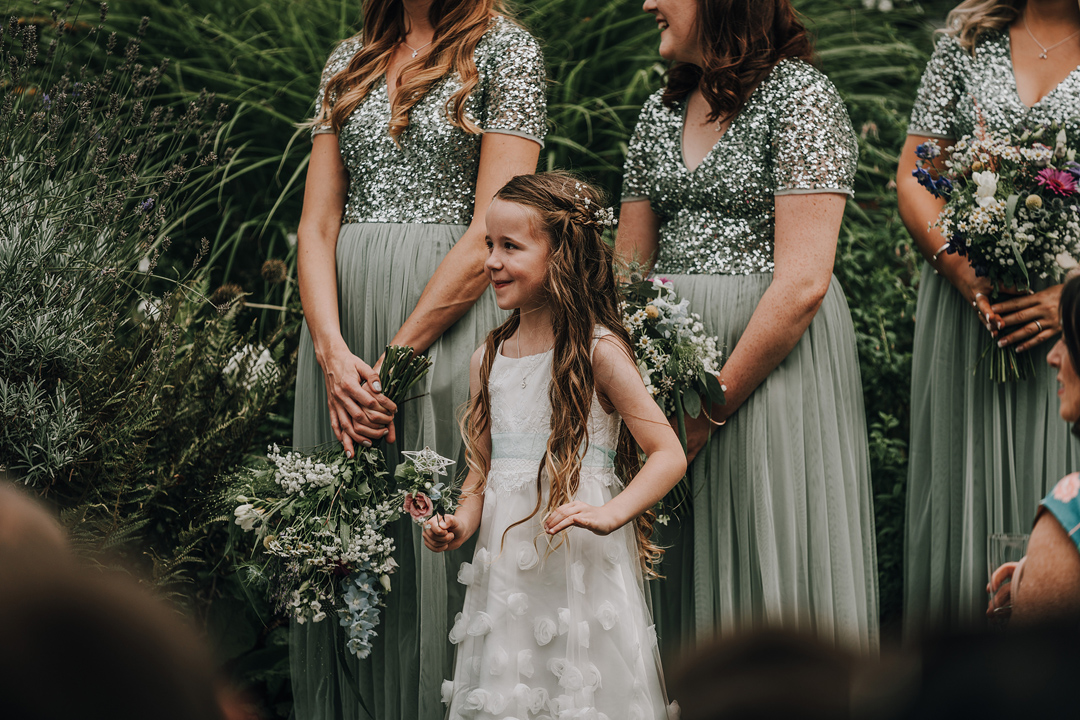 "Soozi was wonderful. She took a lot of time to get to know us as a couple and tailored the ceremony by incorporating the story of how we met and how we got engaged."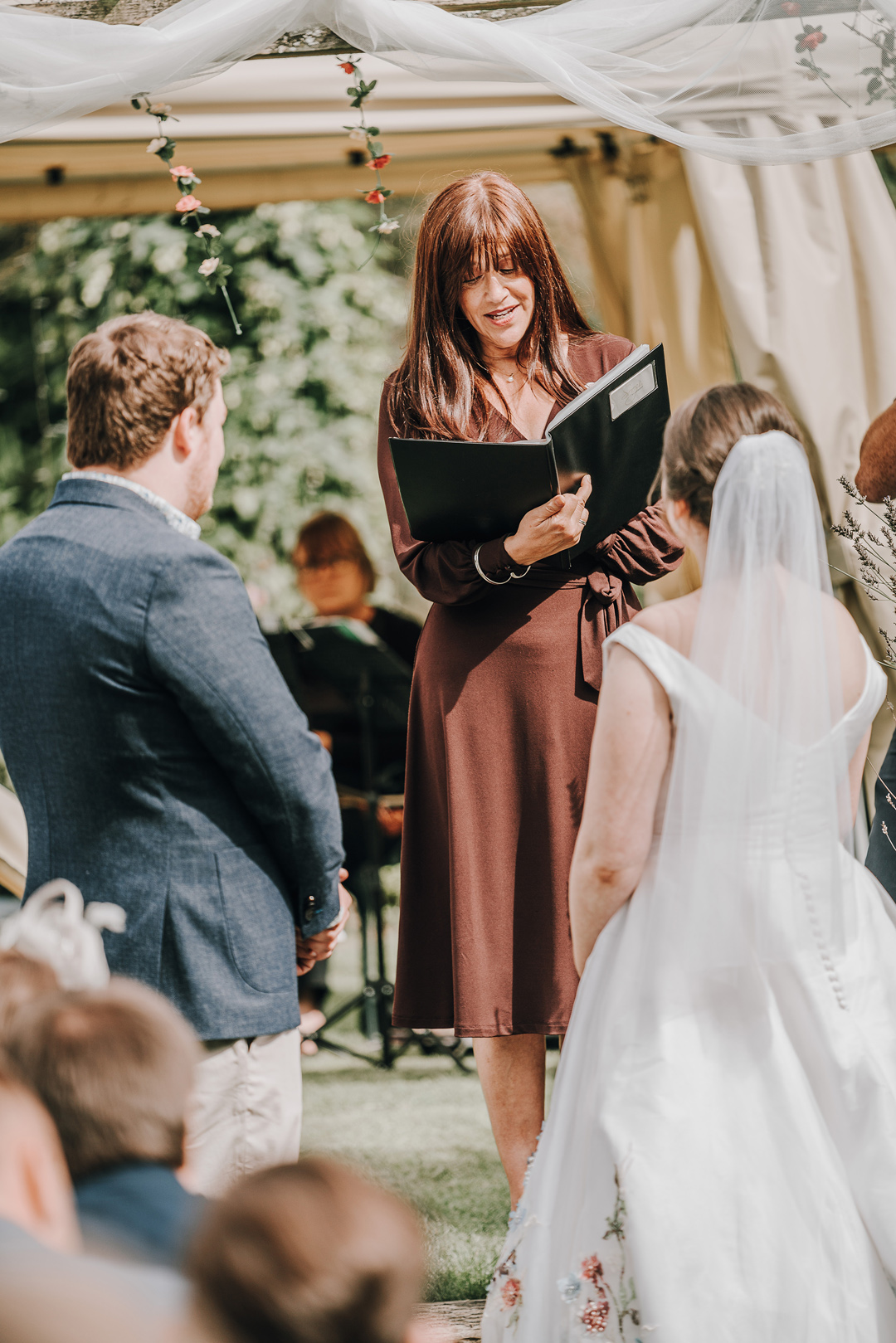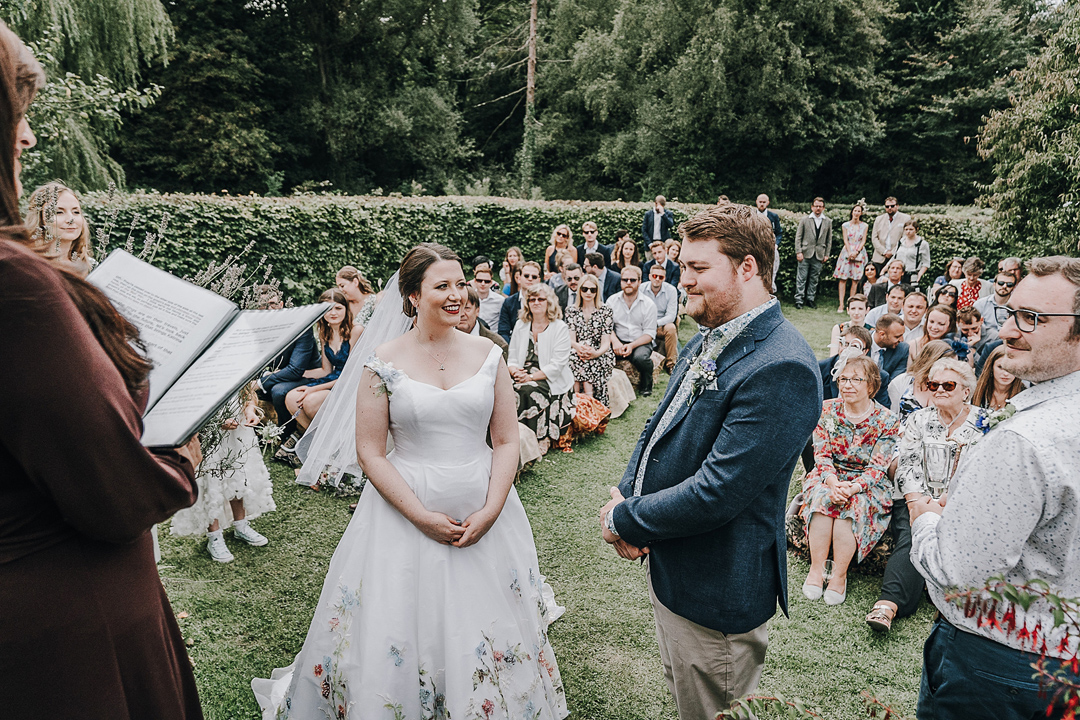 "She wrote personalised vows for us and came up with the wonderful idea of having our wedding rings passed to each guest throughout the ceremony to symbolise each guest giving us their blessing."
The couple exchanged rings from Purely Diamonds.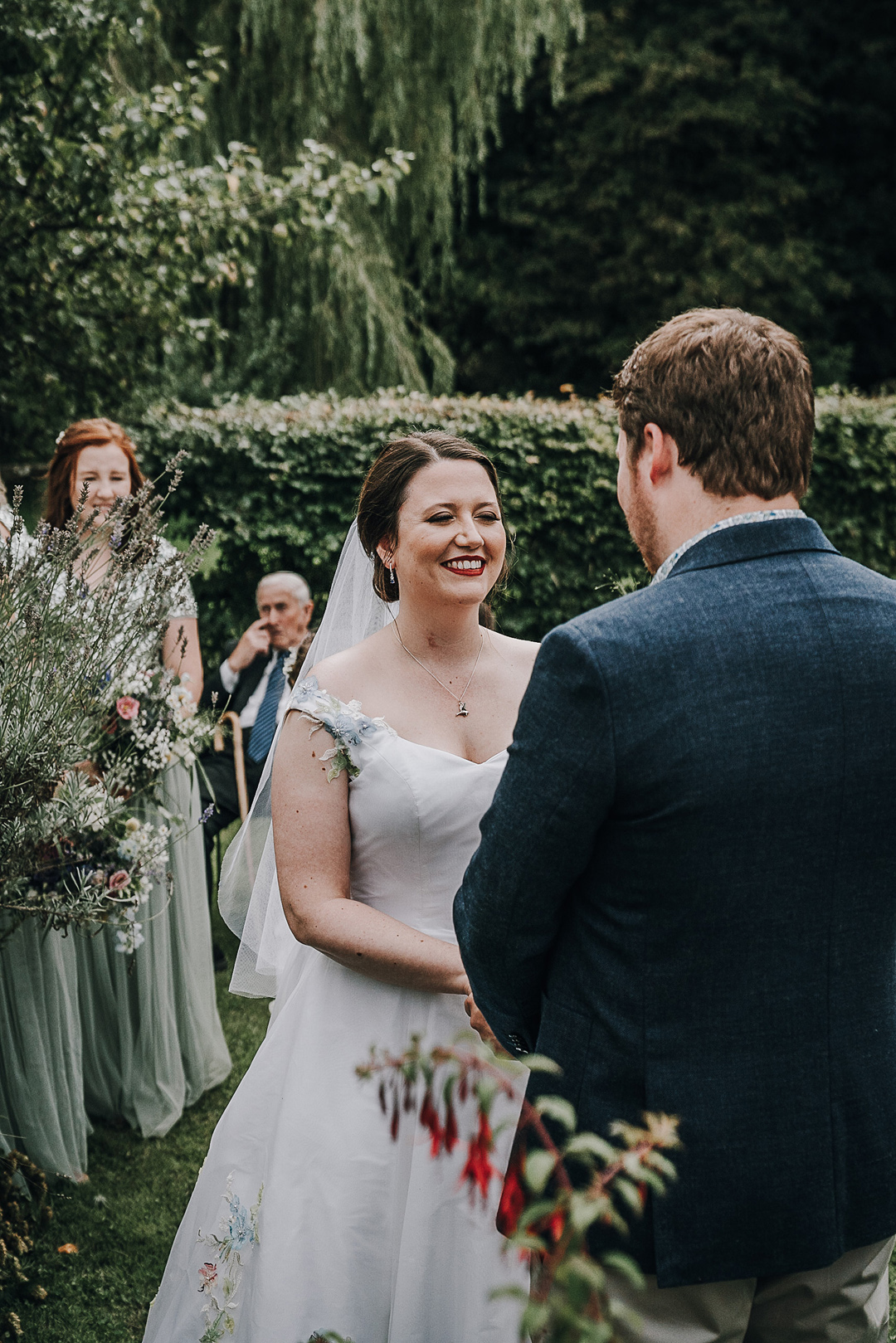 "My wedding band and my engagement ring were both from Purely Diamonds."
Whilst the newly-weds spent some time together for portrait photographs after the ceremony, the guests were treated to canapés, drinks and more music from the string trio.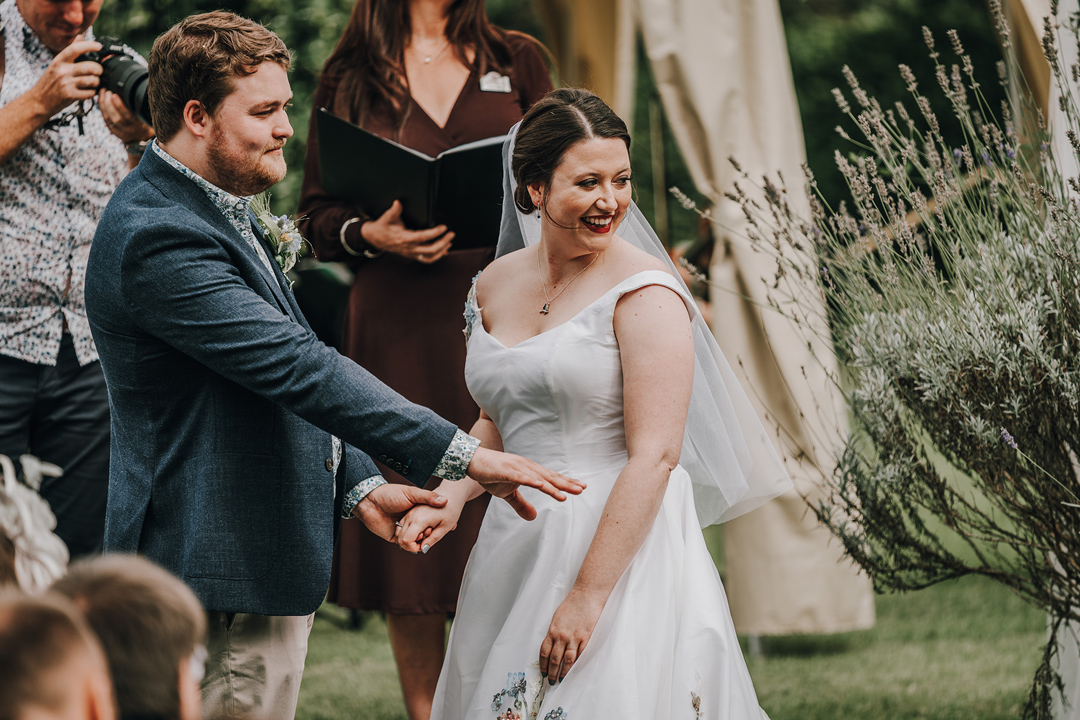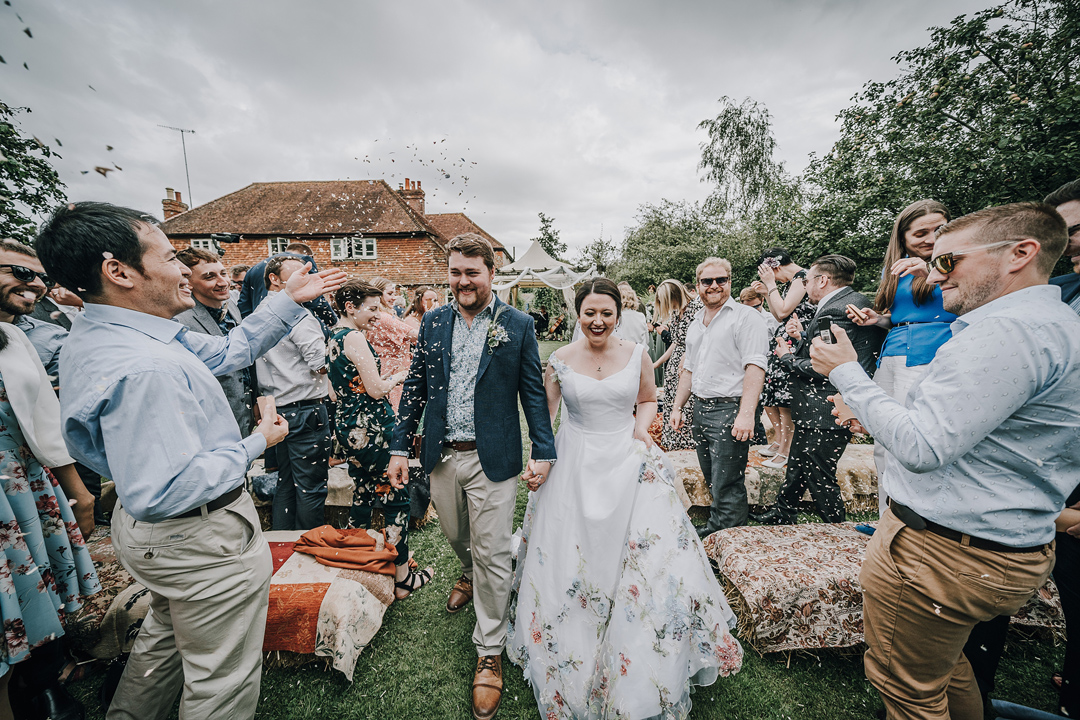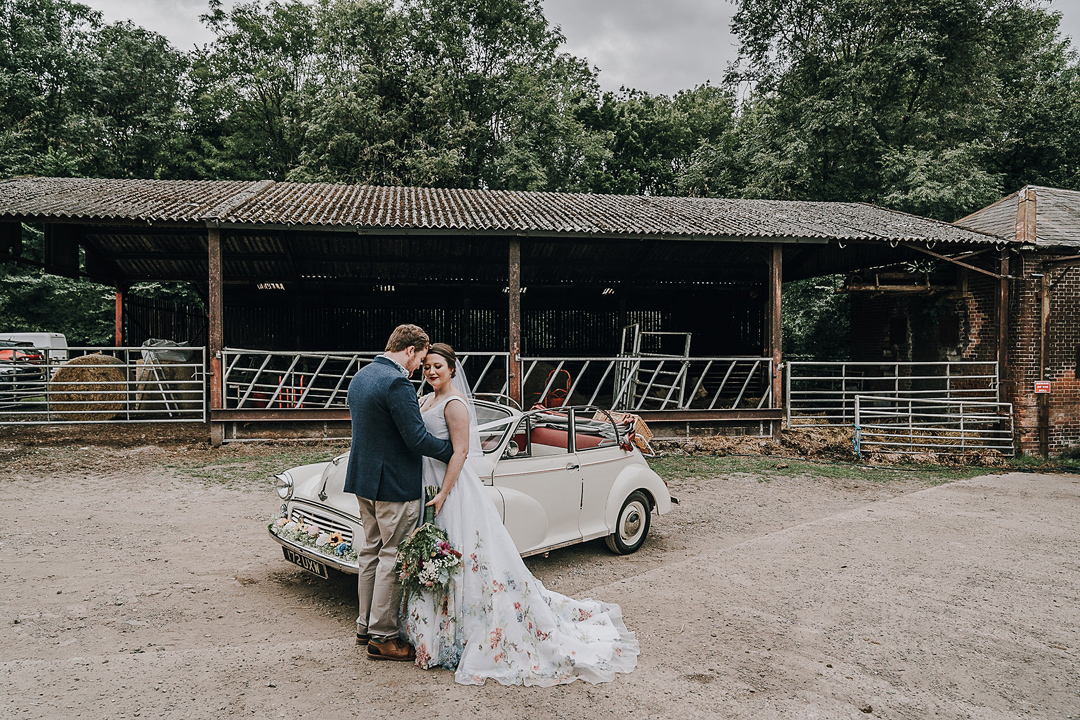 "We hired a string trio from Music Students For Hire to provide music for the ceremony and the time we spent in the garden afterwards when we had Pimm's and canapés before the main meal in the barn."
"They had a really great list of songs to choose from and we were able to have a mix of songs from many of our favourite films."
The personal touches of the day were some of Katrina and Marcus' favourite moments.
Katrina: "There were so many wonderful moments that it's impossible to pick just one, but I think my favourite thing about the wedding was how much our family and friends contributed to the day."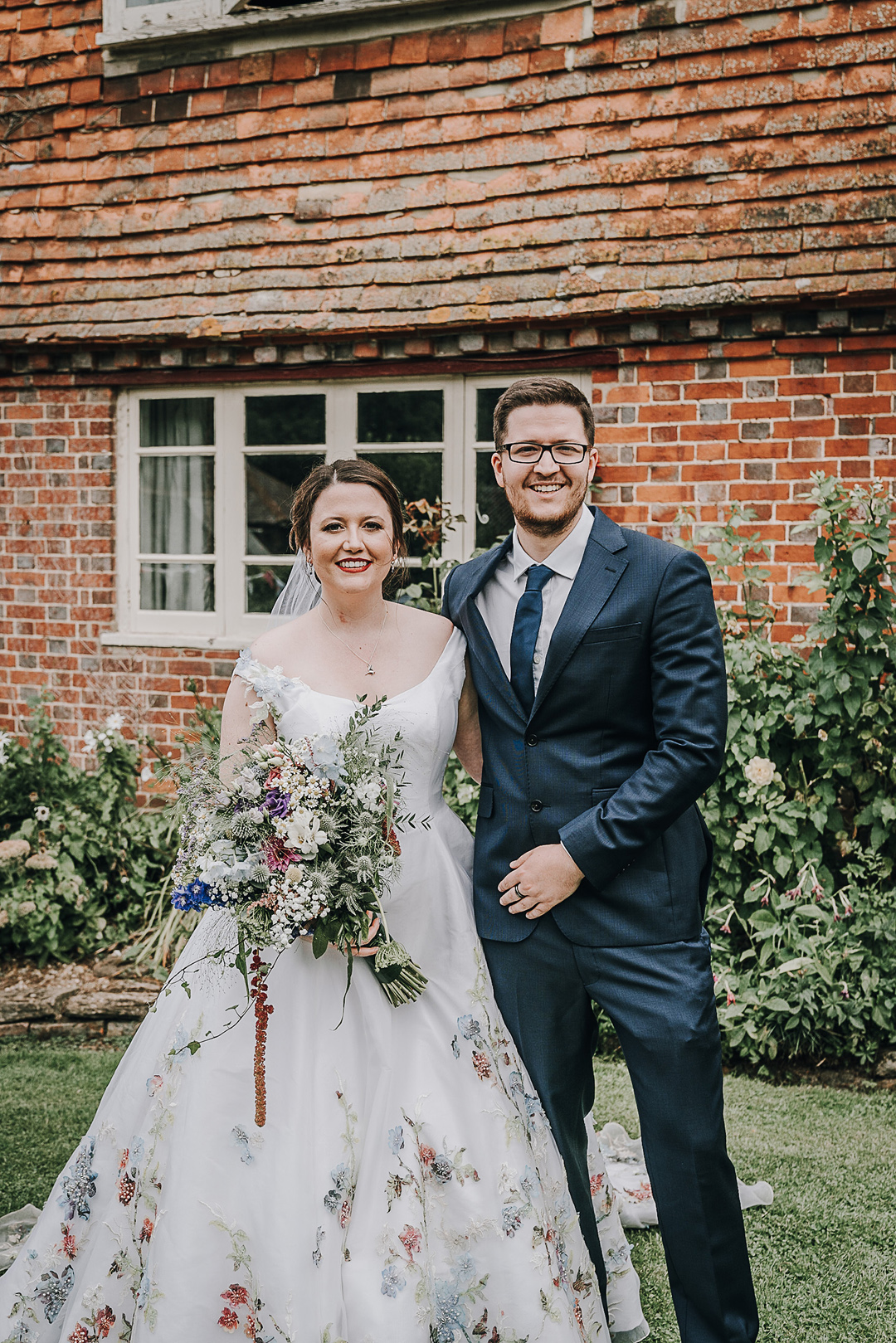 "I did most of the planning with my mum Carolyn. Marcus's family and groomsmen set up the venue and his grandparents gave us money towards the flowers."
"Friends and family from both sides made things for my hen and the wedding day."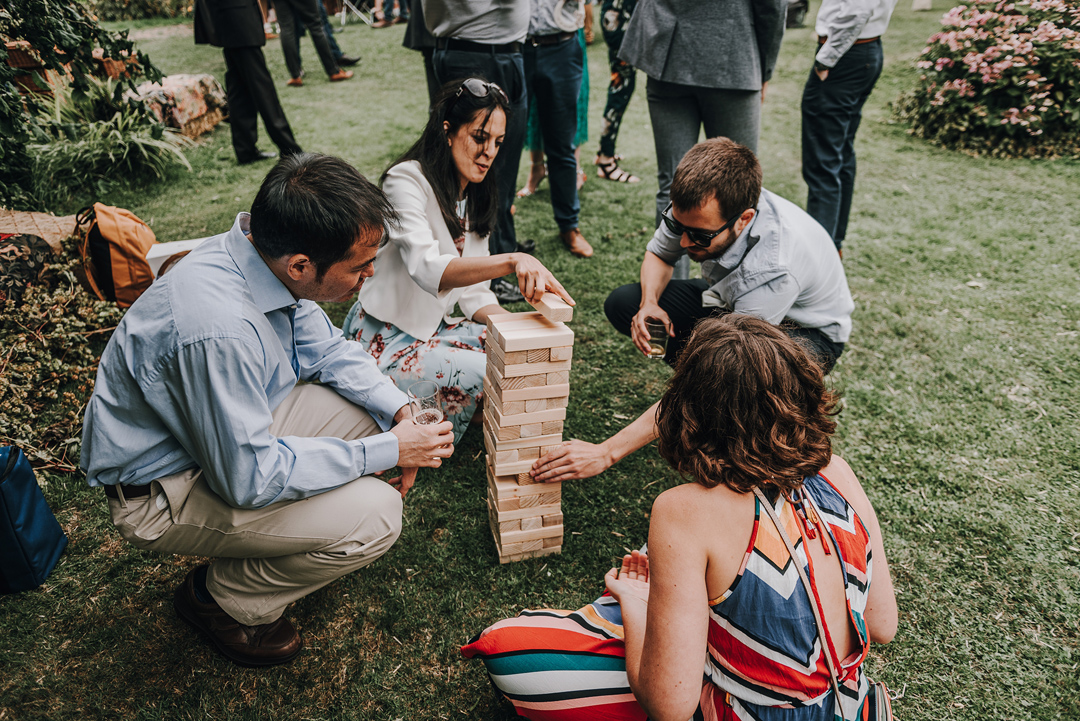 "My dad's good friend Bill, who was also my neighbourhood ice-cream man growing up, served ice-cream outside after the meal."
"It felt as though everyone contributed something to make the day what it was which made it so much more special."
Marcus: "I spent a great morning with my groomsmen setting things up and sorting everything. There was a lot of relief involved but just looking around the place after we'd put it all together felt amazing."
"Likewise, when we were milling around in the garden after the ceremony: it'd all come together, it looked the way we wanted it to look and we had the band playing our music. It was fantastic."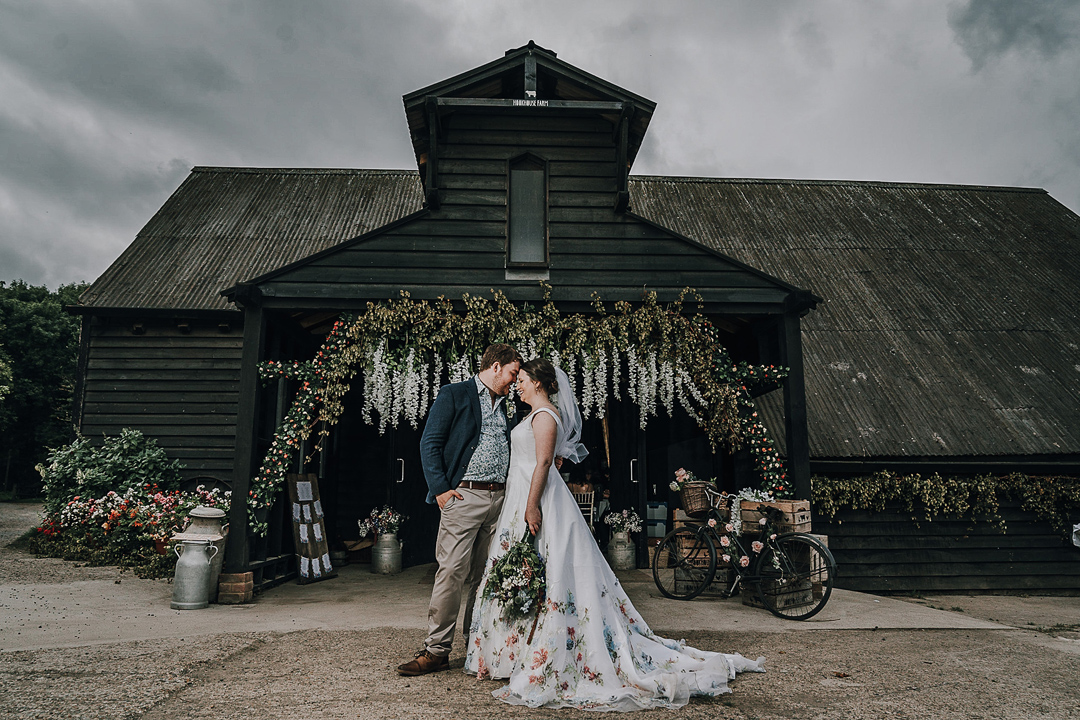 The couple knew they wanted a DIY wedding, so a blank canvas venue which gave them freedom was essential.
"We wanted a building with some character and were so pleased when we found Hookhouse Farm because it allowed us the freedoms we wanted and it was beautiful in its own right."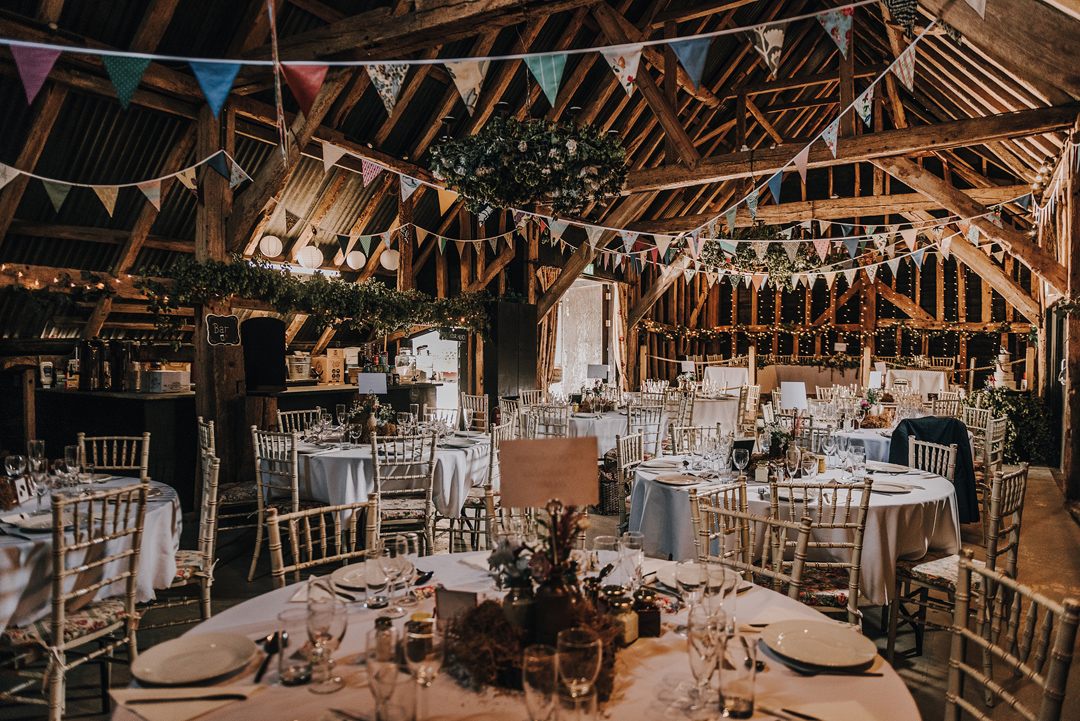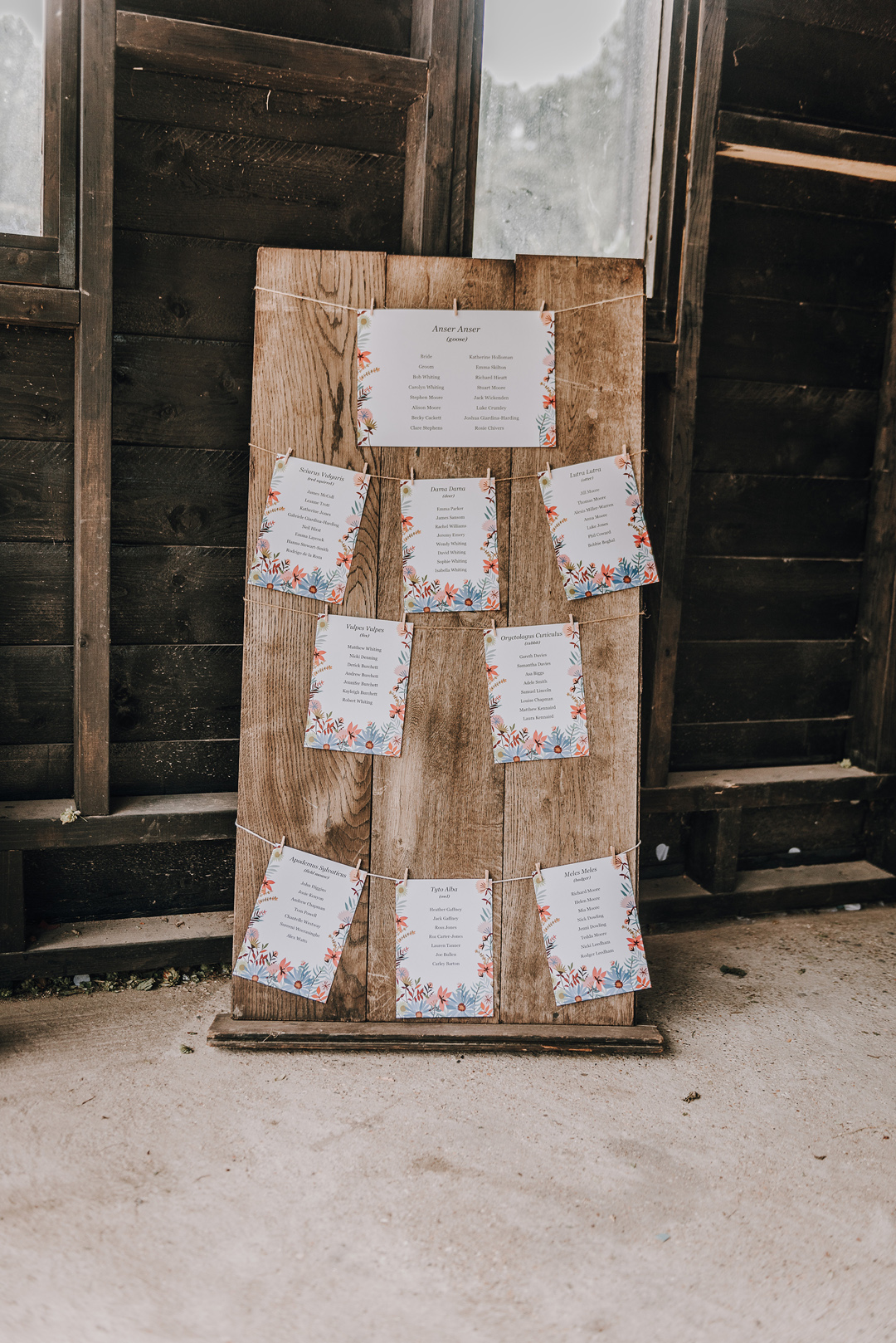 "Hookhouse Farm is a family-run, working farm in Outwood, Surrey. Carol and her husband who run the farm began renting out the farm's 17th century threshing barn for weddings after their children used it for their wedding receptions."
"Carol has already done a wonderful job collecting props and decorations and adorning the barn with fairy lights, so we only needed to add a few personal touches."
"Our wedding tables were themed around forest animals. I love wildflowers, so I let that influence the colours we had on the day rather than having a set colour theme."
The tall naked cake was decorated with fresh flowers and the two Geese cake toppers from Etsy. It was created by Stable Cottage Cakes.
"We chose Lucy because she uses eggs from her own rescue chickens and because she makes beautiful cakes! Our florist also provided some flowers to decorate the cake."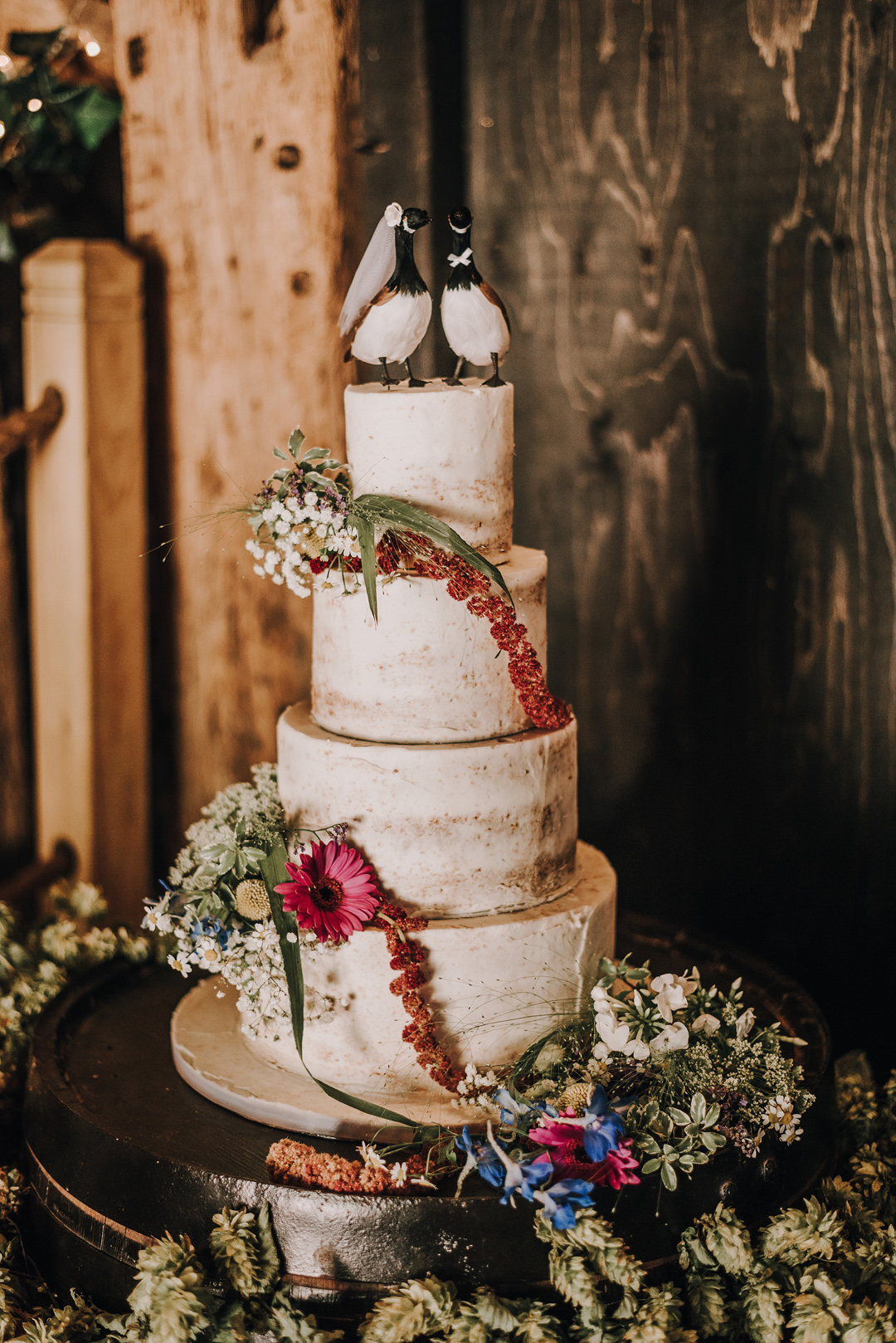 The guests received a charity pin badge as a wedding favour.
"We chose to give RSPB pin badges. I've always loved these pins because there are so many different designs. Because of the theme, it felt appropriate to take the opportunity to support a wildlife charity."
"I wanted each guest to have a different pin and managed to get a good selection from the charity's official eBay shop."
"Our friends Sam and Louise were able to help me find the rest because Louise's dad sells the pins on behalf of the charity. They kindly bought the extra pins we needed for our wedding present."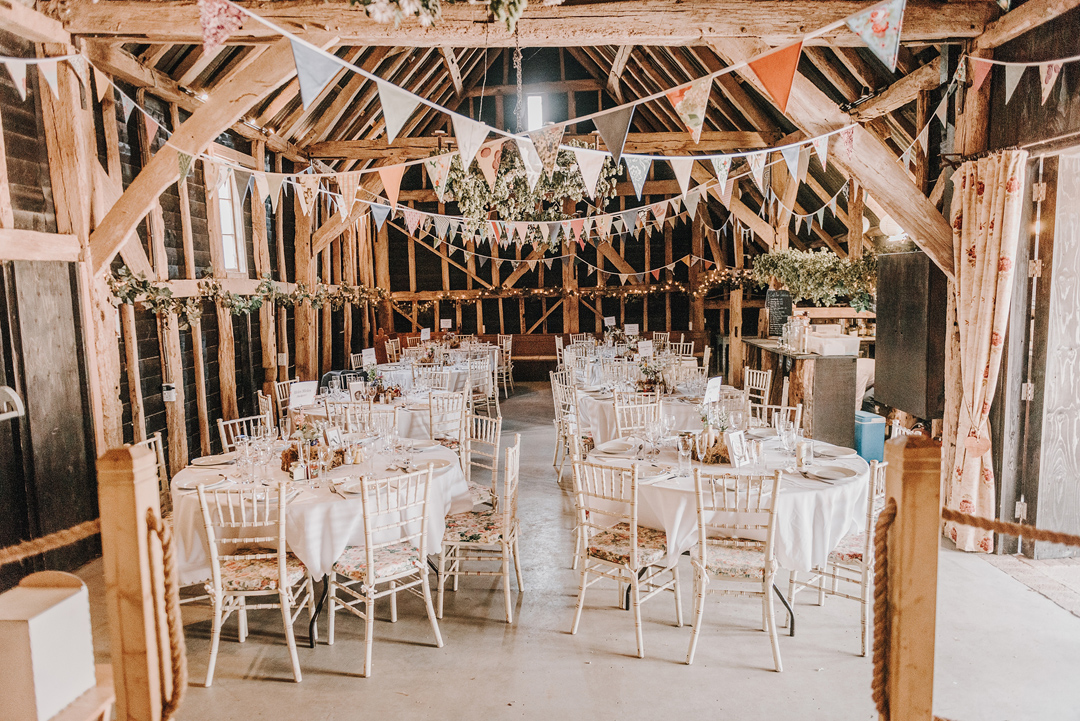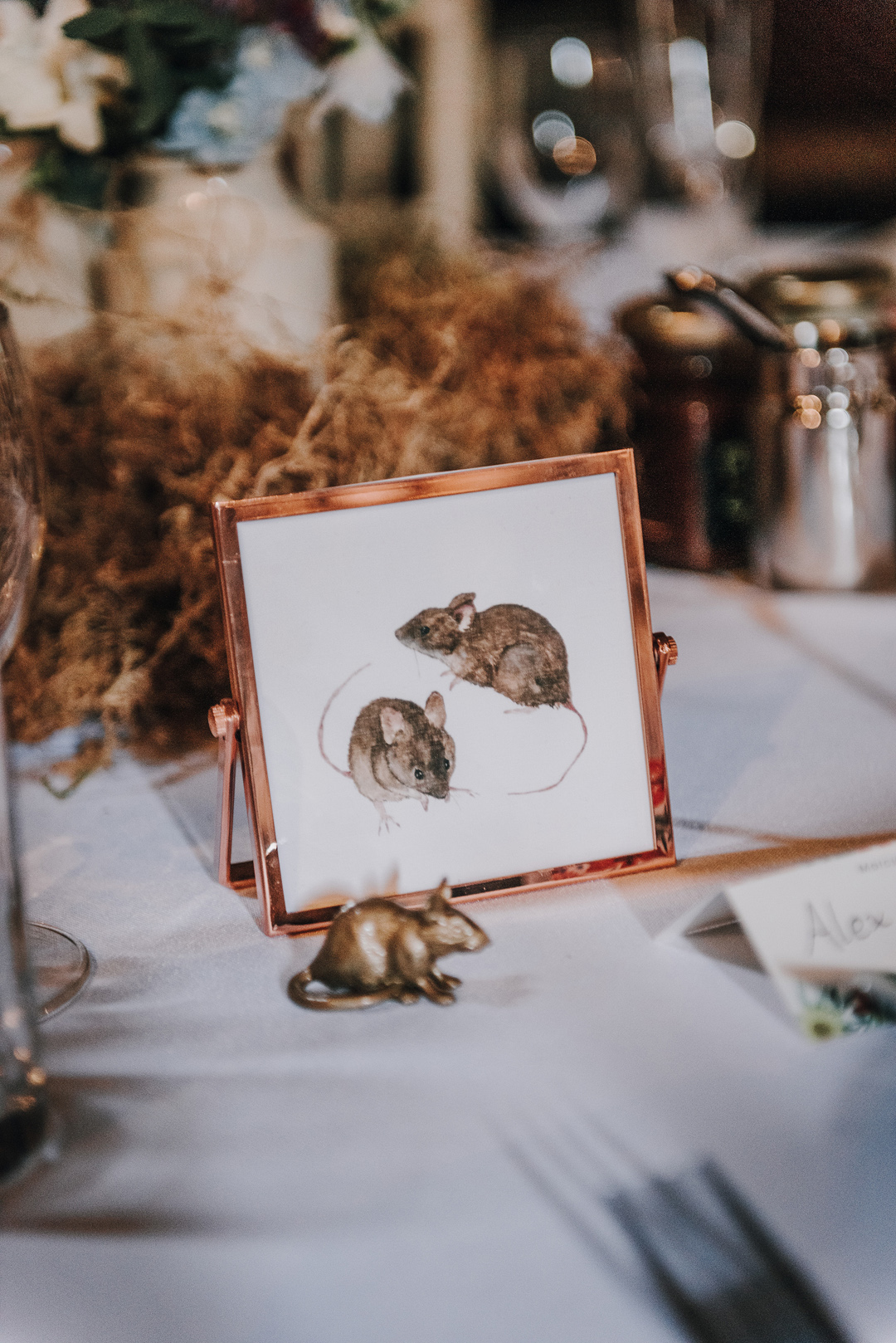 The canapés, and the wedding breakfast, were provided by The Outwood Butchers.
"Outwood Butchers were recommended by Hookhouse Farm and they were brilliant. They worked with us to find a menu that we were both happy with and that was within our budget. The main meal was a barbecue selection. They provided brilliant side salads and vegetarian options too."
"They also made amazing canapés which we had in the garden with Pimm's after the ceremony and an amazing Eton Mess for our dessert."
"In the evening, they provided a grazing table with a great selection of cheese, bread, and fruit and some amazing chilli sausage rolls."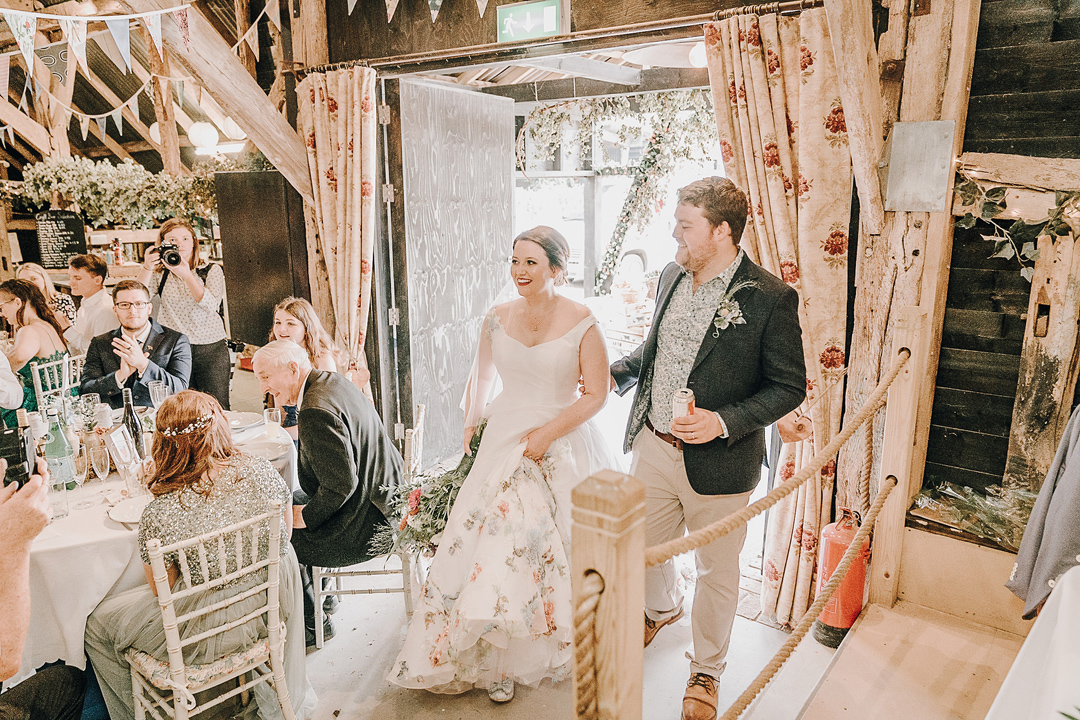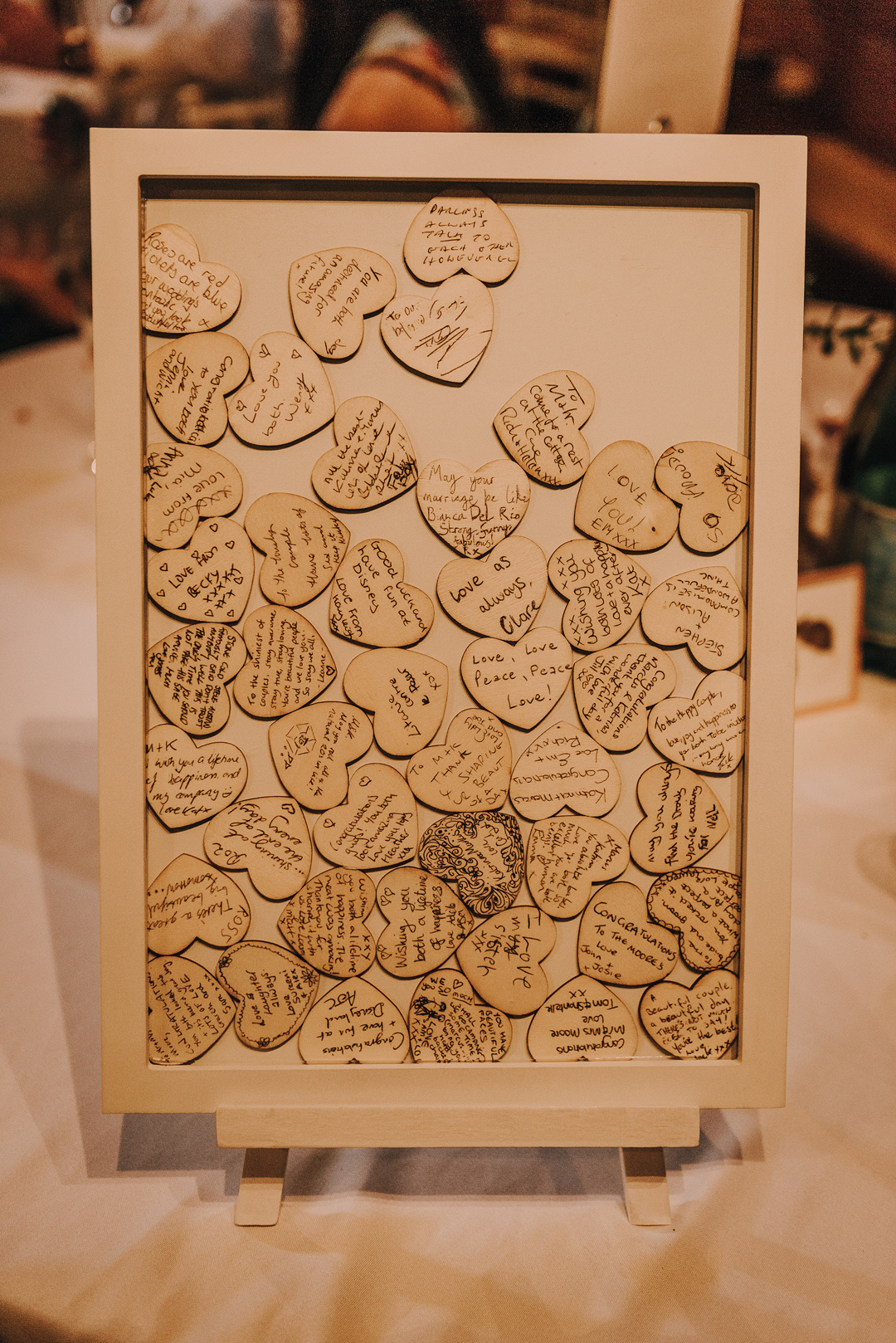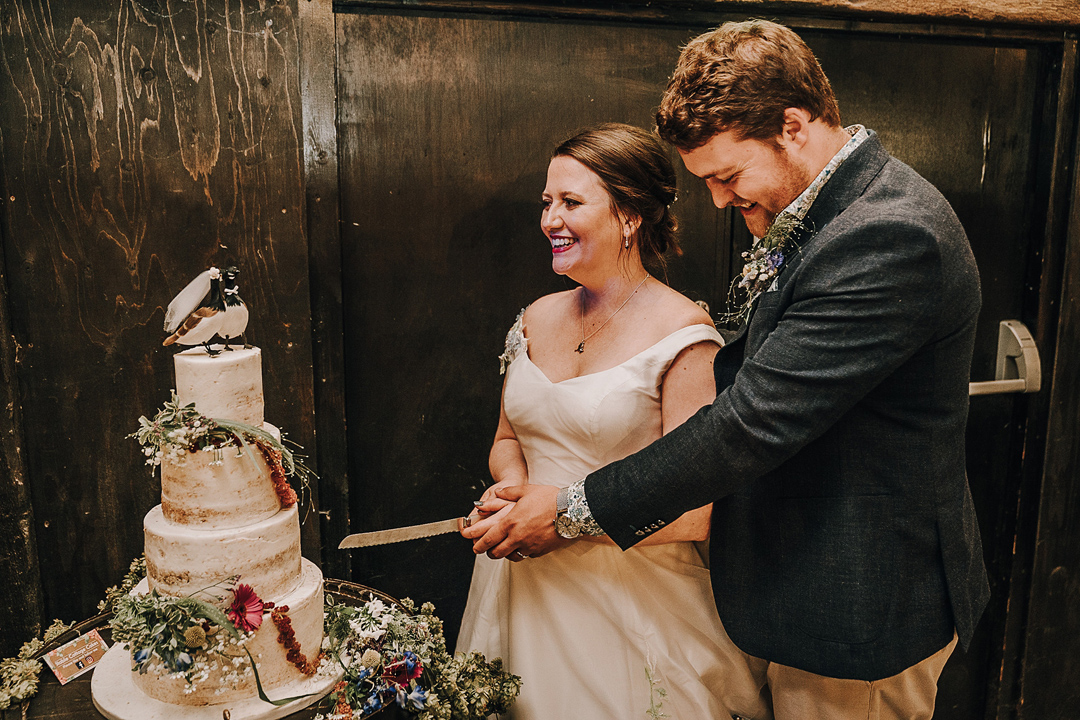 The photographer for the day was Dan Marshall of DM Photography, whose light and elegant touch is perfect for the late-summer, countryside wedding.
"We picked Dan because he photographed our friend's wedding a year earlier and we absolutely loved their photos."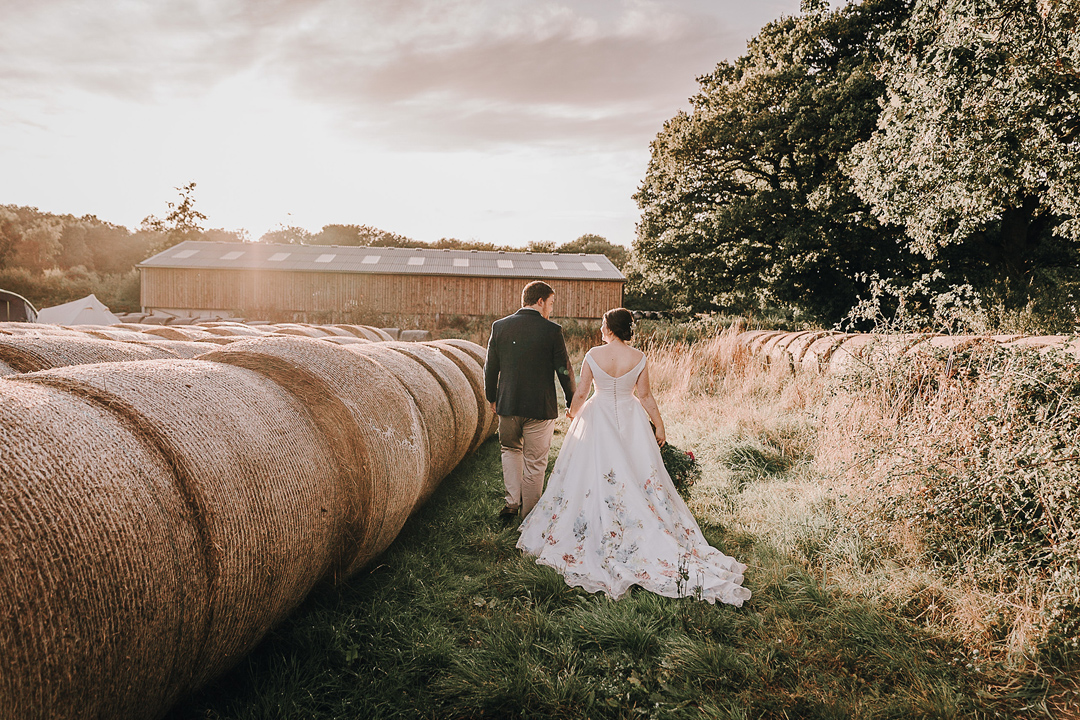 Both Marcus and Katrina chose perfumes from Penhaligon's to mark their day.
"We each wanted something new that we could always associate with our wedding day. I wore VAARA and Marcus wore DOURO."
The bride wore her hair pinned into an elegant up-do, styled by a school friend, and embellished with a fresh flower posy.
"Vicki, a friend from school who is a hairdresser, did my hair and my bridesmaids' hair. Vicki also recommended Aimee The MUA who she'd worked with before to do our makeup, who was also wonderful."
"Dan was brilliant throughout the whole process. He met us for a practice photo shoot so we could get to know him and how he works ahead of the day."
"This also gave us a chance to practice a little which we appreciated a lot as neither of us are especially comfortable having our photo taken."
"He went through our plan for the day with us and suggested the best times for us to take some time on our own to go off for some photos.  Dan was wonderful, we would definitely recommend him to other couples."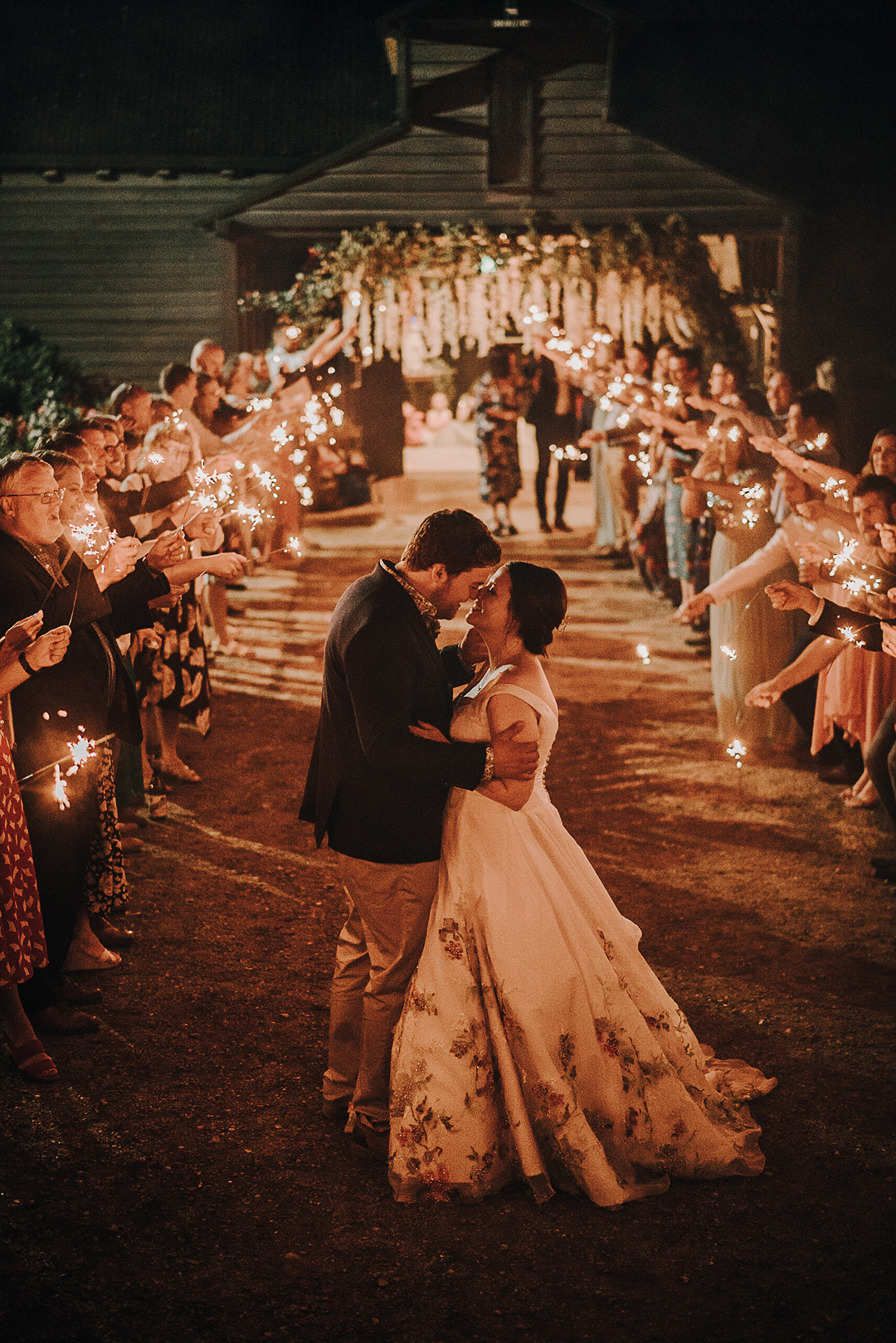 After the evening party, the celebrations continued as the newly-weds and their guests camped overnight at the farm.
"Hookhouse Farm gave us the option of camping on the night of the wedding so we rented a bell tent from Canvas and Cows. Some of our guests also rented their tents from Canvas and Cows and some other guests brought their own tents. We really enjoyed waking up with some of our guests the next day. We felt it gave us more time to spend time with some of our guests and everyone was so amazing at helping us to tidy up the venue. Our caterer, Outwood Butchers, provided some amazing bacon rolls for breakfast too."
Words of Wedded Wisdom
"Make sure you get to know all of your suppliers. We had a really good relationship with everyone we picked and they all ended up being a huge part of what made the day so special. We worried that if we'd picked any of the package deals some venues offered, we wouldn't have received such a personal service."
"As it is, we had a coffee and a chat with virtually everyone we worked with at least once. This was really valuable as it meant we knew exactly what they were able to offer and we could let them know exactly what we wanted."
"Sourcing everything ourselves meant we ended up using a lot of independent local suppliers. I really enjoyed having the opportunity to work with so many creative people – it was one of my favourite things about planning the wedding. "
"Don't be afraid to ask your family and friends for help. We found that people really did want to get involved and support us. The contributions from our family and friends were invaluable and made the day even more special."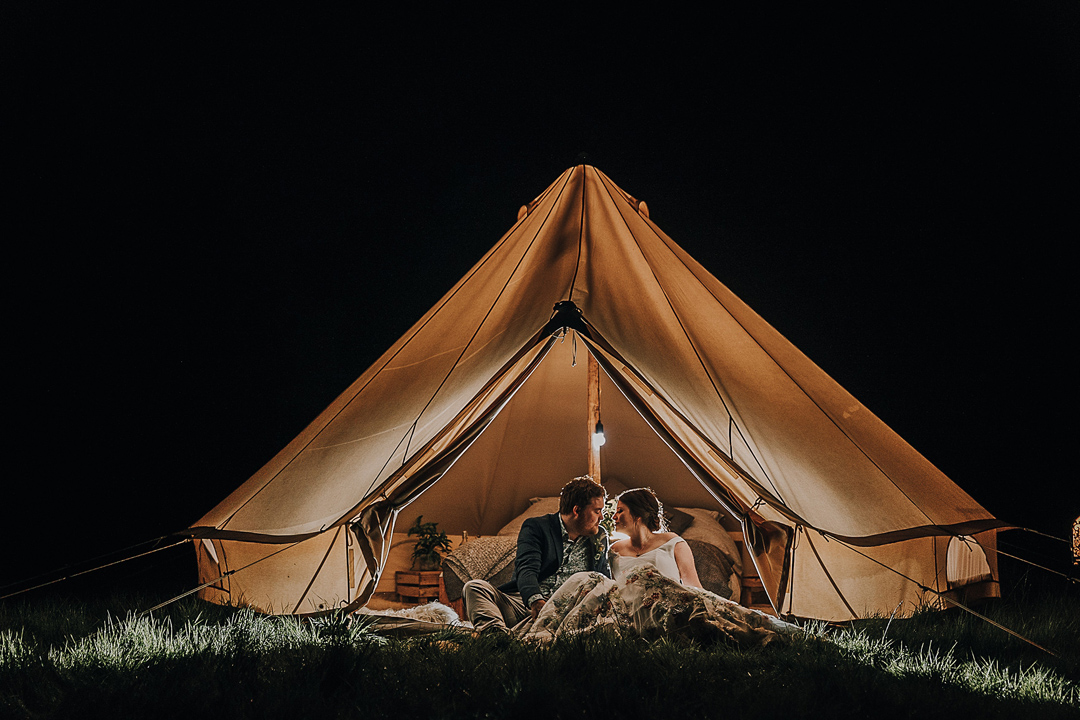 Katrina and Marcus, thank you so much for this glorious insight into your wedding day. It's been so wonderful to share it today, so thank you to your photographer DM Photography, too.
For more of Felicity Westmacott's beautiful designs, please take a look at these Love My Dress features and, if you're inspired by Katrina and Marcus' DIY approach, I think you'll like these other weddings.
Ele xx