If simple and classical are your wedding vibes, this beautiful Scottish wedding, featuring a bride in Charlie Brear, provides all the inspiration.
Caitlin, a Doctor, married Financial Planner Nicholas on Saturday 31st July 2021 at Harmony House and Gardens in Melrose, Scotland.
"Our day ended up being a bit of a mix of a classic, casual, romantic summer garden party wedding (with some Scottish rain on the day for extra luck!). We knew we wanted to keep things simple and classical. The beautiful house and gardens, and the view of the Melrose Abbey, did most of the talking, and created the perfect backdrop for this."
"I don't think we ever had a specific style in mind for our day. It was more about trying to put together the perfect recipe to create the right atmosphere or feel."
"We always said right from the very start that we just wanted to create a day that suited us, felt like us, and could be simple, relaxed and fun for everybody there."
Anna Urban Photography

+ Follow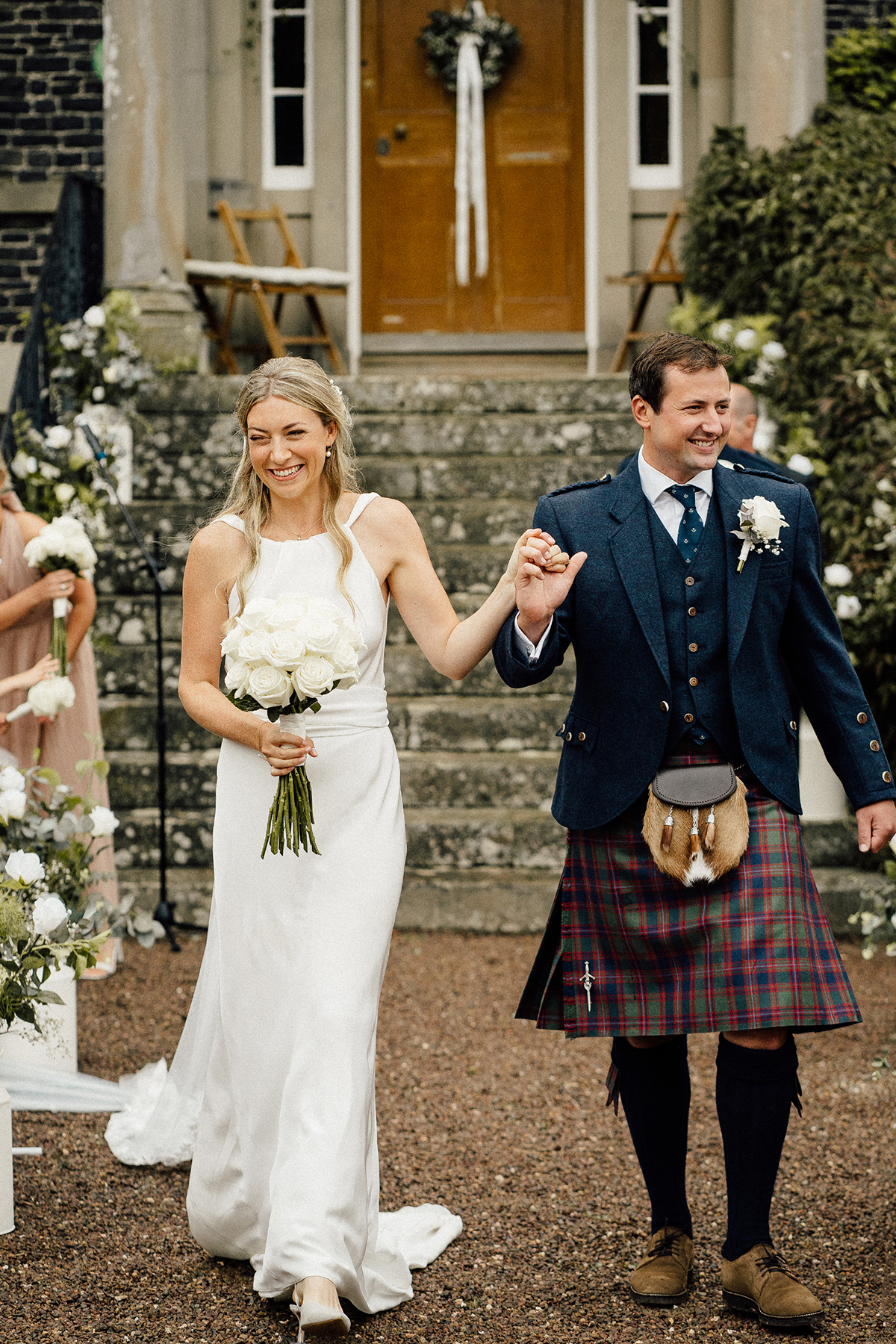 "The actual wedding venue was obviously very important, but we always wanted to get married in a place that was meaningful to us."
"We were lucky enough to have a beautiful venue and setting within such a special town, on our doorstep – it was one of the easiest decisions we made when planning our wedding, there was no competition."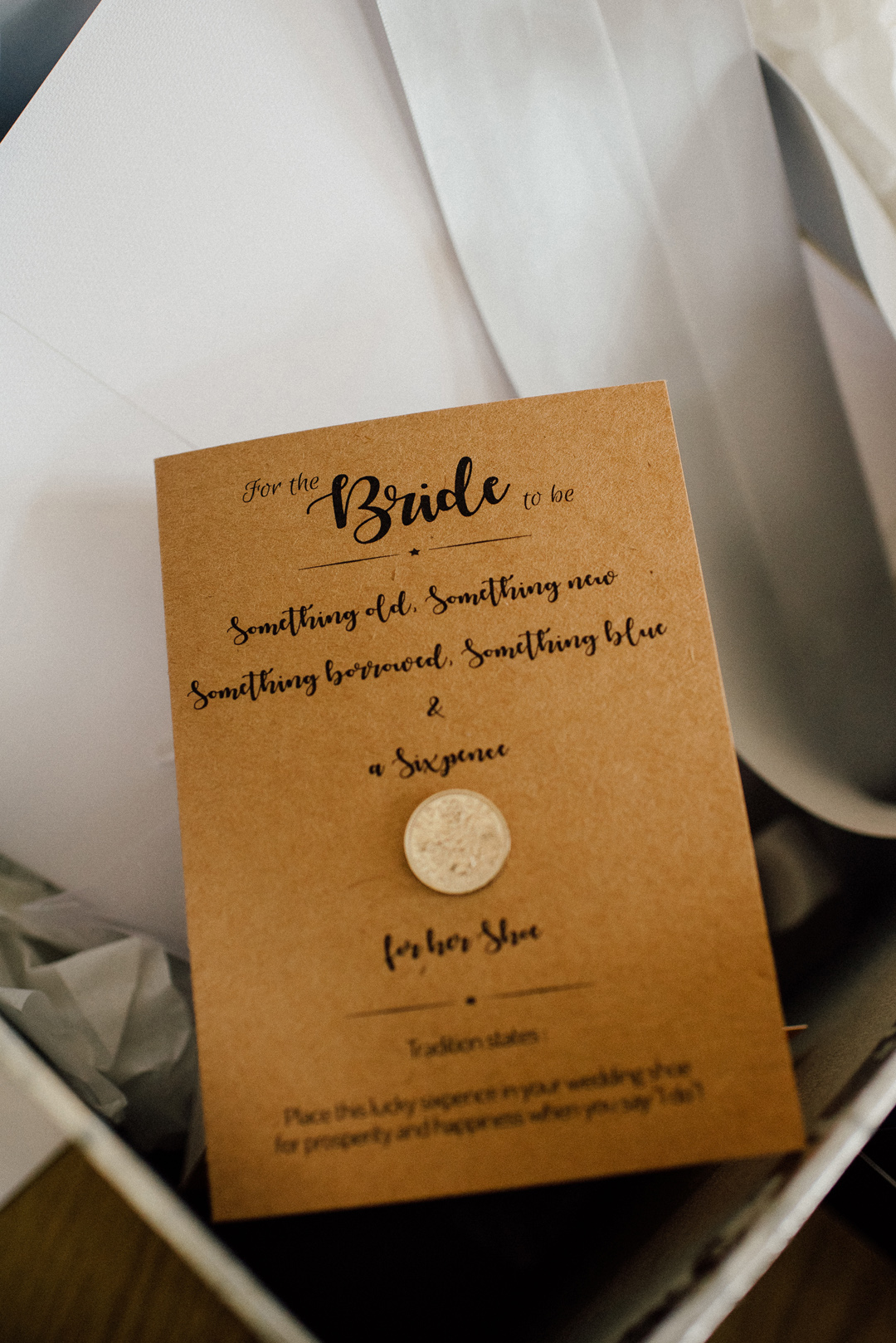 "We loved that our venue gave us the opportunity to plan a DIY wedding, and we decided to fully embrace this and take on the planning and styling of the day ourselves."
"We live in a very small town with such a sense of community and camaraderie, it was a no brainer, and an absolute pleasure, to use small local businesses and friends and family to help us create our dream wedding day."
"I would recommend this for two main reasons – it gives you great flexibility, but it also really makes every touch, from big to small, feel so personal to you."
"The one thing we would say is that without a proper event planner you might need someone to help coordinate everything on the big day for you."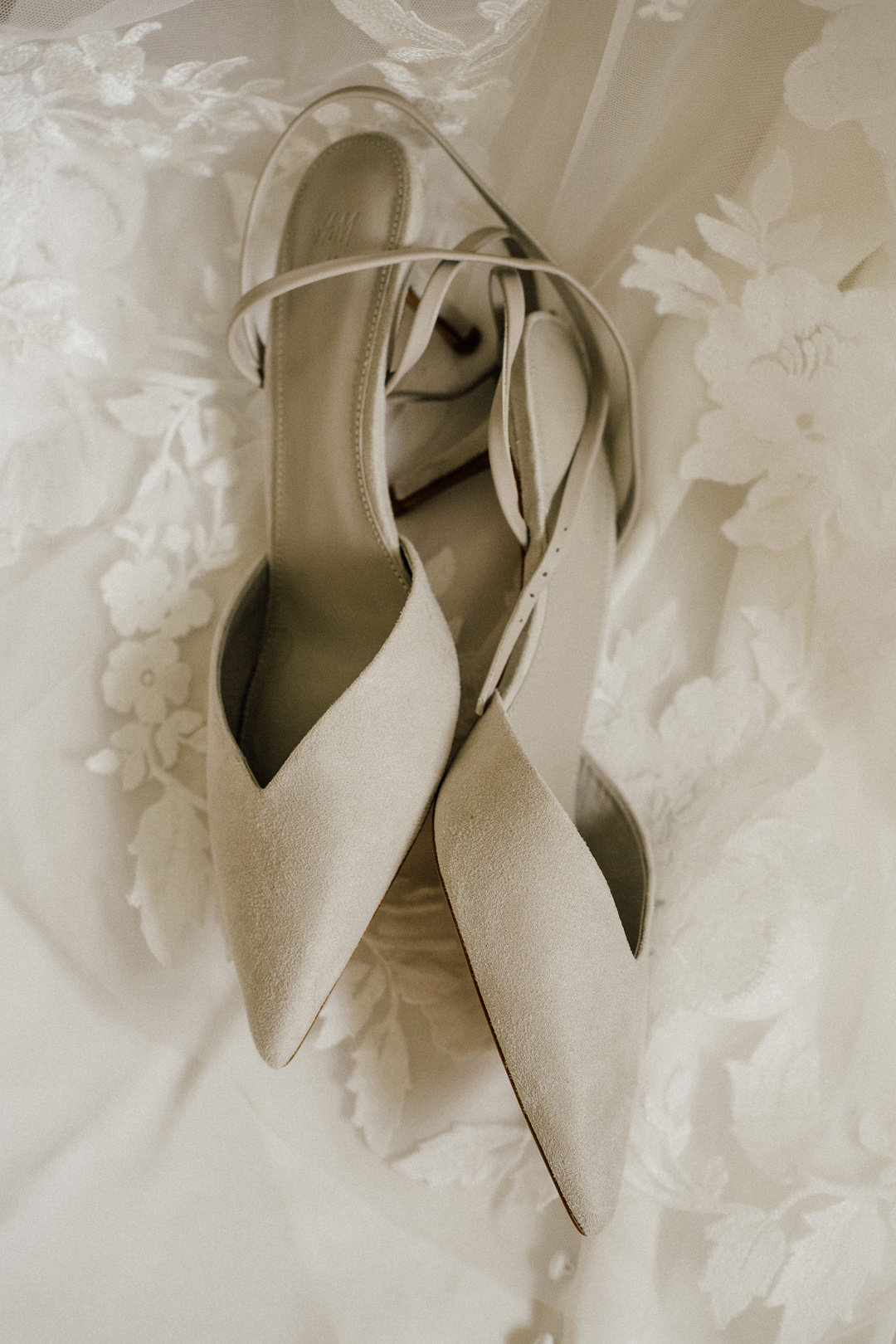 "It might depend on how you want your day to feel overall, but we relied heavily on friends and family (who were also guests) on the day to help with all the 'behind the scenes' work."
"This allowed us, as bride and groom, to relax and soak up the atmosphere of the day, but it also made those guests feel a part of the day in a way that meant so much to both, us and them."
"We honestly wouldn't change a thing from this point of view."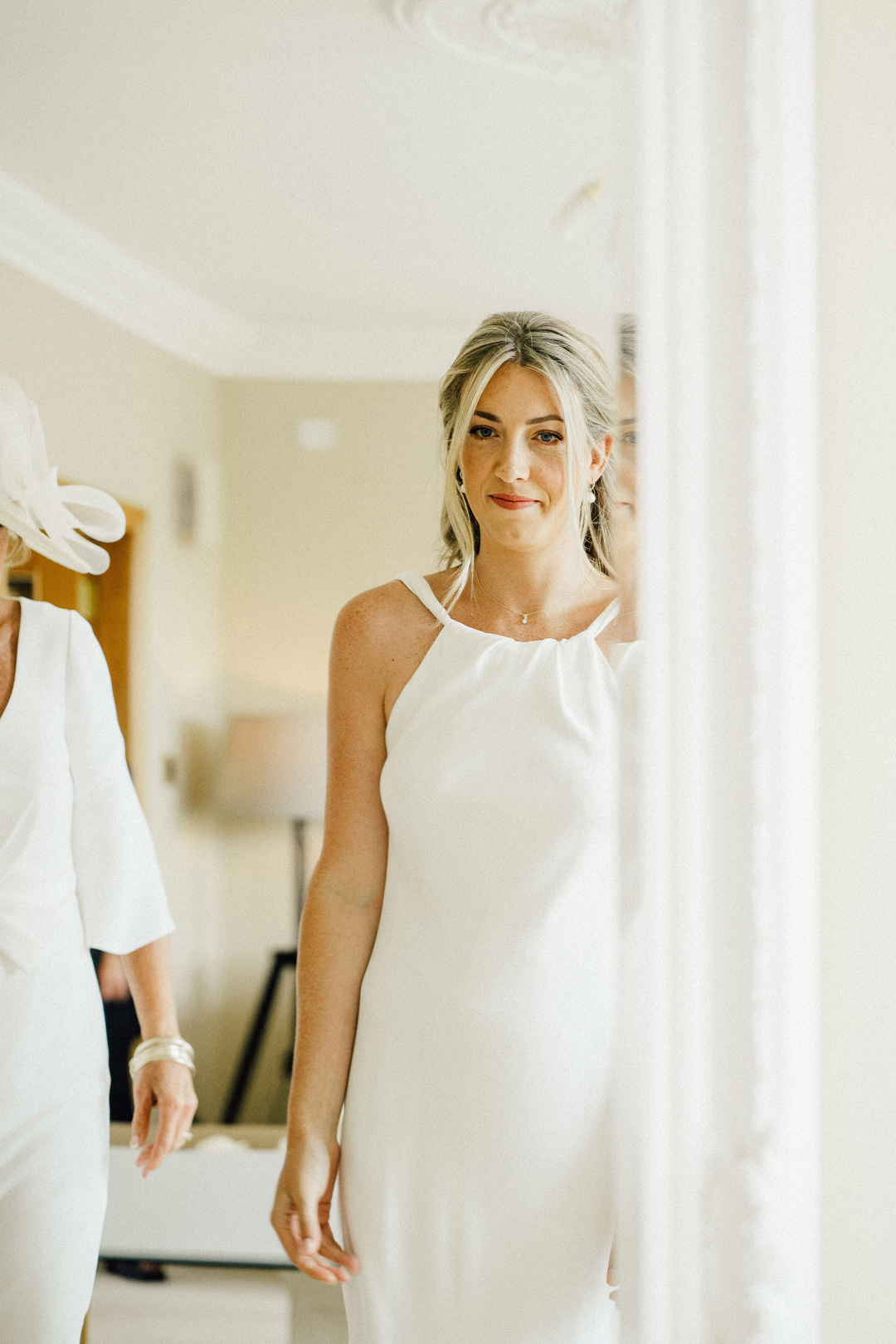 "Looking back on our day now, it is that sense of being so 'home grown', with so many people on board to help you, that really makes it such a special day for us."
"Don't get me wrong, it can make it a whole lot more stressful in the lead up to the big day, but in our eyes, it was 100% worth it in the end."
"My little Flower Girl, Savannah, was 8 years old. She was desperate to wear a tutu and we managed to find the most perfect outfit for her from Six Stories (ivory tutu skirt and leotard)."
"She was so pleased with it and she looked adorable. I would definitely recommend Lucy from Six Stories, her service and communication was spot on."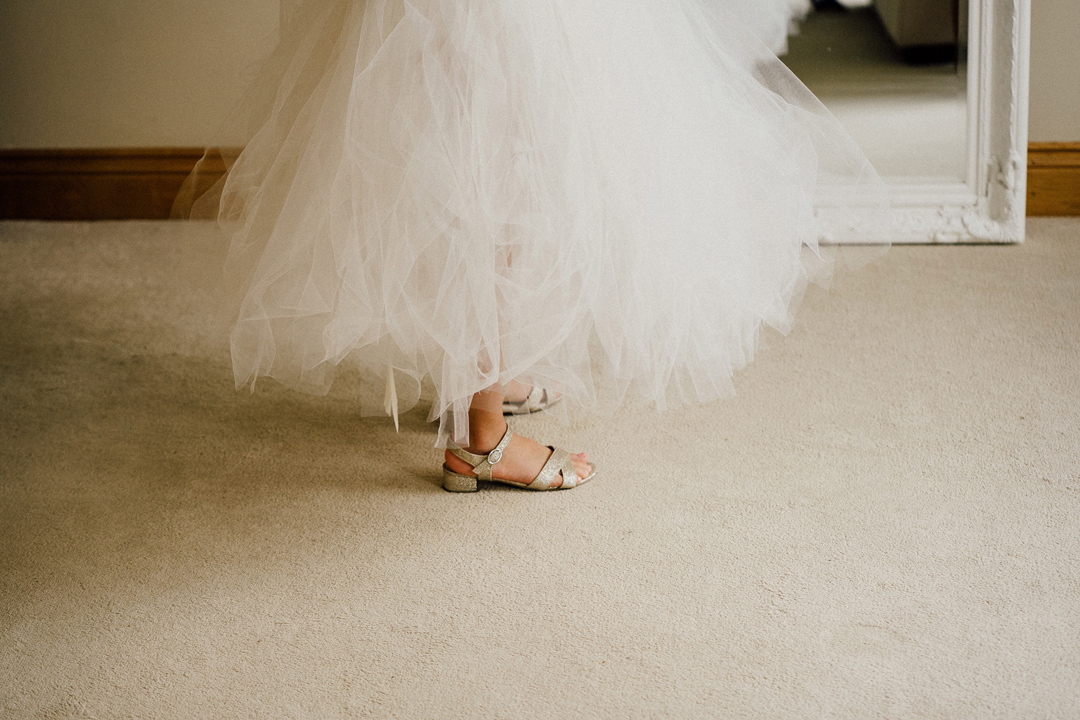 The groom wore a kilt in Muted Macintyre and Glenorchy tartan, which was custom made via John Morrison Kiltmakers in Edinburgh.
"We had a few little Scottish and South African touches throughout the wedding."
"One of these was Nick's bespoke Springbok sporran. It is beautiful and something he will keep forever."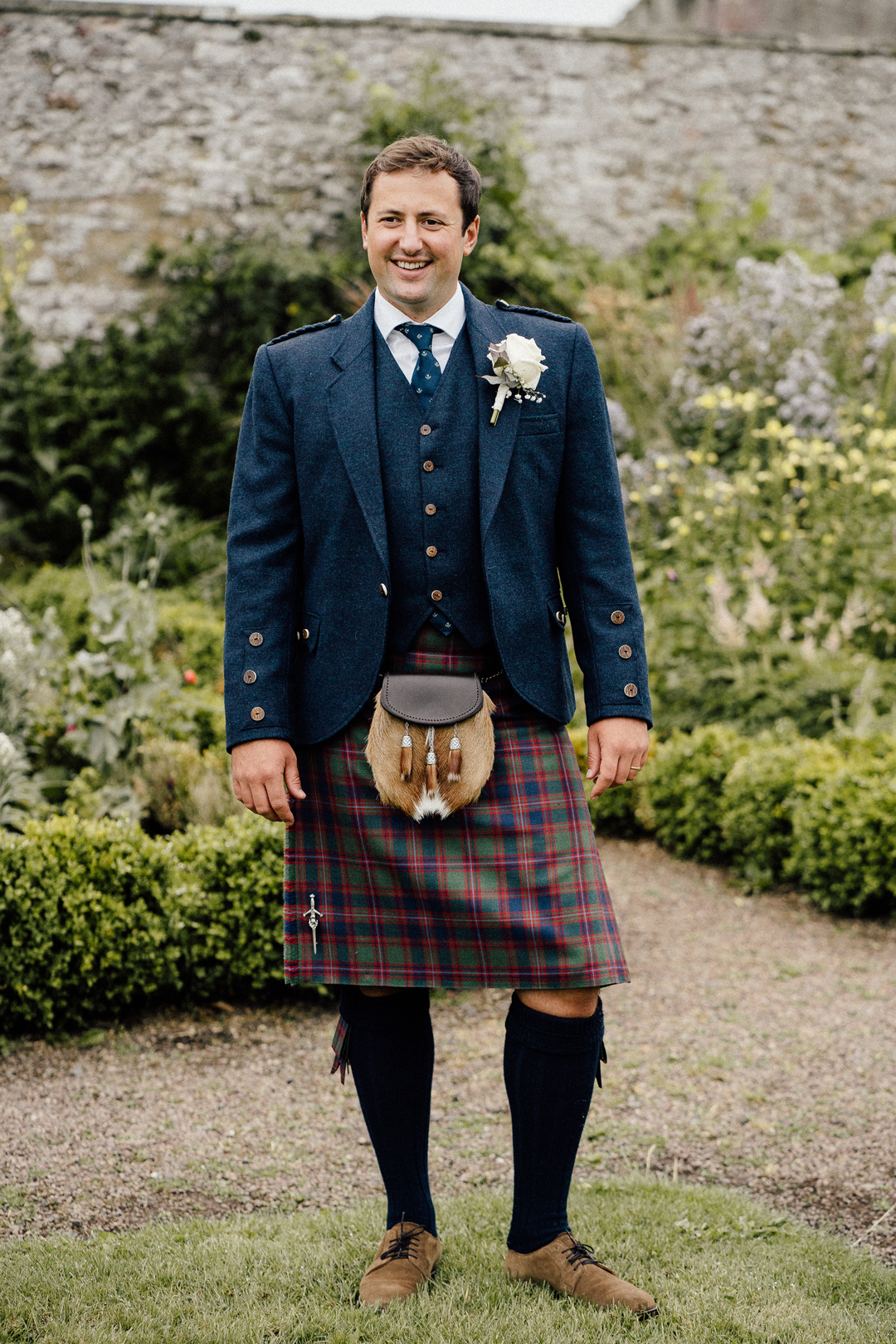 "We met initially whilst both studying at University in Edinburgh many years ago. We then met again a year later, in 2014, at the Melrose Rugby 7's event and continued to laugh even more."
"We haven't gone a day since then where we haven't spoken to each other."
"Nicholas proposed to me on the Swilken Bridge on the Old Course at St Andrews. It was such a special day and a feeling I will never ever forget."
"Golf will always be Nick's first love, especially in his home town of St Andrews. Our first date included a walk along the golf course too, so it will always hold a special place in our hearts for many reasons."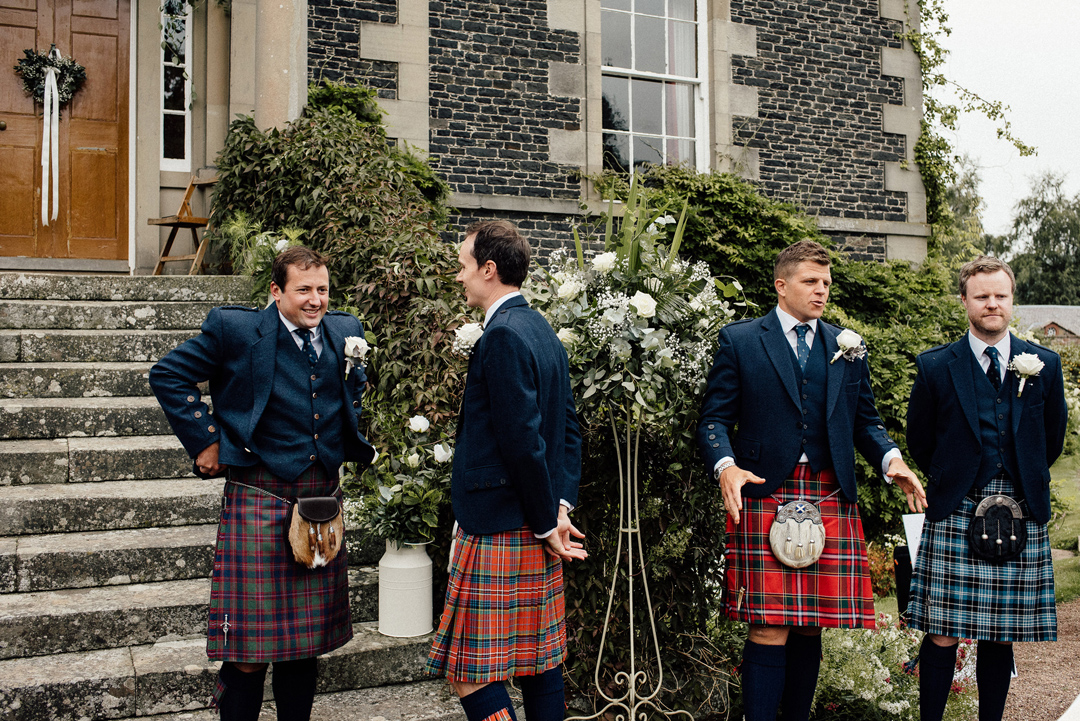 "Harmony House is a beautiful National Trust Georgian house with a stunning surrounding walled garden in the heart of the town that we now both live in."
"We have attended many an event here and the gardens are just beautiful when in full bloom, and the house always boasts such character."
The couple hired Jennifer's Flower Studio for all floral decor.
"We wanted to try do a lot of the flowers and decoration for the wedding ourselves."
"This was partly to save some money but also to give our day that home made feel we were after."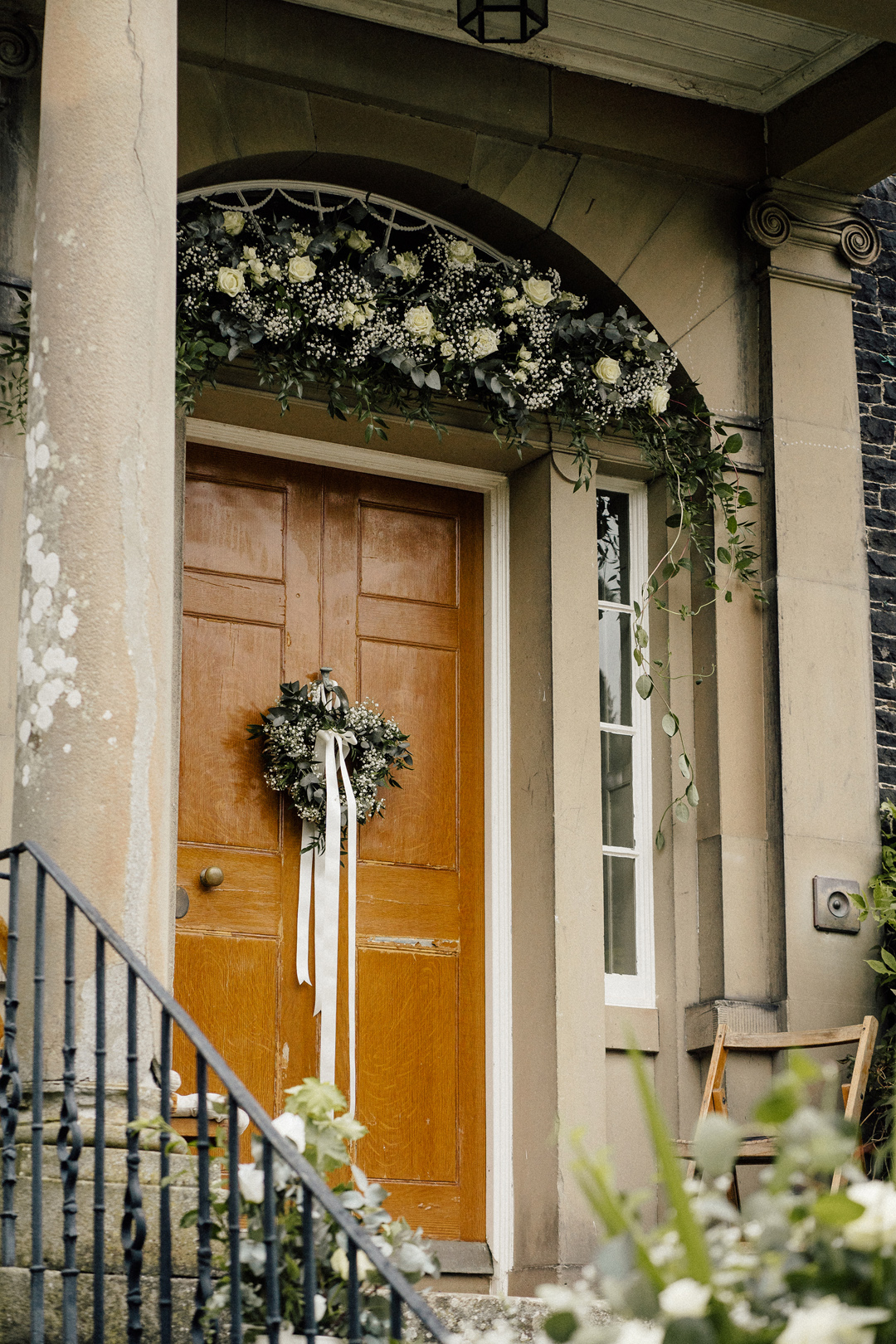 "We roped in the green fingers of some very kind family friends, Catherine and Elsa, and together with my Mum, the three of them worked wonders with the pickings from our garden."
"My mum and her friends made all our incredible table flower arrangements, and our beautiful milk churn arrangements which created our aisle for the ceremony."
"We knew it was a bit too much to take on all the floristry ourselves, and so we used Jennifer for all the very important and equally tricky bits, like the bouquets and corsages."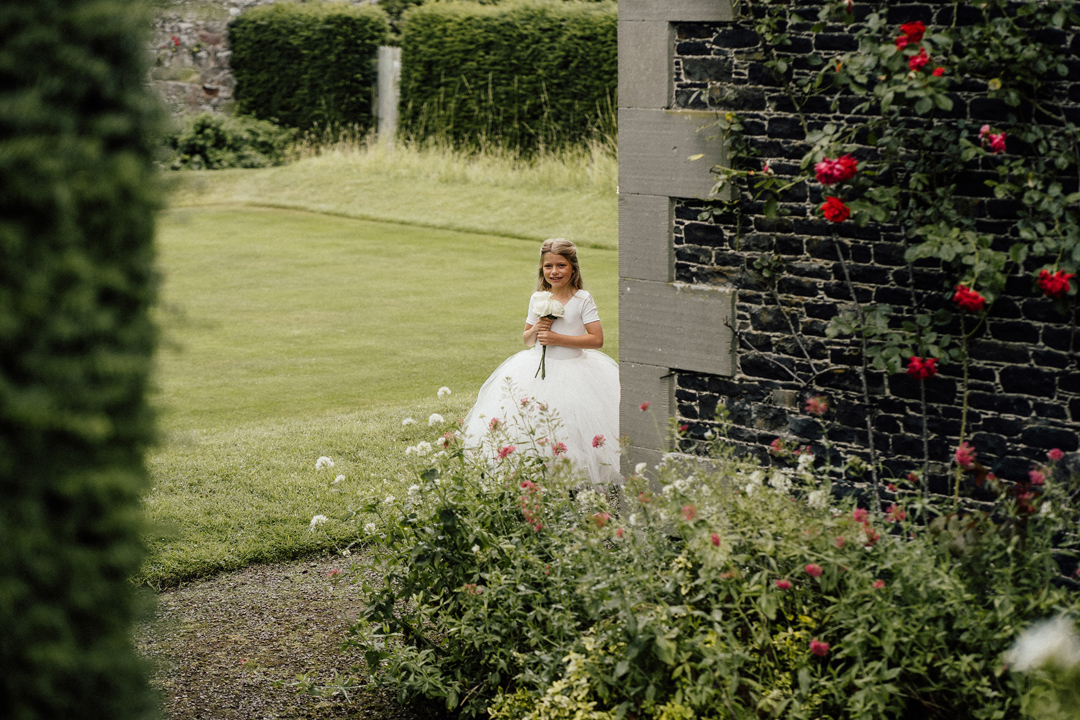 "Jennifer is a family friend of ours and our local florist. I always knew I wanted her to do my flowers! She is so kind and lovely, and nothing is ever too much."
"She is so creative and comes up with brilliant ideas – she made the most beautiful flower arrangement for the door that we married in front of, as well as two beautiful pedestal flower arrangements at the altar."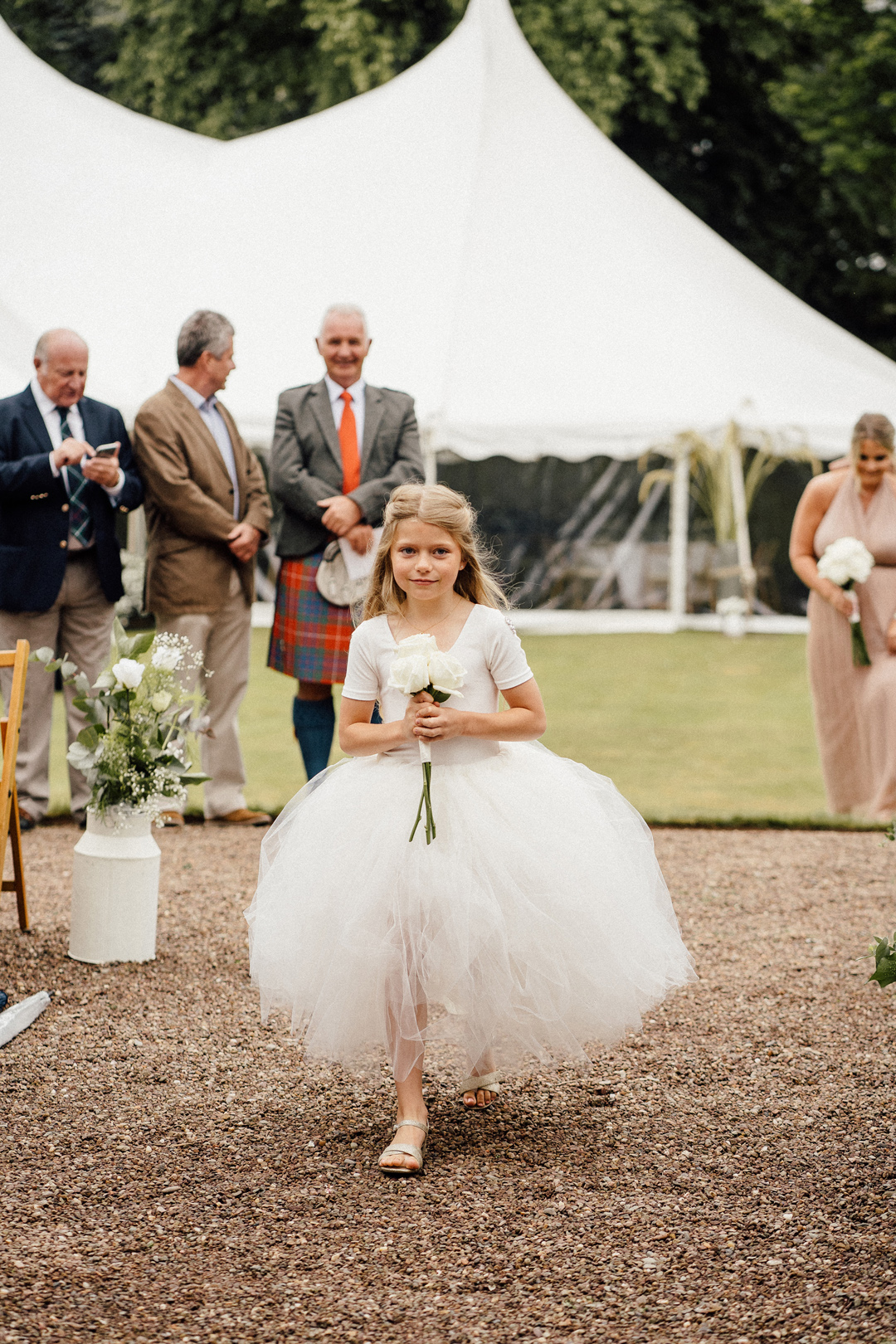 "Jennifer was an absolute positive light throughout the planning of our wedding, especially when lots of other things were going wrong. I would 100% recommend her to anyone."
"Our flowers were all white and green – lots of white roses with some relaxed green foliage!"
"I think they complimented Harmony House beautifully."
"Our bouquets were long stem white playa blanca roses – I absolutely loved them."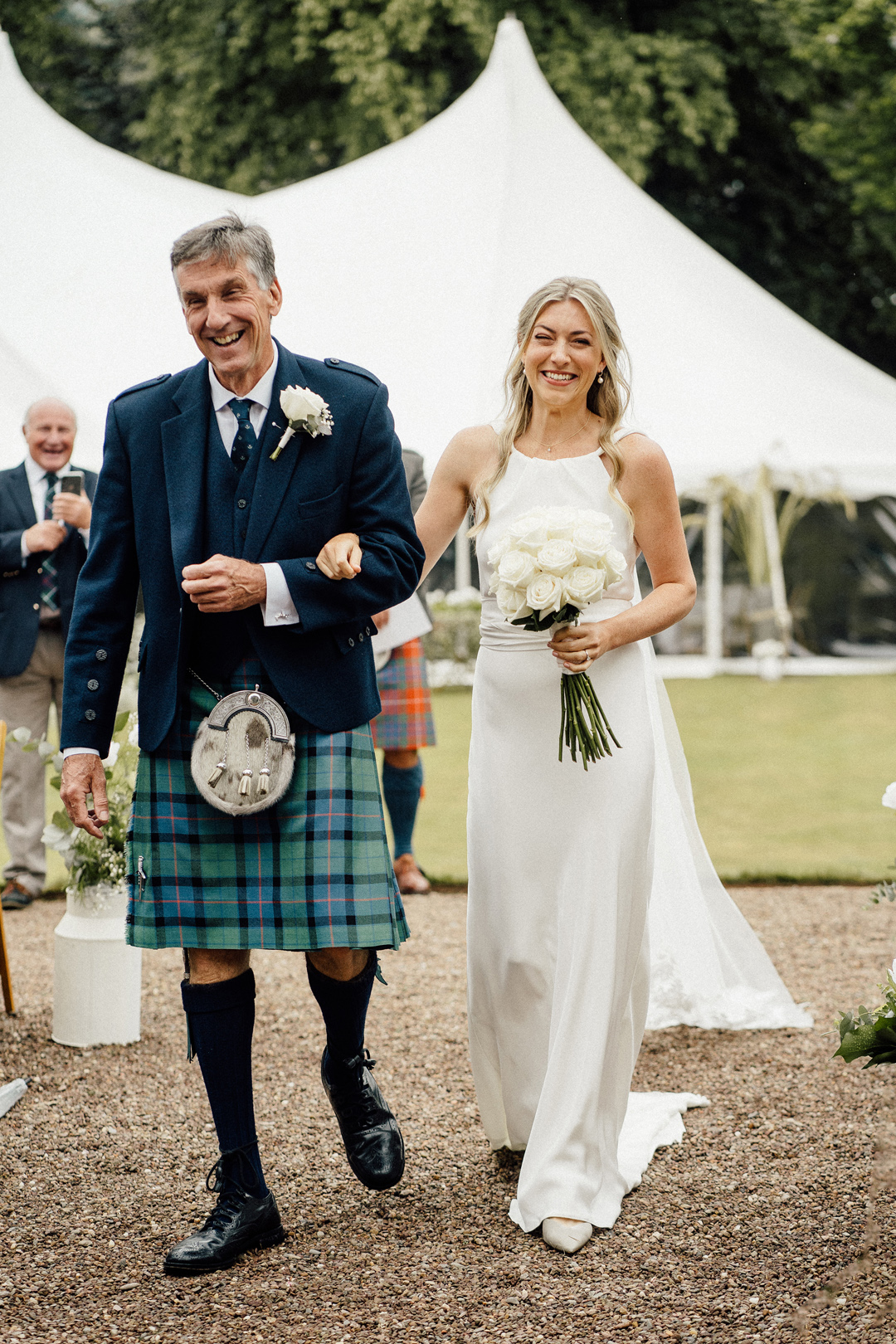 "My Dad walked me down the aisle to Pachelbel Canon in D. Savannah, my flower girl, walked down the aisle first, followed by my three bridesmaids. I then followed with my dad."
"Nicholas met me at the bottom of the stairs and thanked my dad. He then walked me up the stairs of Harmony House where our Wedding Ceremony was held. It was a gorgeous setting."
"A family friend of ours plays in a local string quartet and offered their services. They played whilst I walked down the aisle, and whilst we signed the register."
"It was amazing to have live string music during our ceremony, and especially played by friends and guests at our wedding."
The Reverend Philip Blackledge, the local Minister for Holy Trinity Church in Melrose, officiated the ceremony.
"Where do we start with Pip? We are so grateful for not only the support and guidance he afforded us in the buildup to our wedding day, but also for the manner in which he conducted our ceremony."
"His natural delivery and disarming humour created the most perfect environment for us and our guests. It was an emotional, but fun and relaxed service, and more than we could have ever wished for."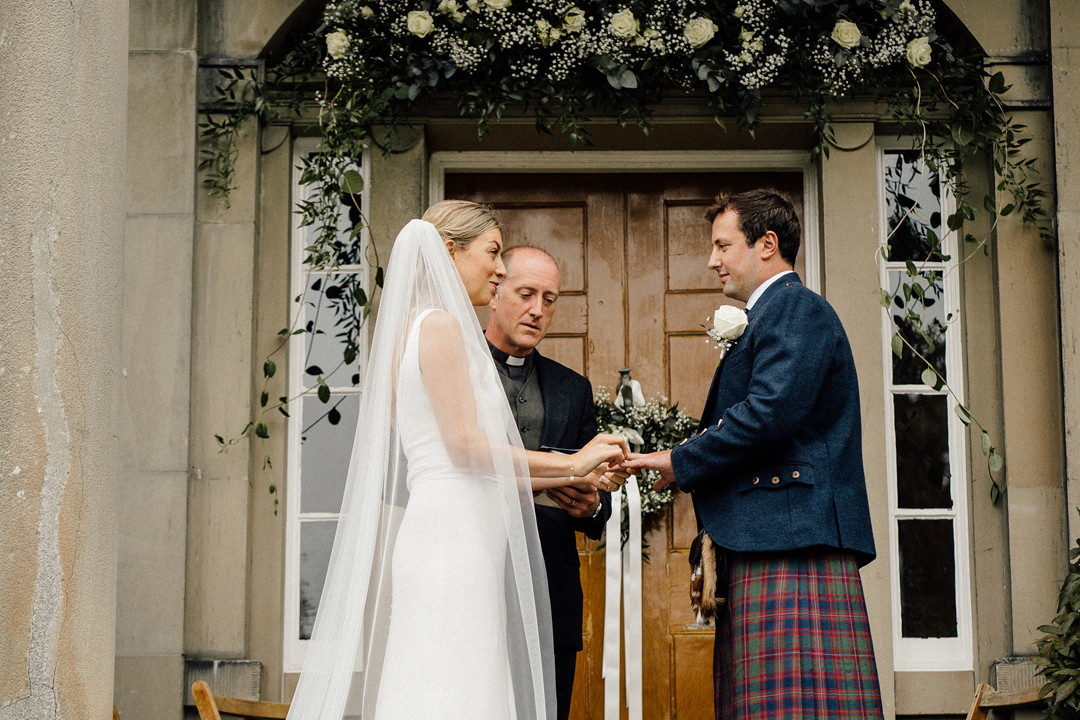 "As our service was a religious one, we chose to say the standard wedding vows."
"Nicholas found my engagement ring at Hamilton and Inches. It is a very special jewelers to us and it felt only right to get our wedding bands here too."
"We had an unforgettable experience choosing them."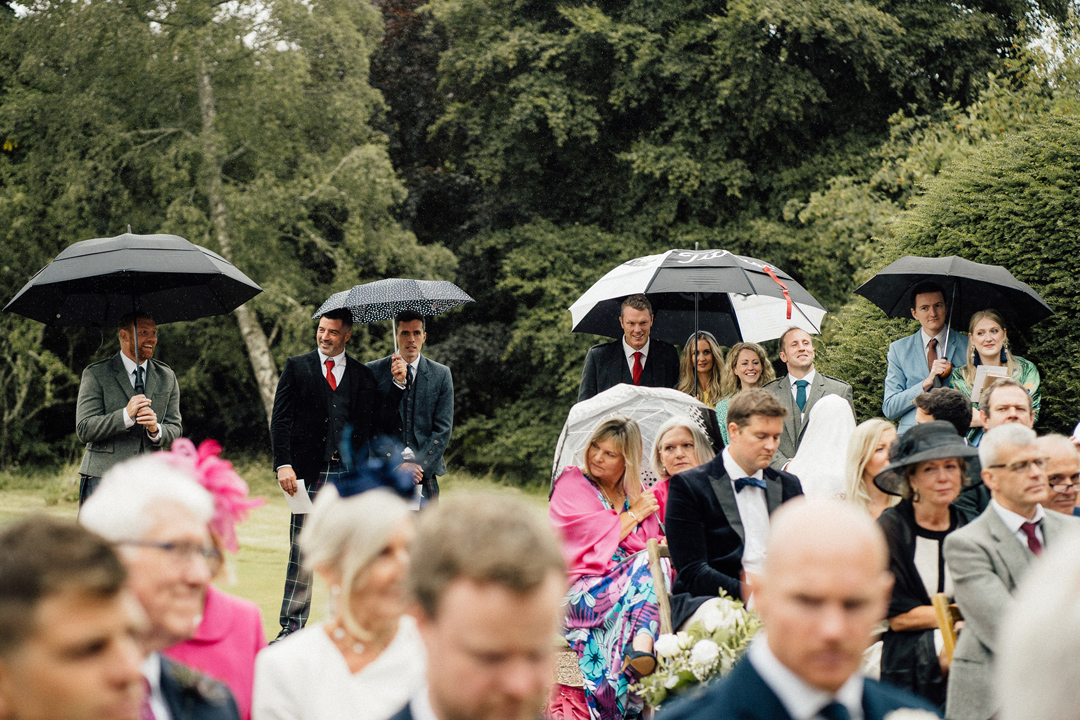 The couple discovered their ceremony readings through Love My Dress – did you know we have a full wedding readings resource right here?
"My mum read 'All I Know About Love', by Neil Gaiman, and we came across this reading via browsing Love My Dress. The section on Wedding Readings is so well structured and helpful, it even tells you the length and style of the readings, which is great – the best I'd come across!"
The mother of the groom read 'At Last', by Lang Leav.
"We love Lang Leav poems and used one of these for our wedding invitations too. We chose 'At Last' as we felt it was very apt for our postponed wedding."
"Our very special family friend, Jolindi, read Corinthians 13:1-8. We had to have one biblical reading during our ceremony. We have always loved the Corinthians and so this was an easy choice."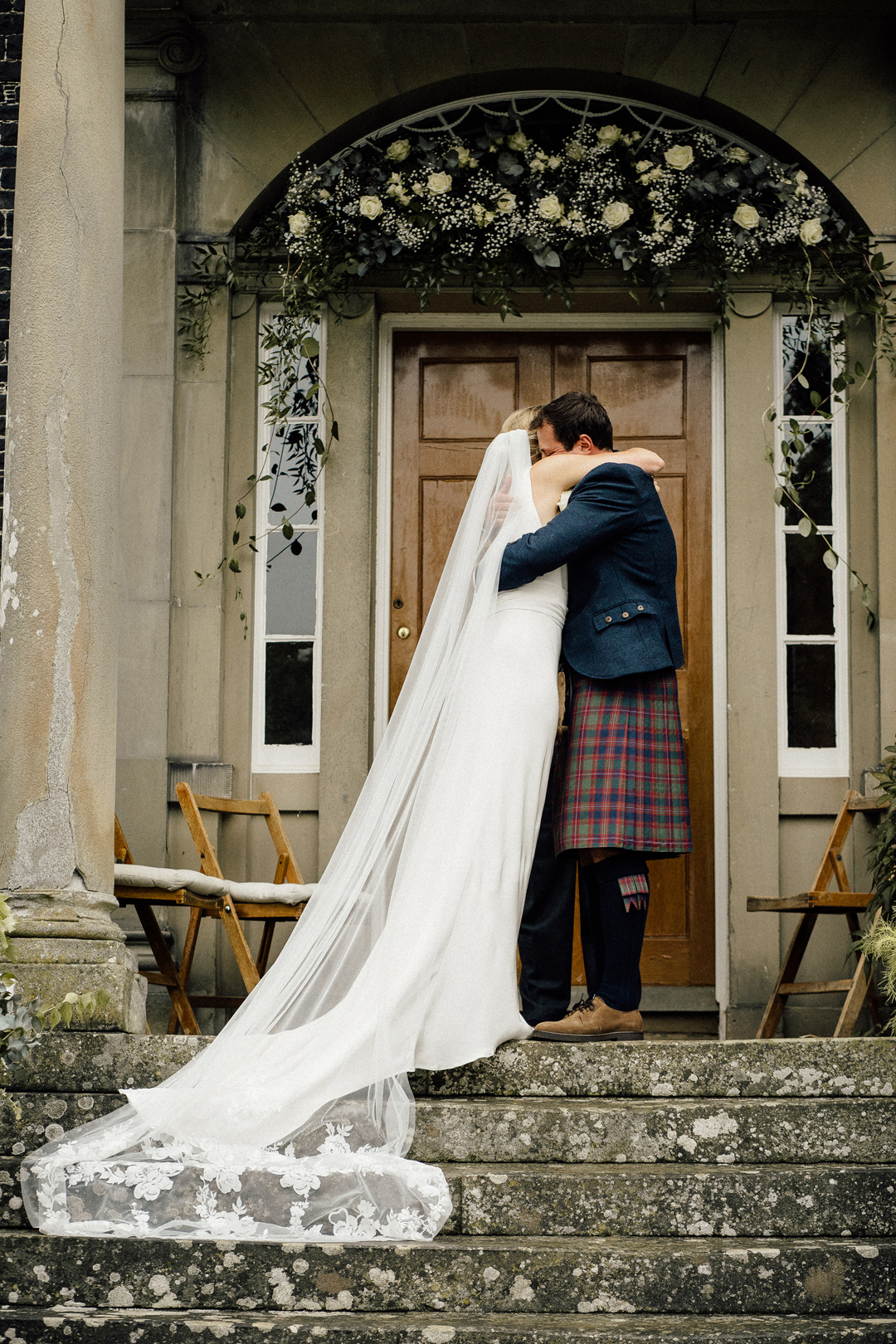 "We hosted a post-wedding day celebration BBQ on the Sunday for all our friends and family."
"Many of our guests returned for some more garden games, homemade pizzas and a South African Braai."
"It was so lovely to have such a relaxed day with all our loved ones to reminisce about the big day! We would definitely recommend doing this."
"Our caterer Susie produced the most delicious three course meal, with all locally produced Scottish ingredients."
"All of our guests remarked on how good the trio of desserts were, especially."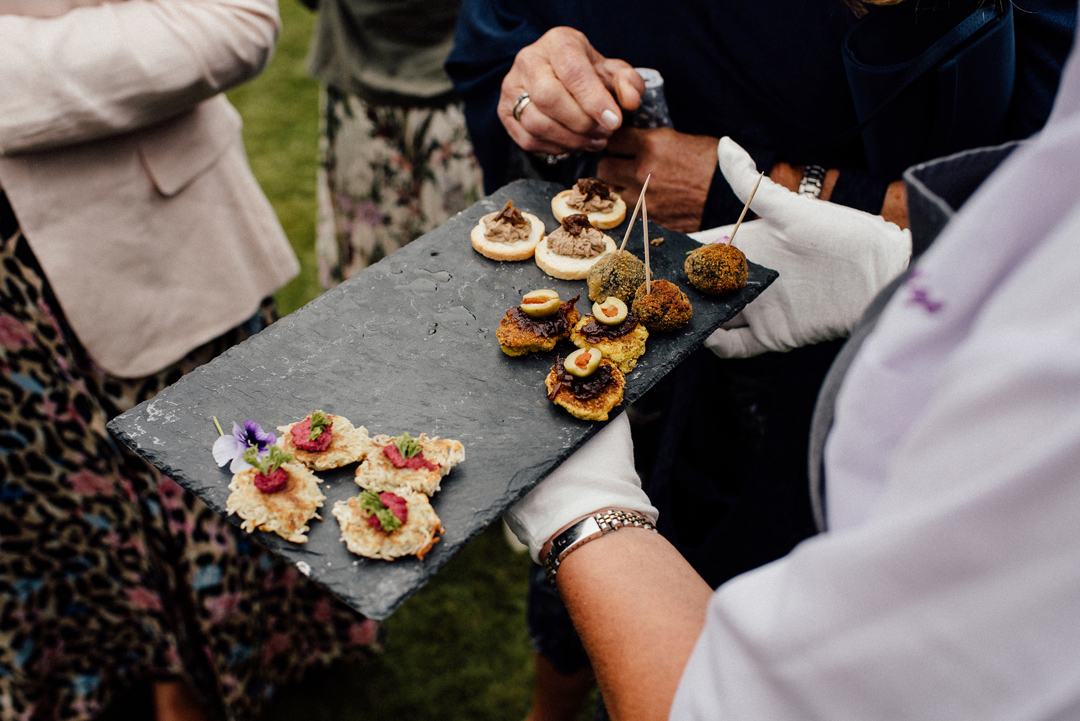 "My bridesmaids' dresses were from Coast. We went for a beautiful neutral taupe colour and the style was perfect for everyone, including my bridesmaid Rosalyn's pregnant bump."
"The girls looked so beautiful. I bought my bridesmaids a necklace to wear on the day. These were the 'Chloe' gold pearl lariat necklace, from Aluna Mae."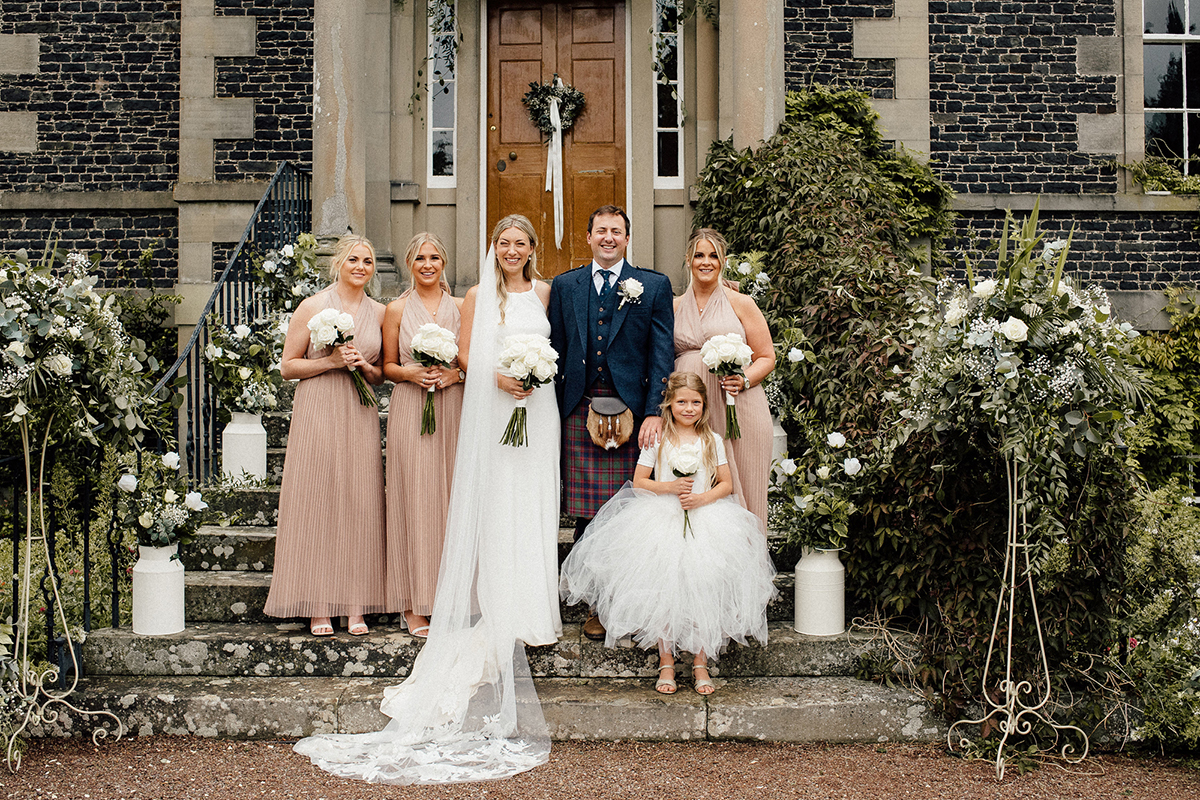 "We also bought some second hand whisky barrels from a local distillery and Nick spent a long time upcycling these."
"They made the most perfect table tops spread out throughout the gardens. We topped them off with attached bottle openers, buckets of South African Biltong, and furnished with pots of Scottish heather.
"We also utilised an old wicker basket by filling it with all of Nick's favourite crisps, this became 'Nick's Crisp Bar' which was evidently well received by our guests later in the evening."
"We had a very stylish rose wine bar in the form of a white wooden drinks cart. We used one of my best friend's expertise, known as 'Duchess Seerra' – her vintage prop hire and styling business. It looked beautiful!
"We ordered a whole bunch of delicious pizzas from the local Italian restaurant, which went down a treat later in the night."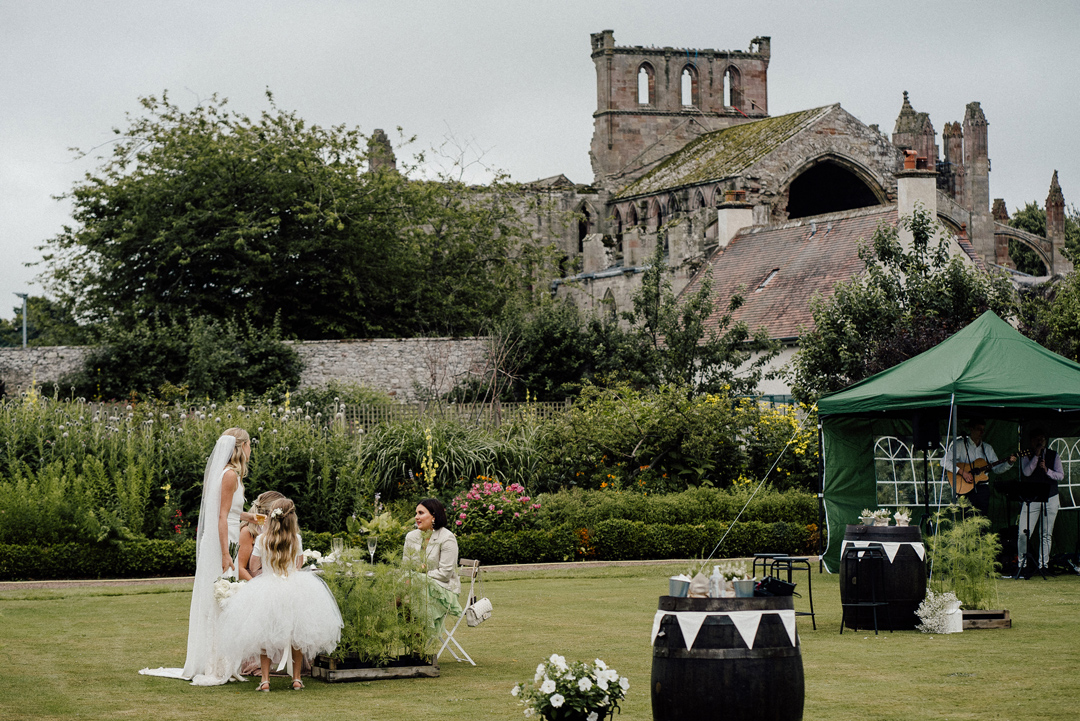 "Anna of Anna Urban Photography had been the photographer for a few of our best friends' weddings and we always knew she was the one to capture our day."
"She did not disappoint – we are so over the moon with our photos."
"She seemed to be able to capture every single smile, laugh, cheers, hug and tear at our wedding."
"We wanted our photos to be relaxed, candid and capture all the little moments. It's amazing to go through them and re-live our day every time through our guest's eyes."
"Jonny of Trick of The Light Media is a family friend of ours and he is the director of an up and coming video production company, Trick of the Light Media, based in London."
"It was incredible to be able to have Jonny's friends, Joe and Stefan, video our day! The end result is truly amazing and brings a tear to our eyes every time we watch it."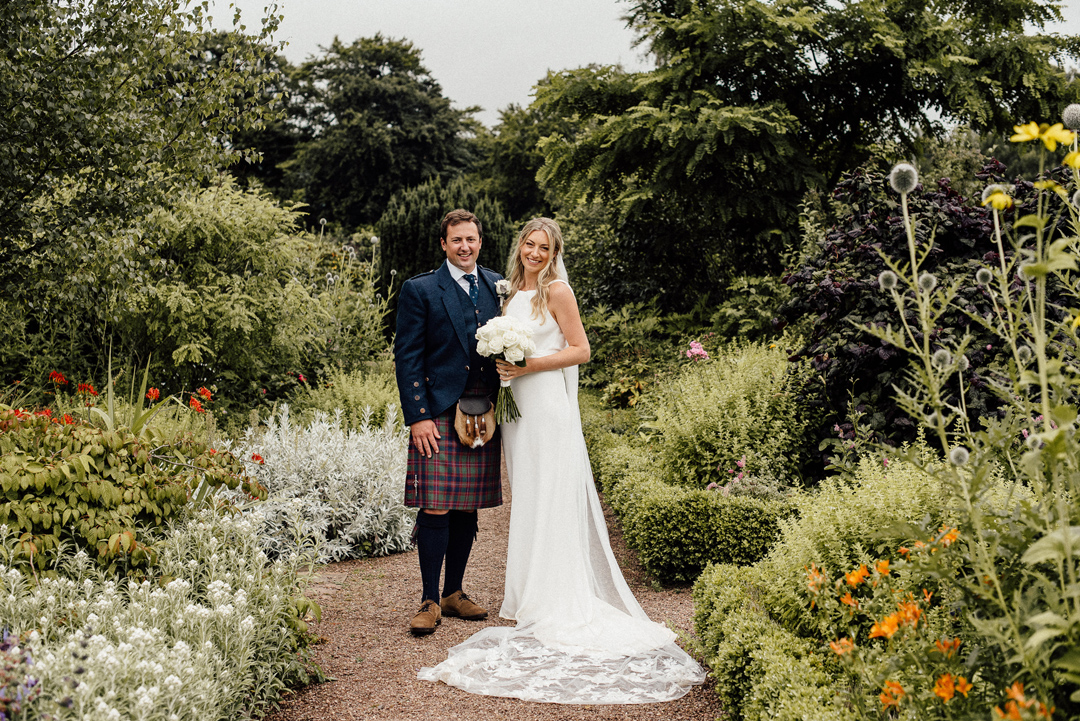 "We would absolutely recommend Anna to everyone and anyone! Some of our guests have actually already booked her off the back of our wedding."
Caitlin wore the 'Chartres' dress by Charlie Brear – a discovery she made at Marrime Bridalwear in Newcastle upon Tyne.
She customised the dress with silk sash and silk covered buttons down the full length of the train. She accompanied it with the Stevie veil from Made With Love.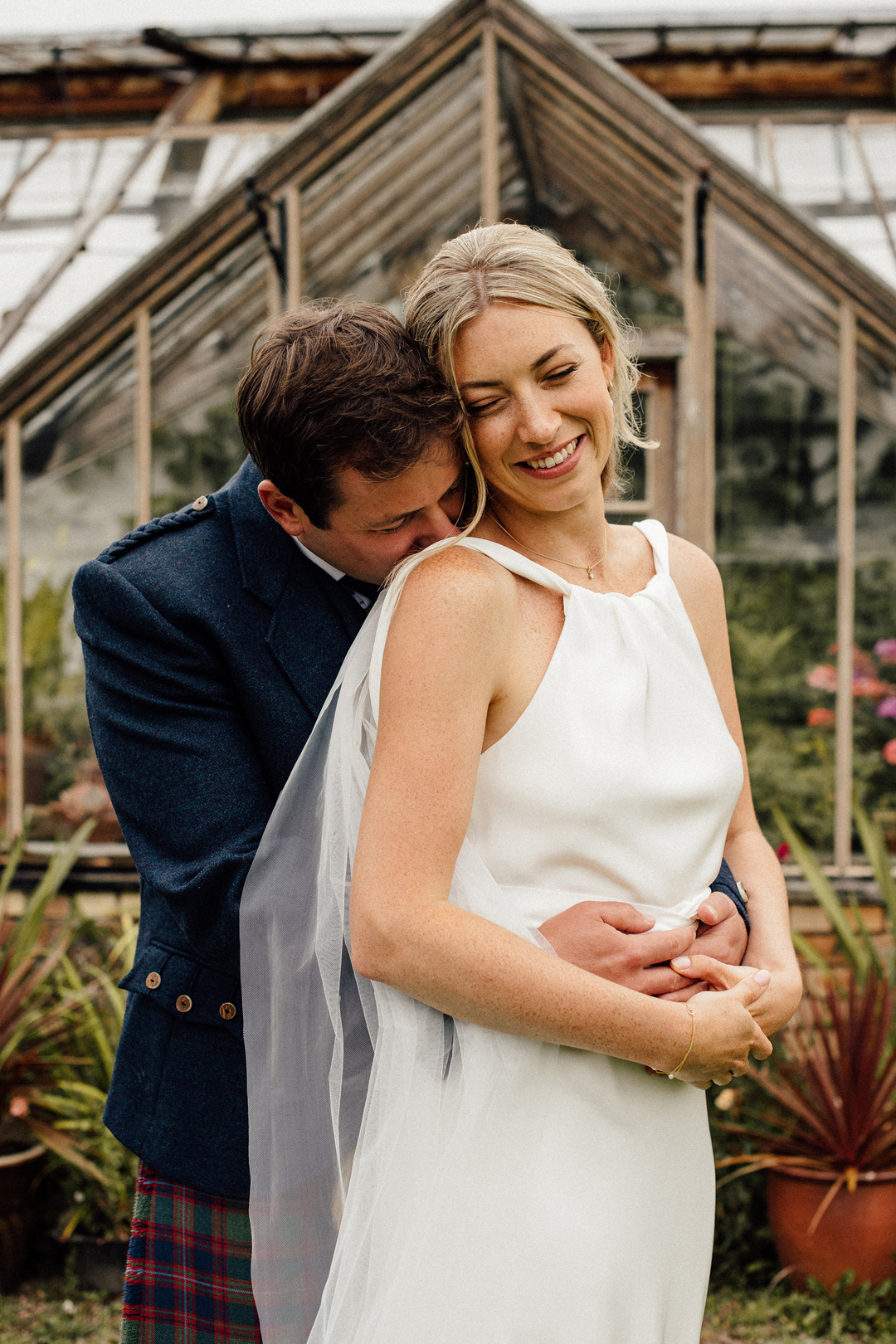 "The experience I had choosing my dress there was all I could have wished for and more."
"The girls at Marrime Bridal were just the loveliest, they create the best atmosphere for you to feel comfortable making the ultimate yes to the dress decision."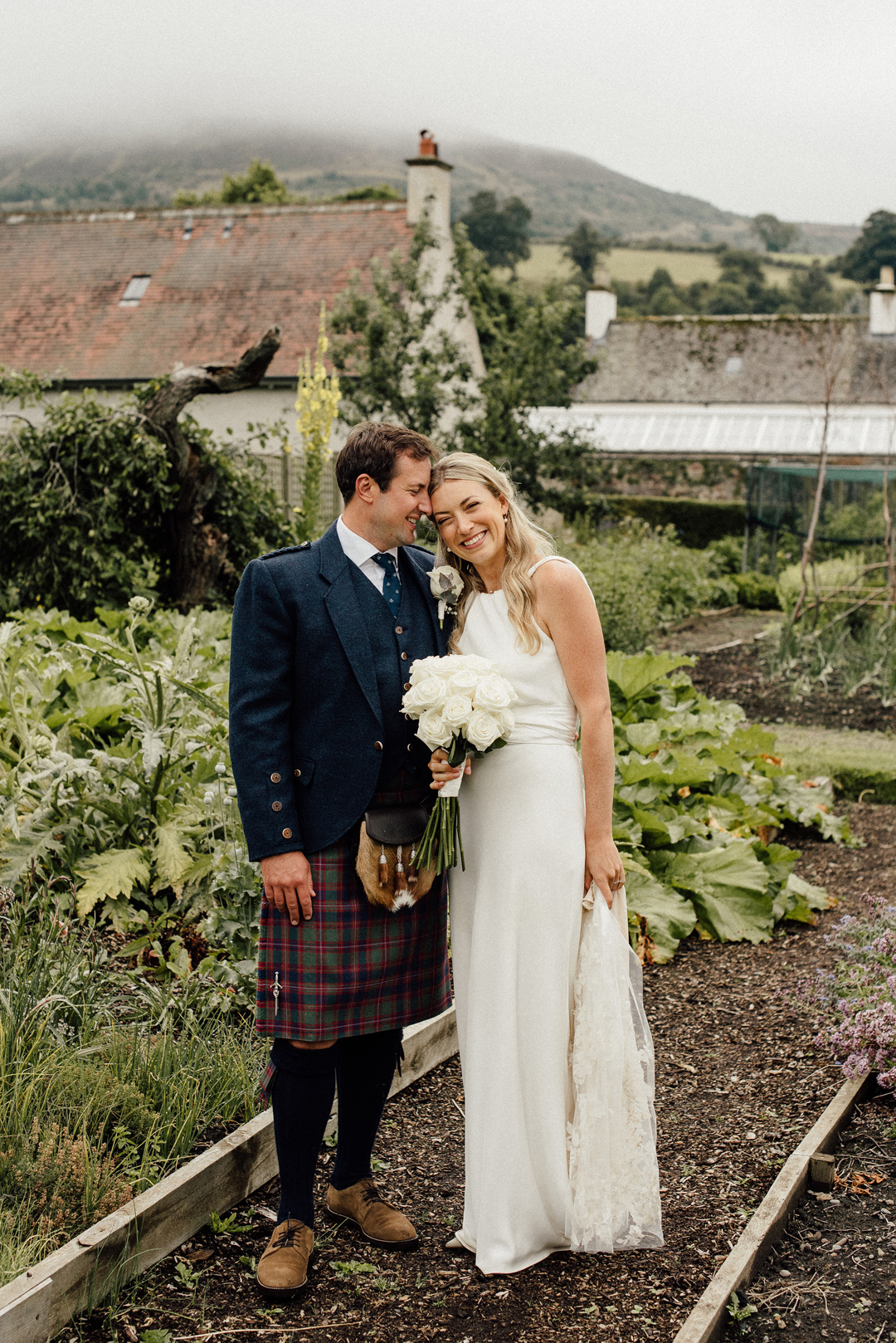 "Their selection of dresses is just insane, I could have chosen any dress off their rails. I would absolutely recommend them to everyone and anyone."
"I wanted to wear a dress that I was comfortable in and that made me feel like me."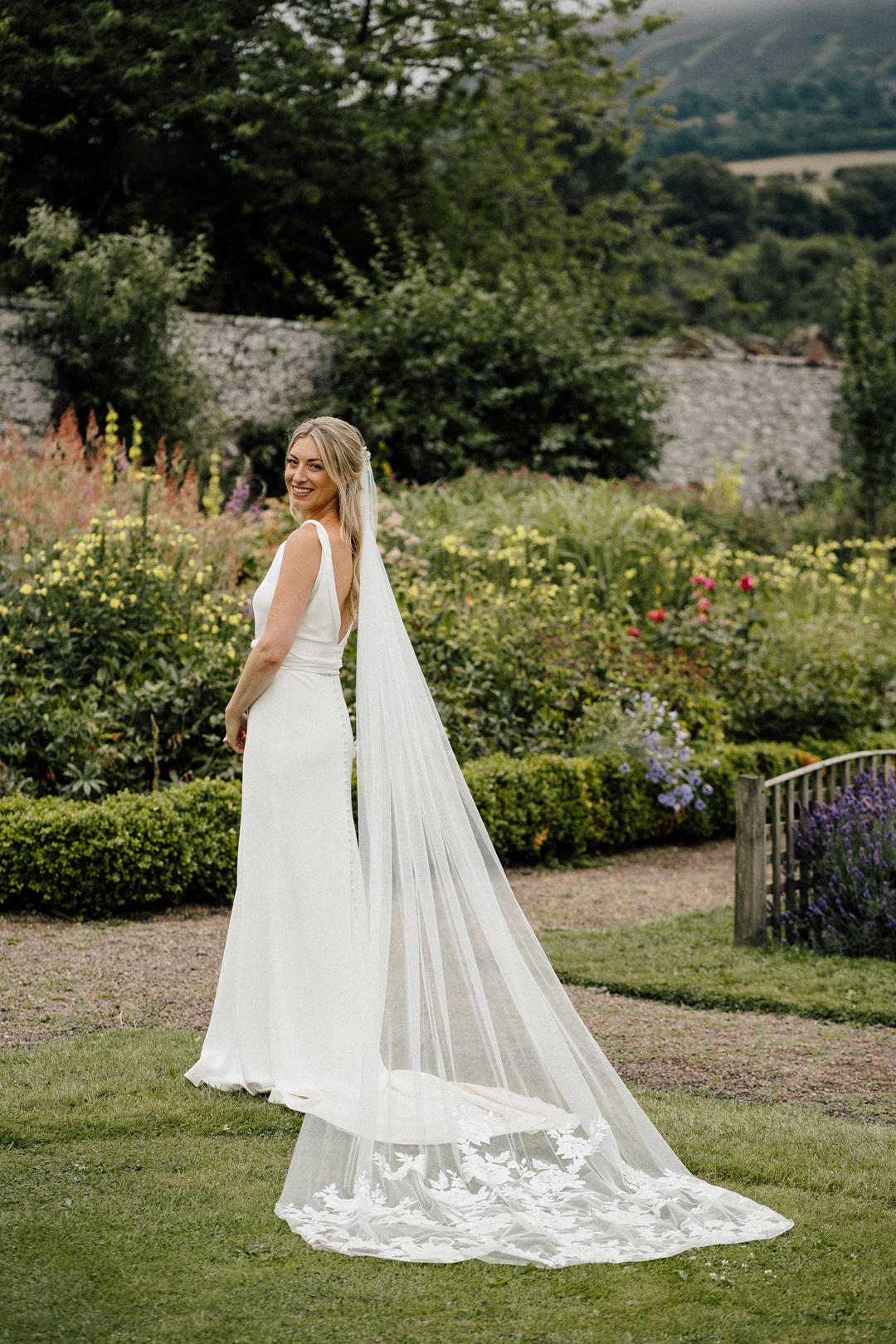 "I didn't want anything too over the top, I just wanted it to compliment me. The real test, is postponing your wedding by a year and still being in love with your dress by the time your wedding comes – this was true for me."
"I chose to wear a cathedral veil – Stevie veil from Made With Love. I found this at Marrime Bridalwear Boutique."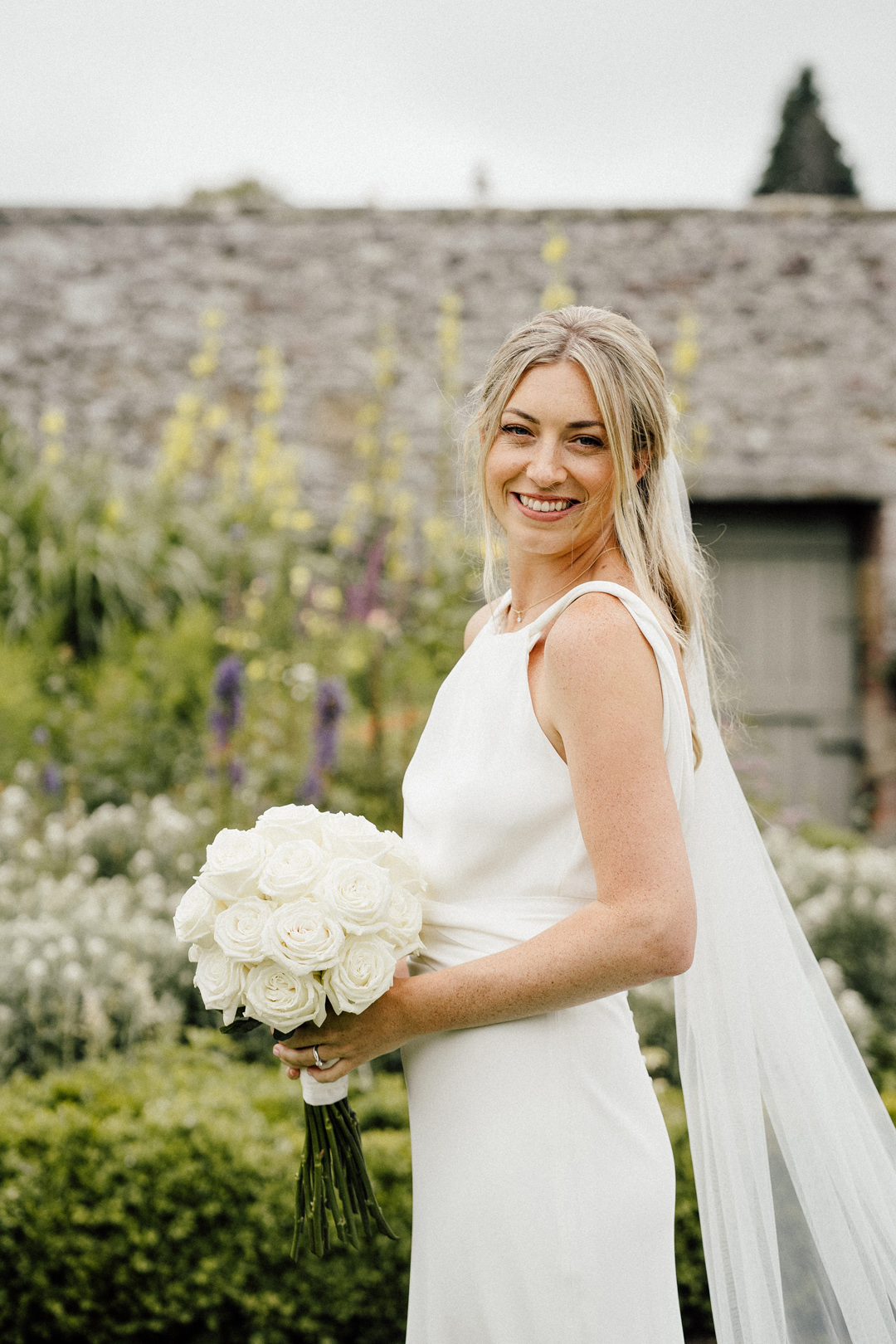 "Kevin Crawford Events supplied our marquee. We did all the bits and pieces inside the marquee ourselves, separately."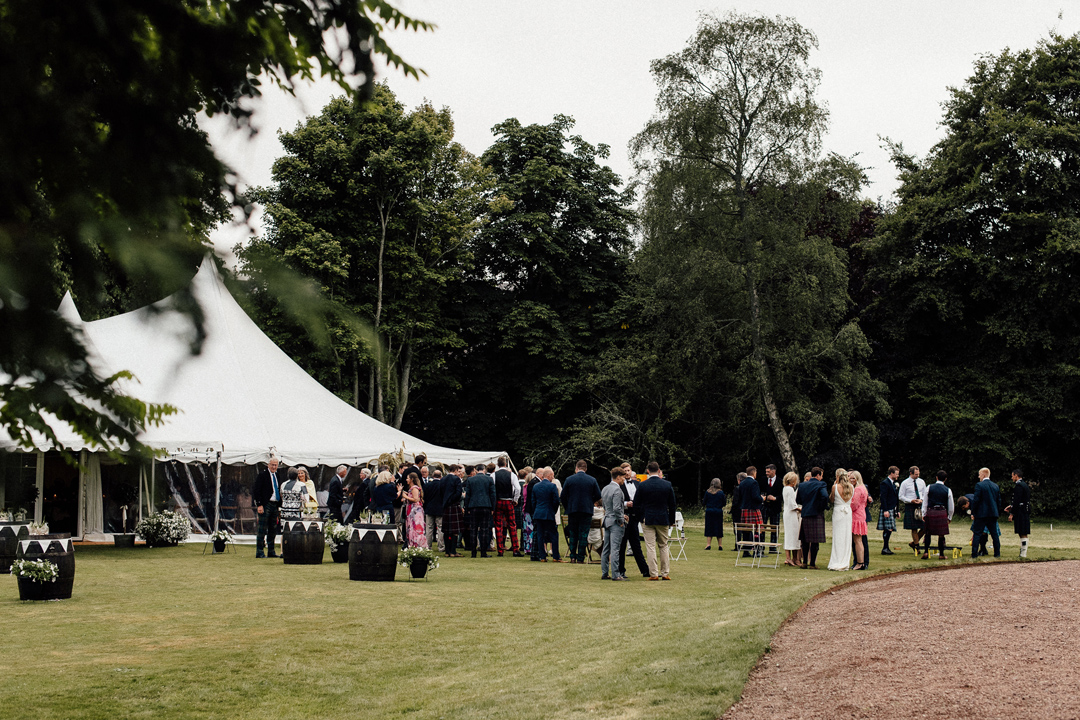 "We were originally meant to get married at the same venue on Saturday 1st August, in 2020."
"We were actually pretty lucky in that we only had to re-schedule our wedding once, and although it was incredibly stressful to do so, when things came around in July 2021, we were able to go ahead with what we had planned, and have a relatively 'normal' wedding with lots of our friends."
"Our biggest sadness is that we were not able to have any of our South African family or friends here to celebrate with us due to the travel restrictions."
"We did set up a live link for them to be able to watch our ceremony and be with us in spirit on the day, even if it was from behind a screen."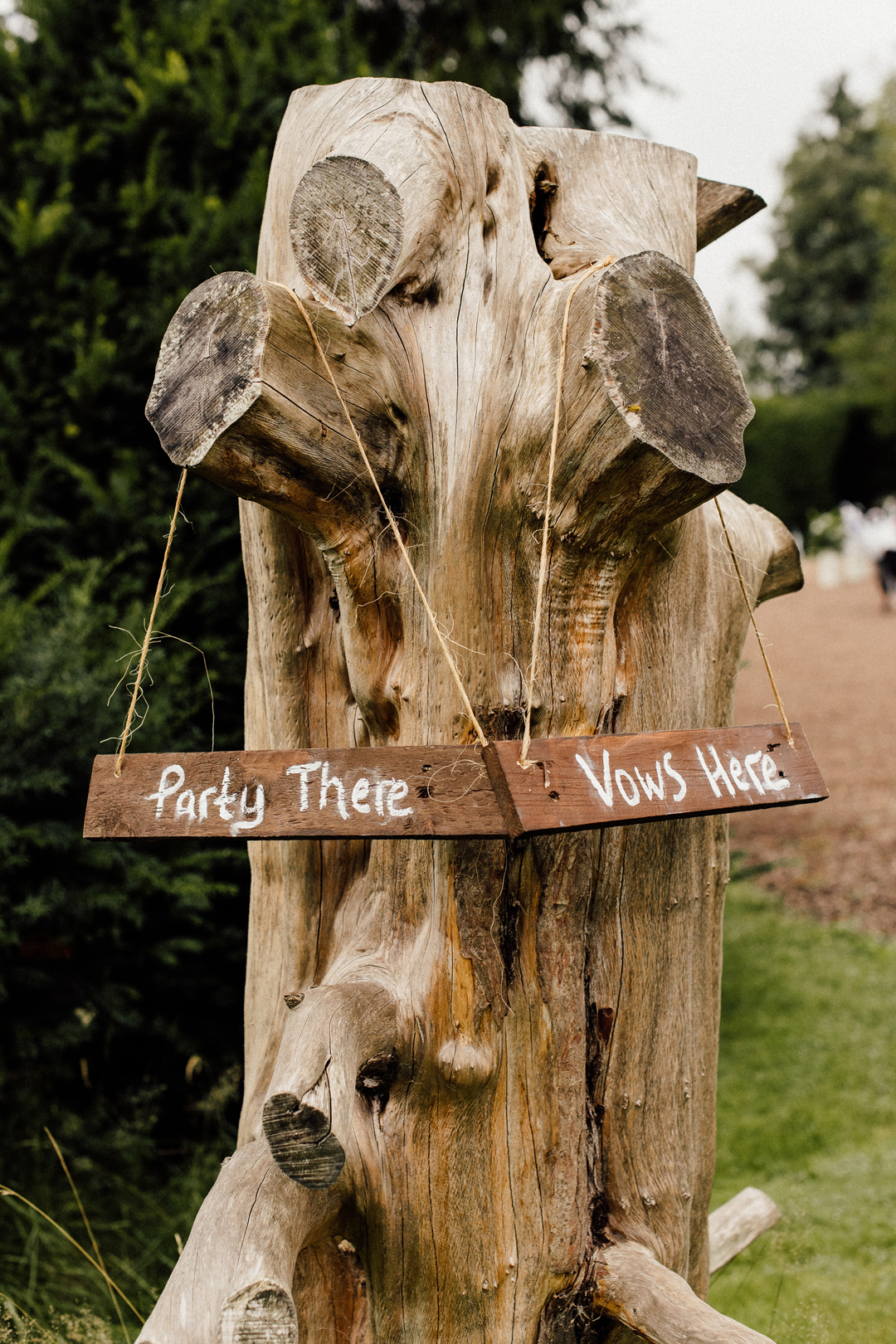 "We think, overall, we would say we were both lucky and unlucky to have our wedding when we did, on the 31st July 2021."
"Our date fell just as restrictions were being lifted, enough to allow us to have a special day without much impact from the pandemic, and with the majority of our favourite people in attendance. However, as you can imagine it was a bit of a rollercoaster trying to organise a wedding during Covid."
"It felt like we had to have plans A-Z in place for the variety of possibly scenarios that might play out in the lead up to the wedding, and guidance and restrictions were changing so last minute, it was impossible to predict and plan."
"It is not something I would wish on anyone planning a wedding, and I certainly would not like to go through the stress of that unknown again."
I would say that using local suppliers, and relying on friends, definitely helped with flexibility in planning during this time."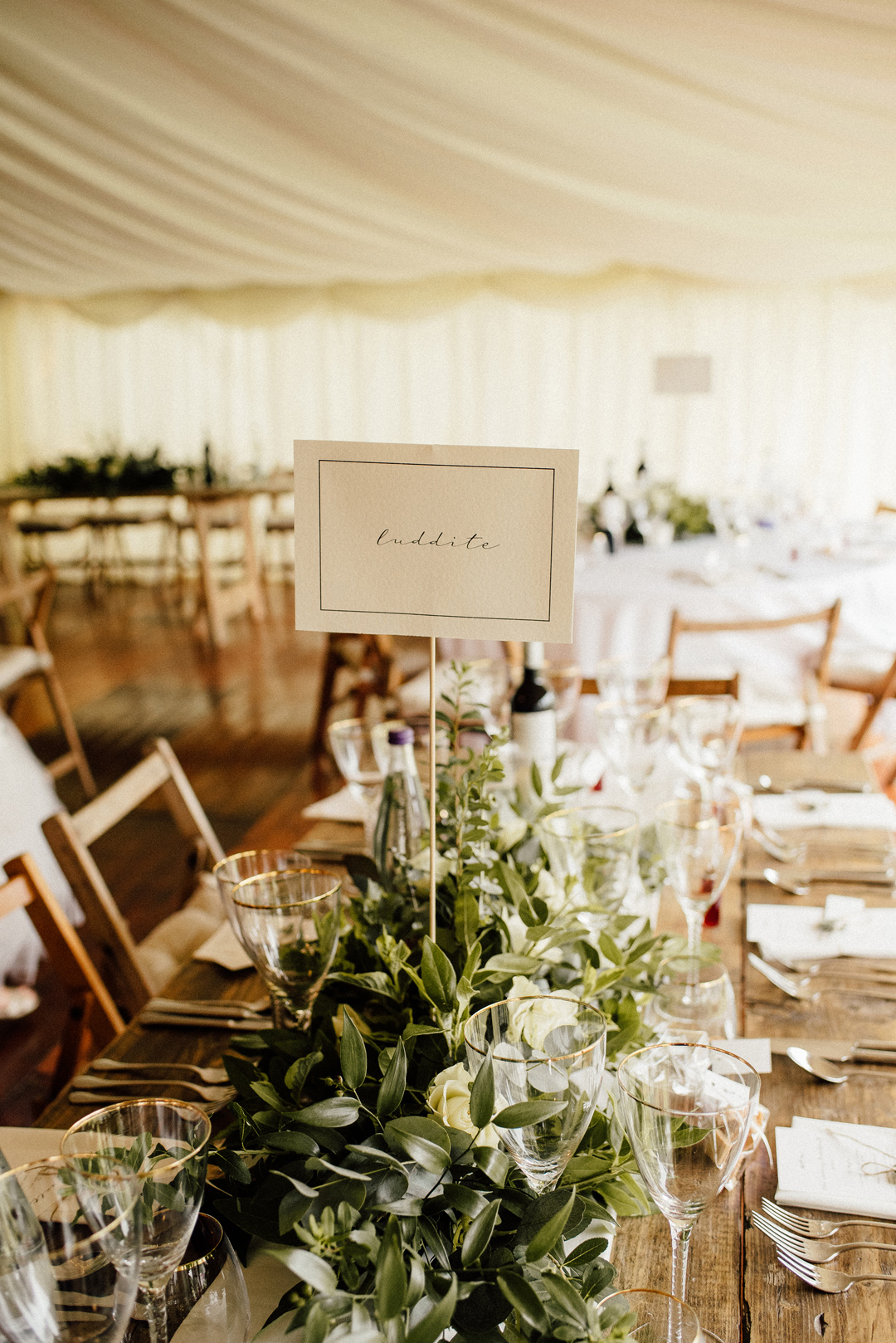 "I designed all of the stationery but we used James Rutherford from Borders Print to help to print all the stationary en mass."
"Thank goodness, because who knew formatting and cutting card to the same size could be so challenging."
'James was so accommodating and kind and helped us out so last minute."
He gave us loads of advice and together we managed to produce some simple but stylish stationary that helped to set the tone we hoped it would.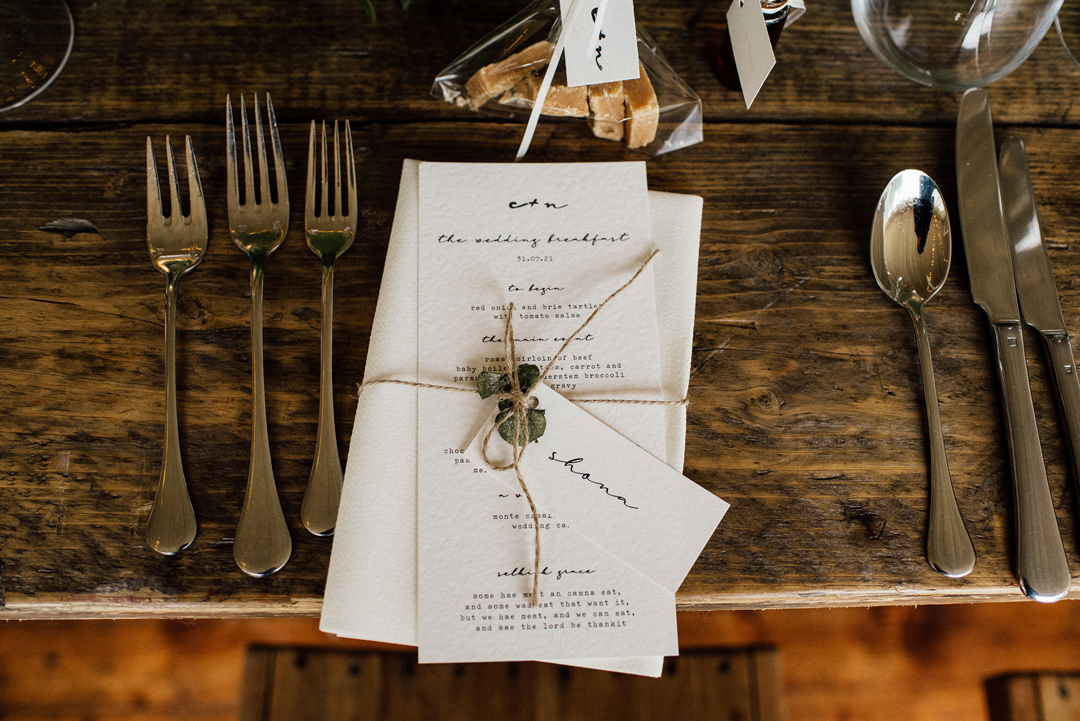 "We created our unique table plan with homemade wine bottle labels displayed beautifully on a hand painted wooden ladder – the end result was surprisingly great."
"The table names all came from our favourite wines or wine farms we had visited. And our wedding wine was chosen based on this too – The Big Easy by Ernie Else."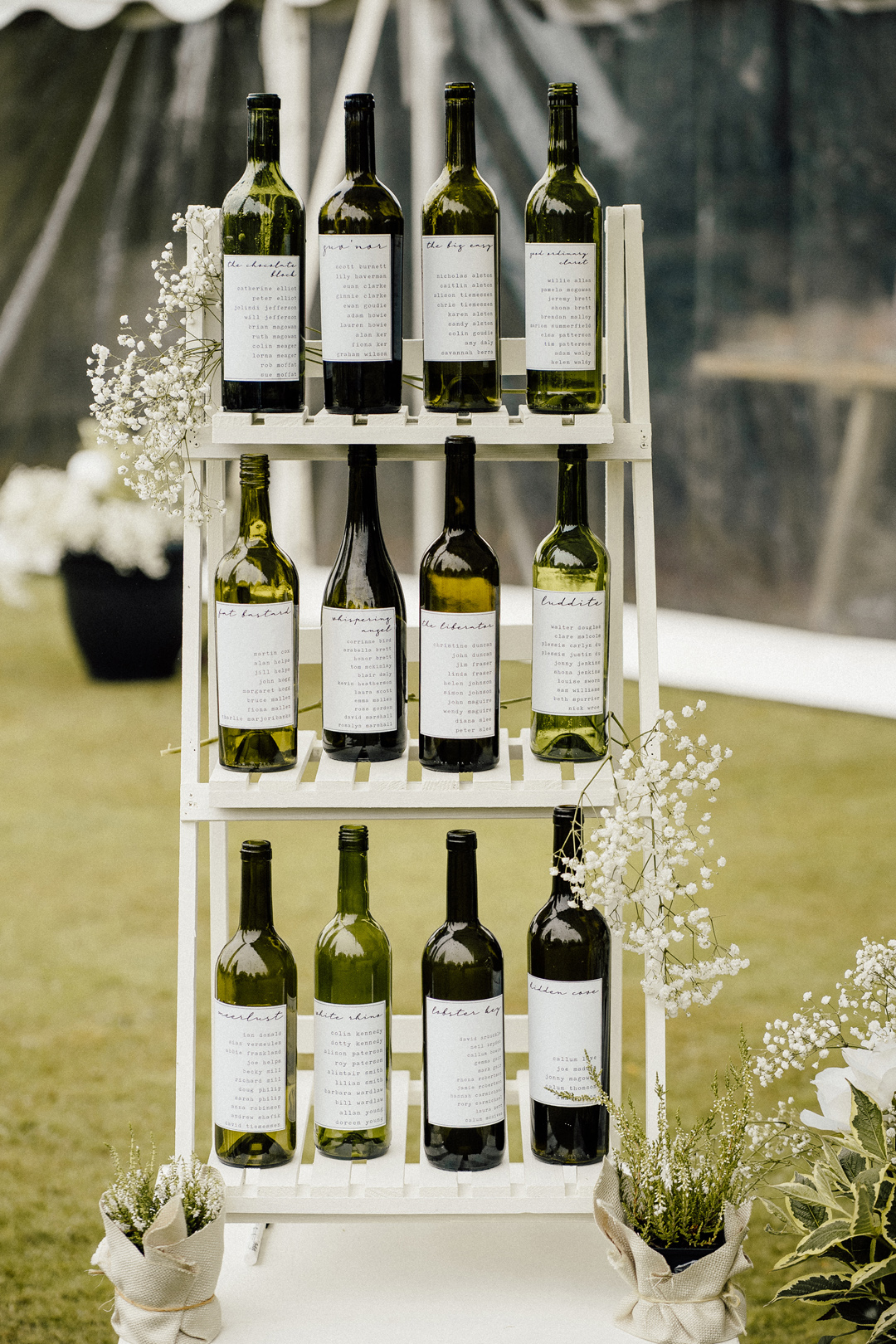 "We decided to get some nice glassware for the tables. Our tables were gorgeous old wooden rustic trestle tables, with wooden chairs."
"These we found at Virginias Vintage Hire. Nicky was amazing and the service was faultless."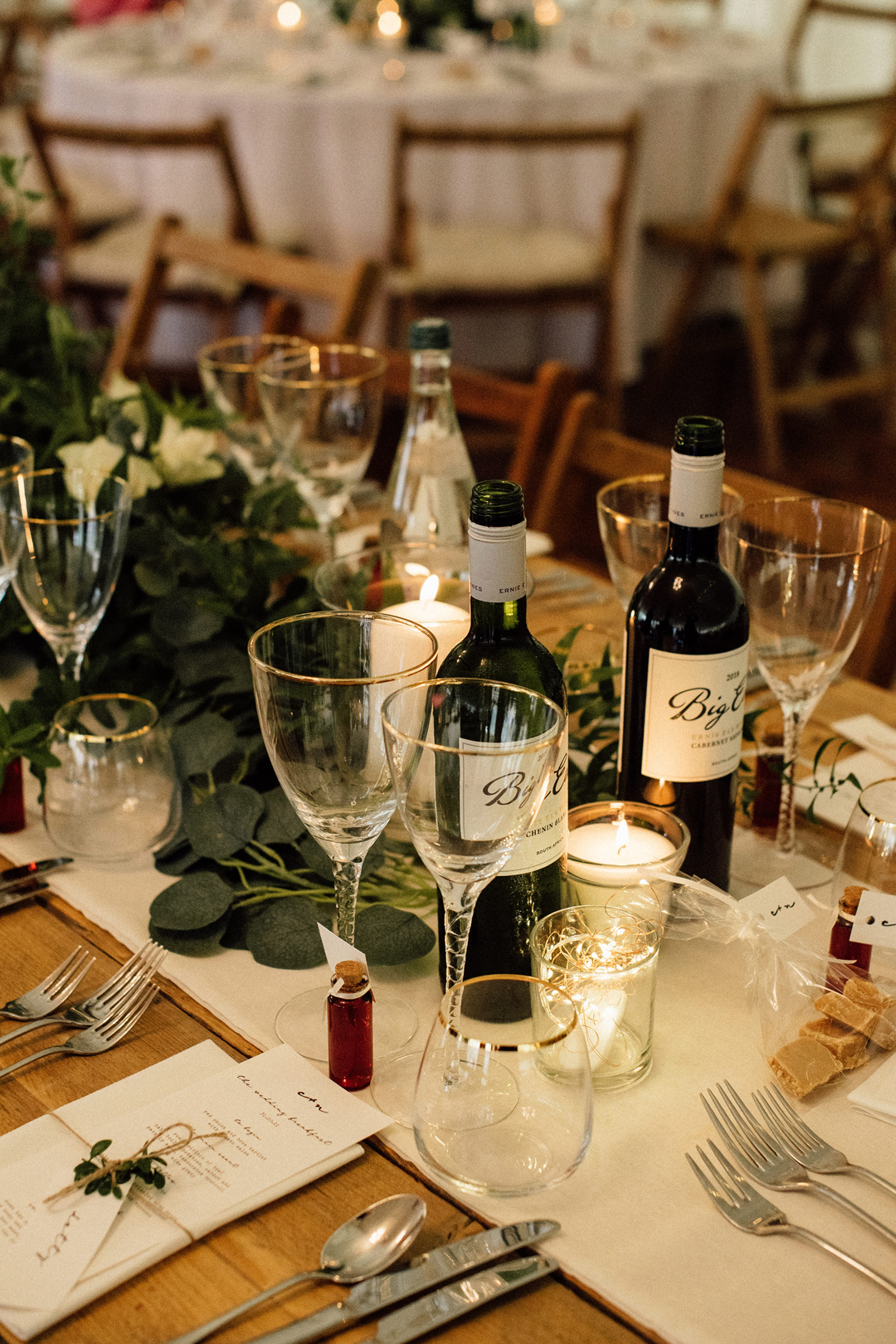 "We complemented the rustic nature of the tables and chairs with elegant gold rimmed glassware from Whitehouse Crockery."
The glasses really finished off the whole table look perfectly, along with lots of white candles."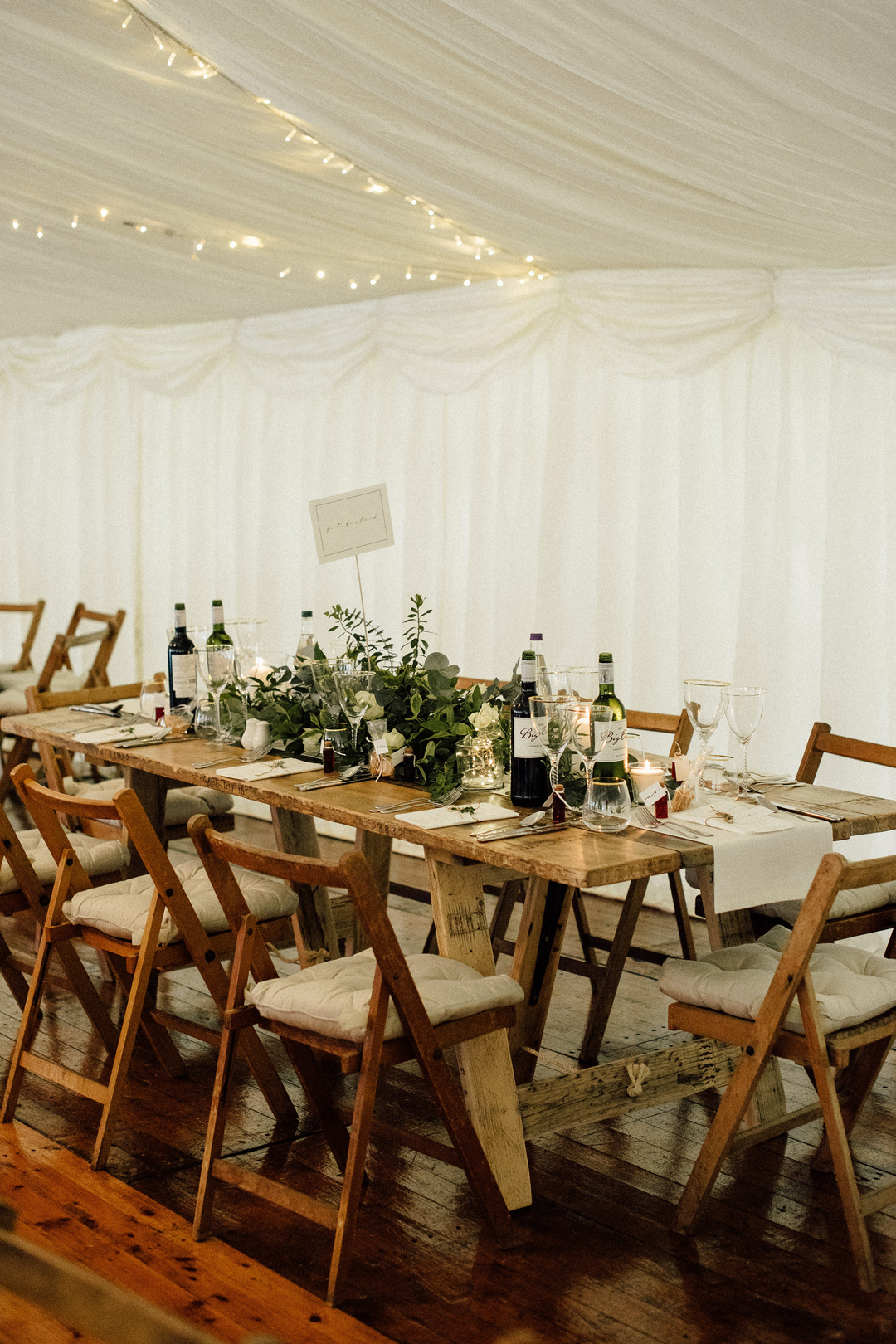 "Each guest received homemade tablet (Scottish fudge) and also our homemade sloe gin in a small cork bottle."
"We made all the tablet ourselves, following a friend's recipe, and it was quite a challenge."
"Doing these kinds of things in the lead up to the wedding really gets you in the spirit of things."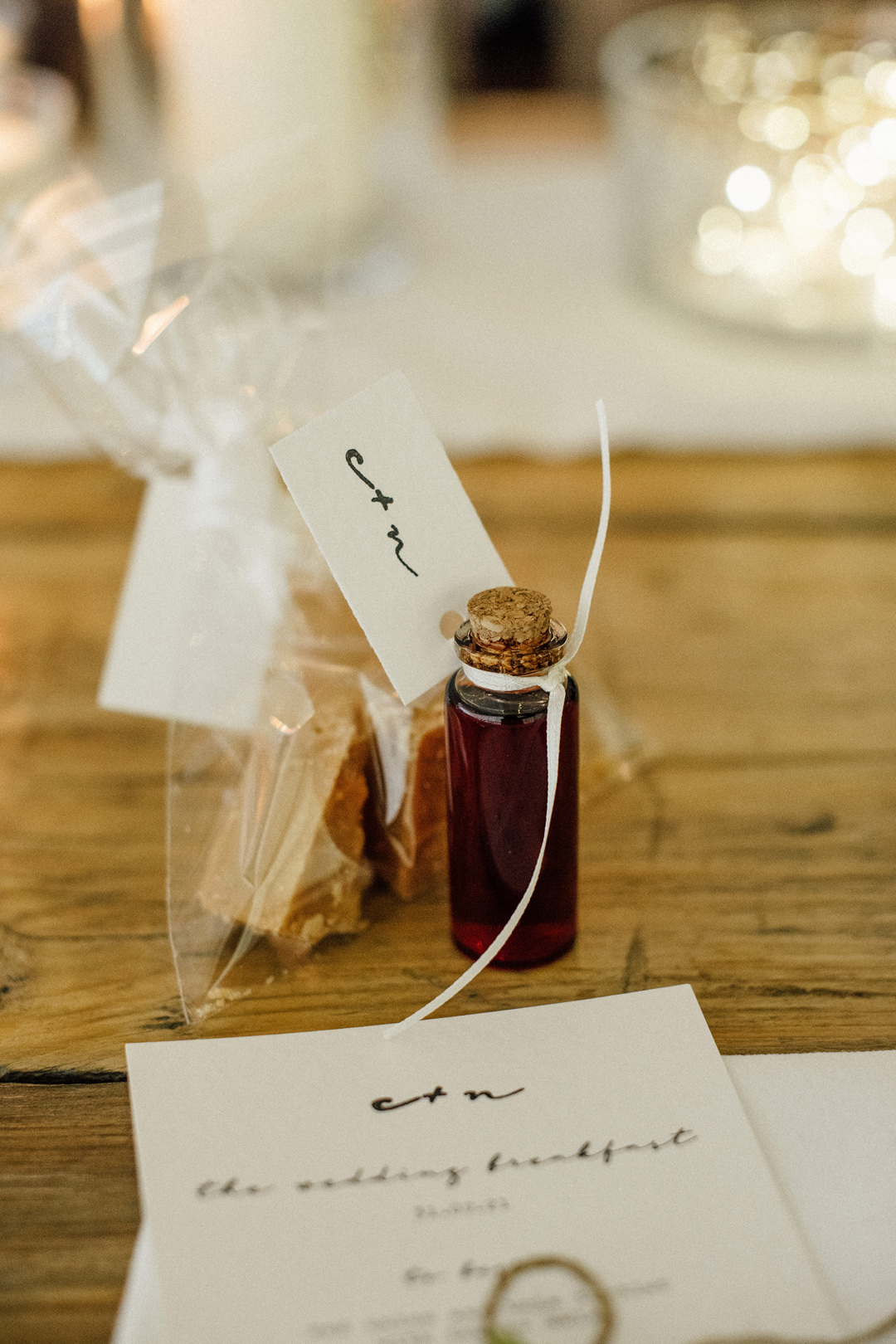 "We consciously tried to make our day as Covid safe as possible: from planning to have as much of the day outside as possible, to asking guests to carry out lateral flow tests prior to attending and creating an open air dance floor our guests enjoyed into the late summer evening."
"In the end, we saw it as an opportunity to be creative and make our wedding day a little different."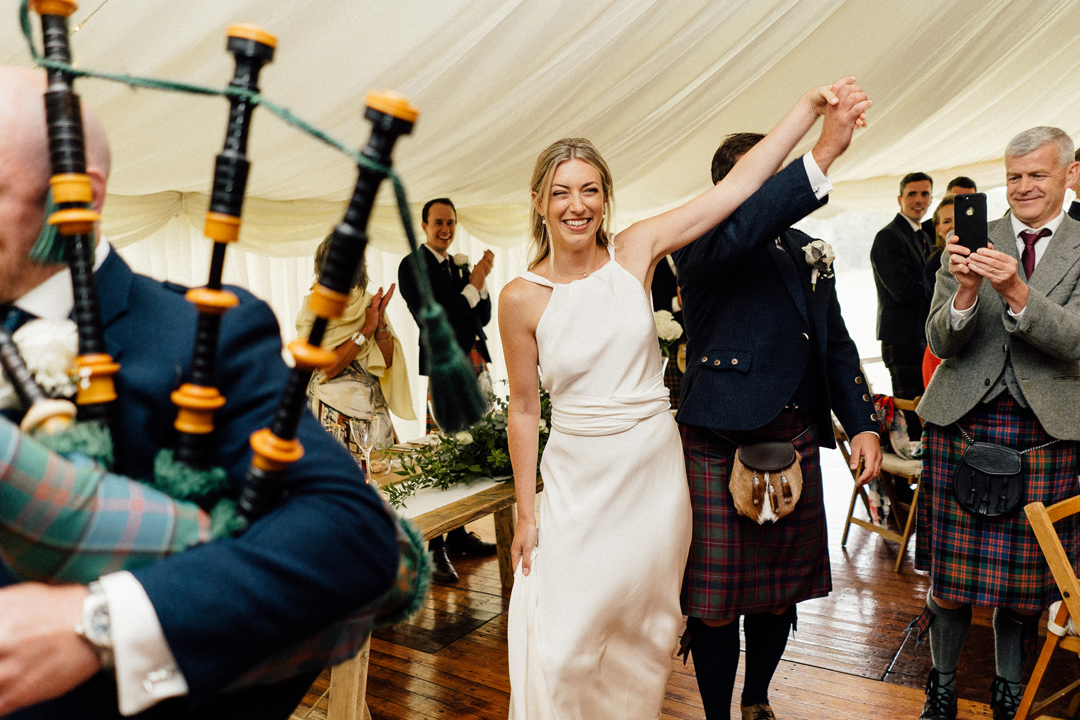 "Without our ceilidh band and dancing into the wee hours for guest entertainment, we substituted with garden games, speeches outside throughout the day, and background acoustic music played by two local inspiring musicians."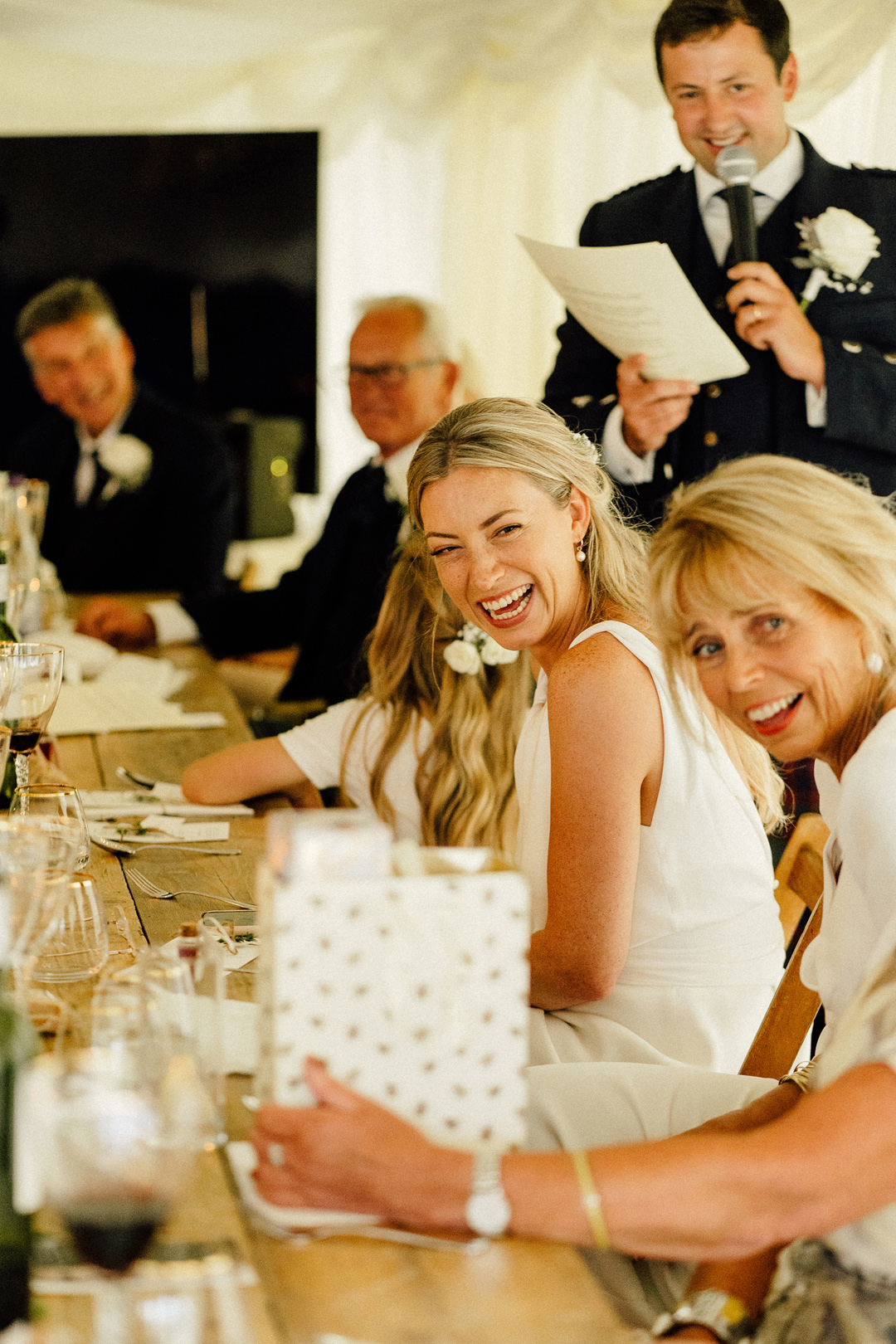 "Our cake maker Isla is a friend of ours who had recently started her own baking business."
"It was so lovely to have Isla make our wedding cake. Isla was so keen to get it just right for us, and she did the most incredible job."
"It looked beautiful and tasted so good, even days and days later. We wanted a plain white butter cream icing cake with a white fabric bow tied around it."
"I had seen a photo on Pinterest and Isla recreated this and more."
"We saw it as an opportunity to do something different, especially with the Covid pandemic rearing its ugly head, and so we had the majority of our wedding outside, and mixed the traditional formalities with some bespoke fun and games."
The couple took a first dance to High, by The Lighthouse Family.
"We have always been a fan of The Lighthouse Family, and they were our first concert together. We have often listened to this song together in years gone by, singing it at the top of our voices. It seemed only right that this would be our first dance song, this was one of the easiest decisions of our Wedding. Listen to the lyrics – 'cause we are going to be forever, you and me'."
"We honestly loved every second of our day, and would relive it all over and over again in a flash! If we had to choose one moment that was extra special, we would say those few minutes of our first dance."
"We danced together on a dance floor made from candles and flowers, in the open air beneath the evening stars, surrounded by all our favourite people. It was nothing less than magical. Nick picked me up in the middle of the dance and spun me around – I felt on top of the world, and time just stopped."
"We had a bit of Scottish summer rain on the morning of our wedding, and by a bit, we mean a lot of rain. This made setting up for our outdoor ceremony very difficult and very last minute."
"The boys did an amazing job of this considering. In hindsight, we had quite a lot of people standing for the service and it would have been nice to have more seating available for them."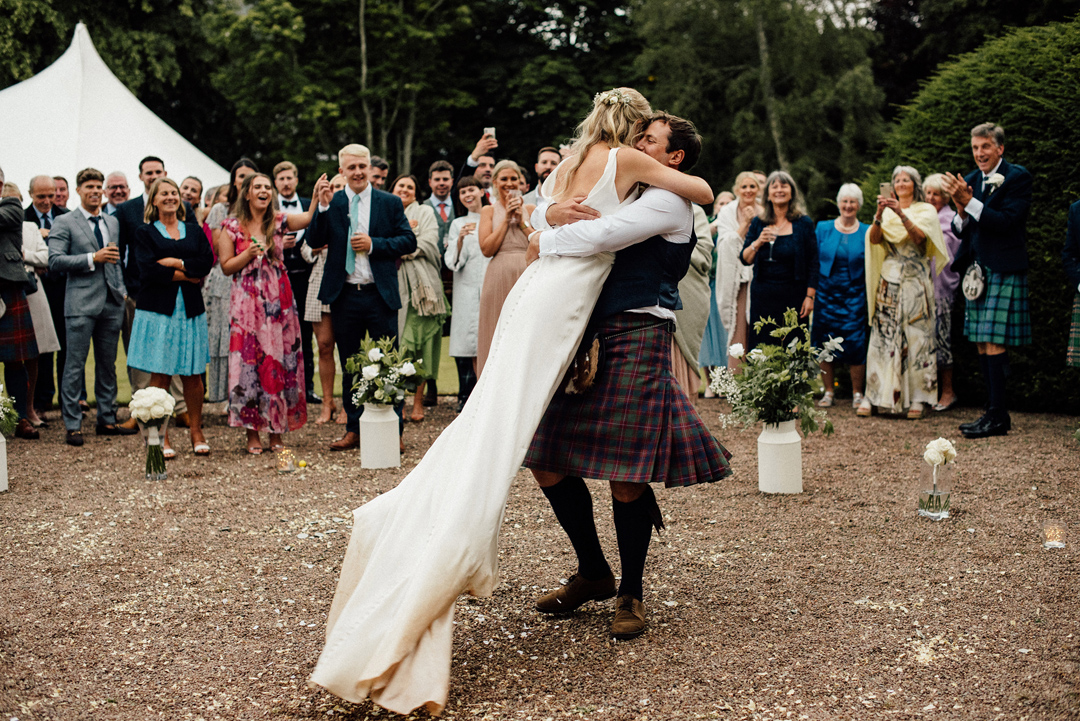 Words of Wedded Wisdom
"Our three pieces of advice for couples planning their wedding day; The small details go a long way to make your wedding day unique to you."
"Don't be afraid to do things differently and make it personal, it's whatever feels right for you."
"Involve your friends and family in the wedding preparations and on the day."
"People were so grateful to us for making them feel so a part of our day – this hits different to just being a wedding guest."
"Make a plan to take five minutes time out for just the two of you, and use this to soak up the love and reflect on what's just happened."
"We did this just after our ceremony, behind the door before we exited for our confetti throw celebrations. It was super special, and we will remember that feeling forever because we made a point to."
"In summary, it was super super stressful to plan, but, now looking back, we wouldn't change a thing about our wedding day, Covid or no Covid."
"Our main piece of advice to couples planning a wedding during these strange times would be – use this as an opportunity to do something different with your wedding day, be creative and break free from the reigns of a classic wedding. The most important thing is the two of you being surrounded by all your favourite people in whatever way that is possible."
Huge congrats Caitlin and Nicholas!
Reader – if you'd like to see more from photographer Anna Urban, you can do so here.
And you can explore many more brides wearing Charlie Brear dresses and bridal separates here.