This incredibly beautiful, luxurious, quintessentially English wedding was held at home, in the Hambleden Valley area and planned to perfection by the team at Henry Bonas.
Luxury Brand Consultant Leonora, married Mark who works in Asset Management, in August this year. They commissioned the wonderfully talented photographer, Chloe Winstanley, to capture and document their day in images and our highly recommended suppliers, TH&TH Bridesmaids, provided those gorgeous bridesmaids dresses.
Mark and Leonora met through their mutual passion for horses, on the professional showjumping circuit around the world. Their love for each other started in St Tropez at the Global Champions Tour, Athina Onassis Horse Show.
"After 3 years, Mark proposed in the same place at the beautiful Byblos Hotel, and after 3 years, 3 postponements and a world pandemic, we finally got married and it was pure perfection."
Chloe Winstanley Photography + Follow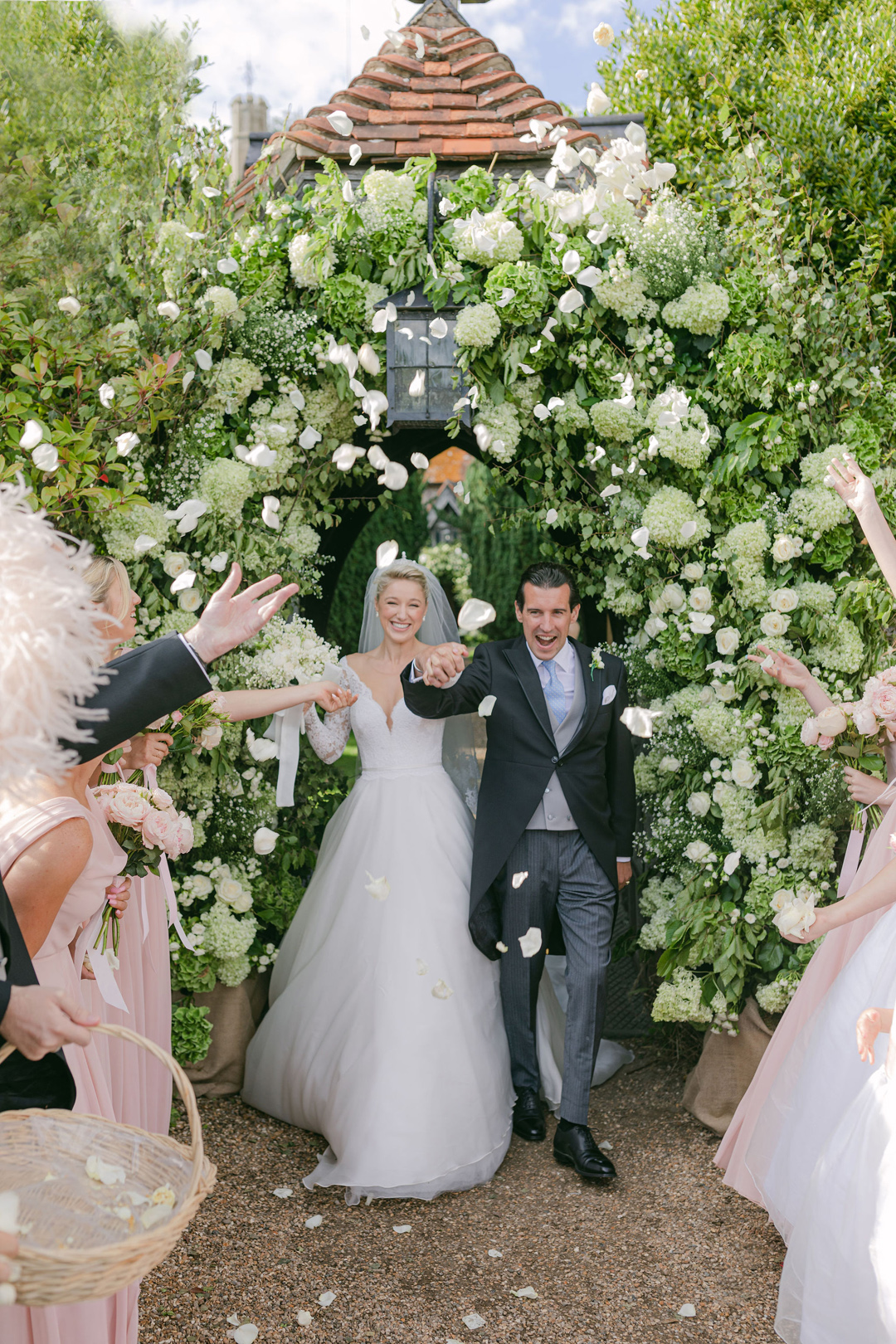 "In some ways, it's actually very difficult to describe your own wedding. It all races by in such a rush that you feel you need a moment just to really take it all in."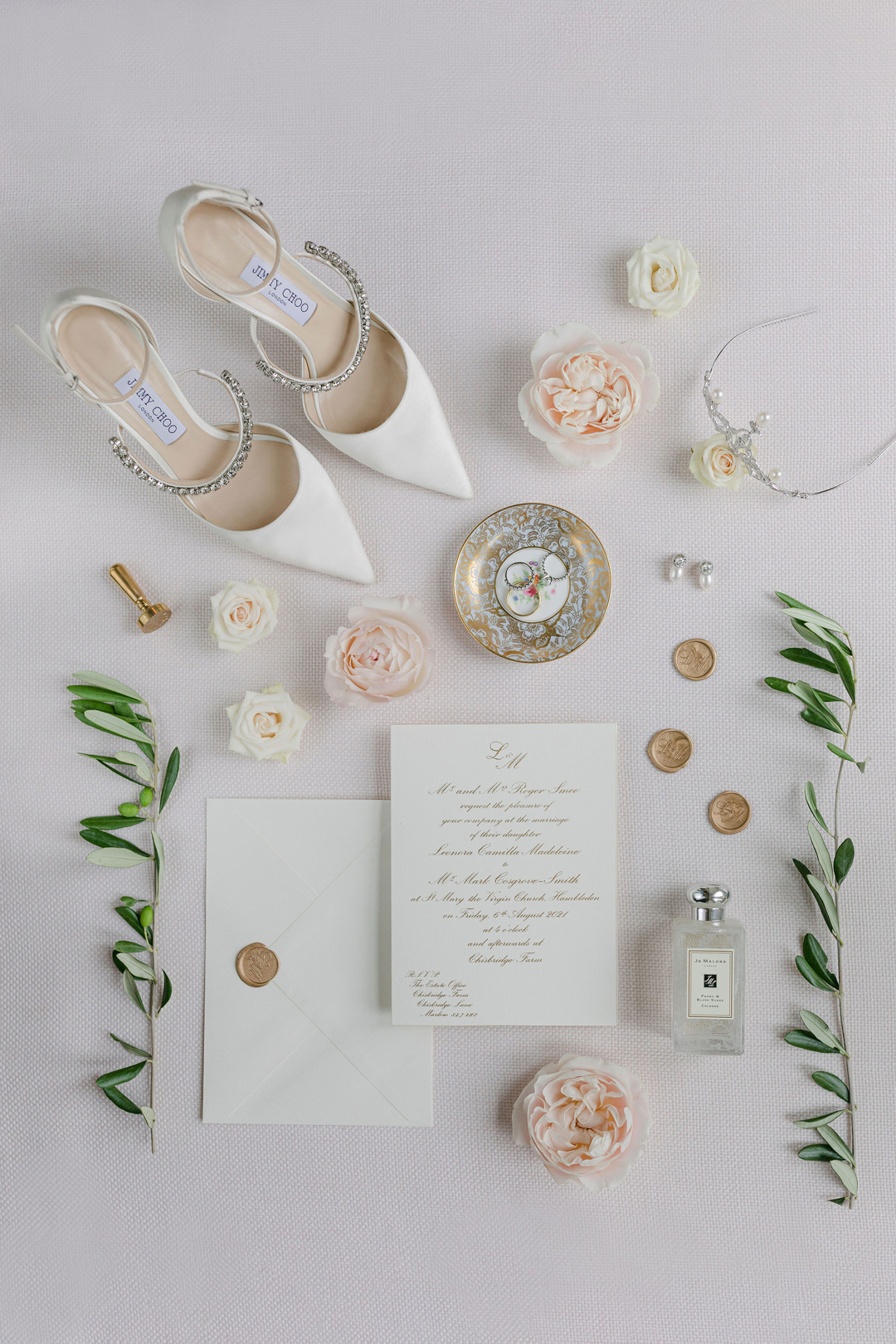 "Fortunately, in writing this article, in has given me the opportunity to truly reflect on the beautiful day that I married Mark Cosgrove-Smith."
"Mark and I were married on Friday 6th August 2021 at St. Mary The Virgin Church in Hambleden, a medieval church which sits in a glorious countryside setting within one of the prettiest and famous villages in the Chilterns."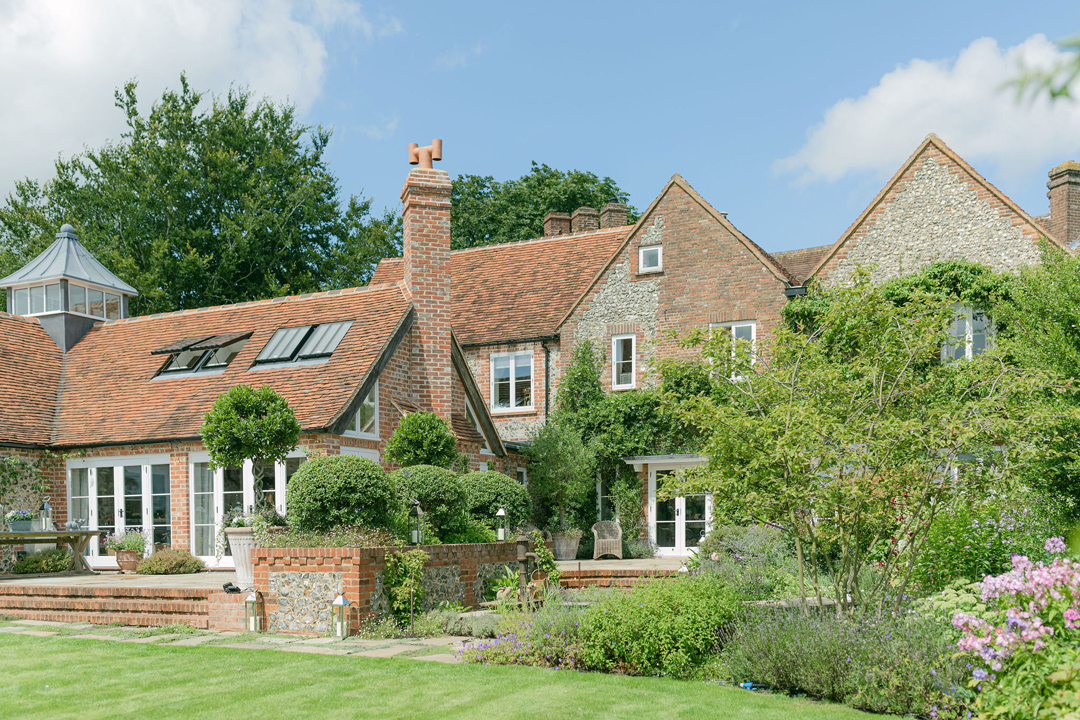 "I have always dreamt of a quintessential luxury English wedding at home. It just makes it that touch more special and personal."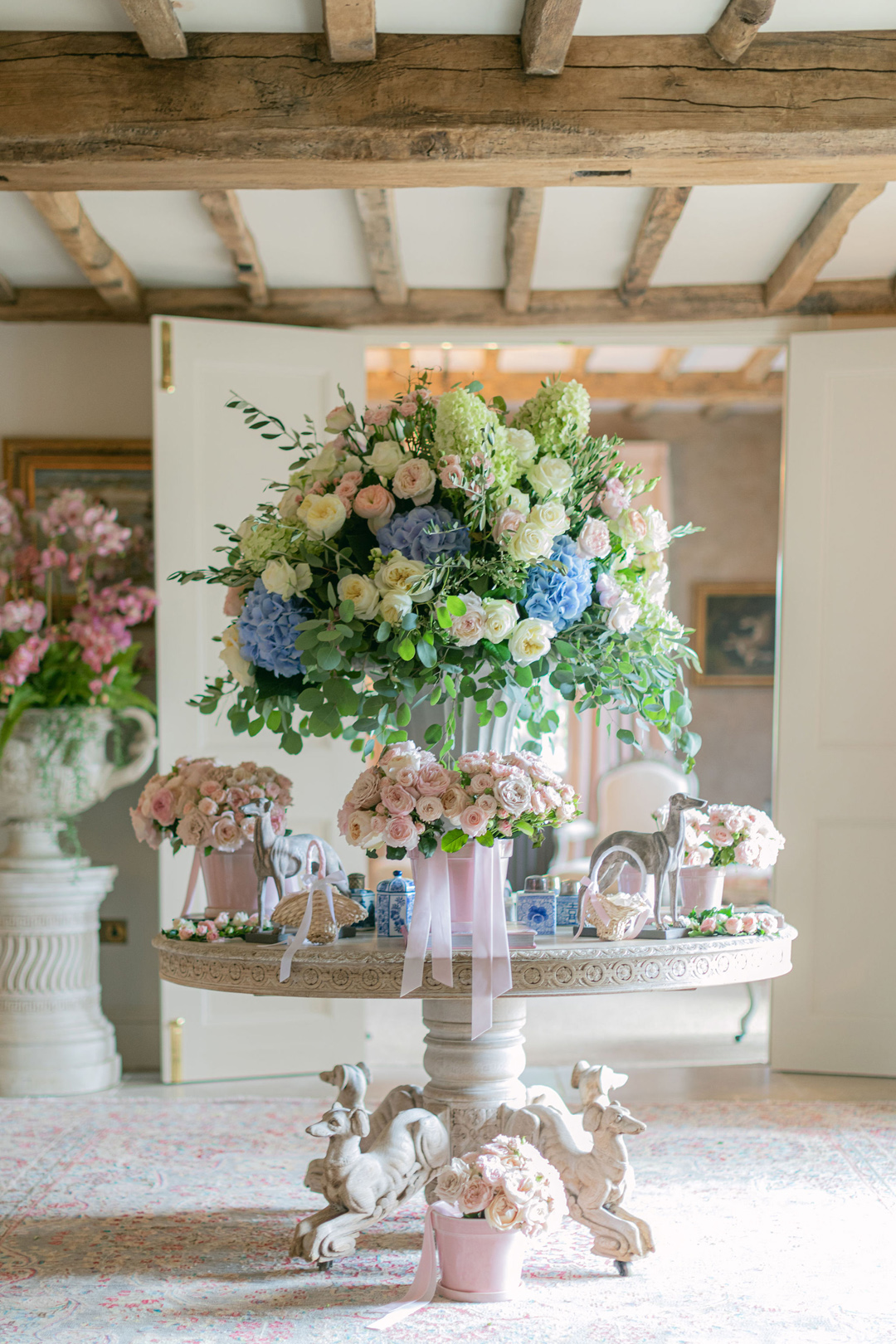 "Covid was a living nightmare but looking back, I wouldn't change anything. Although it was heartbreaking having to cancel and postpone our wedding, everything happened for a reason."
"In the end, we had the day we have always dreamt about and much much more."
"Henry Bonas and his extremely talented team created something I couldn't have ever imagined."
"The most important thing is to love one another and remember that it will happen, you will get married and it will be the best day of your life. Waiting makes it that little bit more special'."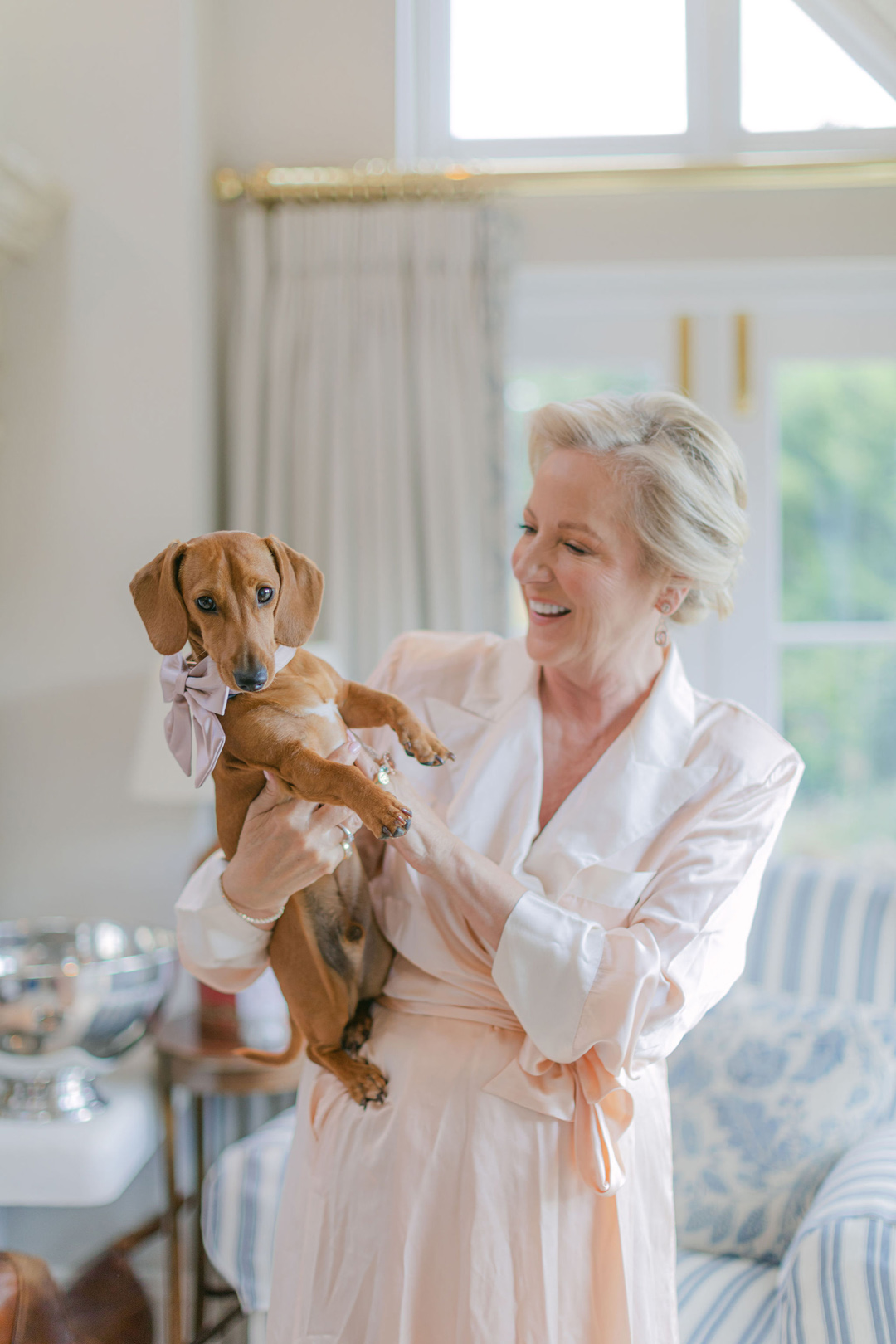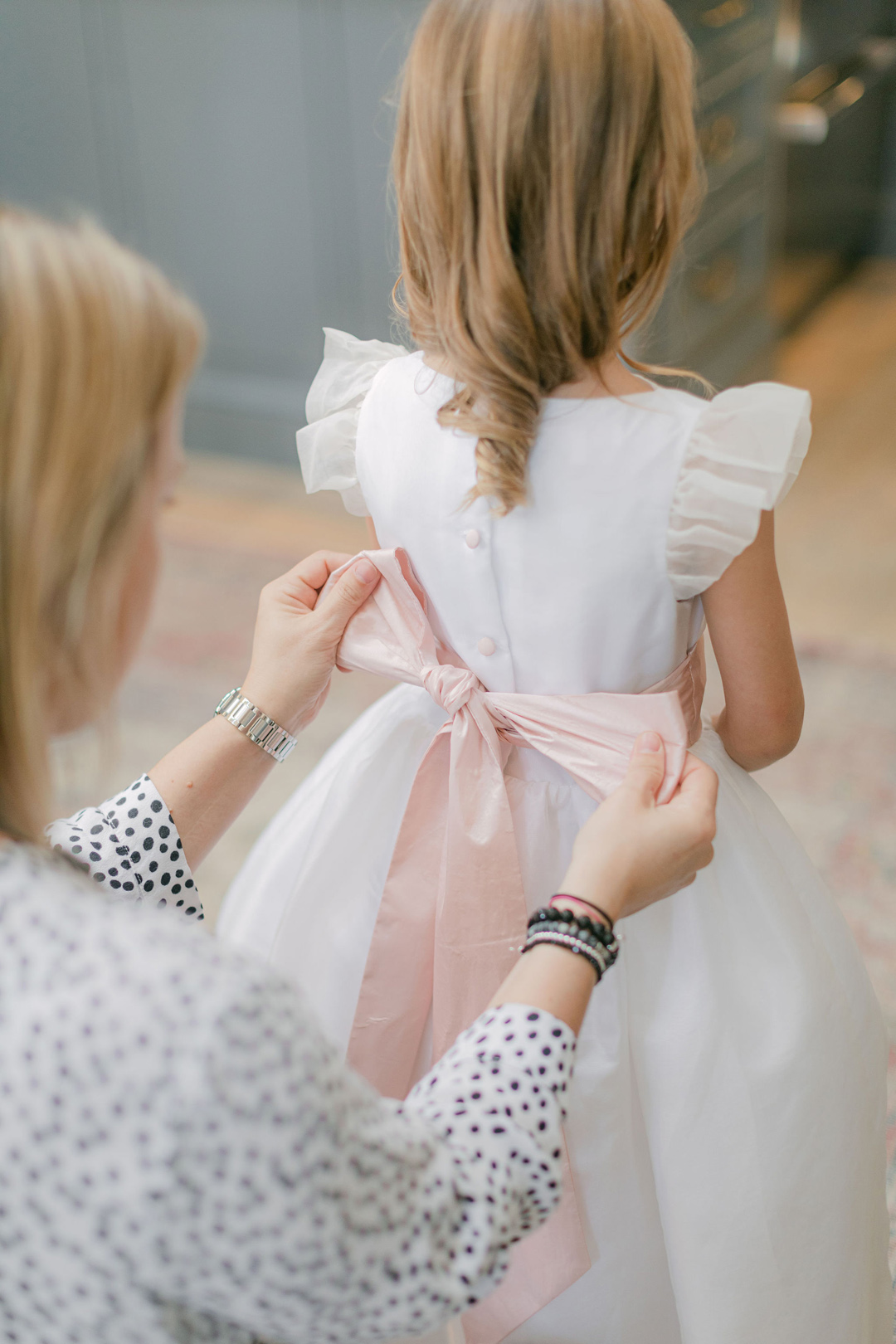 "Suzanne Neville was the absolute dream; they created my bespoke gown and veil. I first went to Suzanne Neville at the end of 2018 so, it has been a journey!"
"It will be an experience I will never forget and I feel so honoured and extremely lucky to have been a Suzanne Neville bride."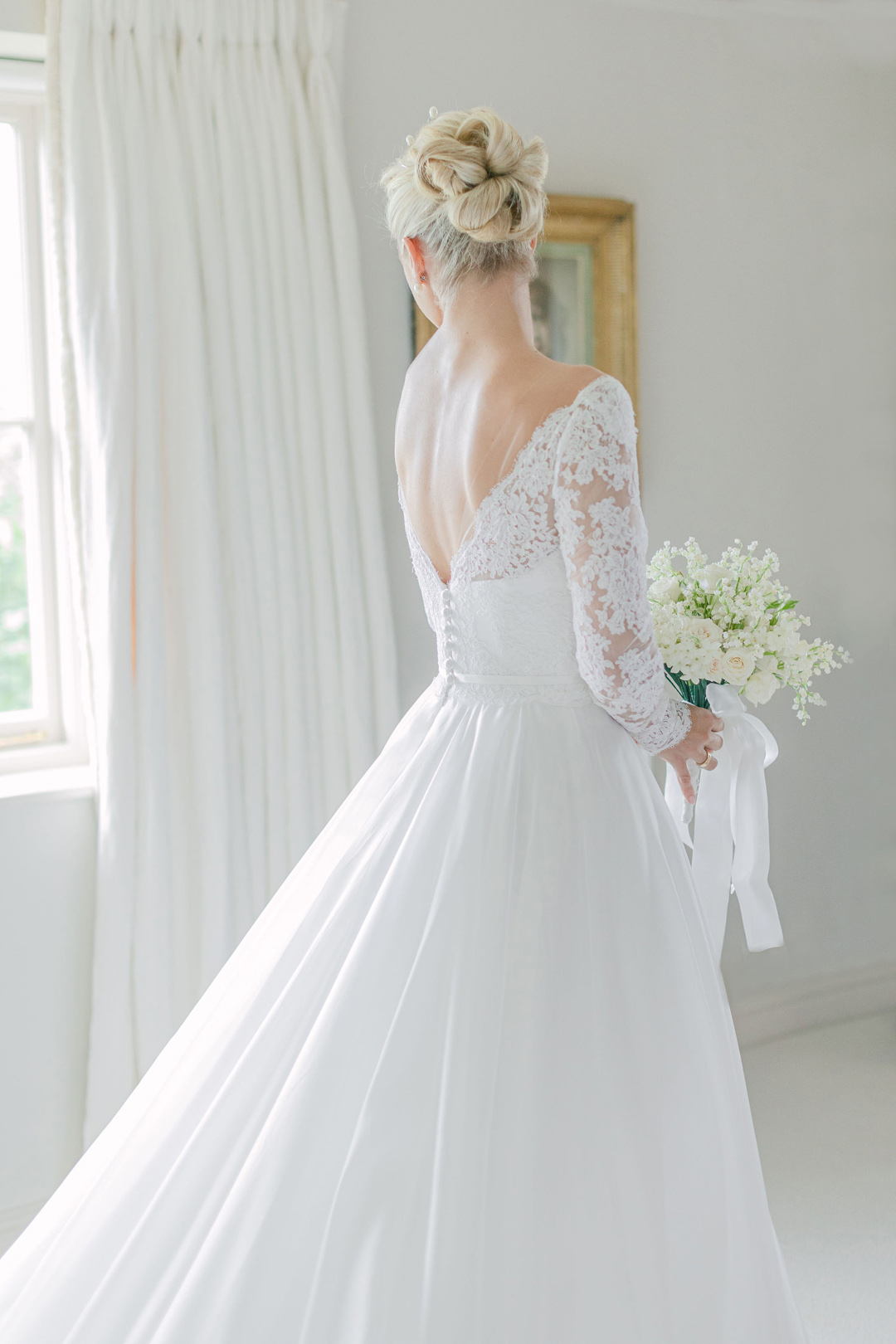 "I adore the corseting that Suzanne Neville has in her gowns. I also had an enormous train made out of heavenly organza silk."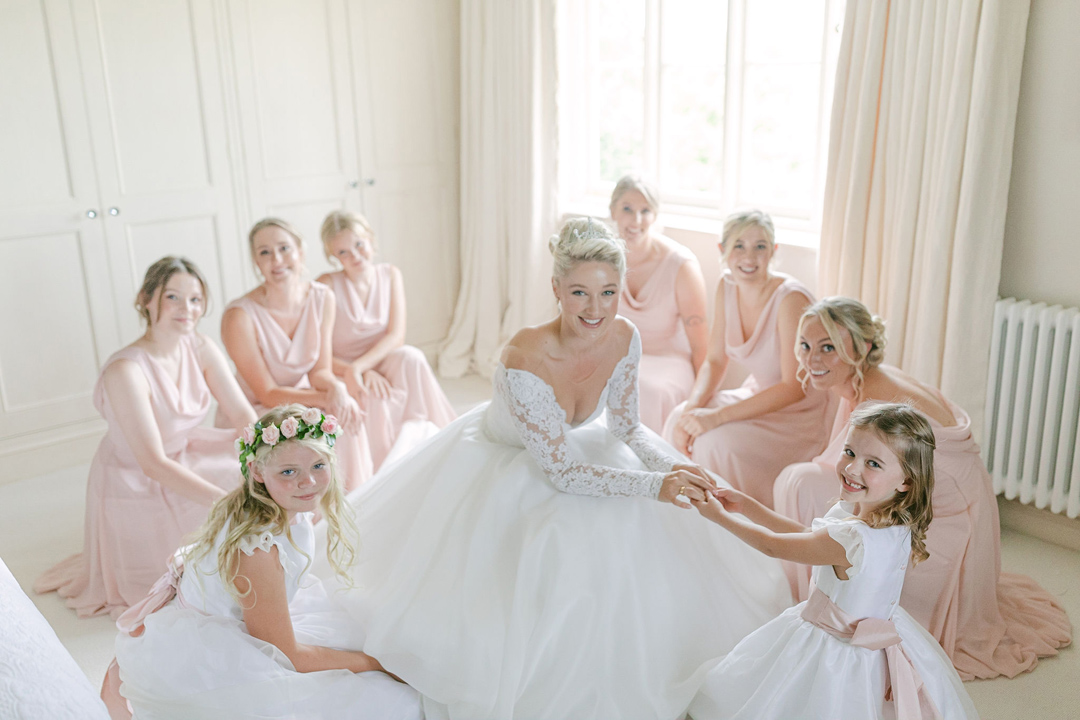 "I also wore a bespoke Suzanne Neville, 6 foot long veil, with lace that matched to the bodice of my main wedding gown."
"I wore my mother's diamond and pearl earrings that where passed down from my late Grandmother. I paired this with a breathtaking Tivon fine Jewellery Tiara."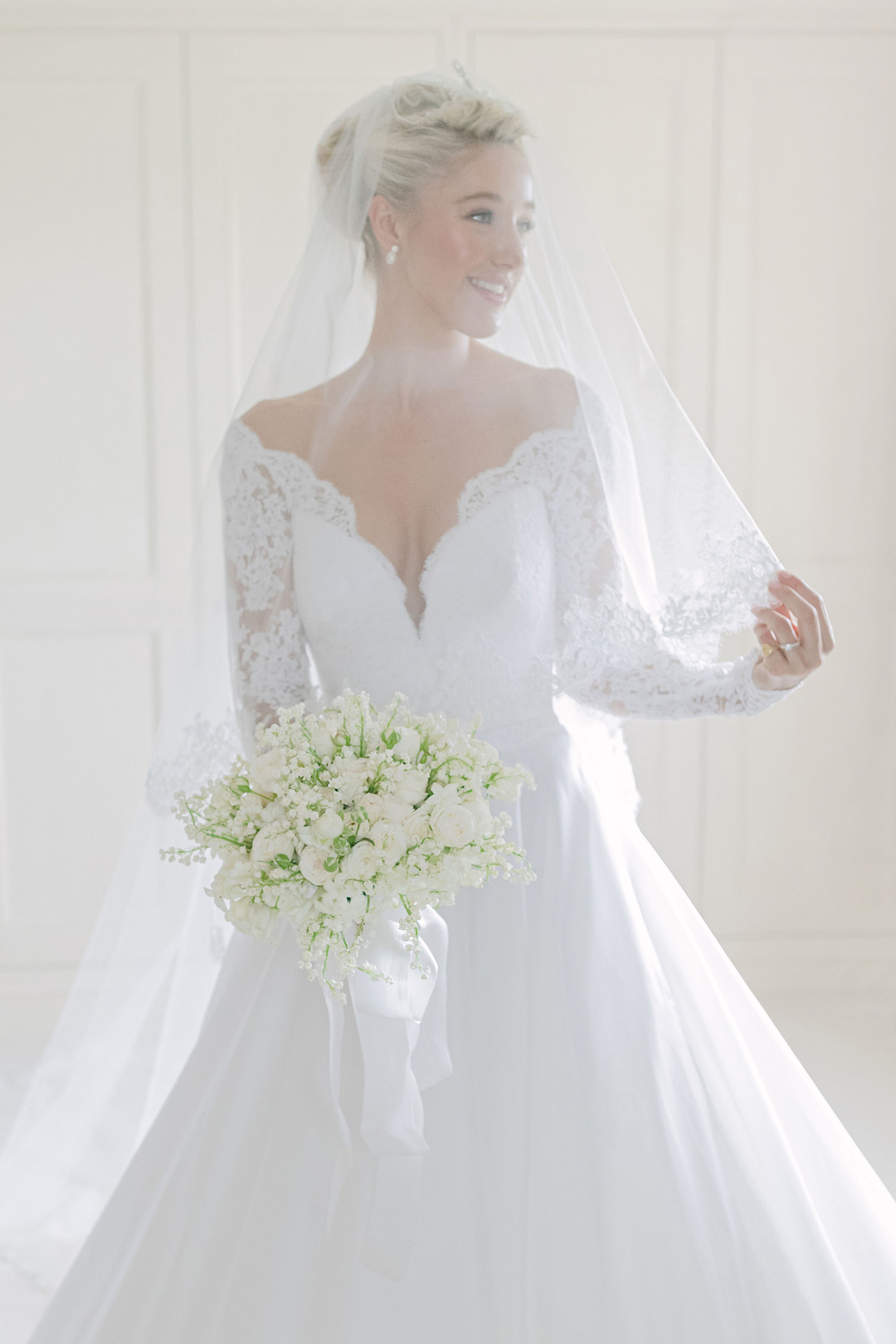 "Our miniature Dachshund, Odie was our ring bearer wearing his own wedding attire from Evie Rose Bridal."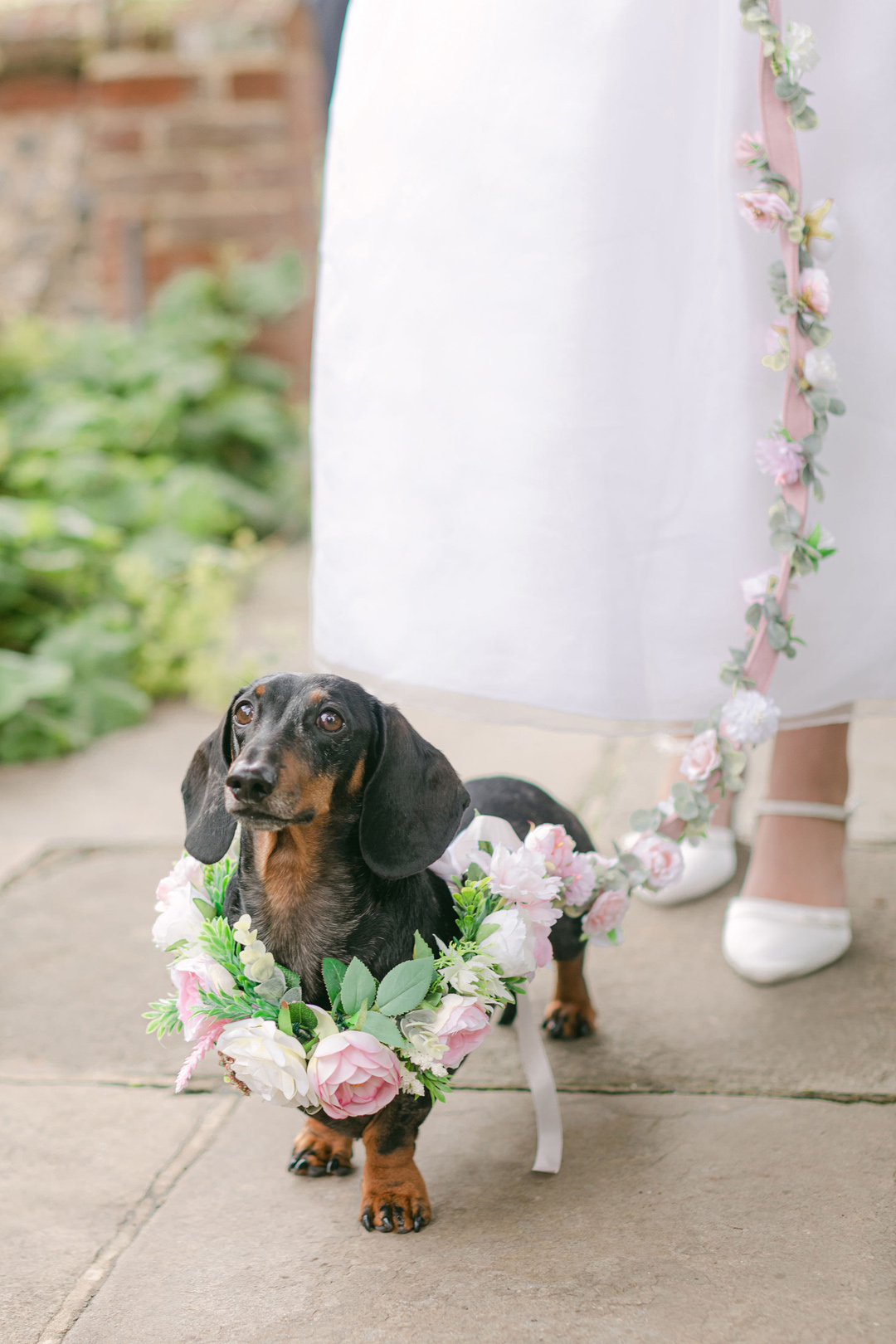 "We invited eighty of our closest family and friends, who had travelled from all over the world just for our wedding."
"The months leading up to the wedding were full of anxiety and anticipation, but nothing compared to the moment I arrived at the church."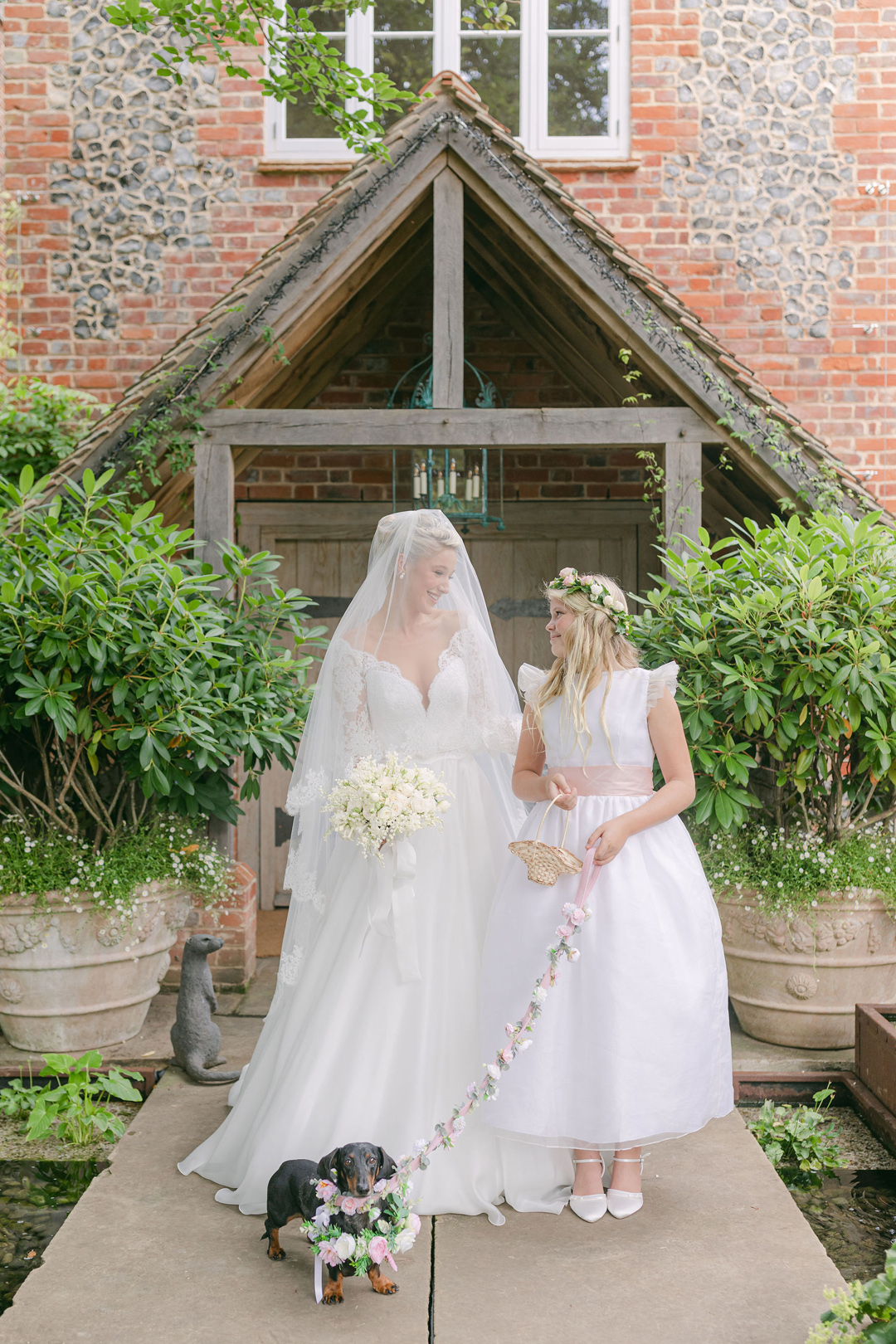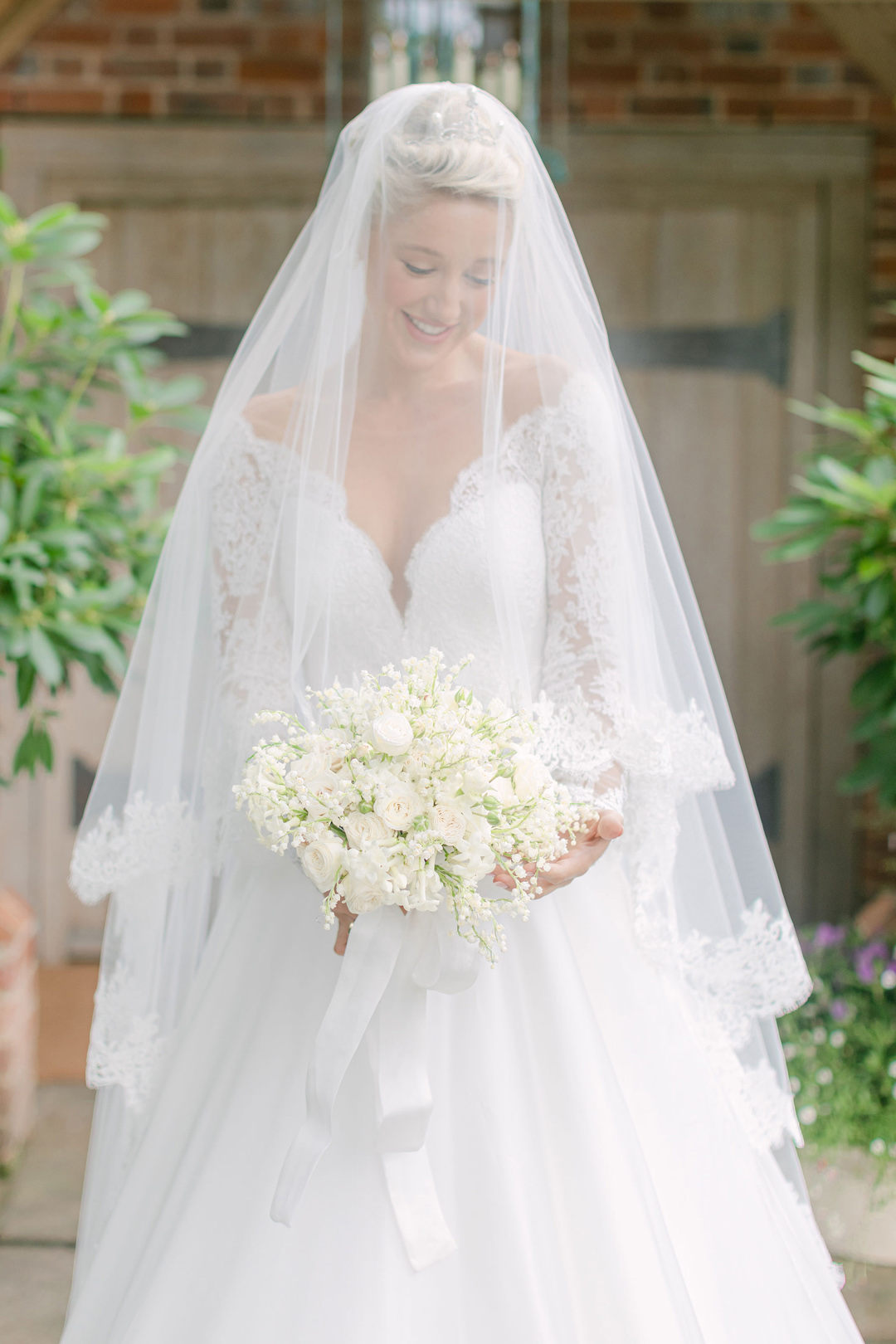 Leonora's bridesmaids wore cowl back dresses from the wonderful British brand, TH&TH Bridesmaids, who we are incredibly proud to recommend through the Love My Dress directory.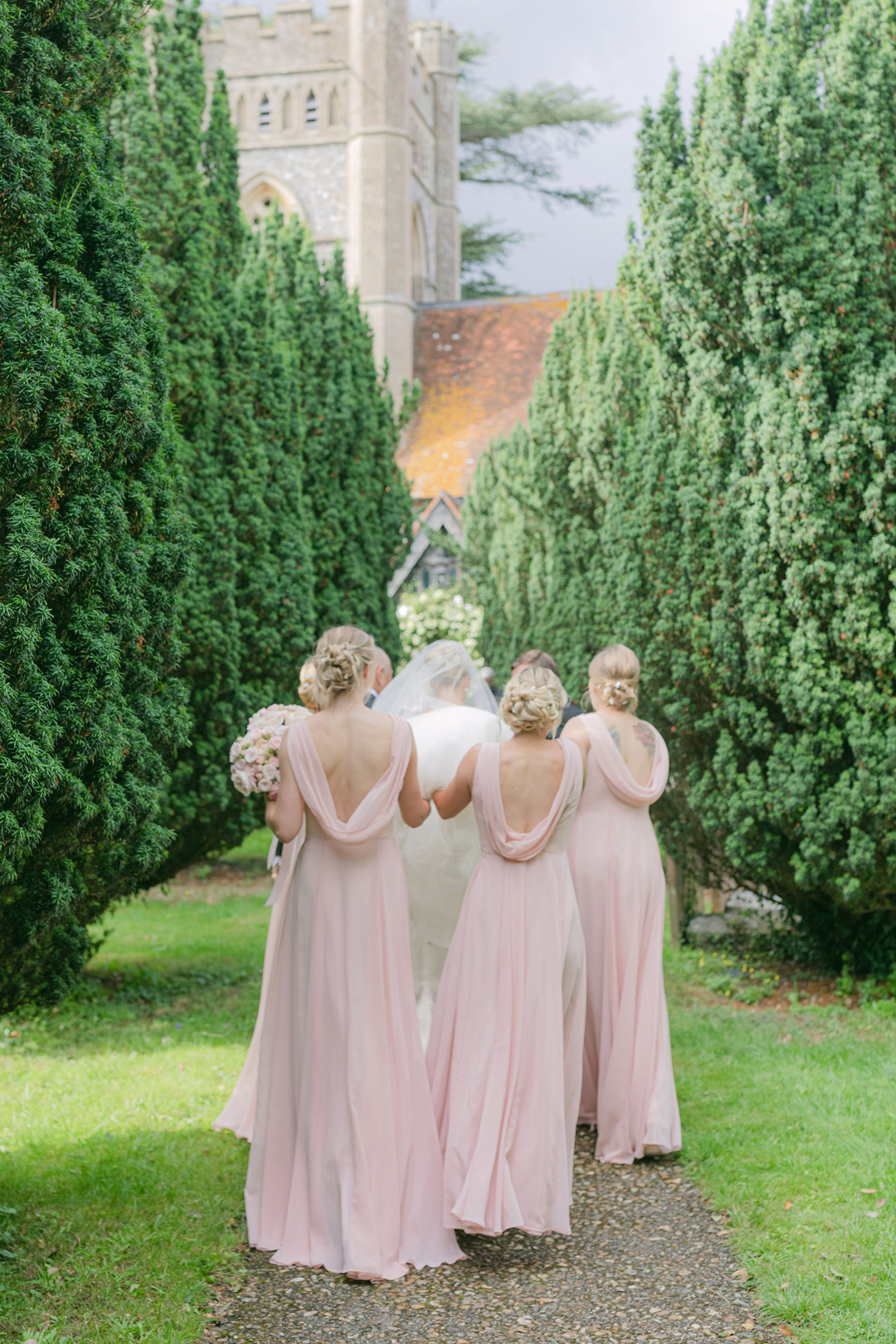 Roger Smee MBE, Leonora's father, walked her down the aisle to the breathtaking sounds of Andrea Bocelli performed by two opera singers, Joanna Grey and Michael Stirling
"My father, Roger Smee, walked me down the aisle trying carefully not to step on my beautiful custom Suzanne Neville gown, with an enormous train and metres-long veil."
"I felt like a princess in this dress with its exquisite lace detailing, matched by my sparkling Tivon Fine Jewellery Tiara."
"The moment was exceptionally special, as my parents themselves had married in the very same church almost thirty years ago."
"John Carter had created a spectacular white wonderland in the church using David Austin 'Leonora' roses, while the flower arches were something that one could only dream about."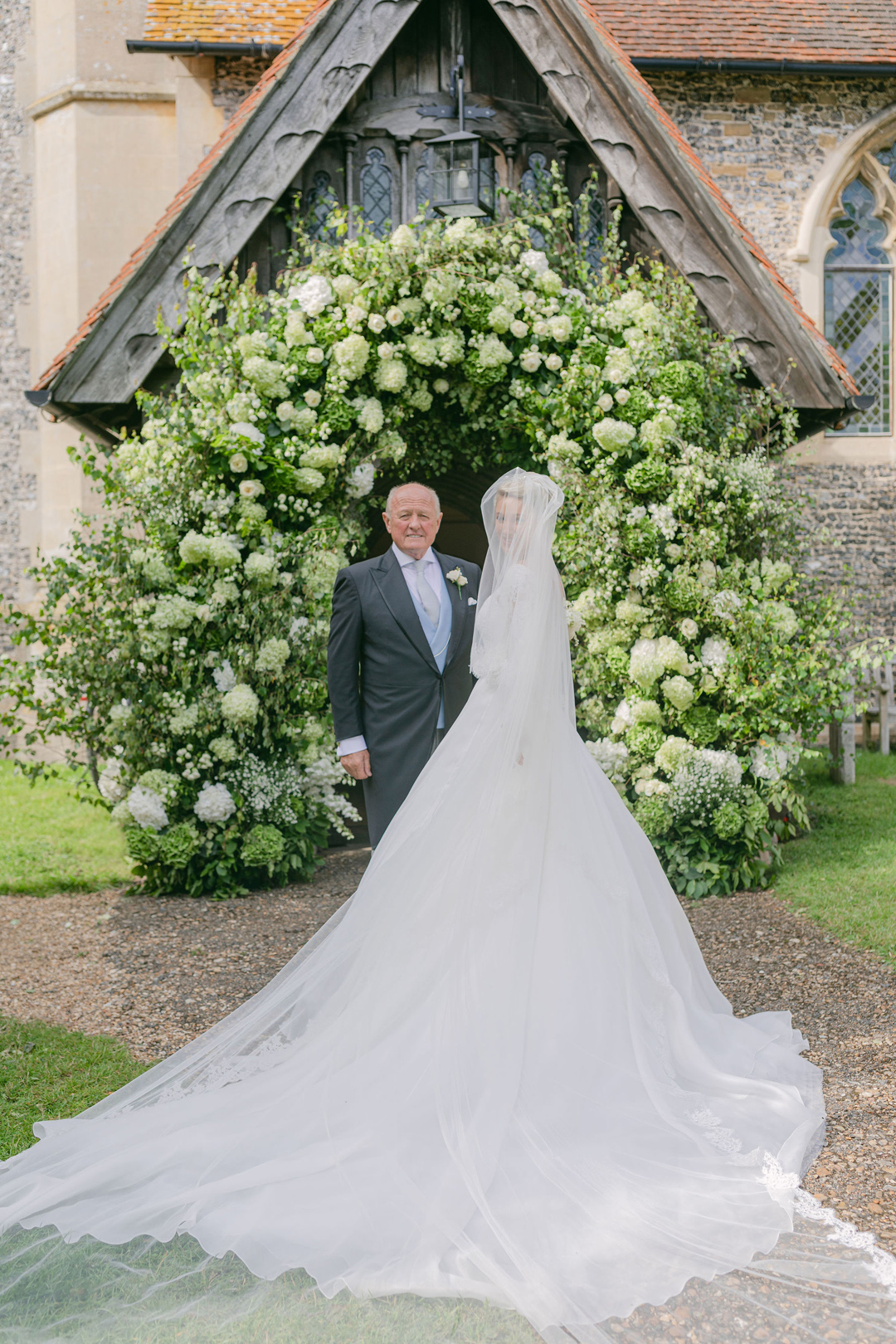 "Mark and I exchanged our vows and promised our eternal love to one another- all witnessed by our closest people, including our miniture dachshund Odie who was the ring bearer!"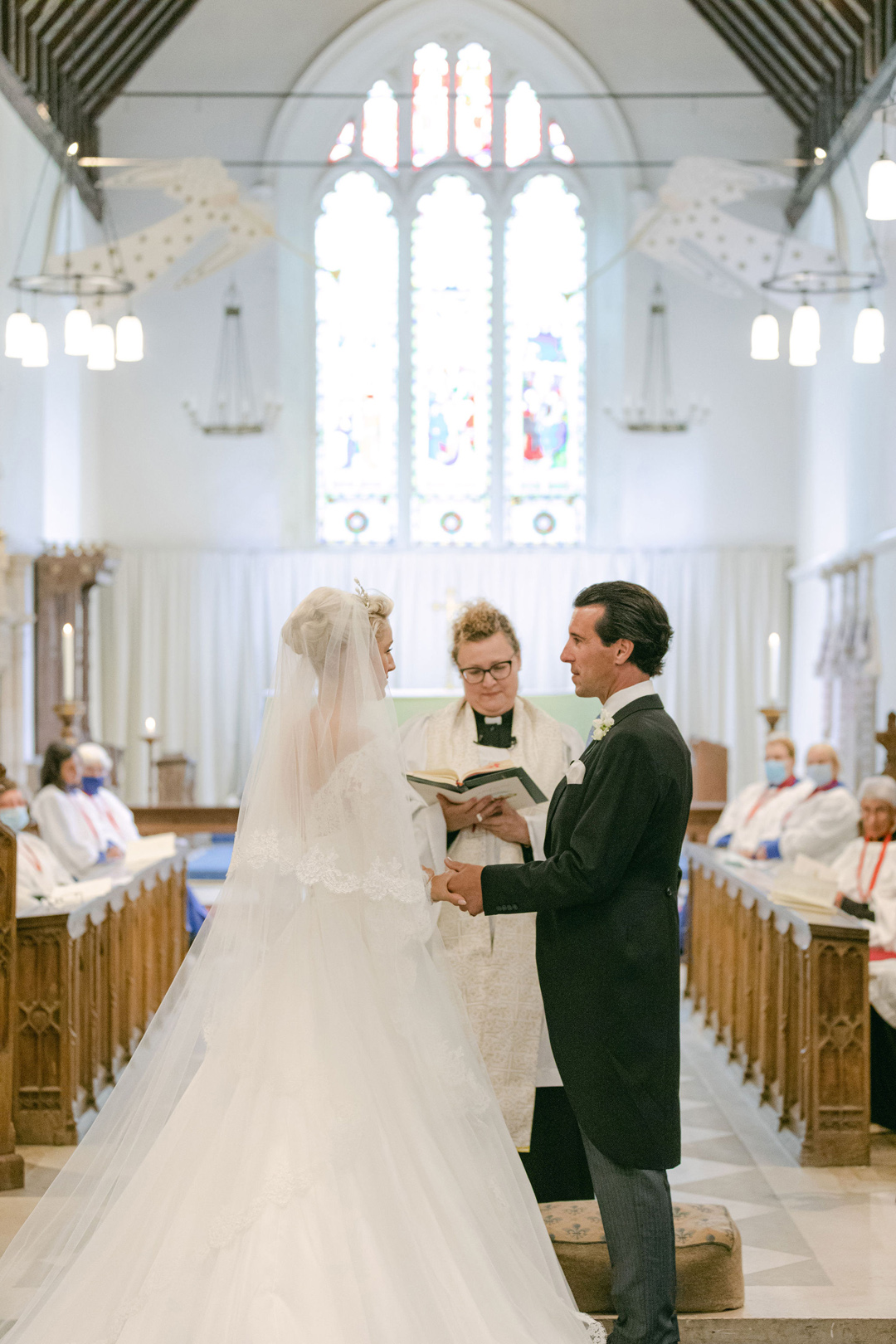 "I first met John Carter in the luxury market whilst working for Cartier and fell in love with this pure class, elegance and incredible creativity. John and his team are truly talented, we had thought for so long, planned everything to an inch and when I arrived at the church with my father, I was speechless. John went above and beyond to create something that would take your breath away!"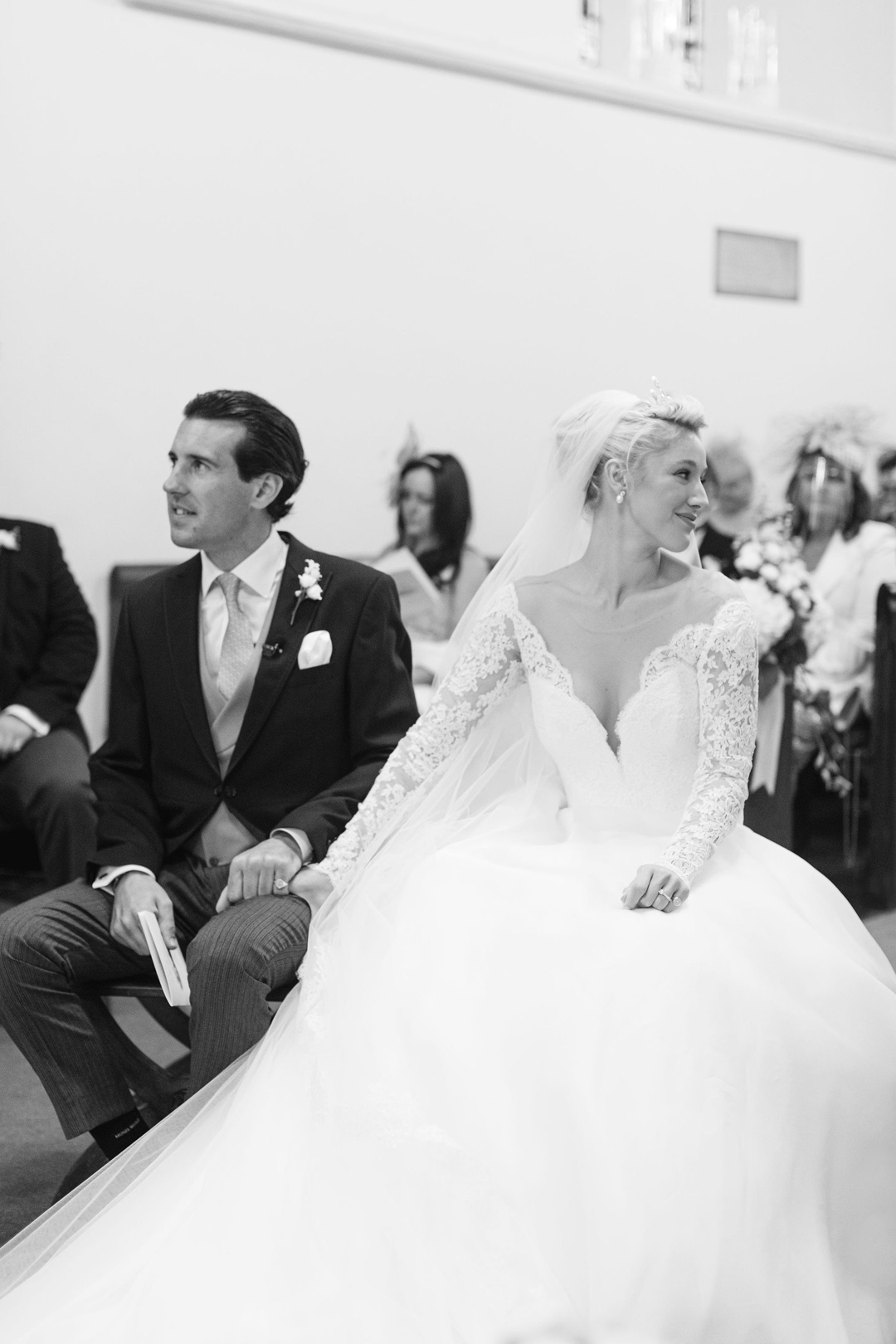 "My mother and father got married in St Mary the Virgin Church in famous and picturesque village of Hambleden almost 30 years ago. It was my dream to marry the love of my life in the very same church."
"I'm immersed in the luxury market and have a passion for supporting great British brands so naturally every single details of this wedding was pure luxury, elegance and class."
There were two readings during the ceremony, the first being an excerpt from Captain Corelli's Mandolin. The second was a poem, A Marriage Can Be, that was adapted especially for the ceremony.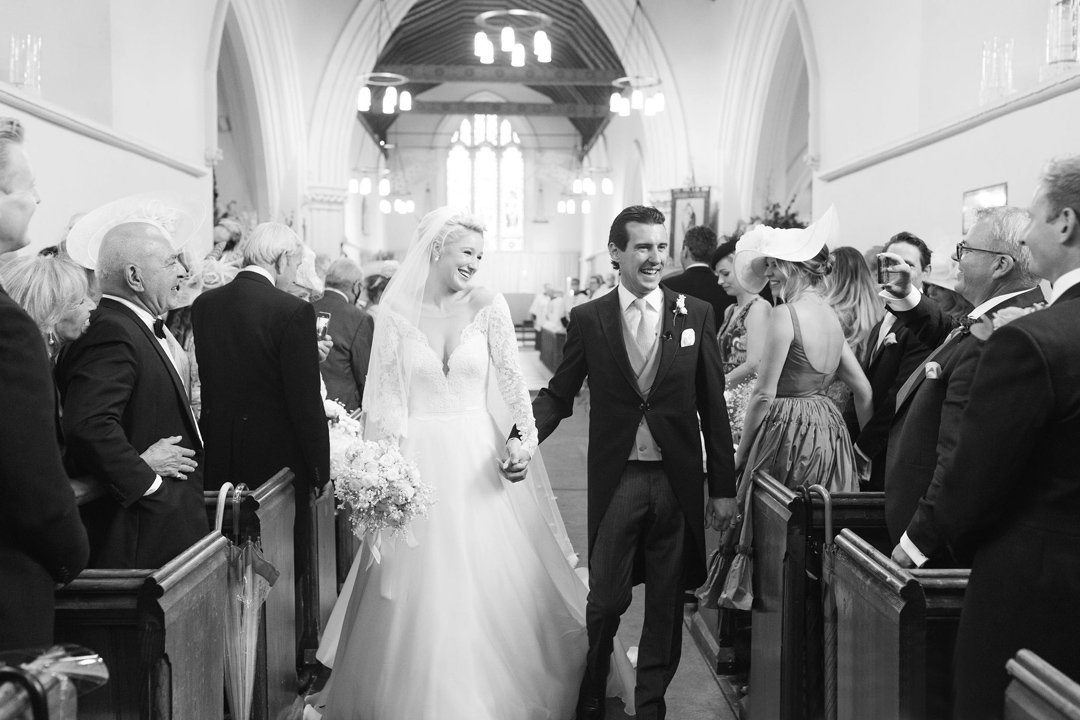 "As we walked out of the church as husband and wife, the weather – which had been frightful all week – broke out into glorious sunshine, and a rainbow flung its stunning colours across the landscape at exactly the right moment, truly a magical moment."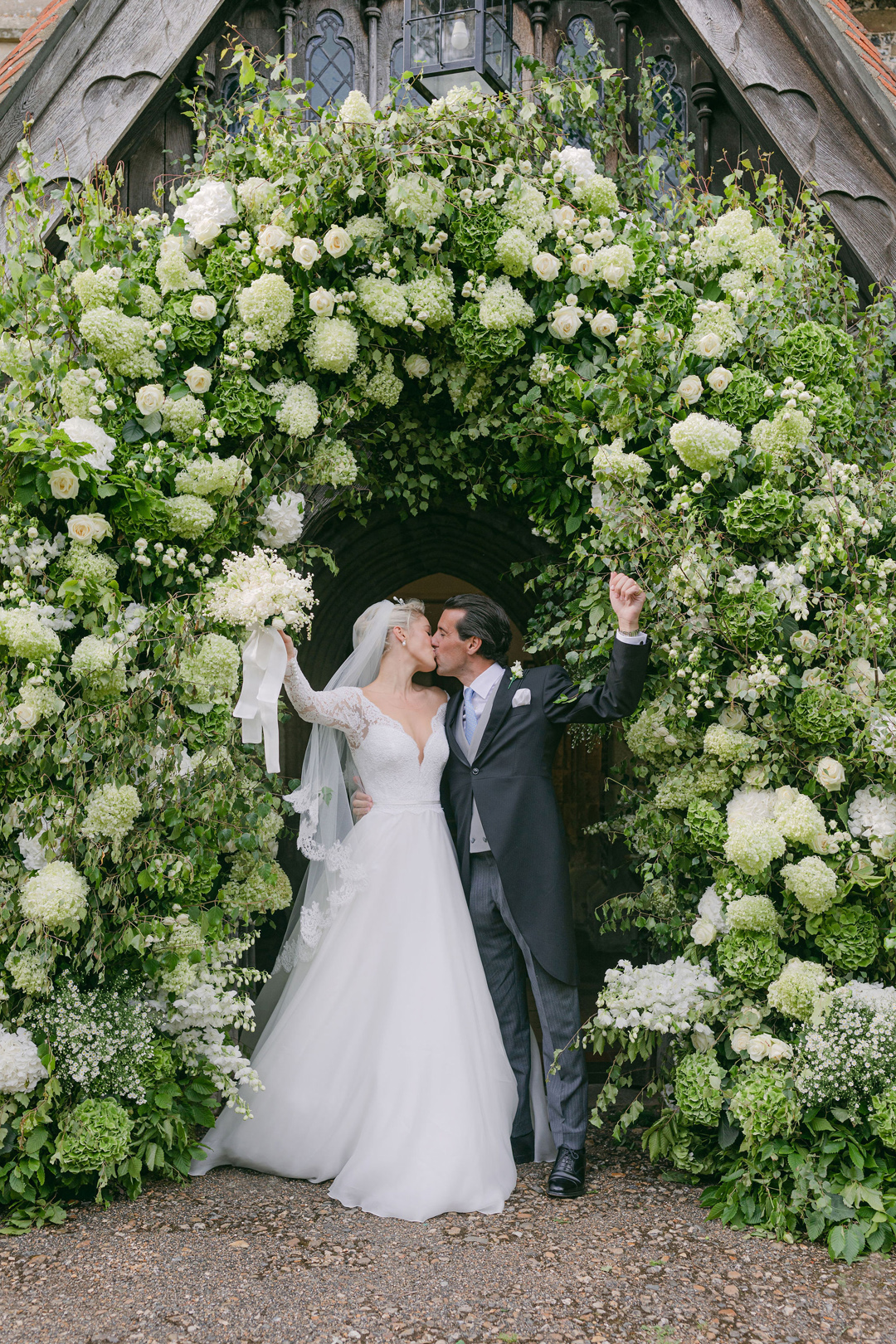 "I first met our photographer, Chloe Winstanley, when we were both 4 years old – we went to school together."
"Whilst pursuing very different careers, we found our way back to one another."
"Chloe is an extremely talented young lady and in life there are some seriously special people and Chloe is one of those."
"She went above and beyond and the images are more than we could have ever wished for."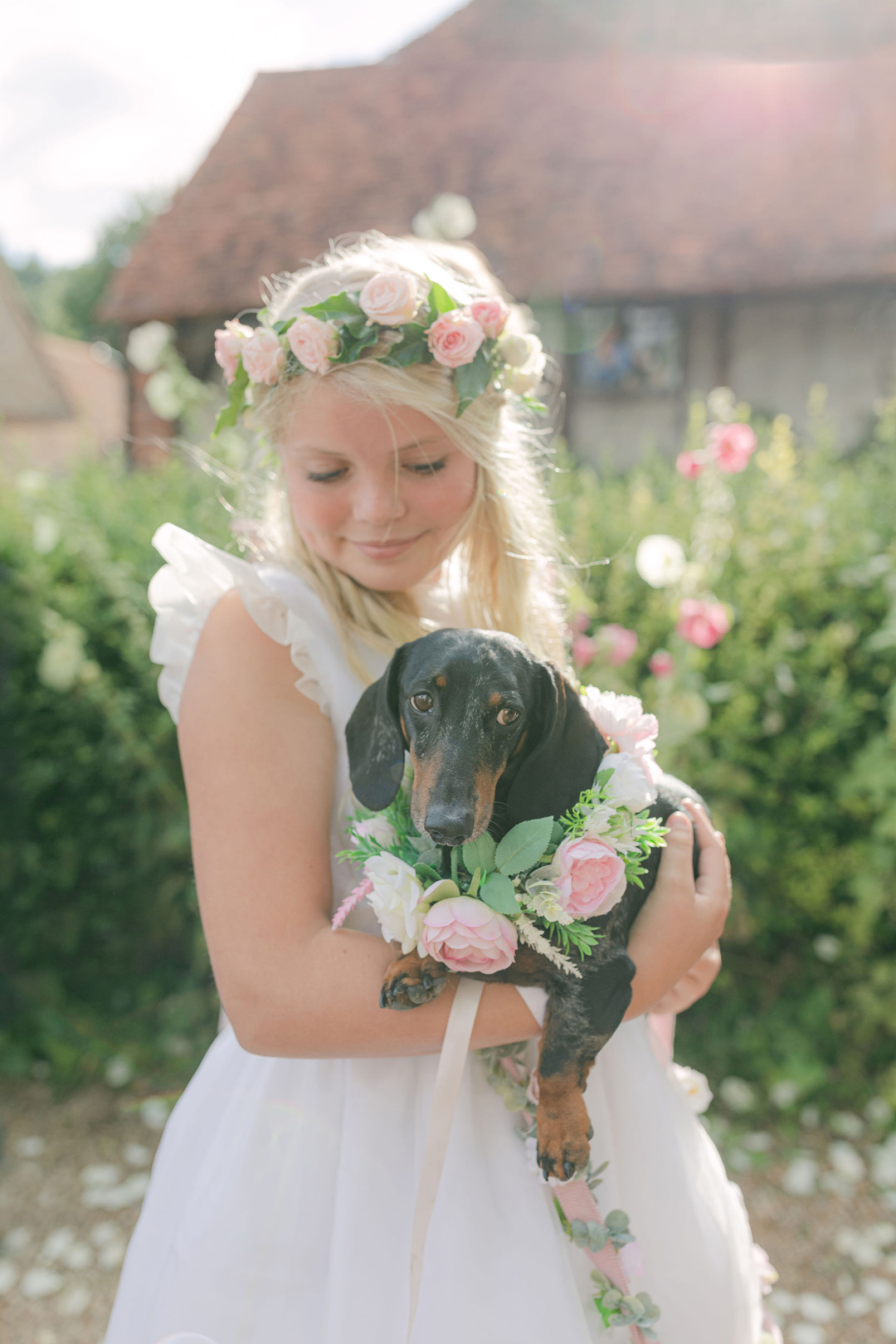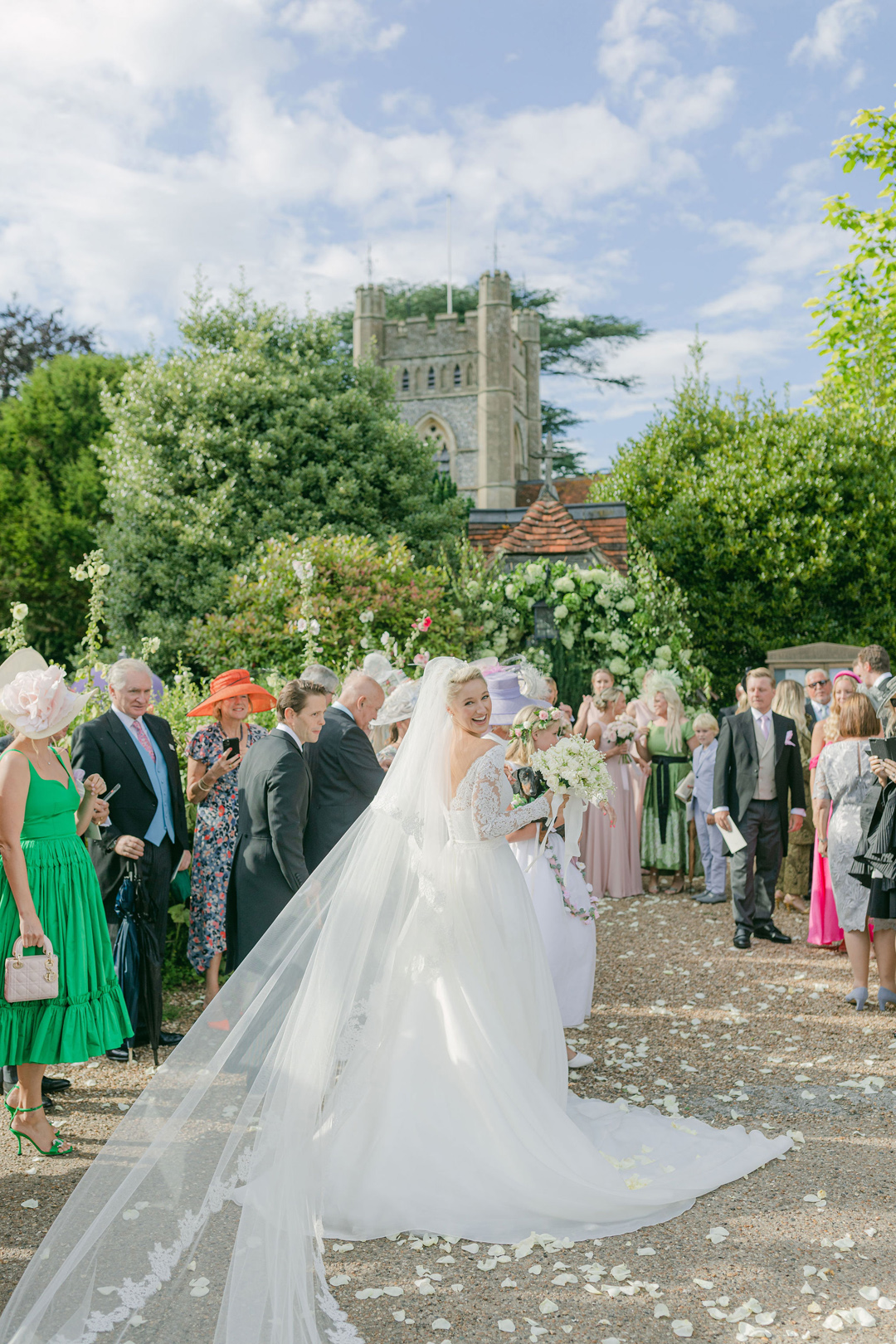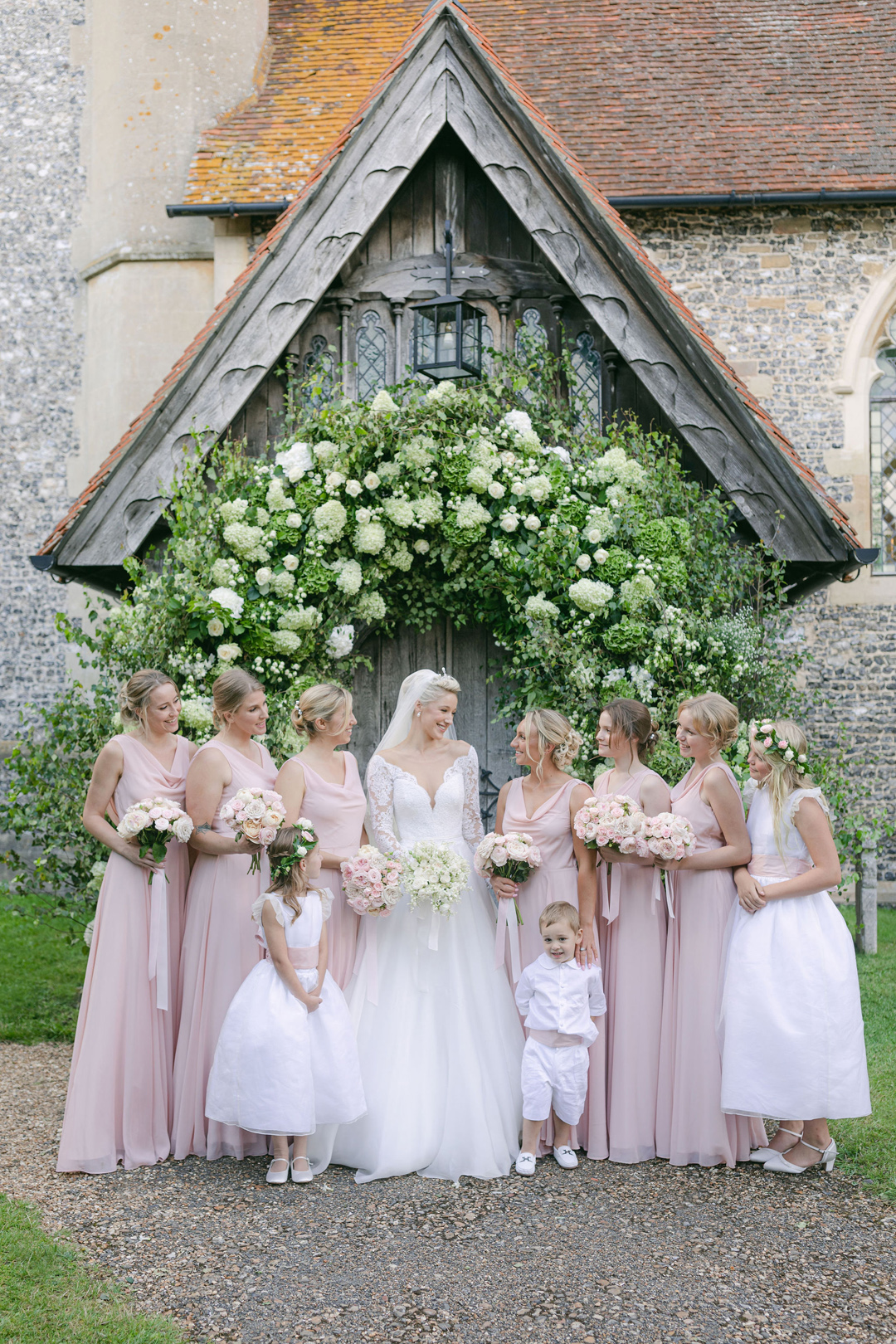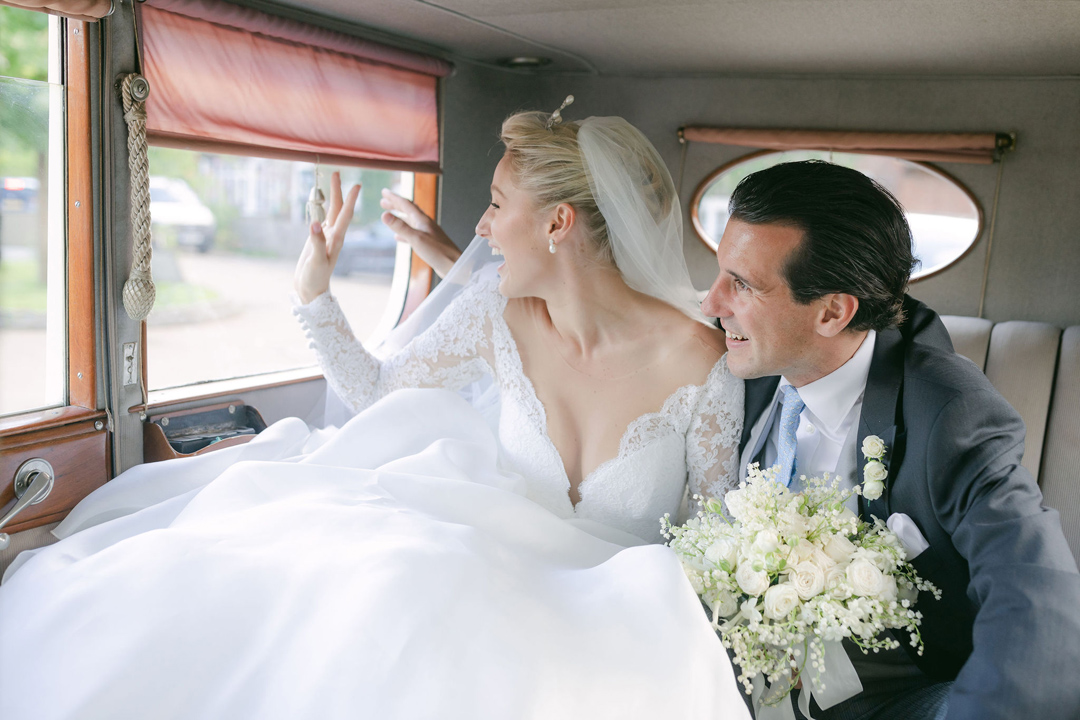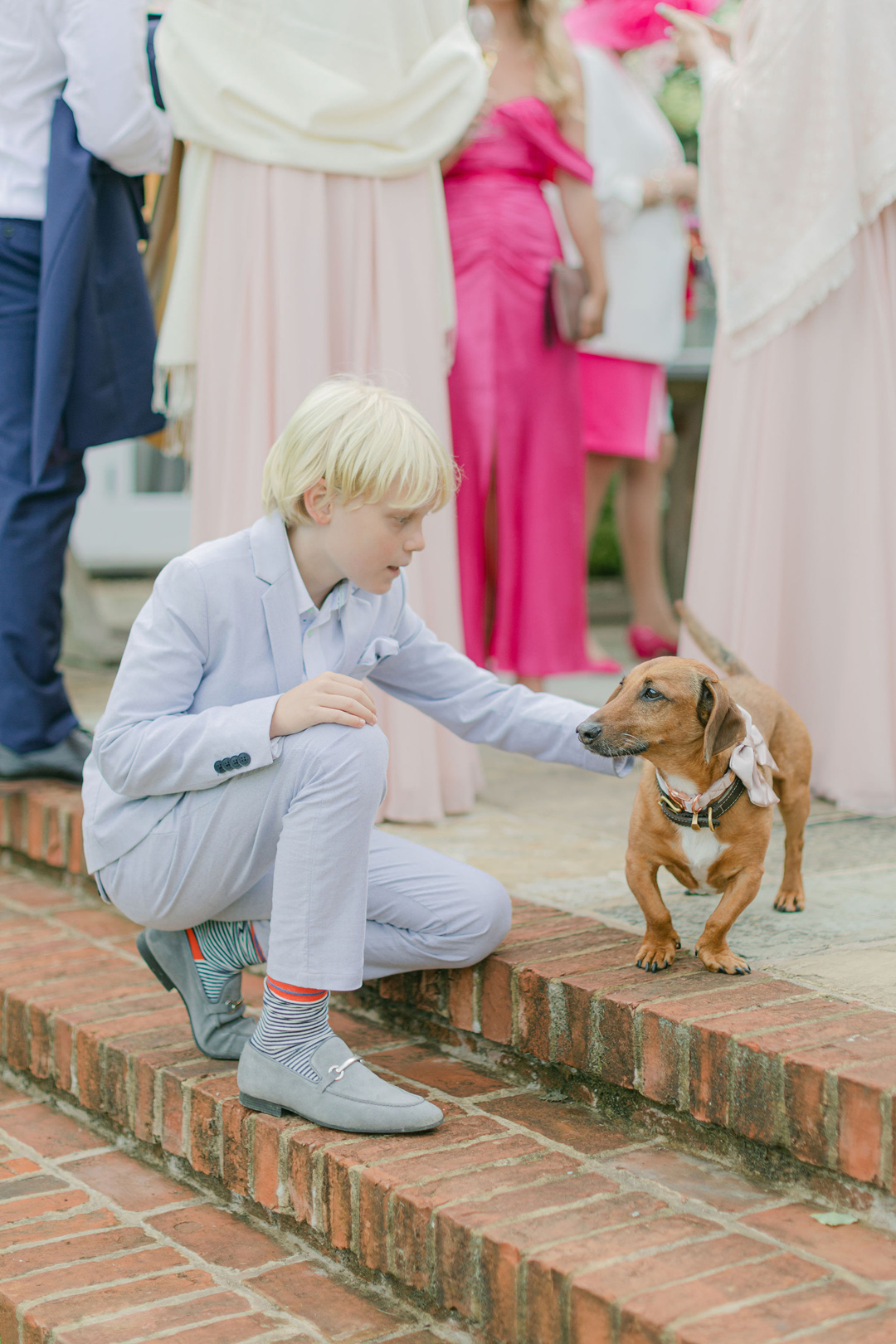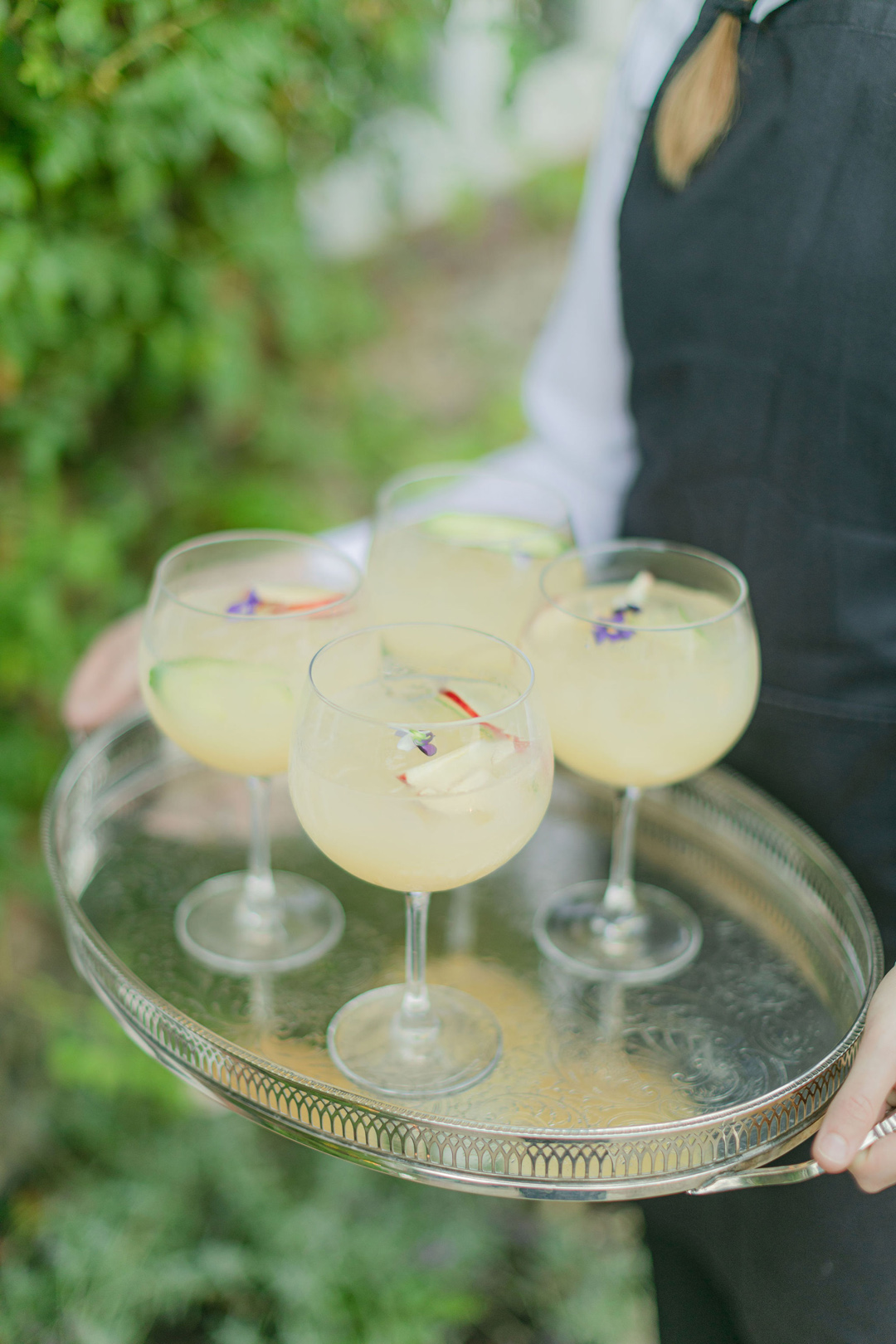 "Bagpipers played us into the marquee, where we were surrounded by the heavenly scent of jasmine from the candles and parfums supplied by Roja Dove – a favourite luxury perfume brand."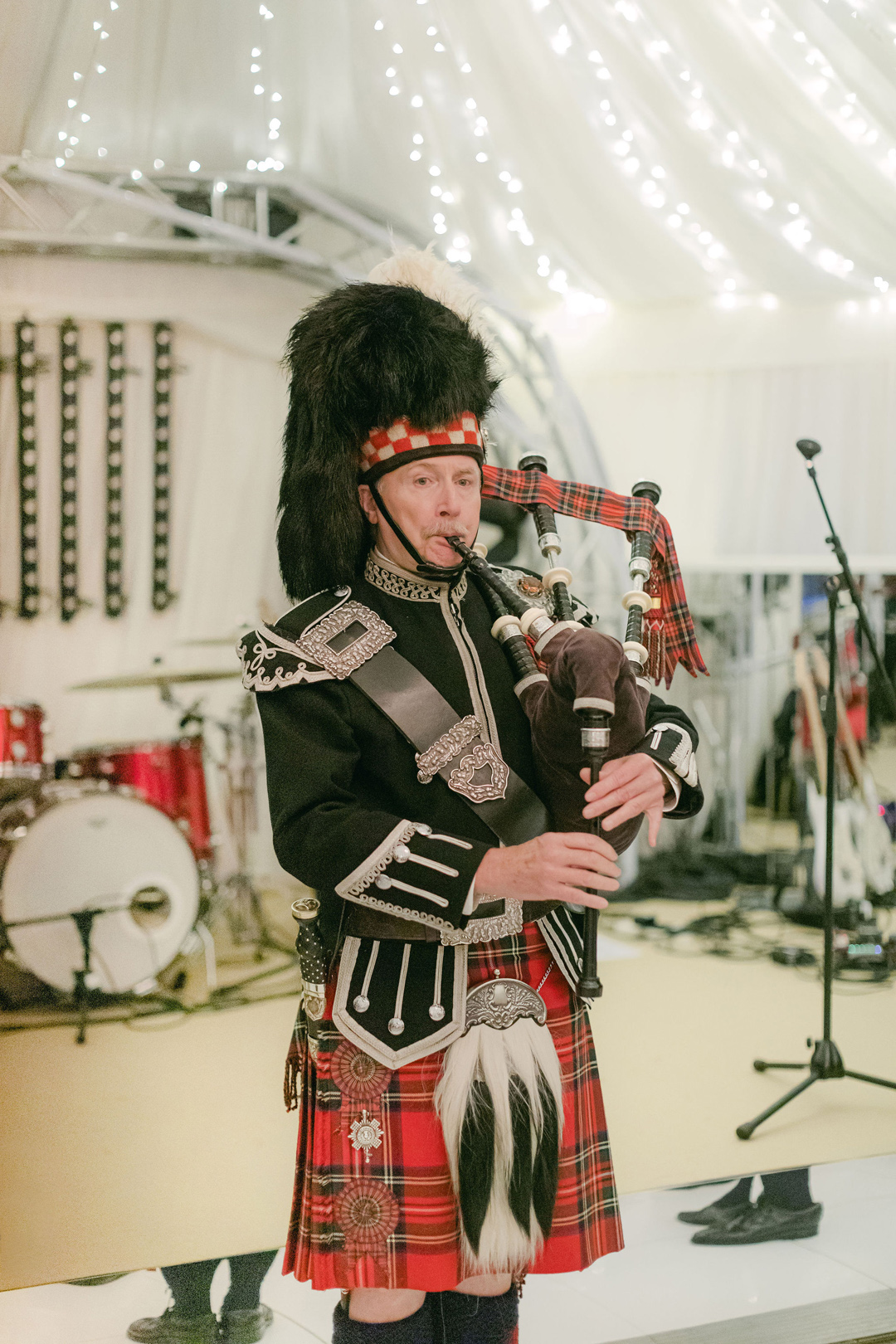 "We held our reception at home in the Hambleden Valley in a beautiful marquee, proceeded by a Champagne reception on the lawn."
"The marquee was something out of a fairy tale, the pale pink palette of thousands of roses was astonishing and something I will never forget."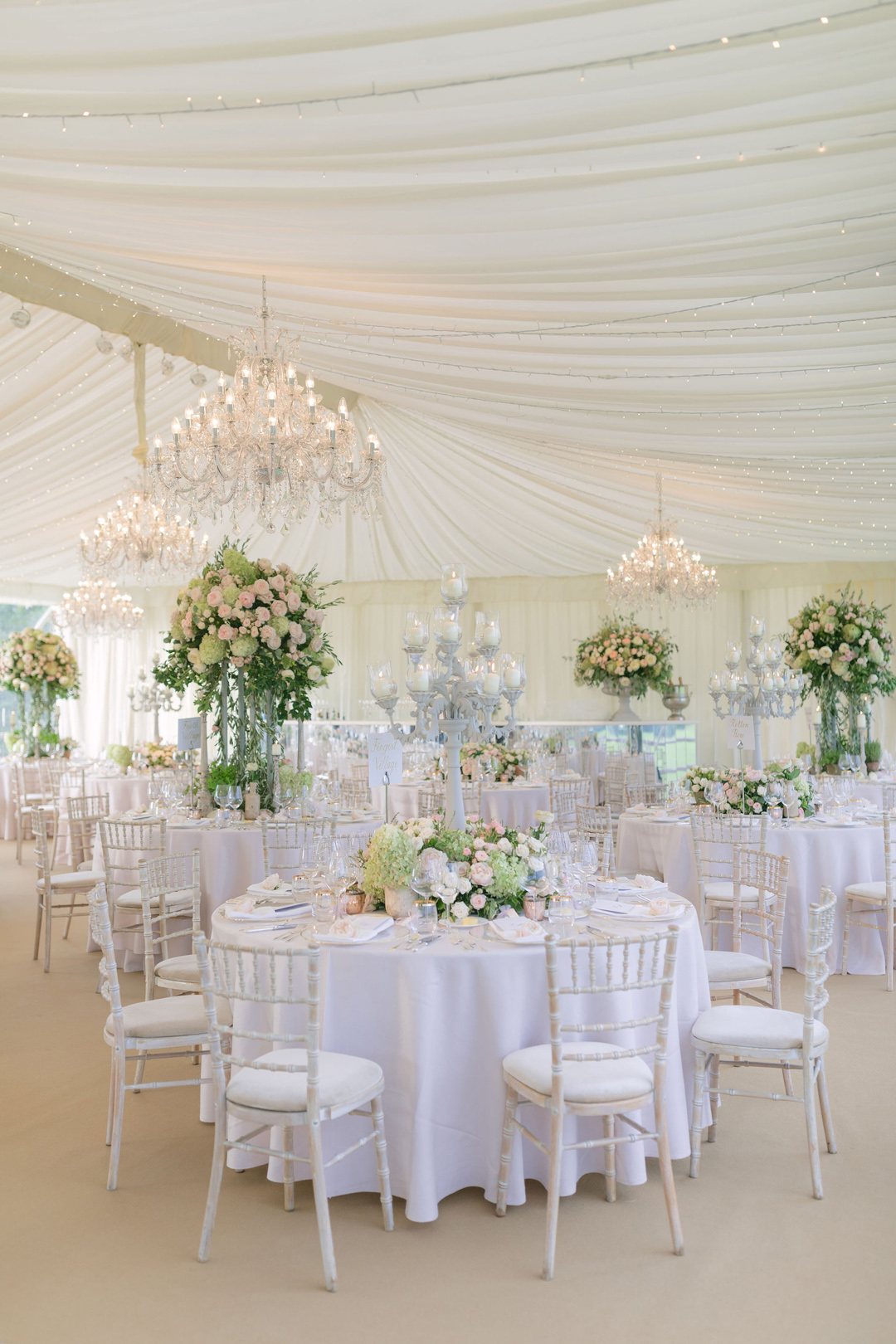 Scent was incredibly important to Leonora, whose favourite scent house provided the most beautiful parfums and candles. Inside the church, a Jasmine de Grasse candle and diffuser was used. Within the house and marquee, Figuier D'Italie candles were dotted around to provide a fully immersive scent experience.
Other scents used included Elixir, which Leonora describes as "a bright and effervescent creation which brings together Floral and Oriental styles, Elixir is a perfume of perfectly-balanced beauty."
"We also had Elysium Cologne – the kind of fragrance which draws the world to its charm, Elysium exudes the perfect balance of easy-going brightness with sophisticated strength of character."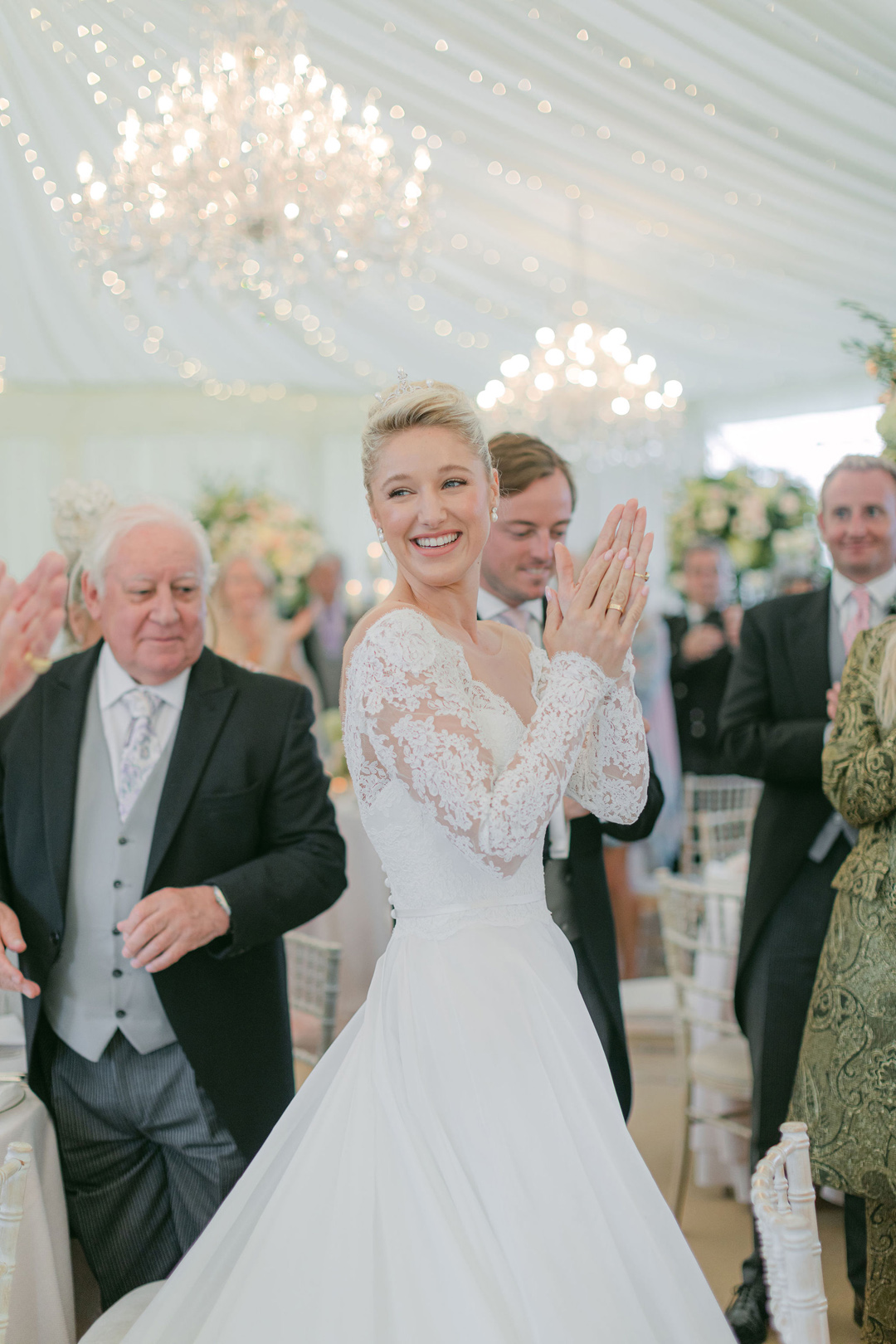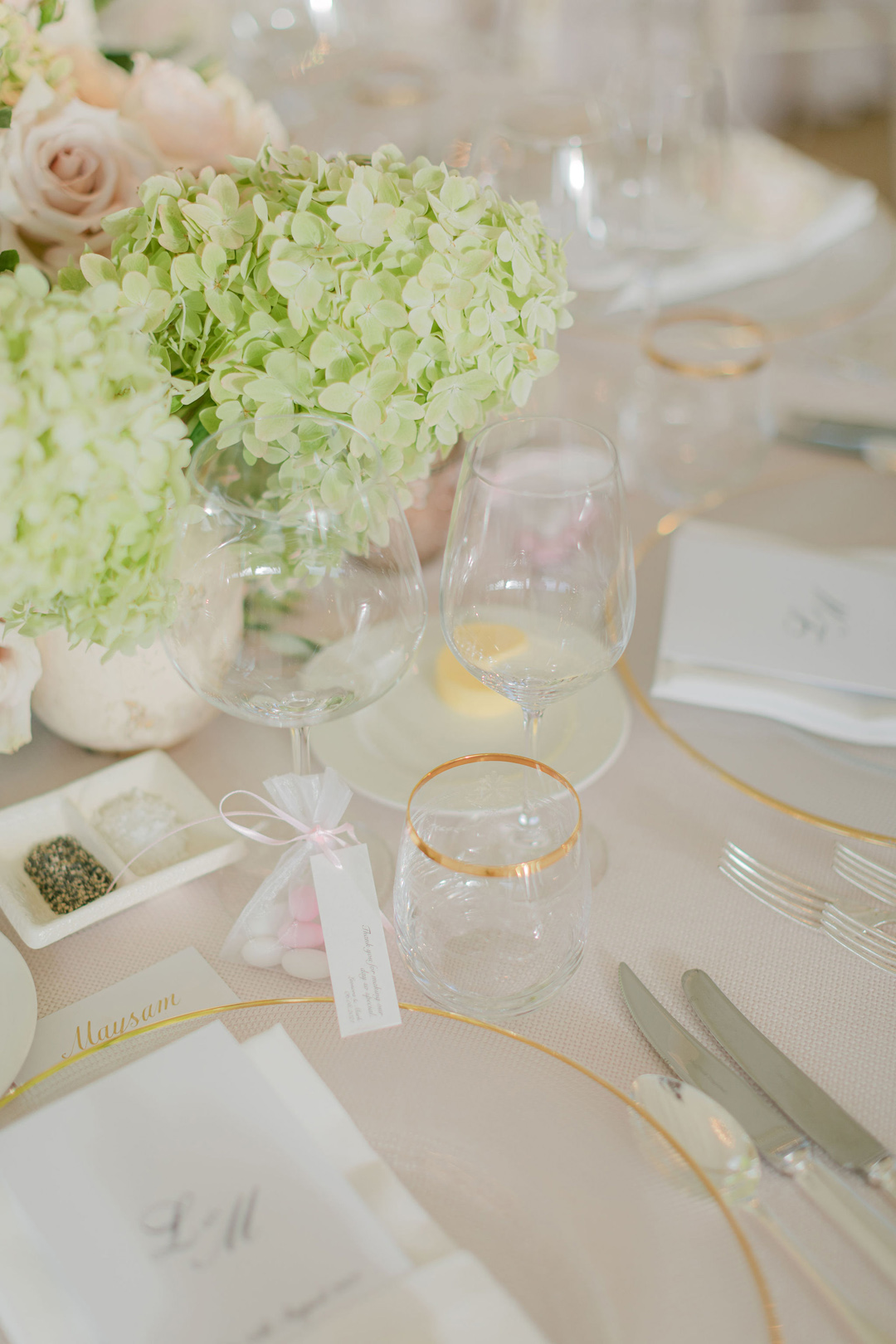 "My favourite British luxury parfum brand is Roja Dove, who supplied the candles, diffusers and exquisite parfums for the wedding."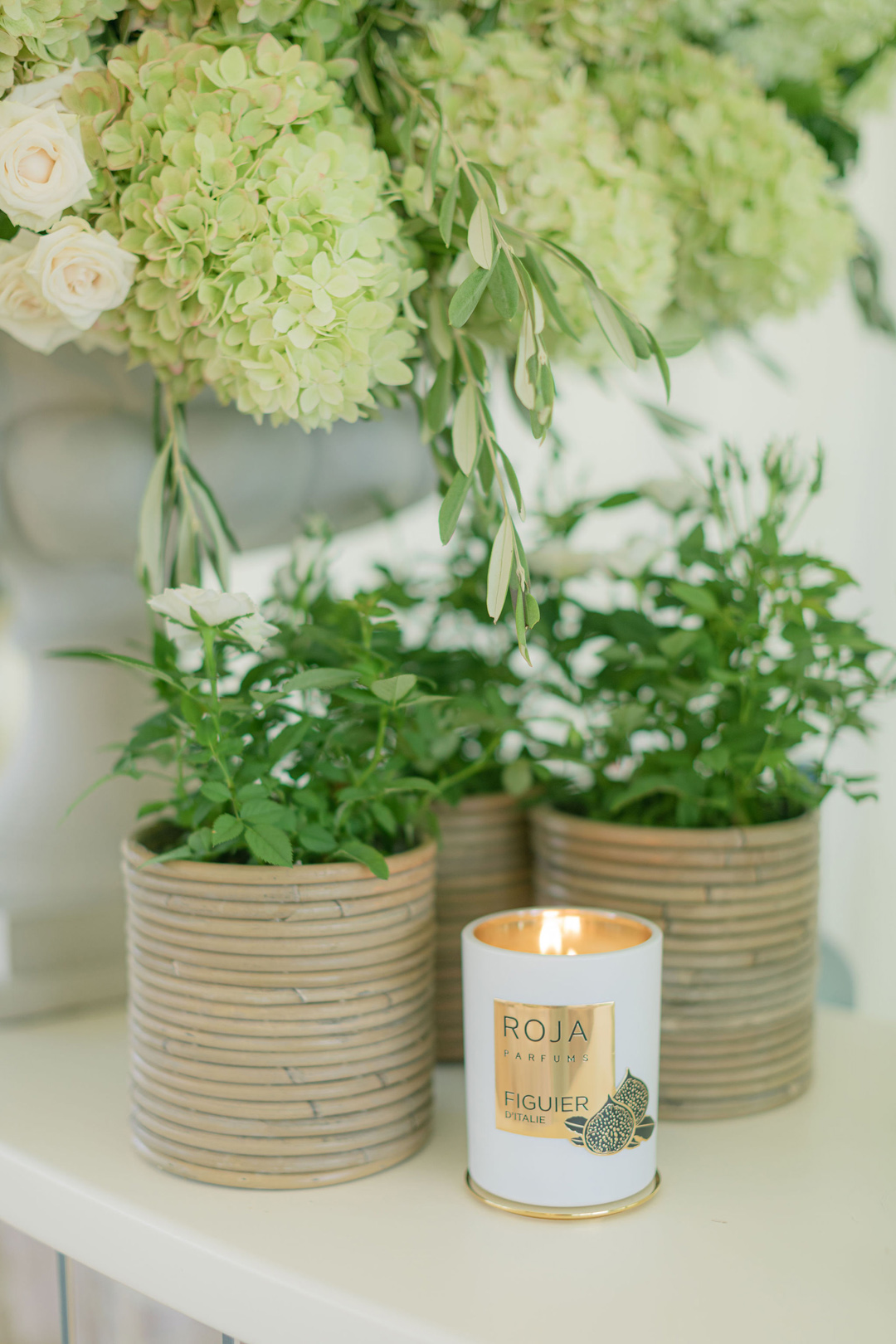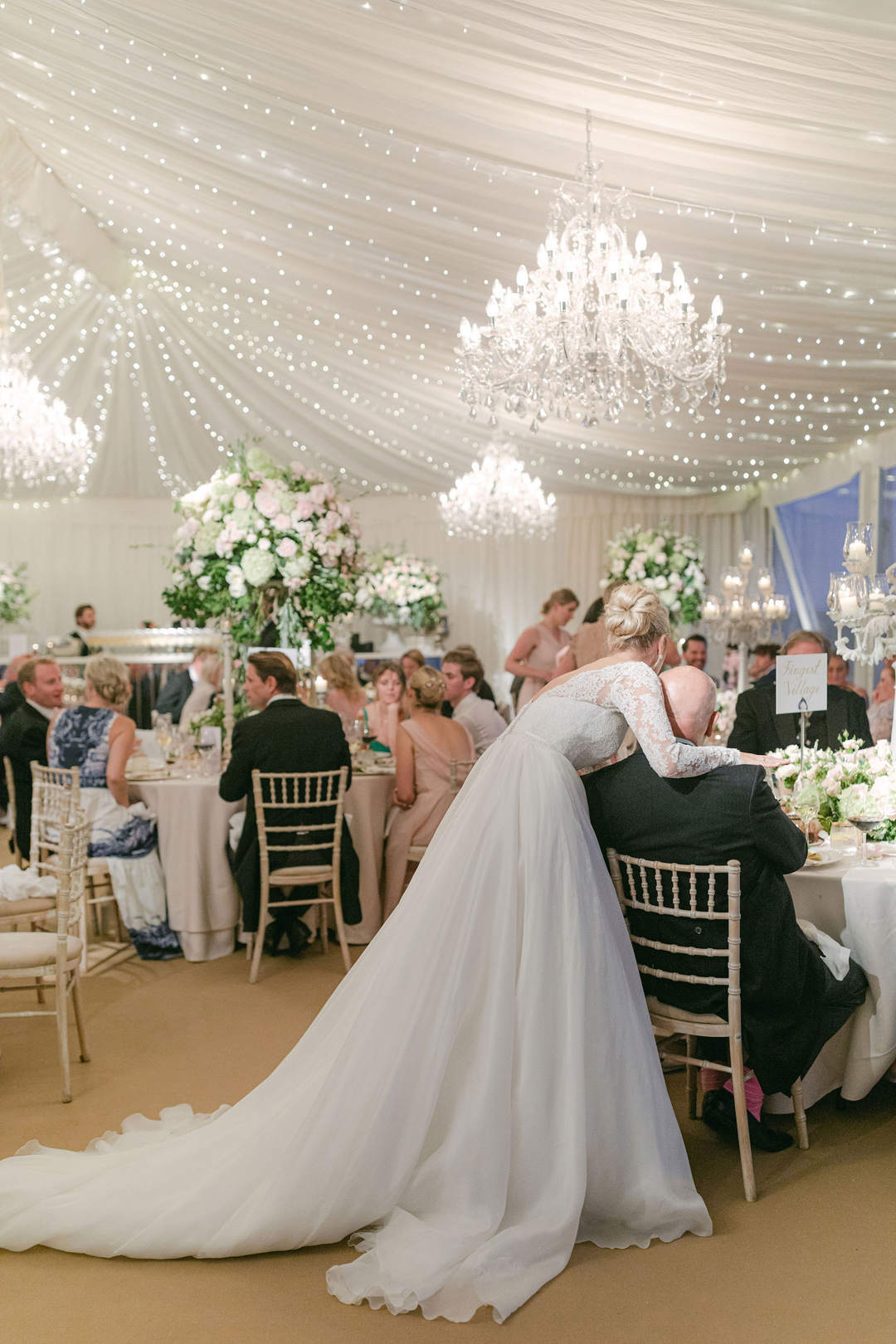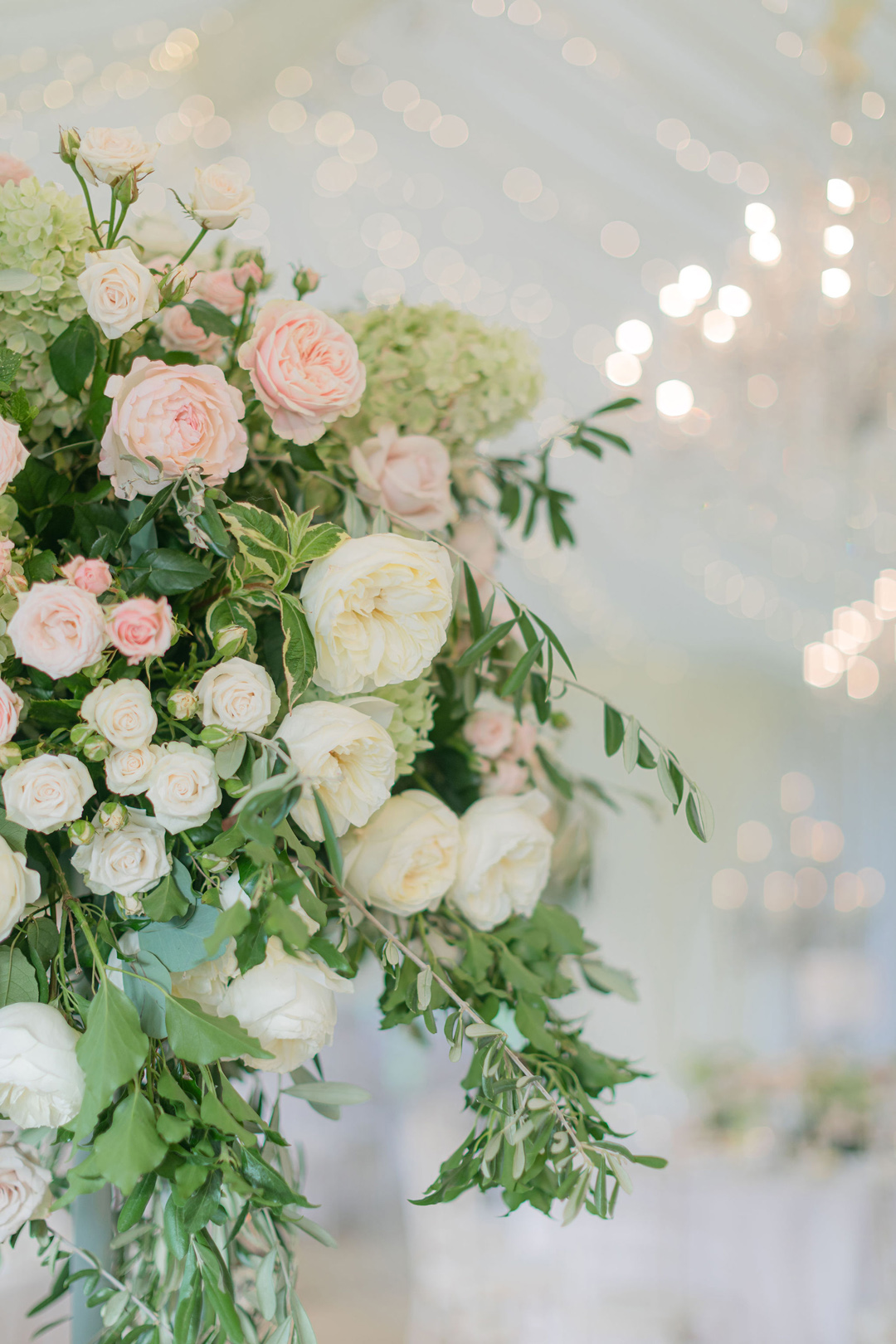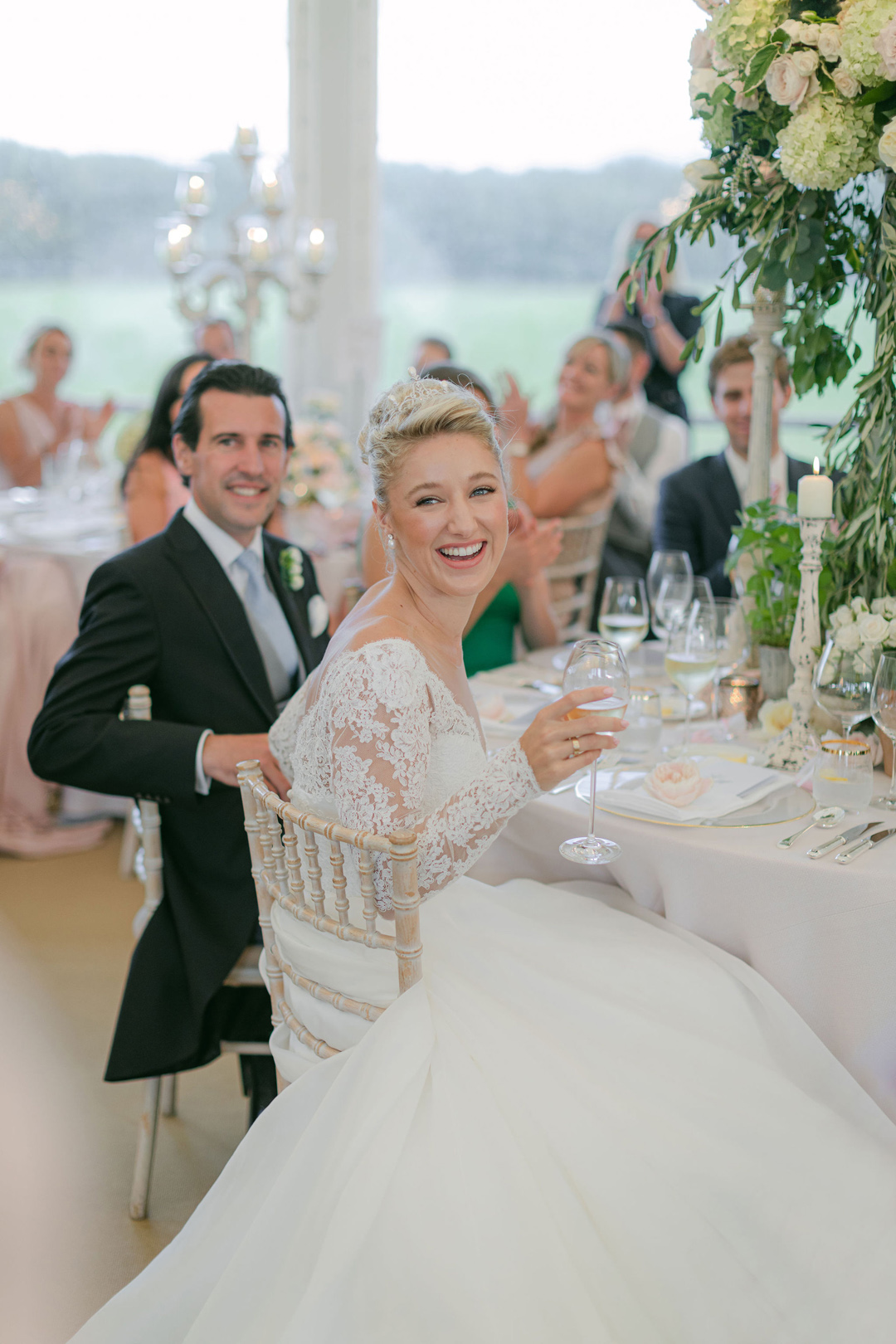 In the evening, Leonora slipped into a second dress by Valentini Spose, which she discovered through The Wedding Club boutique in London.
The couple wanted a traditional, 5 tier, iced wedding cake with lots of detail and commissioned Terry Wilson to create this spectacular creation!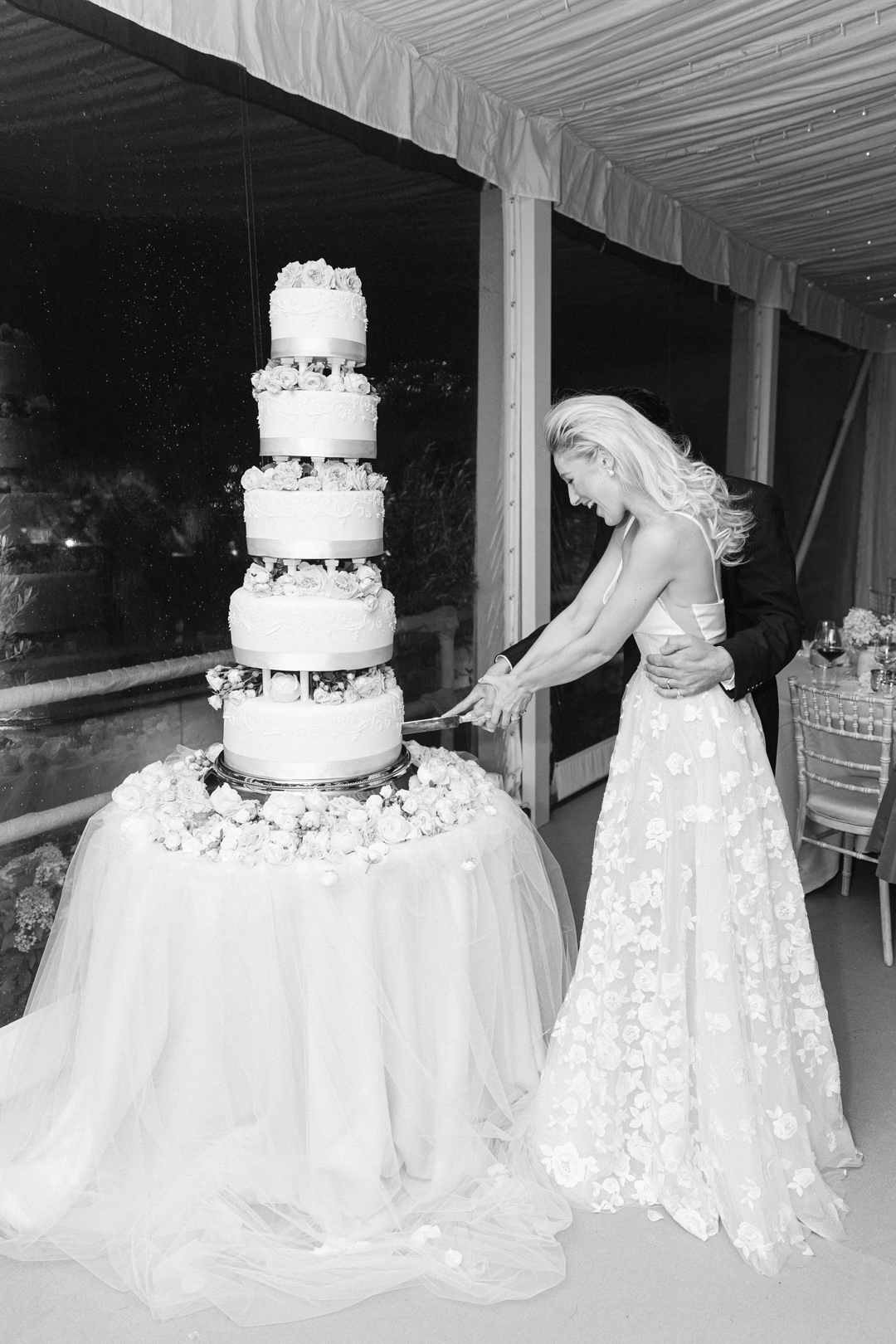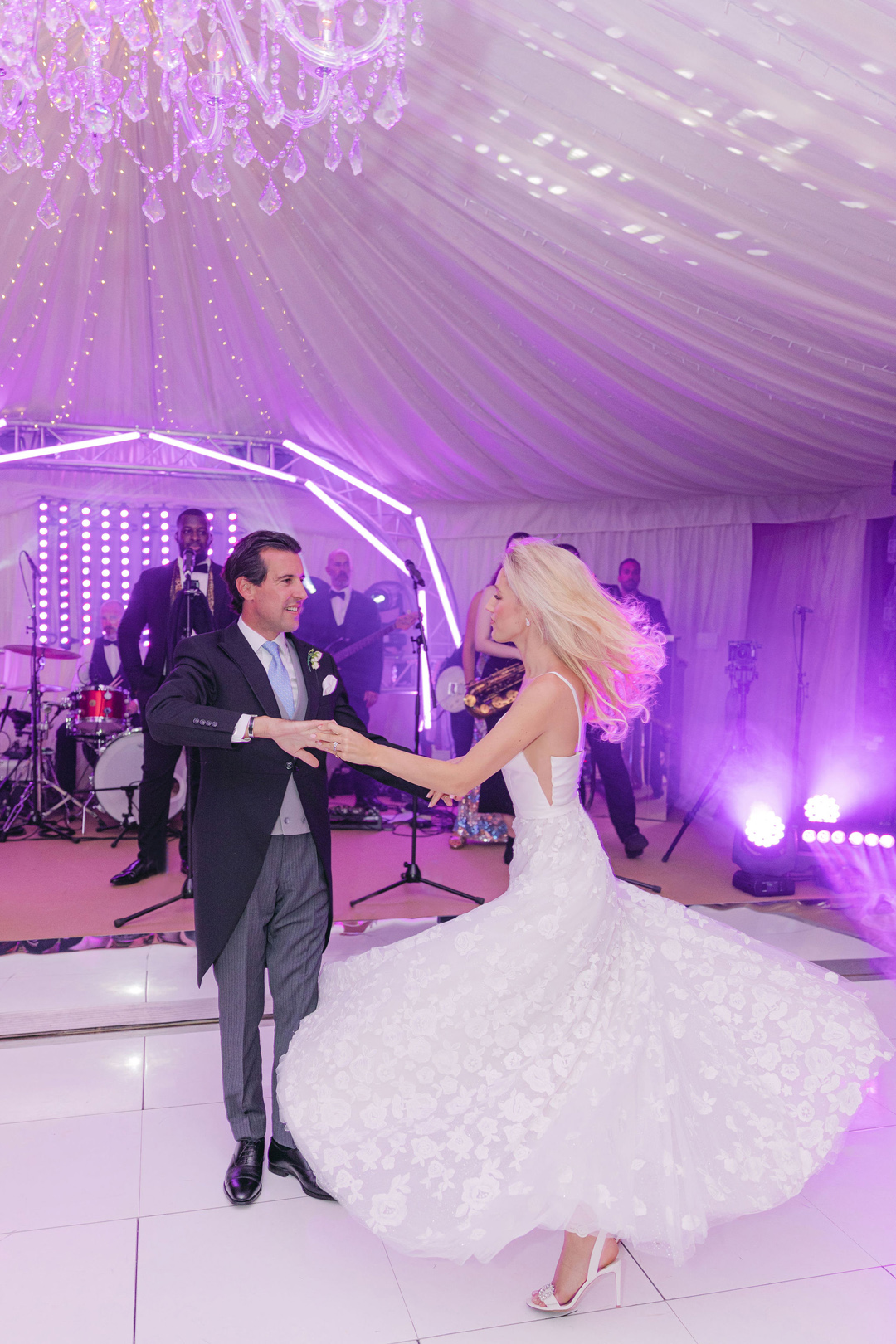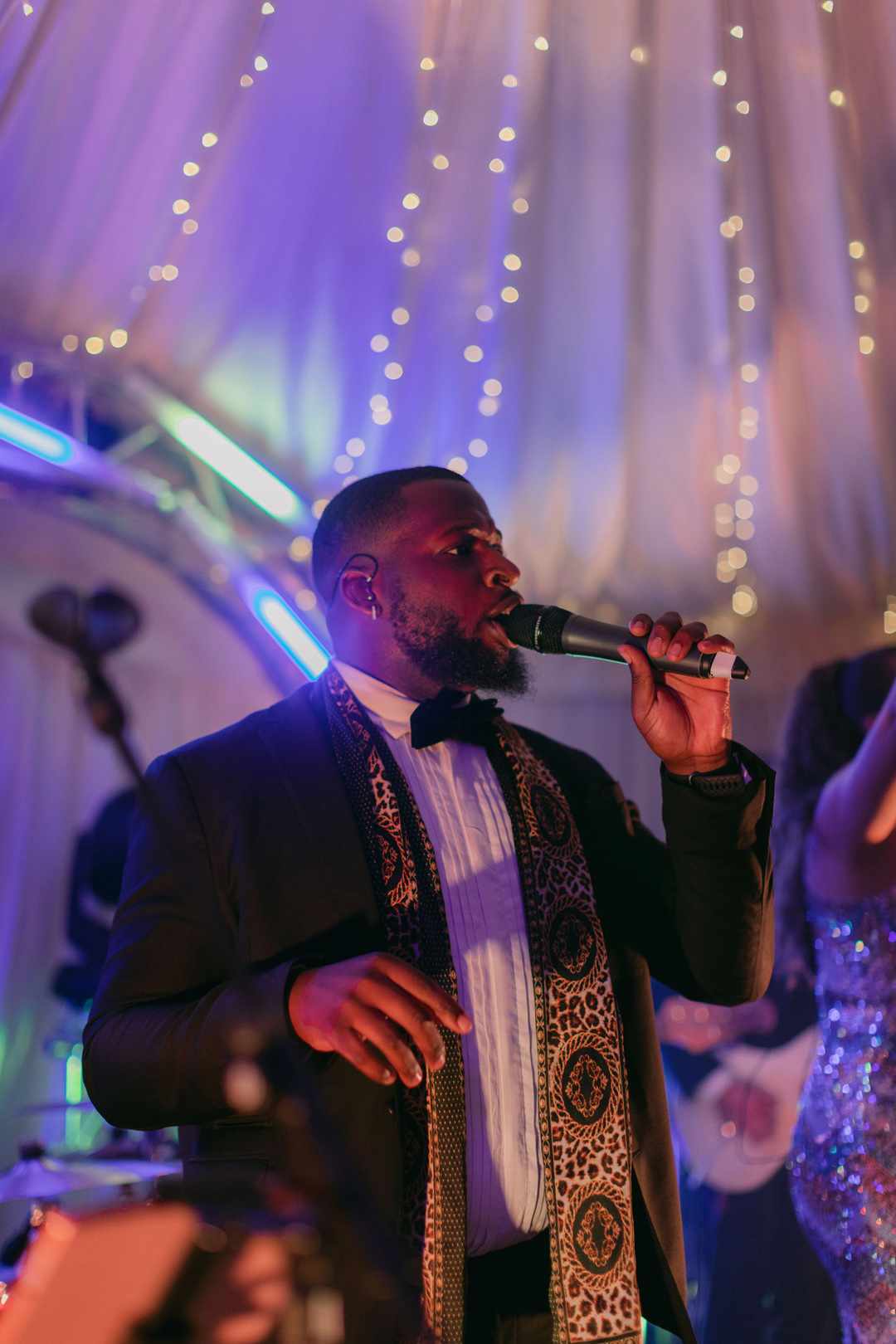 "Our first dance was the perfect blend of Can't help falling in love with you by Haley Reinhart and Perfect by Ed Sheeran and Andrea Bocelli."
"We had our wedding dance choreographed to perfection by the amazing Frankie Patterson."
Words of Wedded Wisdom
"A very special person told us that time goes by so quickly and to take a step back together and take it all in."
"Keep pinching yourself and have the time of your lives."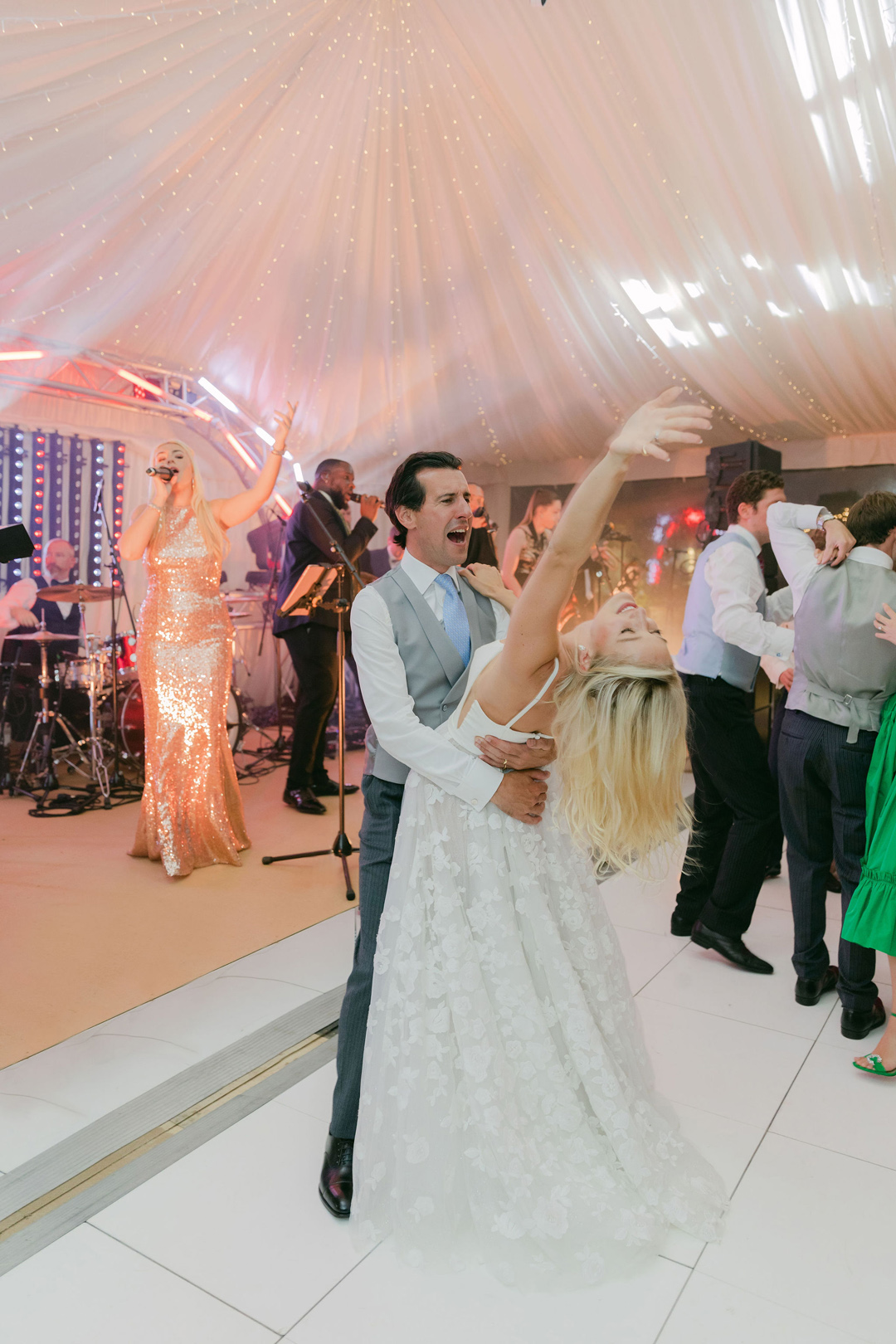 The Garden Party
"My wedding garden party dress was also made by Suzanne Neville and it was truly breathtaking."