Jesus Peiro gowns are characterised by their modern yet timeless, simply cut but effortlessly chic style. Whether you have come across this designer before or not, today's wedding, in all of its regency Cheltenham glory, will captivate you.
On 8 October 2021 PR account director Rhian wed regional team leader Oliver in an intimate, romantic celebration inspired by the great outdoors in Autumn, at No.131 The Promenade, Cheltenham. The couple chose to reflect the warm, vibrant colours of the season in the clean and modern styling of their historic venue and afternoon ceremony.
Indie Love Photography

+ Follow
Rhian chose her exquisitely-cut Jesus Peiro gown from The Bridal Boutique Warwickshire. I love the simple shape paired with the luxe fabric and buttoned square back.
"I really struggled to find a dress. I visited around ten dress shops, tried on a lot of dresses and just couldn't find the right dress for me."
"I loved the dresses from the designer Jesus Peiro and had tried on quite a few already but Madi from The Bridal Boutique helped me find the dress I'd been looking for."
She was brilliant and helped me through the process and made me feel very comfortable. I would recommend to any bride searching for her dress to go to The Bridal Boutique Warwickshire."
"I loved the shape of the dress. It felt so elegant but with a modern edge. The material was stunning – I'd not seen anything else quite like it."
I love that the dress was made for me, which made me feel so special."
The bride's vivid blue velvet shoes were an ASOS find and her scent was Novellista Rouge Privé.
"I loved the idea of wearing bright blue shoes and these were exactly what I was looking for."
It's great to hear that Rhian found inspiration from the many weddings we've shared to help shape the vision for her day.
"I really enjoy reading the real wedding stories. It's fascinating to see all the different styles weddings – I love how each one is so different from the next."
"All the images on the blog and Instagram are very inspirational and helped to give me different ideas for our wedding.
Flowers played a major part in the look and feel of the day, particularly deep oranges and reds, and The Bespoke Flower Co put together these wonderful, seasonal arrangements.
"We knew we wanted a long table with lots of bottles of flowers and candles along the middle as well as around the room."
"We choose seasonal flowers and colours and we were delighted with how the flowers from The Bespoke Flower Co looked."
"The next day we created small bouquets with the flowers in the bottles so guests could take them home with them."
"Our welcome sign was by Monique Paper Art via Etsy and our menus and name cards were Dahlia by Lauren."
"We made everyone candles as wedding favours. All our guests were staying at the hotel and so we decided to put them in the all the guests' rooms so they were a welcome gift when they arrived, rather than place them on the table."
The couple met five years ago whilst they were both working at an hotel in the Midlands.
"We hit it off straight away and both knew instantly we were 'meant to be'. We got to know each other by going out running."
"It was a 5km route around the hotel grounds and then we eventually went out on our first date. From then on, we've pretty much been inseparable."
"We both love the great outdoors and going for long walks. When we got engaged Oliver had planned a weekend away in the Peak District and we walked up to the top of Thors Cave, fighting against the wind, rain and hail."
"From the top, you can see across the Peak District. It's beautiful and that's where he got down on one knee and proposed."
The couple selected 'Song to the Siren' by Rose Betts to be played as Rhian entered the ceremony room.
"My dad walked me down the aisle, which was very special for me. We both walk pretty quickly though and the aisle was short, so it didn't take us long!"
"We both made promises to each other. Oliver's promise was:
"I see these vows not as promises but as privileges: I get to laugh with you and cry with you; care for you and share with you."
I get to run with you and walk with you; build with you and live with you. I get to have you be the person I spend the rest of my life with. I get to be there for you and support you."
"We had a reading, from my godmother, called 'Today'. It was lovely having someone who means a lot to the both of us do a reading during the ceremony."
"Oliver's ring was his great, great grandfather's and is a 124-year-old gold ring. Mine is also made from family rings which have been passed down to me. The rings were re-designed to fit around my engagement ring, which was Oliver's mothers."
The couple emerged into a shower of confetti before relaxing with their guests over drinks and dinner, and photographs outside in Cheltenham town centre.
Oliver's dark navy, double-breasted suit was from Mr Guild.
"Both his tie and handkerchief were from John Henric."
Indie Love Photography is behind these warm, sumptuous photographs which are both intimate and timeless.
"We'd seen her photos on Instagram and website and just fell in love with her photography style."
"Neither of us really like having our photo taken but Charlotte made us feel so comfortable and captured our day perfectly."
"We loved being able to share our day with her and would 100% recommend her to any couple."
As it was a small wedding, Rhian asked her bridesmaids to wear what they wanted and felt comfortable in.
Complementing the pure look were simple pearl drop earrings and a gold Alex Monroe bee necklace.
The bride's dark locks were pulled back into a sleek bun, crowned with a sumptuous headband from Copper Lane Gift Co.
"I really liked the idea of a headband but wasn't sure I could pull it off. In the end, I feel like it was the perfect finishing touch."
"My necklace was an Alex Monroe bee, which Oliver had given to me the morning of the wedding. My Kiri & Belle earrings were a lovely gift from Oliver's parents and my bracelet was an opal bracelet, which was a gift from a dear friend of mine."
"Jessica Rose Makeup Artist did both my hair and make-up on the day. I love her natural style make-up; it was perfect for me."
"She was so calming and made me feel at complete ease. I was delighted with my hair and make-up and felt amazing."
"We wanted a venue which was unique and would work for a small wedding."
"It's got a great atmosphere with stunning interiors and is the perfect space for an intimate party, which is exactly what we wanted."
"We wanted something romantic and intimate. There was no specific style or era which we were inspired by – we just wanted everything to fit in with unique style of the venue."
"With it being an autumn wedding we wanted lots of candles and stunning autumnal flowers."
"We never had a specific colour theme and so we were very open to following the colours of the season."
Like so many others, Oliver and Rhian's planning was affected by Covid.
"In the end, we were engaged for two and a half years. Our original wedding was planned for August 2020."
"However, due to Covid we had to change the date. We moved it to April 2021 but in the end decided to wait until October 2021, as everything was still quite uncertain."
"We did change venue as we changed our minds on what we wanted from the day."
"We decided that we wanted something more intimate and smaller and so stuck with the thirty people limit which was initially set by the government – just in case anything did change."
"After everything we had been through, we wanted to party and celebrate with our friends and family and that's exactly what we did, we wouldn't have changed anything."
No. 131 The Promenade provided the dinner whilst the single-tier, semi-naked cake was from Vanilla Pod Bakery.
"We decided to go for something simple, covered with lots of seasonal fruits."
"The speeches were all so different but meant a lot to me in different ways. Also, the best man played a game instead of his speech which was great fun."
The first dance and evening entertainment came from Apollo Soul.
"We've heard Apollo Soul play quite a few times as we think they're brilliant."
"We both love to dance and Apollo Soul are a brilliant band to get everyone up and dancing."
"Our first dance was 'Ain't No Mountain High Enough' by Marvin Gaye, which was sung by Apollo Soul."
Words of Wedded Wisdom
"Our ceremony took place at 4pm in the afternoon and for us, it was the perfect time. The morning was relaxed and there was no rushing; we just got to enjoy the excitement of seeing all our guests start to arrive and take our time to getting ready, enjoying every moment."
"Remember to take a step back throughout the day, just the two of you, and take it all in. So much time and effort goes into planning a wedding and it can all become quite overwhelming, so enjoy the day you and your partner worked so hard to put together." 
"Your wedding day is about celebrating you and your partner being together. Stick with the vision you have for your day, make your choices based on what you both want and not what others want and just enjoy it!"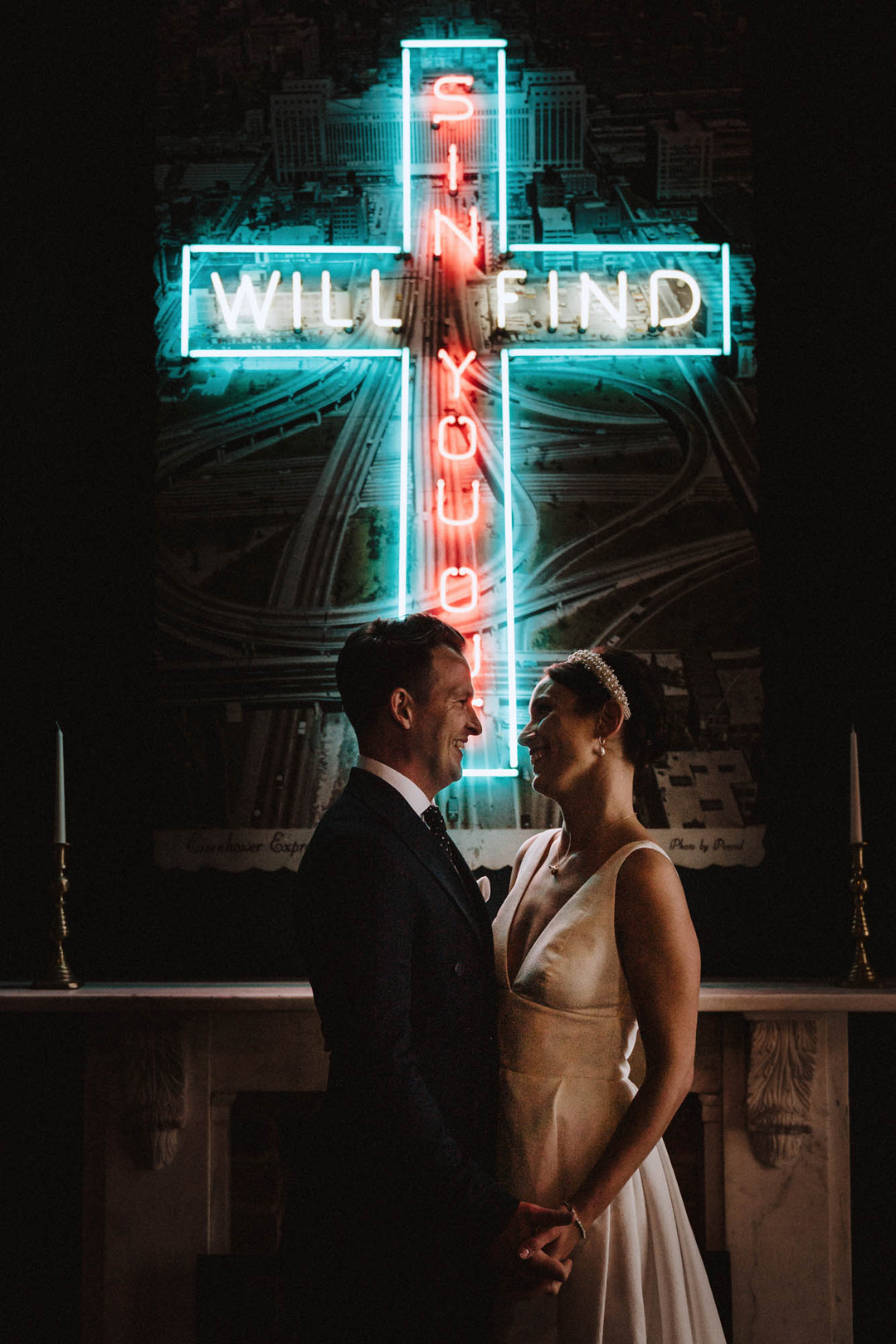 Rhian and Oliver, what a privilege to share your seasonal wedding today. Thank you so much and to Indie Rose Photography too.
If you've fallen in love with these autumnal vibes then please enjoy these other weddings or for more brides wearing Jesus Peiro, take a look here.
Ele xx