As Autumn draws to an end, it's such a delight to share this magical, misty and beautifully atmospheric November wedding with you.
Jess and Aaron got married on 28 November 2020 at Pontypool Register Office with a reception held afterwards at Butterflies Bar & Kitchen, Bleanavon, Wales. The celebration was small, cosy and intimate, replanned in their local area after their original Lake District wedding was cancelled at short notice. However, the couple still chose to embrace their love of the wild and natural, drawing bohemian and rustic elements in to their day, finished off with Jess's charming Needle & Thread dress.
The Wild Love Club

+ Follow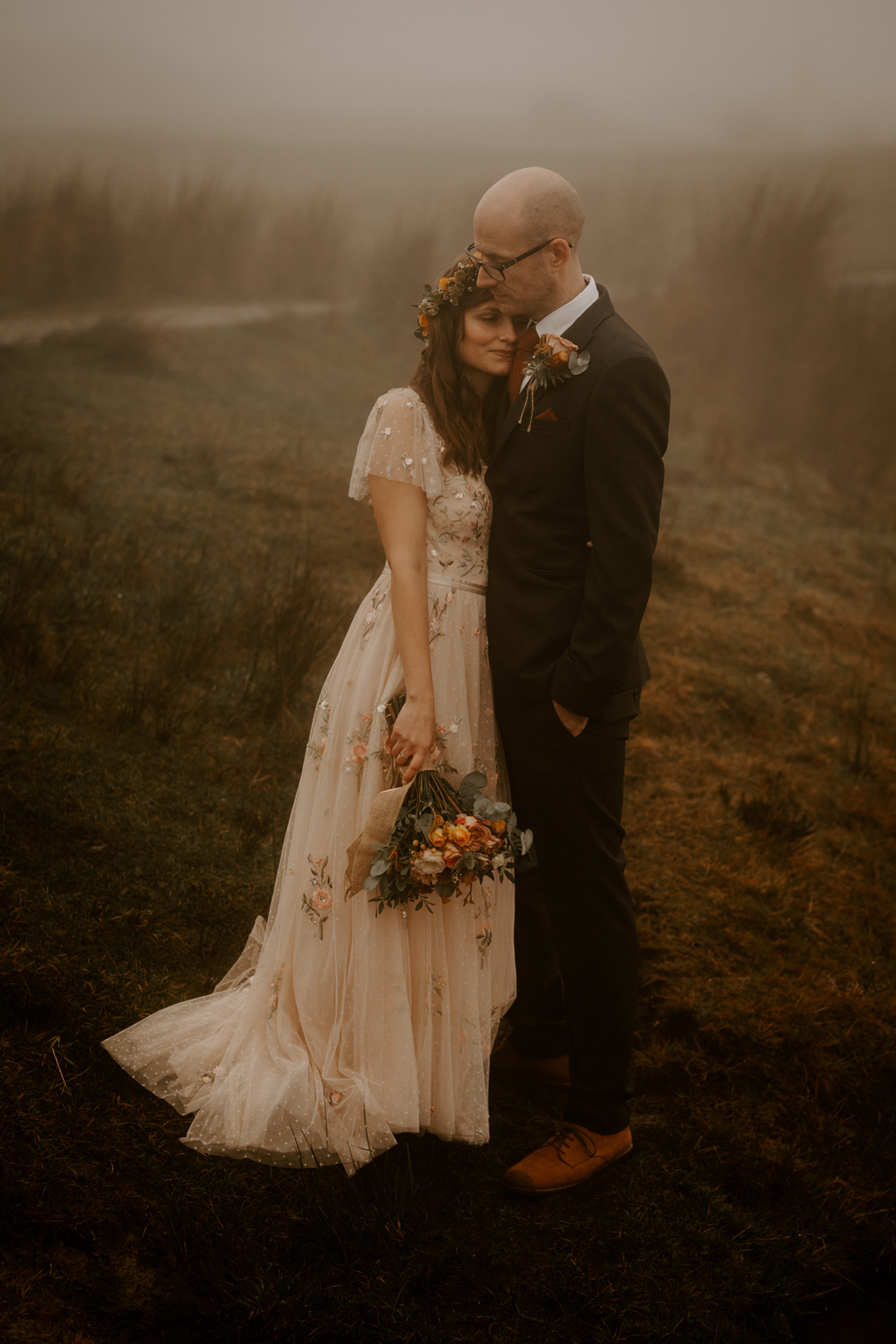 Jess wore a necklace by Merci Maman, a present from Aaron and in her hair, a wild, autumn-inspired floral crown created by her florist, The Petites Fleurs.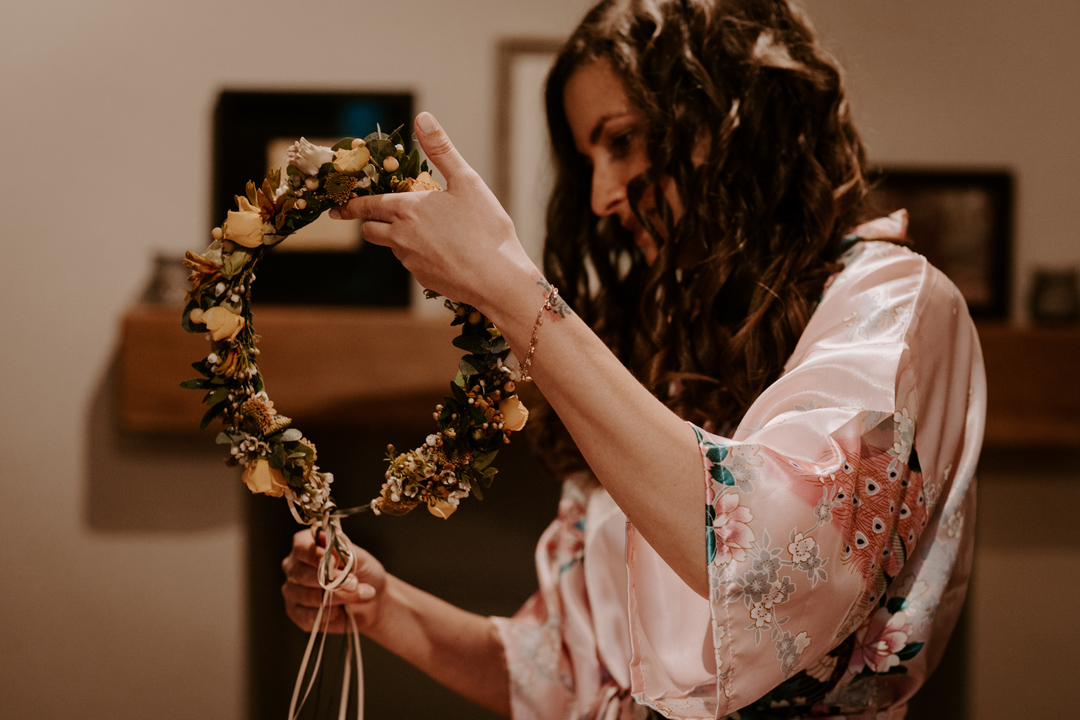 Her hair was styled in long, romantic boho waves by Teresa, a family friend and Jess applied her softly glam makeup herself. The final touch was 'Swietenia' from The Body Shop.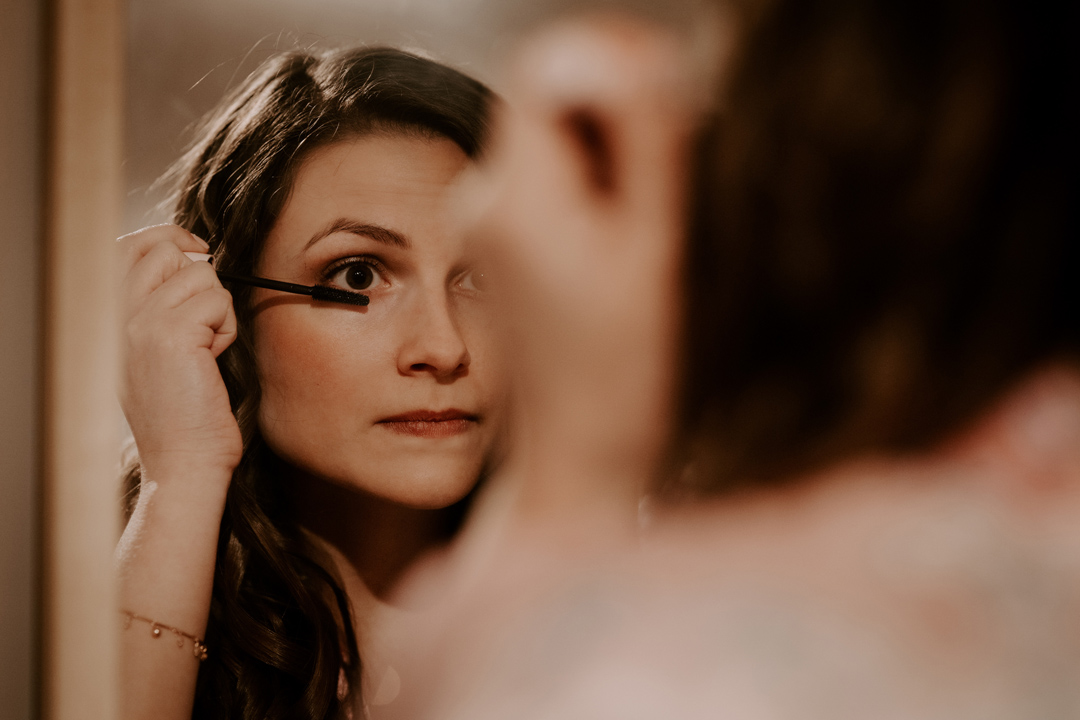 Needle & Thread gowns are so wonderful for any bride who prefers a boho, whimsical look, and Jess chose a batwing, fully-layered, floral-embroidered design.
"My dress was 'off the rack', ordered straight from the Needle & Thread website and altered after by a friend's mum."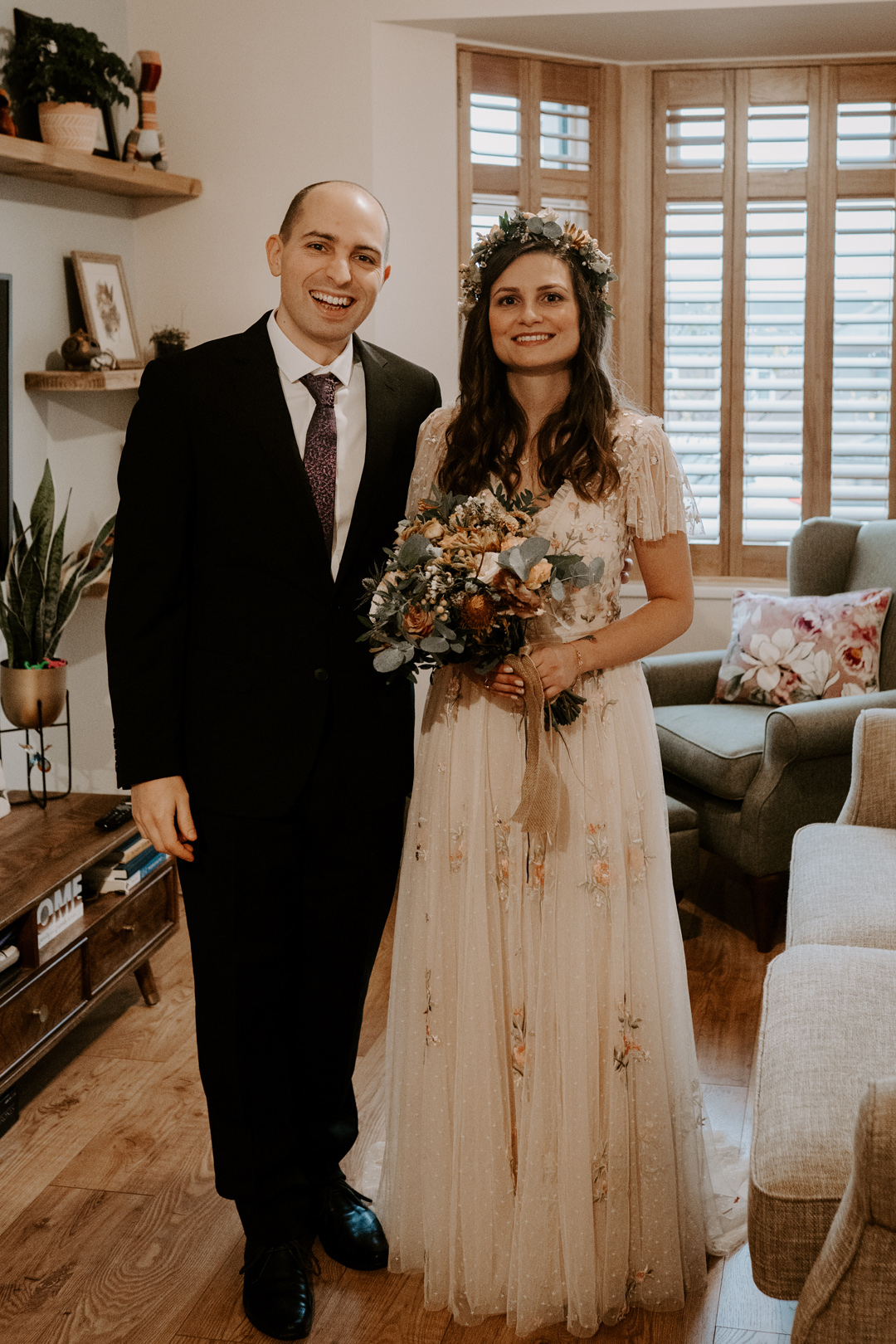 "I've always loved flowers and floral patterns and when I saw this dress, I loved it instantly even though it wasn't a traditional wedding dress."
"When I showed friends and family everyone commented on how it was very me and how well it suited me. It also worked well with the themes I liked."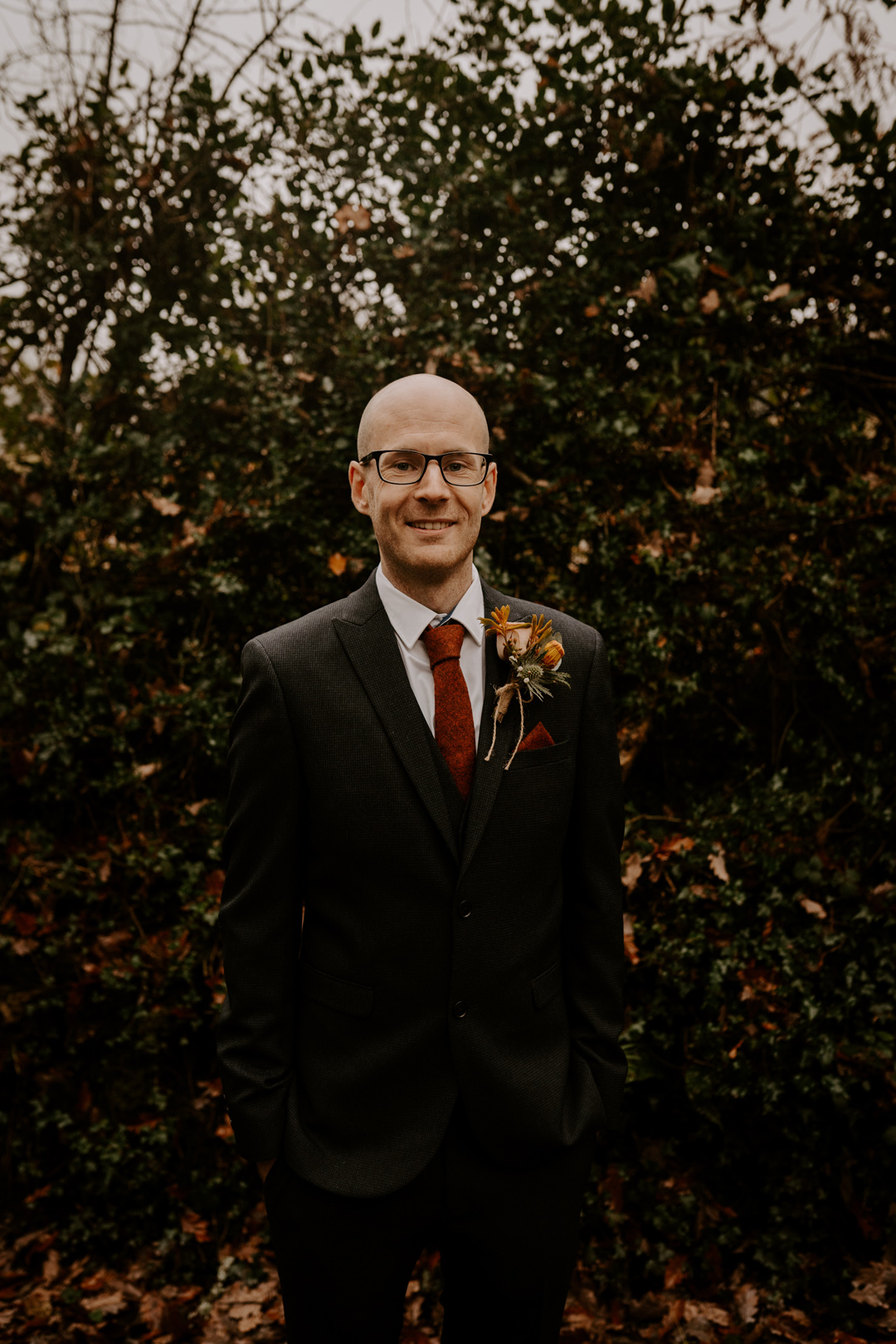 The couple's day was romantic all the way through, with a first look between the bride and groom before the ceremony.
These photographs are so atmospheric and magical, making the most of the mystical Welsh mist and truly embracing the intimate, other-wordly feel it created.
This is the first time I've come across Nicola at The Wild Love Club's work, and wow, am I impressed.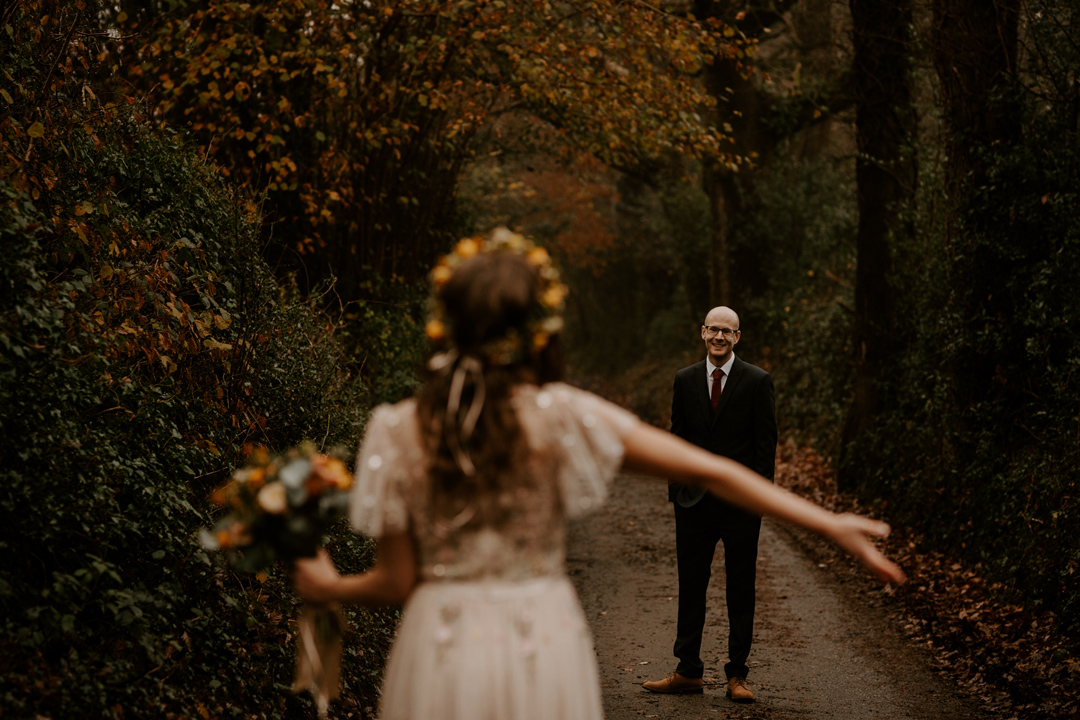 "We did a first look. It was a lovely moment between just the two of us before the ceremony."
"I can't recommend Nicola enough! I fell in love with her style as soon as I saw it and luckily, she was available on our day."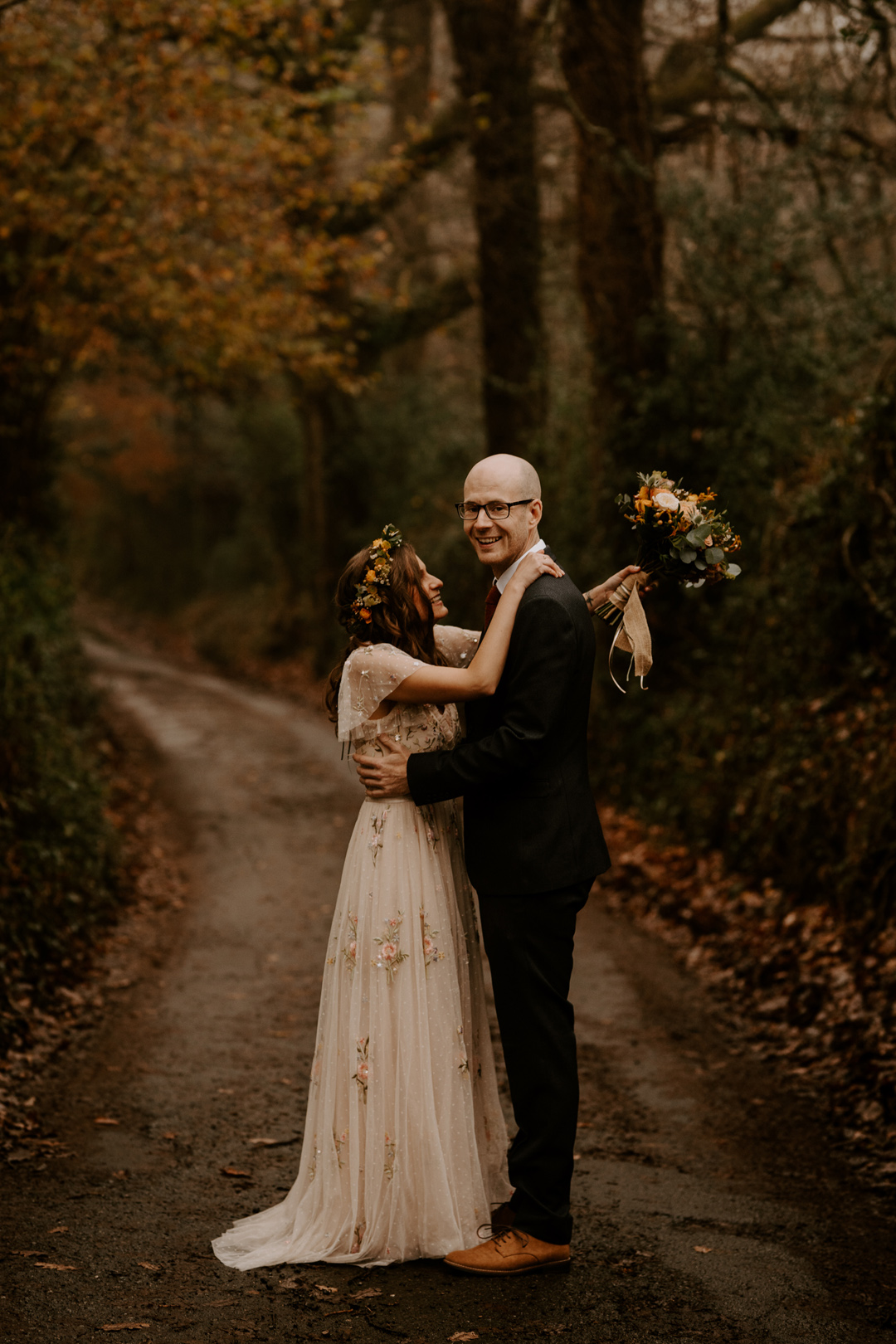 "She and Emma were so understanding, empathetic and helpful when our original wedding plans got cancelled and with our rearrange and complete change of location."
"I was over the moon when she was happy to travel to South Wales, so much further from her than our original venue."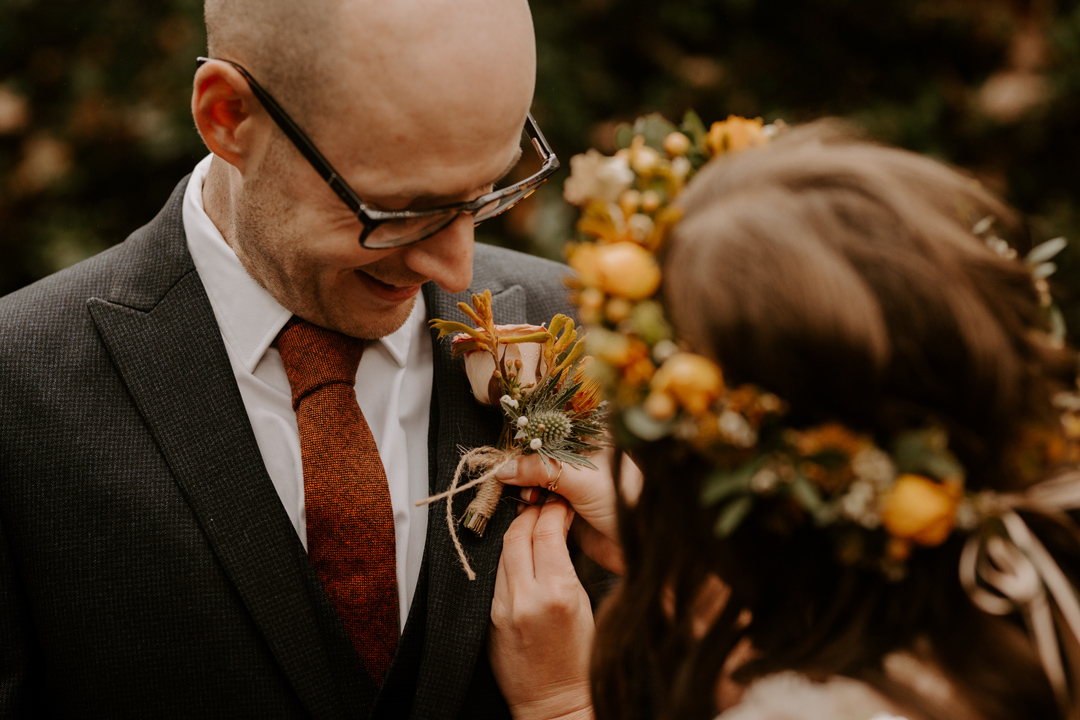 "She was fantastic on the day and fitted right in with everyone. I didn't feel awkward or nervous around her at all, which I was afraid of as I'm not super-social and am not a fan of being the centre of attention."
"She was great on every shoot and taking control of group shots. Every guest commented on how brilliant and lovely she was. I'm so glad we found her; it wouldn't have been the same day with anyone else."
"We had a sneak peek of a few photos that evening and they were amazing, as were the rest when we received them. She captured the day perfectly."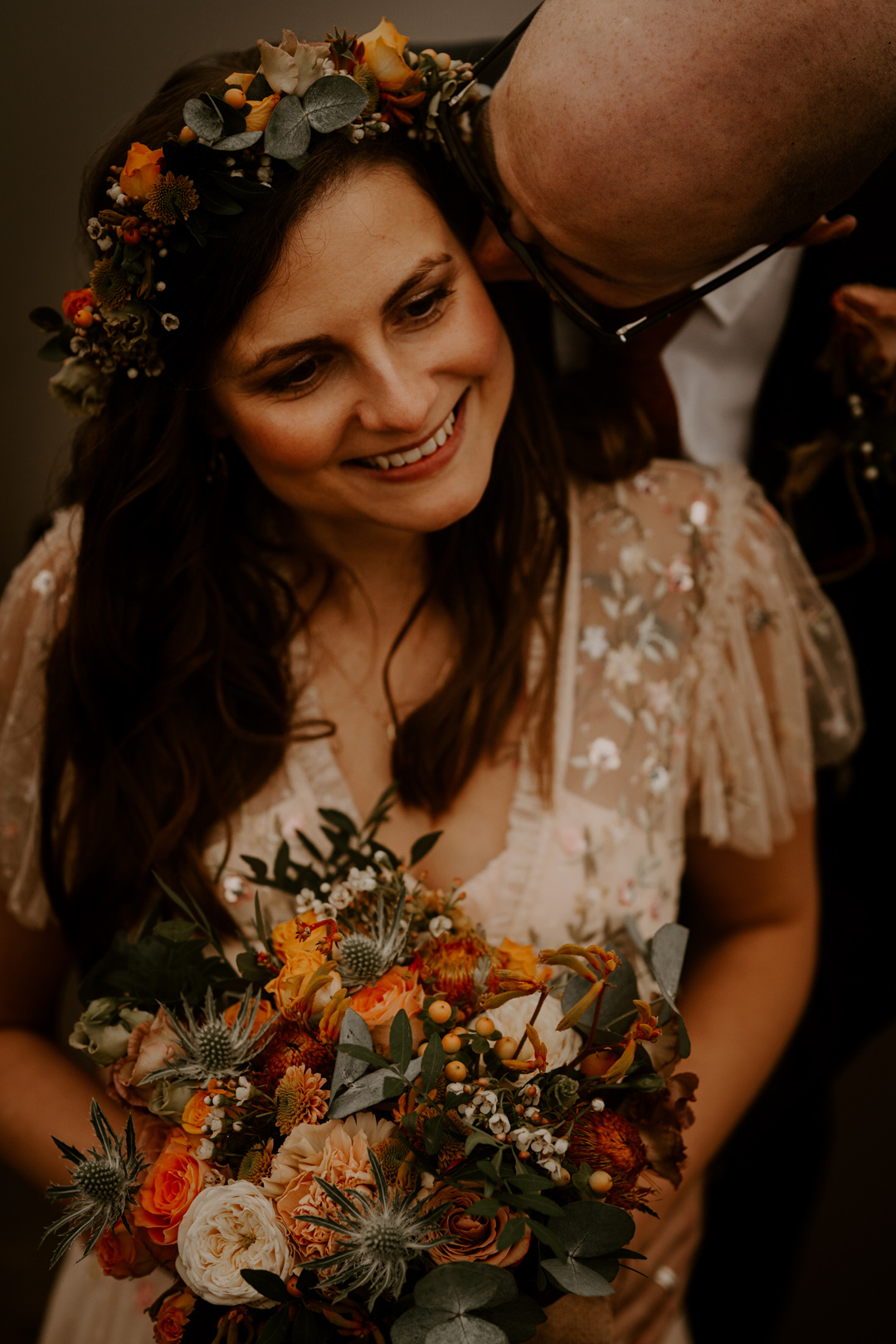 "Our original date was 25 October 2020 in the Lake District. This got cancelled less than a week before due to Wales entering a firebreak lockdown."
"We decided to move the wedding closer to home due to the uncertainly of the times."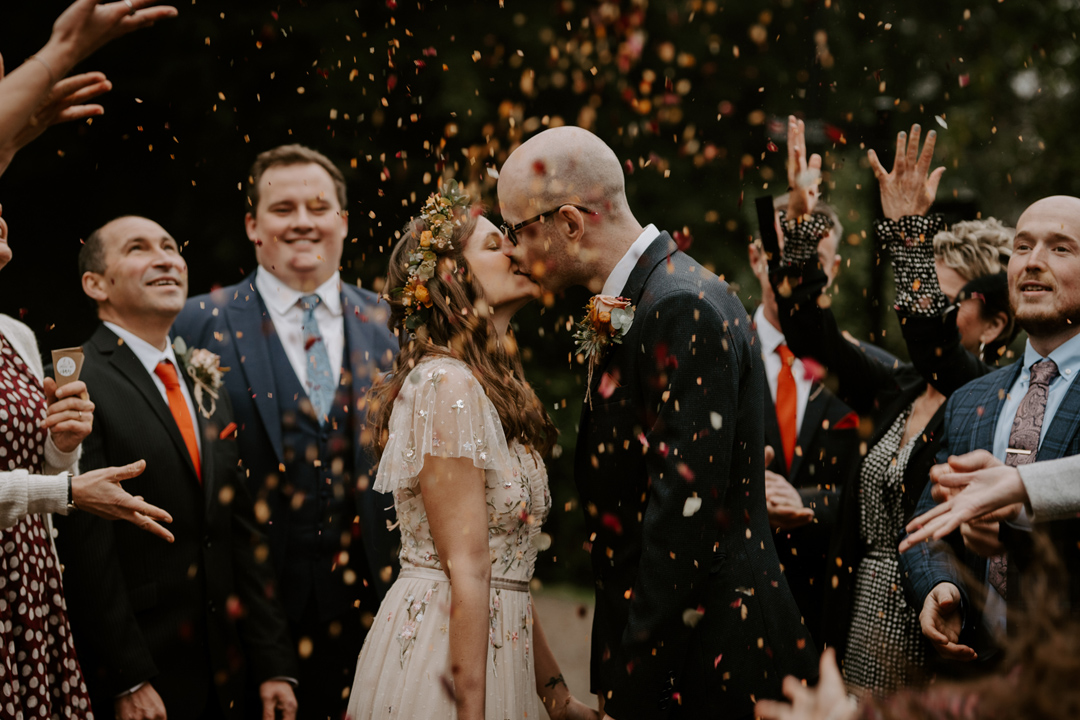 "It was quite stressful keeping up with all the Covid rules and restrictions at the time, as they differed from Wales to England."
"We discussed postponing until the pandemic was under control but didn't want to put our lives on hold and were happy to go ahead as long as our immediate families could attend."
"So, we decided to book in for November. Both our venues were chosen as they are within our local area."
The couple drove themselves to the registry office and chose Kodaline's 'The One' to play as Jess made her way down the aisle with her father.
The ceremony was kept as short as possible due to Covid and didn't include any readings, but they did exchange beautiful, personal rings.
"Aaron's ring is a sterling silver, lightly hammered ring with a fossilised wood inlay, from Sterling Holmes Rings on Etsy."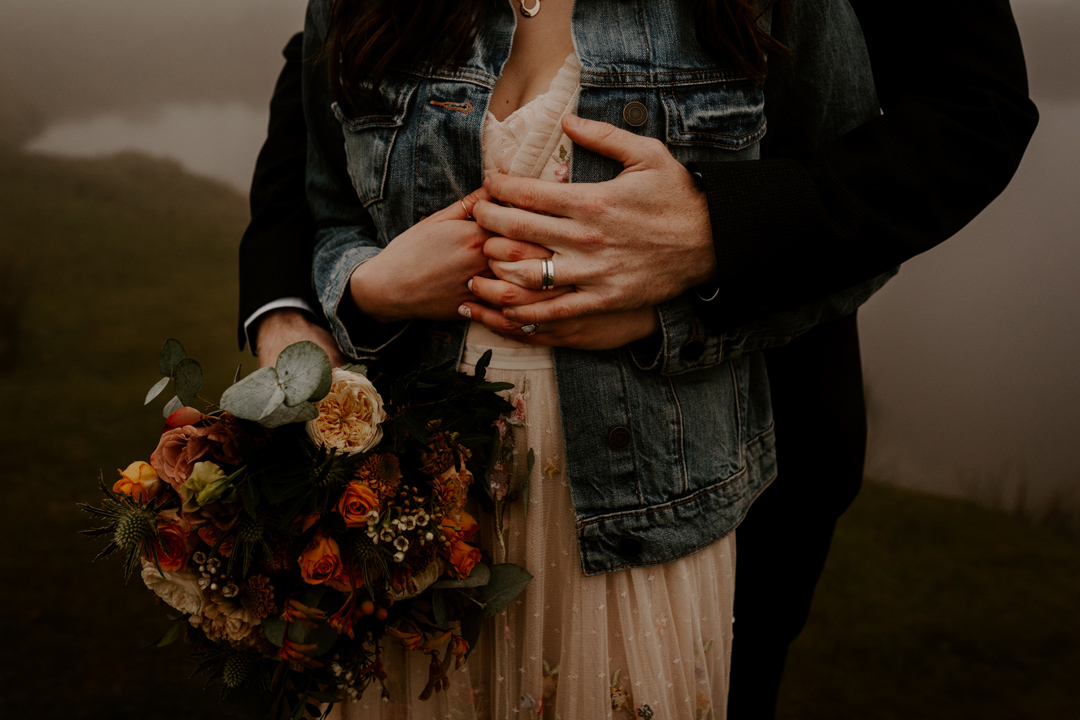 "My rings are both by Mary McMillan Jewellery. They are both handmade in gold with personalisation on the insides, and my wedding ring sits under the engagement ring which has a beautiful, natural crystal Australian opal."
"Mary was amazing; brilliant, understanding and helpful throughout the entire process."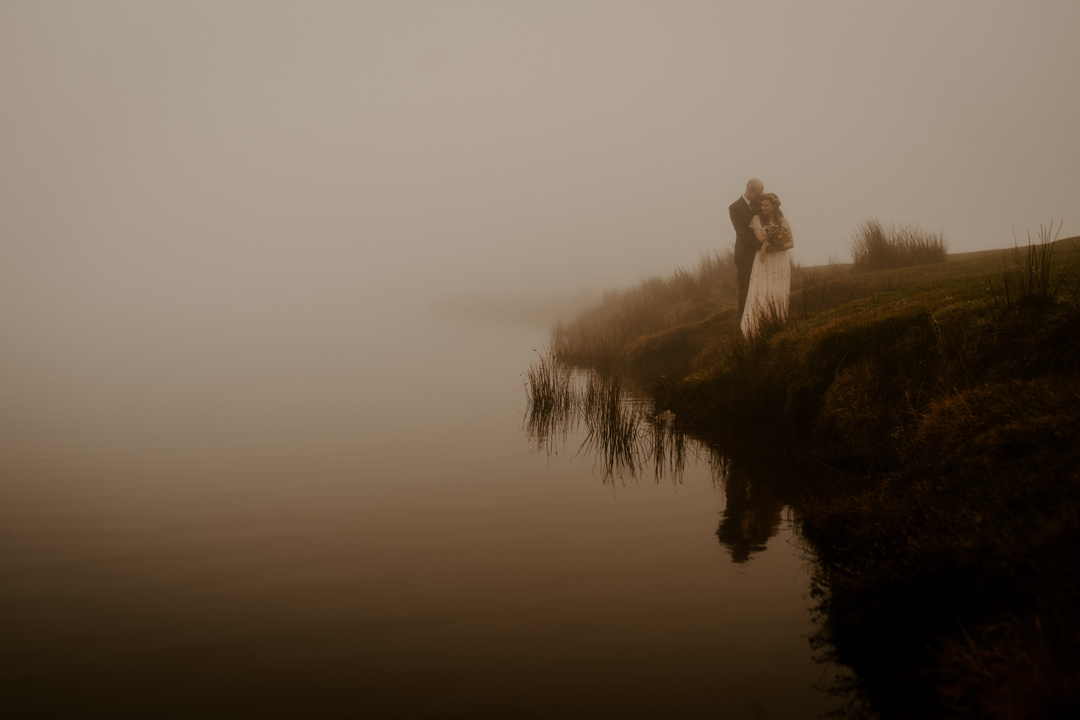 The couple were lucky enough to have a pre-pandemic holiday to Japan, which is where they got engaged.
"We lived in the same village and met as teenagers through a mutual friend."
"Not long after, we started our relationship."
"Thirteen years on, Aaron proposed on our long-awaited trip to Japan in Kamikochi. One year later, we were married."
"I like a natural feel to things and like a boho/rustic theme. I got a lot of inspiration from Pinterest. I also joined a few groups on Facebook."
"One was for 2020 weddings and that was a lovely support network for 'Covid Weddings'."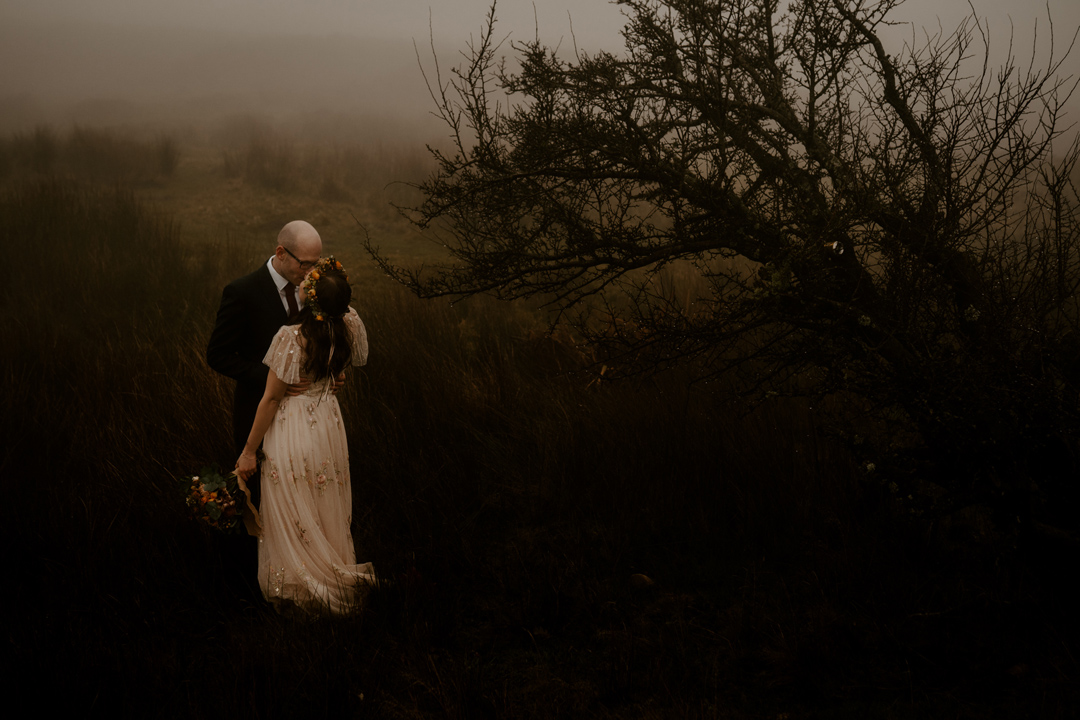 The bridesmaid's gown was also inspired by autumn, a deep russet-red, halter-neck design from ASOS.
Seasonal bouquets were supplied by The Petites Fleurs.
"Georgi was brilliant from start to finish. She responded quickly to any questions, offered prompt, Covid-safe delivery and set up for us at the reception venue."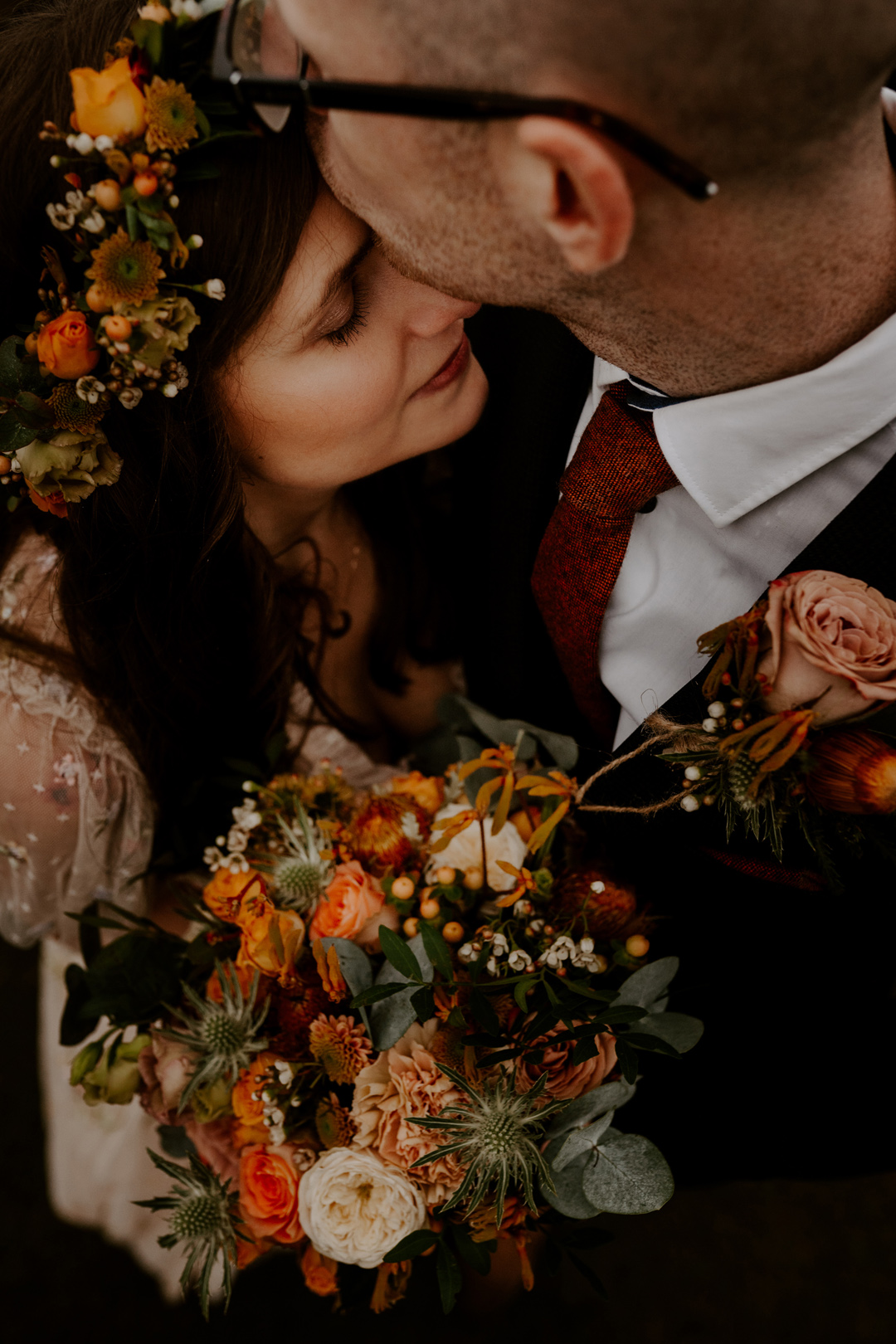 "I wanted the theme of the flowers to be autumnal to keep with the time of year and I love oranges and yellow tones."
"They did a lovely job and everyone commented on how beautiful the flowers were and what a great job they had done."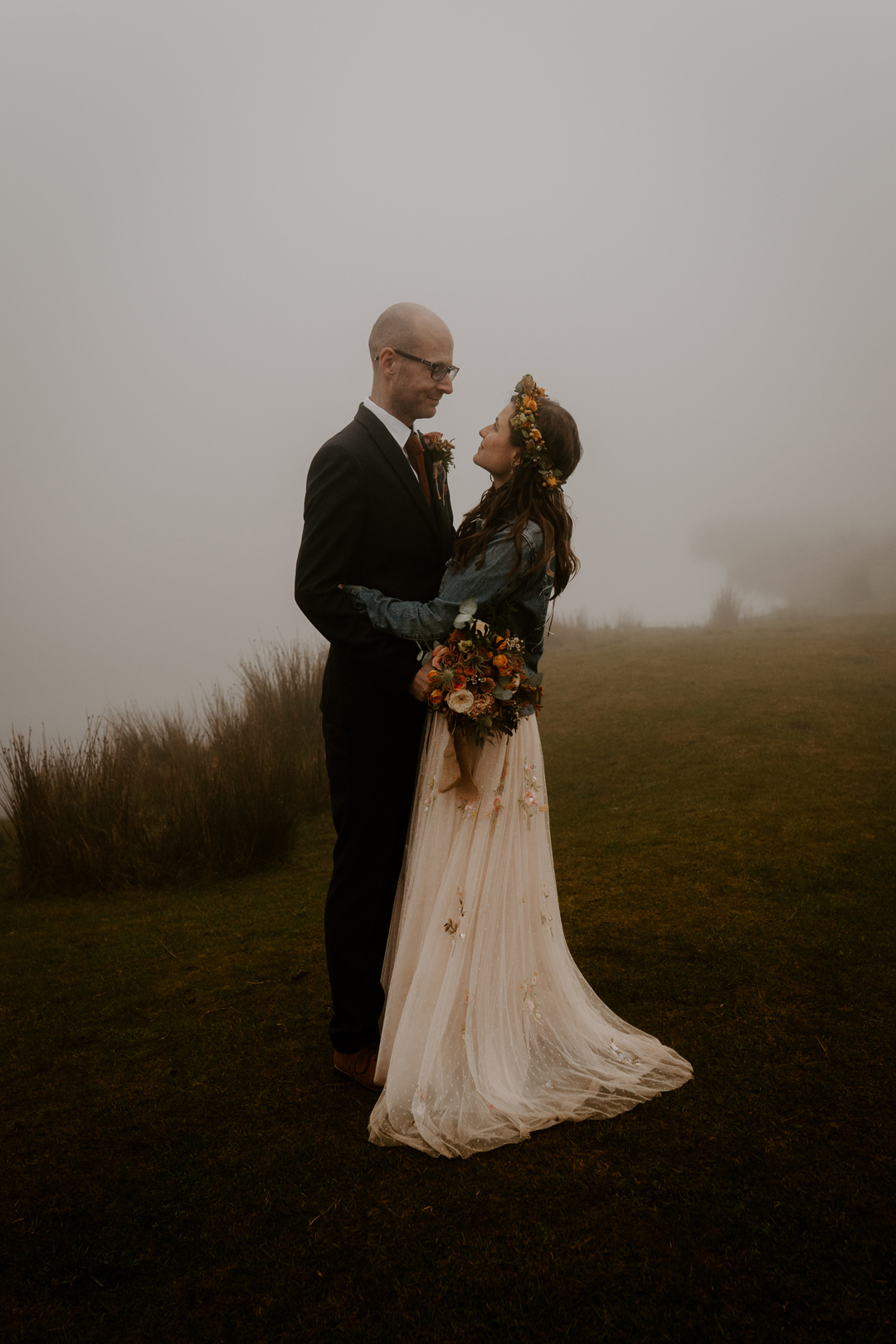 The bride wore a denim jacket for extra warmth after the ceremony.
"I'd seen personalised ones and found Northern Made Co. She was very reasonably priced and I couldn't resist."
"She was brilliant; I ordered through Etsy and she supplied a proof before painting the design on the jacket. I absolutely loved it."
The bride wore small heels from Dorothy Perkins for the ceremony then changed into comfier, pink Converse after.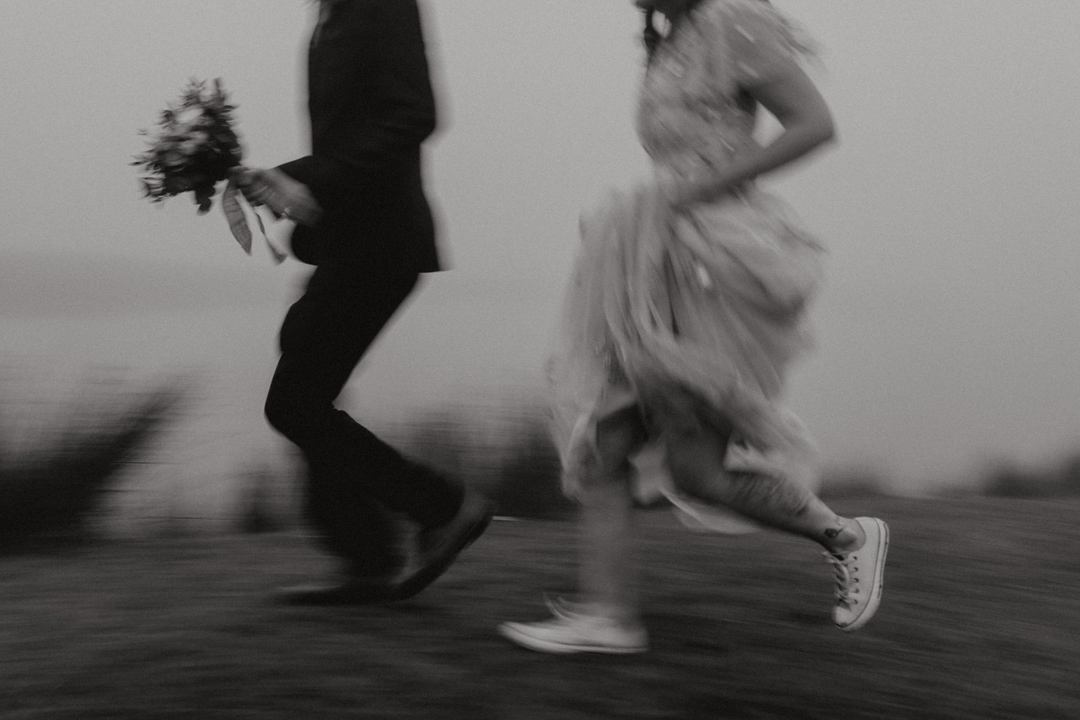 After becoming husband and wife, the newly-weds hosted an intimate dinner party at nearby Butterflies Bar & Kitchen. Of course, some changes had to be made for Covid restrictions.
"On our wedding day, extended households were luckily a thing which allowed for more close contact."
"We also got all guests and ourselves reusable masks for the day. The restaurant temperature-checked everyone on arrival and placed hand sanitiser on the tables."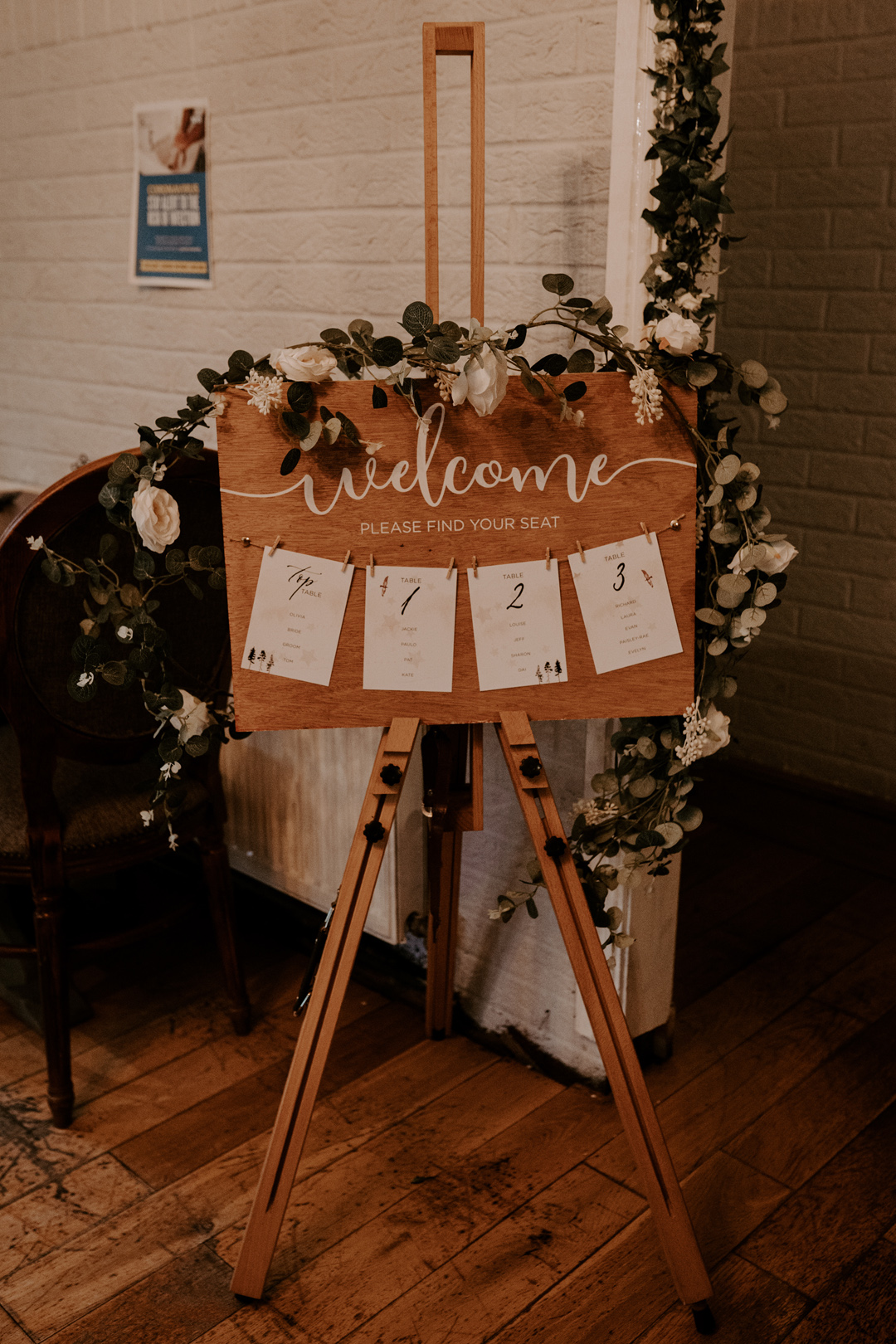 Jess and Aaron kept their styling simple and natural; just flowers from their florist and some beautiful stationery created by the bride herself.
"I purchased elements from Lana Elanor on Creative Market Lana and put the design together myself for invites, menus, place cards and seating plans."
"They were all printed at Marshall & Hicks Print Ltd."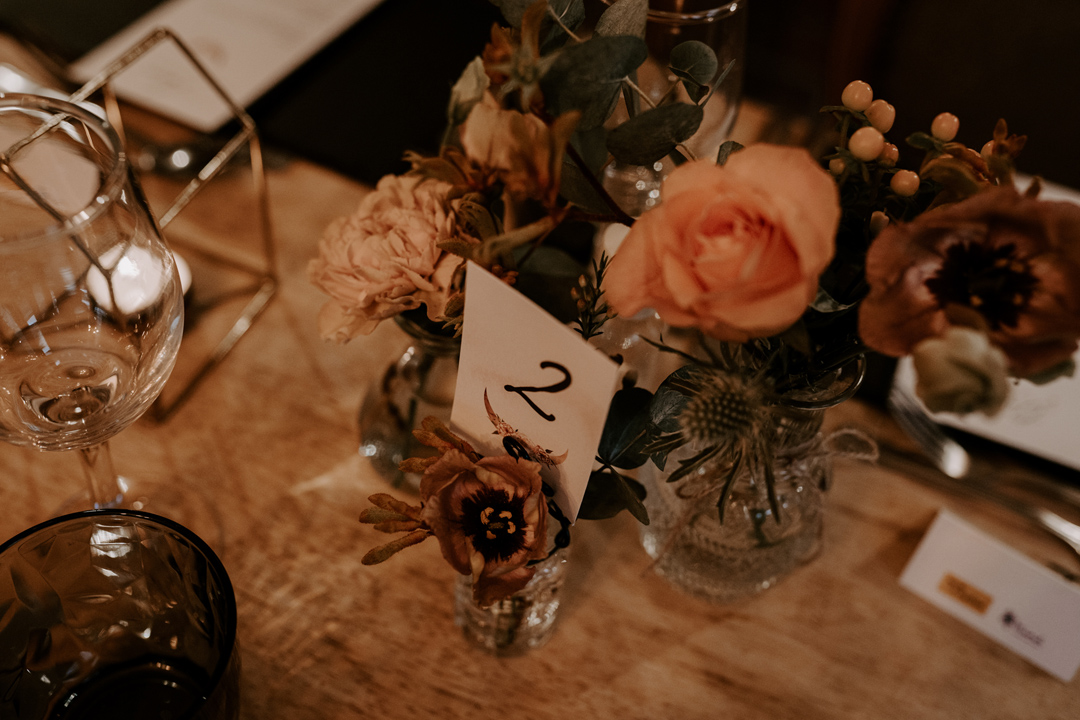 The couple's talented family made this exquisite, tiered cake.
"My sister, with the help of my brother, made my cake! It was a two-tier, naked sponge cake with cream and fresh fruit filling."
"It was gorgeous. Cake toppers were 'just married' bunting from Ebay and peg dolls of me and Aaron from BoosBitz on Etsy, with flowers by the florist on a wood slice."
"I loved the entire day from start to finish! It all went so fast. Our wedding budget was £5000/£6000 and we fell within that."
Each guest received a lovely, and very thoughtful favour.
"We wanted to keep it practical and not wasteful. We decided on reusable masks (not personalised so they can be worn again) which were given a few days before the wedding and charity donations."
"We decided on Dogs Trust as we are both dog lovers. We made a donation and ordered pins for all the guests. Then, due to a sudden loss not long before the wedding, we made a donation to MIND in memory of that person on behalf of ourselves and the guests."
"I popped the pins on tent cards with a thank you note and mentioning that we'd donated to both charities on their behalf."
Words of Wedded Wisdom
"Don't stress about what you can't change. My motto became, 'What will be, will be'. Despite restrictions we still had an amazing day."
"We kept it just family so as not to have to pick and choose which friends could come. If you'd still like to celebrate with everyone who couldn't come, have a big party (sequel wedding) once we are in the clear."
"Roll with the punches; we had to do so much of this due to the pandemic. Instead of stressing about what you can't control or change, just relax and go with the flow."
"Whatever happens, if you get to marry your partner at the end of the day that's what it all about – marrying the person you love."
Such wise words Jess, thank you for sharing. I've been blown away by these incredible images of your and Aaron's day so thanks and congratulations to you both.
The Wild Love Club, I really hope we get to see more of your wonderful work here, so thank you too. Brides, if you've loved seeing Jess in her Needle & Thread gown and want to see more then why not check out these other Love My Dress brides here?
Ele xx