It is my great pleasure to share the beautiful wedding of Polly and Jack with you today. Inspired by pumpkins, autumnal oranges and peach tones, the couple styled their day to be traditional, yet reflect them as a couple.
On 22 October 2021, primary school teacher Polly wed scaffolder Jack at St Mary's Church, Runwell near Wickford in Essex with a warm and romantic reception afterwards at Vaulty Manor near Heybridge, Maldon, Essex. Originally planned for 27 March 2021, the change in date due to the Covid pandemic allowed the bride to indulge her love for pumpkins and warm autumn tones in the styling of her venue.
Shelby Ellis Photography

+ Follow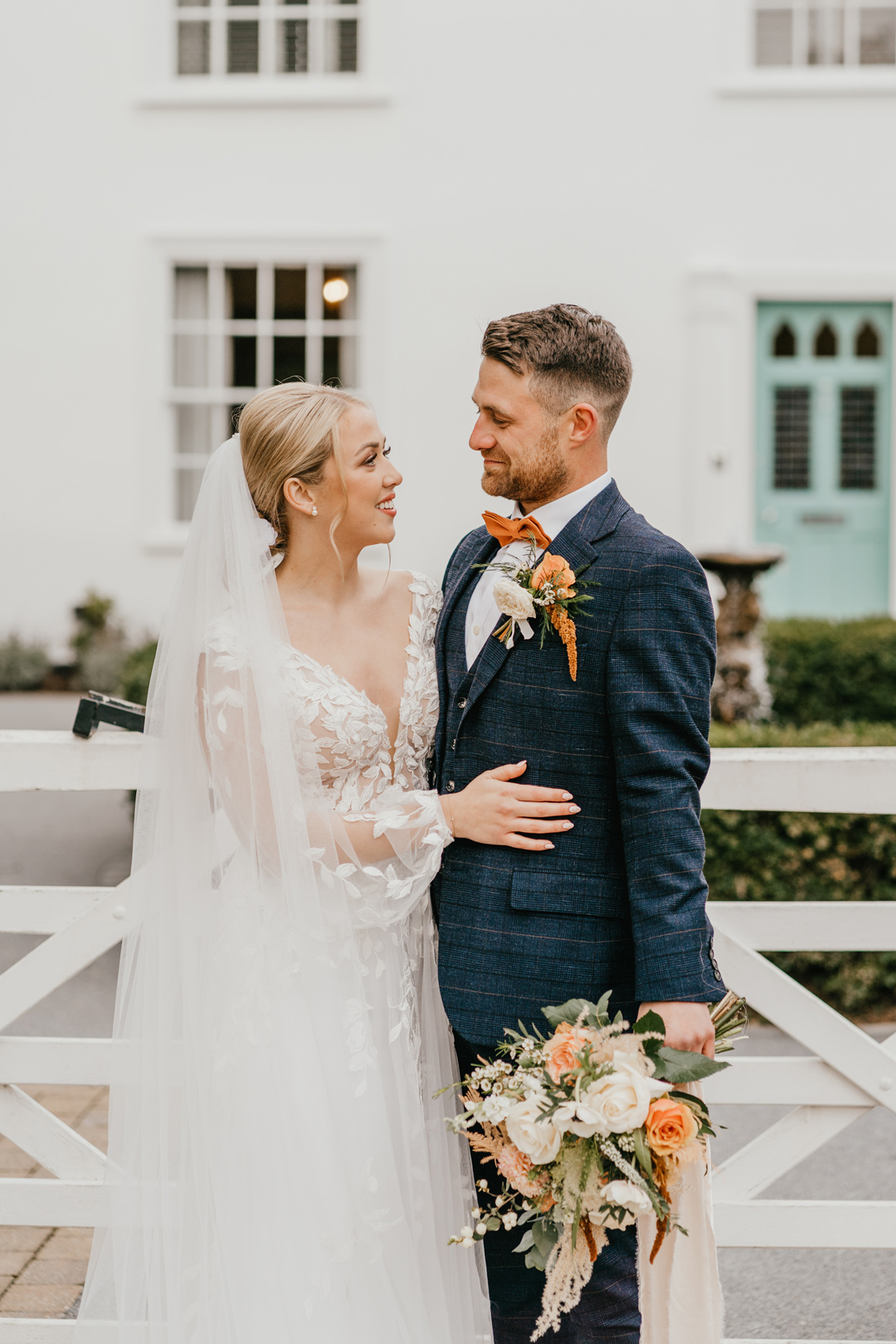 "I actually always wanted an October wedding, so actually this was the best thing to happen to us. Everyone knows me for my love of autumn and Halloween – not so much the scary side of things but for the pumpkins, the colours, the time of year – everything."
"I was completely inspired by pumpkins and autumnal orange tones and peach tones. I wanted the wedding to have elements of tradition but to reflect us as a couple. Everyone who attended had kept saying to us at the wedding and after, how the wedding was just 'so us' and that is exactly what we wanted to portray."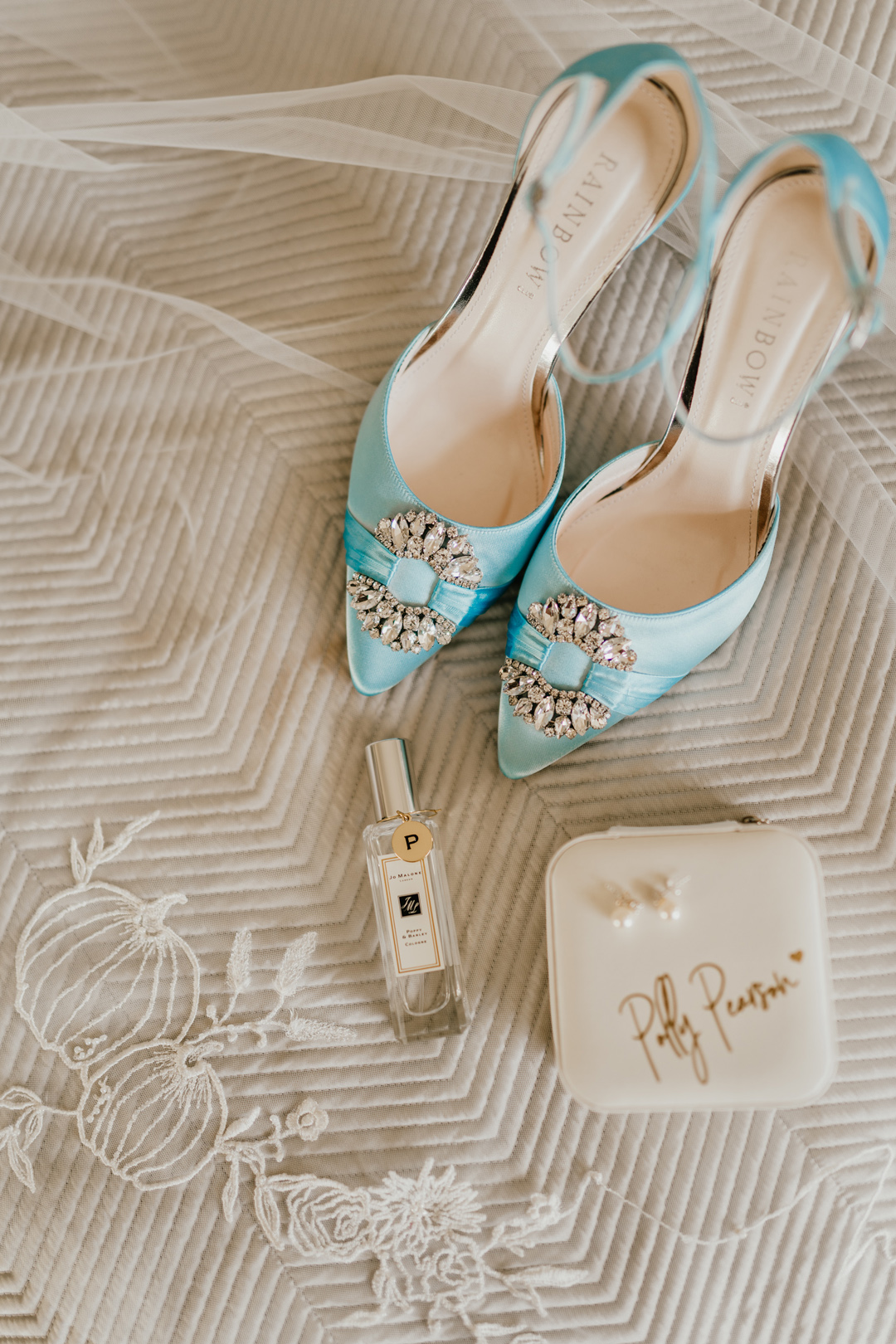 Polly slipped on shoes from Rainbow Club, dyed blue to be her 'something blue'. Her sleek and elegant up-do was styled by Clare Louise Hair and her flawless make-up was by Chloe Grace Bridal Makeup.
"They were both amazing ladies and so knowledgeable. They made us all feel at ease and made us feel beautiful. I saw the hairstyle I had on Pinterest with floral clips in, so I found some on Etsy and wore them."
It's great to hear that Polly turned to Love My Dress for inspiration and support through the wedding planning.
"Love My Dress was incredible to follow whilst preparing for wedding. Even after the wedding, it's just amazing to see the posts and blogs about other weddings."
"Every wedding uploaded is not the 'norm'; there is always something so special and unique and extra touches always added."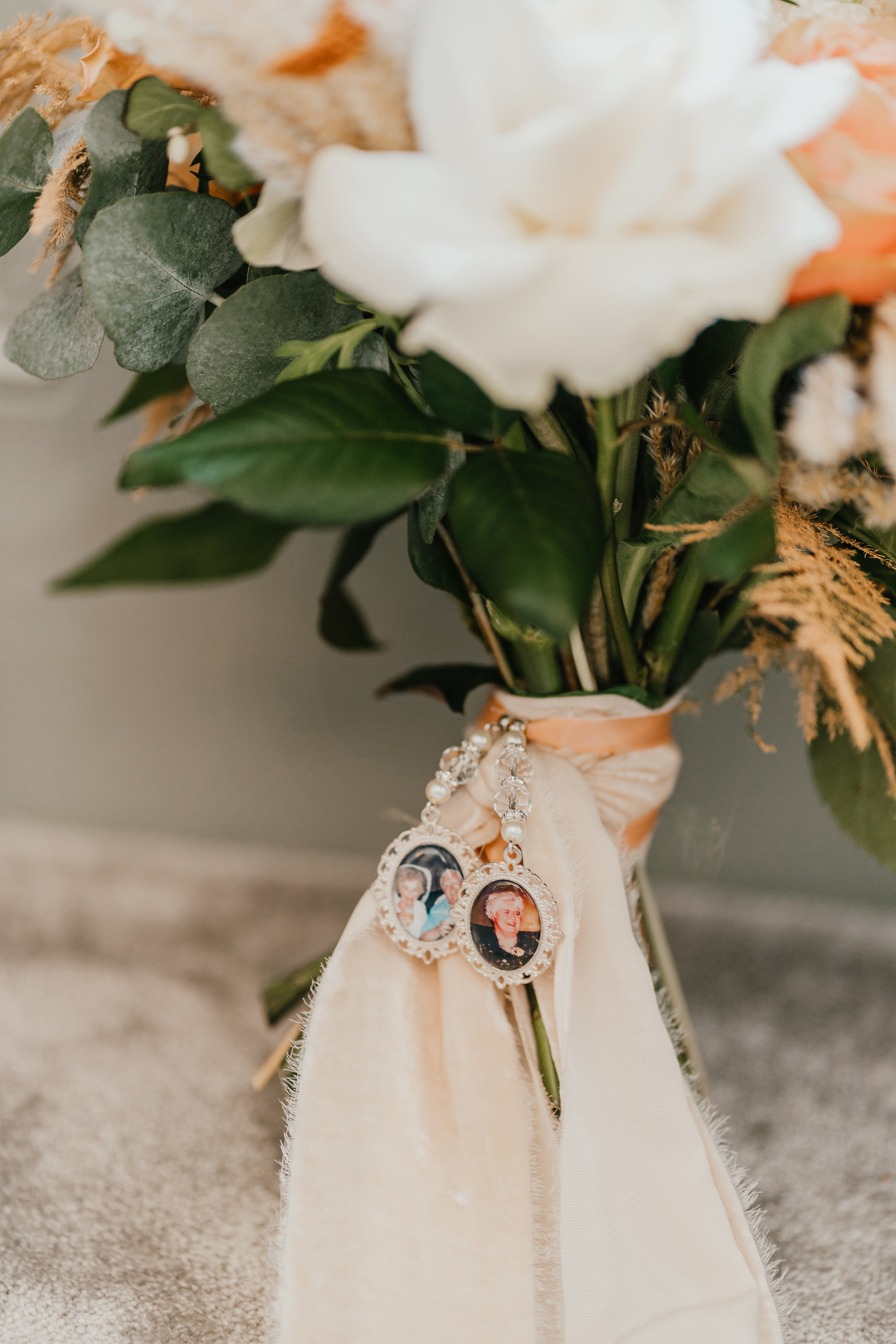 Polly visited bridal shop Bellissima Weddings in South Woodham Ferrers, Essex to select her flowing Essense of Australia D3145 gown. I love the fitted, leafy bodice paired with the dreamy, tulle balloon sleeves.
"Bellissima Weddings is the best wedding dress shop out there. I tried on over forty dresses in multiple shops and went to Bellissima three times, changing my mind and they never pressured me."
"I couldn't recommend them anymore if I tried. The professionalism, the style of the shop, the experience… everything was perfect."
"They now have a bar in the shop as well to make the dress shopping experience a celebration."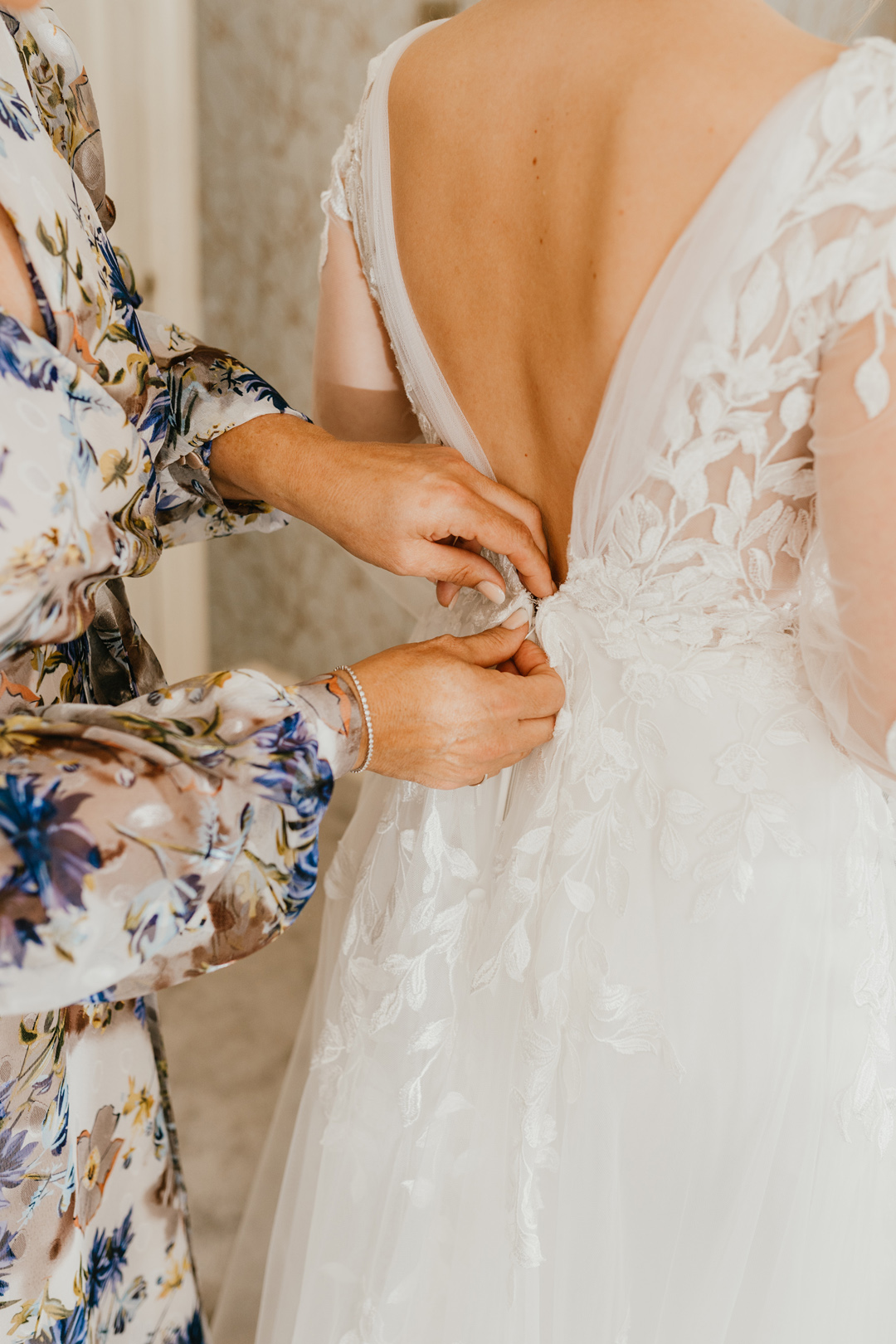 "I originally had a dress from a different shop but when we moved the wedding I had the feeling that the original dress wasn't me."
"I wanted a quirky and different dress to represent my style and my first dress was far too classic for me. My dress was just perfect."
"I had so many compliments and people saying, 'It's so beautiful and unusual' and, 'Polly, the dress is just so you'. That proved to me I made the right choice of dress."
"I always wanted a long-sleeved dress but the balloon, 70s-style sleeves were just amazing. I always wanted to be a bride that stood out slightly."
Polly and Jack met on a night out for a mutual friend's birthday.
"I wasn't going to go that night as I wasn't feeling great but I forced myself to go and I count my lucky stars that I did. When I met Jack, I felt like I had never laughed so much with someone. There was an instant connection and I felt so happy to meet him. I messaged him first the next day (I couldn't wait for him to do it) and it went from there."
"Jack proposed to me on 1 September 2019. He sent me on a spa day with my mum and sister and decorated our whole house with fairy lights, candles and flowers – all of my favourite things. He told me he wanted to propose in our home because he knew how much I loved living with him. It was so, so special.  We were engaged for just over two years before the wedding."
Polly's father walked her down the aisle to a piano cover of 'Real Love' by John Lennon.
"It was the original of the John Lewis advert sung by Tom Odell. I am obsessed with all the John Lewis adverts so this was really important to me."
"I always wanted a church wedding. The feel of being in a church has such a wonderful feeling and sentimental value."
"We aren't very religious people but I know that my grandparents would have loved to see me getting married in a church and it felt right to do it this way."
"There were elements of the wedding we wanted to keep traditional and this was one of them."
The ceremony was led by the vicar of St Mary's Church, Reverend Sue.
"Our vows were the traditional church vows which we both loved so much. We got the vicar to read a poem to us all called 'The One' by C. J. Barclay which was wonderful."
The bride's ring came from Michael Frank Jewellers in Wickford whilst Jack's had special, sentimental significance.
"Jack chose them to make my engagement ring so I thought it would be perfect to have my wedding ring made by them too. Jack's ring was so, so special."
"It was his grandad's engagement ring and one of his nan's rings melted down together and made in to a bespoke ring for Jack."
After being pronounced husband and wife, the newly-weds walked down the aisle together 'You're My Best Friend' by Queen.
The couple hopped into the VW Beetle to make the drive to Vaulty Manor, where they hosted welcome drinks and canapés.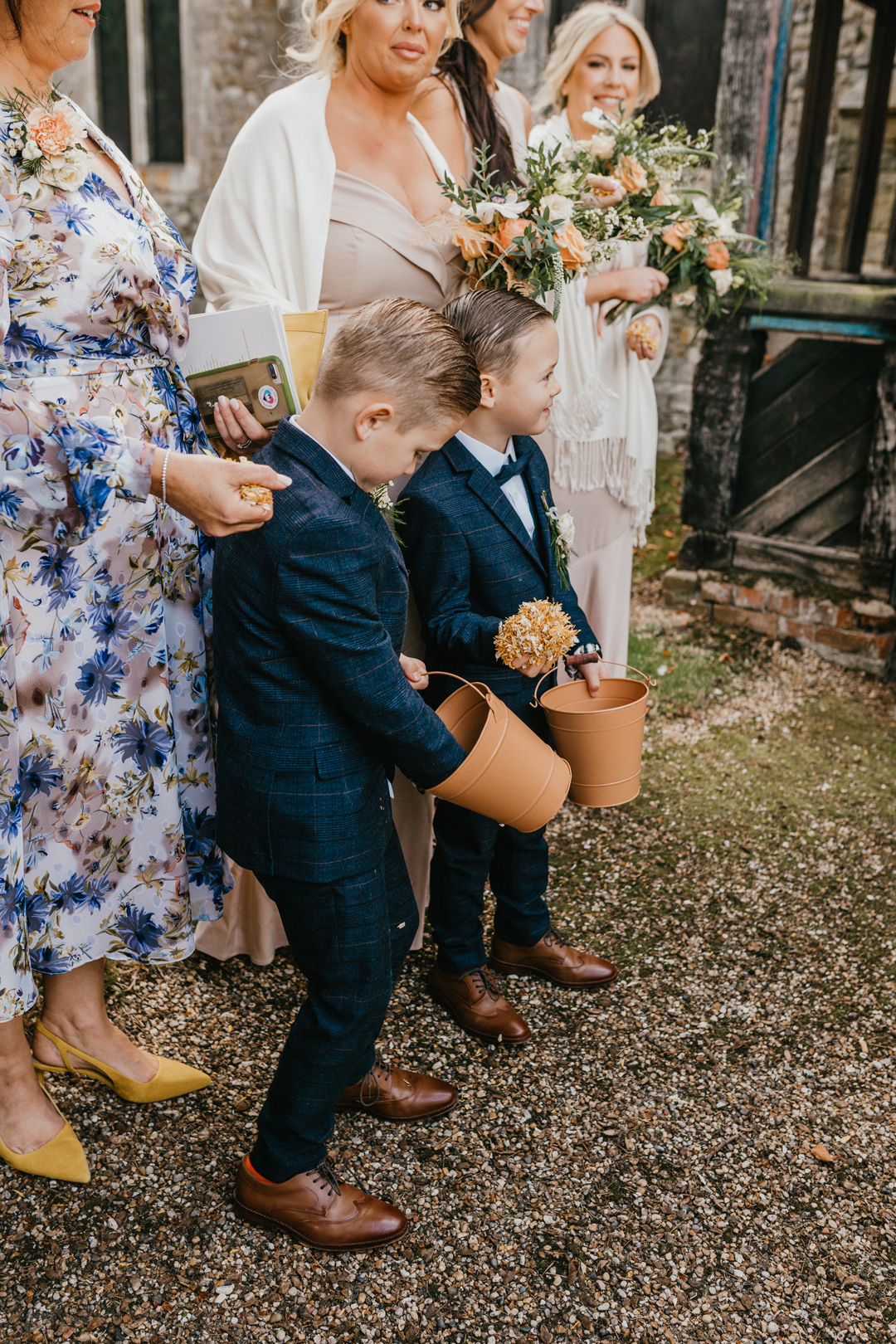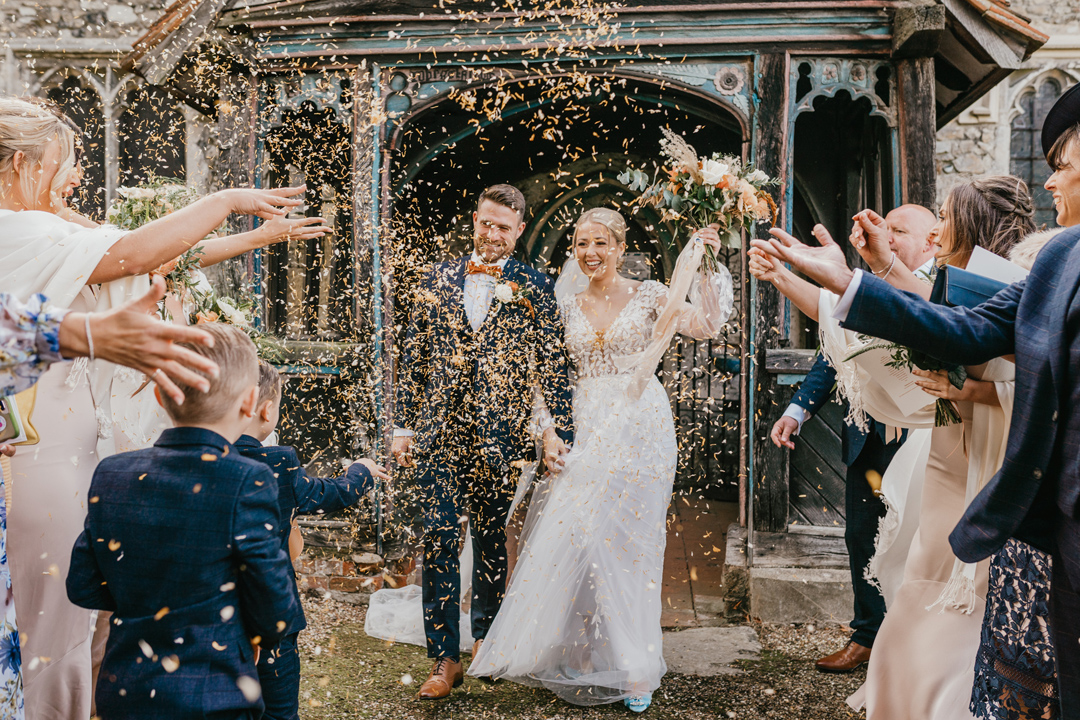 The wedding transport was a vintage VW Camper from V-Dub Rides, adorned with ribbons and flowers.
"I always wanted a hippy campervan and Beetle for my wedding since I was a little girl so I didn't need to think twice booking my transport."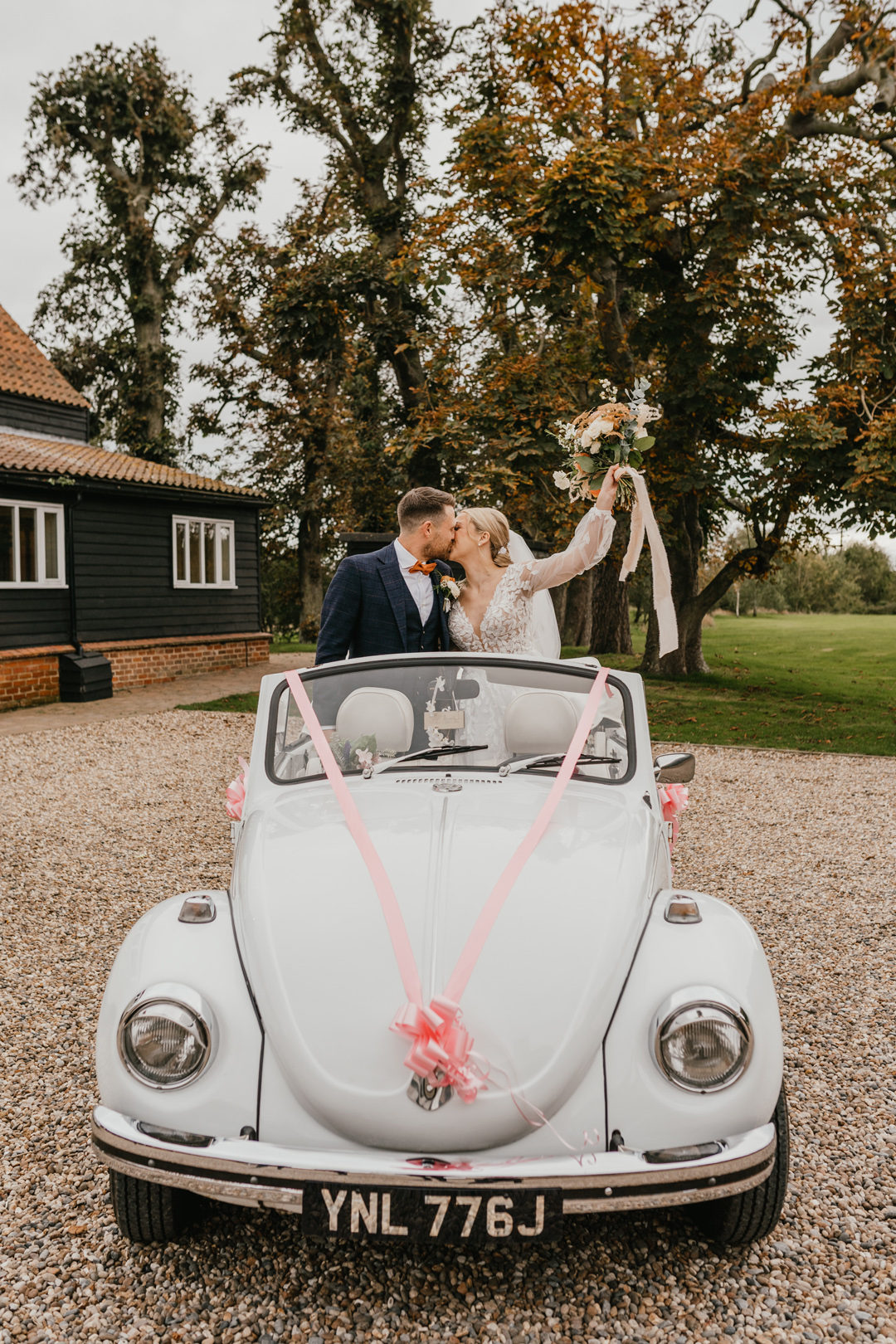 The bridesmaids wore long, elegant gowns in the palest peachy gold, all from Oasis and carried whimsical bouquets of orange, peach and green, put together by Kate Margerum at Blume Lifestyle.
"My florist was incredible and her style and expertise of flowers is amazing. I told her the colour scheme and how I wanted the flowers to be like a whimsical garden with a hint of pampas to match the invites."
"My bridesmaids wore their own gold heels and I bought them all pearl slides to wear in their hair."
The groom, groomsmen and page boys looked dapper in tailored, navy and black check, three-piece suits from Moss Bros, complete with orange bow ties from Etsy.
Jack also wore cufflinks from Polly, inscribed with, 'Let's do this! I love you. Polly x'.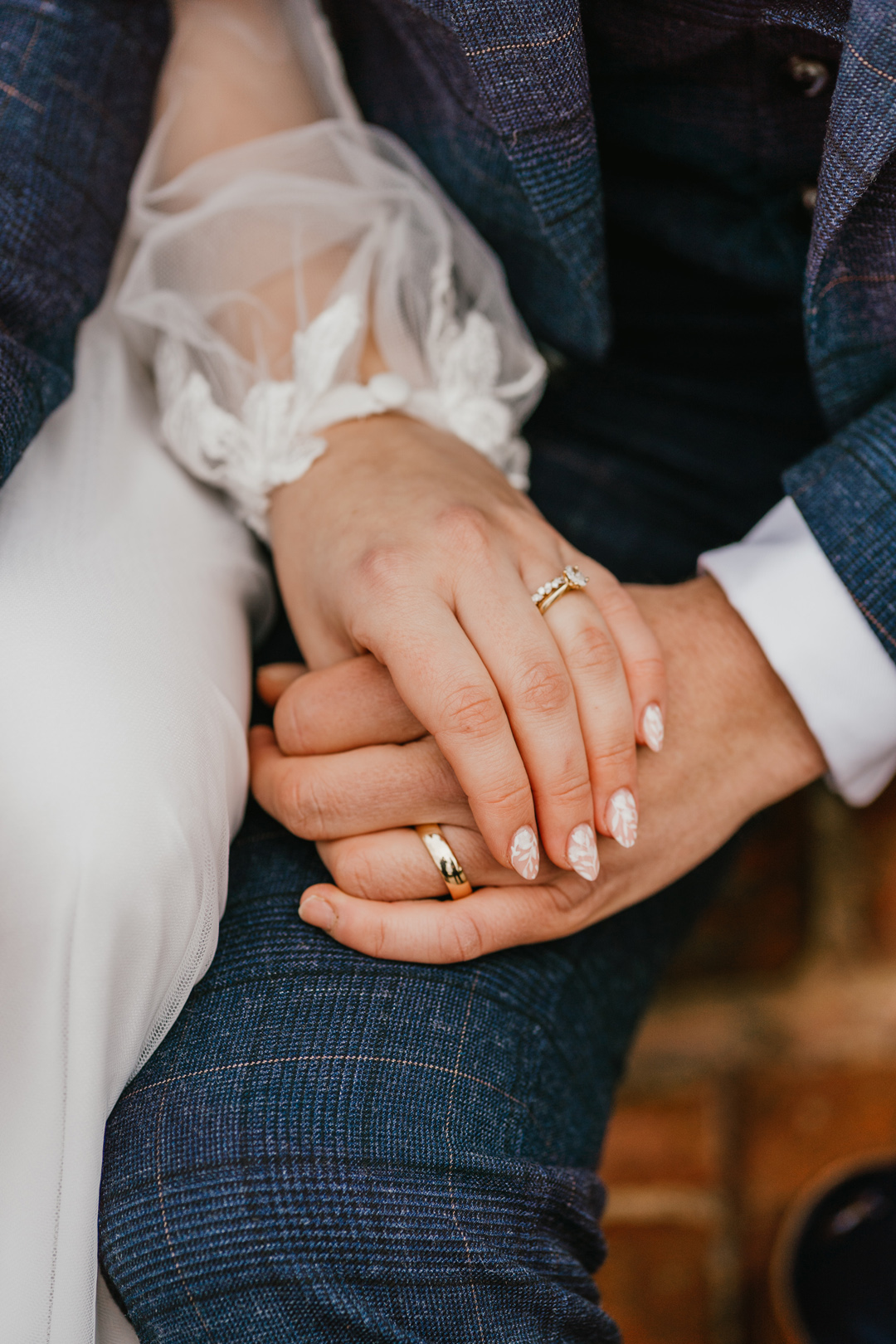 The bride's long veil was a bespoke piece from Lauren Mizon Veils.
"I loved my veil. The detail I had added to it just was incredible – personal and individual to me. I had the a lyric from our first dance on my veil; 'How wonderful life is now you're in the world' from the Moulin Rouge version of Elton John's 'Your Song'. We both love 'Moulin Rouge' and we love Elton John so it worked perfectly. I couldn't resist having a couple of pumpkins on the veil too."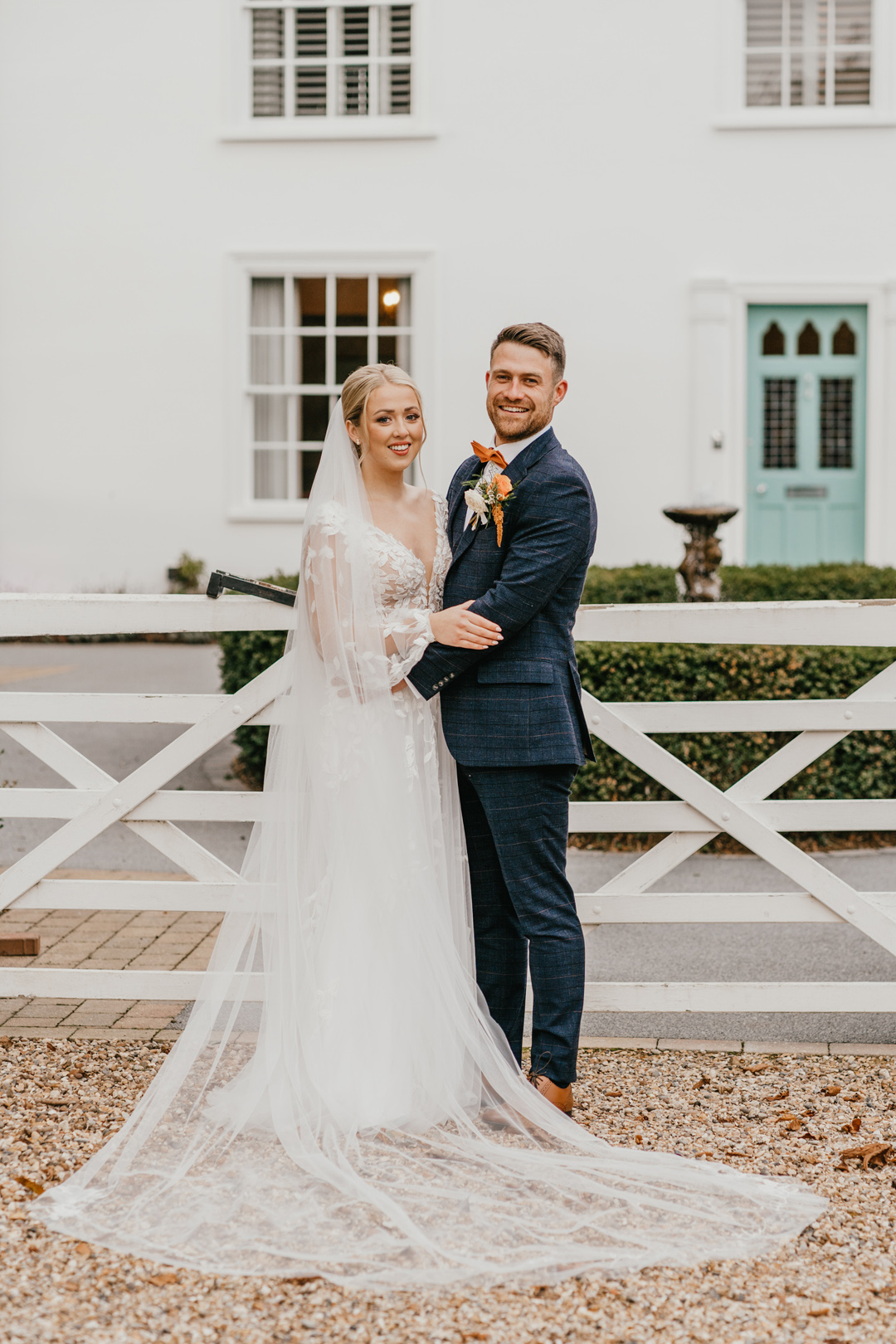 The bride's wedding jewellery was gifted by her loved ones and the final touch was Jo Malone's Poppy & Barley perfume.
"My jewellery was a really sentimental touch that I'll forever cherish. Jack bought me a tiny dainty diamond cross bracelet that I received on the morning of the wedding."
"Having that cross was a nice touch as we had a church wedding. I also wore earrings that my sister bought for me. She was my maid of honour so it was really lovely."
"I was shopping with my sister and we popped in to Jo Malone to smell some perfumes. I always wanted Peony & Blush but I smelt Poppy & Barley for the first time and my sister said she preferred that one."
"I'll forever remember my sister had part in choosing my perfume."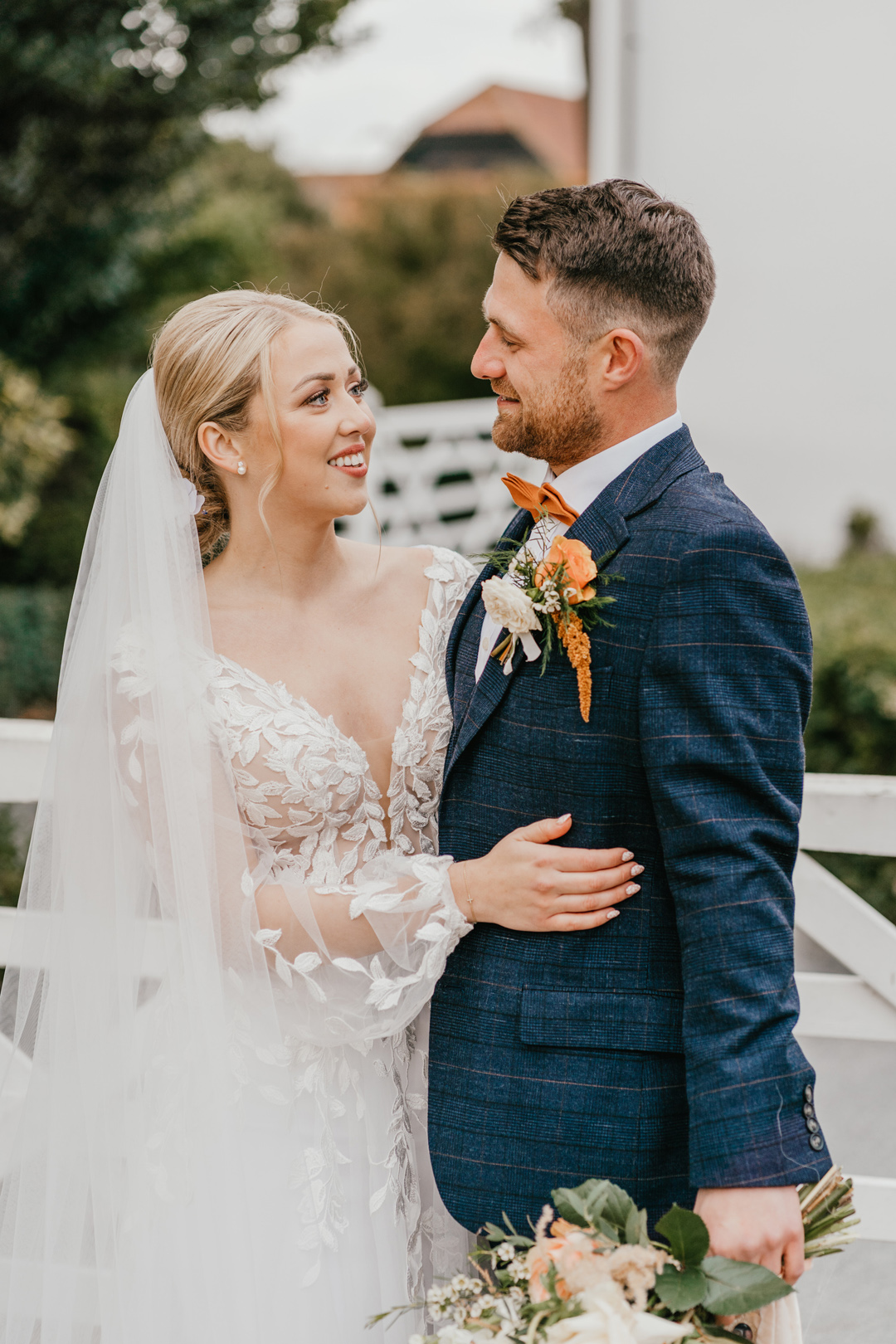 "This inspired me so much to aim for my wedding to be like that. During the pandemic and really worrying times, Love My Dress was my go-to for all things reassurance and guided me to look at the What About Weddings campaign which has also been incredible during the pandemic. You guys are amazing and I tell any engaged friend to follow you."
The pumpkin display made a unique backdrop for the couple's portrait photos, taken so beautifully by Shelby Ellis Photography.
Shelby is a much-loved member of our Love My Dress Wedding Directory and you can see more of her sublime work right here.
"We met Shelby at the first wedding fayre we attended. She was amazing and the natural feel of her photos made us want her straight away without looking anywhere else"
"Shelby's style of photos is natural yet show so much joy and happiness. Looking at our photos, she brought out all of the love and laughter from the day."
"We looked at three venues before Vaulty Manor and the moment we stepped foot on to the venue grounds we knew it was the one."
"We wanted a country feel to the venue and I knew I wanted fairy lights everywhere. Vaulty Manor had both so it was perfect. The staff were incredible as well."
The Manor venue was so beautifully decorated with lots and lots of pumpkins, fairy lights and flowers from Blume Lifestyle.
"Blume Lifestyle spray painted pumpkins gold and put them on the tables to match the pumpkins my mum bought. I also wanted orange drapes on the top table. She got my vision so well, sourced the fabric and even added in fairy lights! When we arrived at the venue after the church it was amazing to see everything in place."
"She is a true talent and I couldn't be more amazed by what she did. I put all of my trust in Kate and I had no doubts whatsoever."
"Our table plan was made by Design by Emily. This was a customised designed by Emily who also did our invites in the same design."
"Our place names were our wedding favours – small clay hearts with individual names on which could be taken home and kept as a keep sake! All of our table names were our favourite Queen songs – we are huge fans."
"The top table was 'You're My Best Friend' so it only felt right to have that as the song we walked down the aisle to as a married couple."
Pumpkins abounded through the venue and its grounds, with the entrance display created by the bride's mum.
"90% of the pumpkins were mum bought by me and my mum and she made amazing displays of all the pumpkins the day before the wedding."
"My mum was amazing. We also had a 'The Pearsons' painted white pumpkin from Etsy and velvet pumpkins from Etsy."
The couple's videographer, Dan Li at The Captured Picture Company, was recommended by Shelby.
"I took a liking to the first video of his we saw and cried at all the other videos because they were so incredible. We can't wait to see our finished video."
The wedding breakfast was provided by Vaulty Manor's caterers, Aforderble Catering, and the simple, tiered cake was by Petal and Peach.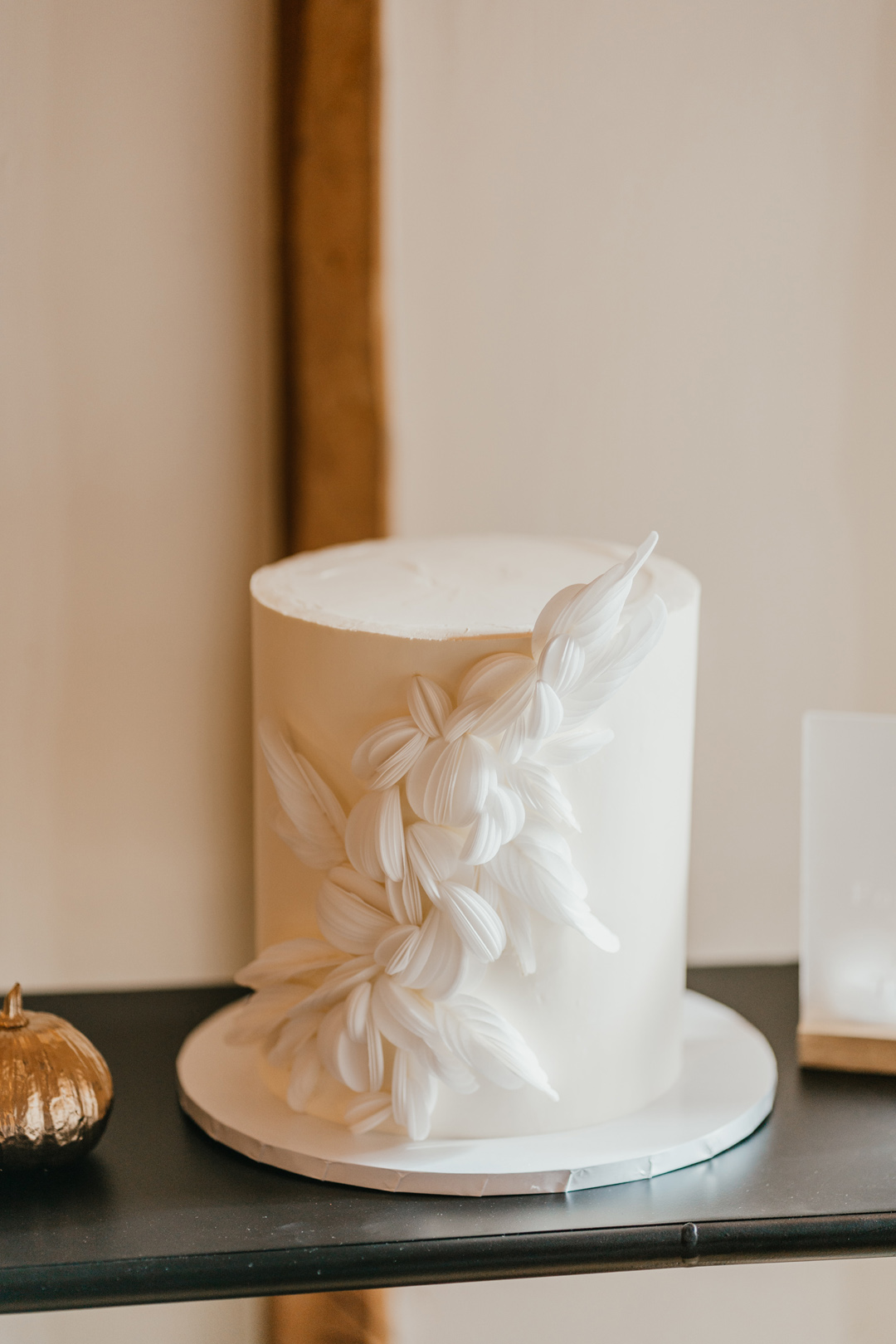 Happy Hour played live music for the evening reception, kicking off with a romantic first dance to 'Your Song' by Elton John.
"Jack chose this song and I loved it. In our early relationship days, we used to watch Moulin Rouge and say how much we both loved it, our favourite part being Ewan McGregor singing his version of 'Your Song'. To find a guy who loved the film as much as me was just the best thing. We also love the 'Rocketman' movie."
"Jack's favourite part was when 'Your Song' was sung, so we put two and two together and chose this as our dance. It has so much meaning and we love it."
The bride has some very special memories she would like to share from her and Jack's celebration.
"The church service felt like an episode of 'The Vicar of Dibley' (which we both love). Little things happened during the service which made us all laugh so much. For example, the organist stopping the song half way through so we all stopped, then he decided to carry on with the song. It was hilarious and amazing. The vicar even said at the end of the ceremony 'It has certainly been a ceremony filled with laughter' and I'll never forget that."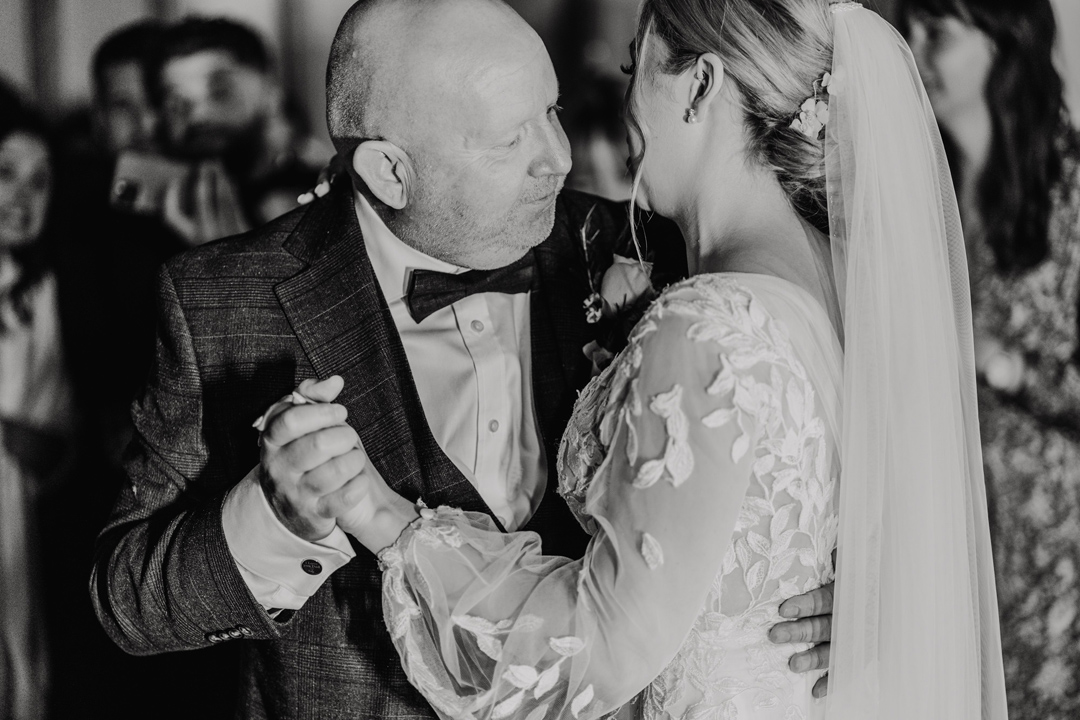 "I needed a wee before going into the church so I had to quickly get the car to pull in at the church village hall for me to use the toilet, then I came back to the car and it wouldn't start! Me and my dad ended up running across the road stopping traffic. I loved that little hiccups – they made it even more special."
"Another thing that stood out was Jack in his speech saying to me, 'The greatest thing you'll ever learn is just to love and be loved in return'. The pictures capture my reaction to this perfectly. I would never expect Jack to have said this to me. That quote is from 'Moulin Rouge' but is something I live my life by. For Jack to say that and show how much he takes notice of me as a person and the things l love means the world."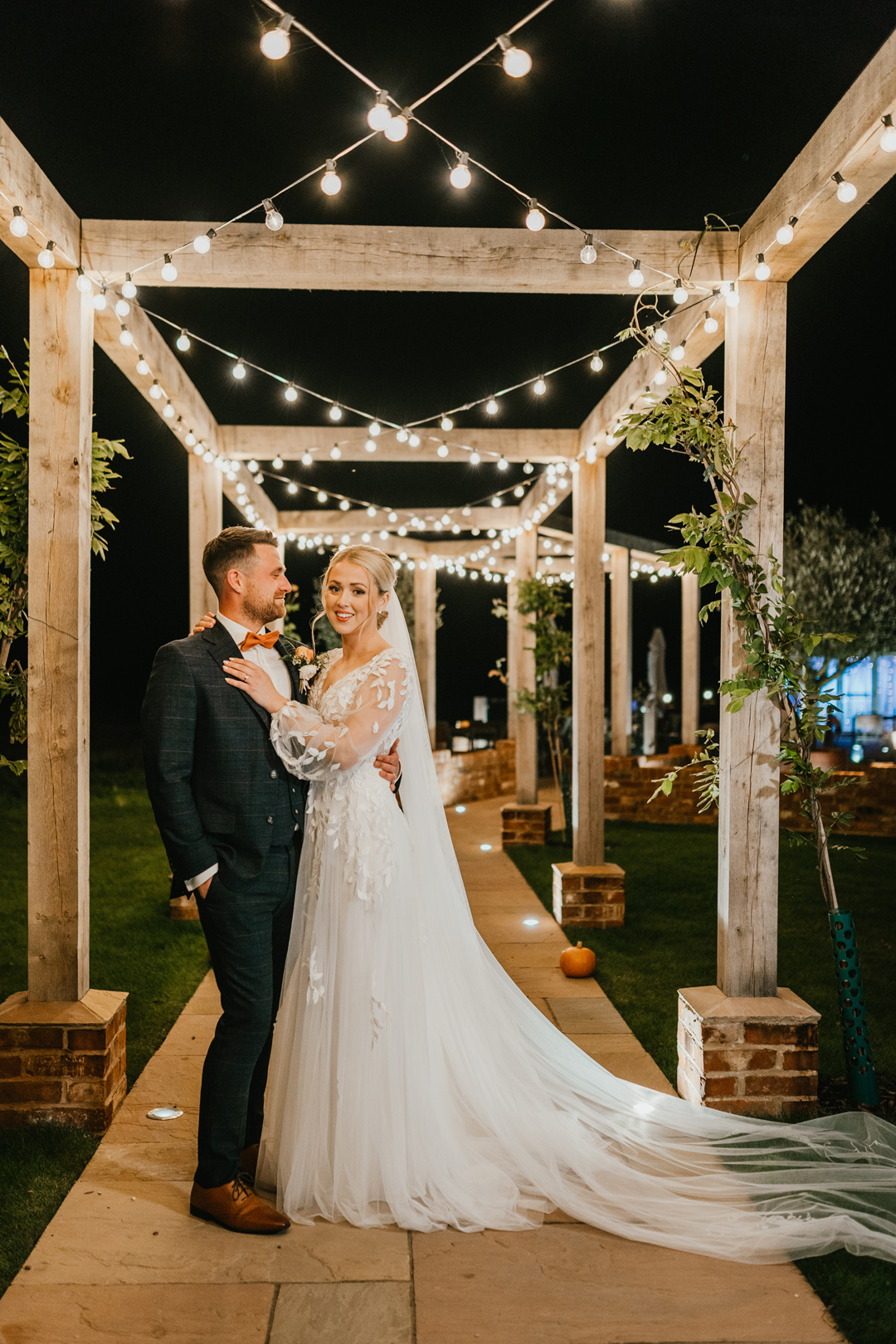 Words of Wedded Wisdom
Polly has the following advice for brides affected by the Covid pandemic.
"It wasn't the nicest experience of build-ups to the wedding. It was a rollercoaster of emotions. You want to get excited and talk about it but in the back of your head there is always the 'what if' with lockdowns."
"My advice going forward to any bride is that your wedding will happen no matter when it is or how many times you have to move it. At the end of the day, you plan to be with your partner for life and if the wedding doesn't happen today, it'll happen in due course. I actually miss planning the wedding so if you have to postpone. soak up the excitement and planning time because once it's done, it's done."
"Be authentically you as a couple and let that shine through your wedding as much as you can. Choose things for the wedding because you love them – that's all that matters!"
"Don't worry about having to please your guests because, believe me, we were amazed at how grateful our guests were to be invited, let alone have things provided for them. It truly was wonderful."
"Enjoy every second, soak it all in and enjoy the wedding bubble."
Such lovely words of advice, Polly, thank you. Sending you and Jack congratulations, so much love and thanks for sharing your day with us today.
Shelby Ellis, I've loved seeing your romantic, airy work again and I hope to see it soon. For more autumnal weddings, we have lots to inspire you here.
Ele xx