Kerstin and Gerry wed on 19 August 2021, their third planned date, at Grange Barn, Marbury, Cheshire.
Enchanted by the venue's natural elegance the couple, head of operations in the NHS and a physiotherapist, designed their day to be relaxed and intimate, allowing their guests to enjoy each other's company in a beautiful setting. The bride selected a simple and sophisticated silk gown, adding glam touches to her look and the venue styling with pops of glitter and gold.
Grange Barn's natural, pared-back aesthetic was the perfect match for the couple's own style.
"Our natural style is to be quite relaxed and informal and we wanted our wedding day to follow this. We wanted to create an environment for our large group of family and friends to laugh, enjoy each other's company and spend time together on the day."
"As the pandemic restrictions went on and on, this became even more important as we realised many people wouldn't have been together since before the pandemic."
"Our wedding venue was a stunning barn in the Cheshire countryside with original beams and features, natural coloured drapes and stunning lighting. We wanted to maximise as much of the natural aspects of the venue as possible."
The bride's fragrance was Nasomatto Narcotic V. Extrait de Parfum. Flowers were provided by talented florist, Poppy Scout.
"I wanted something light and floral and fell in love with this when I smelt it. My fragrance felt special as I found it shopping in London with one of my closes friends.
"I found Poppy after our original florist couldn't make our rescheduled wedding date and I am so happy that I did. I cried when I saw my bouquet as I couldn't believe how perfectly Harriet had understood what I was hoping for with our flowers. I am a lover of flowers and have a house full of them and wanted our wedding venue to be full too."
The natural, floral theme was continued with the bridesmaids' gowns. They wore off the shoulder, patterned gowns in two different colours from Hope & Ivy.
The flowergirls were in Next dresses and the page boys in John Lewis outfits.
Love My Dress also inspired the bride through her planning.
"I love the site for how it brings real weddings and real brides to life. When you get engaged and start your wedding journey it is quite overwhelming how much you see on social media. Weddings look flawless and 'perfect' but in an unachievable and unrealistic kind of way which can leave you feeling disheartened."
"Love My dress brings real life to the world of weddings; real emotion, real venue styling, real brides in their real dresses and makes you feel as though your 'perfect' is achievable. The signposting of suppliers is incredibly valuable too!"
Kerstin asked her regular hairdresser, Micha, to style her hair into luxuriant, swept-back look and her make-up was by Lati Finni, a Manchester-based make-up artist.
"Micha is my hairdresser of seven years. There's no one I trusted more or wanted more to style my hair on the day. Lati Finni captured perfectly what I wanted from my makeup."
"On our honeymoon I asked Gerry what his favourite part of my wedding look was and he said the makeup – he said she got it 'spot on'."
I love that Kerstin chose a totally unique bridal look, pairing her sleek, sophisticated Stephanie Allin gown with a modern, statement cape. She chose her separates at Nottinghamshire boutique, Frances Day Bridal.
"I would highly recommend Frances Day Bridal. I visited them on my first day of wedding dress shopping and they stood out in their experience and the range of dresses."
"I wanted modern simplicity that I could accessorise. I felt that they really listened and found me the dress of my dreams."
"My mum commented that, for her, the experience of being in Frances Day stood out a mile compared to some of the other boutiques we visited."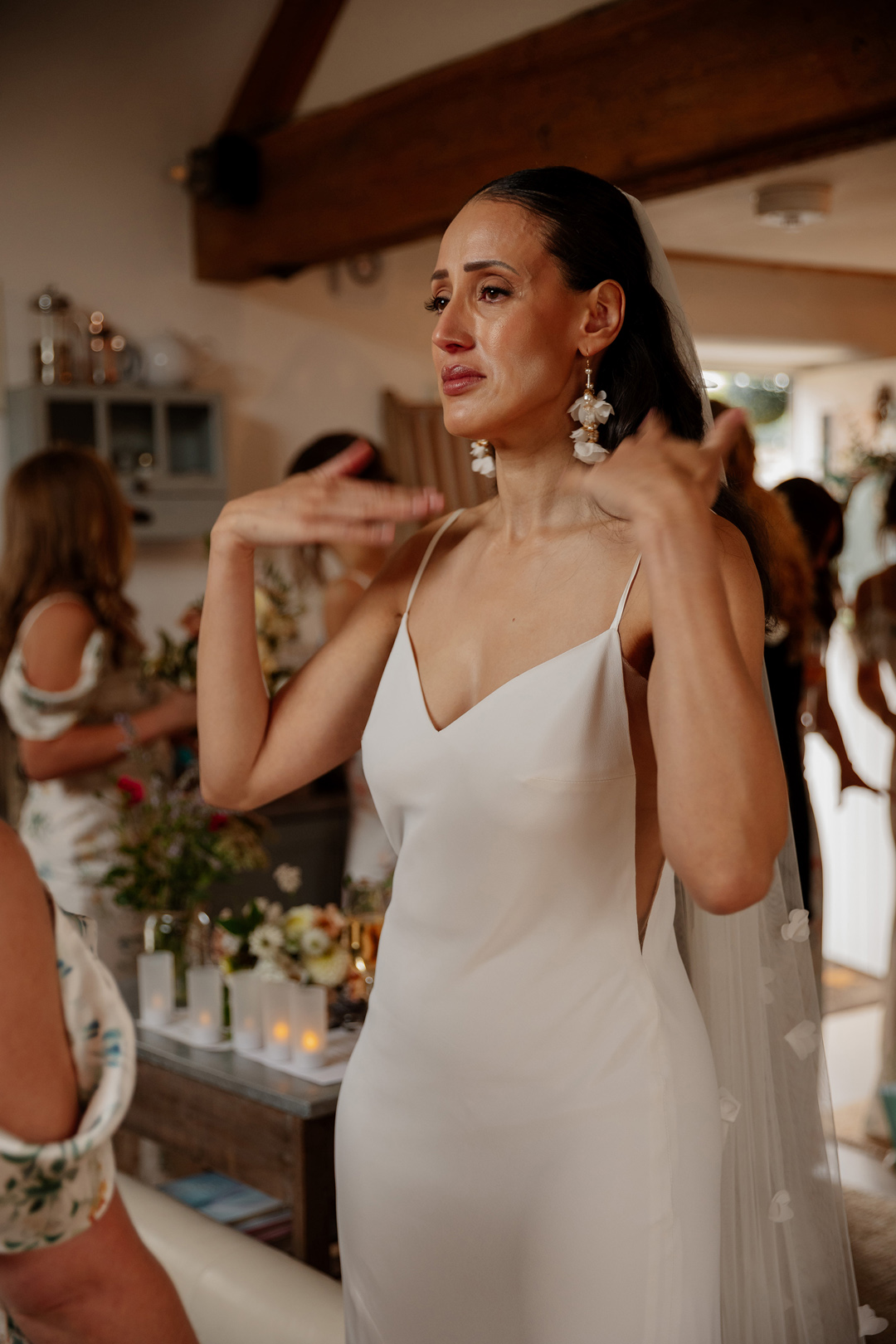 "They made her feel such a key part of choosing the dress, which she really was. Frances Day were great every step of the way and went above and beyond when things needed fixing to finalise the dress ahead of the big day."
"I wore a pair of gold crystal Jimmy Choo heels for a bit of glitz and wore two different capes throughout the day to give it an unusual feel."
The bride added a petal Joyce Jackson veil from Frances Day Bridal and statement, floral 'Carlotta' earrings from Pollen & Plume.
"They were part of a Charlie Brear lockdown competition that I won and were the most beautiful earrings. They were sent over from Australia and are quite possibly the most incredible earrings that I have ever worn."
"I have never won anything like this and couldn't believe how special it made me feel. From being announced as the winner, Alison made immediate contact and we haven't stopped chatting since, which is a reflection of the intimate, personal and romantic style of the brand."
"They took a real interesting in all aspects of our wedding (and several postponement dates) and it made wearing them on the day feel even more incredible."
"I didn't wear any other jewellery with them apart from my wedding and engagement rings. I wore my veil cathedral length to add to the statement of my outfit on the day."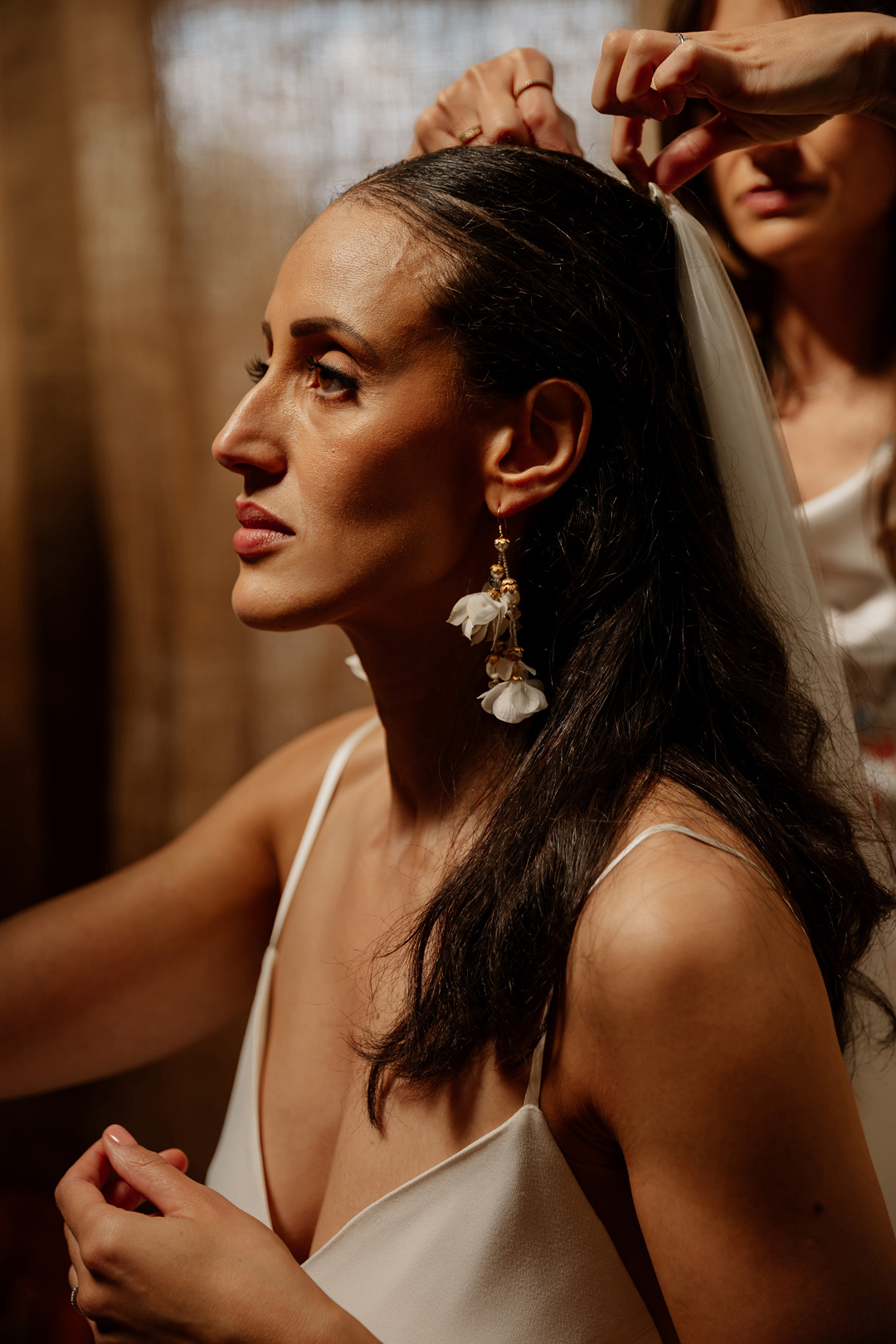 "Our venue felt so relaxed I wanted a dress that suited and complemented it. When I had been looking at dresses I was really attracted to simple, sleek designs with a bit of a wow factor and I then came across my Stephanie Allin dress at a Frances Day Bridal event."
"I tried on a couple of her dresses and knew I was getting close. The moment I put 'Fearne' on I knew it was the one. I loved the simplicity of what I wore during the ceremony."
"From the moment we drove down the drive and stepped into Grange Barn we knew it was the wedding venue for us."
"The rustic relaxed feel was everything we wanted for our wedding, and the barn looked phenomenal when dressed on the day."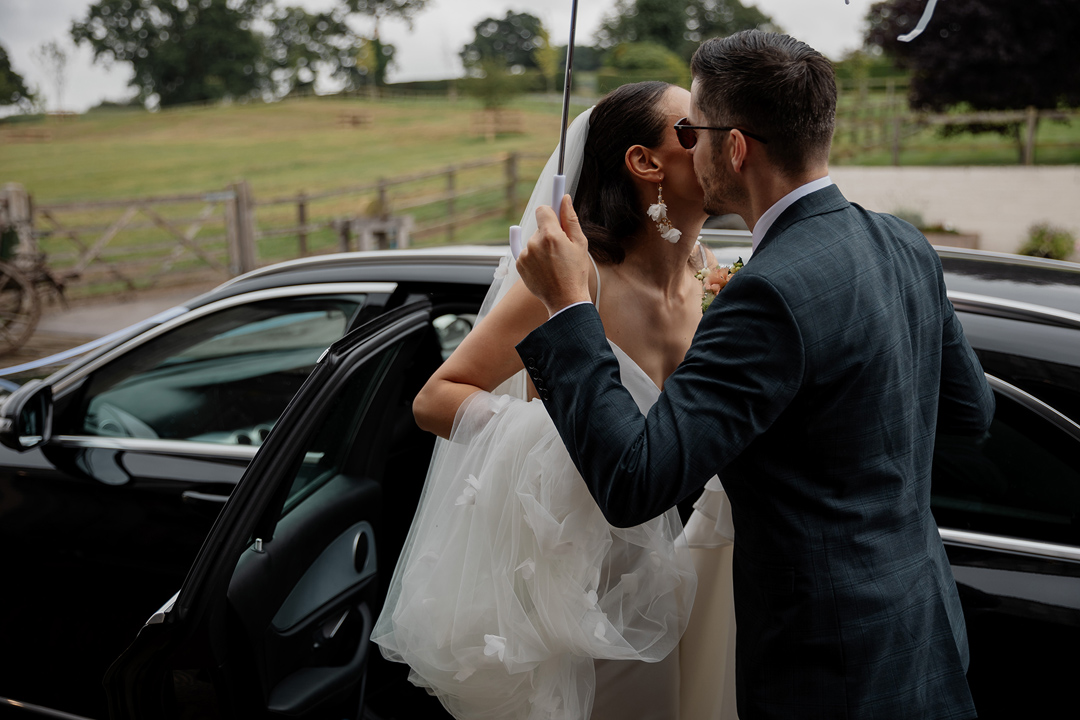 "Grange Barn felt personal and intimate. At no point did we feel part of a 'wedding factory'; from start to finish we were made to feel like one of the family, using the barn for our special day."
Kerstin travelled to Grange Barn in car from Wrexham Chauffeurs, before walking down the aisle with her mum.
"We walked down the aisle to an instrumental version of one of our favourite songs, Arcade Fire's 'No Cars Go', by Maxence Cyrin."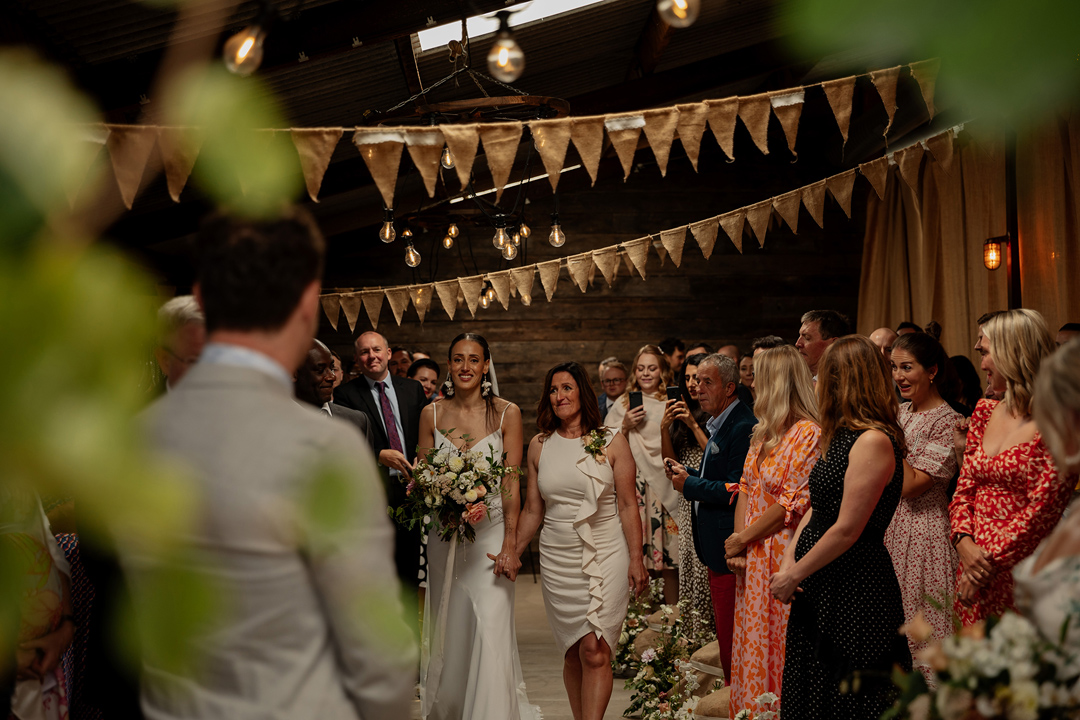 For the day, Gerry selected a pale linen suit from Ted Baker, worn with a patterned shirt, soft turquoise Paul Smith tie and pocket square and Paul Smith shoes.
The finishing touch was a statement, wild buttonhole put together by florist Harriet of Poppy Scout.
Gerry and Kerstin were wed by Cheshire East registrars and the service included two poems, selected by their readers, as a surprise on the day.
"Gerry's sister read a beautiful poem, 'Scaffolding' by Seamus Heaney and one of our closest friends read Bob Marley's 'He's Not Perfect'.
The couple exchanged rings with one another.
The groom's was from Simon Washbrook, an independent jeweller in south Manchester and the bride's from Phillip Stoner, where her engagement ring was also from.
"Gerry chose my engagement ring from there and we wanted a matching wedding band."
After being declared husband and wife, the newly-weds headed outside in a shower of confetti before having some portrait shots.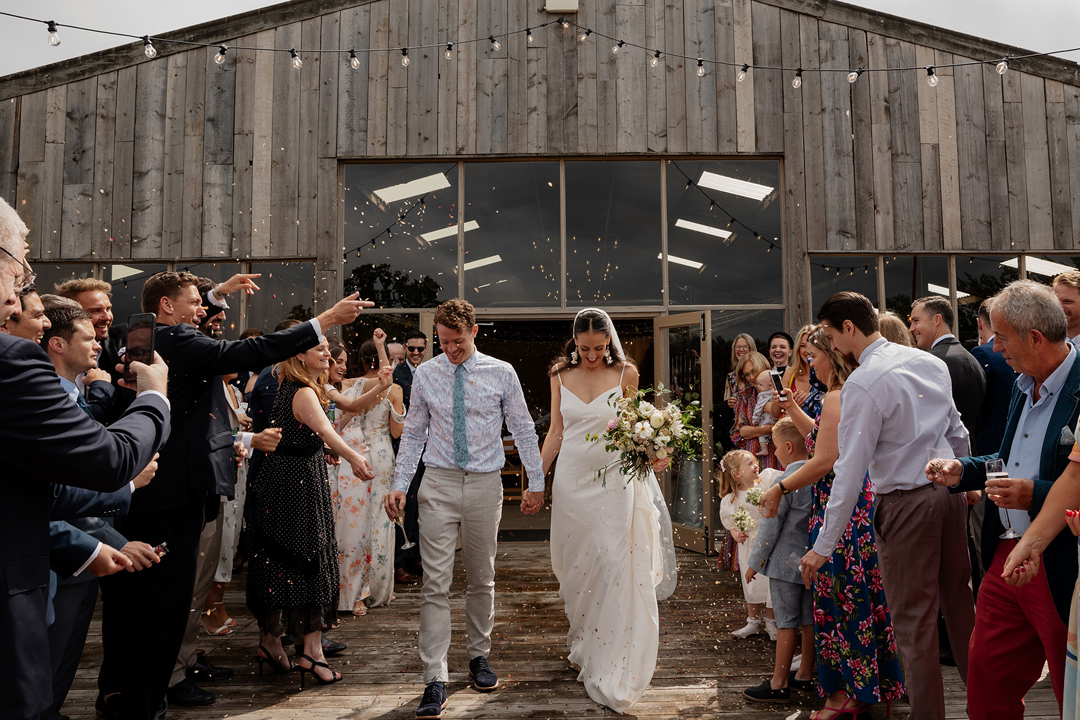 Kerstin and Gerry selected a photographer whose style was a fit with the venue and their own style. Wambam Weddings was the answer and Charlie's photography was a wonderful blend of natural and relaxed with glam and intimate shots.
"The photographer took us longer than the venue to find. We wanted natural and relaxed photos that captured the emotion of the day."
"It was really important to us that our photographer captured exactly what feeling we were trying to create and Charlie did that perfectly."
"Looking through the wedding photos we laughed, cried and smiled! Charlie captured the venue in the most stunning way and we would highly recommend her to other couples getting married."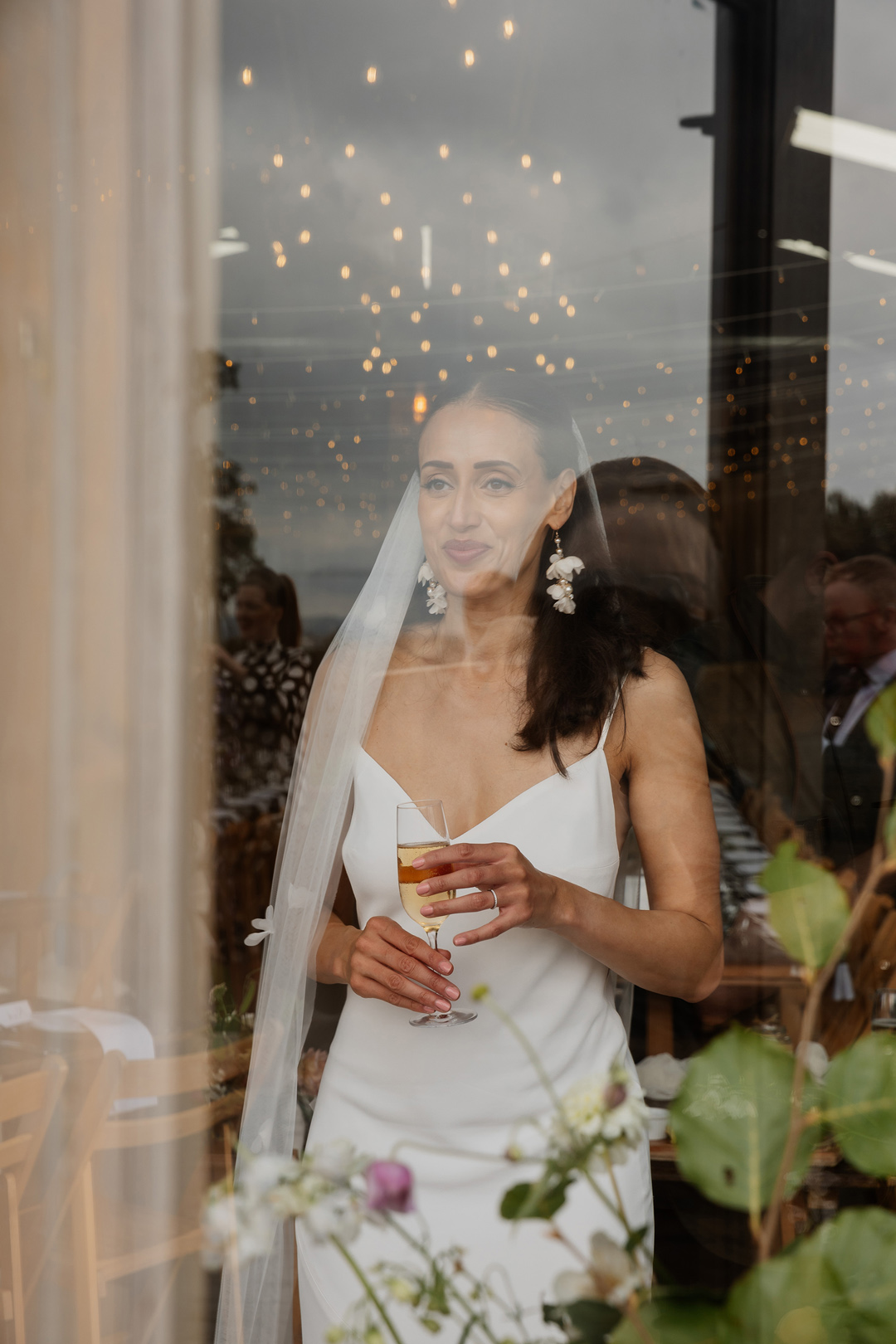 "The most incredible thing about Charlie's photos is I am constantly drawn back to them and get the exact feelings and emotions that I did on the day."
"I am in awe of photography that does that and Charlie absolutely smashed it."
The couple also had a wedding video from Pat Holt Films, which you can enjoy here.
Grange Barn had been beautifully but simply decorated with lights and lanterns, and signage from the couple's friend Nina Simpson of Inspired With Love Cards & Gifts.
"Our save the dates and invitations were virtual and designed by a friend and we used the platform Greenvelope to send them."
"Our table plans and signage within the venue was done by a good friend, Nina Simpson, who is incredibly talented. We had bespoke signage produced and Georgina was incredible in working with us on all aspects of the design."
"We used a combination of simple lanterns, cheesecloth linen and flowers to style the venue."
We wanted the interior of the barn, its stunning window and backdrop to speak for itself."
"In addition to bouquets and button holes we went for aisle flowers, a flower arch, milk churns filled with flowers, and flower meadows along the long trestle tables."
"They were wild, oversized, pastel and green colours and full of garden roses, dahlias, scabiosa, cosmos and jasmine trails."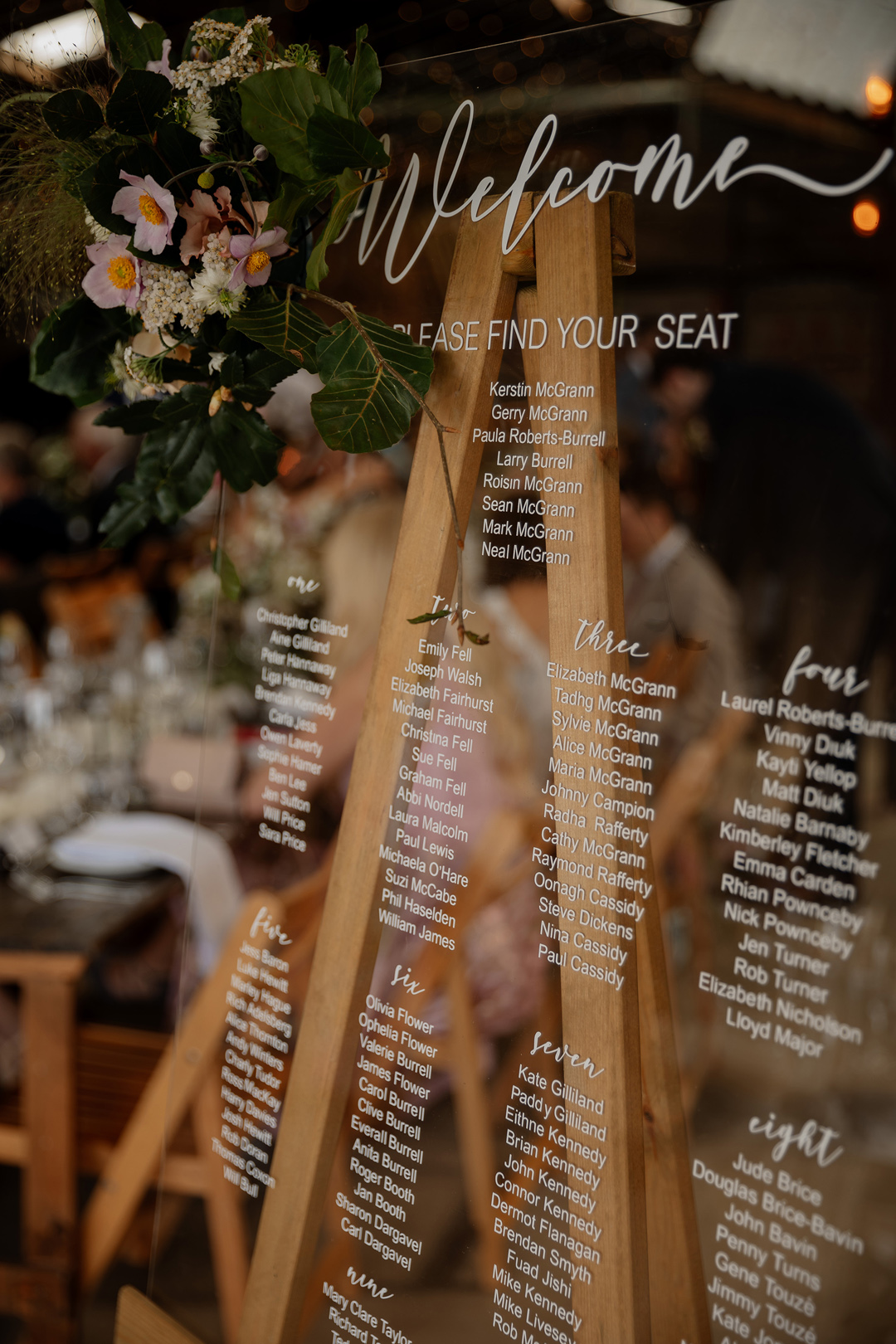 Kerstin replaced her veil with a lace cape from Charlie Brear, a prize in their lockdown competition.
Inside the barn, the guests sat down to long tables for the wedding breakfast from Relish Catering. The live music was from The Retrosettes band.
"We chose to have long tables and had runners throughout mixed with lanterns and candles provided by the venue, and an array of floral meadows in a wild and natural style."
"My favourite part of the day was sitting at the table, with sensational live music playing in the background, looking out on our family and friends all in one room."
"When we thought about what we wanted in a wedding, having everyone together was what we'd always dreamed of and to think it almost didn't happen was extremely emotional."
"I remember saying to Gerry at that point, 'This is the best day of our lives' and it felt like it was."
The couple met at university in Manchester in 2007 and were friends for a long time before they started to date. Gerry proposed on Boxing Day in Belfast 2019, where he is from, and the couple had hoped to get married the following October but Covid-19 had other ideas.
"We rescheduled several times and got married on wedding date number three, having postponed from October 2020 to December 2020 and finally to August 2021. Planning a wedding during a pandemic was overwhelming and emotional and we were exceptionally lucky to have such great family and friends supporting us."
"When the August date was getting closer and we felt for the first time in 18 months it might actually go ahead, we spoke about how to make our guests feel comfortable. We asked everyone to complete lateral flow tests prior to attending, advised that masks were optional, and invested in beautiful brown bottles full of hand sanitiser, dotted around the venue."
Like many other brides affected by the pandemic, Kerstin found the What About Weddings campaign a source of support.
"The What About Weddings pages and signposting to others were a lifesaver during Covid for us couples that had postponed and were planning in such uncertainty. A huge thank you for everything that this group did to support us during this time."
"I found the 'What About Weddings' social media pages invaluable. I joined their closed Facebook group and found comfort in being in a similar position to so many other brides and couples thinking and feeling just how we were."
The wedding cake was a dairy-free bake from Four & Twenty Blackbirds (no contact details).
"We went for a dairy-free, two-tiered cake. I have an intolerance to dairy and it was fantastic to find a cake maker who could create unbelievable flavours without the use of dairy."
"We had one tier of vegan caramel cake with buttercream and the top tier was lemon and poppyseed with lemon buttercream."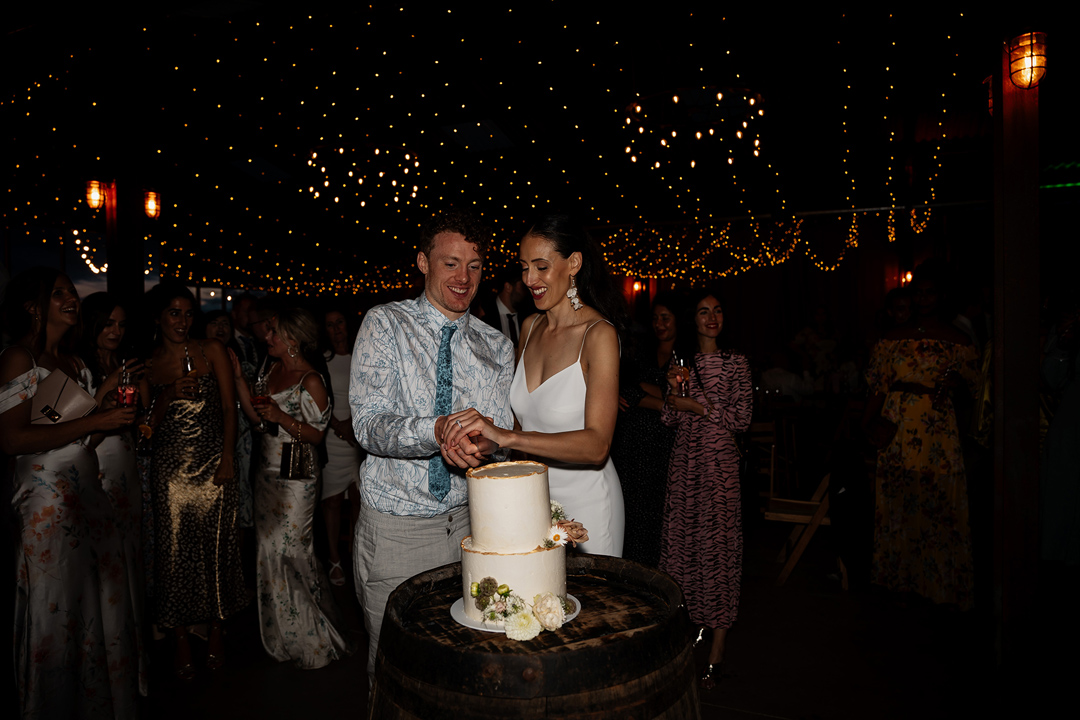 For Covid brides dealing with postponements and uncertainty, Kerstin has the following advice.
"Stick with it and it'll all be worth it on the day. One of the most useful things we did mid-pandemic was to sit down and write a list of our wedding day non-negotiables."
"We were quite surprised at the things that mattered to us the most and the things that we were happy to go with if needed. I am a lover of a dancefloor and the ability to have a wedding dance floor was the top of my list."
"My husband is exceptionally sociable and being able to get up and order drinks at the bar was up there on his list."
"With those things in mind we were prepared to postpone again if we needed to for the day we both wanted. Luckily, as August came around, that wasn't the case."
"One of the most important things for us was our suppliers who were incredible every step of the way."
"We were overwhelmed by their support and it made our wedding day even more special to know that they'd all been immensely supportive through Covid and several postponed dates."
"My advice for suppliers is be open and build a relationship with them so you work together as a team to make it work."
Come evening, Kerstin swapped out her Charlie Brear cape for a sparkling Jenny Packham number, ready for the evening party. They had music from a DJ and a first dance to 'First Last Everything' by Barry White.
"It took us months to find a first dance song with our slightly different music tastes. We both wanted something fun and lively, not slow dancing together and something that would make us laugh and smile."
"We came across Barry White after hearing it randomly play on the radio and knew instantly that it was our first dance song."
"The day went so quickly. We got married at 12pm and I completely underestimated how time flies away."
"We had a wedding planner and a schedule for the day which, on first look, I thought 'There's no way we'll run over' but we did."
"If I could have done anything differently I would have worked through the schedule in a bit more detail and highlighted those bits that were non-negotiable from a time perspective to ensure that we didn't miss out on anything."
Words of Wedded Wisdom
"Love every minute of it, as hard as that might feel, because you'll strangely miss it when it is over. I never thought I would miss it as much as I do!"
Glam, elegant and utterly beautiful; thank you so much Kerstin and Gerry for sharing your day with us, and your invaluable words of advice too.
It's been such a pleasure, so thank you Wambam Weddings. For more brides wearing Stephanie Allin, please enjoy these weddings.
Ele xx