Today's wedding is sure to get you in the Christmas spirit; a cosy celebration with rich hues of red and green, Christmas trees and candles and an elegant, long-sleeved gown of dreams.
Please meet Jen, director of operations at a marketing agency and Rob, head of experience at a tech consultancy, whose festive celebration was held on 19 December at Babington House, Frome, Somerset. Working with the in-house wedding planner, Lauren Malway, the couple embraced a classic and simple Christmas theme for their winter wedding. Images by Especially Amy.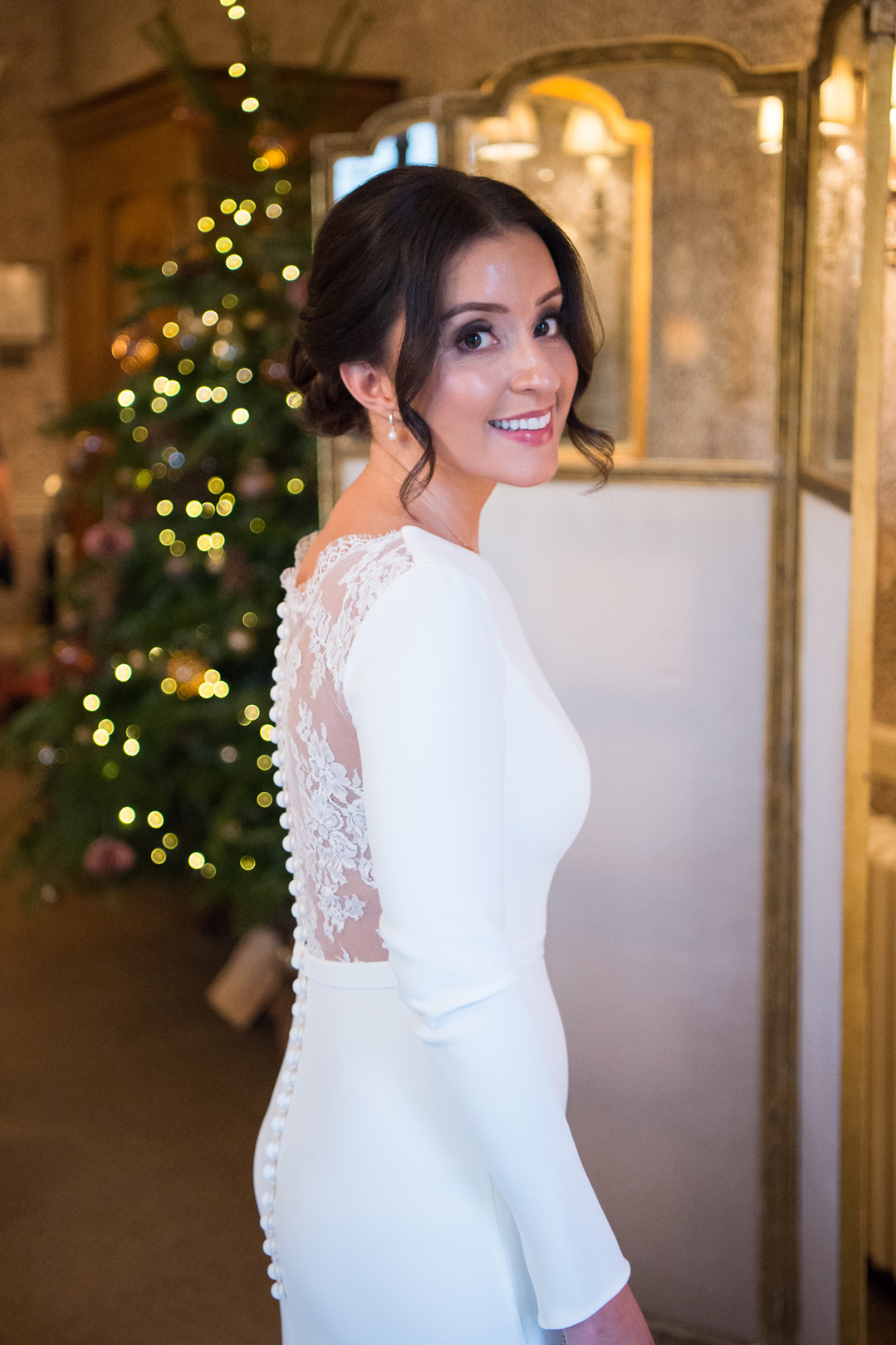 With a date so close to Christmas, rich reds and greens were the palette for the winter theme. The bridesmaids wore elegant Maids to Measure 'Regent' gowns in deep burgundy and a gold charm bracelet from Wolf & Badger to wear on the day, a gift from Jen.
"We had lots of deep jewel tone and a little bit of Christmas twinkle and sparkle. We had hundreds of candles. My favourite film is 'Love Actually' and the wedding scene is one that I absolutely loved. We had a lot of the score from the film at our big day, including 'The Glasgow Love Theme' (where I am from) and the Beatles' 'All You Need Is Love'."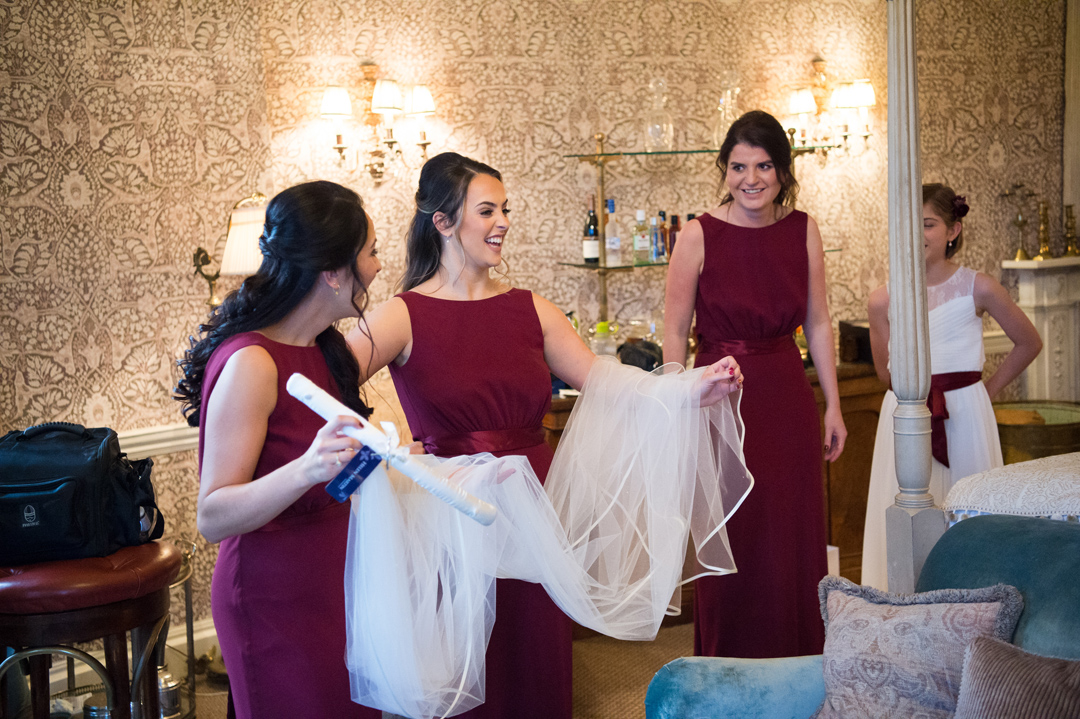 The bride's sleek and classic gown, with its lace back, puddle train and long sleeves, was a custom Suzanne Neville gown, perfect for a winter wedding. She visited the Suzanne Neville boutique in Knightsbridge to select it.
"I went four times until I picked my dress and I loved each experience. They were lovely. I wanted to show my gran my dress but she lives in Scotland so they kindly shipped it to a stockist in Scotland so I could show her when I went to visit. I had it custom at the back; I changed the lace and it was just perfect."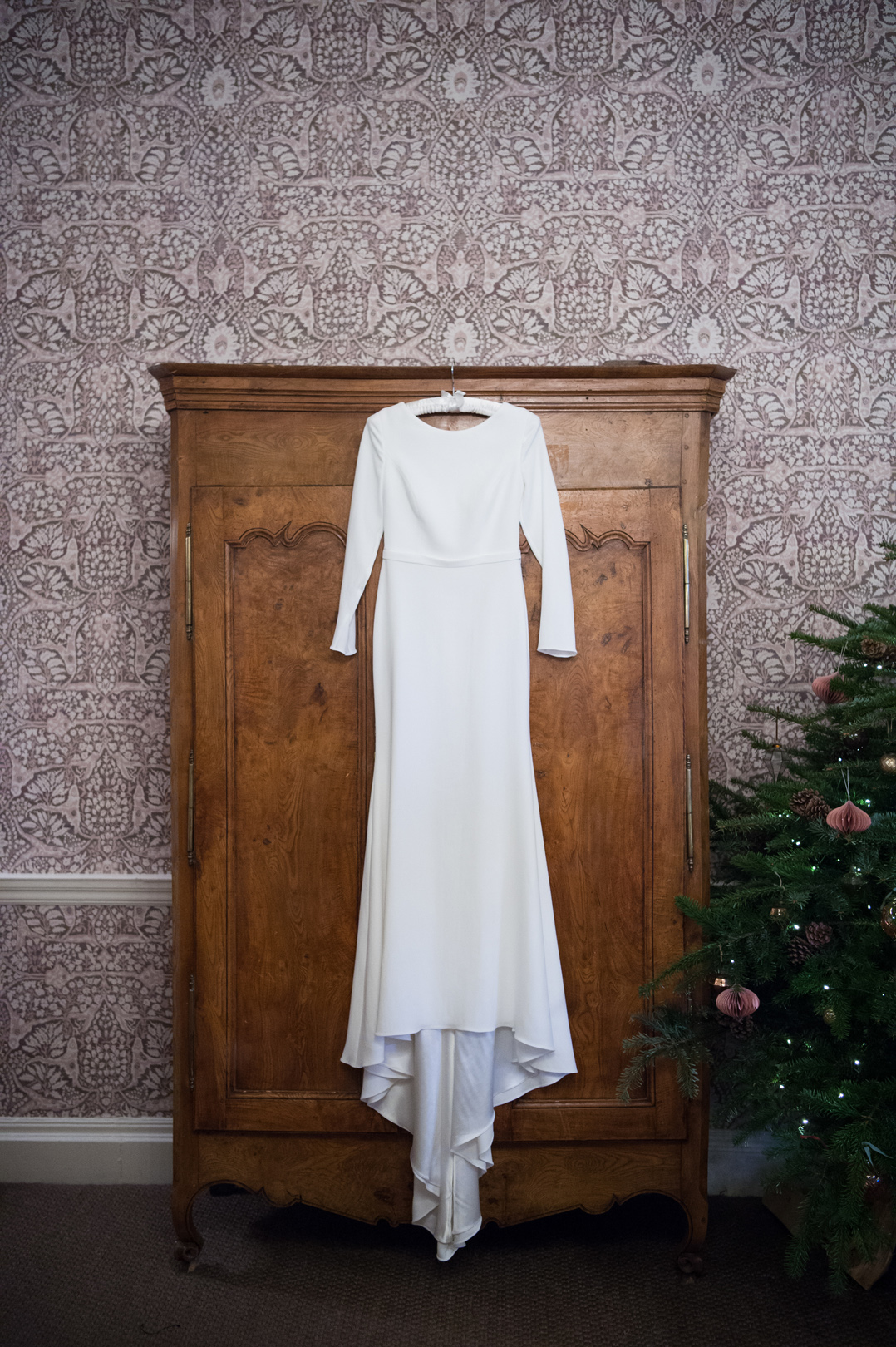 "I had a nightmare with what underwear to wear as it was low at the back and quite figure-hugging so I didn't want any VPL."
"They were great and spent a long time helping me get the right knickers! They also were great with my mum, showing her exactly what to do on the day with the buttons and helped me to feel really at ease."
"I wanted something simple, classic and elegant that made me feel like my best self and this is what that dress did. It tied in so well with the rest of the day."
"If I was to do it all over again I would pick this dress. I wasn't worried about dancing, moving or feeling uncomfortable."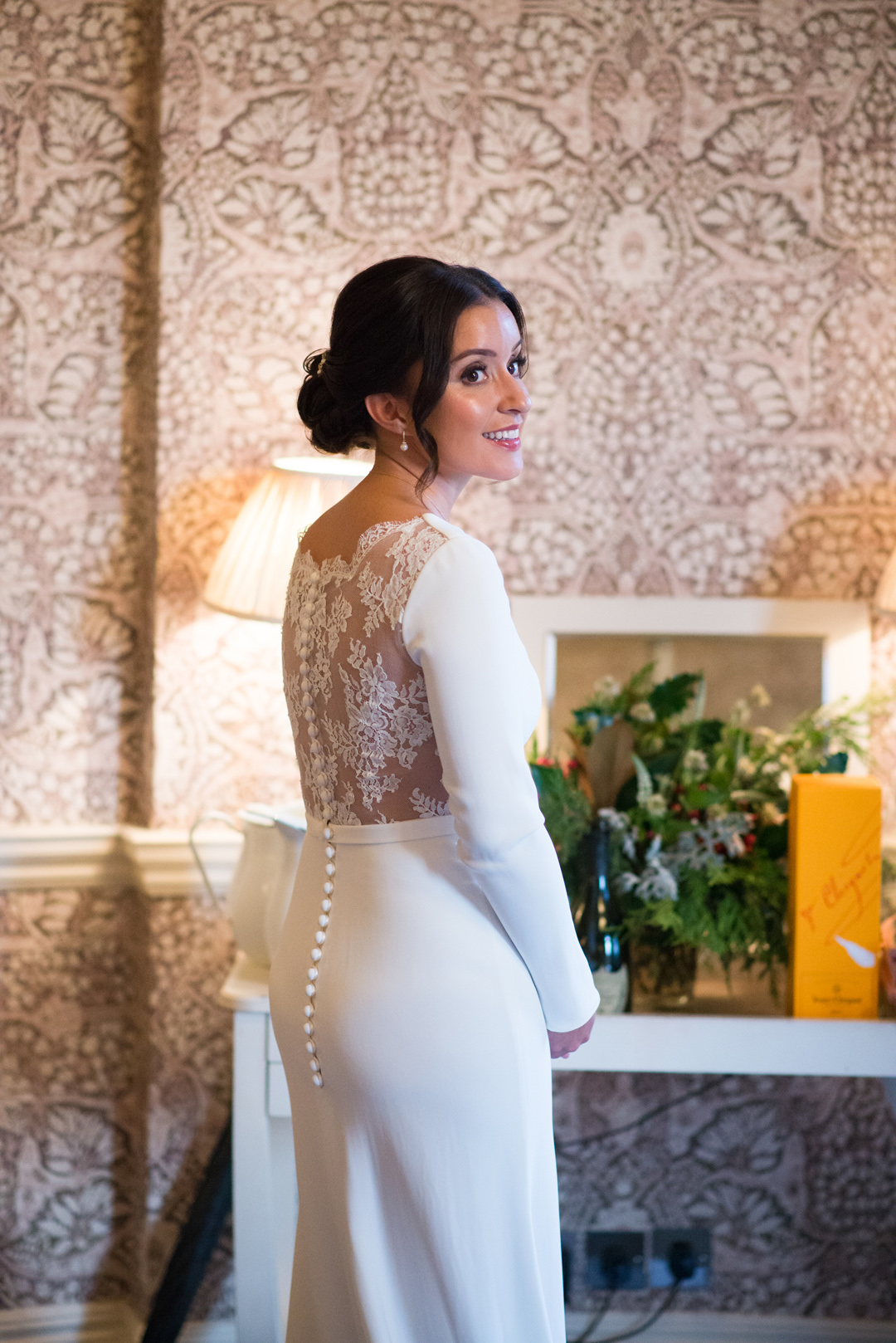 Jen's mum had gifted her Dinny Hall diamond and pearl earrings for her 30th birthday that she wore for the wedding.
"I was very lucky that Rob bought me a gold diamond tennis bracelet from Dinny Hall that he sent to my room the morning of the wedding."
The bride's shoes were shimmering silver Rainbow Club shoes.
'"Comfort was key. I bought other ones but couldn't even walk in them so bought some from Rainbow Club and they were great – not one complaint about sore feel until 2am."
Abigail Constanza swept the bride's hair into a super-chic low bun whilst her make-up was flawless, thanks to Eleanor Nancy Makeup.
Flowers were central to the theme and Flowers By Passion dressed the venue to perfection, using flowers with added meaning for Jen and Rob.
"They did all the beautiful flowers on the day; décor, church flowers and winter arch, and styled the Orangery where we had dinner."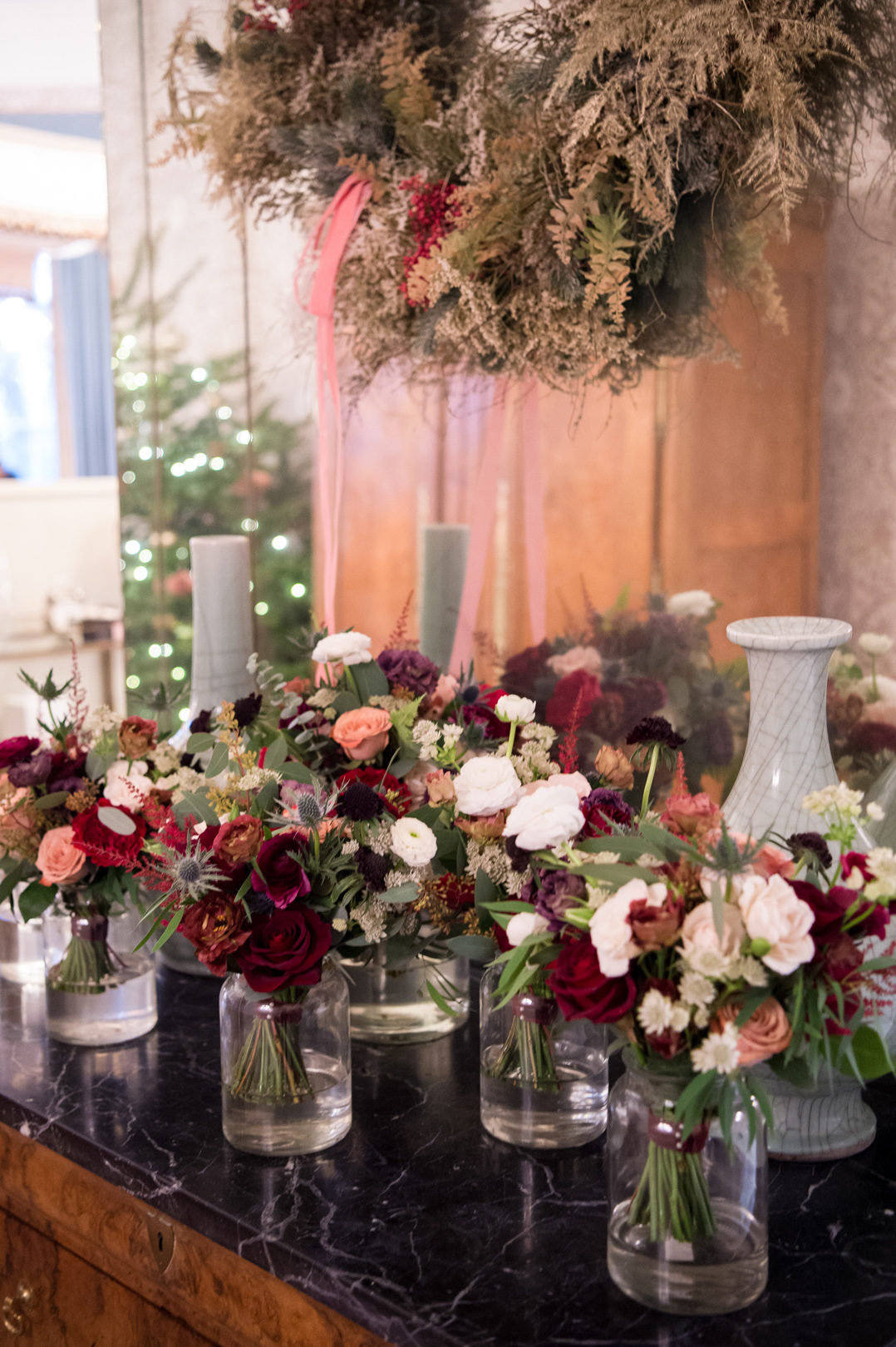 "We love flowers and picked ones that were in keeping with the jewel tones of the day and which also had some meaning; Scottish thistles and eucalyptus to represent Australia. They were absolutely stunning."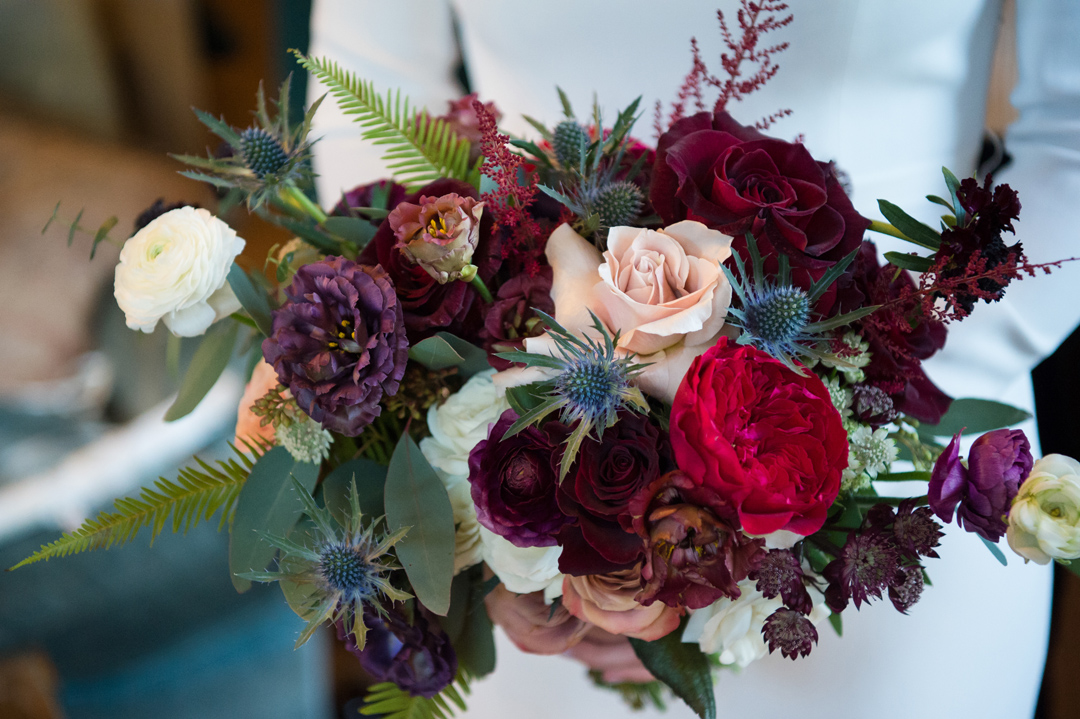 Jen added a short veil embellished with tiny crystals, also from Suzanne Neville, and wore Liberty In Love crystal and pearl pins  in her hair. Perfume was Le Labo's Rose 31.
"My mum got me it. I love the smell of it and how it lasts all day."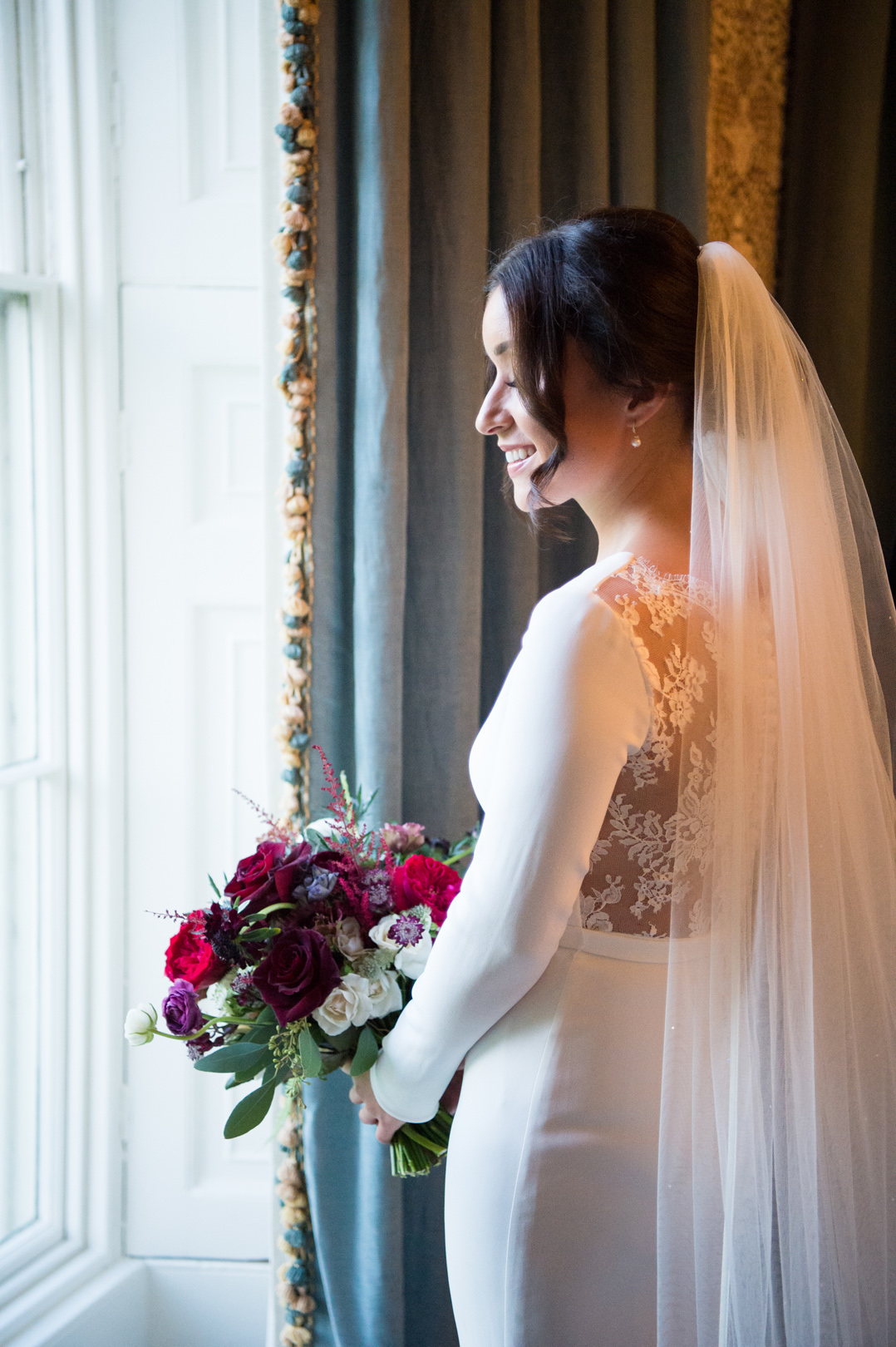 The day's photographer was none other than Especially Amy, a much-loved member of our Love My Dress Wedding Directory.
Amy specialises in beautiful, classic and timeless photography, as you can see here.
"Amy from Especially Amy was a joy to work with. I saw her photos when I was venue hunting and loved them – she managed to capture the guests and the magic of the day."
"Amy wasn't intrusive and didn't make you stand smiling, staged for hours."
"She's super-relaxed, wise and has shot many weddings at Babington House so I felt completely comfortable with her and trusted that she knew the venue really well."
The beautiful stationery was from PaperKnots.
"Lisa at PaperKnots created the most beautiful stationery I have ever seen, not that I am biased. I am a bit stationery-obsessed."
"We had our order of service, menus with custom name tags embossed in gold leaf and the dinner table plan (now framed in the house)."
She also created the most beautiful, custom map of Babington House that we gave each of our guests along with the gift bag in their rooms."
"We chose Babington House after looking for around six months. I'm from Scotland and Rob is from Sydney, Australia and we were living in London after moving back to the UK earlier in the year."
"We had a lot of guests we were planning to invite from all over the globe (US, NZ, Hong Kong, Australia, UK, Europe)."
"We wanted somewhere that could accommodate everyone for a weekend and was easy to get to, that we could have exclusively and that had a bar in the same room as the dance-floor. We looked in Scotland, Mallorca and England and finally settled on a winter wedding in the beautiful Babington House."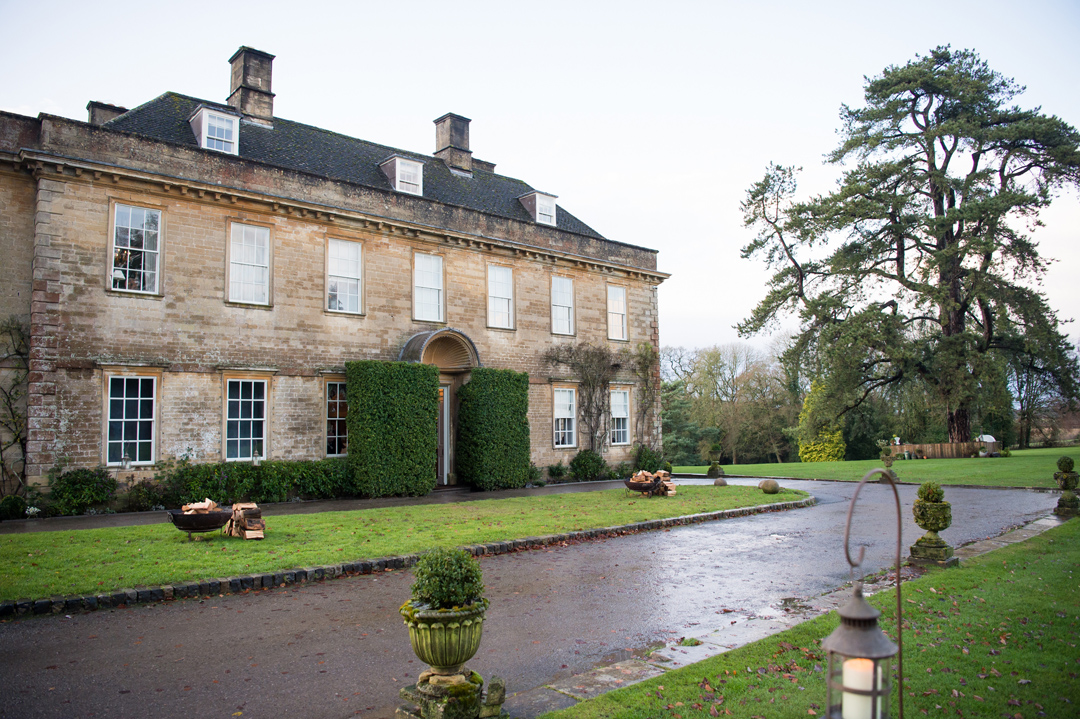 The ceremony was held at the church adjacent to Babington House and the bride and guests were piped in by a traditional Scottish piper.
The guests stayed overnight at Babington House and were treated to wedding goodie bags in their rooms.
"We did little bags that said, 'Happily Ever Aston' and put them in everyone's rooms. They had a mix of Scottish treats (Irn Bru and Tunnock's Wafers), Aussie treats (Tim Tams) and a personalised 'Happily Ever Aston' Christmas bauble made by the amazing Calligraphy by Kiki who I met when attending one of her classes."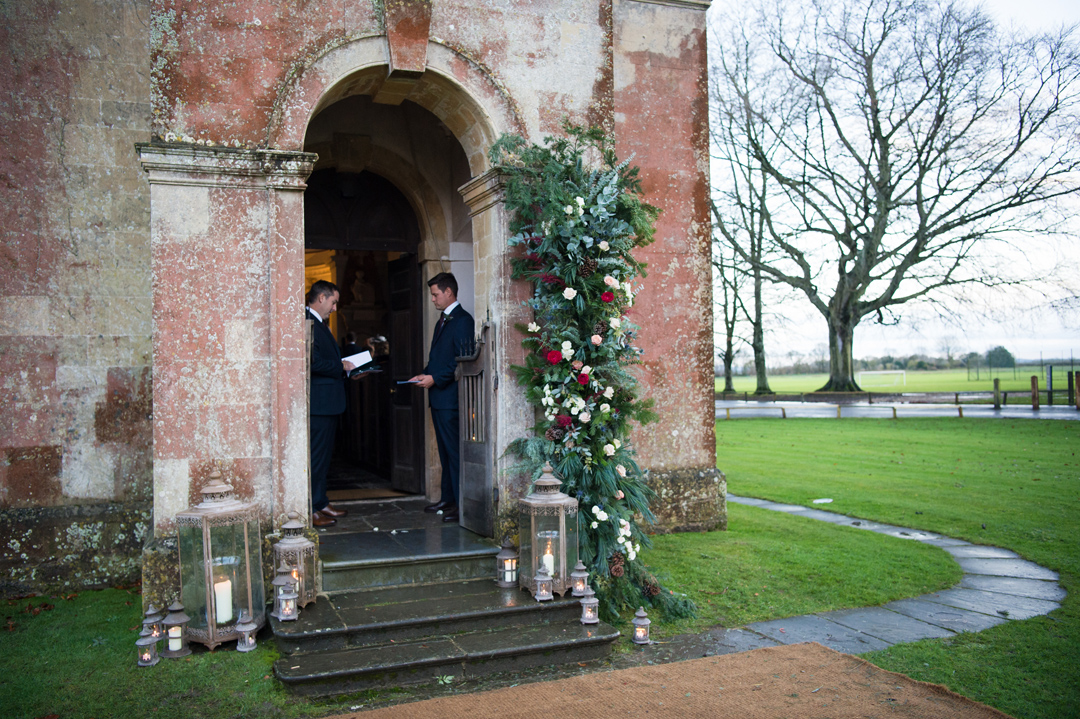 "We had a pre-wedding dinner the night before with the bridal party. My gran gave me her 40th wedding anniversary earrings that my grandpa, who is sadly no longer with us, gave to her so I wore them that night."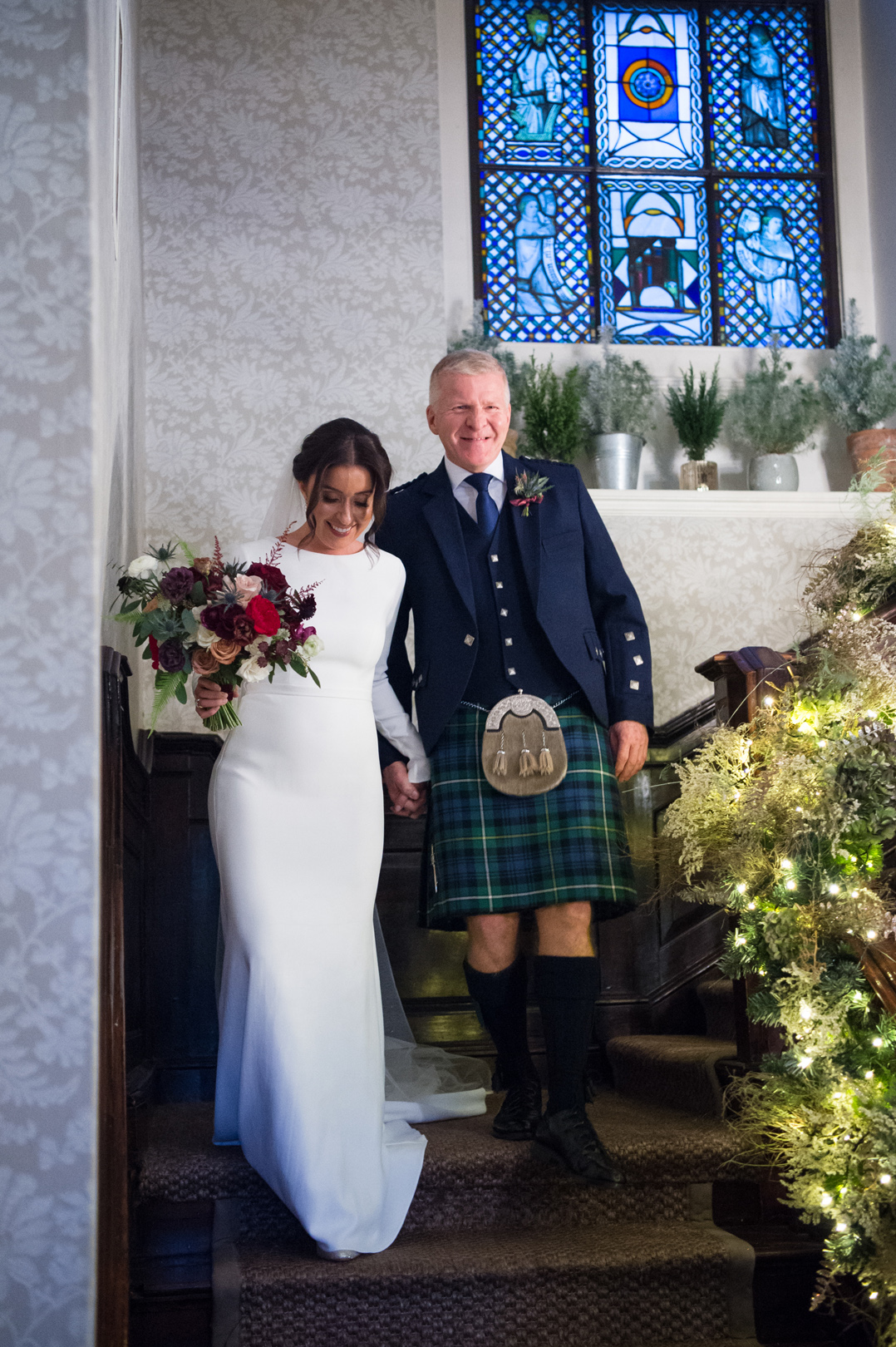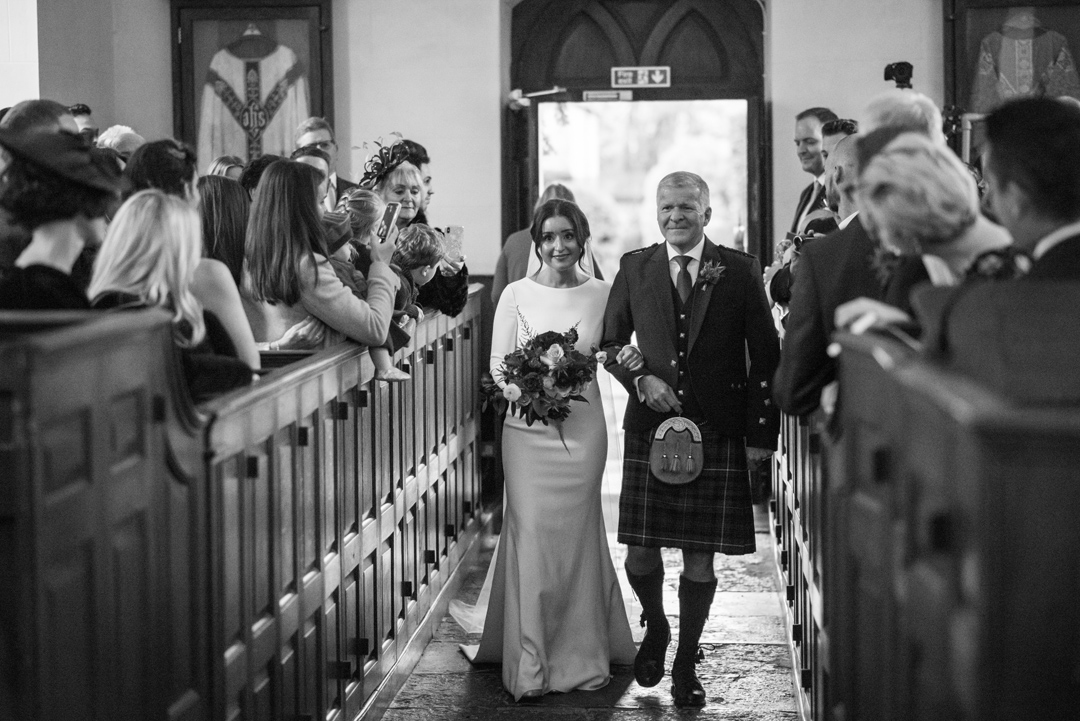 David Izzard, the local priest at Babington, officiated the service and Jen walked in to Pachelbel's 'Canon in D', alongside her dad.
The couple's vows were the traditional Church of England vows and the two readings were performed by the couple's godparents.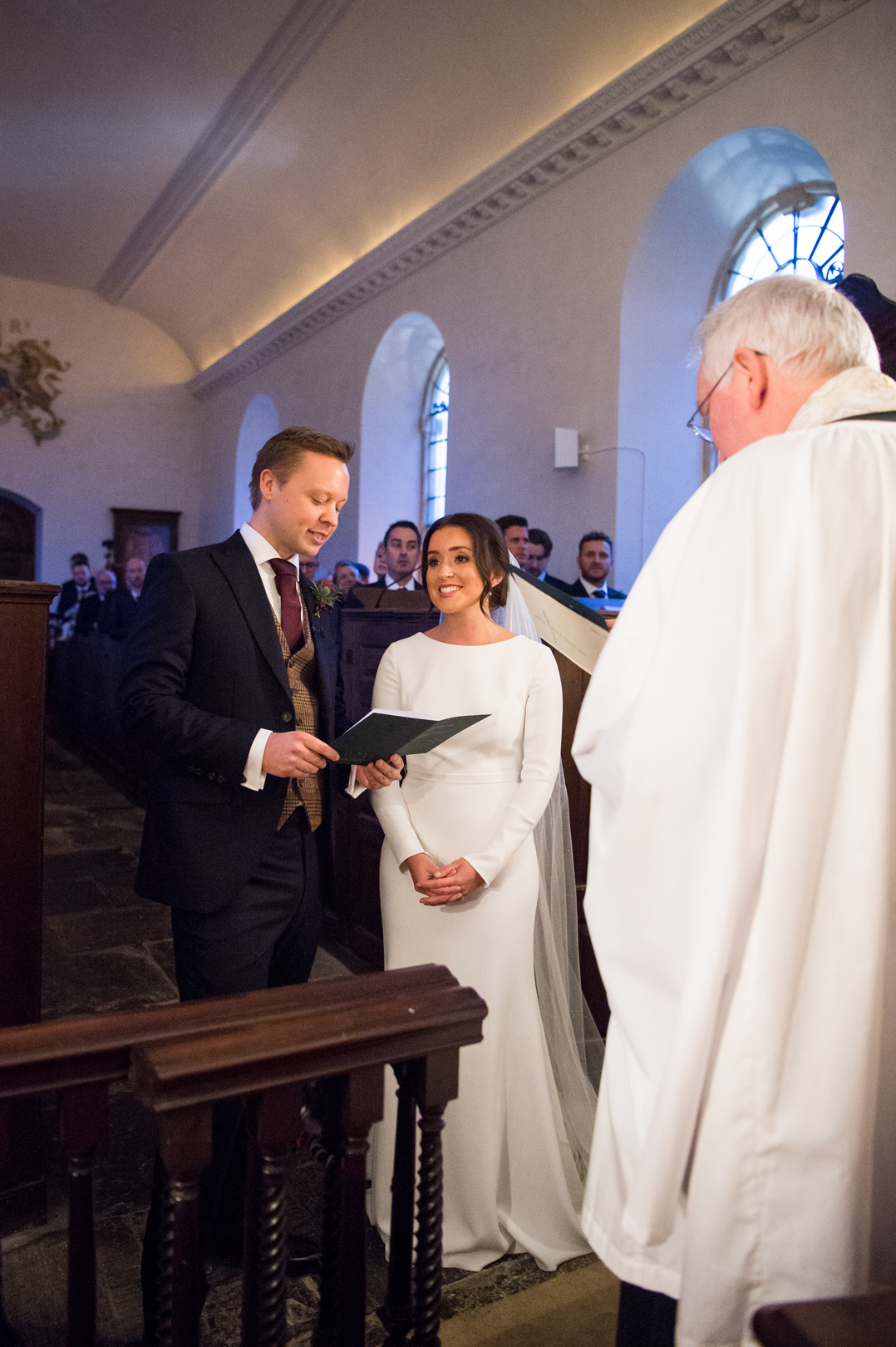 Jen and Rob exchanged simple gold bands from a shop in Emsworth, near where Rob's mum lives.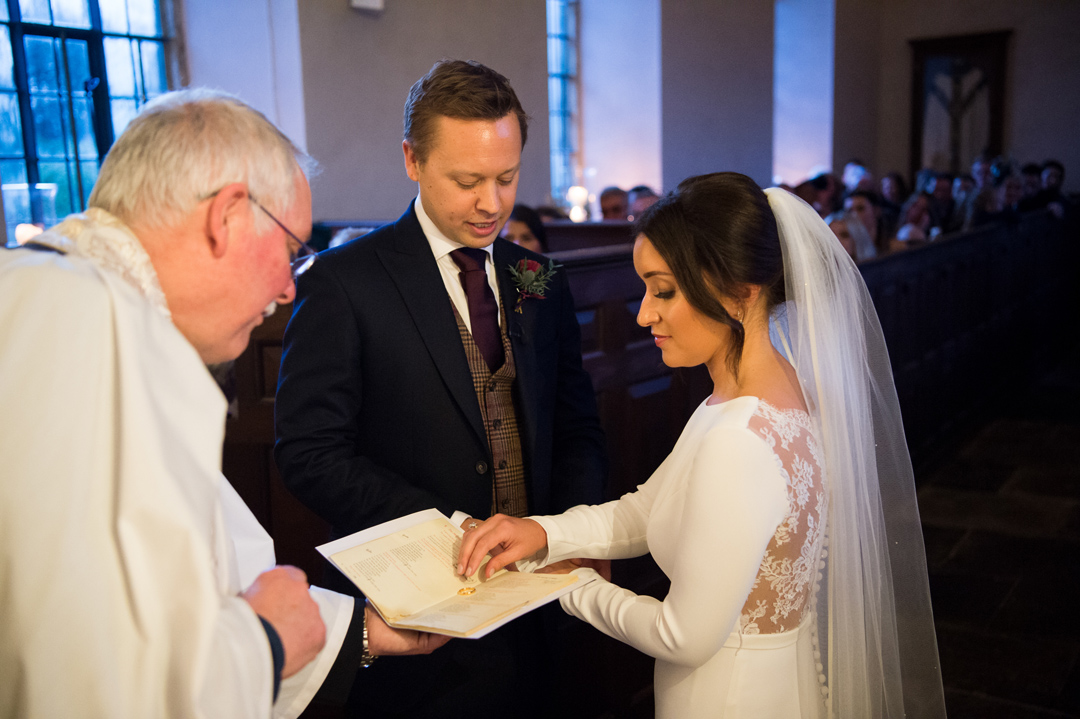 "We had 'Getting The Perfect Relationship' from Colossians Chapter 3, verses 12 – 17 and 'The One'."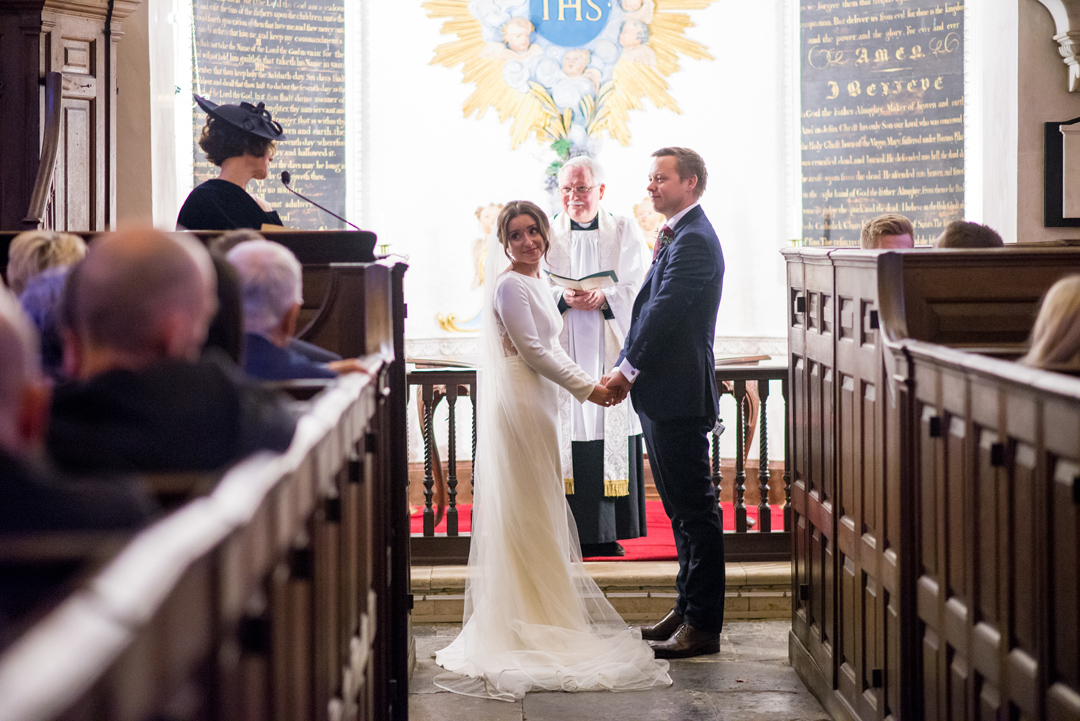 "Happening at Christmas, it was special for us to have some Christmas carols as hymns."
"For once it meant that everyone knew the words and the whole chapel was signing loudly. I loved that part of the day."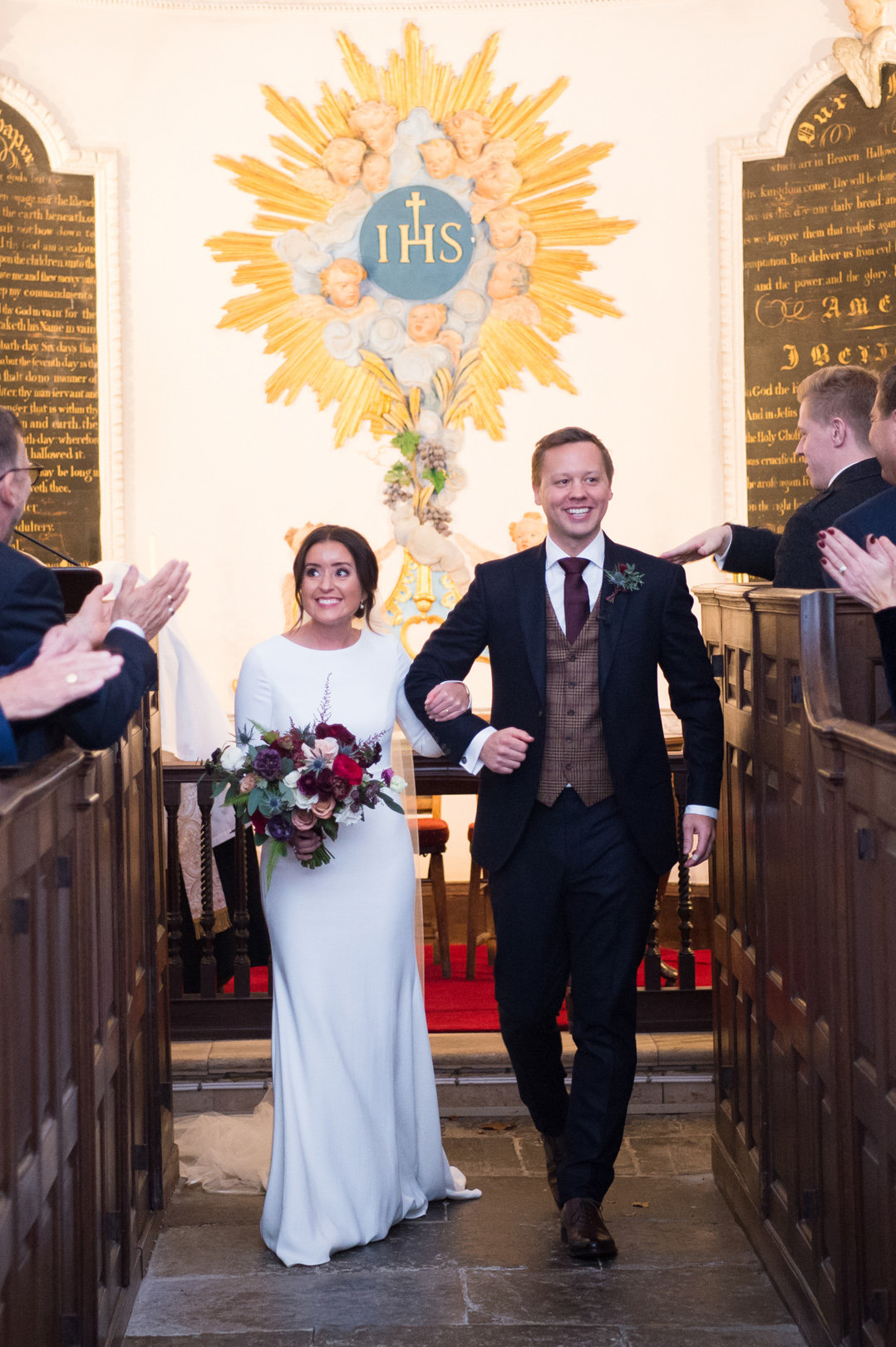 Dusk falls early in mid-December, so the grounds of Babington House looked magical with thousands of fairy lights and Christmas trees as the newly-weds emerged from the church, through a tunnel of sparklers held by their guests.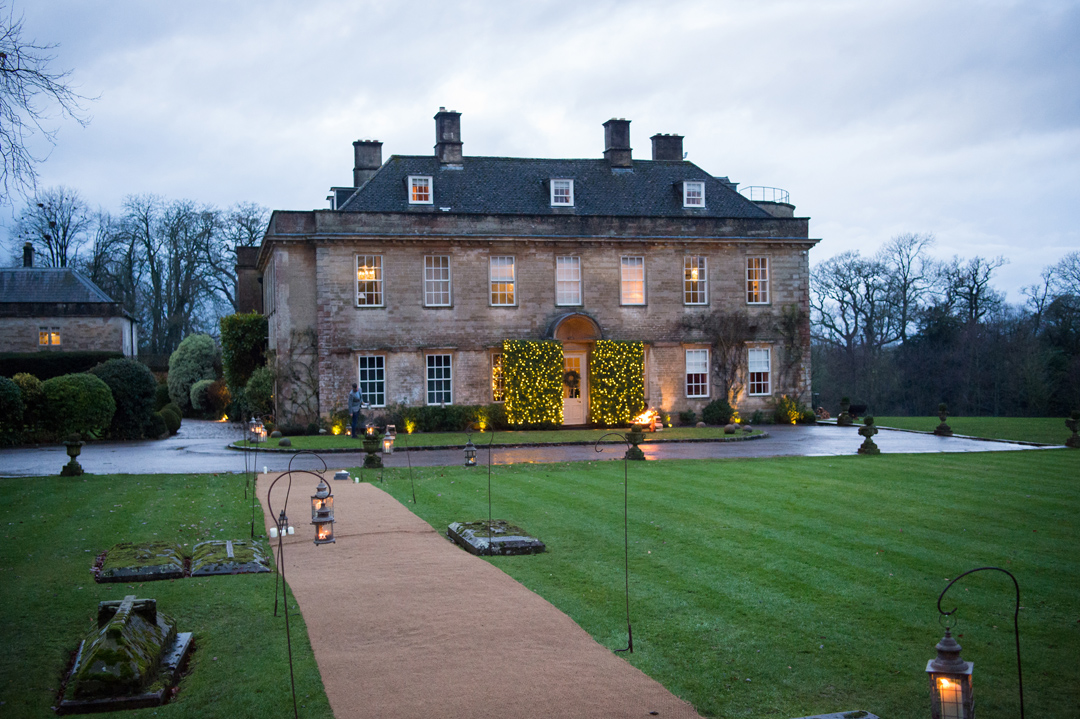 The couple met at work in Sydney back in 2014 but didn't start dating till early 2016.
"We got engaged at the Park Hyatt Hotel overlooking Sydney Opera House on 25 March 2018. I pretty much knew from our first date that I was onto a good thing."
"Our first date lasted ten hours after a lovely lunch at Hugo's in Manly. I feel so lucky that we opted for December 2019 and managed to get all our family and friends from around the globe in one room."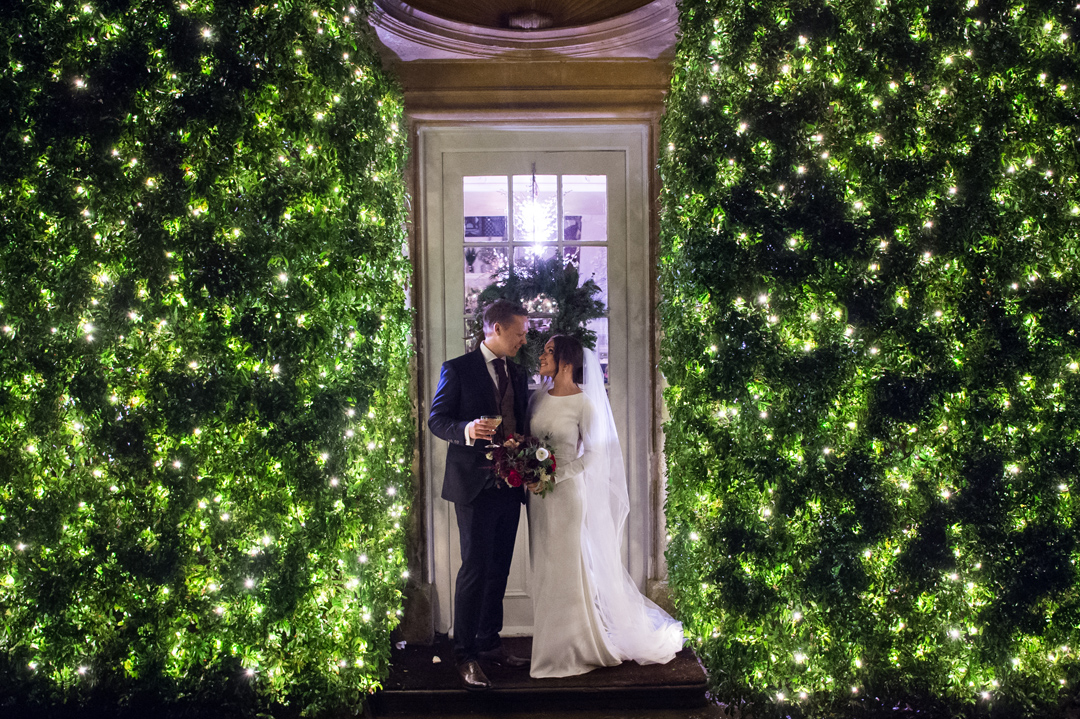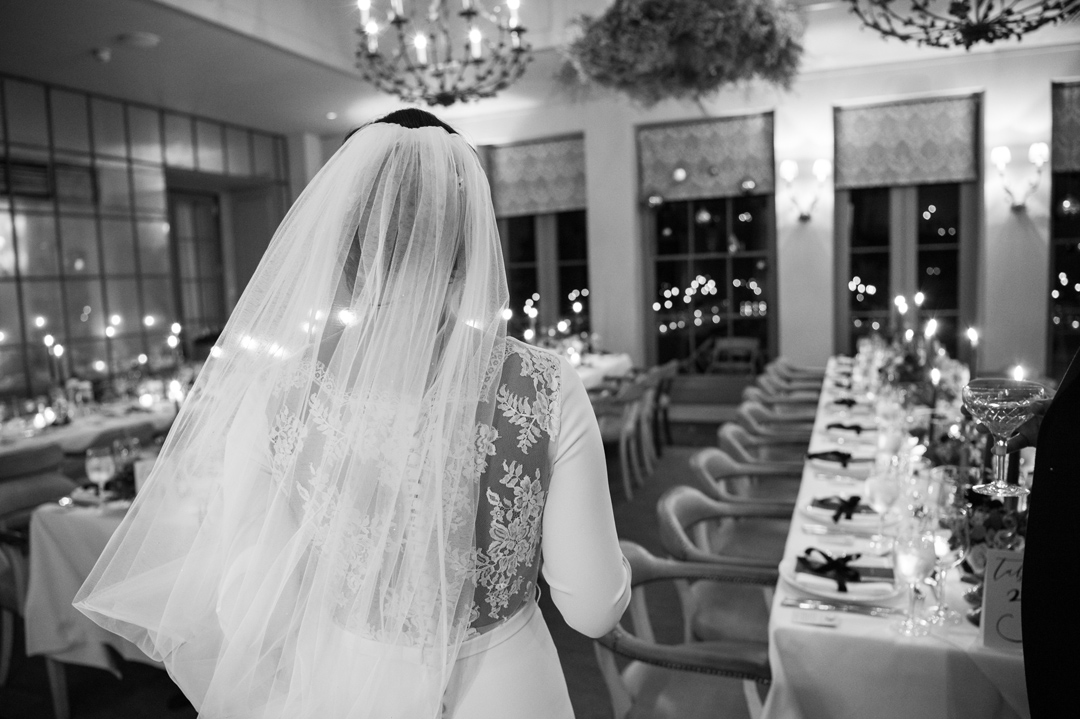 Before the evening party started, Jen added a custom Suzanne Neville crystal belt.
"It added some sparkle for the after-party and I changed into fabulous earrings at night from Kenneth Jay Lane that had a bit more sparkle."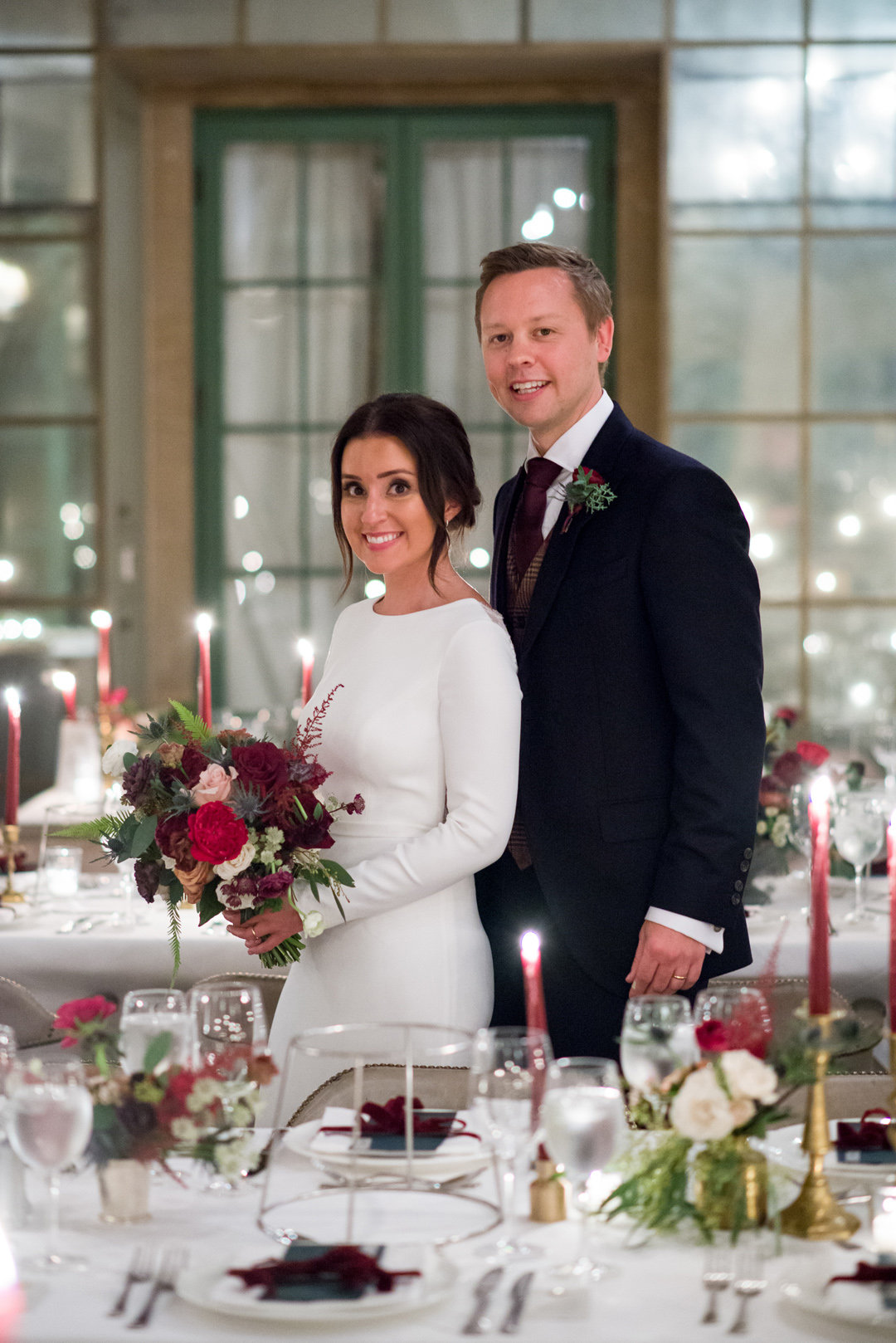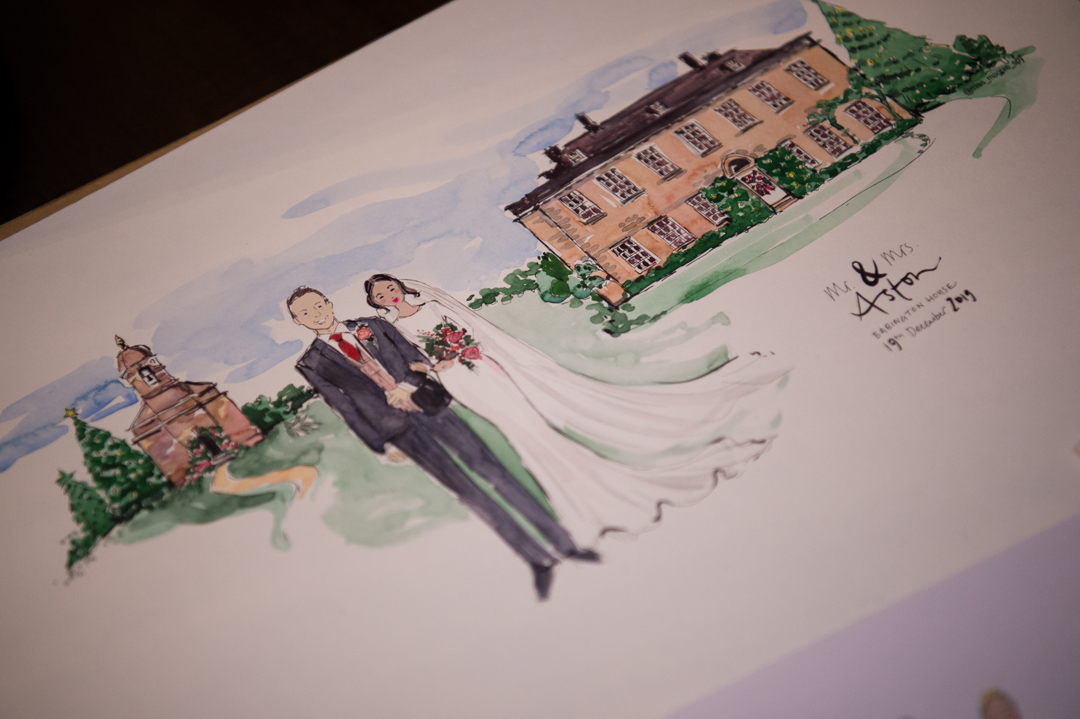 "It's so hard to pick our favourite moment of the day but I absolutely loved the ceremony; walking down the aisle, feeling amazing and meeting Rob, saying our vows and hearing the voices of our most loved friends and family singing 'Hark! The Herald Angels Sing'."
"I also loved the food, speeches (my dad's was amazing) and the dancing. Everyone had the best time and I'm so thankful to have had the wedding we did when only two months later it was a different world."
"We hosted a 'morning after the night before' brunch so we could catch up again with everyone as Mr and Mrs Aston."
Whilst the wedding party enjoyed a drinks reception, Sorrelli Strings played live music.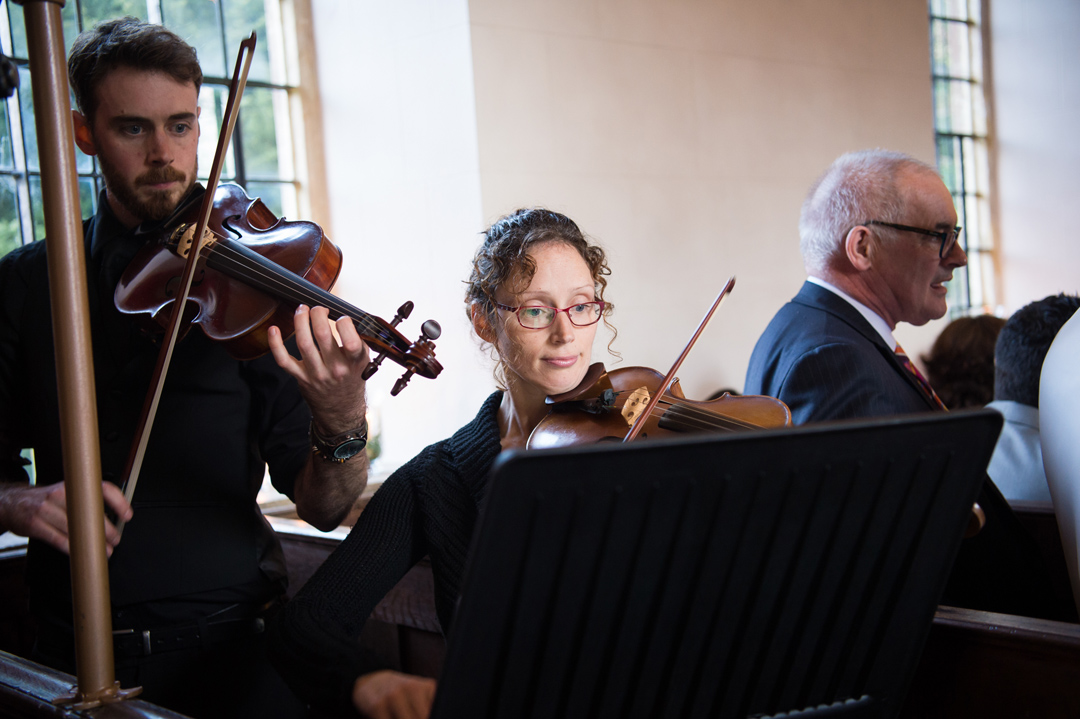 "After dinner, we wanted to create a big party so we had trays of espresso martinis for all guests waiting to get them ready for the dancing ahead. This was so fun and everyone loved them."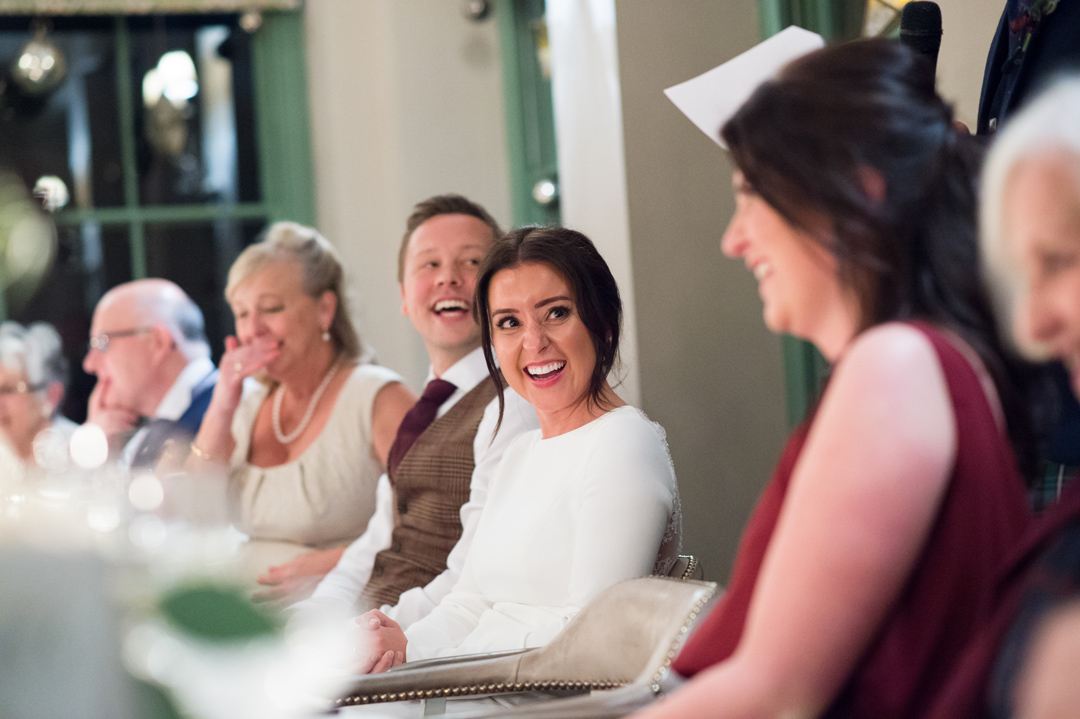 The wedding dinner came from Babington's in-house caterers and the couple served up custom cocktails; 'Scottish Gingle Belles' and an 'Australian Pined Negroni', using spirits from Scotland and Australia.
" I had illustrations done of both drinks for the bar at Babington and now the illustration is on our bar cart at home."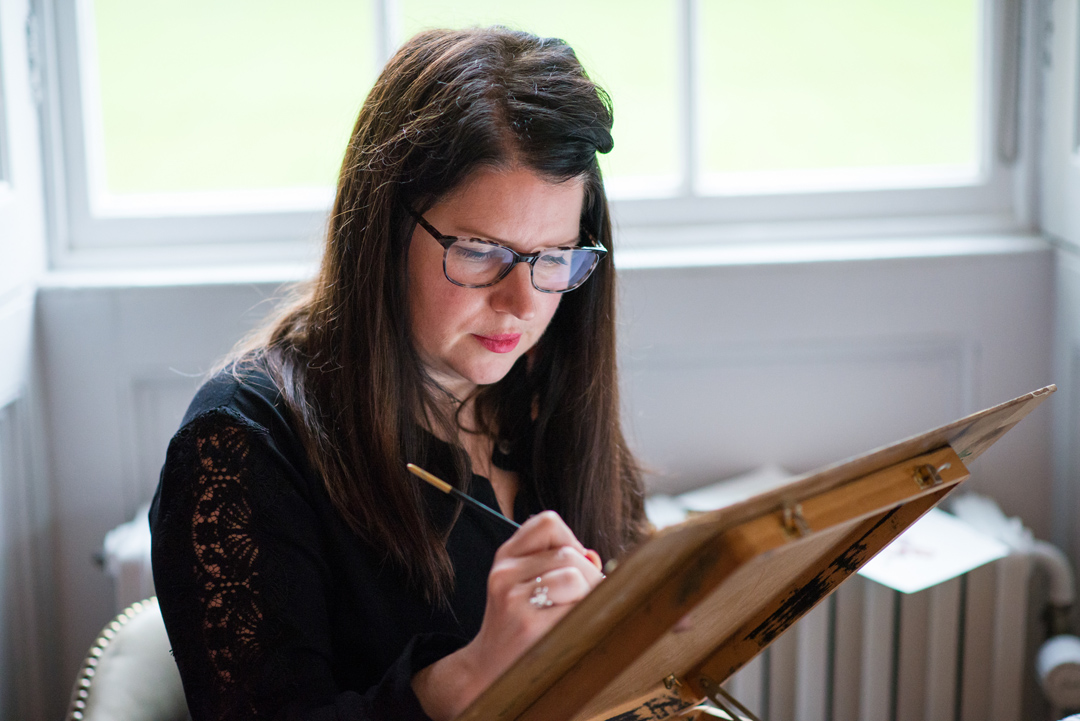 "Miss Magpie Fashion Spy, who I had seen at an event in London came and did a live illustration of our gorgeous wedding guests and illustrated a beautiful piece of Rob and I in front of Babington House. It's so special and is now framed in our lounge."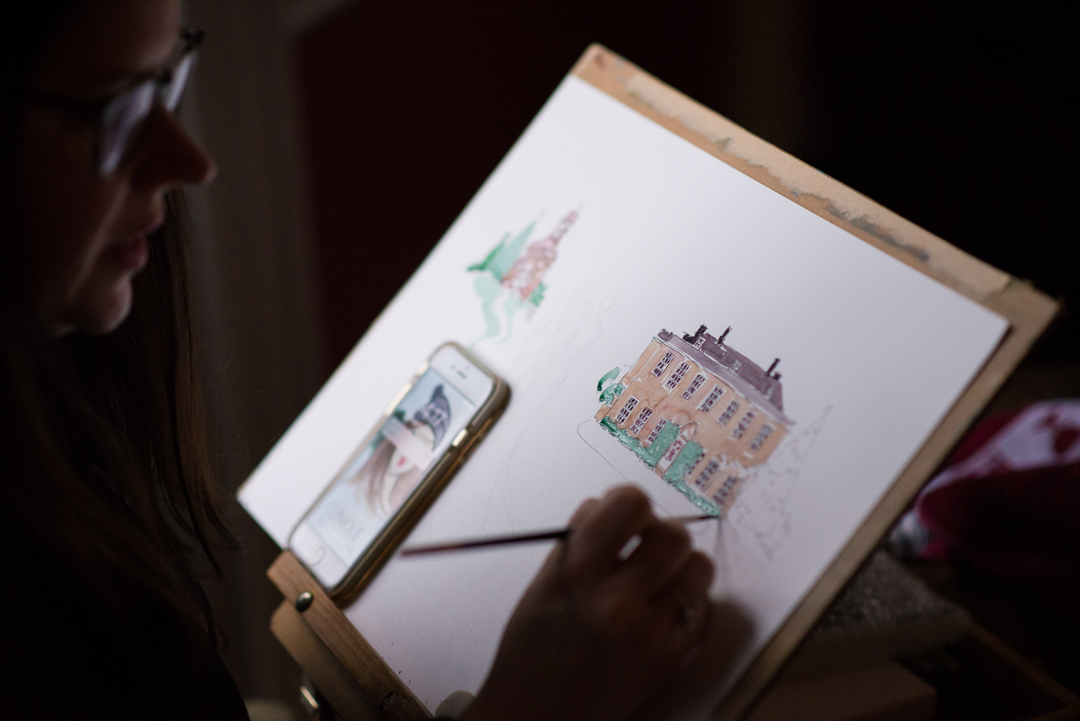 "The fabulous chef at Babington made an Australian pavlova for us that was huge and was served up as one of the dessert options."
"I do love wedding cake but as everyone was travelling, we opted not to do one that would go to waste. And, right before Christmas, everyone already has enough sweet stuff in their houses!"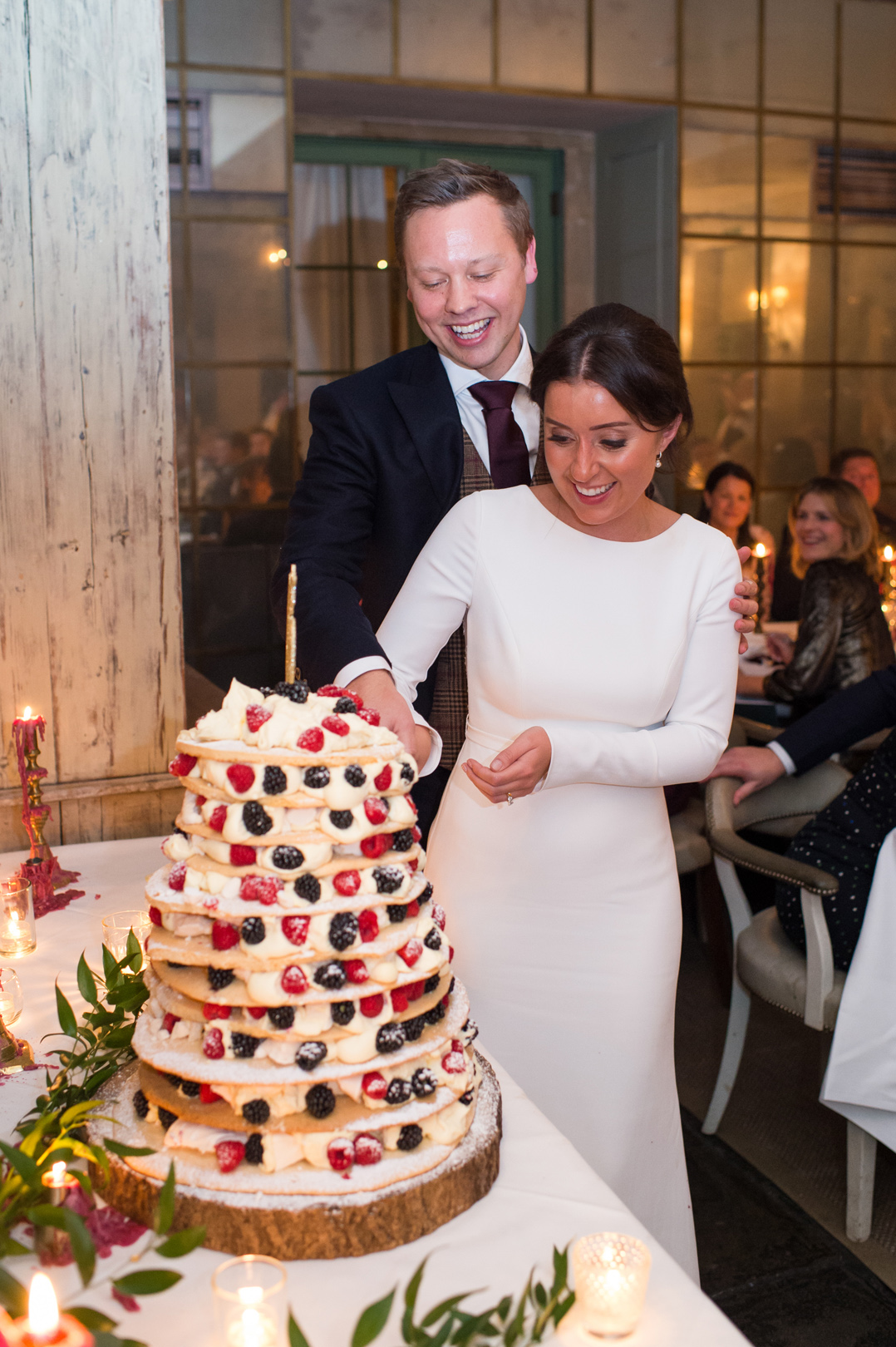 A DJ played at the evening party and the couple kicked off the dancing together.
"We had 'Crazy Love' by Van Morrison and then merged into 'All I Want For Christmas Is You' by Mariah Carey, complete with gold confetti cannons when the drums hit! This got the dance floor up for sure – it was wild!"
"The wonderful Nigel from Stylish Entertainment was DJ and he was unreal. He played all the tunes and allowed requests."
Words of Wedded Wisdom
"The day is about the marriage of you and the person you love. If that happens then it's a success, everything to make it a 'wedding' is extra."
"Don't worry about every teeny detail – it's only you that will notice if the ribbon on the menu is a different shade to the bridesmaid dress. Keep the music playing, food coming and drinks flowing and your guests will be happy."
"You have spent hours and probably a small fortune on the day. Enjoy every single minute of it – you set the tone for your guests."
"Make sure you spend twenty minutes away from everyone with your partner. We did it during courses at dinner and it was lovely to have a breather. It goes so quickly and you are jumping from place to place so just soak it all up."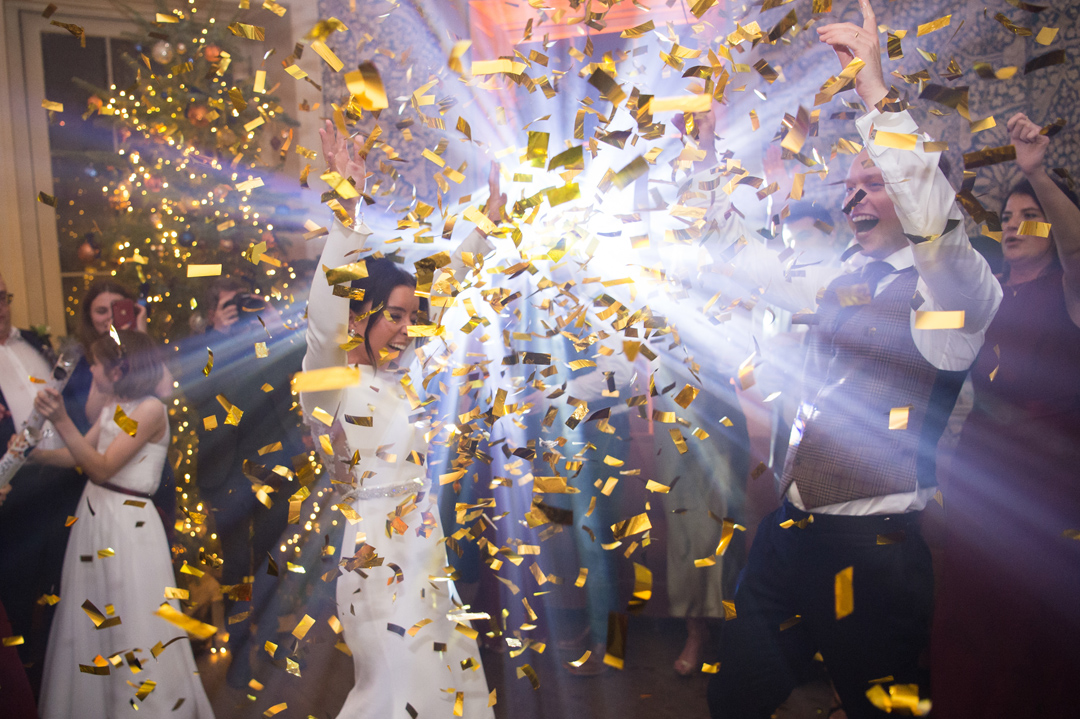 Rob and Jen, thanks and congratulations to you both. I'm so happy that you had this chance to celebrate with all your loved ones before the world changed and thank you for sharing your day with us. Especially Amy, as always it's been a pleasure to share your work; thank you.
For more brides wearing Suzanne Neville, please take a look here.
Ele xx