A hand-embroidered veil – supplied by one of our fabulous recommended suppliers, alongside vibrant coral peonies styled by the bride and a chic mini-dress paired with skyscraper heels, make this one of the coolest and prettiest micro weddings we have ever shared.
On 1 May 2021 horticulturist Gemma wed building surveyor Louis in a registry office ceremony at Southover Grange, Lewes, East Sussex. After their micro-wedding, with just eight guests, the newly-weds invited small groups of six to join them in their garden at home, ending with pizza and marshmallows around the fire-pit. The day's vibe was casual but chic, with plenty of coral peonies, Gemma's favourite flower.
A touch of bridal drama came from the embroidered veil, purchased from Story Of My Dress in Kent. We love to support this supplier on the Wedding Directory, so please find out more about them here.
"It was a personalised veil from Story Of My Dress in West Malling, Kent. It had our initials, original wedding date and Mumford and Sons lyrics embroidered on it."
Story Of My Dress

+ Follow
The couple travelled to Southover Grange together.
"We decided to drive to the ceremony together as we knew the Covid restrictions would not allow for walking down the aisle so we just embraced this."
"There was something quite fun about driving together, feeling nervous and excited but having each other rather than what you would traditionally 'expect' to happen."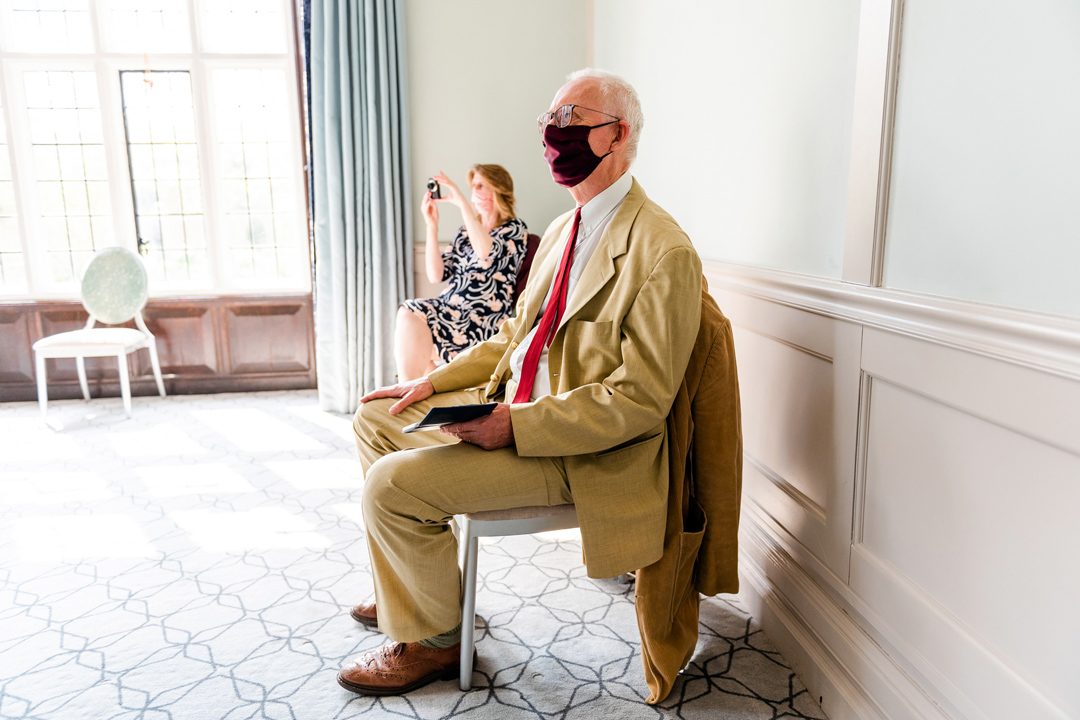 Louis and Gemma met through a mutual friend.
"Our paths crossed one New Year's Eve in Brighton."
"We got engaged in 2018 in Malta, a complete surprise."
"We had been engaged for two and a half years before our wedding."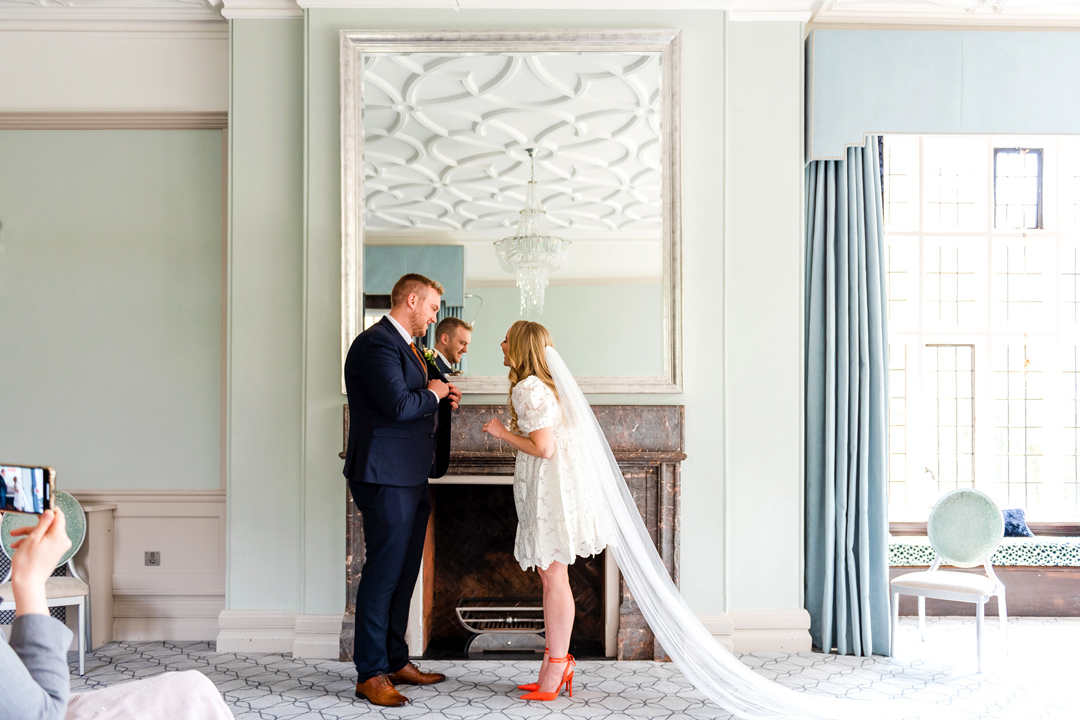 Gemma chose to save her original wedding gown for the bigger celebration later in the year, instead selecting this chic, mini-dress from & Other Stories.
"I bought a shorter white dress that was a bit more casual in style to go with the new plans."
"This was paired with a pair of bright orangey-red heels from ASOS these turned into mine and a lot of people's favourite part of the outfit."
"The hem of the dress had a lovely scalloped hem which I adored."
"Southover Grange in Lewes is our local registry office and a gorgeous building with lovely public gardens outside for beautiful photo opportunities."
Our original date was planned for 2 May 2020. Unfortunately, it was not possible to go ahead as we had gone into the UK lockdown."
"The original plan was very different from the day we had on 1 May 2021. However, we did have that original plan go ahead later in the year."
"On our wedding day in May we could only have eight guests who had to all sit two metres apart from one another and wear face coverings."
There was no aisle and we entered the ceremony room before any of our guests and exited to sign the register in a separate room afterwards."
These bright, joy-filled images are the work of Sarah Williams Photography, who the couple met at a Sussex wedding fair.
"I was looking at the stand with my mum and fell in love with her photographs so immediately pulled Louis over to have a look."
"Sarah's photos are stunning and we loved how she captures the natural surroundings as well as the people in the photos."
"Sarah and her husband Alex, who work as a team, were brilliant throughout the whole process from the moment we booked them and became more like friends than suppliers at our wedding."
"They are both so lovely and put us at ease on the day, were so organised and happy to accommodate any images we wanted to get on the day with our friends and family."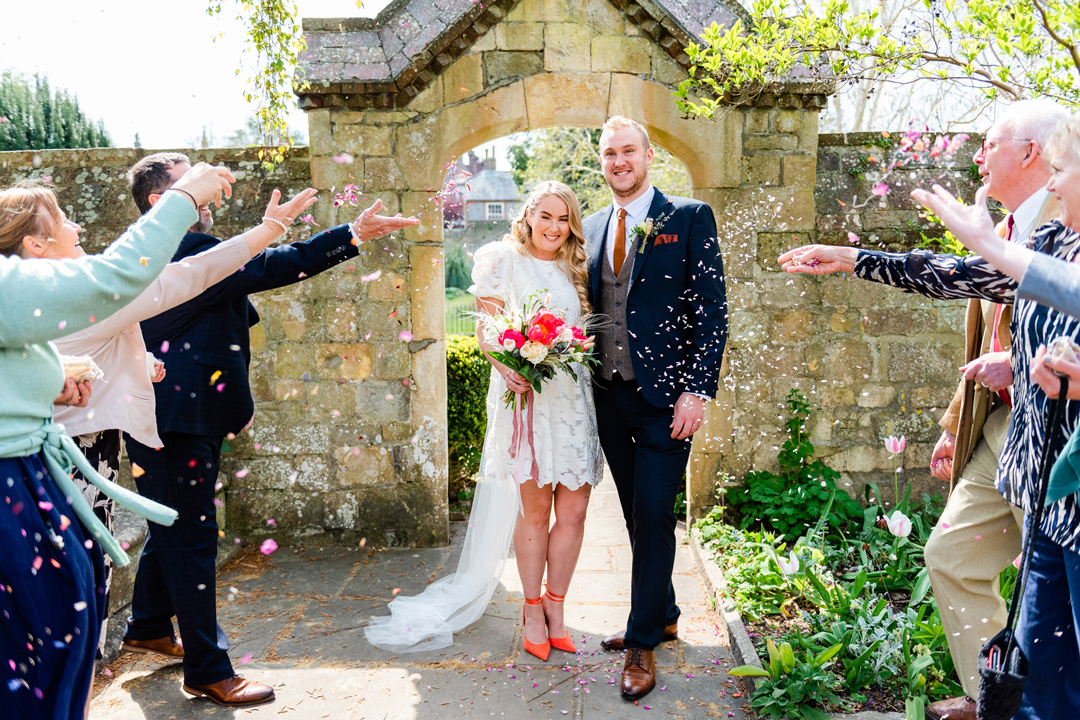 They also had an abundance of confetti so we were able to do multiple confetti throw photos! I would completely recommend them to others; they were brilliant!"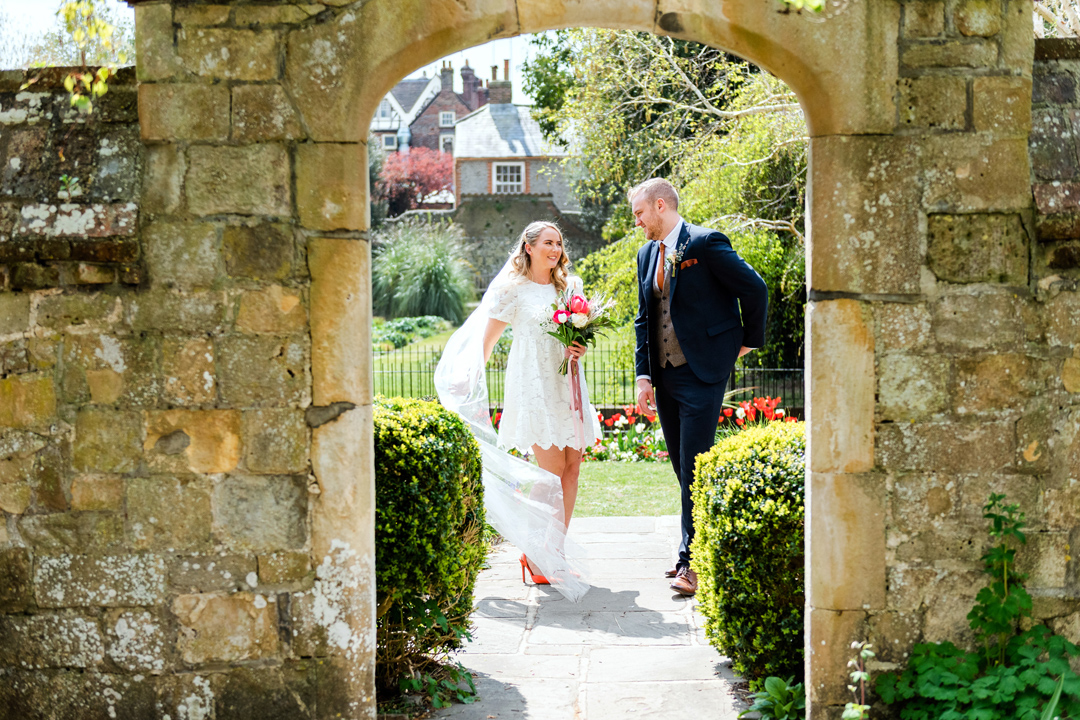 As a horticulturist, Gemma styled the wedding flowers herself.
"Flowers were minimal. I made my bouquet and a buttonhole for Louis."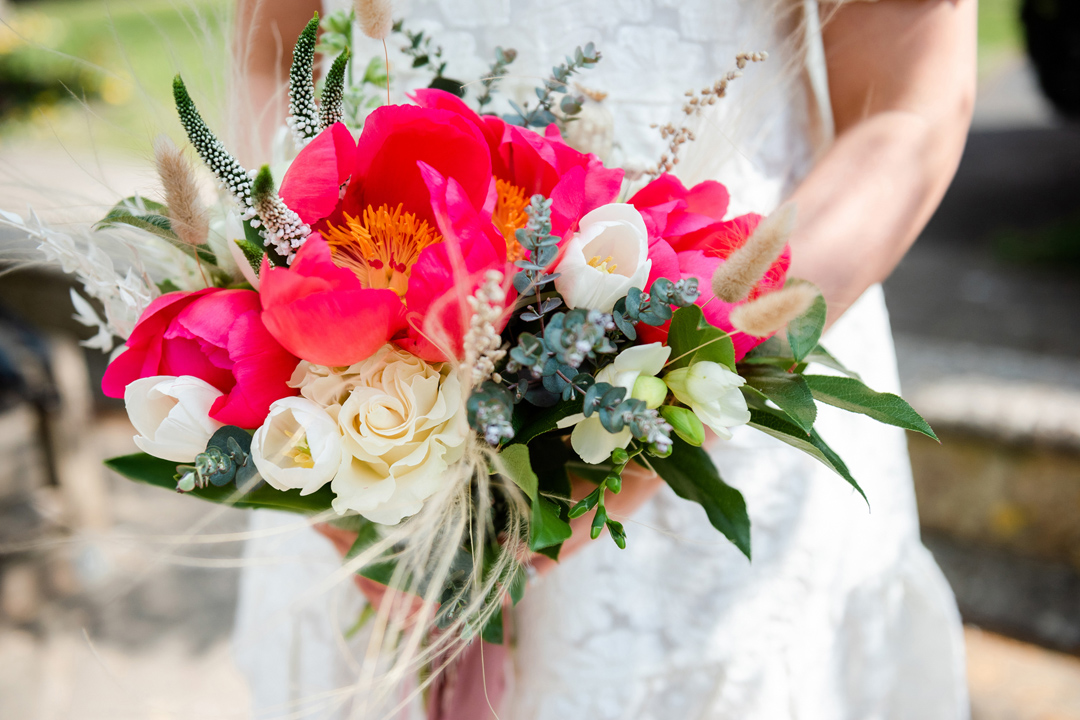 "I absolutely love peonies, especially the bright coral-coloured ones, so they were the main influence in the bouquet."
"I also love dried flowers so wanted to incorporate these with the fresh flowers."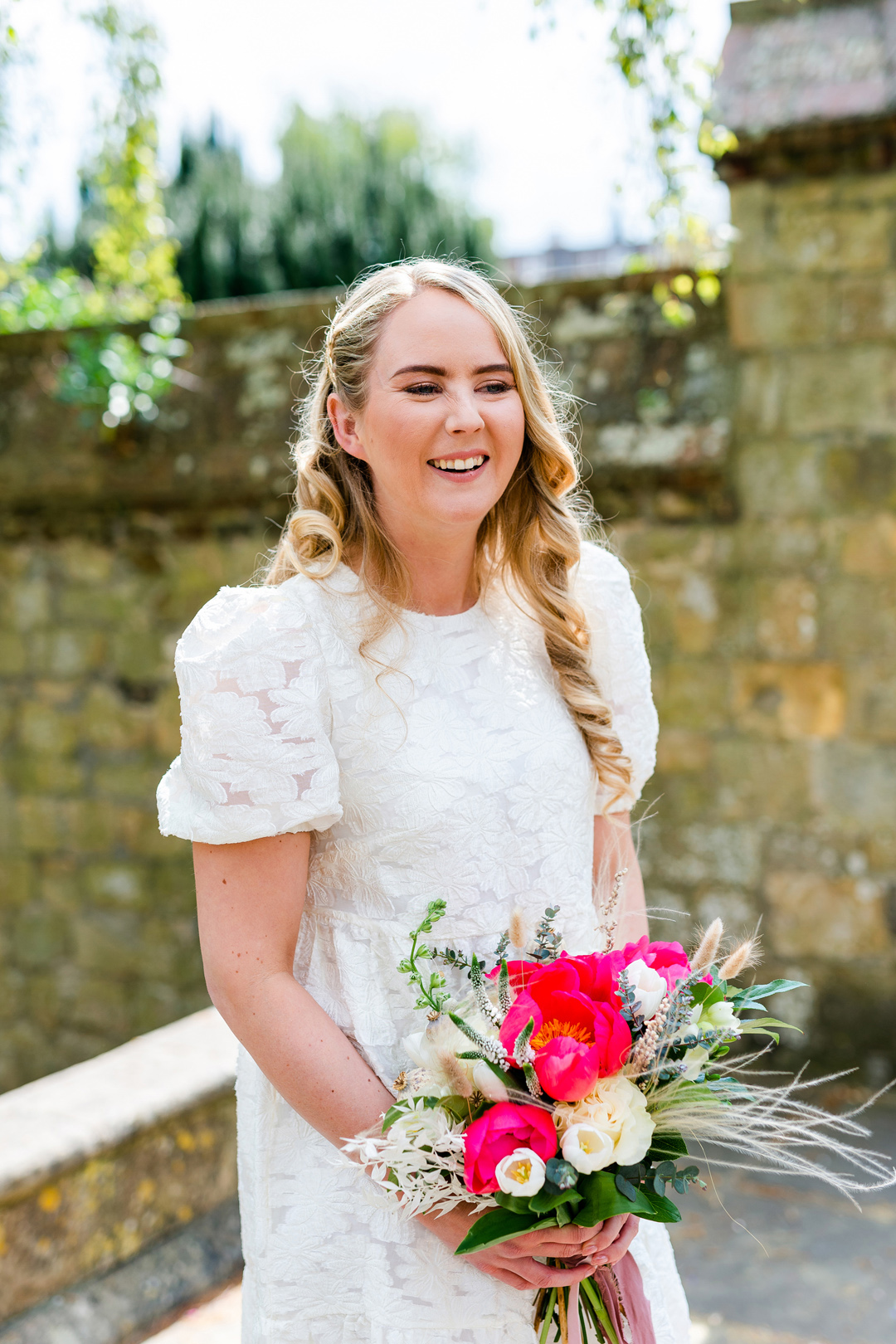 Louis wore a Next suit that he already owned and his own favourite fragrance, Paco Rabanne Invictus.
"He purchased a tweed waistcoat to contrast. He also wore the tie and pocket square that he later wore with his suit for wedding part two that we did later in 2021."
""After our ceremony, we had a couple of small gatherings in our garden with six people at a time which was the allowed number at the time of our wedding."
"We had decorated our back garden with lots of fairy lights to make is look beautiful."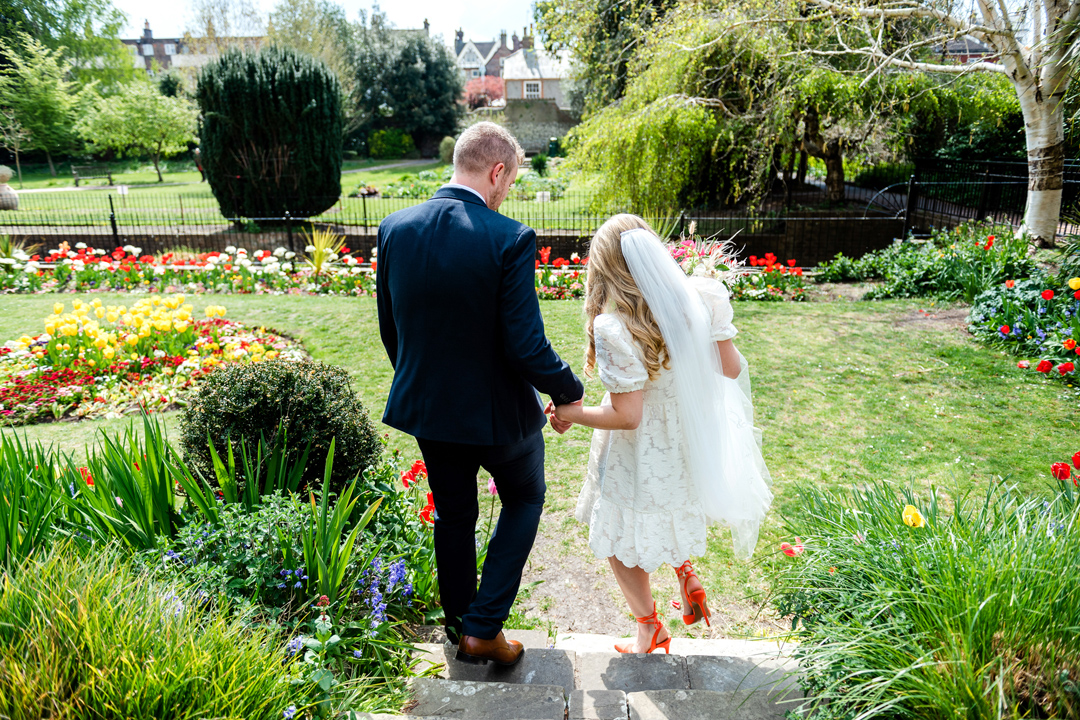 "Our evening was spent with four friends eating pizza and toasting marshmallows around a fire pit."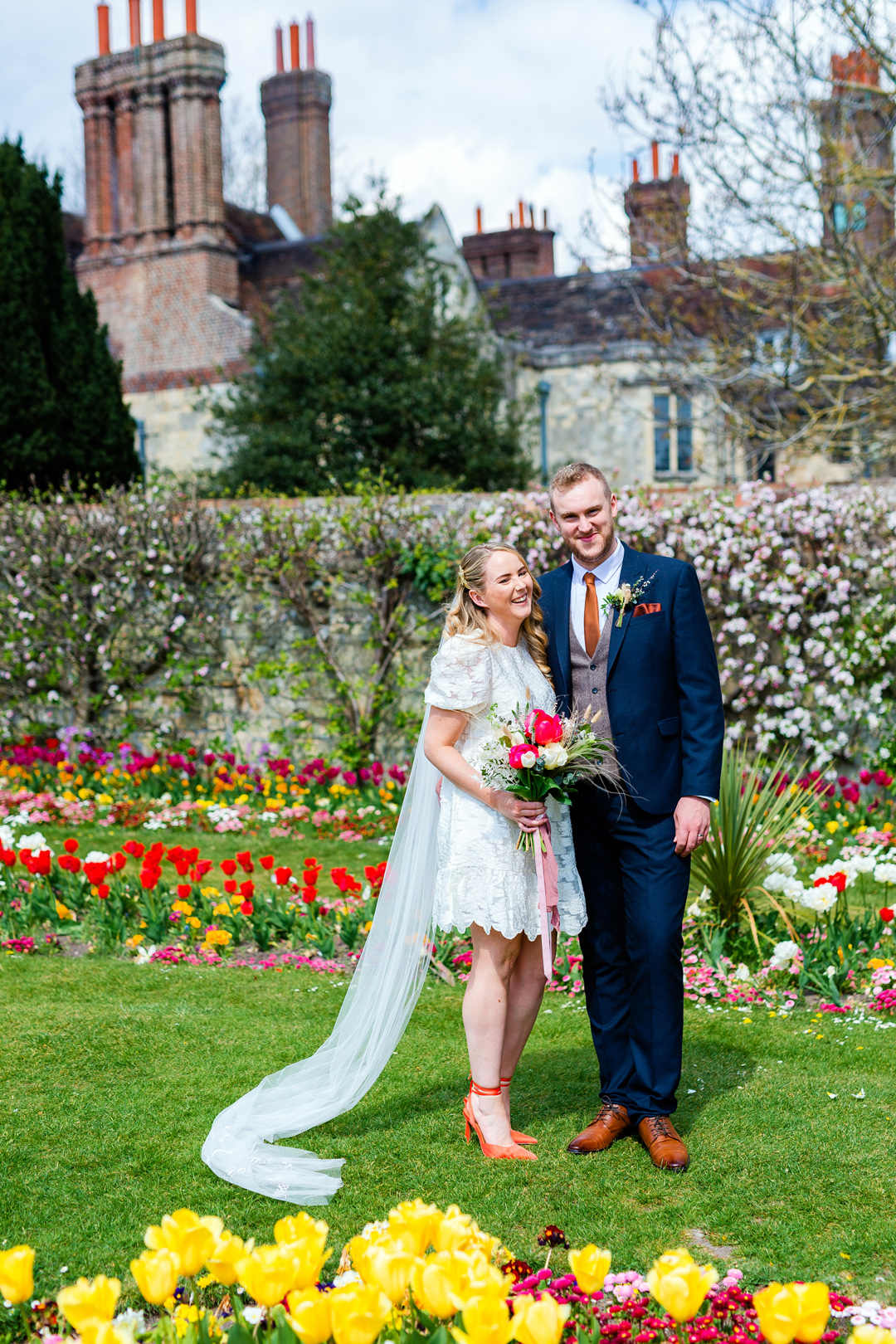 "It was not at all what we had planned but was kind of wonderful and really fun."
The couple enjoyed some time together in the beautiful, sun-filled gardens before heading back home for their intimate garden celebrations, one of their favourite parts of the day.
"Eating pizza in the garden that evening around a fire pit with our friends."
The bride wore her favourite fragrance, Marc Jacobs Dot, and kept her relaxed curls back from her face with a gold hair slide from ASOS.
Hannah McPhee Makeup applied subtle but glam make-up.
Words of Wedded Wisdom
"Expect the unexpected! Don't be disheartened if things don't quite go to plan."
"Surround yourself with supportive friends and family because then you will feel like you can achieve so much more and it creates a positive atmosphere around you."
"Having had to postpone our original 'big' celebration plans twice and only have a small number of guests at our wedding ceremony in May, we would have found this so much more stressful if we had negativity coming from people around us."
"So, surround yourself with good people who are willing to help and give you love and support."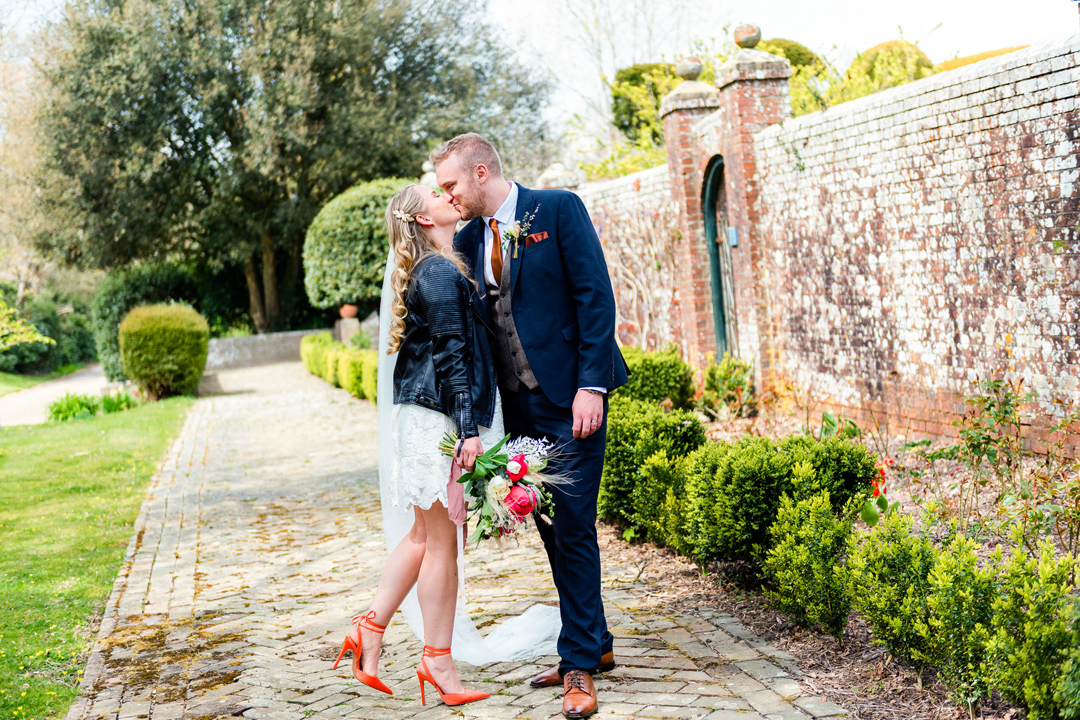 For other couples affected by Covid, Gemma and Louis have this advice.
"Just enjoy it. We knew the day wasn't going to be anything like our original plans so we just embraced it and had a completely different type of day rather than try and do our original plans but smaller."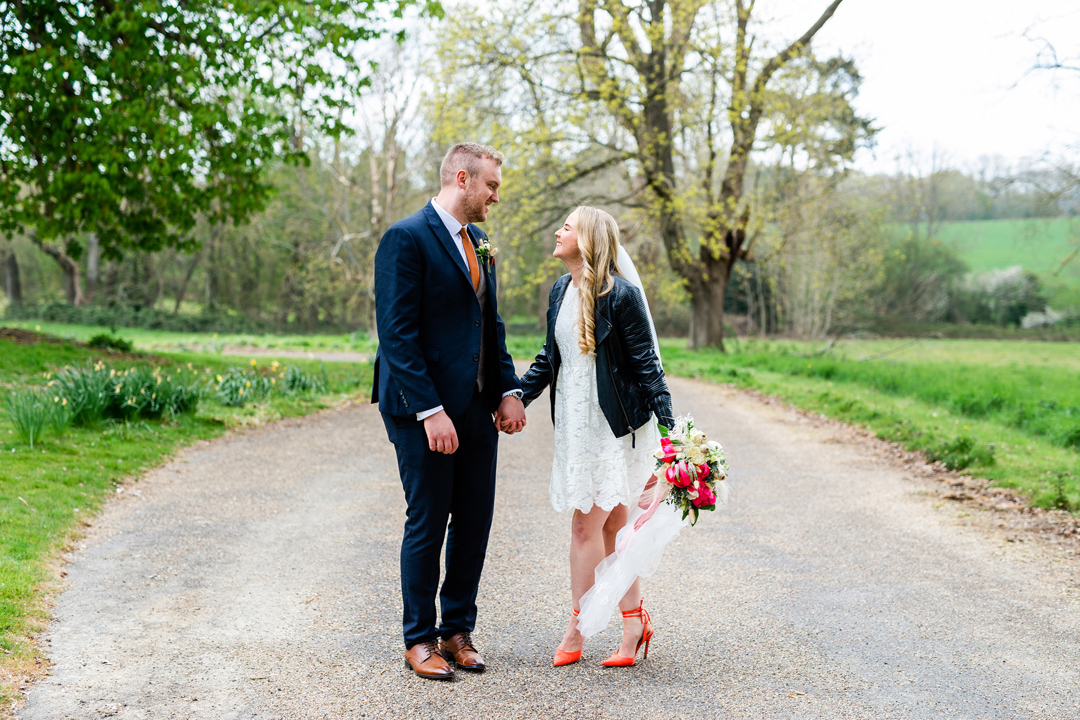 "It meant we could be creative and try to have as much fun as possible. Everyone who we could physically have with us, and those we couldn't, were 100% behind us and we felt so much love."
Love and congratulations, Gemma and Louis, and I hope you had a wonderful second celebration. Thank you so much for sharing your wedding with us, and thank you Sarah Williams Photography too.
For more micro-weddings, enjoy this selection on Love My Dress.
Ele xx