My gosh, today's wedding looks like so much fun. Set in the beautiful, remote countryside surrounding the Norfolk Broads, the couple combined a quintessentially British vibe with a relaxed and romantic marquee reception.
Elise and Rory wed on 24 September 2021 at St Mary's Church in Surlingham, Norfolk and hosted a marquee reception after in  Yare Valley Meadow, overlooking the Norfolk Broads.
The bride, who works in advertising and the groom, a money broker, were split between Switzerland, where Elise grew up, and the UK, eventually deciding on a Norfolk wedding in the village church where Elise was christened and where her parents were married. The style was a celebration of the late summer countryside, with a neutral and elegant colour palette of fresh greens and romantic whites running through the day.
Megan Duffield Photography

+ Follow
"I wore Aerin 'Rose de Grasse' which reminded me of an English Meadow so it felt quite apt!"
The bride's hair was styled in a chic chignon by Amie Kelly via Gemma Holiday Hair Artistry, with the addition of fresh flowers.
"My makeup was done by Danielle via Michelle Bennett Makeup Artist – a last-minute change as Michelle got Covid."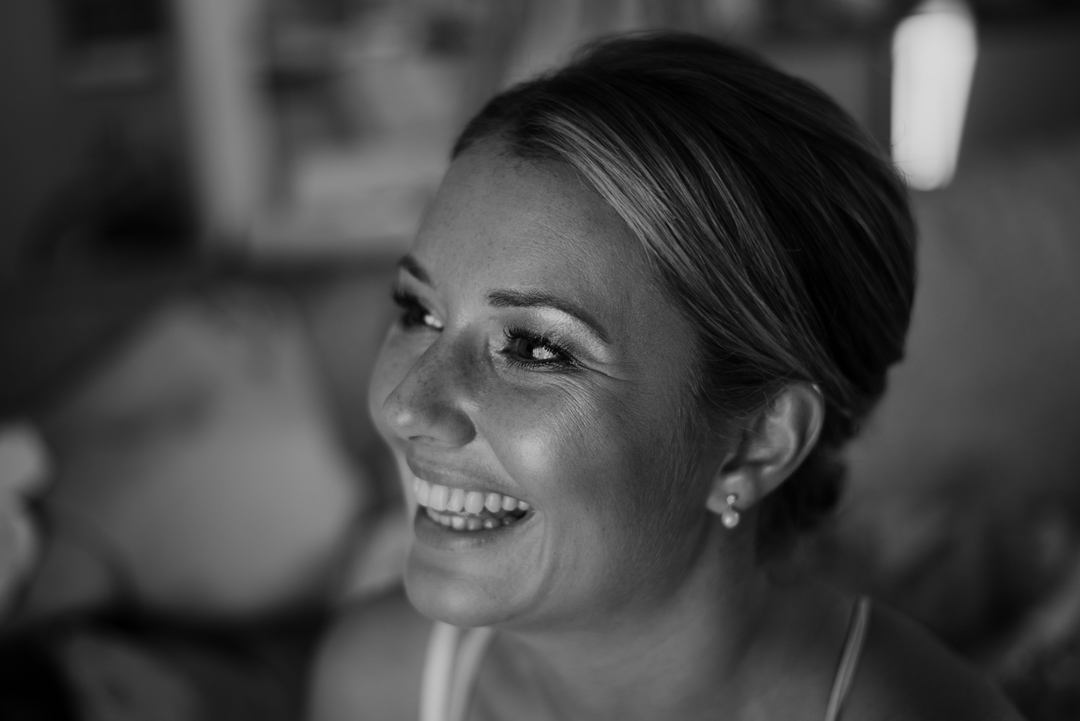 The bride visited The Mews Bridal in Notting Hill where she selected the embroidered 'Alcazar' dress from Margaux Tardits.
"The ladies at The Mews Bridal in Notting Hill were the most helpful, lovely, friendly team."
xxx
"There's nothing like a pandemic to bring people closer together and this team couldn't have been more helpful and understanding throughout the whole process."
"At one point, they were going to open the shop up to help with alterations when we thought we were going to get married in April 2021."
The bride's accessories were heartfelt and special.
"I wore Valentino Rockstud ankle strap sandals in Poudre. My auntie sadly passed away before our wedding day and I know she would have loved to have been there. She left me some money and I decided to put some of it towards my wedding shoes."
"I wore a pair of pearl and diamond earrings as my 'something borrowed'. They were a present from Rory's late dad for his mum, who then handed them down to my sister-in-law."
"It was very special to wear them on the day. The other piece of jewellery I wore was my 'something old', my great-grandmother's diamond ring."
"She gave it to my grandmother for her 30th and my grandma gave it to my mum for her 21st. Mum gifted it to me for my 30th a few years ago. It's a piece that's been in my family for years and has been handed down through three generations of women."
"It felt incredibly special to wear, especially as my grandparents aren't around anymore. If I have a daughter, she will eventually inherit it."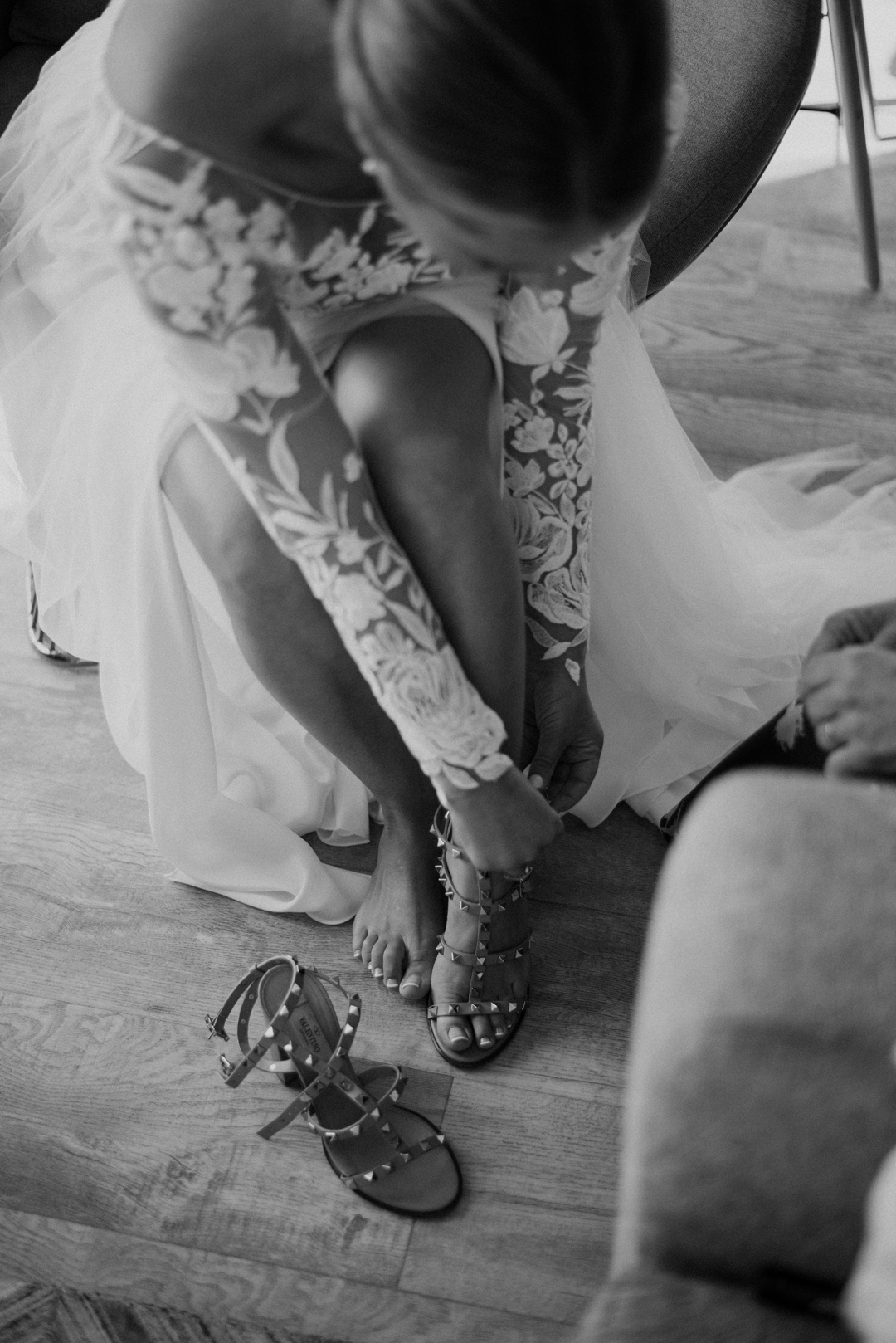 "I said yes to the dress in October 2019, the dress was handmade to my measurements at the atelier in Paris and arrived at The Mews Bridal in March 2020."
They very kindly stored it for me through multiple date changes up until my first fitting in July 2021."
"I couldn't recommend them enough; they took care of everything and were just so wonderful throughout."
"It's also the most beautiful shop, with so many gorgeous dresses, and the champagne flows!"
"I tried on quite a few dresses before I found 'the one'. I was really drawn to sleeves, and had one dress in mind from an Australian brand which I was obsessed with, but when I tried on it just didn't do it for me. I then tried on lots of different shapes and styles but nothing stuck."
"It was a client of mine who suggested going to The Mews Bridal as she'd been when she was looking for her dress and had a wonderful experience. I knew when I walked into the shop it was special; it was so relaxing, and the dresses were all so beautiful."
"I completely fell in love with Alcazar when I tried it on – floaty, beautiful tulle, the most intricate lace flowers on the sleeves and a bit of a cheeky leg slit. It was also so comfortable – no boning, just all floaty, gorgeous material. It made me feel amazing!"
The grown-up bridesmaids wore sumptuous, white, midi gowns from ASOS.
"I gifted them all dainty gold and pearl bracelets from Etsy. Their shoes and other accessories were the bridesmaids' own."
https://www.lovemydress.net/directory/supplier/lyn-ashworth-england/
Elise added a cathedral-length tulle veil, embroidered with her and Rory's initials and wedding date.
"It was in blue thread as my 'something blue'. The embroidery was done by Hand & Lock."
Rory and Elise met at Royal Holloway in 2008 in the bride's second year of university.
"Rory lived with the boyfriend (now husband) of my housemate and we met through them. We dated for a bit at university and had always kept in touch on and off over the years."
"He'd already asked my parents and a few of his family knew too. We then went out for a lovely meal at one of our favourite restaurants – it was completely unexpected and so perfect."
"We decided to give it another go after he asked me out over text on NYE 2010!"
"Rory proposed in March 2019 at our flat in London. We'd just been to the gym together and as I came out of the shower dripping wet in a towel, he was down on one knee in our bedroom."
"We got planning straight away as by this point we'd been together almost 10 years. We set the date for 1 August 2020 but sadly Covid had other ideas and in the end, we were engaged for about two and half years."
Our handy search function on Love My Dress gave Elise so much support in planning the outdoor celebration.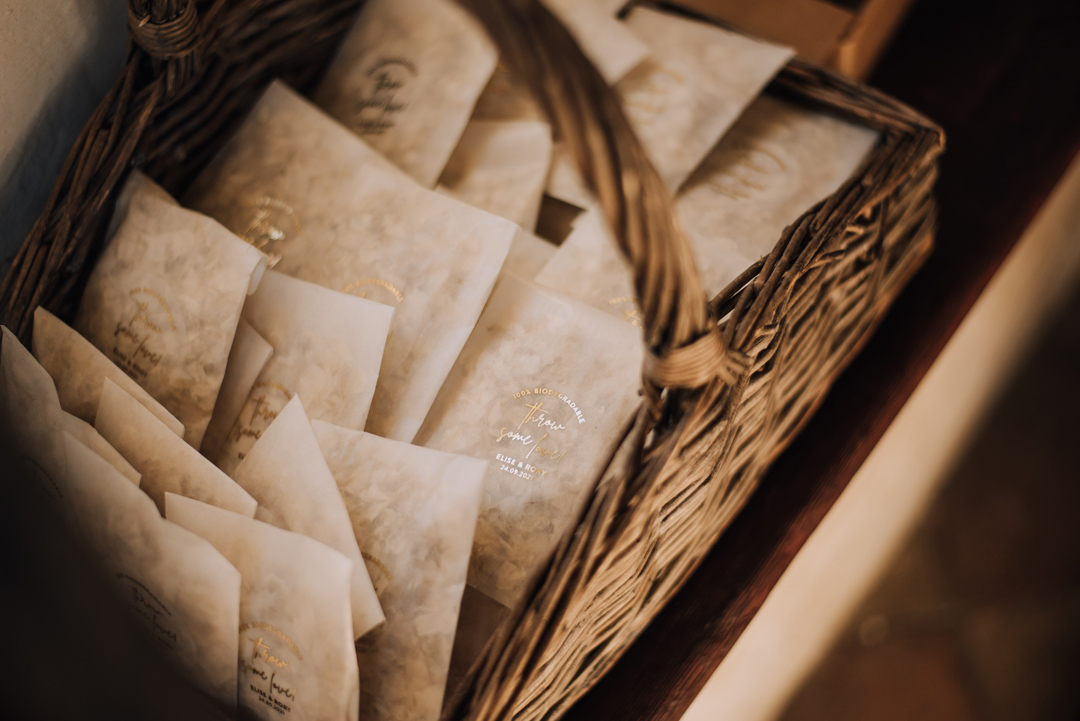 "I spent hours searching 'Farm Weddings' and 'Marquee Weddings' on Love My Dress. The website was an endless source of ideas and inspiration."
"I literally only read Love My Dress and did a lot of Pinteresting! I got obsessed with the 'Real Weddings' section on Love My Dress – I spent hours and hours reading them and getting inspiration from real couples."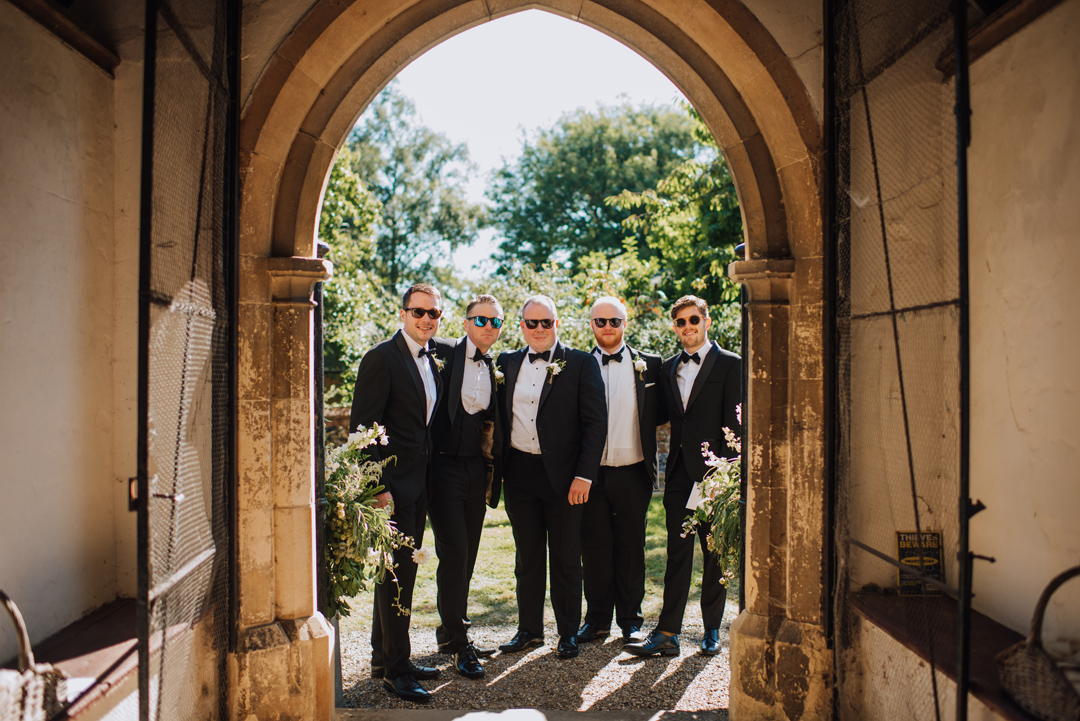 The stationery suite reflected the floral and foliage theme.
"My brilliant (almost) sister-in-law Jessica Noble designed all our wedding stationery. She's an incredible graphic designer and hand-drew flowers that were being used for our day and incorporated them into all the menus and order of service."
"She also hand-drew our church which we used on the front of our order of service."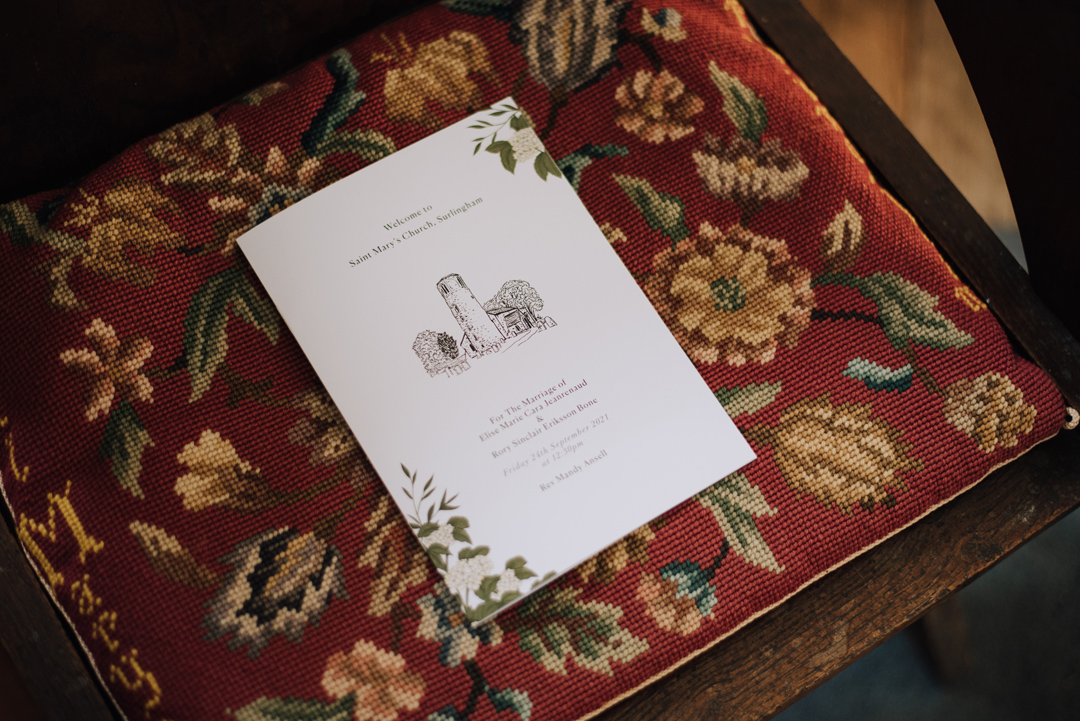 "We got married at St Mary's Church in Surlingham, Norfolk and then on to Yare Valley Meadow, a private meadow owned by friends who own Yare Valley Farm."
"We decided to get married in the UK after a toss-up between Switzerland and the UK where Rory's family is from and where we met and live."
"In the end, with elderly relatives and the bulk of our family and friends in the UK, we made the choice to keep it here."
"It was quickly decided that we wanted to get married in Norfolk."
"I was born in Norwich and spent the first five years in a small village on the Norfolk Broads called Surlingham."
"It's also a place we head to every year to visit friends so it's become a special place for both of us."
The bride travelled to the church in a traditional red London bus from Awaydays in a nod to London.
"It took me, my eight bridesmaids and mum and dad to the church. It then ferried guests from the church to the marquee meadow."
"My dad walked me down the aisle, which was lovely and were married by Reverend Mandy who works across several churches in Surlingham and the surrounding villages."
"We had two readings. As we got married in a church we had to have one religious bible reading which was read by my cousin."
"It was 1 Corinthians Chapter 13, probably the most popular wedding reading, but we love it."
"The second was chosen by Rory's cousin and she read 'Friday I'm In Love' by The Cure. We got married on a Friday so it worked so well. It was really lovely."
Rory and Elise gave each other wedding rings, made by BeauGems in Leadenhall Market, London.
"For the ceremony, we were lucky enough to convince my dad's cousin and her husband to sing through our signing of the registry. They're both professional opera singers and they were amazing."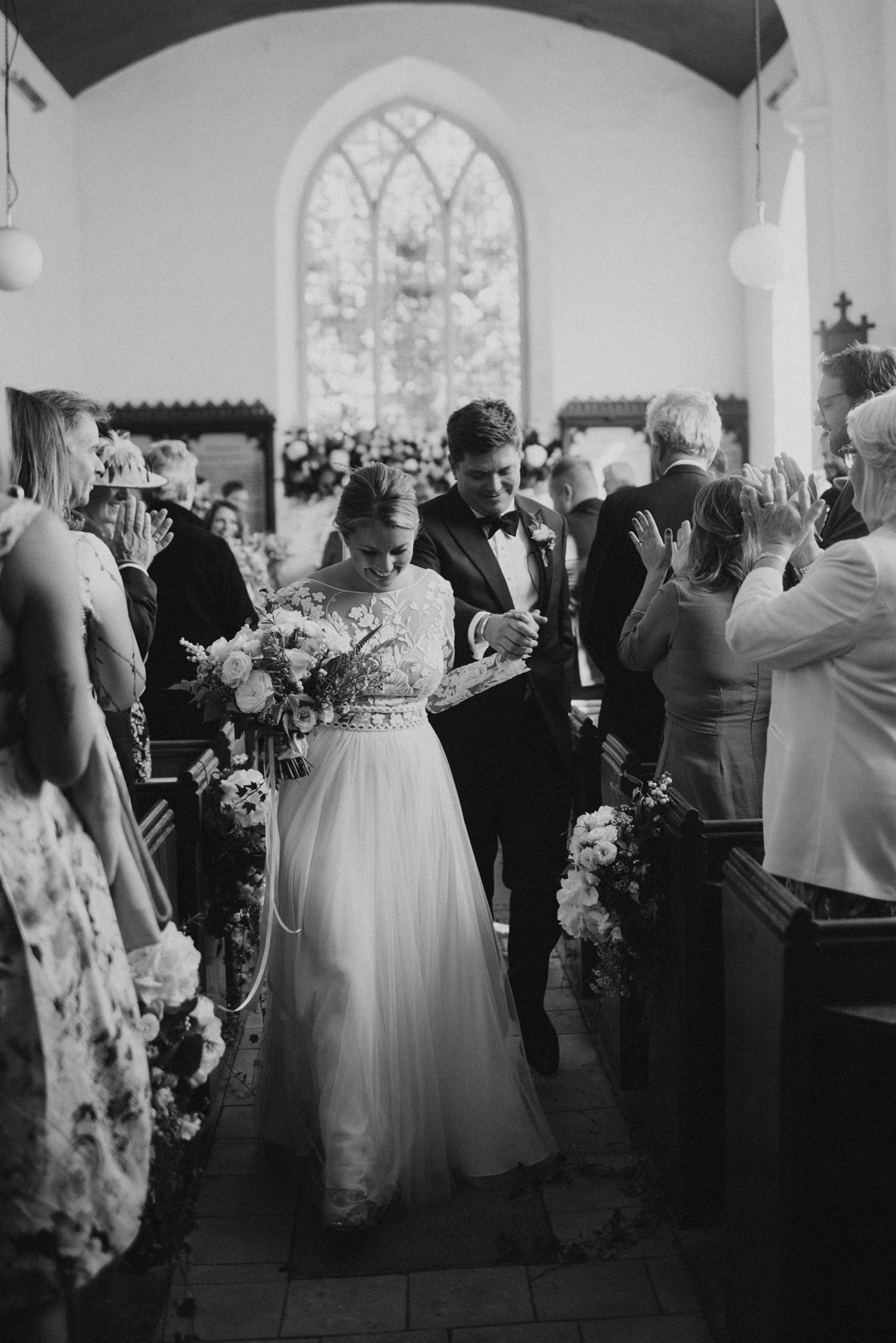 The groom chose a dapper navy and black tux, bespoke from Beggars Run in Shoreditch, along with his late dad's Rolex and his grandad's cufflinks. 
"I also got him a bespoke, rose gold cuff engraved with our initials and wedding date as a wedding present which was made by Bear Brooksbank. She's amazing – I can't recommend enough if you're looking for something unique and personal. I also had a pin made for him to wear inside his suit with a photo of his dad and his dad's handwriting, sourced on Etsy."
"Rory wore Tom Ford 'Tuscan Leather', a smell we both love."
After being declared husband and wife, the day continued with a fun boat trip on the Broads.
"Rory drove us to the village pub post ceremony in our car and we got on a boat we chartered from Broom Boats for a few hours which we pootled up the river on"
"It gave Rory and I some lovely time for just the two of us. We shared a bottle of champagne and took in what had just happened. It was really fun rocking up to the meadow by boat, greeted by all our friends and family!"
The boat trip was, understandably, one of the couple's favourite moments of the day.
Our boat ride down the river to the meadow when it was just the two of us was so special. We were feeling so happy and it was wonderful to be together straight after the ceremony."
"When we arrived at the pontoon we could see all 200 of our friends and family waving at us from the meadow."
"That moment gave me goose bumps. After all the postponing and cancellations, we had got there and it was the most incredible feeling having everyone we loved, some who we hadn't seen in over two years, all there waiting for us."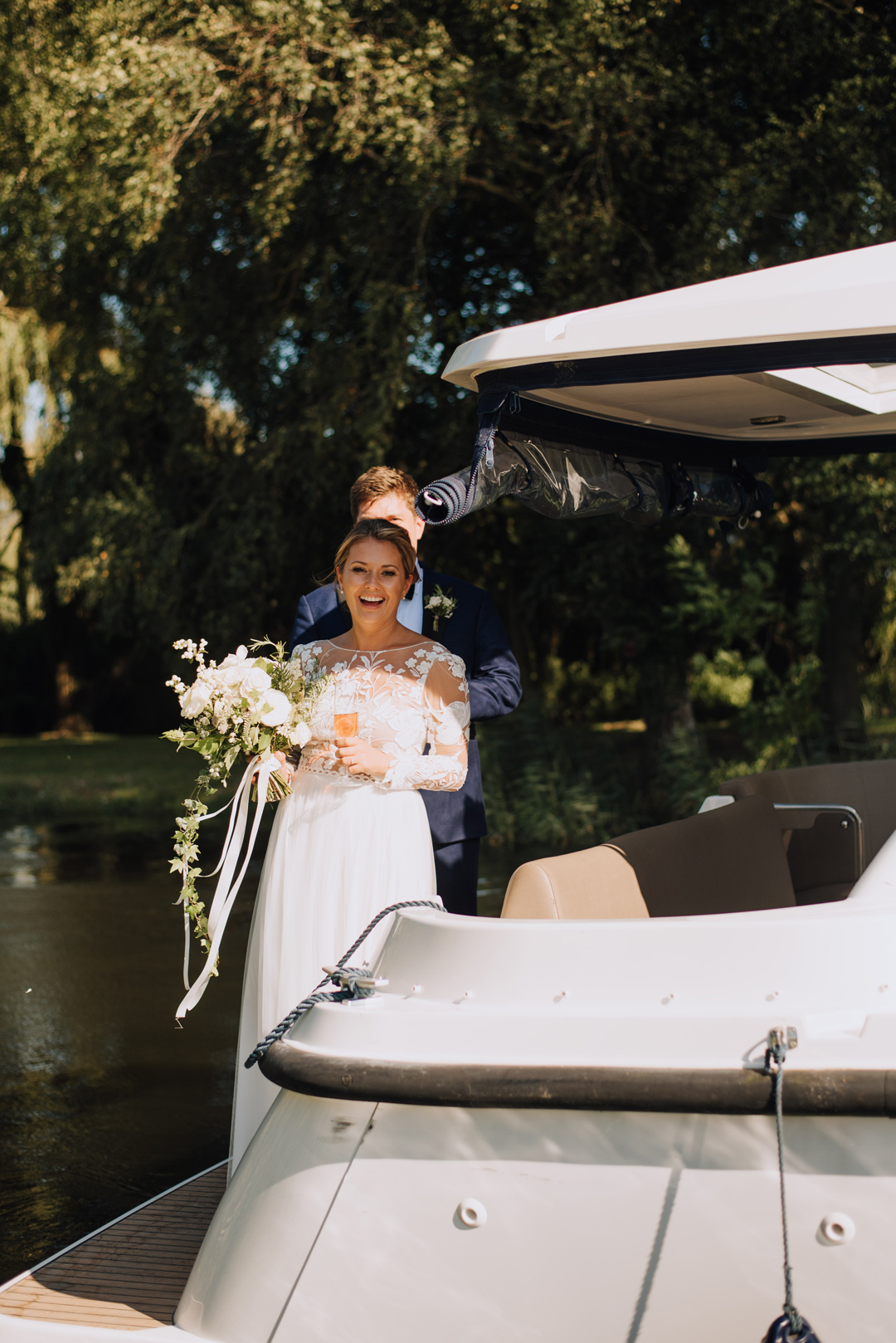 "We visited a handful of beautiful venues around Norfolk but decided we didn't want to be restricted with what suppliers we could use."
"We were also keen to get married in a church which slightly limited our choice of venue."
"That's when we had the idea to get married in Surlingham; my parents got married at St. Mary's Church almost forty years ago and I was christened there too, so we have family ties to the church."
"We pitched the idea to our friends about possibly getting married on the farm. They very kindly said yes, and set aside the most beautiful meadow overlooking the Norfolk Broads for us."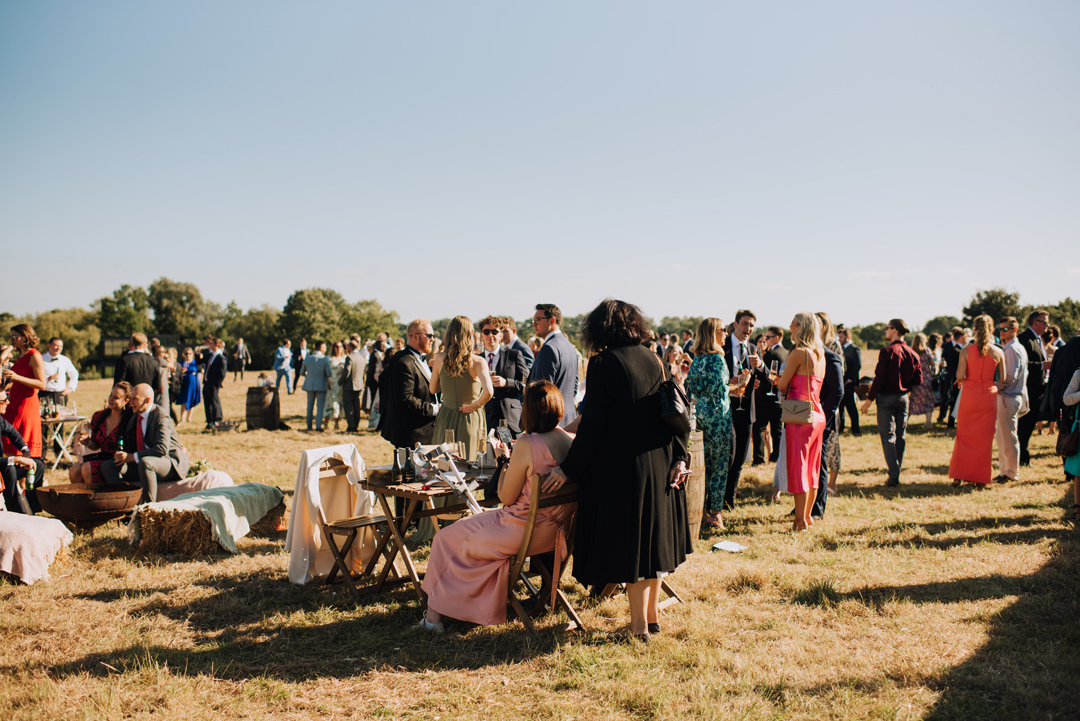 "It meant that we could choose all our own suppliers and create a day totally bespoke to us. "
"t also felt beyond special getting married in the church my parents were married in and then popping down the road (or in our case the Broads as we arrived at the meadow by boat) to our marquee reception."
"It's a day we'll cherish forever."
"Finally, we surprised our guests with a DJ set from Howling Owl, a DJ Land Rover that drove up to our marquee and got the late-night party in full swing."
The marquee was sourced from Great Event Company, after the Covid pandemic stalled their original plans and date, several times.
"Our wedding day was impacted by Covid-19 three times! We finally managed to get married on our fourth chosen date. My bridesmaid Charlie (who was a wedding planner) gave us the best advice ever which was to get wedding insurance – she said before you start booking anything just take out some insurance just in case, especially as we were booking so many different suppliers. Thank goodness she did!"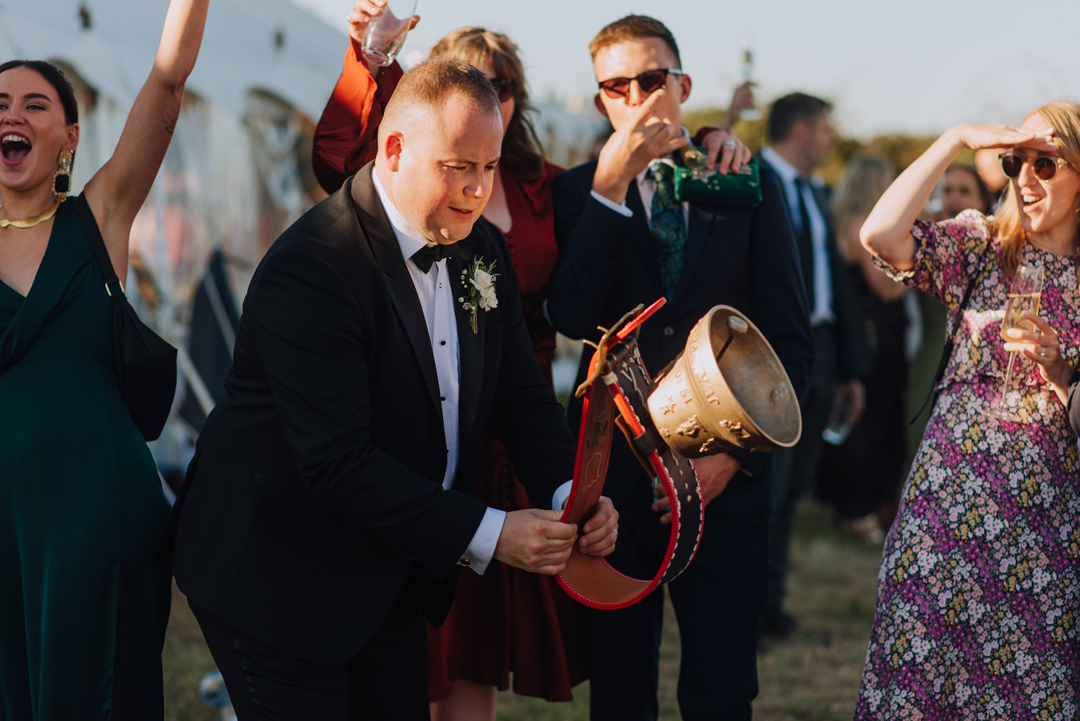 "Our original marquee company made us pay the total cost upfront then, when Covid hit, refused to change our date or give us any alternatives, essentially stealing the best part of £10k from us."
"We luckily managed to claim everything on insurance and this company has since been taken to court. Every other supplier we worked with was absolutely incredible and couldn't do enough to help."
"We tried again to get married in April 2021 but restrictions were still in place so we decided to move everything to May 2022. The government then decided to allow summer weddings and by some miracle we managed to move all our suppliers, find a new marquee company and set the date for 24 September 2021."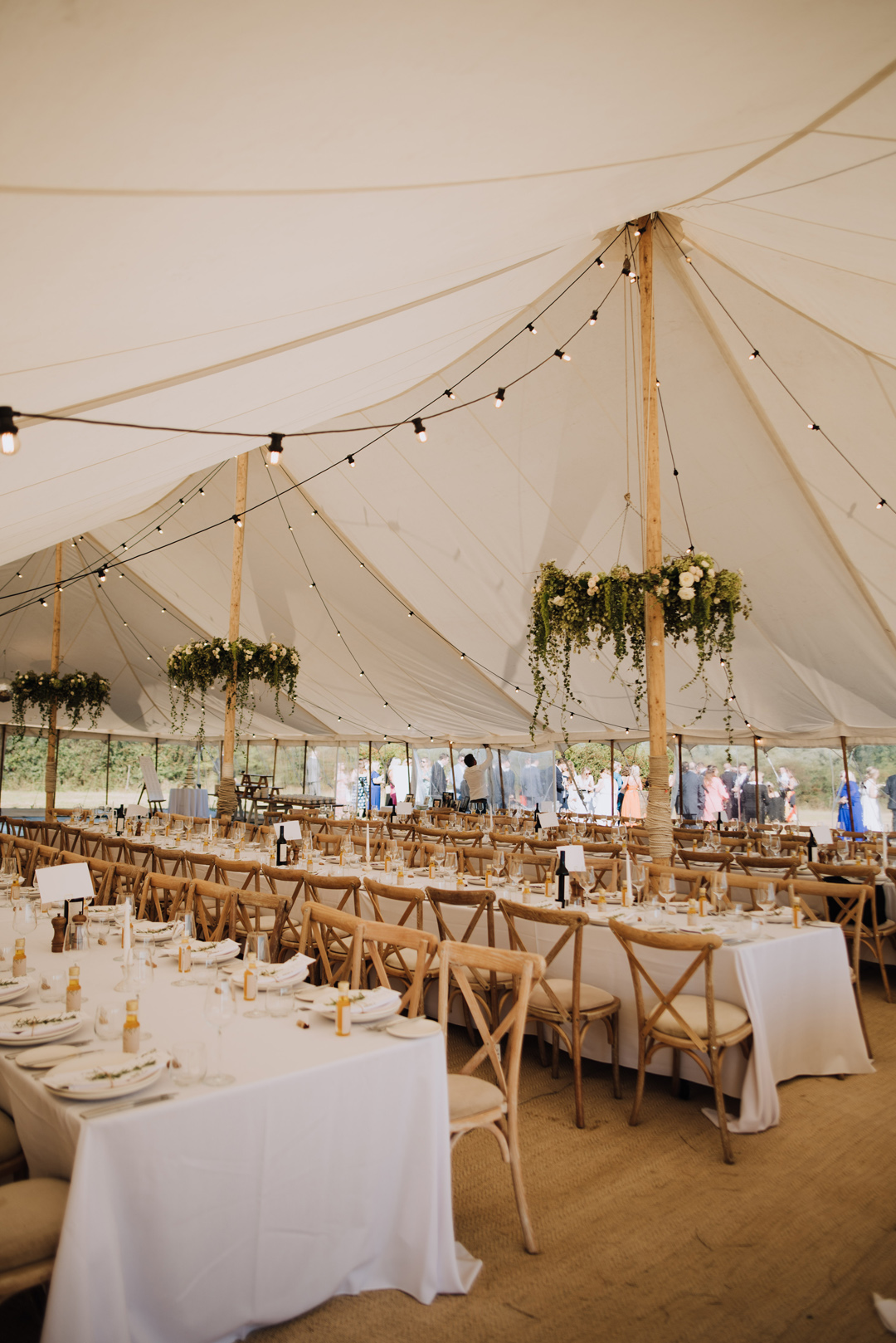 "We were able to be mask-free though all our suppliers wore masks. We also provided sanitiser at both the church and the marquee and advised guests to LFT before coming. Our marquee could roll all the sides up and we had a beautiful sunny day so we were able to have lots of air circulating – it also helped that we were in the middle of an open field! We luckily didn't have a single Covid case after our day. "
"After quite a traumatic experience with our first marquee company we worked with the utterly wonderful Great Event Company, and the equally wonderful Jed who was beyond helpful. Nothing was too much trouble; they were a joy from start to finish."
The newly-weds had planned a feasting menu to treat their guests.
"We used the brilliant Florentina Catering who created the most insanely delicious feast menu. Rory and I love the sharing aspect of a meal so we always knew we wanted platters and bowls of food to be passed around. Florentina designed the most amazing menu, including a beautiful dessert grazing table."
The couple had put so much thought into styling the day to create a laid-back and relaxed vibe.
"Norfolk is beautiful and our marquee was set on a meadow that overlooked the broads with 360 degree views of beautiful British countryside. We didn't want to take away from that so we kept it simple."
"We had three big hanging floral chandeliers in the marquee and kept it rustic with straw bales from the farm for outside seating."
"We added blankets, fire pits, tiki lamps and festoon lighting for the evening."
"We had some whisky barrels dotted around to use as tables in the day and in the evening put candle-lit lanterns on them. I'm obsessed with candles (especially good smelling ones!) so we bought a load of waxy candles and diffusers and dotted them around the marquee."
"We sadly had quite a few loved ones missing from our day so we framed photographs of them and had them on display at our card table."
"We were so happy to be able to use Yare Valley Oils (rapeseed oil produced on the farm) for our favours."
We went for Garlic and Rosemary and we were able to tweak the label and make it bespoke to our day."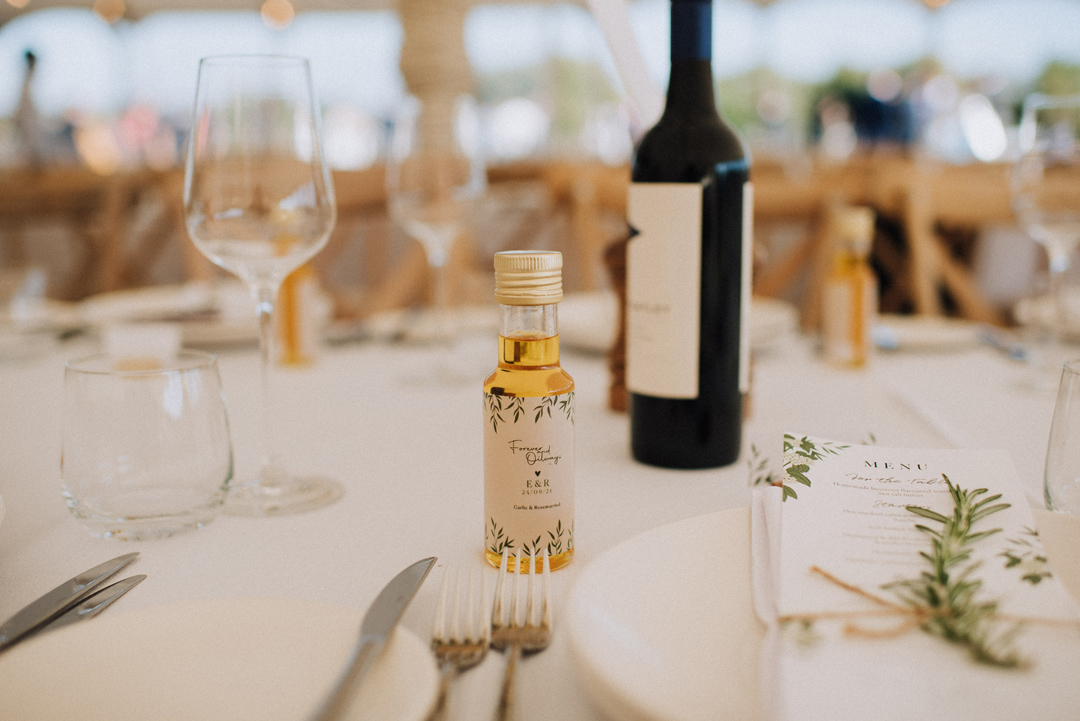 "It was so special to have local produce from the farm at the table and for people to take home."
"All the lighting was done via our marquee company."
"Entertainment was a big part of our day. We've always said the best weddings are the ones that you don't stop dancing at, so we knew we had to pull out all the stops with the music."
"During our canapés, we were serenaded by our great family friend Moteh Parrott."
"We had a four-tier cake made by the amazing Dust with Cocoa, a Norfolk-based baker. We went with Debbie at Dust with Cocoa as we wanted different flavours and nothing too traditional."
"In the end we had carrot, London fog, red velvet, and lemon and passionfruit, very simply decorated with flowers and a bespoke cake topper from Etsy.
"It was amazing and we had plenty leftover to cut the cake a tier the next day at our BBQ, as we forgot to cut it on the night!"
"Two of my bridesmaids work in events (one used to be a wedding planner) and I've worked in advertising production for 10+ years so between us we managed to arrange everything."
"We always knew we wanted to have something quite relaxed and a day that was quintessentially British. I was a bridesmaid for my cousin when I was about 13 and they had a beautiful marquee wedding in Cornwall."
"There's something about a big tent pitched on a field that I find really romantic and also really fun – it's like a mini festival just for you!"
"We knew we wanted free rein to book the suppliers we wanted, to bring in all our own alcohol and to make the day as personal to us as possible."
"The blank canvas of a marquee seemed like the perfect solution."
Photographer Megan Duffield captured the day so wonderfully; my favourite shots are the totally unique and joyful ones of the newly-wed couple enjoying time together on their Norfolk Broads boat trip.
"I found Megan Duffield on Instagram by searching for 'Norfolk Wedding'. We love her natural, romantic style. She captures all the happy moments and makes everything look so beautiful."
"She also happens to be the loveliest person. When we kept having to change our date, it was paramount that we worked around Megan – she was a non-negotiable in our day. We couldn't recommend her enough."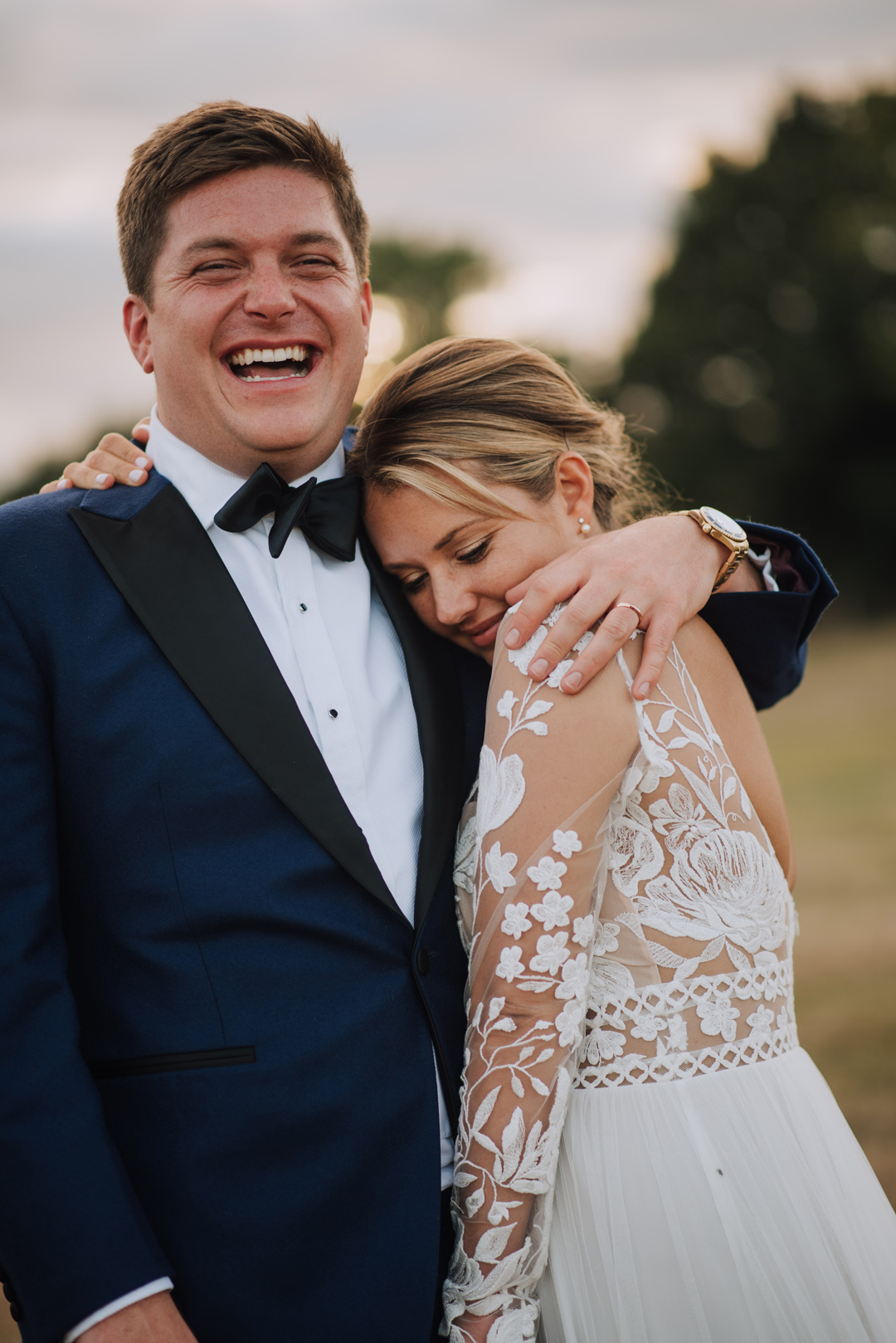 Elise and Rory chose to have a wedding film too, which you can enjoy here.
"We had the wonderfully talented Tom Brown of Browns Films capture our day."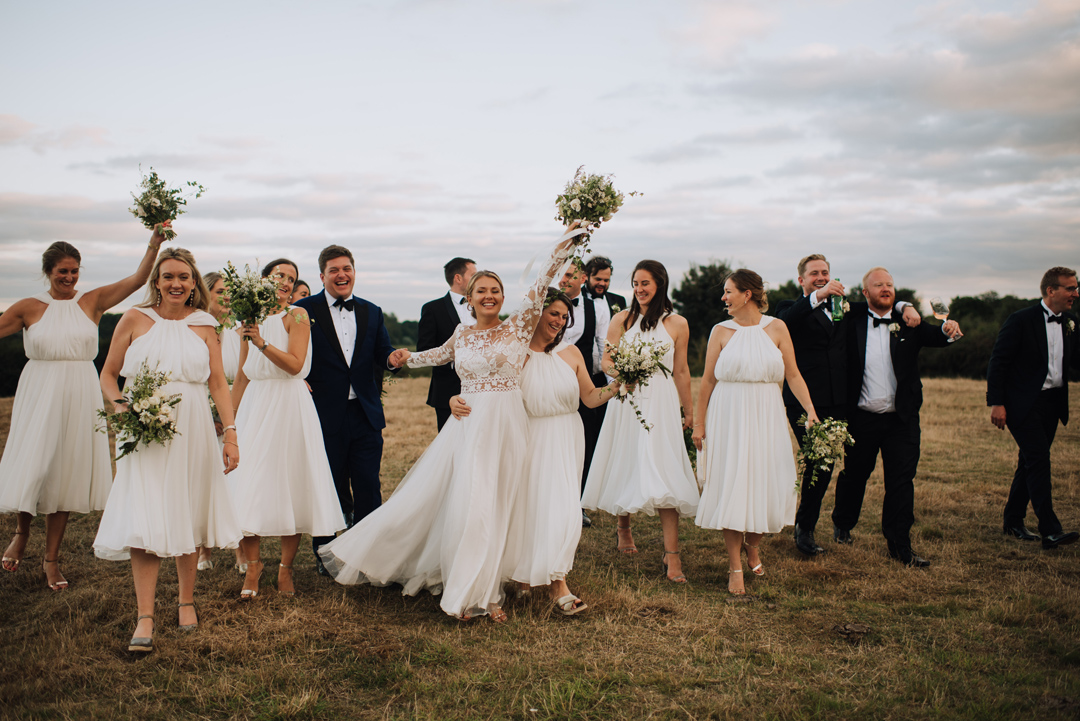 Elise and the bridesmaids carried bouquets of trailing greenery and white flowers, scented with fresh herbs, styled by Bramble & Berry.
"We booked the incredibly talented Sarah Broom AKA Bramble and Berry who's a Norfolk-based florist. She got exactly what we wanted from our first conversations with her. We also loved that she works with local and seasonal blooms, something which is important to us. She includes lots of herbs and fragrant blooms in her arrangements and bouquets, so everything smelt amazing."
"She created the most gorgeous arrangements for the church, eight bouquets for the bridesmaids, an amazing bridal bouquet and these incredibly hanging floral chandeliers in the marquee."
For couples similarly affected by the recent pandemic, Rory and Elise have this advice.
"I remember being absolutely heartbroken when we realised we wouldn't be able to get married in 2020. So much time and effort goes into planning a wedding and to have to postpone with no notion of when you might be able to have a 'normal' wedding was horrible."
"I remember we both felt very emotionally exhausted by it all – especially having moved the day three times in the end."
"However, I think you'll surprise yourself with how resilient you are. When we realised that it was completely out of our control, it took a lot of pressure off."
"If you're having to move dates around, maybe try and make the would-be-wedding-day into something else memorable. We flew to Greece at the last minute on what would have been our first wedding date and spent a week with friends in the sun, which really took the edge off!"
"On our second would-be-wedding-date we went out for a lovely meal (with four friends as per the rules, outside in freezing April 2021 temperatures!) and it made what could have been a bit of a sad day into something more fun."
"In the end, we were very lucky to have our planned day in September 2021. I promise you will have your day. It might not be exactly as you'd planned and it might not look like a 'traditional wedding day', but it doesn't actually matter."
"If the last two years have taught us anything it's that the most important things in life are family and friends and as long as you can share your love with those who mean the most, that truly is all that matters. Oh, and some good champagne helps!"
"We kicked off the evening music with a firework display and, during our first dance, my eight bridesmaids popped silver confetti cannons over us."
"Our first dance, 'This Will Be (An Everlasting Love)', and evening music were performed by the incredible Soul Patrol, a seven-piece soul and funk band. We wanted to choose a song that would get everyone up dancing and would get the party started. It was such a happy start to the night."
For evening food, Elsie's Pizza provided fresh pizza.
"Pizza is my favourite food so we had to have it. Having said that, I was having too much fun dancing I completely missed out on it!"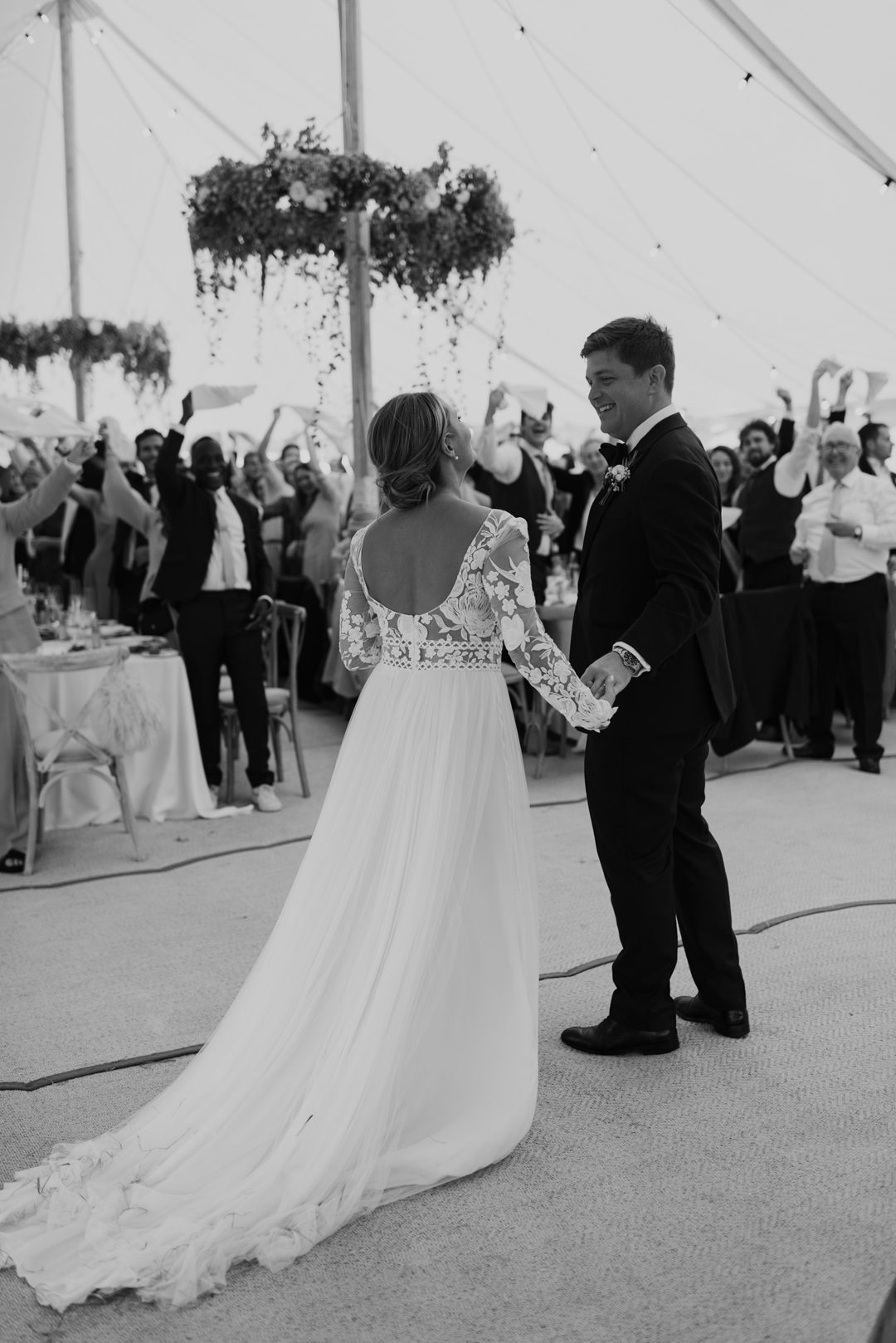 Words of Wedded Wisdom
"We spent the last few months before September getting everything sorted. When September rolled around, we just had final payments to be made to suppliers but everything else was sorted. This took so much stress and pressure off us and we were able to really enjoy the three-week lead up, feeling pretty relaxed."
"Ask for help. I'm a control freak so I found it very difficult to delegate at the start but towards the end I was handing out jobs left, right and centre and everyone was amazing. Your loved ones want to help, so don't be afraid to ask."
"So many couples say this but don't sweat the small stuff. I walked down the aisle to no music, my dad stepped on my veil and pulled my head back as we entered the church (the least romantic entrance ever!), quite a lot of things went wrong, and none of it mattered. It's the best day of your life. You'll look back and remember all the good bits and laugh at the not-so-great bits!"
"Last but not least, drink it all in… all that amazing, beautiful love that surrounds you as a couple over your wedding weekend. Everyone is there because they love you; they've all taken time out of their lives to be there with you and for you, because they love you, and there is no greater feeling than that. It's truly the best."
Congratulations Elise and Rory, and I'm so happy that you finally were able to wed in the beautiful Norfolk broads. It's been so wonderful to see your day and thank you for sharing it with us. Megan Duffield, what a privilege to feature your work on Love My Dress; thank you so much.
For more farm wedding style, please browse this Love My Dress selection.
Ele xx