Today's wedding is the perfect fusion of modern, contemporary style and soft, green botanicals, combining for a look that is fresh yet classical. Come with me to Hampton Manor and meet Sophie and Chris.
On 18 May 2019, advertising group account director Sophie wed lawyer Chris in a weekend-long celebration at Hampton Manor, Hampton in Arden near Solihull, West Midlands.
Blue Ridge Films

+ Follow
The couple fell in love with the historic beauty of the country house venue, as well as its green grounds and the food from its Michelin starred restaurant.
Over to Sophie to tell us more about their classic wedding with a modern touch.
The couple worked with the Hampton Manor team to design their wedding weekend and style it so beautifully with botanicals, calligraphy and succulents, as well as a few nods to their two dogs.
It's so good to hear that Sophie found inspiration on our website, our wedding directory and through our private Love My Dress Facebook group.
"Whilst we found a lot of our key suppliers through Hampton Manor, I found so much inspiration through Love My Dress."
"I was an avid follower ever since we became engaged and in a sea of wedding content, it really helped me gain an understanding of the sort of day we wanted and what was achievable."
"One of the greatest parts of planning was joining the Love My Dress Facebook group. It was the most encouraging, supportive platform and I would encourage any bride-to-be to join."
"Having a forum to air my concerns or to ask for advice was immeasurably valuable. I found some of my best 'hidden gem' suppliers through the group."
"The group revealed the wonders of Etsy and through that I found everything from confetti and wax stamps to gold dog table name holders!"
"The Love My Dress Directory really helped me gain invaluable insight into the vast wedding industry. It made things like searching for wedding dress designers clear and easy to explore."
"We wanted a classic wedding with a modern touch. Neither of us are particularly bold when it comes to style therefore we really wanted to keep a neutral colour palette, something we knew would be timeless. We kept gravitating towards marble tones so we settled on a theme of white, grey and gold."
"We spent a long time thinking about what we wanted for our wedding, focussing our search on the things that mattered most to us. We love food so that was always going to be important and we really wanted somewhere that was the perfect marriage of Chris' style (contemporary) and mine (countryside)."
"We decided pretty early on that we wanted a weekend-long celebration, therefore finding somewhere with rooms that could house some of our nearest and dearest from Friday to Sunday was really important. We wanted a relaxed and intimate feel and the venue was a huge part of that."
We are thrilled to support Hampton Manor on our wedding directory and Sophie tells us more about their fantastic service and beautiful, country house, vibes.
"After a long internet search, we settled on viewing two venues. Hampton Manor was the first and as soon as we arrived we both knew this was for us. I think you really have to go with your gut and this was one of those moments. Walking into the manor we immediately felt completely at home."
"The Manor, inside and out, was architecturally stunning, with beautiful period features blended perfectly with modern, stylish interiors and the grounds were perfect, rolling greenery with beautiful old trees and wild flowers. The Manor itself houses a Michelin starred restaurant so we knew the food would be incredible."
"What really blew us away was the wedding team. They genuinely love the Manor and care deeply for the experience they give their couples. The team was warm, friendly and made us feel like we were the only couple getting married."
Flowers were a major part of the decoration and these beautiful bouquets and sculptures were created by Karen Morgan at Passion for Flowers.
"Flowers were a really important part of the styling. I knew they could really add a bit of magic and would bring to life the 'secret garden' feel I was hoping for. All we knew is that we wanted white flowers and with Karen's guidance, we came to design the most amazing floral displays."
"We knew we wanted to have a floral design at the end of the aisle to provide some impact and to frame us during the ceremony. We decided on an asymmetrical square arch display that matched our vision perfectly! To make a true floral impact, Karen also designed amazing, meadow-style flowers to line the aisle, which were just beyond what we could have imagined!"
"I was keen to decorate an inside element of the venue for the drinks reception, just in case the weather wasn't on our side. Hampton Manor has a stunning staircase that would be a great place for pictures so we decided on adding some florals to its base to bring the outside in."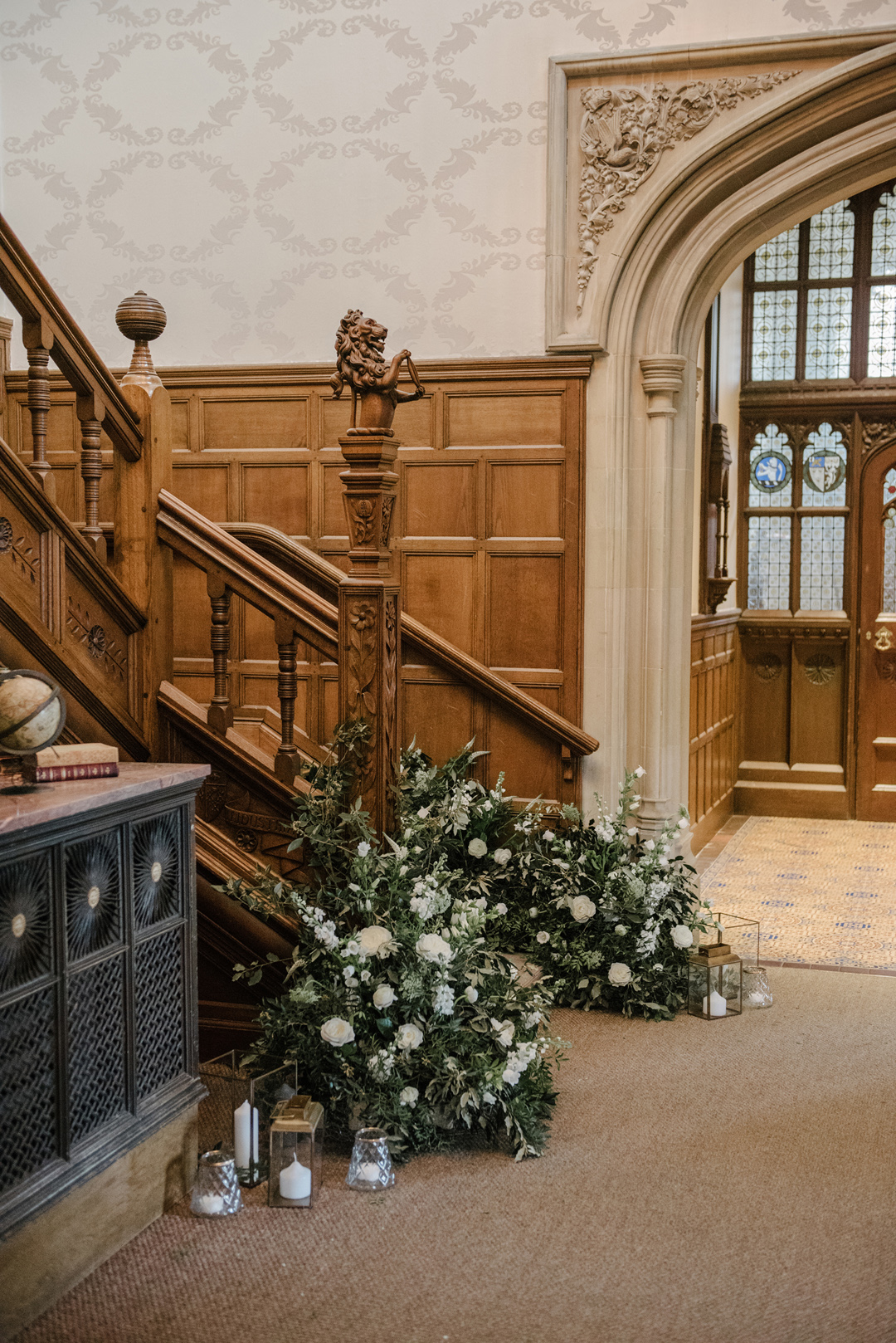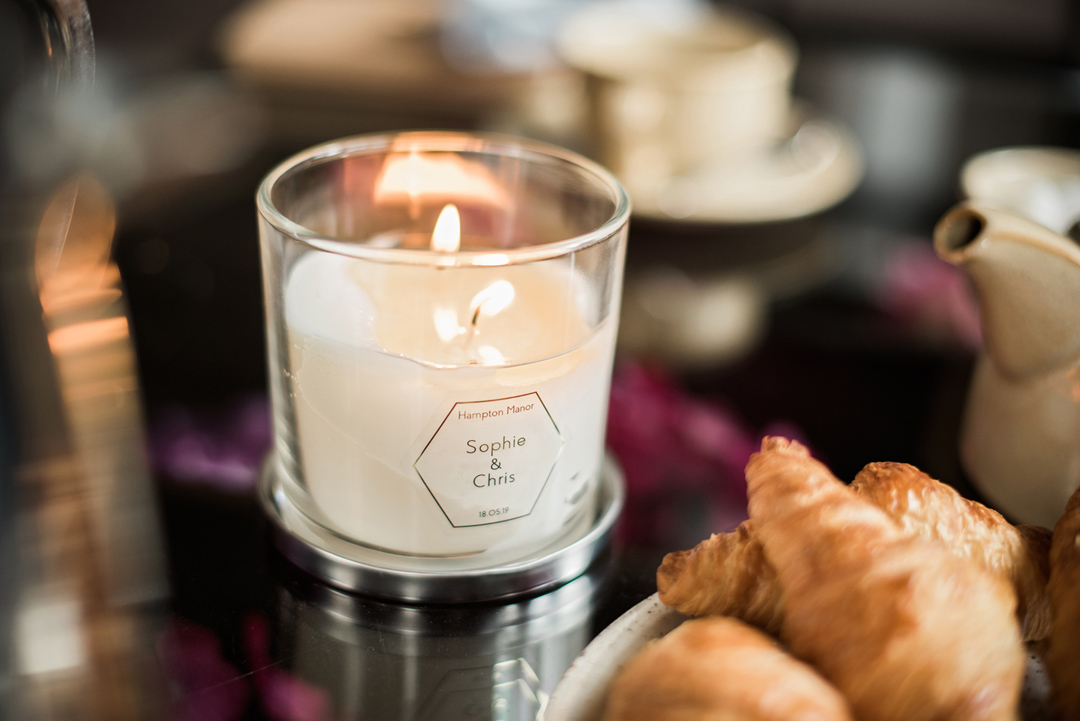 The bride's hair was twisted into an elegant up-do and adorned with a bespoke crystal hair piece from Loved By One.
"I wanted to have something simple that tied into the design of my dress and my earrings. Through working with Aimee, she designed the most perfect hair vine, with little flower designs made of scattered pearls and beautiful sparkling crystals."
"I wanted to keep my jewellery simple and have the dress as the star of the show so I wore a pair of pearl and diamond earrings, purchased from Wharton Goldsmith in St Albans."
"I loved that the earrings were slightly different from anything I'd seen before, with a large oval shaped pearl that was a nice nod to the shape of my engagement ring and my birth stone."
"As my something old (and borrowed), I had my granny's wedding ring sewn into my dress."
The bridal party's hair was styled by Stacie Tomlinson Hair with support from Kellie Straw Hair & Beauty. Their make-up was applied by Bryony Dalton with support from Jessica Ava.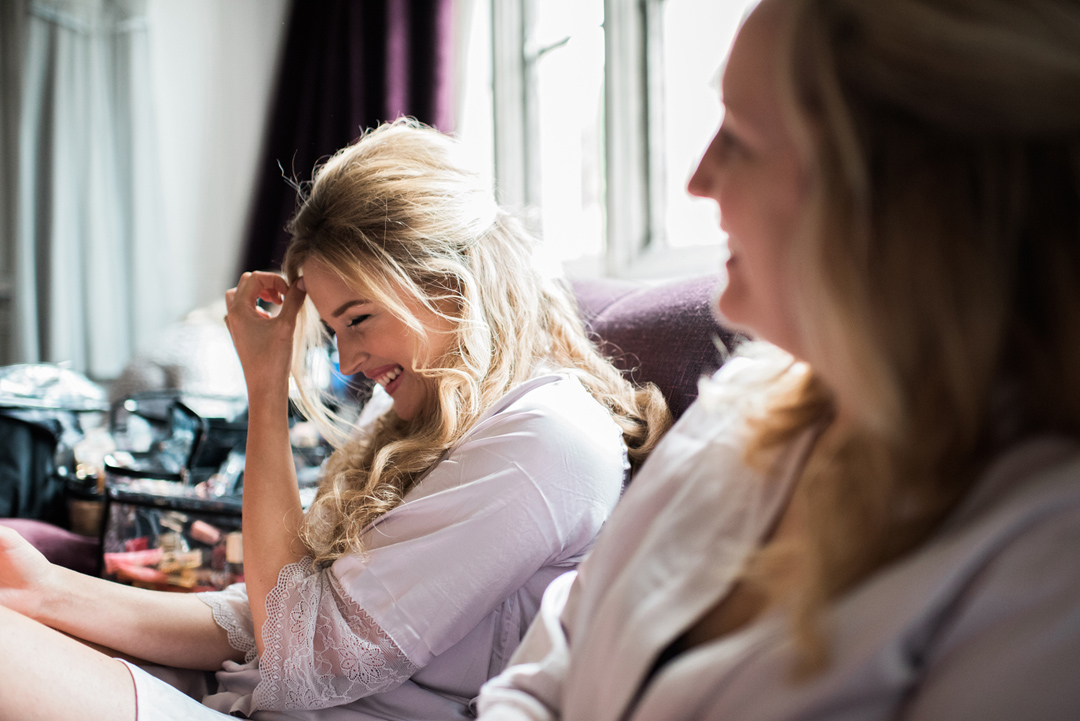 "Bryony did my, my maid of honour and the mums' make-up and Jessica did the bridesmaids' make-up. Bryony was an absolute dream to work with. The look she created for me was beautiful – glowy, natural skin, with a hint of a smoky eye. It was nothing too heavy but just enough to feel glamorous and special."
"What I loved about Bryony was that she gave the same amazing experience to the mums and my maid of honour as she did to me. To see them so happy and confident with their makeup meant the world to me.'
"It's not just about the makeup with Bryony though, it's about the experience she gives you. She's a planner, a confidante, a skincare guru and much more. She's always there at the end of the phone or an email to answer questions and provide advice and reassurance. She felt like an extended part of the bridal party – fun, happy, and relaxing presence the whole morning."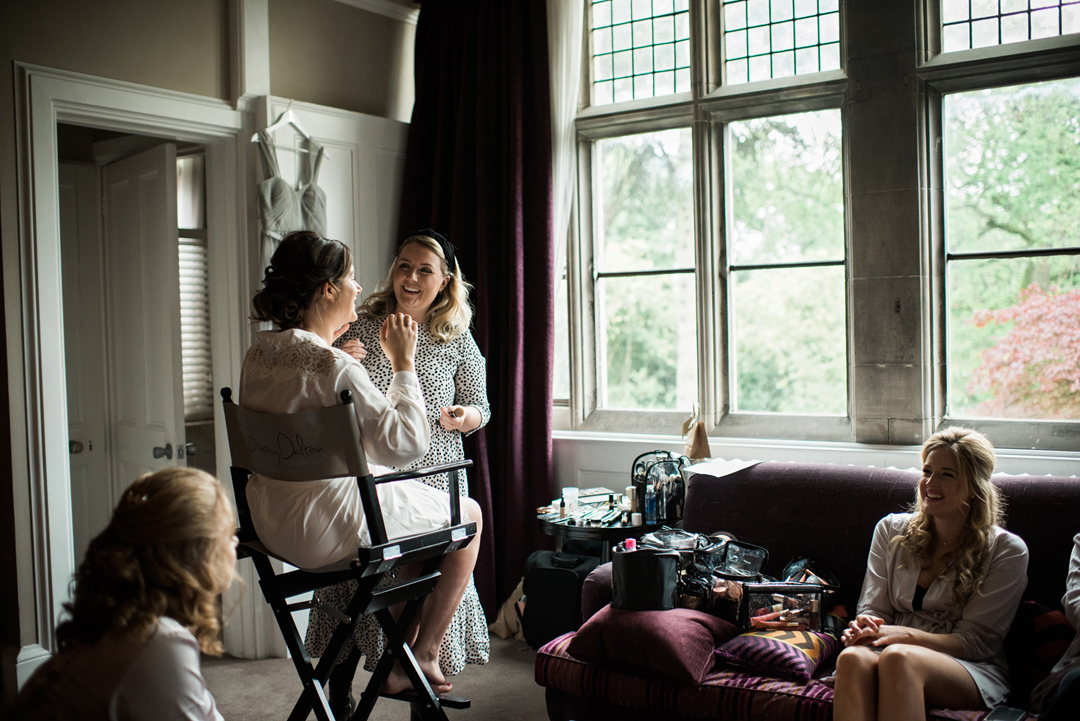 The adult bridesmaids looked so elegant in their Bardot dresses in silver mist from TH&TH – a fabulous brand of bridesmaids
"Finding a dress style that would suit all of my bridesmaids, that they would feel comfortable in, was a lot harder than I had imagined."
"It was incredibly important that all my girls felt amazing so I spent a lot of time looking for dresses. When I came across TH&TH I knew I need look no further."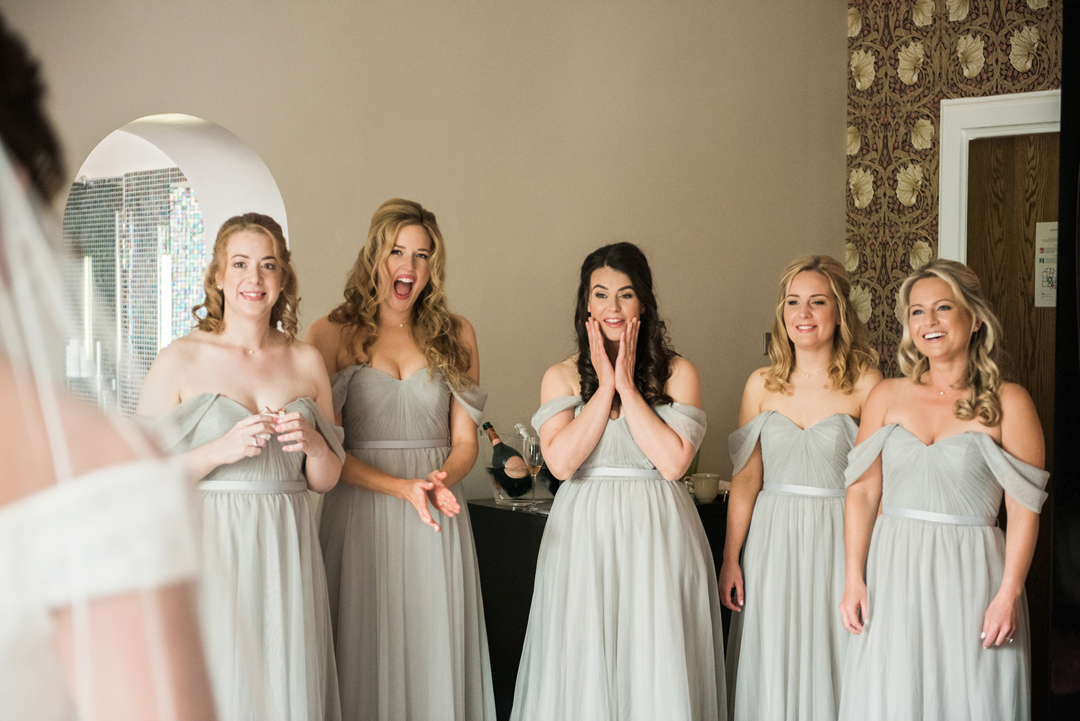 "I loved the soft grey colour and the romantic shape of the dresses that flatter any figure, and having a small nod to the neckline of my dress made them even more perfect."
I cannot rave about TH&TH as a brand enough. Not only are the dresses beautiful but the customer service is second to none."
"Louie in particular was always on hand if we had any questions, and would go above and beyond to ensure that we had everything that we needed."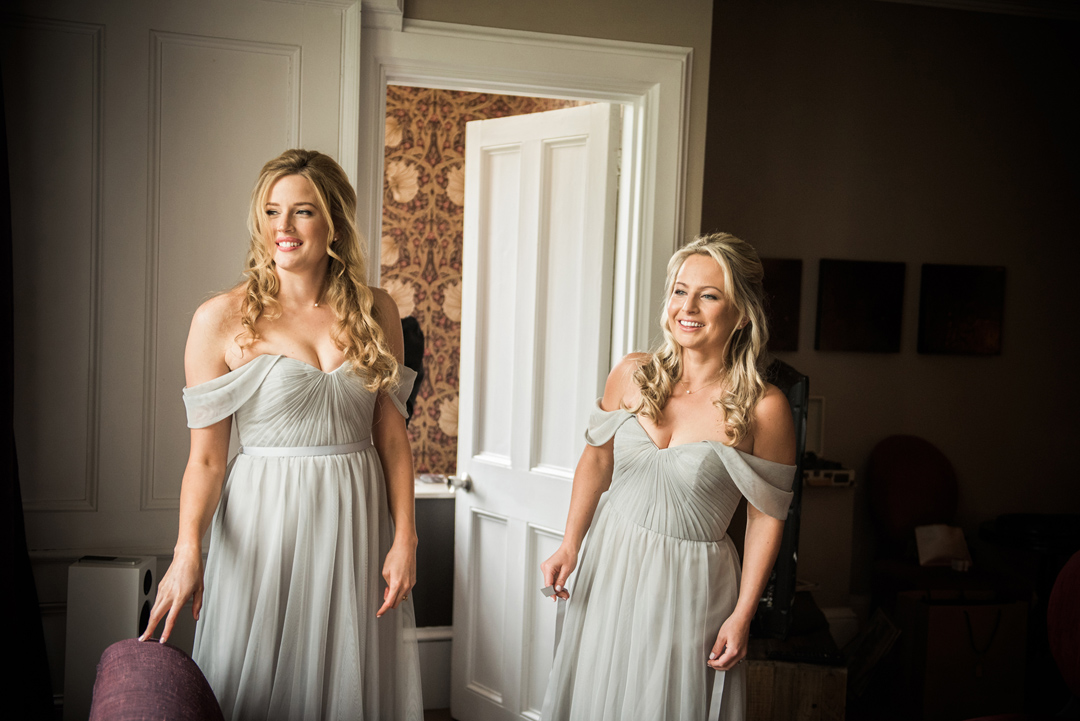 Sophie added a single tier, cathedral-length veil from Suzanne Neville and 'Hangisi' shoes in silver from Manolo Blahnik.
"I wanted a light-toned shoe but wasn't brave enough to go for the satin ivory version for fear of staining."
"I made the right decision as I was not kind to my shoes on the day and they still look good as new."
Sophie found her beautiful, off the shoulder, ball gown with its dipped neckline at the Suzanne Neville Knightsbridge Boutique. The bold rose pattern makes this something so special.
"I was extremely nervous about dress shopping. I found the 'wedding dress world' strangely secretive and overwhelming. There's often no information provided on budget and certainly no information on sizing."
"As someone who isn't a traditional sample size, I was initially overwhelmed with fear that I wouldn't fit into any dresses and I was extremely concerned that it would prove to be an embarrassing experience, one that I wouldn't particularly enjoy. I was, of course, completely wrong about that."
"The experience I had at Suzanne Neville gave me something that I hope all brides have. The team made me feel empowered, confident and excited and they have provided me with memories that I will keep with me forever."
"Walking into the boutique, I immediately felt relaxed and at ease – the staff were welcoming, friendly and it felt like a truly personal appointment. During my initial appointment, I was given all the time in the world and the wonderful Kelly really helped me gain clarity about what I was looking for in a dress. By the time it came to trying on 'my' dress, I knew with total confidence that it was the one."
"As someone who dreaded the wedding dress process, Suzanne Neville's team changed me into a person who became so excited to come in for fittings and having Suzanne meet with me and be so hands-on in the design and fittings process shows how much care and passion she has for her brides and the dress she is creating for you."
"Suzanne and her team made me the dress of my dreams; something I never would have thought I could wear."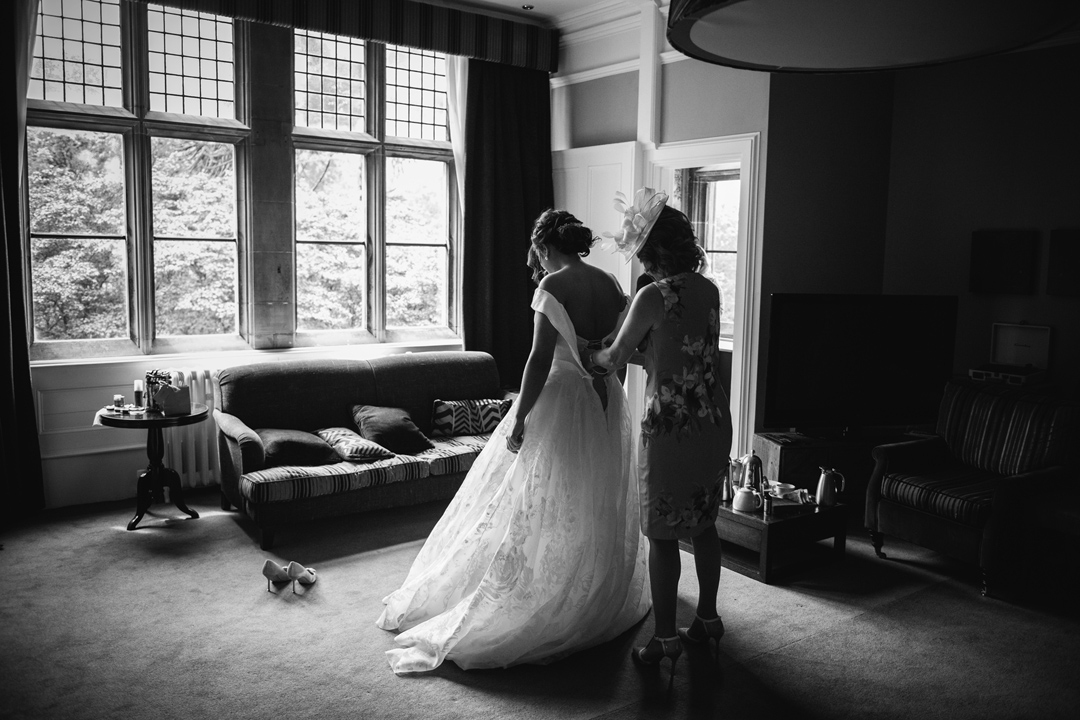 "In an early appointment at The Bride boutique in St Albans, I was encouraged to try on 'Rosa' by Suzanne Neville which I remember initially being hesitant to try on as it was 'quite a big print' and I didn't think I could pull it off. After some gentle encouragement, I tried the dress on then couldn't get it out of my head. It was only after the suggestion of some bespoke tweaks when I tried it on again in the Suzanne Neville boutique that I knew I had found my dream dress."
"Apart from the beautiful design of the dress, what I loved most about it was that it was so unexpected (to me and to everyone else). I was adamant that I would have sleeves and that I would wear lace so to feel so incredible in a dress that was so outside of my comfort zone was really liberating and empowering."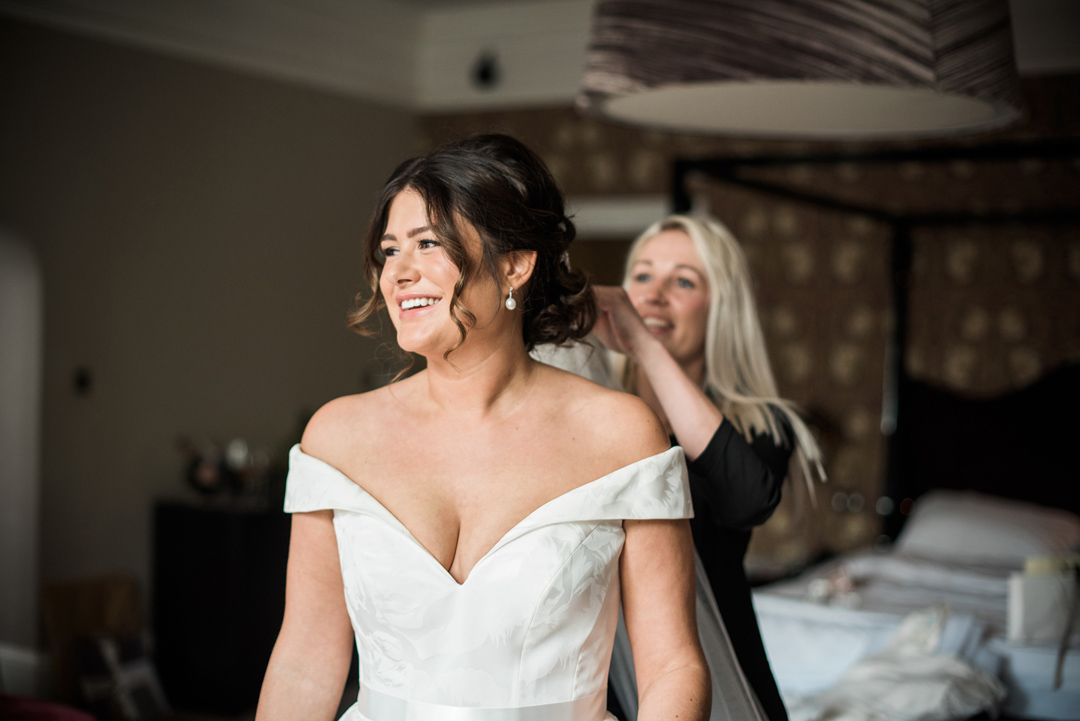 Their shoes were a mix of grey suede block heels from New Look and Ebay and they wore crystal hair clips by Loved By One.
"I gave all of the girls a single pearl 'Rhia' necklace from Britten. I wanted to get them something simple but beautifully made, that they could wear after the wedding. I had bought myself a personalised 'Mrs' pouch from Katie Loxton but as I was checking out, the 'Bridesmaid' pouches caught my eye and I couldn't resist picking up personalised bags for the girls as well."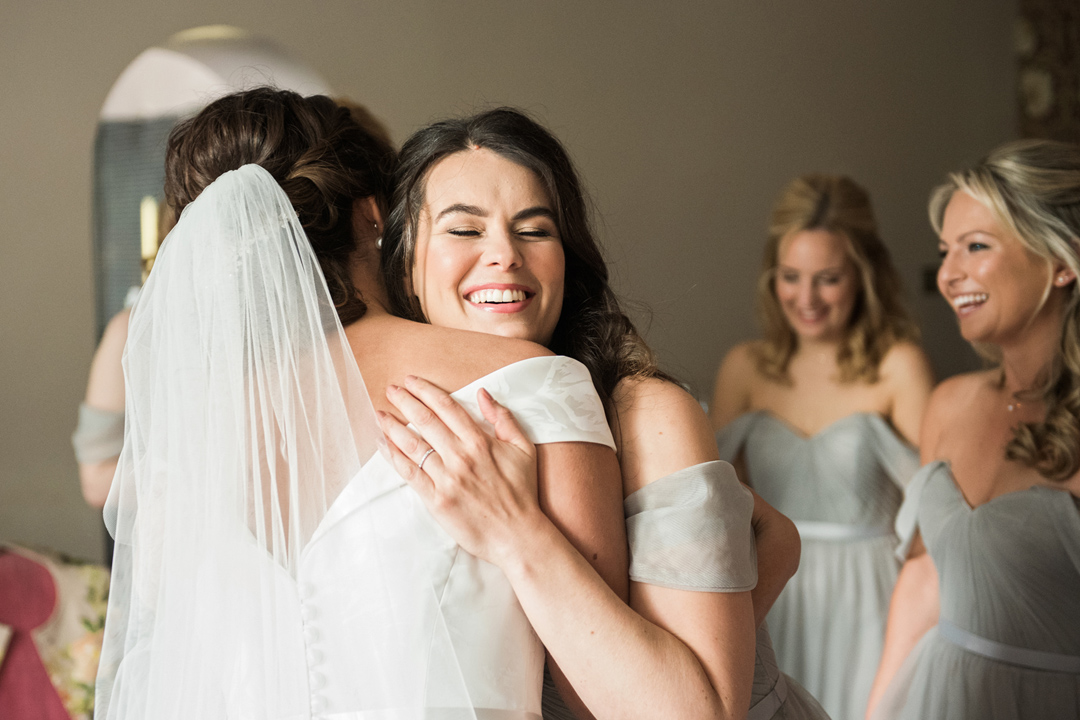 "As a final gift, I thought it would be fun to get some embroidered handkerchiefs as we knew that there would probably be some tears."
"The girls and mums all had 'For happy tears' embroidered, and then I had 'Keep it together', another little treasure found on Etsy shop Stitched in Somer Valley. On the morning of the wedding, all the girls all wore pyjamas from Next and personalised robes from Etsy."
The couple met during their second year at Durham University through a mutual friend and were engaged for two years.
"Slightly awkwardly, we had agreed to live with each other before we became a couple. Luckily the gamble paid off and the rest is history! After two houses, two dogs and eleven years of dating, we got engaged in a treehouse in Dorset. We wanted to enjoy and celebrate being engaged and ensure that we didn't get overwhelmed with the planning."
"The two years flew by and it gave us the time to really think about what we wanted."
"Karen completely knocked it out of the park – what she created was absolutely beautiful. One of my favourite memories of the morning was coming out of the bridal suite and seeing the staircase florals for the first time. I was so blown away, so happy and even more excited for the day."
"What was so great is that everything could be re-used. The ceremony arch was moved to the wedding breakfast room to frame us during the meal, the meadow flowers were used to decorate the wedding breakfast room and the surrounding areas of the venue."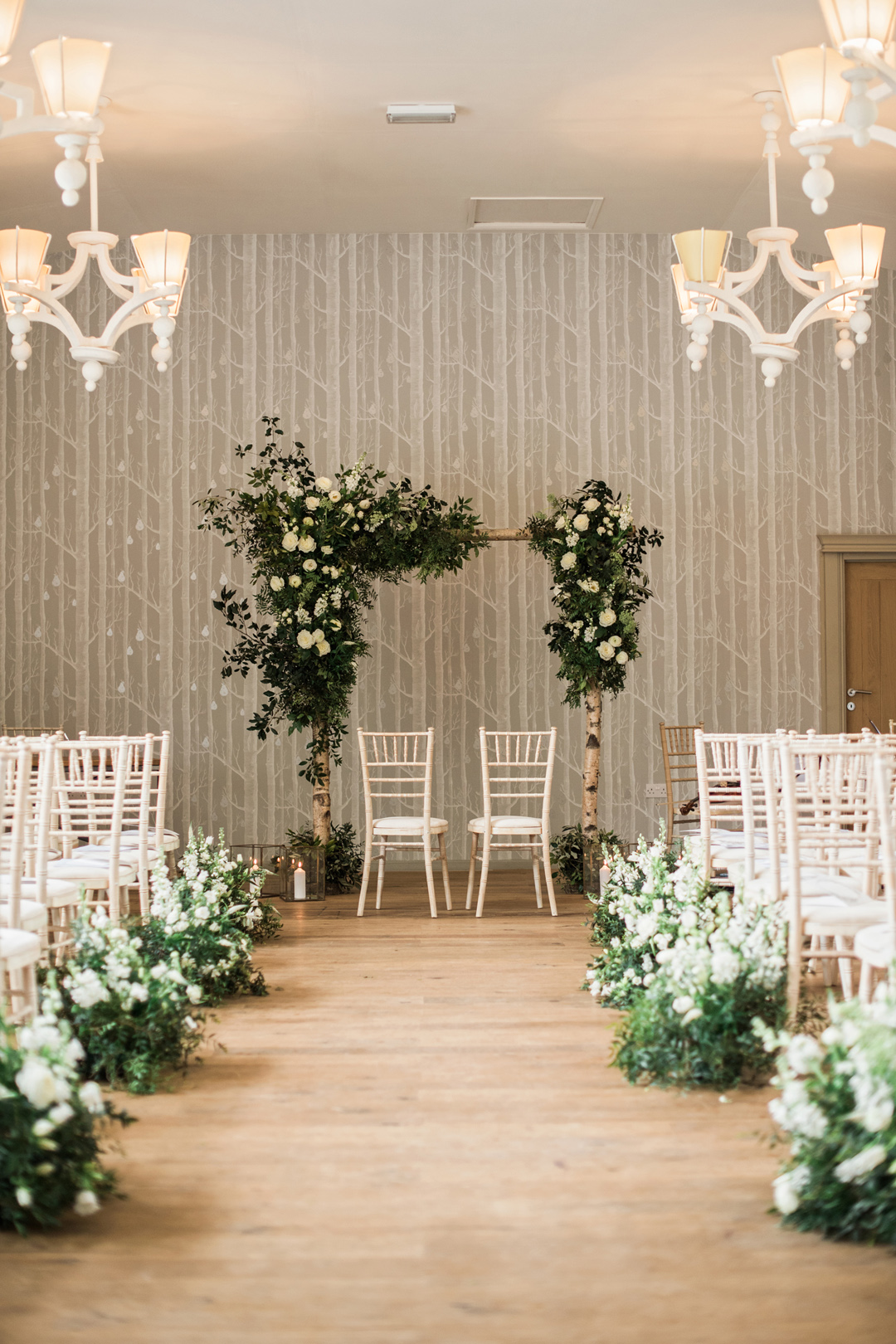 "In the evening, even the staircase florals were used to decorate the outside seating! We decided to further decorate the wedding breakfast room with tall gold floral stands at the end of each table with the addition of a delicate runner of flowers and candles. We wanted to keep the room feeling open and light and to not have us or our guests blocked from speaking to each other by a giant centre piece."
"My bouquet was a simple gathering of mixed white roses to match the roses on my dress and the bridesmaids had smaller bouquets in the same style."
"Chris, his groomsmen and our dads had simple buttonholes of small white roses and foliage."
Chris wore a three-piece suit from Dunhill as well as his dad's vintage watch and Tateossian cufflinks, a gift from Sophie on the morning of the wedding. The groomsmen matched in Dunhill ties.
"Our stationery was designed by my beautiful bridesmaid Lauren. Lauren is a children's wear designer by day and has an incredible artistic eye."
"Even knowing this, we could not have imagined that she would create such unbelievably special artwork. Lauren listened to our description of our theme and flowers and she managed to transform this into the most incredible, personal stationery."
"Along with our wedding invitations, Lauren created our 'welcome to the wedding' sign, our order of service, our table plan and all of our table names. She also provided us with templates for our menus, name cards and all other signage."
"My favourite stationary items have to be our order of service and table plan/name cards. For our order of service, Lauren came up with the amazing idea to create illustrated portraits of the bridal party, whilst also including a cheeky little portrait of our two miniature schnauzers on the back, a detail which we just loved."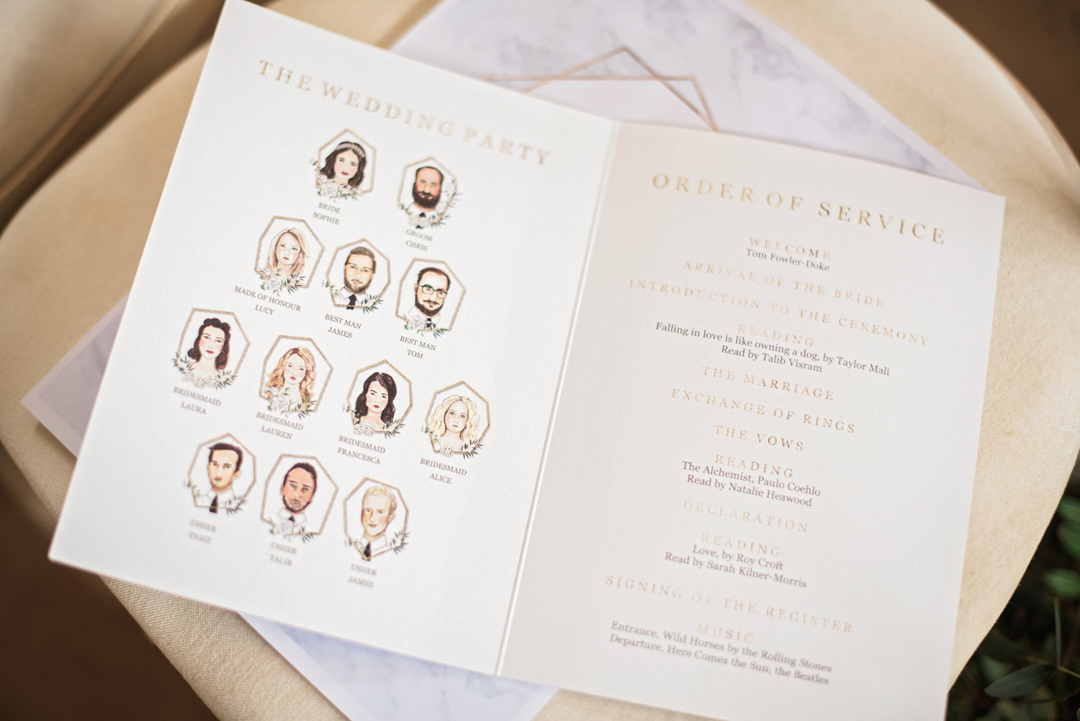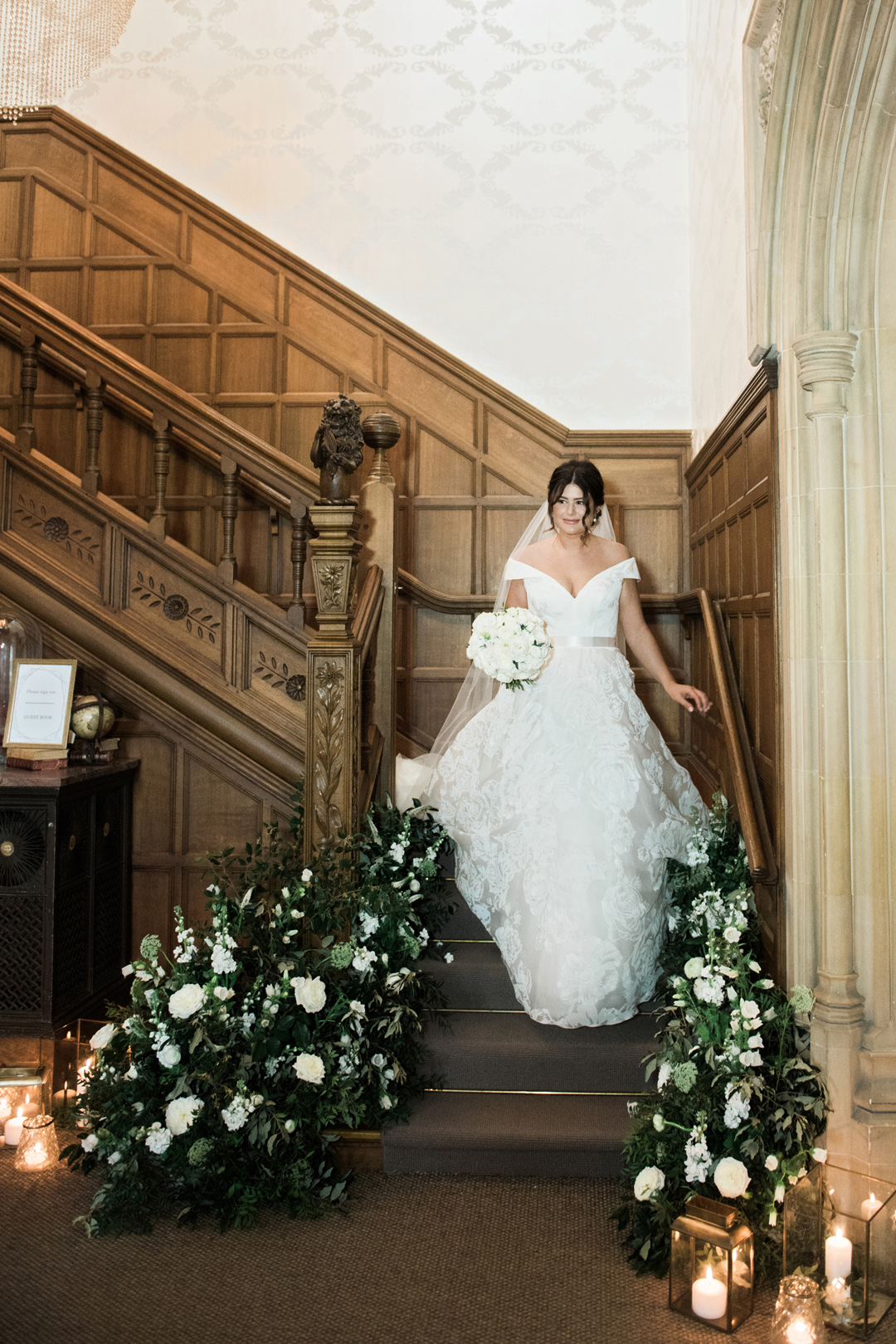 The bride walked to the ceremony with all of her bridesmaids and her dad before walking down the aisle to 'Wild Horses' by The Rolling Stones, played by Vyne String Quartet.
"Walking to the ceremony, I wasn't nervous at all. I was more focused on navigating my (magnificently) large skirt as I had kept my dress a complete surprise so hadn't practiced walking so closely next to someone! It was hilarious and really kept me relaxed."
"For all of our music choices, we wanted to pick classic songs that we both loved, that would stand the test of time."
The couple chose to follow the classic set of vows for their marriage ceremony and included three readings.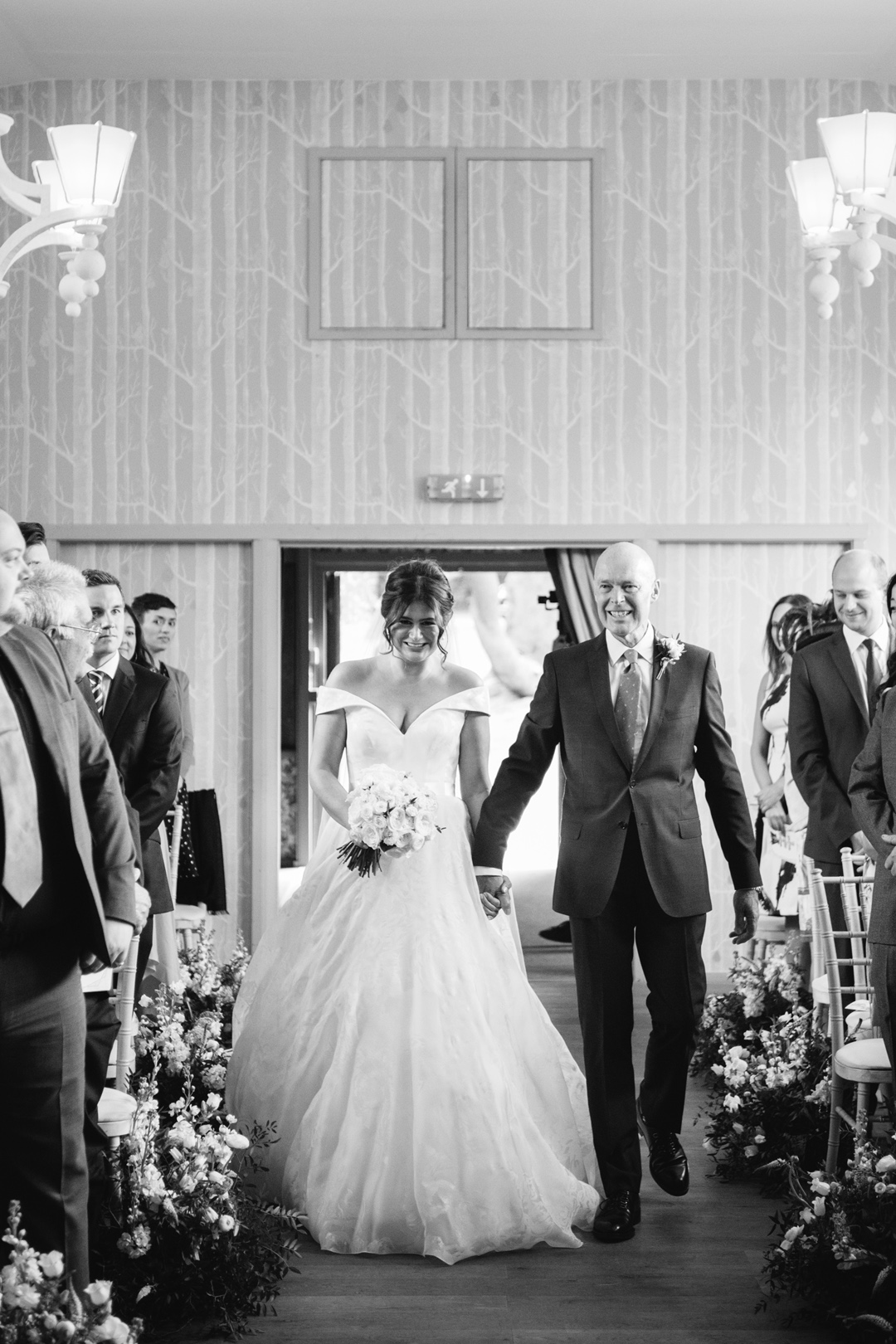 "We had three readings, read by three of our closest friends. Our first reading was 'Why Falling in Love is Like Owning A Dog' by Taylor Mali. We chose this as we are obsessed with our dogs and it was such a beautifully written, witty reading that we knew would make people smile."
"Second was a passage from 'The Alchemist' by Paulo Coelho. It's one of Chris' favourite novels and the words have such a sentimental meaning. Our third reading was 'Love' by Roy Croft."
The couple gave each other rings from Madison Jewellers in Hatton Garden, who had also made her engagement ring.
"I had a simple half-diamond set, platinum wedding band to match the band of my engagement ring and Chris had a flat, platinum, court wedding band."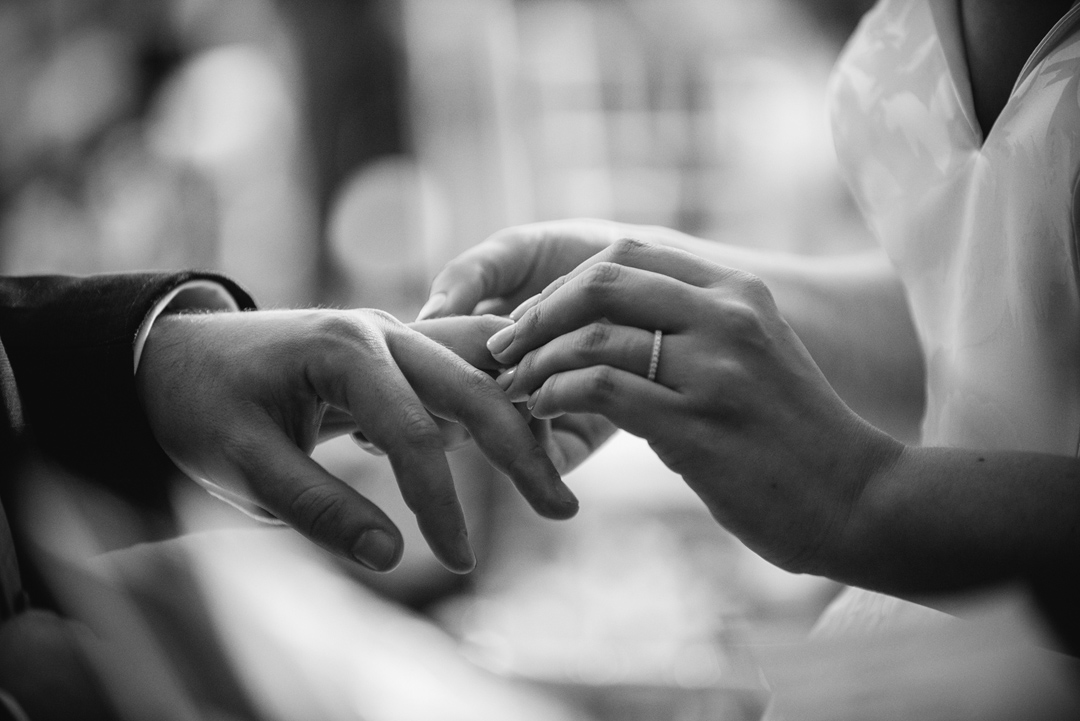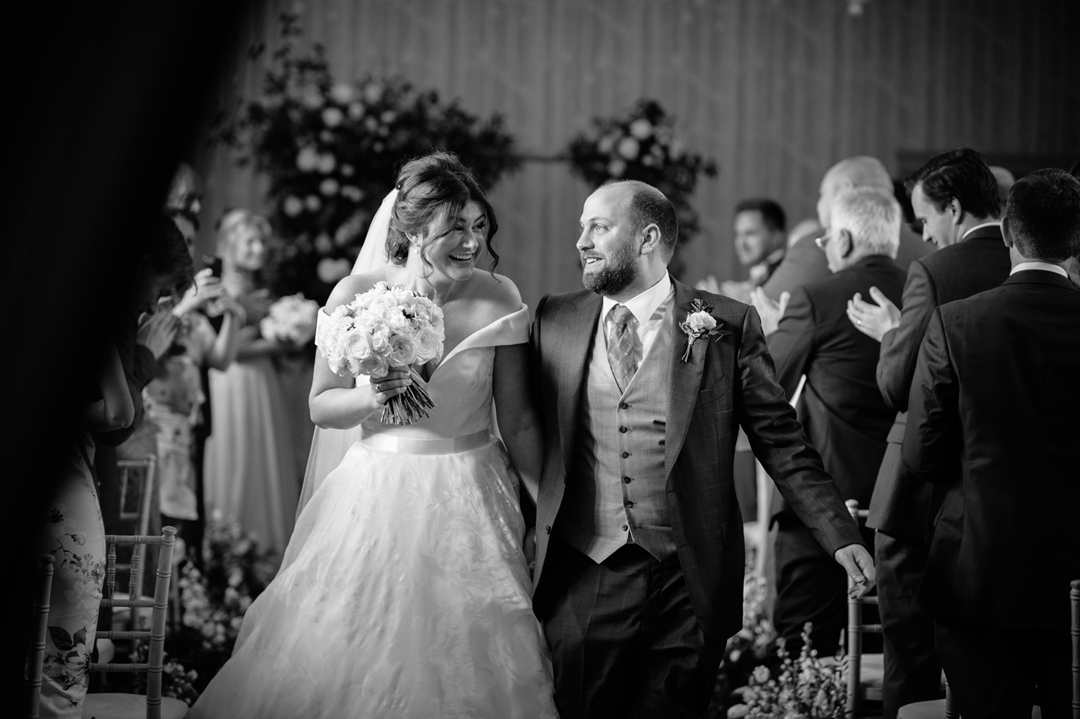 The day was photographed by Dominique Bader Photography, whose work is always a joy to share on our pages.
"I knew I wanted Dominique to capture our wedding even before we were engaged. I came across her work on Instagram and I fell in love with the beautiful style of her images."
"They were romantic but real – there was nothing staged, cheesy or posed about them; just real people in real moments. Dominique was one of the first people we booked."
"Photography was such an important part of the wedding so knowing that we had someone of Dominique's talent to capture our day was so reassuring."
"On the day, she was amazing. She was funny and warm and helped put us at ease. Dominique is an incredible talent and captured everything we had hoped for and more."
"She managed to capture all those little moments that could be so easily missed but have now turned into our absolute favourite mementos from the day."
"Her photographic style is beautiful – natural, stunning and full of emotion. It was exactly what we were hoping for and we couldn't be happier with our images."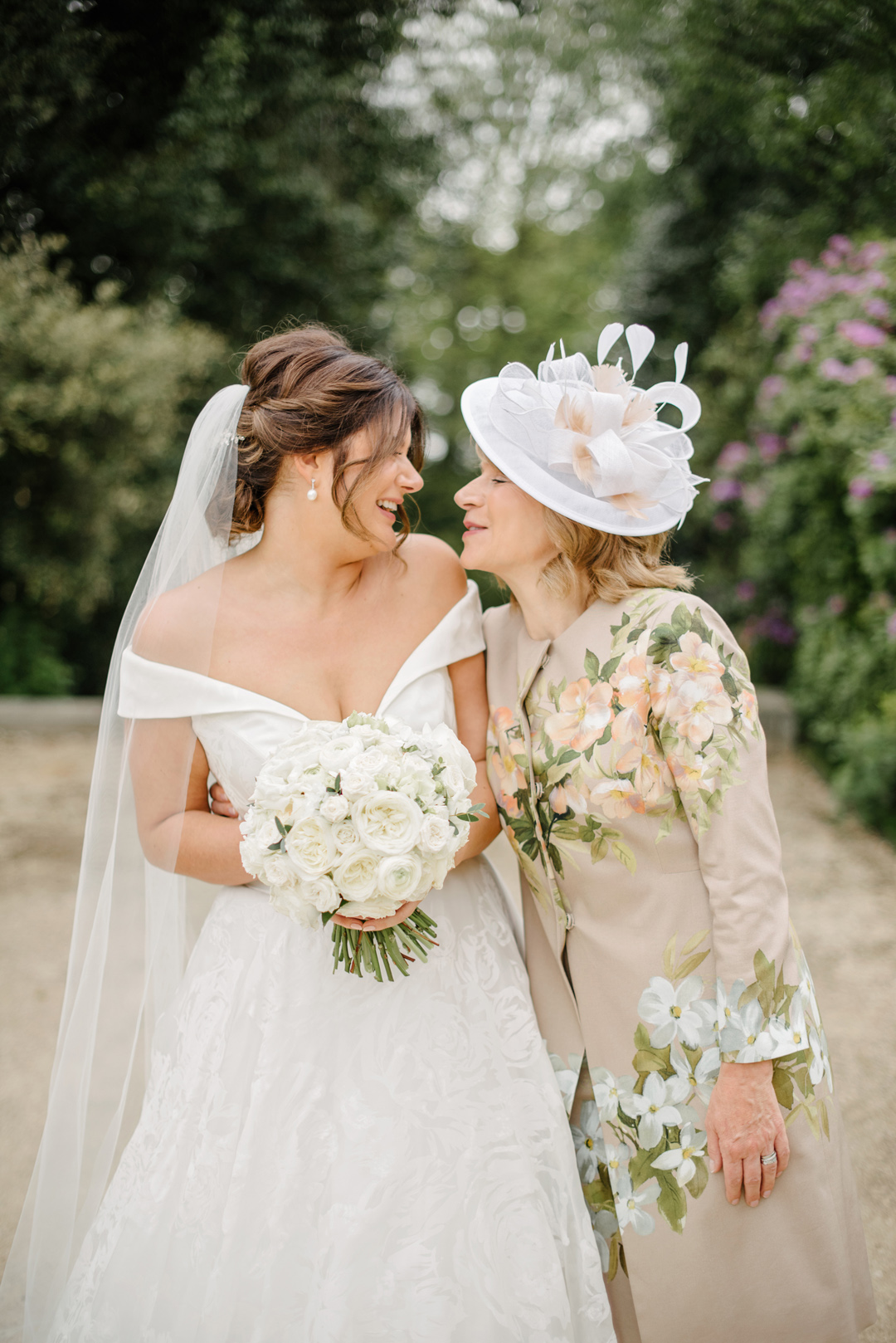 The couple also chose to hire a wedding videographer and chose the wonderful Blue Ridge Films – another of our highly recommended suppliers.
"The whole of the Blue Ridge team was fantastic. They were able to capture every aspect of the day without us even knowing they were there!"
"Like Dominique, they captured so many special moments that we could have easily missed, so to have these to look back over is really special. They were the best collaborators, particularly when trying to keep Chris in the dark about the surprise I had organised for him."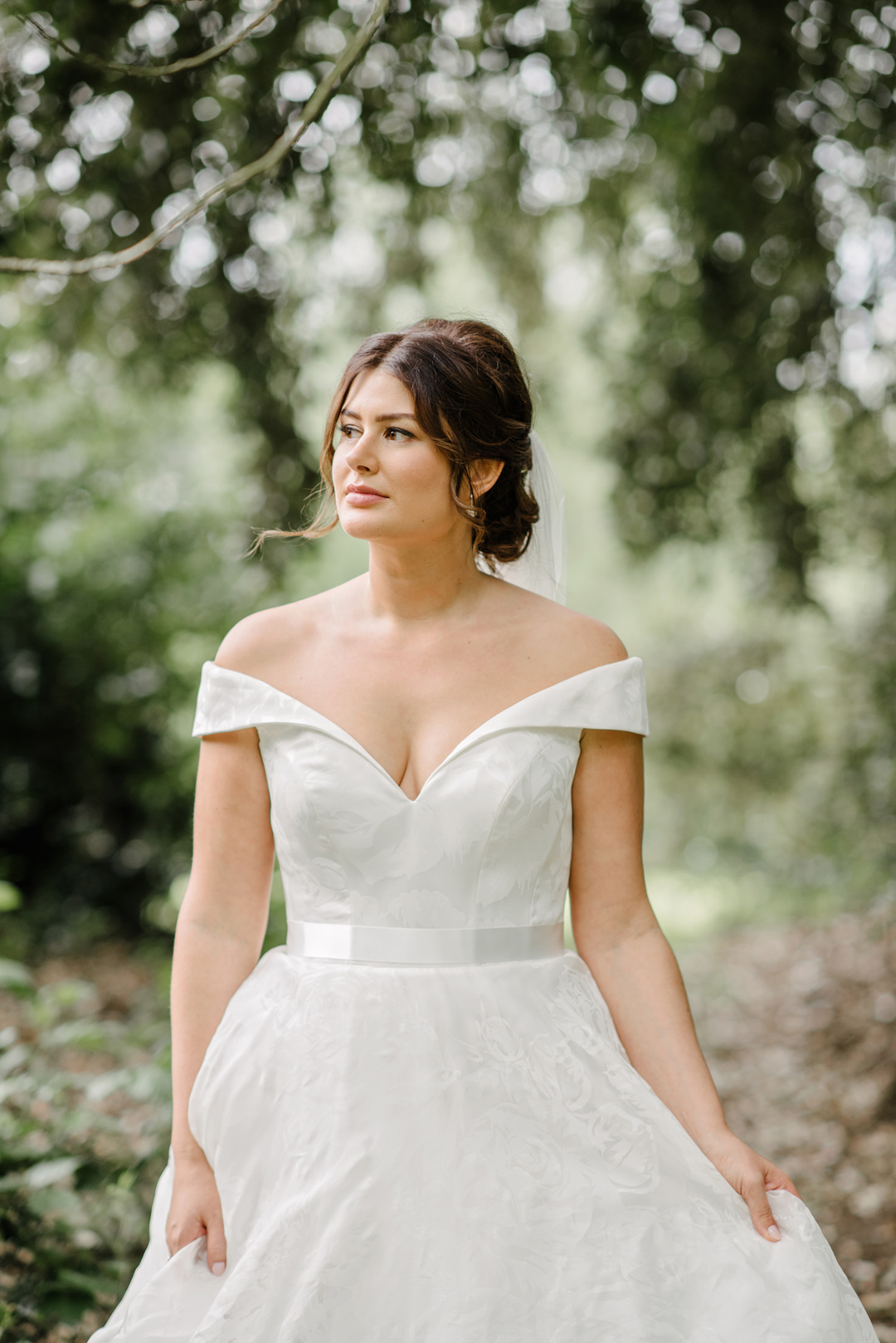 The guests and newly-weds enjoyed canapés and live music from Vyne String Quartet outside before moving inside for the sit-down dinner.
"They worked behind the scenes with all of our other suppliers in advance to ensure that the day ran as smoothly as possible and were such a fun team to be around."
"I know videographers can be a debatable item when planning a wedding budget but I would encourage everyone to have a videographer if they can."
"To have all those memories captured on film is so special and it's lovely to know that we will never forget the details of the day."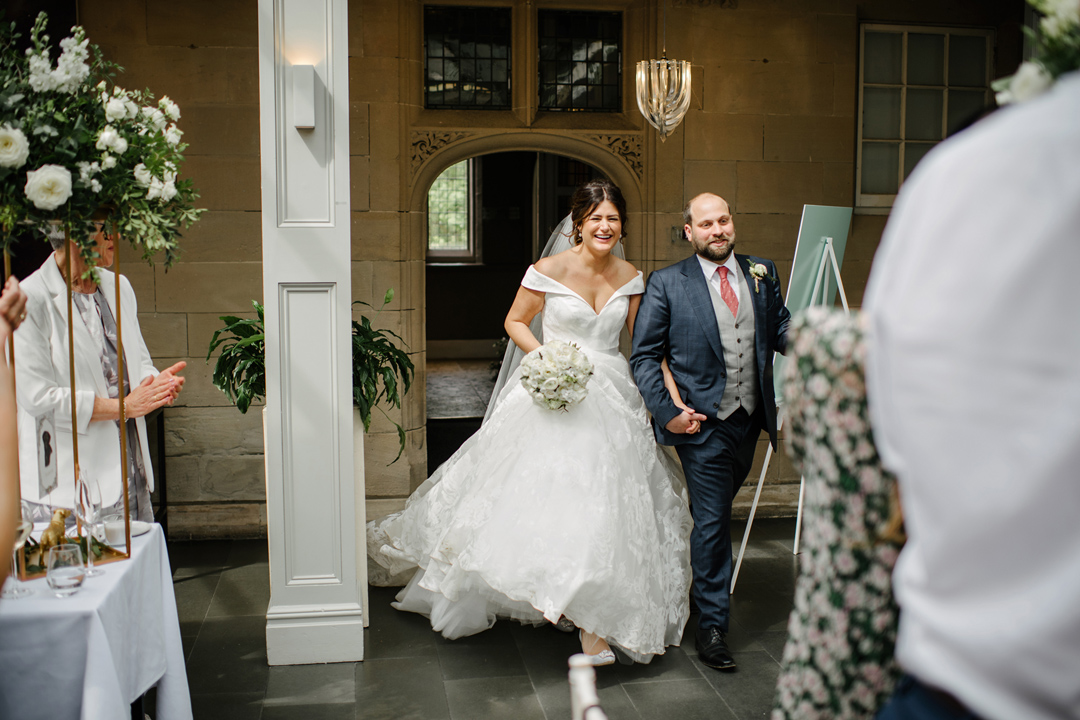 "We knew we wanted to have a personalised element and, seeing that our two miniature schnauzers are the other loves of our lives, it pretty soon became clear that we had to include them."
"Our love of dogs became our secondary theme, having them as our table names and including them in our wedding stationery."
"Our table plan (and table names) were all illustrations of our family dogs. Lauren captured each of the dog's individual likenesses perfectly and it meant so much to us to have a little memory of our childhood pets there with us on the day. We can't put into words how thankful we are to Lauren."
I love the styling of the table and the inclusion of the couple's dogs in the wedding stationery.
"We really didn't want to spend a fortune on favours but wanted to give our guests something they would genuinely like. We decided on candles and we found some amazing white, scented, glass candles from Ikea for around 70p a candle. We added a personalised sticker to the candles as a finishing touch."
'Hampton Manor's Michelin-starred restaurant 'Peels' catered the wedding and provided us with the most delicious food. We worked closely with the wedding team to select a menu that we knew everyone would love and would also be able to be adaptable to suit any dietary requirements. The team developed an amazing array of canapes and fed us the most amazing, four-course wedding breakfast. As huge foodies, the catering was always going to be a priority and we couldn't have been happier with the absolutely outstanding food we had."
The cake, with its trailing sugar-flowers, was baked by Ben The Cake Man.
"We had a three layer, raw edge, concrete-style cake that had gold details with sugar flowers 'growing' up the main body of the cake. We chose the flavours champagne strawberry, chocolate orange and raspberry ripple. Ben created the most amazing (and delicious) cake for us."
"Chris and I weren't sure on what we wanted – just that we didn't want a 'traditional' cake, and we wanted it to tie into our theme. Ben started sketching and as soon as he finished his first drawing we knew we had our cake. Everyone still talks about the cake. We were worried that it wouldn't all get eaten but as soon as it came out it evaporated – people couldn't get enough!"
As day turned into night, the guests took to the dance floor for the first dance and a surprise for Chris.
"Our first dance was 'Your Song' by Elton John. We knew we wanted a classic song that would stand the test of time. The lyrics and the melody are beautiful and we knew the chorus would get everyone singing along – and they absolutely did. One of our favourite moments of the day was during the first dance when the chorus hit  and all of our friends and family surrounding us started belting out the lyrics. It was such a special moment and made me realise how lucky we were."
"We had the most amazing band, Bounce, in the evening. We were extremely fussy when it came to choosing a wedding band. We wanted to find a band that would get everyone dancing and who could play a wide range of music but who had a musical style that was more in line with what we like to listen to (R&B, hip hop, modern chart). We stumbled across Bounce and couldn't believe our luck. They were high energy, fun, extremely talented and had the perfect repertoire. Bounce had everyone dancing all night long and they were a total blast."
"Finally, I had organised a surprise for Chris in the evening – UK champion beatboxer, Ball-Zee. We had discussed hiring a beatboxer as we were blown away by his set at the Edinburgh Festival but talked ourselves out of it. Months later, Chris was still talking about what a shame it was that we couldn't have him perform so I knew that it would be a totally unexpected surprise."
"With some serious help from our videographers and the band we managed to work the performance into the order of the day, organise kit and a sound check – all without Chris knowing! It was completely worth it. Ball-Zee was absolutely unbelievable and we will never forget his incredible performance."
Sophie has three, extra-special memories of the day.
"One of my favourite early moments of the day was the confetti toss. Walking out as a newly married couple and being completely rained on by confetti thrown by our friends and family was a moment of pure joy and laughter. My second favourite is when we walked into the wedding breakfast. Seeing everyone together, happy, smiling, cheering, was amazing. Plus, we knew we were about to eat some incredible food! Finally, our first dance. We were both slightly dreading it; we aren't people who love being the focus of attention so I think we went into it slightly hoping it would be over quickly. Once the chorus hit, hearing all of our friends singing along was just the best experience. It reminded us of how lucky we were to have such an amazing, shared moment with our friends and family."
"Hampton Manor gave us the best weekend of our lives. On the Friday, they transformed the wedding breakfast area into a relaxed party space where we drank bubbles all evening and had the most delicious antipasti-style dinner. On Sunday after the wedding they cured our sore heads with the most amazing breakfast. Chris and I both continue to say that we genuinely couldn't have picked a better venue. It was perfect for us and we are still in touch with the wedding team there."
Words of Wedded Wisdom
"Be happy with who you are and what you have. I must have spent months worrying about what I looked like and whether the wedding would be 'good enough' and I let it spoil a big part of my wedding planning experience."
"On the day, I remember not caring one bit about any of it. All you will care about is that you are marrying the love of your life and that you are surrounded by your friends and family – that is the most important thing, after all."
"You can't control everything. It might rain, it might not. People might drop out, they might not. Everything might meet your Pinterest dreams, it might not. But on the day, it really doesn't matter. Plan as much as you can and find reassurance in the fact that you can do no more. I promise you, it won't change how you or your guests feel about the day."
"Support smaller industry where you can. There is so much talent out there but sometimes it needs you to dig a bit deeper to find some diamonds. Throughout the wedding process I became really passionate about supporting small businesses whenever I could and it's something I'm still passionate about today."
"Bring a change of shoes! It may well be that you have to go 'off-road' for some of your photos and your shoes may be at risk from the soft, muddy ground."
"I'm so glad Dominique warned me to change my shoes as my spare pair got covered. Some of our absolute favourite pictures are the ones where we ventured into the woodland."
"Have fun. I'm very jealous that you all have everything to come. Enjoy the ride – you only get to do this once!"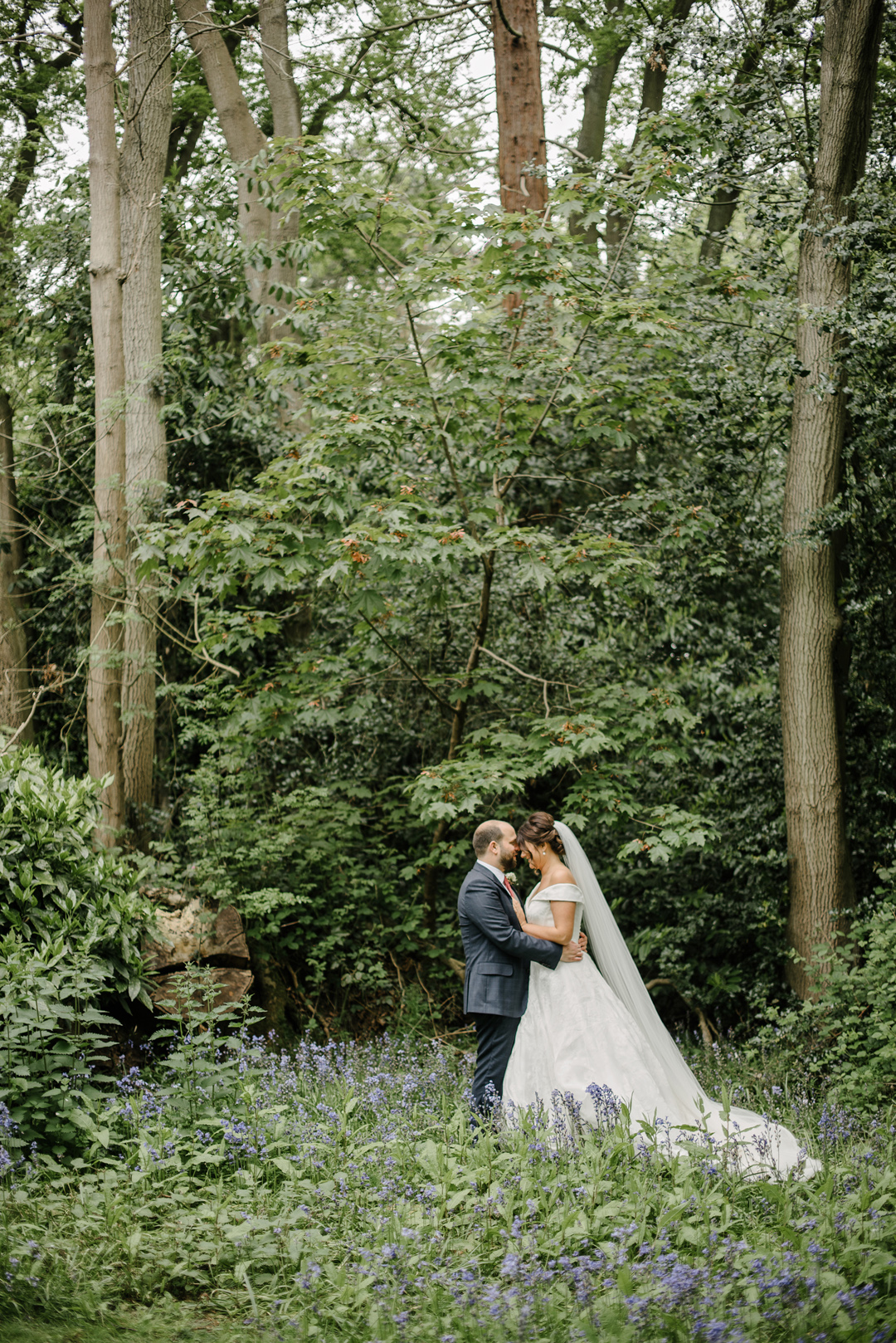 Thank you Sophie, for these brilliant words of wisdom and for sharing your and Chris' day with us. It looks like you had the best weekend together with your loved ones.
Dominique Bader, thank you to you too for your beautiful photography. Lovelies, if you haven't already, why not join our private Facebook group for brides to be?
Ele xx