I absolutely love seeing the range of wedding gowns chosen by our Love My Dress brides, from classic and timeless to modern and dramatic.
Today it's a pleasure to see the simple, clean lines of Sophie Et Voilà's gowns grace this simple, garden wedding.
Victoria Somerset-How + Follow
On 31 July 2021 Nush and Hugo wed in a Church of England ceremony at their local church in Essex, followed by an intimate marquee reception in Nush's parents' garden.
The couple planned their day during lockdown, always intending it to be simple and personal.
That didn't prevent Nush from choosing a show-stopping gown though, heading to Miss Bush in Surrey where she selected her dramatic and modern Sophie Et Voilà gown, wearing it with a hand-embroidered family veil.
https://www.lovemydress.net/directory/supplier/miss-bush-bridal-boutique-ripley-surrey/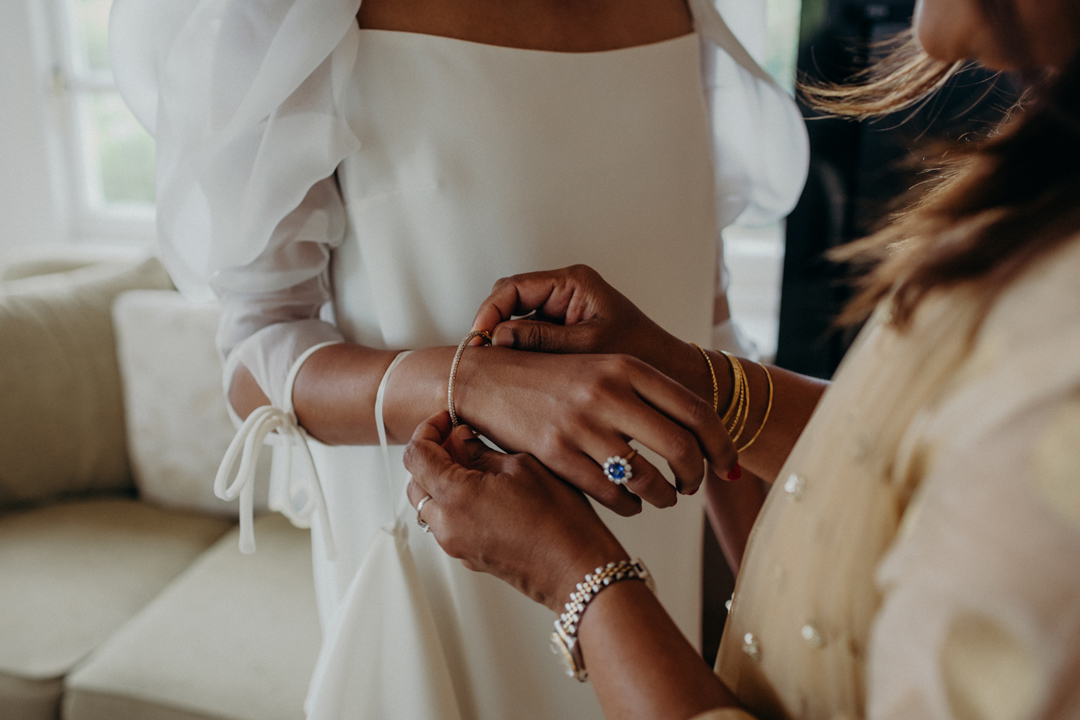 The bride travelled to the church with her father, and walked in with him.
"Hugo's stepfather is a vintage car restorer and arranged for our beautiful wedding car. It was a drop head Bentley Azure, in bottle green."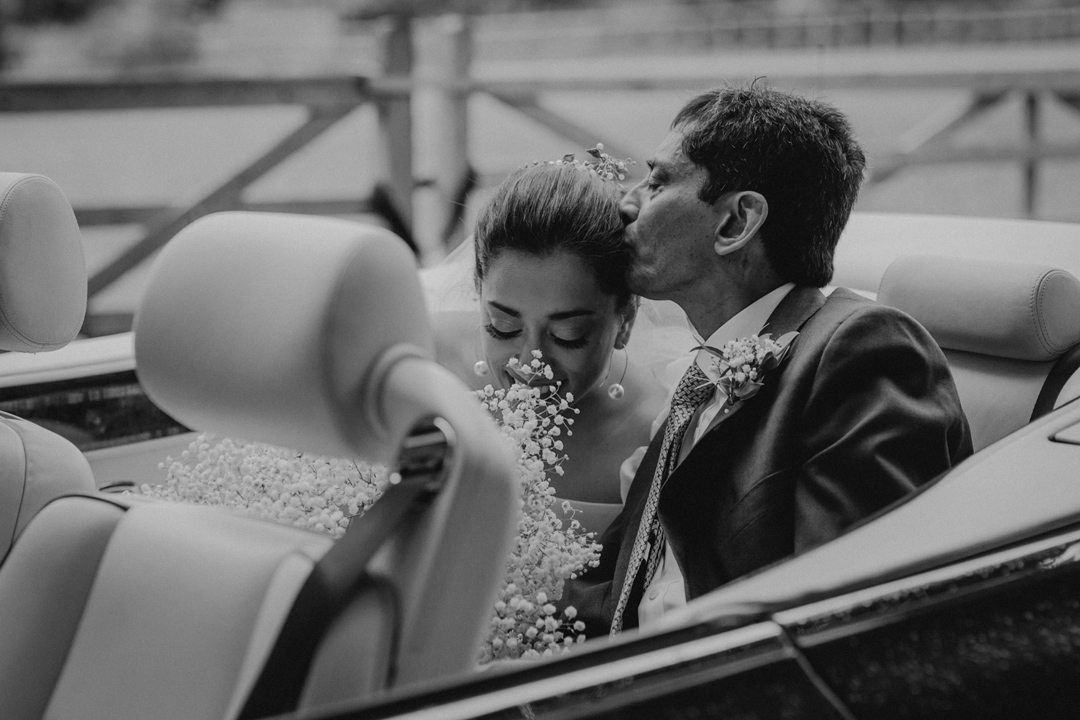 The couple were engaged on New Year's Eve 2020 and planned their day in just seven months.
"At the time of our engagement we were in the middle of the third lockdown."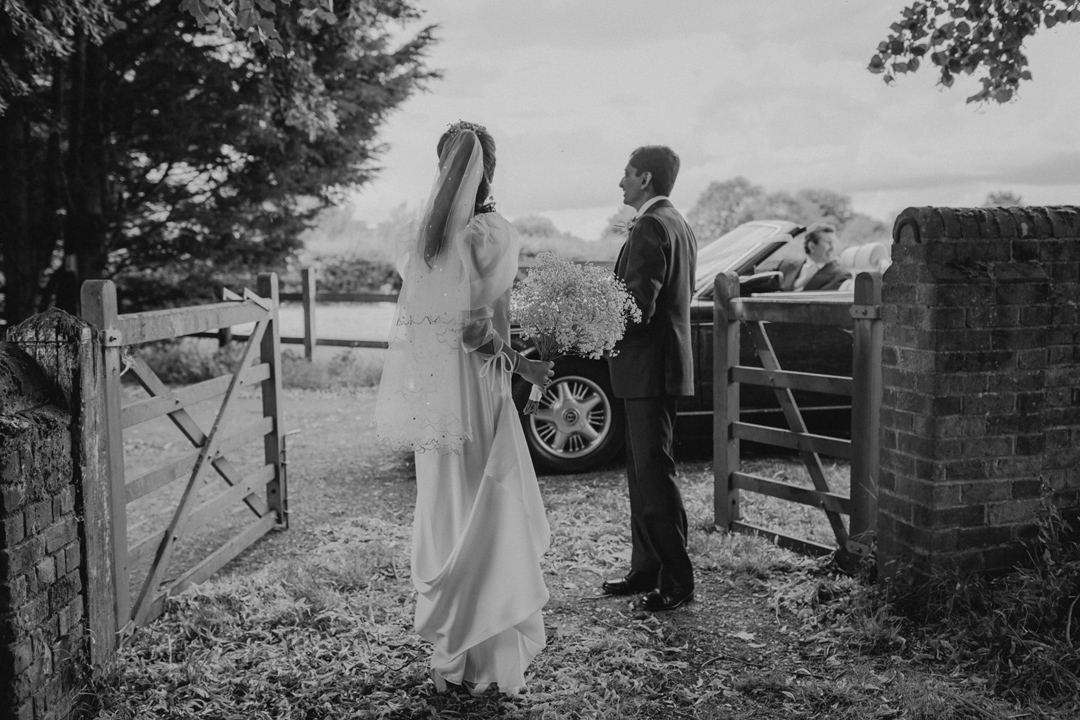 "We did not know when restrictions would be lifted and therefore decided that we would plan a small wedding for 2021, with only our families."
"Having the wedding at the home where I grew up was very special to both of us and to the rest of the family."
The bride created the stationery, adorned with a blue floral design, herself.
"I hand-wrote and designed all our name cards, table plan etc. With such a small wedding this was manageable."
The service was led by Reverend Colin Taylor and included two musical performances.
"It's our local church and I wanted to get married where I grew up. The food and dancing was back at my parents' home, which was just perfect."
"My brother and his wife played the guitar and violin to the Beatles 'All You Need Is Love' whilst we were signing the register."
"We had singer Naomi Banks sing 'I Hope You Dance' which is a favourite song of my grandfather. It was a surprise arranged by my family which we had no idea about."
I love how Nush offset the strong lines of the gown with the softness of the gold-edged veil.
"My grandmother is very creative. The veil was handmade by her for my mother on my mother's wedding day when she married my father, so it was very special to wear it at my wedding."
The bride found her chunky heels at Clarks and wore Le Labo Santal 33.
"I looked at every shoe possible! In the end, I found these and they went perfectly. I went for a white leather, open toe shoe, which had a sculptured heel and delicate strap at the ankle."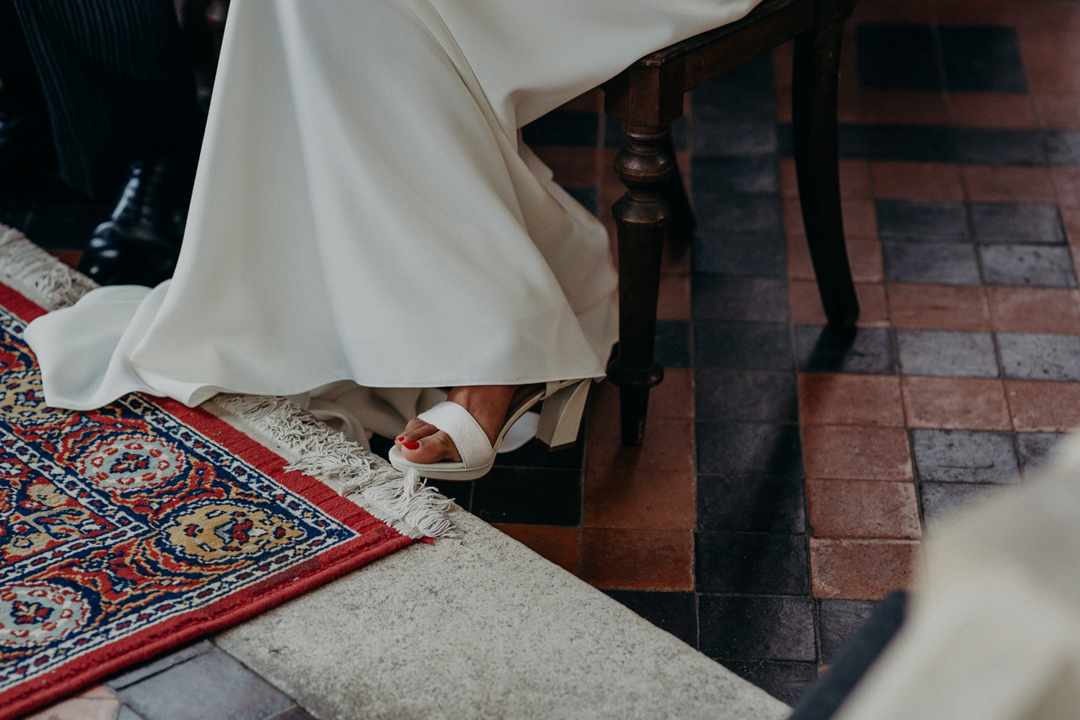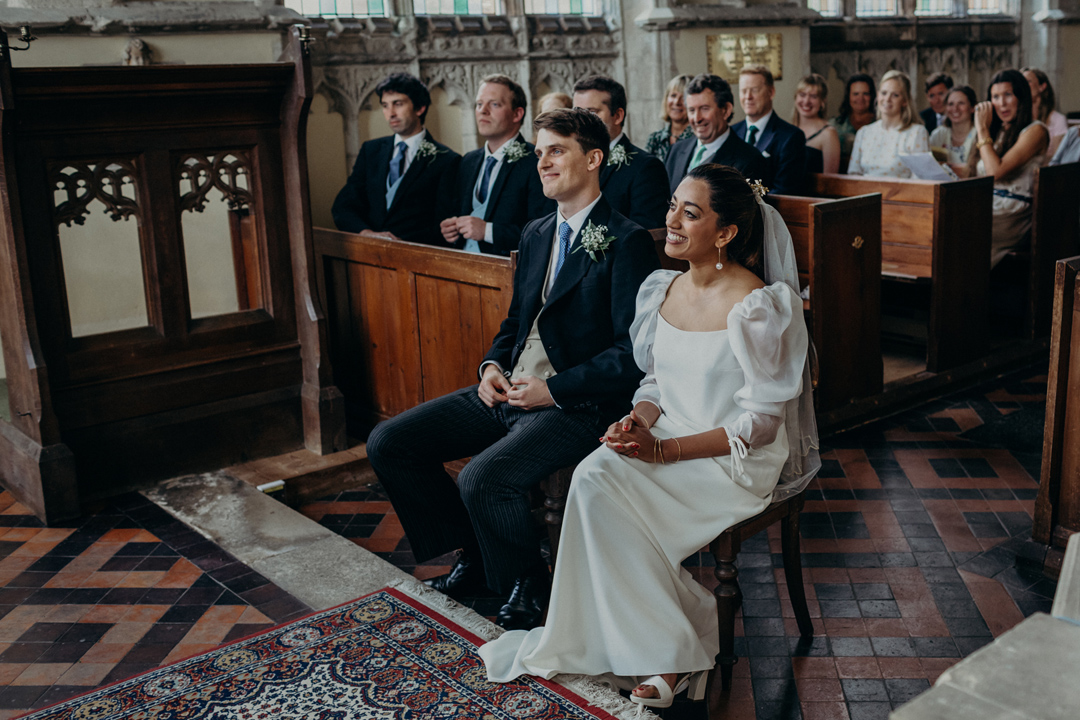 The bridal bouquet was a full and simple spray of gypsophila.
"Katie Youngman arranged my flowers. I wanted something natural, simple and in season. I had a bouquet of organic, unstructured gypsophila."
"The confetti was the work of many hands too – it was made up of real flowers, which had been dried and saved- they smelt lovely."
Although simple, the day had a traditional and classic feel, set by Hugo's W. A. Jolliffe & Son morning suit and the ushers' Neal and Palmer morning suits.
"This was the same suit Hugo's stepfather married his mother in. He wore Benson & Clegg cufflinks."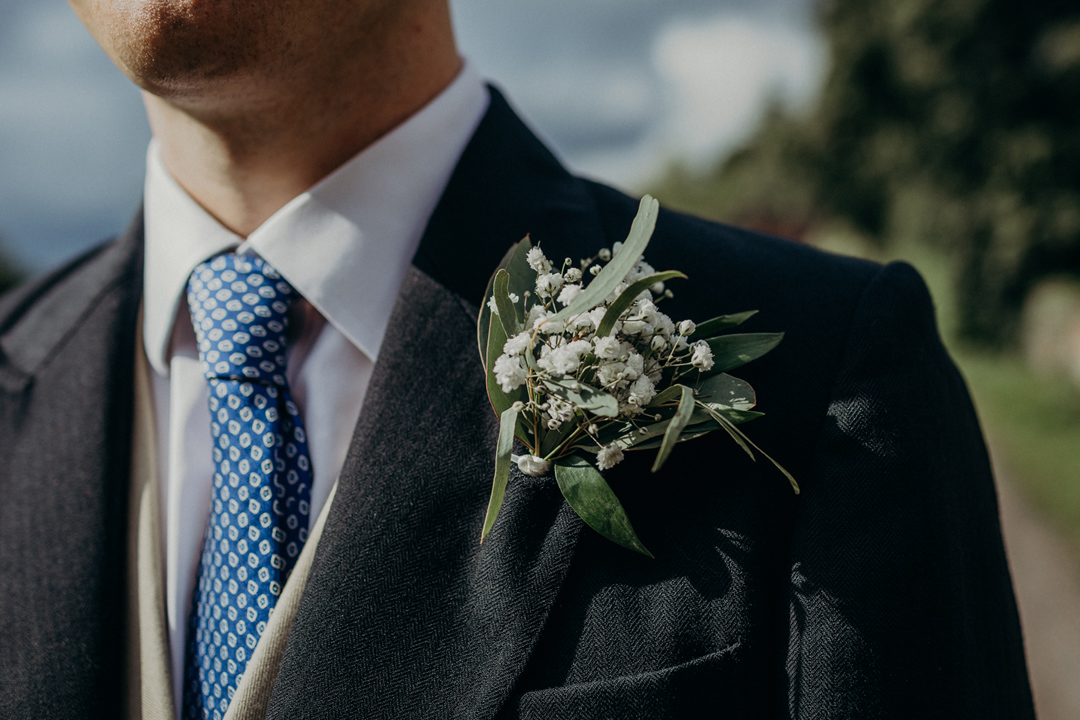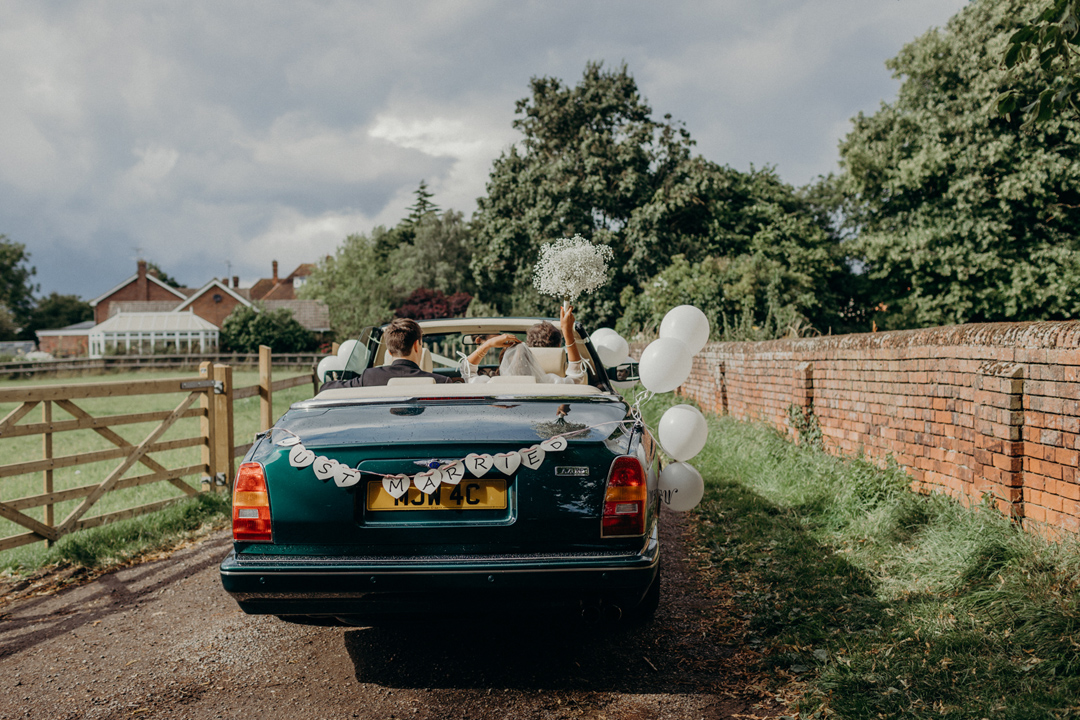 For styling, Hugo and Nush were aided by Katie Youngman of Mr and Mrs Wedding Supplies.
"We used her for decorations, flowers and wedding supplies. She is local to the area and my mum has known her for years."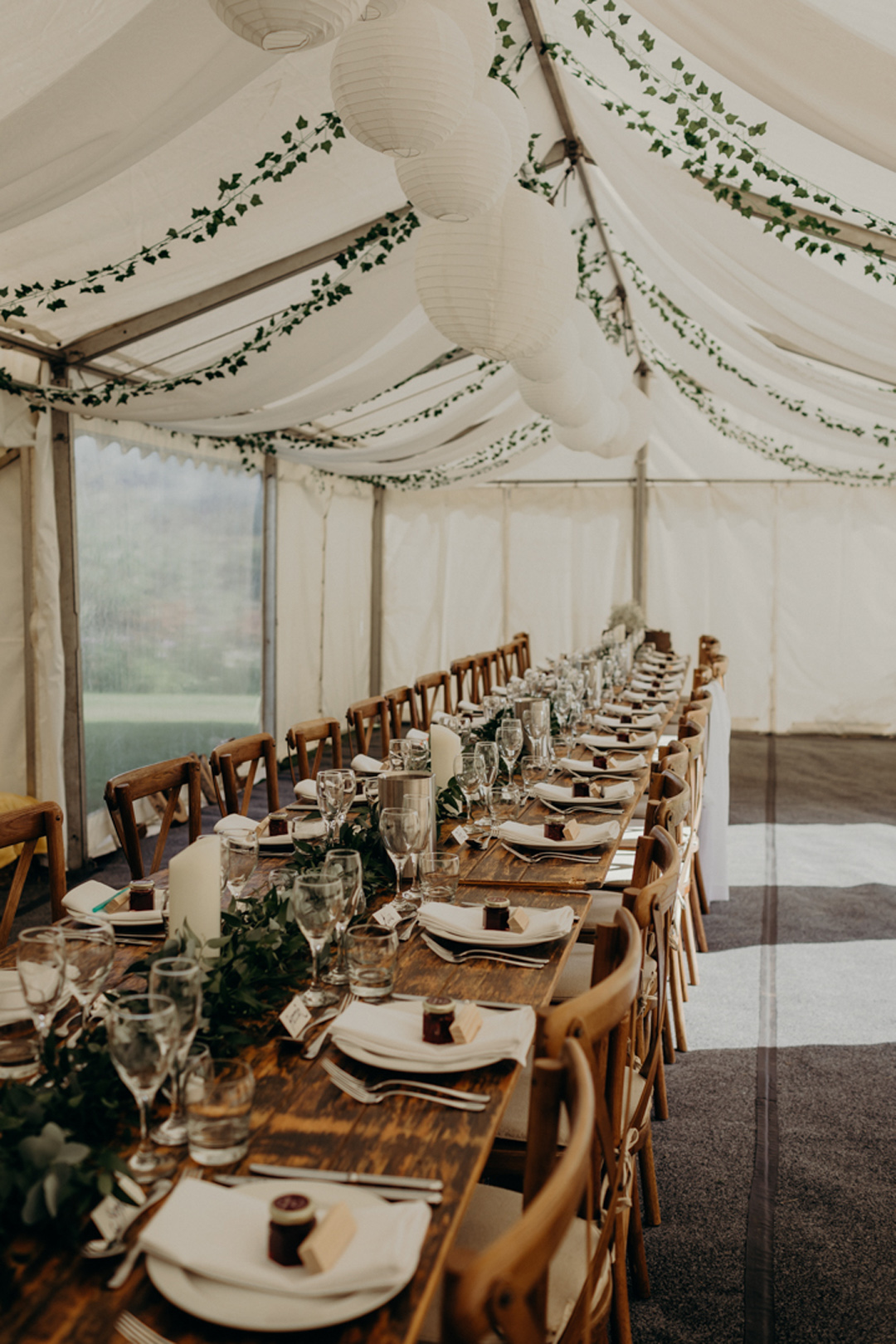 "We wanted the style of the day to be simple and intimate. The reception was in a marquee in the garden, at my family home where I grew up."
"We chose a wooden, rustic, long table for our meal, with a natural table runner garland made up of greenery, including eucalyptus."
"We had white drapery and more foliage draped from the ceiling with white paper lanterns hanging intermittently."
"We had lots of warm fairy lights in the garden and in the boxed hedges, so that in the evening this was all lit up."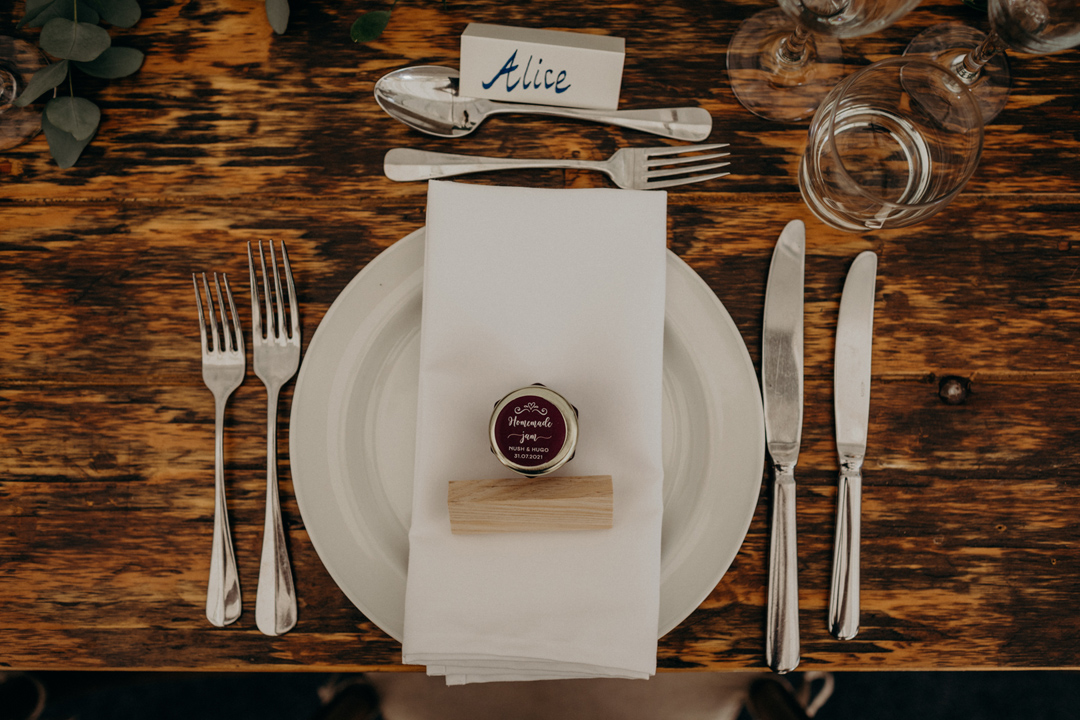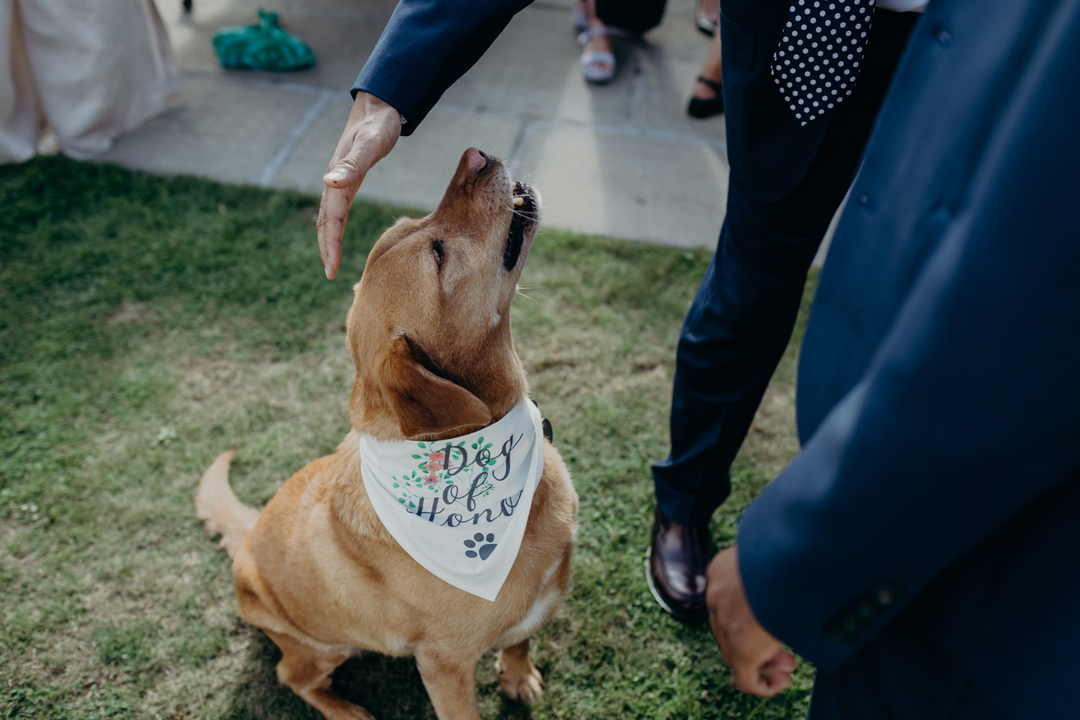 Before the marquee garden reception, the newly-weds spent time with their photographer, Victoria Somerset-How Photography, for these darling couple portrait shots in the beautiful Essex village and countryside.
"She was wonderful. She captured our wedding beautifully and is extremely talented. She also has lots of experience with smaller weddings which we were so grateful for."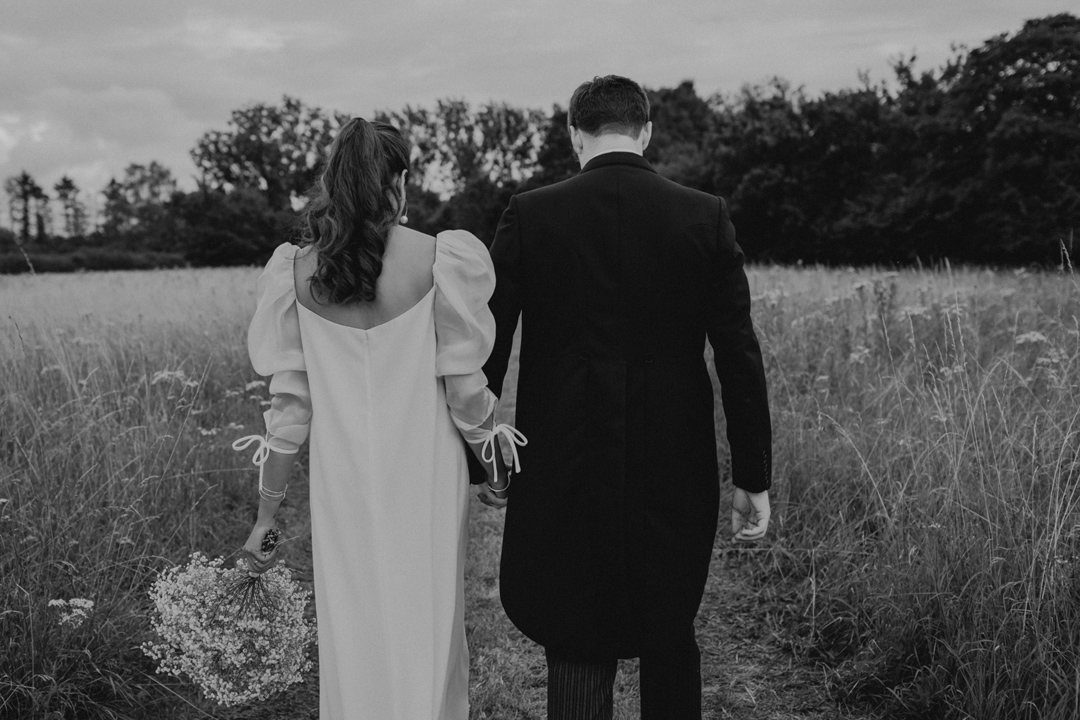 Miss Bush Bridal, one of dear friends and Love My Dress Wedding Directory suppliers (find out more here), helped Nush select her gown, making her their first Sophie Et Voilà bride.
"This was the first year Sophie Et Voilà sold in the UK at Miss Bush. It was very exciting to wear one of their pieces."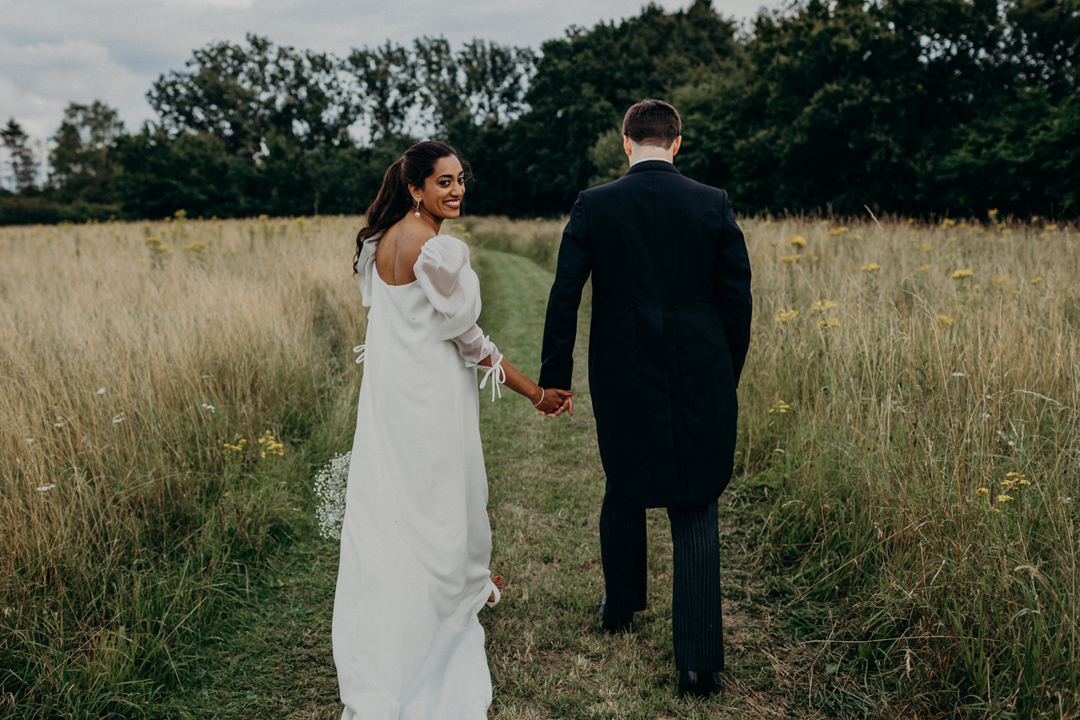 "he whole boutique at Miss Bush pulled out all the stops to make sure this dress was made in a short time frame despite the pandemic."
"Due to Covid, wedding boutiques only opened in April so there was not a lot of time before our wedding day."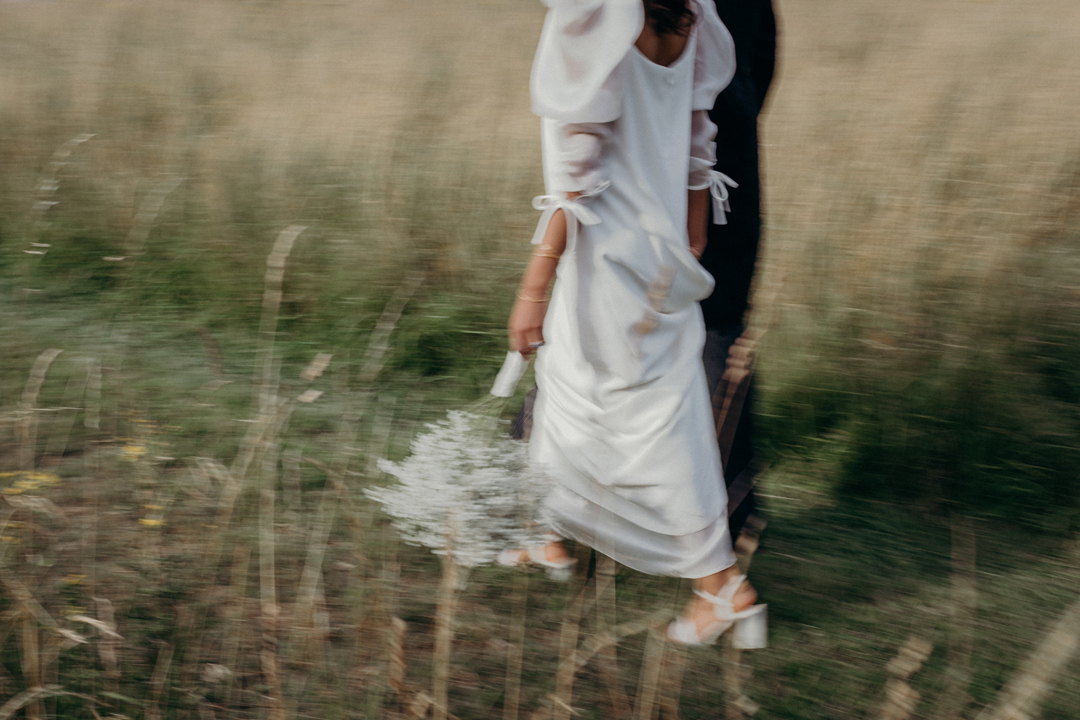 "Sophie Et Voilà is a Spanish designer whose designs are dramatic and modern, yet there was a really timeless element to this dress."
"I loved the contemporary, simple, wearable nature of it. The body was a column with a square neckline. The sleeves were a real statement!"
Nush's hair was pulled back into a simple, high pony and her make-up was fresh and flawless, applied by Gail Gardner Wedding Hair & Makeup.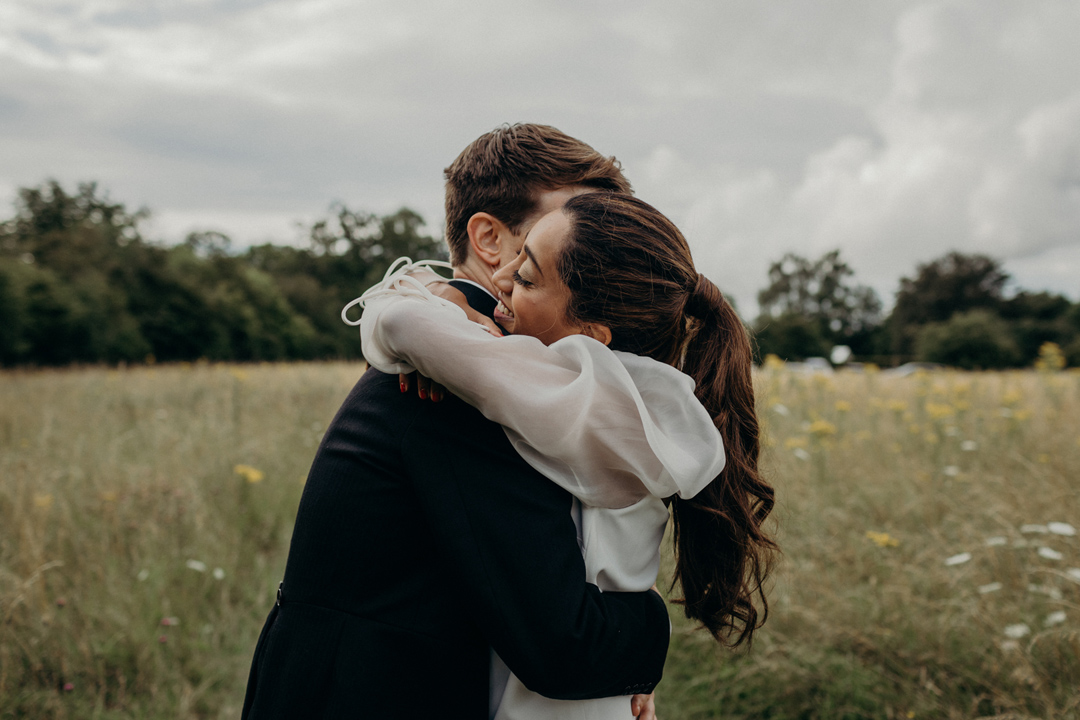 "I wore my mother's De Beers diamond bracelet and pearl drop and gold Kenneth Jay Lane earrings from Liberty."
My engagement ring is a Sri Lankan blue sapphire, chosen by Hugo. I am British Sri Lankan and loved the nod to my roots."
The marquee, from BSW Marquees, was simply but beautifully dressed to create a magical and intimate atmosphere.
"The marquee was in the garden and the theme was green and white. It was a summer wedding and I wanted everything to look fresh."
"We had a foliage runner with candles and roses running through the centre of the table.  Loads of white paper lanterns were hanging from above."
"The church had a large foliage arch with white roses and greenery which we then re-used at the entrance to the marquee."
"Square 1 Restaurant, led by Spencer and Claire, did our catering. It was the most amazing food; one of the chefs at Square 1 had won 'MasterChef'!"
Nush's grandmother made the pretty, naked cake.
"It had a raspberry sandwich filling, topped with real roses and peonies, some of which were from the garden."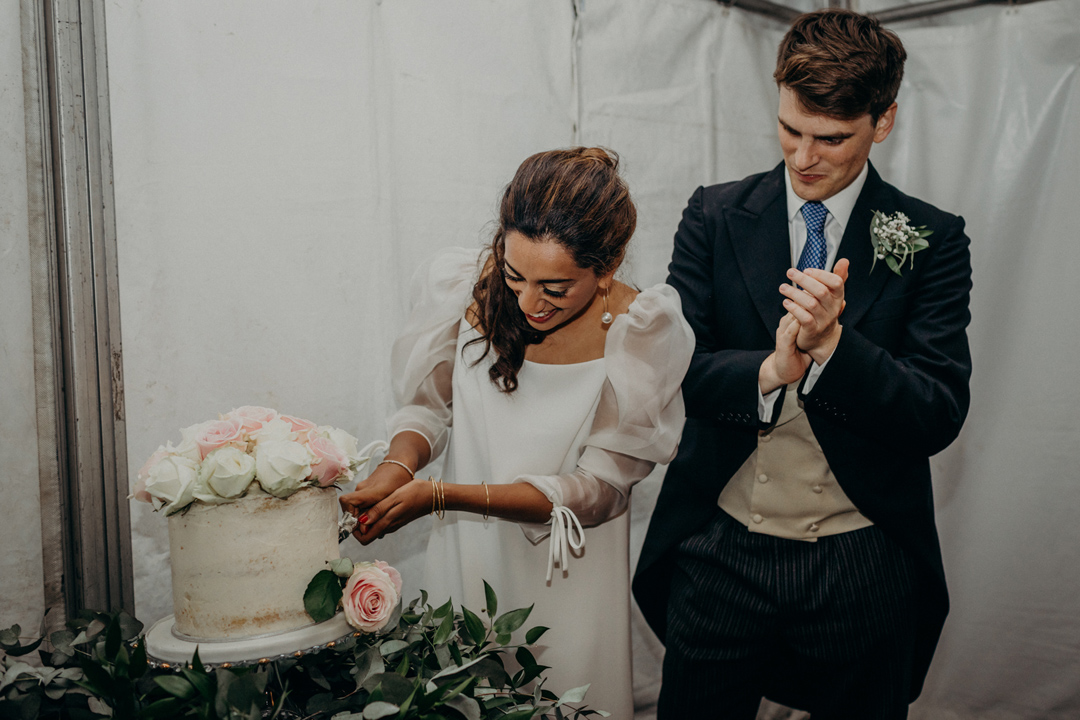 The evening party had live music from Kyle Chater Acoustic.
"As it was a small wedding we didn't want a full-blown band as we thought it would be too much. We found Kyle Chater and Edu of Kyle Chater Acoustic."
"They really did know how to get a party going and everyone was on the dance floor."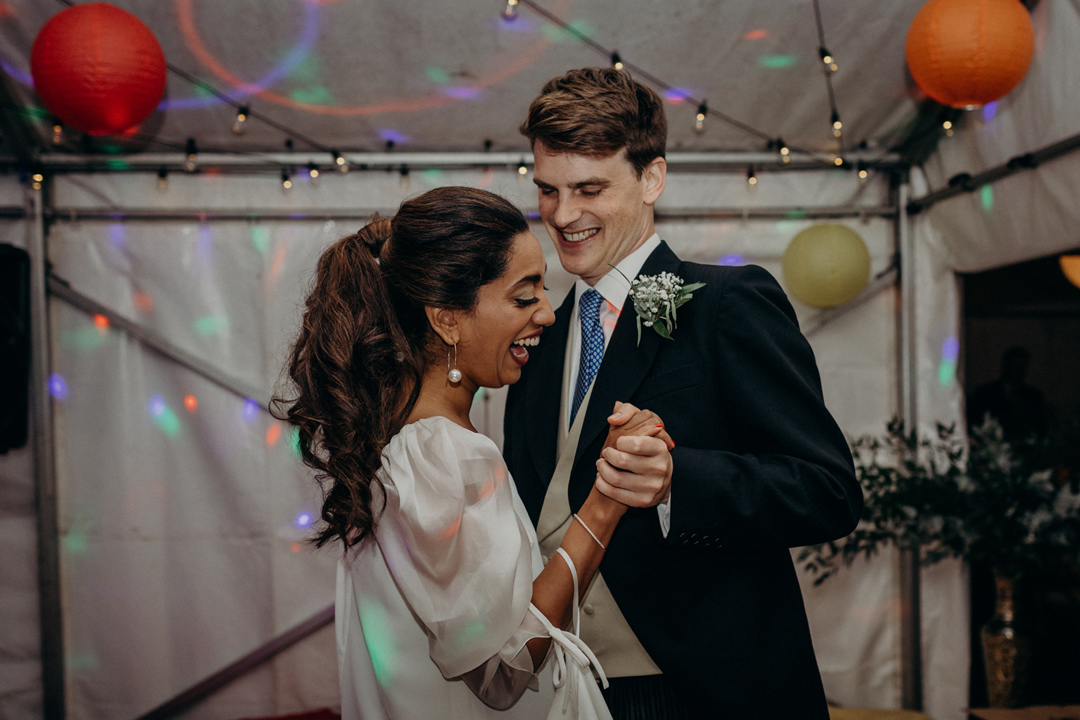 Words of Wedded Wisdom
"We loved our wedding. We would not change a thing, despite restrictions, and are so happy that we went for it!"
"It all comes together on the day. All the planning, the shopping and the choosing can be stressful but on the day, it was all worthwhile. Enjoy the day!"
"If you are worried about having a small wedding due to the pandemic or other circumstances- don't worry! Your wedding day will be so special, whether small or big, and should you opt for a small wedding you will not regret it."
"A small wedding is perhaps not what you would have planned had the pandemic not happened but if you still want to celebrate with friends and people who could not be there, you can have a party or sequel later once things are better with Covid. So, two weddings!"
Nush and Hugo, thank you and congratulations. What a pleasure to see your beautiful and intimate wedding. Victoria Somerset-How, thank you to you as well. Lovelies, if you'd like more intimate micro-weddings, please enjoy this selection on Love My Dress.
Ele xx