Are you in need of a little pause today? If so, please make this wedding it, as the dramatic and breathtaking images truly deserve your full attention. It is my absolute joy to introduce you to Charlotte and Richard and their Scottish elopement.
Geotechnical engineer Richard and environmental consultant Charlotte eloped to Quiraing on the Isle of Skye, Scotland on 29 September 2021 for their magical humanist ceremony, enjoying an intimate picnic afterwards in the breath-taking Fairy Glen. We are thrilled that our recommended supplier and directory member, Belle Art Photography, captured these images.
Belle Art Photography

+ Follow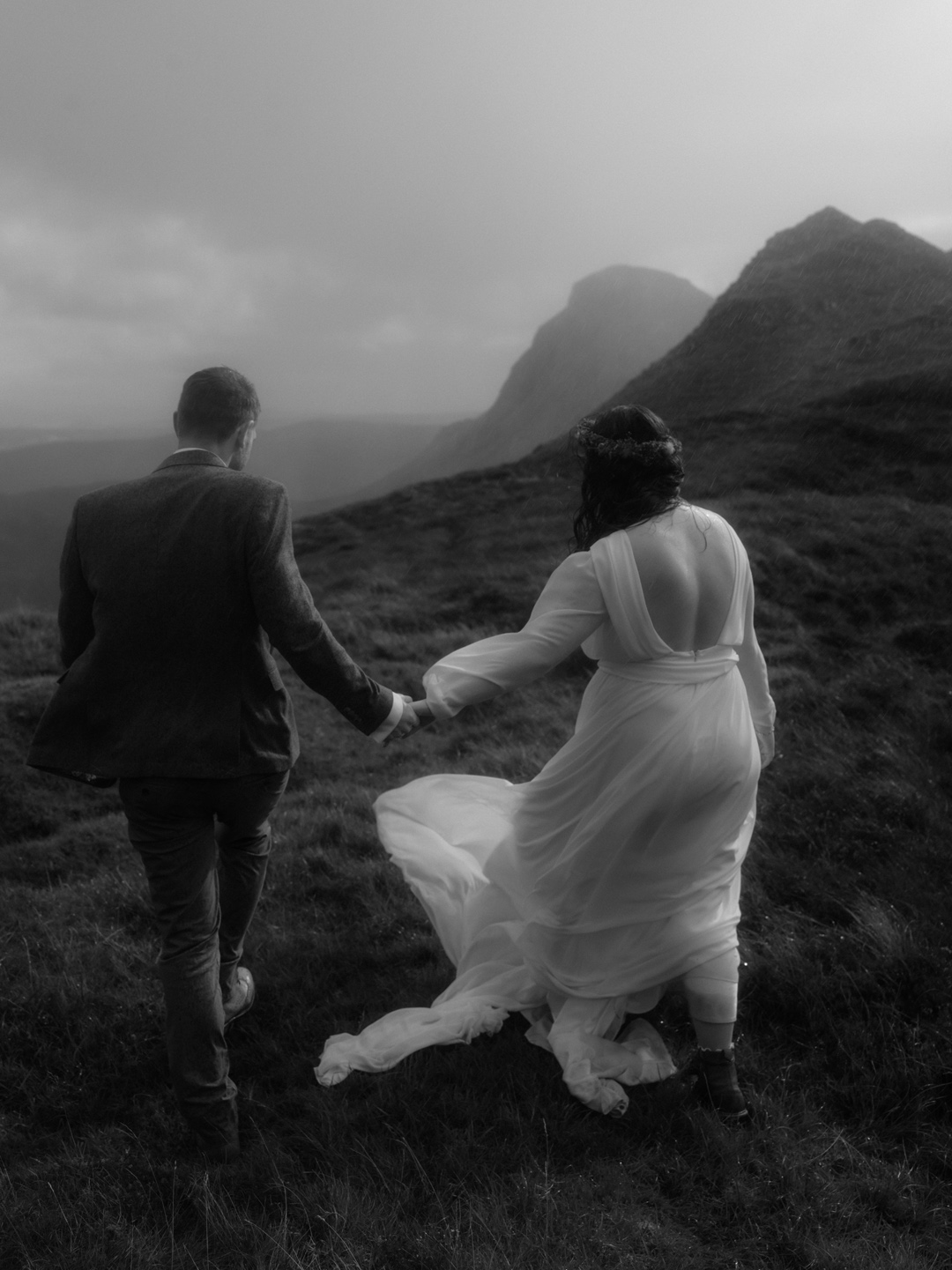 The couple based themselves at Harlosh Black h on Skye for the four days surrounding their elopement.
"The property is an architect-designed, minimalist and eco-friendly property."
"We think it made the perfect backdrop to our elopement morning and the views from either side of the property are hard to beat."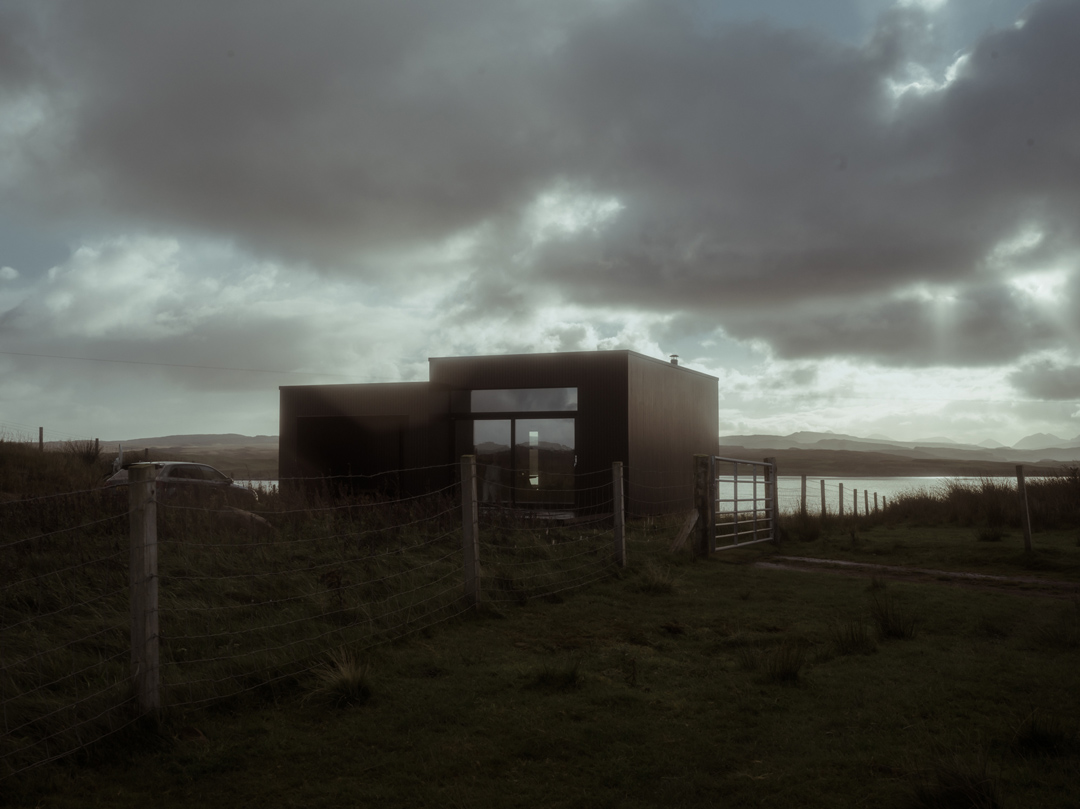 Inspired by the majesty of their surroundings, the minimal elements they added were nature-inspired, with autumnal dried flowers and woody elements.
Charlotte and Richard met through work in 2013 and were engaged in March 2020. The Covid-19 pandemic encouraged the couple to plan their intimate micro-wedding.
"We both started working for the same company in 2013 and started our relationship in 2014. We continue to work at the same company, at opposite ends of the same open-plan office. We got engaged in Vik, Iceland on 2 March 2020."
"The trip was planned for my 30th birthday and we were lucky that it pre-dated any travel restrictions."
"The day of the engagement was action-packed as we had snorkelled in icy cold waters at Silfra in the morning and it ended with the proposal at our hotel in Vik after stopping off to see Strokkur Geyser and numerous waterfalls."
"We both knew we wanted a short engagement so started considering our options as soon as we returned home."
"We initially started viewing wedding venues with thoughts of having a more industrial-themed wedding day."
"There are lots of beautiful mill buildings in Yorkshire that we both love and so there are quite a few options."
"With the lockdown measures in place during 2020 and the continuing uncertainty of whether weddings would be going ahead we both started to think about other options."
"What became a 'we should just go and do it' became a real possibility for us."
"We understood that outdoor ceremonies in Scotland were still permitted under lockdown restrictions and, as we both have wanted to explore more of Scotland, the Isle of Skye was the perfect place."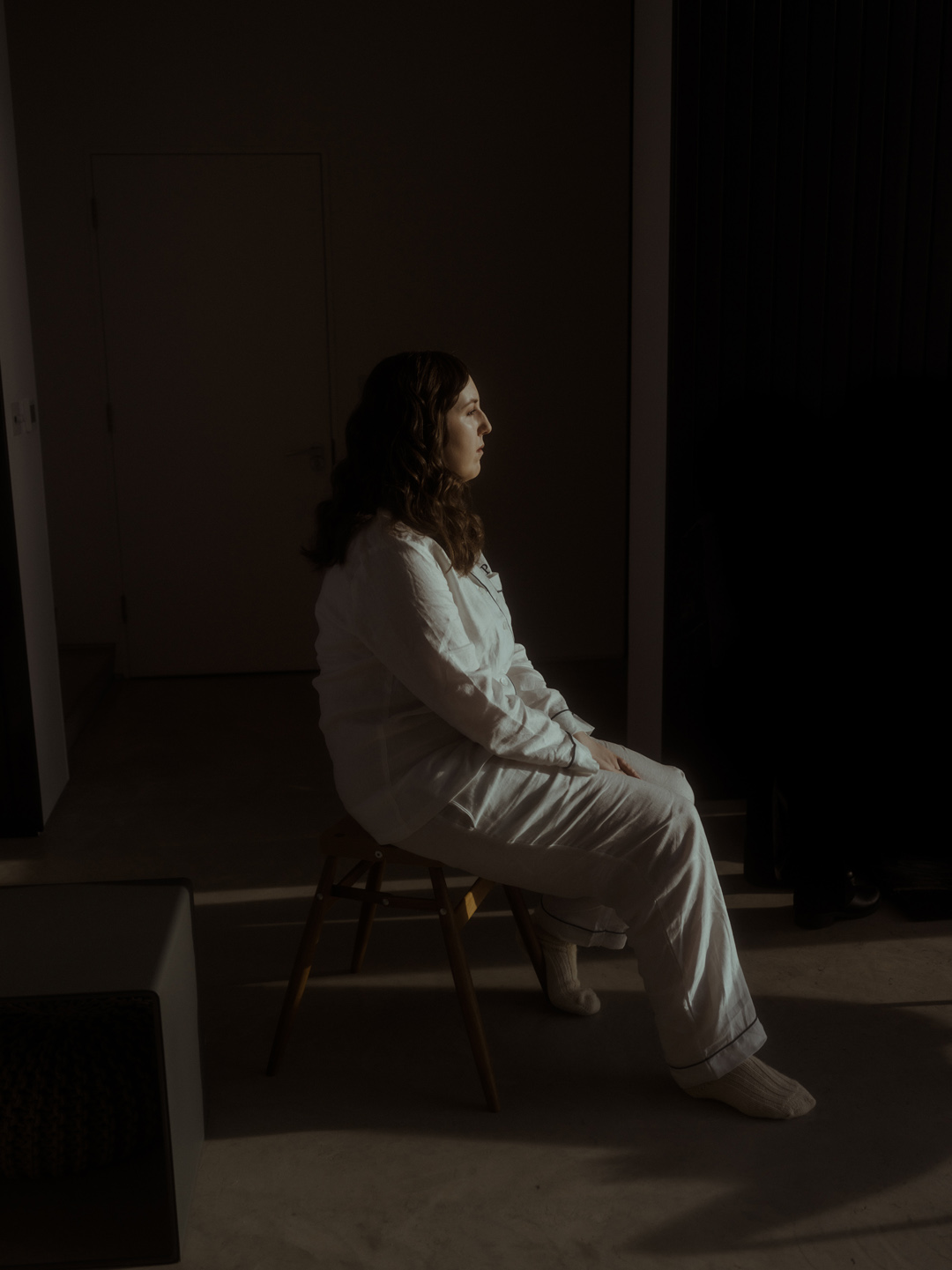 "We did initially have a date early in March 2021 but we decided to push the day back to later in the year."
"We wanted to combine our elopement with an extended mini-moon stay so it would have been a shame to not experience the whisky distilleries and incredible food Skye has to offer."
"Plus, Skye in autumn is truly magical with the rich colours of the landscape. The beauty of an elopement is that dates are more flexible than traditional weddings."
"We were very lucky (and grateful) that our suppliers were so flexible in this regard."
The bride wore a crown of dried flowers created by To a Mountain Daisy and carried a matching bouquet.
"Lucy at To A Mountain Daisy created the flowers for an elopement we were particularly drawn to and taking a look over her Instagram page, we fell in love with the wild dried bouquets she creates."
"We opted for a large bouquet, four buttonholes (for Richard and the wedding party) and a full flower crown."
"Lucy created our flowers after we gave her a very rough brief. We wanted autumnal colours with lots of woody elements but apart from that we left the final design in her capable hands."
"We got everything we asked for and more!"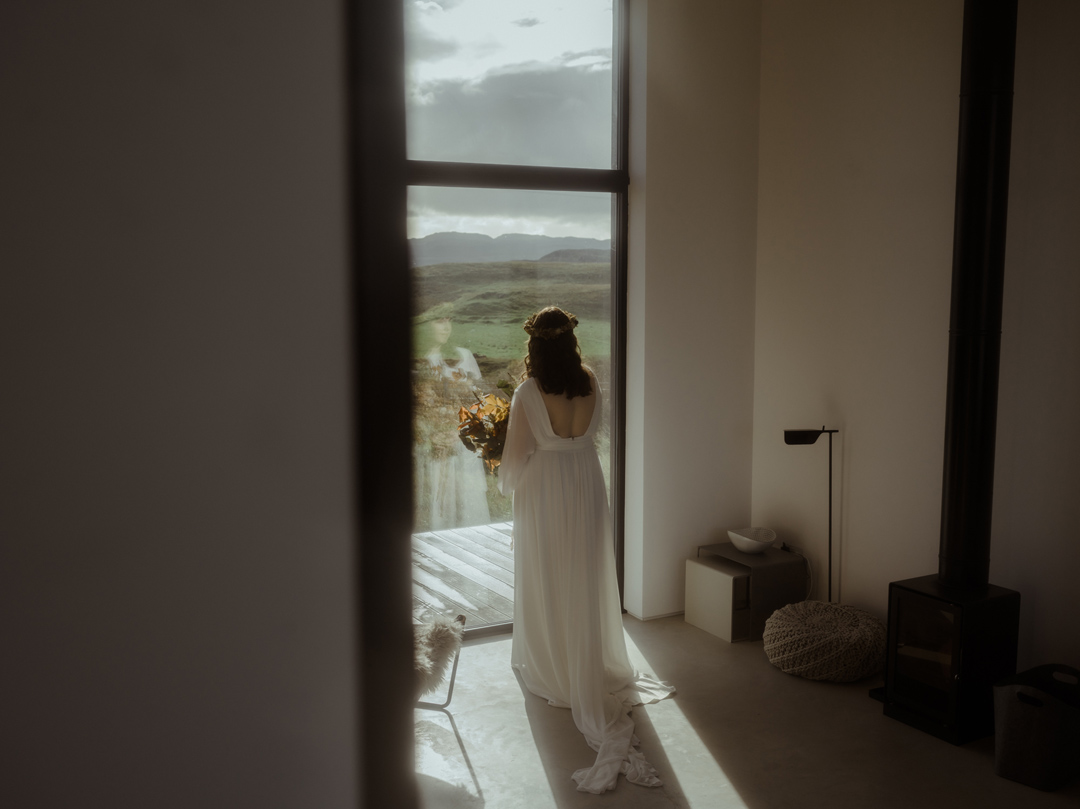 "I felt that the woodland theme really complimented my dress and the Skye landscape."
"The flowers were just magical, like a woodland fairy's bouquet."
"On a more practical note, our dried flowers withstood the very blustery conditions during our elopement ceremony – we only lost a few leaves!"
"The beauty of having dried flowers is that they'll last for years if properly looked after and so we're able to see them every day as they're displayed in our bedroom."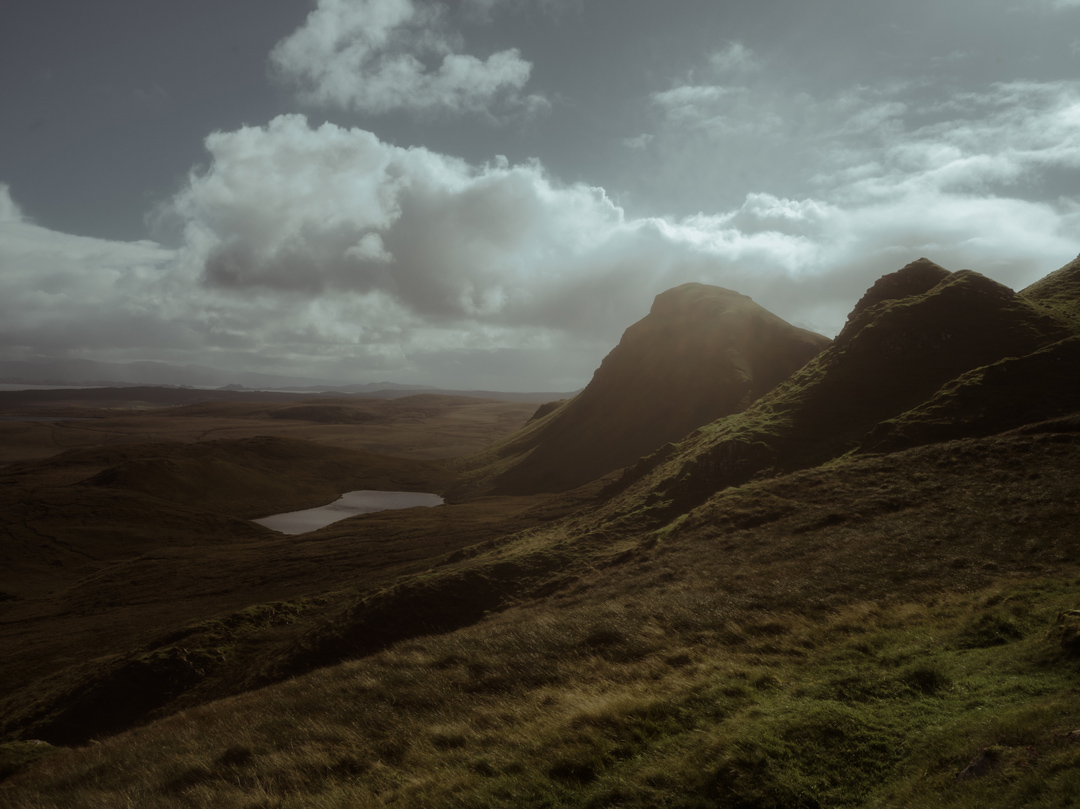 The marriage and handfasting were led by Rona Burstow, who provided a Humanist Society of Scotland ceremony.
The weather cleared for the ceremony, bathing the couple in glorious sunshine to the backdrop of dark storm clouds.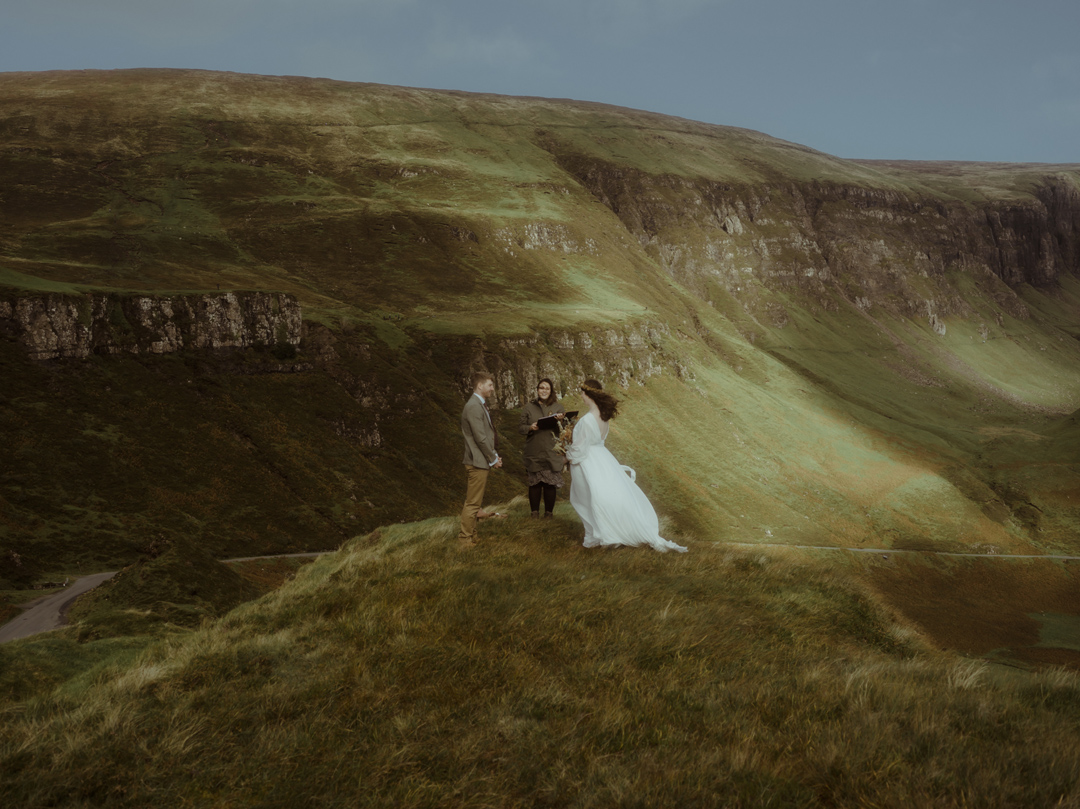 "Richard and I walked (and clambered!) together to our elopement spot in the Quiraing. Rona is amazing to work with; she's so friendly, down to earth and has a great sense of humour."
"Her commitment to her couples and her work is very clear."
"We loved everything about our ceremony and being able to send a copy to our parents was a lovely touch and so appreciated."
"Rona requested that Richard I complete some couple's 'homework' prior to the day to allow her to write our love story, intertwining the ceremony with personal details."
"Hearing our story from each other's perspectives was lovely."
"Richard and I wrote personal vows, something we would never have considered had we gone the route of organising a larger wedding."
For the outdoor celebration, Richard wore a green wool blazer with tobacco-coloured chinos and a tie from Moss Bros.
His white shirt from Charles Tyrwhitt and his pocket square was from Reiss. For added warmth, he wore a formal wool coat from Marks & Spencer and Moss Bros leather brogue boots.
"Richard wore some bespoke cufflinks from Form Bespoke Jewellers, commissioned by me."
"The cufflinks were made from pieces of lava collected from the beach at Vik the morning after we got engaged."
"Due to the size and intimacy of the ceremony, we felt comfortable saying our personal vows."
"Rona provided us with a written copy of the whole ceremony, so looking back at the personal vows is really special to us."
"We wanted to add some traditional symbolic gestures into our ceremony: For the handfasting we used a traditional braided cord purchased from Fable and Drifter on Etsy which I personalised with an Ormer shell to represent Richard's birthplace of Guernsey and a Yorkshire pressed wildflower pendant to represent our home."
"For the drinking from the Quaich we drank Torabhaig Whisky from my dad's quaich."
"The quaich was filled by Richard using a pewter hip flask which was a gift from his brothers for his 30th birthday."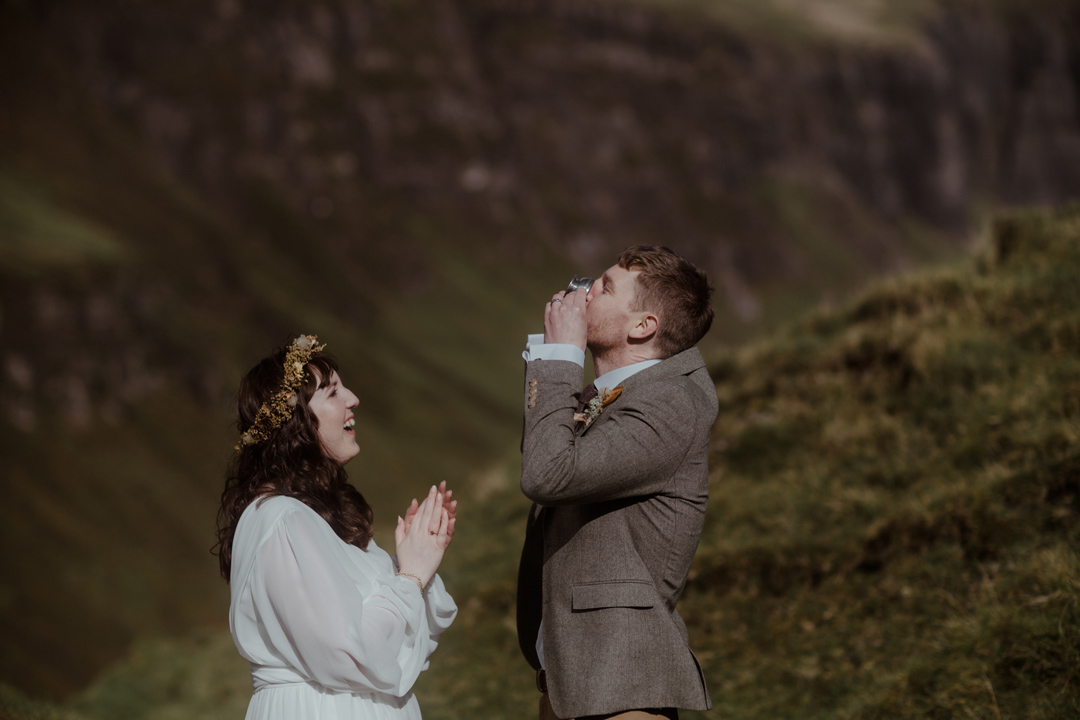 The bride and groom exchange rings; Charlotte's was a platinum braided band by Form Bespoke Jewellers and Richard chose a textured Sheffield Steel band by Flinn & Steel.
"Richard was drawn to a Sheffield Steel ring as he attended Sheffield university. We carried our wedding bands in an oak burr ring box hand made in England by Andrews Rustic Boxes on Etsy."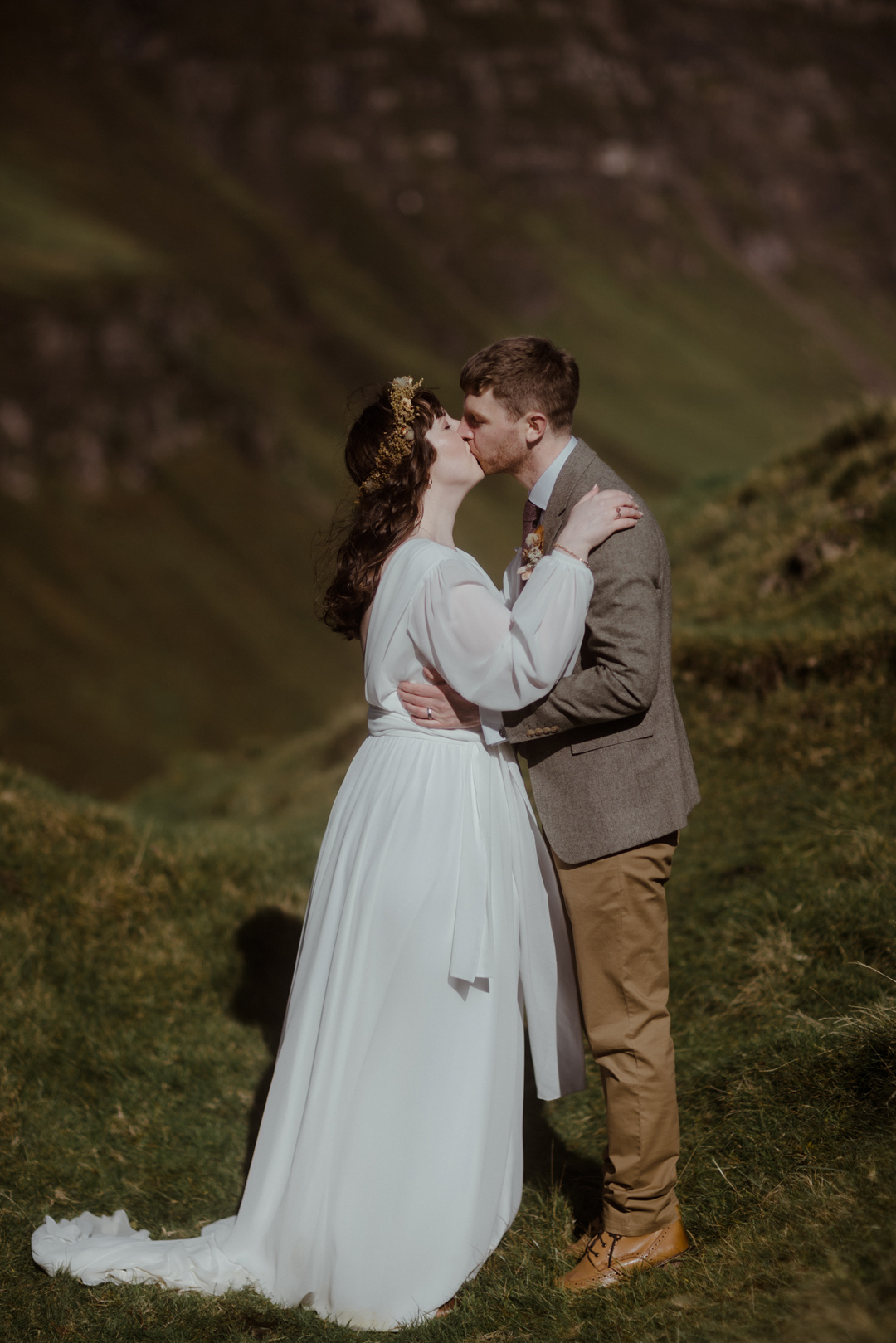 Charlotte's earrings were antique rose gold and moonstone from Aladdin's Cave in Leeds. She wore her hair down in loose curls, styled by Heather at Bee Bonnie Beauty & Bridal Hair on Skye.
"I chose moonstone as it's traditionally been seen as a romantic gemstone. My 'something borrowed'. from my mum, was a silver and rose gold rose ring from Magnolia Restrepo."
"My necklace was a silver anvil pendant, a gift from my sister to celebrate our elopement."
"Heather was so much fun to spend time with on the morning of the elopement. She put me at ease and I felt so beautiful."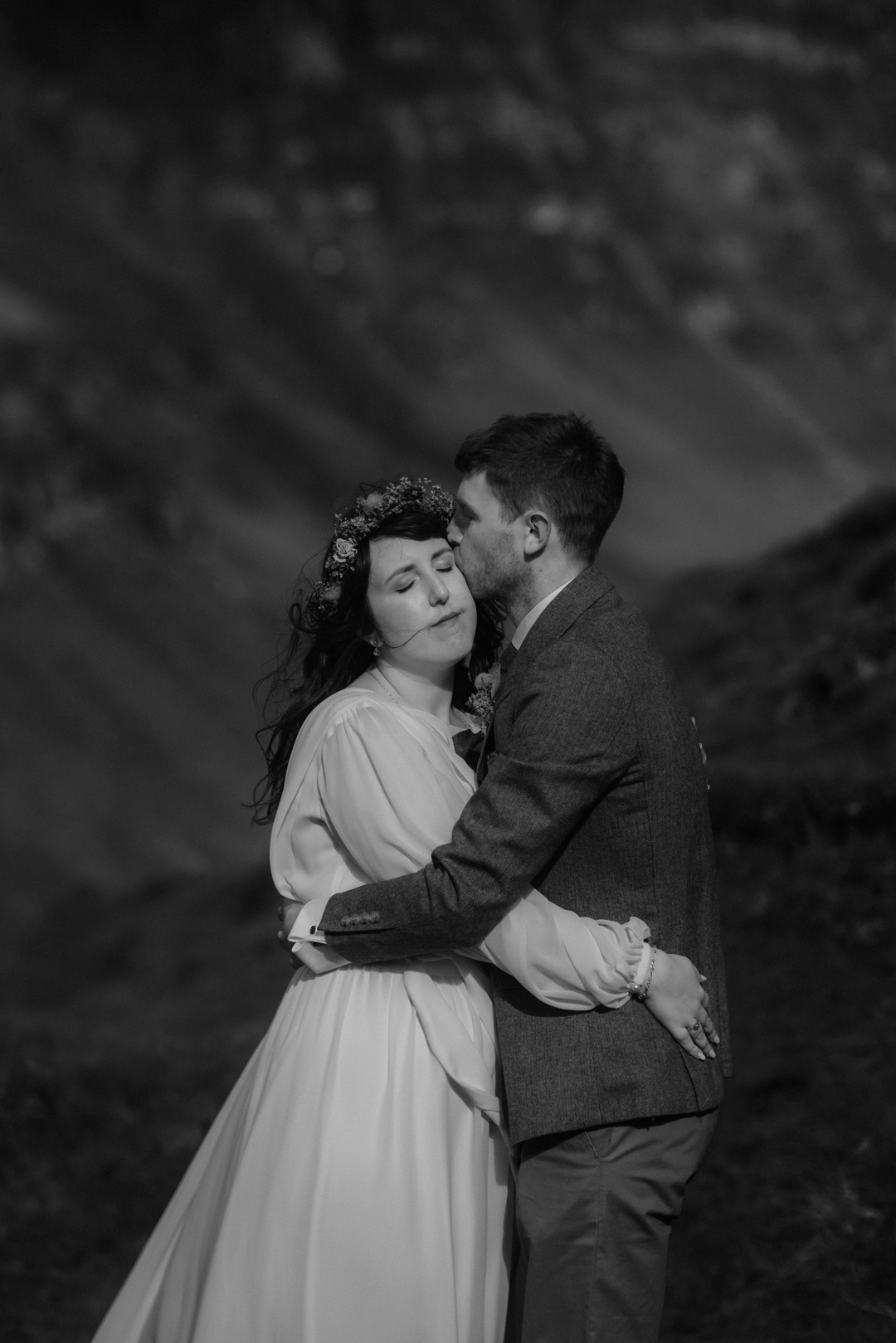 The ceremony was the couple's favourite part of the elopement day.
"It was standing in the Quiraing being subjected to all the elements (sun, wind and hailstones) and saying our vows to one another."
"We had purposefully not visited the Quiraing prior to our elopement and seeing it for the first time was unforgettable."
The bride wore an ethereal, flowing gown with a long, flowing train and full sleeves, from Lebride Atelier on Etsy.
She had originally purchased a pleated, crochet, floral maxi-dress from Self Portrait before the couple decided to elope.
"Once we had an idea of the setting of our elopement, it became clear in my mind that the Self Portrait dress probably wasn't what I imagined myself wearing in that landscape.
"I was browsing Etsy and stumbled across my dress."
"It had all the elements I was looking for – a higher neckline, sleeves and a long train (to hopefully blow in the wind!) with the bonus of being backless."
"I hadn't anticipated buying a dress this way but after researching the dress maker I decided to take the plunge."
"We received the dress very quickly and the quality blew me away."
"I knew that I wanted a more ethereal dress, particularly when considering the landscape, we were to be married in combined with our choice of flowers."
"I was aiming for a pre-Raphaelite look and hopefully this comes across in the photographs."
"I absolutely loved the drama of the long train and how it billowed in the wind."
Charlotte kept warm with by wearing a white woollen cape from Zara and hand-painted Nanette boots from Grenson.
"Wearing boots was a must as we had to climb some hills and walk through slightly soggy, muddy ground."
"I found the Nanette boots struck the balance between being beautiful and being functional. I like the fact that the boots can be easily re-soled so I hope to get a lot of use from them in the future."
"It also helped that they required no breaking in and were comfortable all day."
"I wore an Edwardian swallow bar brooch (something old, originally belonging to my great-grandmother, a silver and turquoise horseshoe brooch and a commissioned brooch by Matt Caines."
"This brooch is a hand-carved taga nut with a scrimshaw design showing a Skye fishing boat, Old Man of Storr, a line of the Skye Boat Song and our initials."
I also had a silver sixpence handily tucked away in one of my boots! It was given to my mum for her wedding day. I carried a bridal bag – a whipstitch bucket bag by Coach – to carry all the items needed for our elopement ceremony.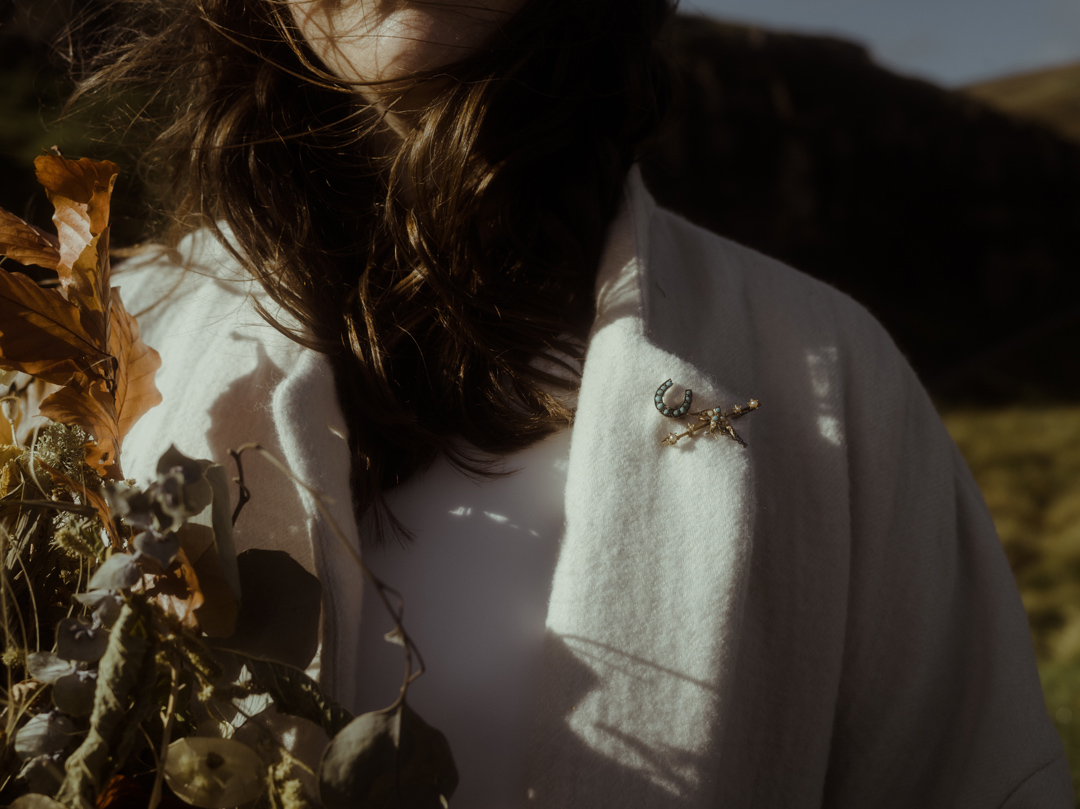 Researching elopements of other couple's on Love My Dress helped the bride and groom to envisage their own, open-air nuptials.
"We used Love My Dress to view previous elopements, including in Scotland."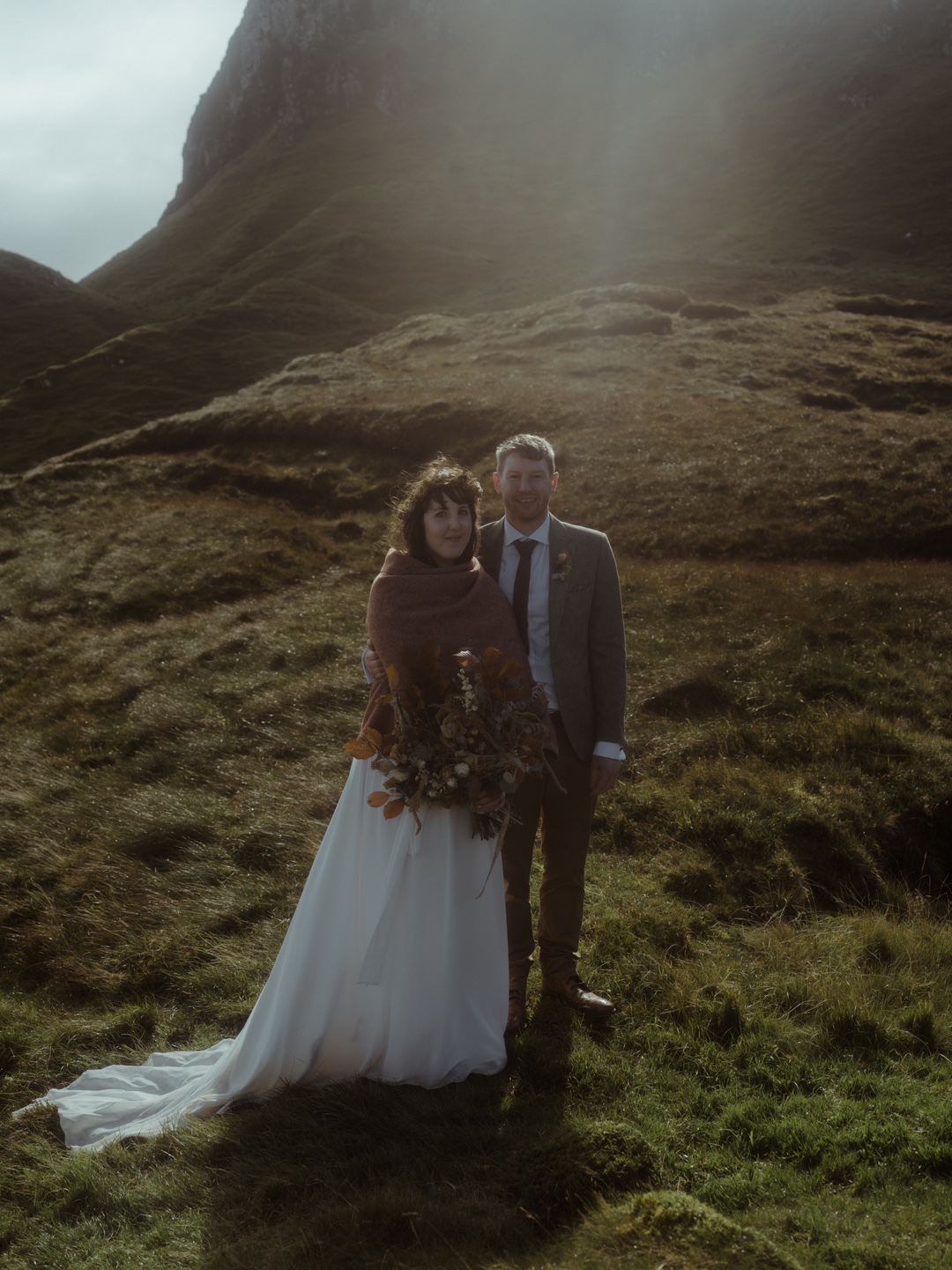 "As we were in the dark about what went into arranging an elopement this was a valuable resource of inspiration and confirmed that we wanted our elopement to be shot by Becy at Belle Art Photography."
Becy's artistic, dramatic and raw photography is a wonderful choice for this rugged location.
If you'd like to find out more about her please visit her listing on the Love My Dress Wedding Directory here. She also filmed the day on Super 8 film.
"Becy's photographs are visually stunning and charged with emotion. Reviewing our gallery was an absolute delight and we had the added excitement of a Super 8 film which turned out beautifully."
"Becy is so friendly and professional, going beyond the role of a typical photographer by helping us structure our day and put our minds at rest."
"Becy kindly chauffeured us around Skye on the day, allowing us to sit back and enjoy the views (and some champagne!)."
"Sarah of Sarah Barton Photography was also present as a second shooter on our day."
"We were also blown away by Sarah's photographs which were included in our main gallery. We were very lucky to have two photographers capturing our day."
"Belle Art Photography created a Super 8 Film of our day. It is such a lovely film to watch and we were able to share this with our friends and family."
"There's something so beautifully sentimental about this film medium."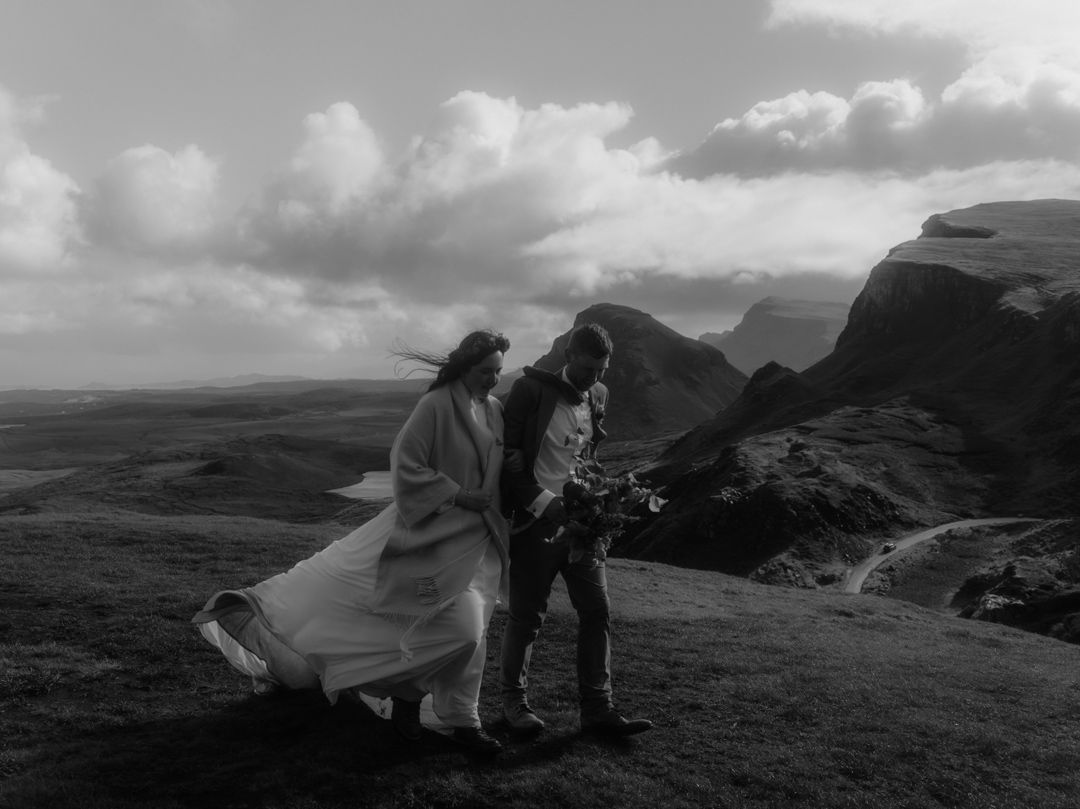 After their marriage, the couple found a sheltered spot to toast their union.
"We purchased non-perishable picnic treats from Fortnum & Mason and perishable foods from a local bakery, MacKenzie's Bakery."
"We tucked into cheese and pickle sandwiches and truffle crisps."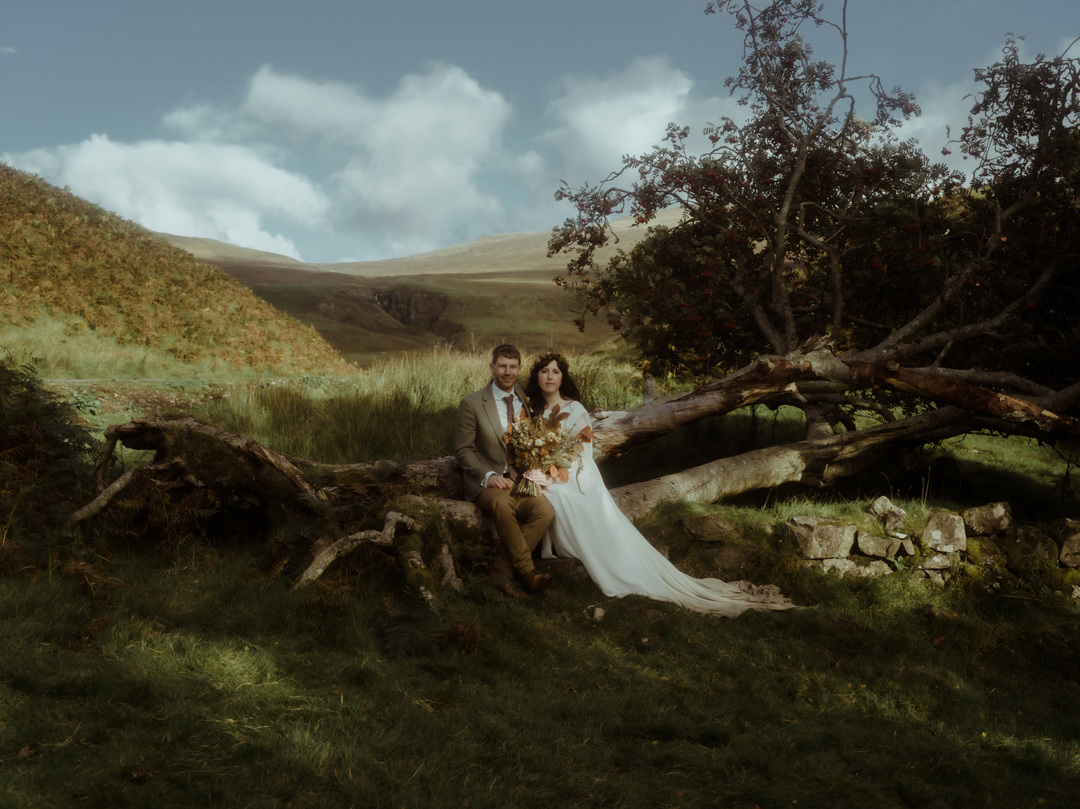 "Our wedding cake was a vegan black forest gateaux decorated with handmade macarons, fresh blackberries and strawberries."
"The cake was made by Laura at the Creatures of Habit Cakery."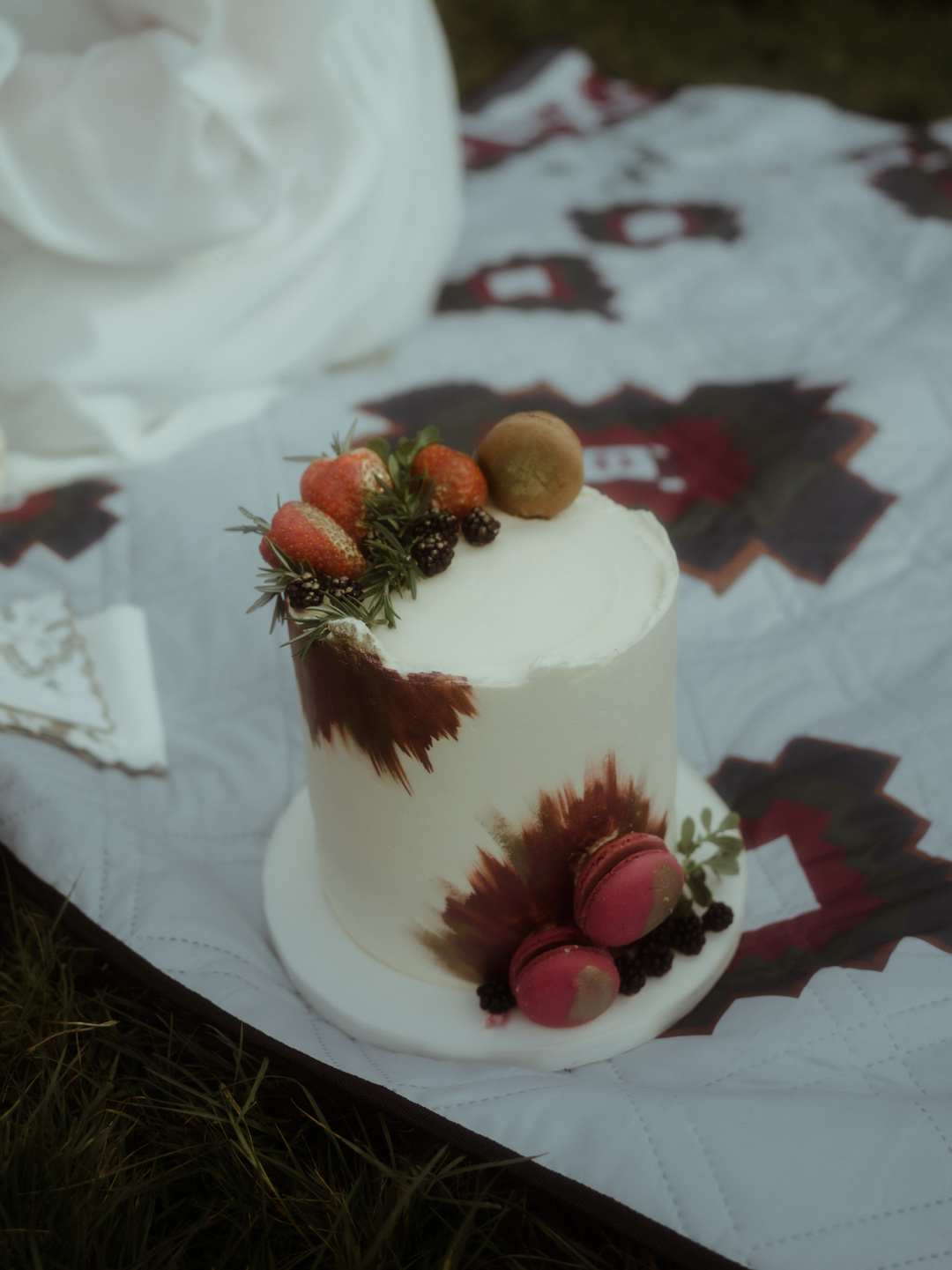 "It was absolutely delicious and we were able to enjoy a slice over the days following our elopement."
"Laura was a pleasure to work with, our cake blew us away as we weren't exactly sure what it would look like prior to the day – we just left the final design in Laura's capable hands."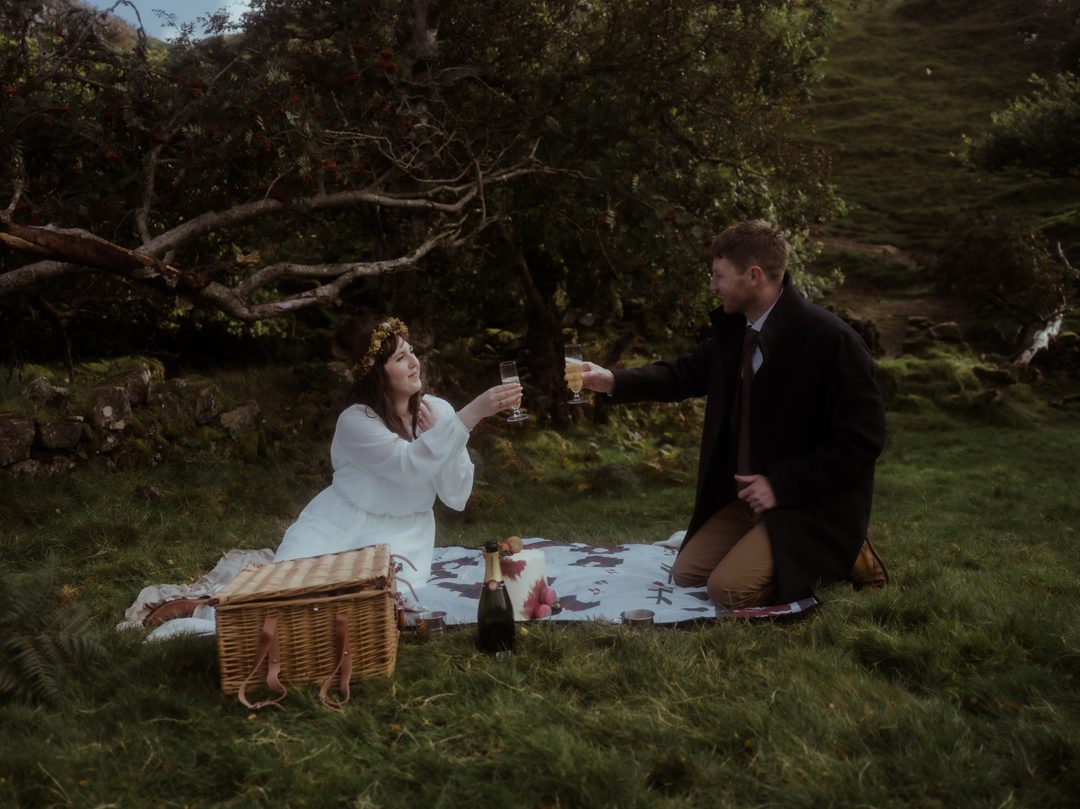 Later in the day, the couple celebrated with a wedding meal at Loch Bay Restaurant, a Michelin-starred seafood restaurant. The bride swapped into her Self Portrait maxi-dress and slipped on Gucci Marmont bee and star loafers.
"We both absolutely loved our wedding meal at Loch Bay. We were treated so well and it was such a novelty going to a restaurant in a wedding dress."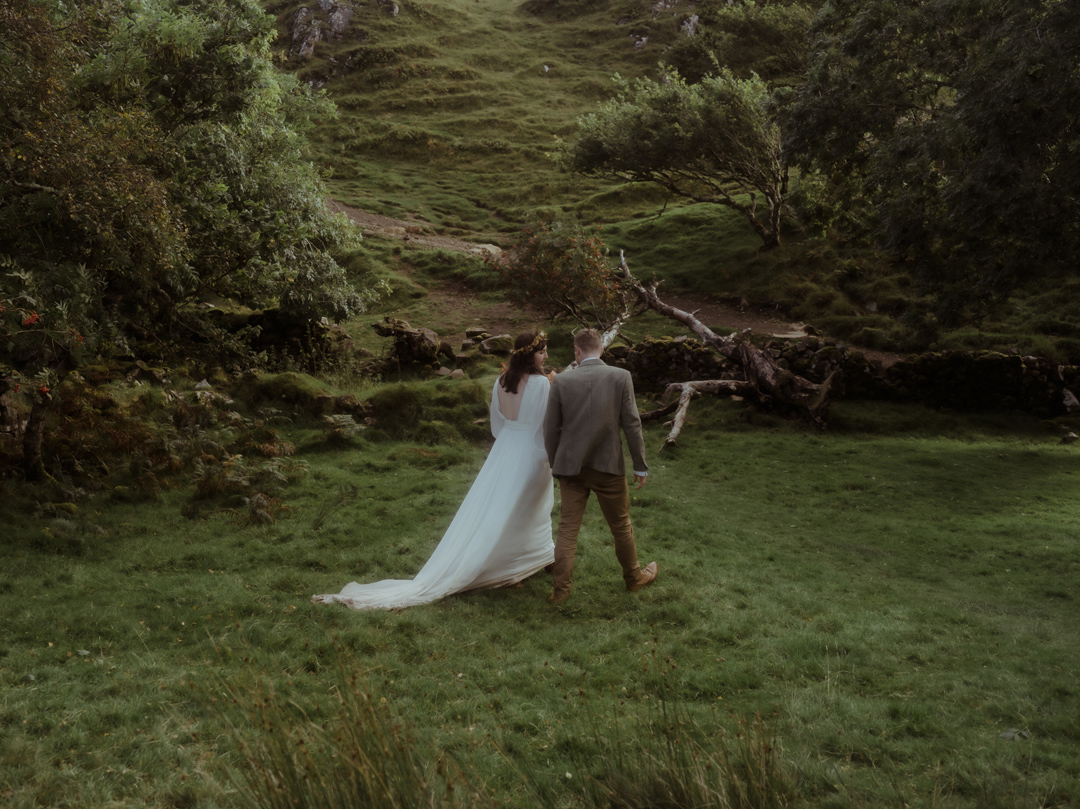 To include their close family in their day, Charlotte and Richard sent them some very special favours.
"We didn't technically provide favours but knew we wanted to include our close family members of the day."
"Our ceremony involved drinking from the quaich; this was the first thing we did as husband and wife during our ceremony. We had toured Torabhaig Distillery a few days before and were able to purchase a bottle to use in our ceremony."
"We bought a number of small hip flasks and filled each one with whisky from the bottle used in the ceremony. These hip flasks were sent to each of our close family members alongside a piece of pottery from Edinbane Pottery purchased during our stay on Skye."
"Our thank you cards were made by Rosemood Atelier. They were a great way to showcase some of our preview photographs."
"The quality of the cards with the added bonus of our cards being proof-read prior to printing was ideal."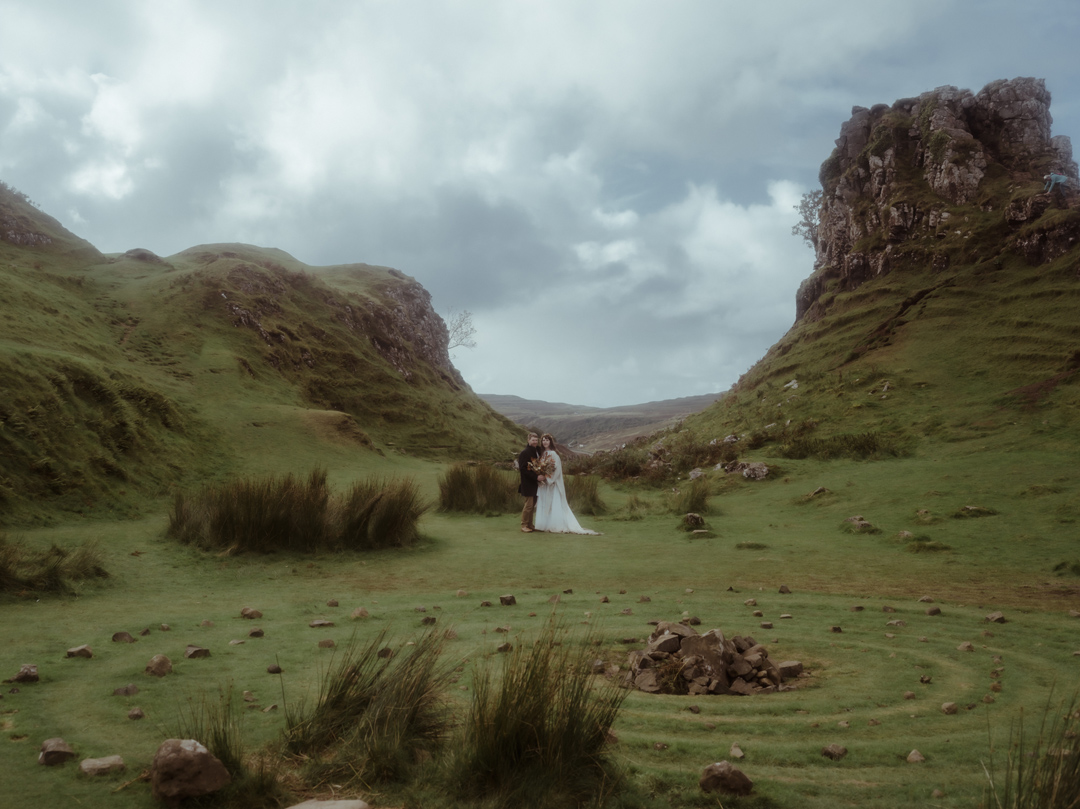 Words of Wedded Wisdom
"If you're thinking of eloping, do it! We had the most magical, laid-back day. We were able to drop traditions that didn't suit us and continue traditions that did."
"As a couple, we're quite reserved and there was so little pressure on both the planning process and on the day itself that we would recommend this to anyone. Our day was at our own pace and all we had to focus on was each other. Everything just fell into place."
If, like me, you've fallen in love with this magical location, you can see more couples who married on the Isle of Skye right here on Love My Dress.
All that is left for me to say is congratulations, Charlotte and Richard, on your beautiful elopement and thank you to you and Belle Art Photography for sharing with us today.
Ele xx