The bride in todays wedding chose wild flowers in a rainbow of hues eart-spattered gown from Eliza Jane Howell, whose gowns are always so divine, she accessorised with wildflowers in a rainbow of colours. Come with me to South London.
Please meet Amy and Riccardo, who both work in finance. They wed on 4 September 2021 at the family church followed by a reception at Belair House, a Georgian manor house in Dulwich, London.
Photography Tash Busta Photography
Amy visited Mirror Mirror London, a much-loved member of our Wedding Directory, to choose her gown.
She selected this subtly vintage-inspired Eliza Jane Howell gown, brought bang up to date with its sweet heart embellishment and 3/4 sleeves.
https://www.lovemydress.net/directory/supplier/mirror-mirror-london-wedding-dress-boutique/
"Mirror Mirror were super-helpful with dress shopping! I had to order my dress when we were in lockdown and they delivered my dress to me to try on at home."
"I usually try and go for something a little different in terms of outfit choices, so I absolutely loved the fact the lace on my dress had hearts on it. As everyone said on the day, it was 'very me'."
The bride added a short veil from Lace & Favour, held in place by a divine crown of wildflowers, created by Stem Flowers. Her shoes were Sophia Webster and her bee necklace was from Alex Monroe.
"We are both from South London and therefore most of our families are in the area so wanted to make everything as local as possible."
"I got married in the church that I was baptised in and then we got Routemaster buses from Traditional Travel to Belair House, a twenty-minute journey away."
"The main theme therefore was local and meaningful! Especially after the 18 months everyone had experienced, we wanted everyone to have a good time together."
"I also love colours and flowers so the flowers were a big theme."
Having grown up in the area, the couple wanted to celebrate the locality and the happiness of having their loved ones together again after the pandemic.
The day was simple and filled with joy, with colour and texture coming from the delicate wildflowers that adorned the space.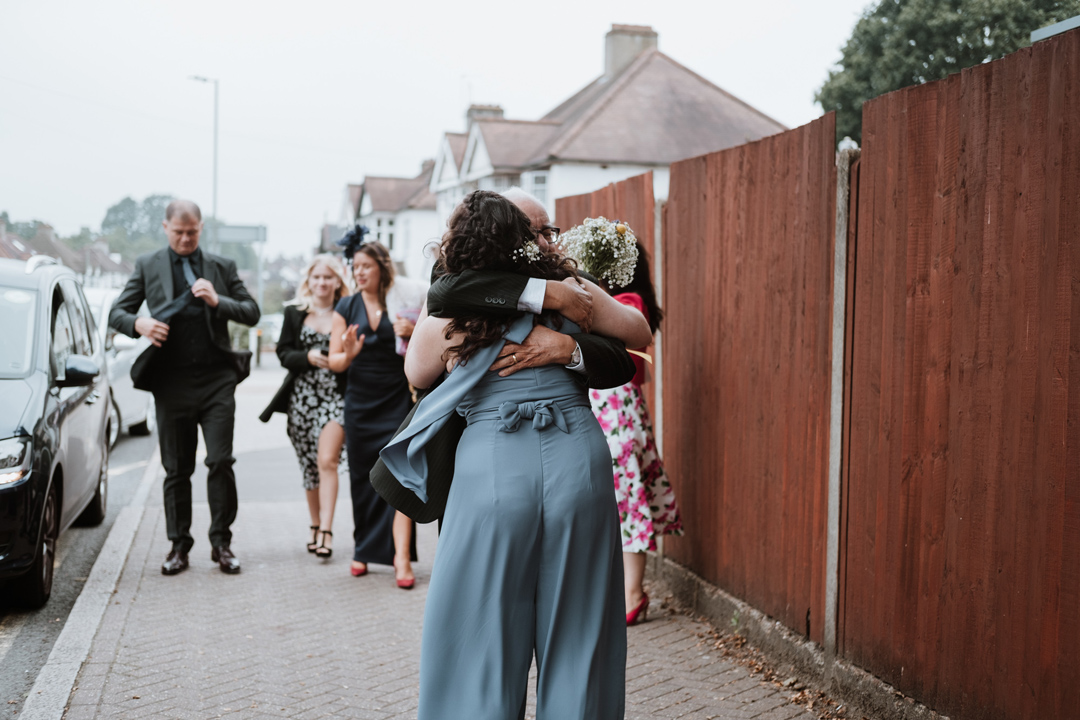 The bridesmaids looked so cool in their soft blue outfits from Rewritten, each choosing a beautifully-draped dress or jumpsuit.
To find out more about this modern bridesmaid brand please visit their Wedding Directory listing right here.
The wedding ceremony was held in the Catholic church in which Amy was baptised, and she entered with her father.
"It was a Catholic church wedding so it had to be an organ! We requested 'Gabriel's Oboe' by Ennio Morricone."
"My wedding band was by Alex Monroe. I love all their jewellery and they made me a custom wedding band."
After being declared husband and wife, the couple were showered in confetti outside the church before they hopped into a classic Fiat 500 from Fiat 500 Hire to make the short drive to Belair House.
"Riding together in the Fiat 500 to Belair House was so much fun."
Although the couple's wedding date was not impacted by Covid, they held off planning many elements until the last-minute.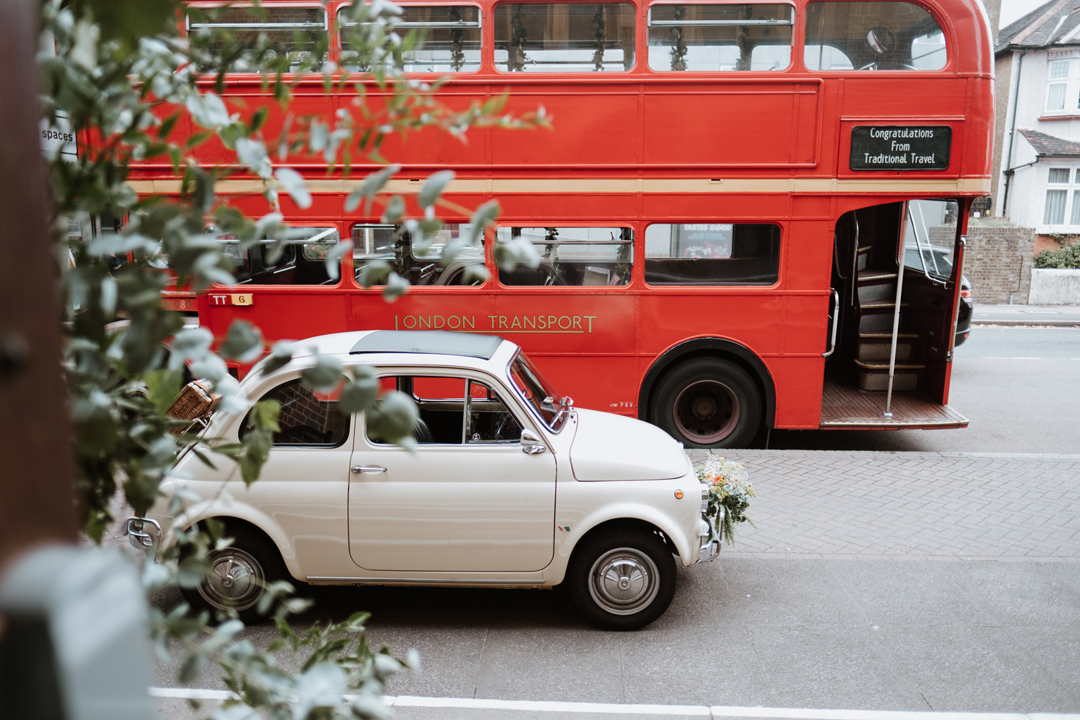 "We didn't plan a lot of things until the last minute because we were unsure whether our wedding was even going ahead for most of our planning process."
"I think the advice I would give is to be kind to your vendors; it's such an uncertain time for their businesses."
Amy and Riccardo met through a Youth Club when they were just fifteen and sixteen, and were together for over 13 years before they got married.
"We were engaged in February 2020, just before the pandemic, Lucky for us, we set 4 September 2021 as our date and didn't have to change it."
Tash Busta Photography brought her beautiful, light-filled style to these wedding photographs; I love the natural, unplanned moments that she captured as well as the delicate flowers.
"I loved how Tash captures moments on the day and that is why I chose her. The candid, special moments make such great photos."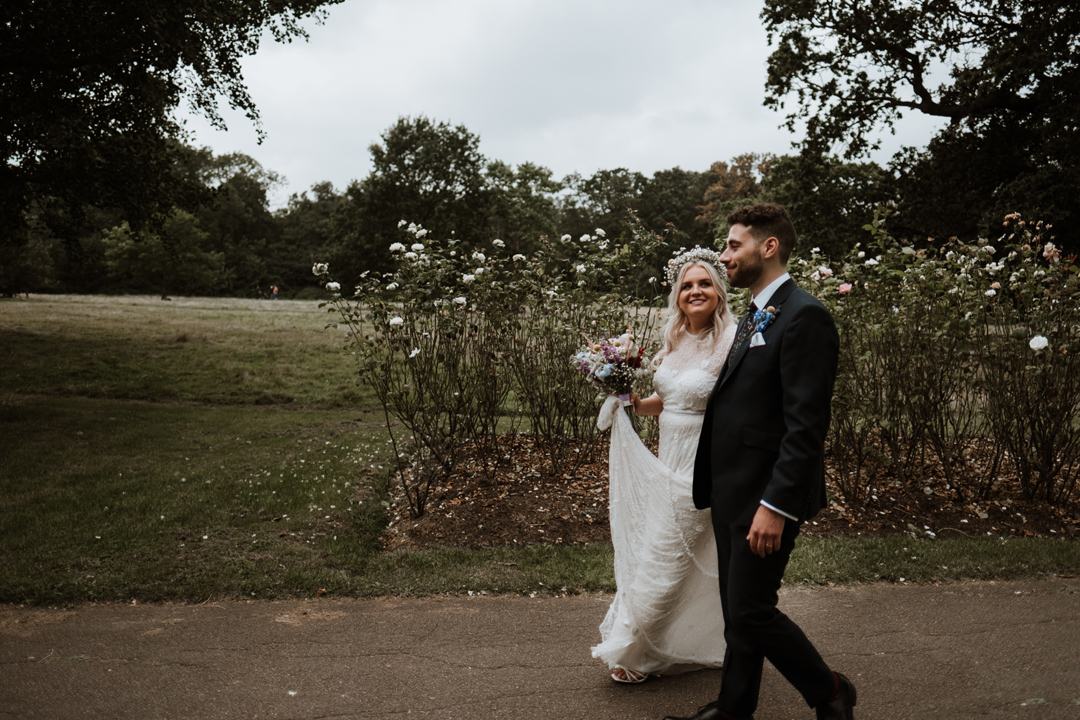 "Tash was amazing with our friends and family, getting lots of pictures and making sure people were in the right places."
"Everyone commented on how she was everywhere taking the shots but not too imposing and always friendly."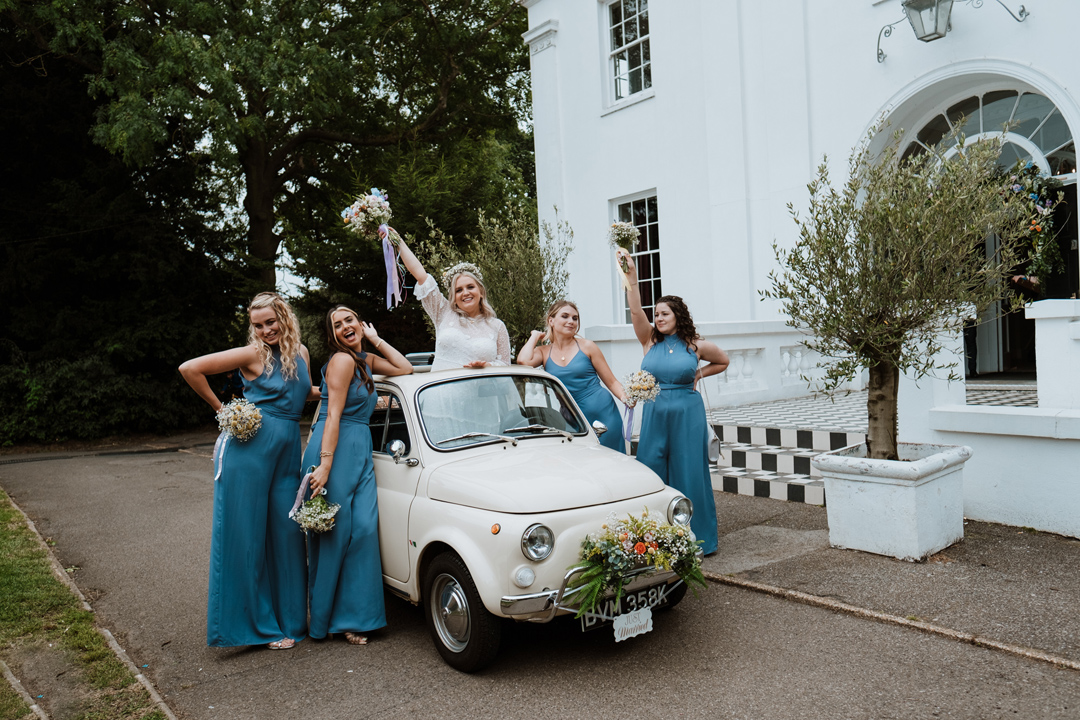 Riccardo looked dapper in his Charles Tyrwhitt and crisp white shirt, worn with a bright buttonhole.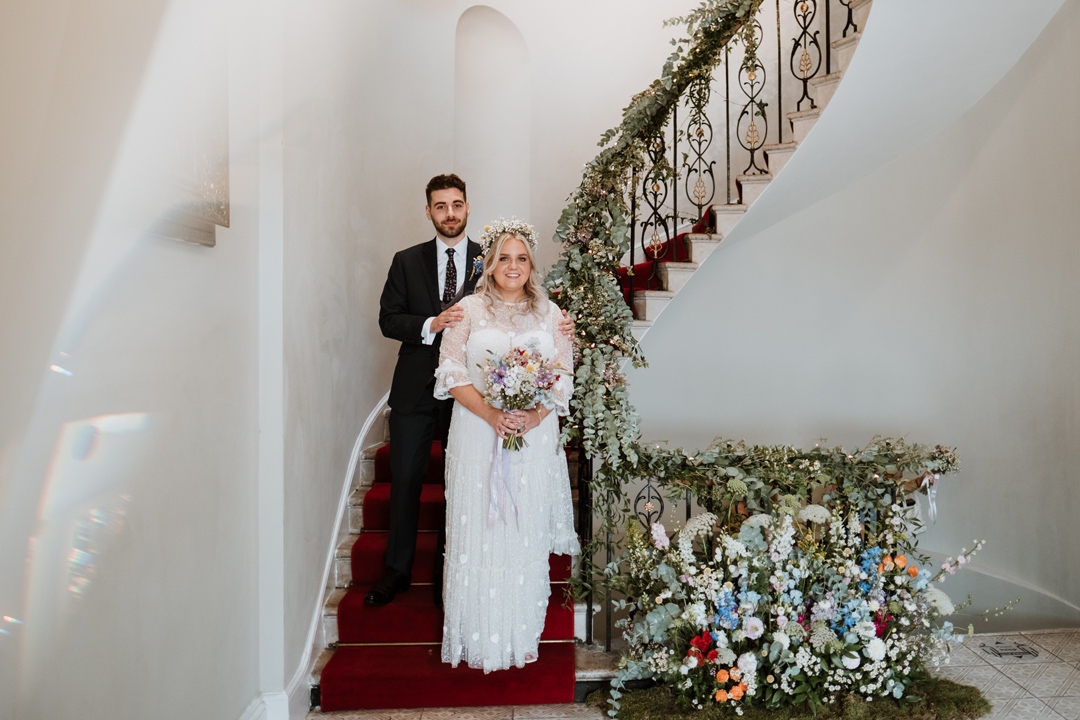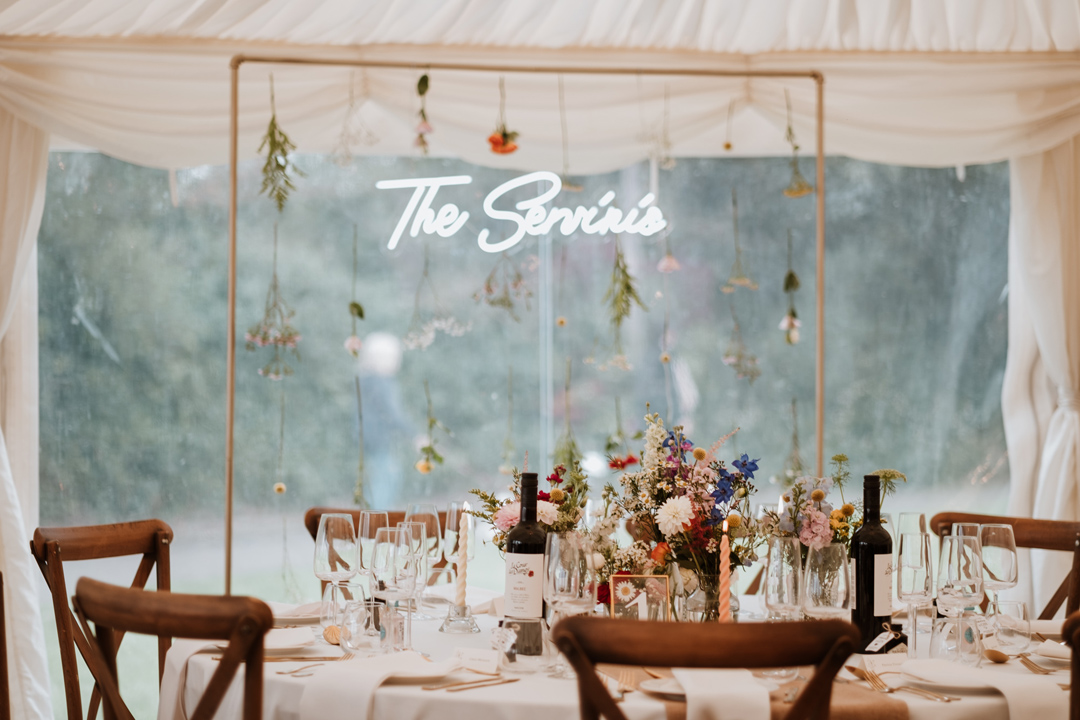 The wedding breakfast was held in an elegant marquee from Cameo Event Hire with some personal additions for décor.
"We ordered a neon light with 'The Servinis' on Etsy and our florist coupled it with a flower curtain to create an amazing back drop."
"I wanted lots of colourful flowers on the day which worked out well. On the briefing notes it said, 'crazy explosion of flowers', which I got."
Belair House provided the wedding food and each guest was given a favour of Hendricks or Malfy Gin.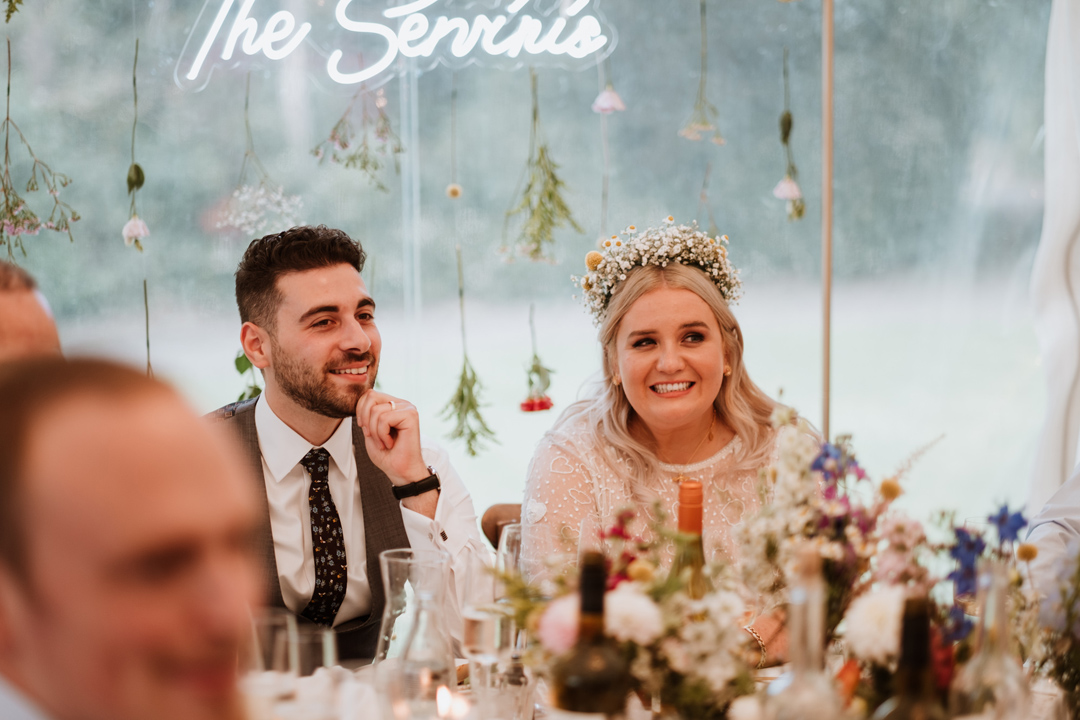 The tiered cake was made by Riccardo's mother and had colourful, floral decorations.
"I decorated it with flowers I had pressed myself. I got some cake inspo from other weddings you had posted on Love My Dress."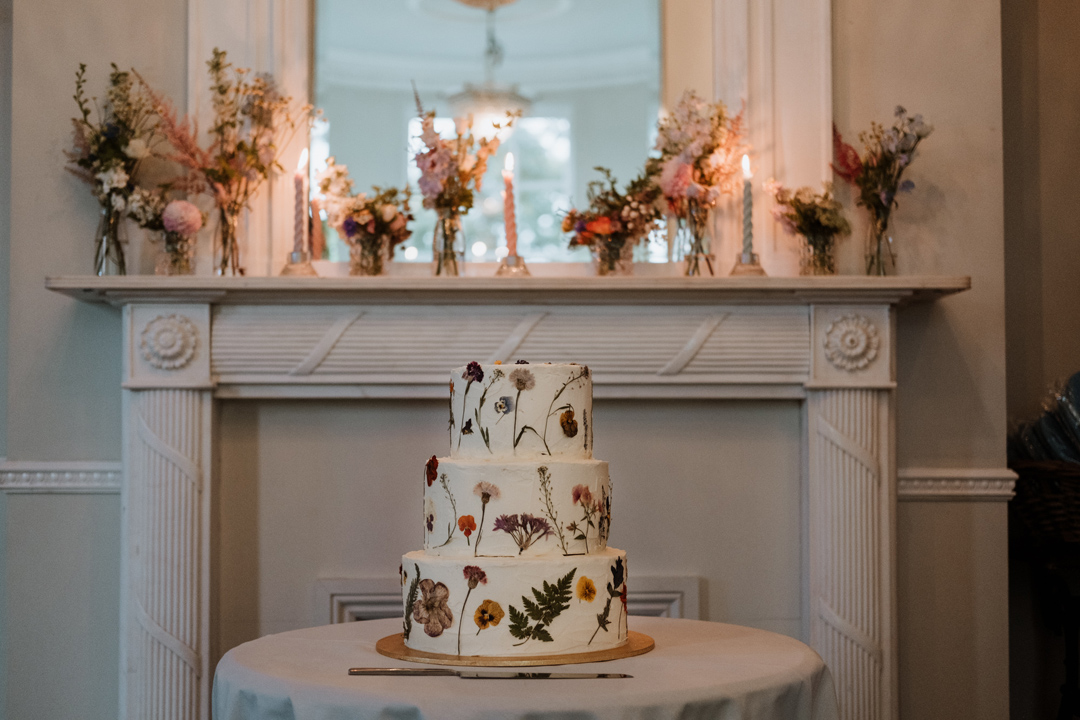 The evening party had music from Entertainment Nation and featured a first dance to Queen's 'You're My Best Friend'. You can find out more about Entertainment Nation and their extensive range of bands and singers on the Wedding Directory here.
"We love Queen and thought the song was quite fitting to us seeing as we have been together so long."
Words of Wedded Wisdom
"Remember it is your day, so prioritise what is important to both of you."
What a sweet day; thank you Amy and Riccardo, and congratulations too! Tash Busta Photography, I've so enjoyed sharing your beautiful work so thank you.
If you, like me, have fallen in love with Amy's gorgeous Eliza Jane Howell gown, you can see more brides wearing her pieces on Love My Dress here.
Ele xx