Today's celebration is a delightful, high summer wedding that was a true tribute to the beautiful English countryside.
On 14 August 2021, digital marketing executive Rebecca wed Paz, a finance manager, in a village church blessing followed by a summer garden reception in an Earth Village Events stretch tent at The Rectory Hotel, Crudwell, Wiltshire. The day was simple, elegant and just a little bit stylish, with plentiful full blown flowers to complement the inherent beauty of The Rectory. We are completely thrilled that the couple also chose Love My Dress recommended photographers, Taylor-Hughes Photography, to capture their day.
You san see more brides wearing The Own Studio here on Love My Dress.
"We wanted a venue that felt small and intimate but still incredibly special – we wanted the feeling of a summer garden wedding at home."
"We also wanted a venue that wasn't necessarily a dedicated 'wedding venue' as we didn't want to be one of three weddings a week."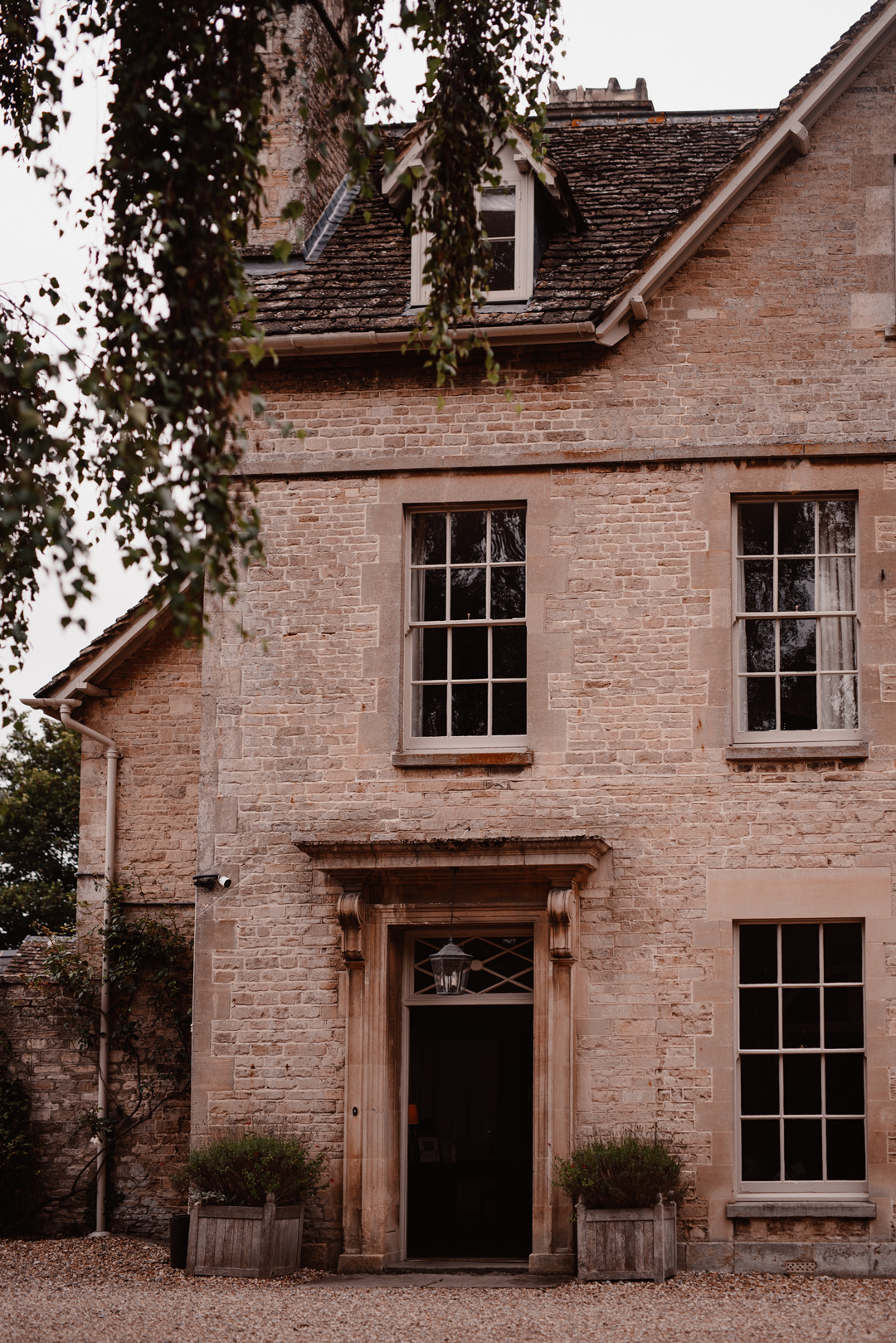 "We fell in love with The Rectory as soon as we saw it; it was incredibly us and just so relaxed and beautiful. It's also close to both of our family homes – my parents are in Oxfordshire and Paz's mum is in Wiltshire."
"After a year of being predominantly in London due to lockdowns, we knew we wanted to get away from the city to get married."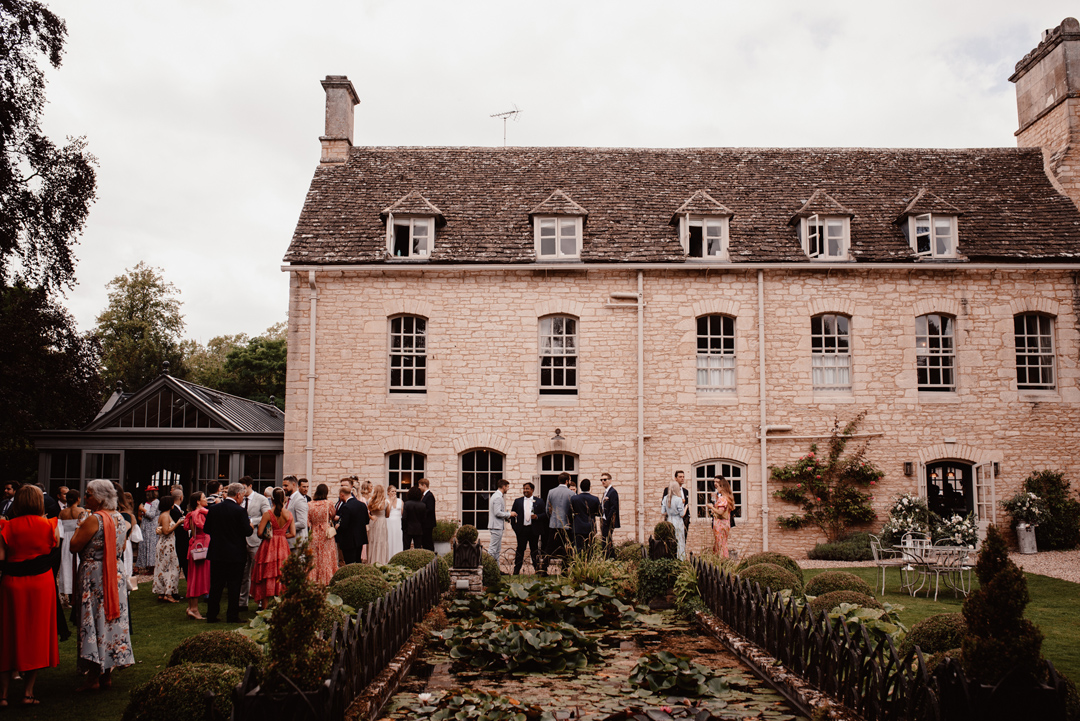 "We're both fairly low-maintenance people and we didn't want anything that felt too over the top or anything that required months and months of stressful planning."
"When looking for inspiration, I always found myself drawn to the simplicity of Australian weddings and I wanted to combine that with the traditional feel of an English garden wedding – something that felt simple but elegant and just a little bit stylish."
Perfume was the bride's usual scent, Philosykos by Diptyque and her hair and make-up were styled by Inga from Elevate Bridal.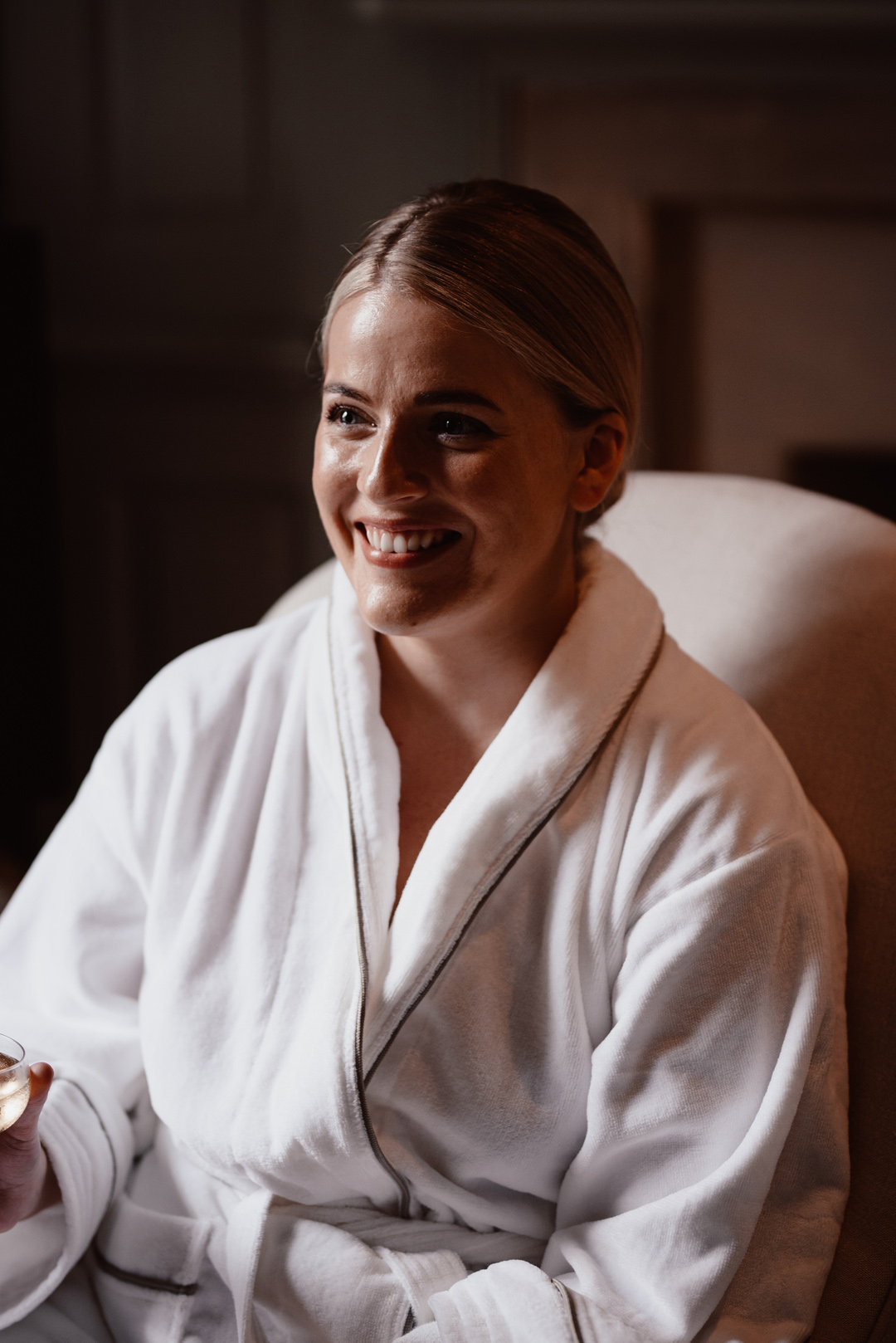 The bride wore an elegant, minimalist column dress with shimmering sequins from The OWN Studio in East London.
"I couldn't have asked for a better experience. The studio is small but perfect and felt like a really stylish boutique experience with none of the stuffiness."
"The bridal collection is fairly small – exactly what I wanted as I really didn't want to feel overwhelmed, which is so easy to do when wedding dress shopping."
"The styles were all elegant, simple and modern but still felt classic. The price point was perfect too, as again I didn't want to spend thousands and thousands of pounds on a dress."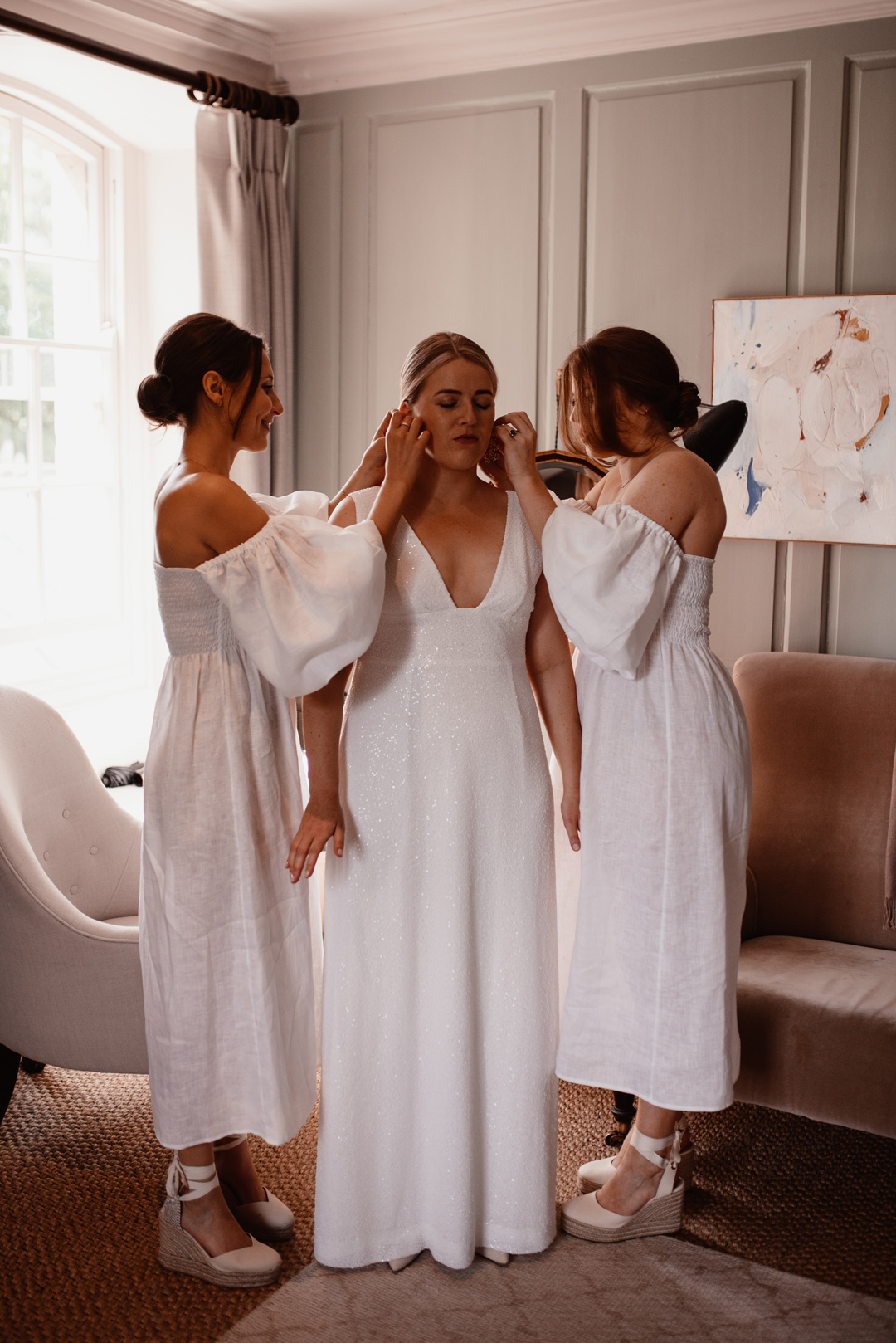 Rebecca added a short, custom-made veil from Clover London with sling-back shoes covered with off-white pearls from Sania d'Mina.
"I'd had my eye on them since getting engaged – my feet didn't hurt once!"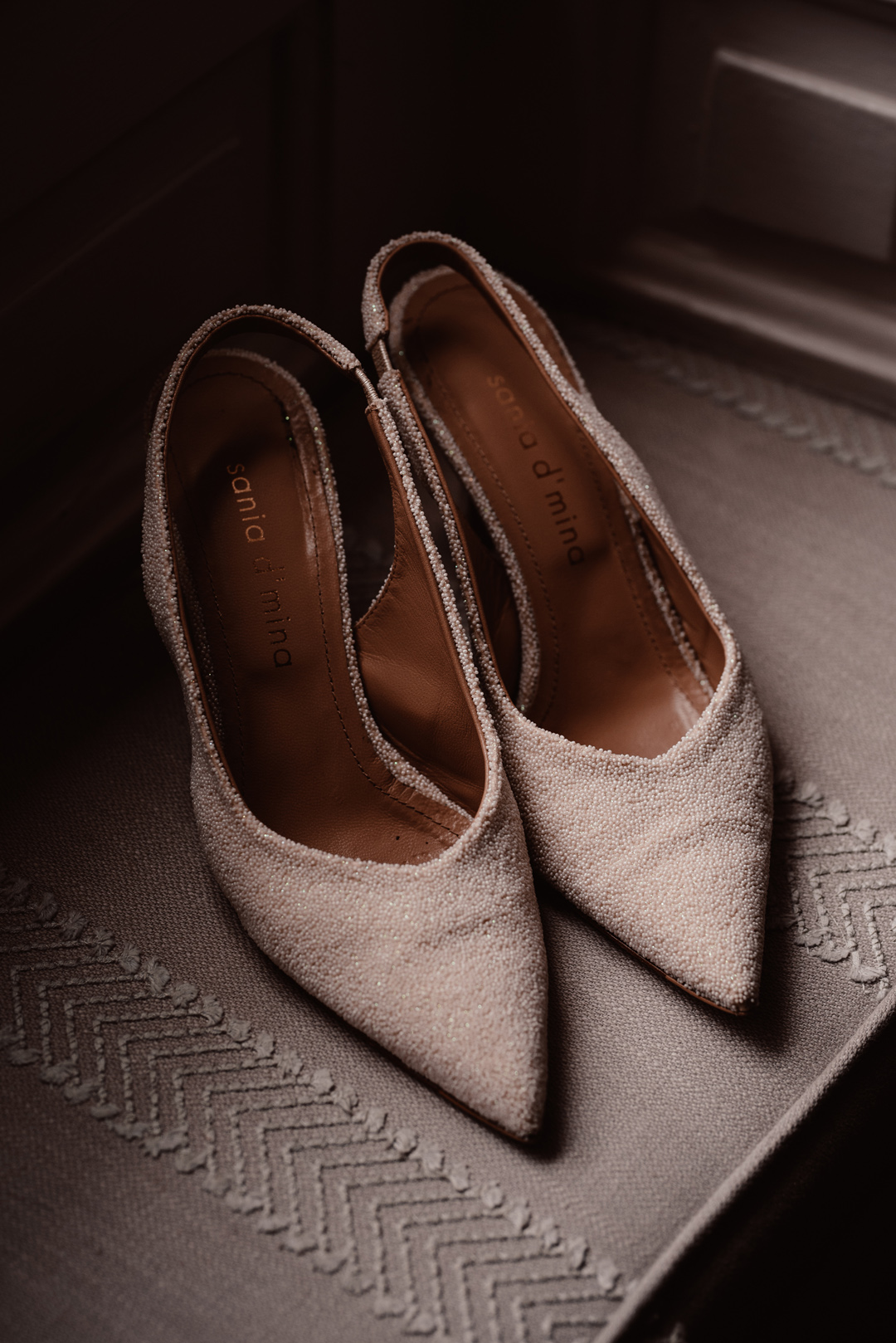 "My earrings were from 14 / Quatorze – delicate gold hoops dotted with tiny freshwater pearls, inspired by bouquets of gypsophila."
"I never usually wear earrings but I wore my hair up and as my dress was fairly simple I think the outfit needed them."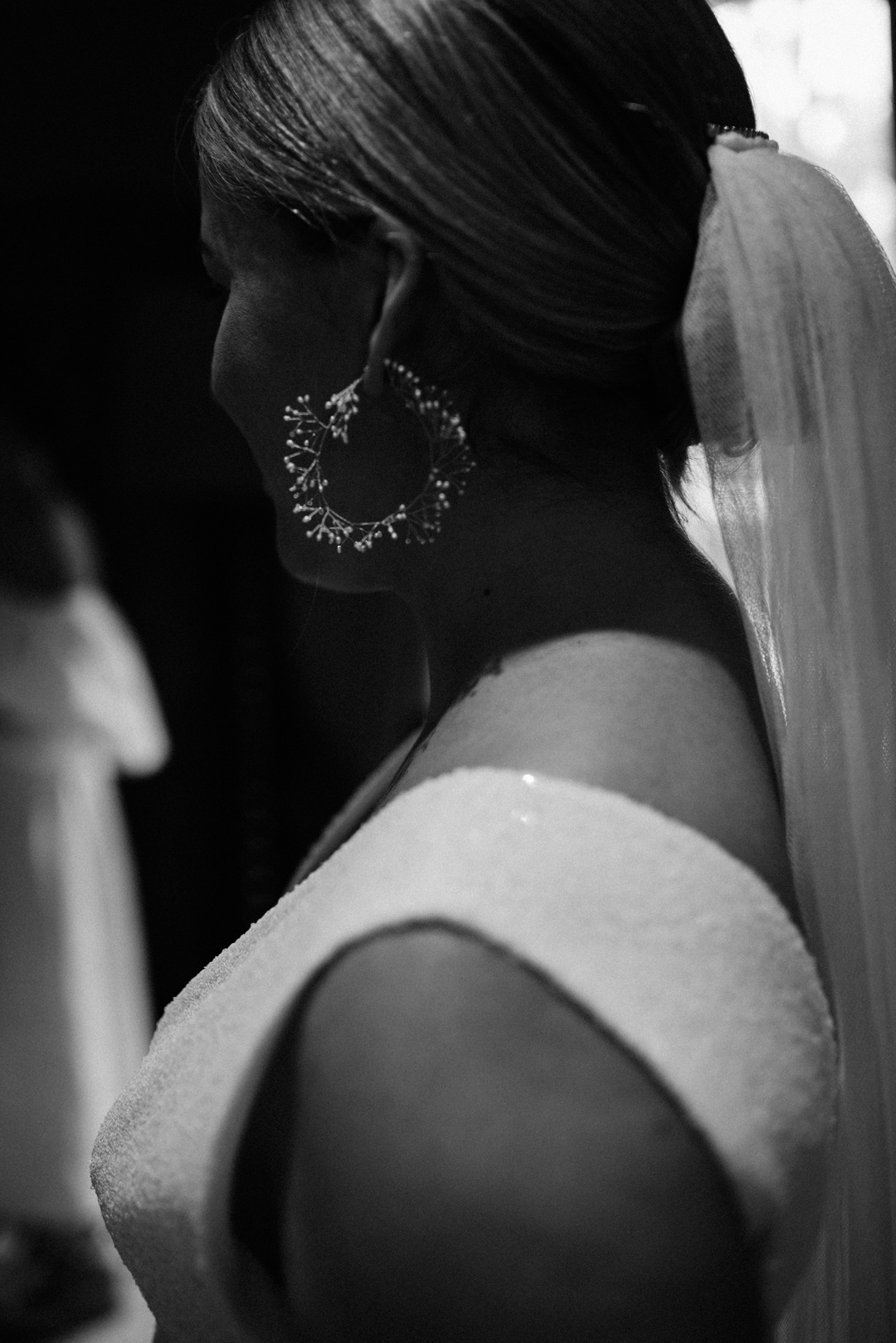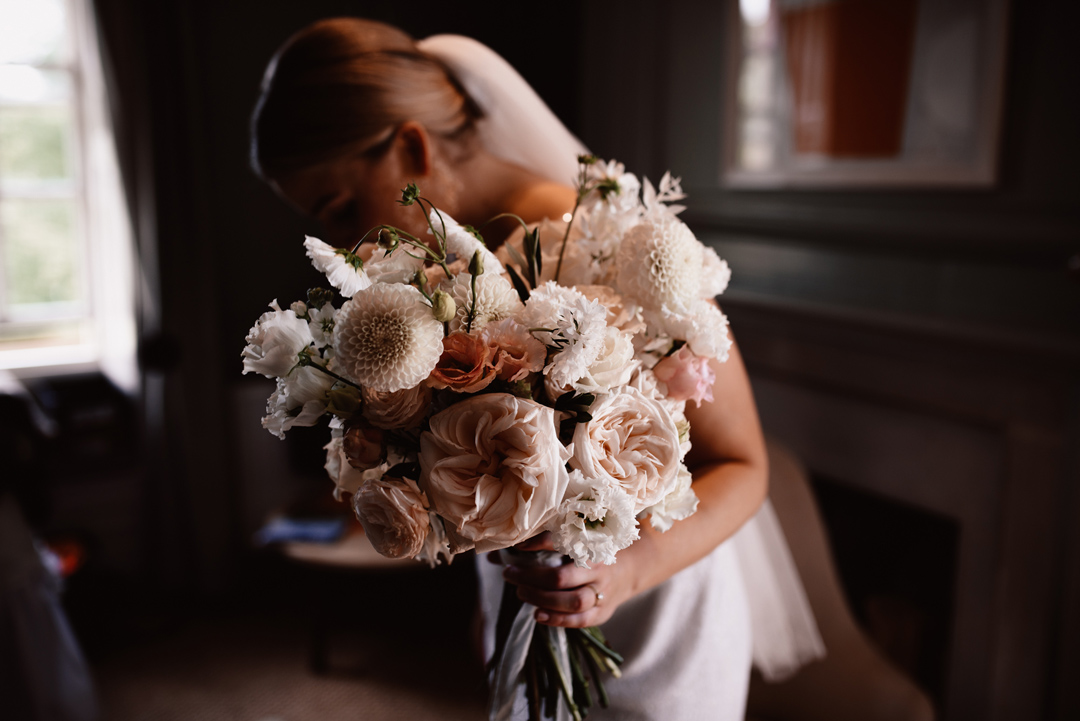 I love the bridesmaids look. They wore Sleeper Atlanta dresses in white linen with ribboned Castañer espadrille wedges.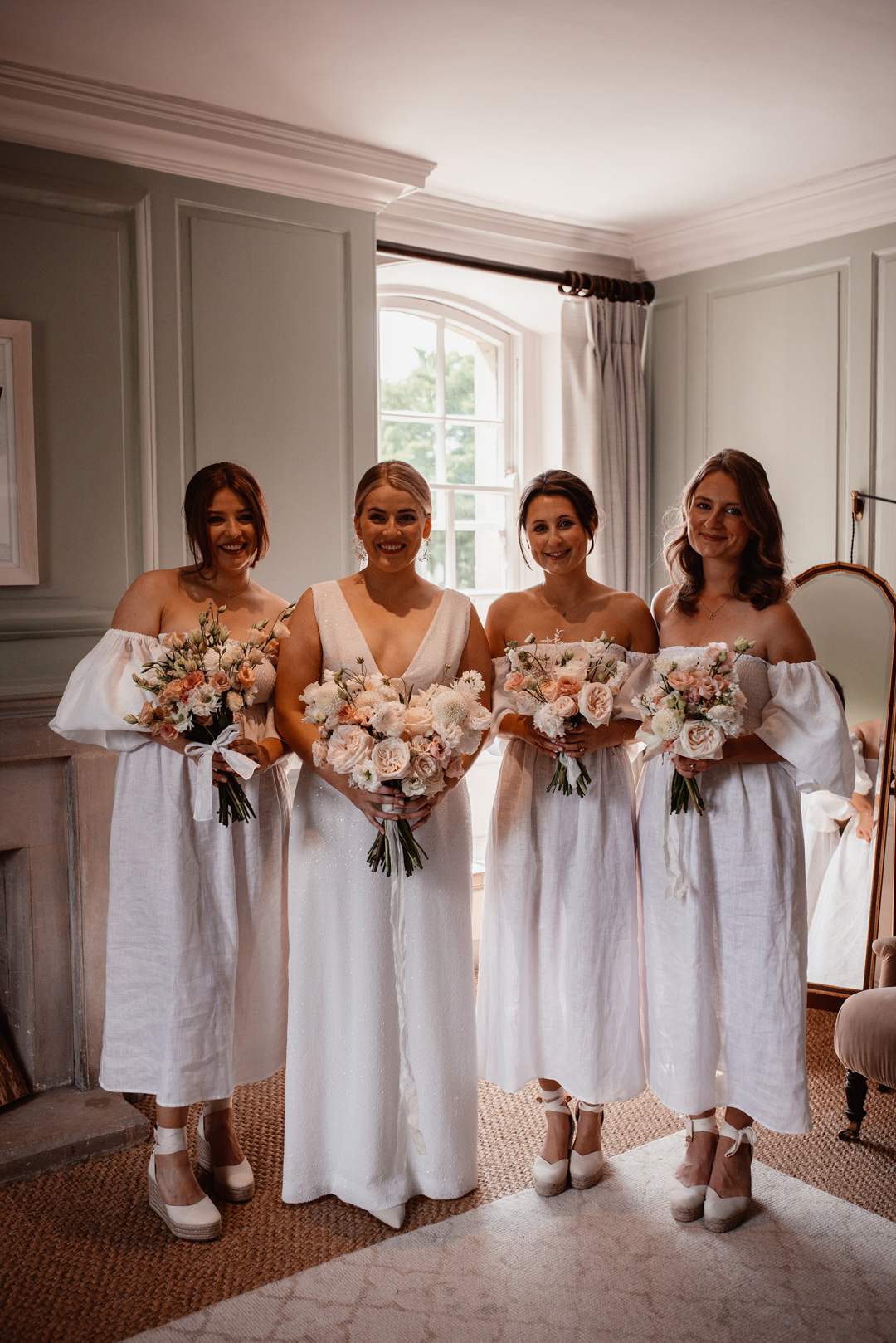 "Jess and Rosie, The OWN Studio founders, were so helpful, friendly and not at all intimidating."
"I always knew I wanted to wear a dress that was simple and classic, but with a twist. I wanted to feel like myself on my wedding day."
"It was just so easy to wear and it just grazed the floor – I didn't want anything that dragged."
"The dress was a simple column style covered with tiny white sequins. It felt really, really special and different from anything I'd seen."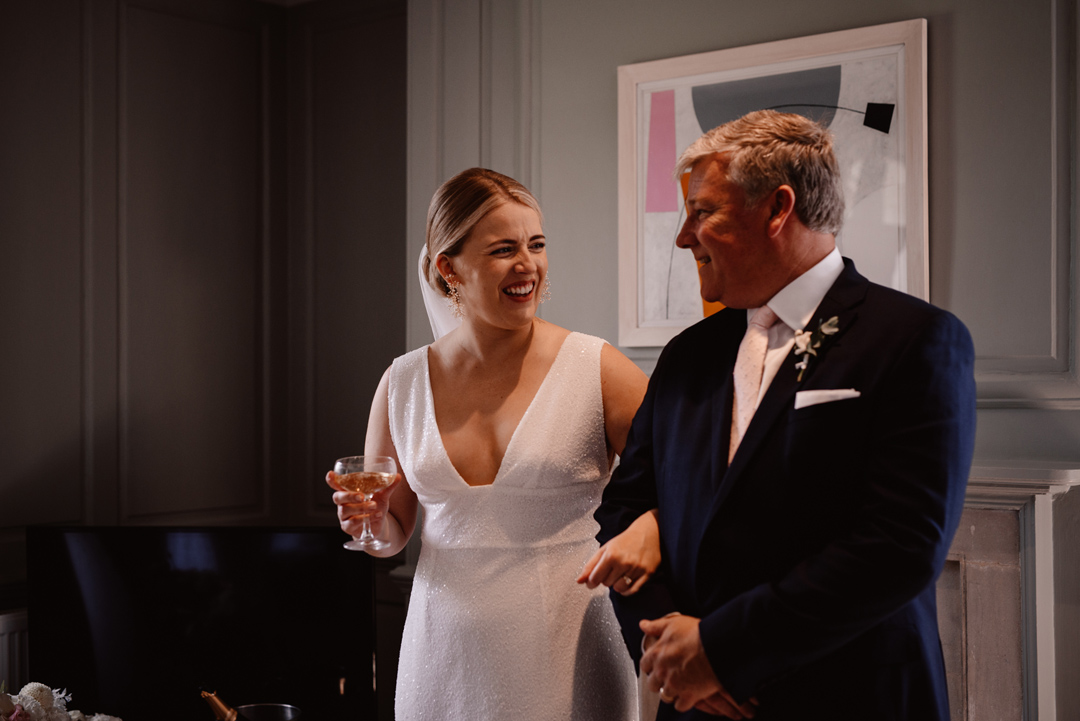 Paz wore a custom-fitted, dark navy suit from Suit Supply with shoes from Church's and a polka dot tie.
Paz and Rebecca first came across each other during their school days, getting together during university.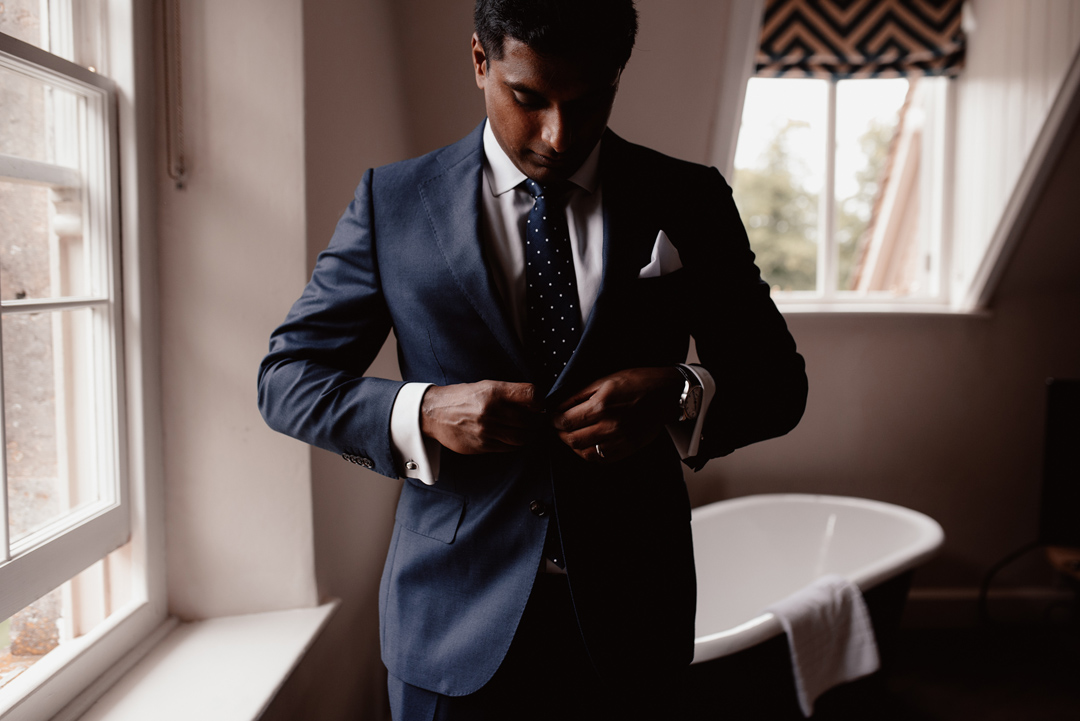 "We both went to single sex schools in Oxfordshire then I went to Birmingham University, which Paz attended after his gap year."
"We got in touch because we had a few mutual friends and it kind of just went from there. We've been together since and got engaged in Byron Bay, Australia in November 2019."
We had a bottle of wine before sunset at Wategos Beach when Paz got down on one knee on the sand. It was a complete surprise as I'd always said I didn't want to get engaged on holiday but it was perfect and so memorable."
"Paz wasn't nervous at all and he said he always knew I'd say yes. We then went for dinner at Raes on Wategos."
"We already can't wait to go back; it will always hold such a special space in our hearts."
The couple had always planned 14 August 2021 as their wedding date so didn't have to change anything due to the Covid pandemic.
"We feel extremely lucky. Strict rules ended about a month or so before our wedding so the only 'rule' we had in place was from the church – everyone except myself and Paz had to wear a face covering."
"We started planning our wedding exactly about the time Covid hit, thinking (as I'm sure we all did) that it would be over by summer."
"We booked our venue, photographer and band about a year in advance, got our save the dates and then as things got steadily more bleak with Covid we didn't book any more suppliers as we didn't want to commit to too much if we had to postpone or cancel."
"We ended up doing a lot last-minute in the last couple of months before the wedding – not something I'd usually recommend as it did prove slightly stressful."
"Prior to the wedding, we asked guests to do a lateral flow test."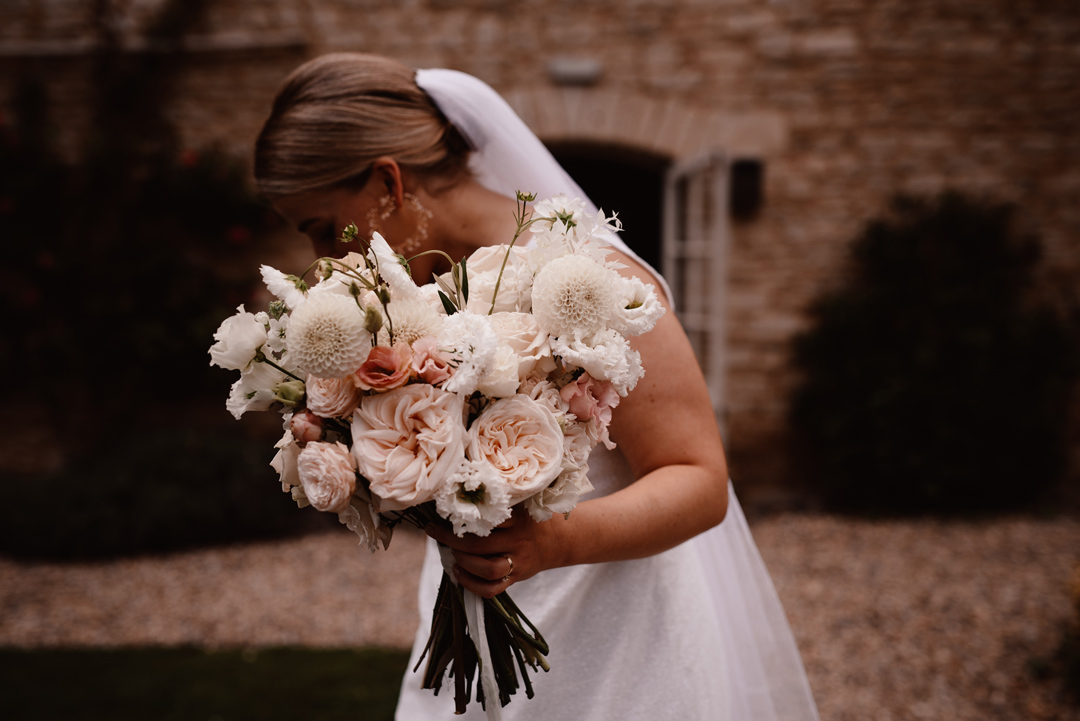 The village church was just steps away from The Rectory so the bride walked there and down the aisle with her father to 'Jesu, Joy of Man's Desiring' by Bach.
Paz family is Hindu so the couple were legally married two days before the church wedding in Oxford Registry Office with only close family in attendance.
"We kept the service short and sweet, and exchanged our rings in front of family."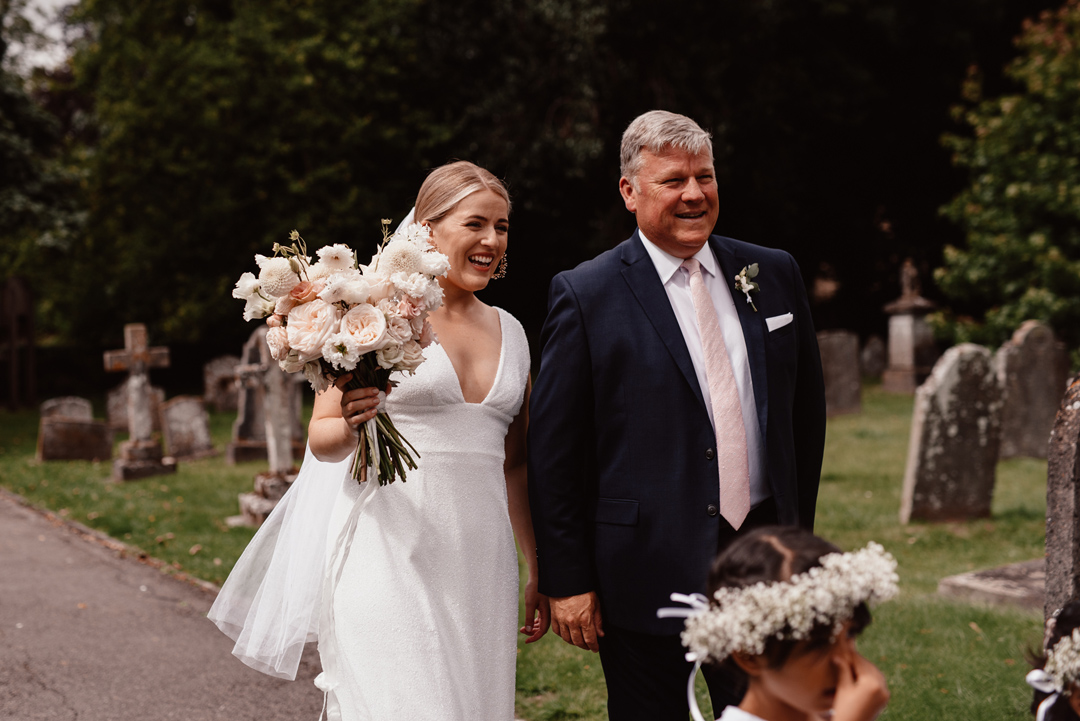 "It was actually on this day that I got the most emotional, but I loved having this moment with just our family around us."
"Our wedding bands were from a jeweller in The Brighton Lanes (bought together on a weekend away). My engagement ring was custom-made in Dubai, when Paz was away with work."
"We had lunch in Gee's in Oxford after the ceremony and Paz and I stayed at the Double Red Duke in Clanfield that evening."
"We now feel like we have two special days to celebrate – the Wednesday was perfect, and it was lovely to have a day just with our parents and siblings."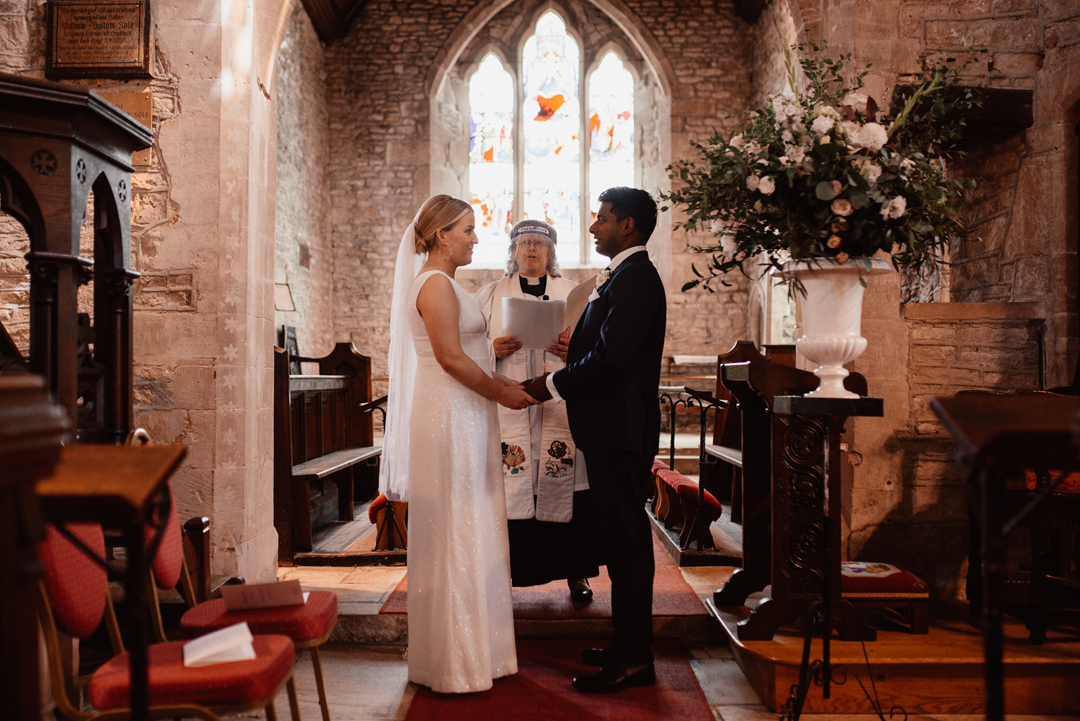 "Reverend Sarah Wyman officiated our blessing ceremony. At the start of the ceremony, Paz and I both lit a candle each for those who couldn't be with us – my grandfathers and Paz's dad, all of whom are passed away. It was a special touch."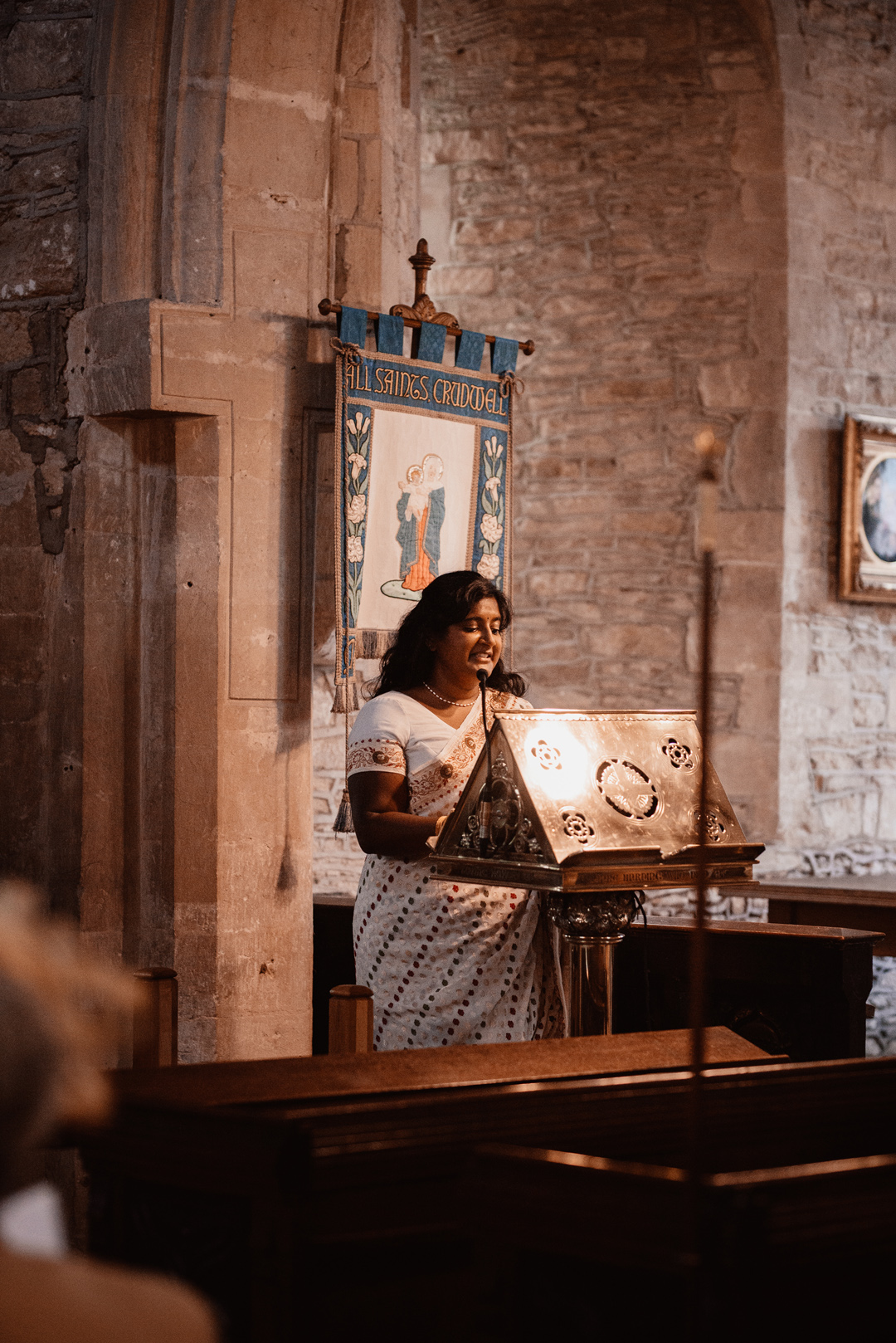 "We kept our vows short and sweet and had two readings. My sister read the classic '1 Corinthians, Chapter 13: 1 – 8' and Paz's sister read a poem by Wendy Cope, 'After The Lunch'."
"It's one of my favourite poems and feels so full of love."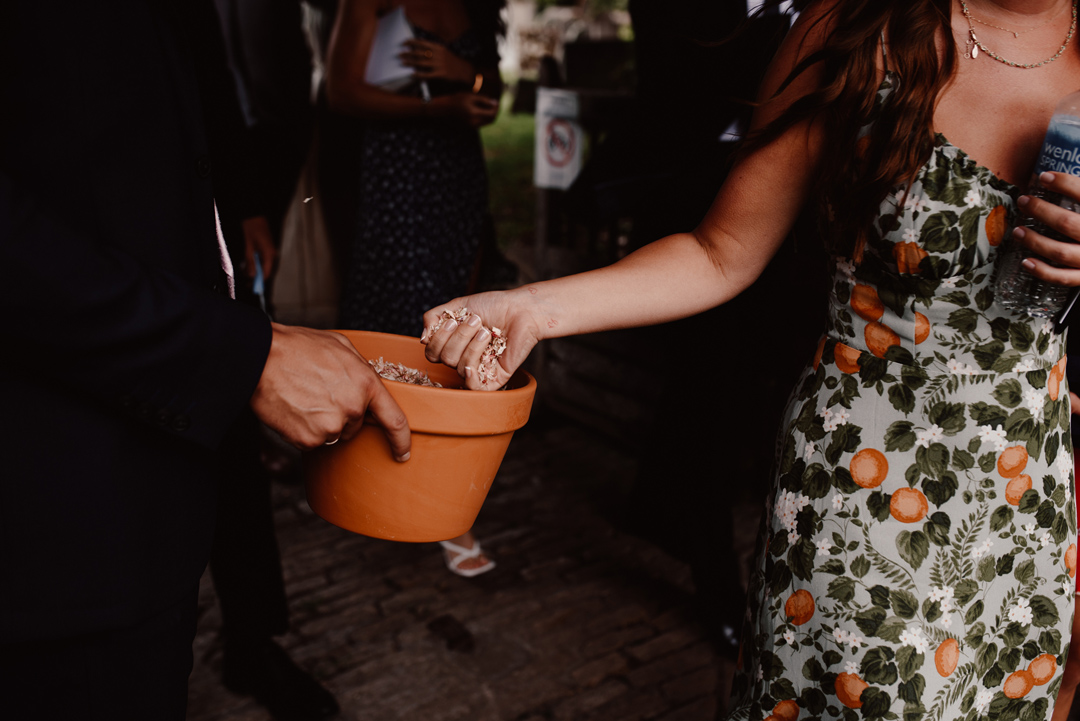 The flowergirls wore cute, white, pintuck dresses from Amelia Brennan.
The wedding breakfast was held in the open-sided, stretch tent, with tables dressed with plenty of seasonal English flowers by florist Hibiscus & Hodge.
"We wanted a florist that was local to where we were getting married."
"We didn't have loads of flowers or any big installations – just bouquets, milk bottles and a couple of centrepieces for the dining tables, and three displays for the church."
"We wanted English flowers in a pale pink and white palette and like everything else, nothing too fussy. Eleanor did a fantastic job."
"The Rectory is such a beautiful venue that luckily we didn't need to do much in terms of décor. It was the middle of summer so everything was in bloom and looked perfect."
"We had white cotton napkins and table cloths, pink candles in glass candlestick holders and, of course, our flowers in small milk bottles."
"Every person at the wedding had a scratch card beside their place card which went down really well. It was my mum's idea and I think we had a couple of (small!) winners."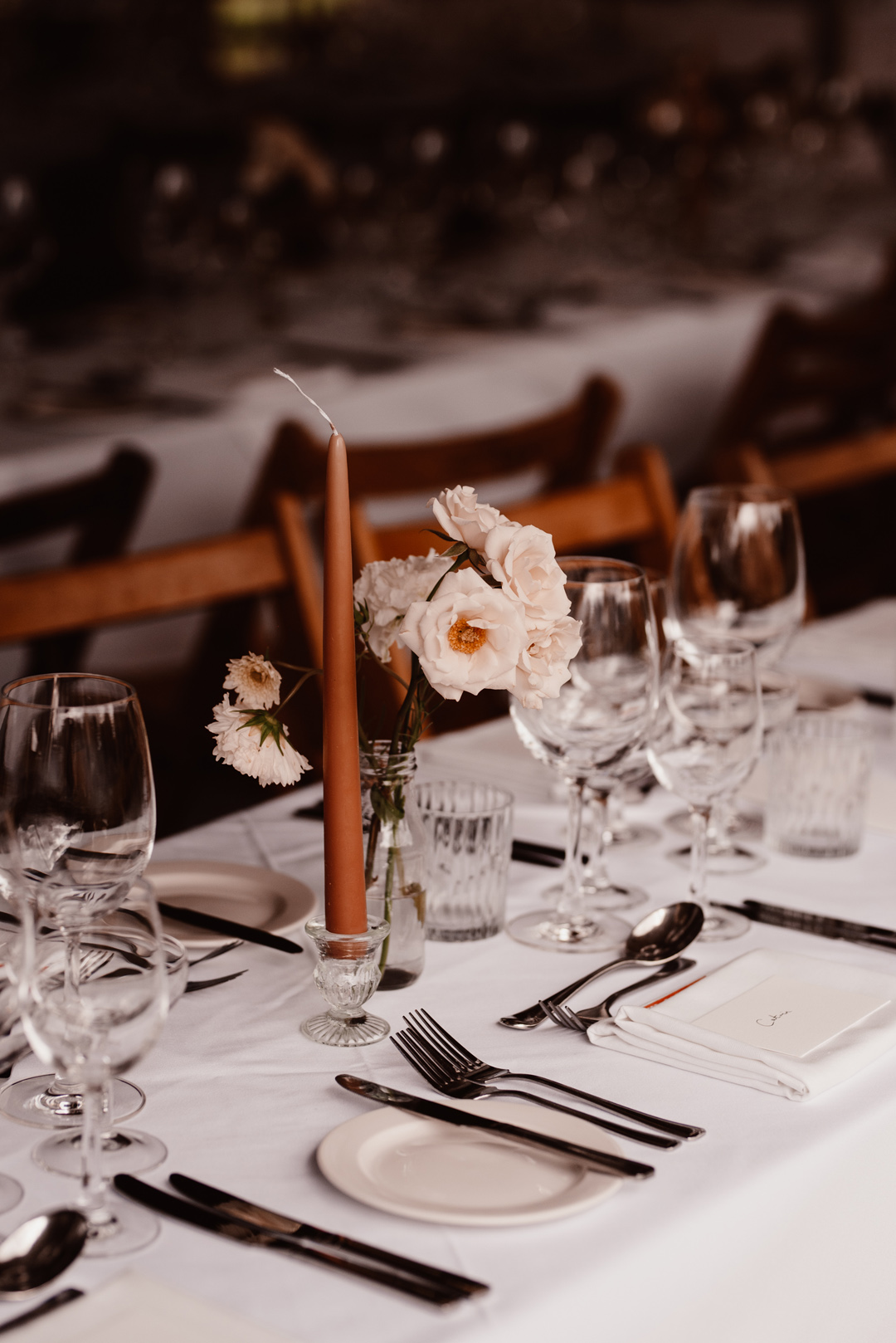 Taylor-Hughes Photography, who we are so privileged to support on the Love My Dress Wedding Directory here, were one of the first supplied booked by the couple.
Their modern, stylist photography is just glorious.
"We booked Jade and Jack of Taylor-Hughes Photography almost immediately after booking our venue – I'd had my eye on them since getting engaged."
"Photography was very important to us and we loved Jack and Jade's natural and effortless photography style and their attention to detail."
They were also completely invaluable in the weeks running up to the wedding and pulled together a timetable of the day for us which helped us with so many aspects of the day that weren't even photography related."
We couldn't recommend them enough."
The canapés and wedding dinner were supplied by The Rectory Hotel.
"It was fantastic, especially the canapés – we had a truffle cheese toastie that was to die for."
"A lot of guests commented that it was some of the best wedding food they'd had. Paz is Sri Lankan so our evening food was Sri Lankan 'short eats' – mutton rolls, fish cutlets (similar to a spicy fishcake) and vegetable samosas, all brought from London by Paz's sister. They couldn't have gone down better!"
After the blessing, the newly-weds and their guests walked over to the lawn in front of The Rectory for a relaxed drinks reception.
"I loved the reception on the lawn straight after the ceremony. Seeing family and friends for the first time was extremely special."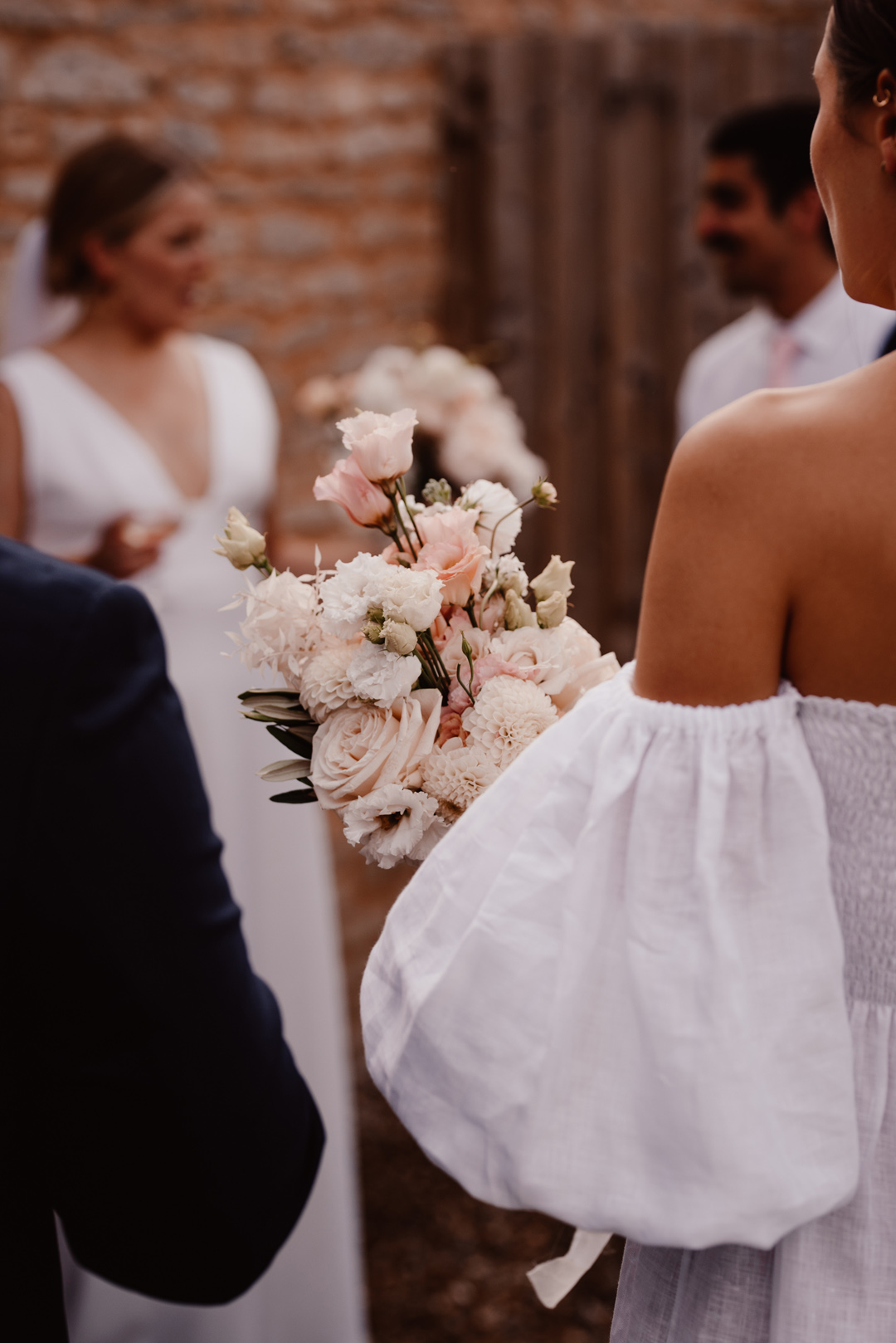 "Everyone looked beautiful, the sun was shining and everyone had a drink in their hand. It was just the best kind of party."
"Strawberry Sorbet did our letterpress save the dates, invitations and menus. A designer from work kindly did the order of service and table plan (very last minute!)."
"Place cards were handwritten on paper by Strawberry Sorbet."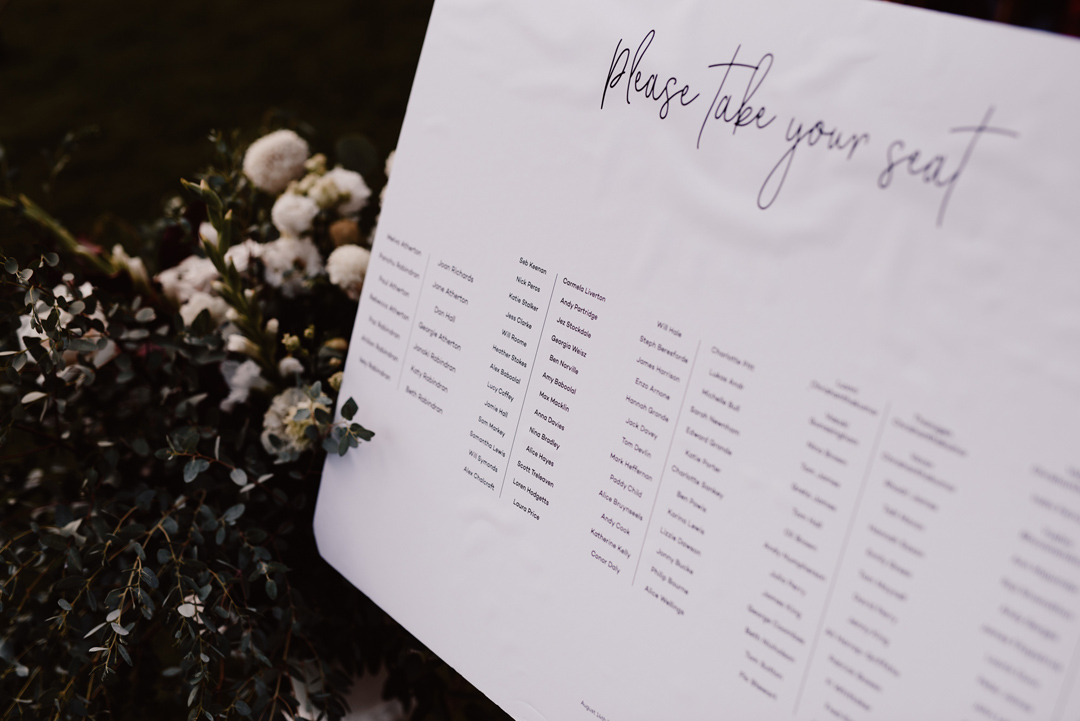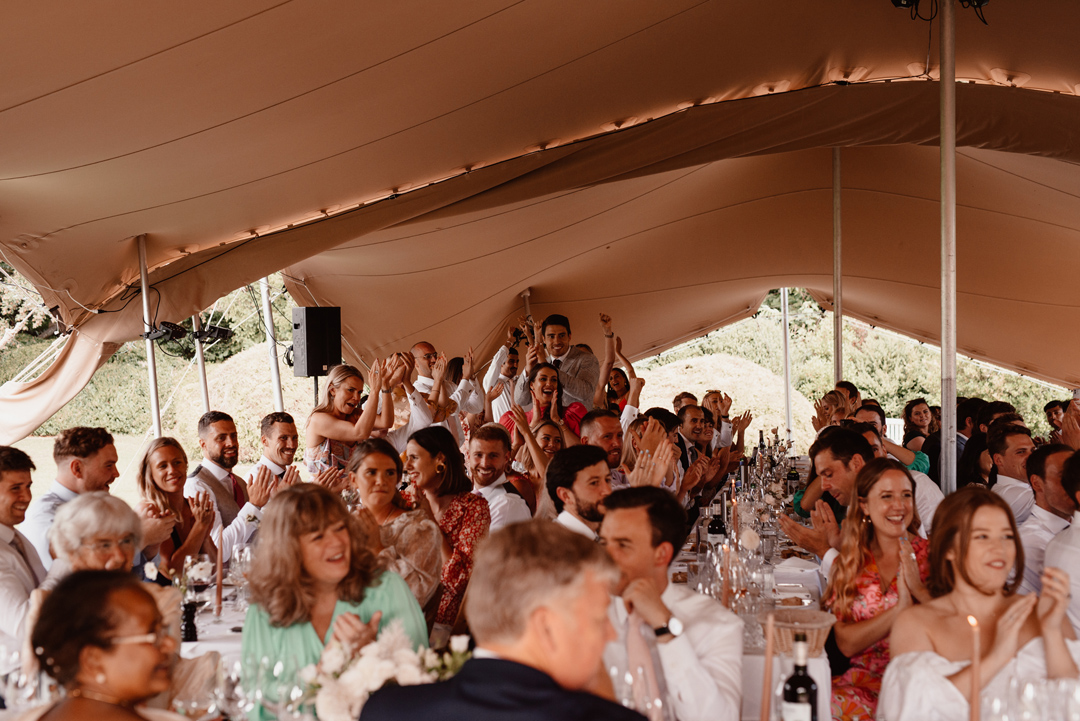 "We had a bit of an issue with the cake. We left it until the last minute and had real trouble finding a supplier – everyone was booked up already."
"Luckily, the partner of one of the chefs at The Rectory has a cake business – Bakeology By Bry."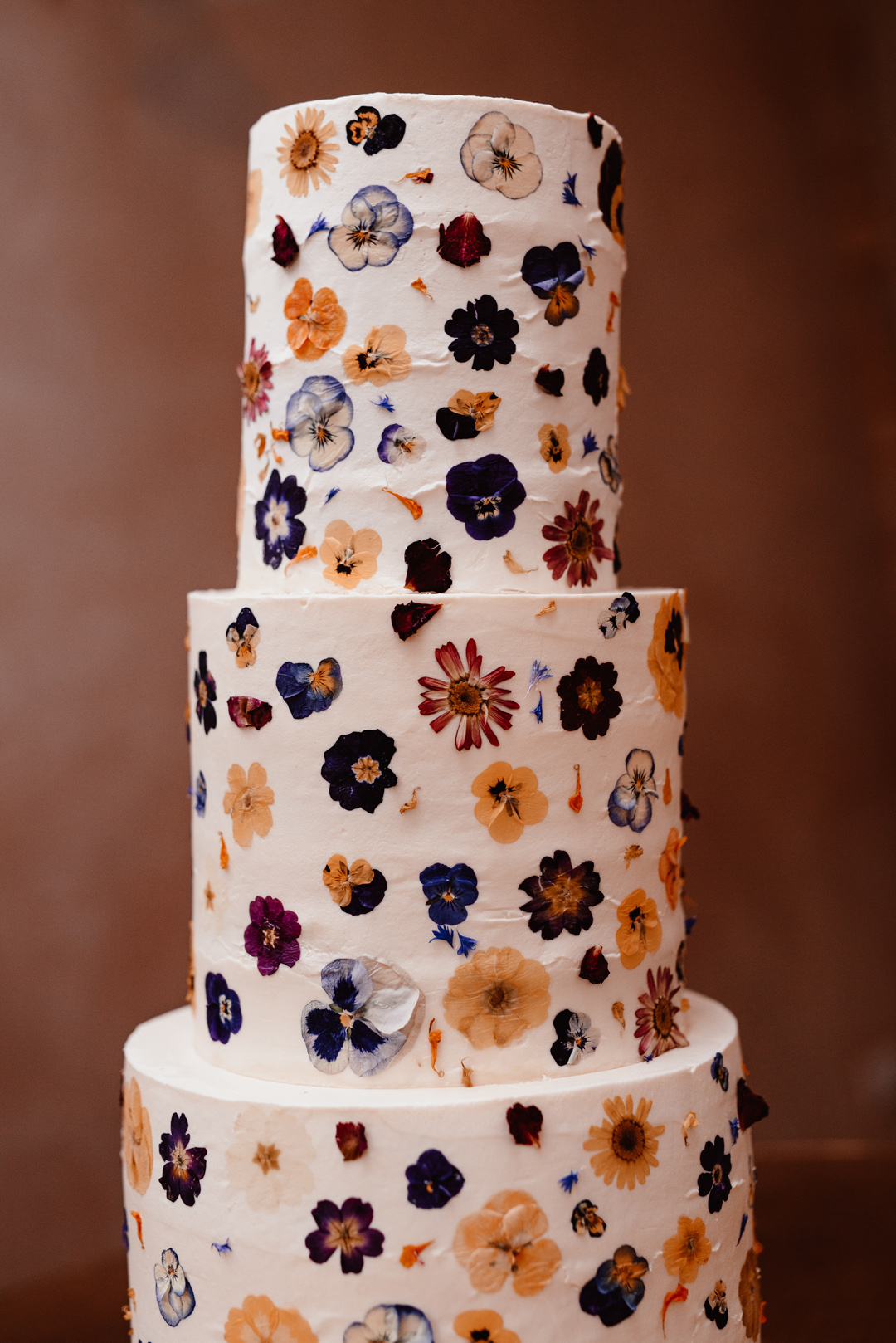 "She'd never done a wedding cake before so we were her first. We had three tiers – lemon and elderflower, Victoria sponge, and raspberry and lemon."
"I knew exactly what I wanted the cake to look like, covered with pressed edible flowers. I wanted something a bit whimsical and different, but still beautiful. It looked exactly as we wanted it to look."
The wedding party moved inside The Rectory for the evening party, with live music from Supatight.
"They were absolutely fantastic. Paz had seen them a wedding previously so as we soon as we had a date in the diary for the wedding, we booked them."
"Every guest said how fantastic they were. I'm sure they had a few requests after our wedding!"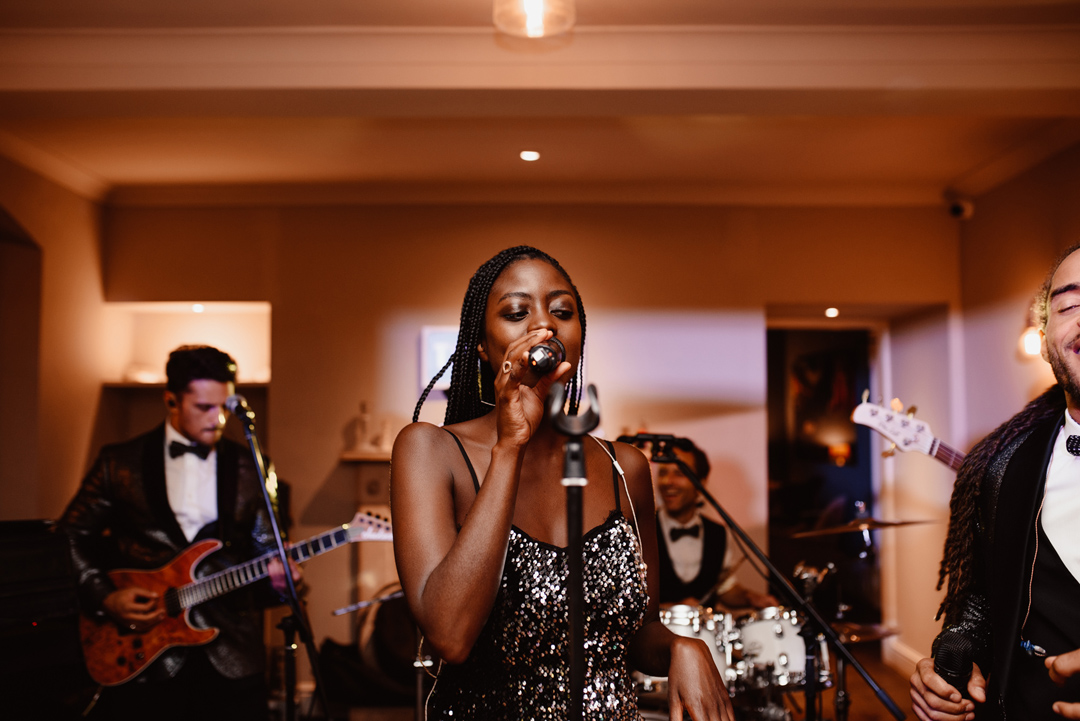 The first dance was to 'Thinking of You' by Sister Sledge, sung by the band.
"We both love this song. It's not particularly meaningful to us but whenever we heard it in the year leading up to the wedding we knew what a great song it would be to use."
"We definitely wanted something upbeat, not a slow dance. I wish we had practised the dance in advance though – we were both trying to do something different so it definitely could have gone smoother!"
Words of Wedded Wisdom
"All the clichés are true – the day will fly by and you really won't notice the small details or if anything goes wrong."
"Take time to spend time with your partner (and family) on the day. It's so easy to completely forget to do this (we kind of did!). Try and start your planning as early as you can and don't leave too much until the last minute as this will stress you out!"
Taylor-Hughes Photography, thank you for your beautiful work. It's been wonderful to see your photographs on Love My Dress. Readers, you can see more beautiful weddings photographed by Taylor Hughes right here on Love My Dress – they are incredible – enjoy!
Congratulations and a very happy new year to you both, Rebecca and Paz!
For more summer garden inspiration, please enjoy these Love My Dress celebrations.
Ele xx