Hello lovely readers and we hope that your week has been wonderful so far and that you are all safe and well after the extreme wind and storms.
Whatever your plans for this weekend, we hope you have the most fabulous time. Today, we have something that will definitely brighten your midweek as we're joined by Clare Lloyd, talented designer and maker of incredible wedding headpieces and jewellery. Not only are we just so thrilled to introduce you to Clare and her work but there's also the chance to win your choice of a wedding headpiece or jewellery worth an amazing £400!
So, before we tell you more about the giveaway and share the all-important entry details, let's meet Clare and find out more about her work, her inspiration and her deliciously intricate signature style…
Clare Lloyd Bridal Accessories began in 2012 when her sister got married and Clare, who was already running a little part-time jewellery business, created jewelled bouquets, hair accessories and jewellery for the bride-to-be. Clare says that she 'fell down a rabbit hole' of antique headpieces and, a decade later, is now making pieces for brides all over the world.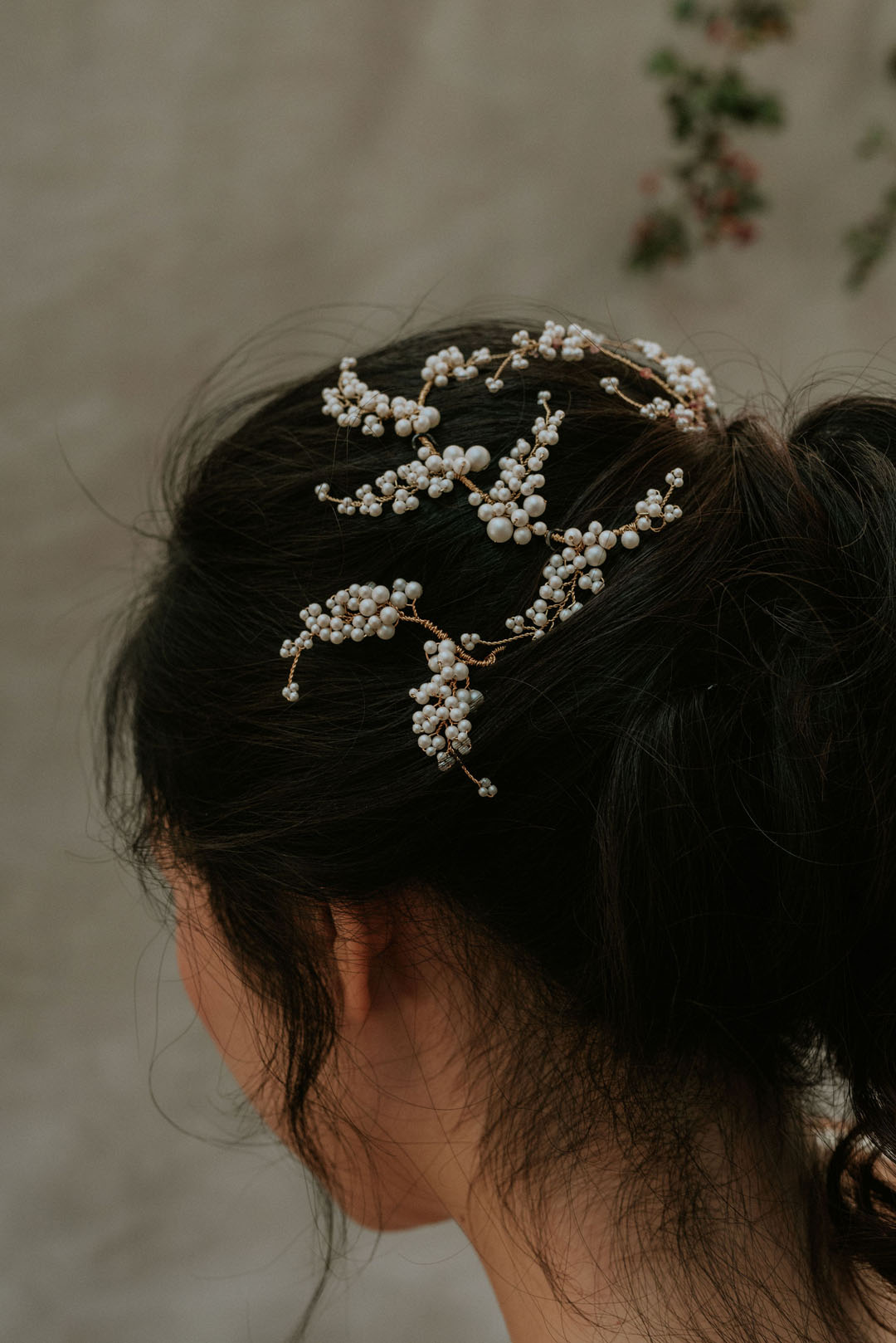 It's impossible not to love Clare's signature style that incorporates detailed, intricate and complex botanical and floral beadwork and metalwork. She's clearly inspired by nature but there's also a nod to the styles of historical headdresses, adornments and jewellery in the designs too.
All these strands of inspiration are then drawn together to create pieces that are just exquisite and delightfully unique.
"I love colour and I will often incorporate subtle and soft colours into my work and sometimes bold and intense colour too. I also adore antique headpieces and Ancient Greek and Roman crowns and I'm fascinated with how people managed to make such detailed work hundreds and sometimes thousands of years ago, so I would say that my signature style is influenced by Ancient Greek laurel wreaths, by the exquisite jewelled botanical European headdresses made for Royalty and by the natural world."
"As my style has developed, I've become more determined to make my work, processes and materials as ethical, earth-friendly and sustainable as I can so my most recent work is created using only recycled precious metals and ethically sourced semi-precious stones."
"My materials are beautiful but carefully sourced from UK suppliers and I don't use any chemicals in my making processes when working with metals. Everything is made by hand by me and I use old fashioned tools and techniques from silversmithing, bead embroidery and wirework. Part of my studio looks a bit like an old tool shed but every tool and process is carefully used and meticulously made by hand by me."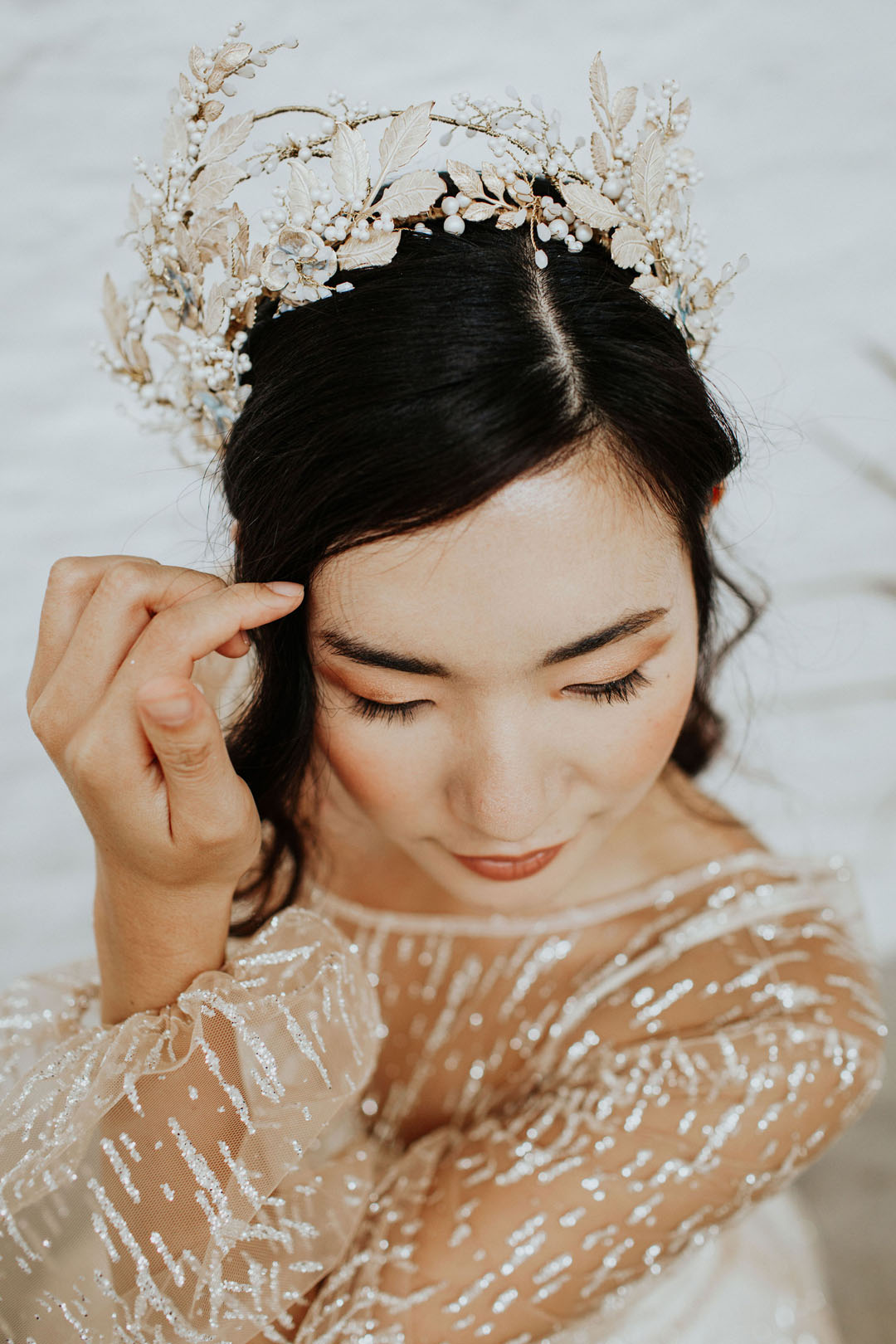 "In short, my designs are a little bit different; I tend not to follow trends or fashions but instead aim to create beautiful, exquisite and precious future heirlooms that will become a little part of the women that I make them for."
"My designs are made with thought for the planet and they are designed to stand the test of time and be passed down to future generations. I design and create to reflect the style, personality and dreams of the person I'm working with. Having something designed and made for you that nobody else will ever have is quite special."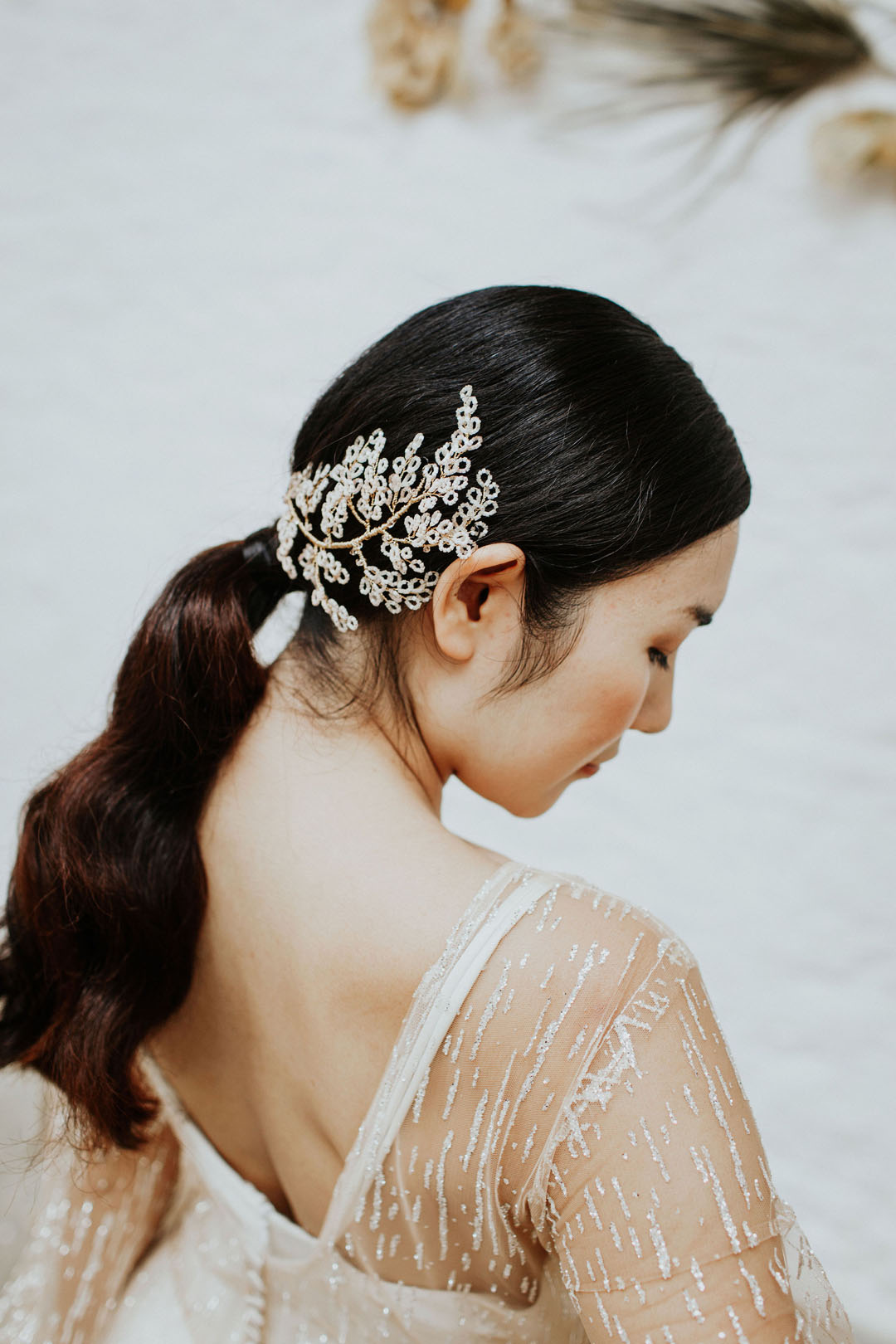 Today, to celebrate the completion of Clare's Omorfa Fylla collection, we're thrilled to give you the opportunity to win your choice of headpiece or jewellery, from any of her collections, to the value of £400.
To enter, follow @clarelloydacessories on Instagram and then complete the simple form below.
Everyone entering this competition will receive an exclusive saving on purchase from the Clare Lloyd Accessories online shop. There will also be one lucky winner chosen to win any design/s up to the value of £400.
Good luck!
To find out more about Clare Lloyd Bridal Accessories and to view the collections, simply visit her website. If you'd like to discuss a bespoke commission or if you have any questions, please email Clare via [email protected].
Terms & Conditions
1. This competition will open on Saturday 19th February and close at midnight on Sunday 27th February. The winner will be announced the w/c Monday 28th February by email and social media.
2. To enter this competition, you must complete the form on this page.
3. Your email will be securely maintained on both the Love My Dress and Claire Lloyd servers and added to both respective mailing lists. You will be able to unsubscribe from these mailing lists at any time and your email will never be shared with any third party
4. Entrants must follow @clarelloydaccessories on Instagram (we will verify that the chosen winner is doing so before notifying them).
5. The winner may choose any single prize they wish from Clare Lloyd's full suite of designs, up to the value of £400.
6. The prizes may take up to 4 weeks to deliver.
7. Prizes are not transferable or eligible for exchange or refund.
8. This giveaway is open to UK residents only.