We're at Herefordshire venue, and much-loved Love My Dress Wedding Directory member, Dewsall Court, for a wedding held in the lush countryside of high summer.
Bride Nikki, who chose three exquisite gowns, found so much support and inspiration through the Love My Dress pages and our private Facebook group, which I do encourage you to join right now. Please meet dental hygienist Nikki and software developer Simon, who chose Dewsall Court for their marriage on 22 July 2021. The wedding ceremony was held in the local church, a short walk away from Dewsall's main house and barn, with the guests returning there after for a romantic and bohemian country garden reception with dancing under the stars.
Photography Philippa James Photography
"I've always loved the idea of combining a romantic, fairytale-like, English country garden wedding with dining and dancing under the stars on a warm summer's evening. Love My Dress was an endless source of inspiration for me."
"In particular, I loved the real weddings and I had so many tabs open with ideas, links or previous weddings that I loved. I saved images of lots of outdoor weddings that took place in Tuscan villas or French chateaux and this inspired the canopy of fairy lights we had in the barn."
https://www.lovemydress.net/directory/supplier/made-with-love-bridal-wedding-dresses-order-online/
The wedding dinner was held in Dewsall's Wainhouse Barn, a perfectly rustic, blank canvas setting.
"Thanks to Love My Dress, we had big dreams of how we wanted everything to look. We chose a colour palette of blush and sage green, with pops of gold, magenta and burgundy."
"I kept imagining a very soft, romantic colour palette with beautiful, cascading florals and textured foliage, lit up by candle and fairy lights – all adding to the warmth of a summer's day."  
The couple were very careful with their choice of suppliers, and I am delighted to recognise so many of them through our Love My Dress Wedding Directory.
"We picked on-the-day suppliers that resonated with the warm, laid-back and fun energy we wanted for our day."
"It was super-important to us to build a really good relationship with them and the challenges of Covid actually helped strengthen these."
"Our invitations were custom-made by the super talented Jacqui of Print for Love. She created a beautiful illustration of Dewsall, which incorporated the eucalyptus and the blush and gold tones to set the tone of our wedding."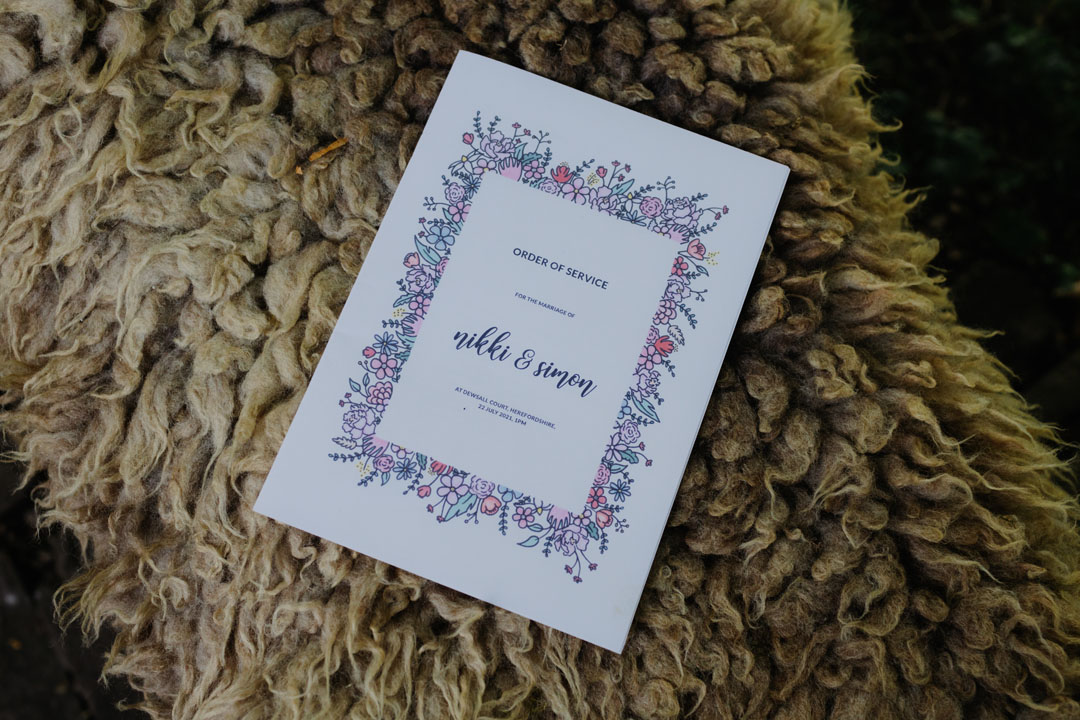 Simon wore a deep navy, three-piece dinner suit by Hawes & Curtis. He wore it with a black bow tie and shoes from Ted Baker.
"I wanted to give Simon something special that he could wear on the day, that he would later treasure and remind him of our wedding."
"I picked a classic watch from Omega and surprised him with it on the morning of the wedding."
Simon proposed just ten months after he and Nikki met through Bumble four years ago.
"We met for drinks and chatted and laughed for hours. Eventually the bar staff came and tapped us on the shoulder and told us they should've been closed nearly an hour ago but had left us to continue our date."
"To top it off, on our walk home there were actual fireworks."
"Just ten months later, Simon proposed on a walk in the Cotswolds. He was pretending to take a photo of me and when I turned around he was down on one knee."
"It was so unexpected and I was completely stunned. After he asked the question, all I could do for the first ten minutes was cry. I finally managed to blubber out a 'Yes'."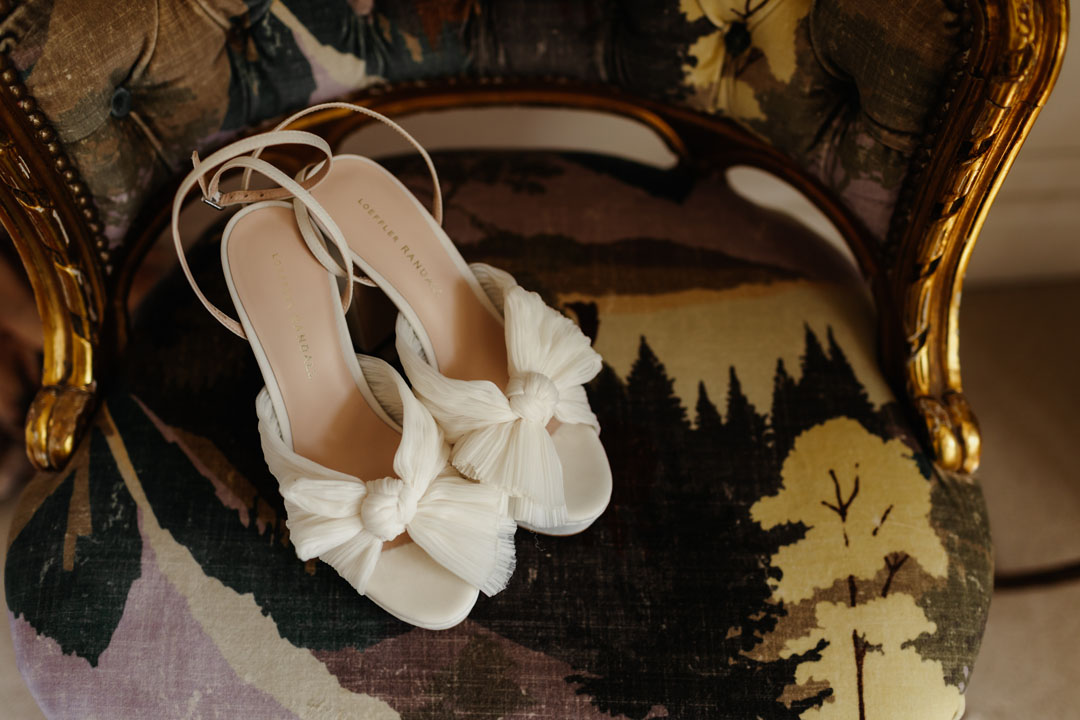 Nicola Harrison Makeup applied the bride and bridesmaids soft, romantic make-up.
"She is my absolute go-to. I remember walking out of my trial beaming as I had never felt so beautiful or confident. She turned myself and my bridesmaids into goddesses and made us feel the best versions of ourselves."
https://www.lovemydress.net/directory/supplier/cesca/
"She gave me flawless, glowing skin, the most perfect winged liner and make-up that withstood thirty-degree heat, happy tears and lots of dancing."
"Nicki is incredibly talented and so knowledgable. She's just the sort of person you'd want to be doing your make-up on your wedding day – she has an infectiously positive presence."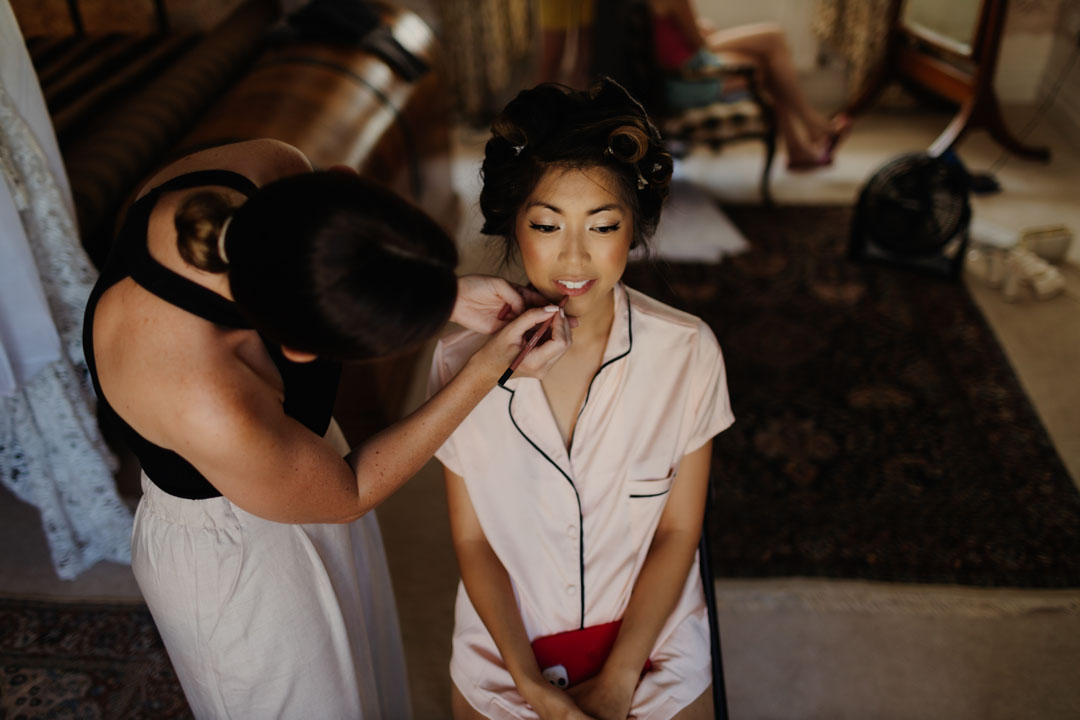 Nikki was lucky enough to select three, beautiful gowns for her wedding day.
"Three dresses is a little extravagant but after postponing and getting another chance to plan the finer details of our wedding all over again, I thought if you can't wear three dresses on your wedding day, when can you?"
"All three dresses showcased different parts of my personality and I felt truly incredible in all of them."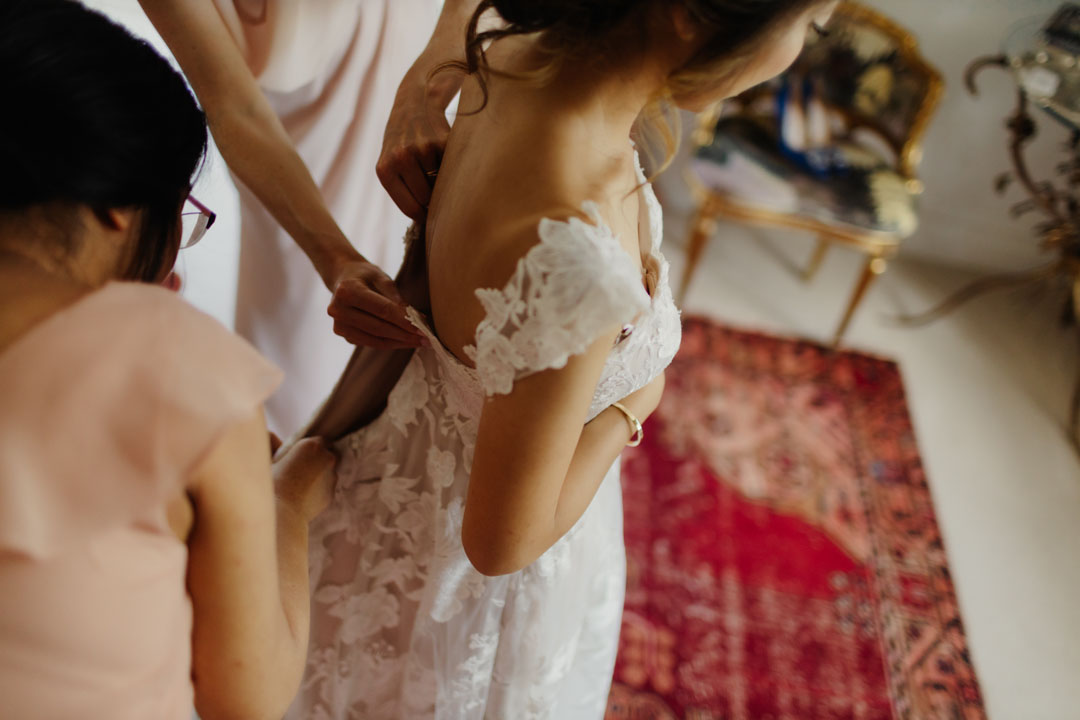 For the church ceremony, the bride wore a delicate, off-the-shoulder gown by Madi Lane Bridal, a competition prize.
"In secret, one of my closest friends entered a wonderful competition during the summer of 2020, where a lucky 'Covid' bride could win a wedding dress. The universe works in strange ways and I ended up with another dream dress."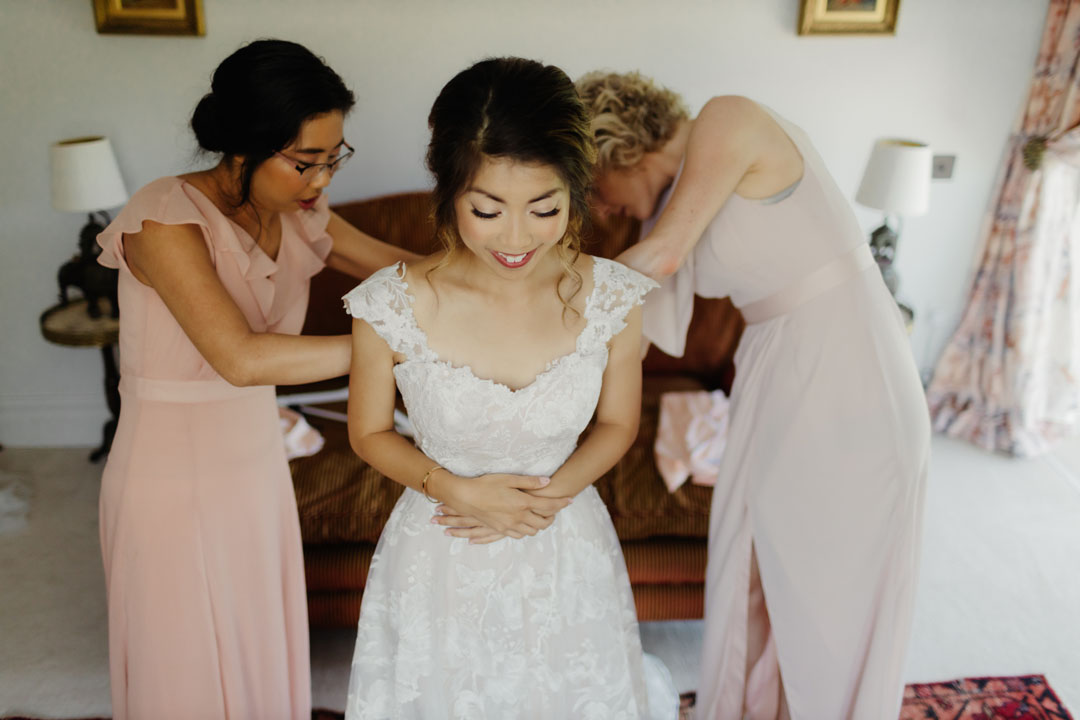 "It was a stunning Madi Lane gown with a sweetheart bodice, romantic, off-the-shoulder, lace sleeves and full skirt layered with lace embellished with beautiful bold floral appliqués."
"It reminded me of the dress I was wearing in the first photo my husband saw of me when we were dating. I thought there couldn't be a better dress for him to see me in for the first time on our wedding day."
https://www.lovemydress.net/directory/supplier/nortier-shallow/
The alterations were done by Abigail Westrup Bridal.
"The absolutely gorgeous Abi and Kayla were the wonderful pair who altered my dress. They made me feel so relaxed and confident. Abi is incredible, so creative and has an exceptional eye for detail."
"She didn't hand over my dresses until she was 100% happy. I couldn't have loved my dress experience more."
The veil, from The White Collection Bridal, added so much drama to her look.
"I fell in love with my veil before anything else! It was royal length, super-soft and with a blusher that added even more drama and romance."
"I loved it so much that I didn't want to take it off and only did because it was so long and ended up taking half of Dewsall's wildlife along with it."
The bride's accessories were simple, just a gold Cartier Love bracelet gifted to her by her husband on the wedding morning. For scent, Nikki chose Peony & Blush Suede by Jo Malone.
"It's the scent I wore on our first date.  I loved the way it tied in with all of the peonies that adorned Dewsall and in my bouquet."
https://www.lovemydress.net/directory/supplier/fiona-lucy/
The wedding day was postponed by just over a year due to the Covid pandemic.
"This was our second date, postponing from June 2020 to July 2021. We were really fortunate that our second date was the week of restrictions finally being lifted. With our friends and families not having been able to see each other for so long and for our day to have finally come, there was a definite sense of euphoria and elation in the air."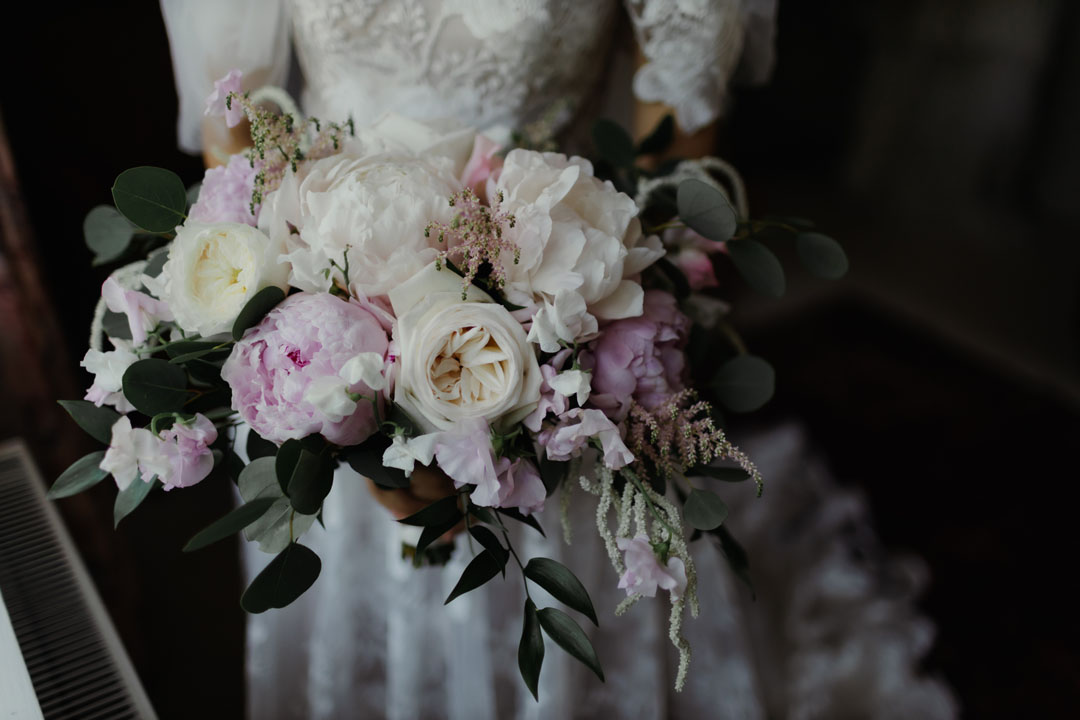 "Dewsall were really great at helping us make our guests feel as comfortable and as safe as possible, with much of the day taking advantage of the beautiful weather outdoors."
It's so good to hear that the couple found comfort and support through this time of uncertainty through our What About Weddings campaign and our private Love My Dress Facebook group.
"It was such a tricky period to navigate. As a couple, we have never been more stressed, saddened or emotionally drained for a sustained amount of time than in the months leading up to us postponing our wedding."
"We would obsess over every news article and update and when the lifting of restrictions was pushed back once more, our hearts sank. We felt betrayed and uncertain for our own day."
"We also felt frustrated for other couples we knew which who were postponing their big days for another time. It was only at the start of the week of our actual wedding that we finally allowed ourselves to get really excited."
Nikki had two bridesmaids, her sister and her sister-in-law, each looking beautiful in their choice of gowns in blush and pink from Maids to Measure, another of recommended suppliers.
"I wanted my bridesmaids to feel comfortable and themselves in their dresses. They both chose dresses that had pretty, soft necklines so I thought a gift of a gold necklace would flatter them and add a little sparkle. They wore their hair in bouncy curls and a soft, textured up-do."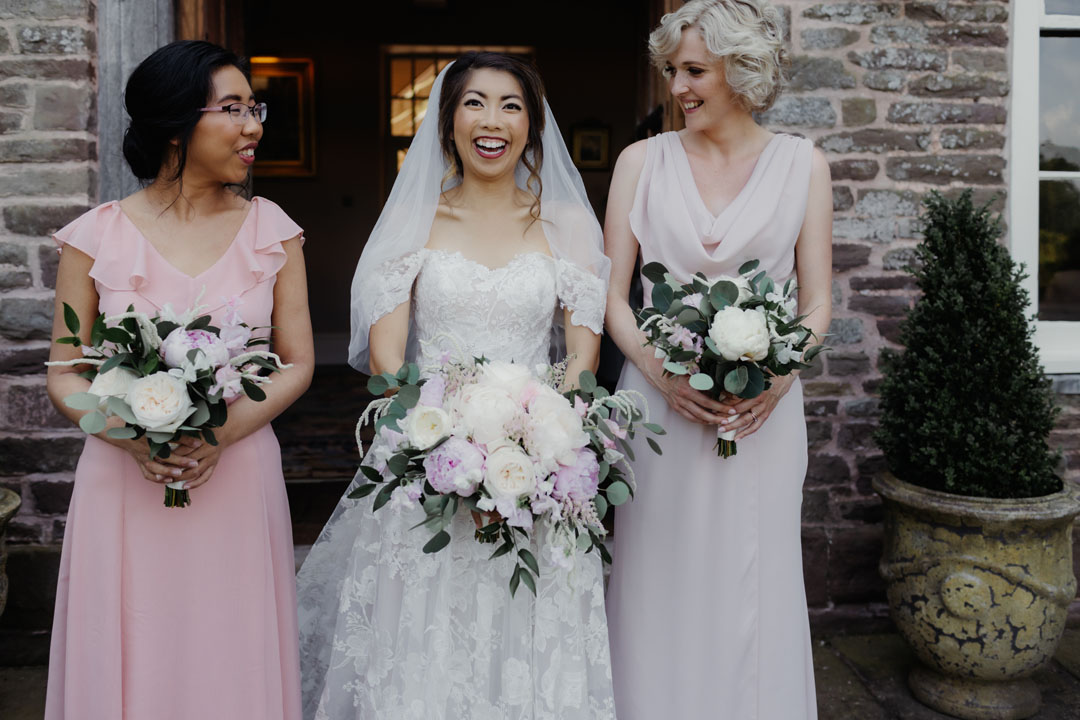 The girls completed their looks with full, blowsy bouquets from Love Lily.
"I have always dreamt of having a flower-filled, secret country garden inspired wedding and our wonderful florist, Emma of Love Lily, delivered. I can't find enough words to summarise how incredible Emma is. I felt like we clicked right away and she completely understood my vision and turned our wedding dreams into reality. She was an absolute dream to work with and I have lots of love for her."
https://www.lovemydress.net/directory/supplier/maids-to-measure-bridesmaids-dresses-fashion/
"I loved the idea of a natural, floral-filled archway, something that looked like it had grown there quite naturally and complemented the rustic feel of the church. Emma created a show-stopping archway, full of lots of textured foliage, wild flowers and powder puff peonies. It really set the scene for our day."
"My bouquet was made up of my favourites – peonies, astilbe and amaranthus, beautiful blousy ranunculus and roses, with fresh green foliage and eucalyptus. It smelt heavenly."
The bride had a last-minute change in hair-style, which was done by Tabitha MacCurrach-Paine Hair Stylist.
"I had planned to wear my hair down in waves but as it was an unexpectedly hot day, we changed to a relaxed, undone and very textured up-do, accessorised with a delicate floral and pearl hairpiece. Tabitha was wonderful! From the first time I met Tabby, she made me feel so comfortable and totally at ease."
"She is professional, talented and the calming presence I needed on the morning of our wedding. She created a beautiful, soft and tousled up-do that showed off the necklines and pretty lace appliqués of my dresses."
It was just a short walk to the church at Dewsall, and Nikki walked down the aisle with her father to Pachelbel's 'Canon in D'.
"We were led by my beautiful bridesmaids. I have always loved this piece and it now holds even more meaning."
"We were married by Reverend Mark Johnson, who delivered a touching and light-hearted service. We loved every part of the day but the ceremony was unforgettable. It felt really intimate and so emotional, to finally have our friends and families all in one place to celebrate."
"For readings, I chose 'Maybe' after seeing it suggested on Love My Dress. It's a beautiful reading which sums up the imperfect, perfectness of love."
The wedding rings, and Nikki's engagement ring, were from Titcombe Bespoke Jewellery.
"My engagement ring is a solitaire-cut diamond with a platinum band. For my wedding band, I chose a dainty platinum band with diamonds and Simon a classic platinum ring, from Titcombe too."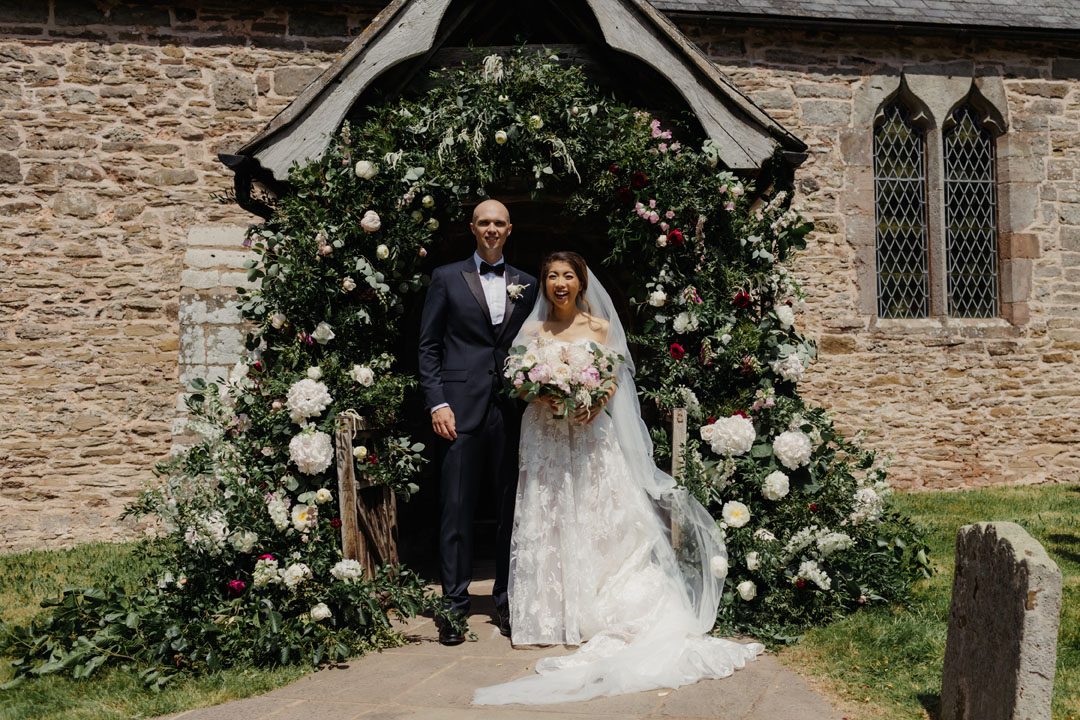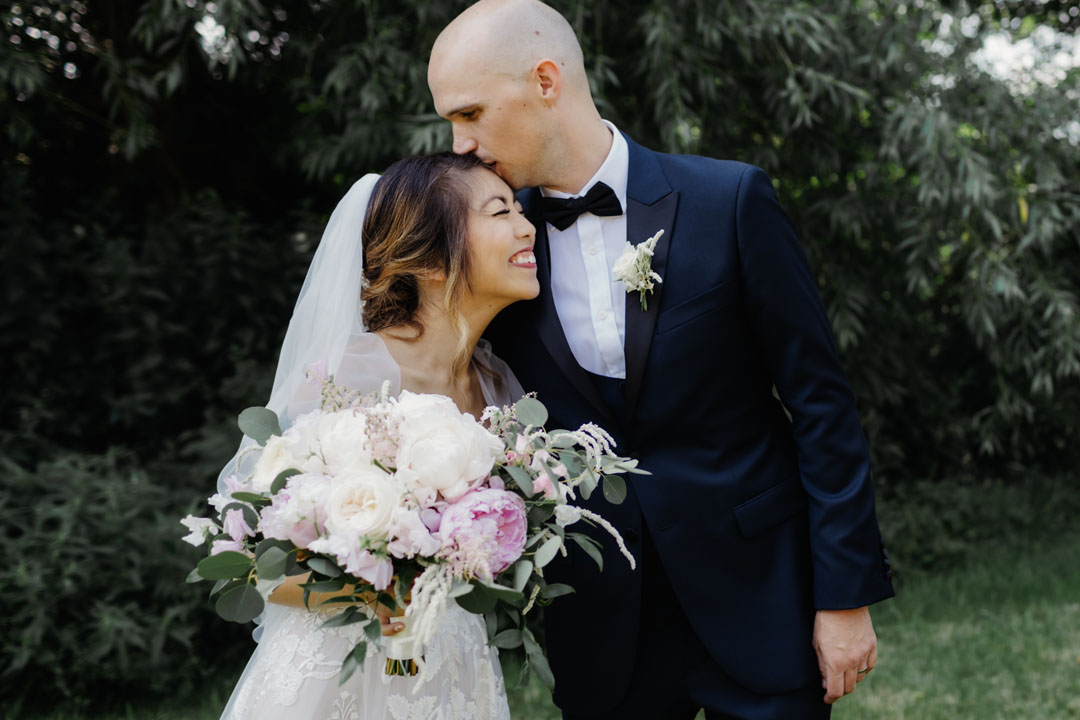 "Following our ceremony, we were showered with lots of natural dried petal confetti – these made for some of our absolute favourite photos of our day."
"I made all our confetti by drying petals from roses, hydrangeas, delphiniums and wild flowers, which made the most vibrant and rich mix of colours."
"I also added dried lavender to our confetti which made it smell amazing."
Before the garden party reception got started, the bride and her new husband had some portrait shots in the beautiful surrounding countryside.
Meanwhile, the guests were relaxing with canapés and games on the lawn.
"A silver lining of a postponed wedding is indulging in some wedding DIY, which can often take way more time than originally planned and can be super-fiddly."
"I have a love of all things crafty so took on the task of designing and hand-making our on-the-day stationery; the Order of Service, a mirrored table plan, mini wreath name cards and anything else that I could hand-write on."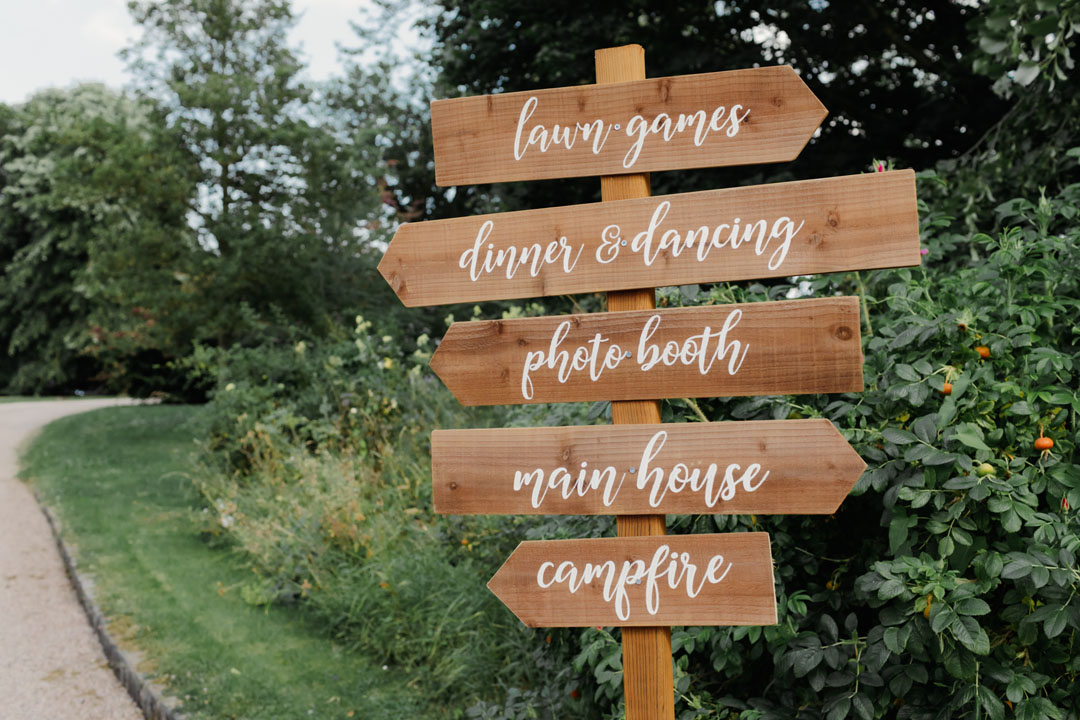 "We also made and hand-painted all of our wooden welcome and arrow signs. These were a little bit of a challenge but Simon and I loved spending time together making them in the run-up to our day."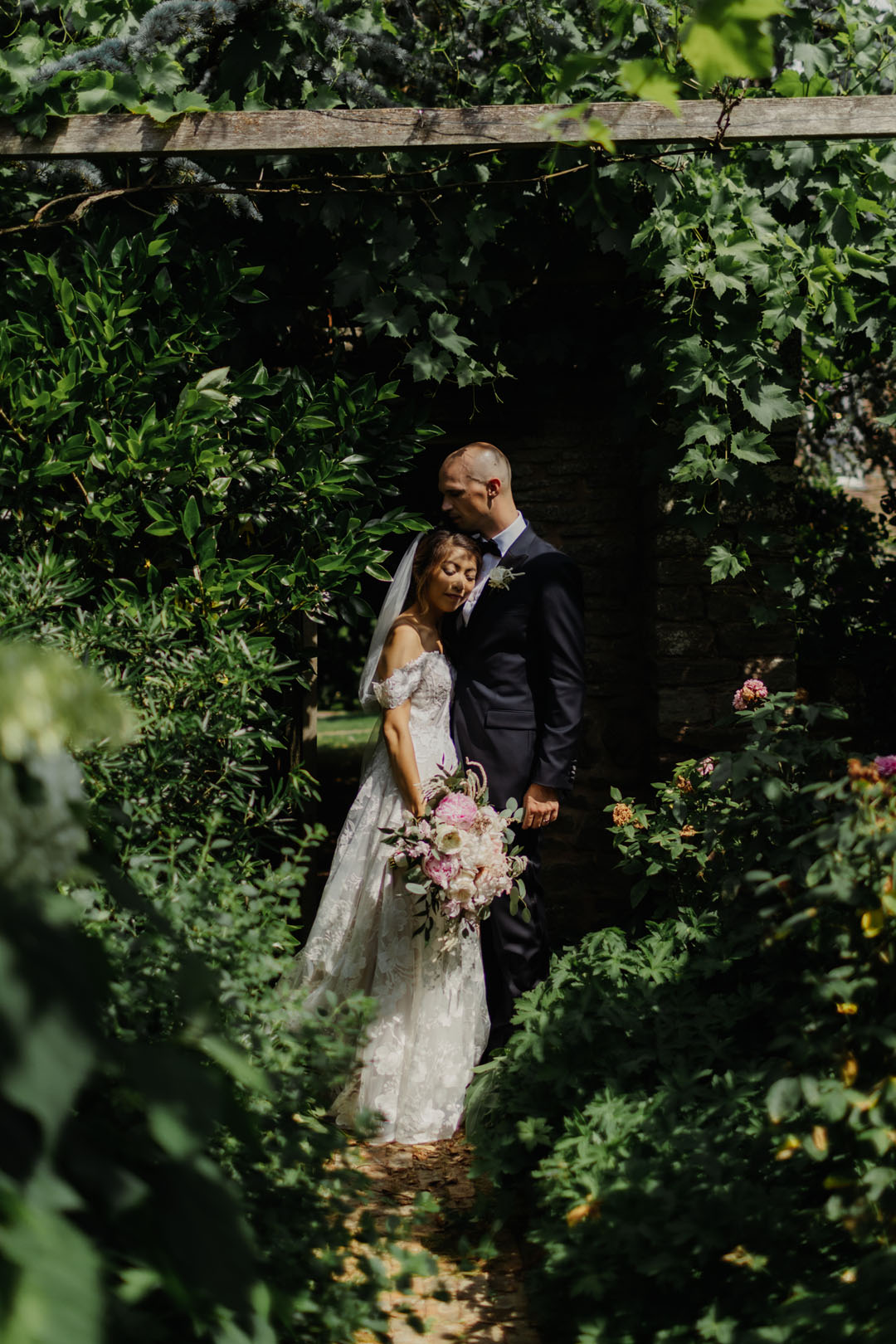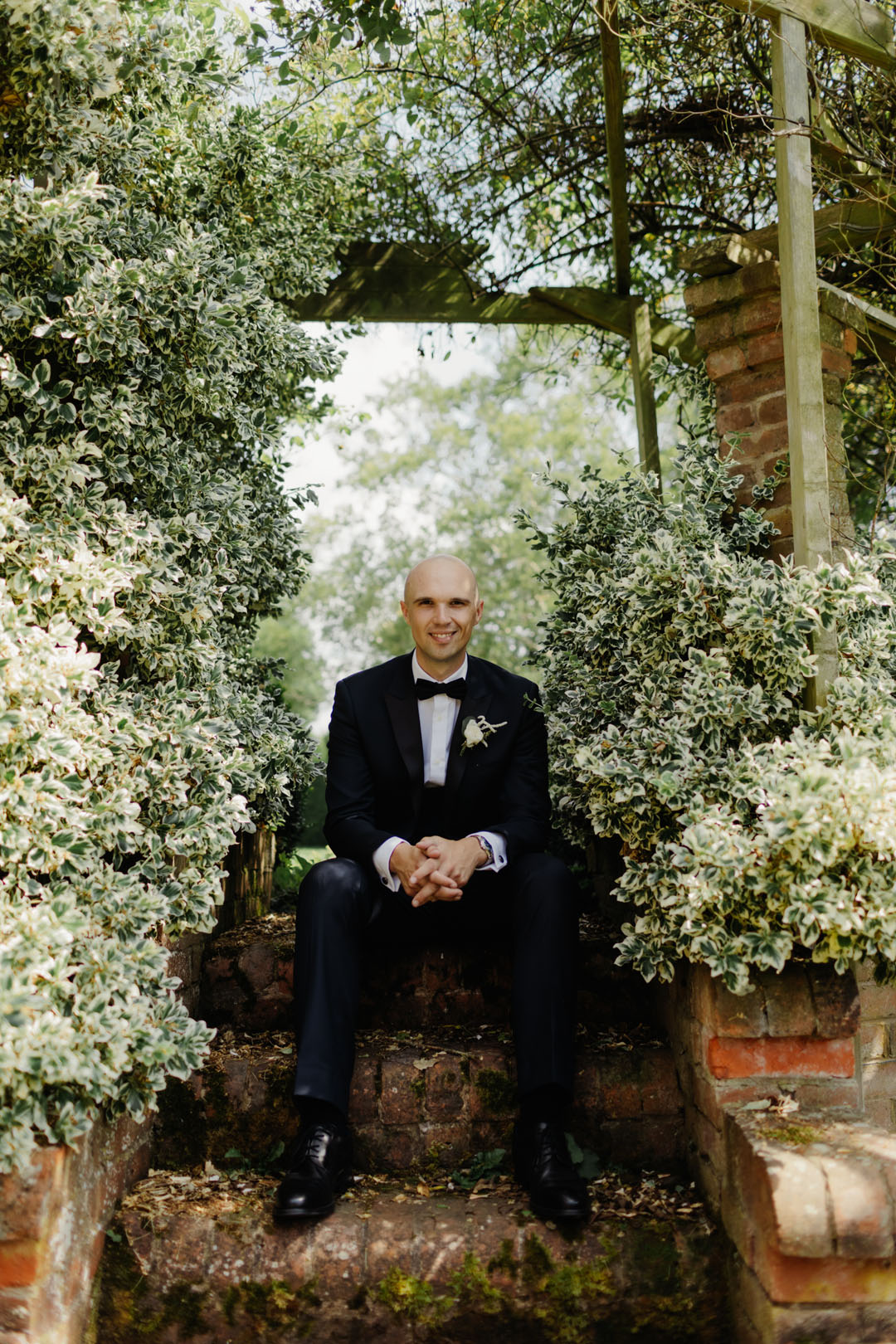 For the garden reception and dinner, she wore a Made With Love Bridal gown (check out their Love My Dress recommended listing here), selected at The White Collection Bridal in Portishead.
Nikki was looking for something romantic and modern with a dramatic train, mirroring the vibe of the romantic fairytale reception she had planned.
https://www.lovemydress.net/directory/supplier/made-with-love-bridal-wedding-dresses-order-online/
"I visited The White Collection boutique with my mum and sister and had the most wonderful experience. We felt so looked after there. Emily and Sally were an absolute delight to work with and completely understood what I was after."
"Being in a job that requires me to wear scrubs and Crocs every day and as such a magpie for pretty dresses, I had a feeling that I would somehow end up with multiple dresses for my wedding day."
"I'd saved so many photos of Made With Love dresses from real weddings I loved on Love My Dress. When I first tried on my dress at The White Collection, I fell in love with it. The crochet lace reminded me of folklore fairy tales, combining the romantic feel I was hoping for with a modern, cool twist – there was something so different about how the delicate lace popped when layered over the tan lining."
"Plus, the cathedral-length train was an absolute showstopper. I felt so beautiful and confident in my dress and loved the way it made me feel. My mum and sister also loved it. We all cried when I tried it on."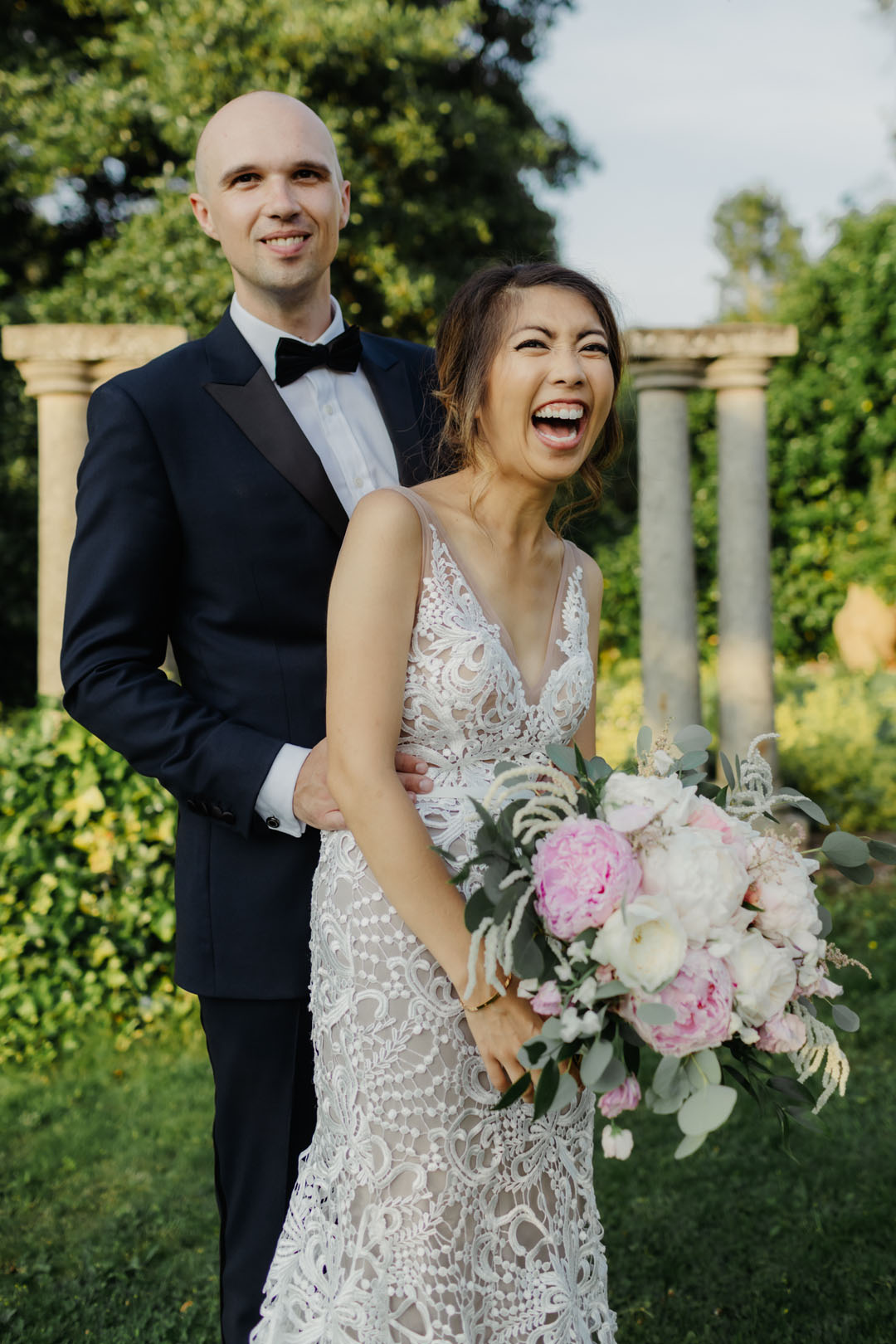 For the couple, Dewsall offered the most perfect 'escape to the country' setting for their wedding vision. And, as Simon's parents live in Herefordshire, they already had a special connection with the area.
"We were hoping for a single venue that could hold our whole event, including a church ceremony."
"We were pretty set on a Cotswolds venue but after spotting a photo of Dewsall on Instagram, we immediately fell in love. Dewsall was perfect for us; a beautiful country home with a rustic bohemian feel."
"We viewed Dewsall as soon as we could, bracing ourselves for it to not be quite what it seemed or to not have that 'this is the one' moment. But, it was so much more beautiful than the photos made out."
The grounds are dreamy; the secret gardens, lake and literal fields of gold (well, golden barley) all felt like something out of a fairytale."
https://www.lovemydress.net/directory/wedding-venue/dewsall-court/
"We fell in love with the idyllic church that is a short walk away through a beautiful arboretum. We knew Dewsall was the one as every time we visited, the heavens would open and it would pour and pour, yet we still loved it!"
"Personalisation was a big thing for us and this is just one of the reasons why we picked Dewsall. There is so much flexibility in styling and running the day as you wish. Their wonderful team, including Hannah our event coordinator, Thom and Sam are there to help you bring your vision to life. They did so seamlessly and exceeded all of our expectations."
Dewsall Court served up a divine, locally-sourced wedding feast.
"Another reason we picked Dewsall was for their exceptional food. They work with some incredible local suppliers and some of their ingredients are grown within their own grounds."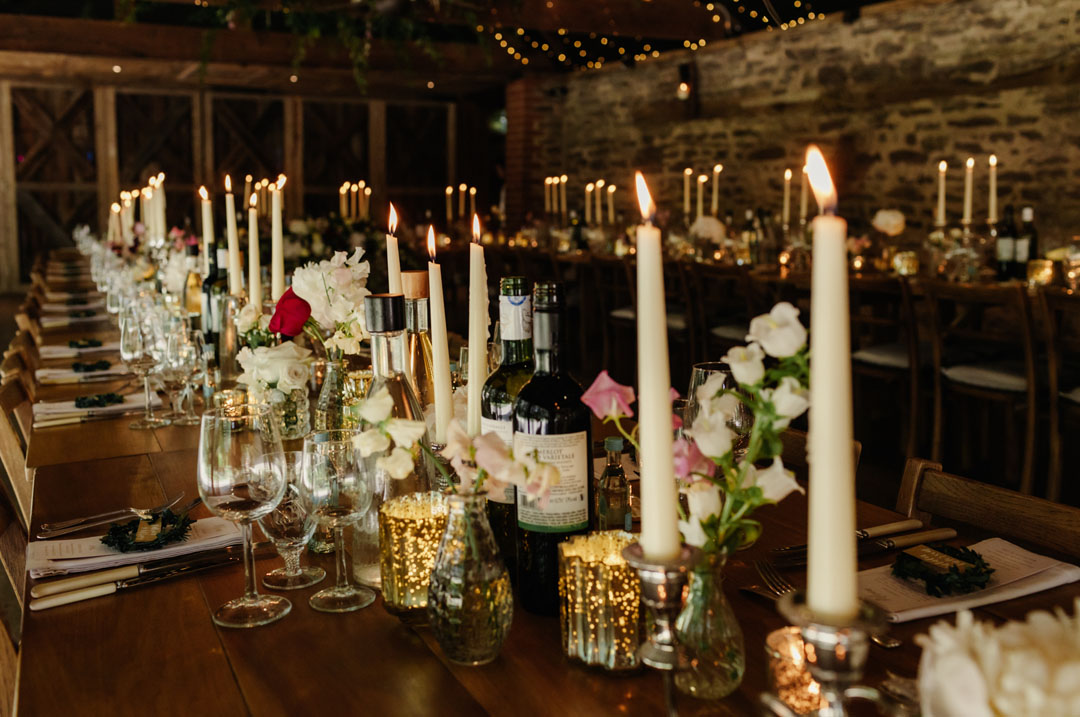 The tiered wedding cake was made by the super-talented Anna Cake Couture.
"We were already big fans of Anna's creations. Not only stunning but incredibly delicious, we couldn't think of anyone better to create our wedding cake."
"Anna created a simple but beautiful, three-tier, semi-naked cake. There were layers of rose and pistachio, coconut and passionfruit and salted caramel. Our florist Emma adorned our cake with fresh peonies and our cake topper was from Etsy."
"Emma at Love Lily created whimsical floral and foliage installations that wound around the wooden beams, scattered posies of wild flowers and peonies across the banquet tables and placed a large, focal, floral display on our top table."
"We had a twinkly canopy of lights as we wanted to create an atmosphere that felt like we were dining under the stars on a summer's evening."
https://www.lovemydress.net/directory/supplier/blaise-drummond-south-east-london-wedding-florist/
"Our tables were adorned with antique candelabras which our families helped us source, antique silverware and hundreds of vintage votives and tealights which we spent months collecting."
"When we saw the Wainhouse lit up in candlelight, it looked so magical – it was worth every minute of cleaning the candlesticks!"
"We scented the room with Jo Malone Peony and Blush Suede paired with English Pear and Freesia."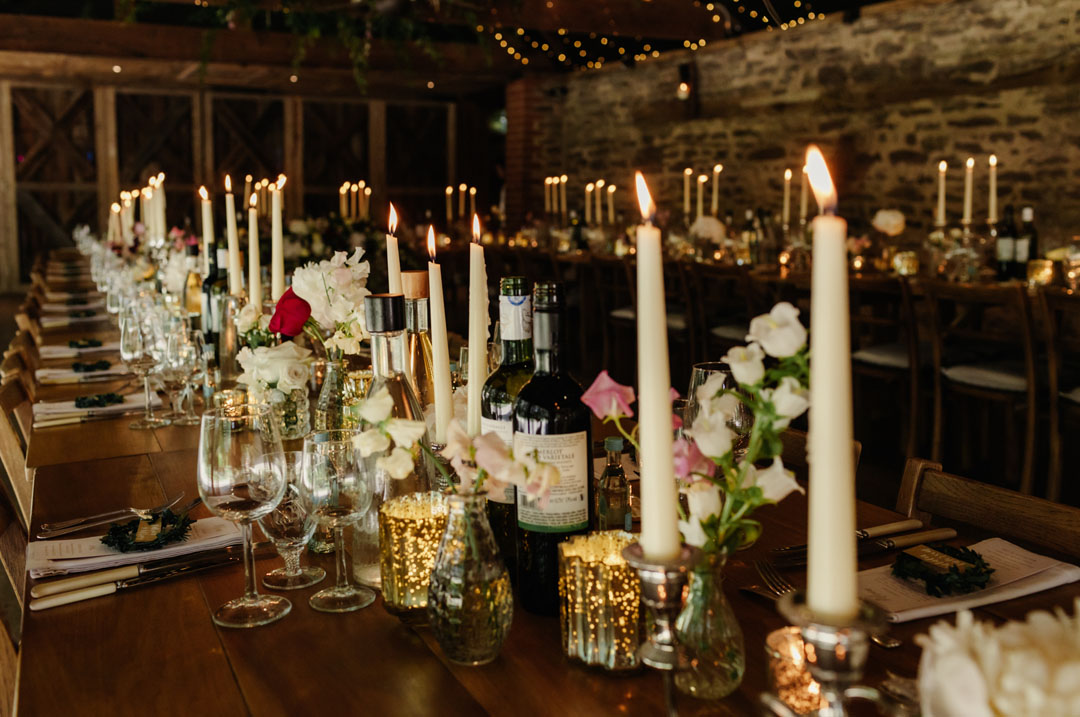 "We had lots of vintage lawn games including croquet, tug-of-war and a sack race which our guests loved getting stuck into."
"We hired the fun Silver Airstream Photo Booth from Belle Studio, which was a huge hit."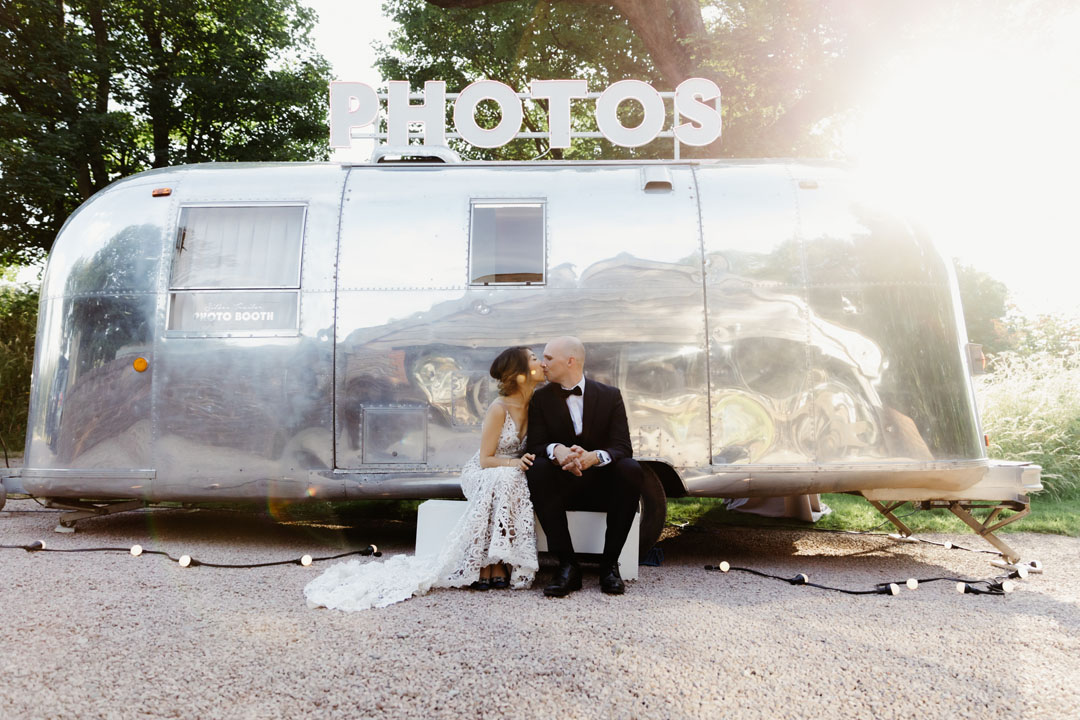 "It was such a great way of bringing guests together who may not have met or properly chatted otherwise, and everyone loved having the Polaroid prints as a memento.
"We loved looking through the digital album the day after – the pictures were hilarious."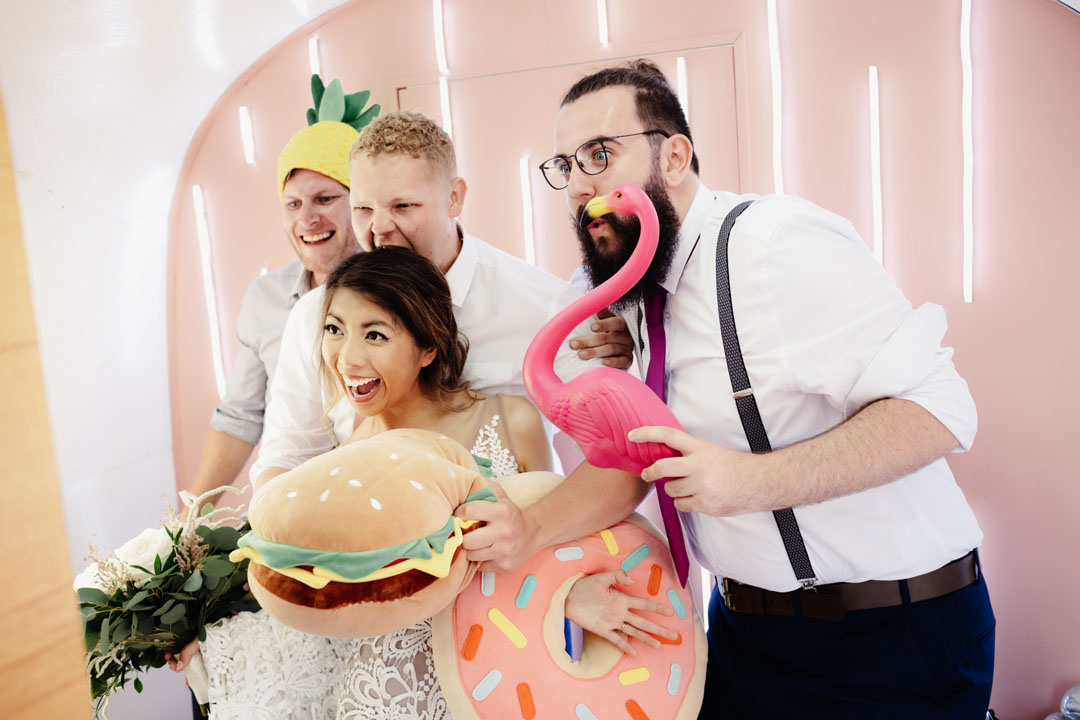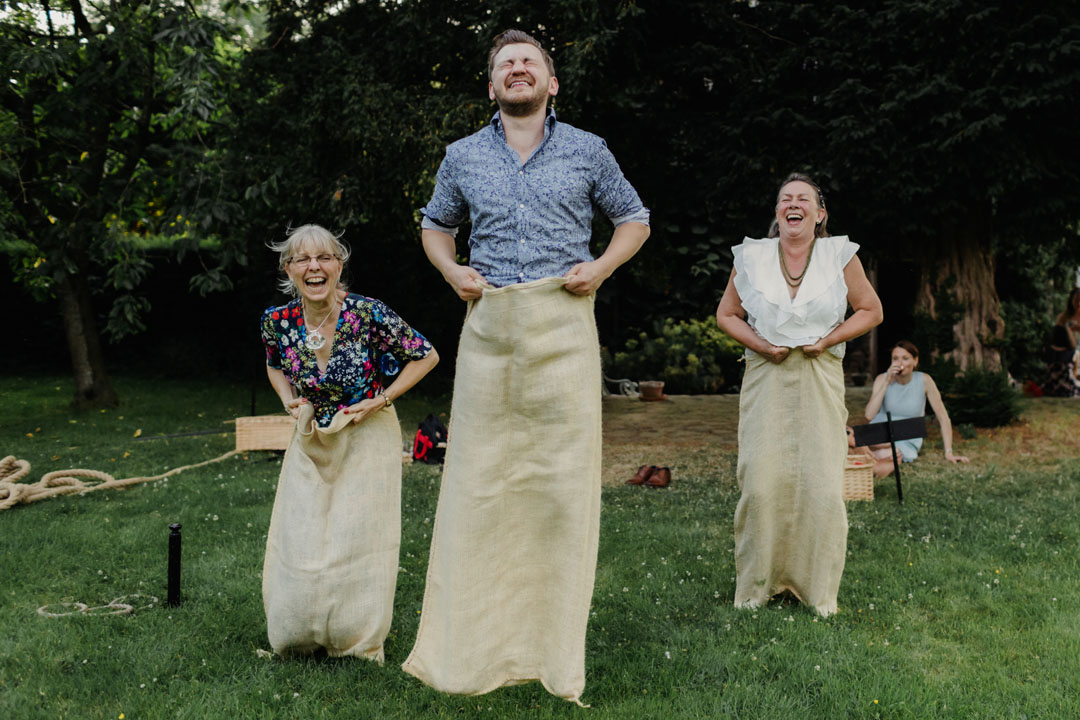 Capturing every beautiful moment of the day was Philippa James Photography.
"We found picking a photographer one of our hardest decisions, especially when we realised photos are one of the few things that serves as an everlasting reminder of your day."
"We found Philippa through Dewsall's Instagram account and we loved her clean, modern and candid style."
"From giggling at the altar and my husband seeing my evening dress for the first time to our guests' reactions to our first dance, we loved how Philippa captured the love, warmth and energy of our day."
"She was so professional but at the same time blended in so perfectly with our guests. We felt it was like having a friend by our side, capturing our most special moments."
"Philippa was perfect at recording our day as it unfolded; all the main events and the sweet, stolen moments."
"She is such a warm and fun spirit that both Simon and I could relax and feel at ease when we were having our photos taken. I would definitely recommend her."
After the cutting of the cake, the evening dance kicked off to 'Lover' by Taylor Swift, with the bride in her third wedding dress.
"After cutting our wedding cake and feeding it to Simon (in the most un-elegant way ever known to man), we wanted to kick-start the dancing with a bang. Dewsall revealed our dance-floor which we had decorated with a fifteen-foot wide, DIY, tassel backdrop. We loved seeing our guests' reactions to our first dance and the fun backdrop was a great way of distracting guests from our questionable dance moves."
"After I had found my dream wedding dress, I realised that although I absolutely adored my train it would also make the dancing part of the night a little tricky. For the evening, I picked a Riki Dalal gown with a 3D flower and bead-embellished bodice, tulle shoulder bows and a full, sparkling tulle and satin skirt. It did prove a little more difficult than I initially thought to manoeuvre in, but it did look spectacular. I changed into a pair of Loeffler Randall pearl platform heels, perfect for late night dancing."
The evening music came from DJ Groove Noise.
"He did a fantastic job of keeping the dance-floor packed. We were blessed with gorgeous sunshine all day that turned into a balmy summer evening."
"Guests spilled out onto the lawn, dancing in the open air underneath the setting sun and early evening stars. Groove Noise had such a great reaction from the crowd that he stayed on an extra hour to let us continue the party into the early hours."
https://www.lovemydress.net/directory/supplier/entertainment-nation-uk-live-act-wedding-bands/
"A memory we will never forget is dancing with everyone, side by side, arms around one another, singing non-stop for the last three songs of the night. You couldn't get anyone off the dance floor and Simon and I felt like we were on cloud nine."
"In the evening, we served wood-fired pizzas which went down a treat. There were a lot of happy memories and happy, full bellies!"
Nikki has so many happy memories from the day, perhaps made all the sweeter by the postponement.
"We loved every second of our day and would relive it all over and over again in a heartbeat! It was all so much better than we could ever have hoped or imagined."
"Walking down the aisle, seeing Simon for the first time and then saying our vows was a magical moment. There's so much excitement surrounding the day and in the build-up of the morning. When we finally said our 'I do's', it felt like it was just the two of us in the room."
"The tunnel after our ceremony was another favourite moment. Walking hand in hand with one another, the first time as husband and wife, whilst being showered in petals is an 'on top of the world' kind of feeling."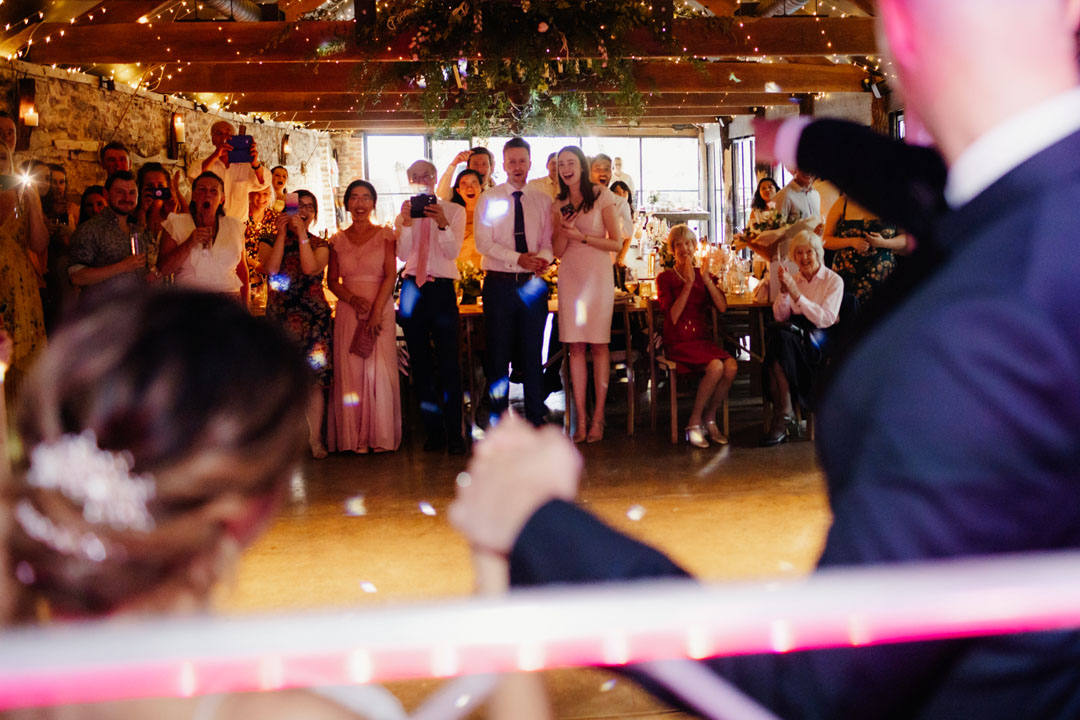 "We loved sitting at our top table looking out at all our guests, watching everyone enjoying themselves. The room was full of laughter, there was an incredible energy in the room, and we felt very loved. It really is a special and wonderful feeling to have everyone you care about together for one day."
"We ended up having the wedding of our wildest and most wonderful dreams – our families, suppliers and friends all came together to create the most magical of atmospheres. We could not have wished for better!"
"Everyone was so happy for us. Having witnessed all the excitement and then all the heartache associated with the date changes, they were delighted that we could finally have our day."
"I really think it made the atmosphere even better. Our day felt even more special because of the journey we had been on and would reassure any other Covid bride of this."

"There may be times when you feel the wait won't be worth it but I can truly say, the wait really and truly is worth it. Our pre-Covid wedding would not have been this wonderful and special. I would do it all again in a heartbeat if it meant we could re-live our dream day all over again. "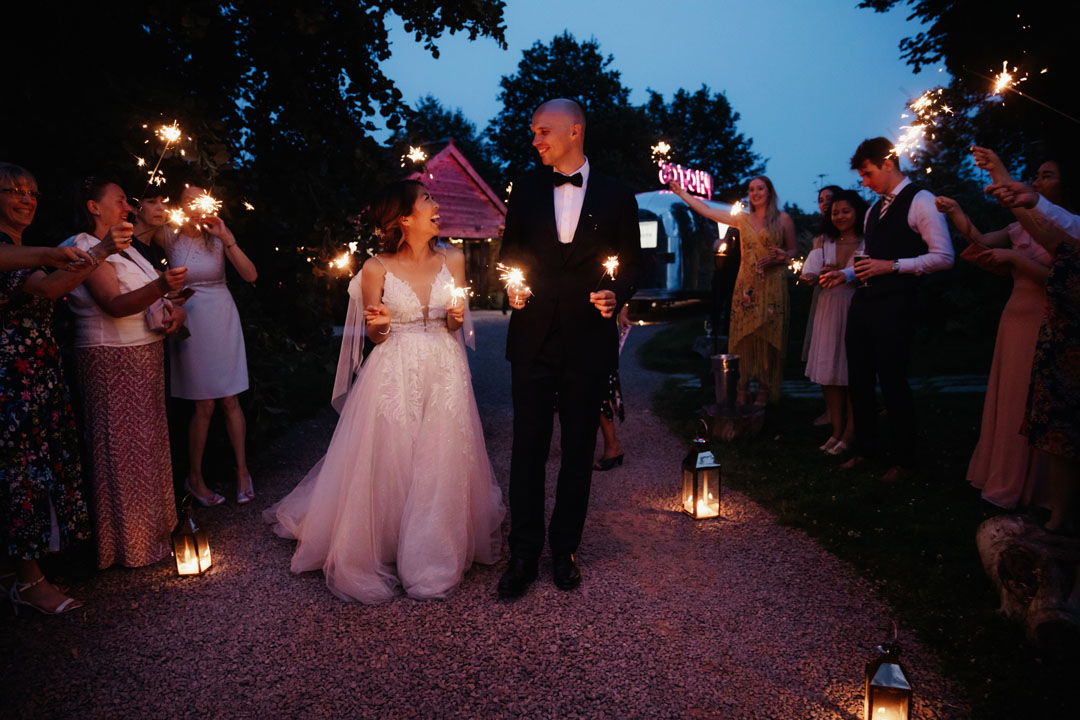 Words of Wedded Wisdom
"I cannot express how great the Love My Dress Facebook group was. The support the community provided throughout the pandemic was invaluable. It was also a source of comfort and positivity for those that had postponed or were planning in such uncertain and emotionally challenging times. We would never want other couples to have to go through the postponements we did, but knowing there were other people out there going through the same thing, that understood the heartache and knowing how they were staying positive was indispensable. A huge thank you for starting this wonderful community."
"If you have the budget, invest in an event coordinator. Hannah was so knowledgeable and ensured everything ran without a hitch. It meant we were able to focus on enjoying our day! An event planner is really worth their weight in gold."
https://www.lovemydress.net/directory/supplier/zach-and-grace/
"Plan a day that is truly you and that you will enjoy the most. Don't forget to try and enjoy the planning part. It's such an exciting time in your life that you won't get back."
"Everyone always told us that the person you spend the least time with on your wedding day is your other half, and they're so right. Try to make time for each other, just the two of you to catch up and appreciate it all."
"Love every minute of your day! I didn't realise just how much I would miss it once it was all over… all the wonderful, beautiful energy and love that surrounds you on the day. Everyone that is there, is there because they love you. They want to celebrate you and your relationship, and there really is no greater feeling."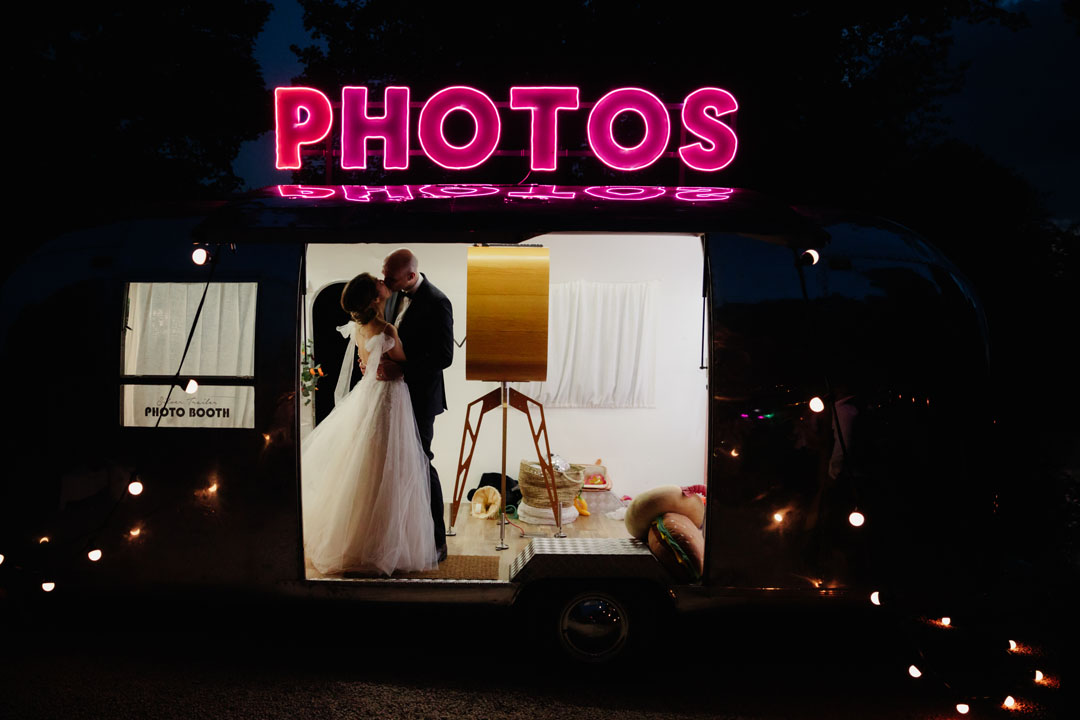 Nikki and Sion, I am in love with your romantic and magical day. Thank you so much for sharing this insight with us.
Thank you as ever, Philippa James Photography, for your wonderful, emotive work; what a joy.
You can find out more about the beautiful Herefordshire wedding venue that is Dewsall Court here.
Ele xx