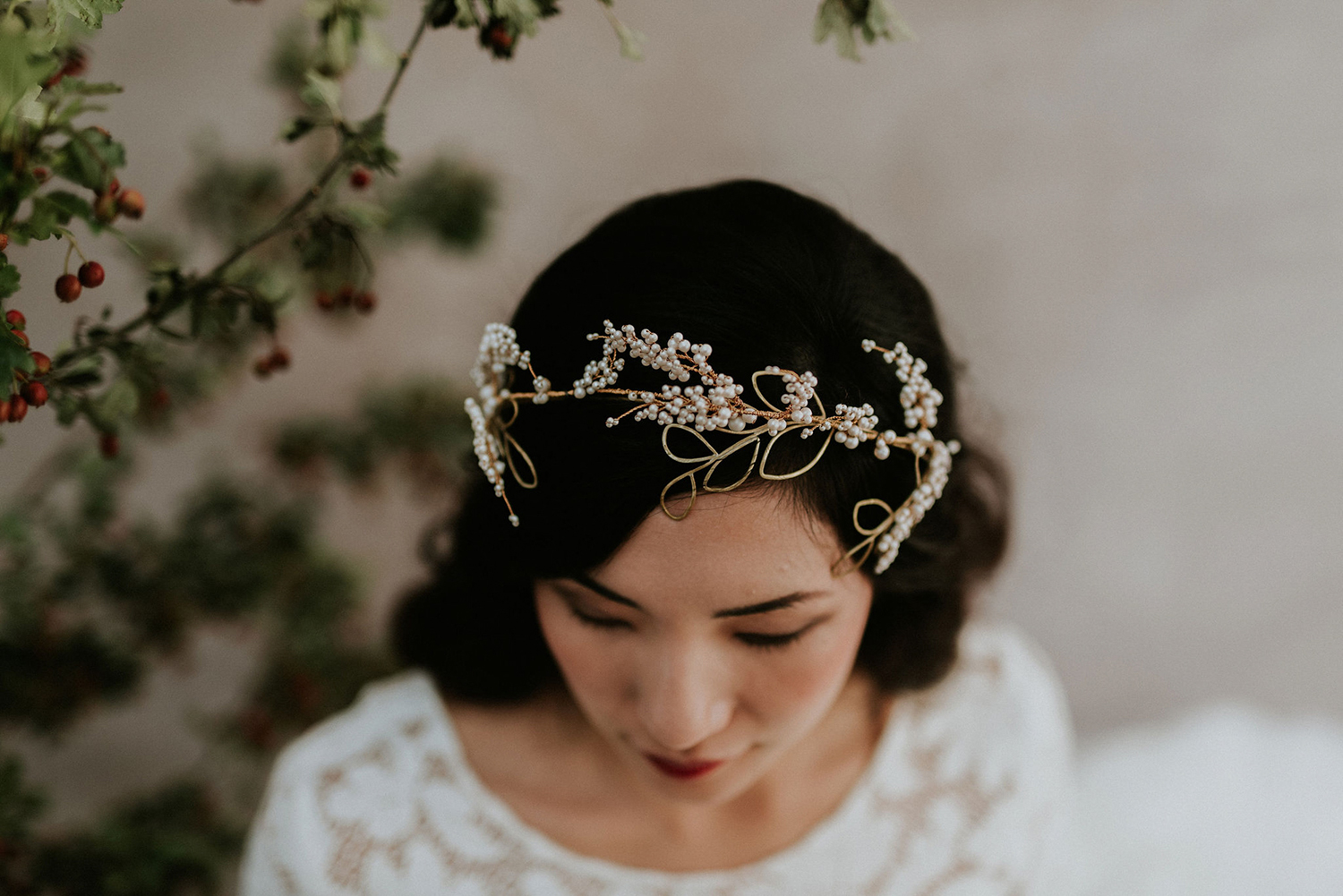 About Clare Lloyd Accessories
Designer Clare of Clare Lloyd Accessories, create and handcrafts luxurious, ethereal and feminine wedding hair accessories, hair vines and jewellery for the romantic bride.
Everything is made entirely by hand by me using artisan and couture techniques in my little studio in a former textiles mill in the small market town of Frome, Somerset surrounded by beautiful countryside. For as long as I can remember I've always loved making pretty things and after studying fine art and literature at uni, I trained to become a jeweler. Once my sister got married in 2012, I became completely lost in the wonderful world of weddings eventually setting up my own business the following year.
My creations are hugely inspired by nature – especially flowers and foliage, soft subtle colour and light and also by the elegance and glamour of bygone eras. My designs capture the timeless beauty of days gone by but with a modern, contemporary feel. I'm also very much inspired by the wonderful women I get to work with and creating beautiful designs that become treasured possessions and part of your story is a complete privilege and joy.
Impeccable design and comfort are at the forefront of every piece I make – all headpieces and jewellery are designed to be incredibly lightweight to make sure that you can wear your accessories from early morning until dawn in complete comfort. Handmade ear wires and custom made bracelets and necklaces ensure the perfect fit and comfort for you.
I use the finest materials from the finest Austrian and Preciosa crystals to antique mother of pearl, freshwater pearls, the tiniest Japanese glass seed beads, hand dyed silk ribbons, antique lace and semi precious stones to create exquisite and detailed designs. As my work has progressed and evolved, I am moving towards making my designs, processes and materials as earth kind as I can and my most recent collections are made with recycled precious metals and ethically sourced stones and I have many designs that are suitable for vegans. All designs are made to order and you can choose from an ever growing collection of designs or commission me to make you something completely unique and bespoke to you. Appointments to visit the studio are always welcome or if you live further afield we can work together via email, Zoom/FaceTime or telephone to create your perfect accessories.
Videos
Reviews
I absolutely adore the comb! It is so beautiful it brought tears to my eyes. Thank you again for making such a beautiful accessory for my wedding day. I loved the packaging too, every detail is just perfect.
Elisa
I just wanted to say thank you so much. I never thought I would find anything so beautiful. You have completed my wedding outfit. I feel blessed to own it! One day, I hope to pass it down to my daughter.
Chelsea-Marie
The hair combs and pins arrived yesterday. They are absolutely exquisite! Thank you so much for such a wonderful piece of work. I adore them - thank you so much for contributing such a lovely addition to the wedding day.
Jane
Just wanted to let you know the hair vine has arrived safe and sound this morning. I am in love with the vine, it is so beautiful and delicate, just what I was after! So chuffed I was able to purchase one of your pieces! I can't wait to wear it on the big day! Love the pretty box it comes i to with your personalised handwritten message! Thanks so much!
Laura
I'm going to treasure them forever as a piece of our special day. You did such a perfect job Clare, thank you so much!
Laura E
Frequently Asked Questions
Do you create bespoke and custom made designs?
Yes! I can work with you to design and create your perfect bridal hair accessory or jewellery. The process is straightforward and very enjoyable. You can either contact me on my Love My Dress page, via my website or by email and we can book a consultation on Zoom or you can arrange a time to visit the studio and we can talk through your ideas. The bespoke process does take a little longer to complete so I would always advise allowing at least eight weeks if you're based in the UK and a minimum of twelve weeks if you're based outside the UK.
I'm interested in one of your designs but I'd like a few changes, can this be done?
Absolutely! I can adapt any of my designs to suit your exact requirements. For example, materials can be changed from pearls to diamante, a comb design can be made as a headband, a comb design can be made into a set of pins etc. Colours of beads can be changed to match your colour scheme and there is always a choice of metals to include silver, gold and rose gold. Designs can be made smaller or larger and jewellery can be made to your exact size requirements.
Do you have a studio that I can visit?
Yes. I have a working studio based in Frome, Somerset which is about ten miles from the city of Bath and not far from Bristol. You are very welcome to arrange a convenient time to visit the studio where you can look at and try on lots of different styles of hair accessory. You will also get to see all my tools and equipment and see how I make my hair accessories and jewellery. Visits to the studio are by appointment only and you can contact me through my Love my Dress page, by email or via my website.
I'm looking for sustainably made and eco conscious hair accessories and jewellery, can you help?
Absolutely! I have several collections of hair accessories to inspire you which includes an entire vegan collection and designs made entirely from recycled precious metals. As I make everything by hand myself, I know where every bead, crystal, sheet and roll of metal comes from. It is very important to me that my work, the processes and tools I use and the materials I use are as ethical and environmentally kind as they can be. All of my packaging is made from recycled materials and even my business cards are made from recycled t shirts. It is a work in progress but each step made is a step towards making my business more sustainable. I don't use any chemicals in my jewellery making processes either and if you visit the studio, you will be able to see my processes and tools up close.
Can you convert my hair accessory into something else after the wedding?
A lot of my hair accessories are designed and made to be worn in several different ways, for example, I have hair vines that can be worn as a necklace or as a delicate belt and I have headpieces that are designed to be worn as a hair accessory or a statement necklace. Most of my crowns work equally well as a statement neckpiece as they do a headdress. My precious metal leaf hair pin designs can be converted into earrings or a pendant after the wedding. I can also design bespoke pieces that can be converted to a piece of jewellery afterwards so if this is something that you're interested in, please contact me and I can design you a multi purpose beautiful headpiece.
How long does it take to make your accessories and what is your lead time?
I make everything by hand to order; it's just me and I create everything in my studio in Somerset. My work is very intricate and detailed and so it takes time for me to create my designs. The time it takes to make a design depends on the complexity and size of the design with some pieces taking several hours to several weeks. I have a guide to timescale on each product listing on my website. My lead times can vary throughout the year depending on how busy I am. Spring and summer months from April through to September are always busier than the winter months and lead times often increase over the summer. If you are ordering a design from my website without any changes I would suggest you leave a minimum of four to six weeks. For any custom changes or bespoke work, please allow a minimum of eight weeks so we have time to discuss designs and source any materials needed. If you are based outside the UK, please allow more time for delivery and customs clearance.
I'm getting married very soon, can you help?
If you need a hair accessory or jewellery urgently, please contact me in the first instance with your timescale and if I can help you, I will gladly do so. I try to keep some of my most popular designs in stock through the summer just in case so I may well have something that is perfect for you that can be posted out immediately. If my order book permits, I may be able to turn around an order in super quick time. I will never charge additional fees for rush orders; if I can help you, I will. Please ask if you have any queries about urgent orders.
Articles featuring Clare Lloyd Accessories