It is a real delight to share this wedding with you today as the ethereal, utterly gorgeous gown is is from one of our absolute favourites, Halfpenny London.
This is the wedding of marketing consultant Laura and structural engineer George, who celebrated their marriage at Asylum Chapel London with a reception afterwards at AMP Studios on 23 July 2021.
Photography Cat Arwel Photographer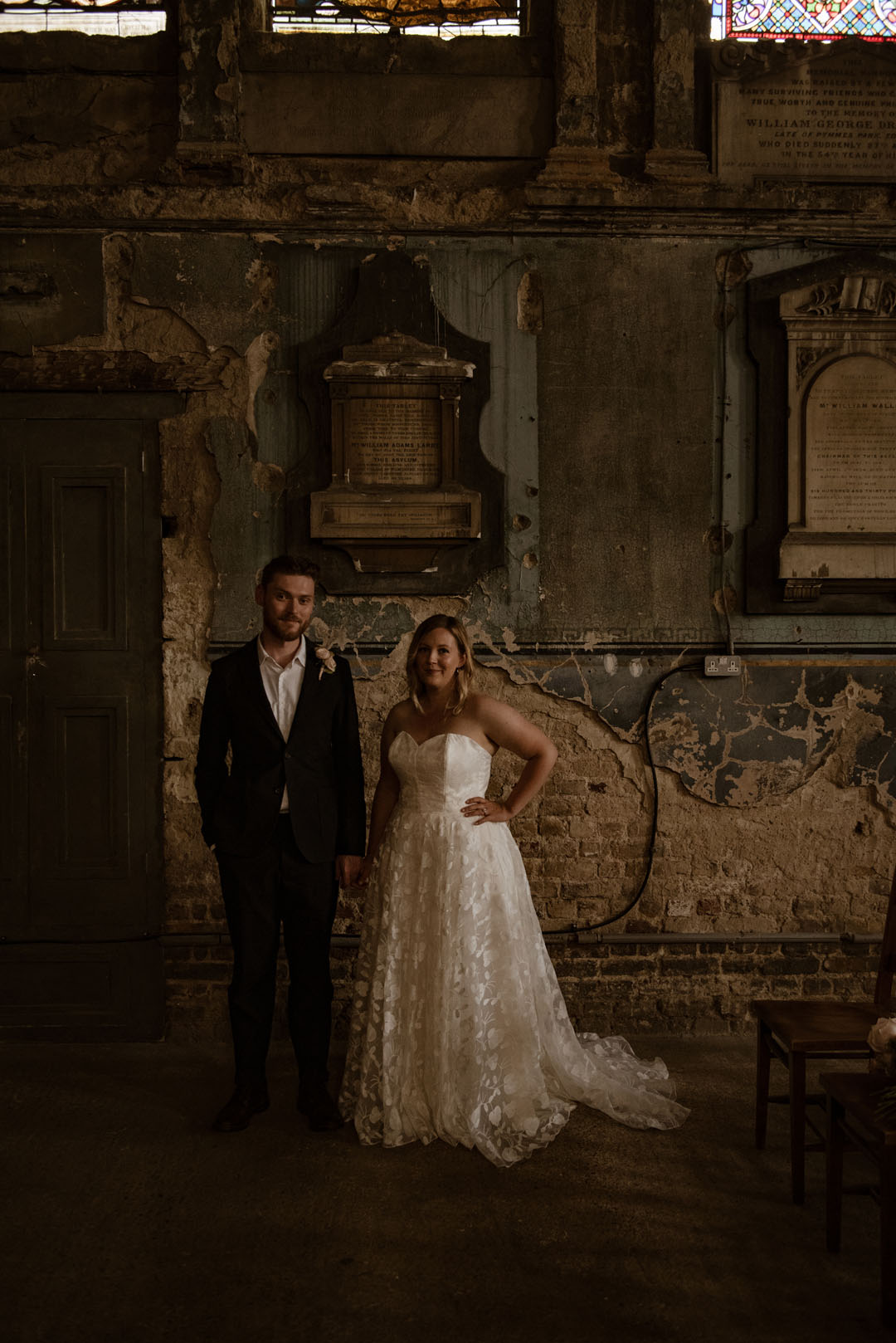 The bride wore her hair down in a soft, wavy blow-dry.
"Our hair was done by a local hairdresser, Meg at Megestic Hair. Our make-up was done by Georgie Murtagh, who I found on Instagram. I was chuffed with both."
"They felt like an extension of the bridal party and went with the flow, especially working around the schedules of two very small babies and breastfeeding new mums."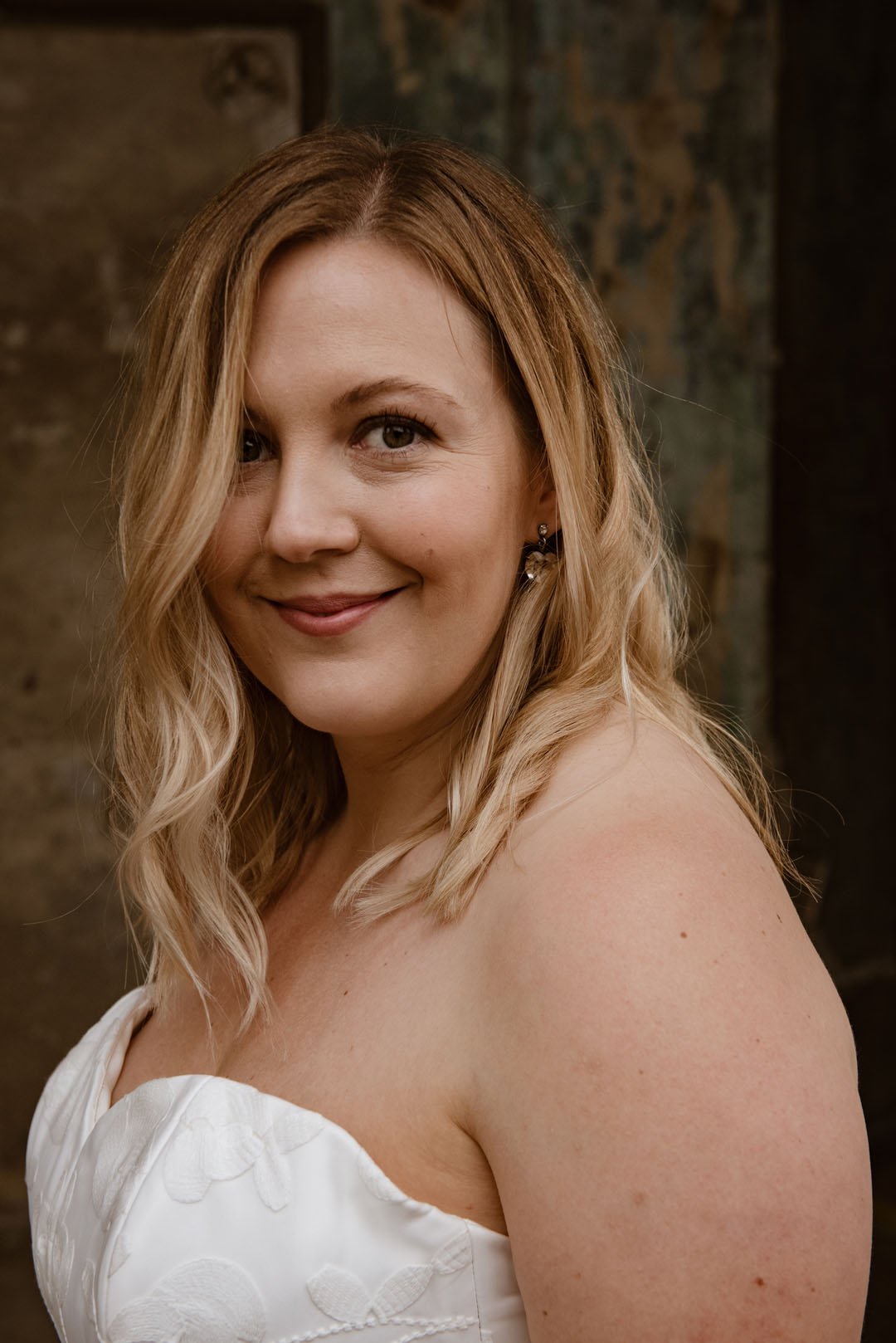 Shoes were nude block heels from Aldo and Laura's perfume was Jo Malone English Pear and Freesia.
"My sister Rosie lives in Thailand and came back a couple of weeks before the wedding. She had missed the registry office event so she wanted to make this really special. She surprised me with an appointment at Jo Malone where we picked this together and she had the bottle engraved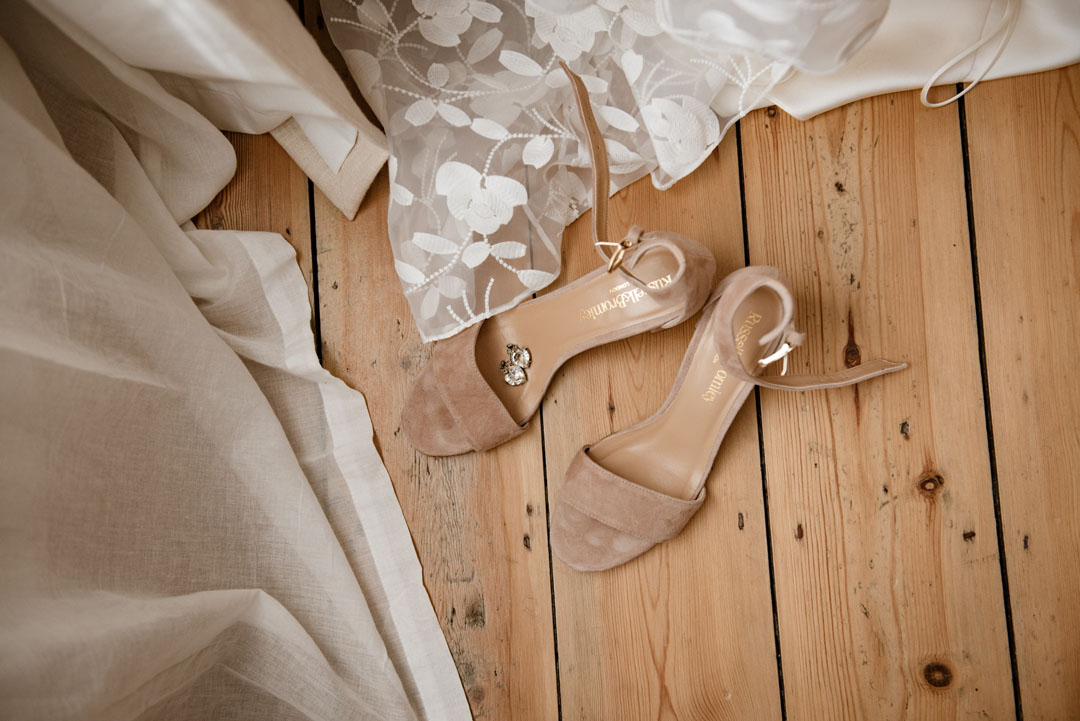 The couple found plenty of inspiration for their day right here on Love My Dress, and the bride also got support and confidence to wear her beautiful choice of gown from Halfpenny London.
"I love the wide range of weddings showcased, as well as brides of all shapes and sizes. Particularly having had a baby just months before the wedding, it gave me confidence that I could still look and feel great in my Halfpenny dress."
Halfpenny London is a British designer whose gowns flatter and give confidence to all women. We are delighted to support her on our Wedding Directory here. Laura chose the 'Esme' gown, featuring an ethereal, embellished over-skirt.
"Halfpenny London were amazing. I chose my dress pre-pandemic and pre-baby, in the best shape of my life. When I went back to try it on three months after having a baby, it just didn't fit."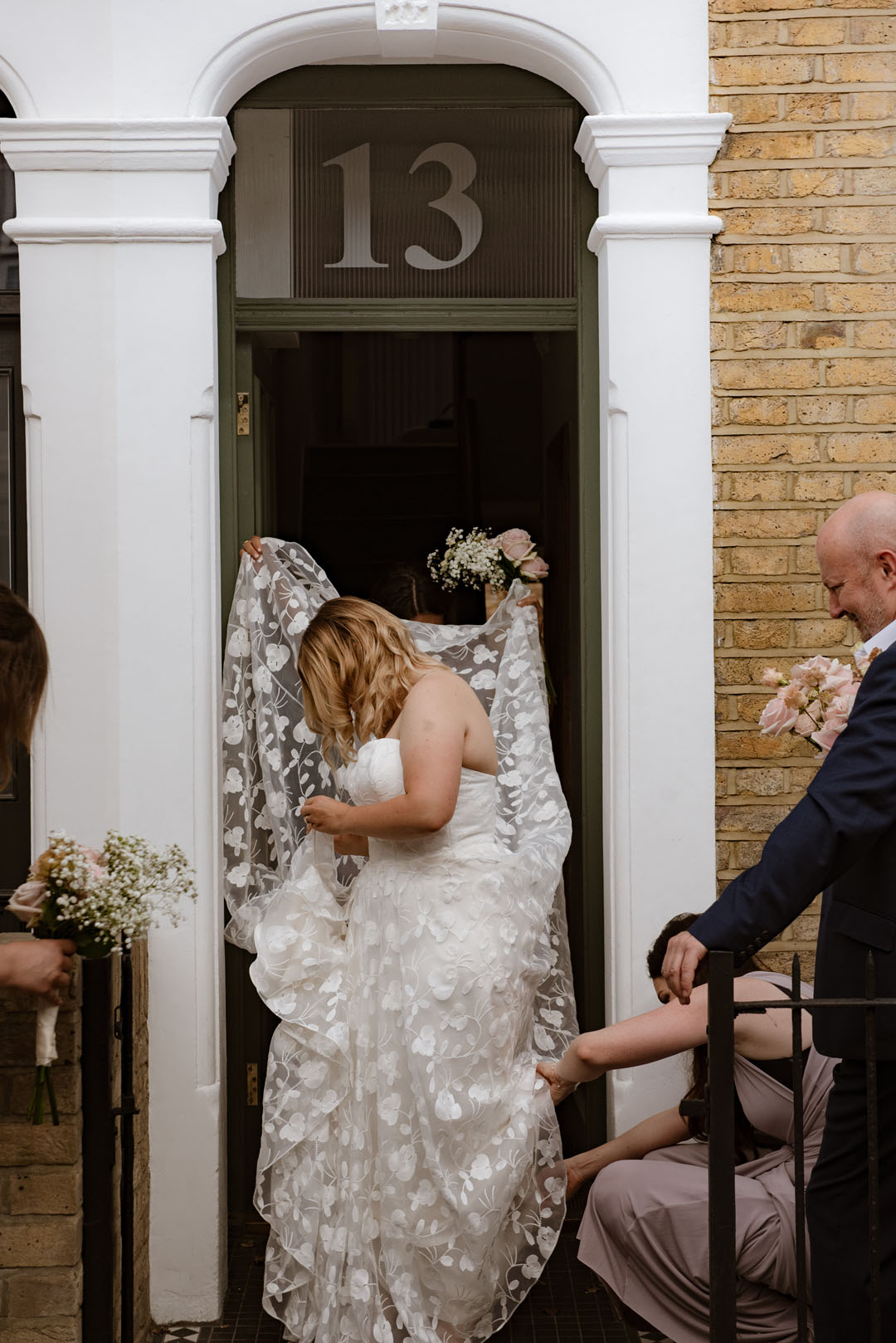 "The incredible team worked their magic and made me look and feel great again, with the bonus of being able to breastfeed."
"I didn't have a clue what kind of dress I wanted. We went to several boutiques without much luck; as a curvier girl all that fabric can add inches."
"As soon as I tried on the Halfpenny 'Esme' dress, it felt right. I didn't need to wear a bra (so freeing) and it certainly felt like a special occasion kind of dress."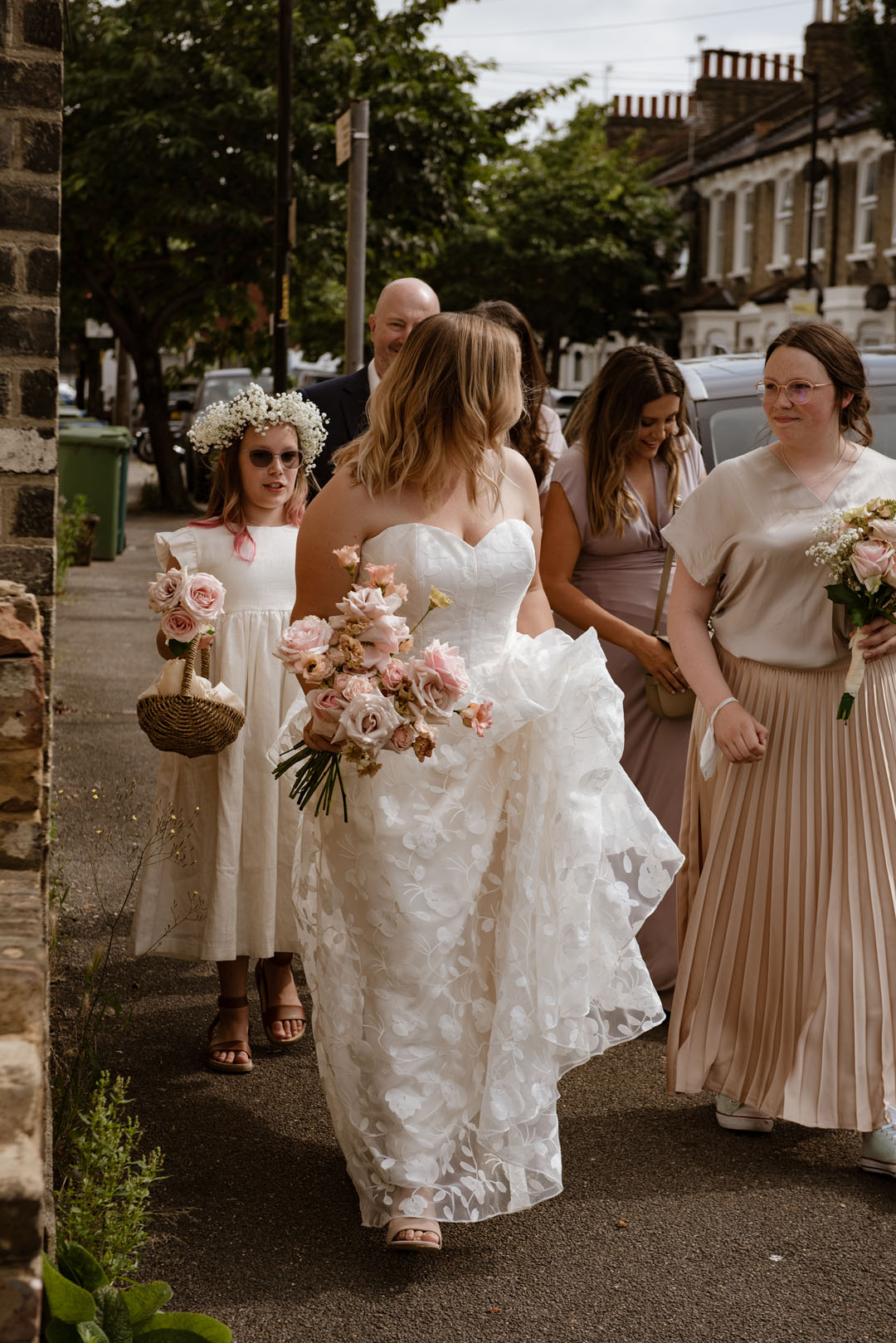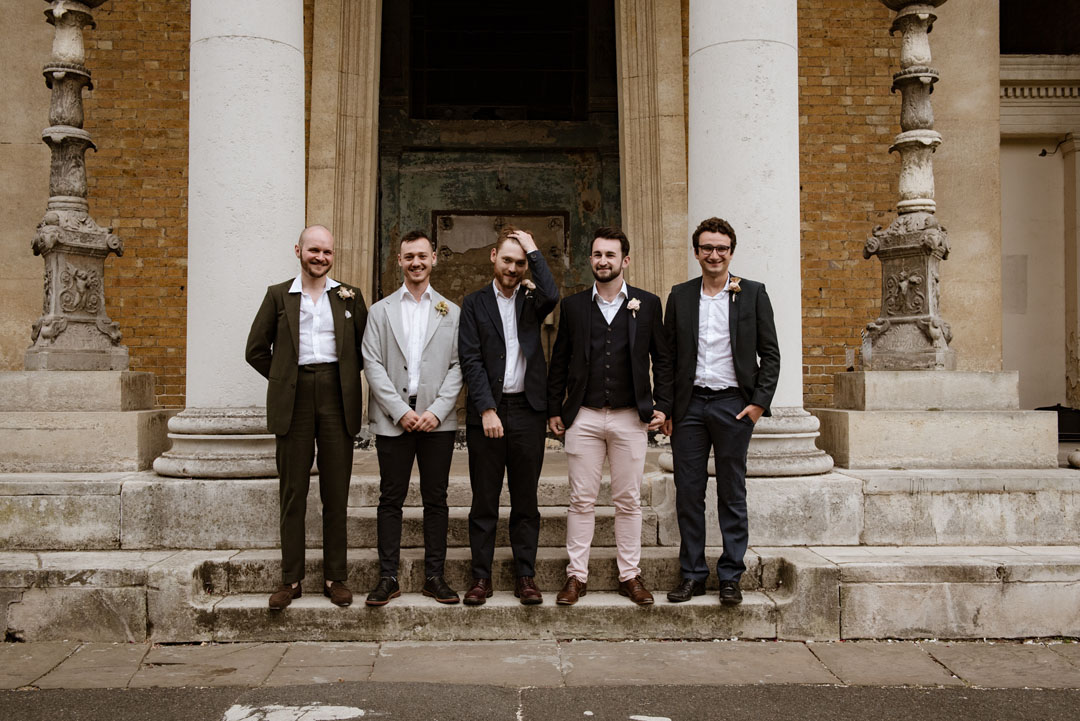 George wore a light cotton suit in navy with a fine herringbone texture from Oliver Spencer.
"He didn't want to spend money on a formal suit he wouldn't wear again."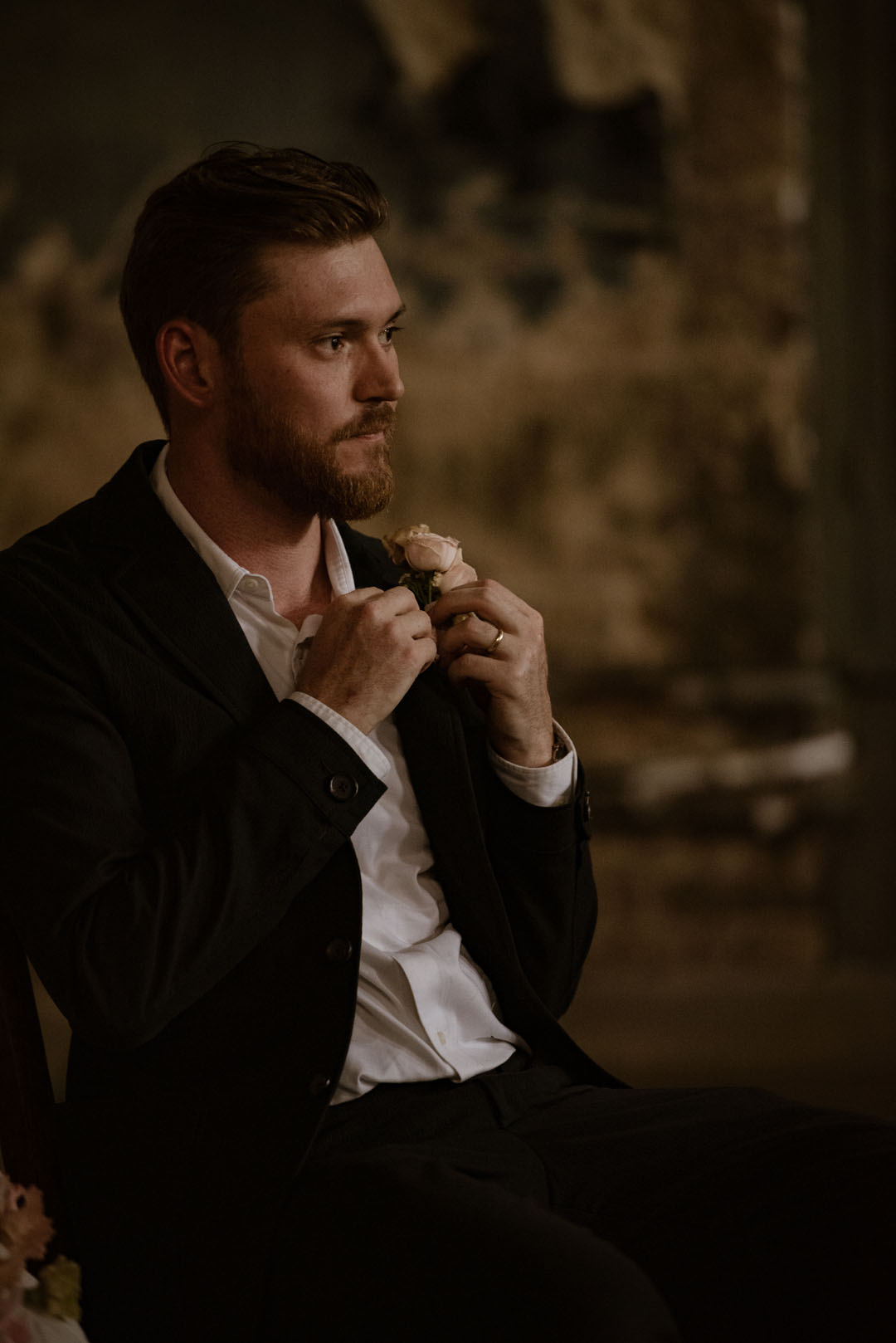 Laura and George wed in a civil ceremony at Southwark Registry Office in July 2020, but decided to postpone their larger celebration until they could bring together all their loved ones, with fewer restrictions. Cue this natural and simple celebration with the focus firmly on gathering friends and family for a day of love and fun.
"Our wedding was cancelled due to Covid but our original date was special to us as it was my grandparents' and George's parents' wedding anniversary. We also wanted to start a family so we decided to go ahead and get the legal business out of the way on our original date, 25 July 2020."
"Our 'wedding' (as we call it) happened the following year. Asylum Chapel was always the dream location, just two roads away from our flat which we had spent a year renovating – our first home together. We had originally planned to have the reception at Copeland Gallery but with uncertainty on whether we would be allowed fifteen or 150 guests, we wanted somewhere that had the potential to be more intimate. AMP Studios, with its two arches, gave us the option to do either."
As a surprise for George, Laura and her father Lawrence walked down the Asylum Chapel aisle to 'Crazy Love' by Van Morrison.
"As we were already legally married, we were able to have George's auntie Dawn (a celebrant) do the whole ceremony."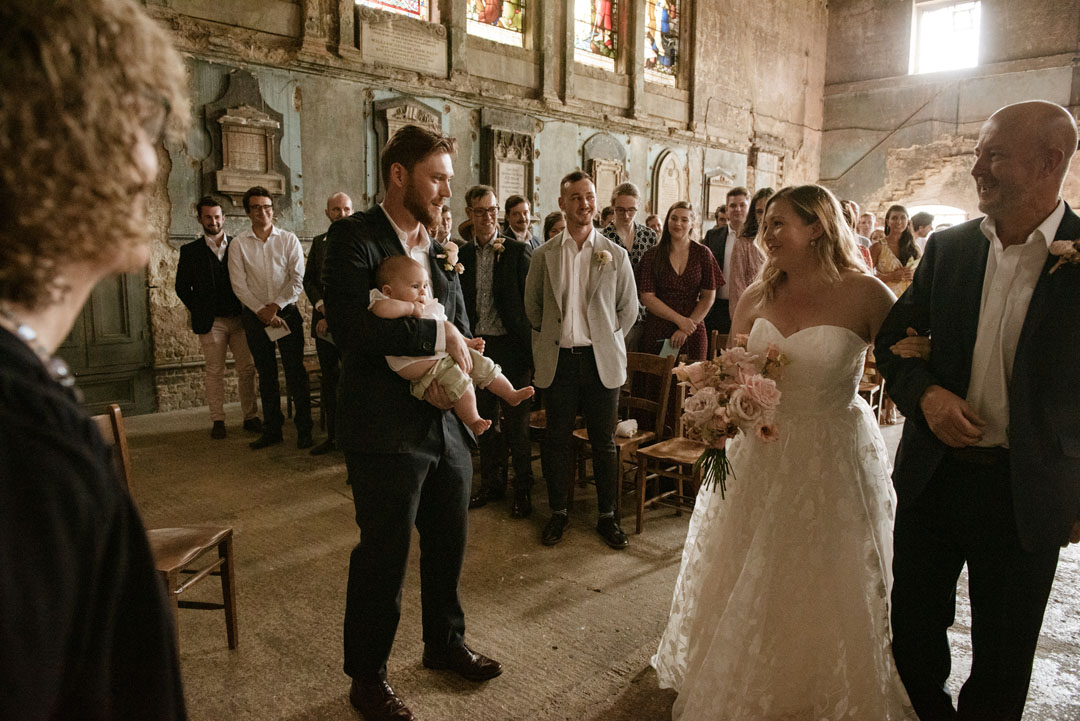 This made it super-personal and it really felt like us. We wanted it to be a celebration of not just us but of little Frank too."
"We didn't have any hymns so Dawn orchestrated an activity and got all our guests to write their wishes for us and for little Frank on pieces of paper, which they then waved in the air."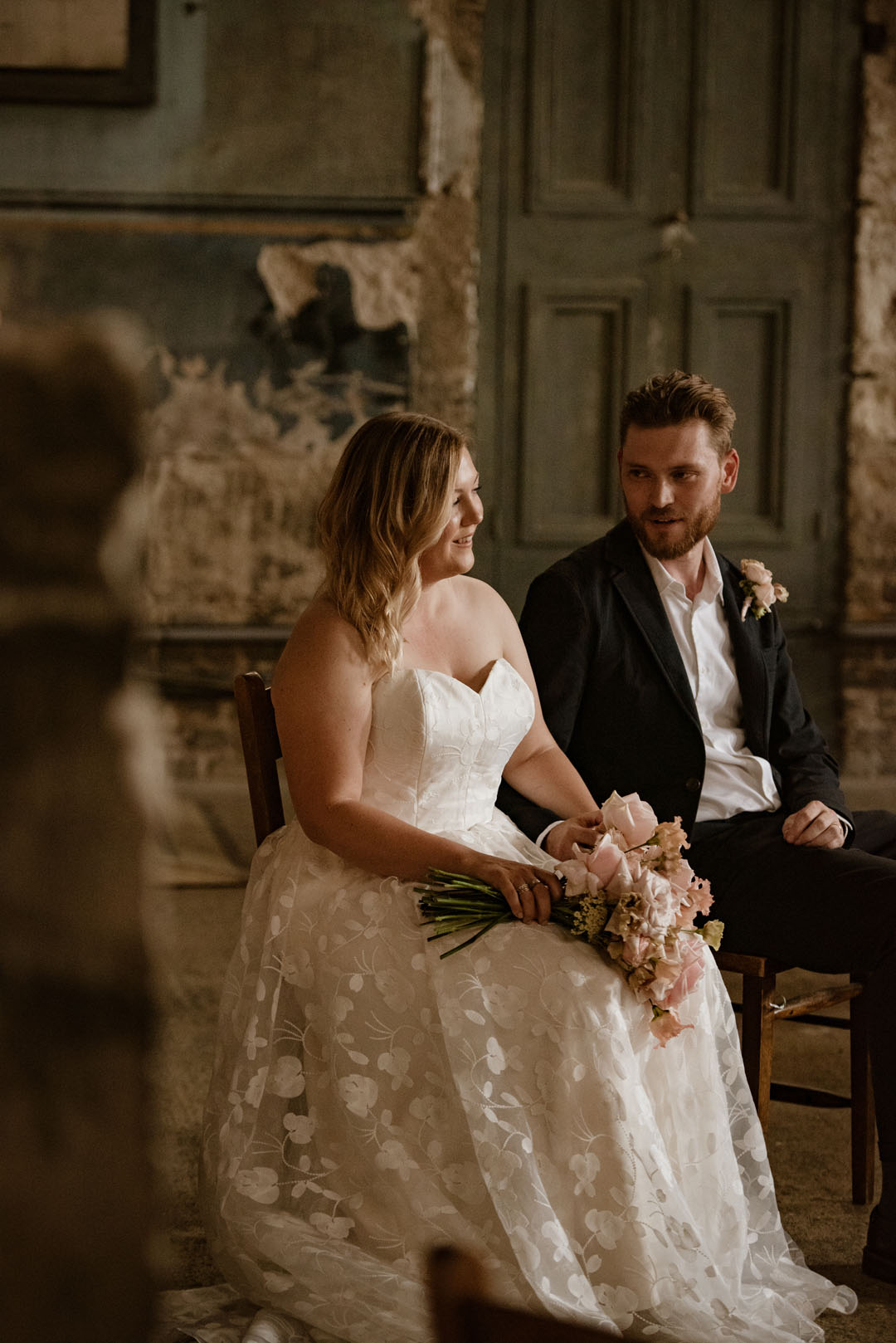 "After the wedding, Dawn had these bound into books for us to keep. It was such a lovely moment and really special to read through."
"We wrote promises to each other rather than vows and both of our mums did readings. George's mum read a poem about love and my mum read 'On Marriage' by Kahlil Gibran."
"I wore my mum's crystal heart earrings – her first real present from my dad. They were designed by Monty Don and bought from Liberty back in the 1980s."
"Wearing those was a surprise for my dad. I also wore a white gold and diamond engagement ring gifted to me by my late grandmother, Jill."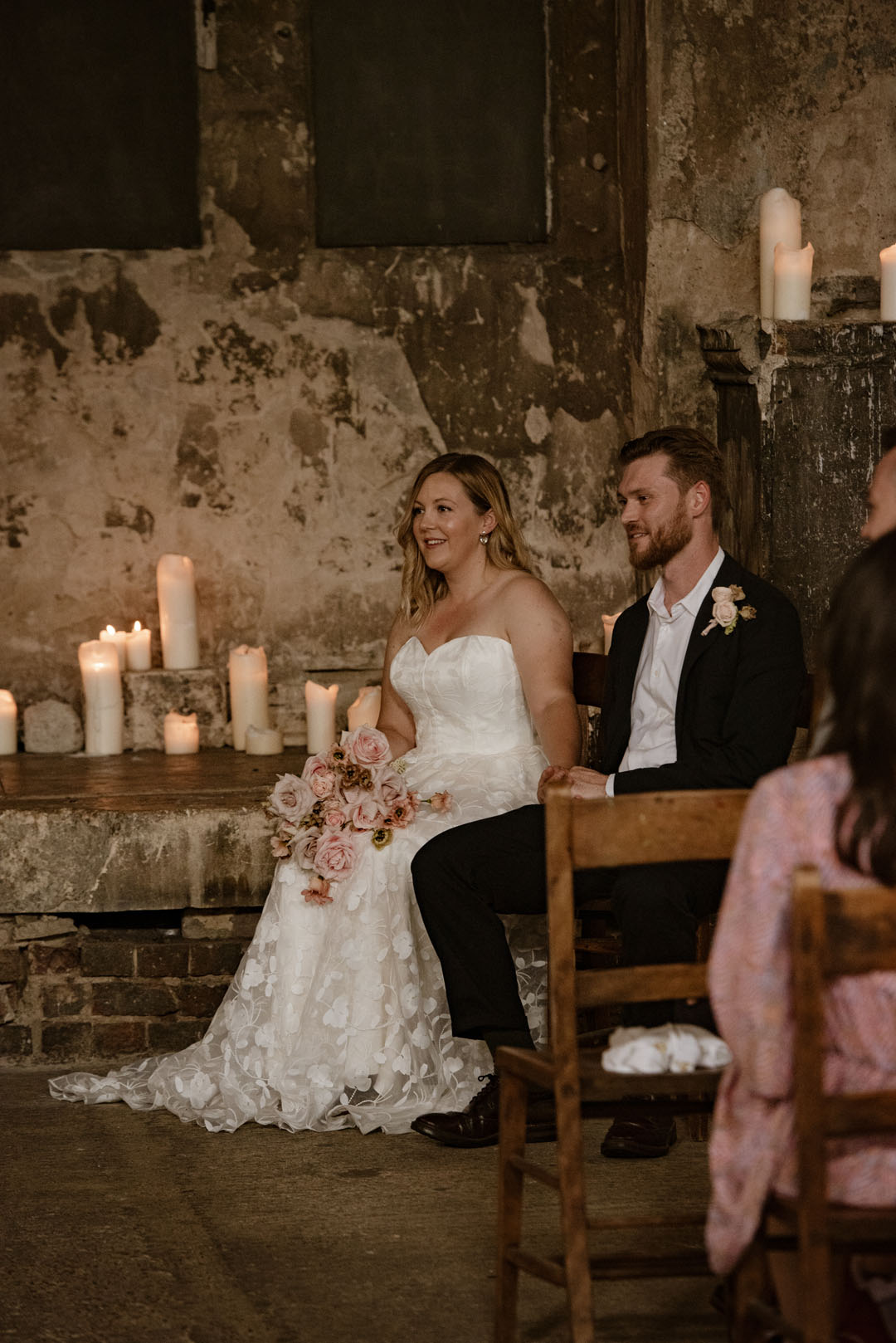 Laura and George met during their time at the University of Sheffield.
"We met on the dance-floor of an incredibly grubby nightclub that was famous for its 'quad vods'… need we say more. The first summer after we met, I went to work for a travel magazine in Thailand for three months and George hopped on a plane to visit. That was it! We got engaged in March 2019, the day we moved back in to our newly-renovated flat, surrounded by boxes. We booked Asylum right away, despite having never been inside."
https://www.lovemydress.net/directory/supplier/the-vintage-house-that-could-wedding-planner-stylist-furniture-hire-props-tablewear-midlands-uk/
"The rescheduling meant that our initial plan changed and while some elements were rescheduled, others were not. We did not know until the week before the rescheduled date whether it would be possible to go ahead, so we didn't want to waste time or money or get too excited in advance. This meant that we had a more DIY approach which actually, on the day, made it really feel like our big day."
"We felt so lucky to have the restrictions lifted the week of our rescheduled date and to be able to have everyone together after such a long time apart. It made the day even more special – a real celebration of friends and family. It was even more so because our baby son Frank was right there with us."
"The only sad note was that my grandma died in June 2021 and so didn't make the rescheduled wedding. She would have so loved to be there, alongside all three other grandparents. She featured heavily in the speeches and there were lots of tears shed."
"Our wedding was all about people. It was an excuse to get all our loved ones together in one place. How often does that happen? I have a large family (with over twenty first cousins on one side) so it was always going to be a large wedding."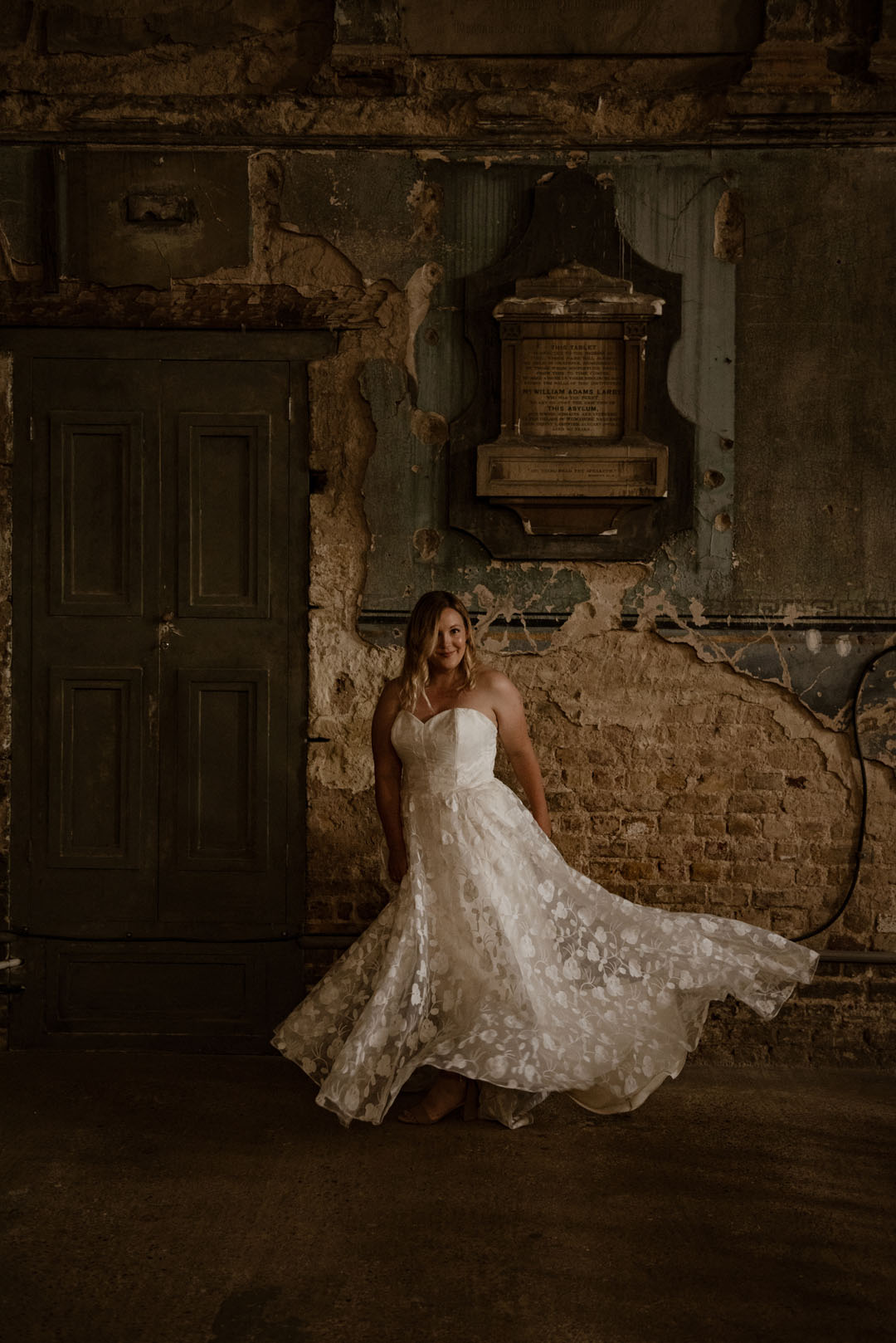 Capturing the day was Cat Arwel Photographer, whose work is modern and full of movement.
"Having met at a shared workspace many years ago, I knew it had to be Cat photographing our wedding."
"We were so happy with our choice. It was like just having a friend with us – barely there yet there at all the right moments."
"Despite me feeling a little bit self-conscious post-baby and also not being the most photogenic, Cat managed to take photos which we will love and treasure forever."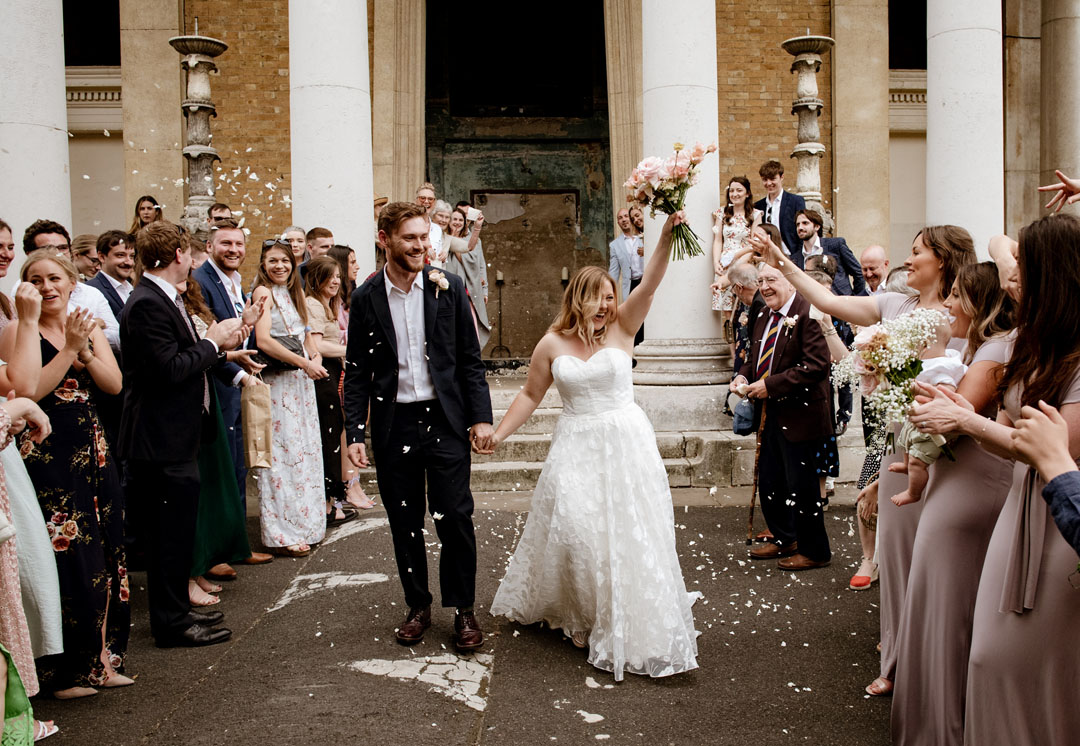 The flowergirls wore pretty dresses from Etsy seller NannaJac.
"I bought these the week before the wedding from a lovely Etsy seller. The flower girls were a little older than originally planned and wanted something effortless and cool and not too bridesmaidy."
"Linen shift dresses with ruffled sleeves did the job perfectly. The seller makes them to order and did an amazing job turning these round so quickly for me. I would highly recommend."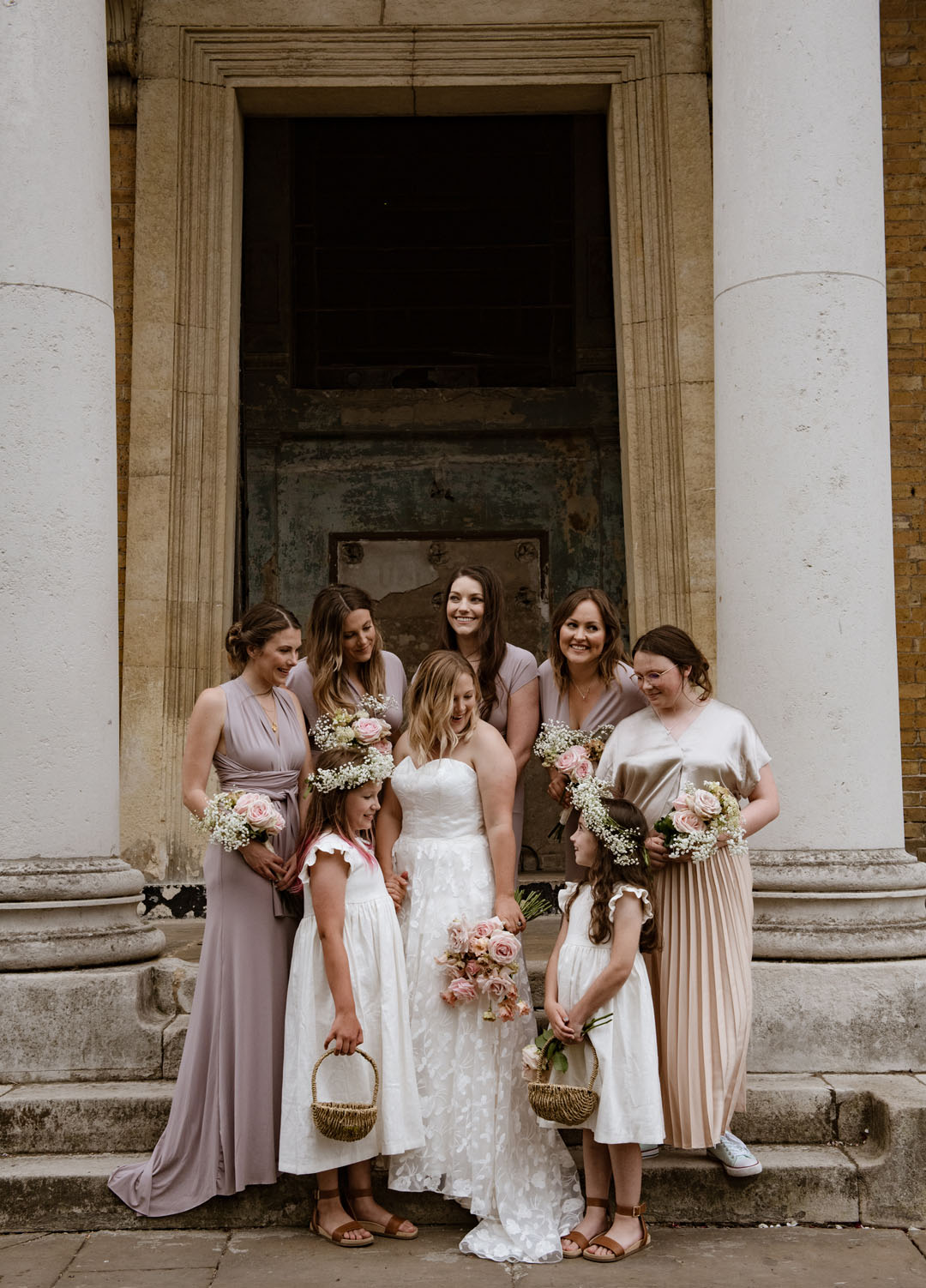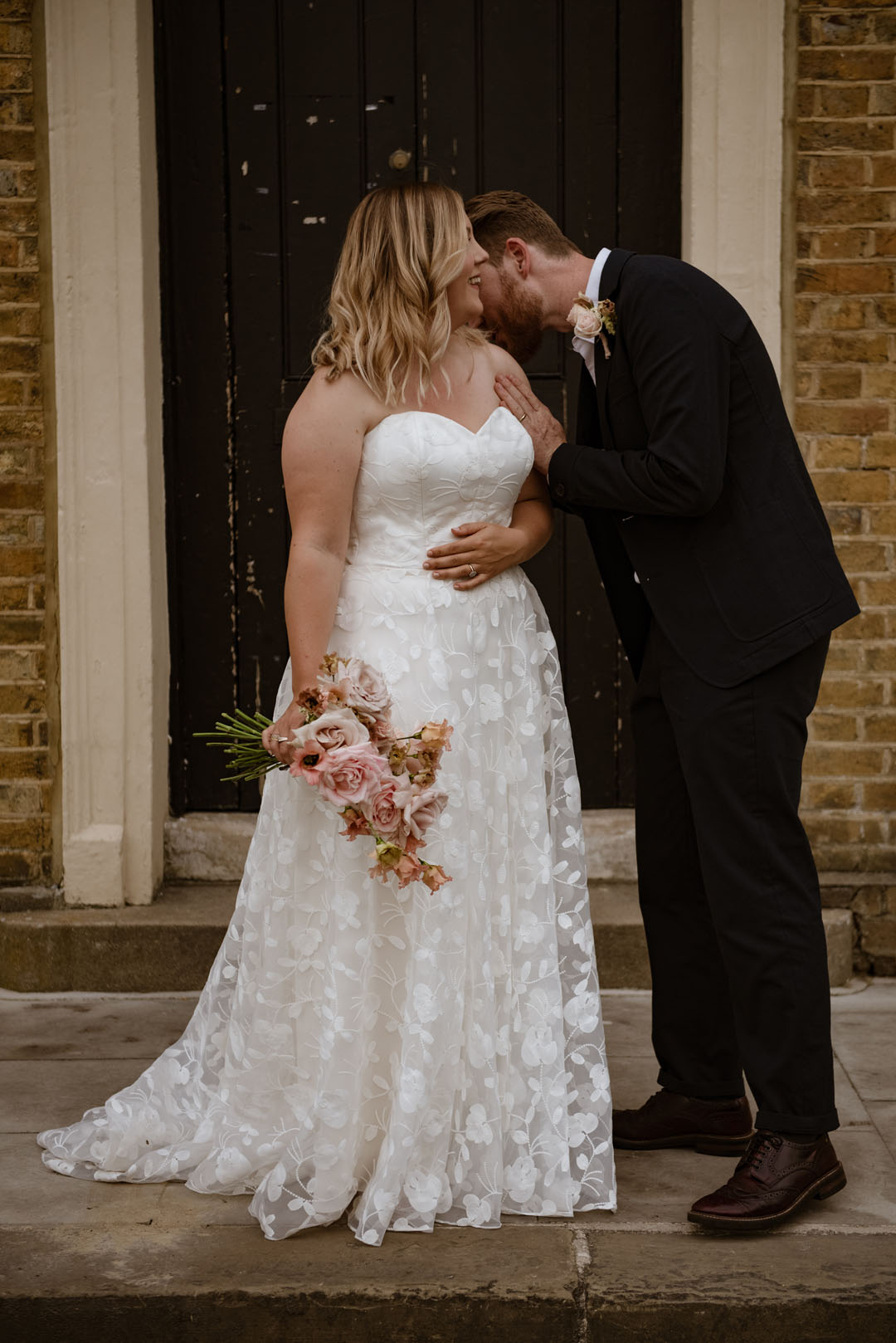 Laura carried a waterfall bouquets of roses from Blume Studio.
"The bridal bouquet and buttonholes were from Blume Studio, a recommendation of a friend."
"They also provided buckets of the same stems as well as lots of baby's breath for us to make into bridesmaid bouquets, flower girl posies and table arrangements."
"All the flowers (except the bridal bouquet and buttonholes) were then arranged by my mother and grandmother."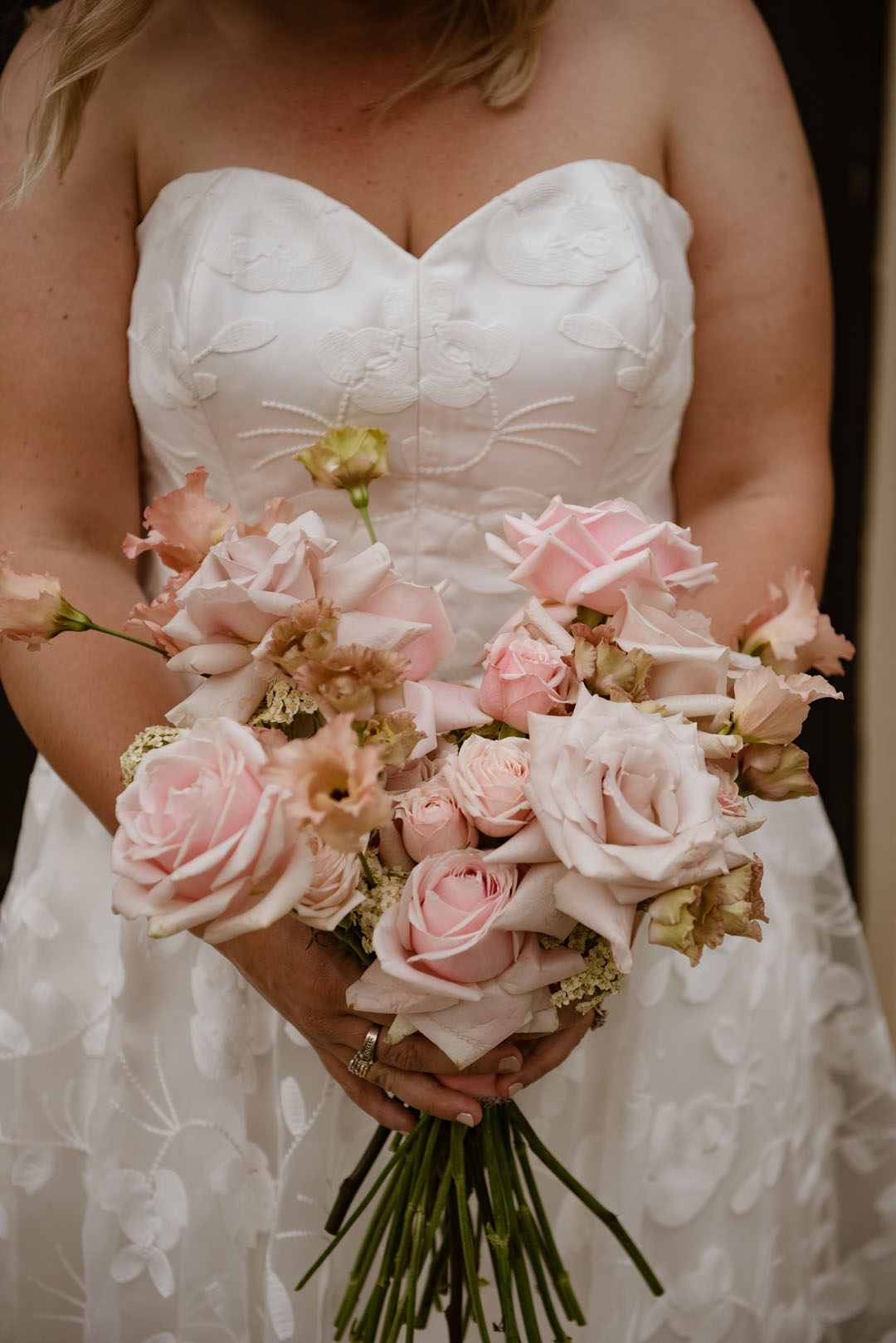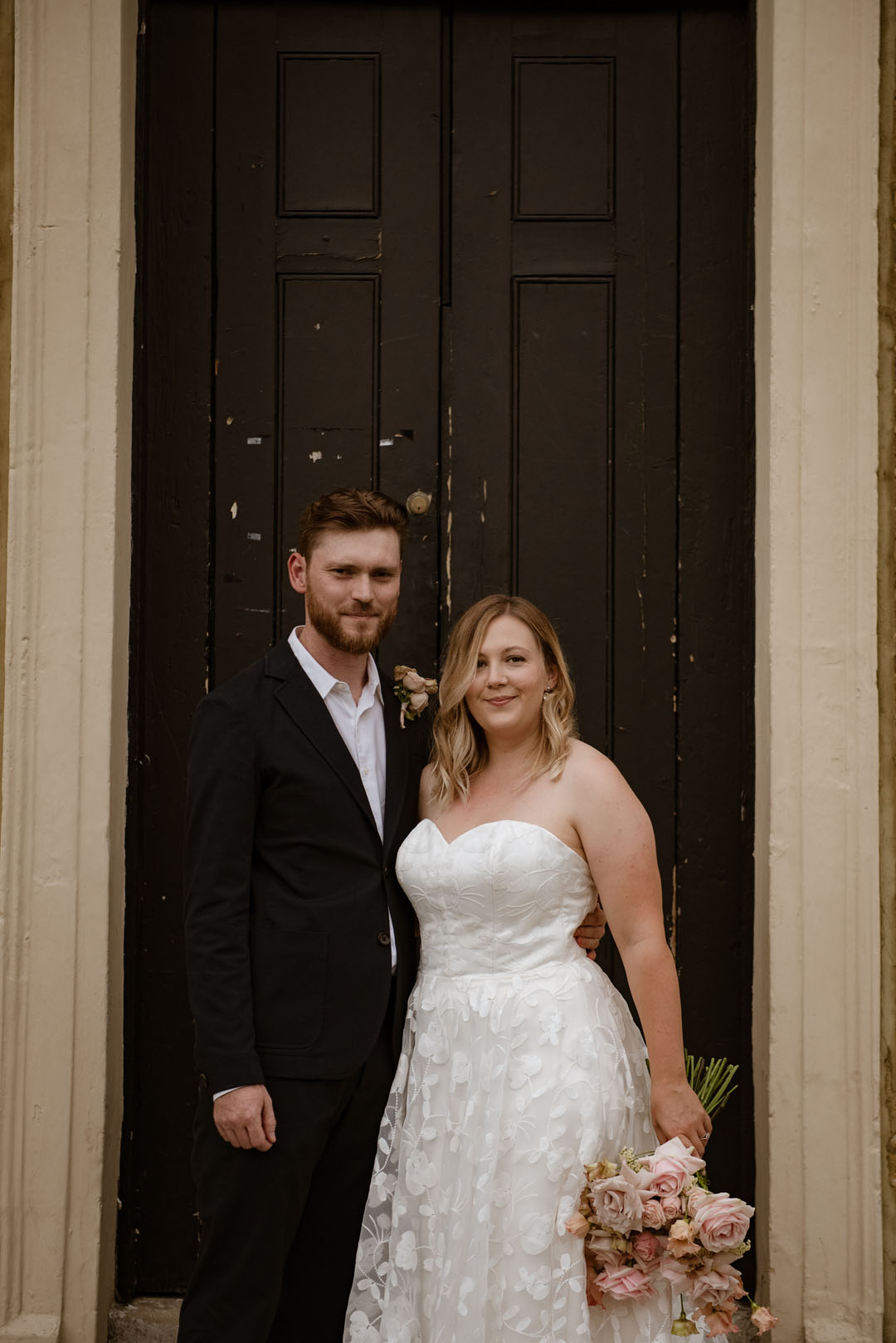 The grown-up bridesmaids wore multi-way gowns from TFNC via Asos.
"They were a simple grey/purple number that could be worn as each bridesmaid wanted. They were able to accommodate recent babies, breastfeeding and more!"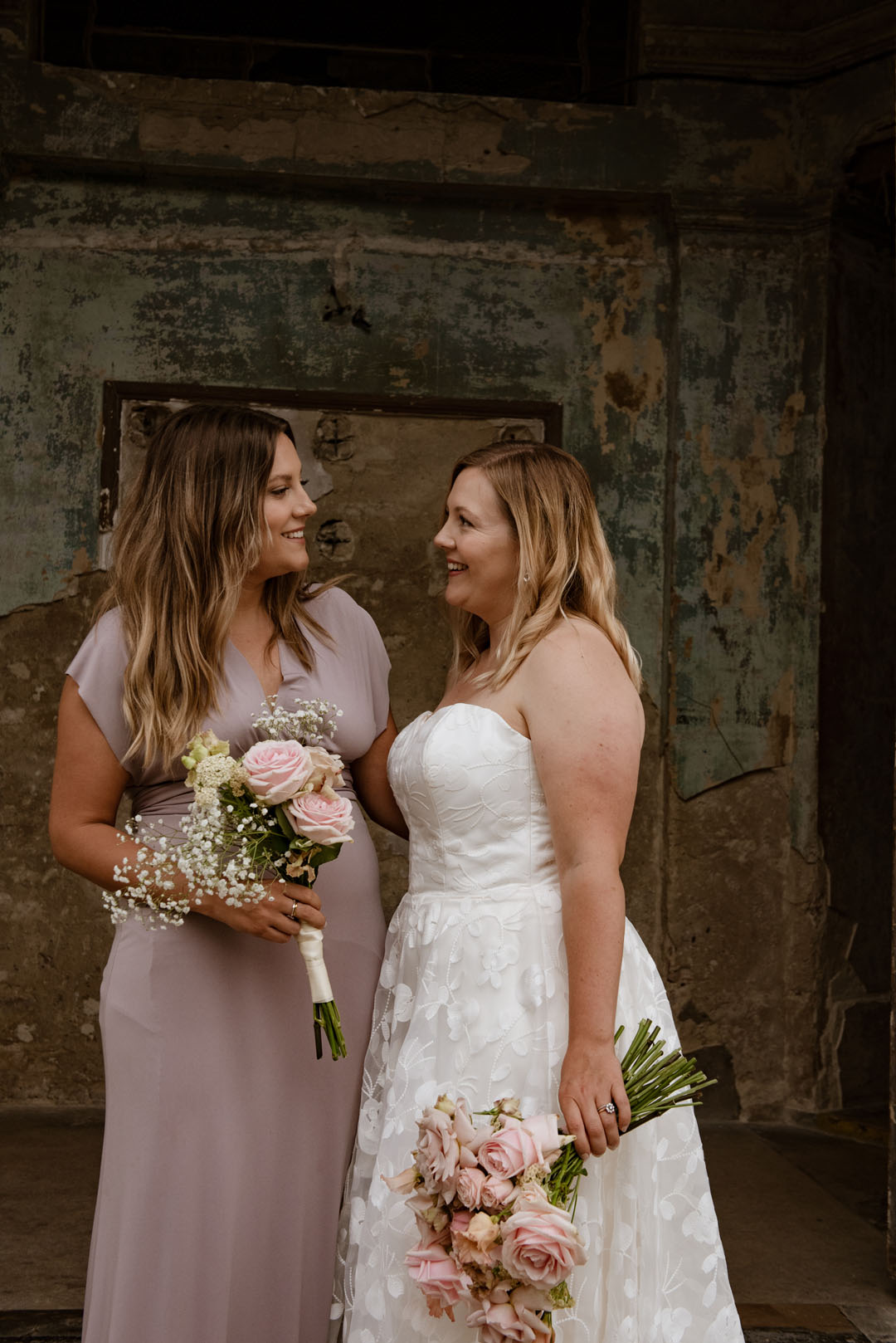 The couple's new-born, Frank, was page boy.
"He wore sage green linen trousers and a linen collarless shirt from Zara."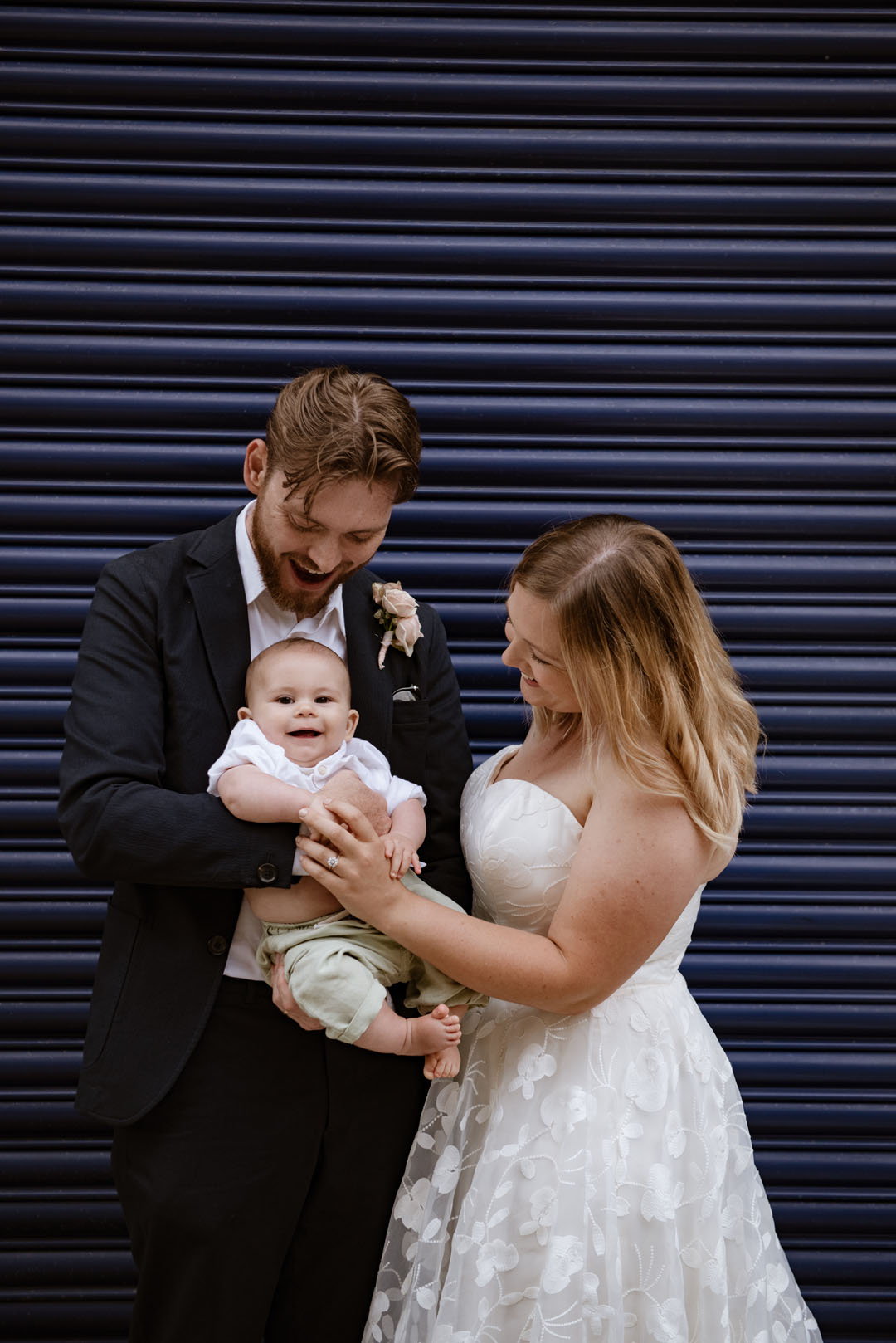 After the Chapel ceremony, the guests and newly-weds piled in to old London buses to get to AMP Studios.
"It worked well! The journey was short but it was better than walking down the Old Kent Road. George's friend Toby played acoustic guitar whilst the guests mingled on arrival at the reception venue."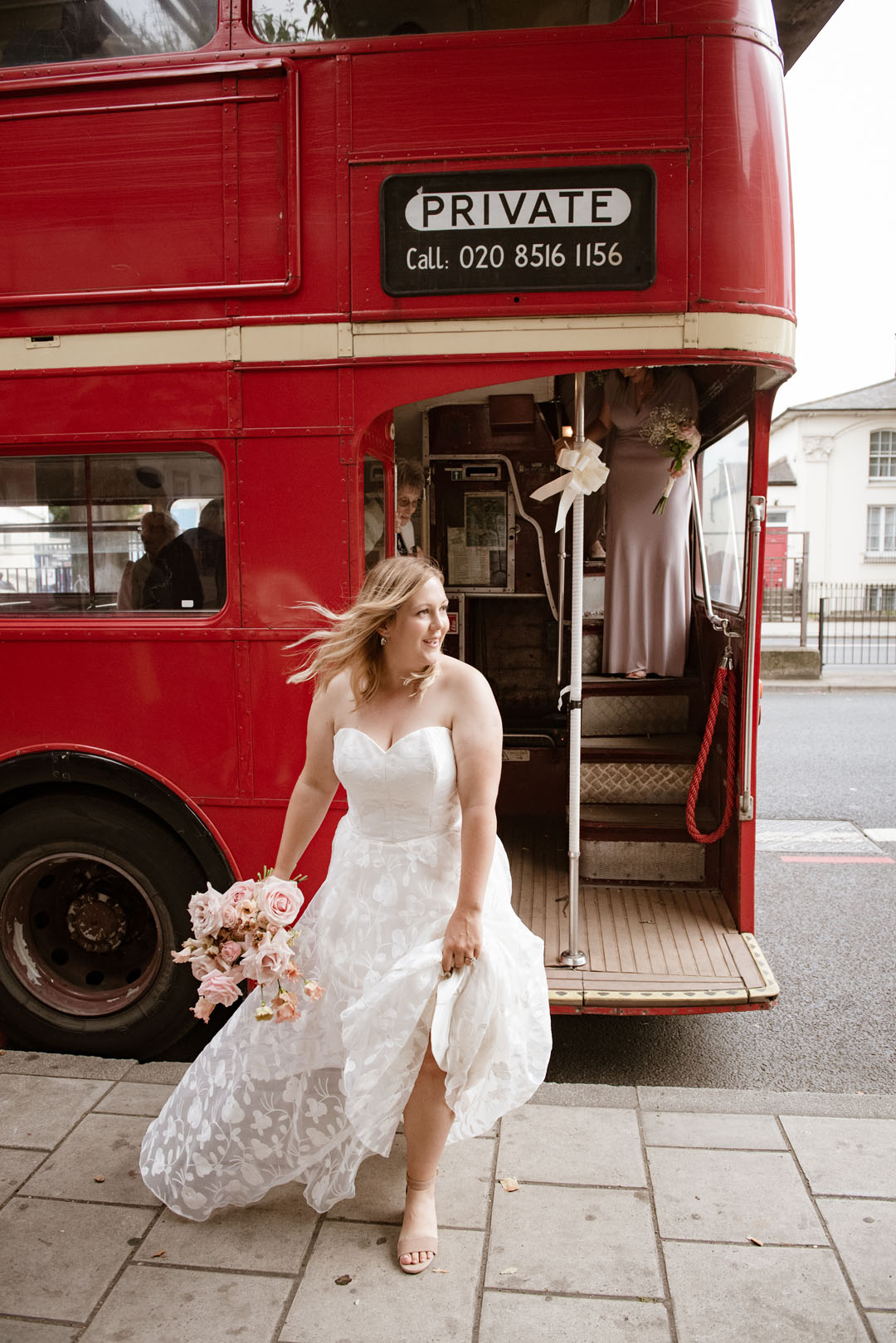 The Studios were simply but beautifully decorated by Laura and George, who made many elements themselves.
"We kept it very simple – rolls of brown paper that perfectly fitted the tables and heaps of old gin and wine bottles that we got our friends and family to save for us in the weeks before."
"There were simple white candlesticks, bunches of baby's breath and beautiful single stem roses. Menu cards were hand written on brown Kraft paper. We continued the theme with buckets of baby's breath dotted around the venue."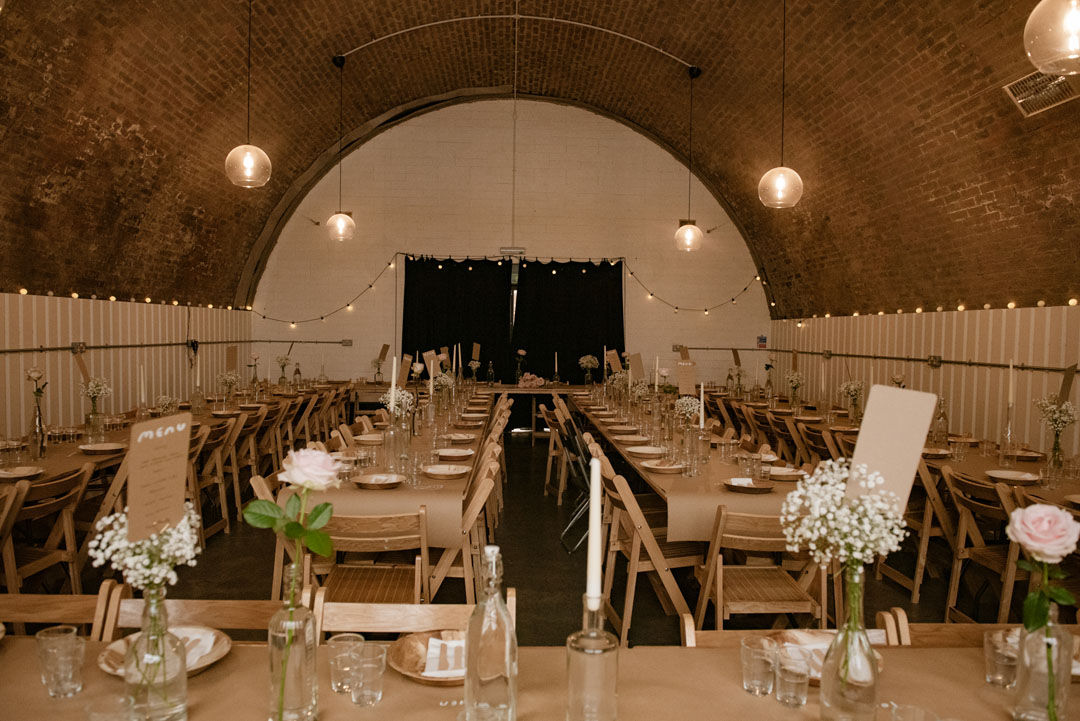 "My cousin did the place cards (names were written onto the tables in chalk pen) and we did a very last-minute DIY table plan using cut-out embarrassing photos of everyone's faces. That was a real highlight as people loved finding their faces."
https://www.lovemydress.net/directory/supplier/vegan-food-pimp-plant-based-wedding-catering/
"Our catering was a local pop up restaurant, What The Fattoush, who served up a Palestinian feast. It was served to share in platters down the middle; falafel, baba ganoush, flat breads, hummus, fennel salad and more."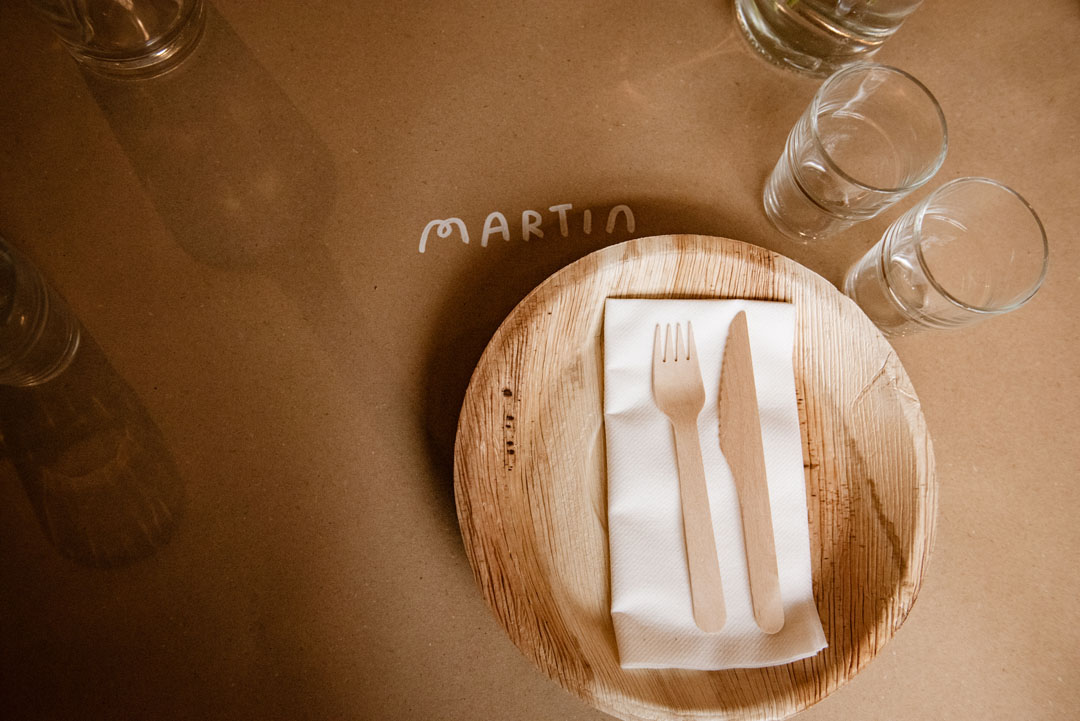 "We did a free bar stocked with lots of rum punch, beers and wine. We also had frozen margaritas served from a slushie machine run by someone I met at the gym."
"That was one of the good things of the pandemic; it made us realise what was important and what elements we could forget about."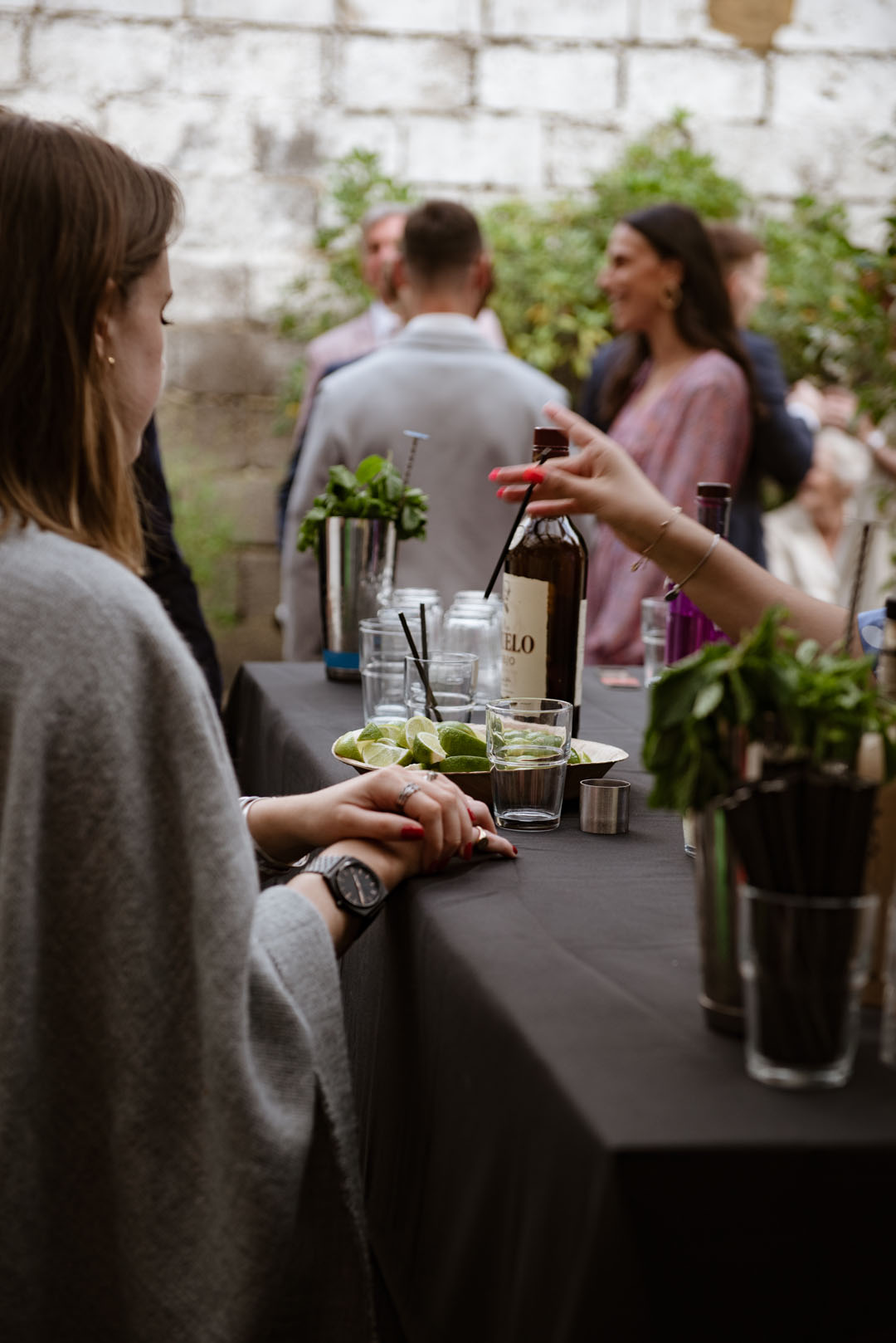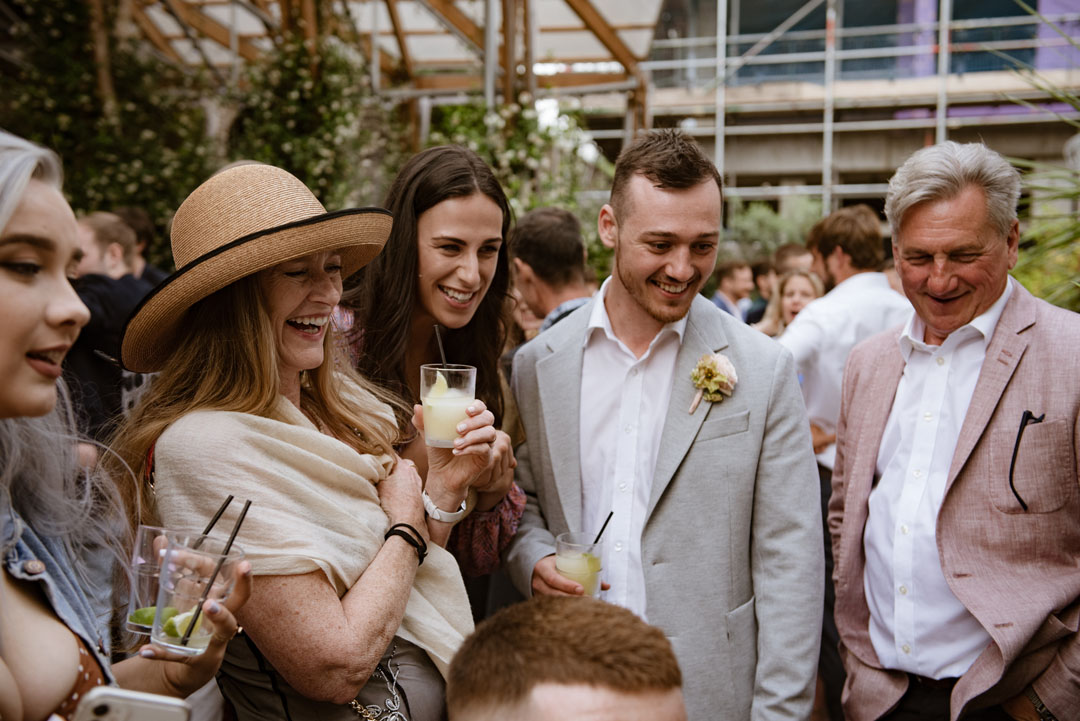 Instead of a wedding cake, the couple served up a wedding cake piñata.
"It was full of sweets and miniature booze. My family always have a piñata at our annual family gathering (of 50+ people) so it was a nod to that. It allowed everyone to get involved and have a swing."
"Unfortunately, one swing sent the piñata flying into our photographer's stomach… whoops!"
In the evening, Laura's brother, cousin and one of the couple's friends provided the entertainment by way of DJing.
"We rented the DJ kit from a pal who provided uplighters for the dance-floor. Our first dance song was a blur."
"We let the DJ choose it as a surprise and we cannot remember what song it was, only that at the time, it felt perfect."
"We really loved every minute of the day. I have to say one of my highlights was arriving home at the end of the day. Frank was awake, giggling away and we felt surrounded by so much love."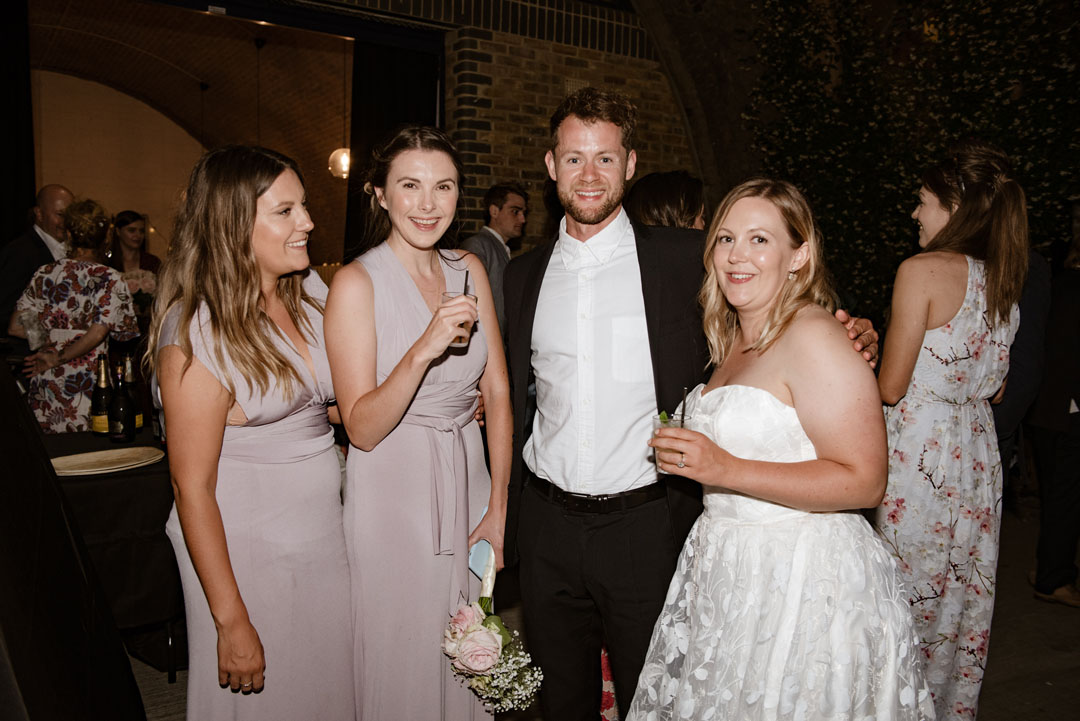 Words of Wedded Wisdom
"If the pandemic has taught us one thing, it's to make the most of every moment with the people we love."
"That's what our wedding was, a celebration of love – our love, our family's love, our friends' love. Cheesy but true."
"Remember it's all about love. No one remembers how good the favours were or what dinner plates they ate off. So long as you are all there, together, celebrating, that really is all that matters."
"Our wedding was a less polished affair than first imagined or planned – there were no fancy favours, posh wedding cars or live bands – but we loved every minute of how it turned out."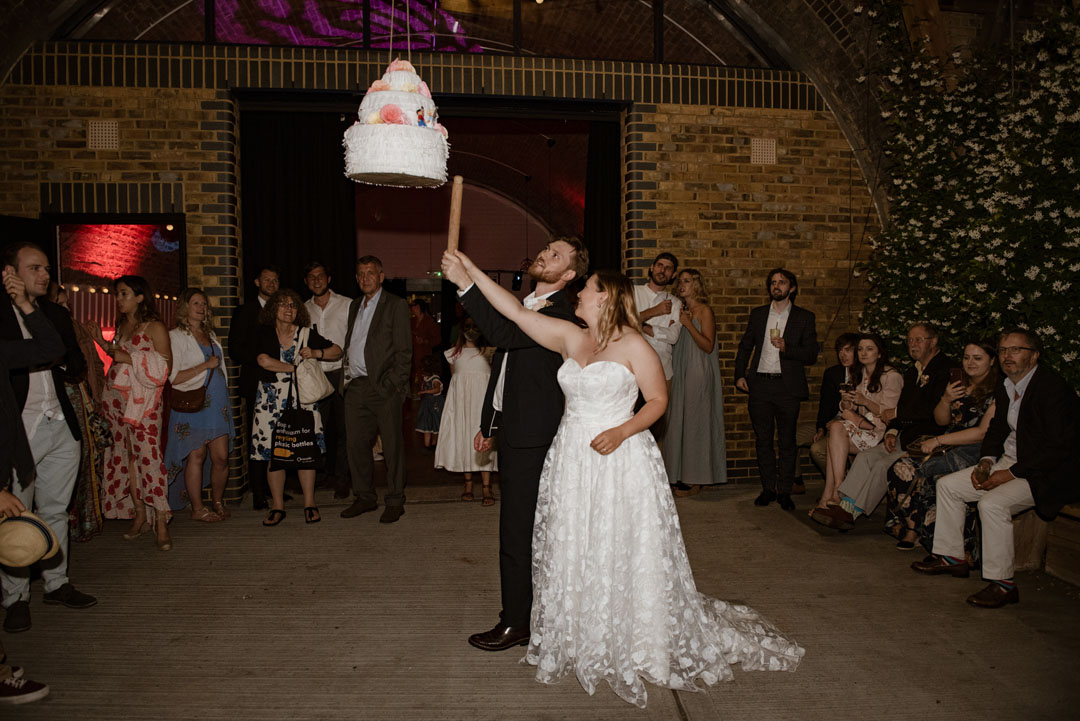 What beautiful words, Laura. Thank you so much to you, George and Frank, and congratulations too.
Thank you also Cat Arwel; what a pleasure to share your work again. Lovelies, please do visit this link to see more brides wearing Halfpenny London gowns or, for more Asylum Chapel weddings, take a look here.
Ele xx