Oh, how I long for the long, balmy days of summer, especially on a cold, damp day in February.  Today's wedding has really lifted my spirits, with the hand-tied, seasonal flowers, elegant and floral bridesmaids' gowns and utterly gorgeous Jesus Peiro gown worn by the bride. Let's head to Surrey.
Account director Lydia wed business director Henry on 17 July 2021 in a relaxed and intimate countryside wedding in Witley, Surrey. Following a church ceremony at All Saints Church, the newly-weds hosted an elegant reception in a marquee in the groom's parents' garden, enjoying spectacular views of sunset over the surrounding fields.
Photography & Film Emily & Steve

"We chose to get married in Henry's childhood home garden because it is one of our favourite places in the world."
"The back of the garden is up a small hill and has the most stunning sunsets over the farm next door. We loved the idea of having a marquee there and being able to make it our own."
"We wanted the marquee and general vibe to suit the garden and time of year. We also wanted it to feel relaxed and very 'us'."
"We've been lucky enough to go to lots of beautiful weddings so we had worked out what we wanted for ours. I also did a whole lot of Instagram searching and saving,"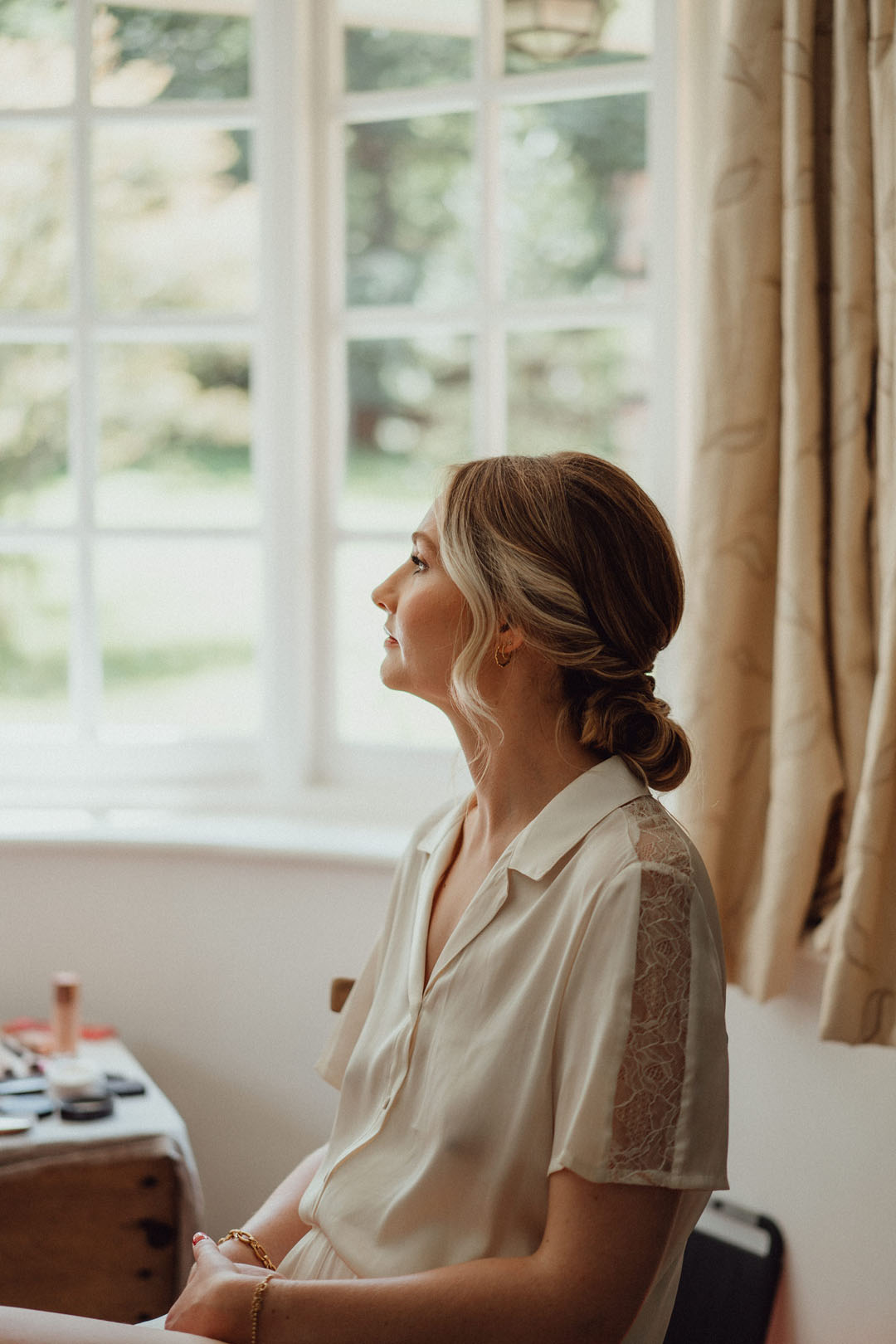 The bride carried a glorious bouquet of seasonal flowers, created by her super-talented mum and aunt.
"We did all of the flowers ourselves. We wanted the flowers to suit the setting of the wedding and feel right for a sunny, countryside garden wedding."
"We were lucky enough to be surrounded by very talented people who helped us out."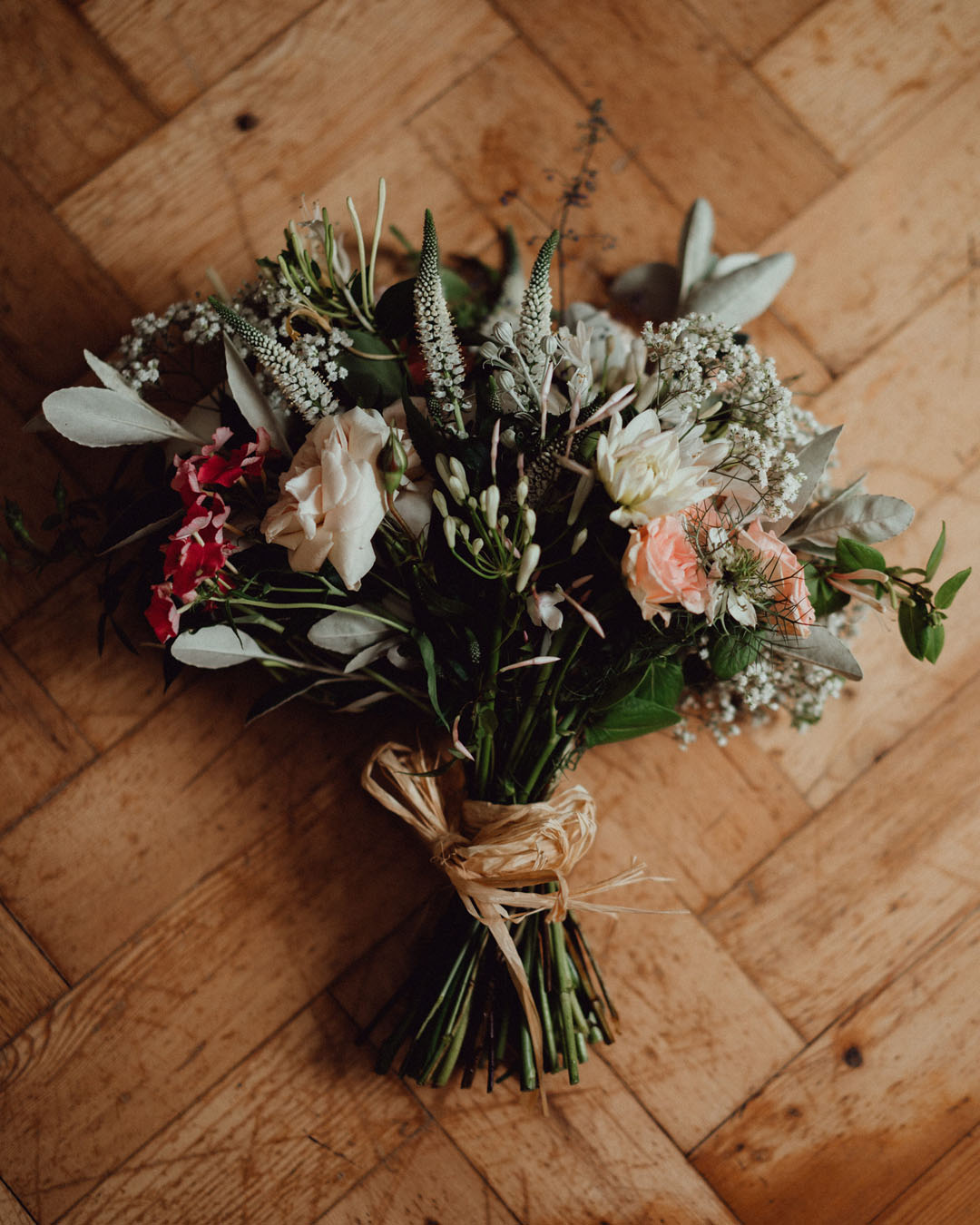 "My mum and aunt made our gorgeous bouquets and the marquee flowers whilst Henry's mum curated the stunning garden over many months and decorated the garden arches."
Finally, my godmother did the beautiful church flowers. The majority of our flowers were grown in my aunt's garden in Devon, my parent's garden in Oxfordshire and my godmother's garden in Cornwall."
"It meant so much to us to have flowers from all these special places on our wedding day."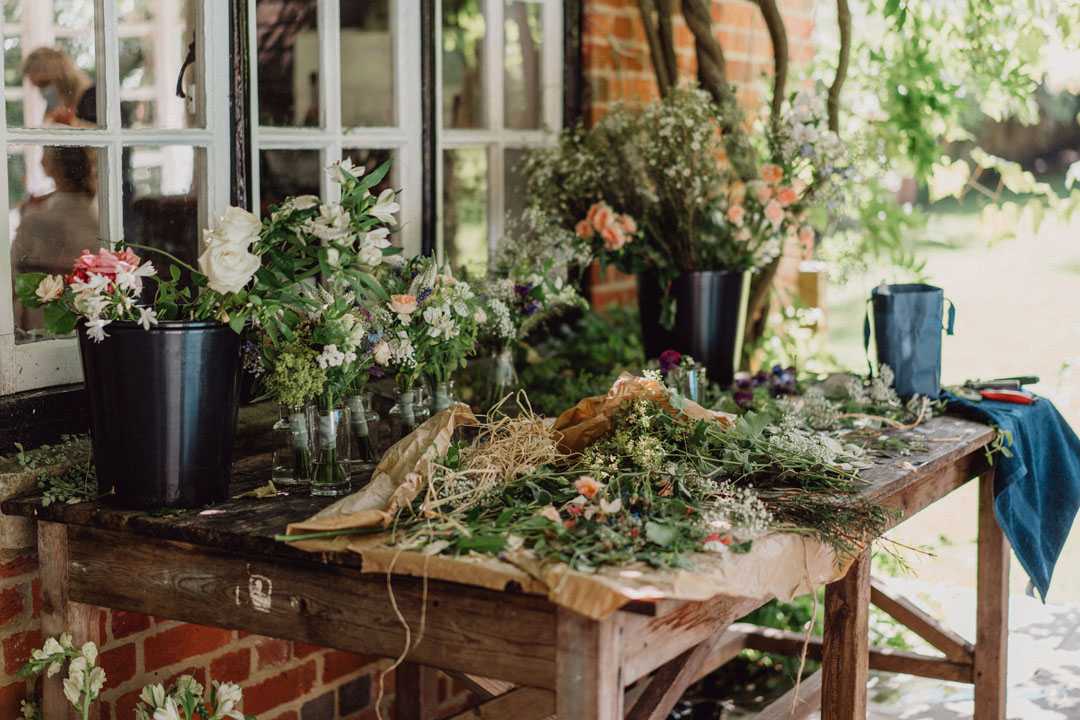 Lydia wore her favourite perfume, Le Labo Santal, and green velvet sling-backs with a bow on the front from ASOS.
"I'd trawled all the expensive shops and then found these shoes. They were exactly what I was after."
Lydia selected her flowing, off-the-shoulder, halterneck Jesus Peiro gown at Ellie Sanderson Bridal Boutique in Woodstock.
"It was a great experience, and I found my dream dress on my first visit. It was picked out by the shop assistant Ruby. I'm not sure I ever would have picked it out myself but I immediately loved it."
"I wanted something that was a bit different but that I would also feel comfortable in at a summer garden wedding."
"I wanted to be able to move and dance and generally not worry about what I was eating or drinking. I loved that it felt a bit different with the back detail and ruffles."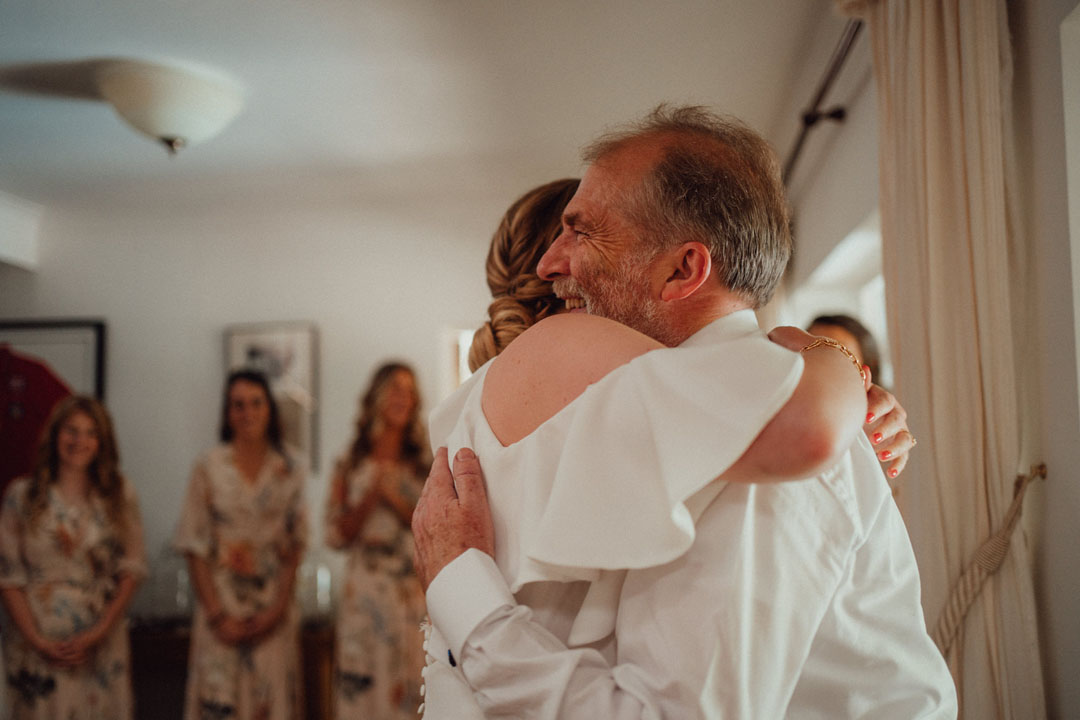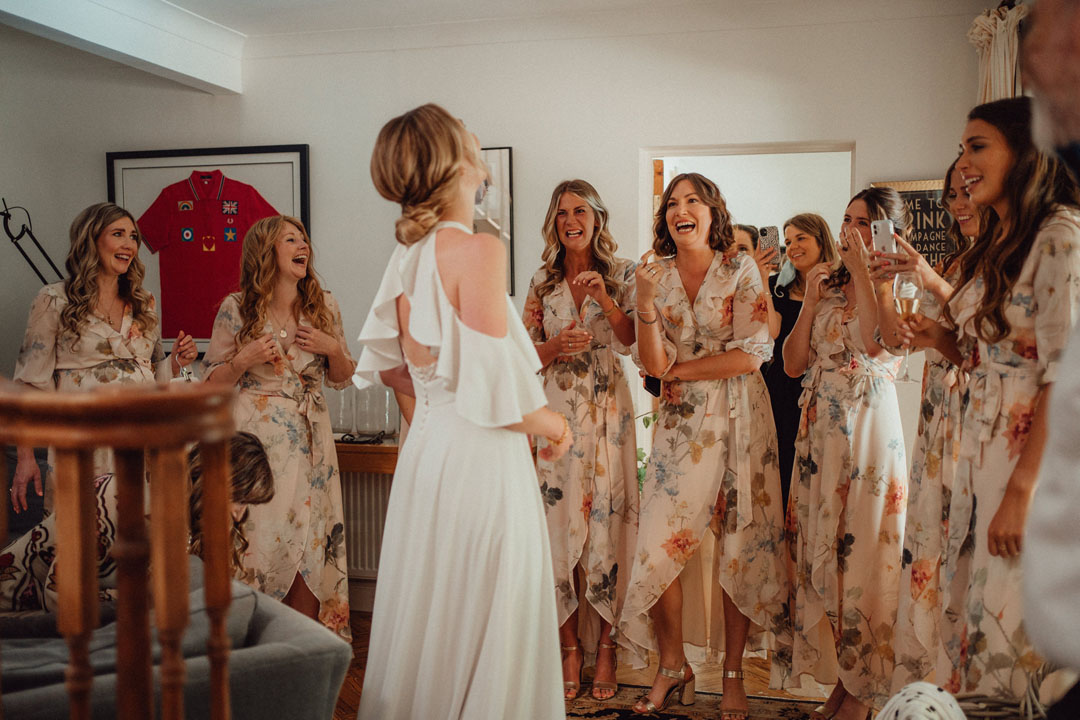 The bride wore her sister's veil, with simple white edging, to the back of her head. He hair was pulled into a chic chignon by Sarah Elizabeth Hair and Makeup.
She accessorised with a very special pair of earrings.
"I wore pearl and gold earrings from my mum's best friend who passed away from cancer a couple of years ago."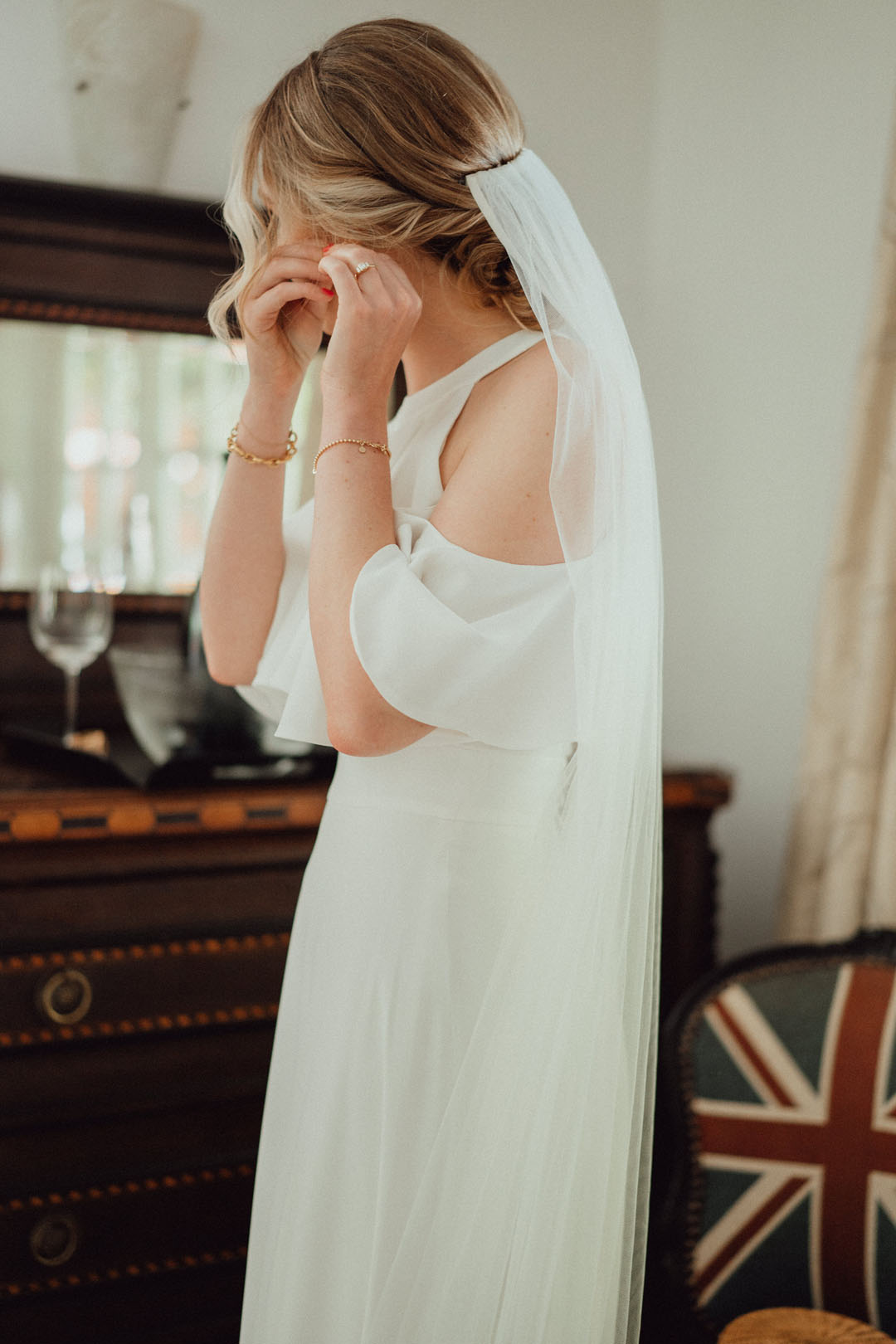 "She was like a second mum to my sisters and I and would have been the first on the dance-floor with my mum."
"Her daughter wore the earrings on her wedding day, then my big sister wore them and now I have."
https://www.lovemydress.net/directory/supplier/blue-meadow/
"It's a tradition that will continue with her son's fiancé next year on her wedding day."
"I was lucky to be gifted two beautiful gold bracelets, one by Henry and one by my bridesmaids, which I wore on the day."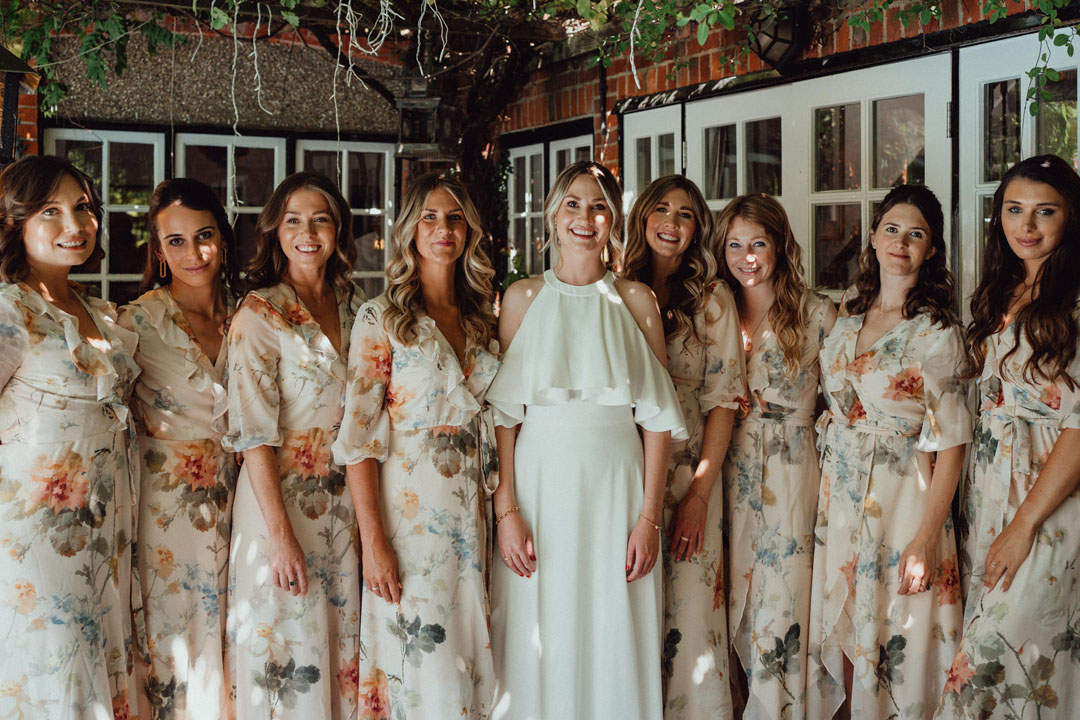 Henry's three-piece suit in dark green was made to measure by Room Ten.
As the couple's guest list was restricted by Covid, the video was super-important to include absent friends in their day.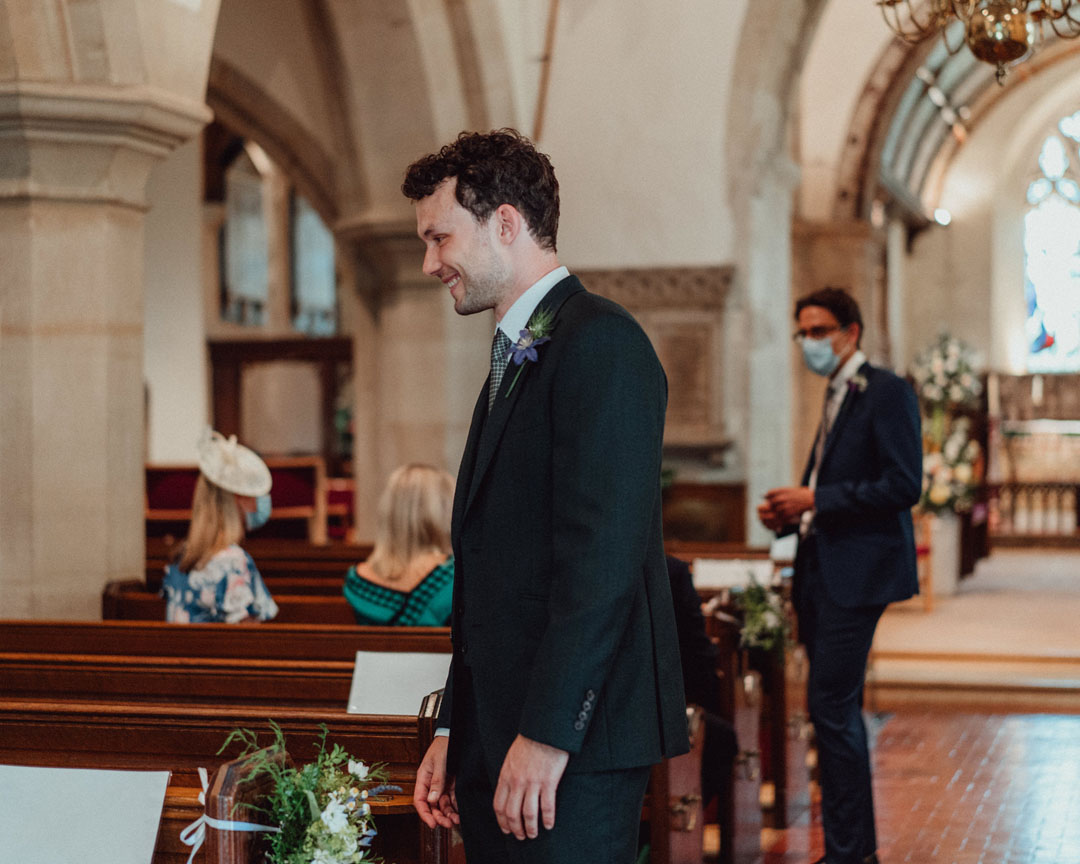 "We were really lucky that we didn't have to move our wedding date. However, we were always aware that Covid would likely impact the day."
"We had many different versions of the day planned – what would a 30-person wedding look like or a 60-person?"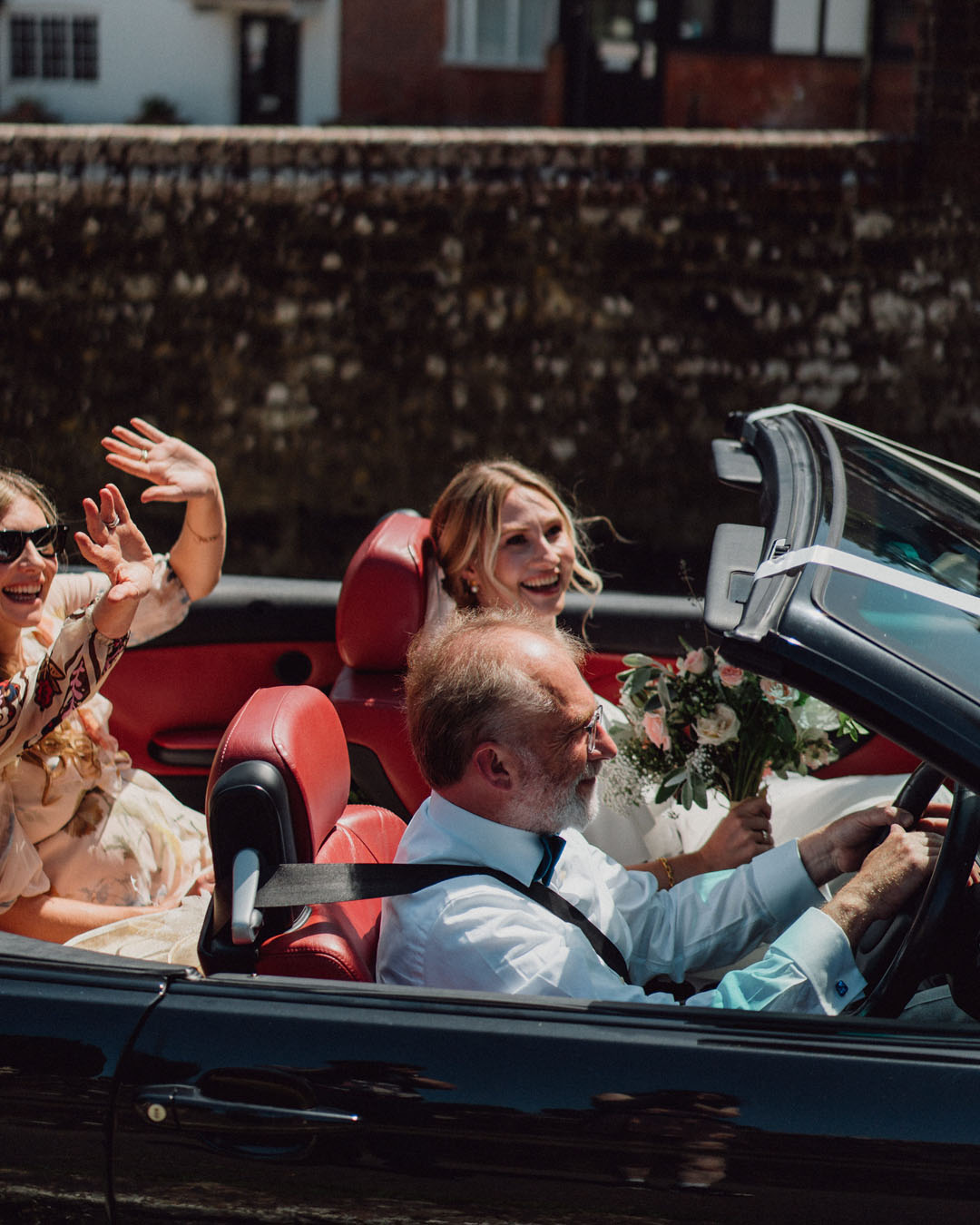 "Many a tear was shed as we got nearer to the date and the government were still so unclear in their guidance."
"In the end, we were lucky to be able to have forty people in our church service (all in masks) with the rest of the wedding party on Zoom."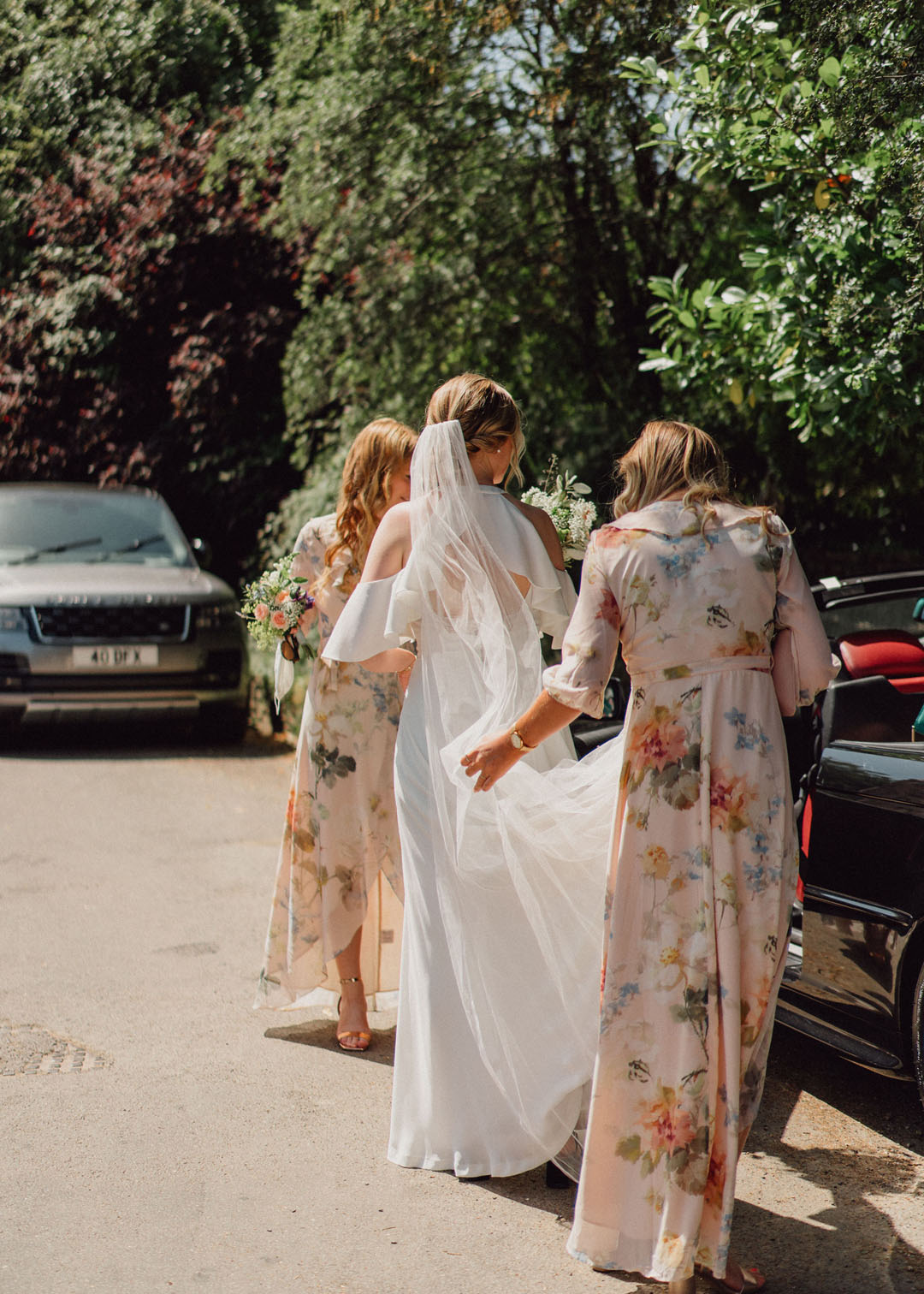 "The reception felt nearly normal as it was a marquee in a private garden. We had hand sanitiser everywhere and the sides of the marquee mostly off."
"Our suppliers were also fantastic and worked with us through all the unknowns. We asked our guests to take lateral flow tests before the wedding and we had thirteen people drop out in the days before, including one of the two best men who'd caught Covid flying home from Oz for the wedding."
"Even with all these issues, we had the best day and were just so happy to have (most of) our closest friends and family all together."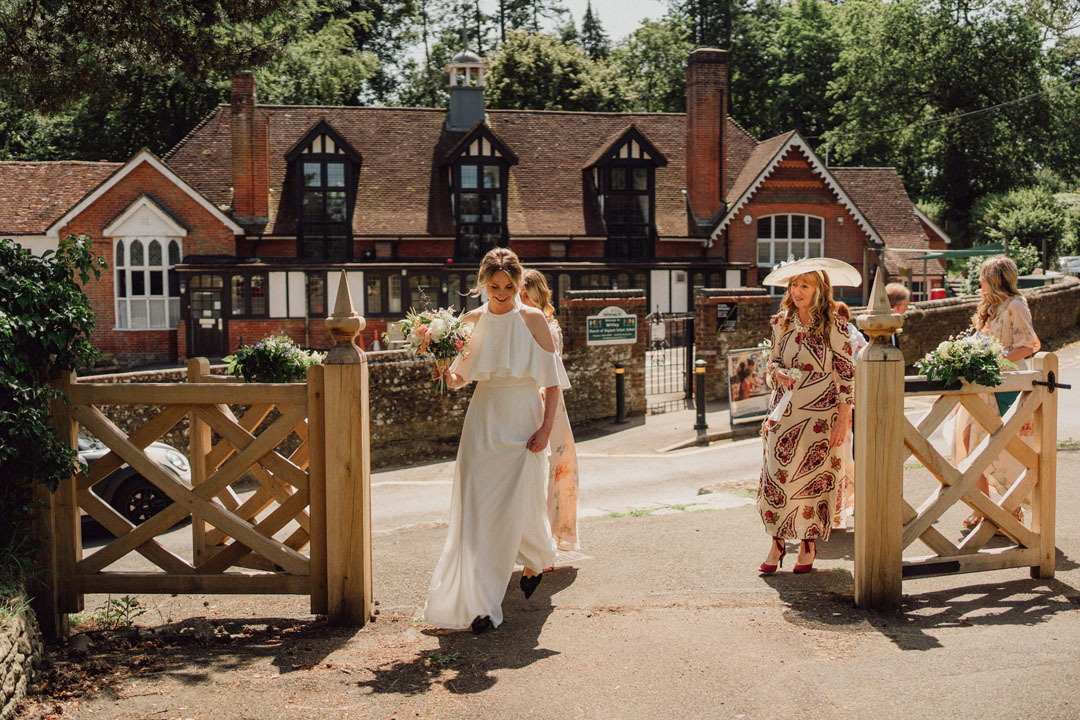 Henry and Lydia Met in halls at the University of Exeter.
"We spent the first year saying we were just really close friends but realised it was actually more than that. We got engaged in Granada, Spain."
"Henry took me for a surprise weekend away to celebrate our ten-year anniversary and got down on one knee as the sun went down. We had been engaged for just under a year and a half before we got married."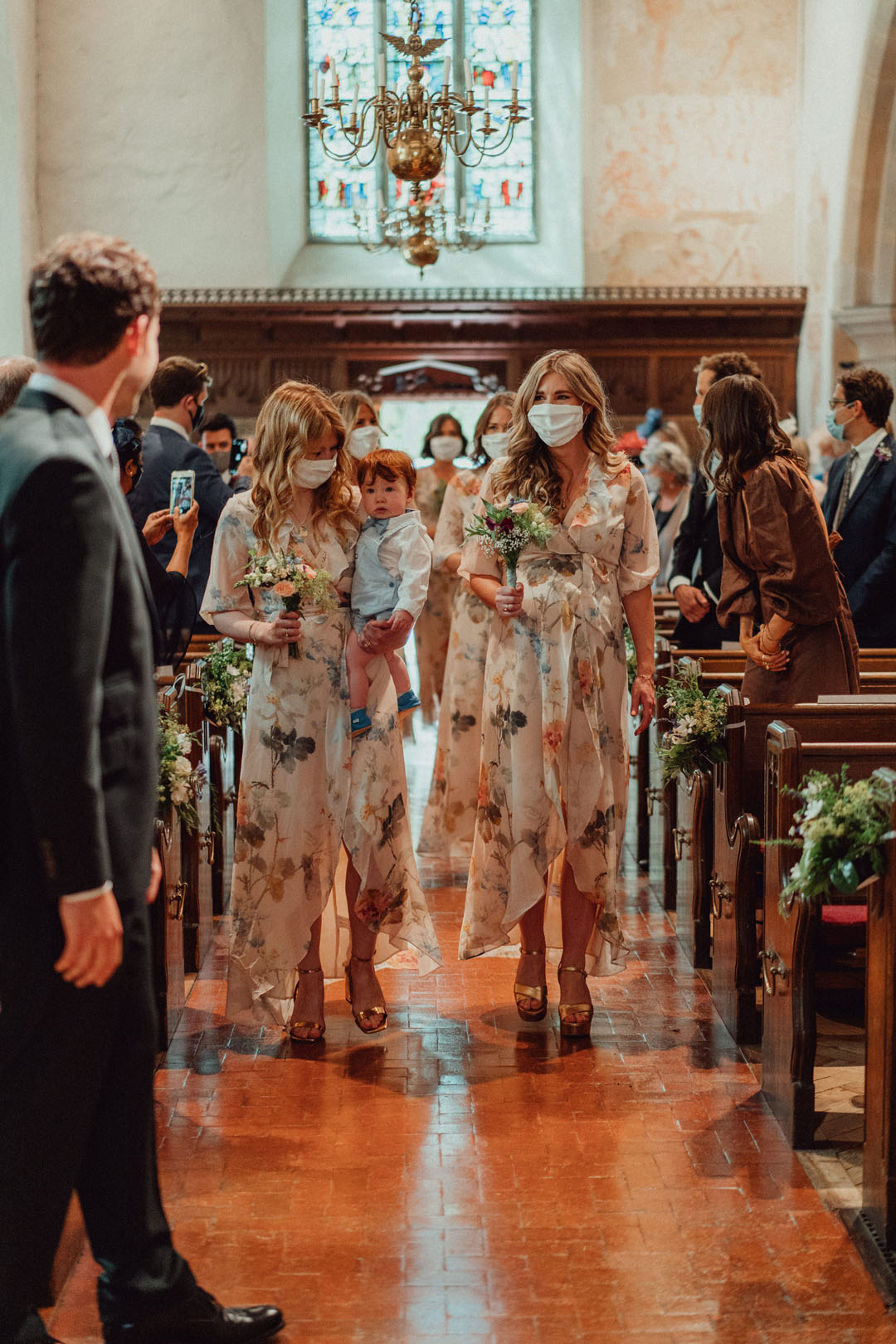 The bride's father drove her, her sister and her mum to the wedding in a soft top sports car before walking her down the aisle to "Jerusalem'.
"We couldn't sing in the church due to the restrictions so we played 'Jerusalem', a song that means a lot to both of us."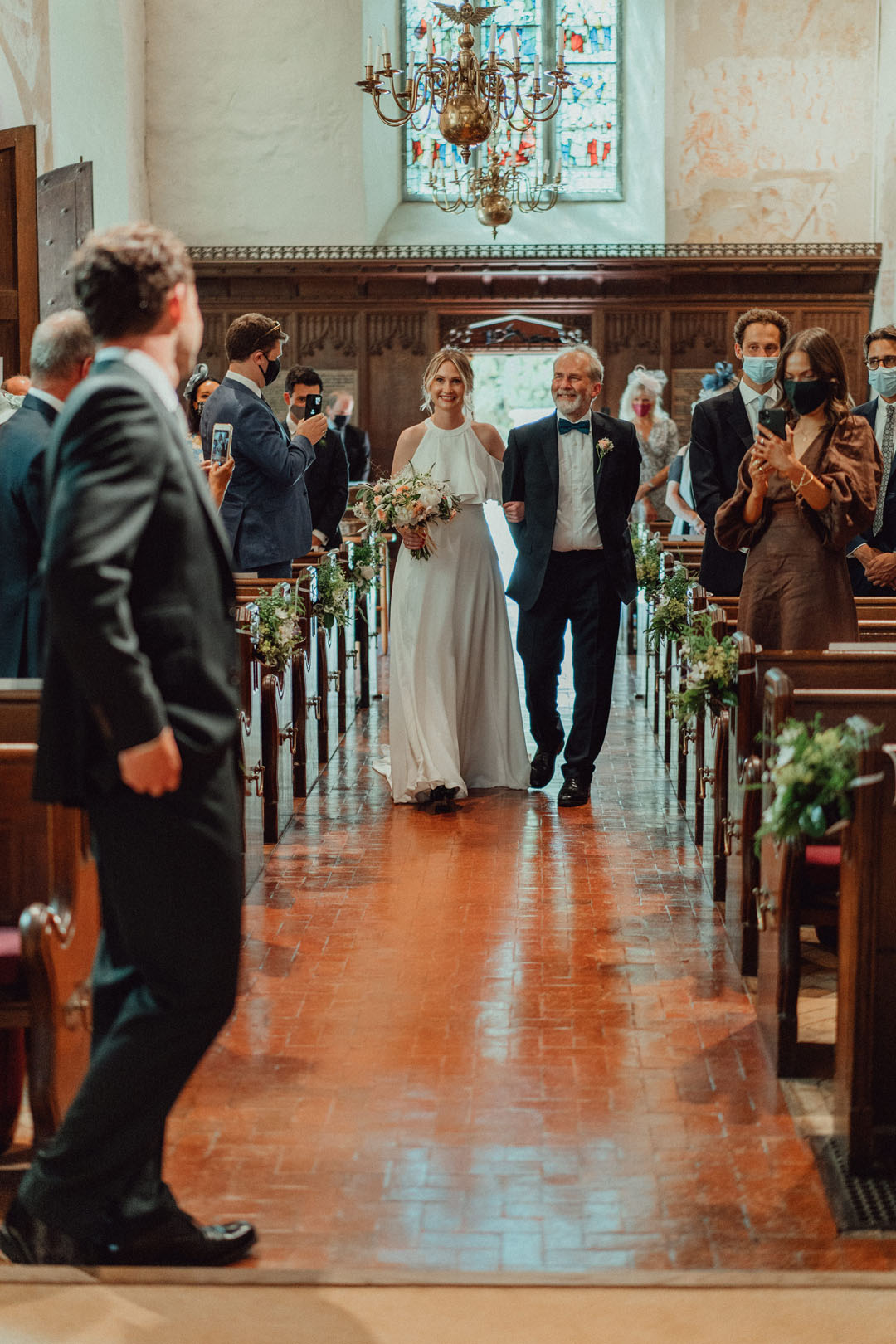 The local vicar performed the wedding service which included three, special readings.
"Due to Covid, we couldn't have any songs at our service so went for three readings. It was one of my favourite moments of the service."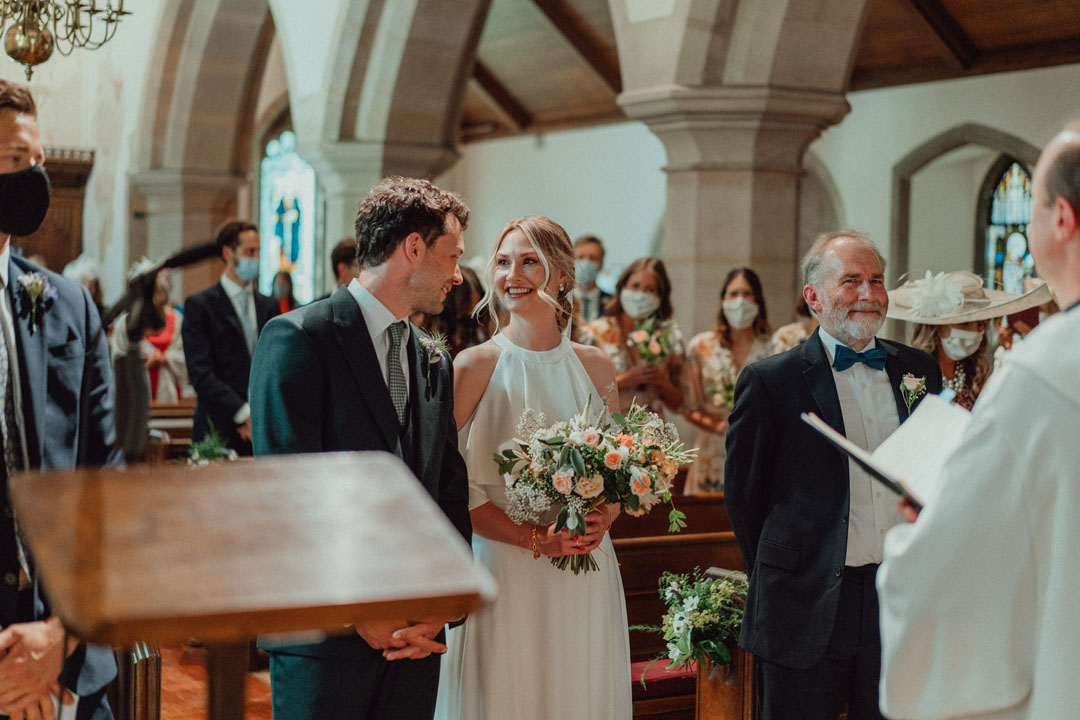 "For our religious reading we chose 'Song of Solomon', read by our good friend Digby, then my close friend Lily read 'The Future' by Emma Salmon."
"Henry's dad read the lyrics to 'At Last' by Etta James. He chose this and it was really special'.
"Whilst we signed the register, we played the music from 'Butch Cassidy & The Sundance Kid', one of Henry's favourite films."
The couple exchanged wedding bands made by Kirstie Maclaren Jewellery, who also created Lydia's engagement ring. 
"Kirstie designed my engagement ring so we were both really keen to work with her on our wedding bands."
"We both knew we wanted something a bit different and loved working with Kirstie to make them."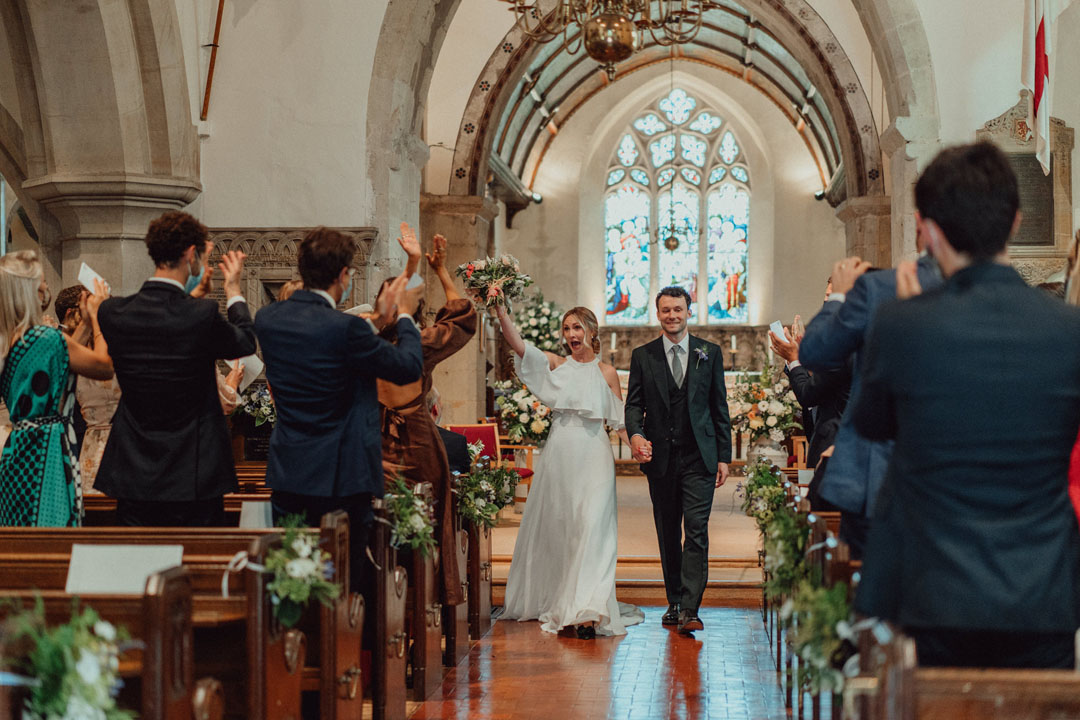 The newly-weds left the church in Henry's sister's soft top mini which had been specially decorated with flowers for them.
"I loved the whole day so much but a real highlight was the ceremony, I knew I'd enjoy this part, but I don't think I'd realised just how special it would be getting to the front of the aisle and seeing Henry."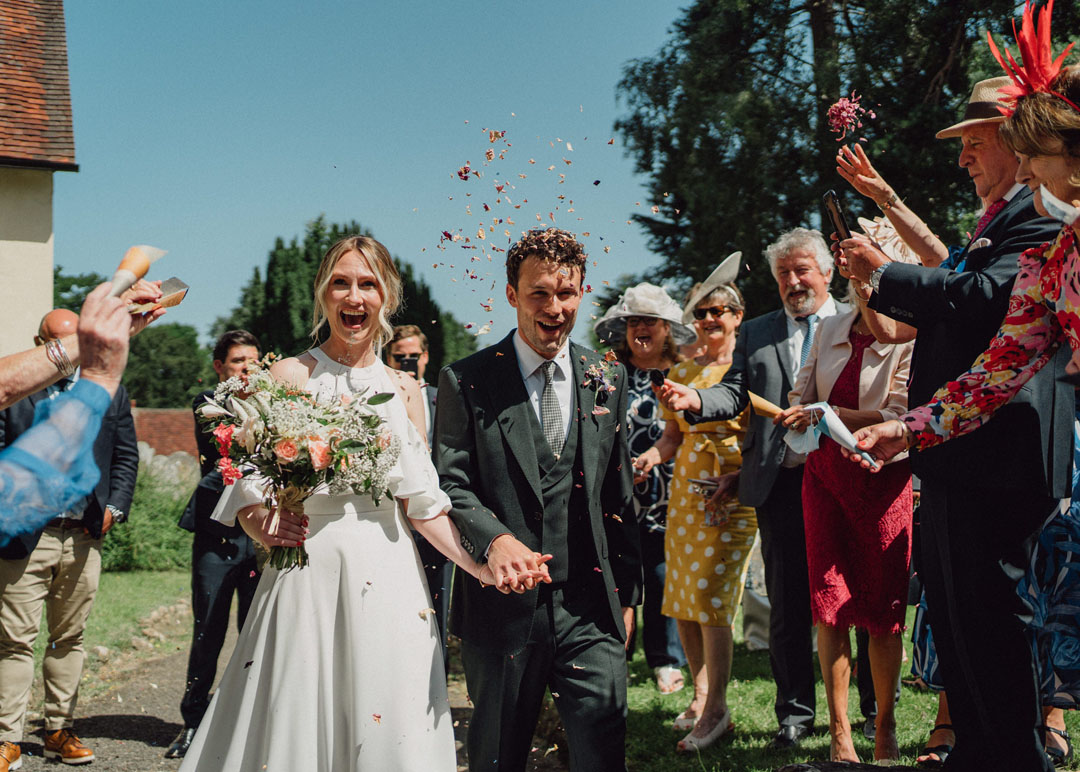 " The number of people allowed in the church was very small so another incredibly special moment was stepping out of the church and everyone else who was coming to the reception was waiting outside in the sunshine to throw confetti."
"It was such a happy moment to see all our family and friends. I think from that moment I didn't stop smiling."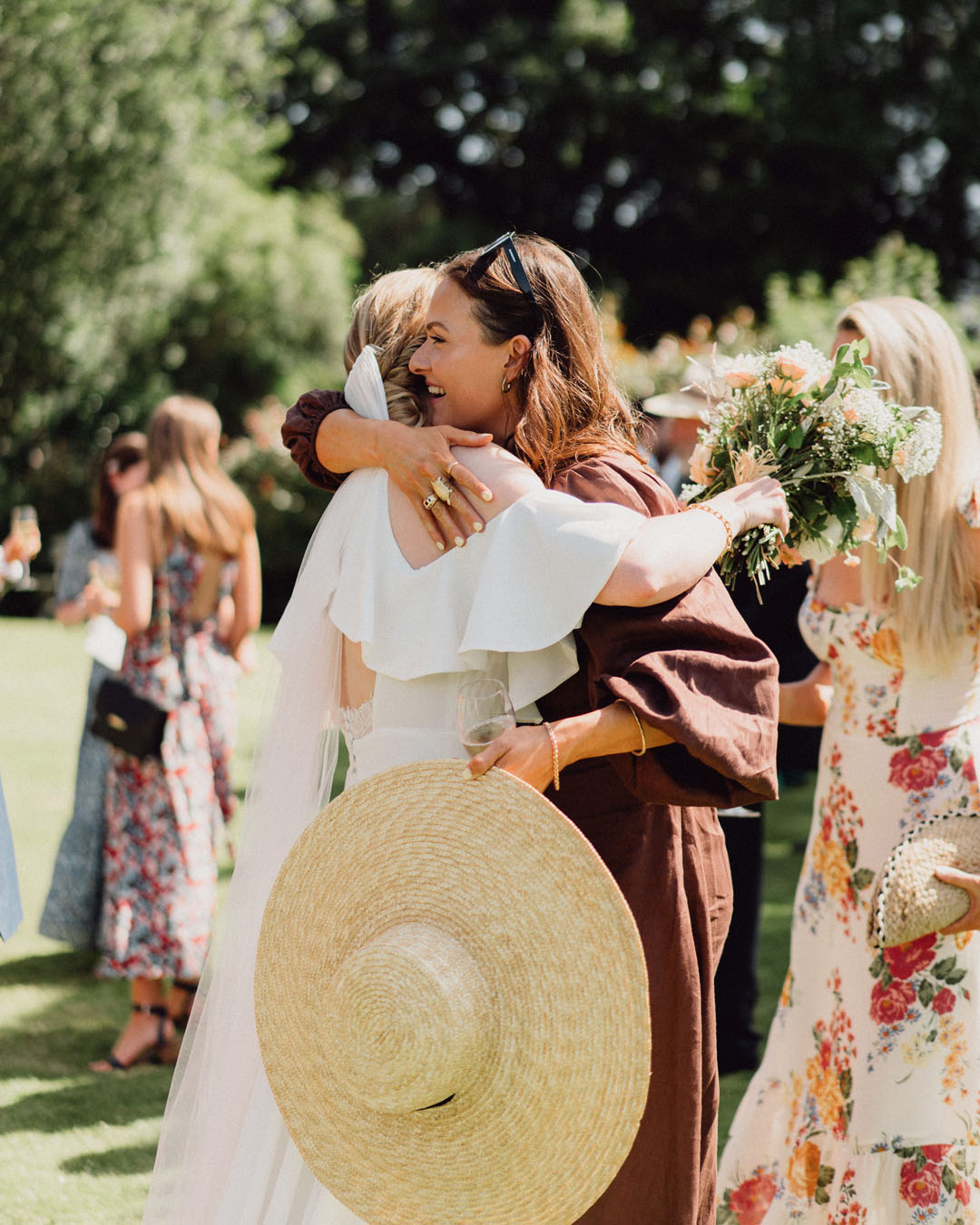 For other couple's whose weddings have been affected by the Covid-19 pandemic, Henry and Lydia have this advice.
"The impact of Covid made us realise what was really important to us, which was getting married."
"I truly believe whatever shape or size that happens in, you will still have the most magical day."
In Henry's parents' garden, an elegant and airy marquee from Four Seasons Marquees awaited the guests. It was so simply yet beautifully decorated with candles, fairy-lights and flowers.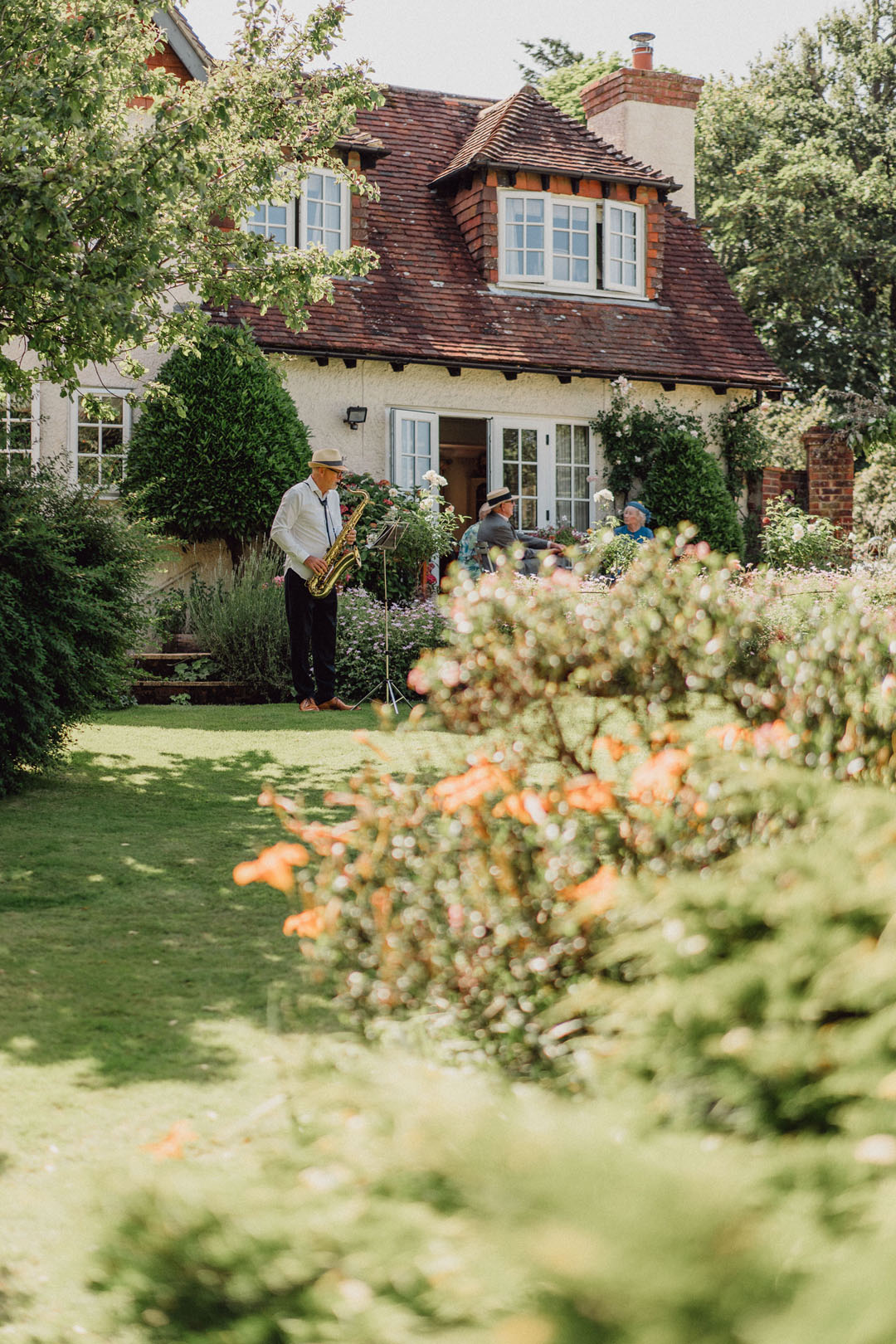 "We went for a traditional pole tent with three wooden poles and sides we could take off to show off the garden."
"Our lights came with our marquee company and DJ company. We had lots of fairy lights for the evening and confetti cannons for the first dance."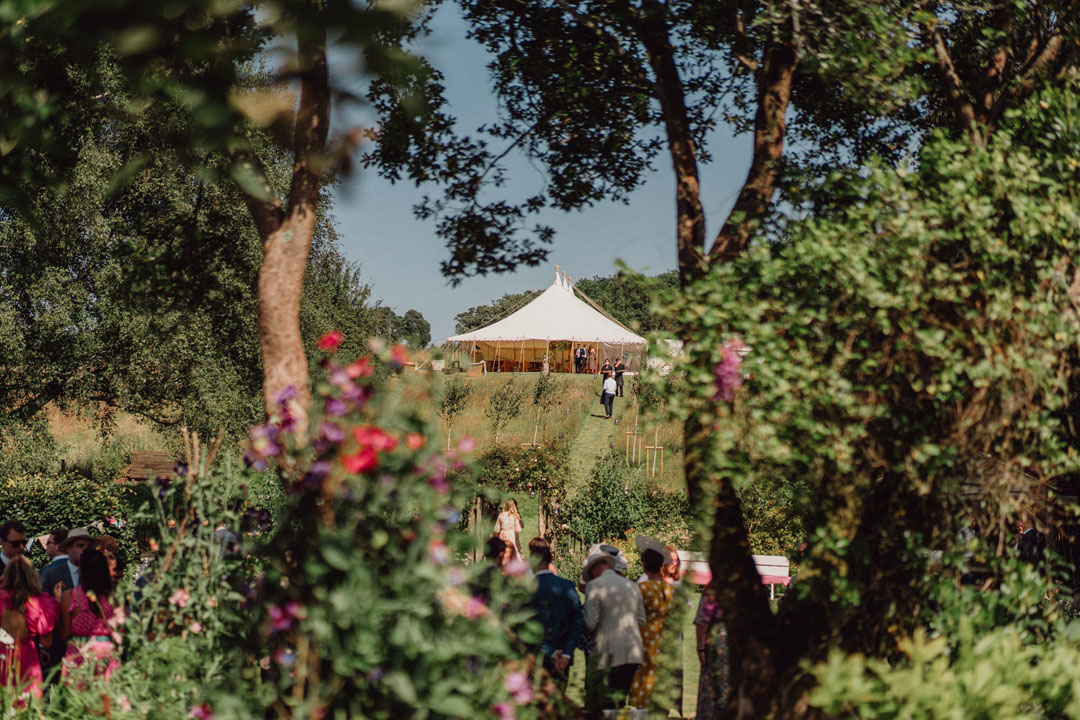 "My close friend Lucy Mahon is a hugely-talented artist and designed our wedding invites, which we then used across our wedding stationery."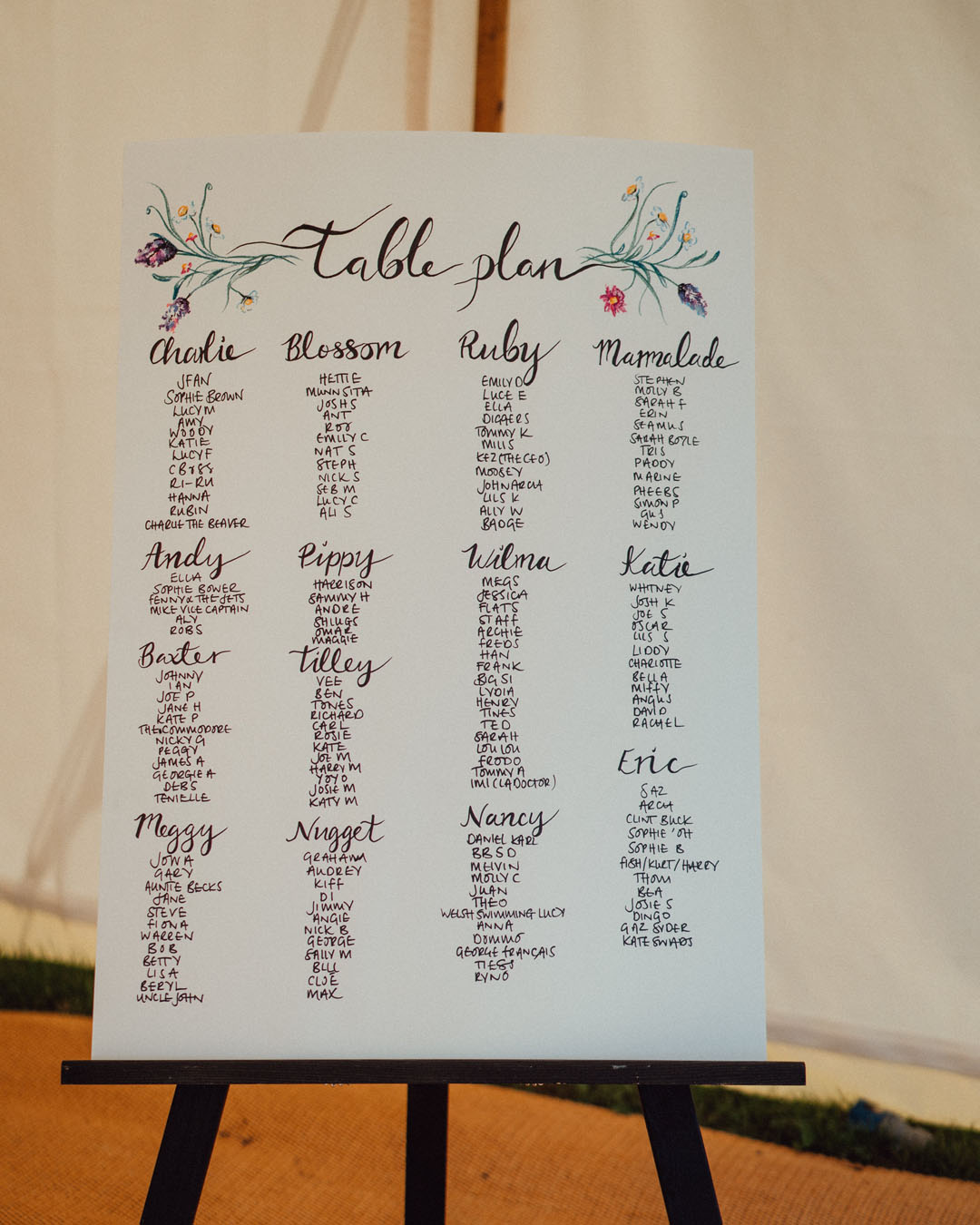 "We had different coloured candles down the centre of the long tables and for our table names, we used gold framed pictures of our family pets."
"My mum also wrote everyone's name labels and we tied these up with rosemary and lavender in everyone's places."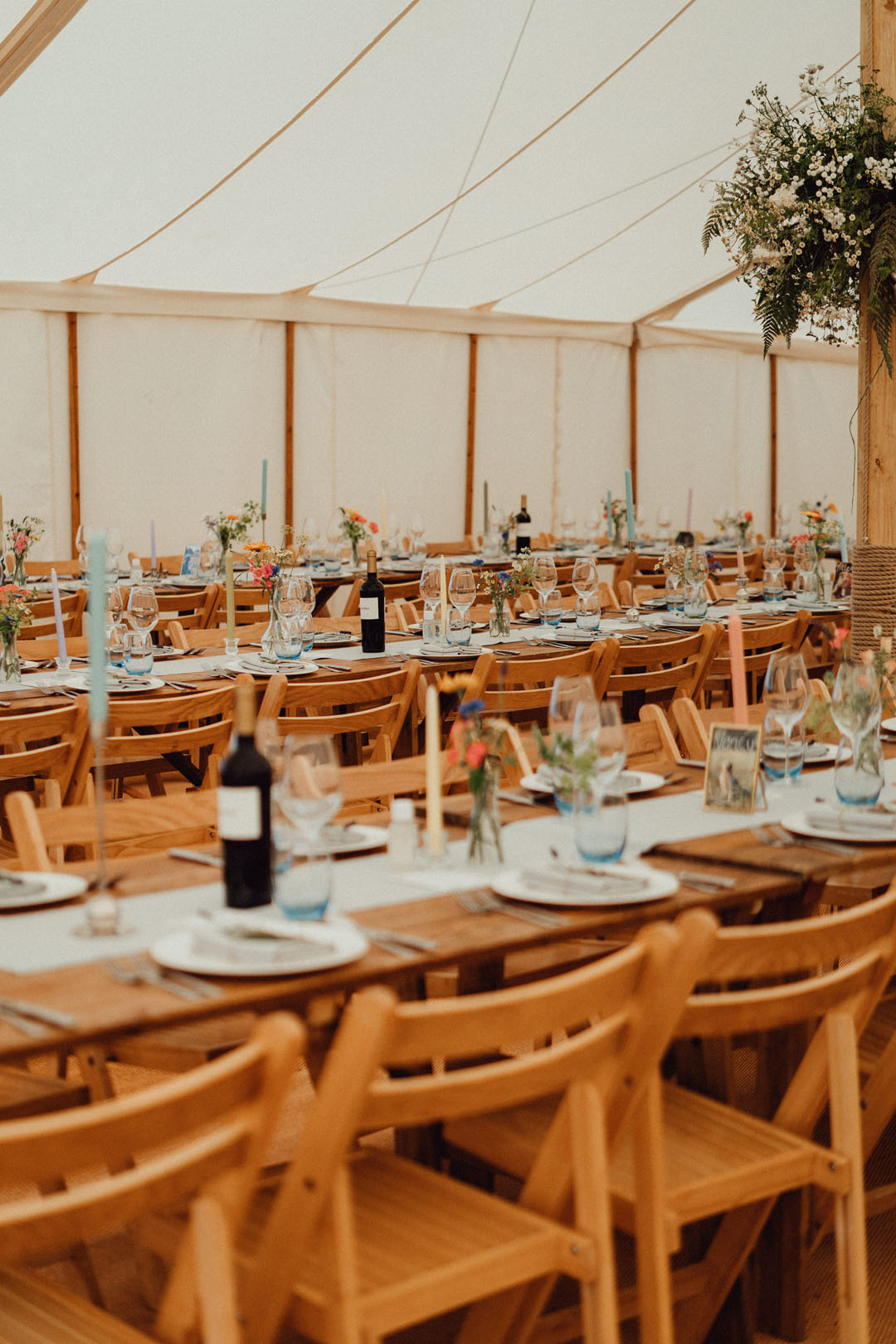 "We donated the money we would have spent on wedding favours to two charities very close to our hearts, Brain Tumour Research and Sobell House Hospice."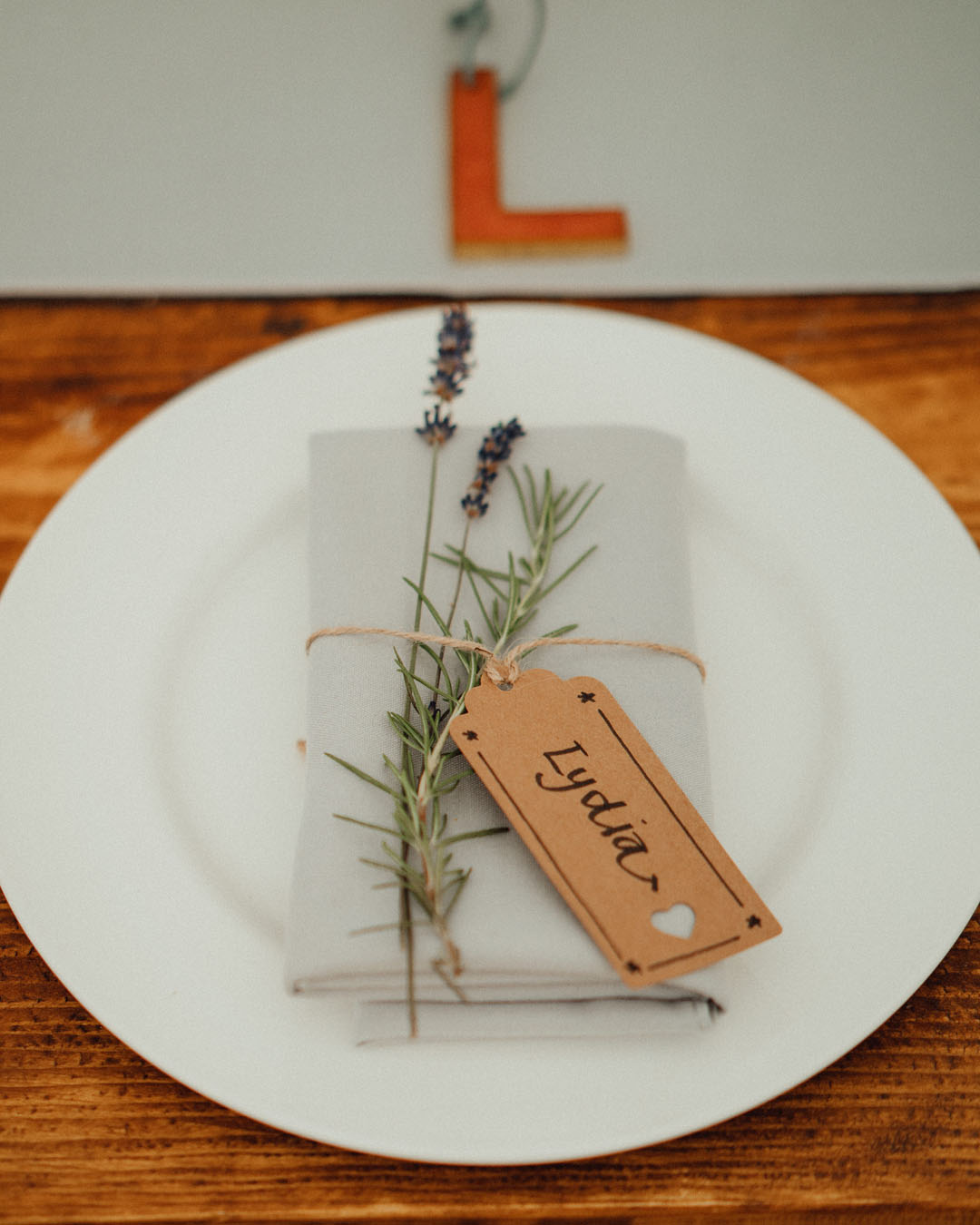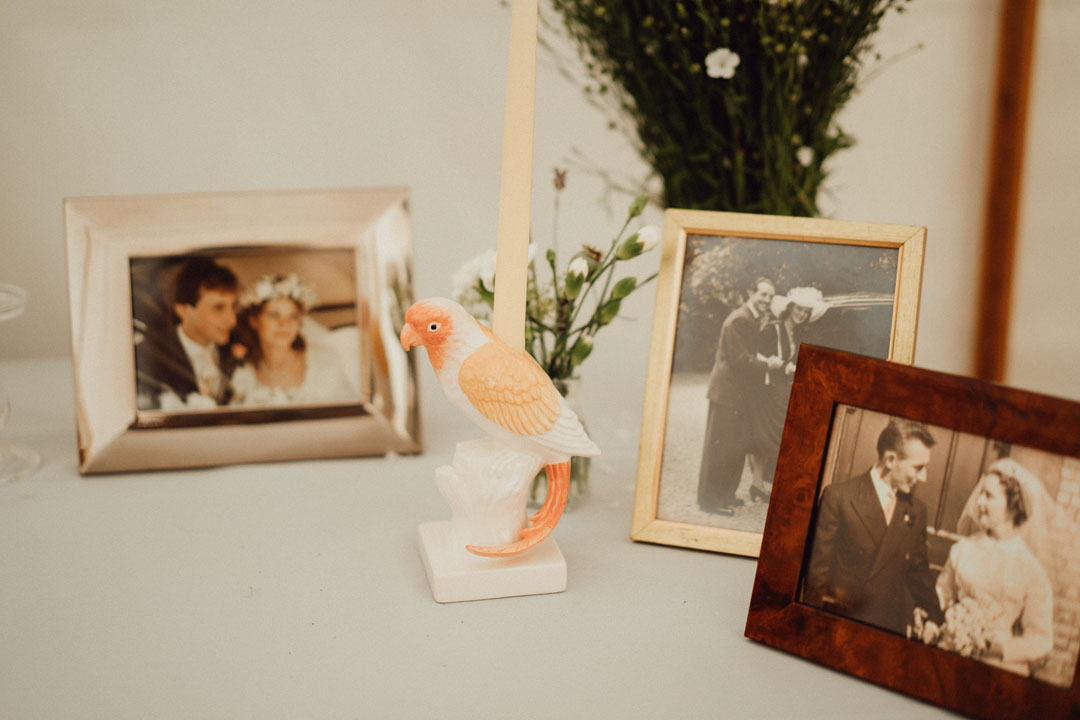 The wedding breakfast was catered by Fresh Catering & Events whilst the bride's sister Freya baked and decorated the tiered wedding cake.
https://www.lovemydress.net/directory/supplier/avant-garde-cake-studio-modern-weddings-london/
"We had three different layers; chocolate & Guinness, a lemon cake and a Victoria sponge."
"We had rustic buttercream icing with flowers and two little pigs sat on top as we call each other 'pig'."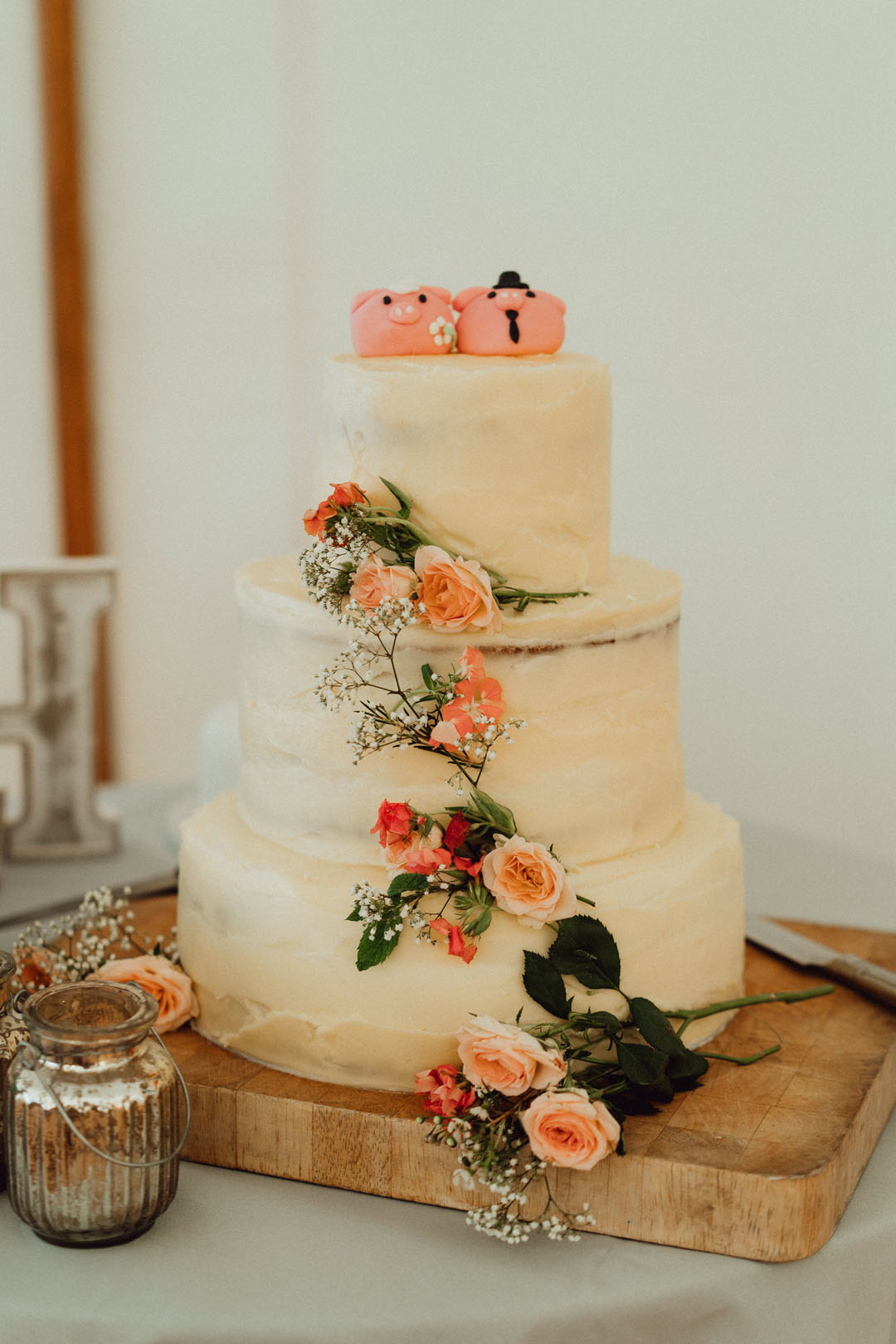 The bridesmaids wore mid-sleeve, floral wrap dresses from Hope & Ivy, their ruffles perfectly complementing the brides'.
"They wore gold heels and simple, gold jewellery. I also bought them each a pair of Missoma earrings."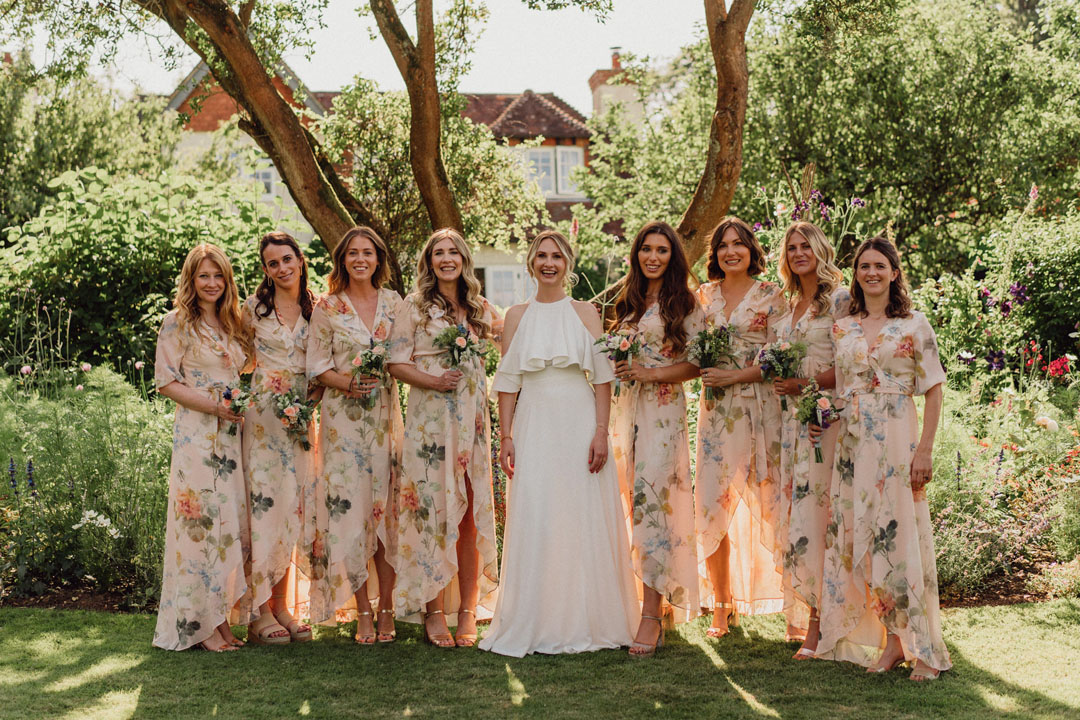 The bride found Love My Dress to be a great source of inspiration, also finding photographers Emily & Steve Photography through our content.
"I loved looking at the real brides and getting inspo from what others had done. It was great to see things in real life."
"Henry is a bit of a photography geek and is into his film photography so I knew he'd have a strong point of view on what he wanted."
"When he saw Emily & Steve's style, we knew it was exactly what we were after."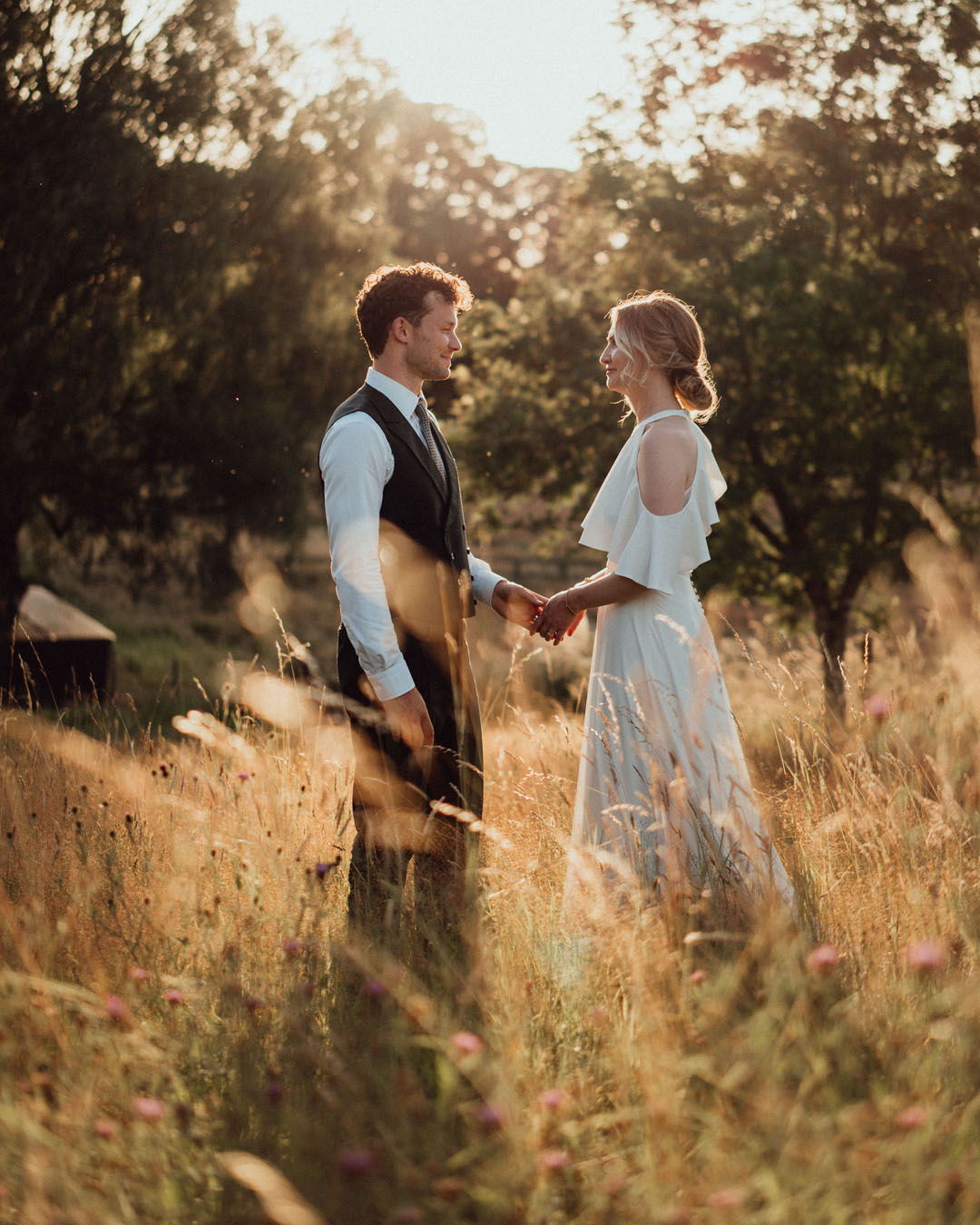 "We loved their natural way of shooting, avoiding too many posed shots and also the 35mm film-style that comes across in their photos."
"They were so great on the day. You hardly even knew they were there and it was great seeing the different areas of the garden that they chose to shoot in. that we hadn't even considered."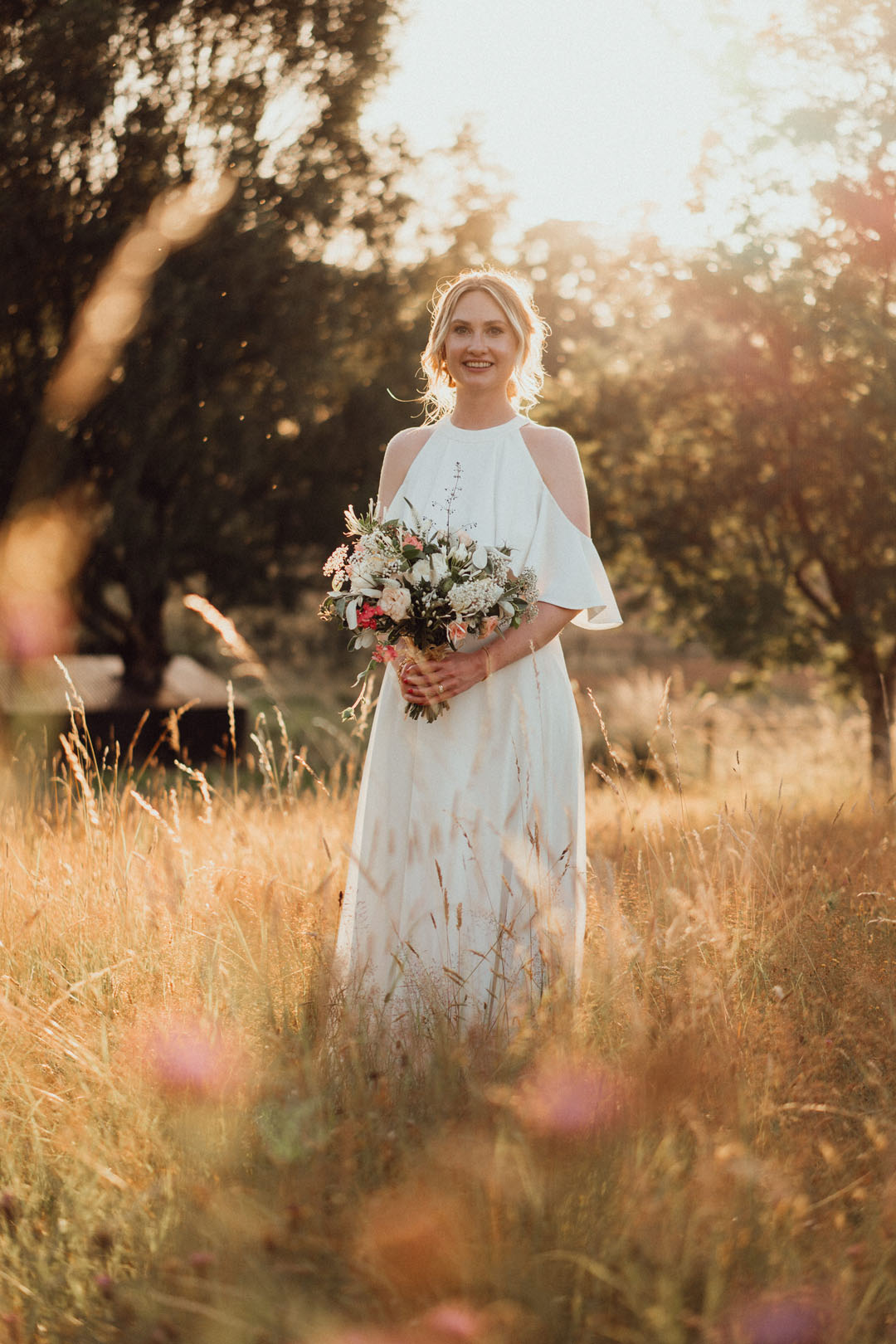 "We love the final photos and the video was the icing on the cake. It's the perfect length to send around and it's been amazing to have a summary of the day to share with people who couldn't come too."
"I would highly recommend them to anyone."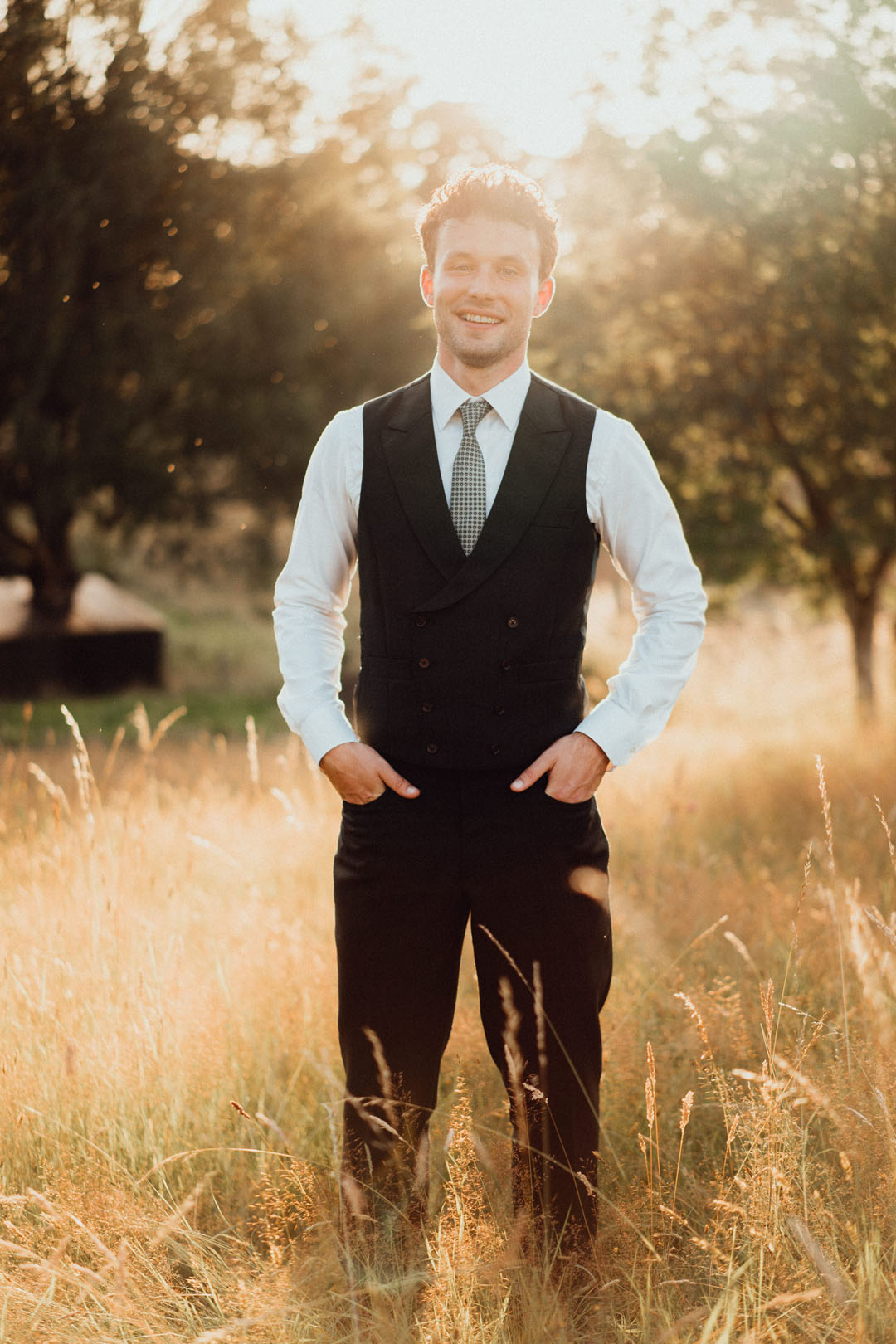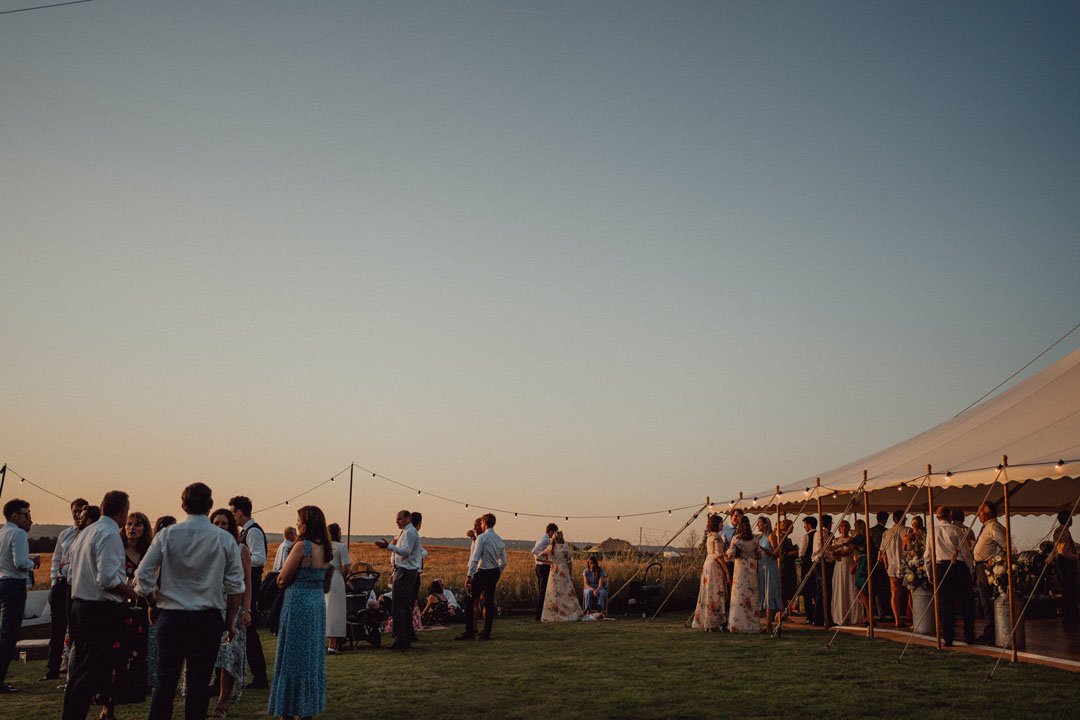 The evening dance had confetti canons, music from a Toast Functions DJ and a first dance to 'Can't Help Falling in Love' by Elvis Presley.
"We loved the lyrics in this song and are fans of Elvis. We also liked the thought of going for an older track that everyone would enjoy."
"We made a Spotify playlist with a shortlist of tracks and listened to them through lockdown; 'Can't Help Falling In Love' was the right choice for us."
Words of Wedded Wisdom
"The wedding day is about you and your favourite person in the world getting to celebrate how much you love one another. In the end that's all that matters, whatever way it ends up happening."
"Try not to get obsessed with tiny details that people won't remember. If something isn't quite in the right place no one else will know. Work out what is really important to both of you and make those things happen."
"Keep the drinks flowing and the music playing."
"You will have likely spent a small fortune on the day and it will go so, so quickly, so try to take it all in and enjoy it. I would do it all again if I could."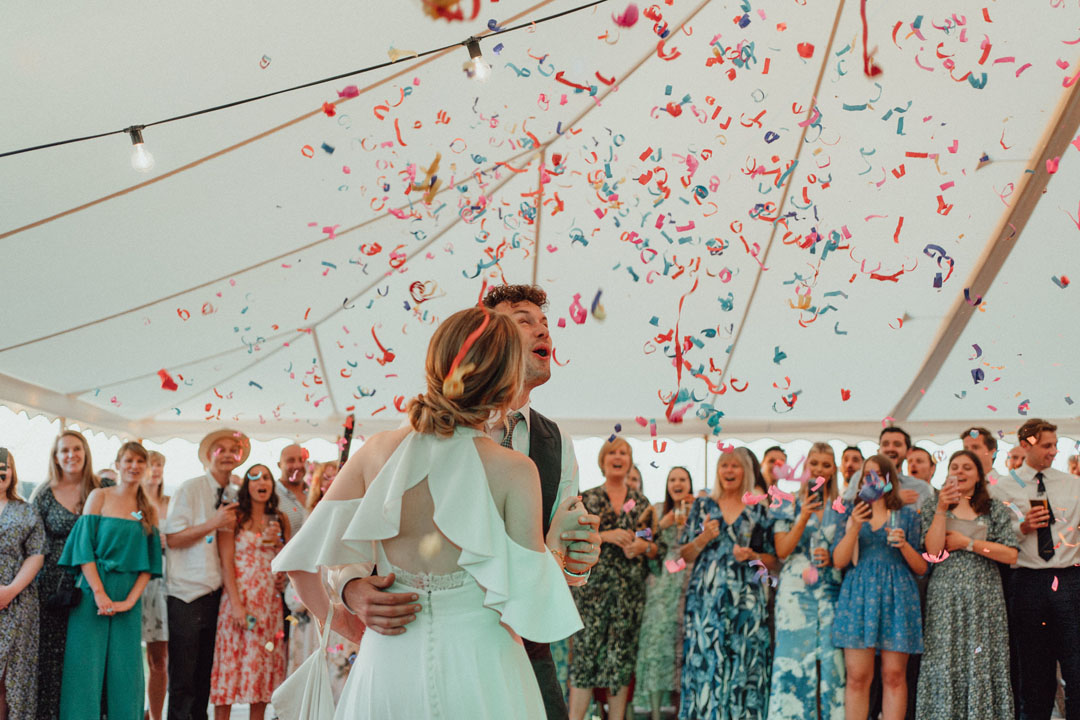 Such lovely words of wisdom, Lydia, thank you. Congratulations to you and Henry, and thanks to you both for sharing this totally joyful insight into your summer celebration and beautiful garden. Emily & Steve Photography, thank you for sharing your talent with us; I can't wait to see more of your photographs on Love My Dress soon.
You can see many more brides wearing beautiful Jesus Peiro bridal gowns here.
Ele xx