Emma and Paul's beautiful November 2021 wedding was a long time coming. This lovely couple had to reschedule their wedding three times, from its original 30th July 2020 date, because of continuous lockdown and social distancing implications.
As you can imagine, it was sweet relief when they were eventually able to tie the knot at Leicester wedding venue, Doningon Park Farmhouse, 16 months later than planned, though Emma shares openly and honestly below how repeated cancellations impacted her mental health.
This is a lovely modern wedding – big, bold, beautiful and joyful. Enjoy the 90's music references folks!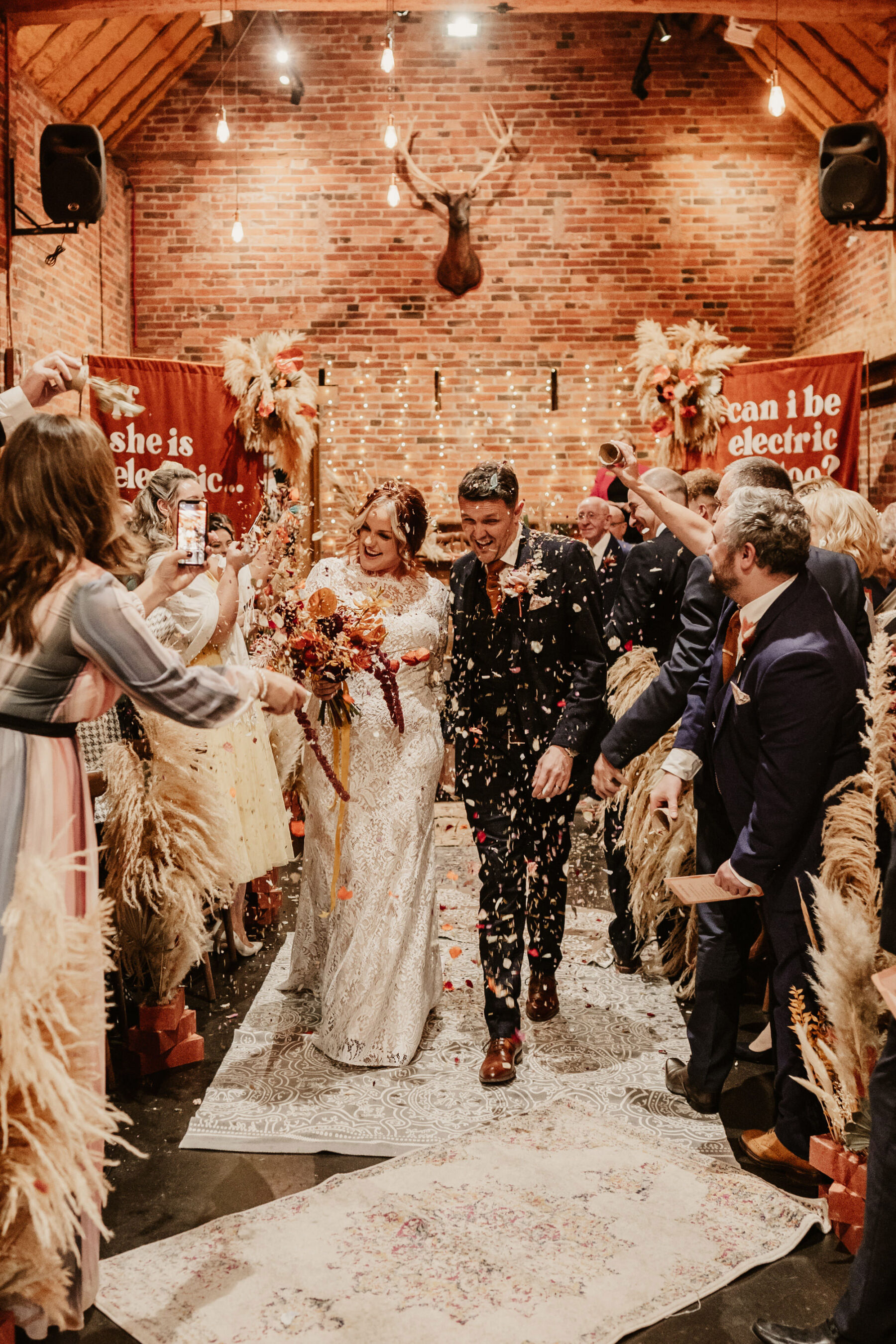 Donington Park Farmhouse
We originally made a provisional booking with a local TiPi venue but, our stylist happened to send out a newsletter featuring some stunning venue recommendations. Doningon Park Farmhouse was one of them and the moment I saw it online, I was in love!
The Threshing Barn really caught my attention so we went to see it in the flesh – their website doesn't do it justice at all, in real life, it's even more stunning.
The mood lighting in the barn really drew us in but most of all. It was the attention to detail and the authenticity of the farmhouse.
At the time of booking, we were also working with a lower venue cost budget and DPF really works for couples that want a beautiful venue with a friendly budget – it allowed us room for things we thought we would have to cut back on.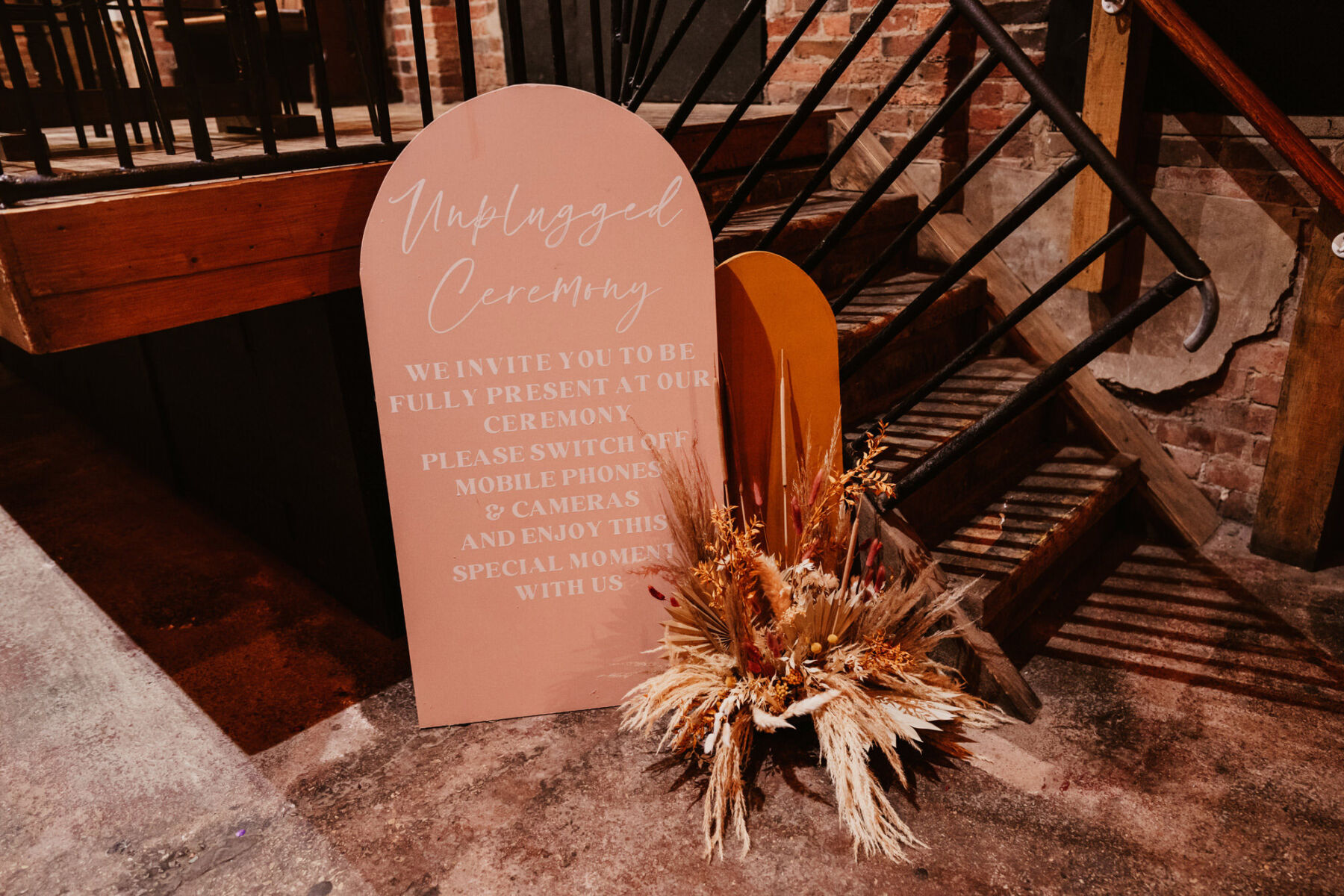 Hair & Makeup
I need to give Taz from The Birdcage Hair Salon so much praise. When I asked Taz to do my hair, I had no idea just how much time he would invest into it. He actually took himself off to Liverpool weeks before the wedding to do a bridal hair course so he could freshen up his skills as he knew I wanted something specific.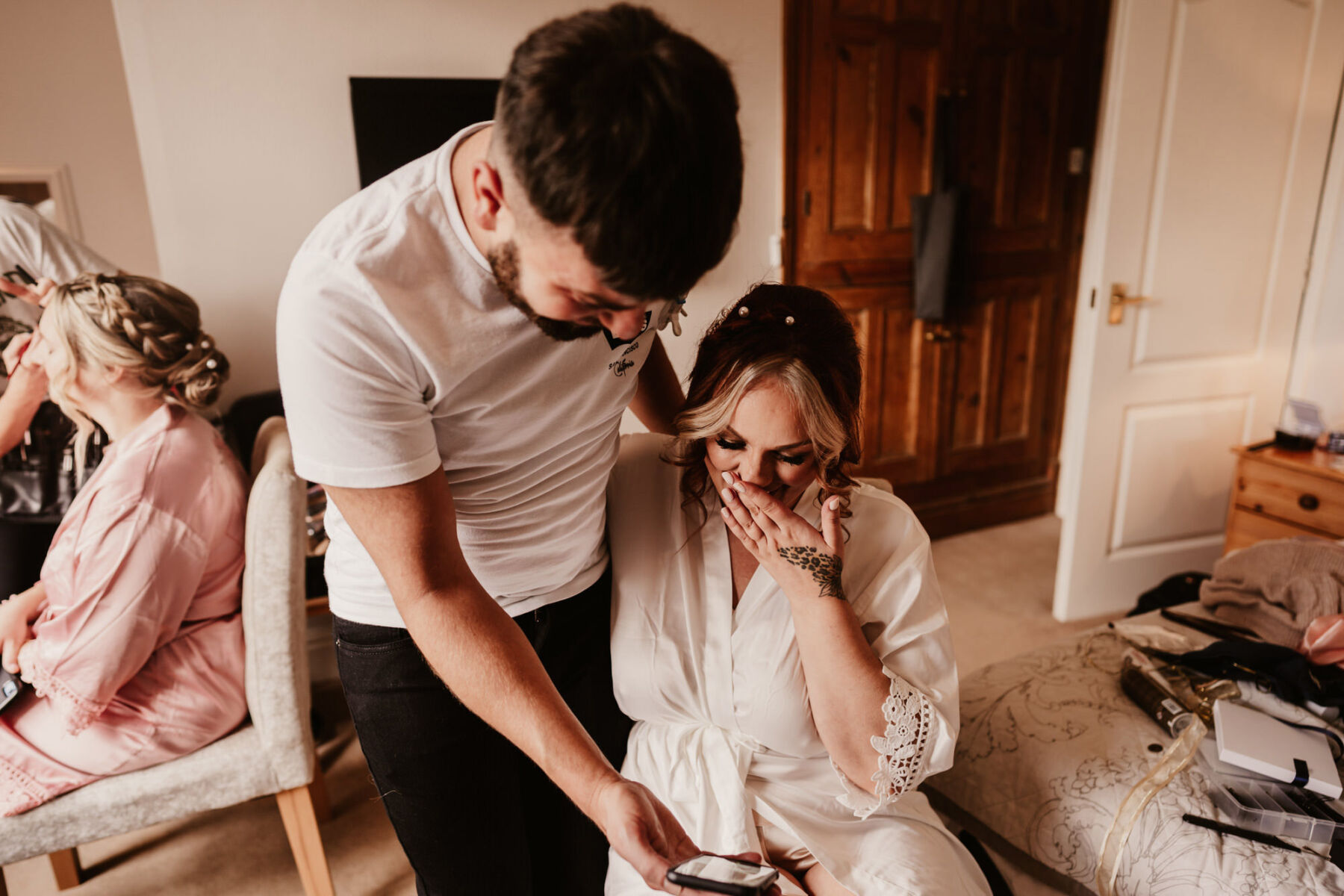 He put so much care into getting my hair right and could see when I was starting to feel anxious during prep so would make sure he moved things in another direction, gave me time to pause and kept things running smoothly.
My makeup artist was Amy Louise.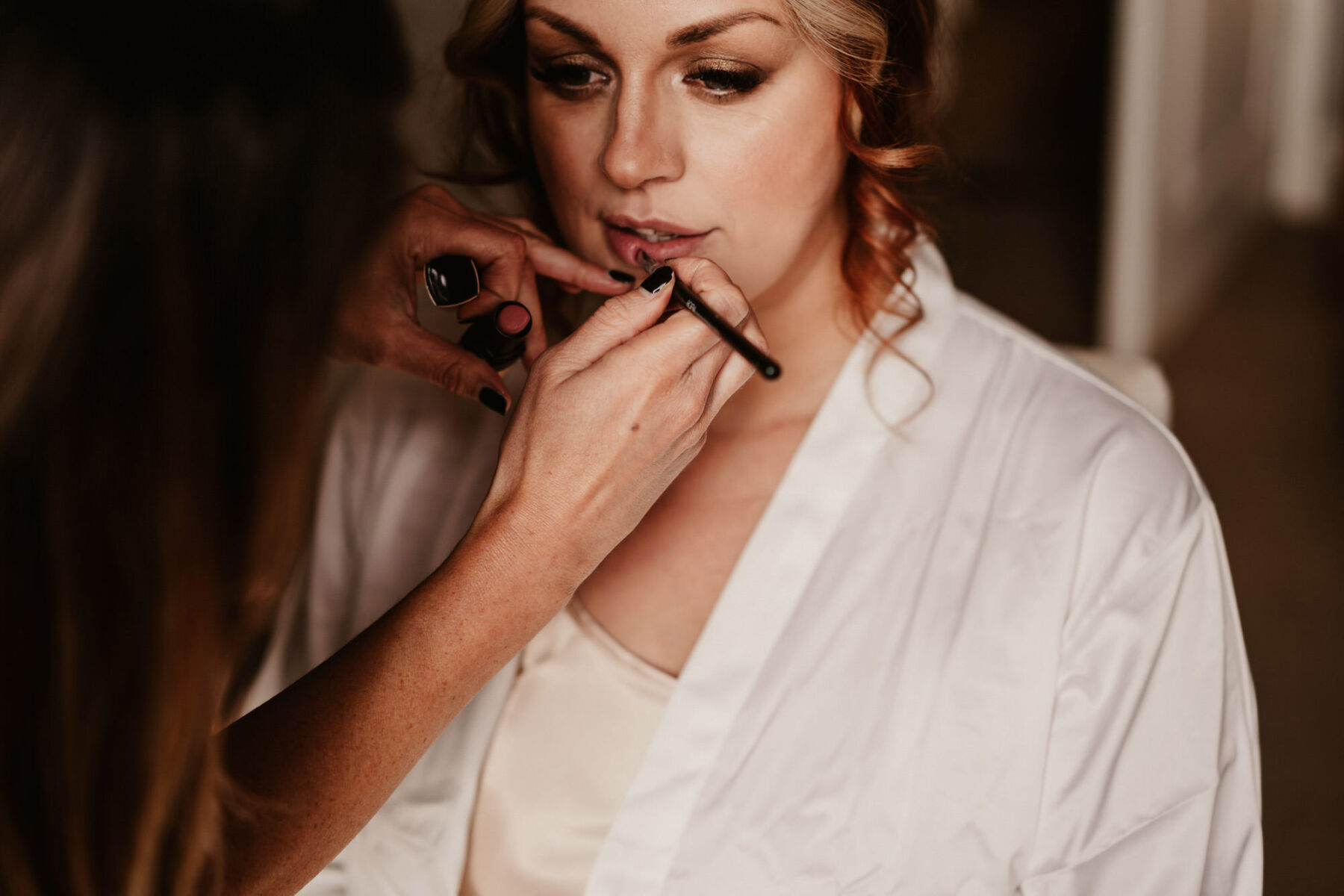 A Wendy Makin Wedding Dress
My dress was by an Australian designer, Wendy Makin. I had never heard of her but went along to a trunk show at the boutique I purchased it from and fell head in love with the Roxanne-S dress from The French Collection. I ordered mine in Ivory with a nude underlay.
The lovely lady from Wendy Makin gave me the most incredible service and encouraged me to be proud of my curves and embrace them rather than hide them, away. I'd recommend a trunk show to any bride, even if it's a designer you've never heard of before.
By the time I got to wear my dress, it was over two and a half years since purchasing it. At the time of purchase, I was much slimmer, but curvy size 12. I loved how much it accentuated my curves and gave me a real hour glass figure. By the time it came to wearing it, I was a size 16 and wasn't sure I'd still love it. I asked my seamstress to do all she could to get the hour glass silhouette back in it for me and she did just that. The most important thing was that no matter what size I was, I was able to relax and embrace my figure, this dress allowed me just that. My only regret was not doing the sit down test.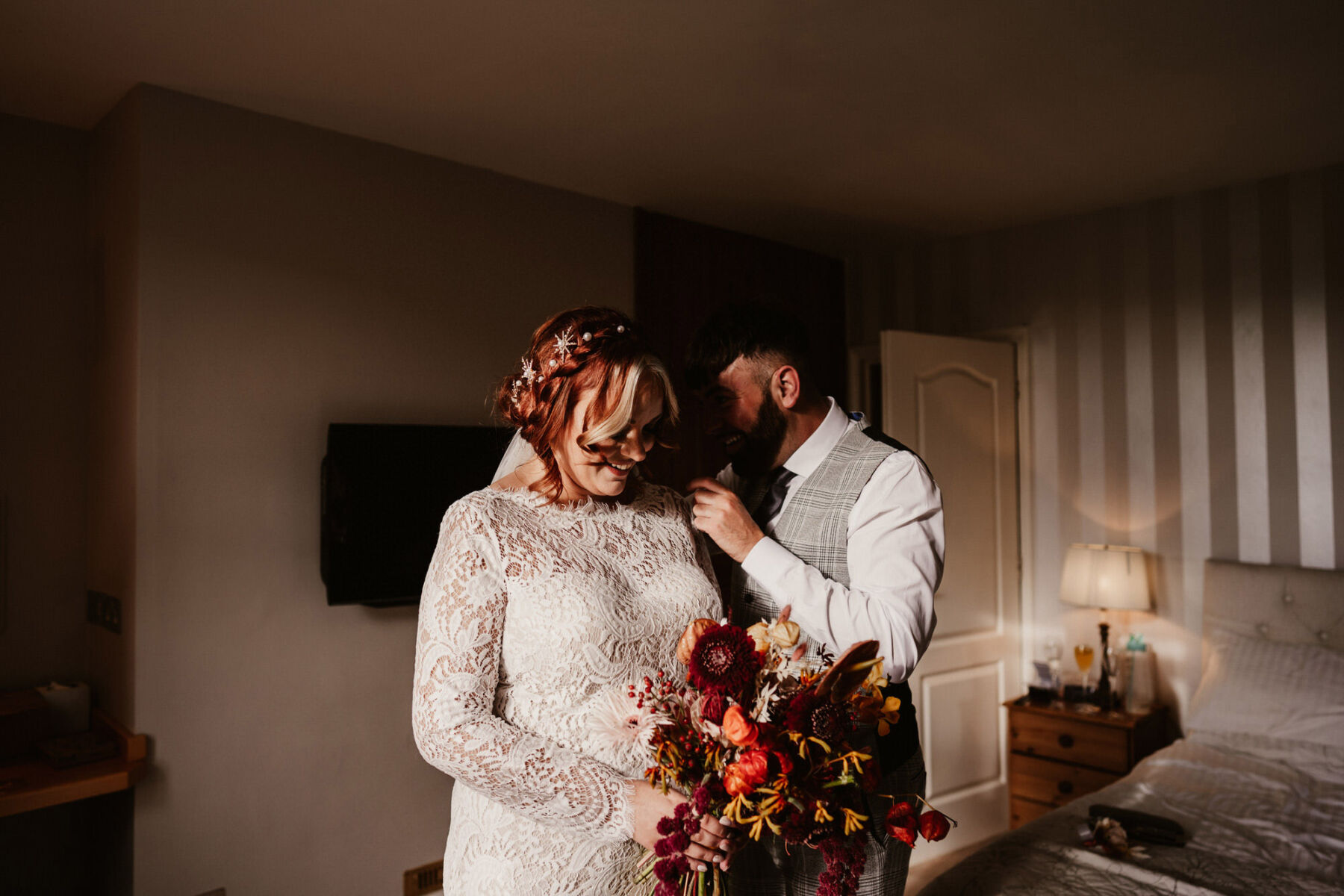 Shoes, Veil & Accessories
I actually won my accessories from an Instagram competition. The lovely @india.grace1 ran a giveaway with two winners to receive items from her collection. The first winner had the first pick and that was me! I was over the moon as I had my eye on them but had run out of budget so I wasn't going to have a hair piece.
I won the most stunning celestial hair combs and pearl pins that I wore throughout one side of my hair. My daughter also wore one of the combs so that we had something to match.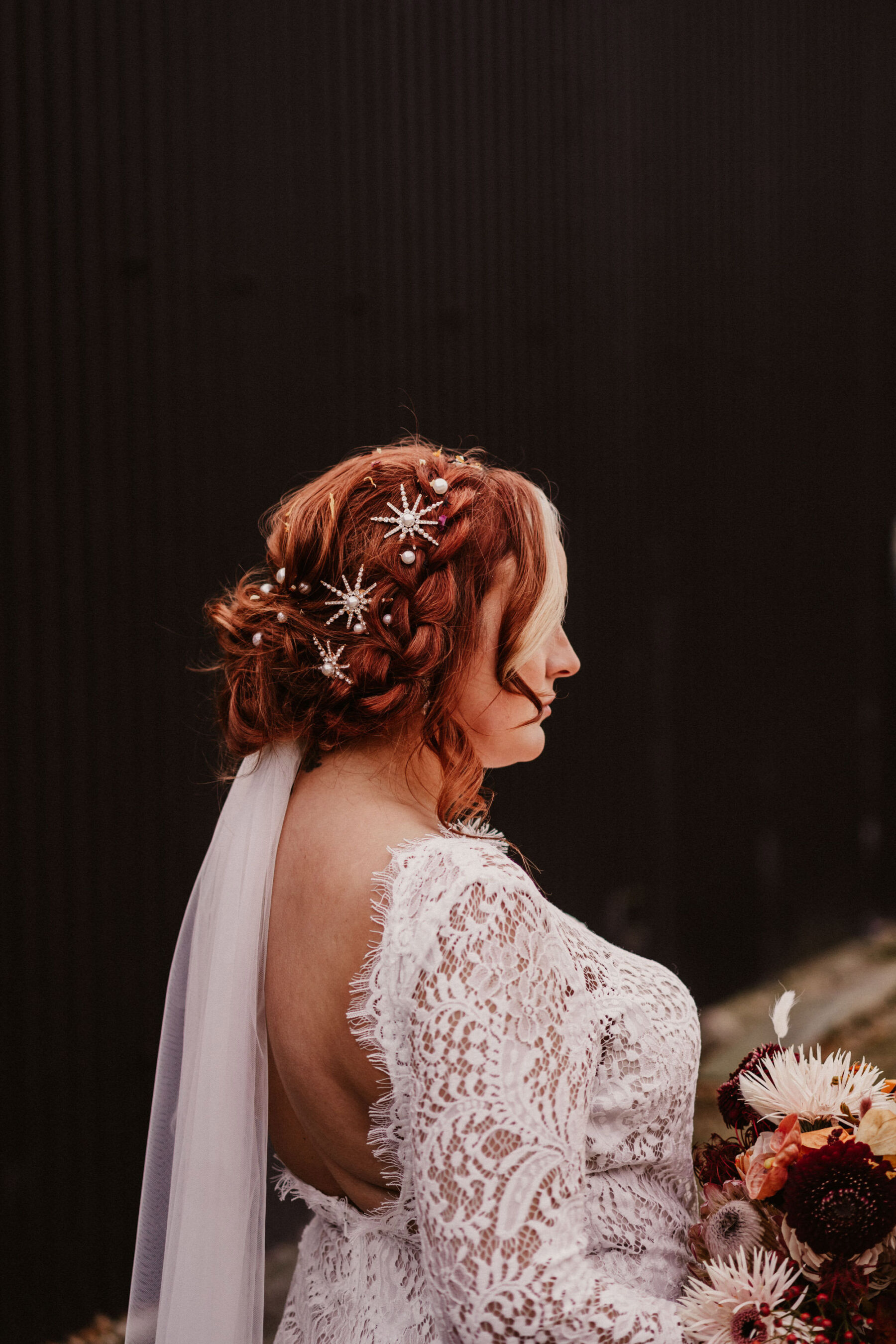 Paul gifted me the perfume Creed 'Love In White' as one of my gifts – he had the bottle engraved to make it extra special. We had gone fragrance shopping together and I never thought I would choose it but the perfumier in House Of Fraser gave me a spritz and Paul's reaction to it was like no other! I'm addicted to perfume and have a huge collection but he never reacts to any of them the way he did to this.
Paul also gifted me a Tiffany necklace which will always hold a special place in my heart – just before the wedding, we had huge car issues that ripped a hole in our finances, I'd also over spent on gifts for everyone else which left no room in our budget, it was discussed that he was getting me a Tiffany but then we agreed not to because we just weren't in any position to do so at that point. However, he had done it anyway. It's now a piece of jewellery that holds even more sentimental value to me than it was ever meant to.
Love My Dress shared the incredible work of Miss Clemmie, and I found my beautiful celestial, pearl drop earrings! I also found her sister site By Clemmie, where Clem creates beautiful crystal jewellery. I made several purchases and gifted this to our suppliers as a thank you.
I also discovered the beautiful Rebecca Anne Designs and ended up in discussions with her to create my incredible bespoke veil. Wearing a bespoke veil was a last minute decision but after my dress boutique lost my veil, I saw a sign that it was meant to be and now I have a veil that I can pass through the generations of our family one day. Rebecca's work had also been shared by our photographer and our videographer so I took it as a huge sign!
Rebecca Anne was great to work with in creating my veil, she suggested going for a less is more detail approach as my dress was quite a busy lace, so we opted to have a plain veil with lyrics edging the bottom of the train.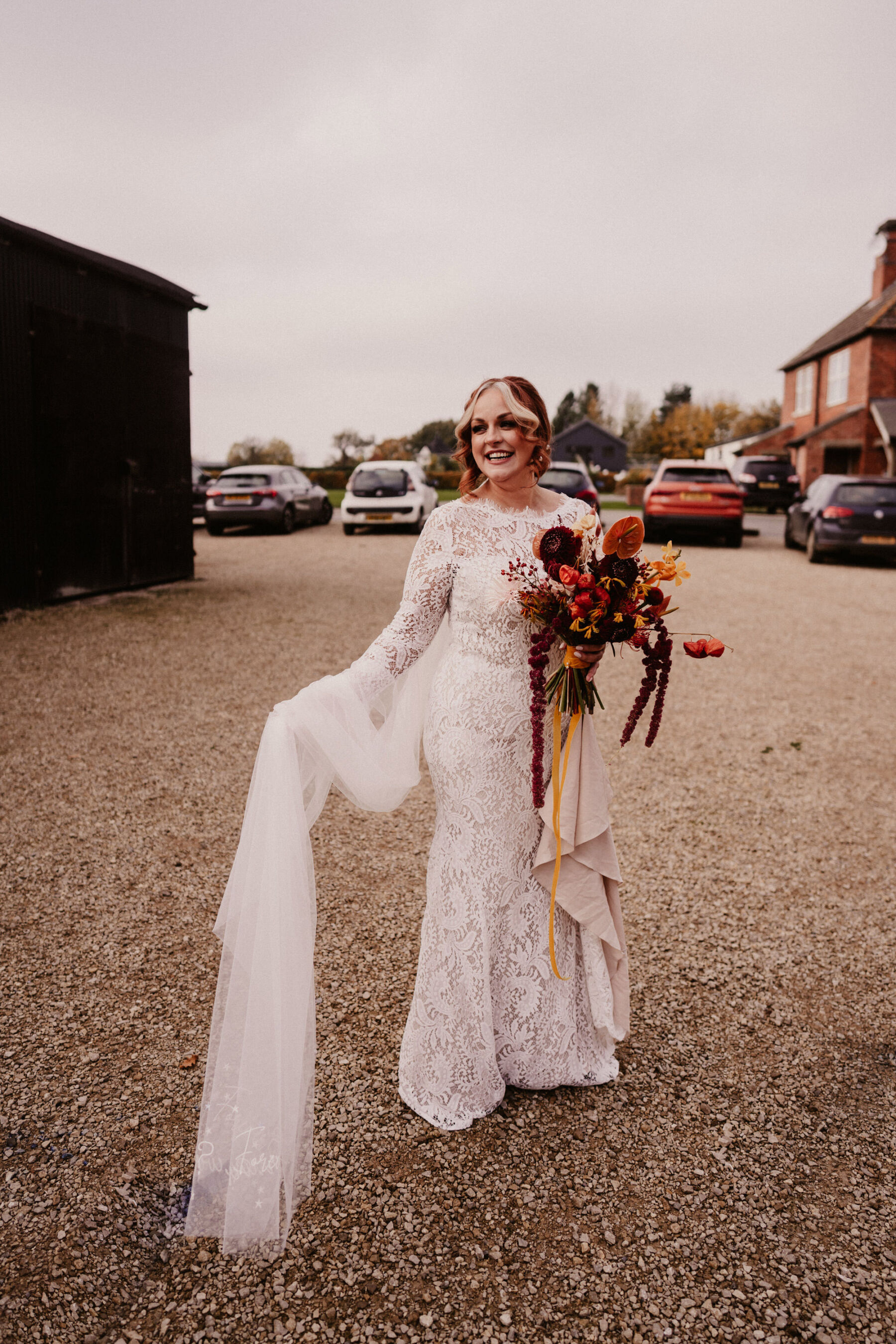 I originally chose Luther Vandross lyrics as "Never Too Much" is our song but saw that this was becoming quite a popular choice for her brides and I wanted to do something I hadn't seen before. Paul and I love the song 'Ms Jackson' by Outkast and we've always had a 'thing' when we say 'I love You' One of us says "Forever? Forever, Ever" and the other says "Forever, Ever".
So I had those words lining the edge of my veil and then asked Rebecca to add 5 small stars, to represent our family of five. My veil was my something new and our family were my something blue.
Bridesmaids
All of my girls wore the Victoria Lou Bridal multiway dress in 'Oyster'. My bridesmaids were a mixture of ages and I wanted something to suit them all. They all styled them differently and they even worked for my sister in law who was breastfeeding. Victoria also made a bespoke made to order size upon request and was an angel throughout.
The girl's comfort was key for me so they all wore tan shoes with a heel size of their choice, some wore heels, others a wedge and the younger girls went for a sandal. They all wore pearl pins in their hair to match mine and I gifted them pearl studs.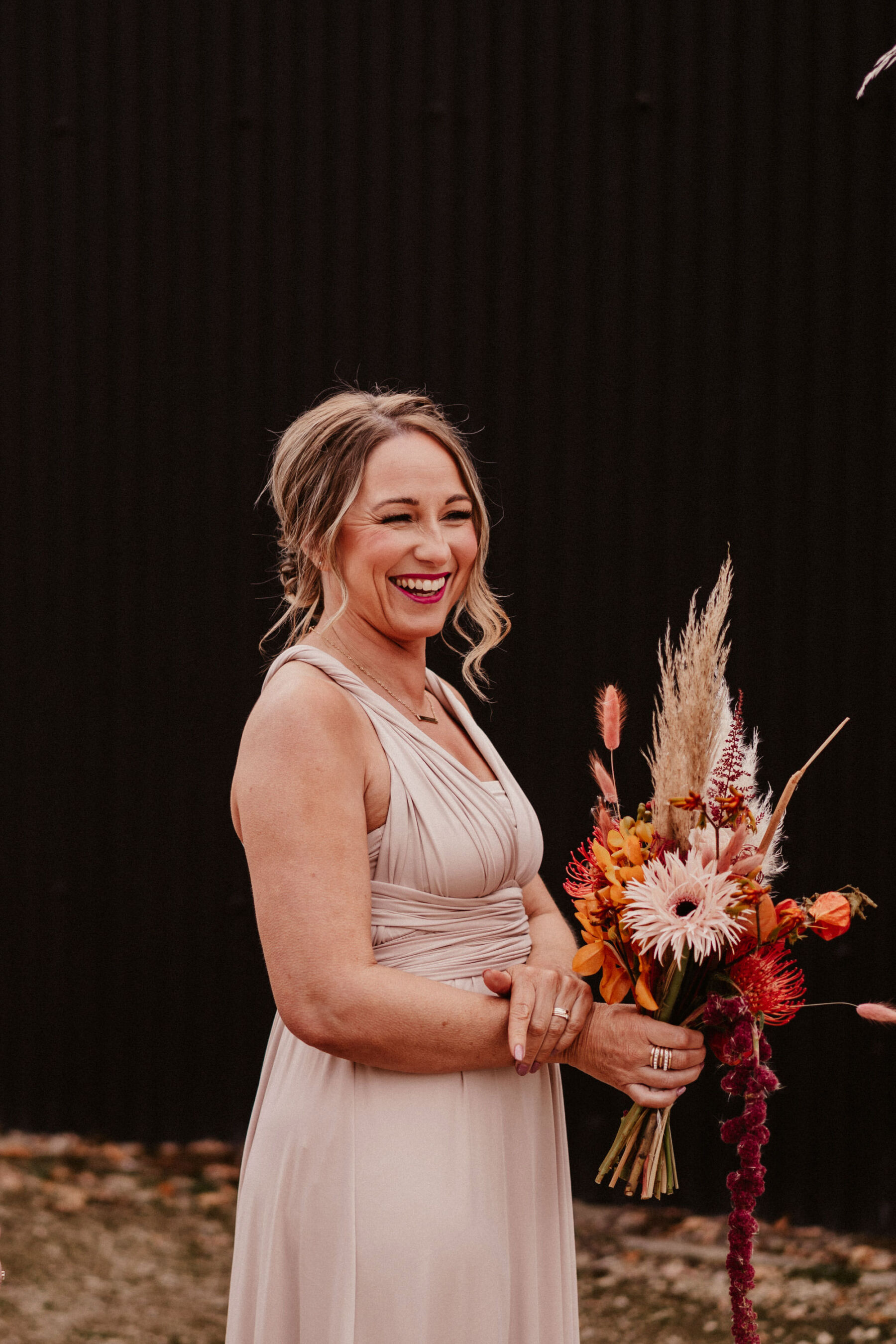 I also gave them a necklace engraved with either their children's names or their own names for the younger girls, my daughter's necklace had the names of her Grandparents.
My nine year old niece wore the same dress as the older girls. My baby niece, then nine months old, wore a cream body suit from Etsy with a boho floral style print pair of bloomers also from Etsy. She also wore a rust-colored cardigan from Next. She was a tiny flower girl and the star of the day!
The Ceremony
My 18 year old Beth walked me down the aisle which was a super special moment for us. When she turned one, I became a single parent – for ten years. There was no other person in this world that I wanted to share that walk with. I remember being so nervous but when she held my hand, the nerves went away and I just felt like the proudest Mother in the would.
Before I came up the aisle, Paul was waiting with his two best men – one being his son George who is a huge fan of The 1975. Paul had 'Chocolate' play as a special nod to him which was a lovely touch.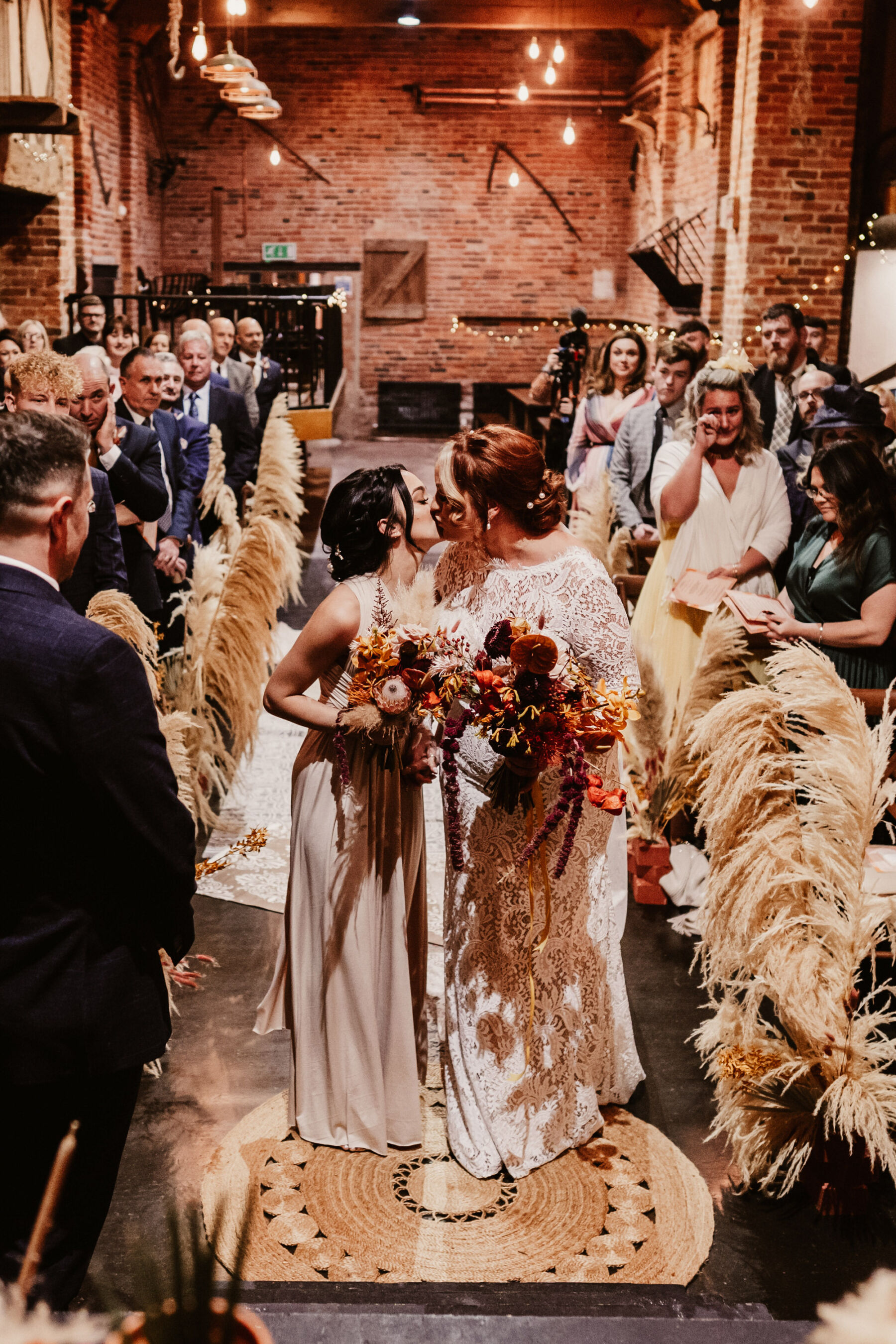 We had two amazing ladies from the Leicester county council of registrars who cried at the end of our service and were wonderful. We made our own vows which Paul especially found hard to do as he doesn't really like to share his feelings.
We agreed to make them fun and lighthearted as much as possible because we already knew our promises to each other were real. We made promises to the children as both parents and stepparents and to each other.
My best friend Misty read Edward Monkton's 'A Lovely Love Story', as I am a huge lover of dinosaurs (later in the evening, she disappeared and returned in an inflatable dinosaur costume for a dance with me which was a hilarious and much loved surprise). We also brought my baby niece the book as one of her gifts so she would have a special keepsake.
Our 16 year old nephew Hayden was Paul's Usher and made us so proud when he confidently stood up to read the lyrics to Rick Astley's 'Never Gonna Give You Up'.
Our rings were purchased from a little independent jeweller in the Jewelley Quarter, Birmingham
Photography by Chloe Mary
Our photographer was Chloe Mary. We fell in love with Chloe's raw, edgy style, her ability to capture the realness in the day, it felt like you could picture actually being at the wedding and what it was like because there was so much truth in each shot.
The more time passed, we got to watch Chloe's style evolve and loved her even more. She really captures the essence of the day and for us, we knew that our photos would transport us straight back to the day and we would be reliving it not just through our eyes, but through our loved ones too.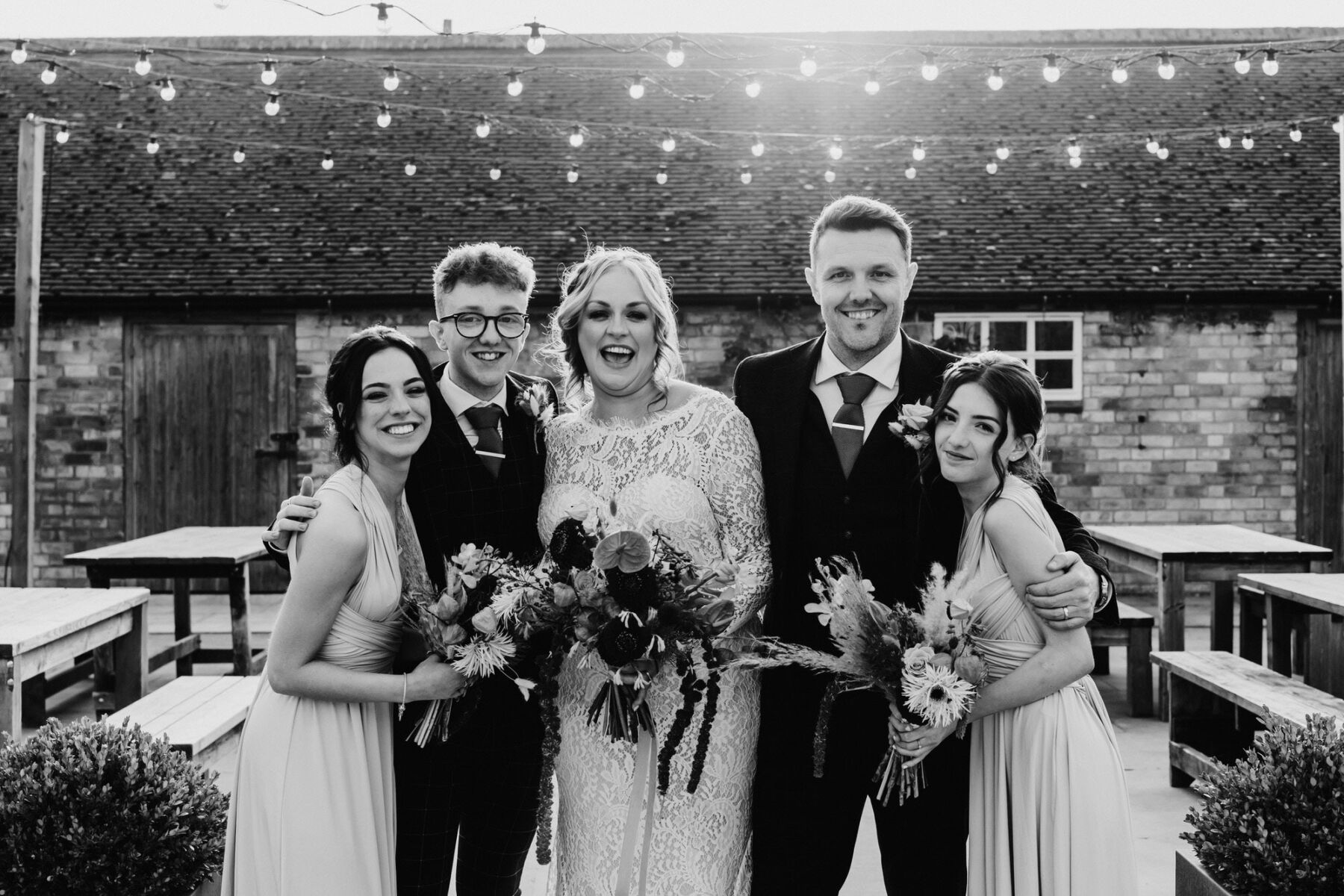 Chloe is also brutally honest. She understands that she won't be for everyone in the same way that not all couples are for her. She understands the importance of being true to yourself and is a huge promoter of self-acceptance – fuck the diets, the perfect moments. She wants you to just be you and let go.
Paul and I aren't the most camera confident of people but, on the day, there was a moment when she took us off for photos and asked for images of me alone and directed me, usually, I would feel so uncomfortable almost posing but she got the best out of me, she captured me looking serene and graceful but then allowed me to let loose and really be a dick! At one point, I was dry humping Paul's leg, just being myself and she was there, snapping away and loving life. It's like, Chloe really sees you. She understands what you are about and gets the best out of you.
When we received our photos back, they were better than we expected and really told the story of our day – including when I sent my hair up in smoke! She captured the tender moments, the fun moments and the silliness we share as a couple. I didn't want photos that looked fake or staged and wouldn't be a true reflection of us but she got everything just right.

The Groom
Paul looked so handsome – he wore a navy suit from Moss Bros, teamed with a knitted rust tie from Marc Darcy Suits. He wore Gianni Feraud shoes from ASOS, and a beautiful pocket square from Liberty London. His tie clip was from Bloom Boutique.
I also gifted Paul a watch from Hugo Boss on our wedding day, and an engraved bottle of 'Creed Invictus' as his wedding fragrance.
The button holes for the Ushers were made up of soft bunny tails in creams, pinks and rusts with added berries.
Paul wore a bigger button hold with a blush rose, bunny tails and berries. There were little arrangements in vases on the wedding breakfast tables.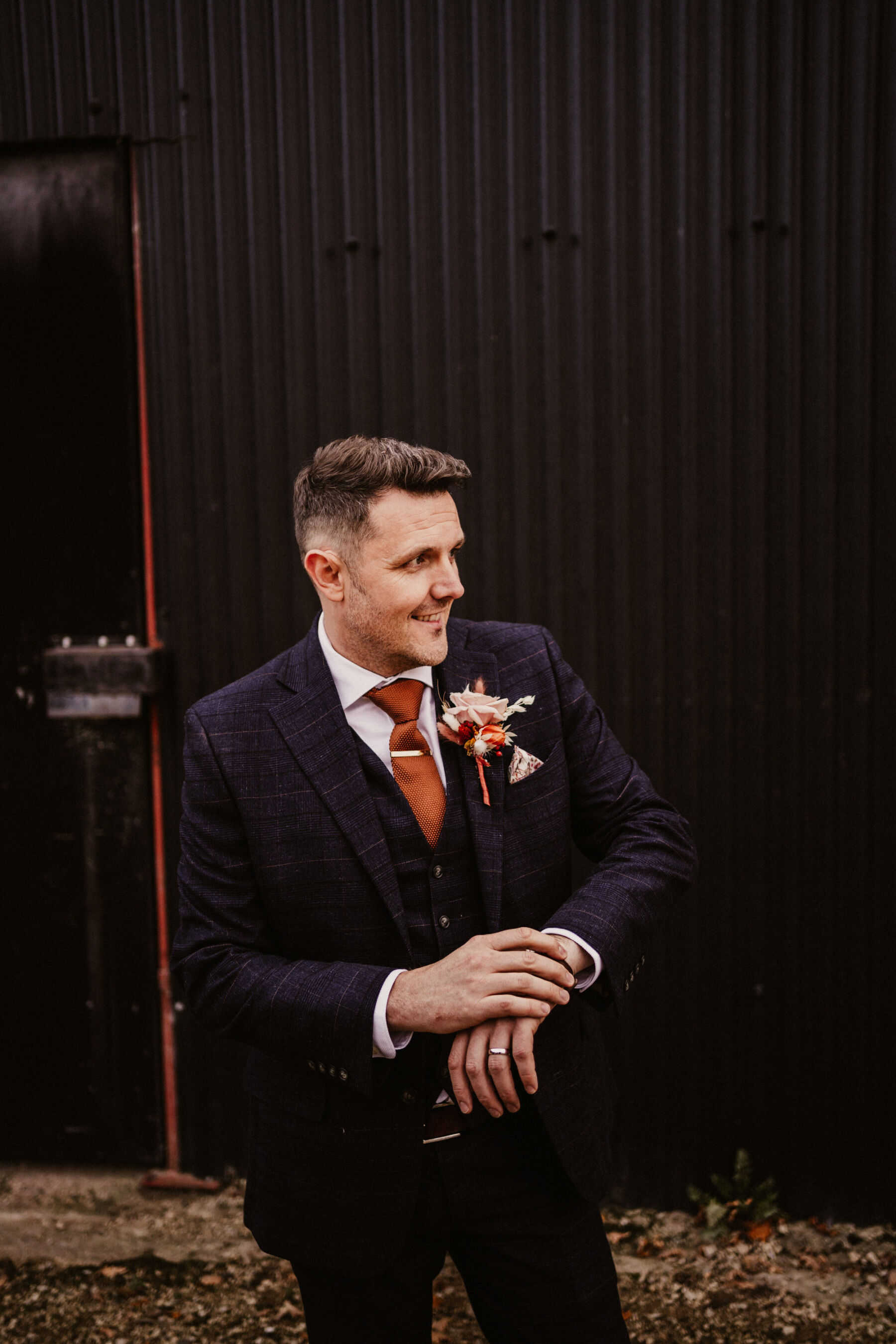 Bohemian Wedding Decor
We hired The Rustic Wedding Company as our styling – and I strongly urge couples to do the same if your budget allows. There is a huge misconception that Wedding stylists or planners are for higher budget, luxury weddings but it's not the case.
Pre-covid, I had no wedding stress at all because Lesley had taken all of that pressure away from me. She was a dream to work with and was as excited about our day as I was. I'll never forget her walking into my room on the morning of the day, I was so happy to see her again even though I had seen her the night before. Lesley worked so hard to make our day extra special and I owe so much to her.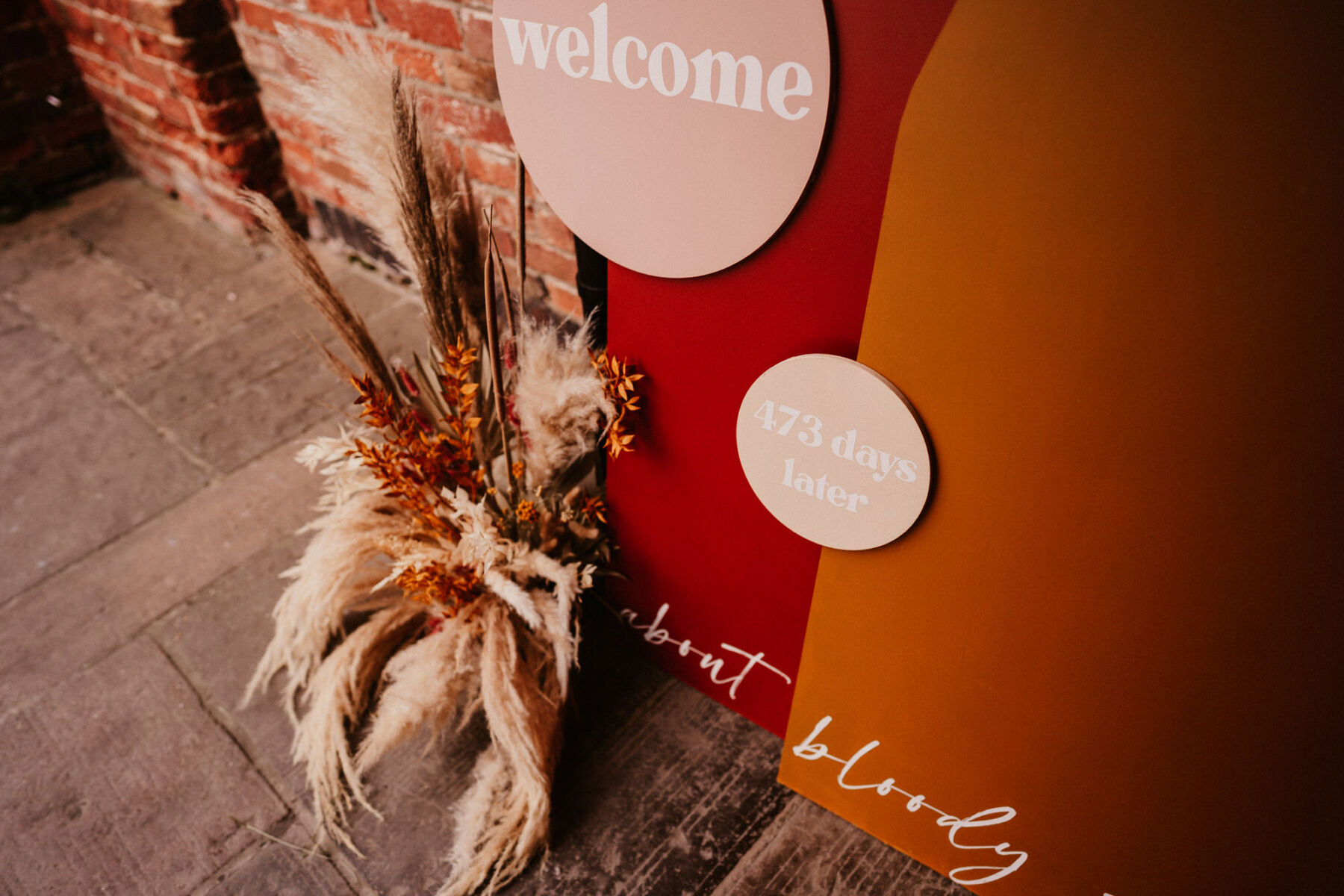 We wanted the decor to be fun, bold and modern bohemian. Some Of my favourite pieces were the velvet banners that Lesley created for us using song lyrics. We had lots of plants, floral styling and personal touches.
Our table plan was made up of polaroids for a 'who would play you in a film' design. We also used some of the space to create a special confetti bar and a memory table. We had mixes of confetti in terracotta planters with our loved ones names on and their photos nearby, guests were asked to help themselves and throw the confetti in our loved ones honour as we came back down the aisle and we lovingly called this area 'Forget them knot'.
Lesley created us a photobooth that doubled up as a boho snug area. The venue also has a cast iron gate on the wall so we had a street sign made that said 'you look like the rest of my life', and which the styling team hung on the gate and added several polaroids of our favourite family moments.
In the pig sties, Lesley hung pampas bombs and a mixture of rattan lightshades from the ceiling.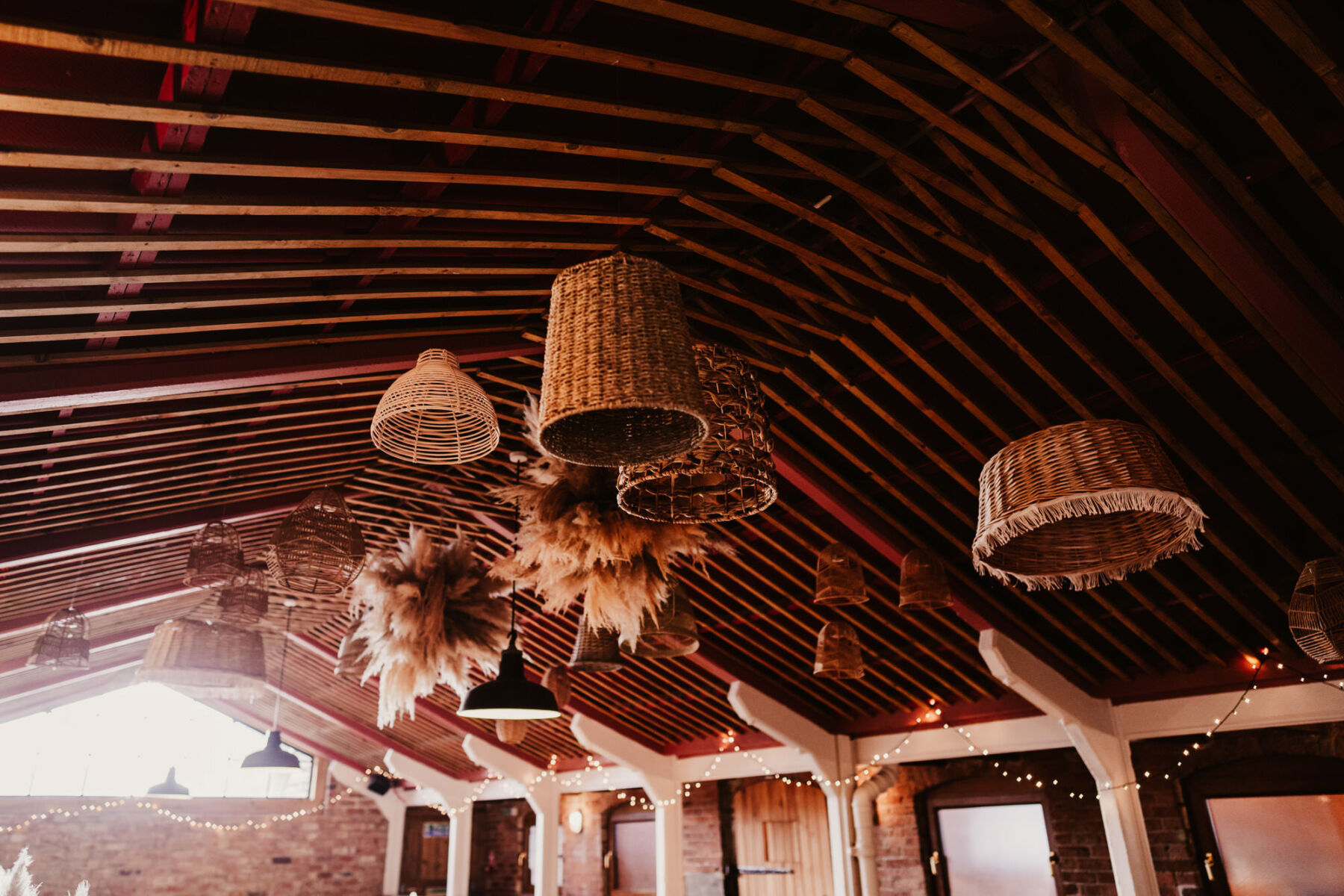 She used ceramic, stone and amber glass bottles for the tables and filled them with dried florals, we had seagrass charger plates, blush pink glassware and mixed coloured tied napkins with gold cutlery.
Our aisle was lined with rugs hired from Boelle Events, and edged with pampas arrangements coming out of bricks to symbolise home. We had lots of pampas bomb styling on the ceremony stage – no attention to detail was spared, it was so extra but so much fun and made the venue look so different.
We hired the wonderfully talented Peach Wolfe to design our invitation sweet. We gave her the brief of "business on the front, party on the back'. It was sensational. The whole suite was so us!
We loved her so much, we asked her to create our table names. Sarah created cinema tickets with the names of film titles that would represent the guest at the table. For readings, vows and reserved seating cards, Paul designed these using canva.
We only ever asked one person and that was Kat at Belmont House Cakery. We had four different cakes (one to cater for the gluten free guests) all in different styles and with a different flavour.
Kat was amazing, she was open and honest if I had an idea that didn't work and when I kept amending the design, she went with it and delivered. Kat also created our biscuit flavours that doubled up as place names as well as creating us homemade marshmallows and meringues for our cake table.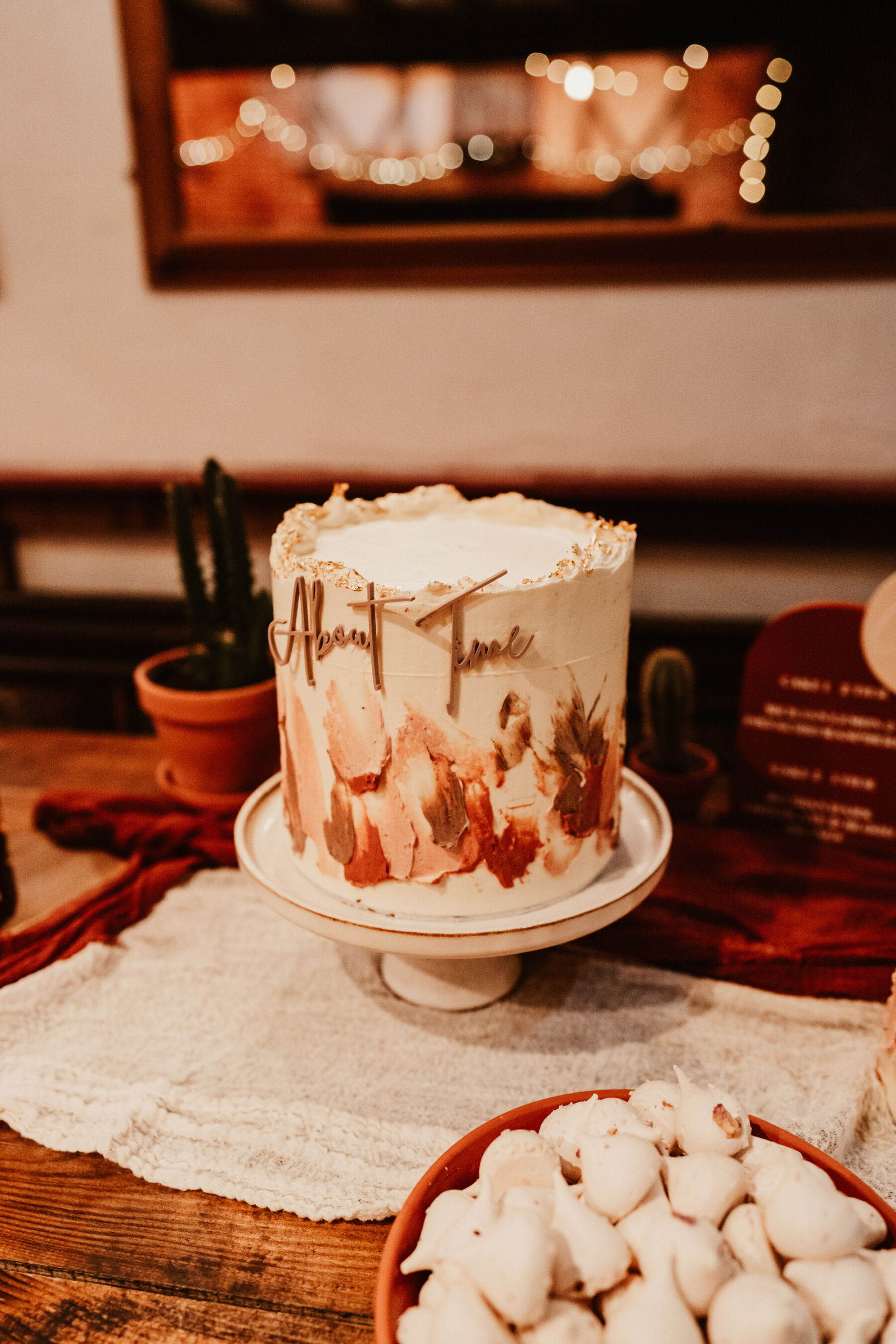 My lovely friend Michelle @sweetcharitycookies also kindly created us some amazing cookies for guests. She created mini cinema tickets, a take on the Looney Tunes logo and a film snapper which we placed in ceramic planter dishes on the cake table. Michelle makes these in the comfort of her own home and runs her business as a non profit organisation donating all proceeds to St Francis Children's Hospice in Manchester.
We asked our cake maker to create iced biscuits as favours and individually personalise them so they doubled up as place names. We also had lots of extra touches for guests such as packets of forget me not seeds that we put on our confetti/memory table.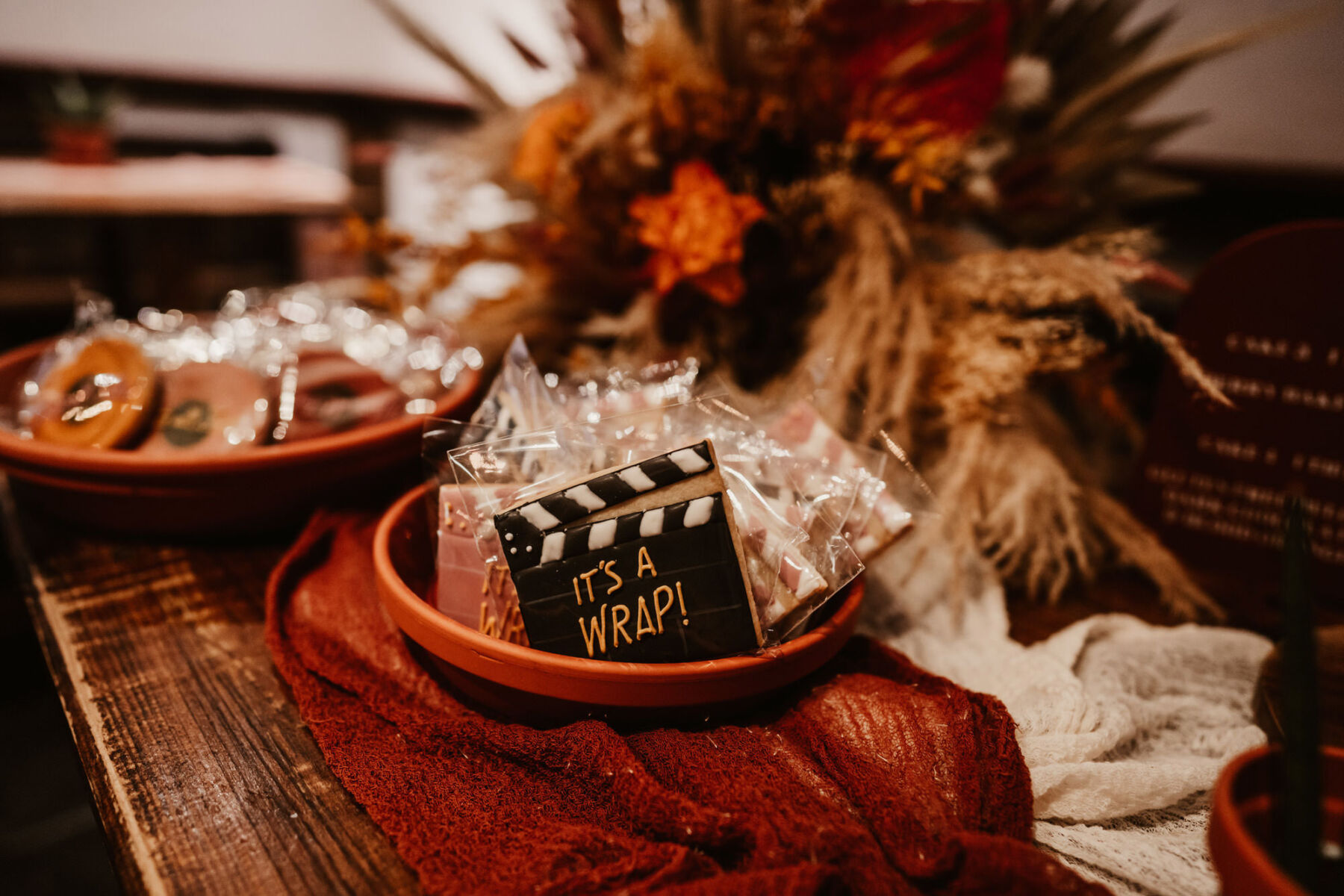 Flowers
Our vision was to mix dried and fresh flowers, with nothing looking uniform. We ran through some ideas and I showed Lesley, our stylist and floral stylist, my Pinterest board, then I left it in her hands.
The night before the wedding, Lesley was setting up part of the venue and I couldn't believe the floral arrangements, I actually cried because they were even more incredible than I imagined – when she said they weren't finished, I couldn't believe it. Our bouquets were like nothing I had seen before. I told Lesley I wanted more unusual blooms and lots of different textures and tones. She met the brief and beyond. I still get so emotional thinking about it because I've never seen flowers so beautiful.
My girls carried a small bouquet matching my florals but added pampus, they looked so beautiful and added so much colour.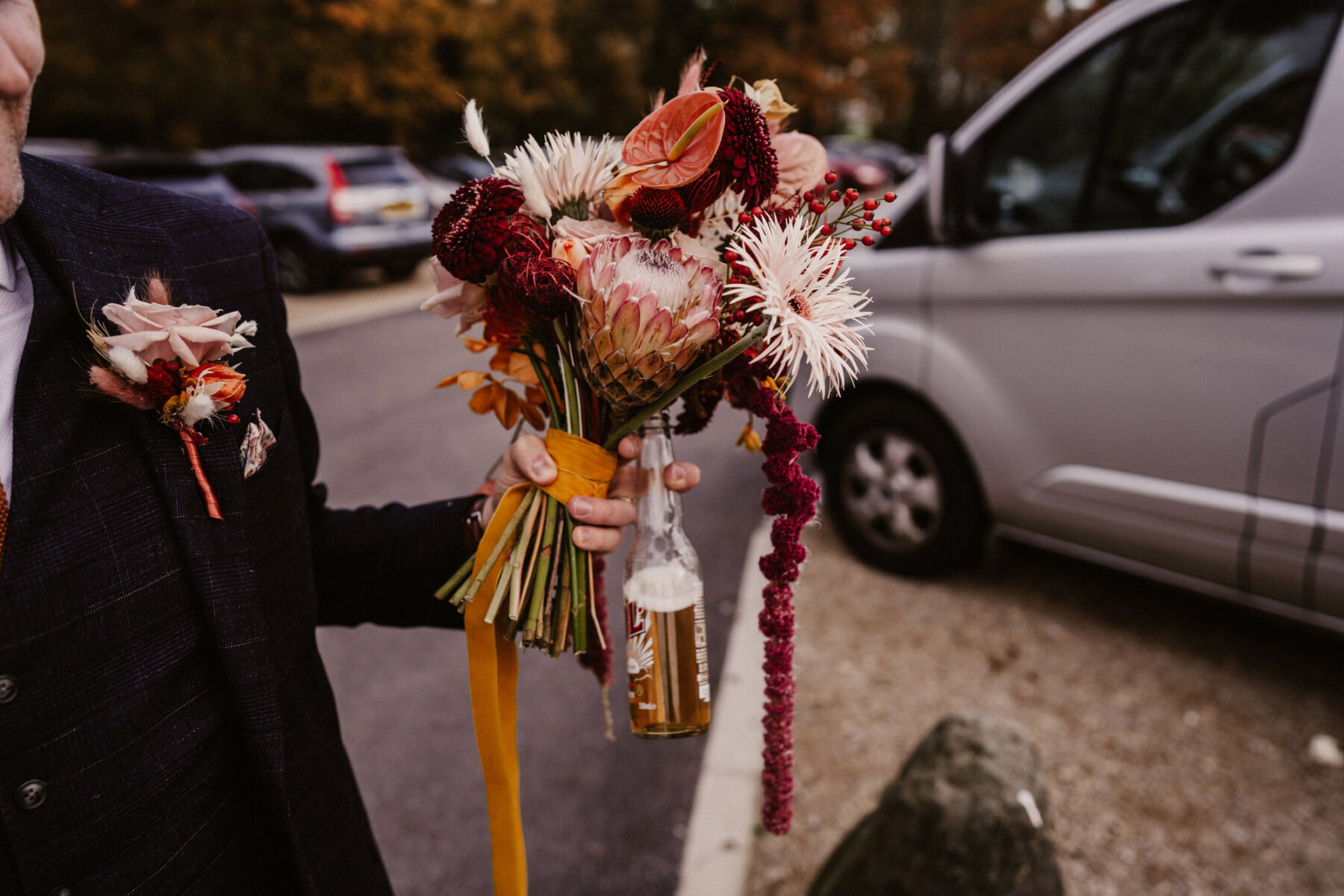 How They Met
We met on March 23rd 2013, I was 29, Paul was 35 . He lived in Northants and I lived in Worcestershire.
Our engagement involved no fancy proposal – it wasn't the explosive moment I had always imagined but for us as a couple, it was perfect. It made me realise that all the years previous, I had set the bar so high and expected so much but what I really wanted was to spend my life with someone that I loved so incredibly deeply, someone just like my Paul.
We brought a ring in 2019 when we were shopping for our wedding rings for what we thought would be our Summer 2020 day.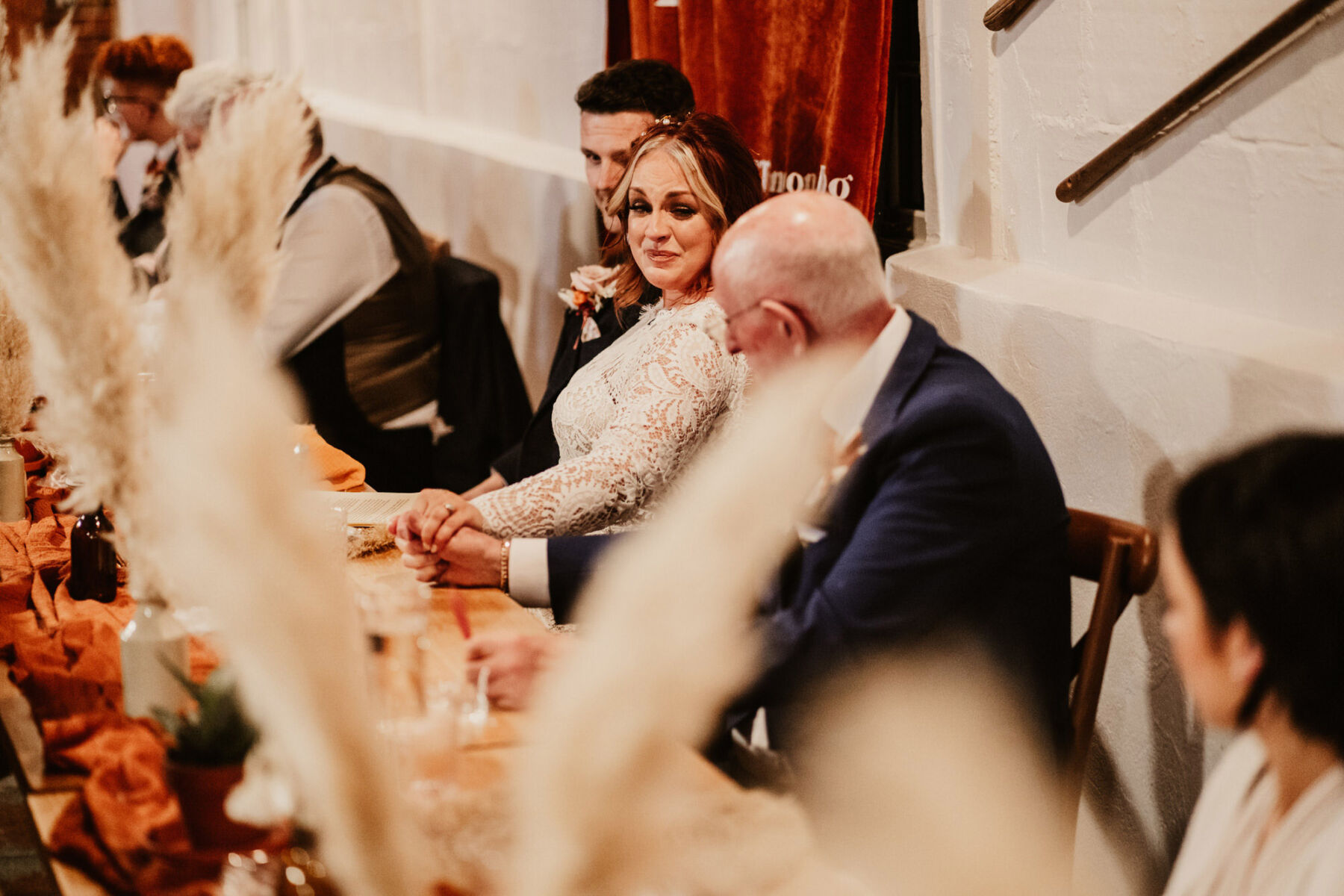 Evening & Dancing
We chose 'Kiss Me', by SixPence None The Richer for our first dance song. It's a 90's song and a music era we both love. I had so many ideas in mind for a first dance but we didn't want anything to slow or soppy.
We both loved the song and when it comes on the radio, I get goosebumps each time. Neither of us were emotional and just laughed/smiled through it because we both felt weirdly awkward as Paul is not a dancer!
For the Father/Daughter dance, my Dad and I danced to our song 'All You're Dreaming Of' which my Dad chose – pretty cool at the age of 84 right!
I remember looking around the room and seeing so many people crying including the filmographer and videographer. Dad and I were sobbing and he just kept telling me how proud he was of me and that I had finally got my happy ending, wedding and what it was like because there was so much truth in each shot.
We hired the incredible duo The Duplettes at the very last minute, after they played at our friend's wedding just months before. They created such an amazing atmosphere whilst we all ate and sang a range of songs from Angie Stone, Newton Faulkner, Bruno Mars and more. Guests loved them! In the evening we hired a DJ.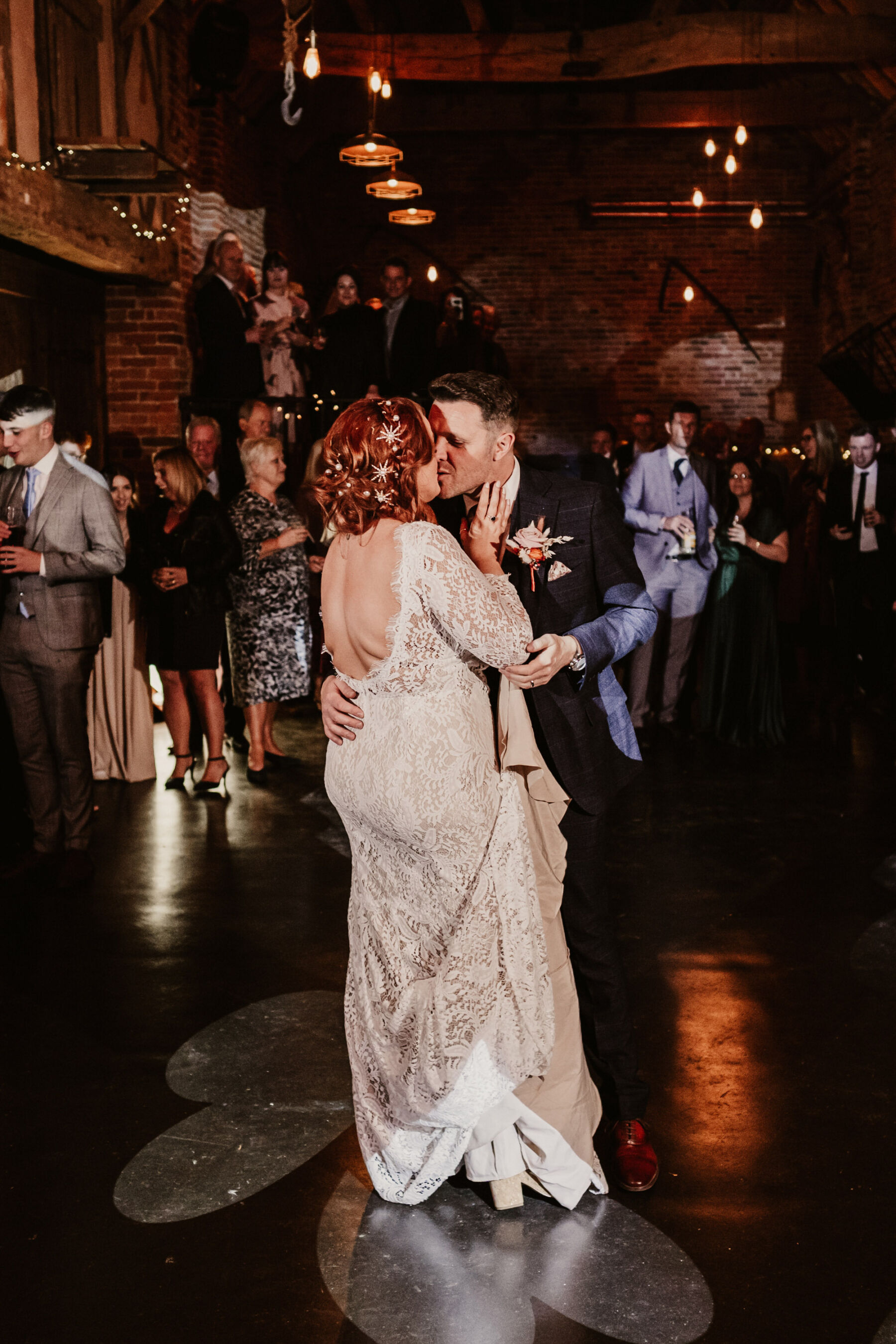 Words of Wedded Wisdom
Please don't conform to standards. If you have a doubt about something or a detail that doesn't sit right with you, scrap it or adjust it no matter what anyone says or thinks.
I have always found Love My Dress to be a constant source of inspiration. Pre-covid, the site and closed Facebook group for brides, were always a perfect space to go to for help, advice and inspiration but during covid, it felt like my safe space. A place I could go to for support and counsel, where I would feel fully represented and understood. It feels so good to see people finally getting their dream day after sharing some difficult times together in there (during the pandemic).
I actually planned a totally different wedding originally and I cannot lie – I am still dealing from the mental health impact the whole process of having to rearrange our wedding three times had on us and the strain it put on us as a couple.
When Annabel, Tamryn and Jessie began the What About Weddings campaign, I saw everything from a completely new perspective and suddenly, it wasn't just about Paul and I anymore. I need to be fighting not just for our wedding and everyone else's, but the sector as a whole. Speaking up gave me a sense of purpose, like it was where I needed to be at that time. I found a new respect for the industry and the people behind it.