We've something to tell you folks – we're making significant design changes to Love My Dress that will prioritise the easy exploration of our directory and discoverability of excellent suppliers and venues.
We commissioned a world class developer team to lead this project – they started work shortly before Christmas and are an absolute joy to work with. We're excited to reveal these changes to you in the coming few weeks, but in the meantime, we're proud and excited to highlight a few members of our family of 'highly recommended' businesses we think you should know about, if you're planning a wedding.
You will find these and more by visiting our directory homepage here.
Find Suppliers & Venues
Use the drop down menus below to find the suppliers or venues you want to locate.
Smitten With Ink
Smitten with Ink is a luxury, hot foil wedding stationery design studio specialising in modern, luxuriously tactile designs. Founder Hélène creates contemporary wedding stationery for the design driven lovers and avant-garde thinkers who are looking for minimalist and sophisticated wedding stationery.
From the design conception to the artisan production, the highest level of care and attention to details are at the core of Smitten with Ink. Imagine textured luxurious cards hand printed one by one on a vintage hot foil press, gorgeous envelope liners, calligraphy finishes -and more, all of it assembled with passion and love.
Wilden London
Wilden London is a London based bridal fashion design brand founded by Charlotte Wilden.
Charlotte is renowned for her bespoke, ethereal, romantic and whimsical creations, hand-made for brides all over the UK and beyond. Charlotte is also passionate about ethical and sustainable production.
South Event Specialists
South Event Specialists is a wedding planning service for sophisticated, stylish and fun couples.
Founder Katrien designs and executes events that are unique, timeless and personal.
South Event Specialists only take on a handful of events per year which allows then to give every couple that they work with personalised and comprehensive planning support from beginning to end. Their planning approach takes into consideration, not only every couple's unique taste, but also their lifestyle and preferences.
Gabriela's Photography and Film
Gabriela's Photography and Film is a Sheffield South Yorkshire wedding photographer and film maker whose style is relaxed, candid, natural and romantic. Gabriela's beautiful wedding photography and videography provides an antidote to forced, uncomfortable and staged wedding photography.
Gabriela is utterly passionate about documenting weddings and does so in her own, candid, inimitable style. Her creativity and artistry ensures she captures all the key moments, through thoughtfully produced imagery that is always loved and adored by her clients.
The Proof
The Proof are a female-led bespoke, nut-free cake and dessert company based in Dalston, East London. Proof create beautiful signature and fully bespoke cakes and dessert tables, in addition to our mobile Proofiterole Bar.
The Proof can cater for any dietary requirement and love to create nut free wedding cake, gluten free wedding cake and vegan wedding cake. Their kitchen is entirely nut free, meaning any wedding guests with an allergy can relax and eat safely on your wedding day – and enjoy our mouthwatering delights.
Anna Kara, at Miss Bush
Anna Kara create the most beautifully soft, light and romantic wedding dresses. These are gowns for the modern bride who appreciates contemporary elegance, flattering fit and subtle bohemian style.
Anna Kara is of the most desired brands in the European wedding fashion market and is available at the beautiful Miss Bush bridal boutique in Surrey, where a warm welcome awaits all women, from this wonderful team of bridal fashion experts and highly skilled stylists.
Anna Kara bridal designs are available to try on at Miss Bush bridal boutique in Ripley, Surrey and created by a talented team of women based in Poland. Every design is fully traceable and made from the most gorgeous sustainable fabrics.
Amelia Brennan Weddings
Amelia Brennan are an online boutique and luxury British children's clothing brand, who specialise in traditional and luxury flowergirl and pageboy outfits.
Amelia's beautifully curated collections feature everything from flowergirl dresses to perfectly matching page boy sets. The fabrics are made of the highest quality materials, and the designs are classical and timeless, with a nod to British tradition.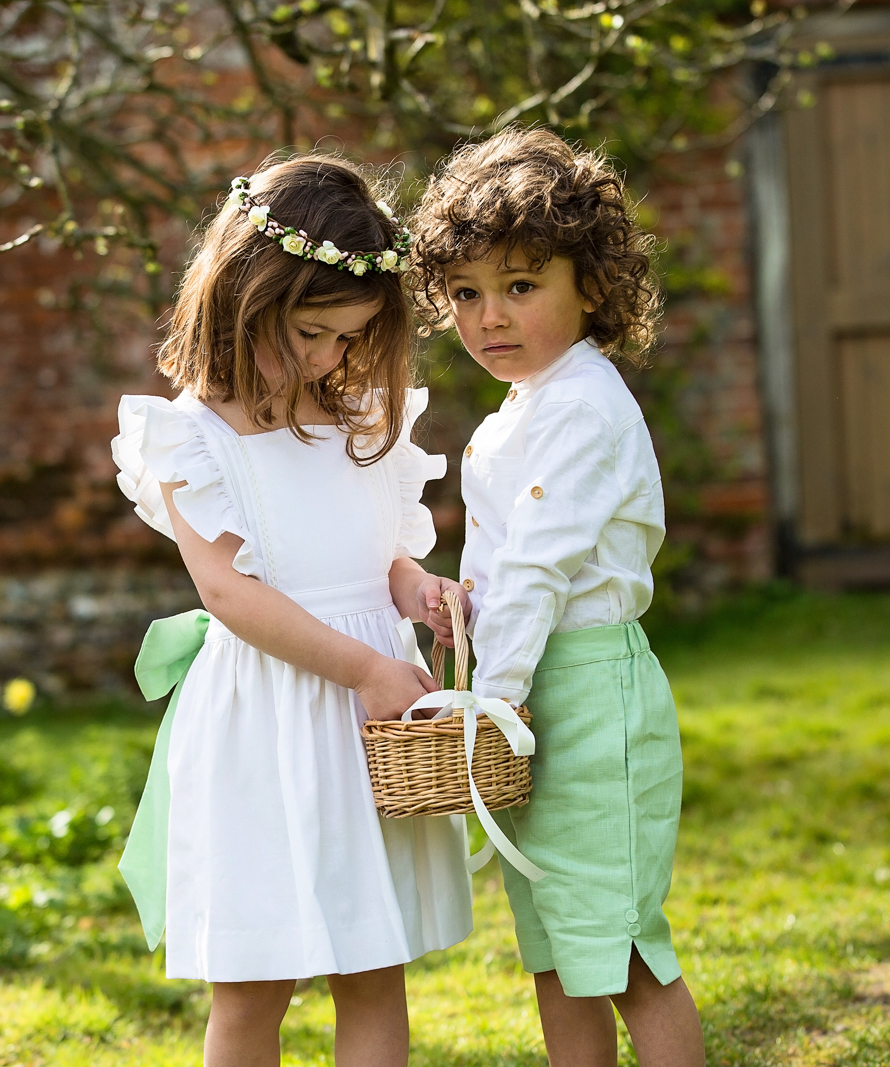 The Pedal Tones
The Pedal Tones, a Cheshire and North Wales based Wedding band and party band and we're here to provide the ultimate soundtrack to your event! We've partied up and down the UK for happy couples on their wedding day, brought the birthday celebrations for all ages and provided the ultimate tunes for Christmas and work parties!