This classy and modern Barcelona wedding took place on 7th October 2022, when brand marketer Cassandra, married music marketer Nicholas, at city restaurant, Casa Bonay.
The couple's wedding was cancelled in 2020 and again in 2021, though they were blessed with a sweet baby girl in the interim. Their daughter's arrival inspired them to go back to square one and design a wedding that truly encapsulated them as a couple, and that wasn't influenced by trends or seasons. They downsized, shifted from the Catalan countryside into the more fashionable city centre and scaled back on the details to what really mattered.
The result was a more relaxed and personalised wedding experience, captured beautifully by Rebecca Rees Photography, who I'm delighted to share, the couple discovered on Love My Dress. Enjoy!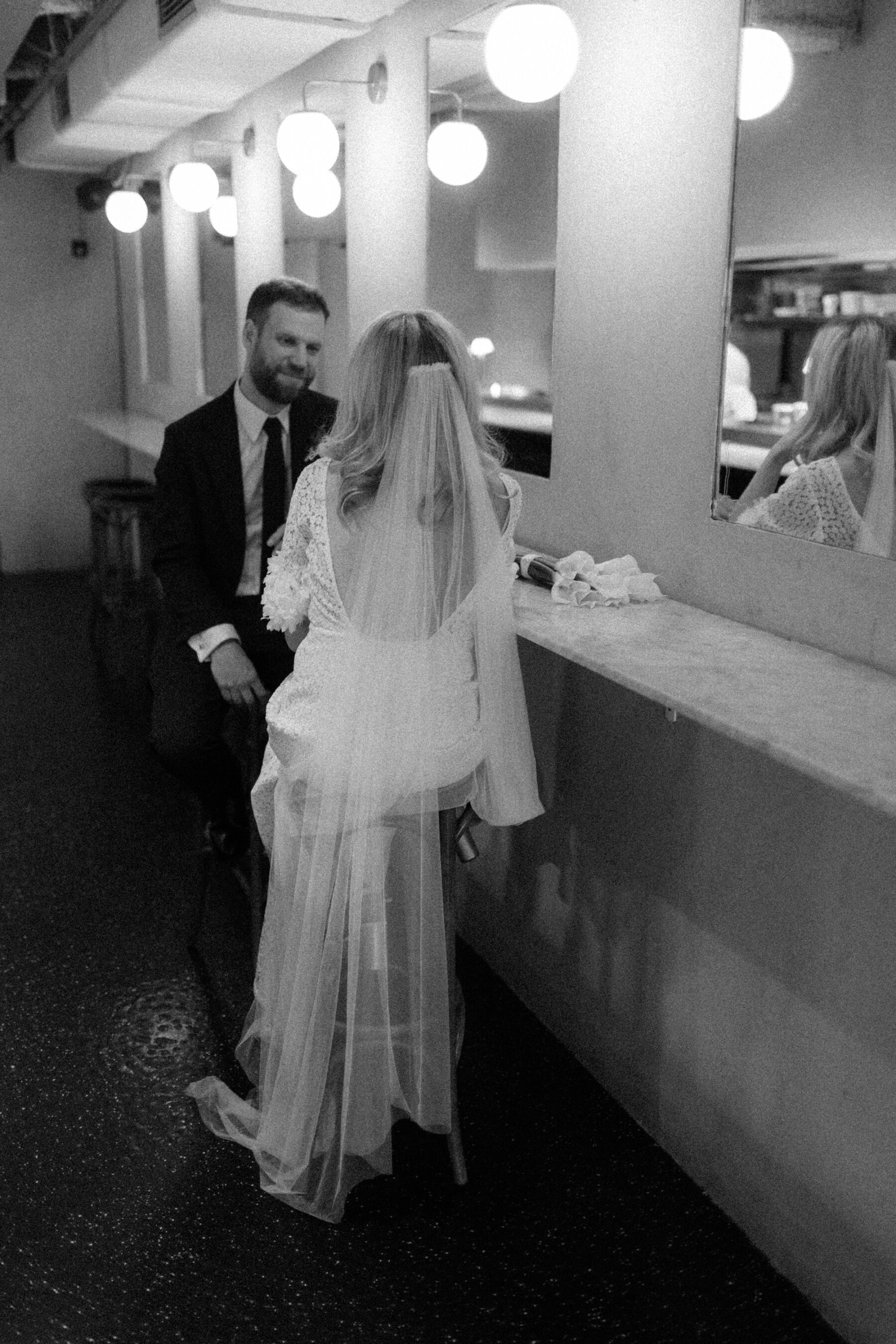 Casa Bonay in Barcelona
We chose Barcelona because of its style, energy and vibrancy, it's somewhere we keep going back to – whether for music festivals or trips with friends. And we love hotels, and the design concepts of them, so chose Casa Bonay, an urban oasis in the centre of the city for our venue.
Autumn also provided a cool seasonal backdrop – we've always embraced the leaves, and the vibe of the season over Summer.
We hired Delicious – a wedding planner based in Barcelona and London.

An Immaclé Wedding Dress
Both my dress and veil were by Barcelona designer, Immaclé. I didn't want a traditional dress, I wanted something more modern and relaxed but at the same time made a statement which it did with the front slit, backless cut and sleeves made of cut silk crepe flowers.
This was the first dress I tried on, and it was everything I wanted.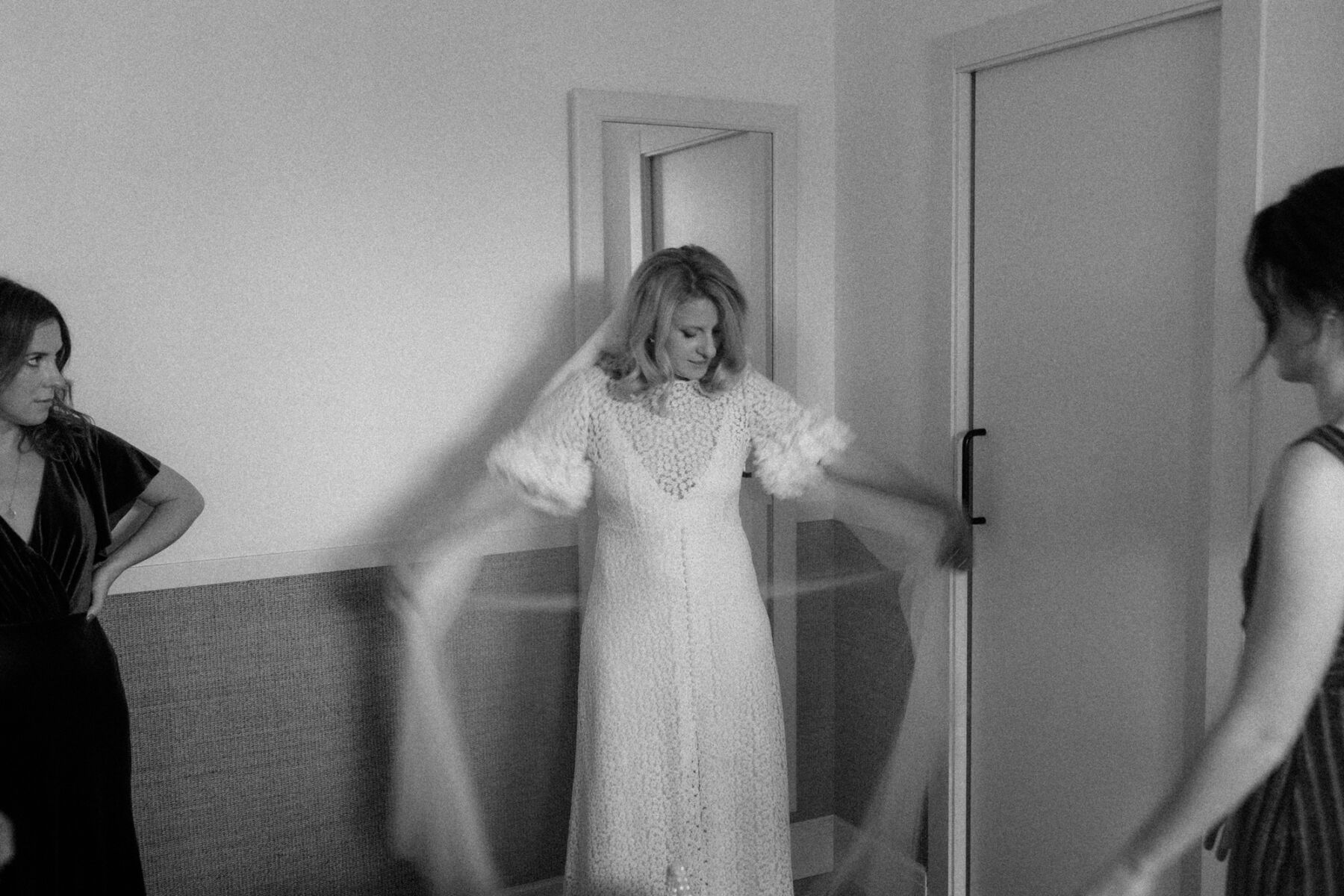 Bridal Beauty, Shoes & Accessories
I had a bespoke veil made from Immacle – it was timeless but at the same contemporary in its design. I also wore shoes from the Immaclé. capsule shoe collection. They were 70s in style – white and gold platform with a chunky heel. High end designer names are less important to me – it's more about individual designers with an edge, which these were.
I wore Laboratory Perfumes Atlas Eau de Toilette – it was my mum's favourite who sadly was not there for the day (she passed away in 2018). My makeup artist was Teresa Snowball, who is British born but Barcelona based. We went for natural looks and simple hairstyling that reflected our everyday styles. I had a simple blow dry which was very 'me' – nothing too fancy – and it meant I could let my hair down, literally.
I also wore my mother's gold and sapphire horseshoe necklace that was an antique from Annina Vogel. It was my something old, borrowed and blue.
A Barcelona CityWedding Ceremony
My father walked me down the aisle, to Friends Francis and The Lights. It wasn't a traditional 'walk in' song, but to us it had a great beat and the lyrics meant a lot to us. Plus we love Francis and The Lights!
We hired a celebrant, Clare Tutte, who is British born but now resides in Barcelona. Music was at the heart of the day, so it was telling that we exchanged our vows in front of DJ decks at the front of the large Libertine space. Large palms flanked the aisle and we continued the theme of green and contemporary style with green shoots and stems on the tables during dinner.
We used a local Barcelona florist (she's not on social media or online) and opted for lots of interest greenery to tie in with the urban oasis environment. I had an unconventional bouquet which was a bunch of white Hippeastrums and each bridesmaid had a smaller bunch of stems, to give a more contemporary look. At the altar and on the tables were bright green palm leaves along with other dramatic green stems at varying heights.
Our readings included Having a Coke With You by Frank O'Hara, an extract from A Farewell to arms by Ernest Hemingway and The Sun and Her Flowers by Rupi Kaur.
We used the same vows as our legal wedding in Cornwall to ensure it felt as an extension of our original wedding. We changed everything traditional that represented a woman being 'given away' to a man. And we were referred to as 'the happy couple', a 'partnership' throughout
My ring was by Emily Smeaton. Emily was local to me in London and she creates truly unique and experimental fine jewelry.
I had an antique Annina Vogel engagement ring and she designed a one-of-a-kind volcanic 'party jacket' to sit around it as my wedding ring. Our names are spelled out in morse code using diamond baguettes. Nicholas's ring was from Cartier. He went for a classic but modern everyday wear design.
Discover wedding readings here
Photography
Our wedding photographer was Rebecca Rees. We were looking for someone who was modern and had a fine art, fashion-led and documentary style. It was also important for us to have 35mm analogue film (rather than entirely digital) for a timeless look.
We didn't want any posed or group shots, rather we wanted to capture fleeting moments and beautiful elements of the environment – for example the tropical spaces or ruffles on a dress. Cassandra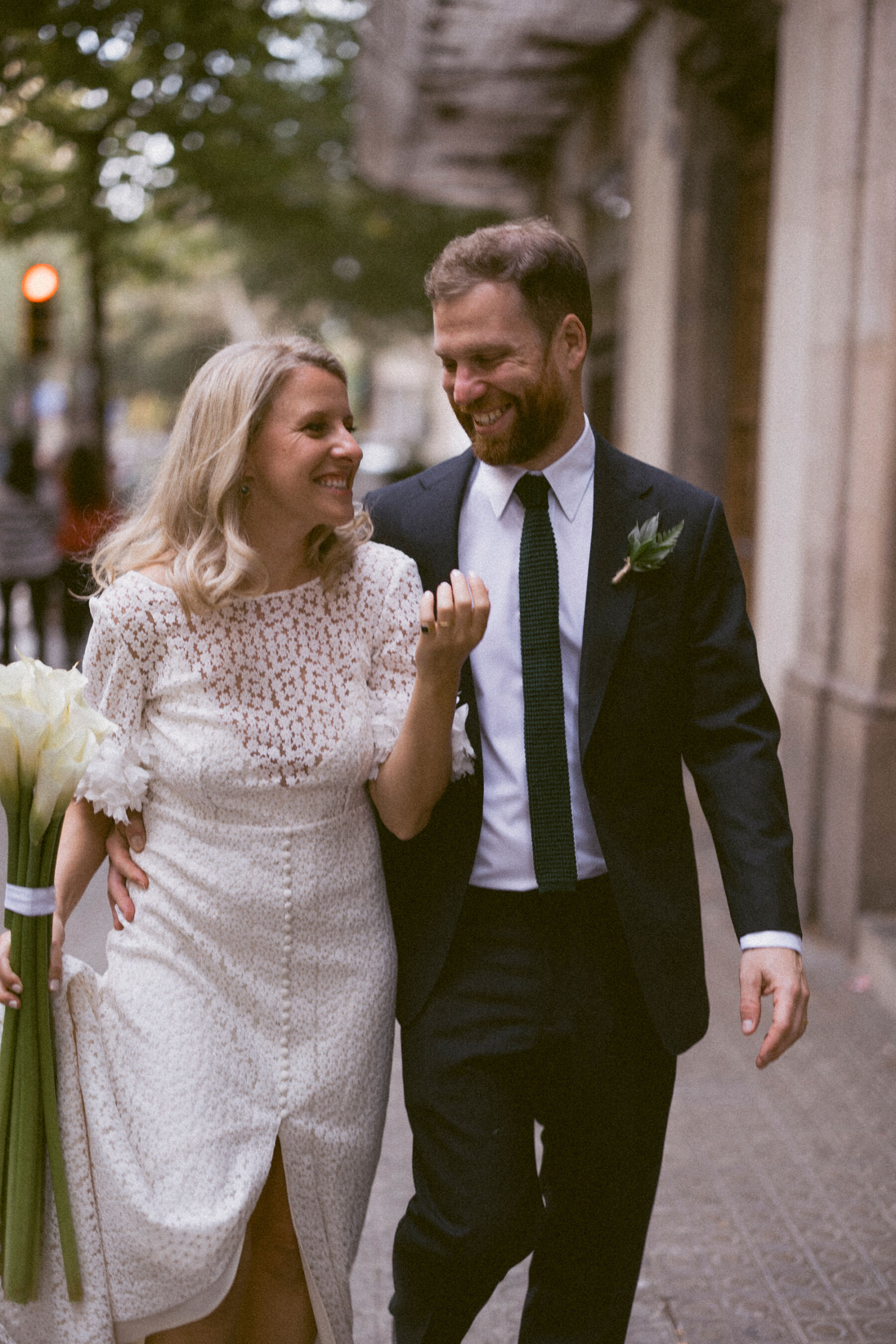 How They Met
We were introduced by friends in 2014, on a group holiday in Ibiza. Though we actually didn't speak or hang out that much that week! It actually took a long number of months for Nick to finally convince Cassandra to go on a date.
Fast forward to 2019 (5 years later) – Nick had planned a romantic proposal for a weekend away in Cornwall – but he panicked and the night before they went away, proposed in their flat in Brixton. It was better this way, in their first home together and at the culmination of a fun, relaxed date night.
Nicholas wore a suite by Casely-Hayford, a British designer who makes incredible tailored clothing. Charlie who is the founder did all the fittings for Nicholas.
The inside of the suit was embroidered with our original planned wedding date (24 May 2020) – which was quite funny actually.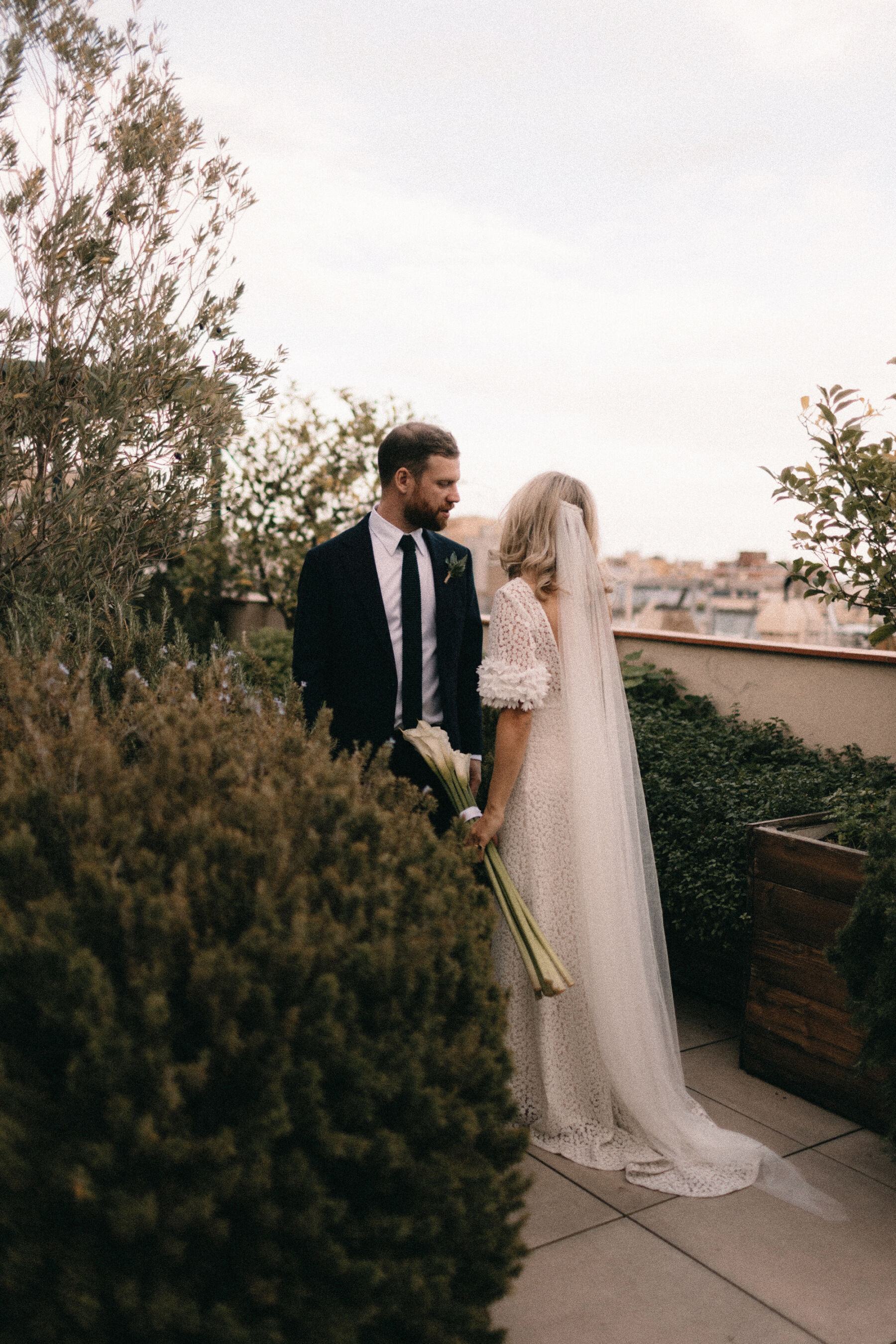 A Wedding Reception at Casa Bonay
Our wedding was inspired by fashion, architecture and design. We love hotel concepts – our table names were of our favourite hotels around the world.
Casa Bonay provided the perfect backdrop – a beautiful urban oasis dating back to 1869 but with modern interiors, stylish colour palette (blue, green and peach) and variety of spaces – some full of plants and flowers, others more industrial and neon.
The venue provided dramatic lighting that changed to follow the order of the day (bright during the service and dimmed/candlelit during dinner).
We moved into the club 'Nica' next door for the afterparty which was a deep red space, creating an immersive colour experience. Lighting gave off an ethereal glow.
Lighting was particularly important to use, so we ensured low lighting and candles were present throughout, as well as lanterns on the rooftop for the drinks reception. Cassandra
We also put an envelope on each table with a song inside. It said 'listen out for this' – when the specific song came on (e.g from Fleetwood Mac 'Everywhere' to Fatboy Slim 'Praise You') the DJ turned it up and each table responded in their own way – whether that was ballroom dancing in the centre of the room, creating a human pyramid or doing a can-can.
Guests said this was the most memorable and unique part of the wedding and for us, it was our favourite moment too. It added interest, was high energy and joyful for everyone.
The chefs at Casa Bonay made simple but scrumptious large square lemon meringue tarts – we cut the largest one and served cubes to everyone individually. The meringue looked very 70's and chic.
We moved into the club 'Nica' next door for the afterparty which was a deep red space, creating an immersive colour experience. Lighting gave off an ethereal glow.
A disco ball completed the room, making it feel 70s in style.
Our first dance was to 'I Can't Do Without You', by Caribou. It was the soundtrack to our trip to Ibiza where we first met. It has a great 'drop' – and was when the disco light came on and everyone came into the centre to dance with us.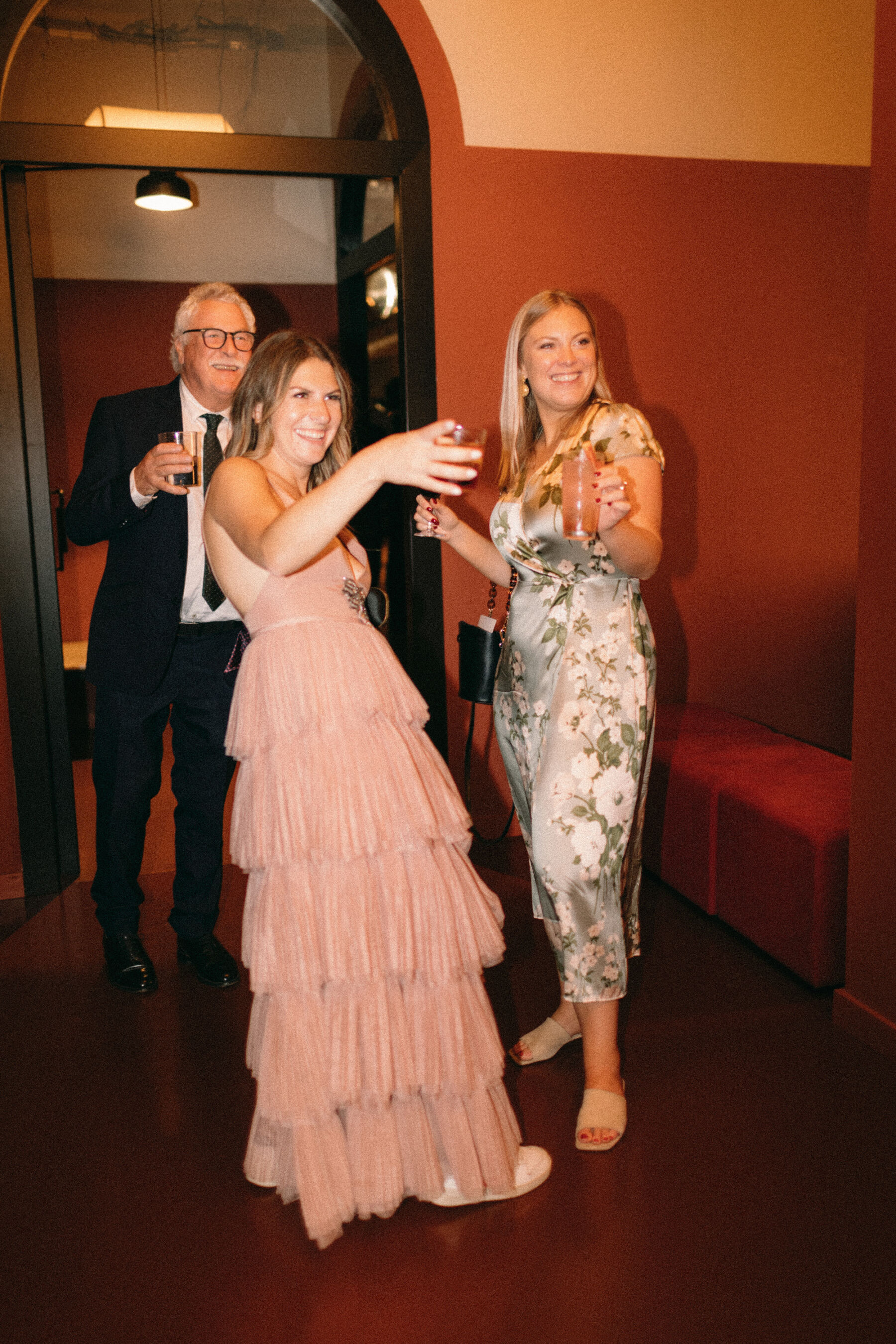 Words of Wedded Wisdom
Start with the energy and vibe you want to create and plan around that. We wanted it to feel like the best extension of a date night/dinner and drinks we'd ever had – in cool surroundings – topped off by a room filled with our favourite songs and all our friends.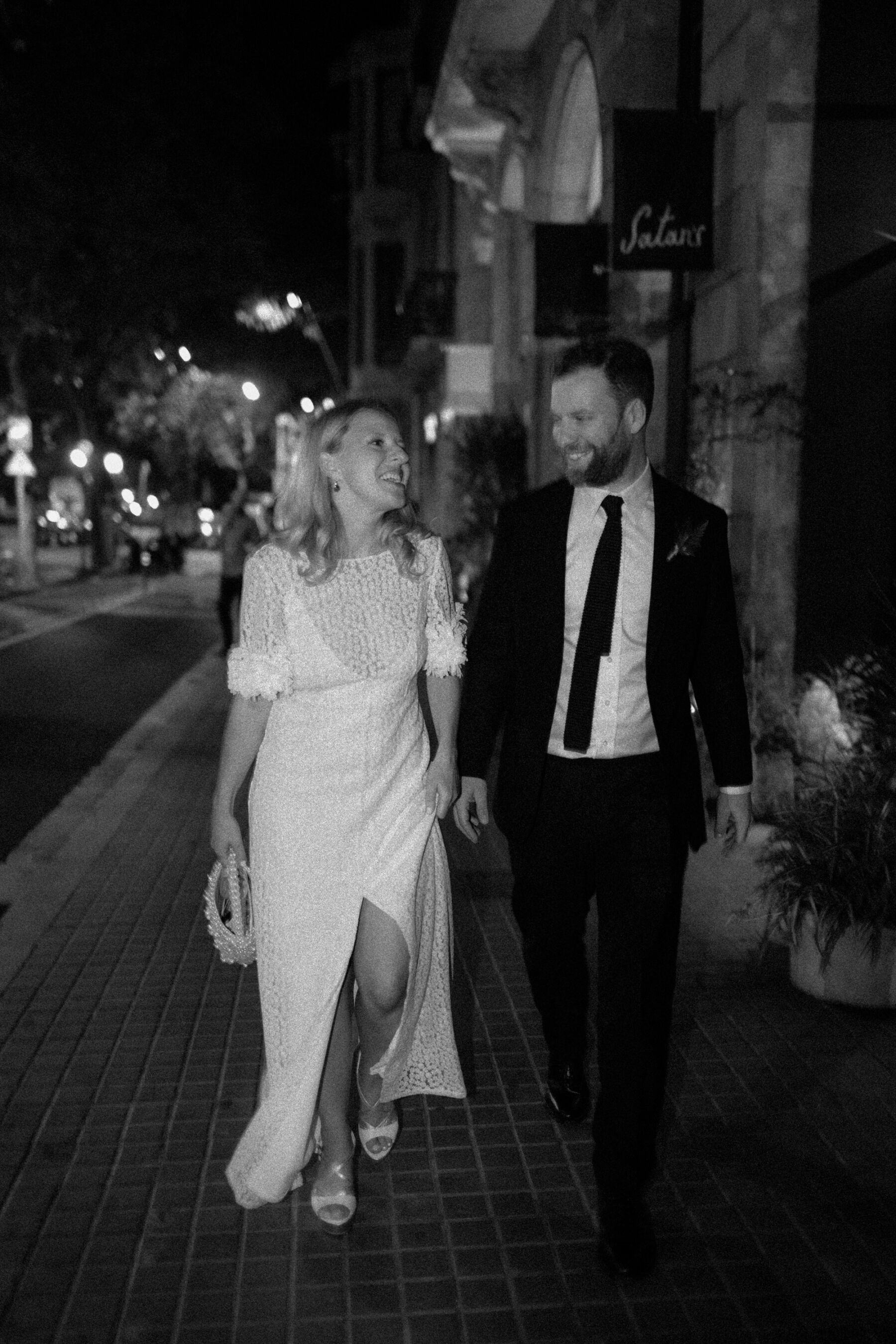 Most couples start with a venue (eg big country house) and then that dictates the rest of the wedding. You can get carried off into one direction and when it comes to the wedding, you find it's not quite what you wanted.
I'd also think outside of the box – we used party planner instagrams as inspiration versus wedding inspiration because these felt more creative and fashion-led.
Our budgets was £35k but we exceeded it based on loss of money from our original wedding and my wedding dress etc.
I love the Love My Dress wedding directory, it was really useful for exploring options for our wedding.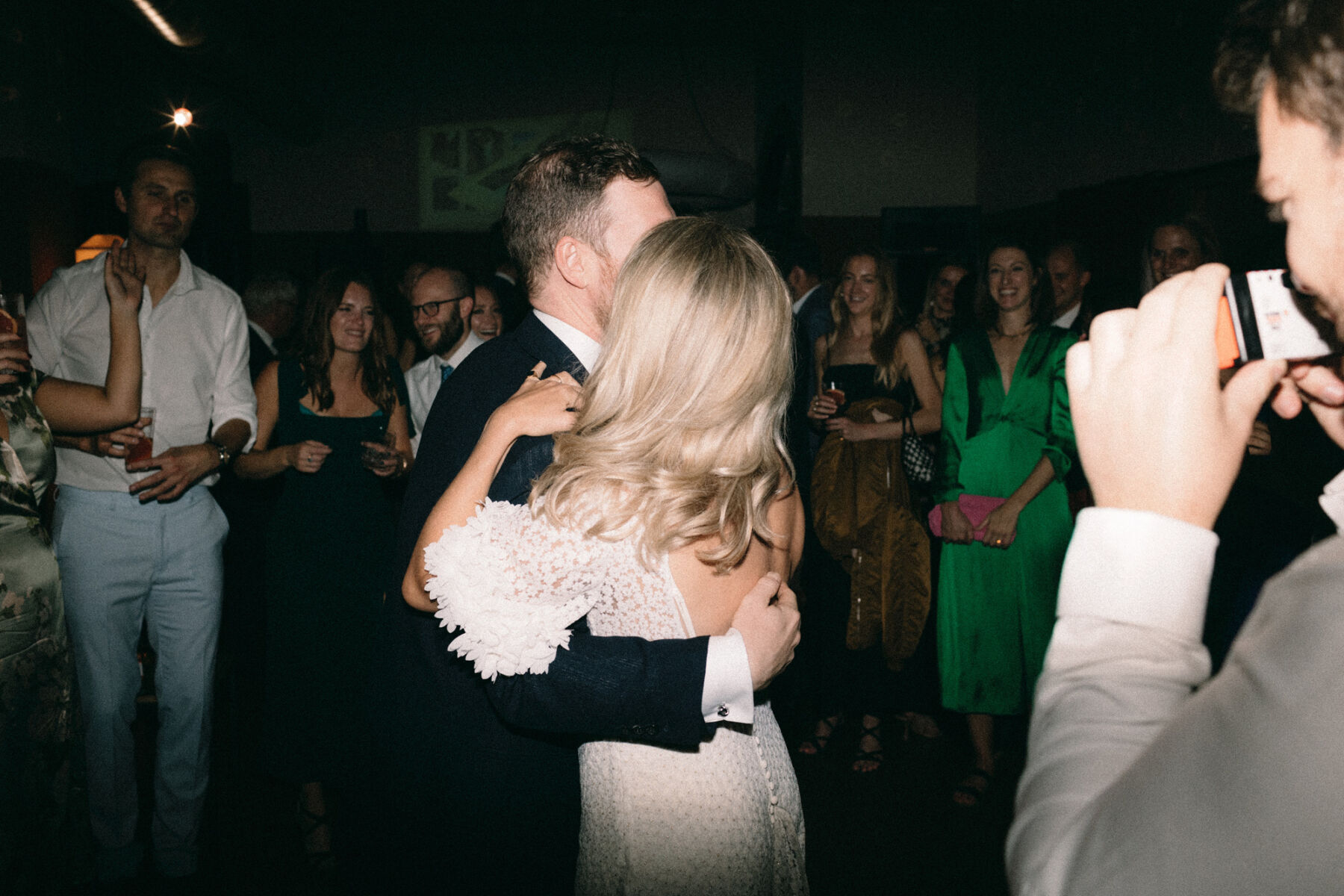 Explore our wedding directory