Wedding veil designer Sophie, the lady behind Unveiled by Sophie, married her love Prash, on 20th August last year at Shustoke Barn in Warwickshire.
This beautiful and emotional wedding was extra special, and took place after an incredibly difficult and challenging time for Sophie and her family, for reasons that are explained below. Despite this, and in spite of of heavy rain forecast for the day, Sophie and Prash's beautiful, rustic barn wedding, turned out to be full of sunshine and magic and we are thrilled and honoured to be sharing it with you today.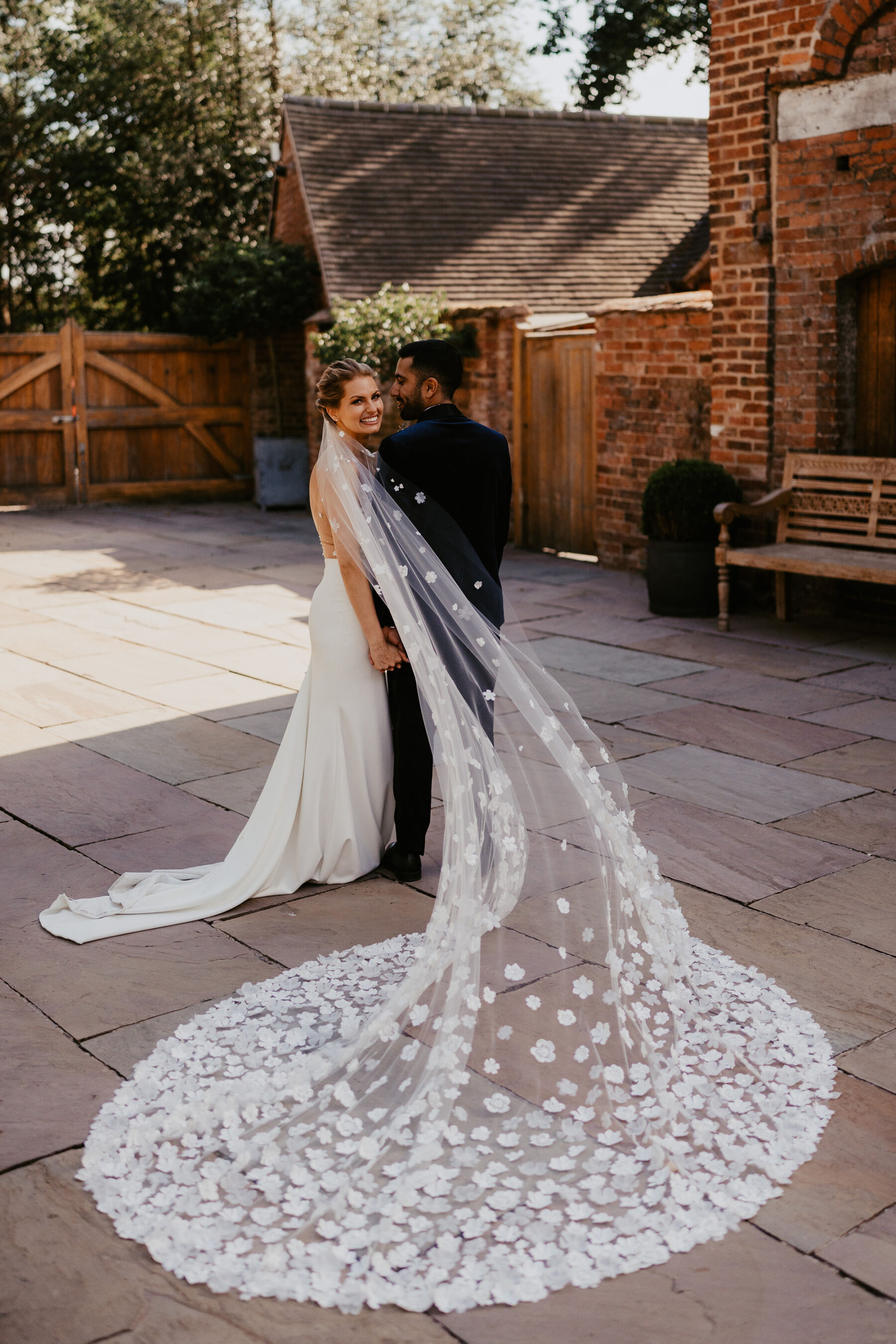 The Venue & Inspiration
The big watch word for us was 'personal'. We chose the venue as it could host a civil wedding – and we really wanted a ceremony which could show our personalities.
We had just bought a 500 year old thatched cottage in a village just outside the Cotswolds and loved the rustic barn vibe. It felt relaxed and intimate – yet big enough to hold the 150 guests.
We really wanted to keep this wedding tasteful and a neutral colour palette as the venue was enough on it's own and we had the Indian wedding which was full of vibrancy, sparkle and colour.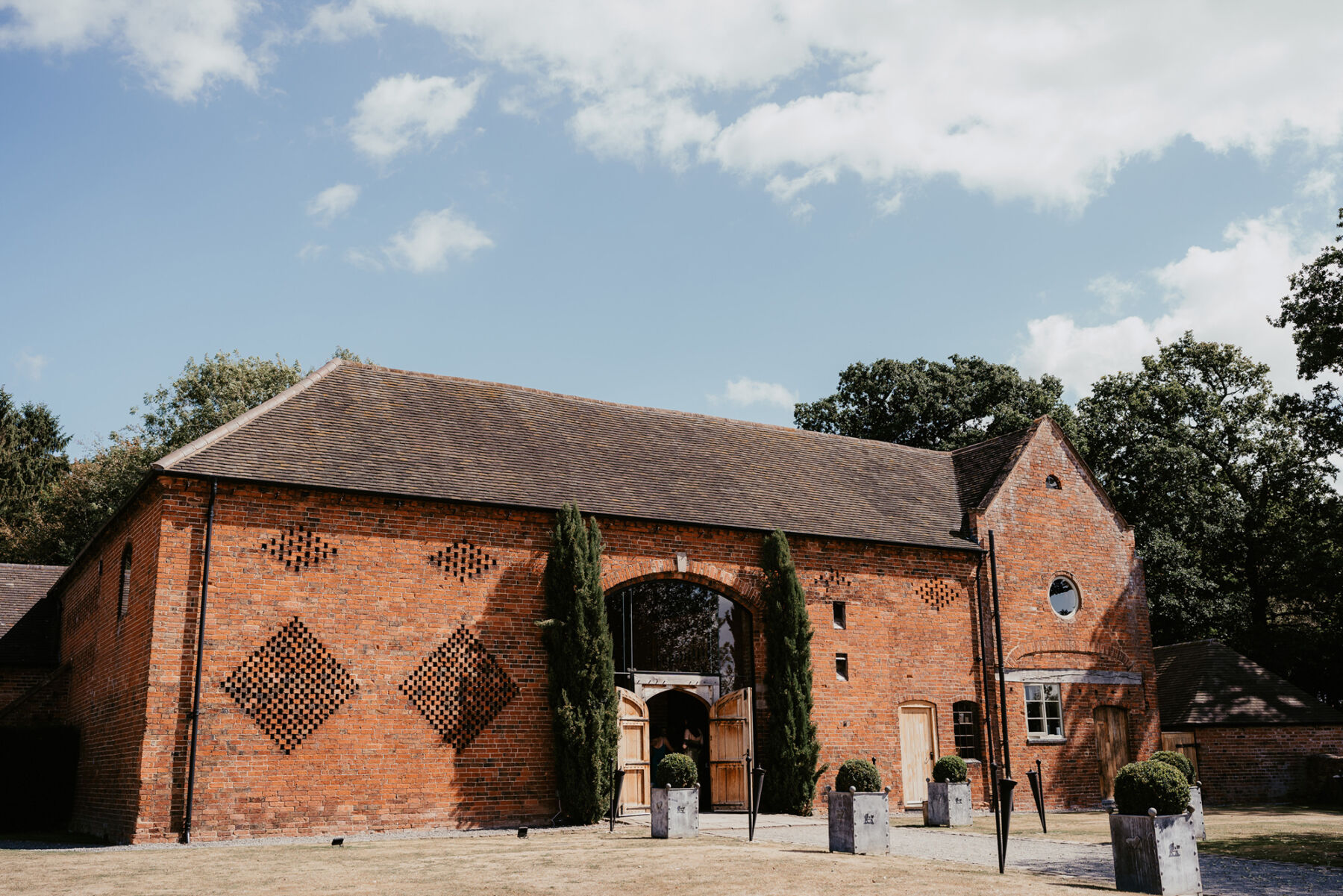 Prash wore a suit from Moss Bros. He also had some bespoke engraved cufflinks.
Ever the typical groom, Prash came to me two days before the wedding saying his cufflinks were all tarnished – I made a half hearted attempt at cleaning them knowing full well there was a brand new pair with his name on.
Bridal Beauty, Veil & Accessories
It was always going to be about the veil for me. I designed my dress around it. I spent hours hand cutting all the thousands of flowers and so pleased I did. It was my favourite element of the day (other than marrying Prash, of course).
I wore my Nanny's pearl stud earrings. She never met Prash, but I know she would have loved him. I also wore Lancome Hypnose – it's a perfume I first smelt on holiday with my family, and from then on, I always used it for special occasions. It's like happiness in a jar.
My makeup artist was Nav Soroya – She was brilliant!. She gave me exactly what I wanted and it genuinely lasted all day and night.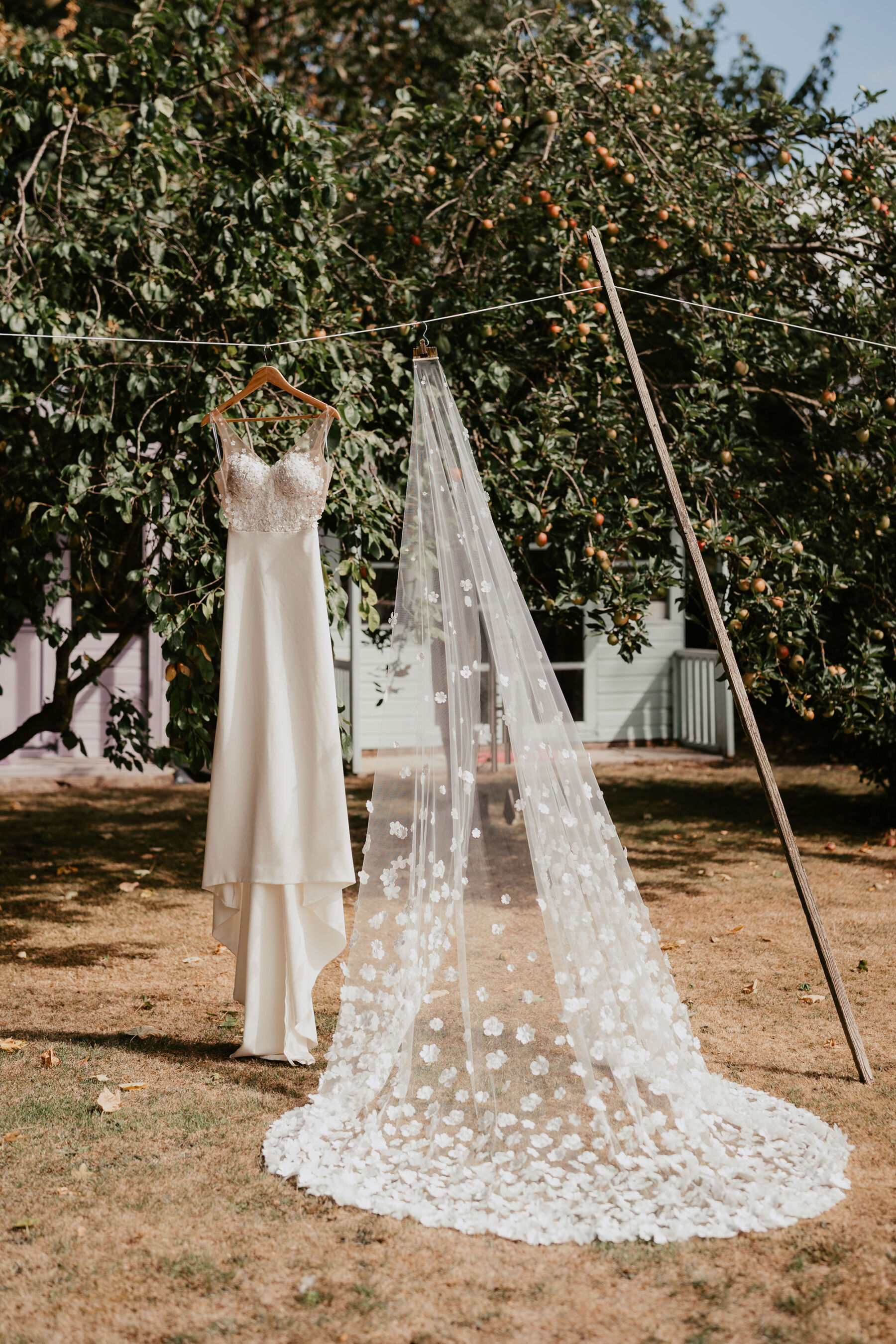 The Dress
I made the dress during lock down – I really wanted to feel comfortable. I ended up making my dress because I couldn't find the one. I had tried big ballgowns which I thought I'd love and I felt exhausted just standing in it.
I am so glad I went for something lightweight because I felt great in it all day – it was really important to me to be able to dance properly all night. I also loved that it was unique to me.
My bridesmaids wore dresses from ASOS. I made their hair accessories – I wanted something pearly and personal so I created hair accessories incorporating flowers and pearls.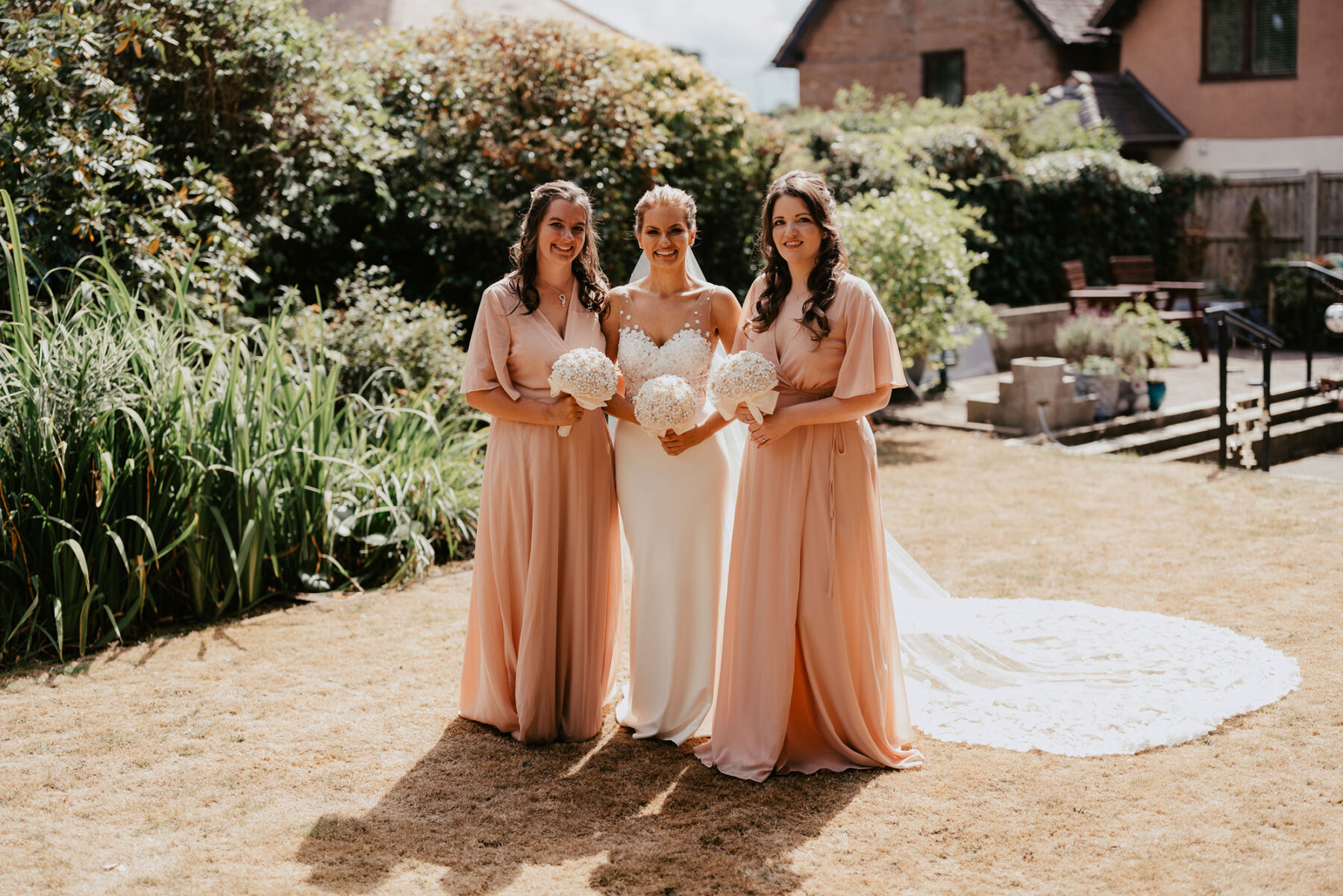 An Emotional Wedding Ceremony at Shustoke Barn
Our wedding was full of emotion – my dad had learned to walk again following a devastating stroke, so he could walk me down the aisle. Prash's cousin Poonam sang a beautiful song 'Where'er you walk'. She's an opera singer, I started my career at the Royal Opera House so it was a emotional moment.
It was a favourite moment – walking into the ceremony room and seeing everyone we loved. And seeing Prash's face at the end of the aisle. And seeing Prash cry for the first time at my vows.
We wrote our own vows for the ceremony, making it really personal. I'd always hated those ceremonies where the bride and groom only said 'I do'.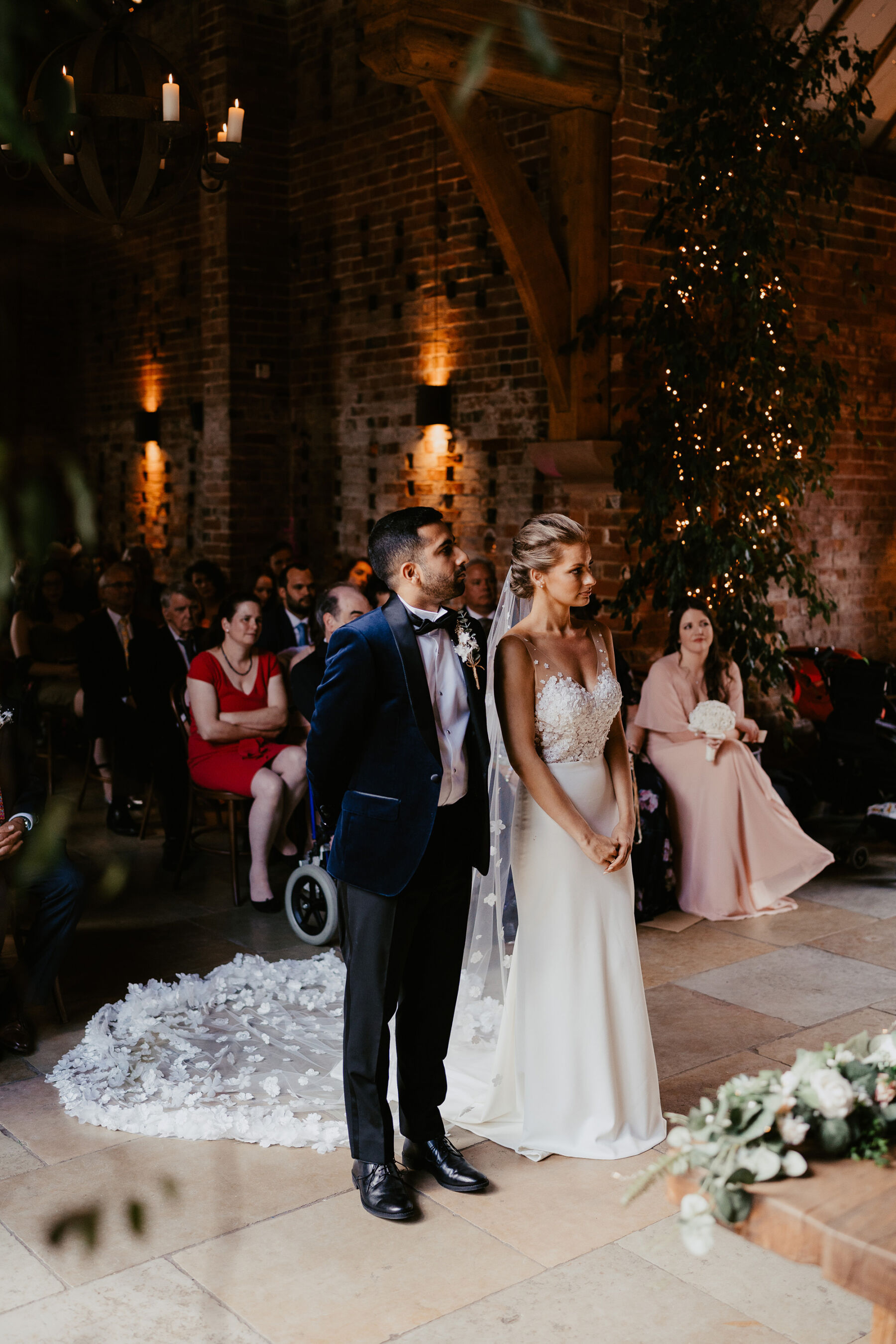 Our reading was 'The Meaning of True Love'.
We chose the rings from Hari Jewellers, as it's where Prash had bought my engagement ring. I wanted something really simple so opted for a very delicate half eternity diamond ring.
Prash wanted something simple but with subtle detailing so opted for a gold band with edge detailing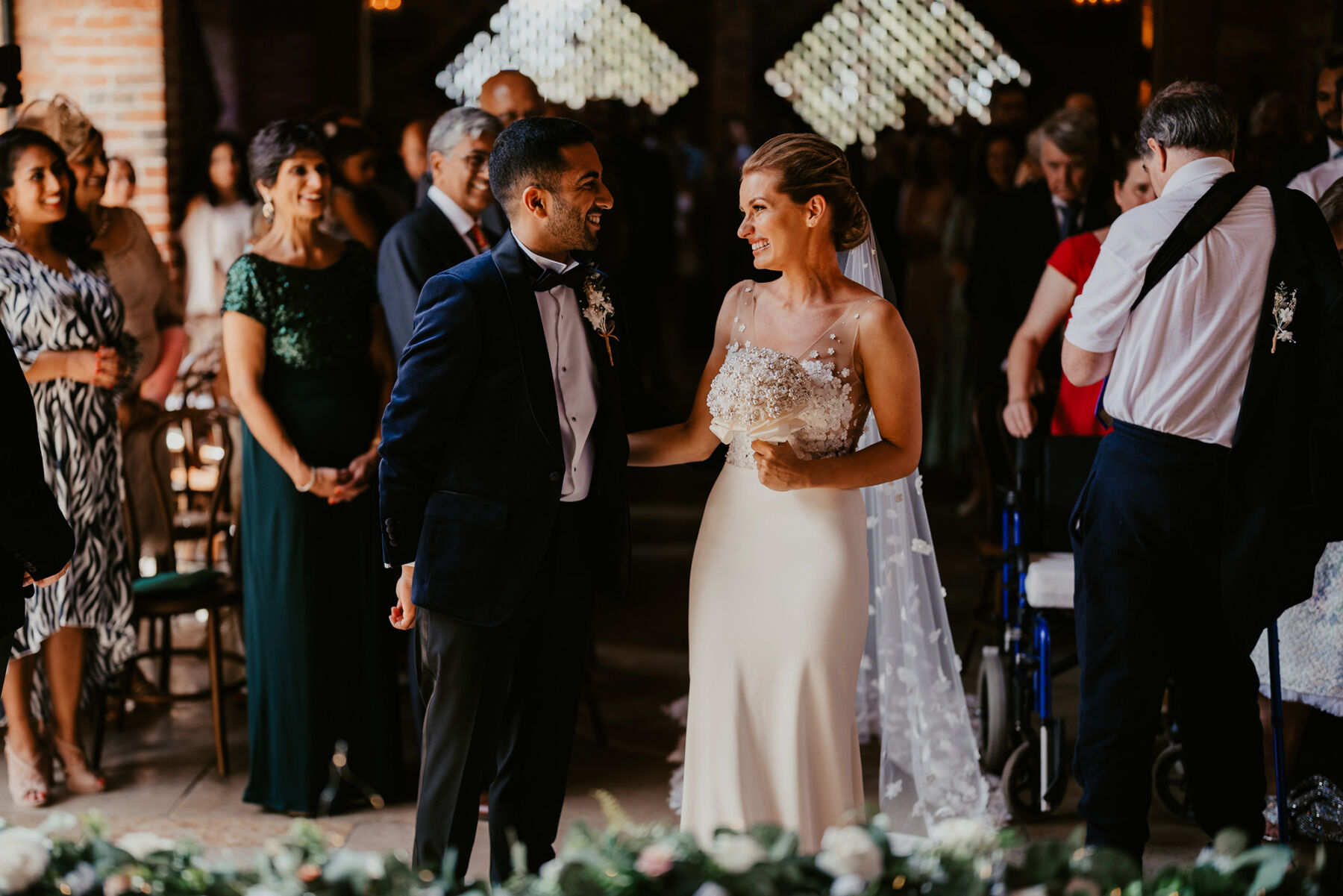 We had a Hindu wedding ceremony, and mehndi party the following week to represent Prash's culture.
It was so important to us and for his family to include both cultures.
Extract from Sophie's vow to Prash
We wrote our own vows for the ceremony, making it really personal. My vows were pretty long but here's a couple of snippets!
It's hard to put the reasons why I want to marry you into words but I've given it my best shot. I love the warmth with which you meet people, and that you get on with everyone.
I love how you always strive for better, for happier, for contentment. You see life as a gift and look forward with optimism.
You don't take life as a given and you always show your gratitude.
One of the many qualities I appreciate is your ability to know what I need. Those times when I'm heartbroken and upset you sit, you listen, you support. And then you make me laugh. You'll have me giggling, desperately trying not to spit out my toothpaste. You make everything better just by being you.
It is with a heart full of joy I stand here today, so ready and willing to commit my life to you. I see these vows not only as promises but privileges. I promise my honesty, loyalty and friendship. I vow to put my full heart and everything I am into our marriage.
I fundamentally believe as long as we work hard together, to be together, and choose to be happy, we can survive whatever challenges the world will invariably throw our way.
I know times won't always be easy but I promise I will always stand with you by your side, laugh at the good times, and hold your hand through the bad. I promise I will always catch the spiders that are just a bit too big. I vow not just to listen but to hear, not only to be honest but to trust and not to only love but to be loved. As Shakespeare said 'I would not wish any companion in the world but you'.
Because of you, I laugh a little harder, cry a little less, and love life a whole lot more.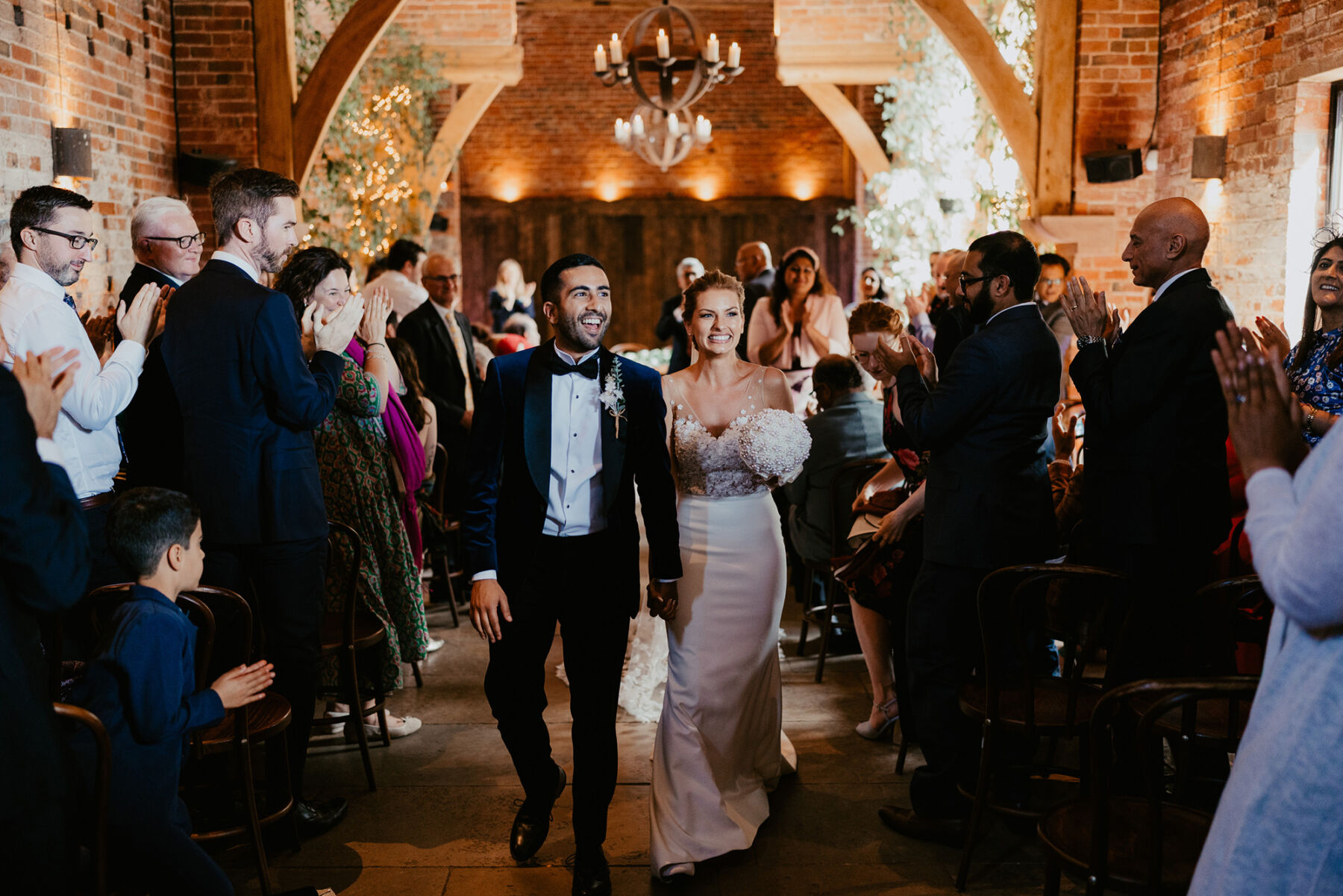 Photography
Our photographer was Jonny Gouldstone and we would 100% would recommend him. We found Jonny online and I fell in love with his style of photography. We really didn't want lots of posed shots, instead we wanted a natural capture of the day. I knew as soon as I saw Jonny's photos he was the right person for us.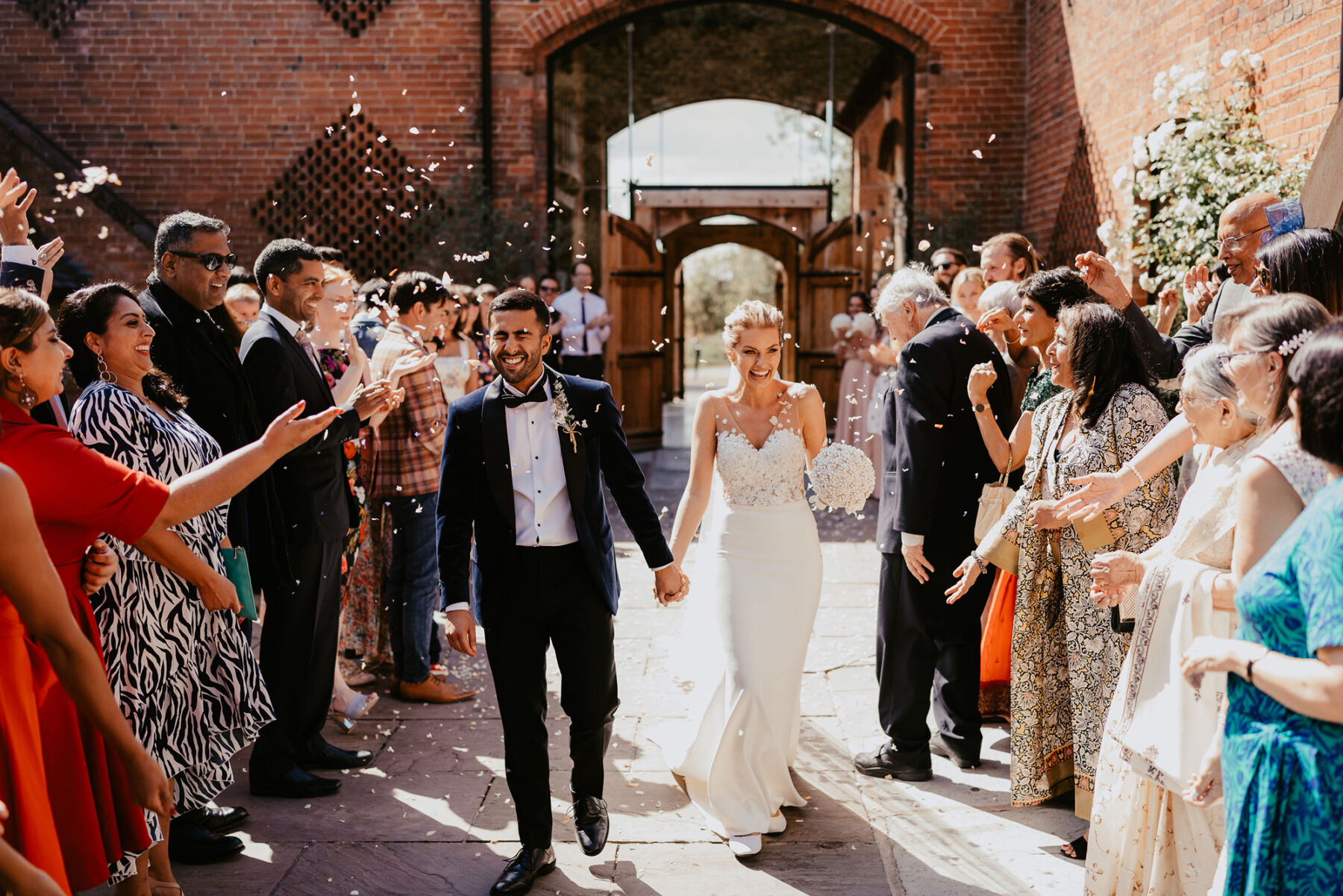 We had a Zoom consultation and he was so lovely – when he turned up on the day it felt like we already knew him. He really put us all at ease and just fitted in without being imposing. Most of the time you didn't realise he was there until the beautiful photos came back.
We couldn't recommend Jonny highly enough. It was aAlso really refreshing that he had his prices online which is really helpful for a prospective couple.
How They Met & The Proposal
The short answer is, we met on a dating app. The slightly more involved story goes like this; I was fit and healthy, blacked out one day and couldn't stand up for five years. I was eventually diagnosed with three rare incurable diseases which left me collapsing and allergic to life.
I'd had a horrendous start to 2017 with my dad having a catastrophic stroke. At the time I was reading a trashy romance novel called 'The Bucket List to Mend a Broken Heart', and I decided to do a 25th birthday Bucket List – ten things to do before I turned 25.
When your life is spent in hospital for either yourself or your dad the simplest things bring joy. I went on a picnic, I had champagne up the shard, I set up a business and finally on a total whim, signed up for a dating app and went on a date. I got a month's free trial – Prash was my last date. By the time we met I'd only been able to stand again for two weeks. We fell in love very quickly, moved in after a year, and became engaged a year after that.
The proposal was perfect for me – Prash had duped me into thinking it would be a low key valentines. He hates cliches so proposed on valentines. We went out to our local for dinner and then on coming back to our flat, his dad had set up lots of candles and all the cards I'd given Prash over the years.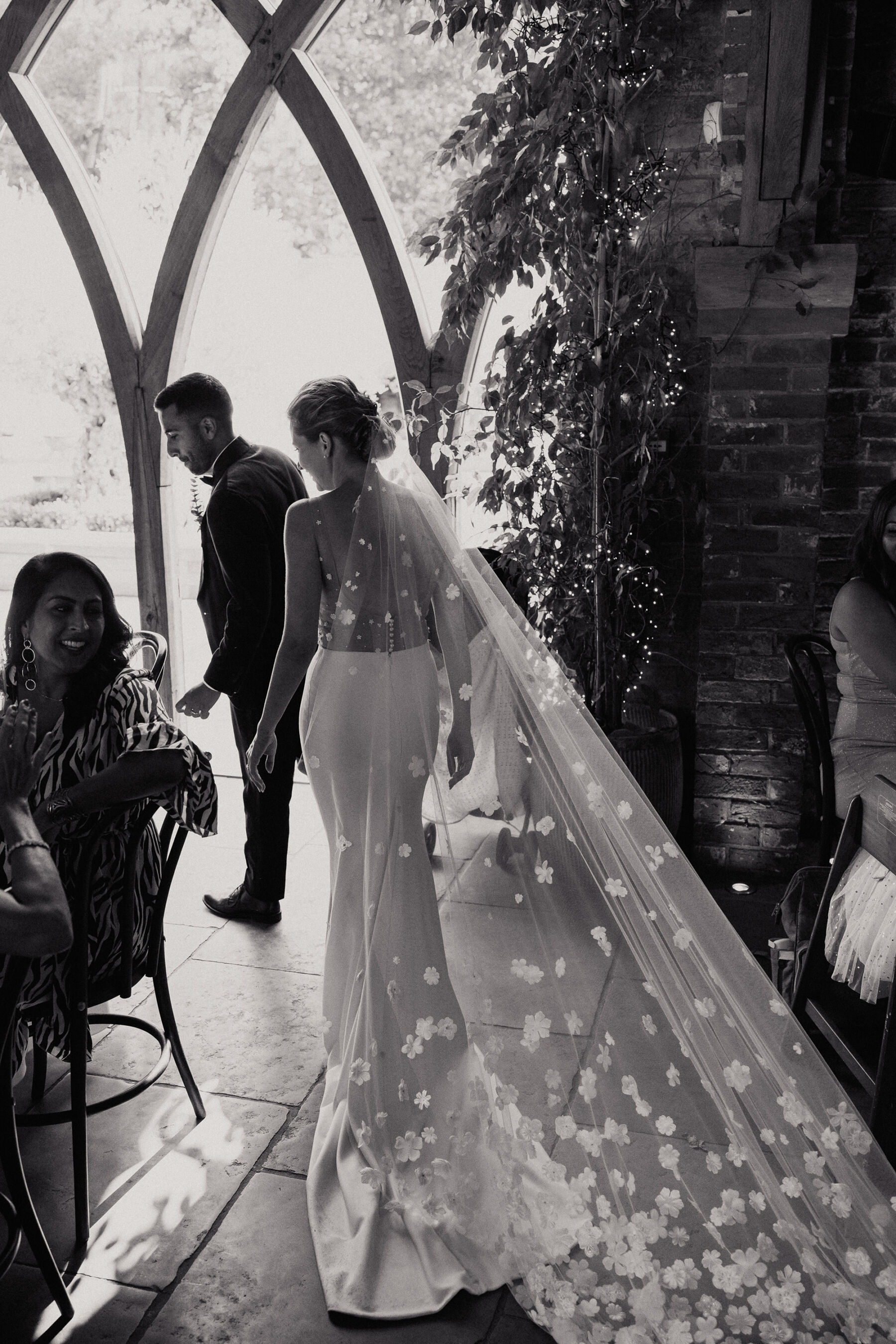 There was an additional card with 'to my future wife'. To this day I don't think I actually said yes because I was ugly crying. He then had planned a whole weekend going back to Stratford Upon Avon (our first trip away) and to see my family and his grandma so we could tell them. I loved that it was so private and in our first home together.
We got engaged in February 2020 and started planning our wedding during lockdown. We thought we were really clever in booking for 2021, but it wasn't to be so we postponed to 2022 and finally got married in August.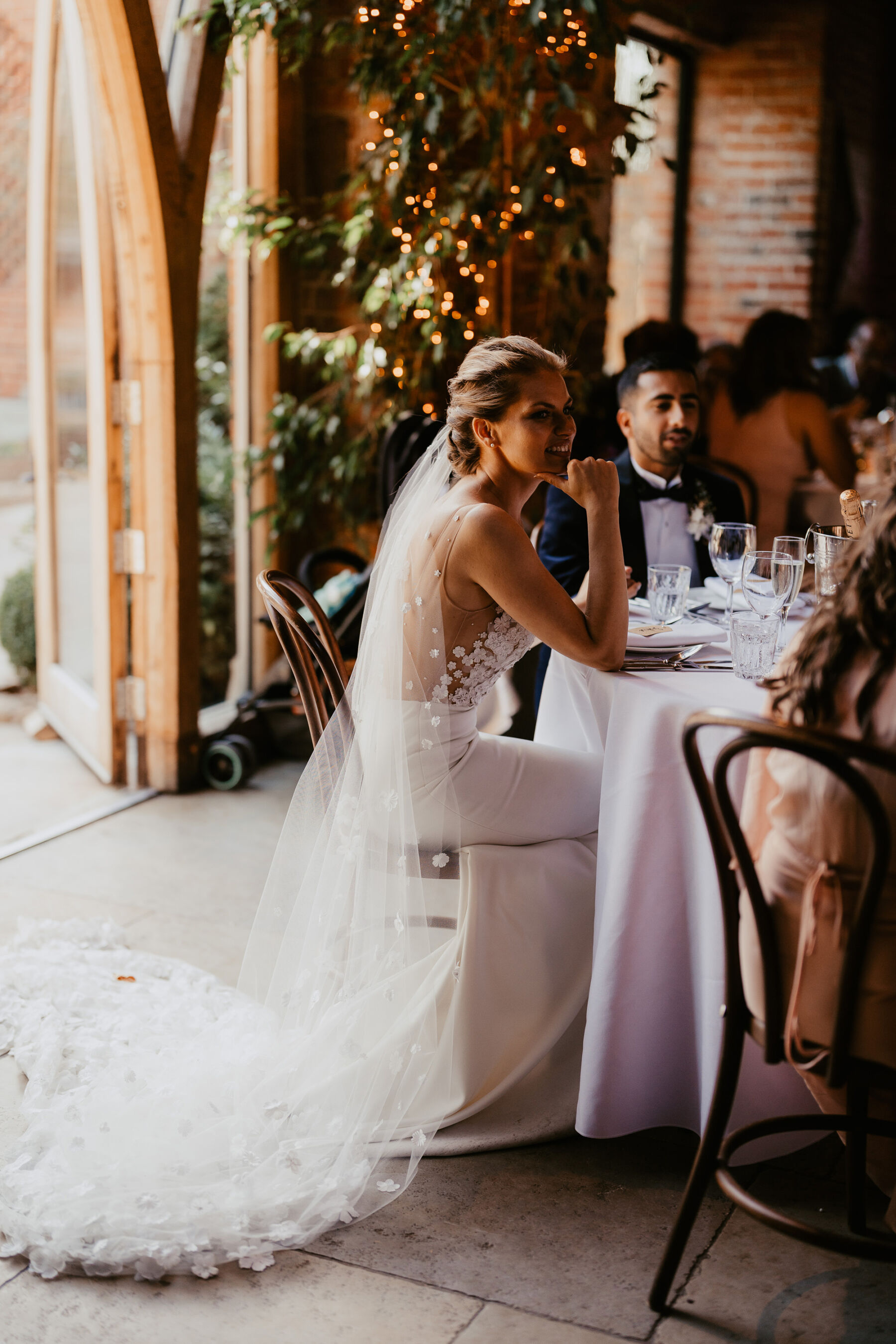 The Reception
DIY Decor & Detail
---
I made all the decorations – I wanted faux flowers as I wound lights into everything so in the evening it brightened the room with the candle light.
My Mum and sister made the cake out of beads. Both Prash and I have lots of allergies so we weren't going to have a cake.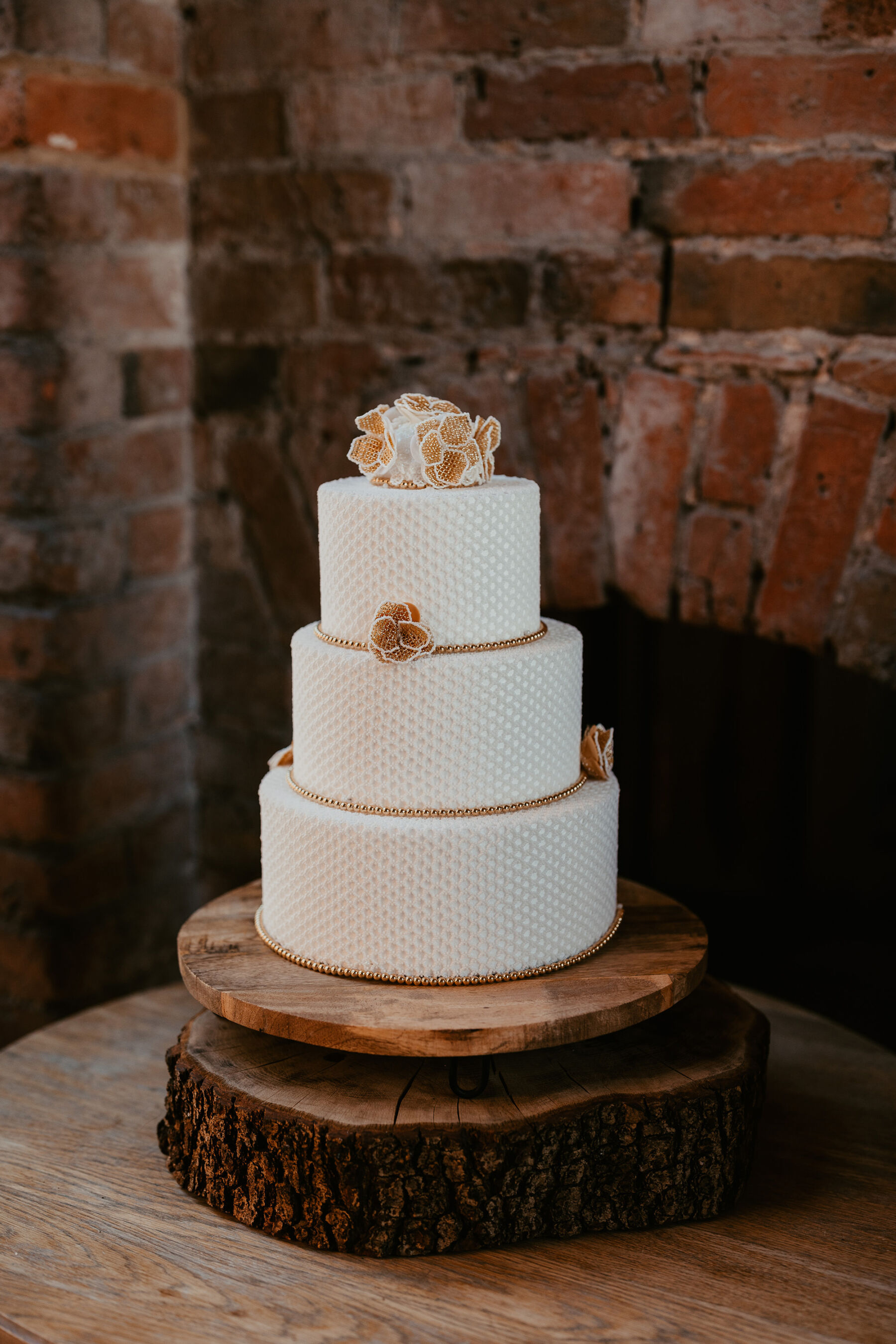 My family set about making something beautiful that we could keep for years to come.
We changed things up with things like the speeches, where we had both our sisters making them.
I will never forget my sister reminding me of something I'd said when I was younger and had forgotten; 'When we grow up, let's get a flat together in Walsall – you can go out to work and I'll stay home and cook!'.
We are both happily married and both very grateful that didn't come true!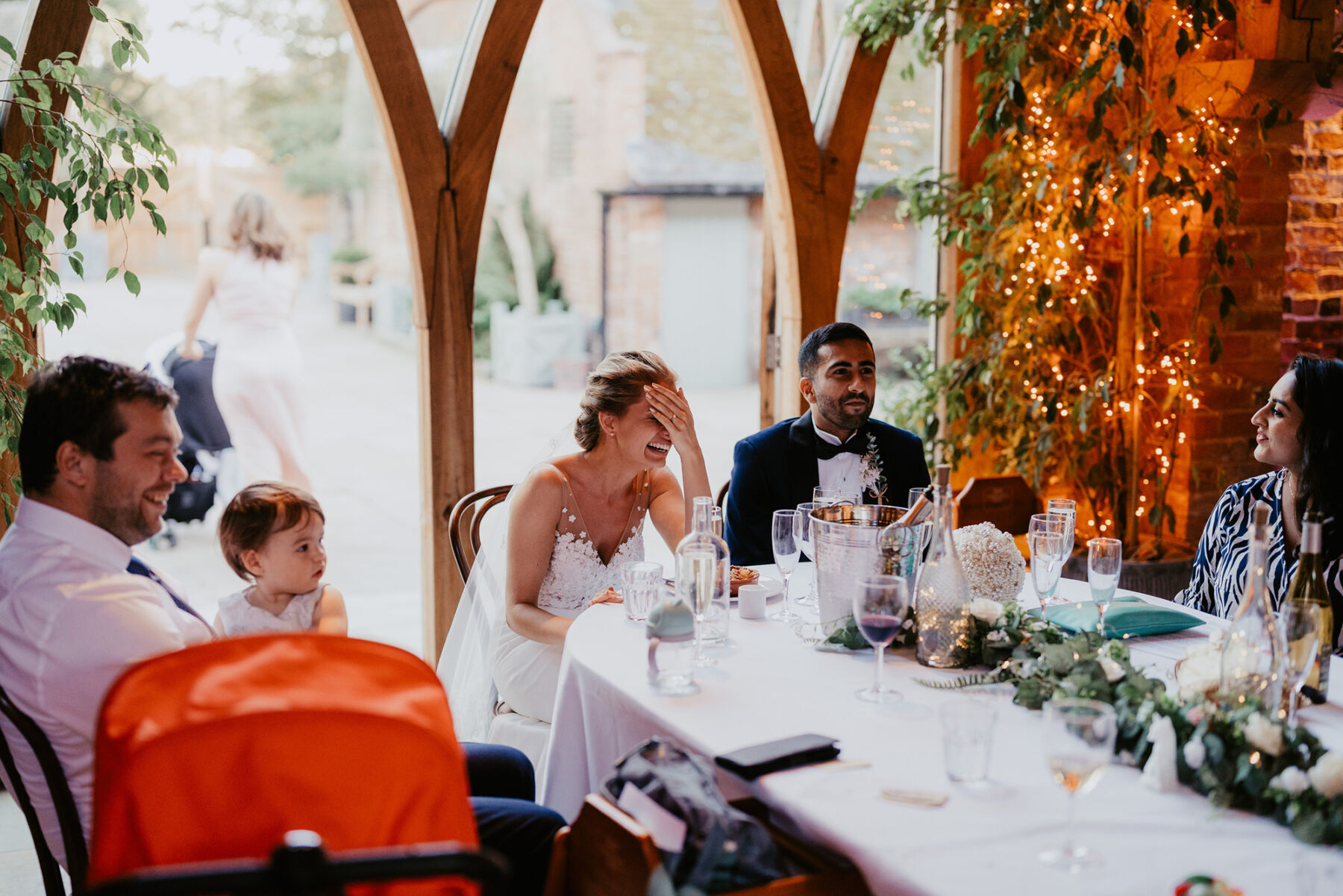 Evening &Dancing
When Prash proposed, he said 'I've already got the first dance song in my head!' – it was 'You're Just Too Good To Be True'.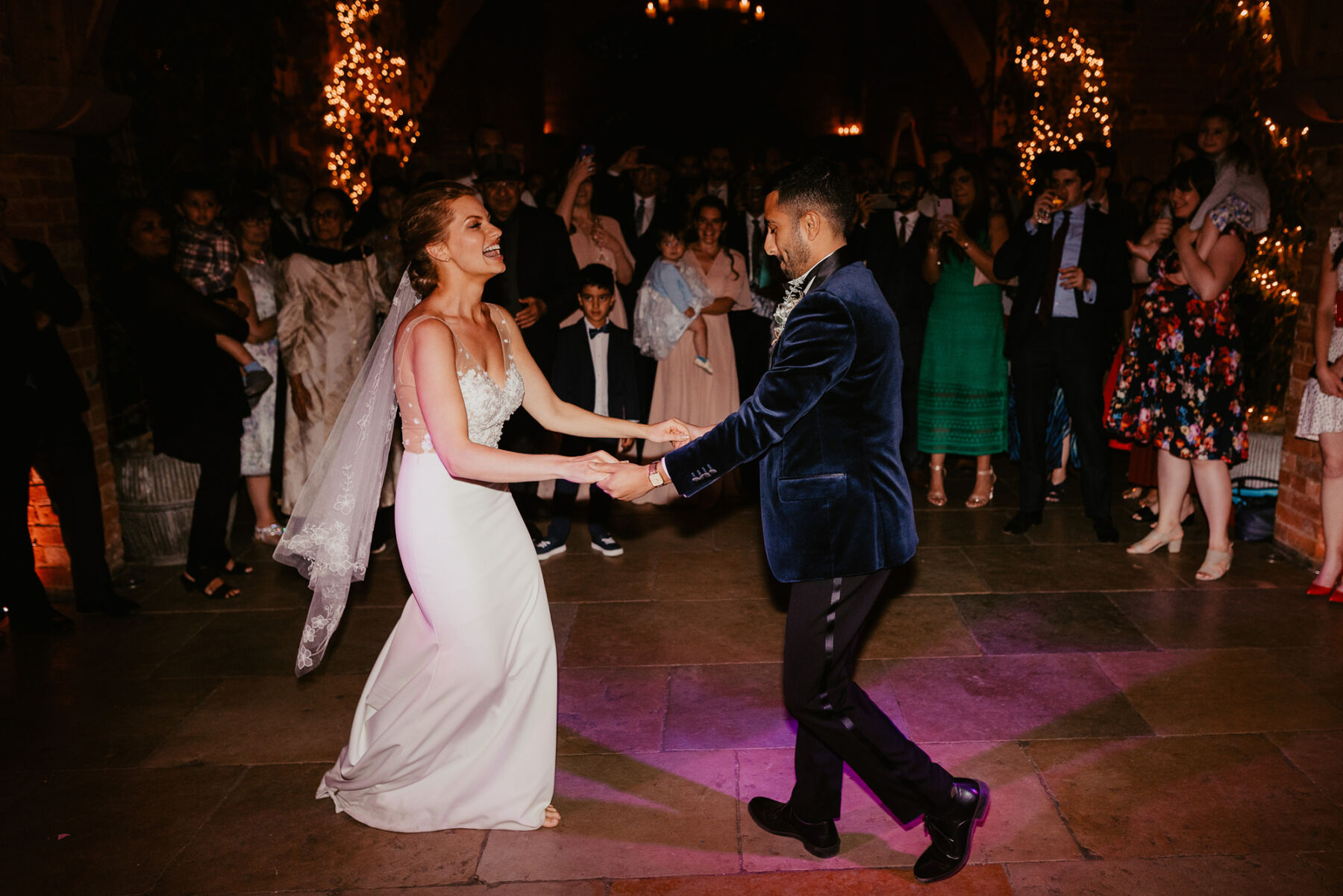 It was amazing, as our band, House of Chords, played it live for us and we'd done some choreography (it was a very serious dance, with jazz hands and bum wiggling!)
I made a second veil for the evening, so that I could dance.
Words of Wedded Wisdom
Don't sweat the small stuff. Before you know your wedding will be a memory. I'm really glad we both invested in the photographer because that's what you take away. Also the band – the dance floor was packed from 8.30pm through to 1am, because they were fantastic.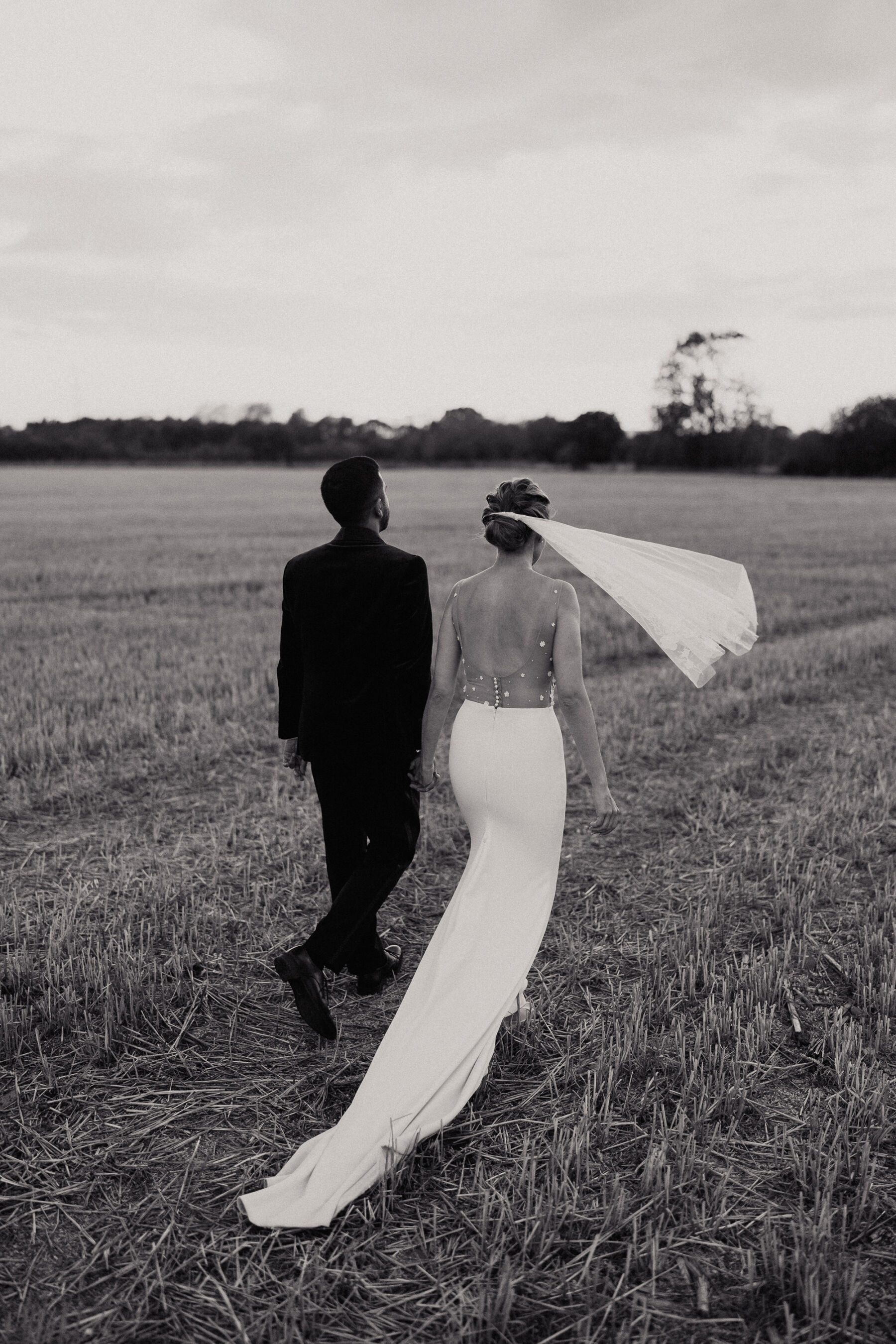 We really thought about how to make it enjoyable for our guests whilst also being relaxed. I'm glad we put a lot of time and effort into things that were photographed a lot – our outfits and accessories, vs things that were covered a lot less (table decorations). Also glad we ditched the favours no one missed them and we put the extra money behind the bar.
I'm glad we were as organised as we were – spreadsheets and timetables galore. There's nothing major I can think of that we'd change, apart from it was over far too soon. The only annoying thing on the day is that we had booked and prepaid taxis – they charged all our guests. I wish we'd called to confirm again but thought once was enough – but that was the only thing that didn't go smoothly.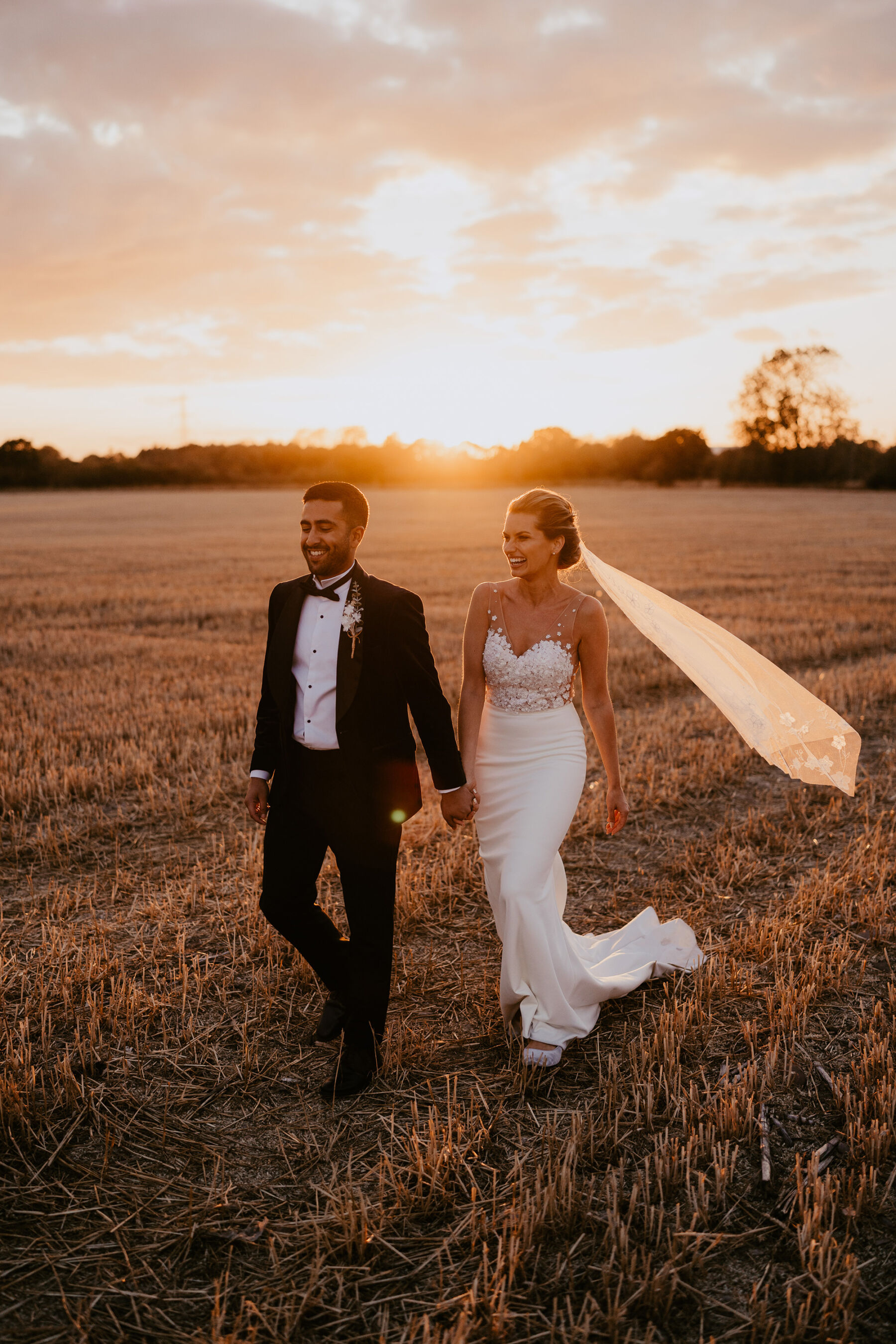 The other thing was, I went cheap with my shoes – they picked up the dirt really badly so I didn't have any nice shoe shots!
We originally set a £20k budget all in and eventually went to just under £24k. We had an extra year because of covid so there were things we just wanted to go ahead with. The main expense was the venue, food and alcohol and I'm so glad we spent the money. Without exception people commented on how great the vibe, food and drink were.
Explore our wedding directory